When I had the pleasure of traveling to Ireland a while back, I returned with lifelong friendships — and a soul-warming recipe for Colcannon Soup.
If you're a fan of Irish cuisine, or you simply enjoy hearty comfort food, you're in for a treat. Colcannon Soup is a dish that's not only mouthwatering but also has an interesting history rooted in Ireland.
This recipe and post is written by one of those friends I made in Ireland, Brooke Fehr. If you're ready to start cooking, simply hit the "jump to recipe" button. Or scroll through below for some cooking tips and a bit of history about colcannon too.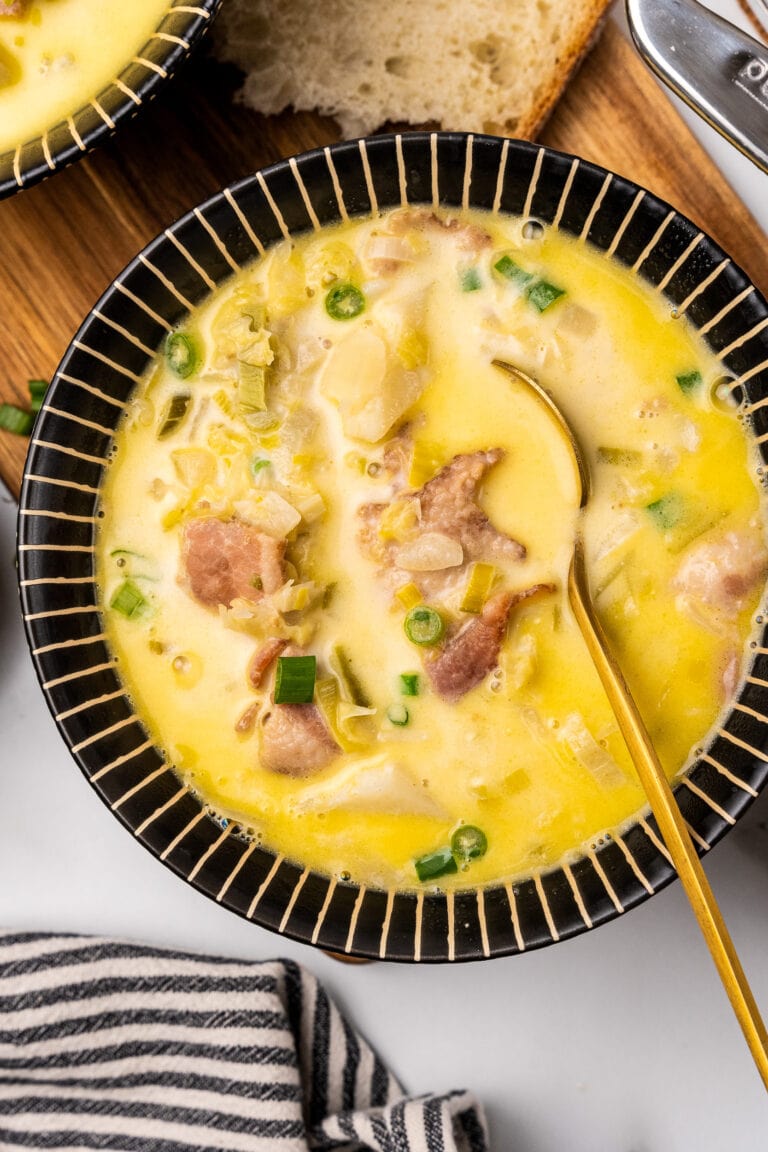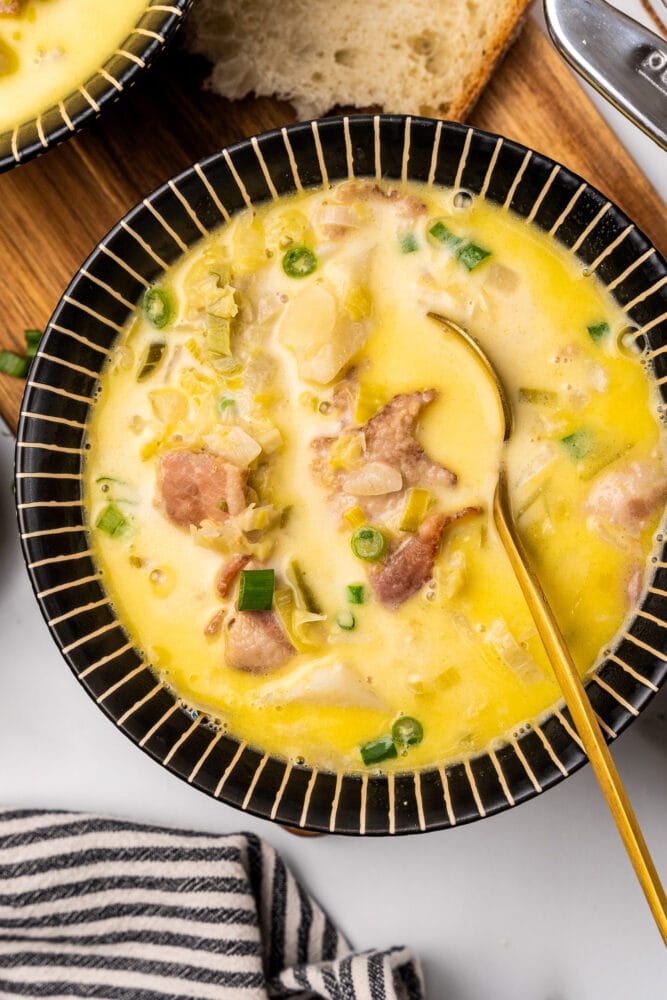 What Is Colcannon Soup?
Colcannon Soup is a traditional Irish soup that's a spin-off of the classic Colcannon dish. Colcannon itself is a beloved Irish staple made from mashed potatoes and either cabbage or kale, mixed with butter, milk, and sometimes scallions.
The soup version takes all that goodness and transforms it into a warm, creamy, and utterly comforting bowl of goodness. It's a comfort food classic in Ireland, often served on Halloween and other special occasions.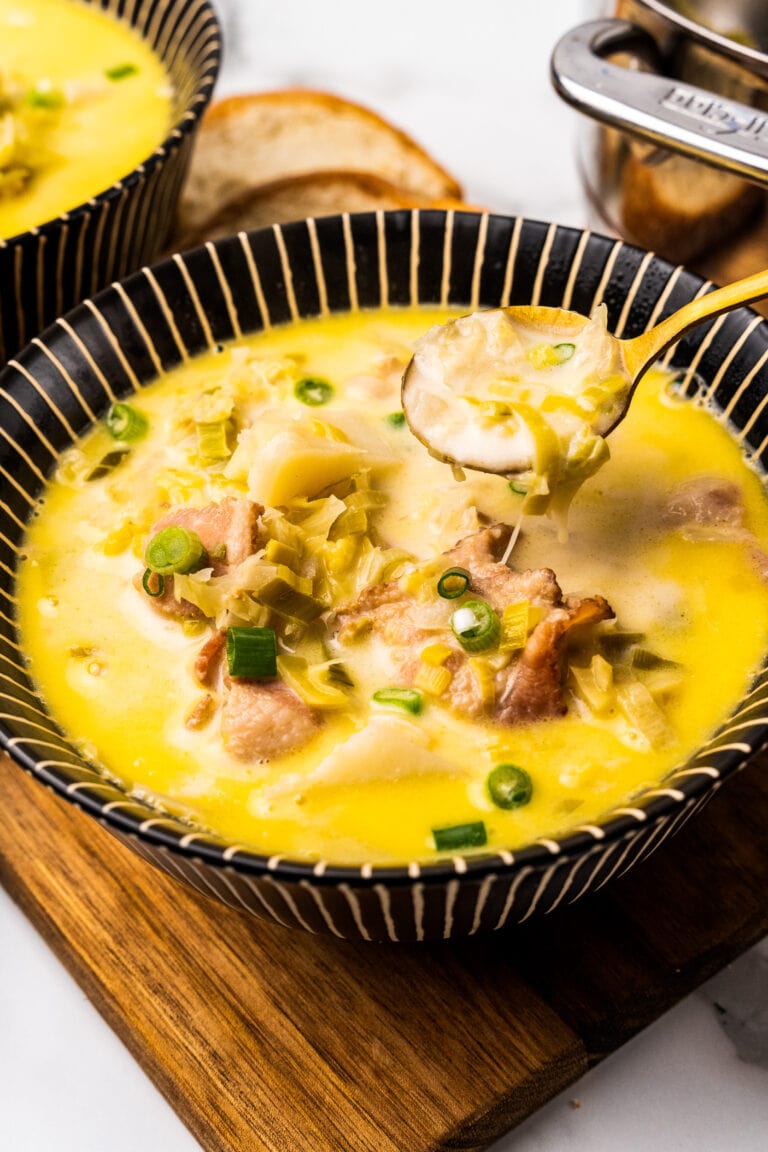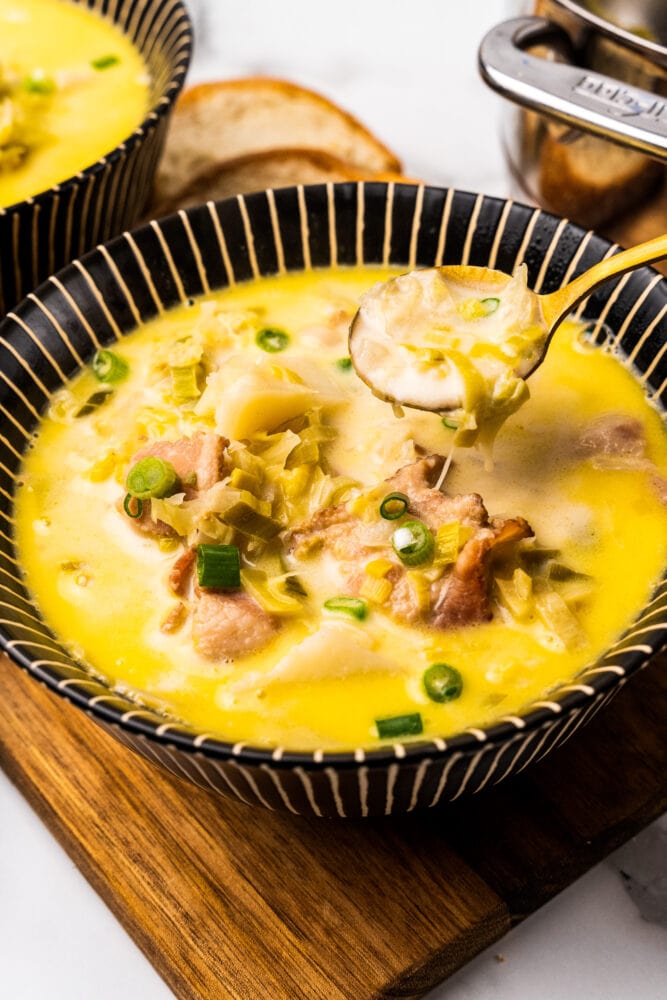 What Does Colcannon Mean?
As for the name, "colcannon" itself is believed to come from the Irish word "cal ceannann," which means "white-headed cabbage." The dish has been around for centuries and was a way for the Irish to make a filling meal using their staple crops like potatoes and cabbage.
So, colcannon soup is a delicious twist on a traditional Irish dish, perfect for warming up on a chilly day.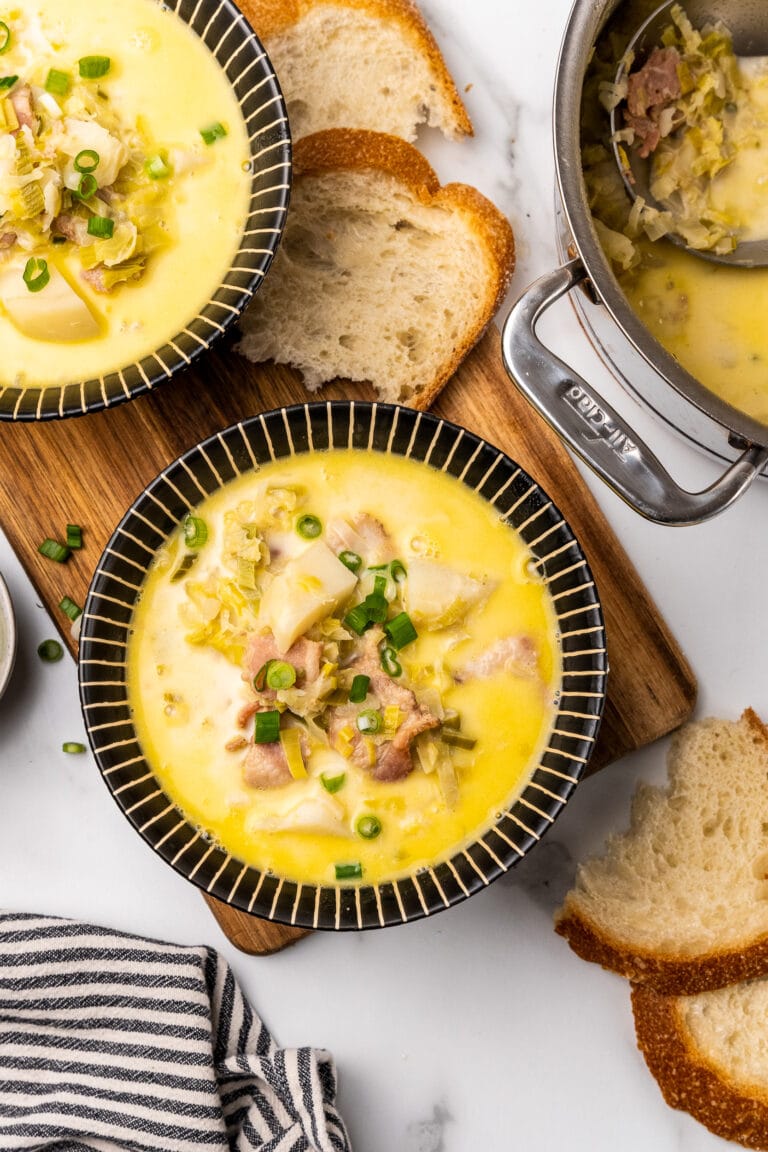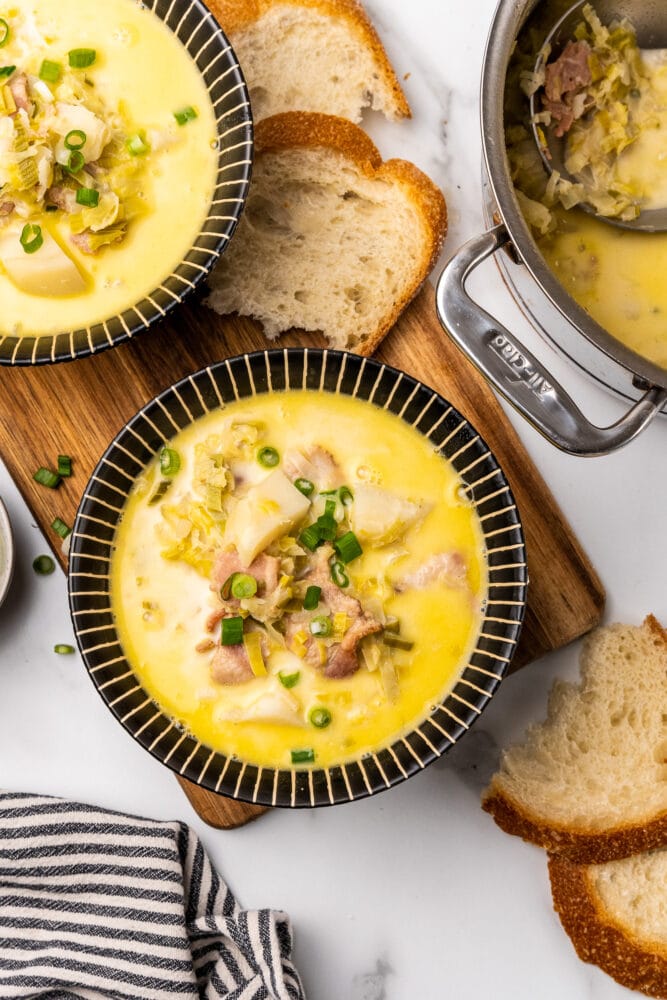 Colcannon Soup and Halloween
Food often carries a rich history with it, and Colcannon Soup is no exception. Originally, Colcannon was a festive dish served during Halloween in Ireland. It was believed that charms or symbolic items were hidden within the dish, and finding them brought good fortune. As for the soup version, it's a more recent adaptation, but it still holds that warm, comforting essence of traditional Irish cooking.
While I don't recommend adding charms to your soup, serving it can add an element of fun to your Halloween celebrations.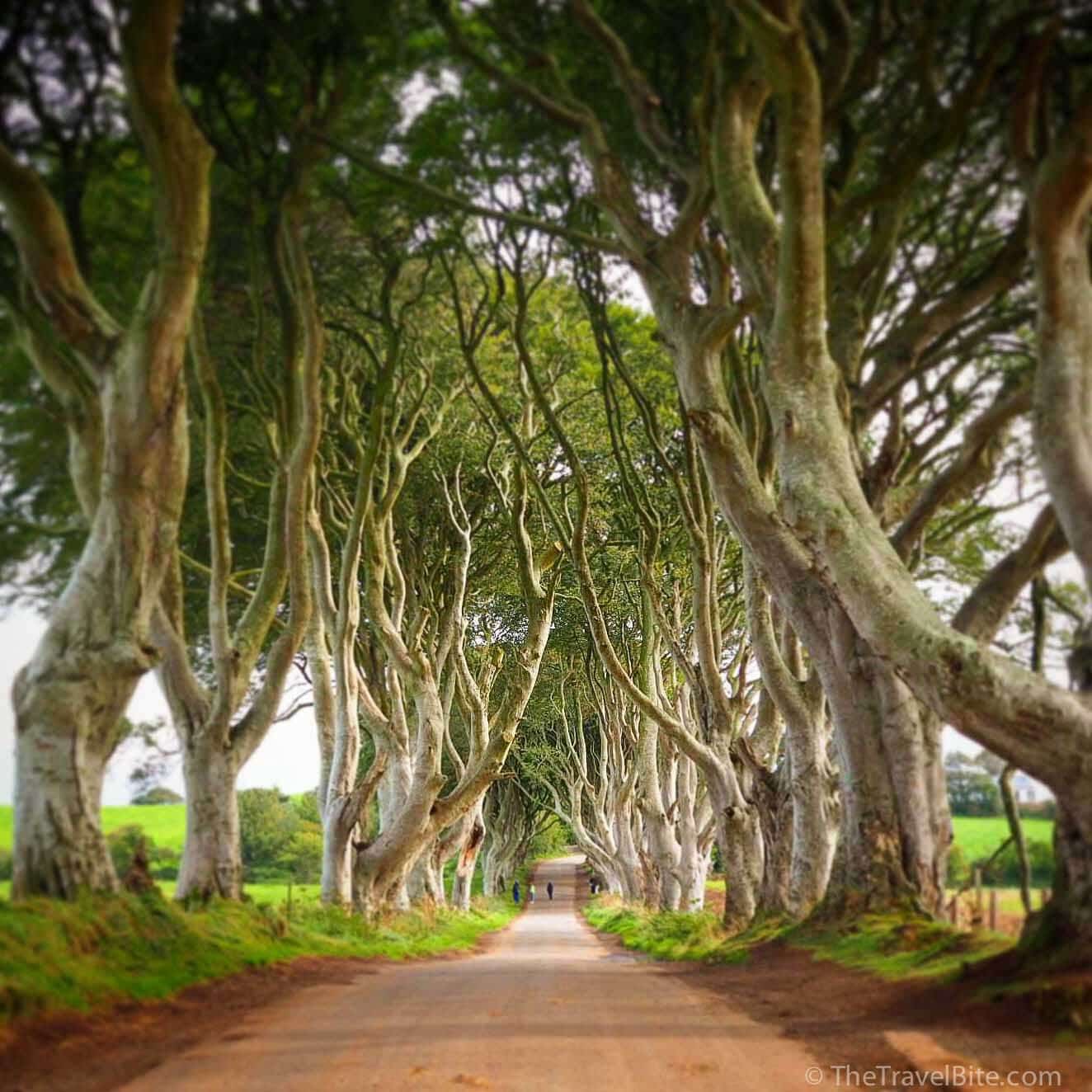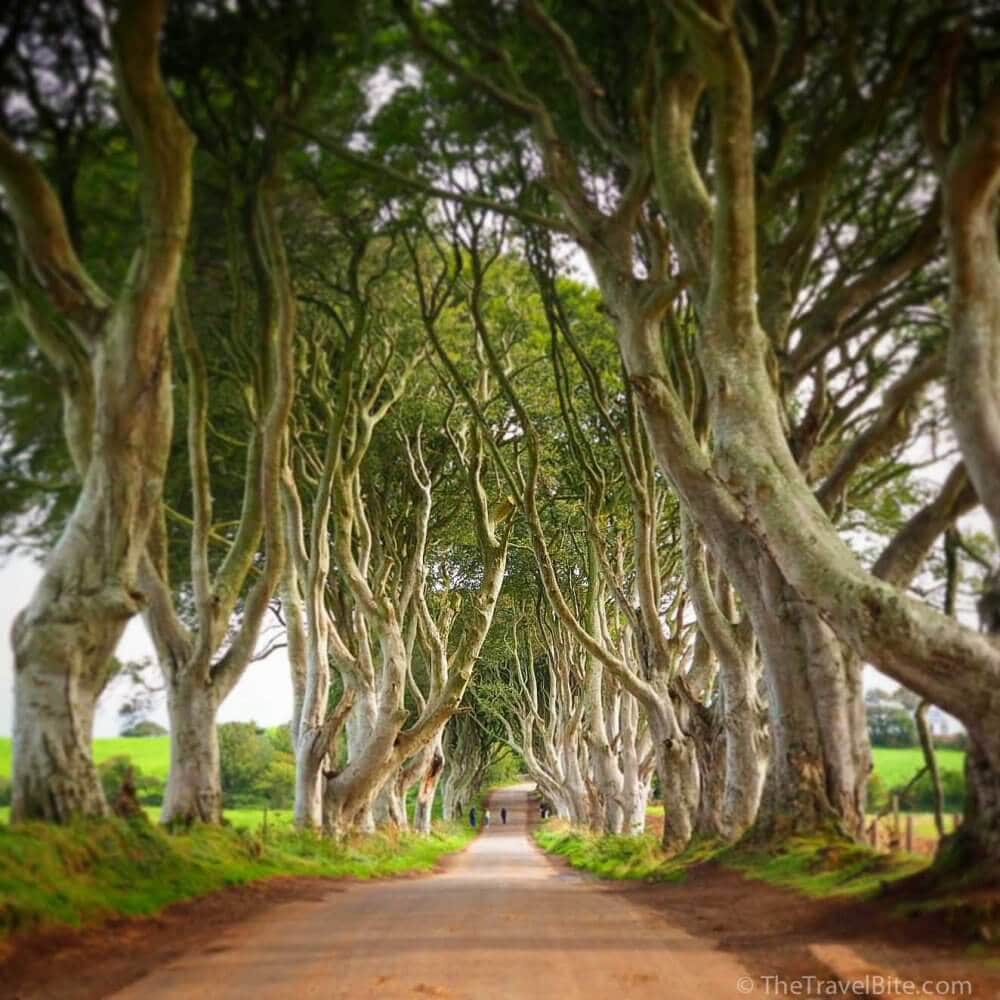 A Taste of Ireland in Every Spoonful
If you're wondering what makes Colcannon Soup so special, it's the combination of simple ingredients that come together to create a symphony of flavors. Picture this: creamy mashed potatoes as the base, tender cabbage or kale, and a hint of oniony goodness from scallions. All of these ingredients are cooked to perfection and then blended into a velvety soup. The result? A taste of Ireland in every spoonful.
Colcannon Cooking Lessons (By Brooke Fehr)
Travel can be a trial by fire for any relationship, so it's worth noting that Rachelle and I first became friends on a trip. We were part of a small group of food bloggers chosen by Raglan Road Irish Pub and Restaurant to spend time in Ireland as part of the Orlando-based restaurant's tenth anniversary celebration.
Officially, the five of us food bloggers were there to chronicle the adventures of the Raglan Road Trip winners, five talented cooks who won a free trip to the Emerald Isle by creating fantastic, Irish-inspired recipes. By the end of the journey, however, we all knew that we were lucky to have participated in such a special event.
Ever since we returned from that trip, Rachelle and I have wanted to get back into the kitchen. As a result, we settled on a date and set about formulating our plan.
When the day came, we took inspiration from that incredible few days we spent in Ireland. As a result, we're sharing with you one of the dishes we had while we were there: Colcannon Soup.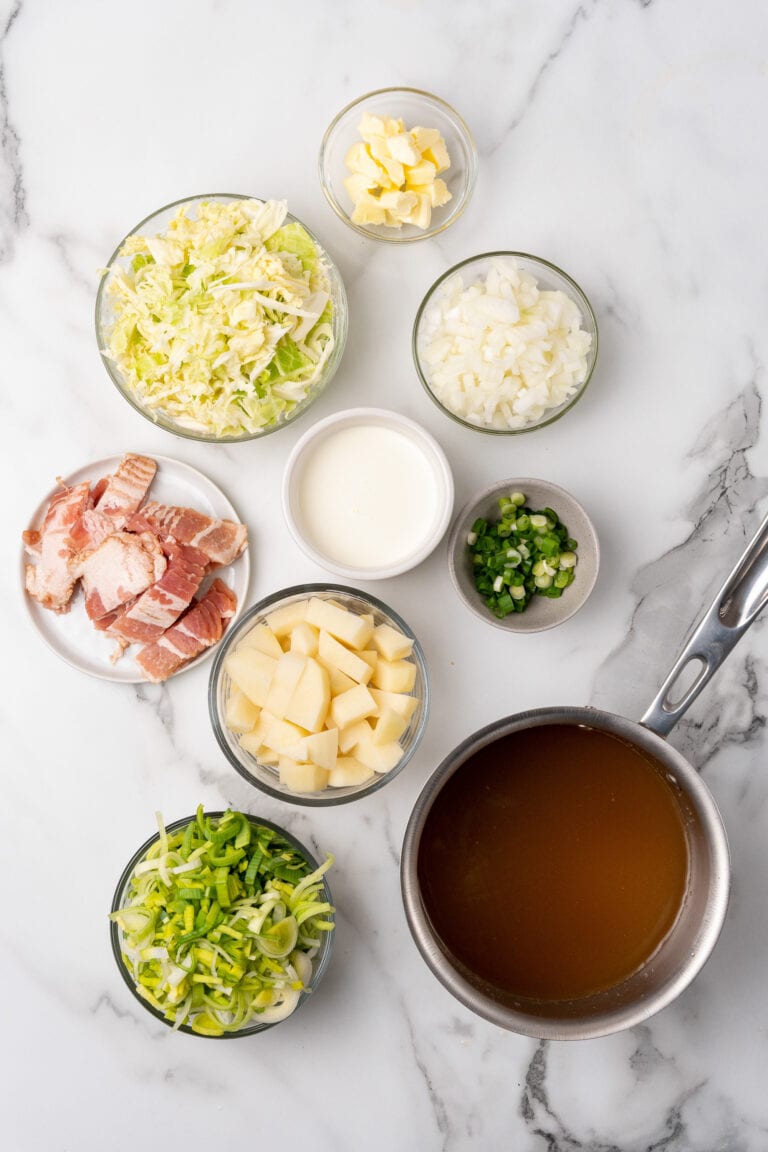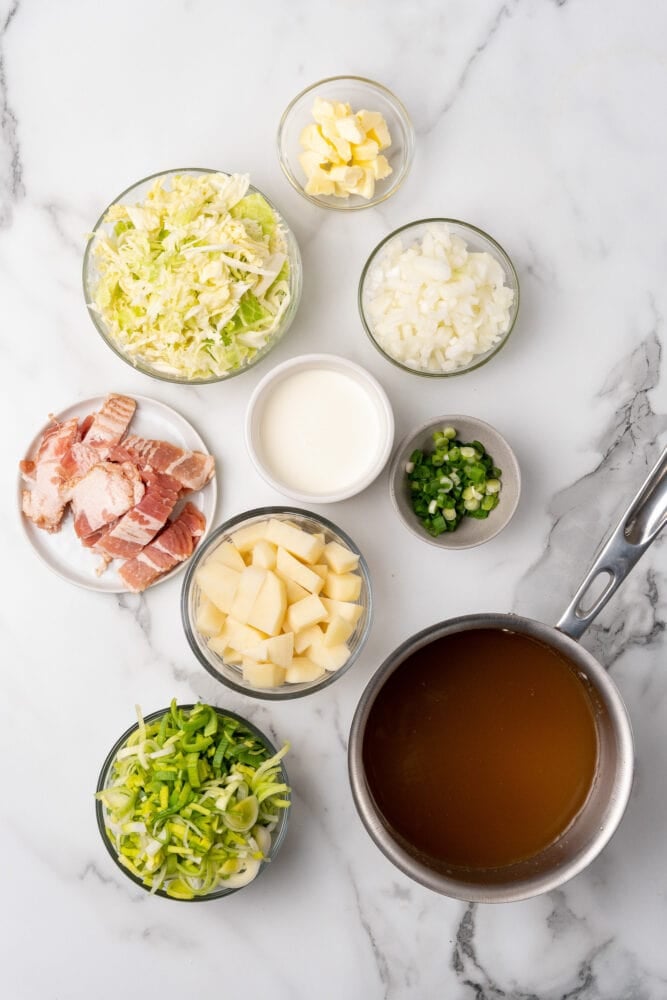 Preparing Your Ingredients For Colcannon Soup
Our recipe is inspired by Master Chef Kevin Dundon's homage to the classic Irish dish, colcannon. Normally, it's a side dish featuring mashed potatoes and cabbage, with lots of butter and cream for good measure. As a result of turning the comforting ingredients into a main dish, you allow classic flavors to take center stage.
To make the task of creating the soup easier, we began by chopping and dicing all of the ingredients. I took special care to separate the leaves of the leeks.

Because leeks can harbor so much grime between the layers, I like to give them a good plunge in water to make sure no hidden dirt escapes unnoticed.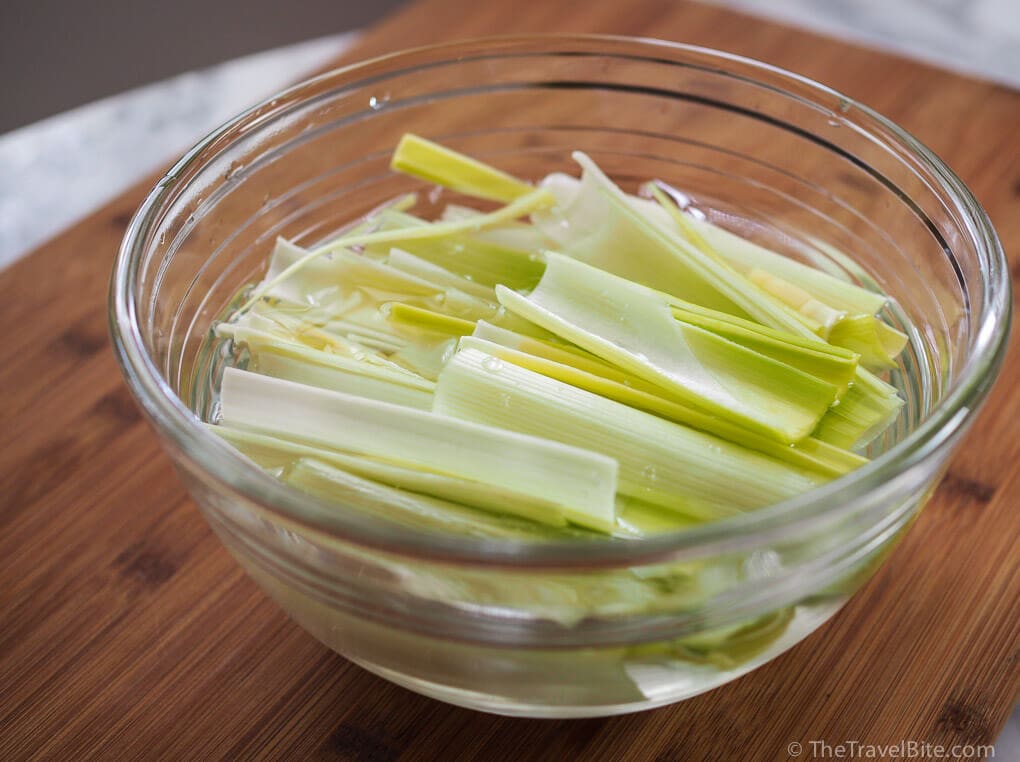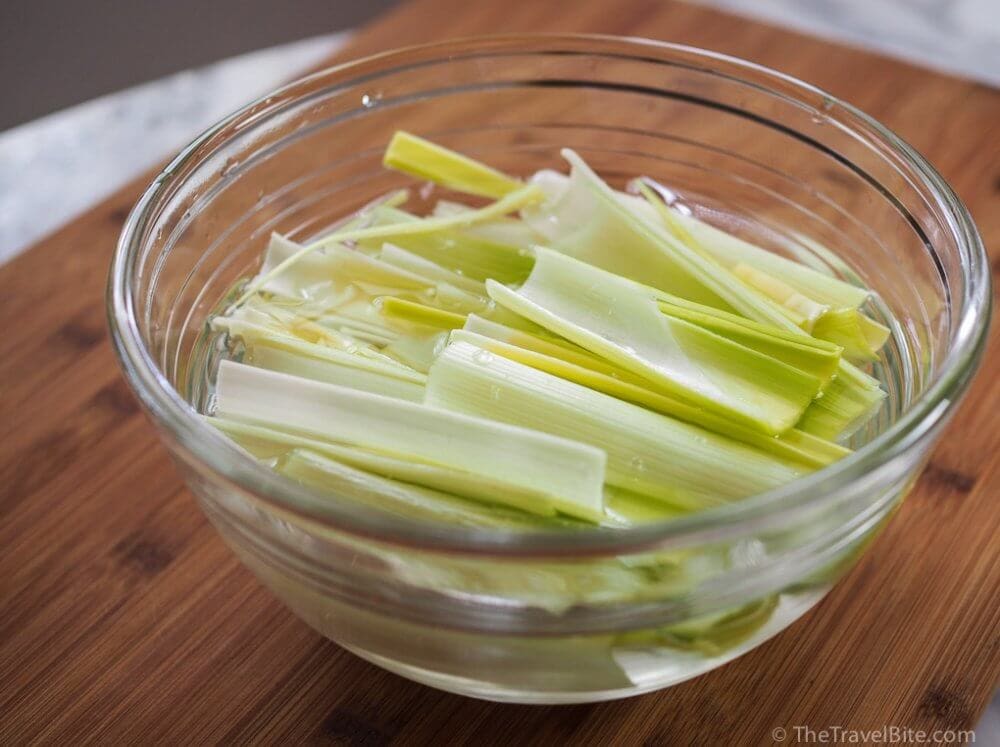 As a result, you'll have squeaky clean leeks! And no dirt in your soup. That's always a good thing, yes? After a thorough rinse, they were ready to join the rest of the crew.
Cooking Colcannon Soup
With our ingredients prepped, it was time to get started making the house smell wonderful! First, we began by sautéing the bacon over medium-high heat. The idea is to render the fat out of it, but not to cook it until it's crisp.

Once the bacon cooks a bit, it's time to add the onion, potatoes, leek, and cabbage. If your bacon hasn't produced enough fat for all of those veggies, it's okay to add a little butter or olive oil to the pan as well.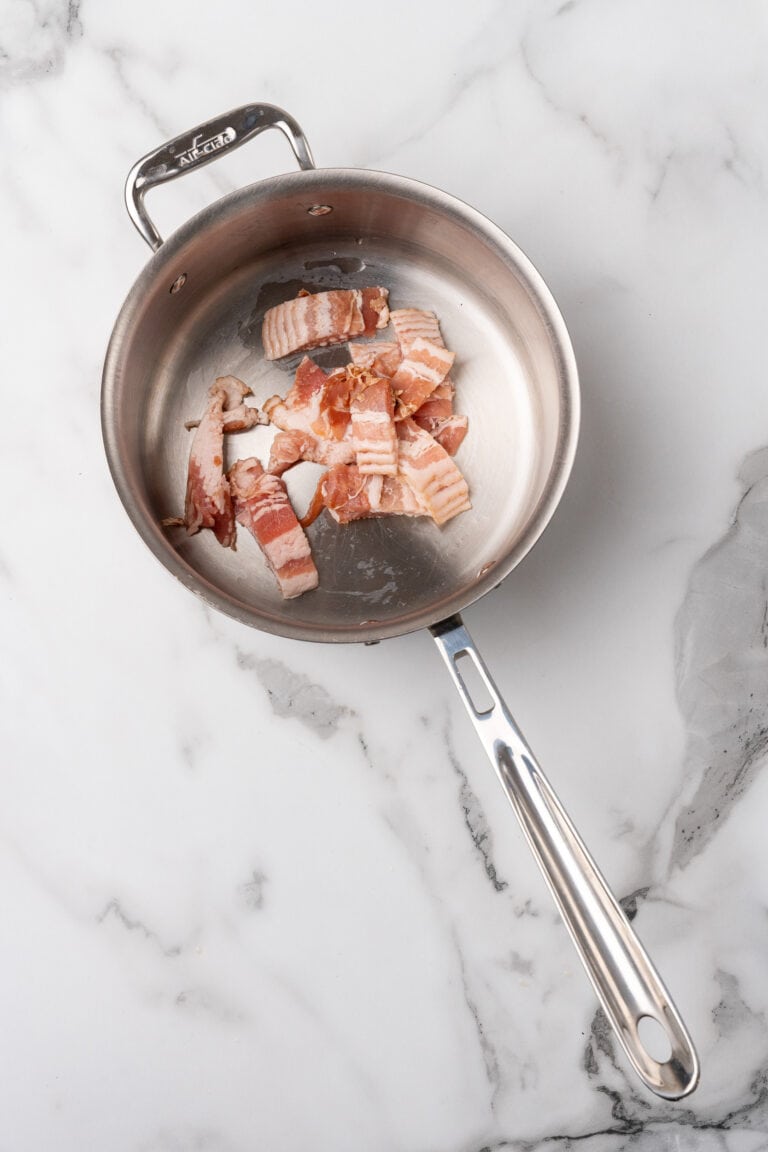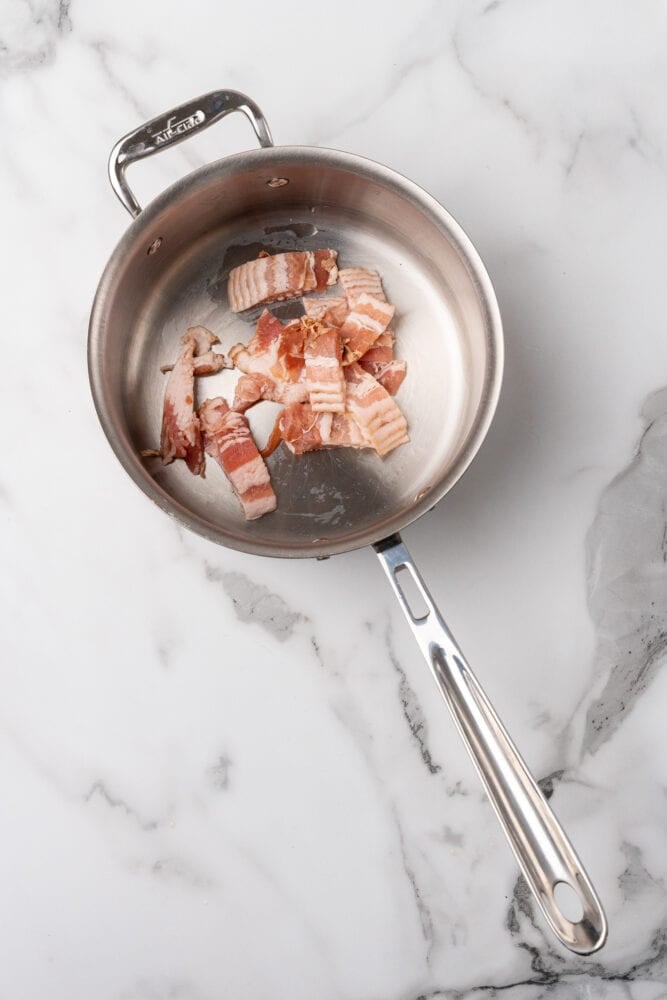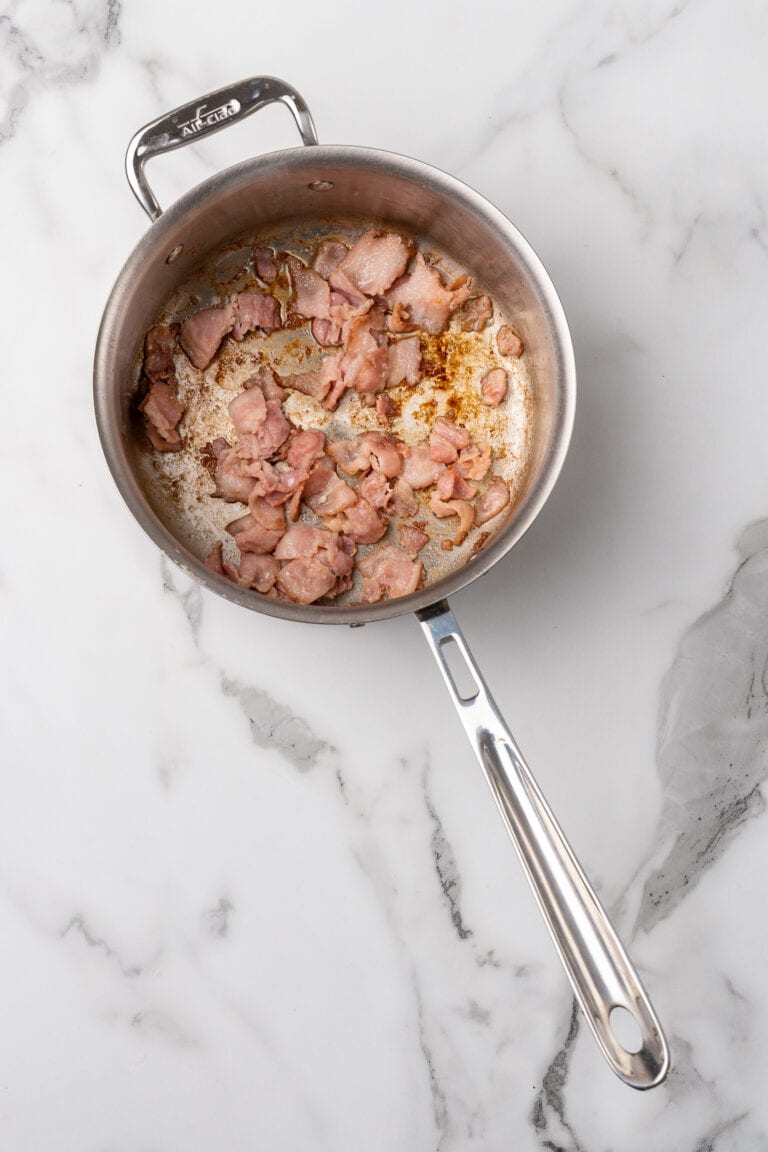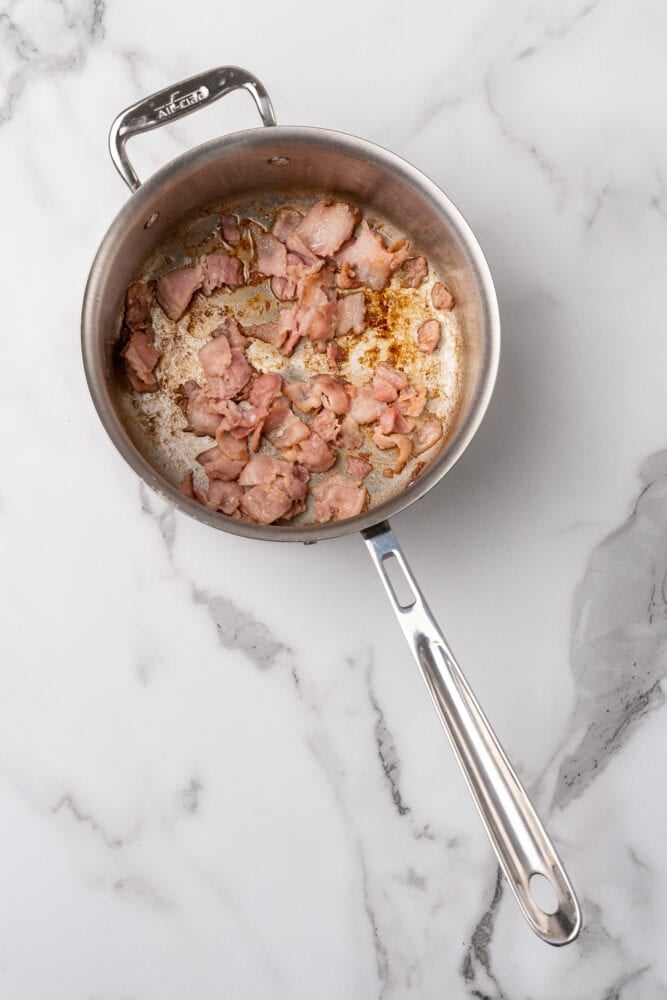 Be sure to break up the cabbage so that it cooks evenly and becomes nice and tender in the soup.

Cover your pan, reduce the heat to medium low, and allow the vegetables to cook and soften for about ten minutes.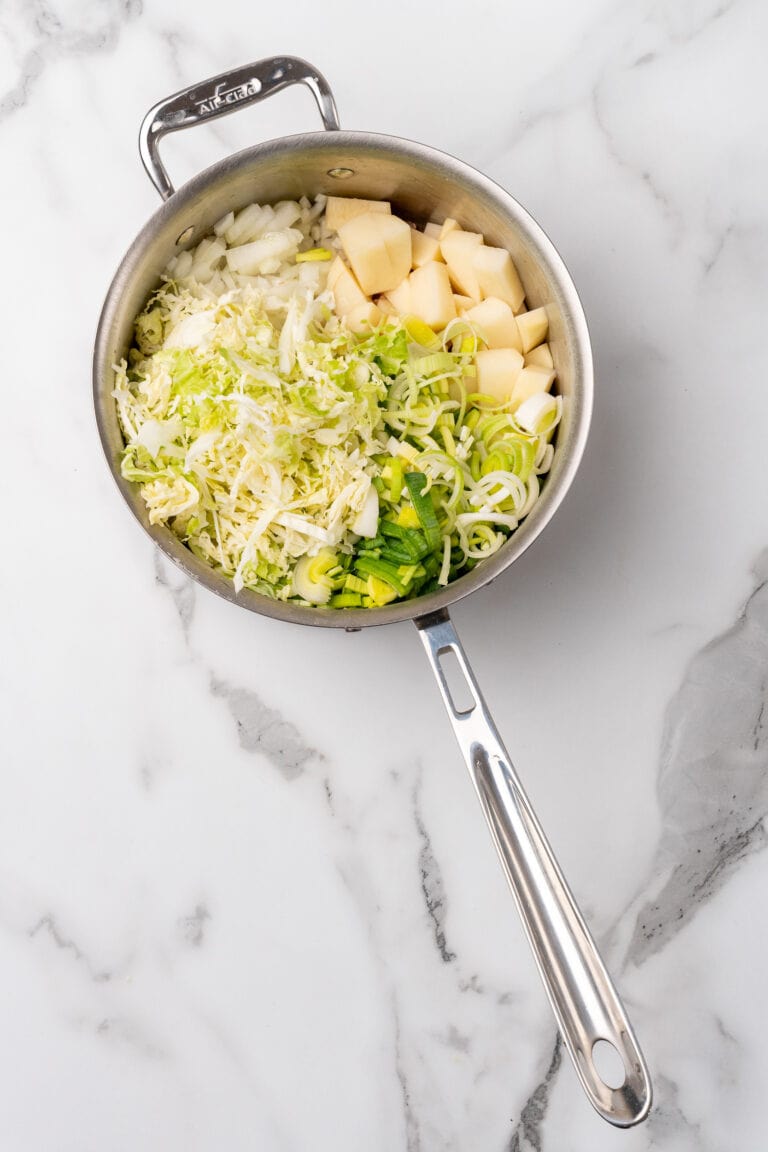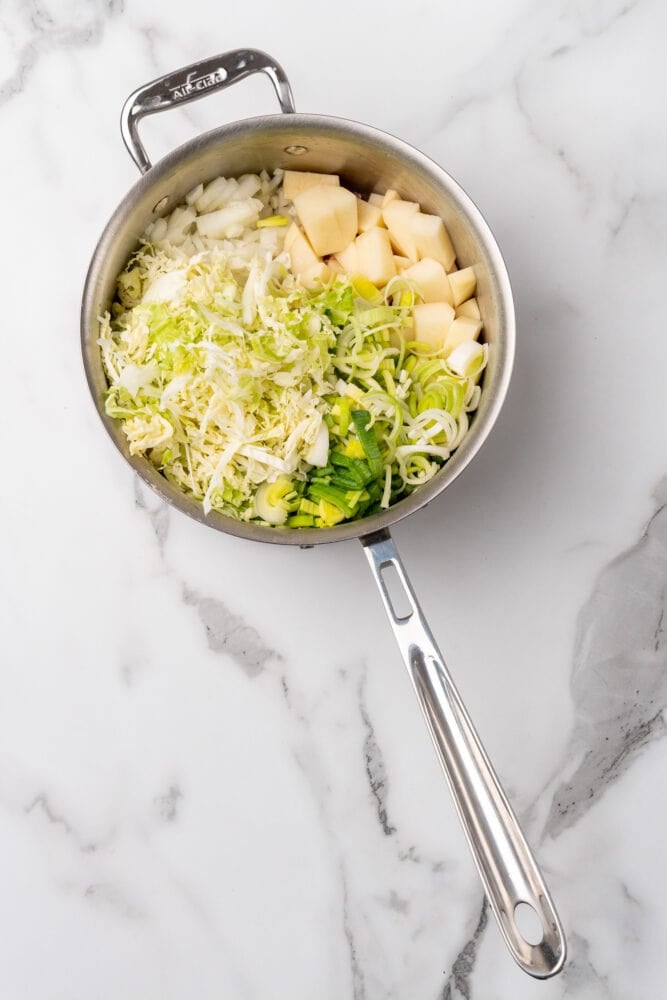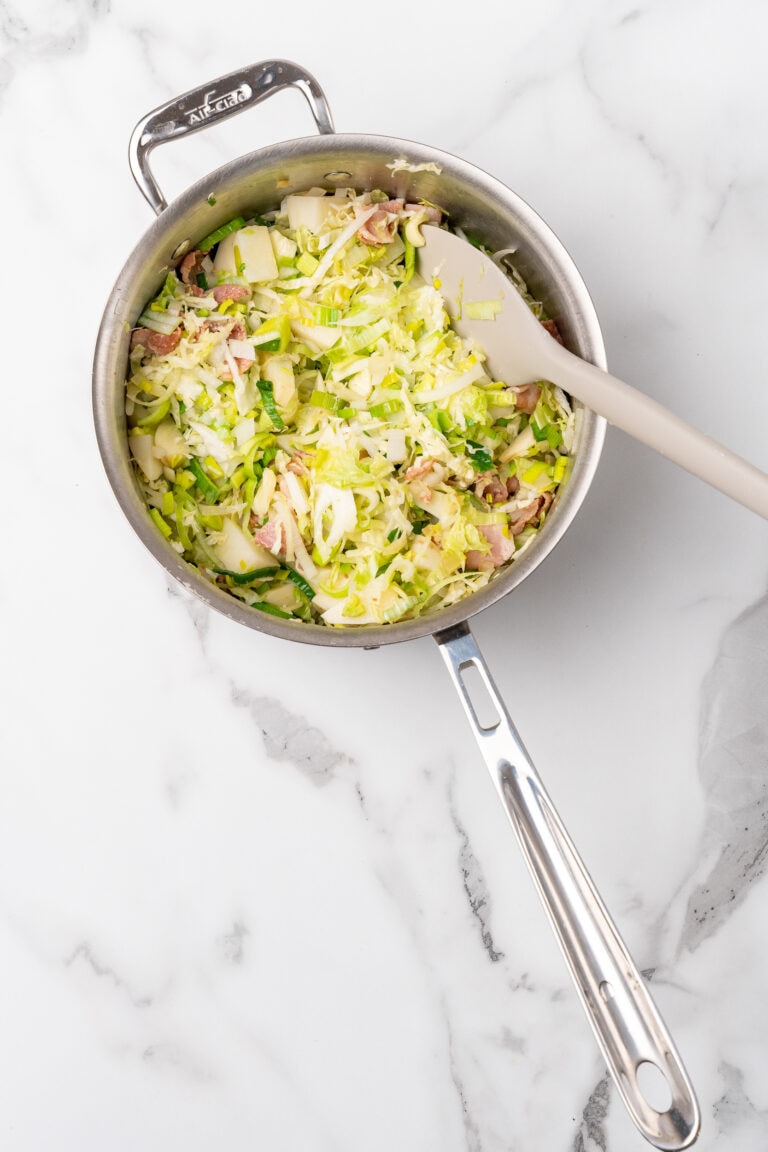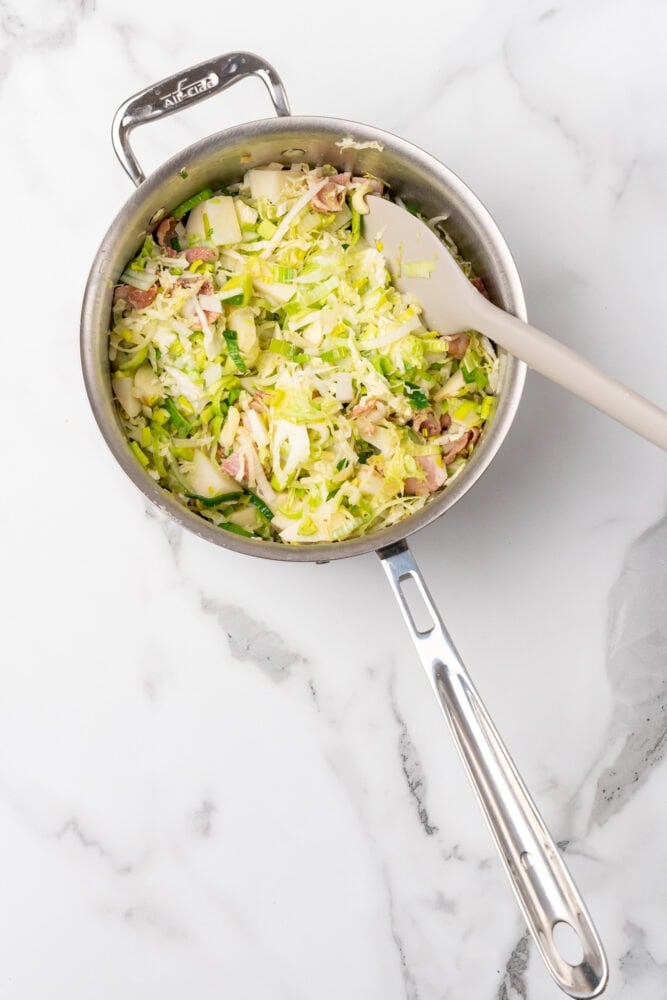 At this point, you'll add the vegetable stock or water. Chicken stock will work just fine here as well. However, I'd stay away from beef stock, since it may overwhelm the delicate flavors and compete with the bacon for top billing.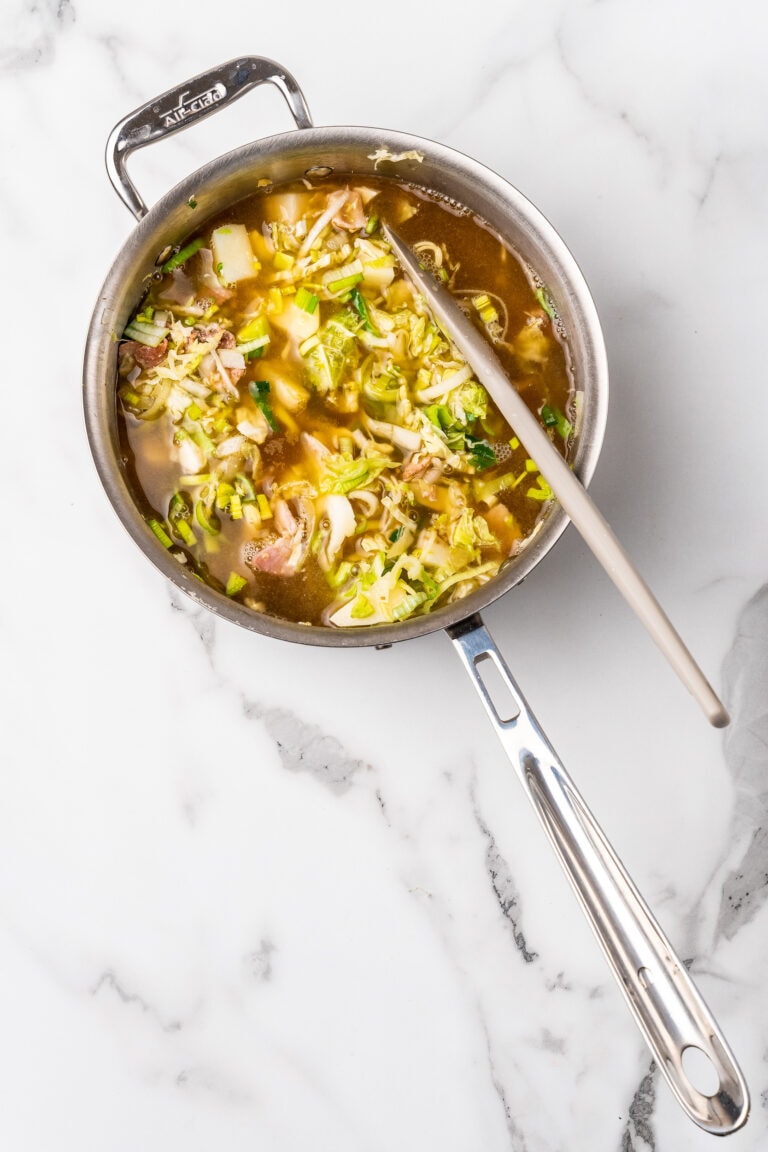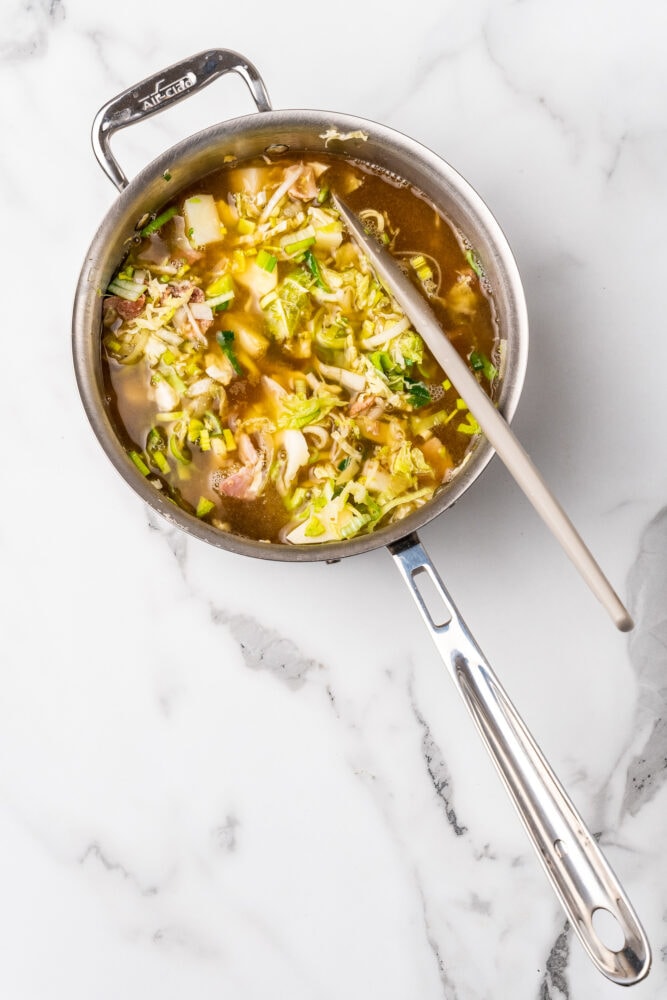 Bring the soup to a boil, and then lower the heat. Allow the soup to simmer for five to ten more minutes.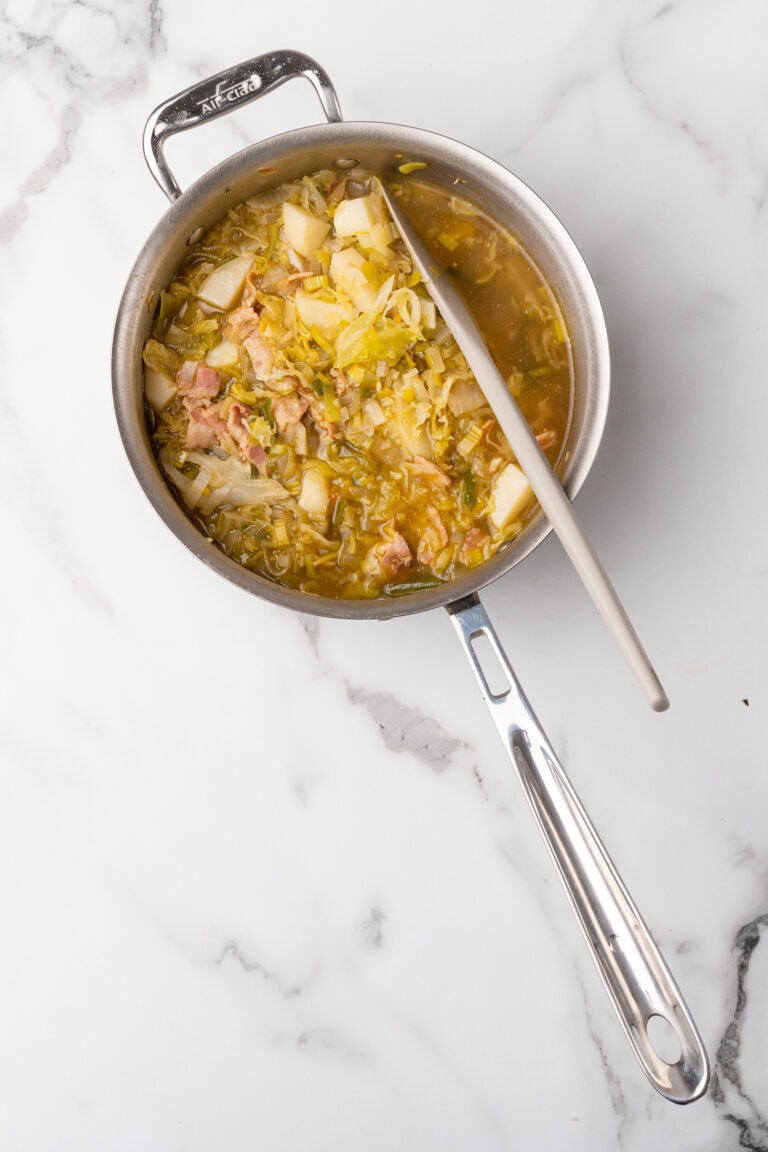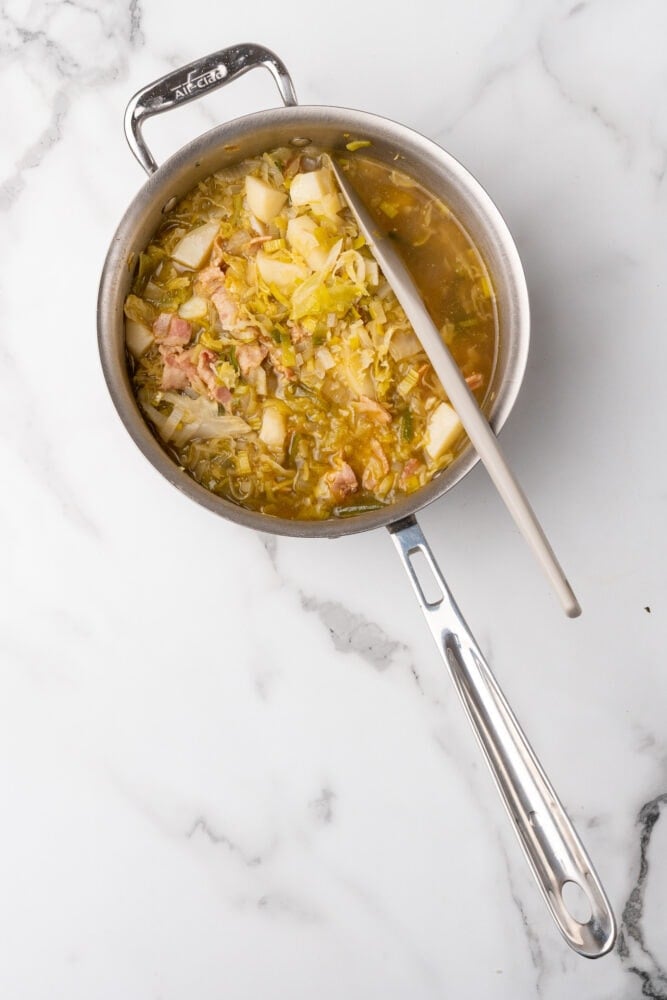 Reduce your heat to low, and add the half and half. Feel free to use heavy cream in place of the half and half if you prefer. Simmer for an additional two minutes.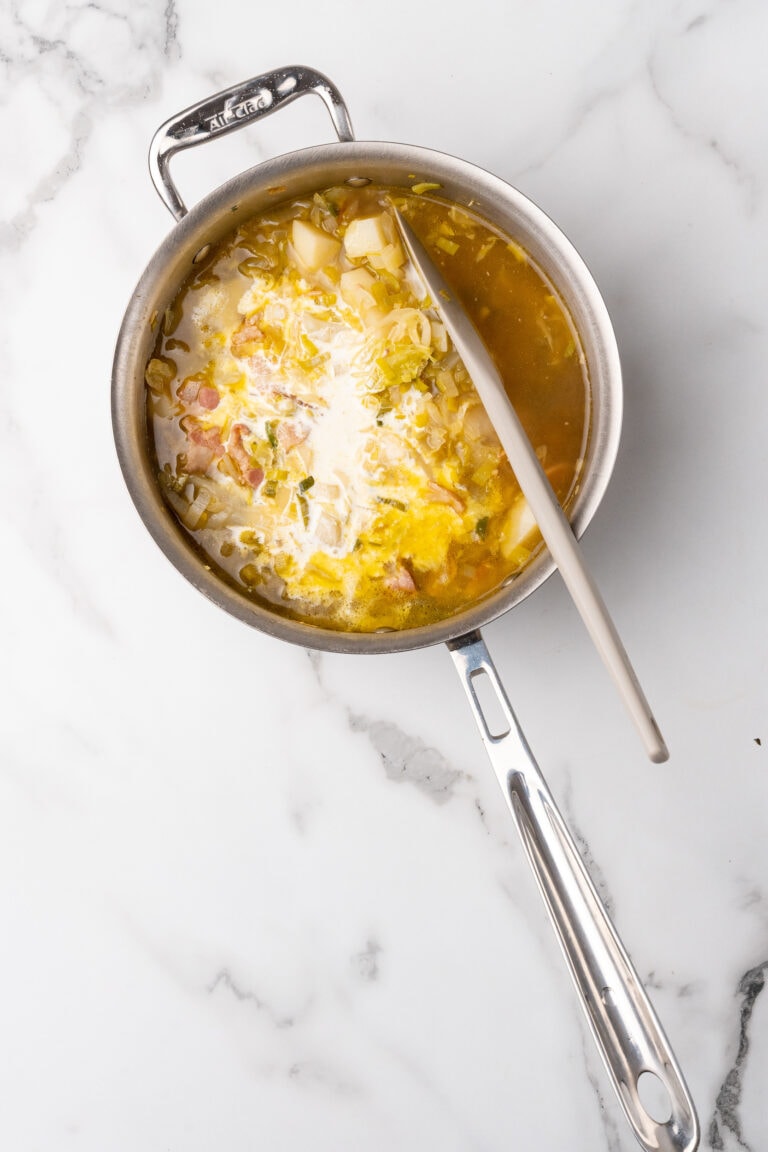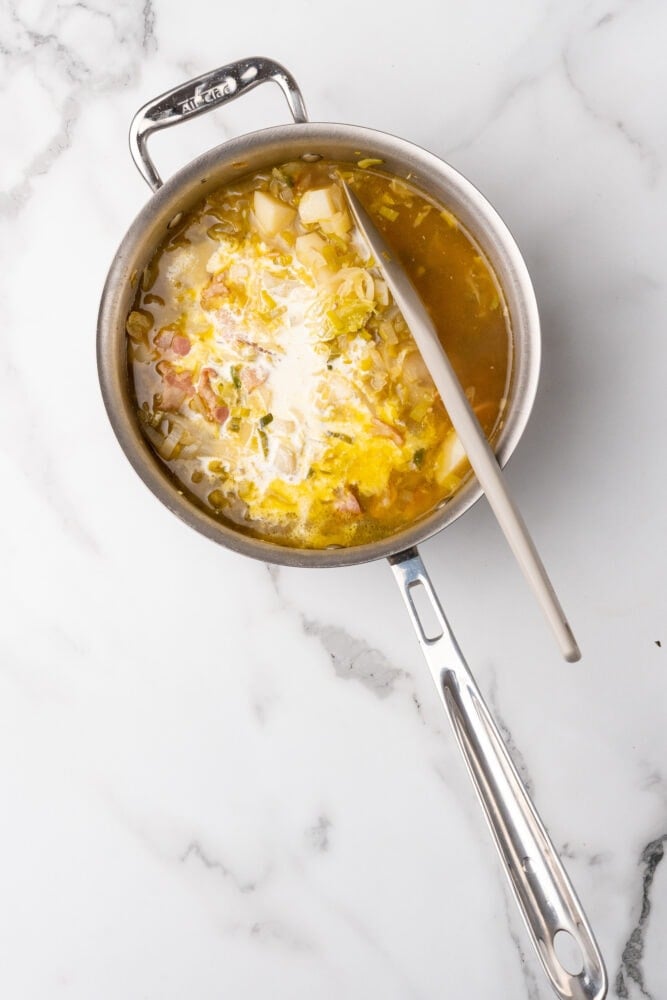 Once your soup has come together, remove it from the heat and whisk in the butter. Don't return the soup to the heat at this point, or you risk it curdling.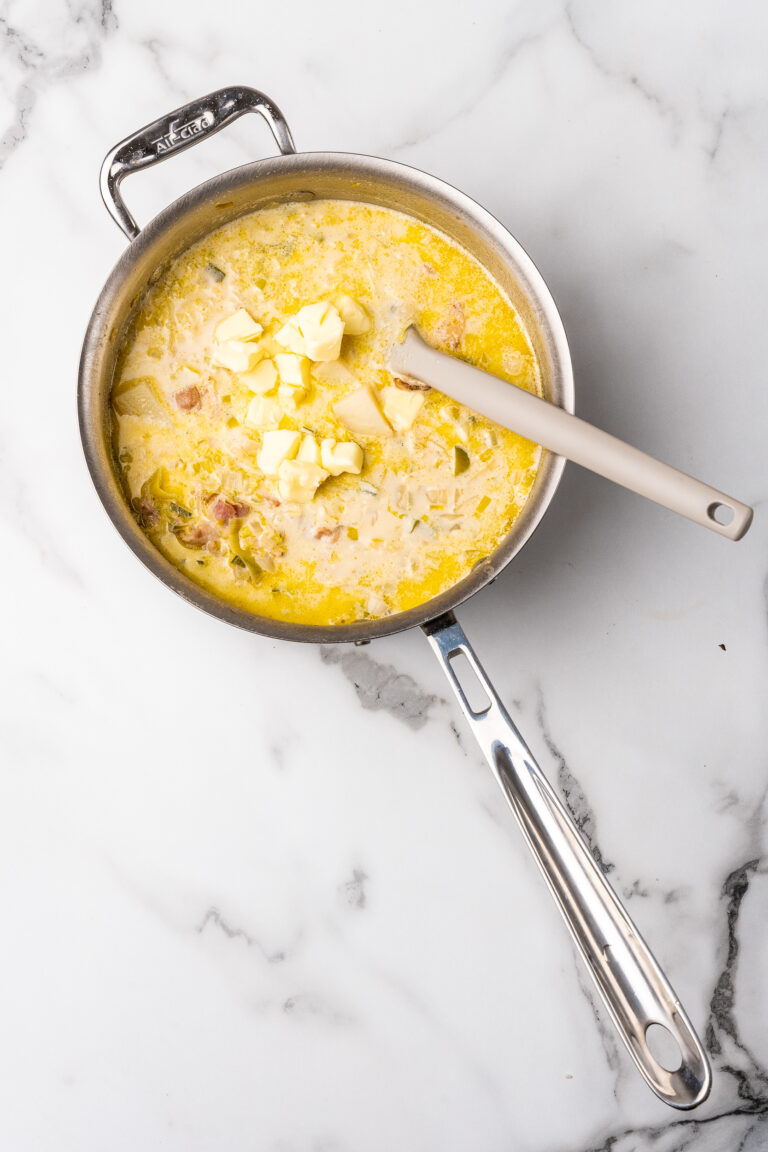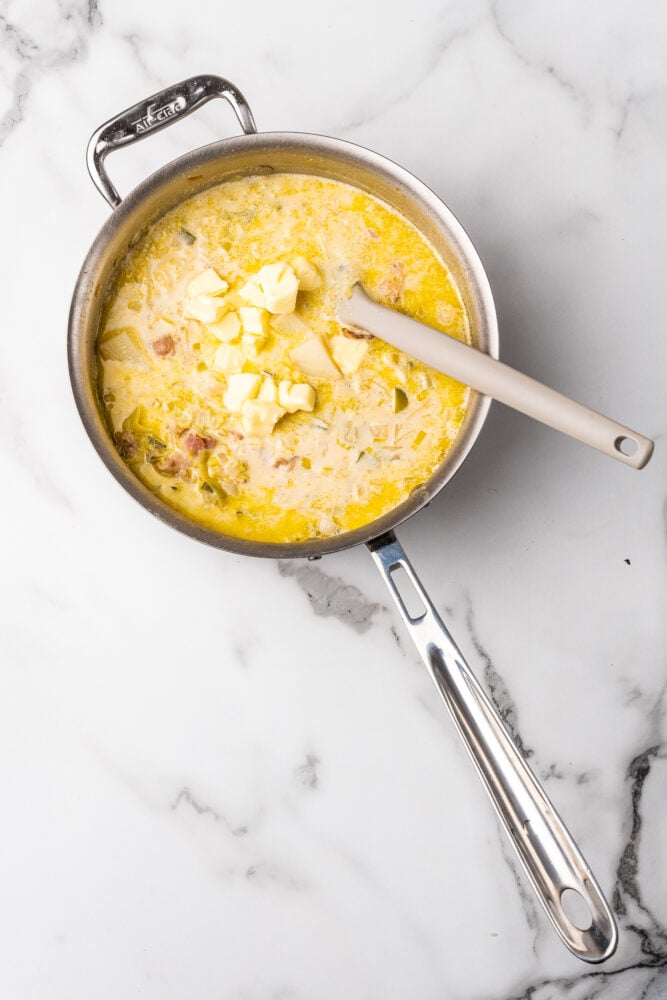 Ladle into bowls and serve! Colcannon Soup is hearty on its own, but it's even better when accompanied by some fresh crusty bread or a slice of Irish soda bread.
You can also sprinkle a bit of grated cheddar cheese on top for an extra layer of flavor. We like to garnish ours with fresh herbs and crisp bacon.
Serve it with a side of crispy Irish cheddar sticks, Irish brown bread, or Irish soda bread.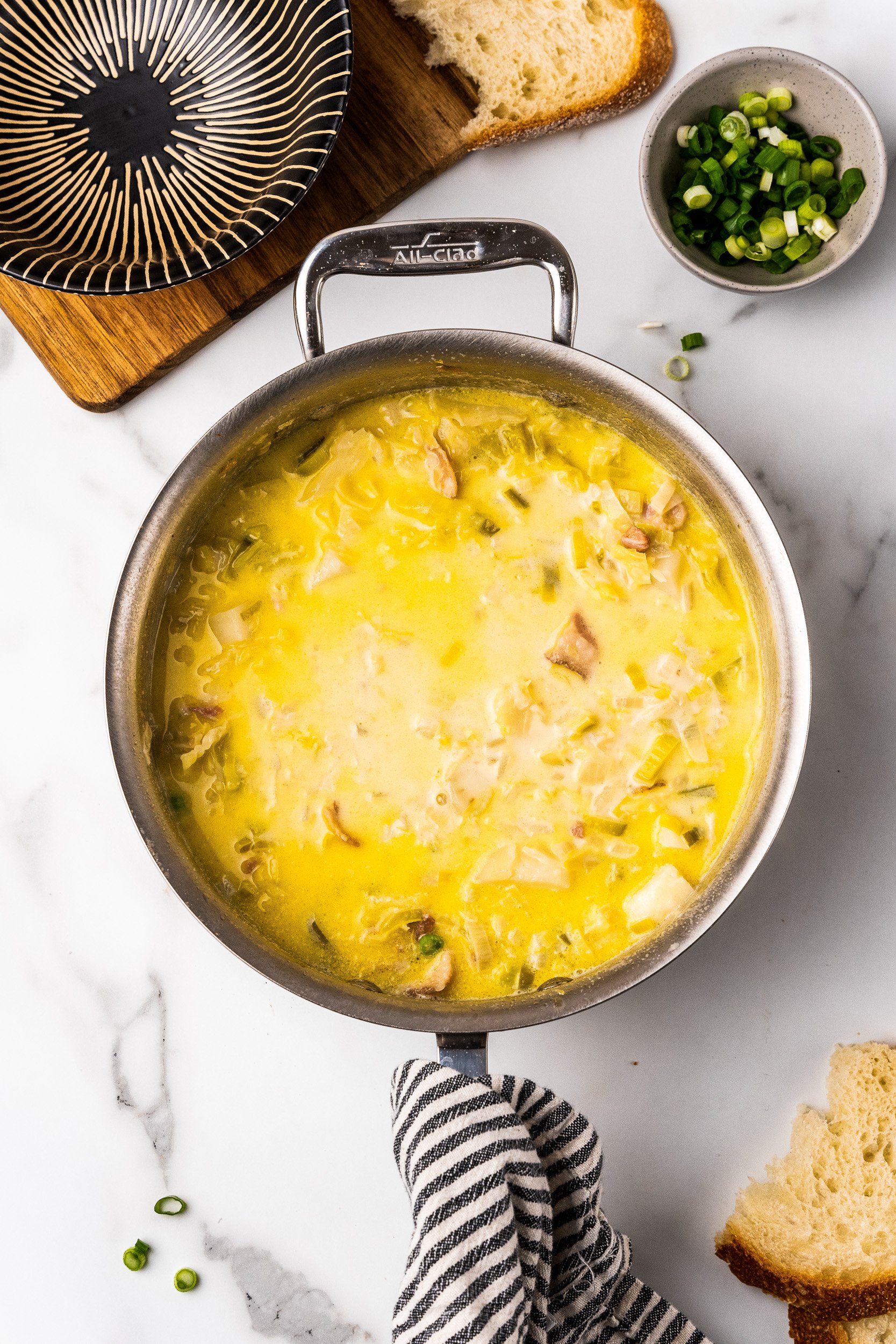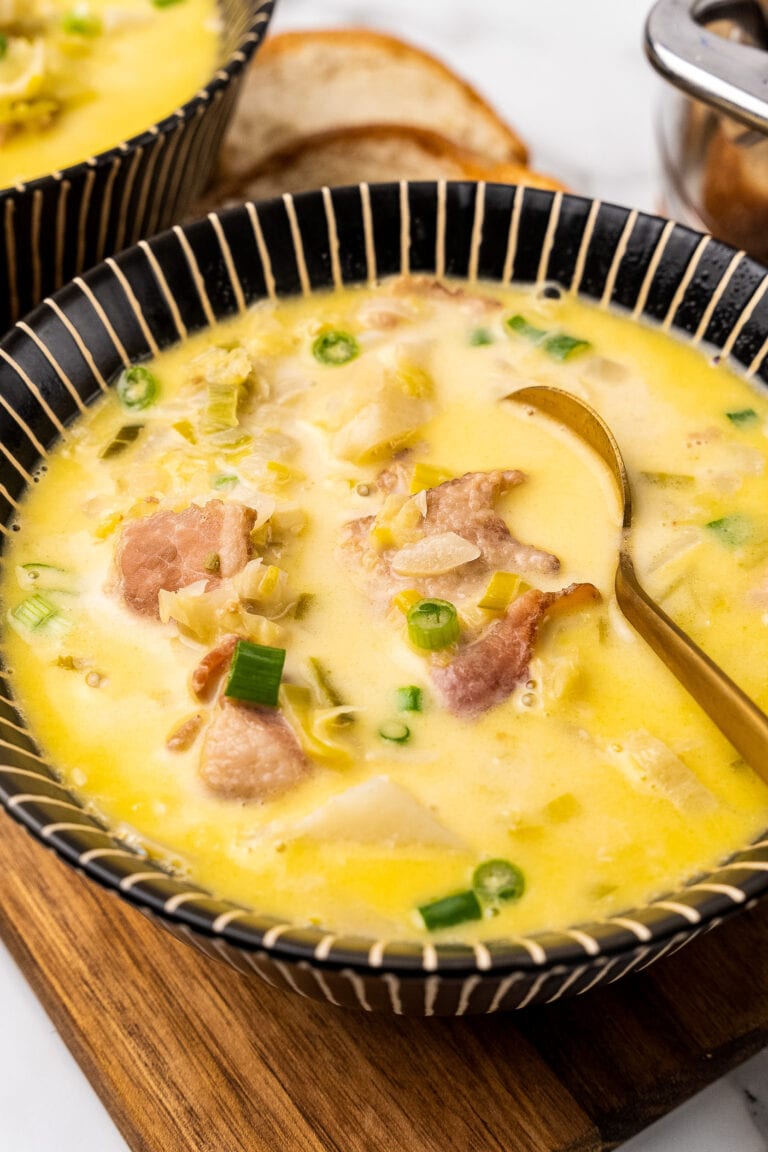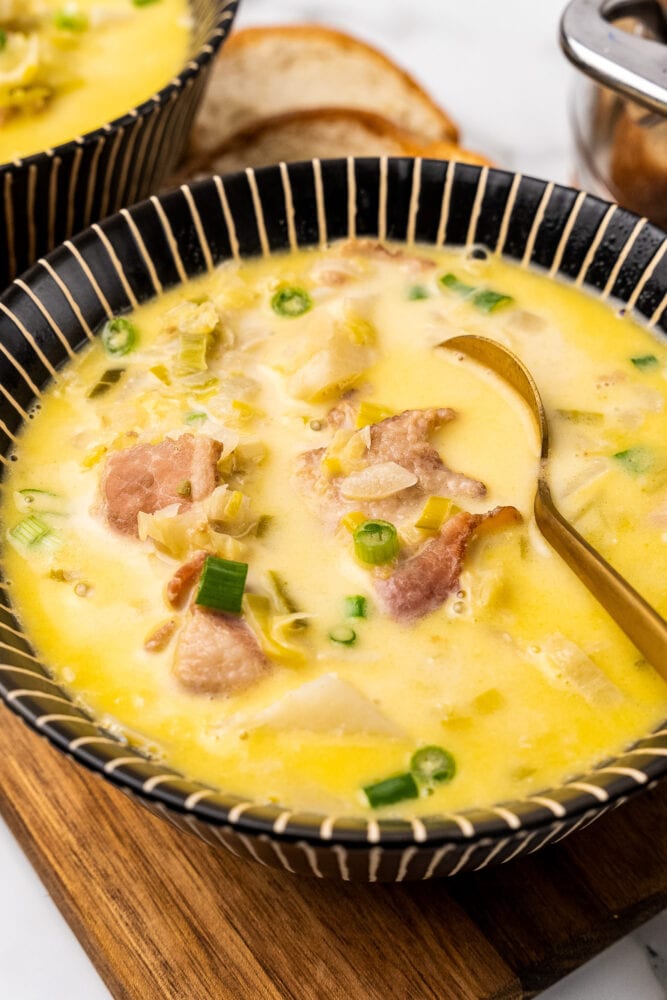 Making Your Own Colcannon Soup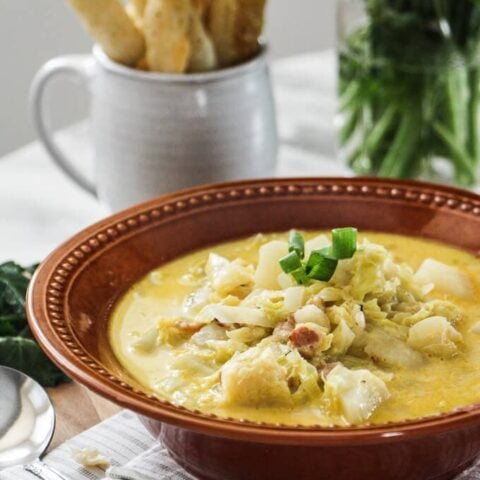 Recipe: Colcannon Soup
A rich and satisfying soup that comes together in minutes. Perfect for a St. Paddy's Day celebration, or a quick weeknight meal.
Ingredients
4 ounces streaky bacon (that's American bacon to you and me)
1 onion, finely chopped
8 ounces potatoes, peeled and diced
1 leek, trimmed and thinly sliced
5½ ounces Savoy cabbage, thick stalks removed and shredded
4 cups vegetable stock or water, heated
2/3 cup half and half
2 tablespoons butter, diced and at room temperature
chopped scallions for garnish
Instructions
Heat a large pan and saute the bacon over a medium to high heat for a 2-5 minutes, rendering the fat, but stopping short of crisping it.
Reduce to low heat and add the onion, potatoes, leek, and cabbage. Cover with a lid and cook for 10 minutes until well softened but not coloured, stirring occasionally.
Pour the warm vegetable stock or water into the cabbage mixture and bring to the boil, then reduce the heat back to medium-low.
Allow the soup to simmer for 5-10 minutes and season to taste.
Stir in the cream and simmer for a few minutes until the soup has a creamy texture.
Remove the soup from the heat and whisk in the butter. It is important not to re-boil the soup once the butter has been added, or it will curdle.
Ladle the colcannon soup into serving bowls. Garnish with chopped scallons and enjoy! Serve with fresh baked soda bread or cheddar sticks.
Final Colcannon Soup Recipe Notes
Cooking the ingredients so thoroughly in the soup allows them to soften nicely, and yet still retain their integrity. As a result, you can puree this soup if you prefer. In one trial run, we used an immersion blender to make a silky soup. It's really a matter of taste and preference. The rustic version we served here is so pretty and there's something truly satisfying about the texture of the cabbage against the soft potatoes. I think you'll agree: Colcannon Soup is a winner.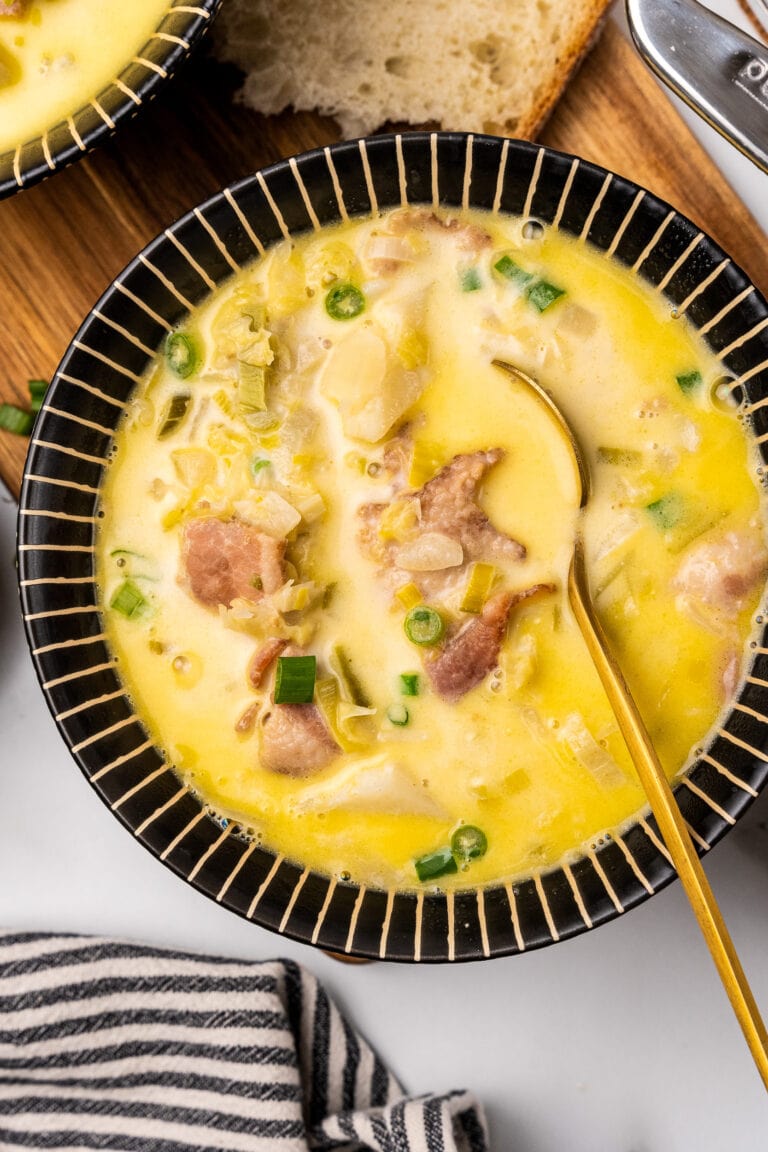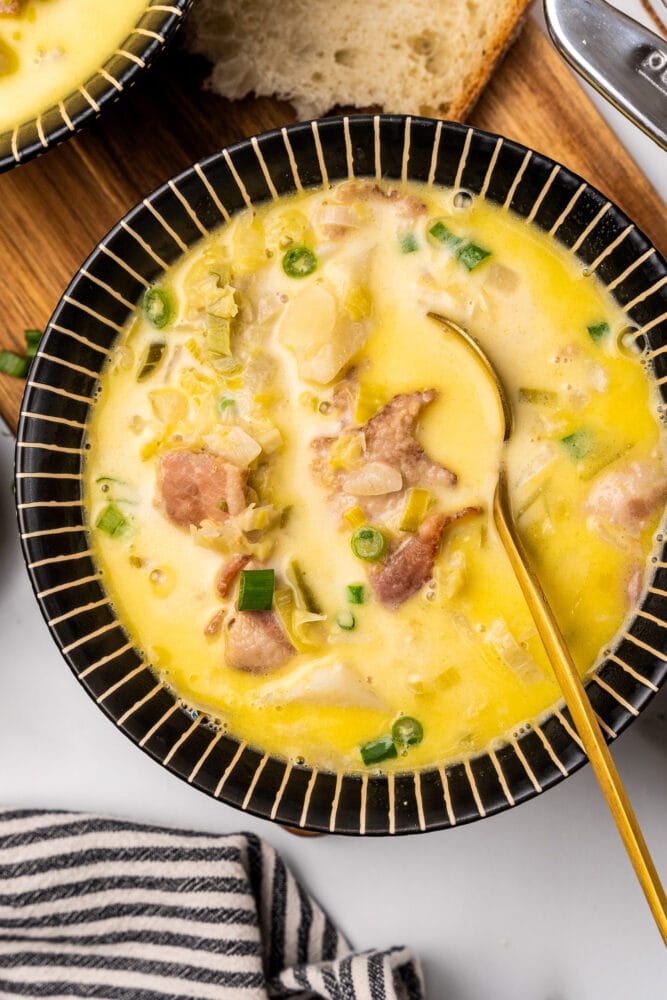 Want to save this recipe for Colcannon Soup for later? Pin it! 🙂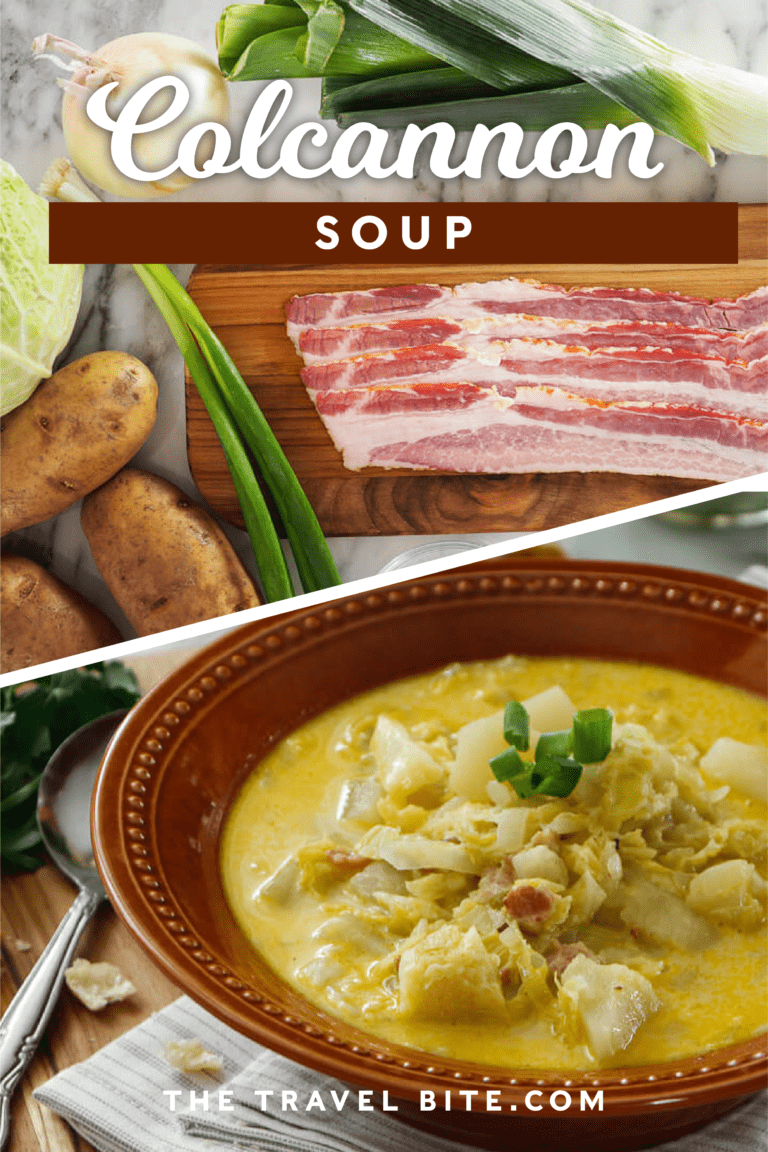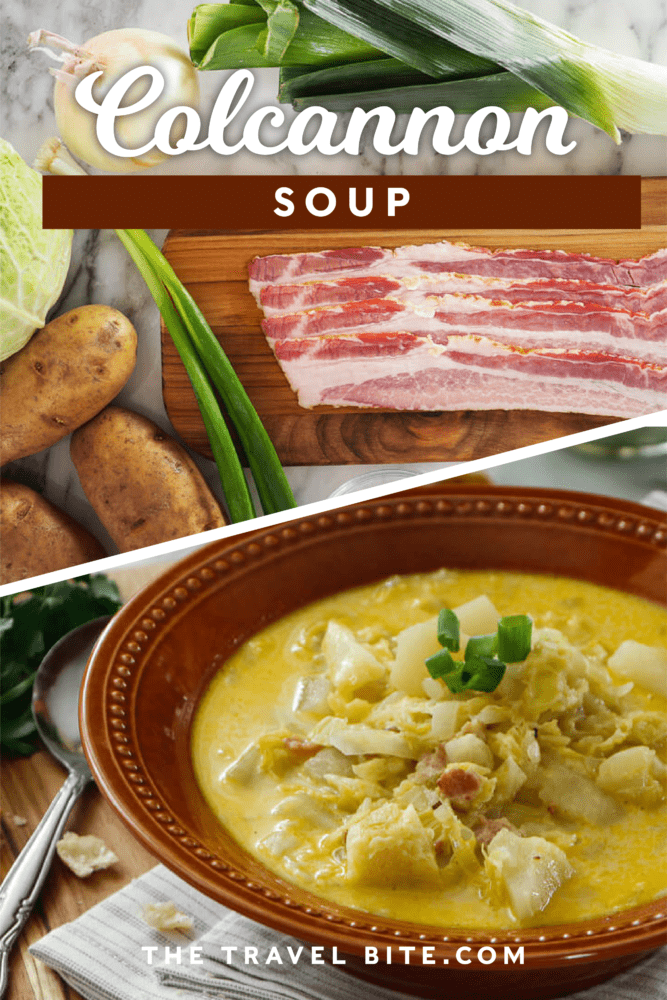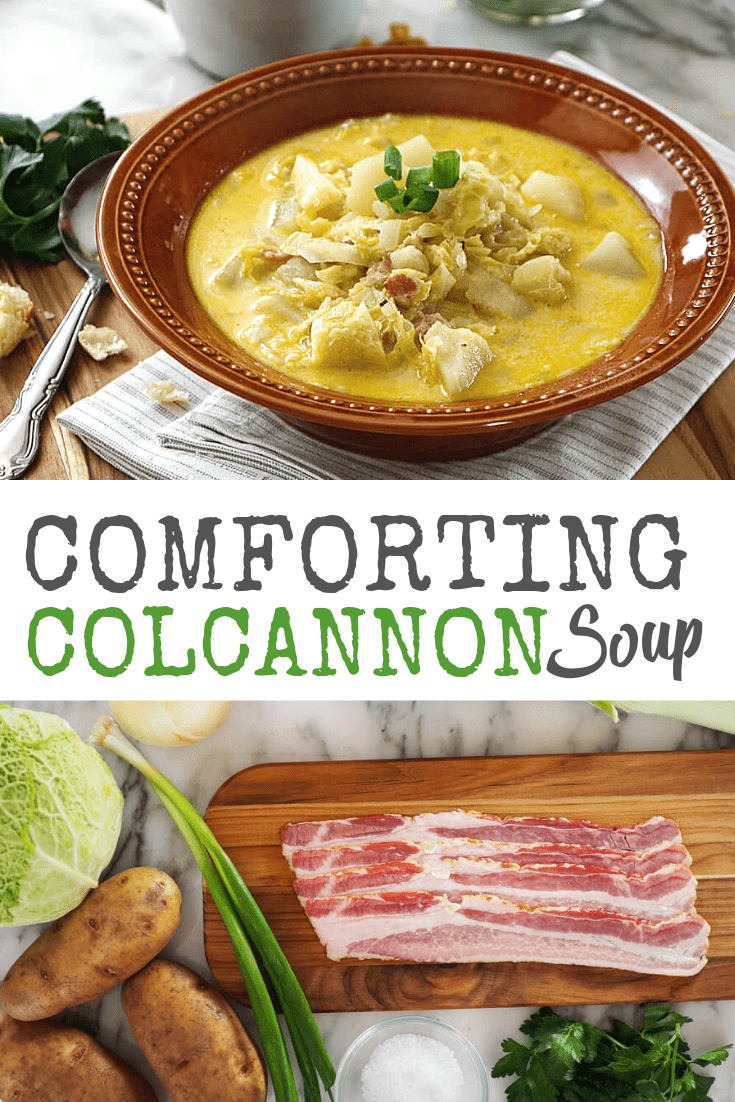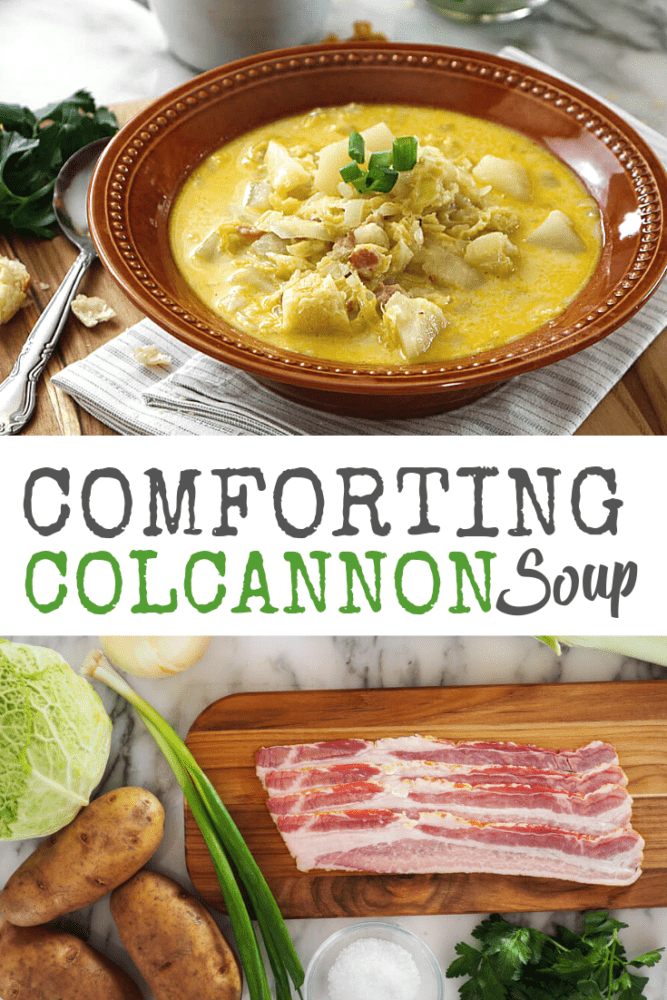 Originally posted in 2018. Updated 2023.