We've been craving comfort food, and nothing beats traditional Irish pub food like this slow cooker Guinness Beef Stew. Traditionally it's made in a Dutch oven, but I like to make mine in a slow cooker. It's easy to prep in the morning, and the whole house ends up smelling so wonderful that I look forward to dinner all day. There's nothing like a hearty Irish stew to stave off the cold!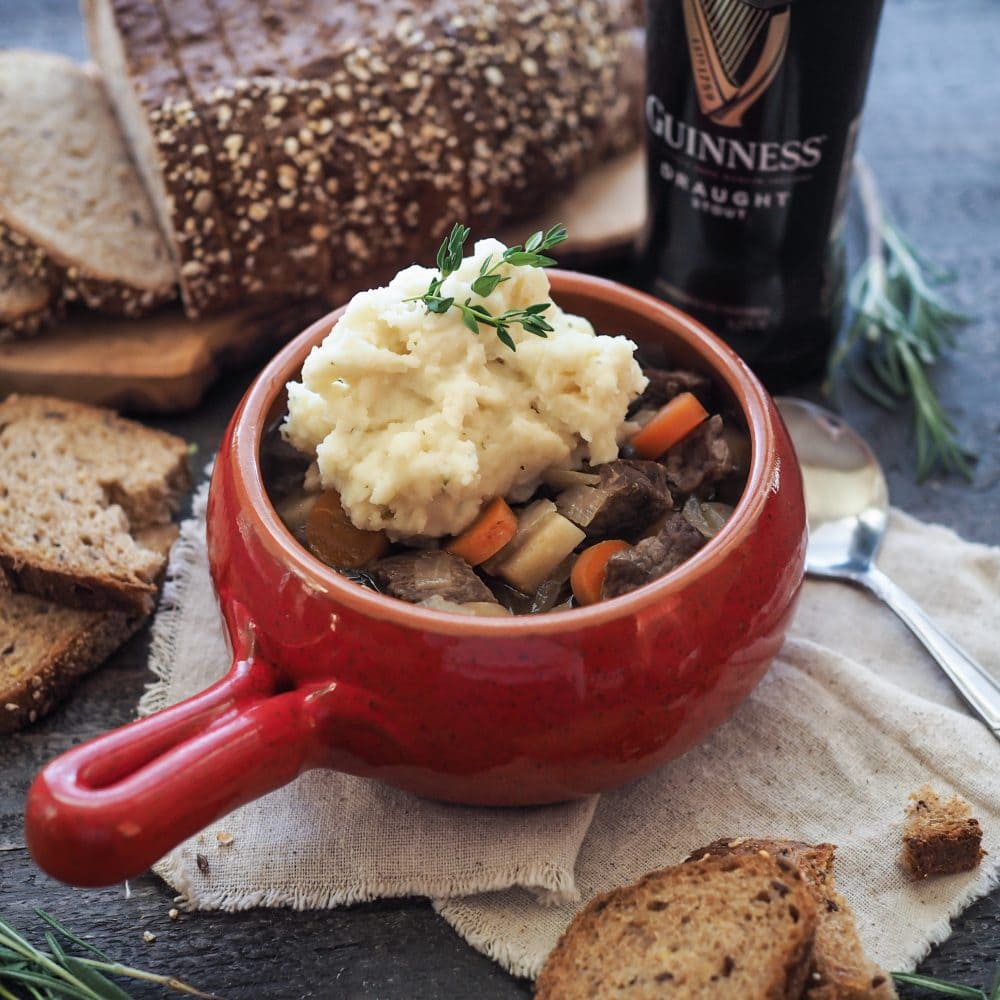 What Is Guinness Beef Stew?
A hearty Irish beef stew is generally made with a tougher cut of meat like a shoulder roast. So adding beer, such as Guinness, helps tenderize the meat and add a more rich depth of flavor. Other ingredients typically include root vegetables like potatoes and parsnips, and of course celery, carrot, and onion for a trifecta of flavor. Mushrooms and tomatoes can also be added, but I didn't include them in the recipe below.
Traditional Irish Stew
This history of beef stew actually dates back to Japan where historians found evidence of a rustic soup boiled over a fire. And there are variations in many other cultures as well, including the French beef bourguignon. Traditional Irish stew is very rustic, usually made with only lamb, potatoes, and onions. In Gaelic, it's called "ballymaloe" or "stobhach gaelach." Personally, I like this rich, flavorful, root-vegetable filled Guinness Beef Stew Recipe below. It reminds me of warming up by a fireplace in cozy pubs in Ireland.
Thicken Up A Slow Cooker Beef Stew
When making beef stew in a slow cooker, the best way to thicken it up is to add a little cornstarch. About 30 minutes before you're ready to serve it, ladle out 1/2 cup of broth from the slow cooker. Add 2 teaspoons of cornstarch to the broth and whisk it with a fork until well blended. Then add the broth mixed with cornstarch back to the stew in the slow cooker, gently stirring it to combine with the rest of the broth. Let it cook for another 30 minutes and this should thicken it up.
Slow Cooker Guinness Beef Stew
This recipe is modified from a card I picked up at the Guinness Storehouse in Dublin during our guided food tour of Ireland. What I loved about their Guinness Beef Stew is the simplicity of the ingredients. While Irish stew is typically made in a dutch oven, it was easy to modify for a slow cooker.
Serve with some easy-to-bake cheddar cheese sticks or a loaf of Irish soda bread.
TIP: While you could make mashed potatoes from scratch, there's no shame in saving time with dry mashed potatoes. They're just as delicious.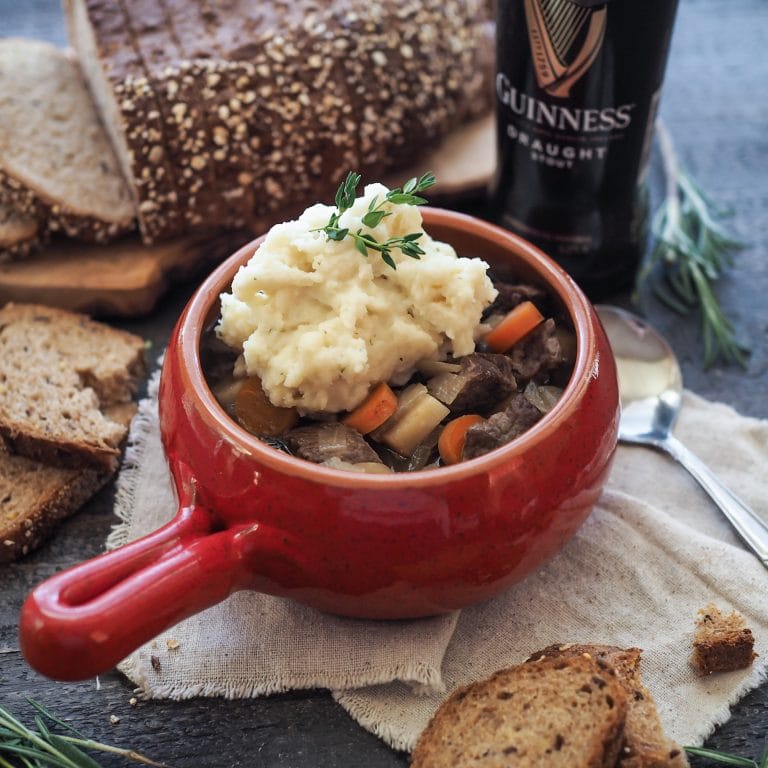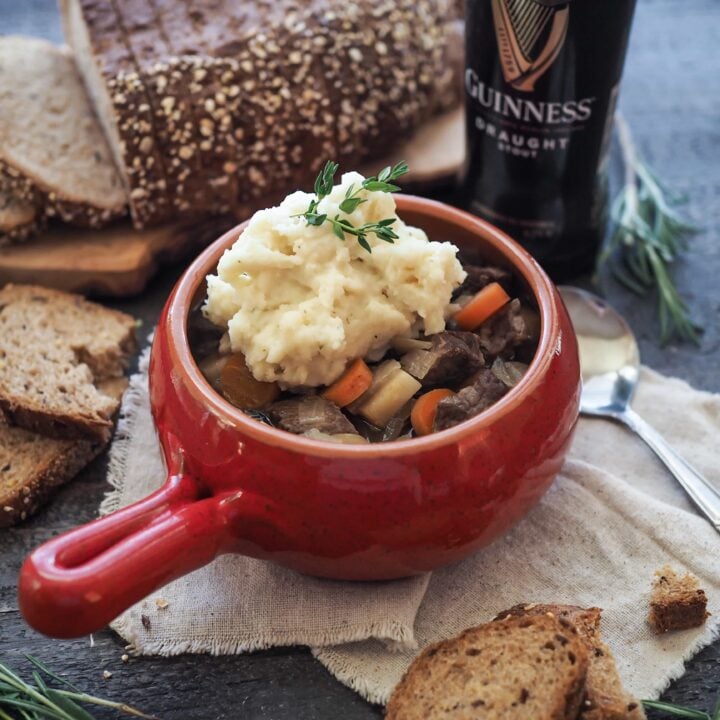 Slow Cooker Guinness Beef Stew
Total Time:
6 hours
10 minutes
Ingredients
1 1/2 lbs stewing diced beef
1 quart beef stock
1 bottle Guinness Draught Stout
1 large carrot - diced
1 large parsnip - diced
1 medium onion - diced
2 celery stalks - quartered
springs of fresh thyme and rosemary
salt and pepper to taste
mashed potatoes to serve on the side
Instructions
Prep all the vegetables by washing and dicing. It will be approximately 1 cup of each, but it is okay if it is a little less or a little more since you're making a stew.
Layer all the ingredients into a slow cooker, starting with the onions, then the beef, carrot, parsnip, celery, salt, pepper, and sprigs of rosemary and thyme. (Save a little bit of the herbs for garnish.)
Pour beef stock and Guinness over all the ingredients and set the slow cooker on high heat for a minimum of 6 hours.
When ready to serve, remove the celery stalks and springs of herbs (it is okay if some of the rosemary and thyme leaves have fallen off into the stew.)
Spoon into bowls and serve with mashed potatoes.
Notes
Tip For Thickening Beef Stew -- About 30 minutes prior to serving, ladle out 1/2 cup of broth from the stew. Whisk in 2 teaspoons of cornstarch and stir until well blended. Add the broth and cornstarch back to the stew, stirring gently to combine.
Nutrition Information:
Yield:

4
Serving Size:

1
Amount Per Serving:
Calories:

278
Total Fat:

7g
Saturated Fat:

2g
Trans Fat:

0g
Unsaturated Fat:

3g
Cholesterol:

19mg
Sodium:

772mg
Carbohydrates:

27g
Fiber:

3g
Sugar:

6g
Protein:

13g
Nutritional information provided only an estimate.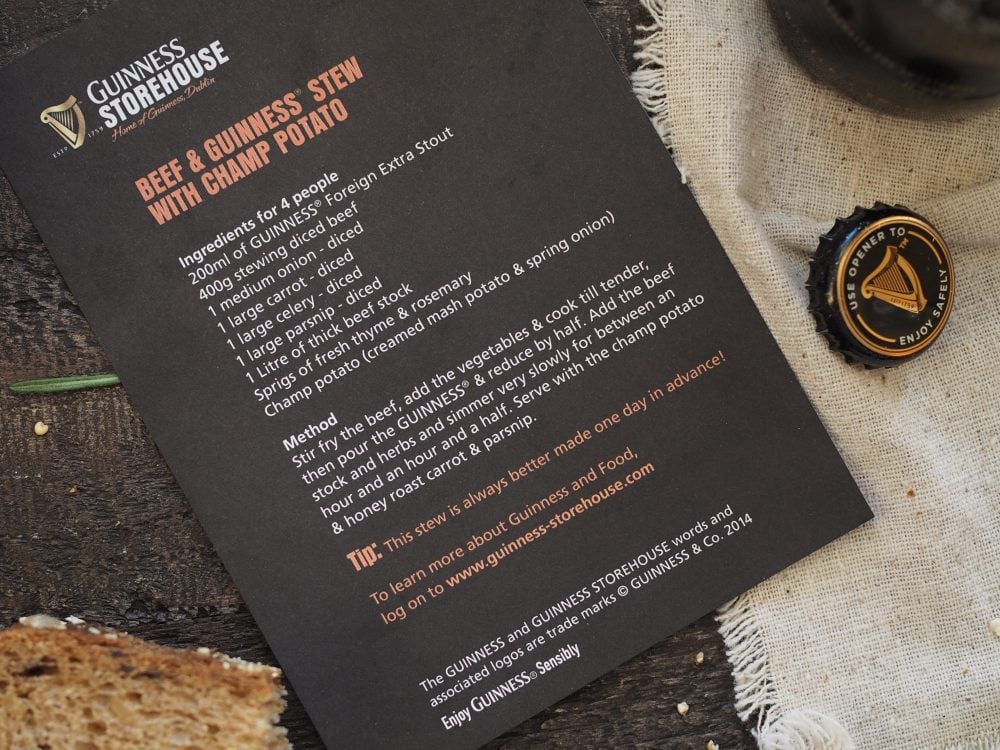 Beef & Guinness Stew Recipe Card
Want to make the original Beef & Guinness Stew from the Guinness Storehouse recipe card? Here's the recipe:
Ingredients for 4 People
200ml of Guinness Foreign Extra Stout
400g of stewing diced beef
1 medium onion – diced
1 large carrot – diced
1 large carrot – diced
1 large celery – diced
1 large parsnip – diced
1 liter of thick beef stock
sprigs of fresh thyme and rosemary
Champ potato (creamed mash potato and spring onion)
Method
Stir fry the beef, add the vegetables, and cook until tender. Then pour the Guinness and reduce by half. Add the beef stock and herbs and simmer slowly for between an hour and an hour and a half. Serve with champ potato, and honey roast carrot and parsnip.
Tip: This stew is always made better one day in advance. To learn more about Guinness and food, go to Guinness-Storehouse.com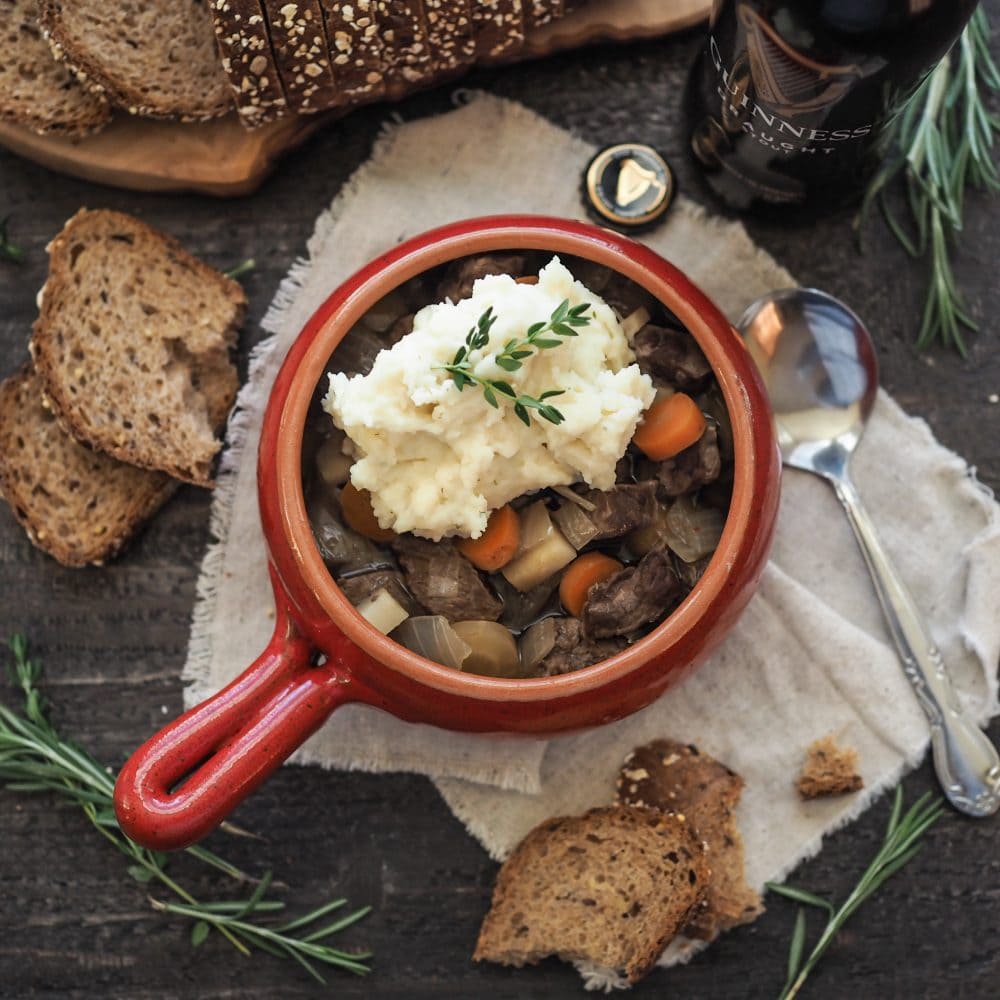 Save this recipe for later and PIN IT on your EASY DINNERS or SLOW COOKER Board! 🙂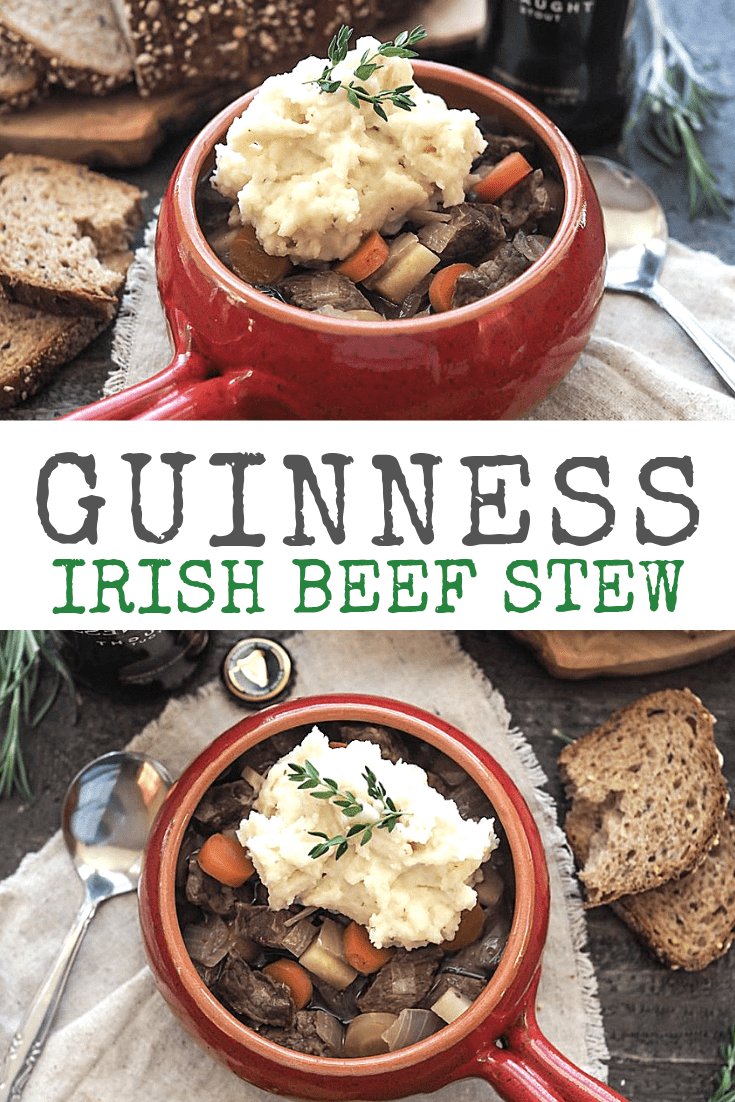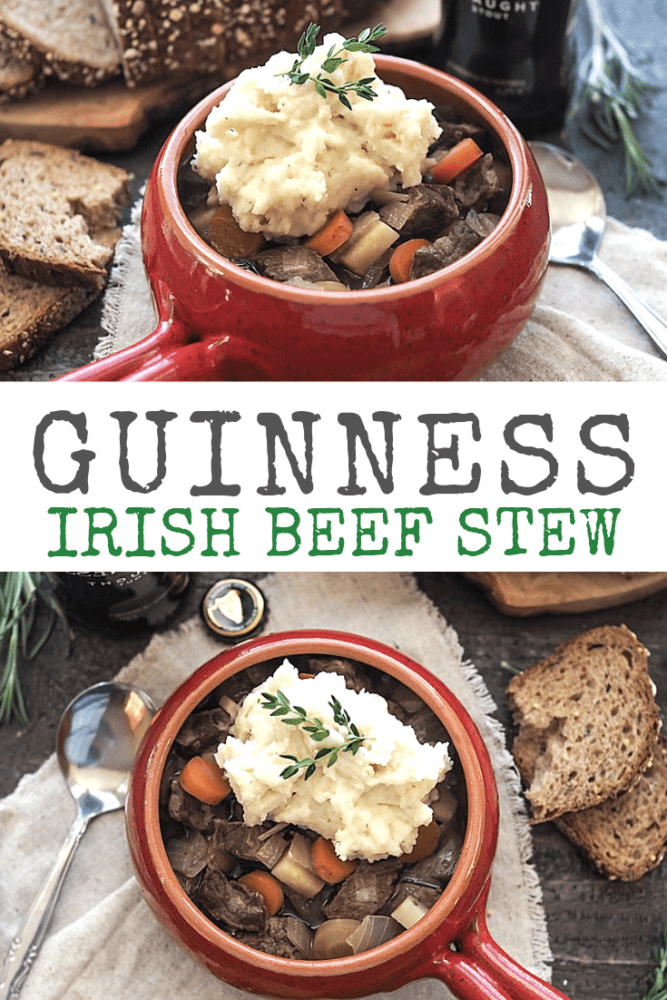 Updated 2020.