With autumn on the horizon, I have fragrant slow cooker recipes on the mind. And nothing is more savory and comforting than a classic stew such as Beef Bourguignon (beef stewed in red wine). This inspired me to dust off my vintage Julia Child cookbook again as I had done previously with the Coq Au Vin recipe.  Beef bourguignon is similar to coq a vin when it comes to the key ingredients, because, you know, the French love their bacon, butter, and Beaujolais.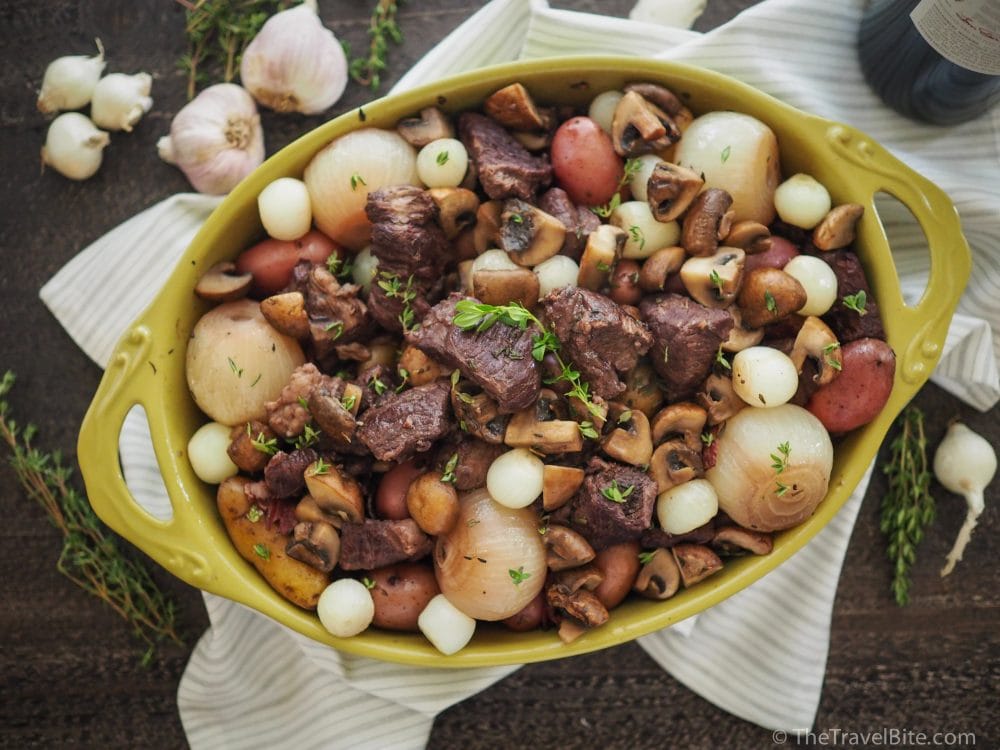 Beef Bourguignon – Slow Cooker Style
Typically beef bourguignon is simmered slowly in a deep casserole dish, like Le Creuset. But in the interest of simplicity and saving time, I adjusted this recipe for a slow cooker. Julia Child did say, after all, that an "electric skillet or kettle" is acceptable too. I also added fingerling potatoes to make it a bit more hearty of a meal. It's perfect for an autumn dinner party as it makes the house smell wonderful, is a substantial enough recipe to feed a crowd, and will wow your guests with flavor.
Beef Bourguignon – Cooking Tips
When you're getting close to being ready to serve, give yourself some time (about 30-40 minutes) to prep the mushroom and onion garniture. This one little extra step adds a ton of flavor, so it's definitely worth the time. The reason you don't want to add them into the slow cooker is that mushrooms and small onions cook quicker than beef. For the onions, look for boiler onions if you can find them. The recipe calls for pearl onions, but boiler onions are easier to peel.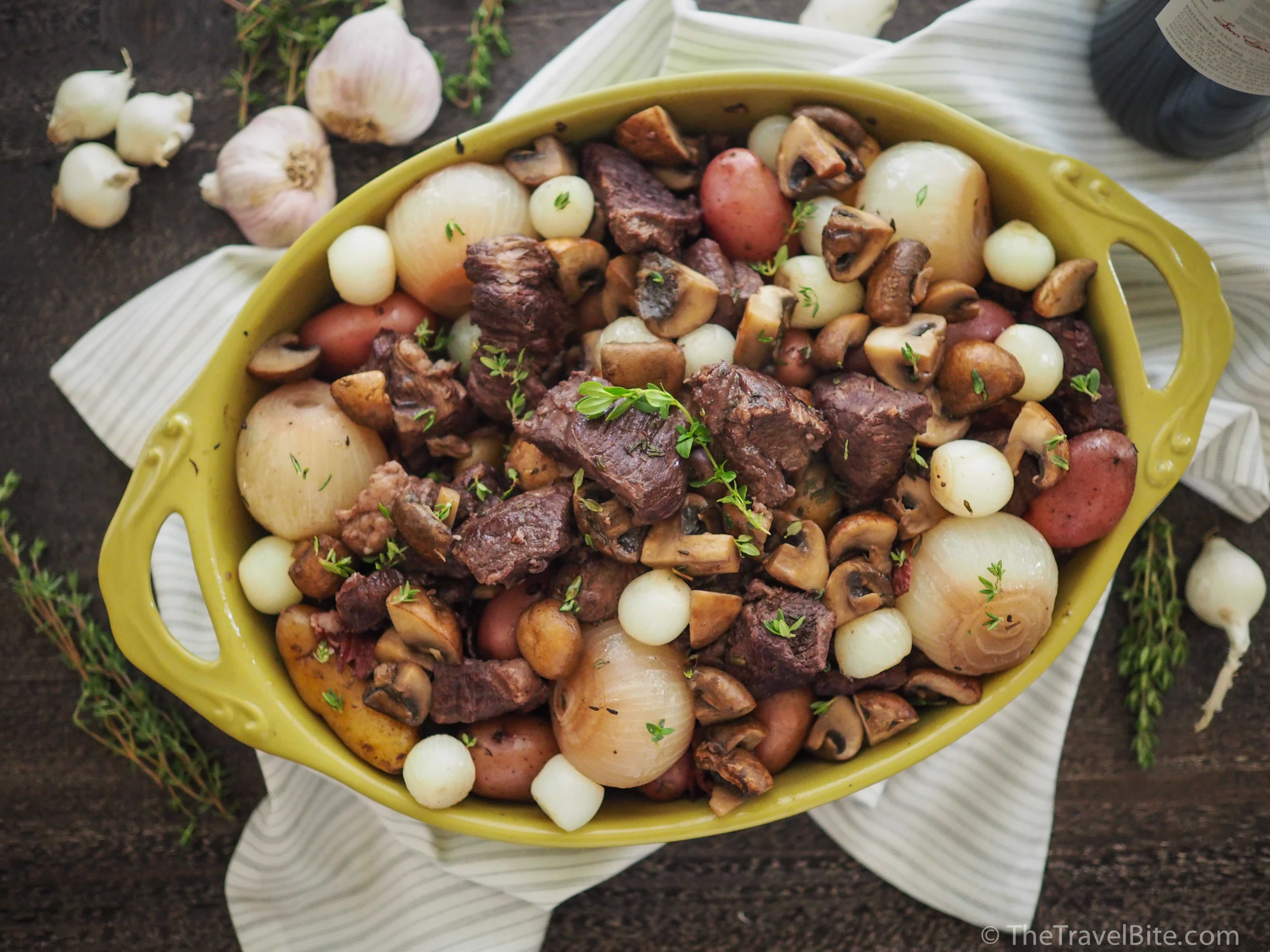 Beef Bourguignon
Total Time:
6 hours
15 minutes
Ingredients
6-8 ounces of bacon
3 lbs lean stewing beef cut into 2 inch chunks
18-20 ounces fingerling potatoes
2-3 cups Beaujolais, Burgundy, or other young red wine
2 cups beef stock
1 Tbsp tomato paste
2 - 3 garlic gloves, minced
1 1/2 Tbsp thyme
1 bay leaf
1 lb fresh mushrooms
2 1/2 Tbsp butter
18-24 small white onions (boiler or pearl)
salt and pepper to taste
cooking oil
Instructions
Dry beef on paper towels and set aside.
Brown the bacon in a large skillet, then remove set aside on a plate.
In the same skillet, add a little oil and set the heat to medium high. When almost smoking, brown the beef, a few pieces at a time to not crowd the pan; turn beef frequently to brown on all sides.
Place the beef as it is browned into the slow cooker.
Pour browning fat out of the skillet, then pour in about a cup of the red wine to scrape up all the flavorful brown bits from the bottom of the pan. Then pour the wine from the skillet (and the remaining 2 cups) over the beef in the slow cooker.
Next add the bacon, potatoes, garlic, bay leaf, and 1/2 tsp thyme (the rest you'll use for garnish) over the beef.
Pour 1 cup of beef stock into a measuring cup and mix in the Tbsp of tomato paste until well blended. Pour all the beef stock into slow cooker.
Simmer the beef stew slowly for 4 to 8 hours. (4 hours if you have your slow cooker on a high setting, 6-8 hours if you have your slow cooker on a low setting).
While the beef is cooking, or any convenient time, prep the onion and mushroom garnish.
Trim the mushroom stems, drop mushrooms in a large bowl of cold water and swish about for a bit. Drain the mushrooms into a colander and dry on a paper towel.
Heat a 1/2 Tbsp oil and 1 1/2 Tbsp butter in a skillet until butter foam begins to subside. Then add mushrooms and toss over high heat for 3-4 minutes to lightly brown the mushrooms. Remove and set into a side dish.
Bring a medium pot of water to a boil, then carefully add the onions. Boil for 20-30 seconds to loosen the skins. Remove onions from water with a strainer, set aside on a cutting board, and let cool for a minute. Carefully peel the skin from the onions, and using a paring knife, pierce a cross about 1/4 inch deep in the root ends.
Place the onions in one layer into the same sauce pan used for the mushrooms. Add salt and pepper to taste, and Tbsp butter and cook until the butter has melted. Then add enough water to come halfway up the pan, cover and simmer for 20 minutes or until the onions are tender.
You can serve the Beef Bourguignon directly from the slow cooker, or place into a serving dish. Mix the onions together with the mushrooms and pour over the beef stew. Sprinkle with fresh thyme and serve.