I'm headed to France this summer, so in preparation (and anticipation!), I decided to dust off a vintage cook book my mom found for me at a garage sale and give Julia Child's coq au vin a try. I recruited my husband Pete to help by taking photos each step of the way as I made this dinner classic.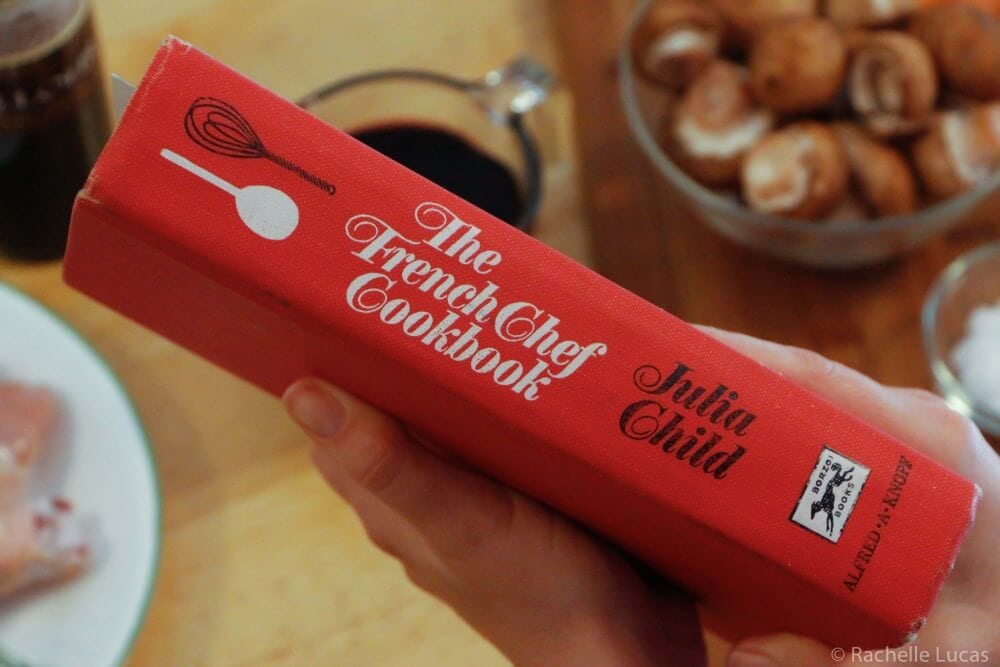 Julia Child's Coq Au Vin
It's quite a treasured find, The French Chef Cookbook by Julia Child. One of Julia's originals published in the 1960s, it even has show notes for each of the episodes where the recipes were featured. There's thumb prints and sauce stains on some of the pages, all trademarks of a cookbook that was well used and loved.
Your Vintage Cookbook Is In Appreciative Hands
The title pages have a sticker indicating that it's from the cookbook collection of Doris Howe Smith, who passed away in 1992. On the sticker, there's a dedication explaining that Doris appreciated good food and loved to read. She also loved to discuss the recipes she found. So, if you're part of Doris' family, or this reminds you of your own mother or grandmother, know that your cherished cookbooks and recipes live on.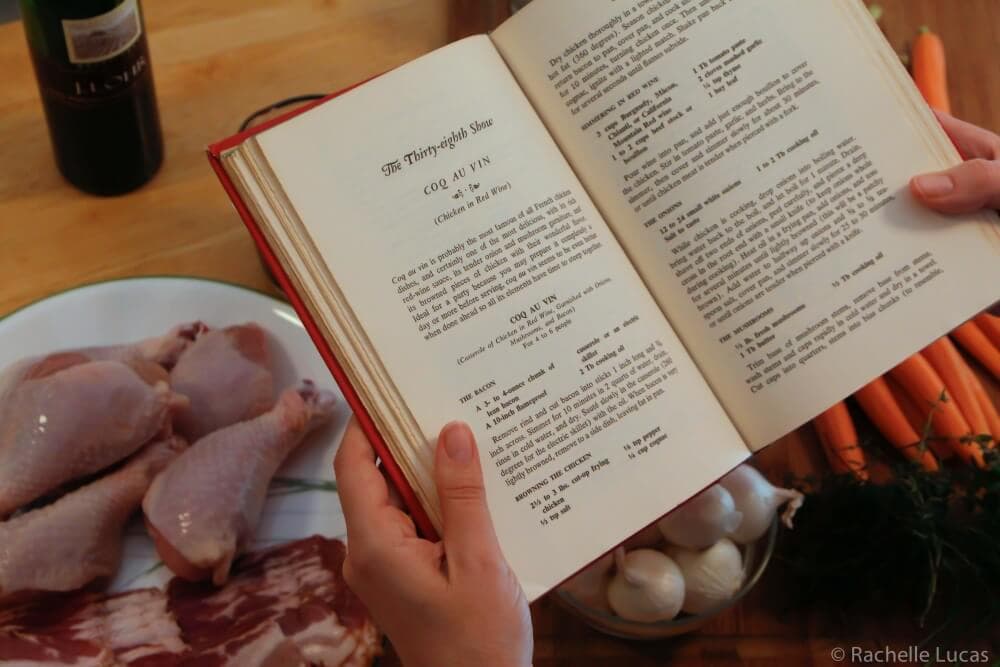 Breaking Down Julia Child's Coq Au Vin Step-By-Step
Now, on to Julia Child's Coq Au Vin. Though it takes a little time, think of each step as a way of adding more flavor. There's a handful of key ingredients in coq au vin (bacon, onions, mushrooms, butter, and red wine), that create that umami (savory) flavor when layered together one at a time. The only ingredient I added that wasn't in the original recipe was carrots, for their added texture and color.
Make This Too! Another French classic: Easy Beef Bouruignon Recipe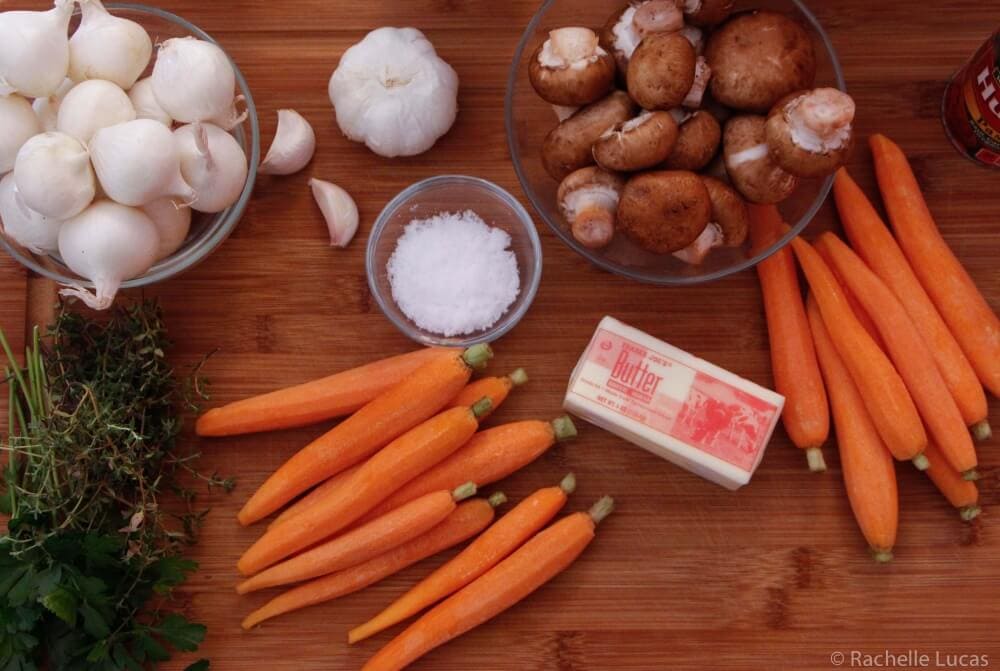 I have Julia Child's Coq Au Vin recipe available below to print, but just wanted to show you some of the layered steps. First, sauté bacon in a large skillet or casserole. Once it's lightly browned, remove it and place it on a side dish, but leave the fat in the pan (you gotta love Julia).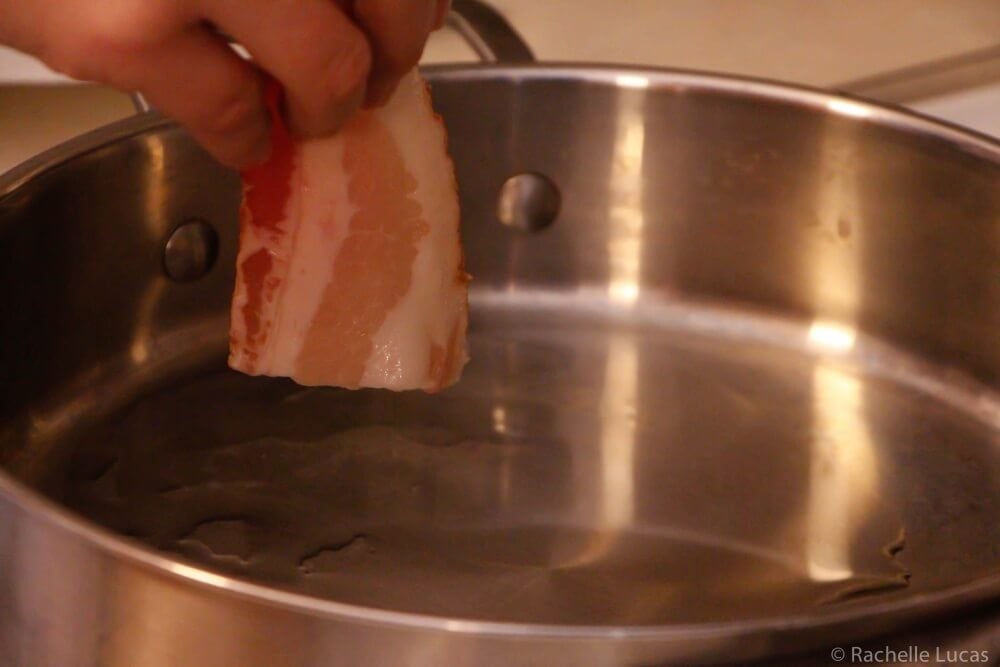 Next, brown the chicken in the bacon fat and season with salt and pepper. Once the chicken is browned on all sides, add the bacon back to the pan, cover, and cook slowly for 10 minutes, turning the chicken only once. Then, add the wine, bouillon, tomato paste, garlic, thyme, and bay leaf. Bring it to a simmer and let it cook for an additional 30 minutes. While the chicken is cooking, it's time to cook your mushrooms, onions, and carrots.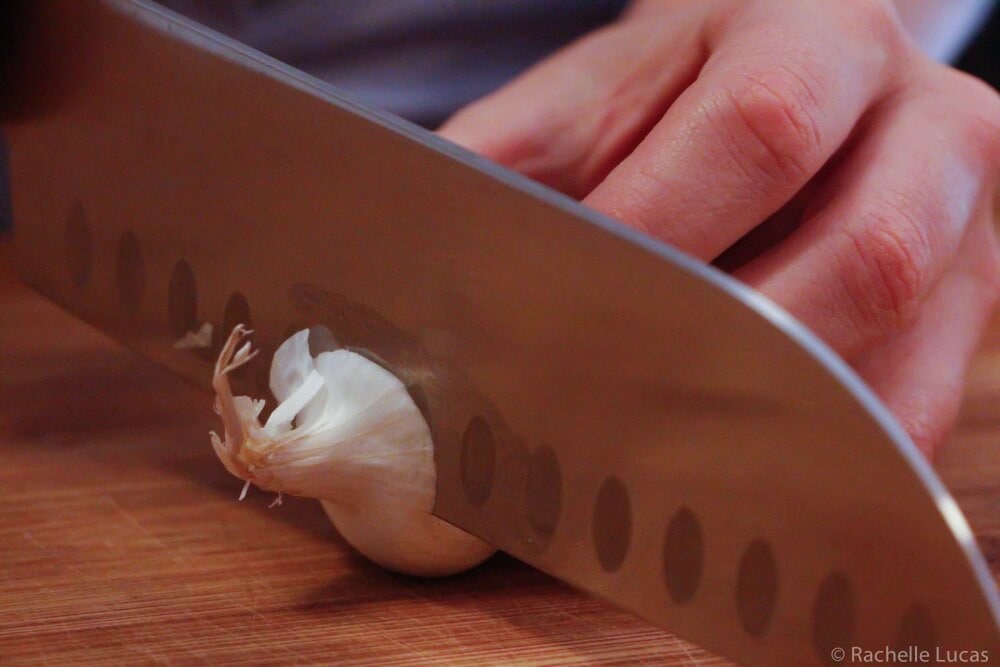 (Note: Julia threw her onions into the boiling water skin and all. To save a wee bit of time, and my tender uncalloused fingertips, I trimmed and peeled the onions before boiling them. This seemed to work just fine. Julia must have had some tough onions.)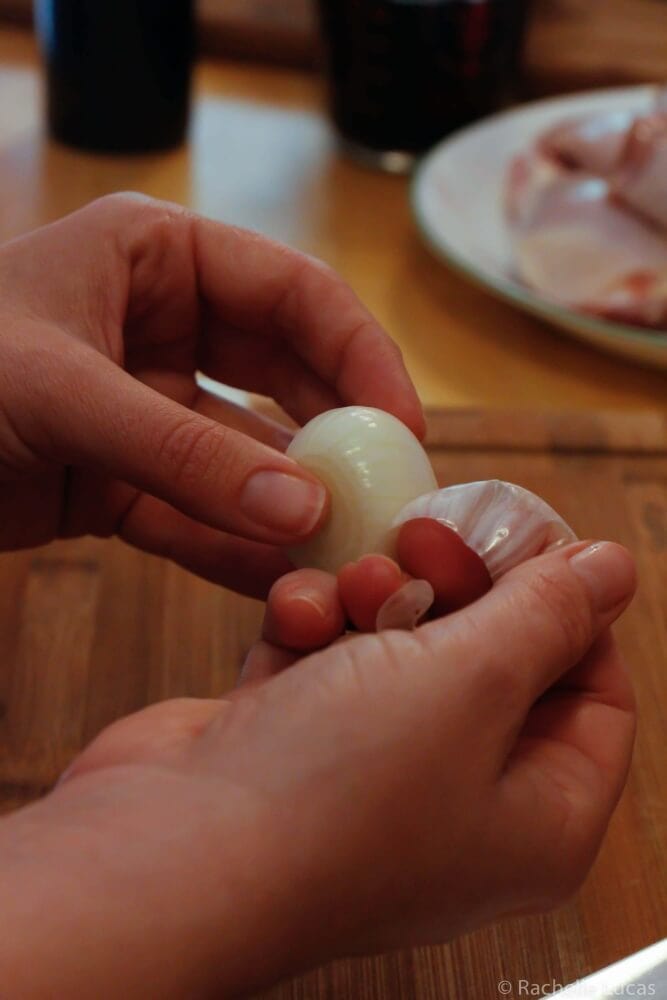 TIP: Use Boiler Onions
One other little thing I did differently — used boiler onions. They're easier to peel than pearl onions (those you'd have to boil with the skin on), and they cooked a bit faster than small white onions. You'll flash boil them, and then use the same pot and water to cook the carrots. Then, instead of cooking the onions separately from the mushrooms and butter, I added them all to one sauté pan.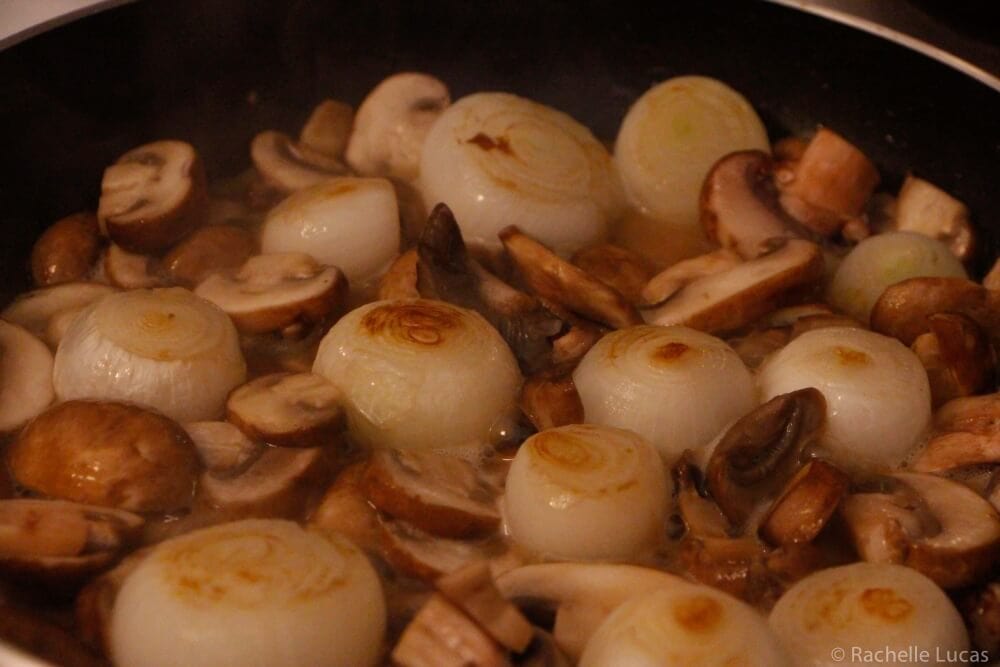 You'll remove the chicken (best to use a slotted spoon as it's pretty fall-off-the-bone tender) and set aside so that you can thicken up the sauce, then add it all back to the same pan, including the onions, carrots, and mushrooms.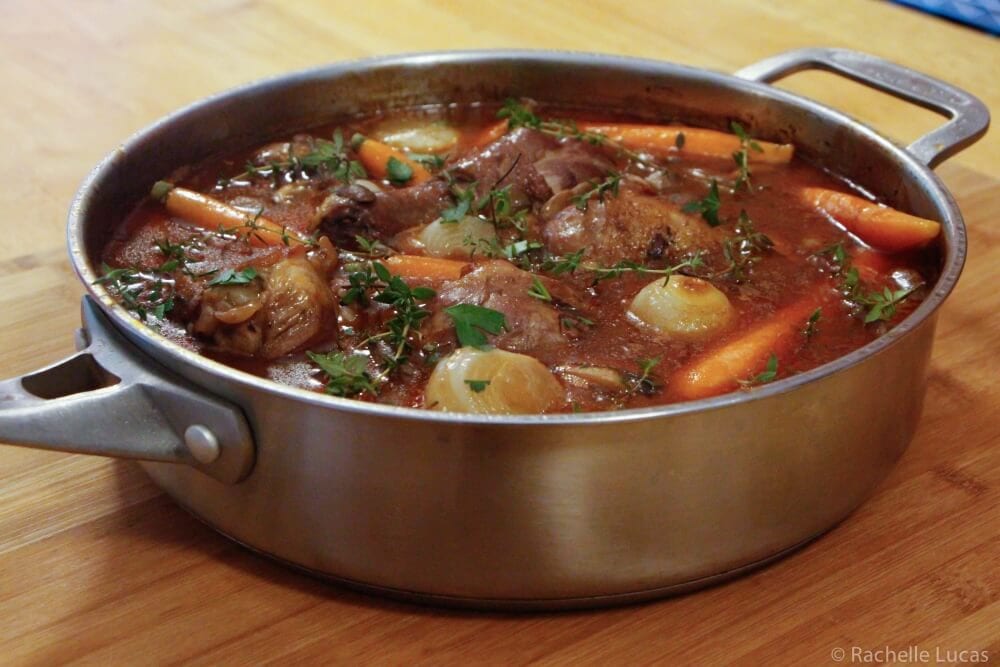 You can then bring the whole dish in the pan or casserole for serving. Goes great with a side salad, some French bread, and of course a bottle of red Bordeaux! See the full recipe below.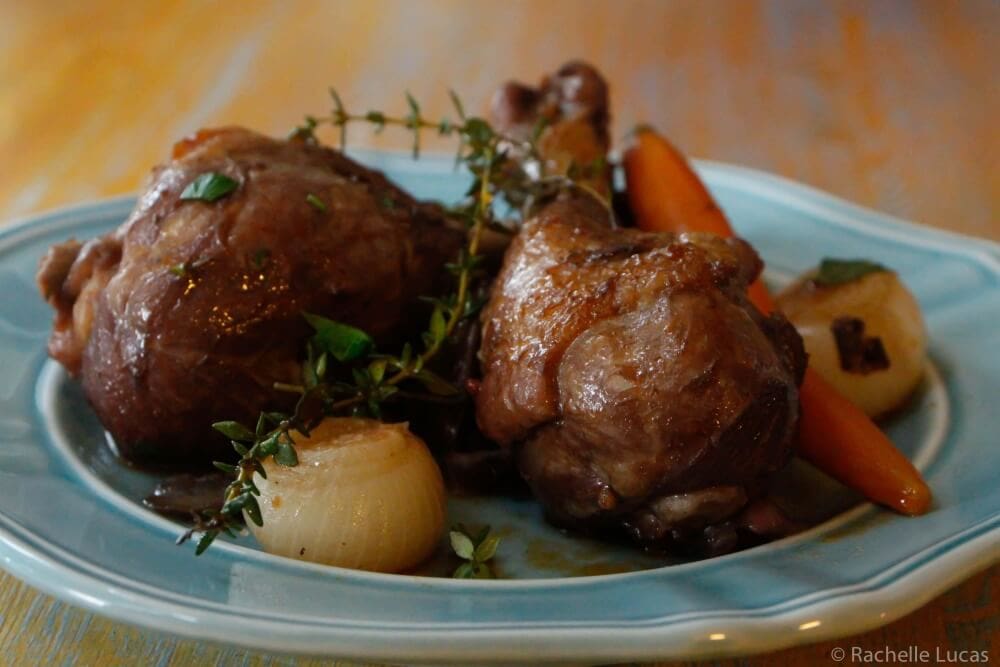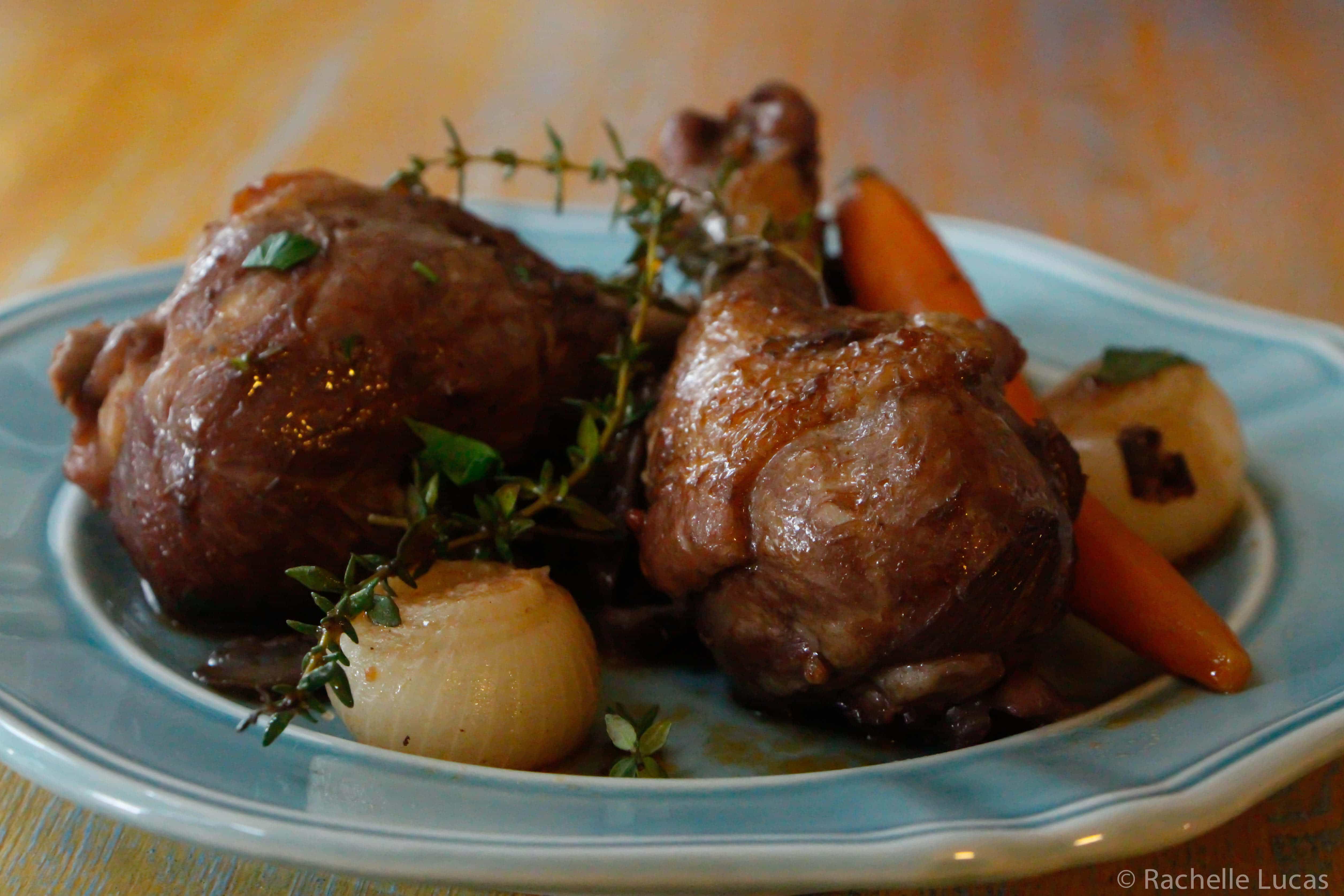 Coq Au Vin
Cook Time:
1 hour
30 minutes
Total Time:
1 hour
45 minutes
Ingredients
2 to 3 lbs cut-up frying chicken (I used chicken legs)
3 cups red wine
1 to 2 cups beef stock
1 Tbsp tomato paste
1/4 tsp thyme
1 bay leaf
15 to 20 boiler onions, peeled
2 cloves garlic, minced
1/2 lb fresh mushrooms, washed and trimmed
1 bunch of baby carrots (about a cup)
3 Tbsp softened butter
3 Tbsp flour
4 ounces of bacon
cooking oil
salt and pepper to taste
Instructions
Saute bacon in a casserole dish or skillet (this is what you'll end up serving in)
When the bacon is lightly browned, remove and add to side dish leaving the fat in the pan.
Dry the chicken thoroughly with a towel. Then, brown on all sides in the hot bacon fat. Season with salt and pepper, then return bacon to the pan. Cover and cook slowly for 10 minutes, turning the chicken once.
Next, pour wine into pan and add just enough beef stock to cover the chicken. Stir in tomato paste, garlic, and herbs. Bring to a simmer and then cover and simmer slowly for about 30 minutes or until chicken is tender when pierced with a fork.
While the chicken is cooking, drop onions into boiling water and cook for one minute. Remove from heat and scoop out onions with a slotted spoon, then add carrots to the same hot water. Place it back on heat and bring to a boil for three to five minutes until carrots are tender, but still crunchy. Drain and set carrots aside.
Next, heat oil in a frying pan and toss onions for several minutes until lightly browned.
Add mushrooms and 1 Tbsp of butter to pan with onions and sauté until browned.
When chicken is done, remove the chicken using a slotted spoon and set it aside. Skim off the fat, and boil down the liquid to concentrate flavor. Beat butter and flower into the sauce using a wire whisk to thicken up the sauce. Add salt and pepper to taste. Then, add chicken, mushrooms, onions, and carrots all into the same sauté pan with the sauce. Garnish with fresh thyme or parsley and serve.
**All photos in this post are a credit to my husband and favorite travel companion, Pete Wallace. 🙂
Want to Julia Child's Coq Au Vin recipe? Pin it 🙂