I'll never forget the time I introduced a couple of my girlfriends to my one of my favorite desserts, an affogato. We walked into a little ice cream shop, and I read it on the menu board above the cashier and gasped, "They have affogatos!" To which they replied, "an affo-what?" Knowing that they both loved coffee, I knew they were in for a treat. Read on to find out more about affogatos and its history, or just skip down to the recipe to learn how to make one at home.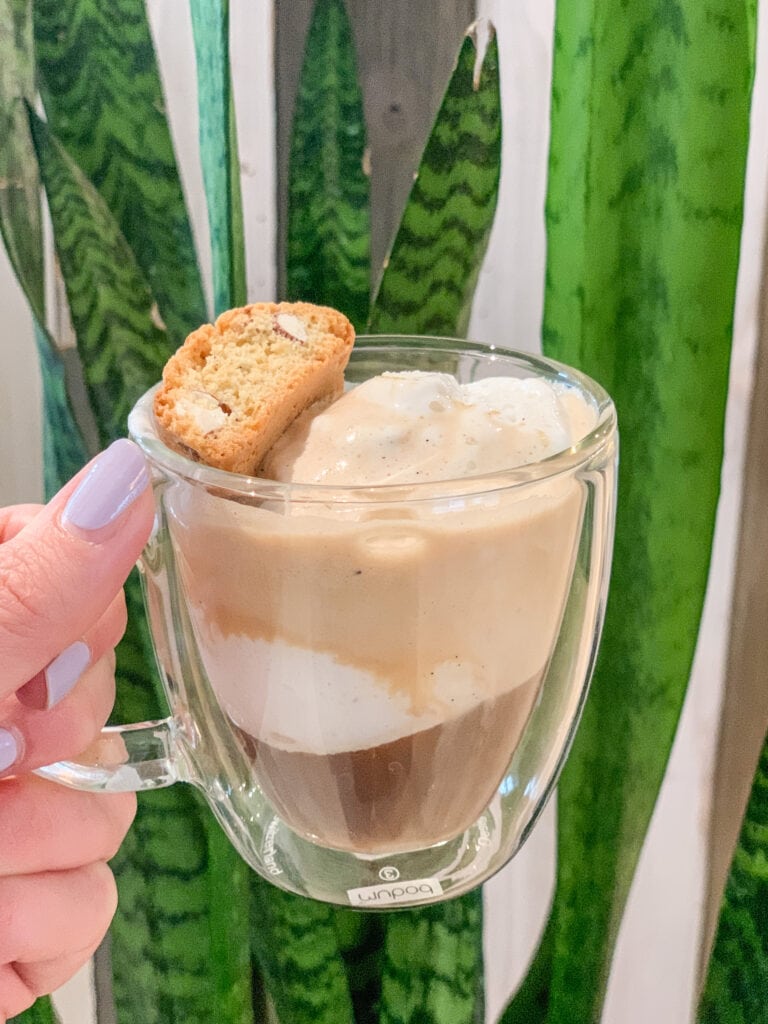 WHAT IS AN AFFOGATO?
So what is an affogato? An affogato is an Italian espresso-based dessert. It's typically a scoop of vanilla gelato topped with a shot of hot espresso. The name affogato translates to "drowned" in Italian since the gelato is drowned in espresso. And what coffee-lover wouldn't want their ice cream drowned in coffee or espresso? I like to describe it like a mini root beer float, but with coffee instead of soda.
Some variations of affogatos also include a shot of liqueur such as amaretto. Which would make it the perfect after-dinner sweet! We love having them after lunch when we need a pick-me-up to finish the work day. Afternoon affogatos have become a regular at our home office!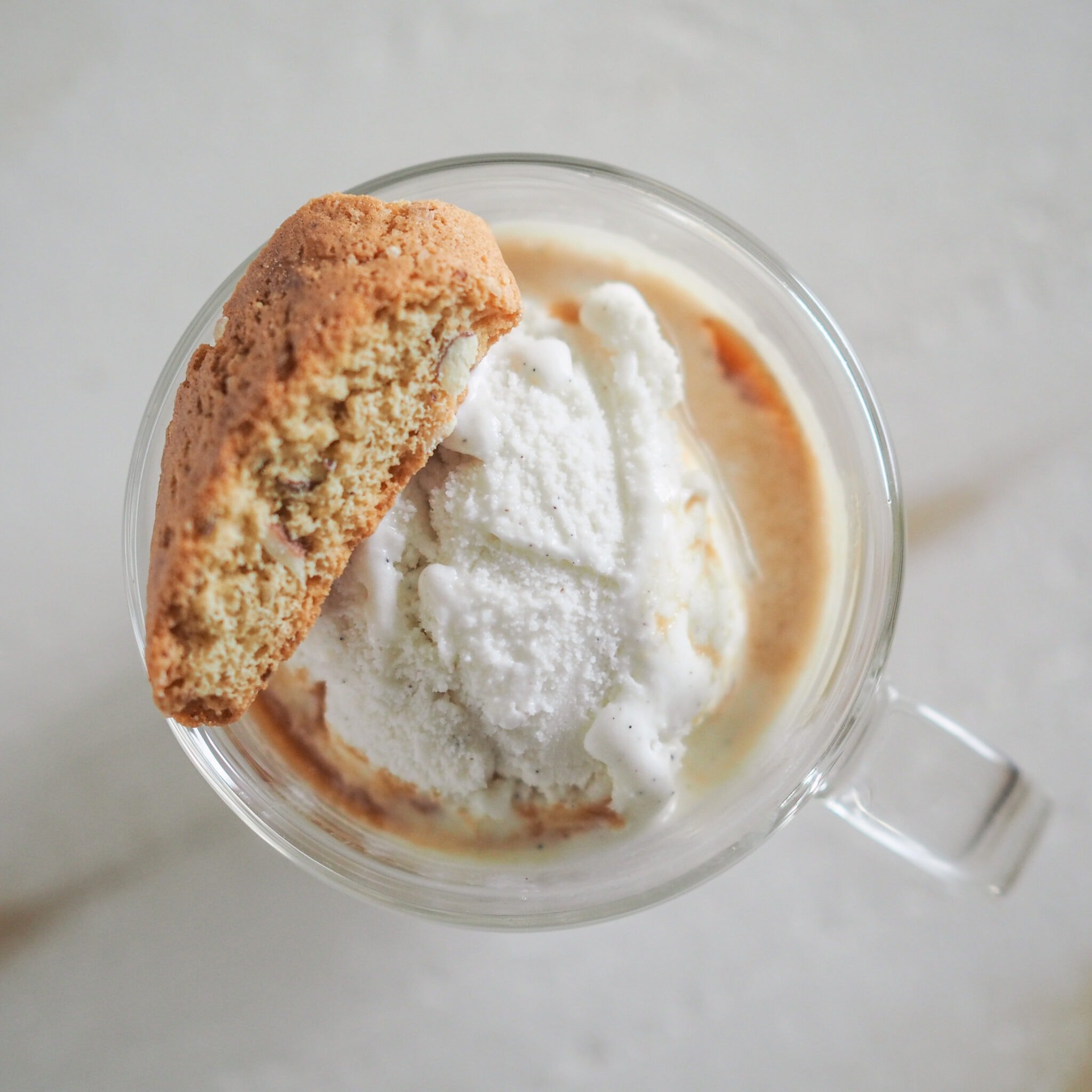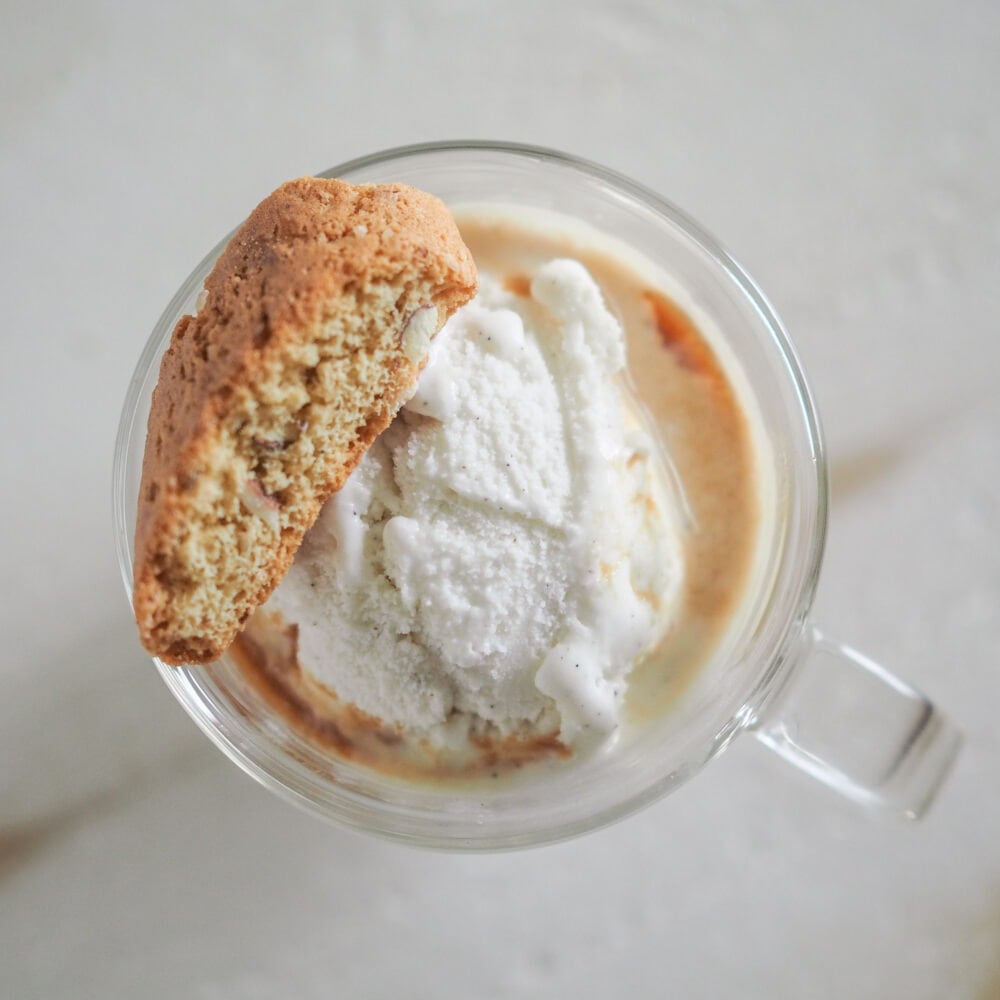 DOES AN AFFOGATO HAVE ALCOHOL?
Typically, it's just espresso and ice cream. But some are served with alcohol too! If you're making them at home, add a half shot of your favorite liqueur. Some of my favorite Italian liqueur flavors to pair with coffee are nut-flavored, such as the almond-flavored Amaretto or the hazelnut-flavored Frangelico. But Kahlúa, Baileys, and Amarula compliment espresso nicely too! The orange-flavored Grand Marnier is also nice with a chocolate or vanilla affogato.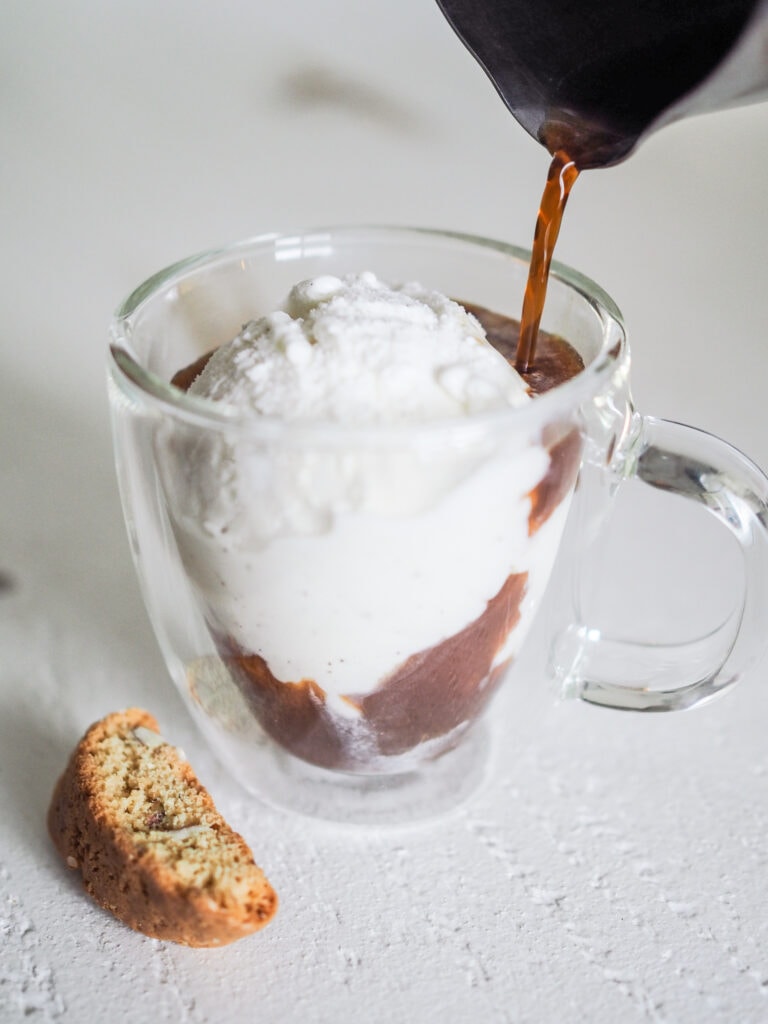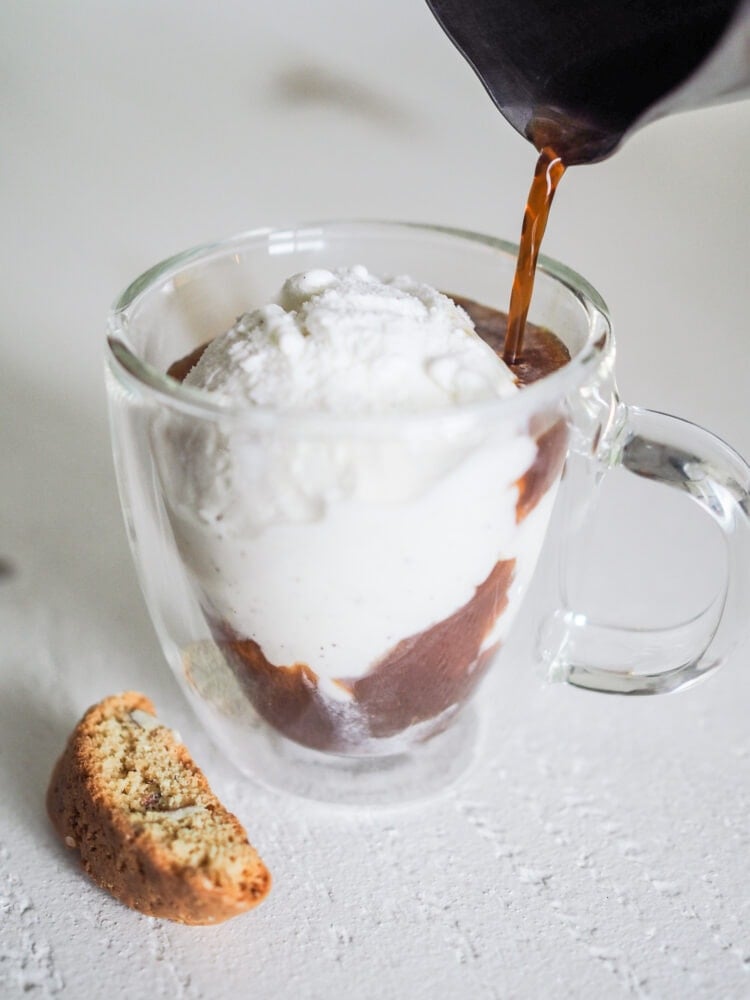 IS IT HOT OR COLD?
Here's the beauty of affogatos. They're both hot and cold. It's simply ice cream topped with coffee, creating a tasty combination of different textures and temperatures as it melts into a creamy cool coffee drink to sip once the ice cream has melted.
HOW DO YOU EAT AN AFFOGATO
Sip or spoon, it's up to you how you'd like to eat an affogato. Typically, it's served in a small cup with a spoon. Sometimes there will be a little extra treat such as a small biscotti or cookie. Personally, I'll eat the ice cream and then sip the creamy coffee combo that's left over.
SHOULD I USE GELATO OR ICE CREAM?
This is a great debate. Since it's an Italian dessert, I should say gelato. But, personally, I prefer ice cream since it doesn't melt as quick. You could use either, really.
When it comes to ice cream flavors, I recommend choosing ones that go well with coffee. Vanilla is a sure bet. Chocolate gives it a bit of mocha flavor. Pistachio is quite nice as well. Coffee ice cream gives it an even bigger punch of coffee flavor. And hazelnut is a classic too.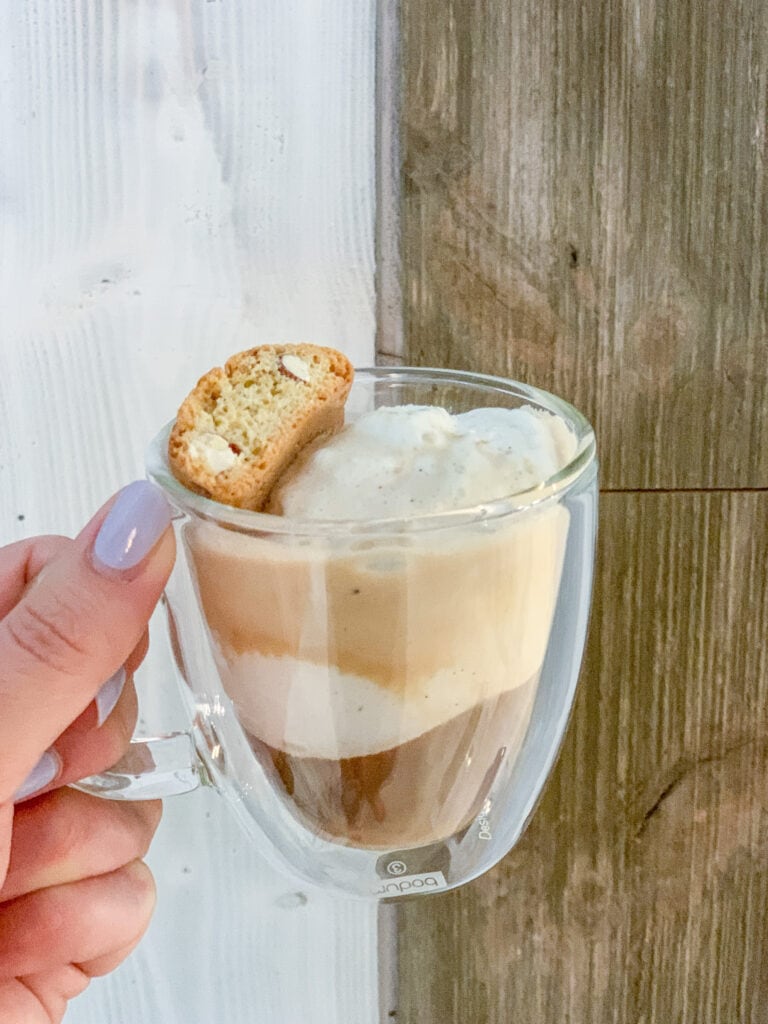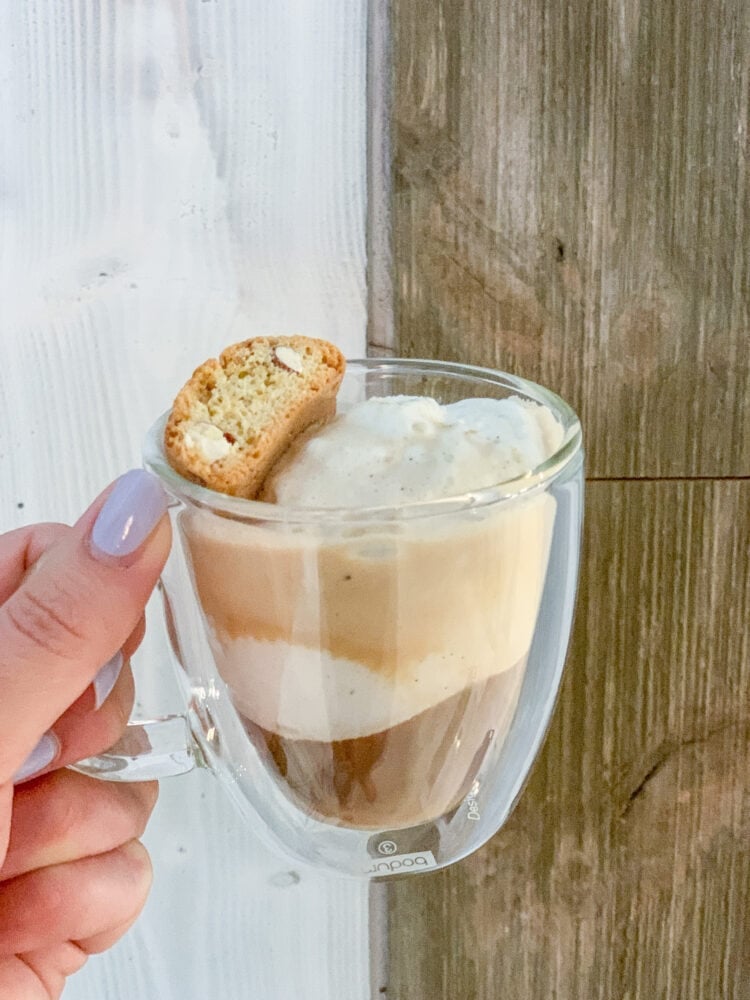 WHEN WAS THE AFFOGATO INVENTED?
While gelato dates back to 16th century, some say in Florence by Bernardo Buontalenti to impress Catherine Medici. Coffee has an even longer history, beginning in the 15th century in Yemen. Then, Angelo Moriondo patented the first espresso machine in Italy in 1884. But as for who first married the two together, gelato and espresso, it seems no one knows! According to Merriam Webster Dictionary, the word affogato was first used to describe a dessert in 1992. So it must be fairly recent! Whoever it was should be sainted.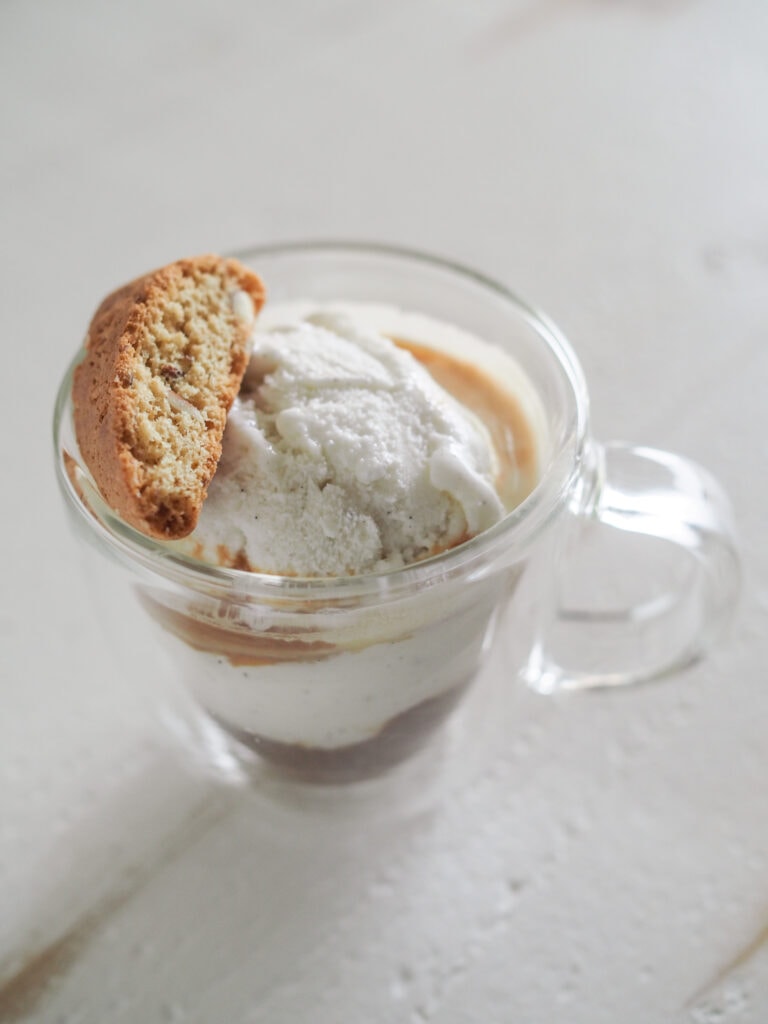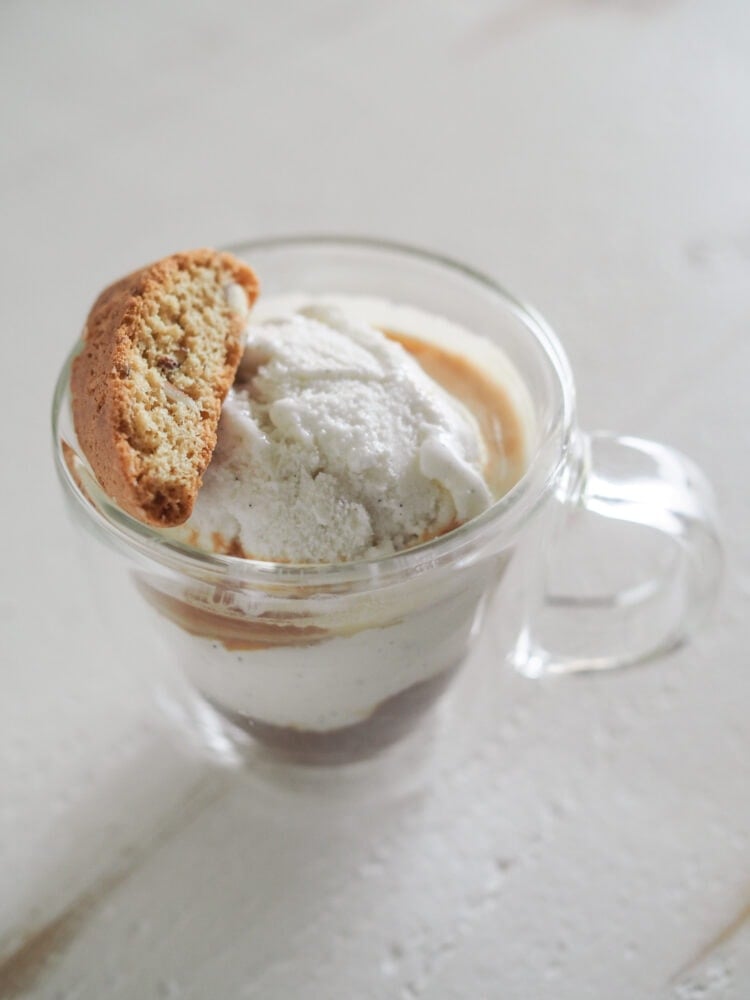 HOW TO MAKE AN AFFOGATO
To make an affogato, you need only two ingredients: espresso and ice cream. At home, you don't need a fancy espresso maker (although, they are really nice). A simple moka pot will make a single shot of espresso and it's what we used while spending summers in Italy.
As for serving, small clear glass cups or mugs are best. Simply add one scoop of ice cream to each mug, and one shot of espresso to each mug. That's it! That's how you make an affogato.
So, what if you don't have an espresso machine or moka pot? You can use coffee too. Brew it a little stronger than you normally would, and use about one third to a half cup of coffee per affogato.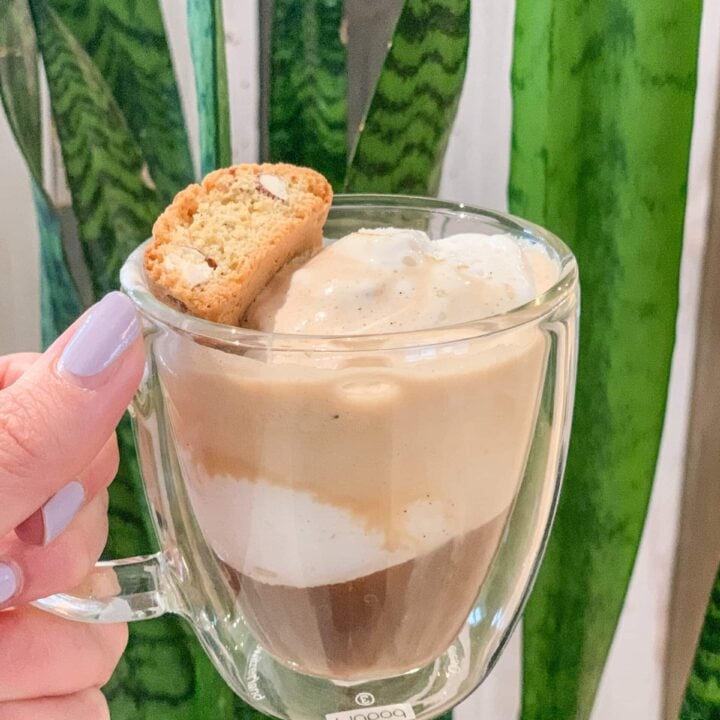 Affogato Recipe
Ingredients
2 shots freshly brewed espresso or coffee
2 scoops vanilla ice cream
1 shot liqueur (optional)
Instructions
Brew espresso in a moka pot or espresso machine.
Add one scoop of ice cream to each serving cup.
Slowly pour espresso down side of cup until cup is full.
Serve with small biscotti or cookie and enjoy!
Notes
So, what if you don't have an espresso machine or moka pot? You can use coffee too. Brew it a little stronger than you normally would, and use about one third to a half cup of coffee per affogato.
Nutrition Information:
Yield:

2
Serving Size:

1
Amount Per Serving:
Calories:

197
Total Fat:

7g
Saturated Fat:

5g
Trans Fat:

0g
Unsaturated Fat:

2g
Cholesterol:

29mg
Sodium:

61mg
Carbohydrates:

21g
Fiber:

0g
Sugar:

18g
Protein:

3g
HERE ARE MORE RECIPES AND STORIES WE THINK YOU'LL ENJOY!