There's nothing I love more than coffee, except maybe a biscotti with my coffee. Well … then there is coffee gelato with biscotti.
Biscotti is actually short for "biscotti di Prato" meaning a twice-baked cake from the Italian city of Prato. While I've never been to Prato, if their claim to fame is biscotti and the slow food movement, then I'm certain I'd want to become instant friends with the locals.
So for my latest Summer Gelato Recipe post I combined one of my favorite flavors in the whole world with the fine art of Italian ice cream … coffee gelato. Enjoy!
For a step-by-step illustration of how to make gelato, check out this post for Hazelnut Gelato.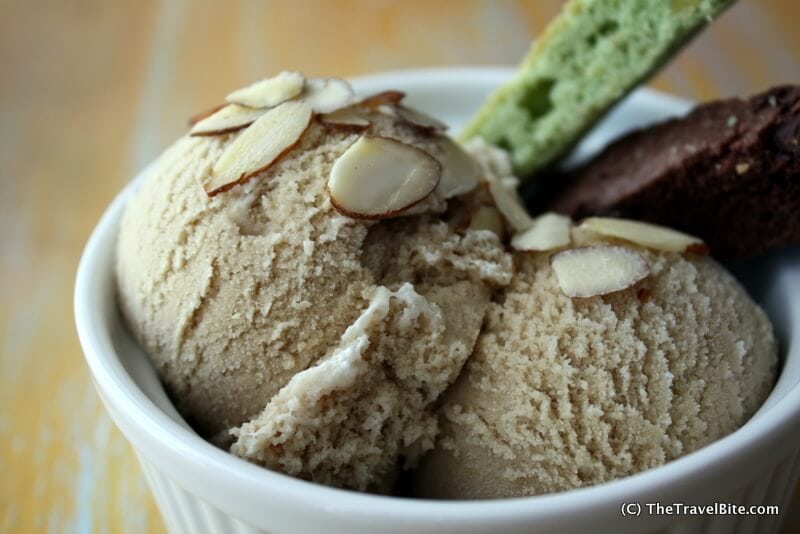 Coffee Gelato Recipe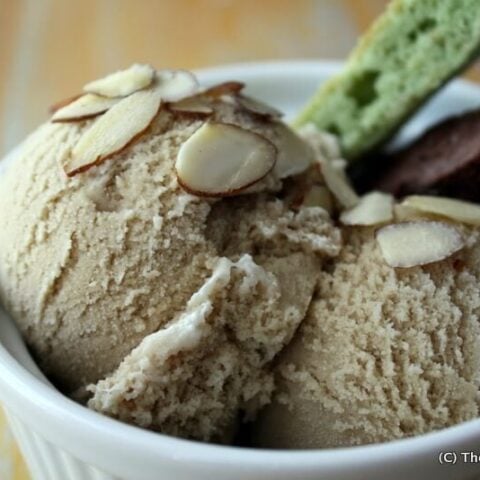 Coffee Gelato Recipe
Ingredients
2 1/2 cups milk
1/2 cup cream
4 egg yolks
3/4 cup sugar
1 shot of espresso, chilled (Or 1 tbsp water & 1 tbsp instant coffee mix)
Instructions
Using a fork, whisk together egg yolks and sugar in a medium-sized bowl until the volume doubles (becomes frothy) and the color becomes a light yellow. Set aside.
Add the milk and cream to a medium saucepan on low-to-medium heat. Blend the milk and cream by slowly mixing using a wooden spoon or whisk until a foam forms around the edges.
Next, add the egg and sugar mixture to the saucepan with milk and cream. Continually stir until well blended and the mixture coats the back of a wooden spoon. Add a shot of chilled espresso. In lieu of espresso, a tablespoon of instant coffee mixed with a teaspoon of water will work just fine. Blend all together gently with a whisk.
Pour the mixture through a sieve or fine strainer into a bowl. This will remove any solid pieces of egg and create a more smooth even texture. Cover and chill the gelato mixture for a minimum of four hours or let it set overnight in the refrigerator.
Finally, add the gelato mixture to an ice cream maker and freeze according to the manufacturer's instructions. Serve straight from the ice cream maker or spoon into a container, cover and freeze.
Makes 1 pint
Nutrition Information:
Yield:

4
Serving Size:

1
Amount Per Serving:
Calories:

380
Total Fat:

18g
Saturated Fat:

10g
Trans Fat:

0g
Unsaturated Fat:

7g
Cholesterol:

230mg
Sodium:

98mg
Carbohydrates:

47g
Fiber:

0g
Sugar:

38g
Protein:

9g
Nutrition information provided is only an estimate.
MORE ITALIAN RECIPES & STORIES YOU'LL LOVE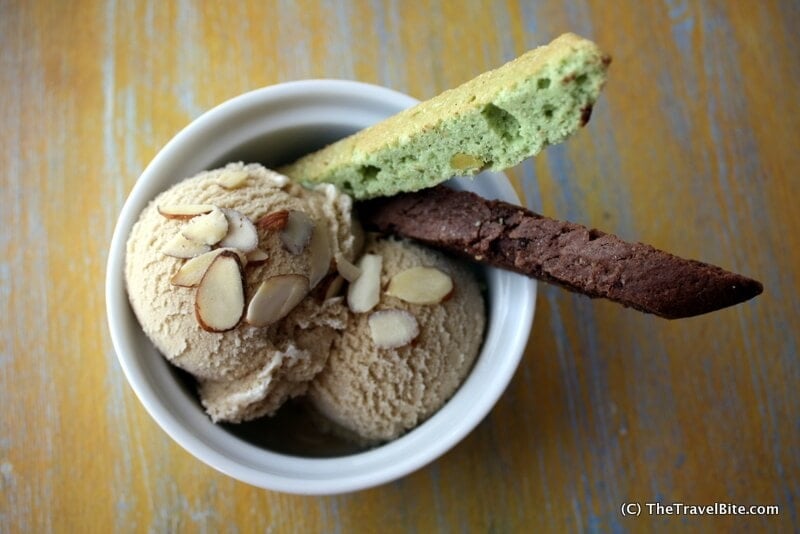 Want to save this coffee gelato recipe for later? Pin it!