One of the things I love about this tiramisu recipe is that it's easy to make and quick to impress. And it makes for a fascinating dinner party conversation since tiramisu is one of those desserts with a mysterious origin story. Having been to Italy several times now, and doing a bit of research, it seems the tiramisu recipe is restaurant creation inspired by an Italian layered sponge cake called zuppa Inglese combined with the simple dessert of dipping cookies into an Italian custard called zabaglione. But there's no end to the legends about who made it first! (Dig into these a bit on Google, it's a fun read). No matter Tiramisu's history, it is still one of my favorite desserts.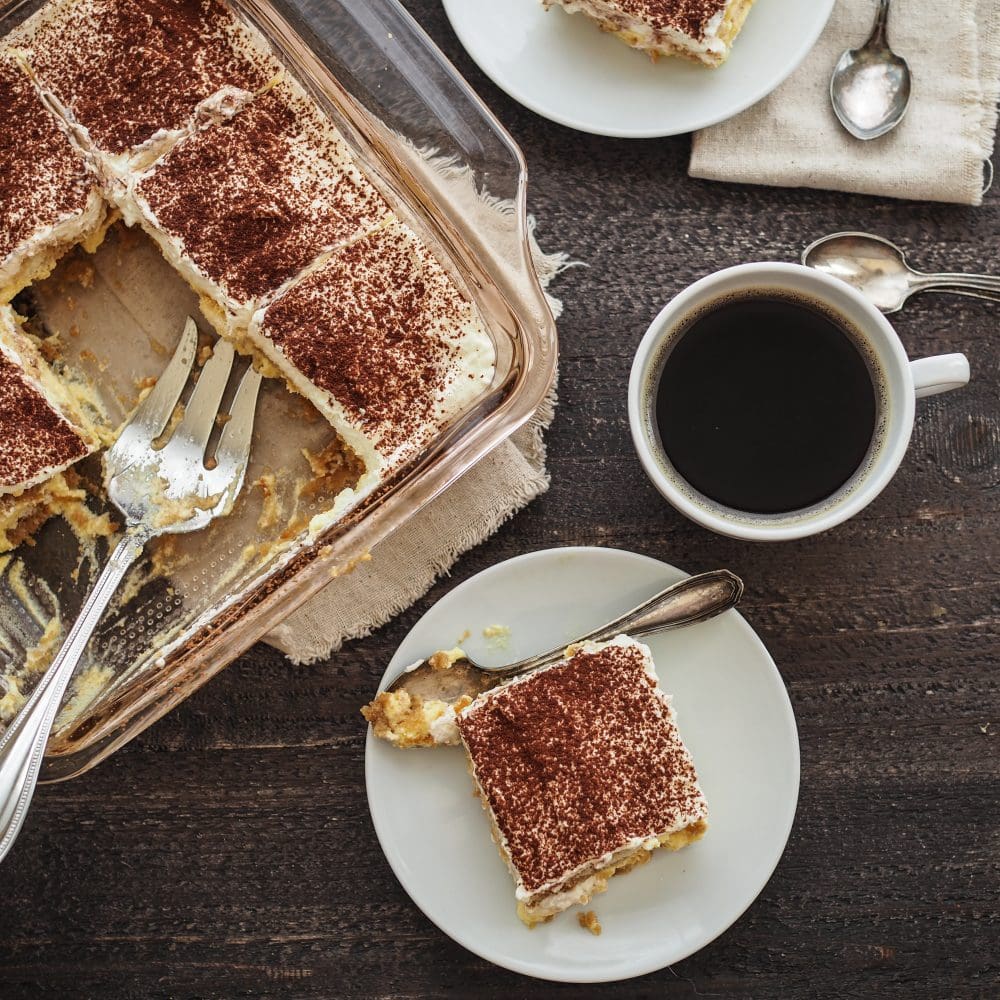 Tiramisu – Cheer Me Up!
I remember the first time I had tiramisu. It was the first sort of "fancy" dessert in a cafe when I was still in my teens, a recipe that had me instantly hooked with its creamy custard and espresso-soaked cookies. The server explained that the name means "lift me up" or "cheer me up," and the coffee with a hint of liquor definitely put one into a cheerful mood.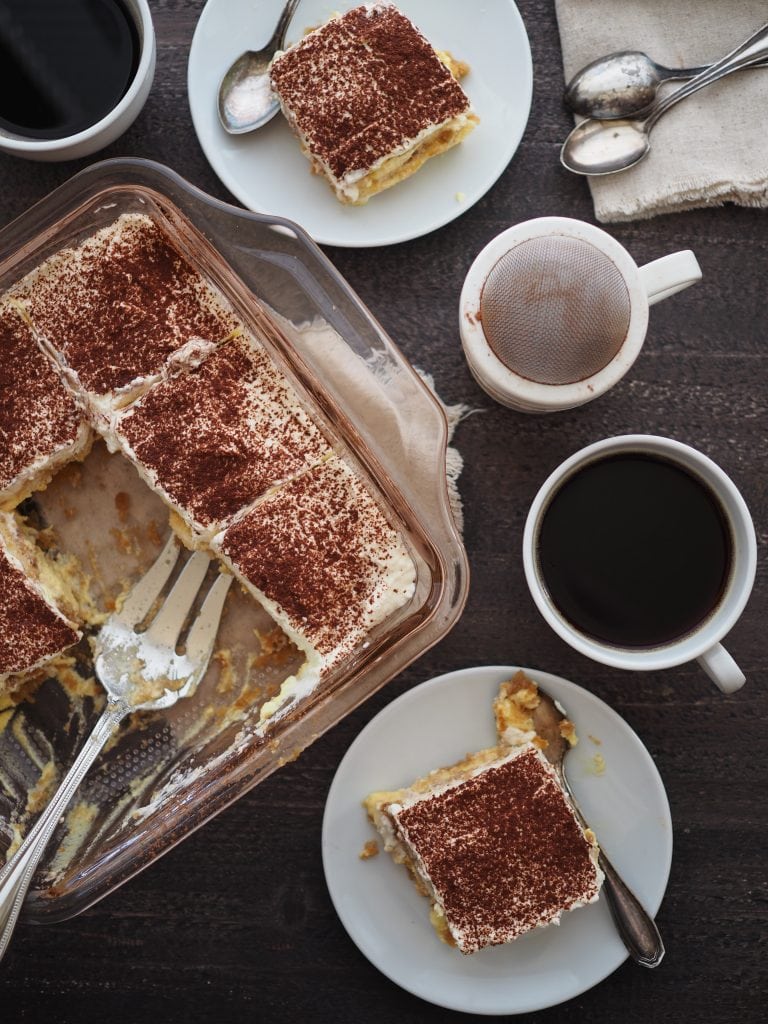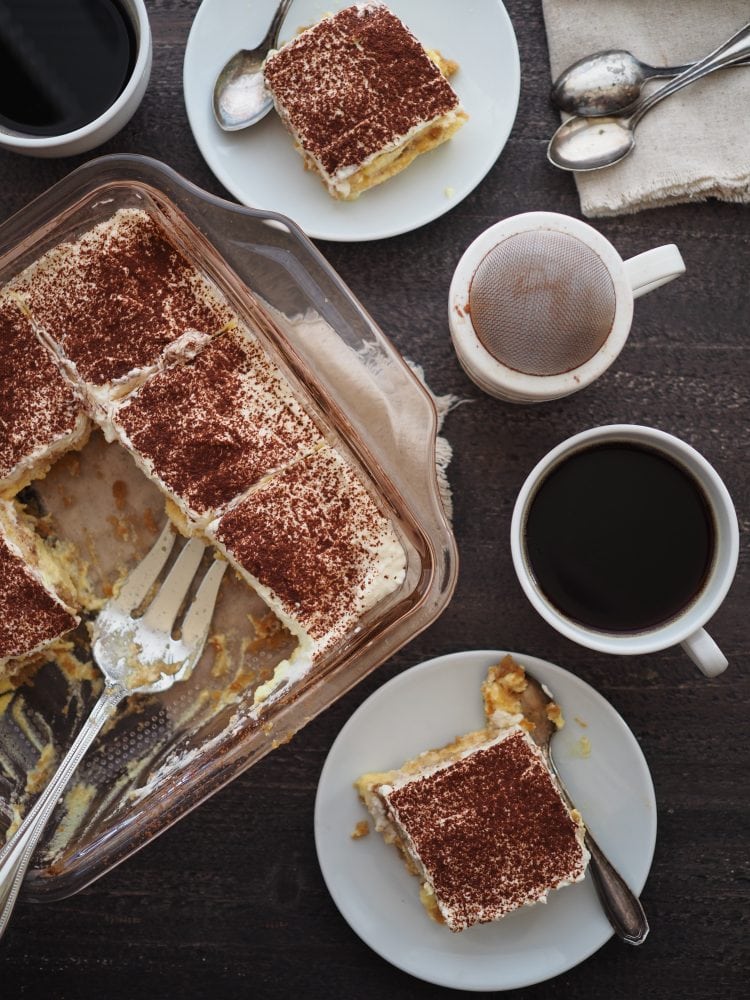 Easy Homemade Tiramisu Recipe
I've created this homemade tiramisu recipe with simplification in mind. No need to rest a glass bowl over boiling water to make a zabaglione cream as long as you add the bit of liquor and keep whisking. Also, while most tiramisu recipes call for rum, I think an Italian liquor is a better compliment for the coffee. You could use Frangelico, a hazelnut liquor, as I have below. Or try an almond flavored one like amaretto. Hope you enjoy it as much as we do!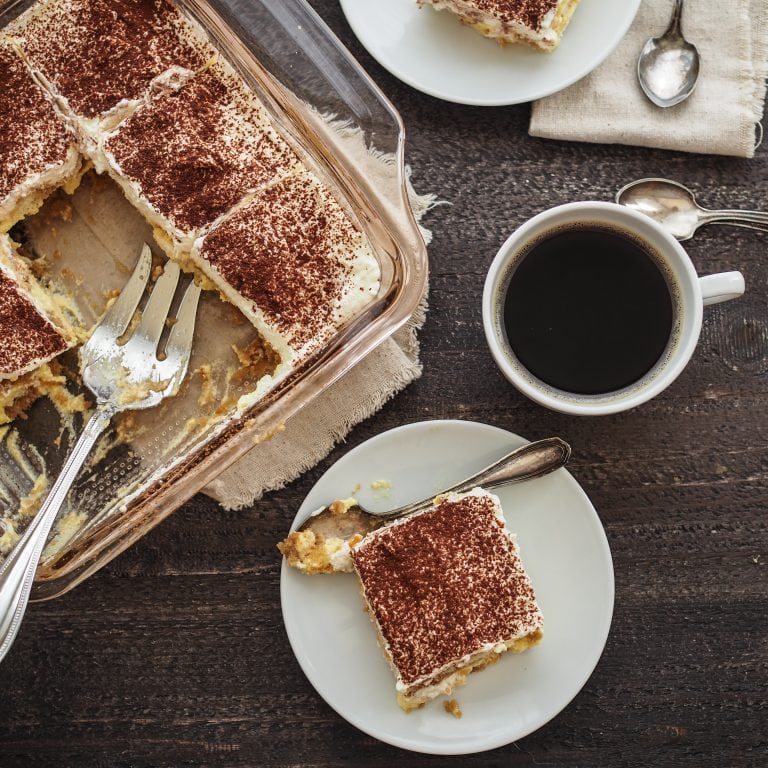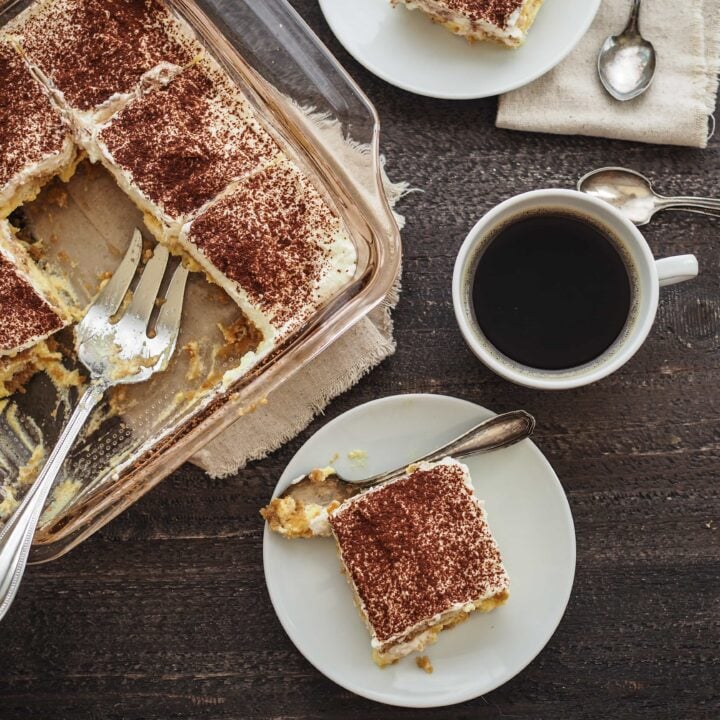 Easy Homemade Tiramisu
Ingredients
6 egg yolks
3/4 cup sugar
1 cup strong coffee or espresso
1/2 cup Frangelico (or Amaretto liqueur)
1 7 ounce package lady finger cookies
1 cup whipping cream
1 8 ounce package mascarpone cheese
2 Tbsp cocoa powder
Instructions
Separate the egg yolks from the whites, saving the egg whites in a sealed container for use in another recipe (I like to use them for an egg white omelette).
Measure out all your ingredients listed above.
In a small saucepan on medium heat, add the 6 egg yolks, 3/4 cup sugar, 1 Tbsp of coffee and 1 Tbsp of Frangelico (you can take the coffee and the liqueur directly from the measured cups you have from above). Whisk these ingredients together in the saucepan and stir continuously until the mixture begins to boil. Remove from heat as soon as it starts to boil, and continue whisking for another minute or two. It should look custard-like at this point. Continuously whisking ensures you don't end up with sweet scrambled eggs.
Add the yolk mixture to a large bowl or stand mixer along with the mascarpone cheese and whisk together until smooth.
In a separate bowl, whisk the cream and a teaspoon of Frangelico until stiff peaks form.
For the lady fingers, add the coffee and what is left of the Frangelico to a shallow bowl. Quickly dip each lady finger into the coffee liqueur blend and layer onto the bottom of a glass 9x9 inch baking pan. It will typically take 14 cookies, or two rows of 7.
Layer the mascarpone custard onto the cookies with a spatula.
Next, repeat the previous step, dipping lady finger cookies into the coffee liqueur mixture and layering on top of the custard.
Spread the whipped cream over the second layer of coffee-dipped cookies. Add the cocoa powder to a sifter or sugar shaker and sprinkle the top with cocoa.
Chill for at least one hour.
Enjoy!
More Recipes You'll Love
Want to save this tiramisu recipe for later? Pin it! 🙂