Lemon olive oil cake is one of my favorite easy dessert recipes for when we have guests. Or even when we just want a little something sweet on the weekend. It's a simple one-layer cake with a sweet and zesty lemon flavor and is very easy to make. This style of cake is popular in olive-oil produce regions of the world such as Italy, Spain, and Greece. And it's the perfect light and refreshing dessert after any meal.
If you're ready to start baking, just click the "jump to recipe" button above. Or scroll through some of our tips and tricks for lemon olive oil cake below.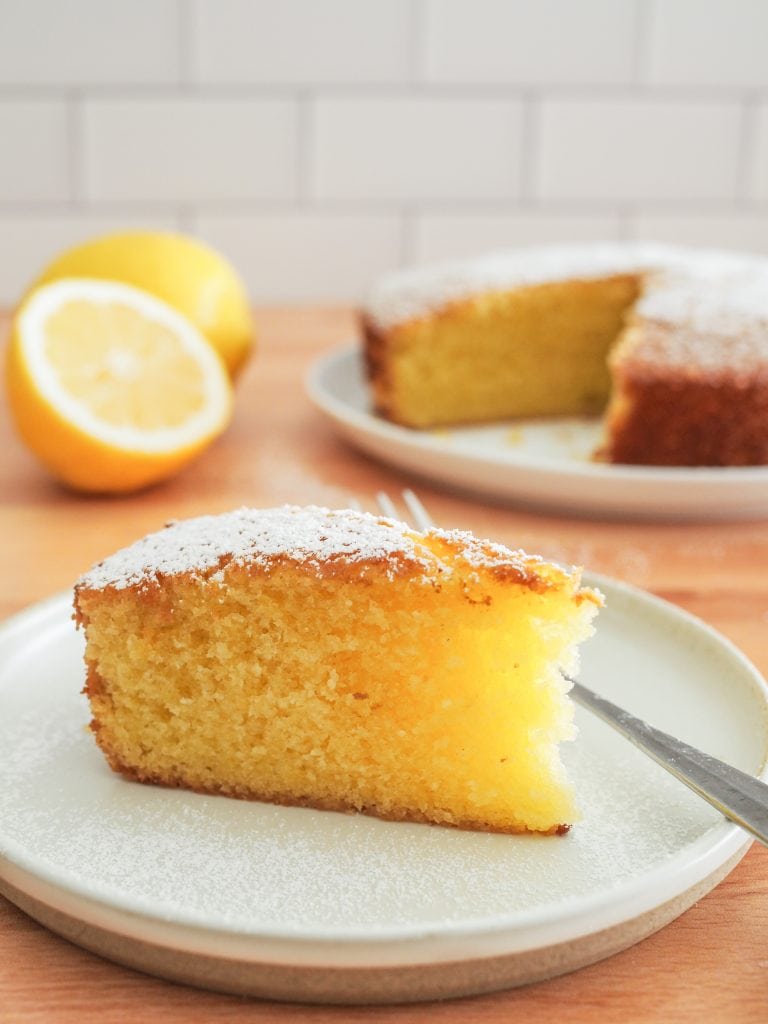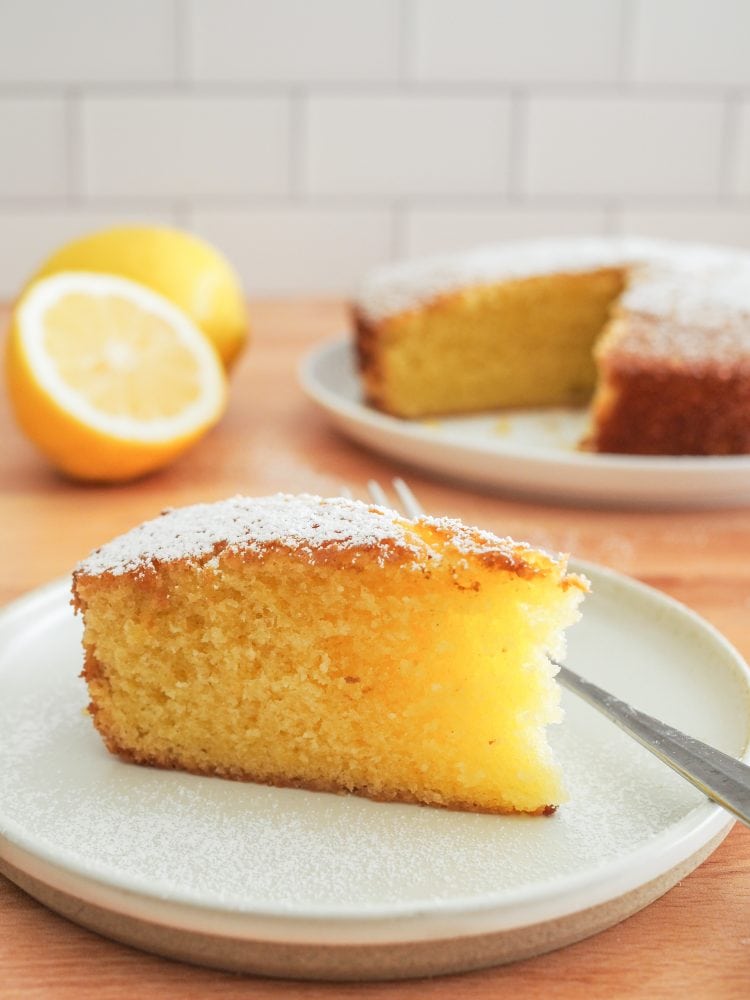 EASIEST LEMON OLIVE OIL CAKE RECIPE
One of the reasons this is one of my favorite cakes to bake for guests is because it's no-fuss and easy to make. You probably already have most of the ingredients in your pantry. Plus there's no special equipment required (such as stand mixer). And most of the mixing is done by hand, though I do recommend pulsing the wet ingredients in a food processor or blender.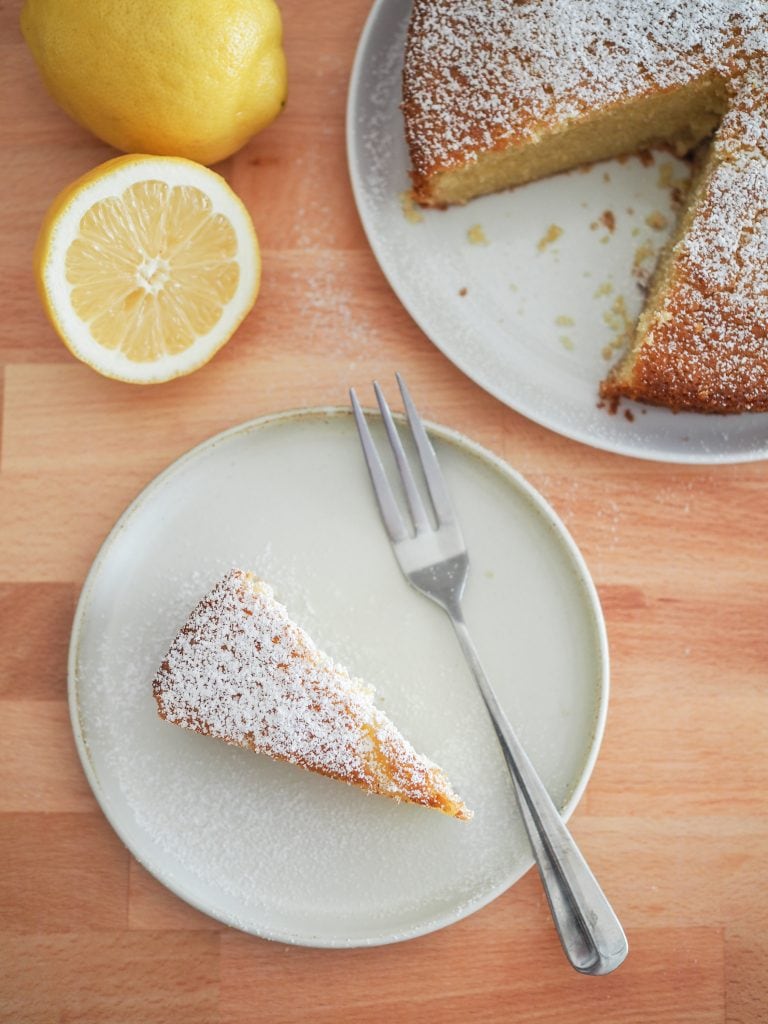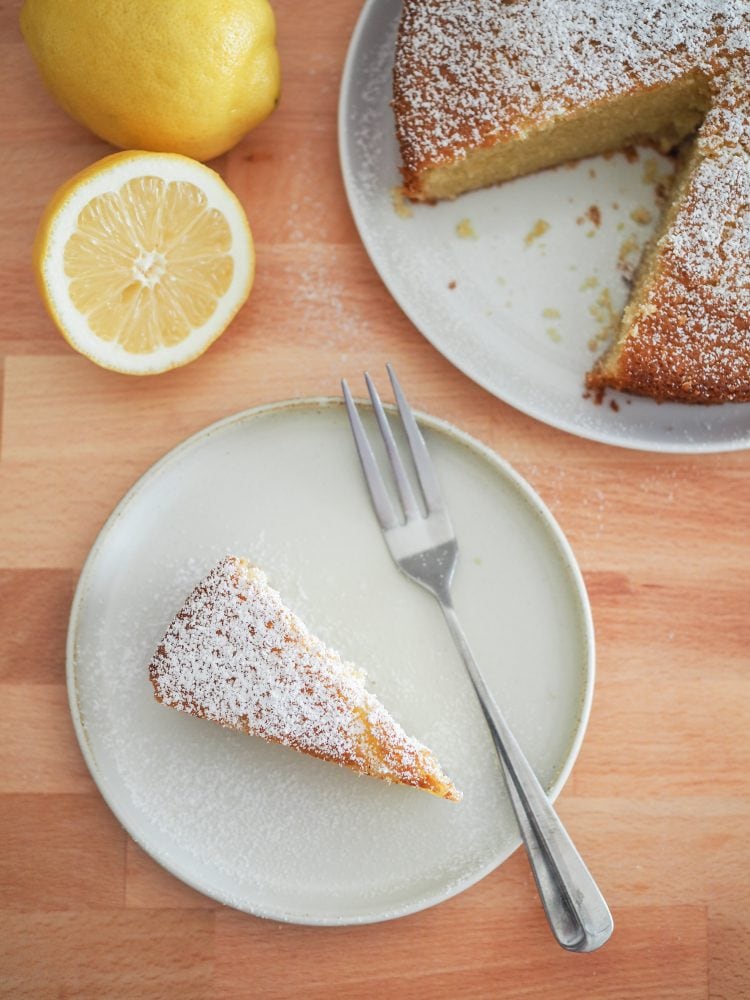 WHAT'S IN LEMON OLIVE OIL CAKE
You'll likely have most of the ingredients for lemon olive oil cake already in your refrigerator or pantry. The one addition you might need to pick up at the store is lemon extract. Though, you can bake the cake without it. Personally, I like the addition of lemon extract since it ensures a bright lemony flavor. Here's what you'll need to make lemon olive oil cake:
all purpose flour
sugar
baking powder
eggs
sugar
olive oil
lemons
powdered sugar
salt
A few alternative ways you can add lemon flavor include using lemon flavored olive oil (available at most stores), or substituting a 1/4 cup of the olive oil with a 1/4 cup of limoncello.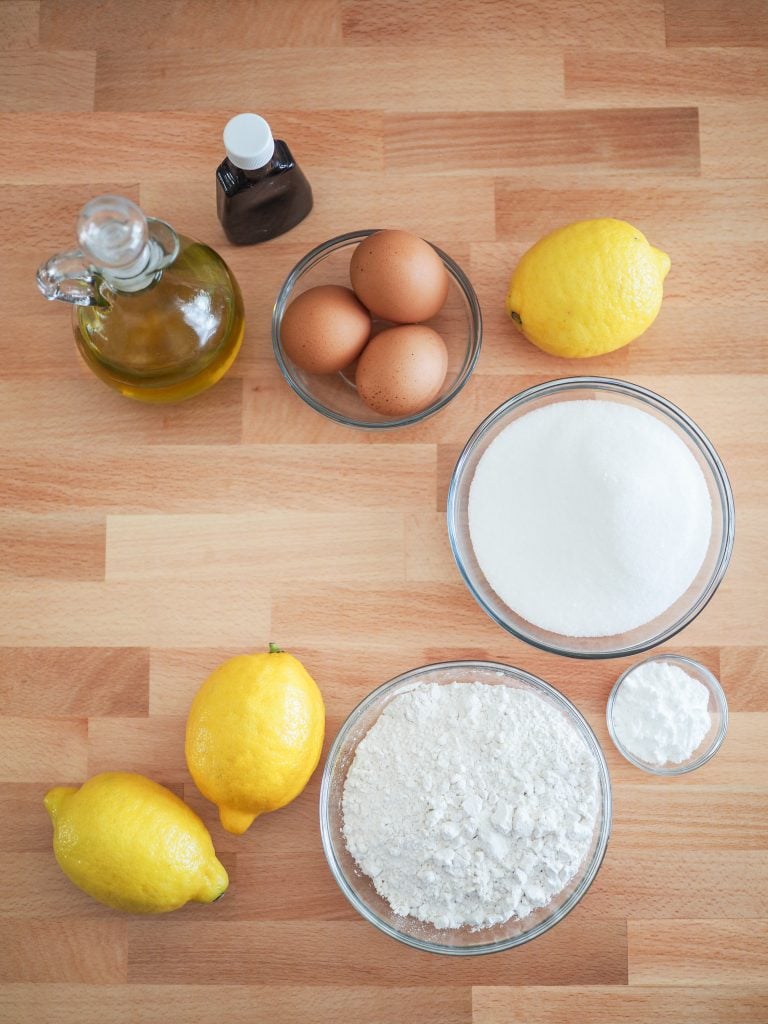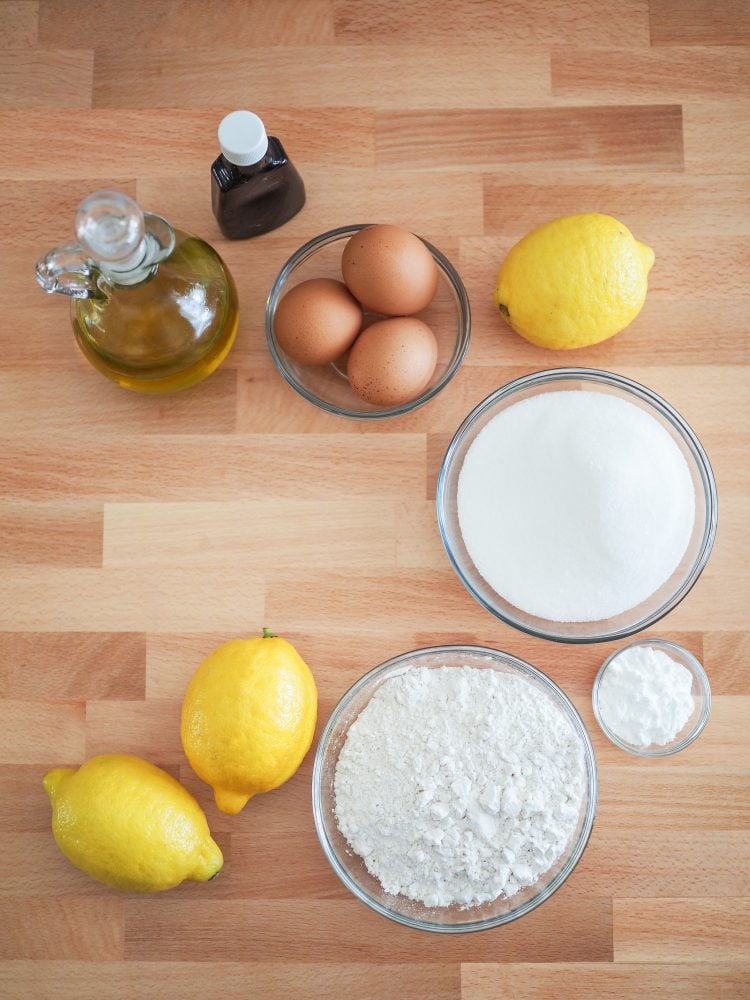 CAN YOU TASTE THE OLIVE OIL?
You don't really taste the flavor of the olive oil as much as you experience the way it makes the cake tender and moist. Some cakes made with butter can get dry and crumbly, while this lemon olive oil cake will keep it's texture and flavor for a few days.
Now, if you WANT to taste the olive oil, then omit the lemon extract and just use the lemon zest and juice. I also have a few olive oil recommendations for you below if you would like to play with the flavor a bit.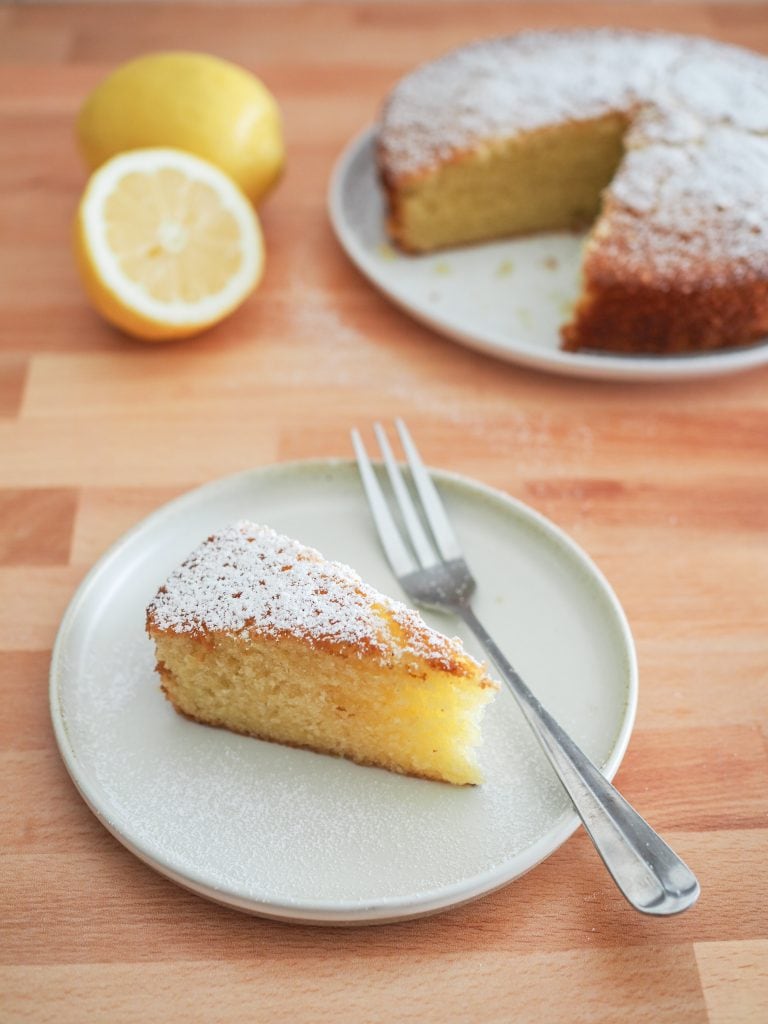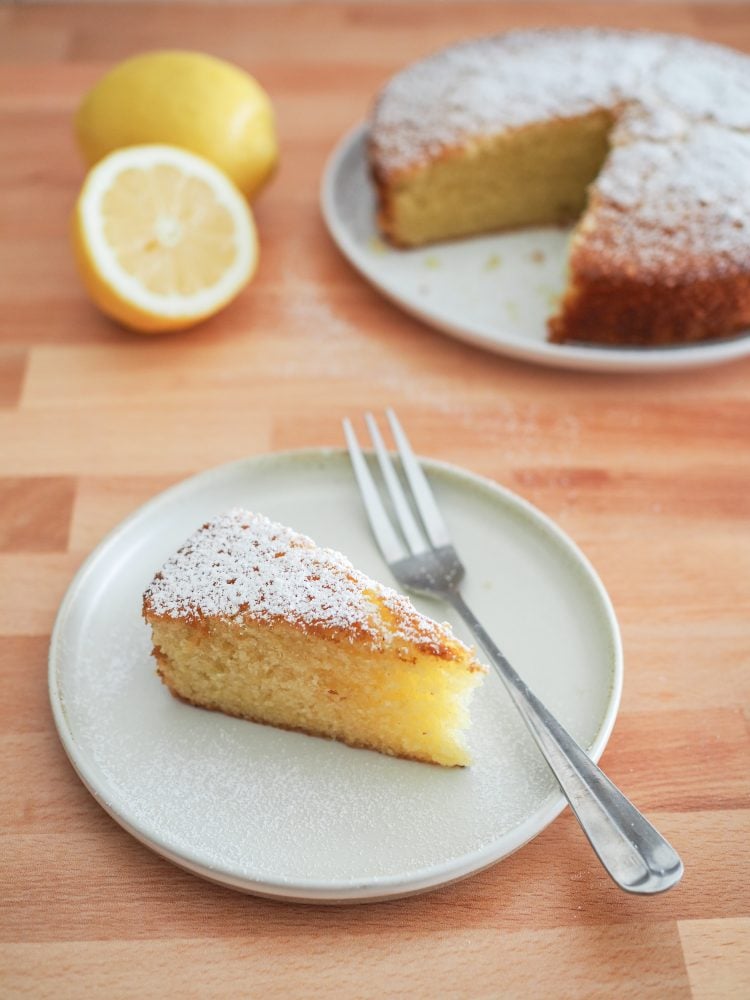 WHAT TYPE OF OLIVE OIL TO USE?
Olive oil can have a vast flavor profile, from grassy, to buttery, floral, and even peppery. The flavor typically depends on where the olives are grown and how the oil is processed and refined. You can use any type of olive oil to bake this cake. But the type of olive oil you use will either enhance or subdue the olive oil flavor. Next time you're at the grocery store, slow down in the oil aisle and read the labels on some of the olive oils available and pick one that you like!
Regular or Light Olive Oil: Regular or light olive oil has been refined and will have a very mild flavor. This is best to use if you want the cake to be more lemon-forward.
Virgin and Extra Virgin Olive Oil: These olive oils will both have more of an "olive" flavor to them, but it isn't overpowering. I typically use extra virgin olive oil for my cake.
Greek Olive Oil: Greek olive oils are known for have a complex flavor with a peppery finish.
Spanish and Portuguese Olive Oils: Olive oils produced on the Iberian Peninsula (where Spain and Portugal are located) tend to have a smooth, subtle flavor with a buttery finish and slight almond flavor. They're perfect for baking.
Italian Olive Oil: Olive oils from Italy can vary from region-to-region and typically have grassy, sometimes peppery notes.
California Olive Oil: Olive oils produced in California can vary depending on the type of olive, but they tend to be similar to Italian olive oils with grassy, buttery, or peppery notes.
Lemon Infused Olive Oil: Using a lemon flavored or lemon infused olive oil for a lemon olive oil cake is just divine! You can find lemon infused olive oils at most grocery stores.
HOW LONG DOES LEMON OLIVE OIL CAKE KEEP?
You can keep lemon olive oil cake at room temperature under a cake dome or wrapped in plastic wrap on your countertop for 2-3 days. After that, if you still have leftovers, I'd pop those extra slices in the refrigerator.
LEMON OLIVE OIL CAKE RECIPE – STEP-BY-STEP PHOTOS
Here are step-by-step photos to help you bake an easy lemon olive oil cake!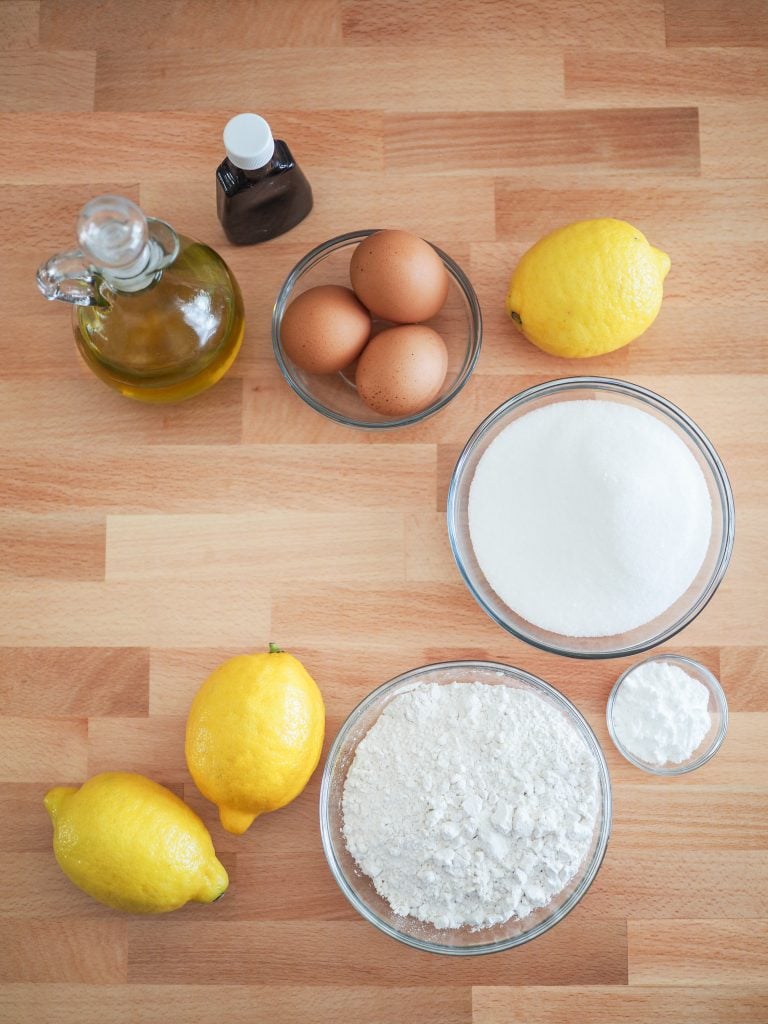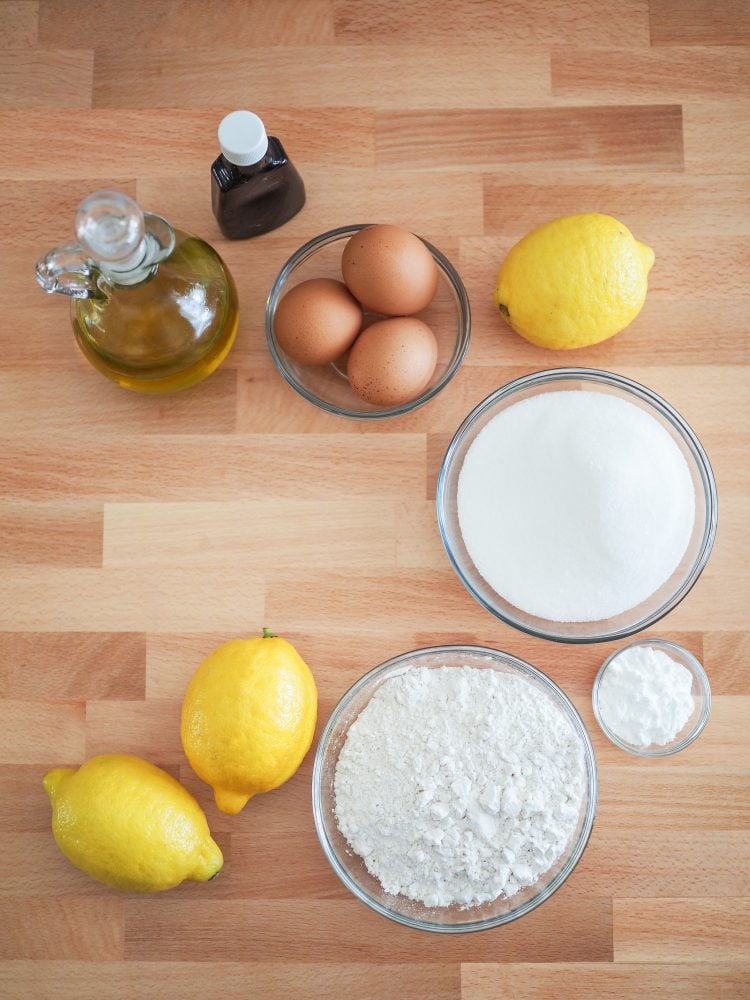 First, gather together your ingredients. Measure out the flour, baking powder, and sugar. Since lemon sizes vary, zest and juice the lemons into small bowls so you can measure out the right amount.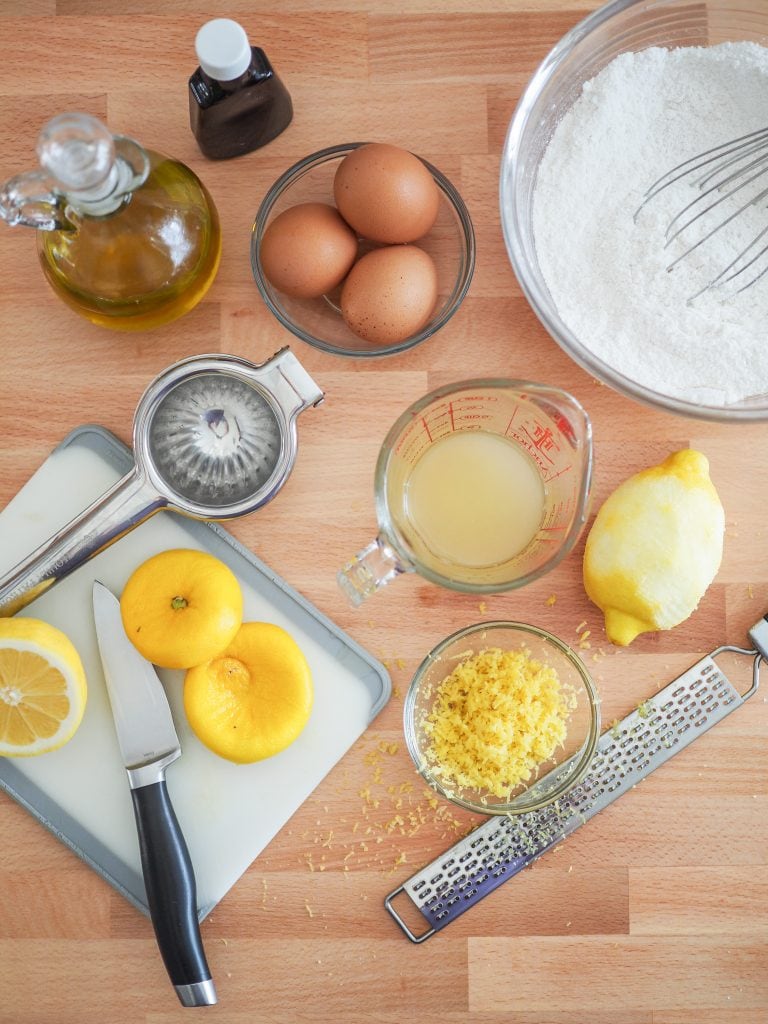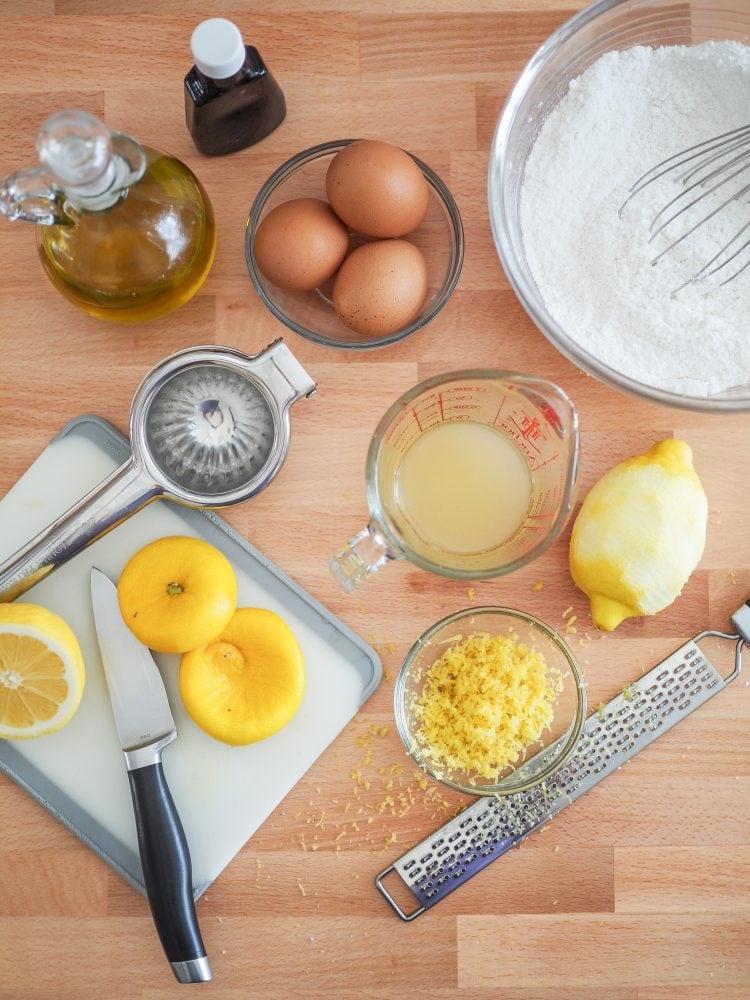 Whisk together the flour, baking powder, and salt. If you accidentally mix in the sugar too, that's okay. The cake is just a bit fluffier if you pulse the sugar with the eggs in a food processor. But it will still come out beautifully (and delicious too!) if you mix the sugar in with the dry ingredients.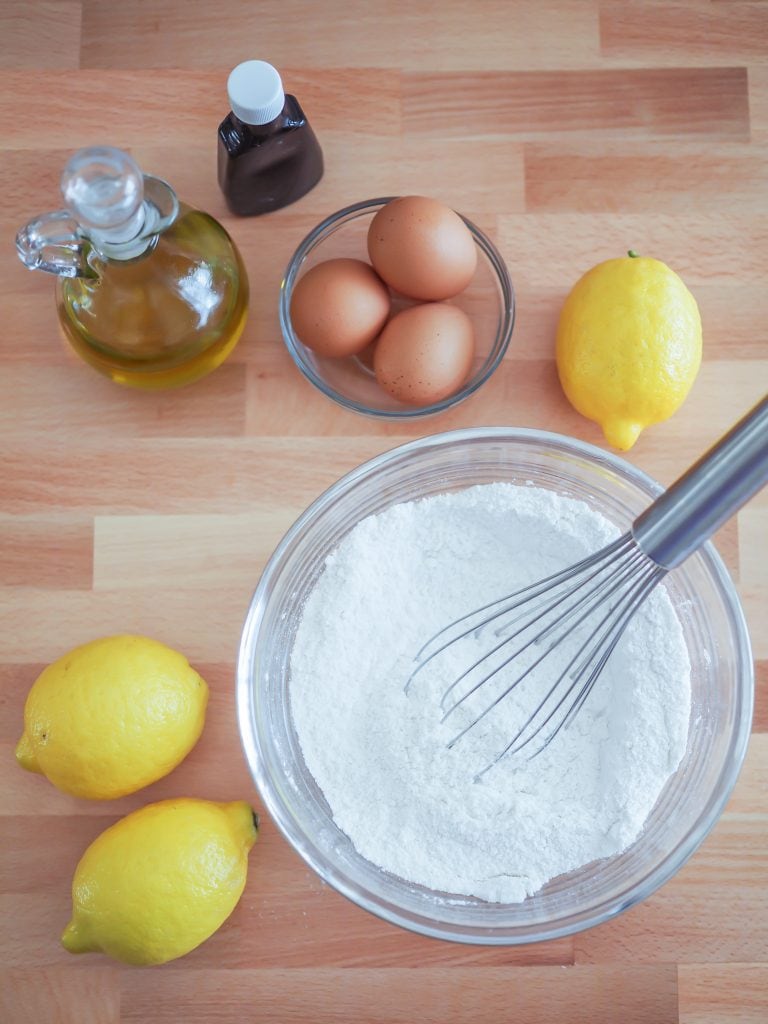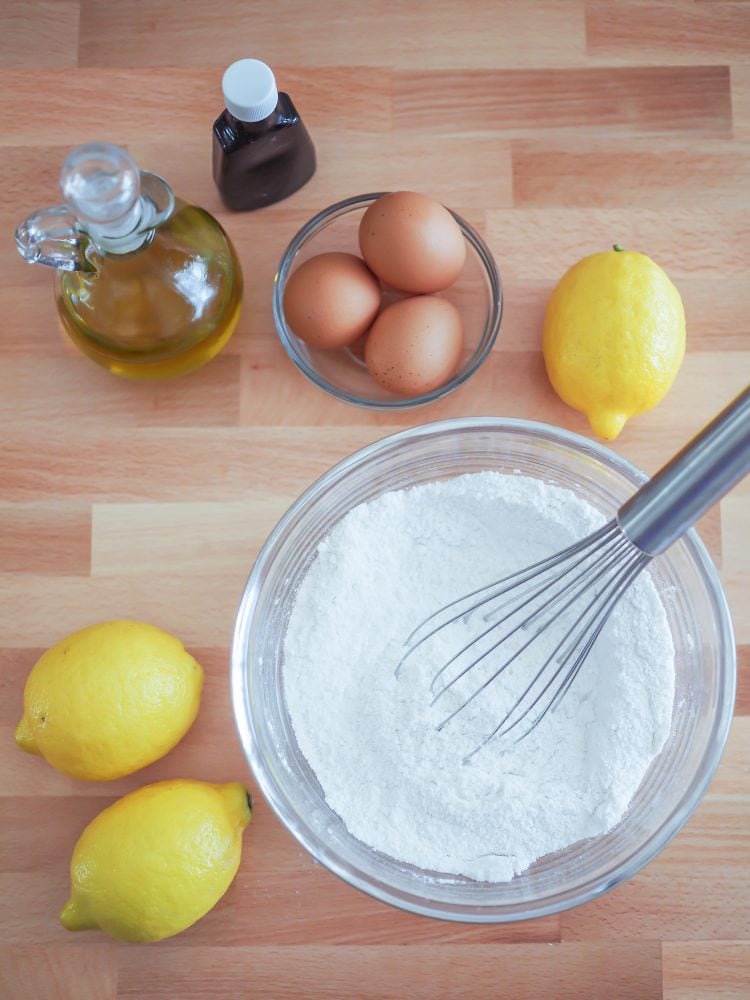 Add the eggs, sugar, olive oil, zest, juice, and lemon extract to a food processor or blender. Pulse a few times until blended, but do not over mix.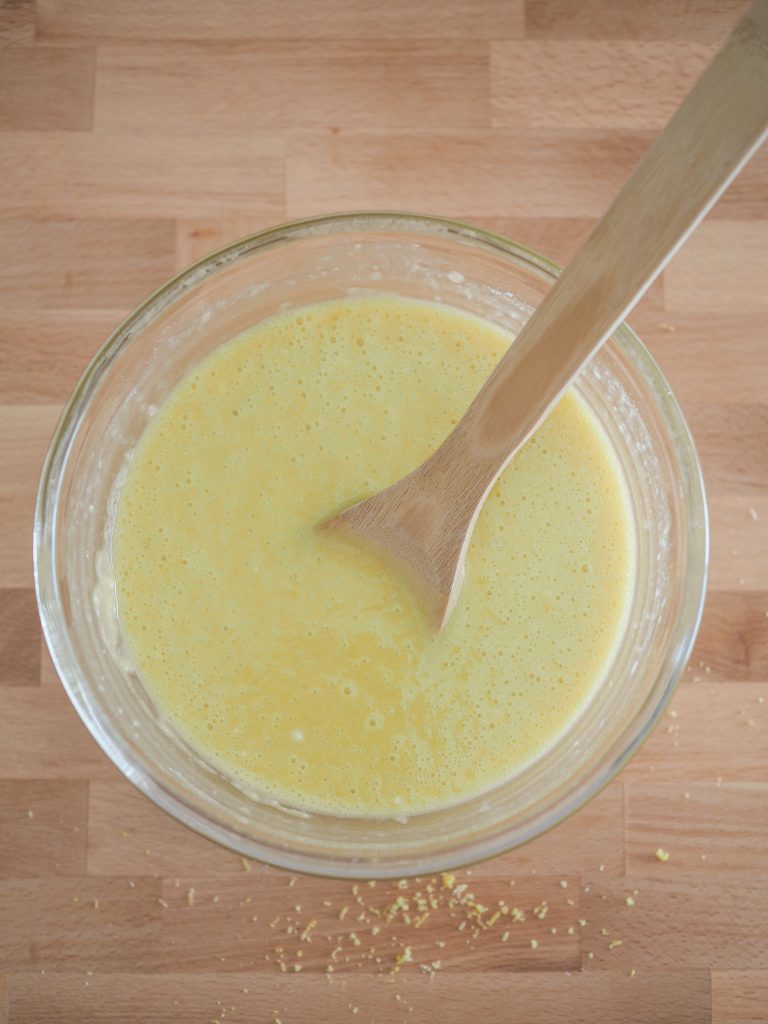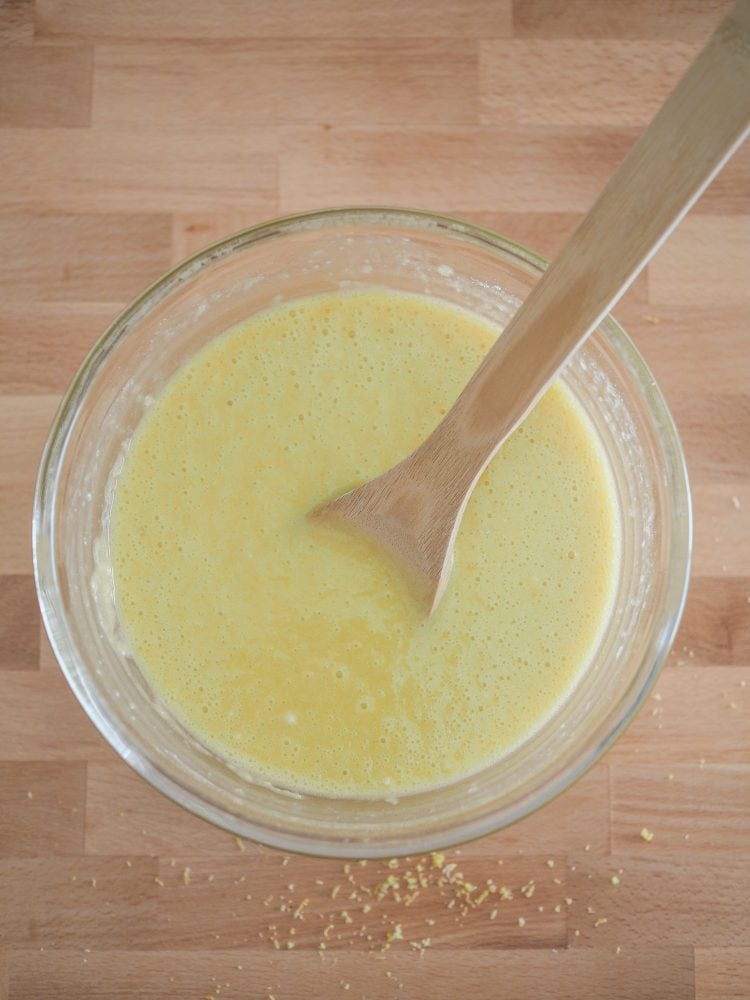 Gently pour the wet ingredients into the bowl of flour and stir by hand with a whisk or fork until well blended. Like a 8″ cake pan with parchment paper at the bottom and grease the sides with a little bit of olive oil. Pour cake batter into pan and bake at 350 degrees for 40-50 minutes until a toothpick inserted in the center comes out clean.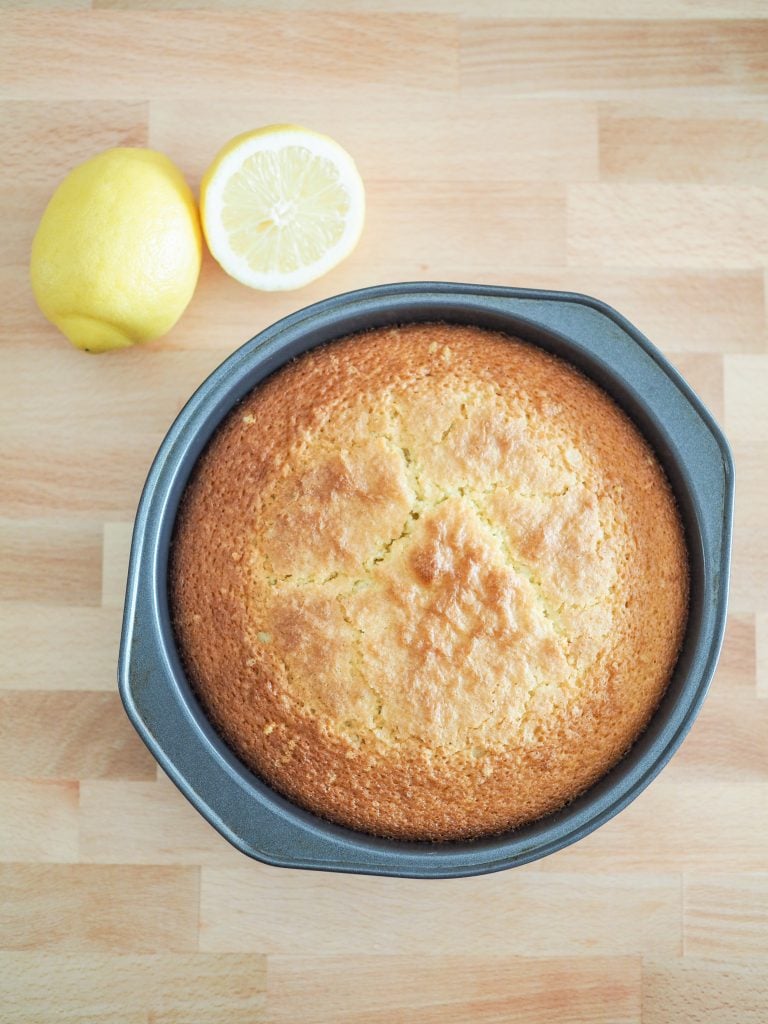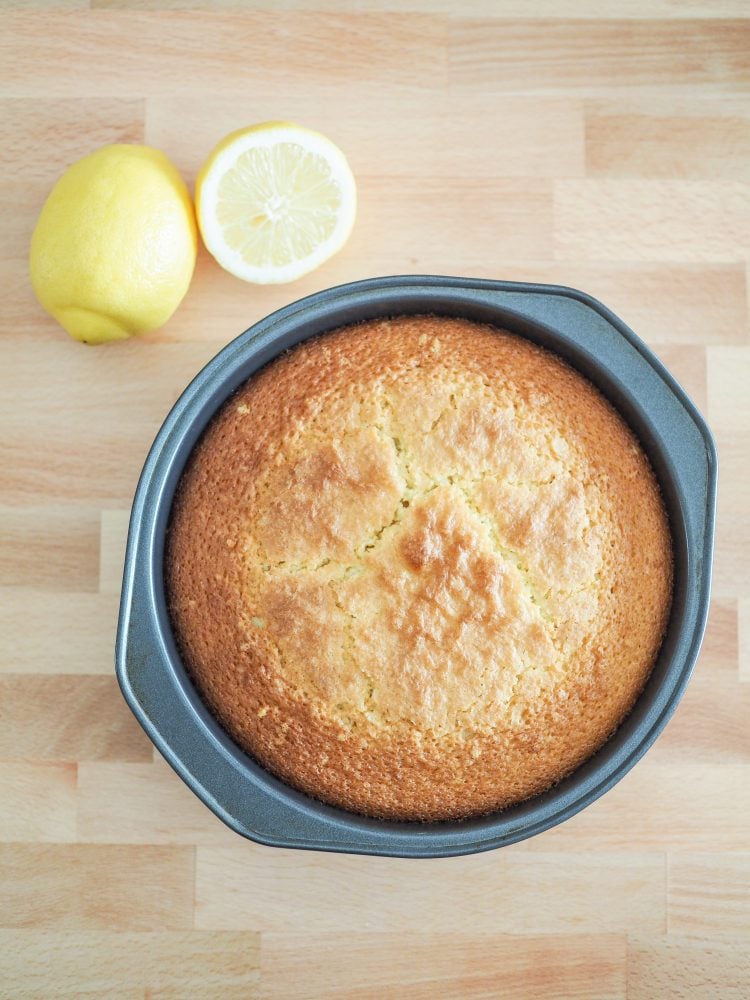 Allow the cake to cool, then loosen up the sides with a butter knife before inverting the cake onto a plate or cake stand.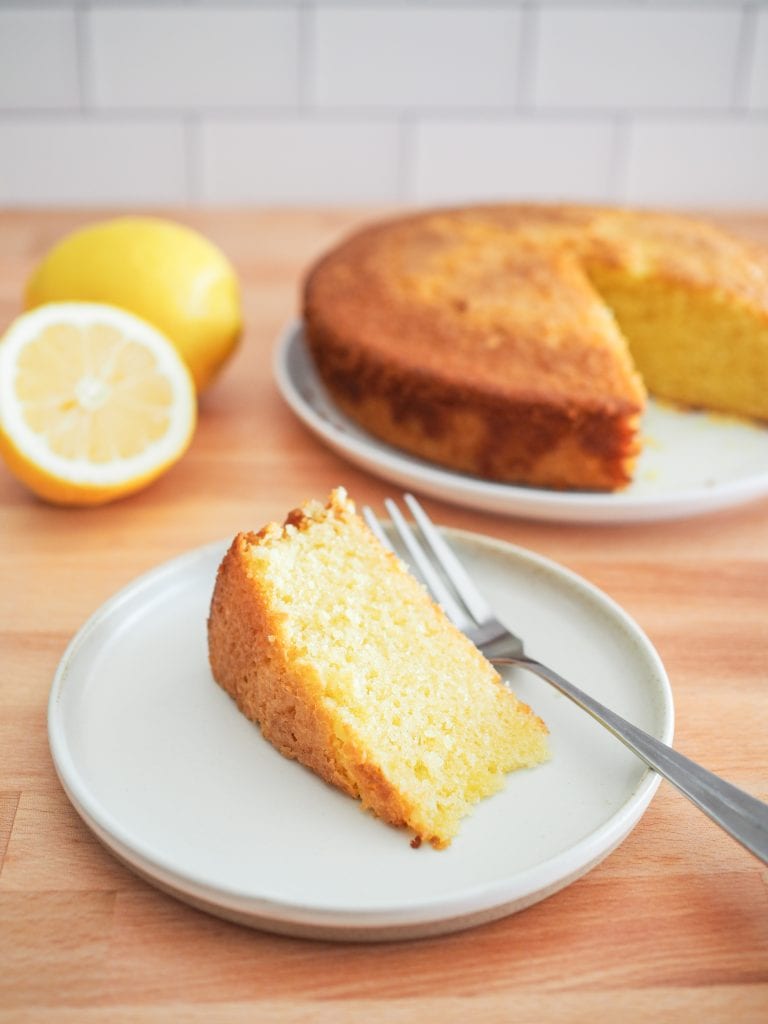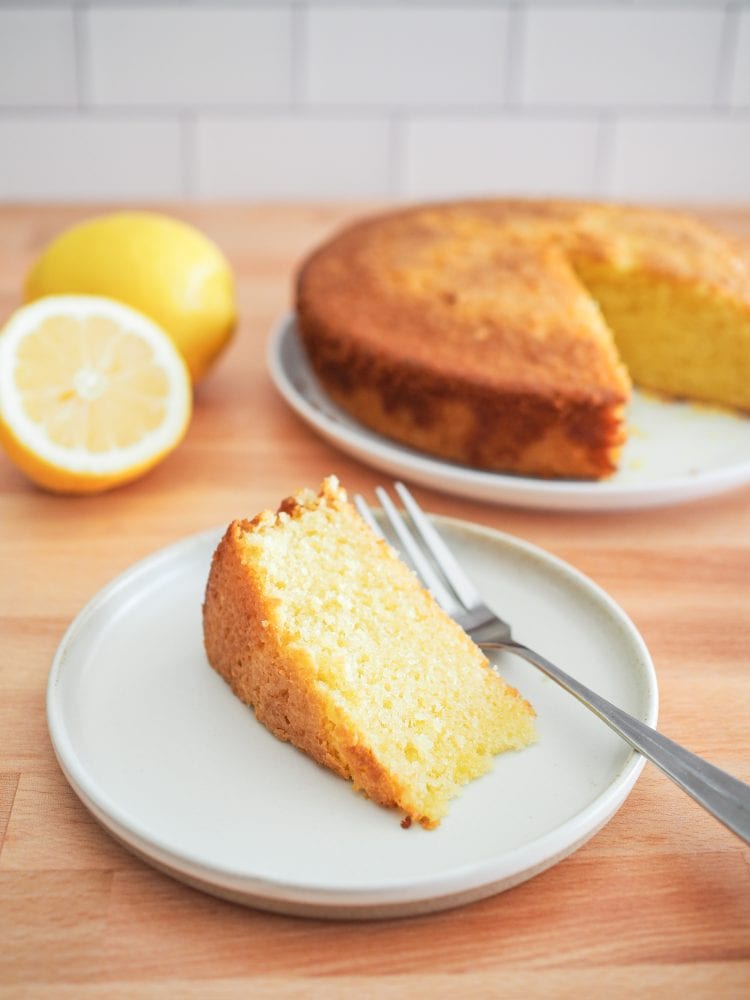 You can serve the lemon olive oil cake plain, or sprinkle powdered sugar on top.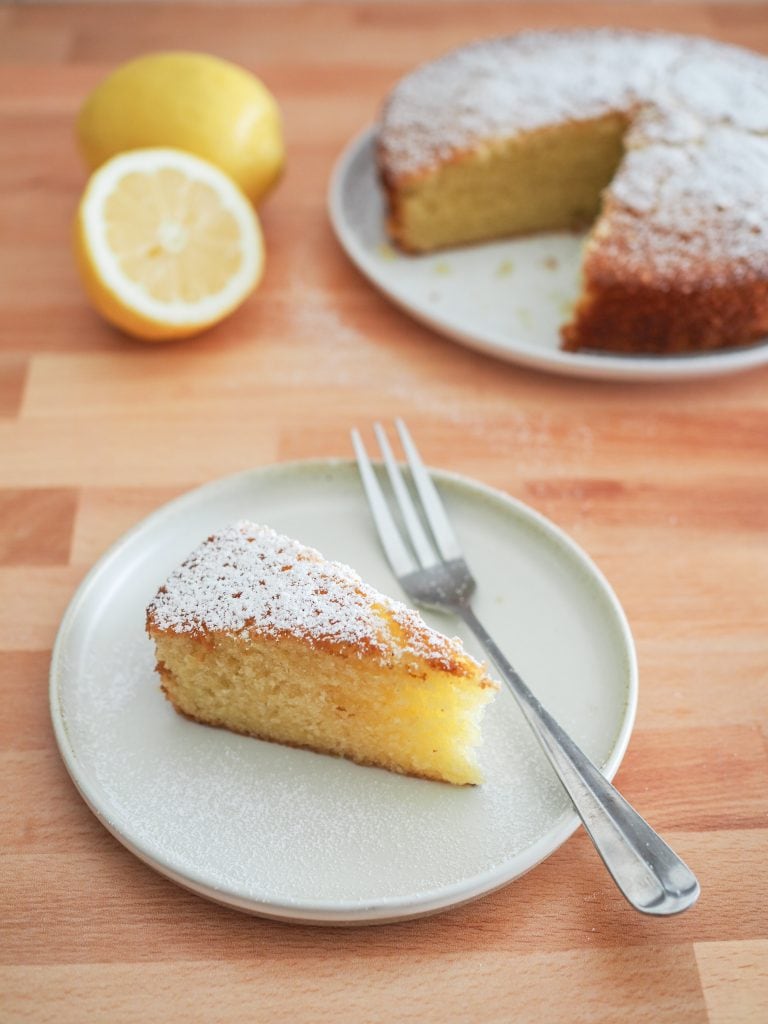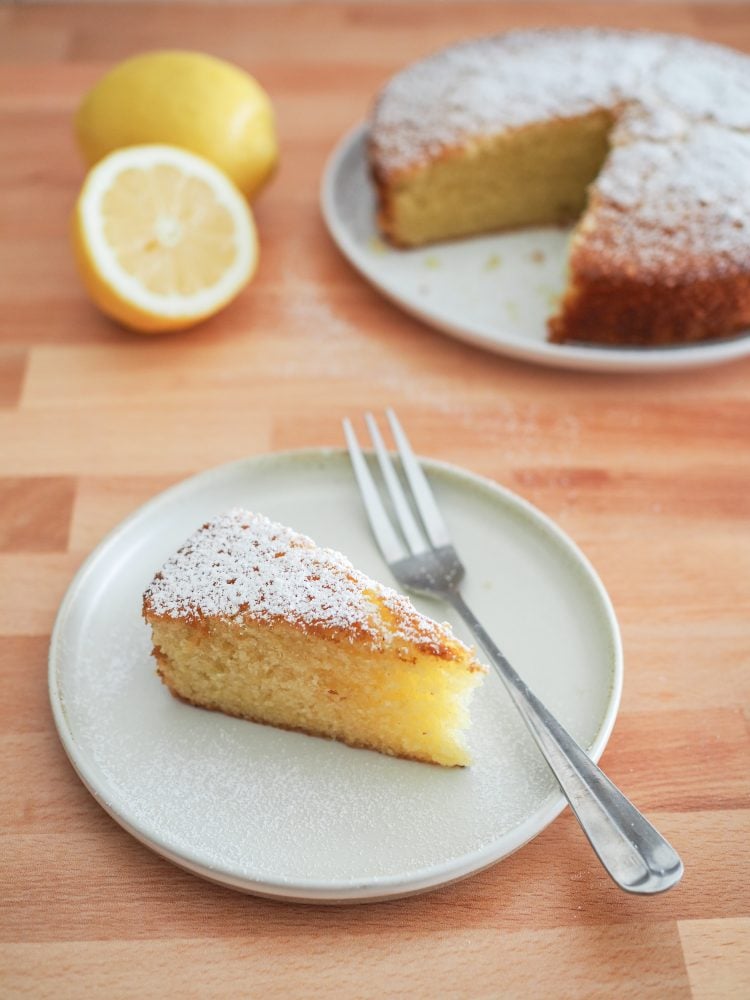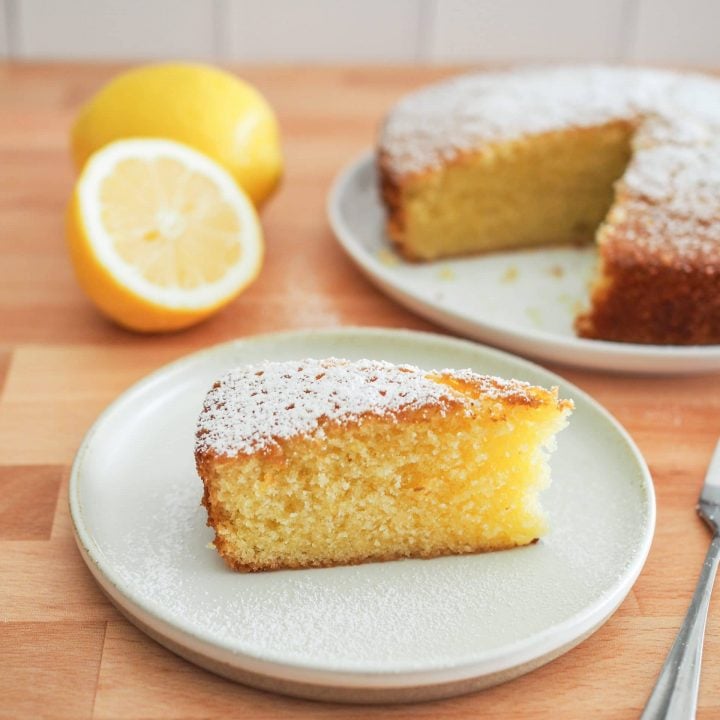 Lemon Olive Oil Cake
Ingredients
3 eggs
1 cup sugar
1 cup olive oil
1 tsp lemon extract
2-3 lemons
1 cup all purpose flour
1 Tbsp baking powder
1/4 teaspoon salt
Instructions
Preheat oven to 350 (325 for convection ovens). Prepare 8" round cake pan by cutting a piece of parchement paper to fit the bottom, and spraying the sides with non-stick baking spray.
Wash and dry your lemons, then zest the outer rind into a small bowl. Cut the lemons in half and juice the lemons into a seperate bowol. You'll need approximately 1/4 cup of lemon juice and 1 Tbsp of lemon zest.
Add the eggs, sugar, olive oil, lemon extract, lemon juice, and lemon zest to a food processor. Pulse until blended, but do not over mix.
In a seperate bowl, whisk together the flour, baking poweder, and salt. Slowly pour in the wet ingredients from the food processor while stirring by hand until well blended.
Gently pour batter into prepared cake pan and bake for 40-50 minutes.
Allow cake to cool for 10 minutes, then go around the edge of the cake with a butter knife to loosen it from the pan. Place a large plate on top, flip the pan and plate over together to release the cake onto the plate.
Sprinkle with powedered sugar and serve.
Nutrition Information:
Yield:

8
Serving Size:

1
Amount Per Serving:
Calories:

431
Total Fat:

29g
Saturated Fat:

4g
Trans Fat:

0g
Unsaturated Fat:

24g
Cholesterol:

70mg
Sodium:

277mg
Carbohydrates:

41g
Fiber:

1g
Sugar:

26g
Protein:

4g
Nutrition information provided is only an estimate.
MORE RECIPES YOU'LL ENJOY