Polenta cakes are a great appetizer when hosting friends, and it's also a hearty side dish or vegetarian meal when you're in the mood for some comfort food. If you're unfamiliar with polenta, it is a bit like grits and is made with a course ground cornmeal into a savory porridge. Cooled polenta takes on a more solid shape which makes it perfect for sautéing up some polenta cakes.
Scroll through our tips and tricks below, or click the "jump to recipe" above if you're ready to start cooking!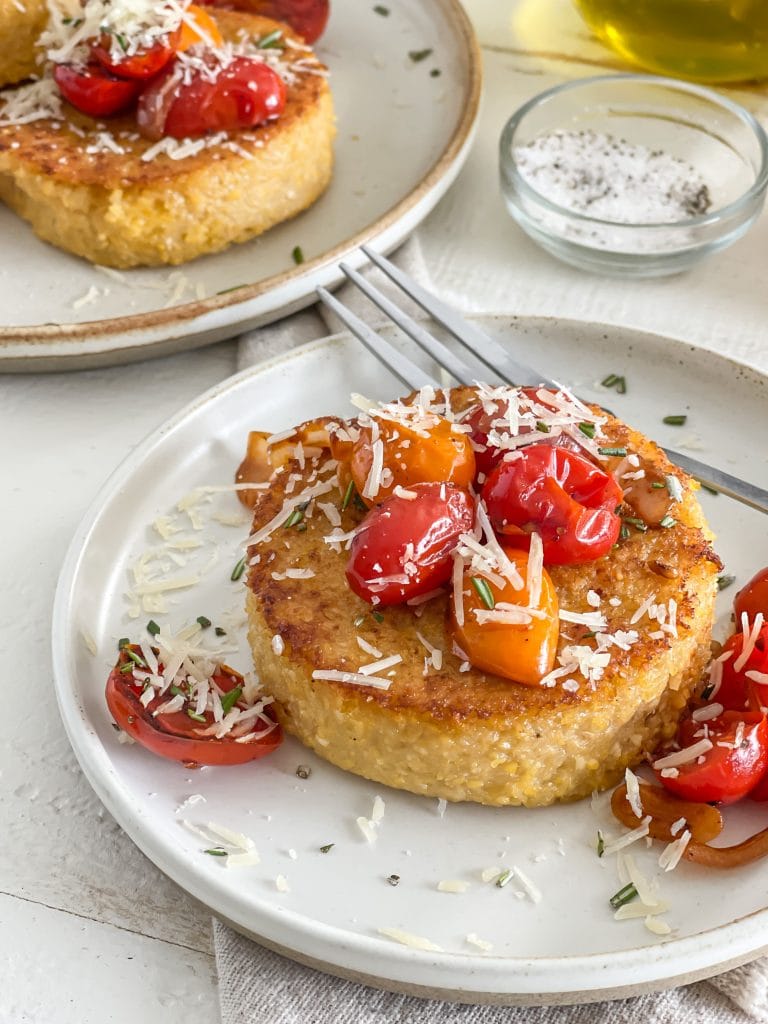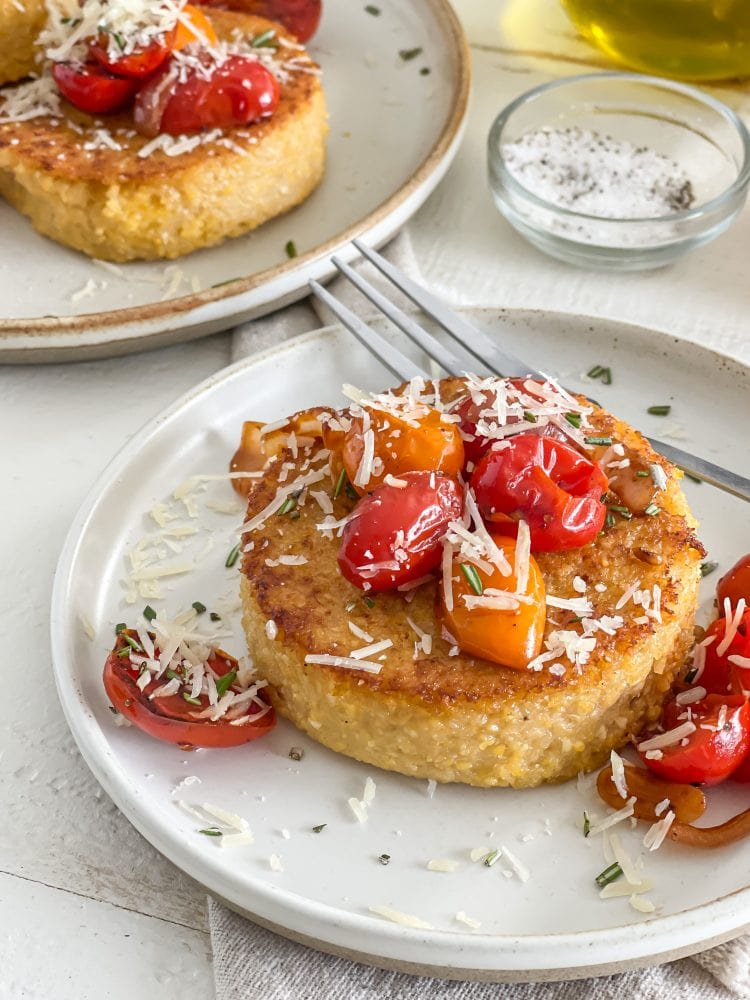 What Are Polenta Cakes Made From?
Like mentioned above, polenta cakes are made with course ground cornmeal. You can typically find cornmeal at your grocer labeled for polenta. Bob's Red Mill makes one that is labeled for both polenta and grits. But if you can't find anything that specifically says "polenta" while you're shopping, then look for course ground cornmeal in the flour section at your local grocer.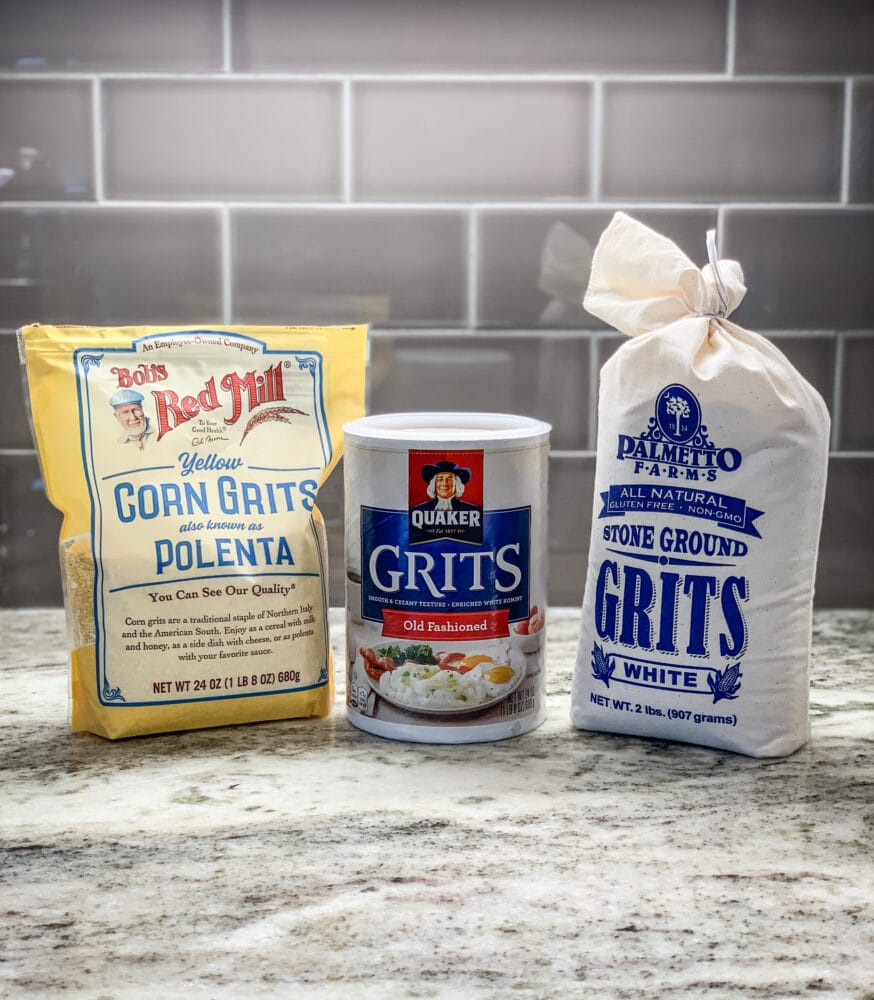 Is Cornmeal The Same As Polenta?
Technically, yes! Polenta is made with cornmeal. So if cornmeal is all you can find, you can still make polenta cakes.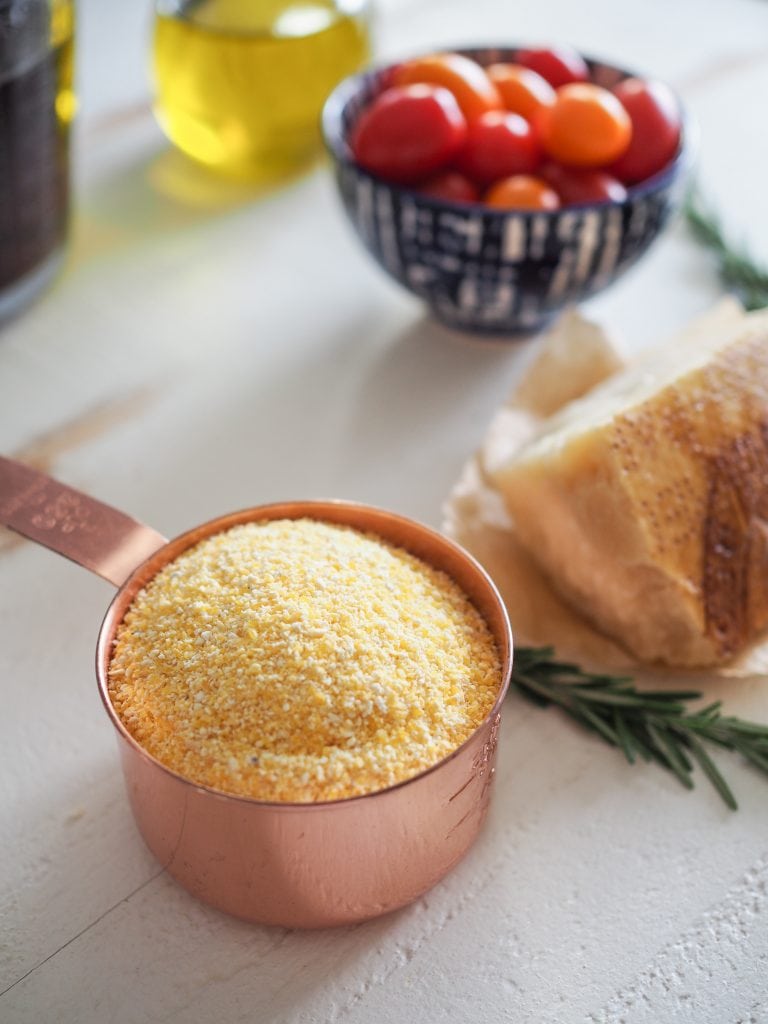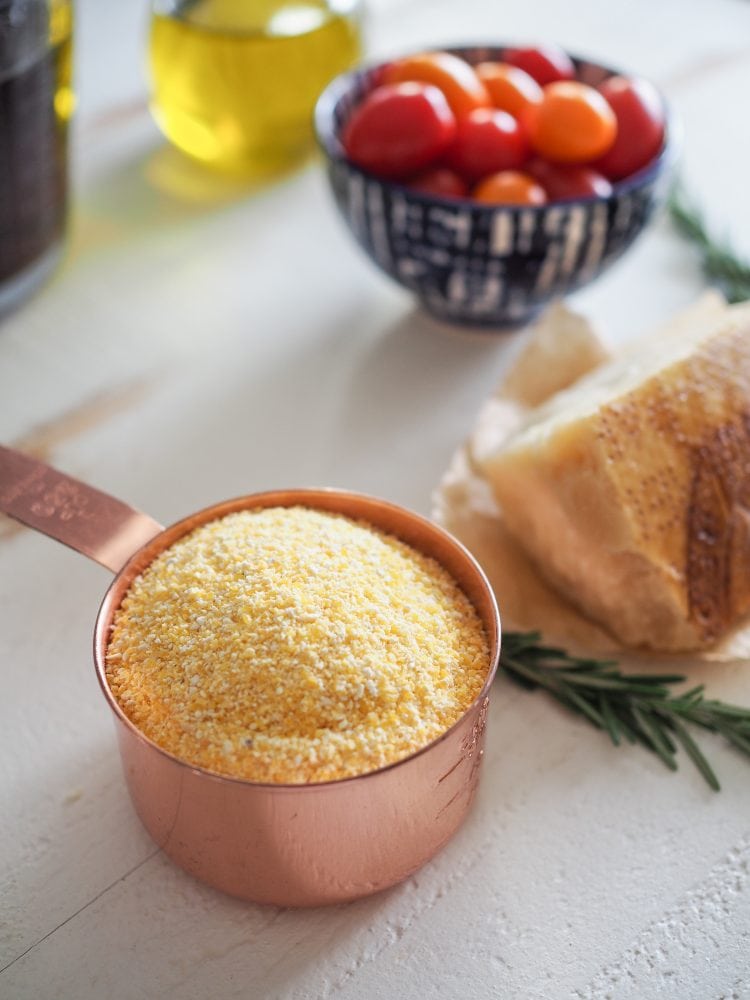 Where Is Polenta From?
Polenta is best known as a Northern Italian dish, but it is also made in Switzerland and the Balkans. Originally, polenta was a porridge made with other grains like farro and spelt until corn was introduced to Europe from the Americas. In fact, cornmeal porridges such as polenta and grits are actually Native American in origin!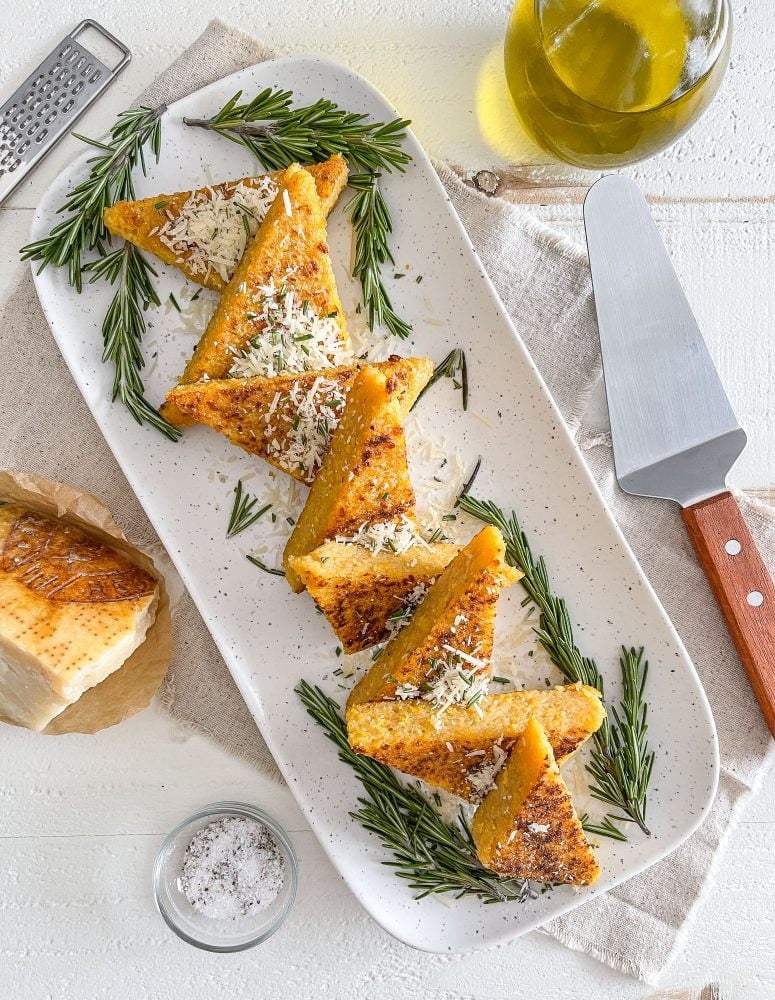 What Kind Of Dish Should I Use?
In order to make polenta cakes, you'll need to cool the polenta in a casserole dish so that it becomes firm enough to cut into shapes to sauté or bake. You can use an 8×8 or a 9×13 baking dish. The only thing that will change between the two is the amount of polenta you'll need. Also, the pan can be either metal or ceramic since you'll just be using it to refrigerate the polenta.
8×8-inch pan: Boil 1 cup of polenta (cornmeal) in 3 cups of water
9×13-inch pan: Double the ratio above and boil 2 cups of polenta in 6 cups of water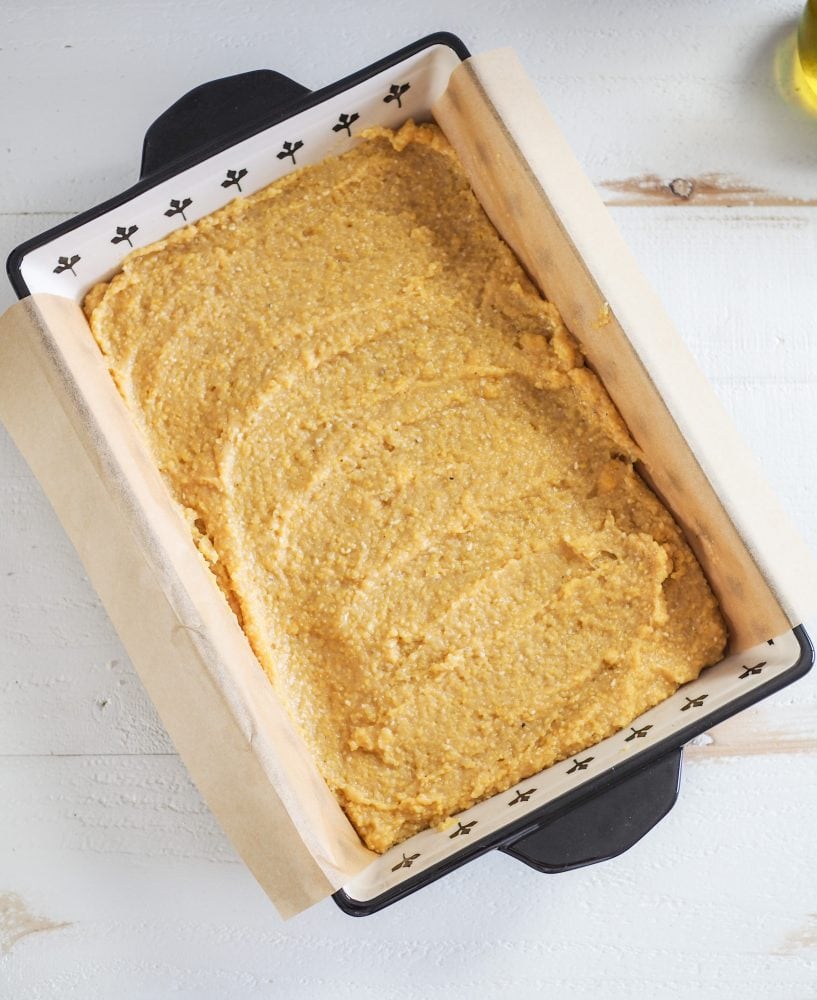 How To Make Polenta Cakes
First, gather together your ingredients. At a minimum, you'll need cornmeal, broth, and salt. But I also like to add a bit of fresh grated Parmigiano-Reggiano cheese, and then a shallot, cherry tomatoes, and rosemary for sautéing and serving on top of the polenta cakes.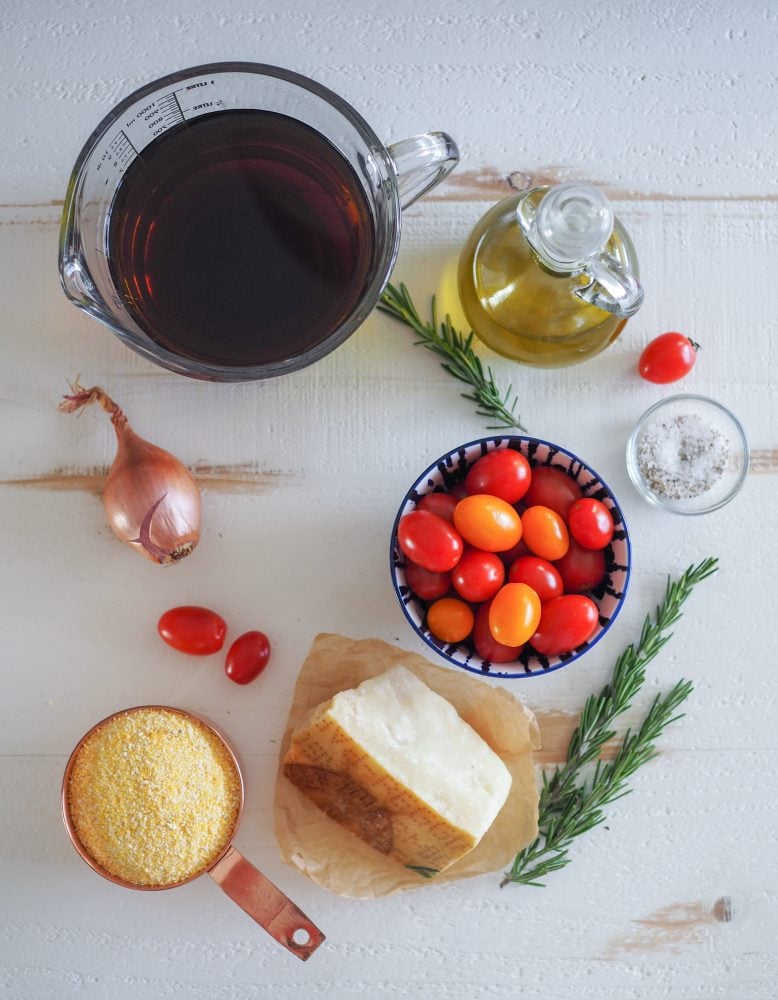 Start by bringing a pot of water or vegetable broth to a boil. I like to use broth since it adds a bit more flavor to the polenta cakes. As for the ratio of liquid to cornmeal, refer to the packaging of the cornmeal you purchased. Typically, it is a 1 to 3 ratio of one part cornmeal to three parts water. So, for instance, one cup of cornmeal (polenta) and three cups of water or broth.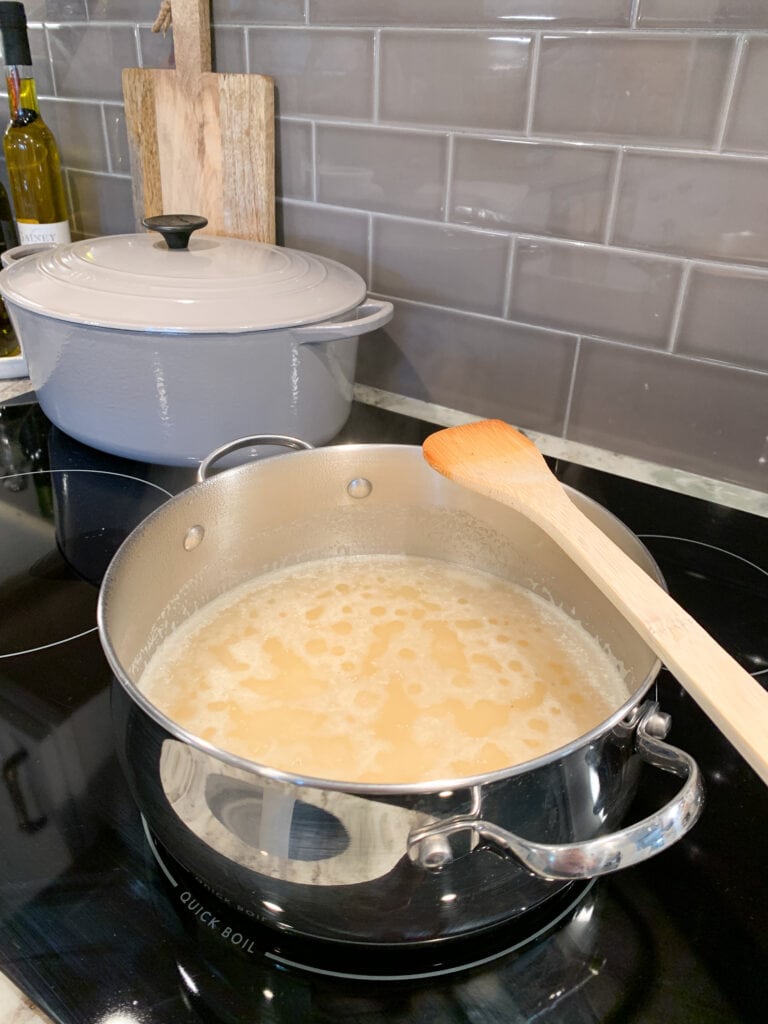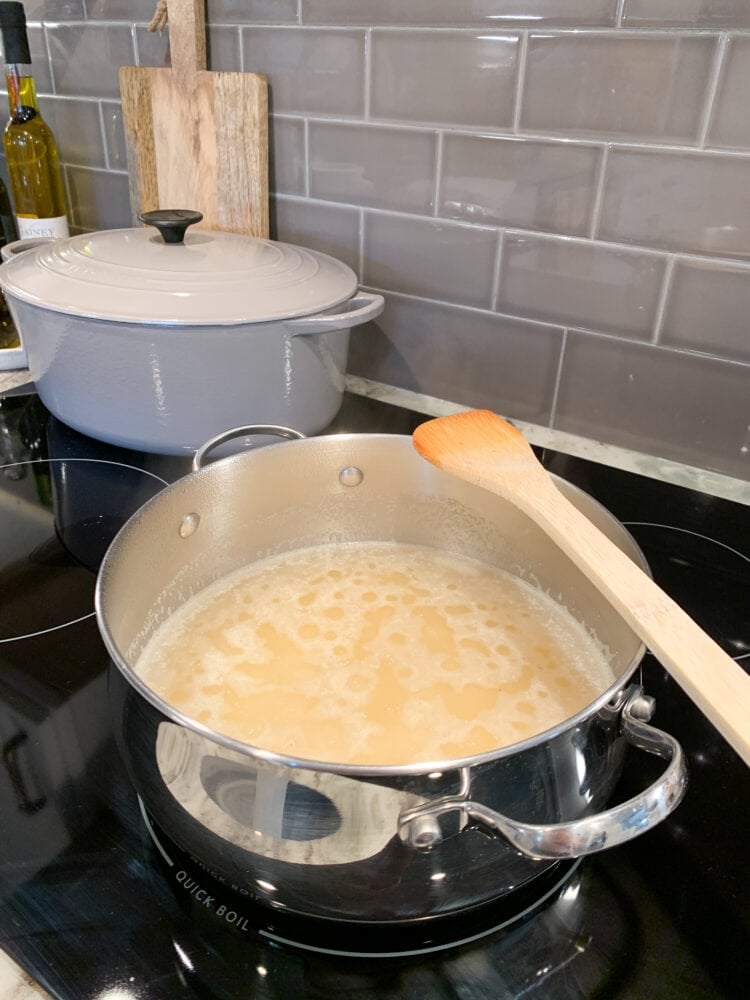 Once the water or broth has been brought to a boil, reduce heat to medium/low, add the cornmeal and cook for five minutes while stirring. Remove the pot from heat, cover, and let stand for 25 minutes until the cornmeal porridge has thickened. You may need to stir it occasionally to remove any lumping.
Next, cut a piece of parchment paper to line your casserole dish, leaving enough room for it to come up over the edge of the dish to make it easy to lift the polenta cake once it has solidified. Pour polenta over the parchment lined casserole dish, cover and refrigerate for at least two hours or overnight.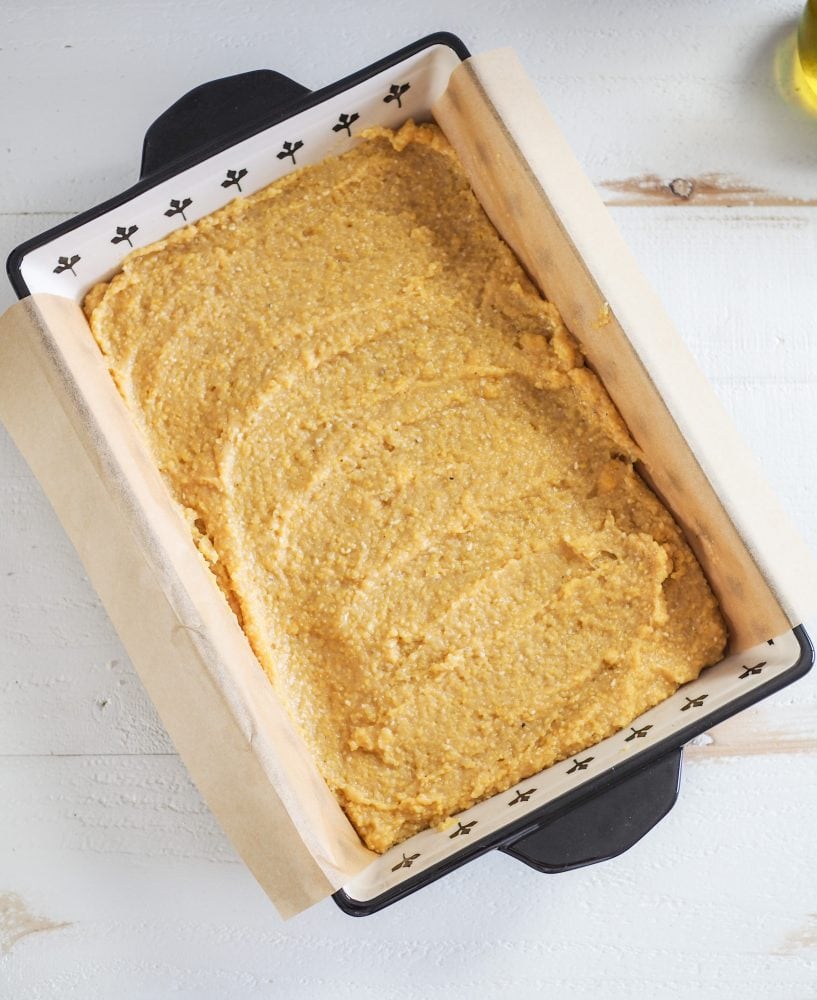 Cutting Polenta Cakes
Once the polenta is chilled, gently remove the polenta from the casserole dish and place onto a cutting board to shape. If you're making a side dish, or using polenta cakes as your main meal, then I recommend cutting larger cakes using a 3″ biscuit cutter or a cup.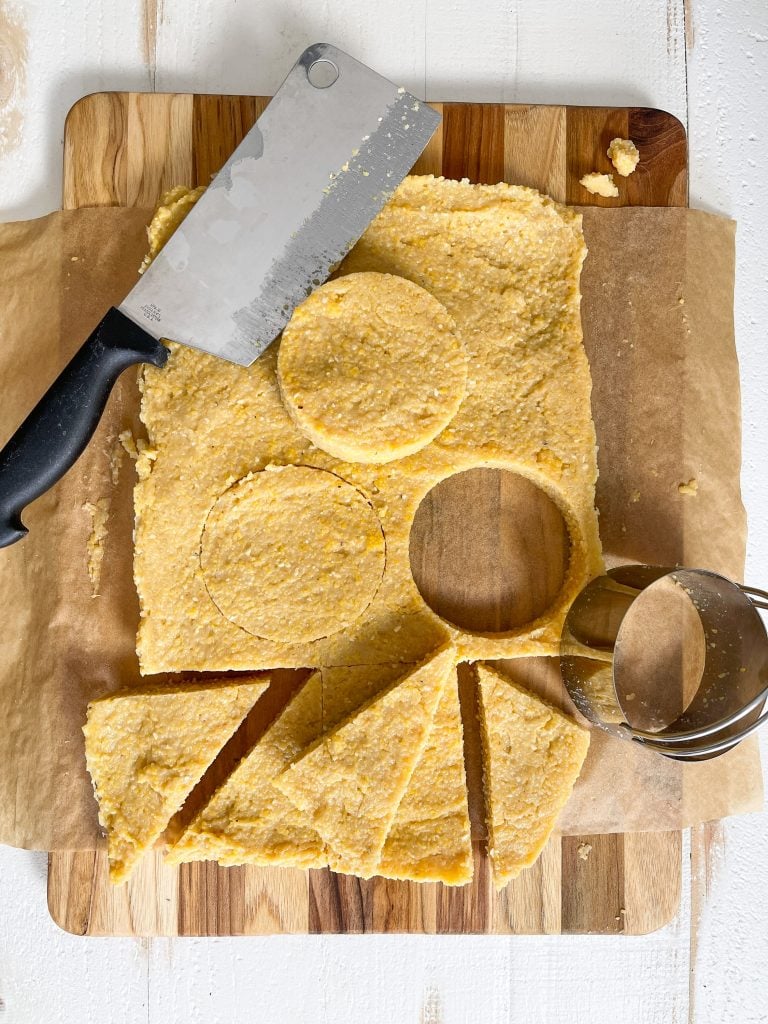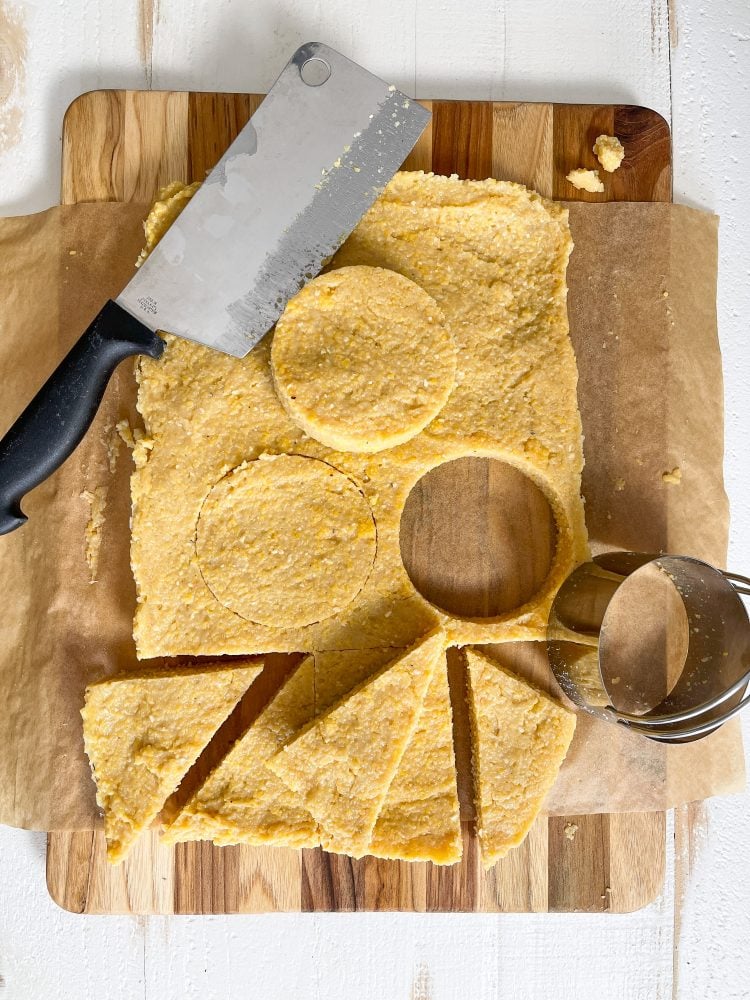 And for making appetizer sized polenta cakes for sharing, cut into rectangles or triangles. Personally, I like to cut them into squares, and then cut again at a diagonal for a triangle shape. I think these look great for serving, plus there's less waste than with cutting them into circles.
How To Cook Polenta Cakes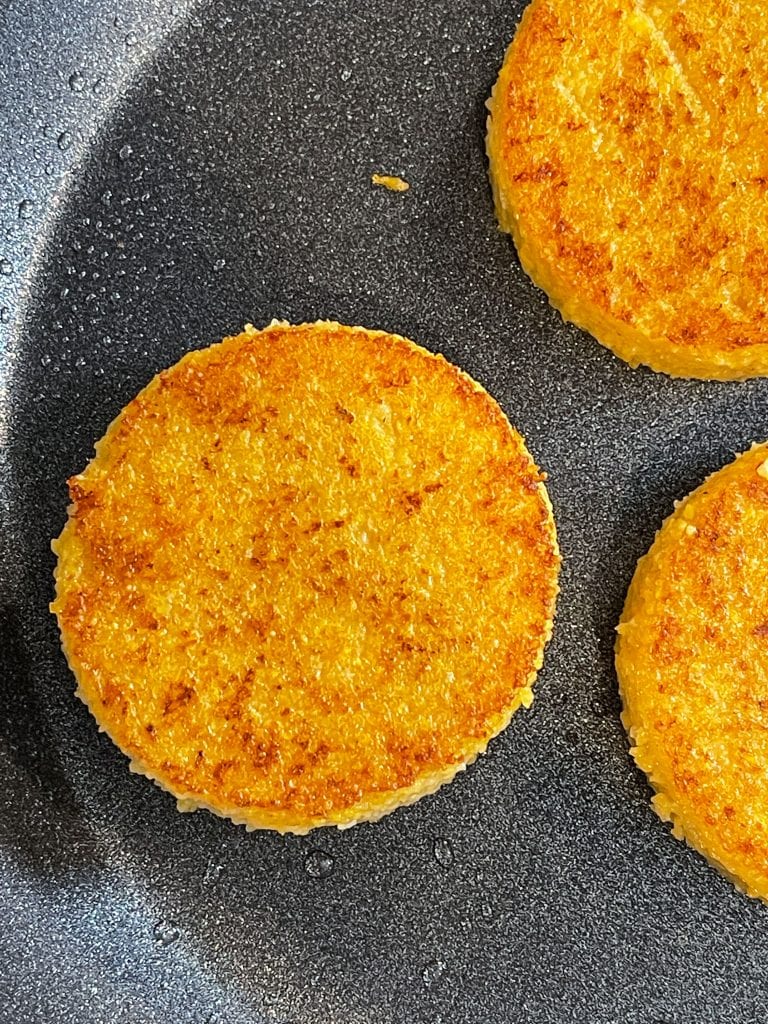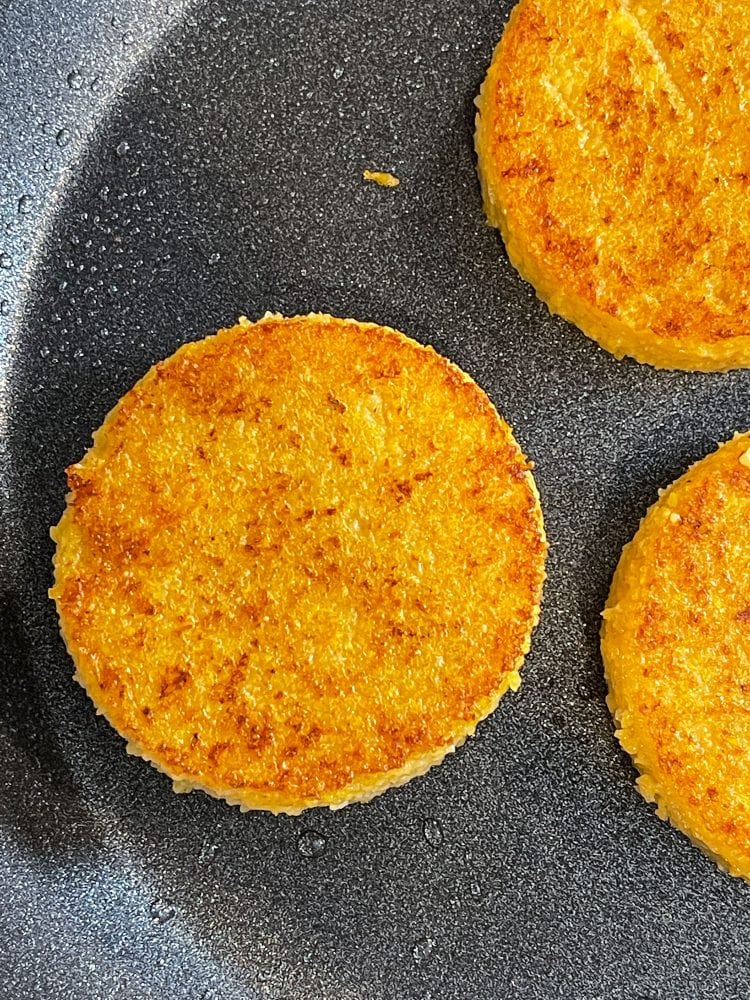 Sauté: To make polenta cakes on the stovetop, heat a teaspoon of cooking oil (I like to use a high heat olive oil) and sauté each side until golden, about 3-5 minutes per side depending on the thickness of the cake. Also, one extra tip I'll give you is to use two spatulas to gently flip them over so that the cakes will hold their shape.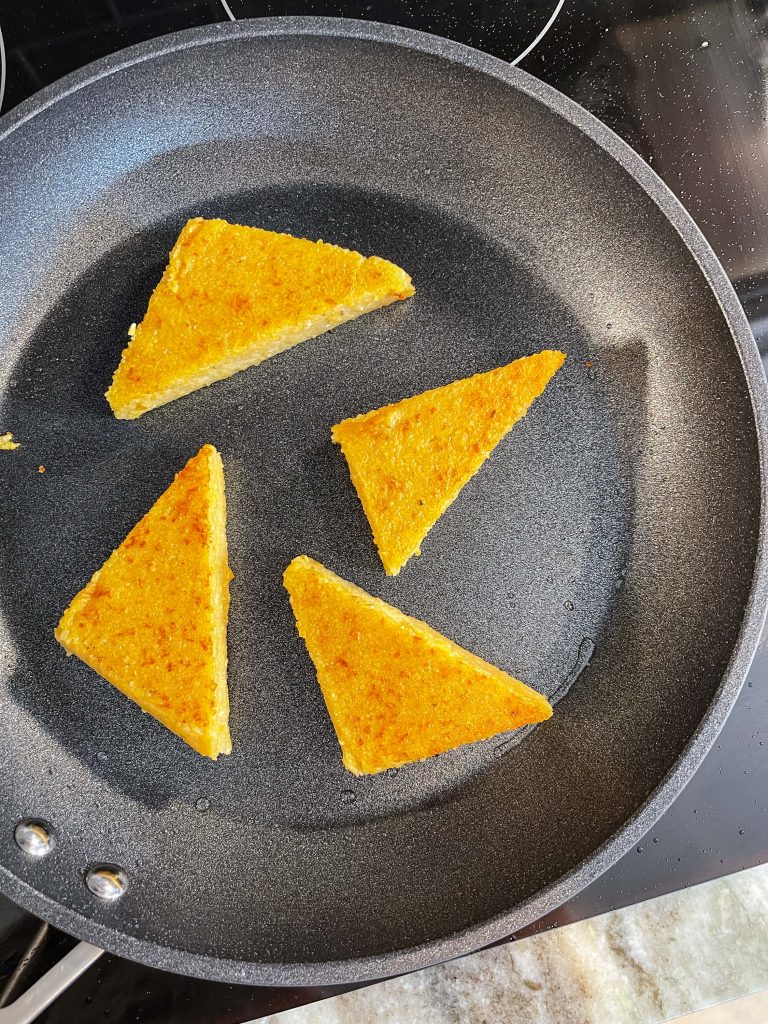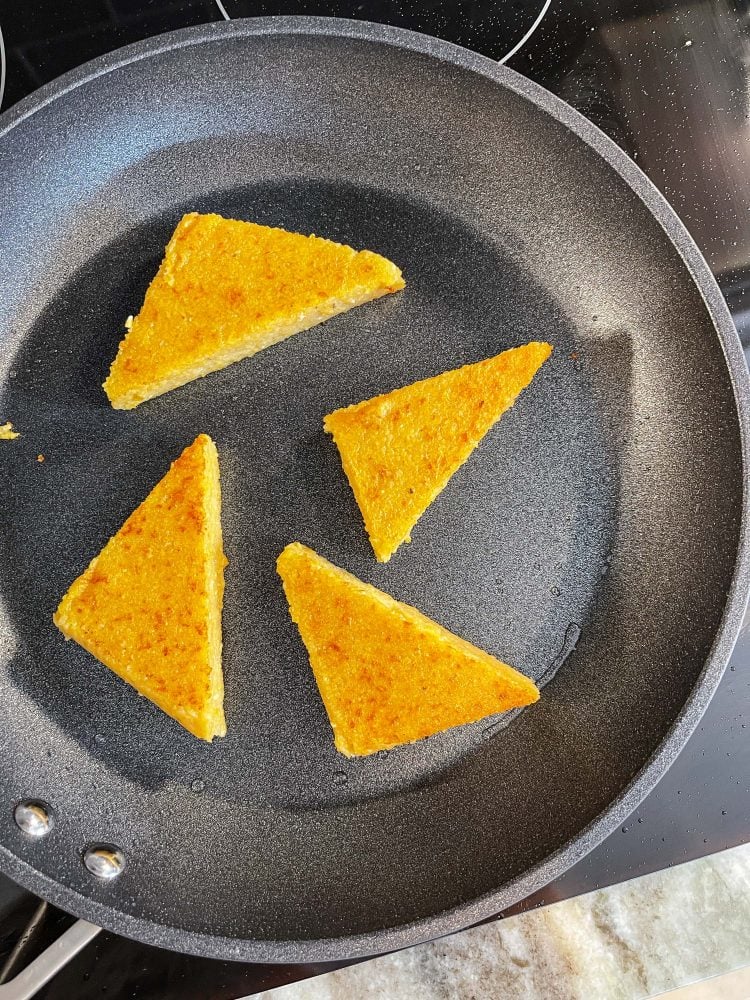 Bake: Sautéing is my favorite way to cook them so that they have a golden crispy edge. But you can bake them too! And that is especially helpful if you're making a lot of them. To bake, place the polenta cakes on a parchment lined sheet pan and bake at 350 for 8-10 minutes.
What To Serve With Polenta Cakes
Polenta cakes are great on their own seasoned with salt and pepper and a sprinkling of fresh grated Parmigiano-Reggiano cheese. But if you really want to wow your guests, or make it into a more filling meal, sauté a pint of cherry tomatoes and a chopped shallot in a little olive oil with a teaspoon of fresh chopped rosemary.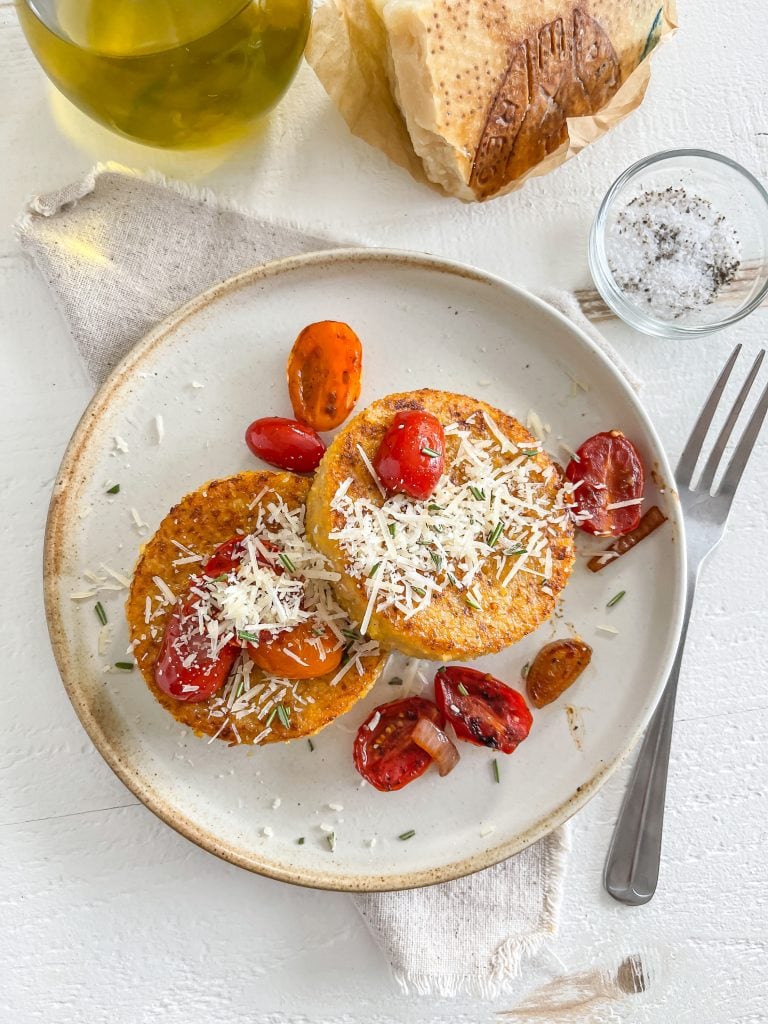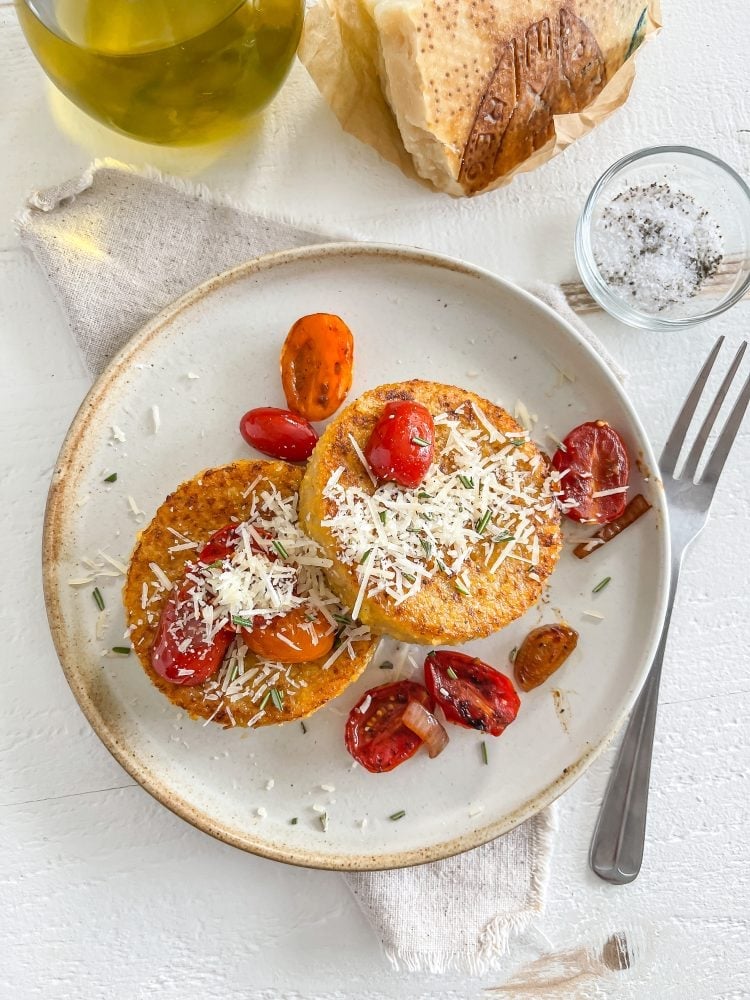 Simply cut the cherry tomatoes in half and cook until they're tender, usually just 3 to 5 minutes. Add a spoonful of sautéed tomatoes per polenta cake and you'll get a "chef's kiss" kind of reaction.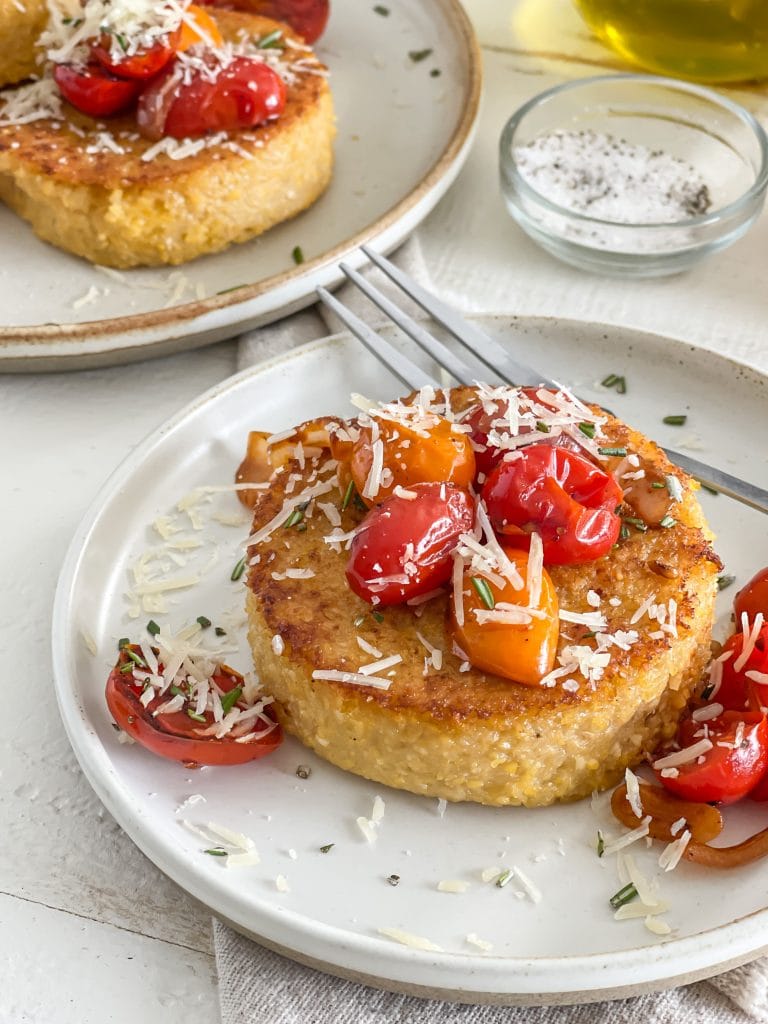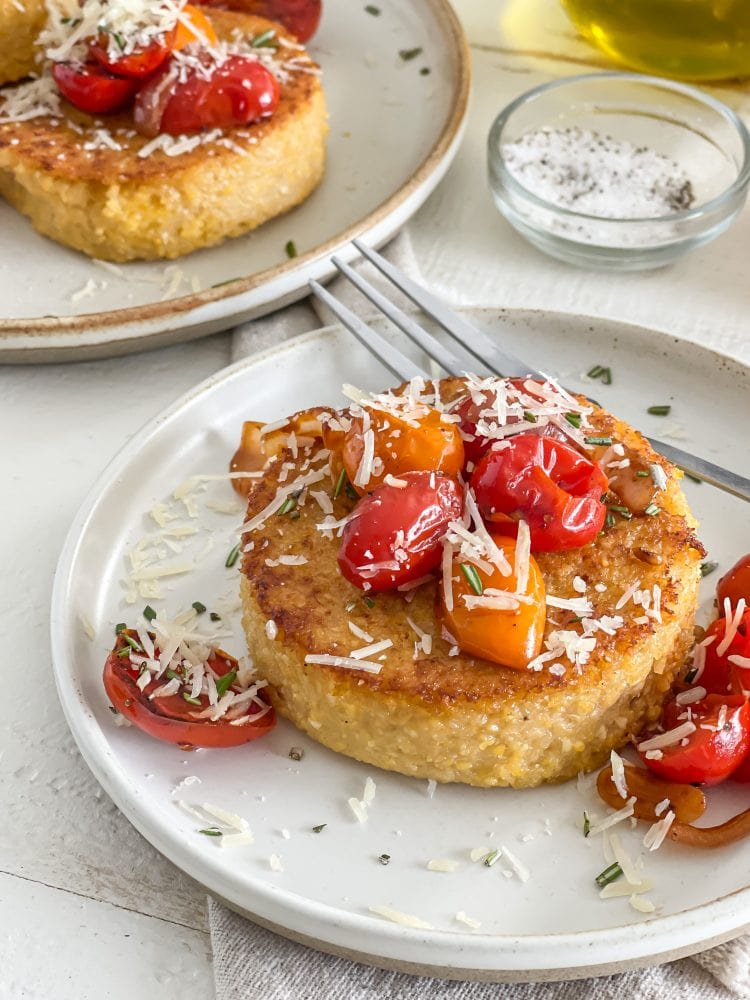 And if you're serving polenta cakes as an appetizer, line them up on a serving tray and sprinkle with salt, pepper, fresh copped rosemary, and Parmigiano-Reggiano cheese.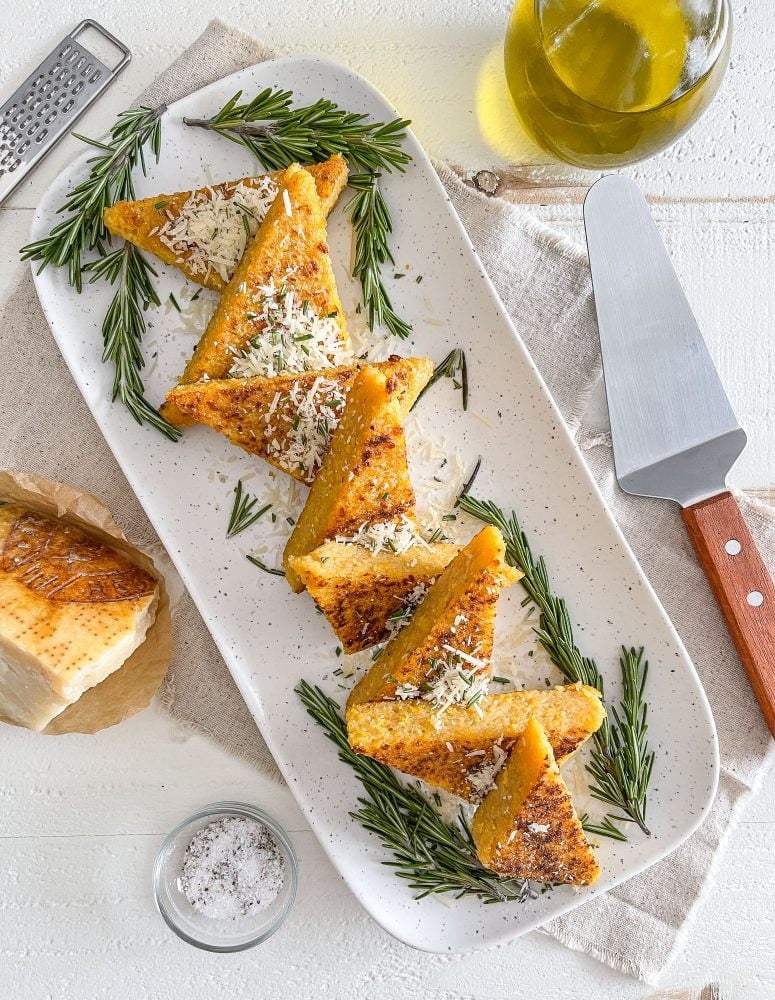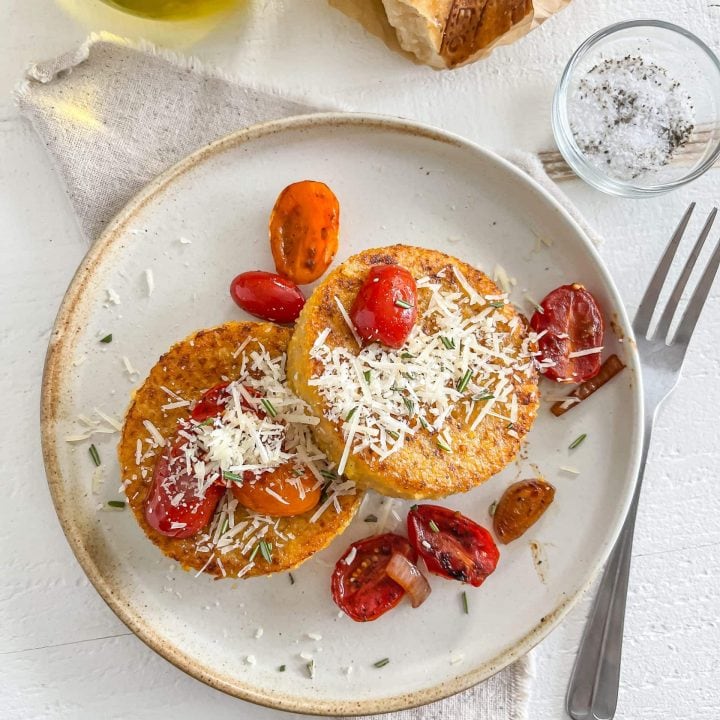 Polenta Cakes
Total Time:
2 hours
35 minutes
Easy Italian-style poltena cakes.
Ingredients
2 cups course ground cornmeal (polenta)
6 cups water or vegetable broth
1 teaspoon salt
3/4 cup grated Parmesan cheese
2-3 sprigs fresh rosemary, chopped
olive oil (for sautéing)
salt and pepper to taste
Instructions
Bring water or broth to a boil and add cornmeal and salt. Reduce heat to low and stir for 5 mintues. Add 1/4 cup of cheese and stir until melted and well combined. Remove from heat, cover, and allow to cool for 30 minutes.
Cut a piece of parchment paper to line a 9x13" baking pan, allowing for enough parchment paper to come up over the edge to make it easy to lift polenta cake once cooled. Refrigerate for at least two hours, or overnight.
Gently remove polenta from baking pan and place on a cutting board. Cut into desired shapes using a sharp knife or bisucuit cutter.
Heat 1 teaspoon of olive oil in a non-stick saute pan. Working in batchs of 3-4 at a time, saute each cake for 3-4 minutes on each side until golden brown.
Remove from pan using a slotted spatula and plate on a serving dish or single plate. Top with remaining cheese, rosemary, salt and papper.
Nutrition Information:
Yield:

6
Serving Size:

1
Amount Per Serving:
Calories:

222
Total Fat:

7g
Saturated Fat:

2g
Trans Fat:

0g
Unsaturated Fat:

4g
Cholesterol:

11mg
Sodium:

762mg
Carbohydrates:

33g
Fiber:

3g
Sugar:

0g
Protein:

7g
Nutrition information provided is only an estimate.
More Italian Inspired Recipes You'll Love!