Ordering grits is a must-do when visiting the south. And our trip to Natchez was no different! It was on the menu just about everywhere we went, especially for breakfast. A southern staple, grits are a bit like polenta, but with a hearty stick-to-your-ribs creaminess like risotto. You'd be hard pressed to find any breakfast plate in the southern United States without a side of grits. It's as ubiquitous as biscuits or coffee.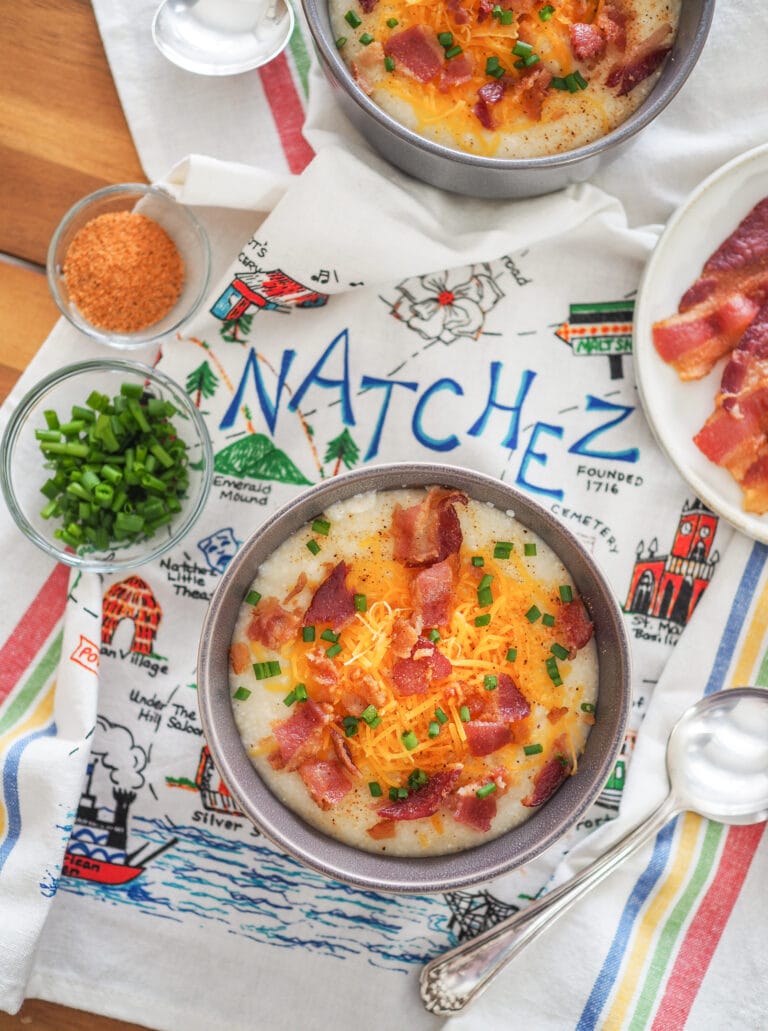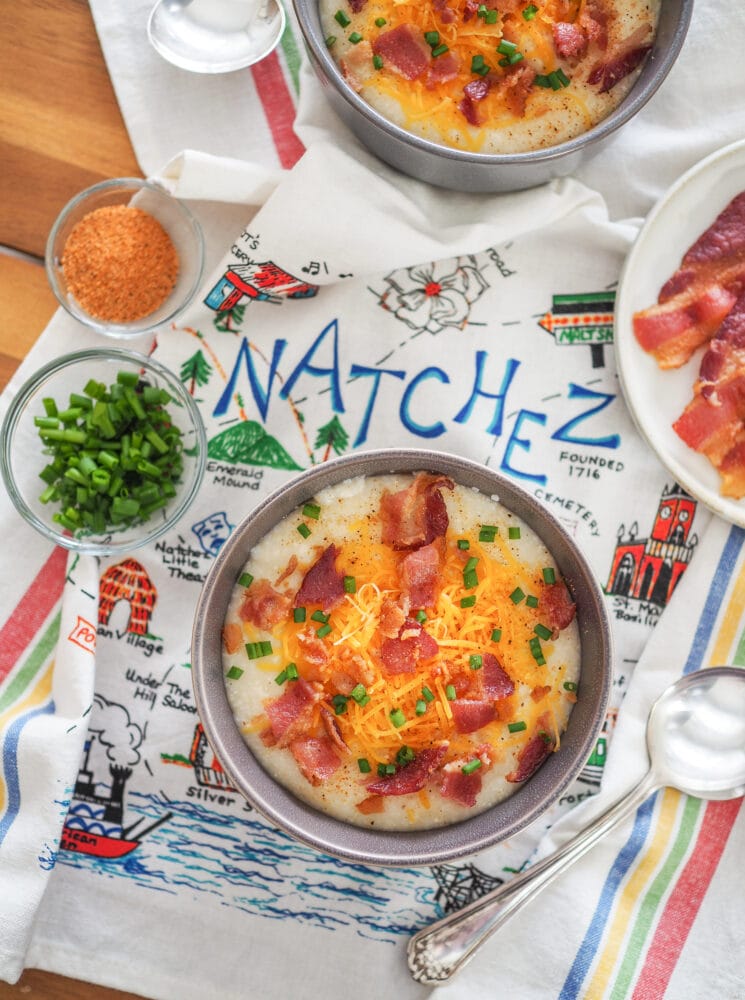 We've got a grits recipe for you below inspired by our trip to Natchez. And we have answers to just about every question you could think of about this popular southern food, but if we missed one, let us know in the comments!
WHAT ARE GRITS MADE OUT OF?
So first of all, you may be wondering, what exactly are grits? Grits are ground up cornmeal and they can be white, yellow, or even red or multi-colored if they're made from heirloom corn. Sometimes you might see little black specks in it, and that's just the germ of the corn kernel. No cause for alarm. And because it is made from corn, grits are naturally gluten-free as long as it's packaged in a dedicated gluten-free facility so it doesn't come into contact with other grains.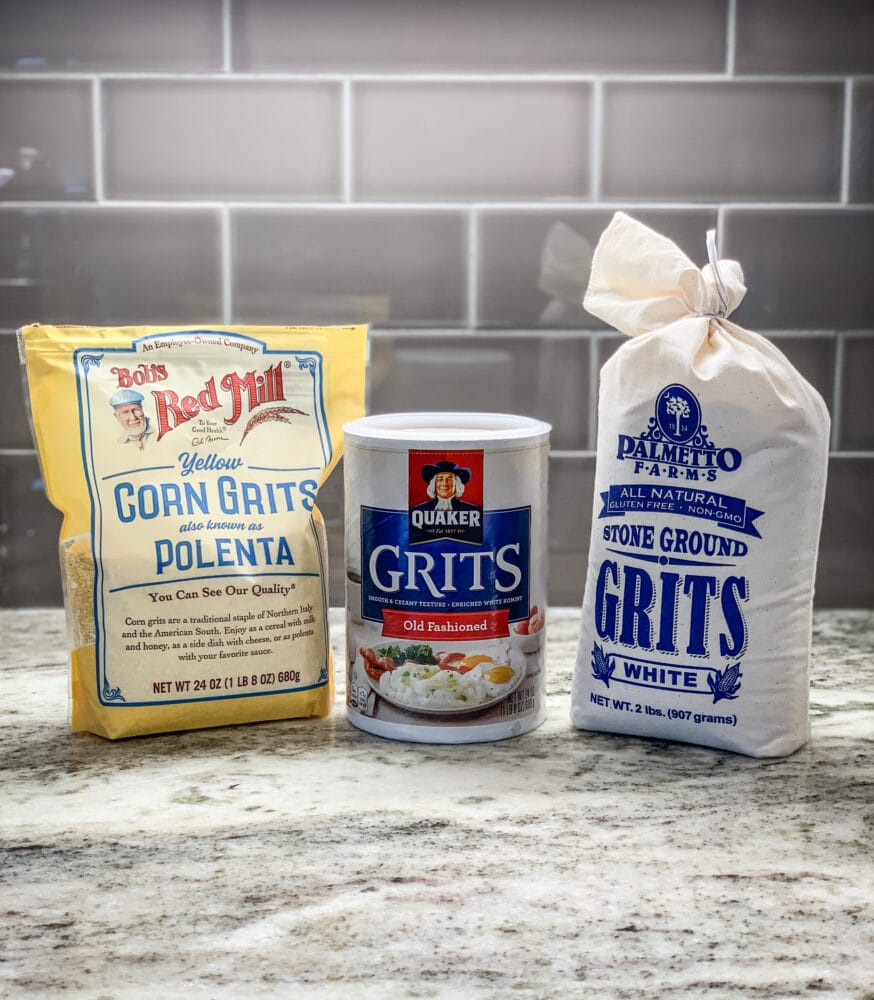 WHAT DO GRITS TASTE LIKE?
Without a unique flavor of their own, grits take on the taste of whatever you cook it with. So that could be plain, with just salt and butter, or something more complex like shrimp or sausage and grits. In Natchez a lot of locals will add "BV" which is a sort of browning and seasoning sauce similar to Kitchen Bouquet and has a meaty, gravy-like flavor. And personally, I like to make mine with chicken broth and then add seasonings like Tony Chachere's Creole Seasoning or Old Bay.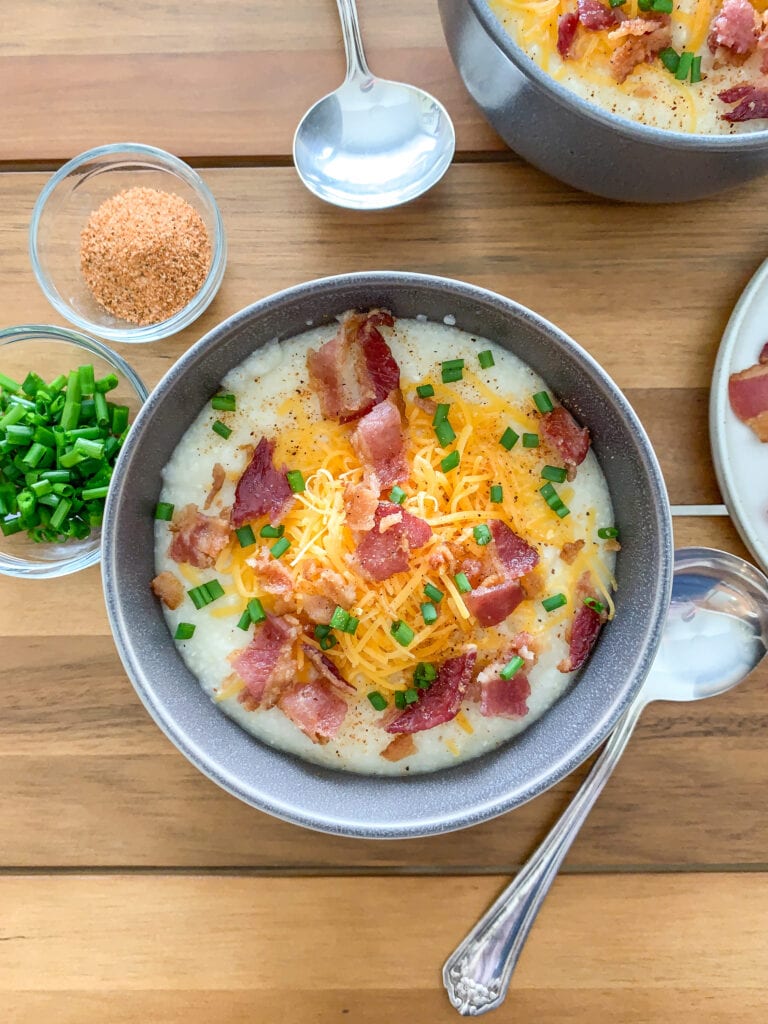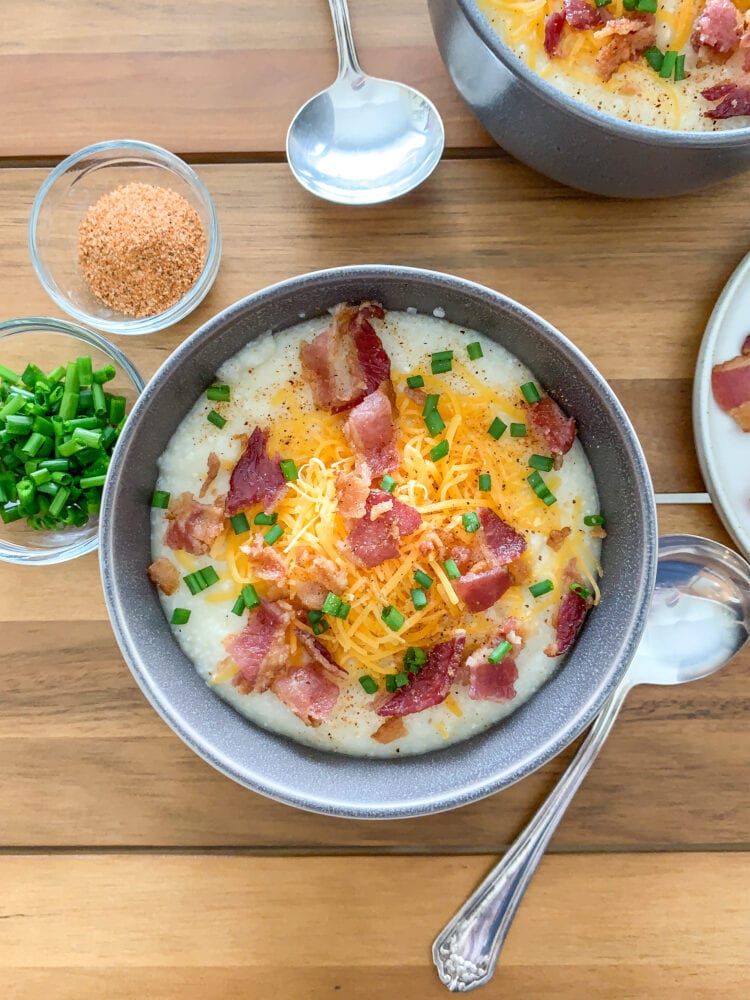 WHAT ARE SOUTHERN STYLE GRITS?
Grits are historically and inherently southern, so most are made southern style by default. Although, I do remember planning a conference once for Florida farmers, and the luxury coastal hotel (based up north) was nervous about adding grits to the menu and getting it right. That's likely because every family has their own unique spin on how to make it. And since nostalgia for homemade comfort foods runs deep, they did not want to mess this up for a conference room full of southerners.
In my experience living in the south most of my life, southern style grits should be thick and hearty in texture, and creamy and salty in flavor. Some swear by slow cooking them, and some southerners will soak them overnight. Truly, the best way is your own favorite way based on how much time you have. And as for seasonings and toppings, there's a variety of ways grits are served and we'll get to that below.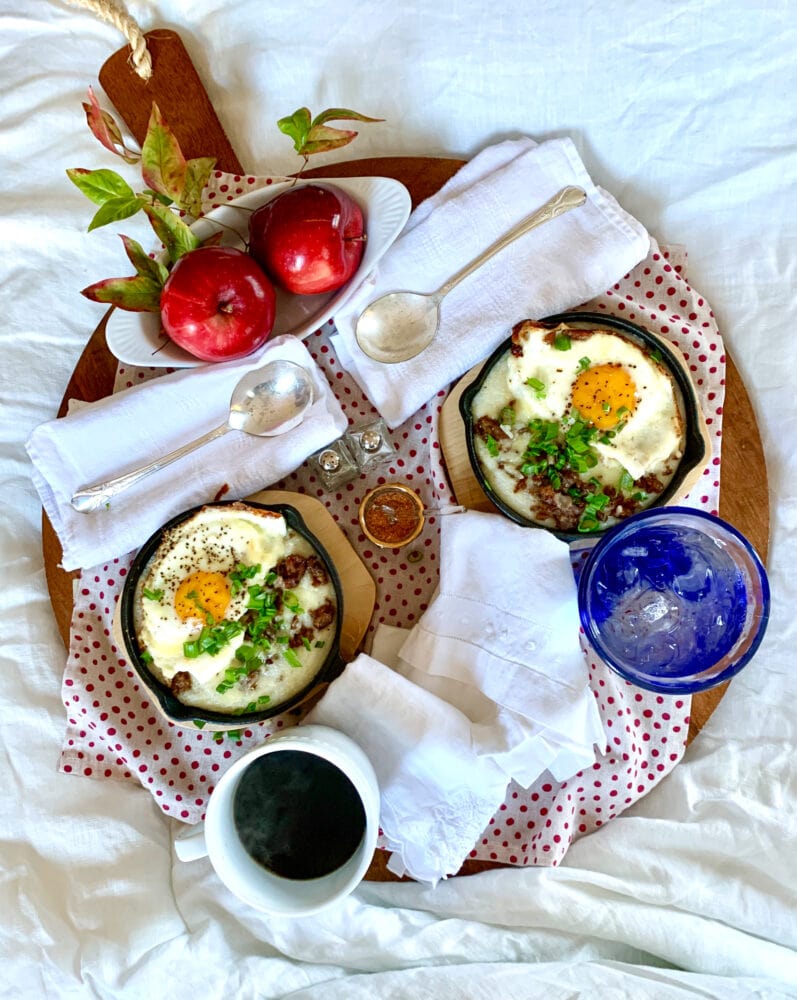 HOW TO MAKE GRITS
We have a great grits recipe for you below, but to give you an idea, grits are typically made by adding four parts liquid to one part cornmeal. That liquid could be water, or broth or milk to add some flavor. And you could use anything from Quaker quick grits if you have a busy morning, to an heirloom stoneground cornmeal for weekend mornings when you have more time.
Cooking it is similar to the way you'd make a porridge or oatmeal by boiling water, then bringing it to a low simmer until the cornmeal forms a thick, almost mashed-potato-like texture. Sometimes you'll find it made a little more soupy, but those aren't good grits (at least in my opinion). The total time to cook grits takes about 20-45 minutes depending on whether you're using the quick variety or stoneground.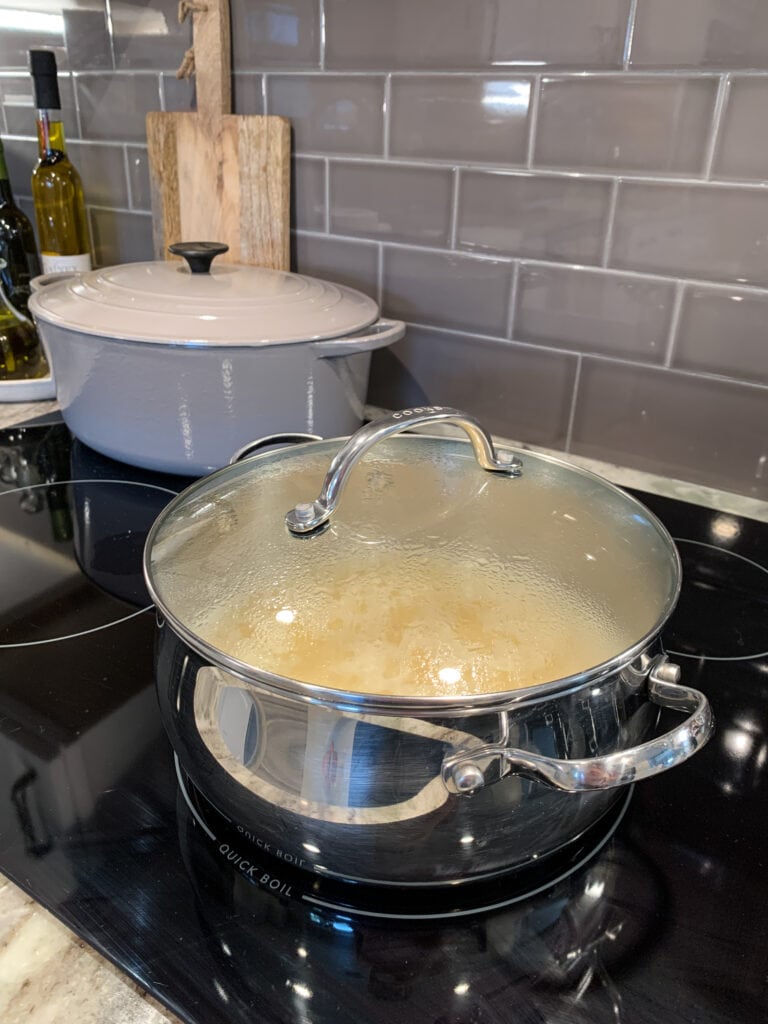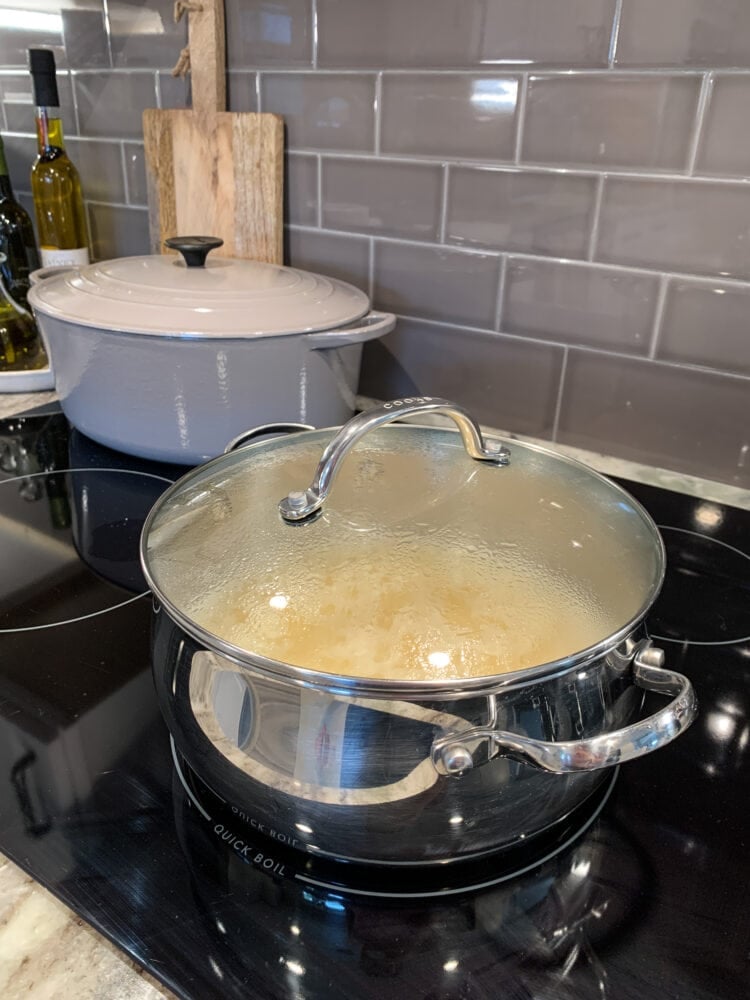 SERVING GRITS
Grits can be served with butter, grated cheese, or "red-eye" gravy which is made with bacon drippings and black coffee. As for toppings, it can be loaded up like a baked potato with bacon bits and chopped green onions. Or it can be spiced up with a variety of seasonings like BV, Kitchen Bouquet, Tony Chachere's, Old Bay, or Lawry's Seasoned Salt. Nothing wrong with just a little salt and pepper too.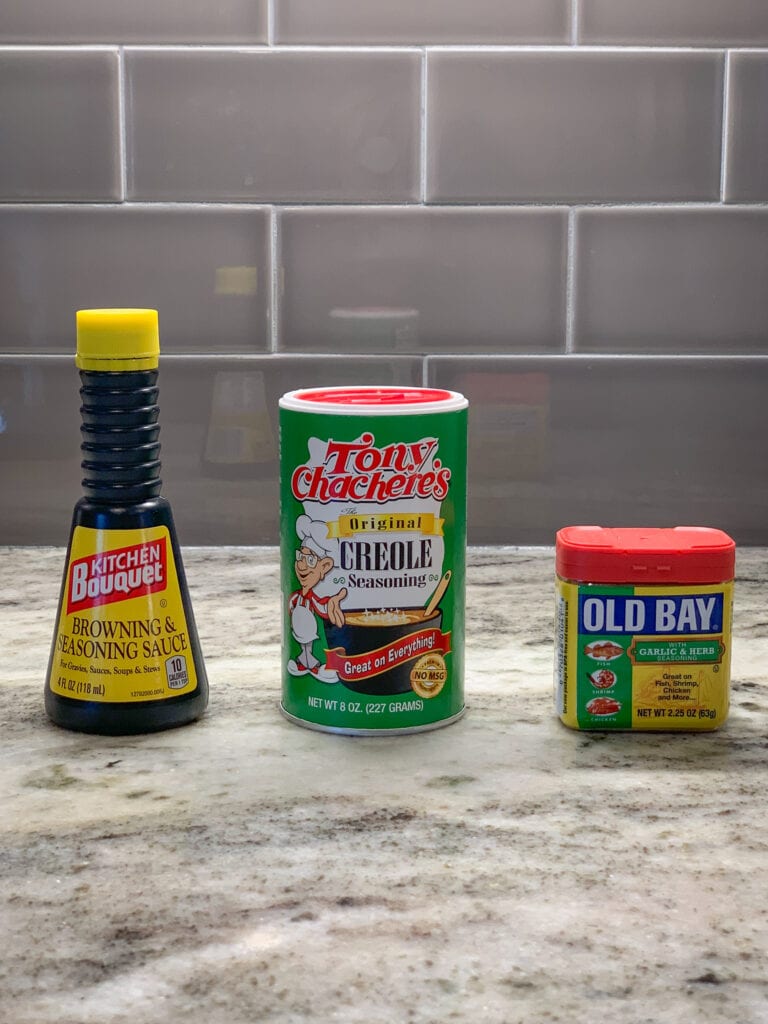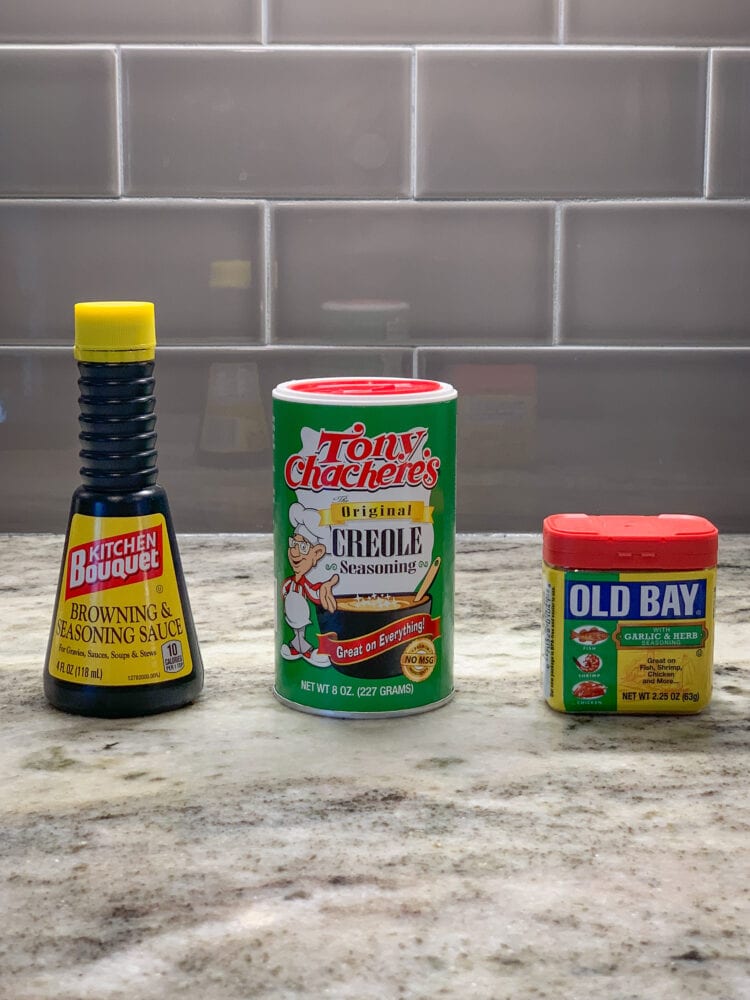 You can turn a side dish of grits into a meal by adding a fried egg, sautéed sausage or shrimp. Left over grits, if you have any, can be pressed and chilled in a pan and later used to make fried grit cakes. Simply cut the cold, hardened cooked grits into triangles or squares and pan fry them on each side for 3-4 minutes until they're crispy and golden brown.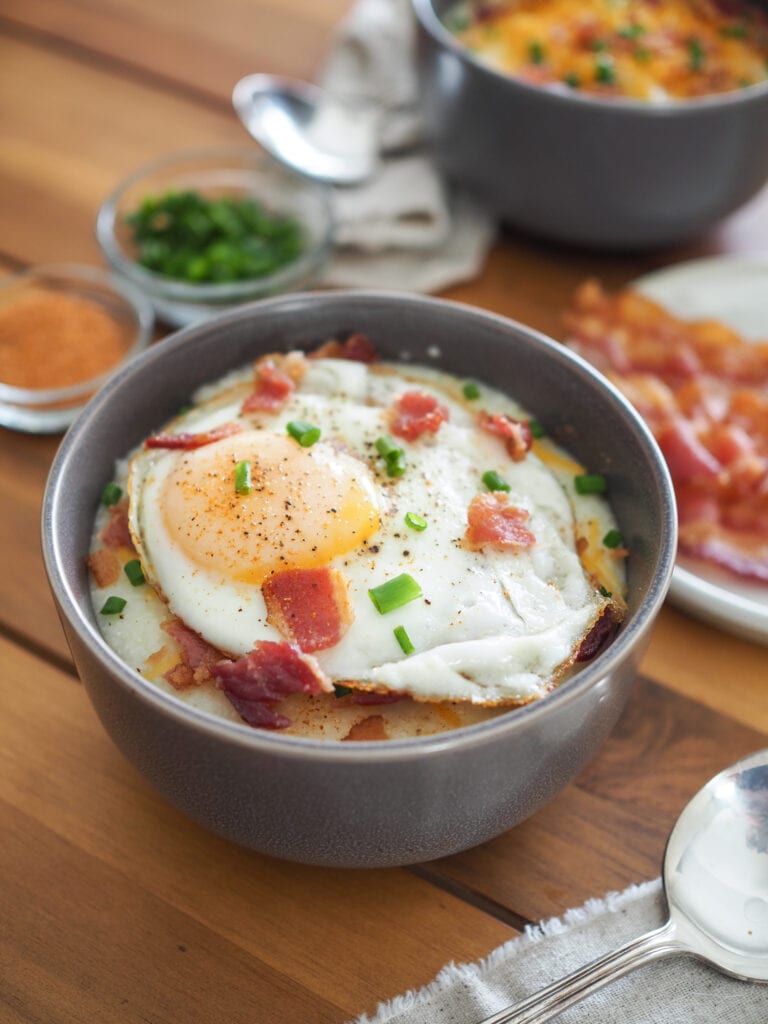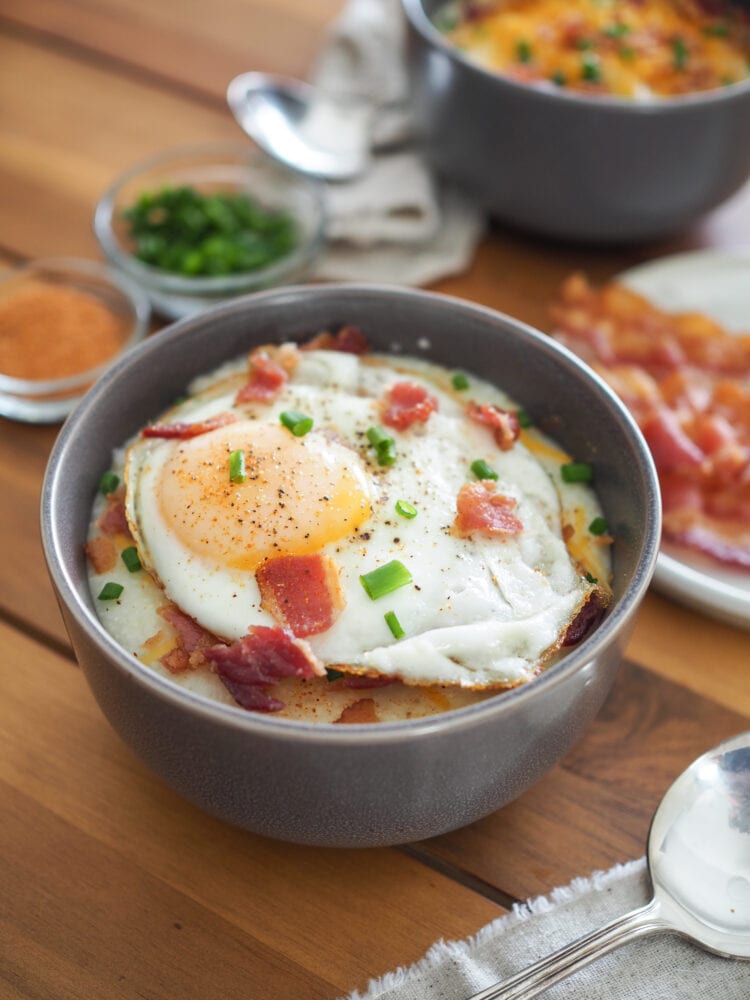 CULTURAL CONTEXT AND HISTORY
Many people wonder why grits are so popular in the south. And the history is actually quite interesting! Corn grits were actually a Native American invention. The earliest recipe found was from the 16th century and came from the Native American Muskogee tribe, located in the southern woodlands of North American (which is now Tennessee, Alabama, Georgia, and Florida).
According to Wikipedia, the Muskogee would grind the corn using a stone grounder. And since the texture would be a bit "gritty," that is how grits were named. Grits are one dish that is truly American as even polenta (Italian style cornmeal) was typically made with chickpeas or other grains until Americans brought cornmeal to Europe.
GRITS RECIPE INSPIRED BY NATCHEZ
While visiting Natchez, the "little easy" on the Mississippi River, we got into a lot of conversations about grits, both in person and on social media. While everyone has their own way of making it just the way they like it, there were a few characteristics we could all agree on. And the were that grits should be toothsome, savory, and filling. We hope you enjoy our recipe below!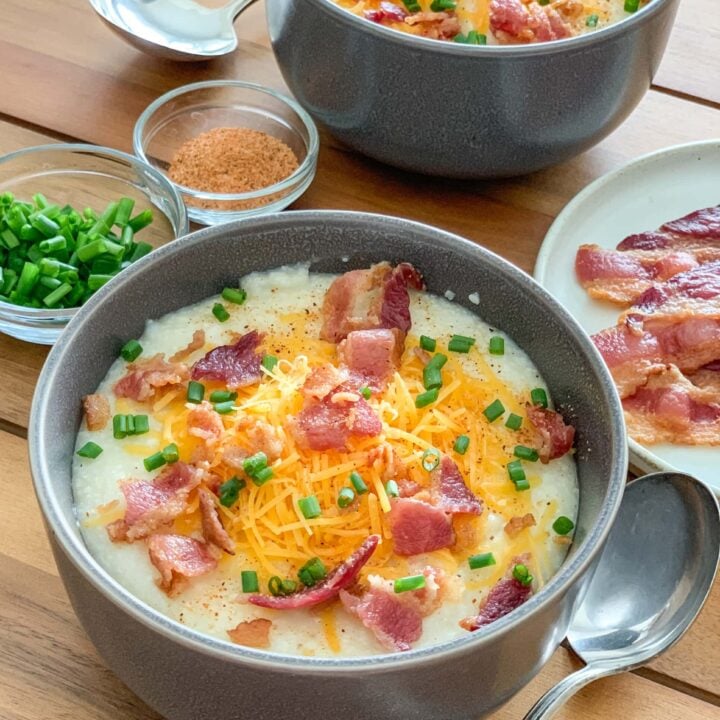 Southern Style Cheese Grits
Ingredients
1 cup grits
4 cups chicken broth
1/4 tsp salt
1 1/2 cups grated cheddar cheese
1 8 oz package of bacon
1/4 cup chives or green onions, chopped
4 Tbsp butter
Instructions
Preheat oven to 400 degrees. Line baking sheet with aluminum foil, and lay out the bacon slices on the sheetpan. Bake the bacon for 10-12 minutes until crispy.
Once the bacon is done, remove from the oven and carefully place bacon an a paper towel lined plate to remove some of the grease and help them get crispy.
While the bacon is in the oven, add the broth to a large sauce pan and bring to a boil. Slowly stir in the grits, add the salt, and lower the heat. Continue to stir until it's just a simmer.
Cover with a lid and cook for 15-20 minutes until the grits have thickened, stirring occasionally so it doesn't stick to the bottom of the pan.
Remove sauce pan from heat and stir in 1 cup of shredded cheddar cheese. Stir until the cheese is completely melted and blended in.
Divide cooked cheese grits up into 4 bowls and top each with 1 Tbsp of butter, a generous pinch of the remaining cheddar cheese, 1 slice of crumbled bacon, and a pinch of chives.
Serve with optional toppings and seasonings listed below in the notes! Our favorite is a sprinkle of Tony Chachere's and a fried egg.
Notes
Chicken broth can be substituted for vegetable broth.
Optional Toppings: fried egg, cooked sausage, shrimp
Optional Seasonings: BV, Kitchen Bouquet, Tony Chachere's, Old Bay, Lawry's Seasoned Salt
More Recipes You'll Love!