This post is done in cooperation with Visit Natchez to promote #VisitNatchezResponsibly.
Our first visit to the state of Mississippi was to the riverside town of Natchez. We drove up to Natchez from Florida and found it to be a wonderful road trip destination. And we also planned our weekend away in 2020, so we were vigilant about doing things outdoors, wearing masks, and staying socially distanced — which Natchez was great about.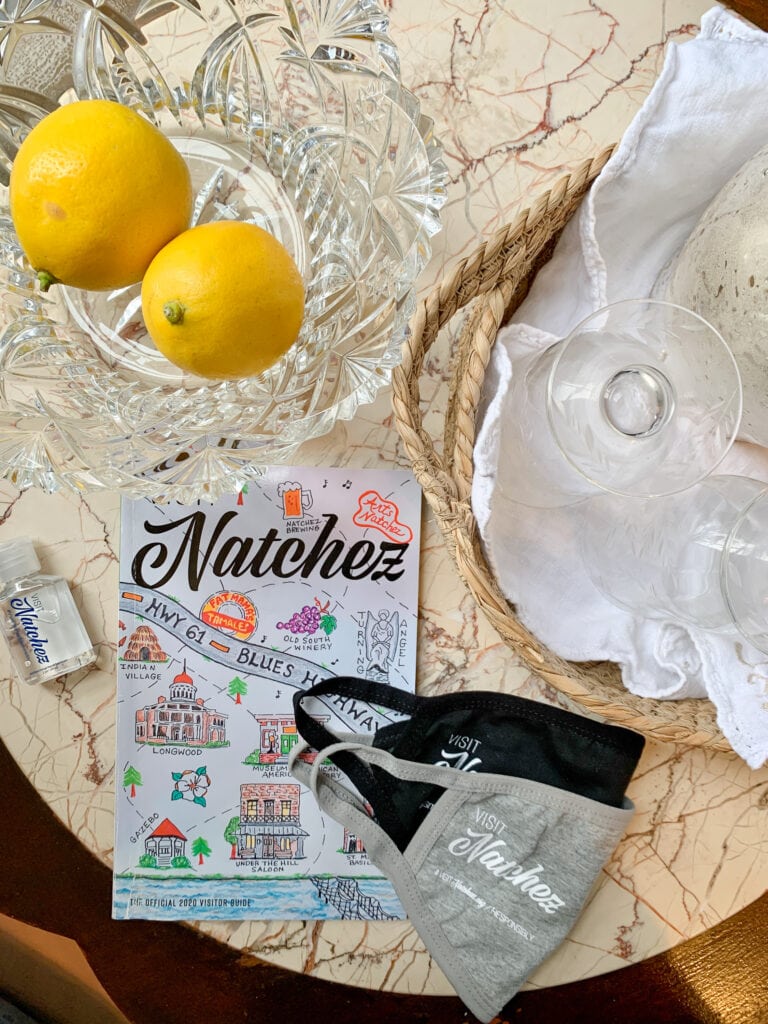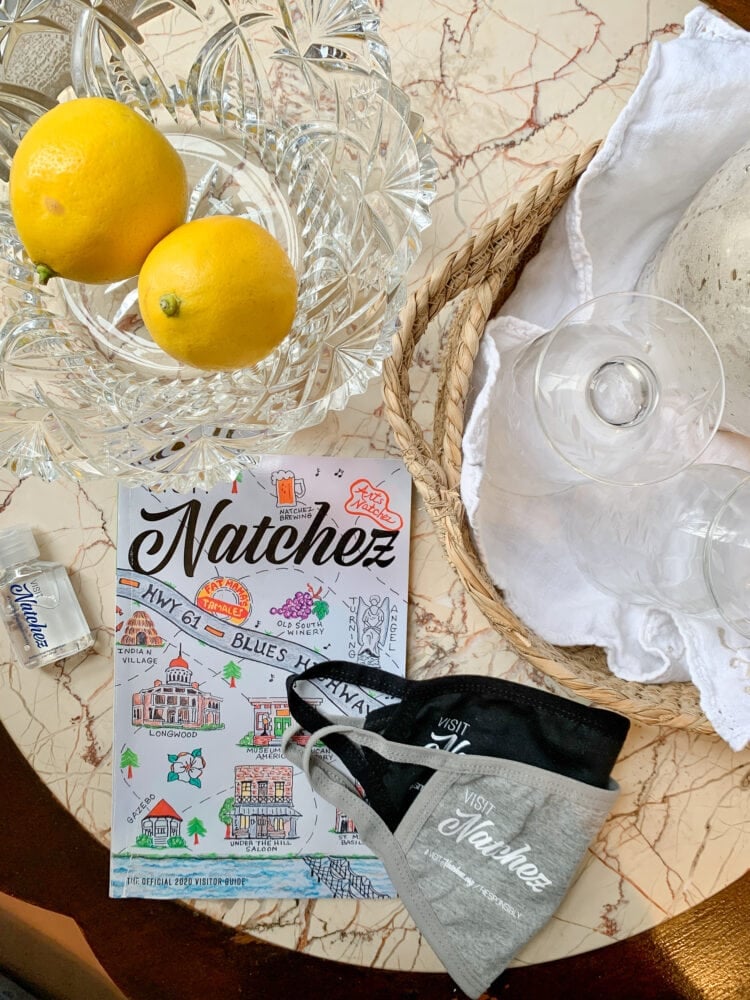 Located high on bluff overlooking the Mississippi river, Natchez might not be as well known as other southern cities like Baton Rouge and Memphis, but it should be! Locally, it's called the "little easy" since it is similar to New Orleans but on a smaller, more easy-going scale.
After spending a long weekend in Natchez, we were completely charmed. As the bed and breakfast capitol of the south, and with a history spanning over 300 years, there was plenty to see and do. Read below to learn more about Natchez and to see our road trip recommendations.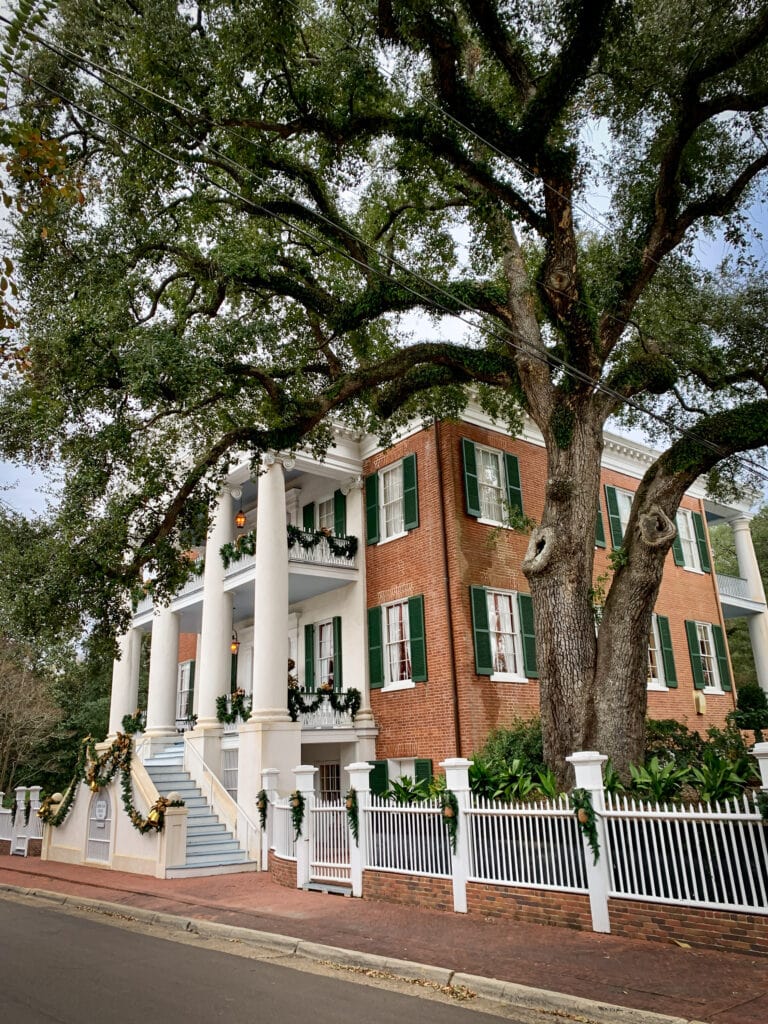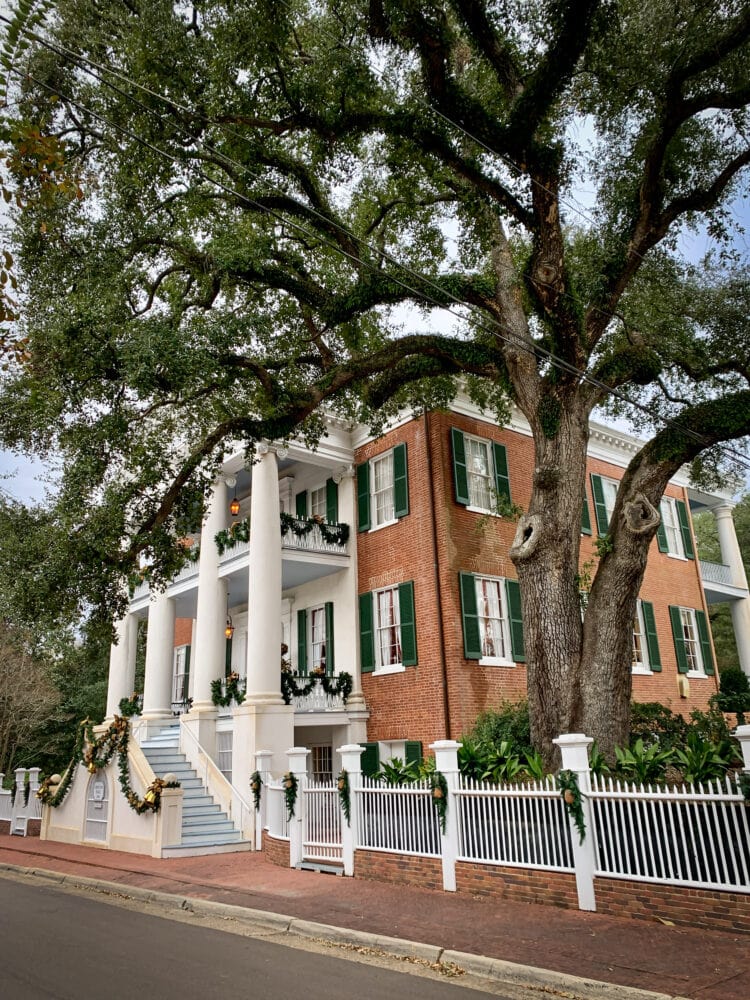 HOW DO YOU PRONOUNCE NATCHEZ
First things first, how do you pronounce Natchez? In the south, things can be said a little differently. While traveling, we even had a few fun debates on social media about how to say praline (in Mississippi it's prah-leen), pecan (it's pick-AHN), or even the proper spelling of crepe myrtle trees (both crape and crepe are correct). But the city of Natchez, Mississippi is pronounced just one way, and it rhymes with "matches." It is named for the Native American tribe, Natchez. Though, not to confuse you, the Native American Natchez tribe is pronounced like "nah-chee." But when it comes to visiting the city, just remember Natchez like "matches" and you'll be good.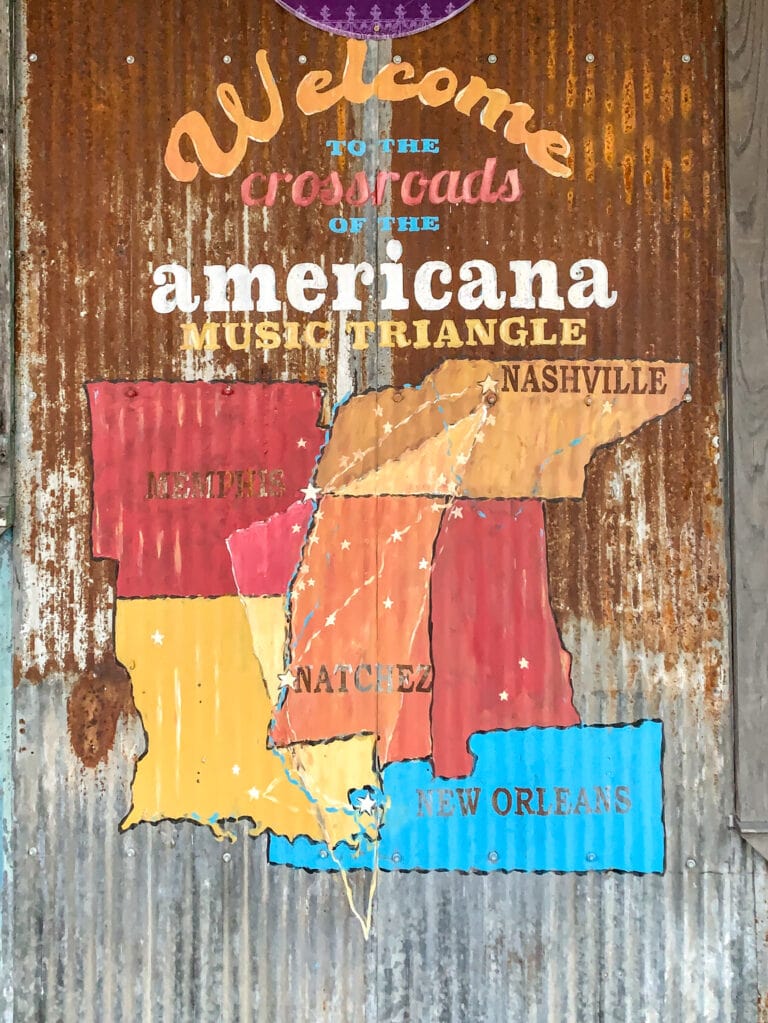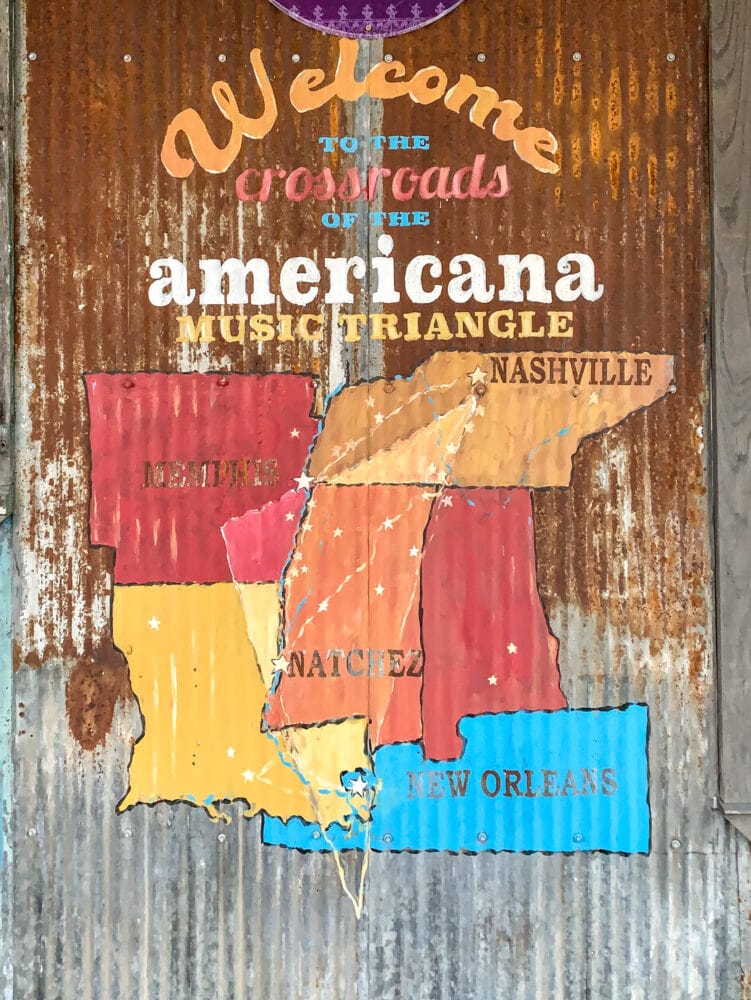 WHAT IS NATCHEZ FAMOUS FOR
With its prime location on the Mississippi River, the history of Natchez is vast, spanning from the pre-historic era, to the Mississippi Delta history starting with Native Americans, then to French, Spanish, British Rule.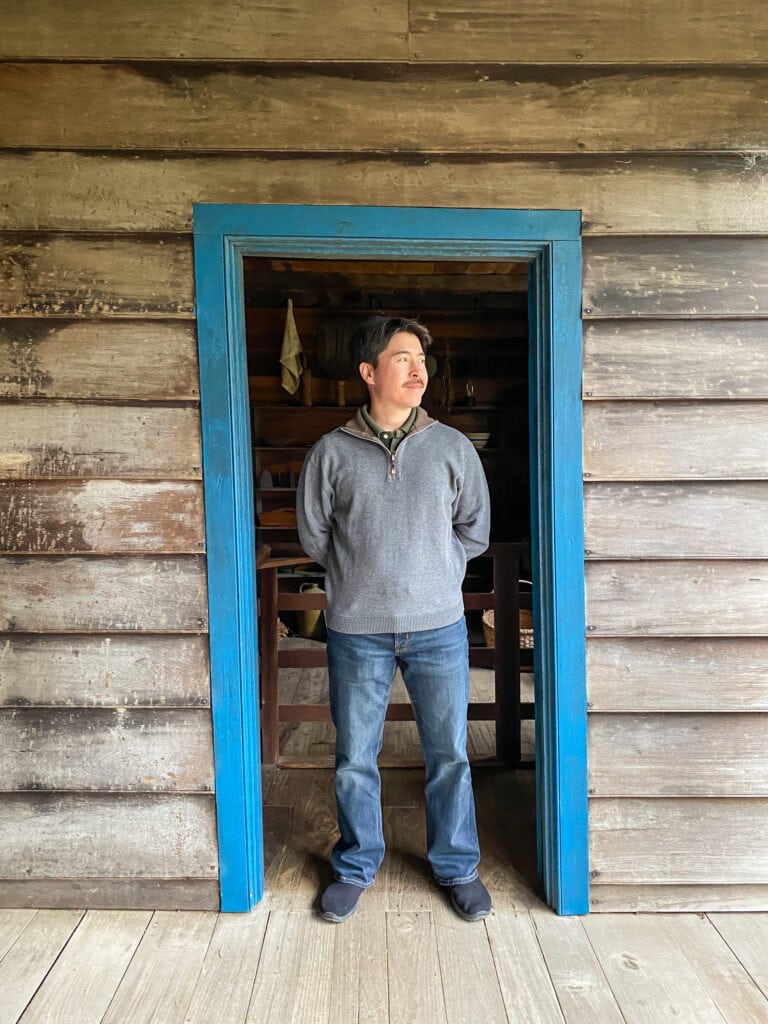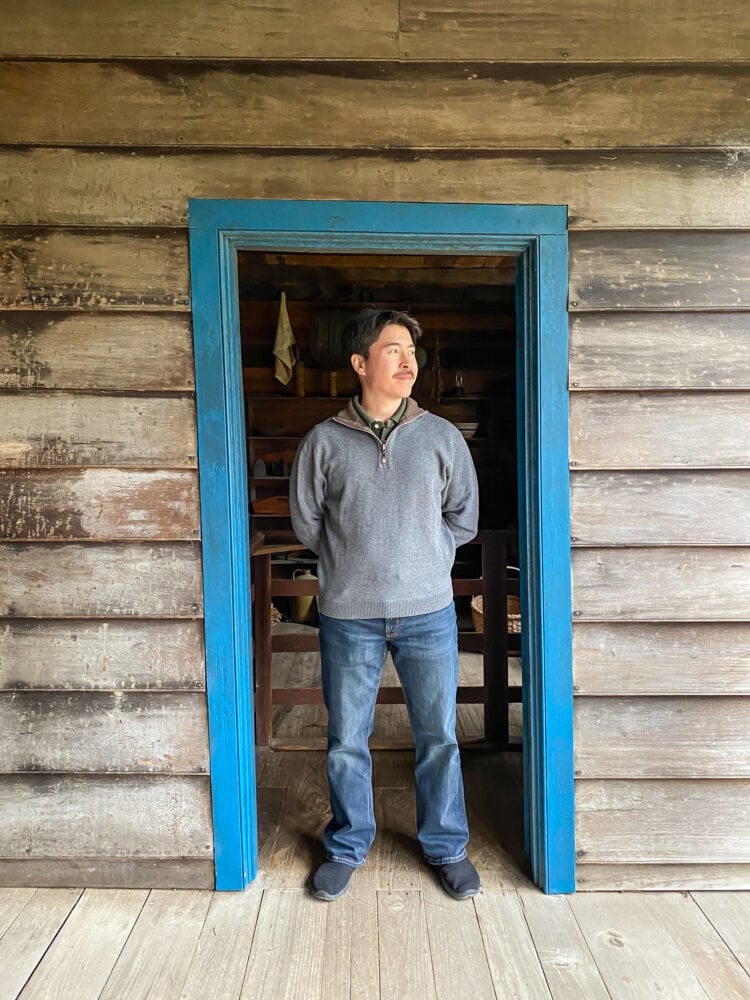 Natchez is known for a few things, but it's most well known as the start of the Natchez Trace Parkway. This 444 mile historic route is managed by the National Parks Service and goes from Natchez, Mississippi, to Nashville, Tennessee. It follows prehistoric forest trails used by Native Americans, that were later used by colonists and merchants walking back up north from the Mississippi River.
Natchez is also right in the center of music history with its location on the historic Mississippi Blues Trail, U.S. Route 61, between New Orleans and Memphis. And more recently, Natchez has been the filming location of several popular TV shows and movies including True Blood, Oh Brother Where Art Though, and Get On Up.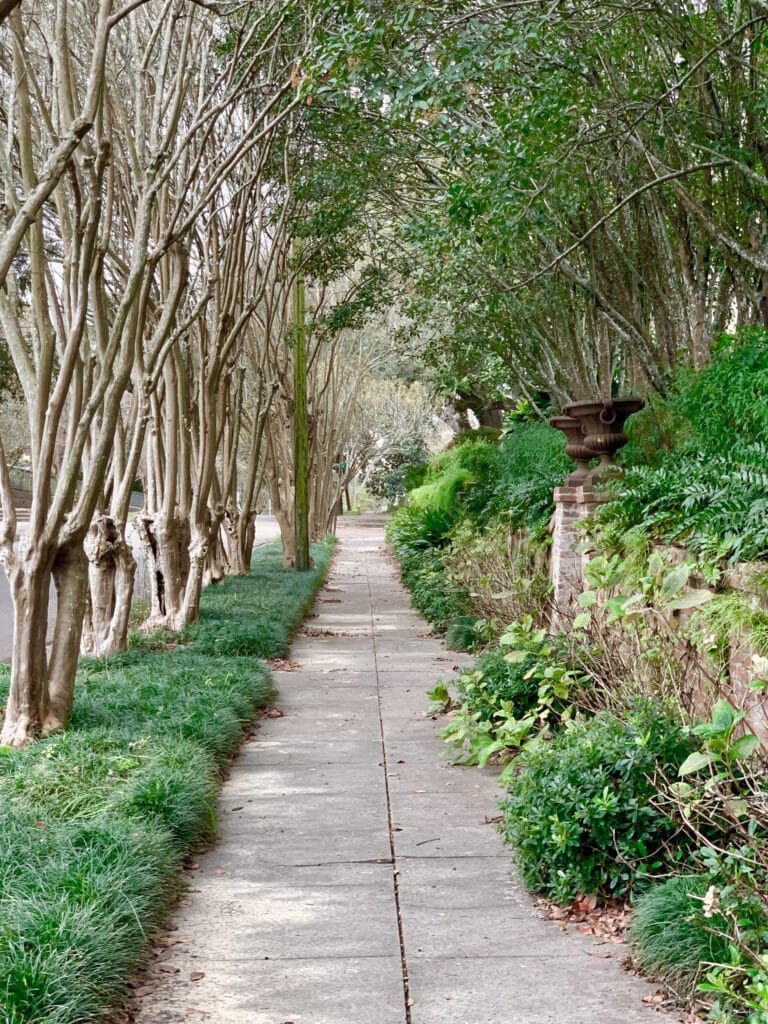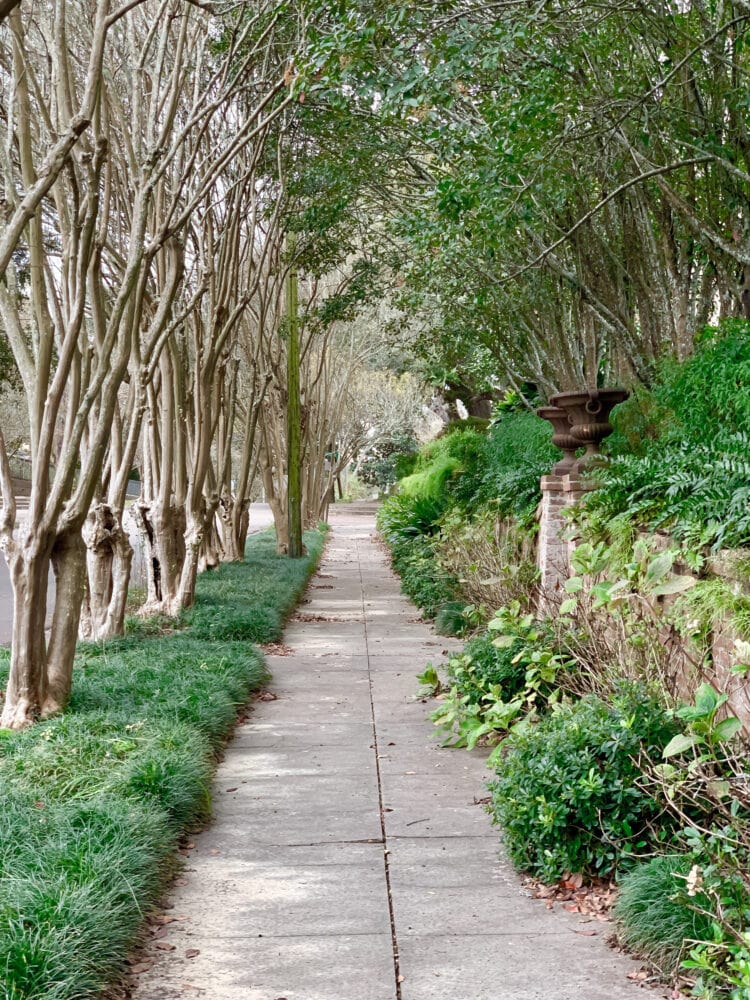 THINGS TO DO IN NATCHEZ
There's so much to do in Natchez. From simply walking around the tree-lined streets in the historic downtown area, to visiting historical sites, and great food and shopping too. As you'll see below, there is plenty to do!
Walk Along Downtown's Historic Natchez Trails – Museum Of Streets
The Natchez Trails and Walking Tour was something we really loved. The downtown area has five walking trails that take you through the city's history; starting with the Natchez Indians before the 1700s, to the Spanish laying out the streets of the town, to the Civil Rights movement, and even music history too. A map is available at the visitor's center, and arrows on the sidewalk also help to clearly mark the way. There's also signage in front of important buildings so you can stop and read the stories and history of each location. It truly is an outdoor museum of streets! Since we visited during 2020, this was a fun socially-distanced way to explore the city. But we would have loved it anyway since there were so many fun opportunities for street photography too.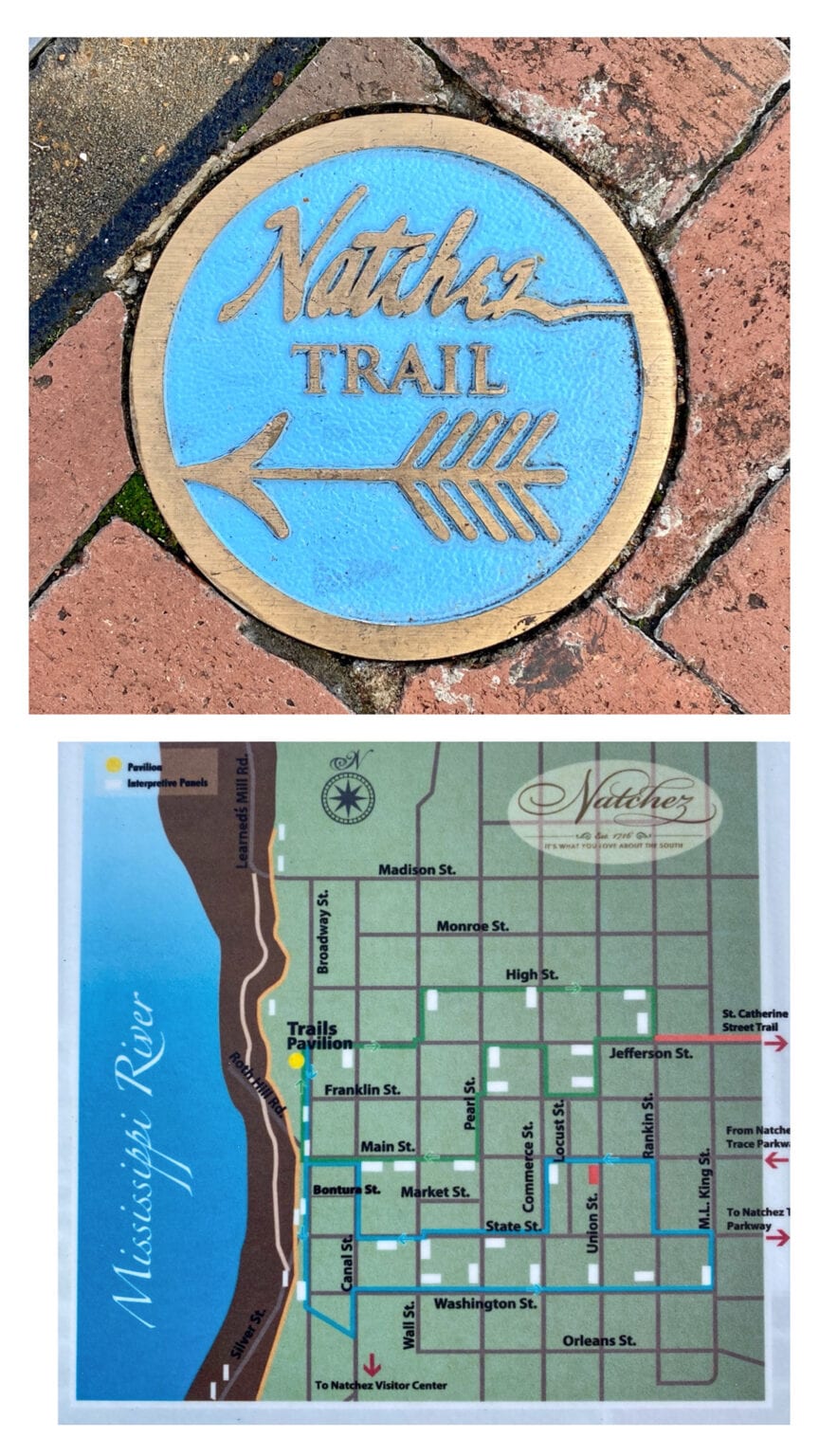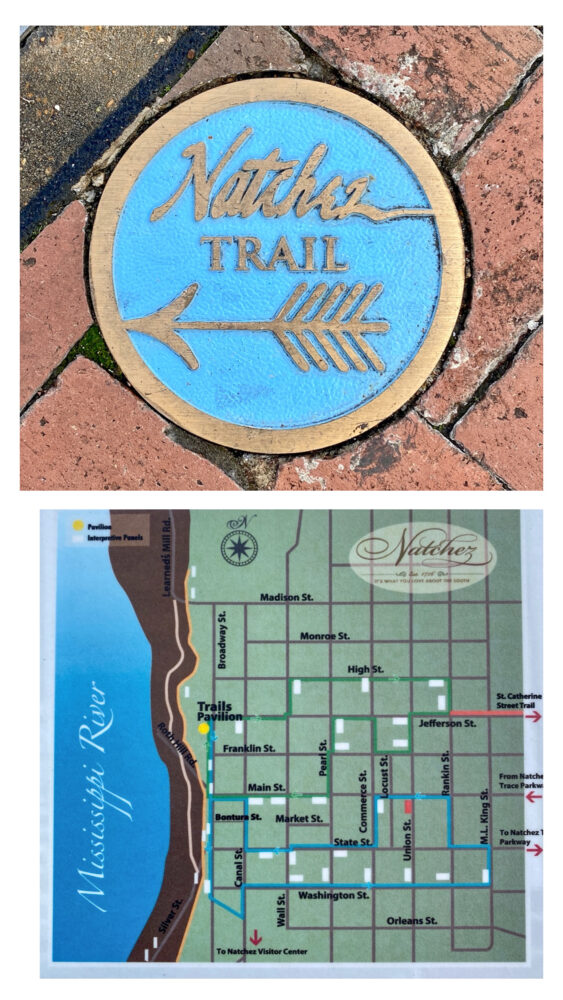 Drive The Natchez Trace
The Natchez Trace is a 444 mile scenic drive with historic sites, hiking trails and places of interest along the way. It roughly follows a historic forrest trail that goes from Natchez all the way to Nashville. It's origins date back to prehistoric times, so a drive along the old trace will take you through 10,000 years of history. We drove about 44 miles of it, visiting Mount Locust (an old inn along the Trace), enjoying a picnic lunch packed for us by Peter Hunter House, and driving up to the Sunken Trace to see what it used to look like as a footpath. It's now on our travel bucket list to plan a road trip to drive the whole trace.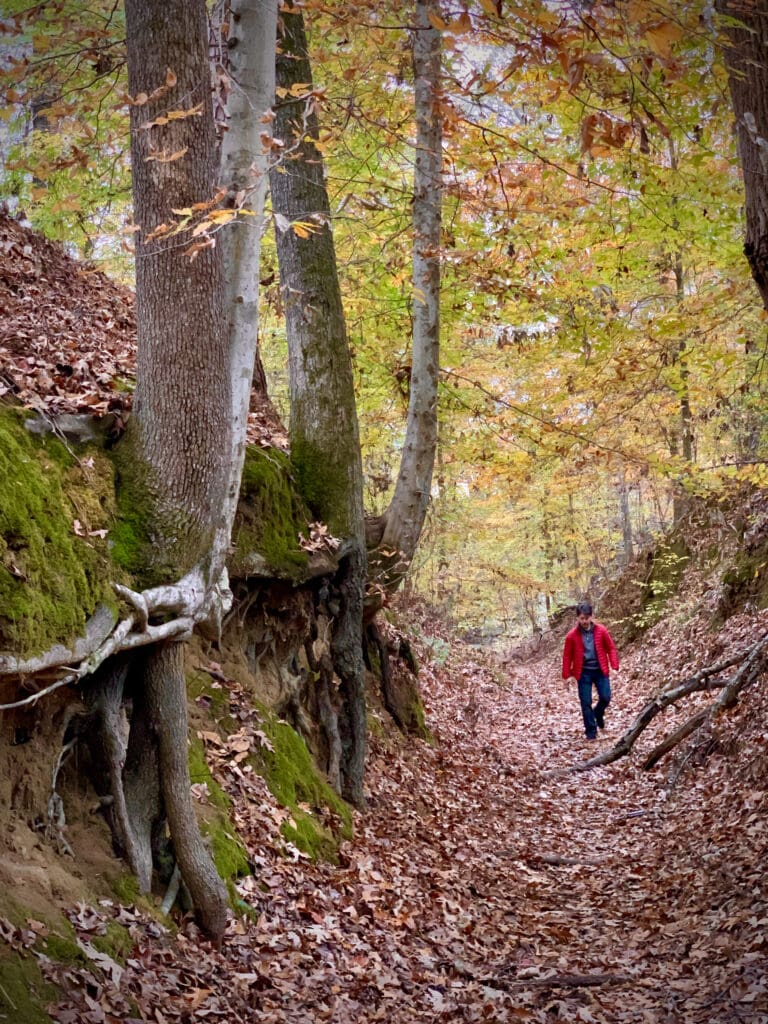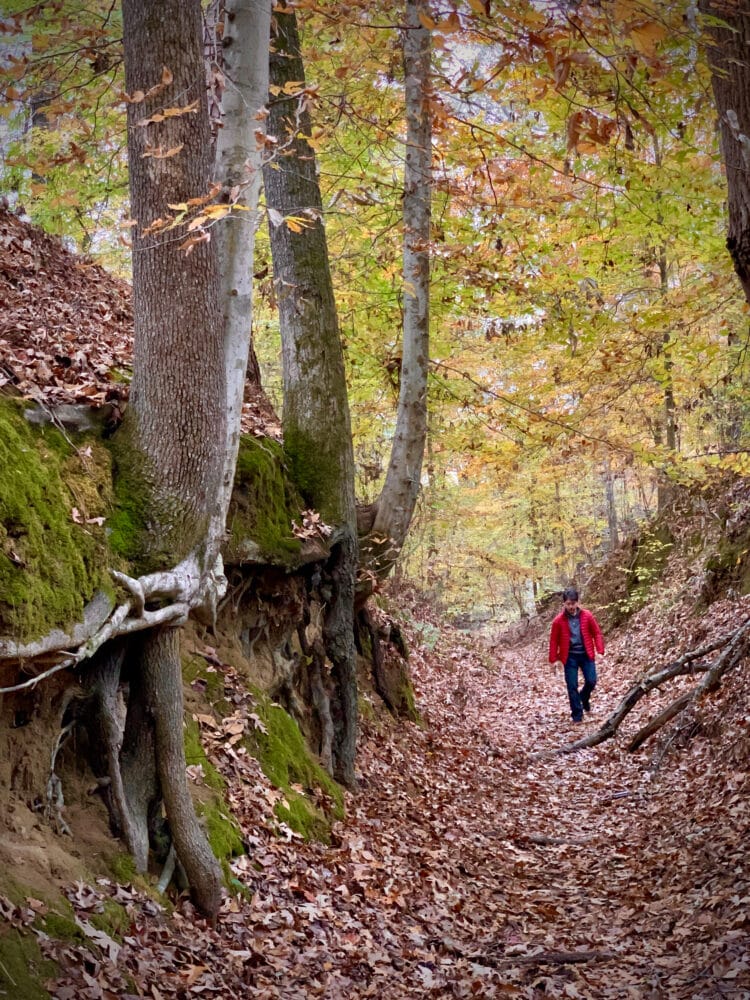 Get Pampered At A Bed & Breakfast
With over 45 bed and breakfasts in Natchez, there are many unique and wonderful places to stay that will pamper you and make you feel right at home in Natchez. And Peter Hunter House pampered us with a gorgeous gourmet spread delivered to our room every morning. Nothing beats gourmet breakfast in bed! (Due to local travel guidelines during 2020, breakfast was served in-room as opposed to the dining room). Our host, Hydie, also packed a lovely picnic for us for a day out driving the Natchez Trace mentioned above.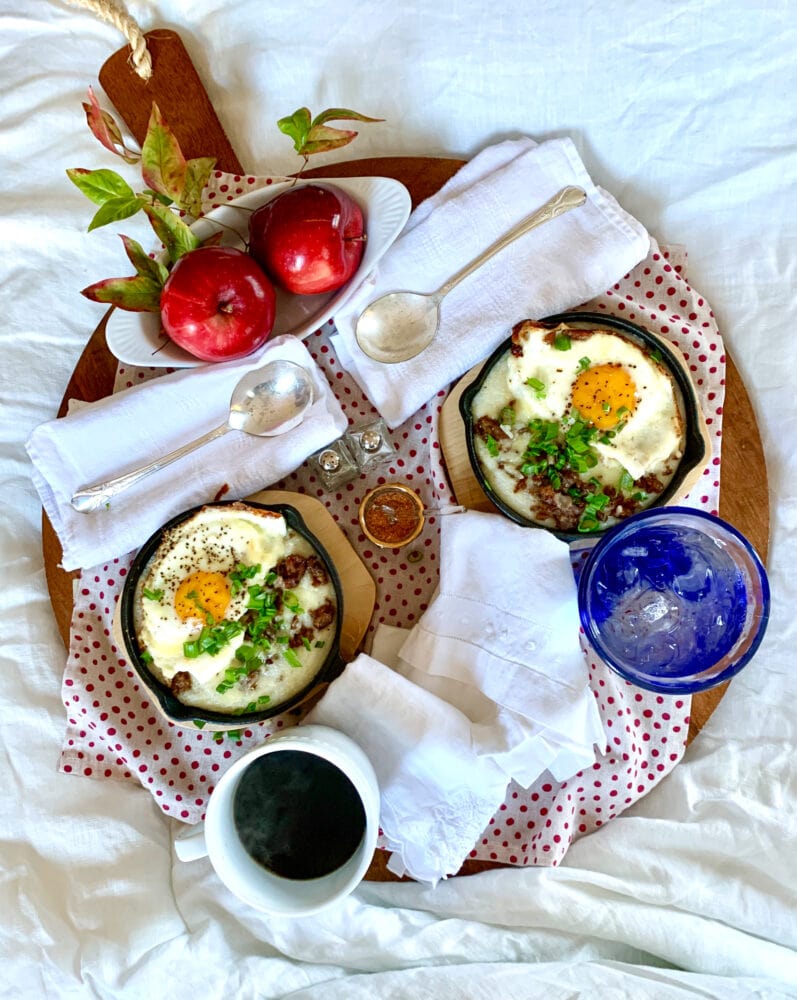 Visit The Grand Village Of The Natchez Indians
Visit the Grand Village of the Natchez Indians and learn about Native American history and the story behind Natchez, named for the Native American tribe, the Natchez. In addition to the Grand Village, there's also the Emerald Mound, a prehistoric ceremonial center located near the start of the Natchez Trace.
Kayak Old Parts Of The Mississippi River
The twists and turns of the Mississippi River have created oxbow lakes parallel to the mighty fast-moving river that are perfect for a peaceful afternoon of kayaking. Head out on a guided paddle with Robin Person of Outside IN Mississippi Adventure to spot local wildlife and enjoy the peace and quiet of being out on the water.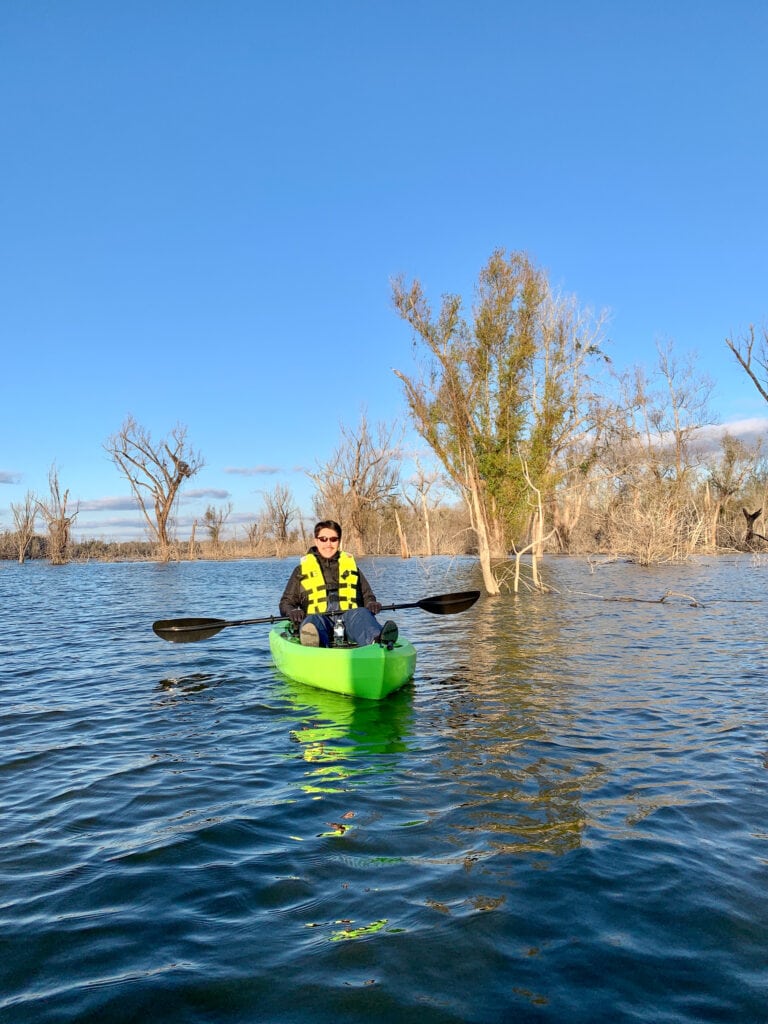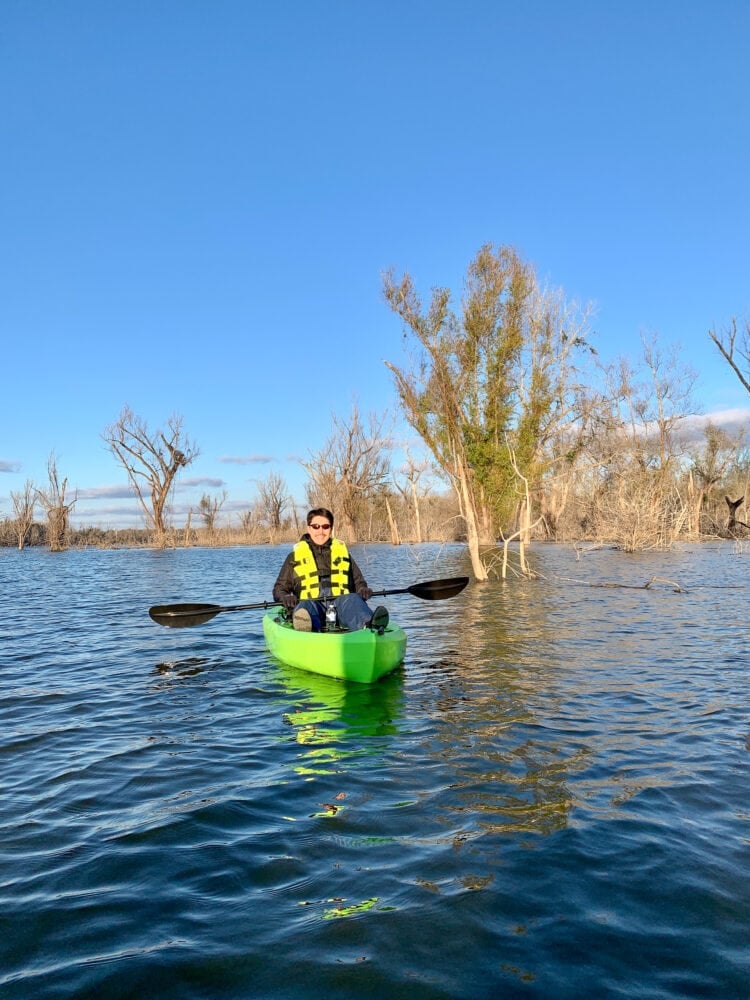 Shop for Art & Antiques
Natchez is a great place to shop for antiques, and some new galleries that have opened up make it ideal for art enthusiasts too. There are multiple antique shops along Franklin Street. And ArtsNatchez Gallery showcases multiple artists from Natchez and the surrounding area. We loved picking out some handmade kitchen items and home goods as souvenirs.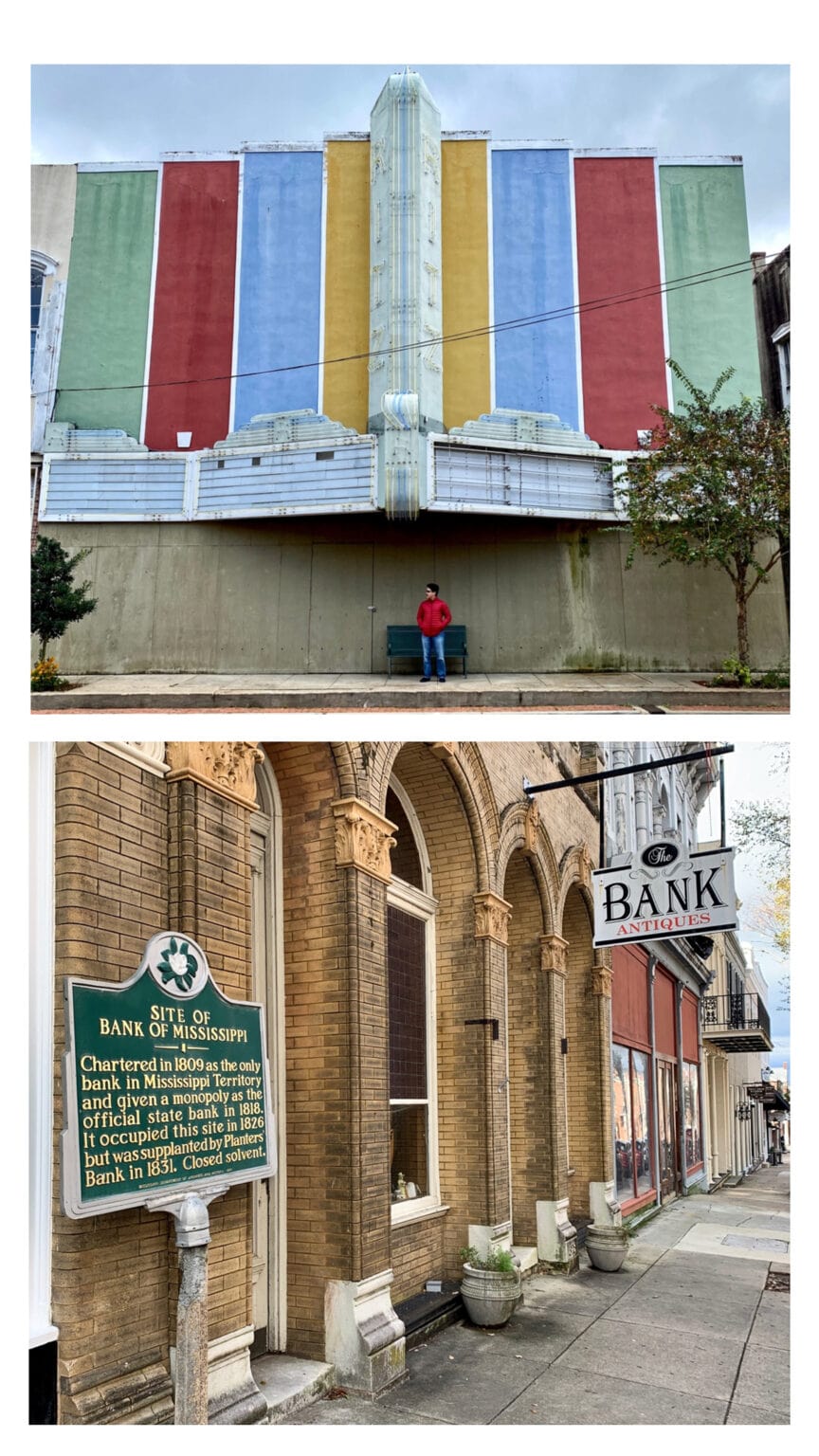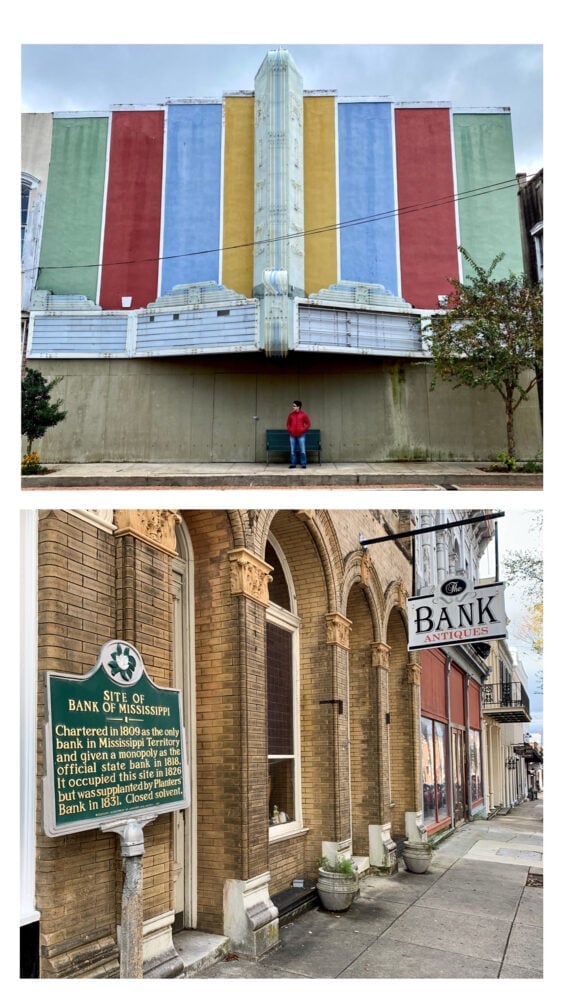 Indulge In Southern Food
The variety of locally owned restaurants in Natchez really impressed us! For breakfast, Natchez Coffee Company will keep you caffeinated and feed your soul with comfort foods like biscuits and gravy and southern style grits. And, of course, I'd drive through multiple states again just for breakfast at Peter Hunter House.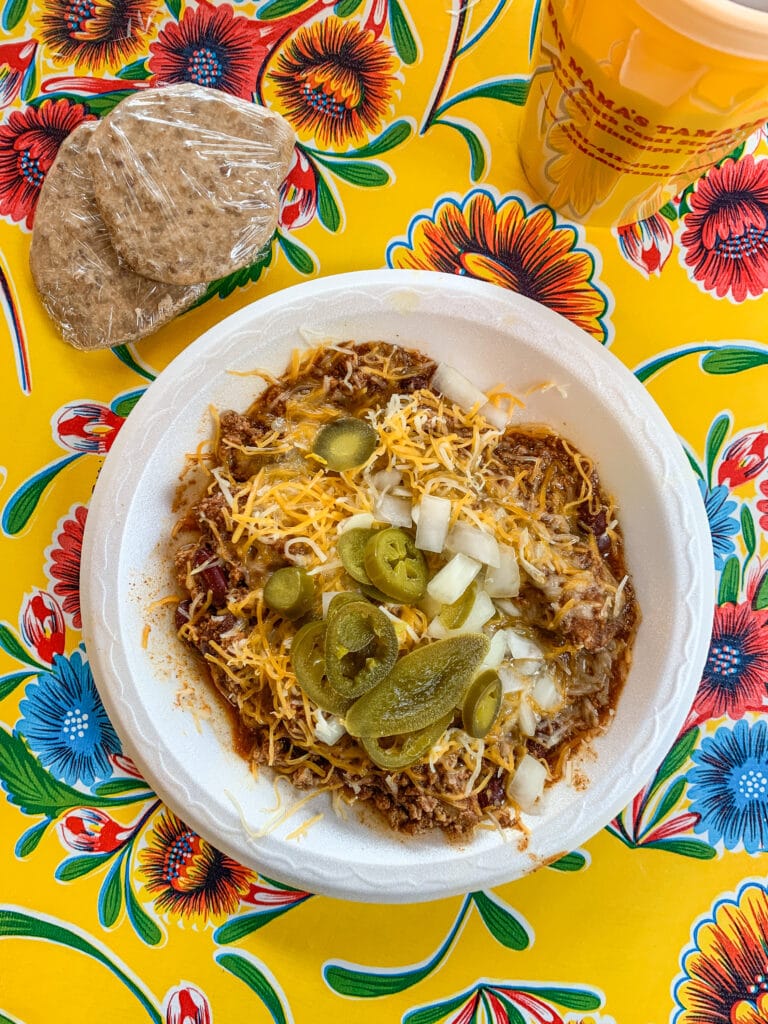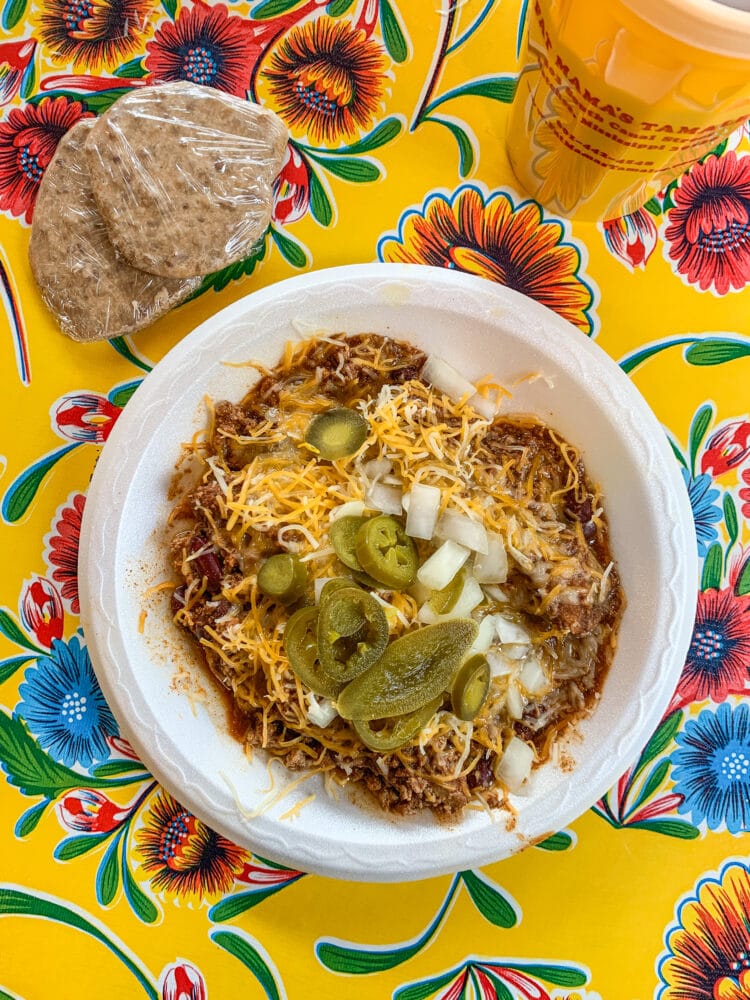 For lunch and dinner, there are SO many choices. Stop by Fat Mama's Tamales for spicy tamales, boudin, fire and ice pickles, and "knock you naked" margaritas. The Camp Restaurant down by the river has some of the best gourmet burgers in the south. And if you can't decide on just one, The Camp offers burgers in smaller (3 ounce) sizes so you build your own burger flight.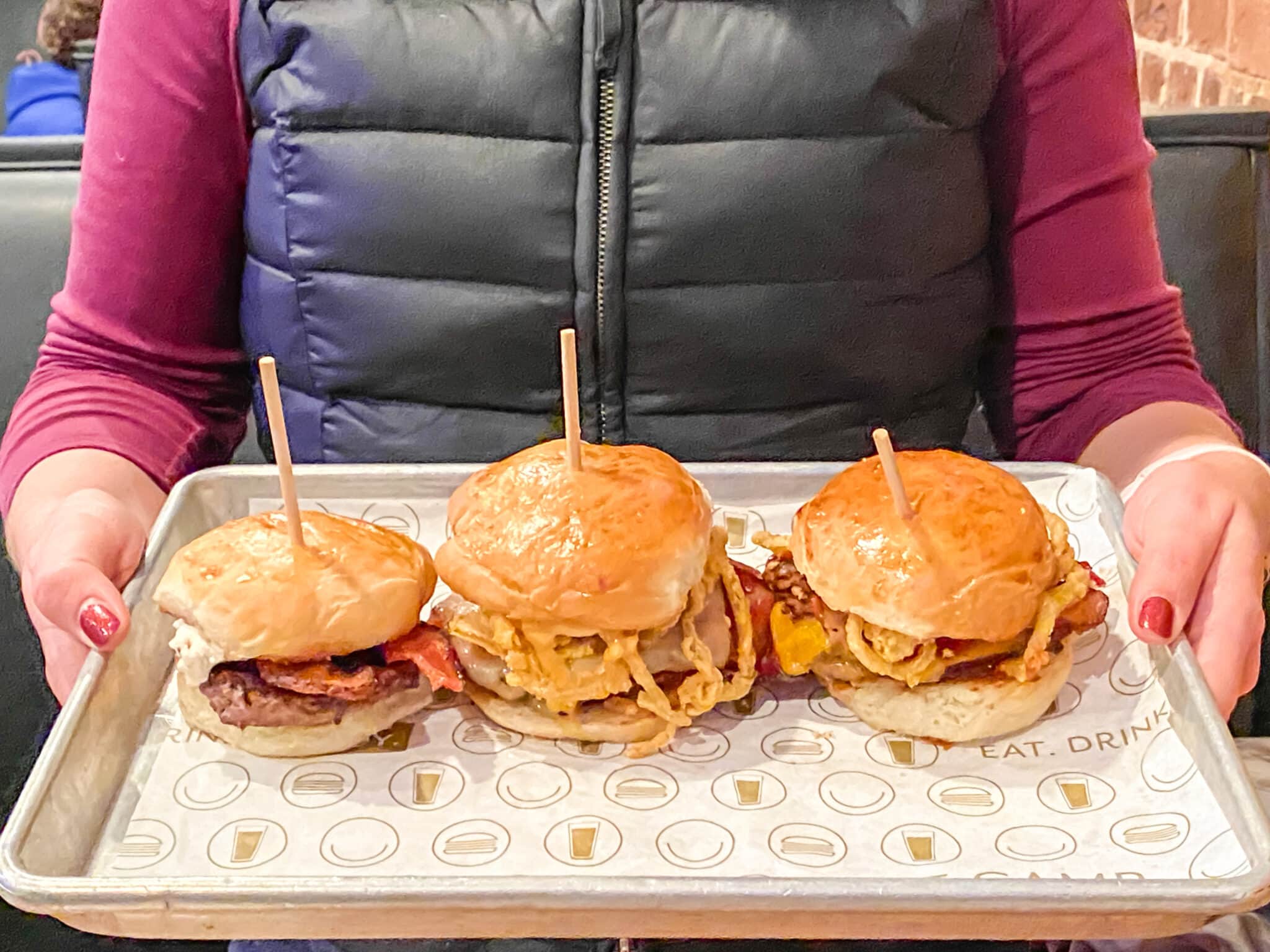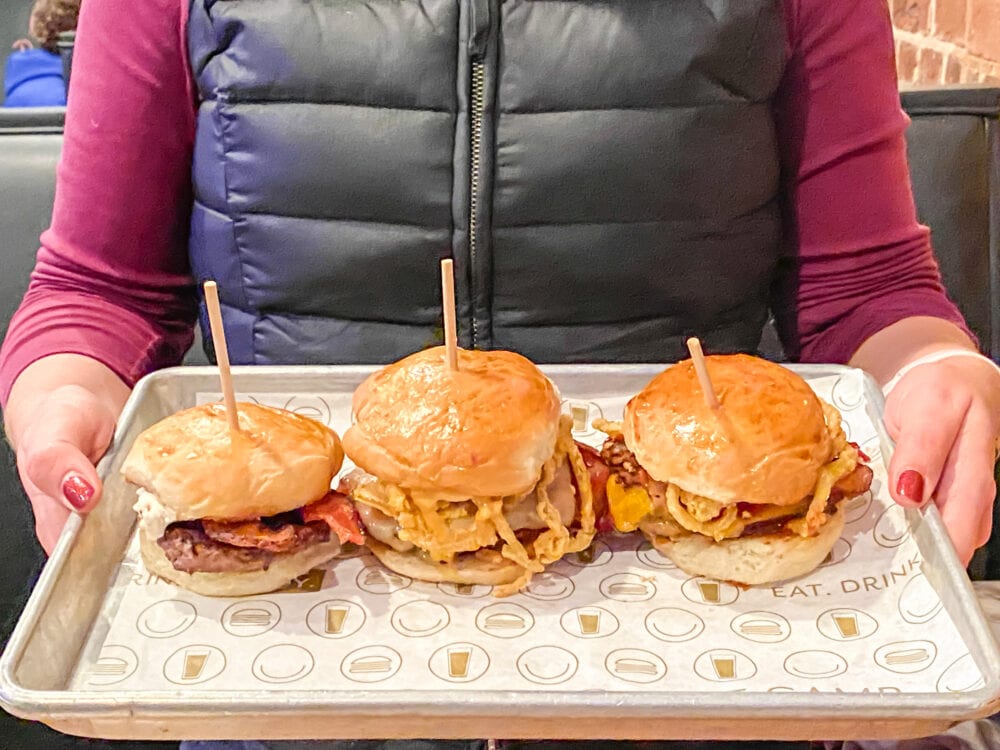 We were also surprised to find authentic Mediterranean cuisine on the Mississippi at The Guest House Restaurant. (Homemade hummus and baba ghanoush, anyone?). And we got to sample the soon-to-open Church Hill Variety's take on local flavors made with a gourmet twist.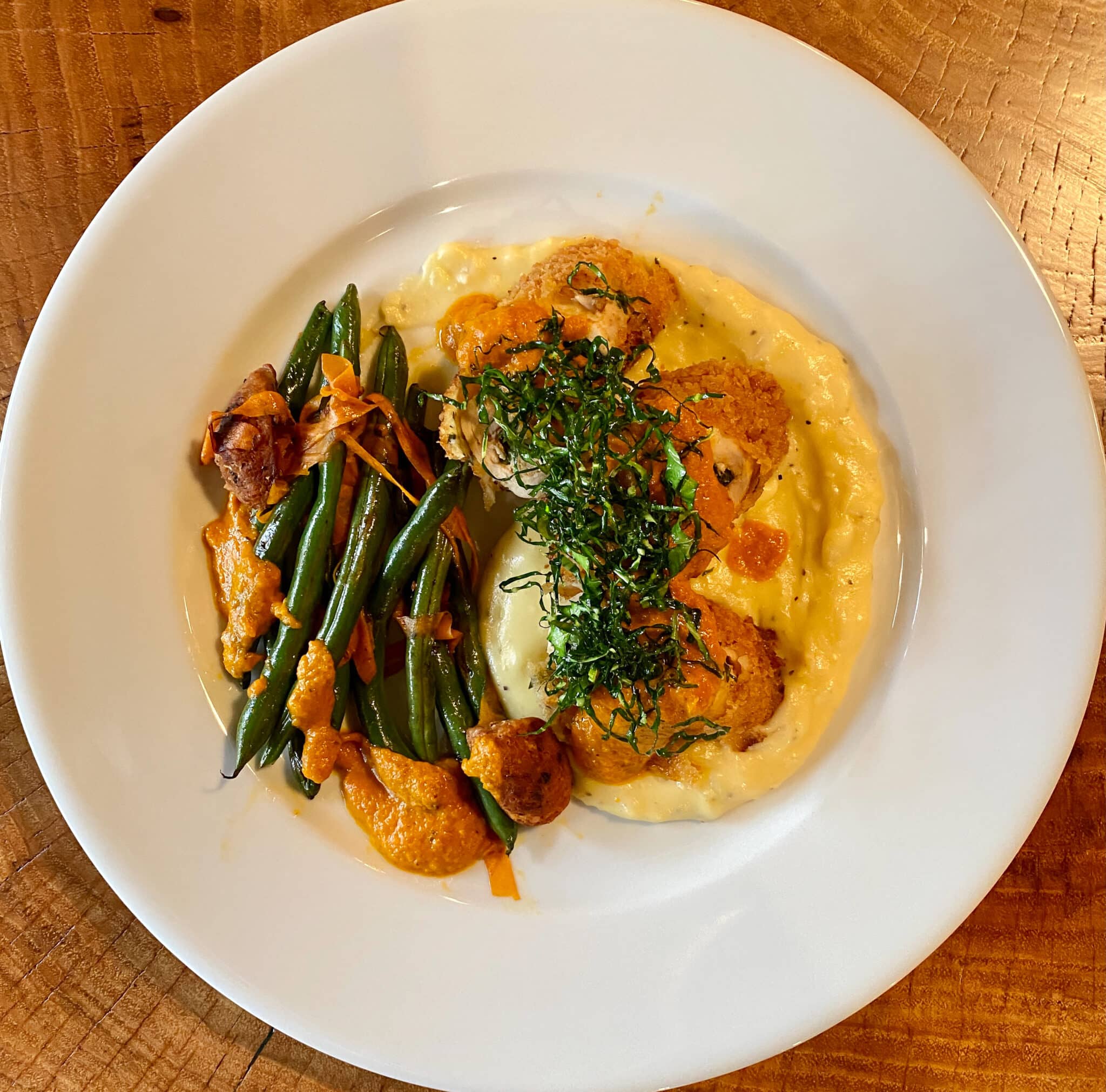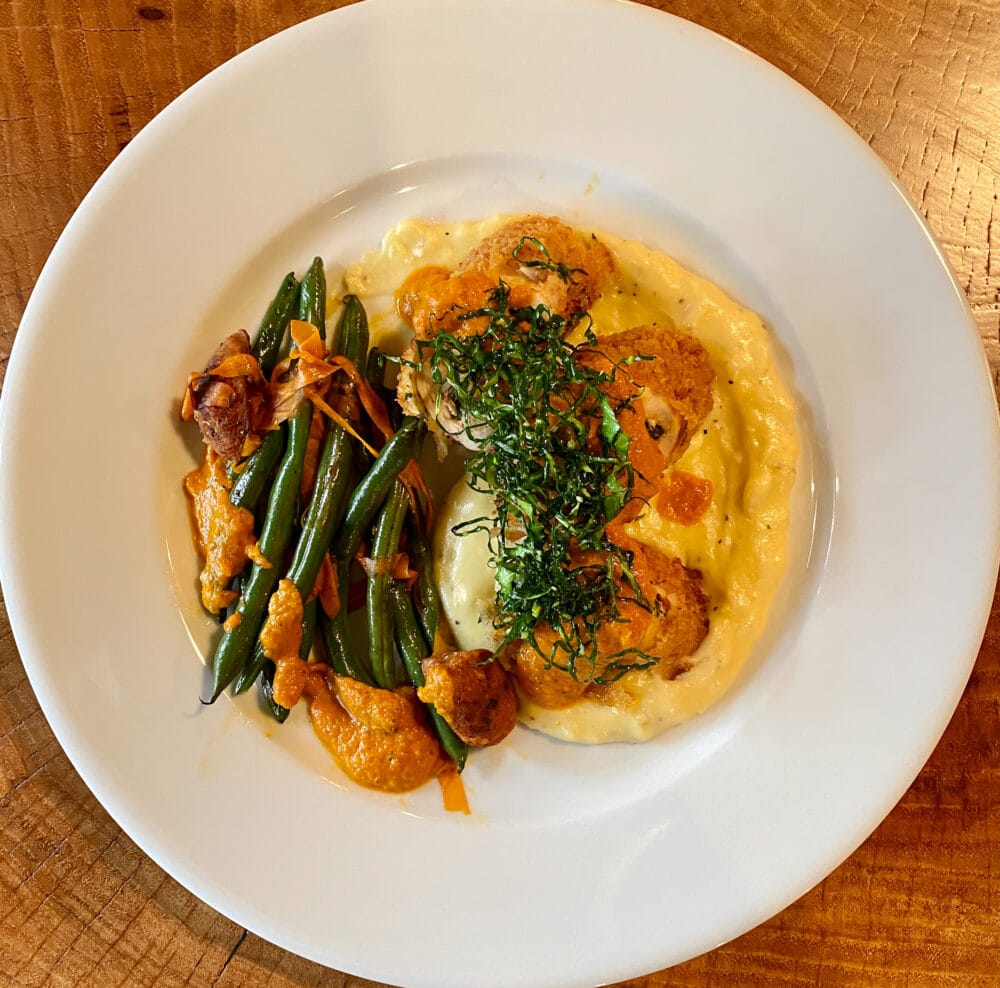 And finally, two other places to note are Natzhez Brewing Company & Kitchen for craft beer and brick oven pizza, and Natchez Heritage School of Cooking for soul food and Creole cuisine. As you can see, you'll be really well fed in Natchez.
Explore Music & Blues History
The Mississippi Delta is the birthplace of the Blues, a soulful music genre with African American roots. The Mississippi Blues Highway, U.S. Highway 61, runs through Natchez with several historic Mississippi Blues Trail markers located in downtown. Plus, the Rhythm Night Club Memorial Museum and Delta Music Museum are both nearby and a must-visit for music-lovers.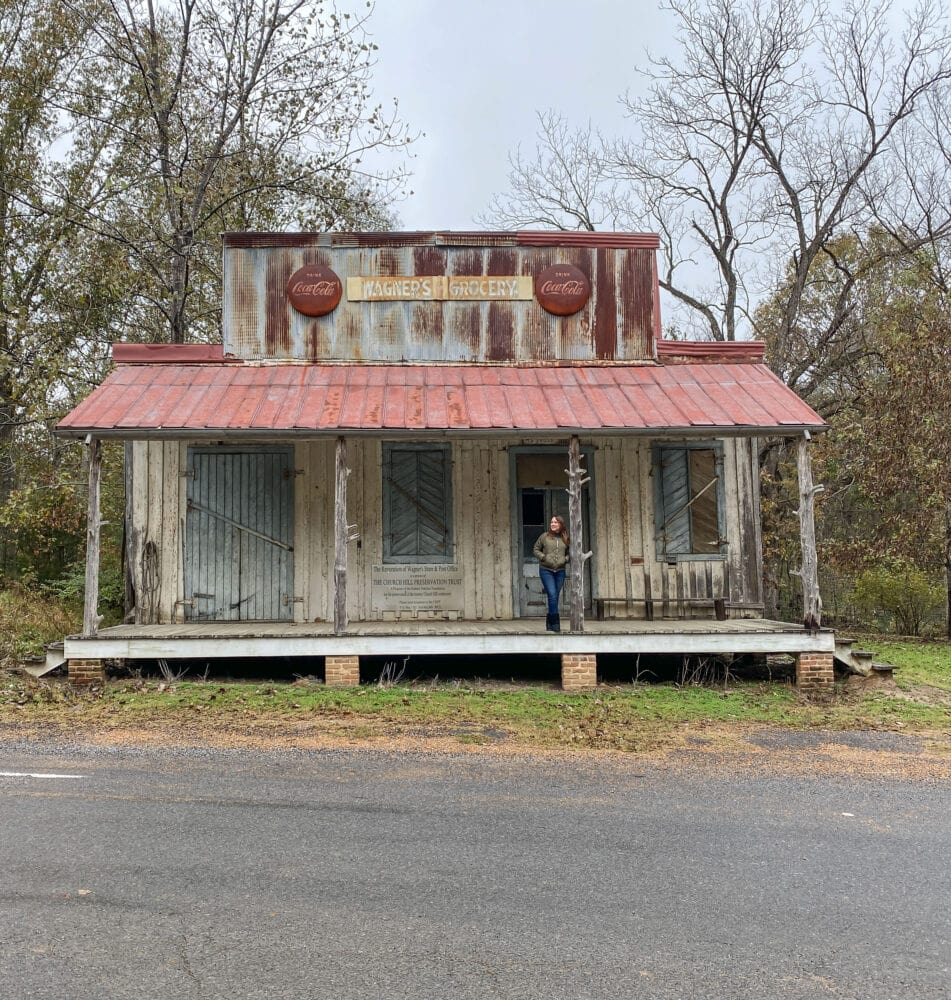 Visit TV and Film Locations
Natchez row of historic buildings along the Mississippi River in Natchez Under The Hill, the countless antebellum mansions, and old cemetaries makes the area perfect for storytelling. Over 76 films have featured the city and local area, including the late Chadwick Boseman's biopic of James Brown in Get On Up. The Longwood was featured in the vampire series, True Blood, and scenes from Oh Brother, Where Art Though? were also filmed nearby.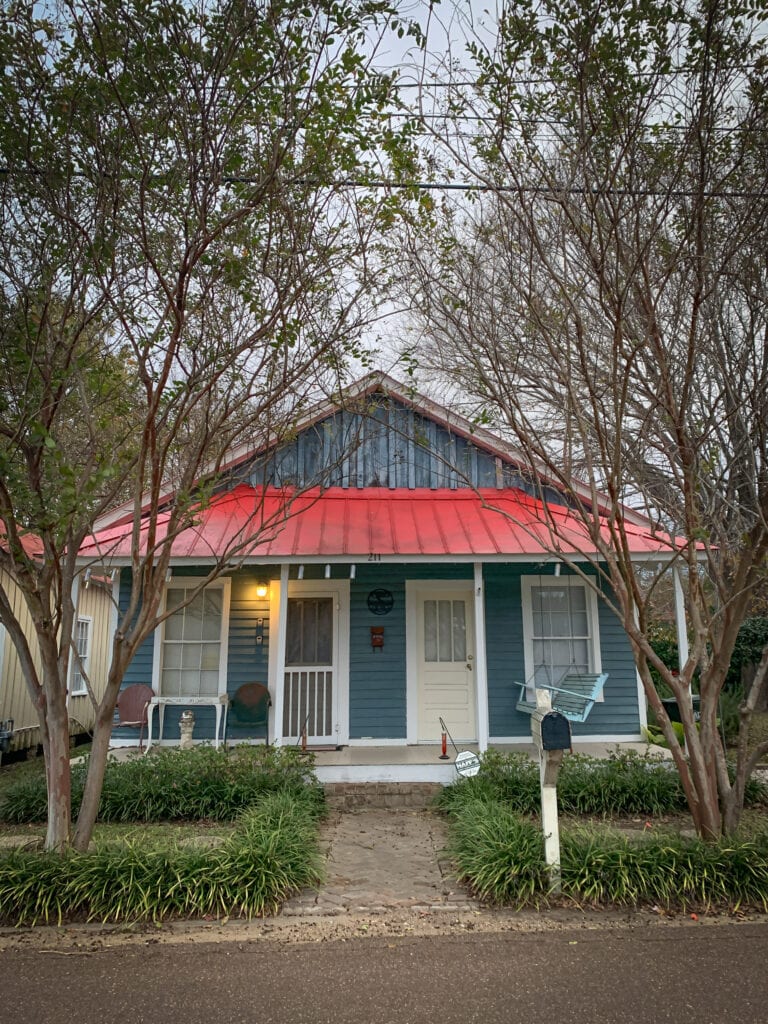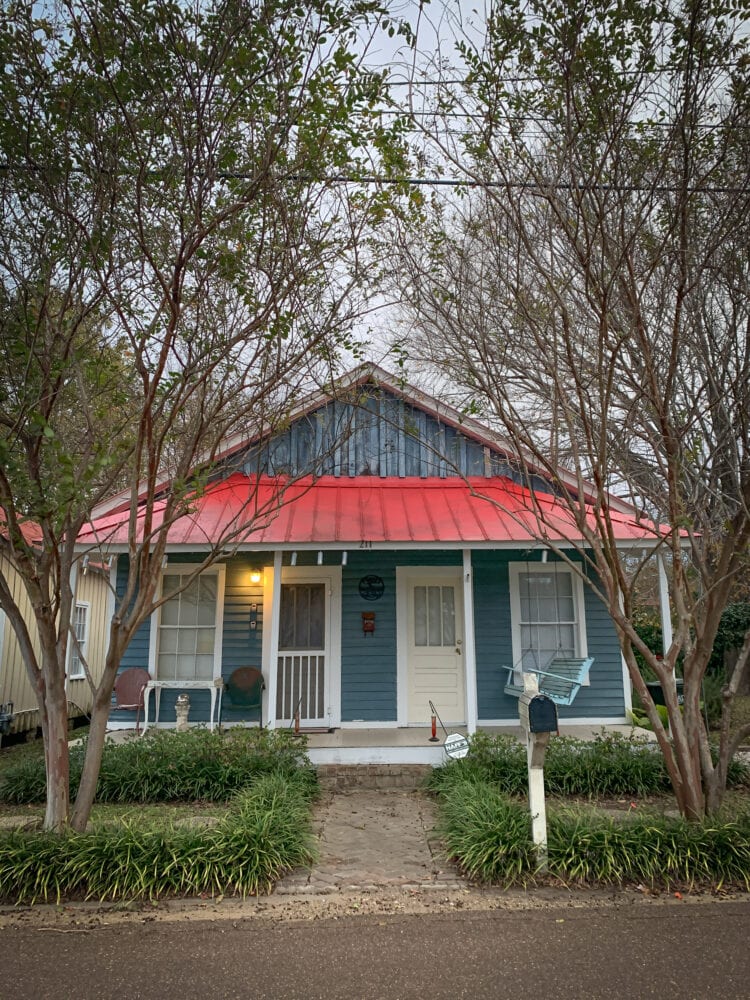 Sip Local Libations
Natchez Brewing Company has an extensive list of locally made craft beer and a fun beer garden with picnic tables. There's also the Old South Winery for a taste of sweet southern wine and Charboneau Distillery for stronger spirits and the first legally distilled rum produced in Mississippi.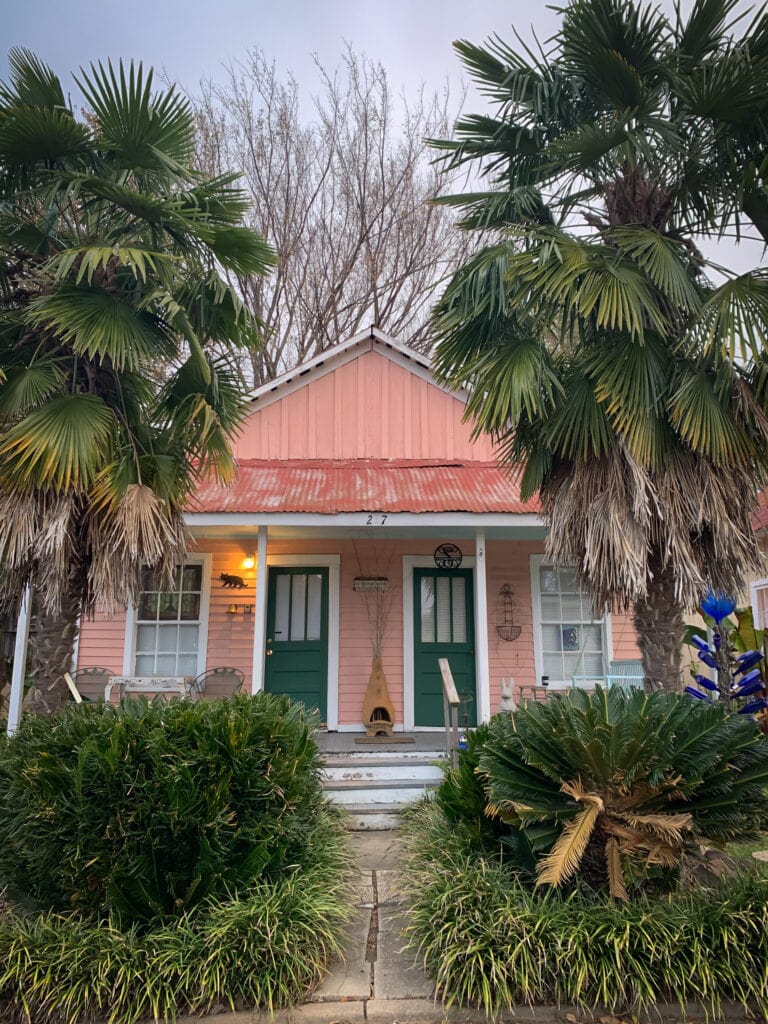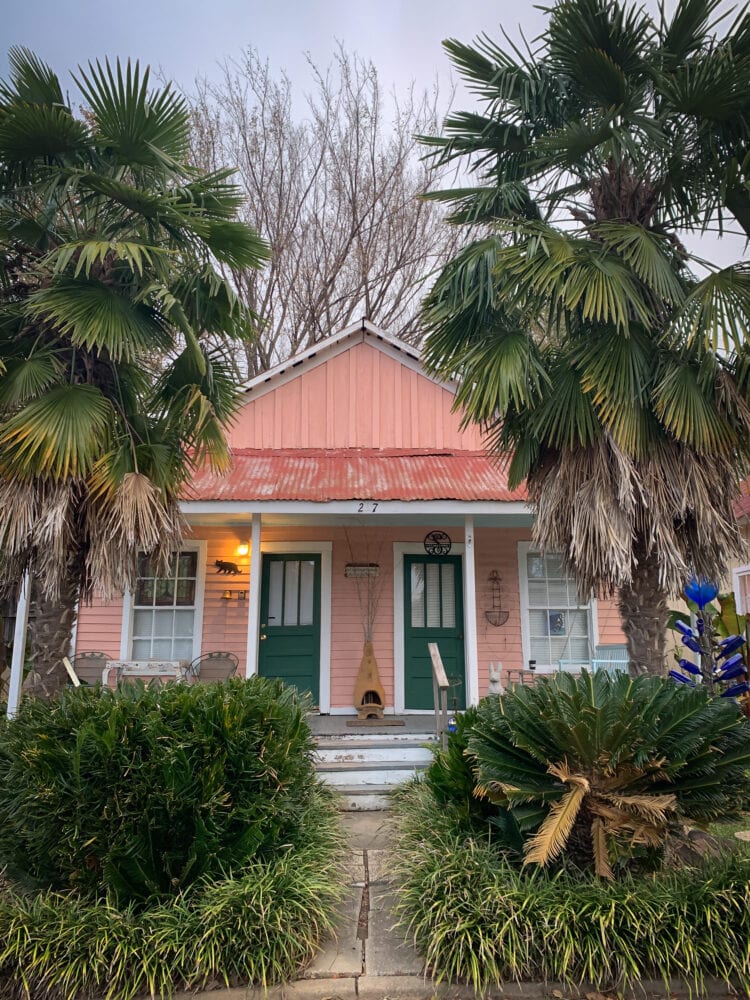 WHERE TO STAY IN NATCHEZ
With over 45 bed and breakfasts and historic inns, bed and breakfast capitol of the south. While some historic homes are extravagantly decorated and can make you feel like you're staying in a museum, Peter Hunter House was casually elegant, full of southern charm, and made us feel right at home.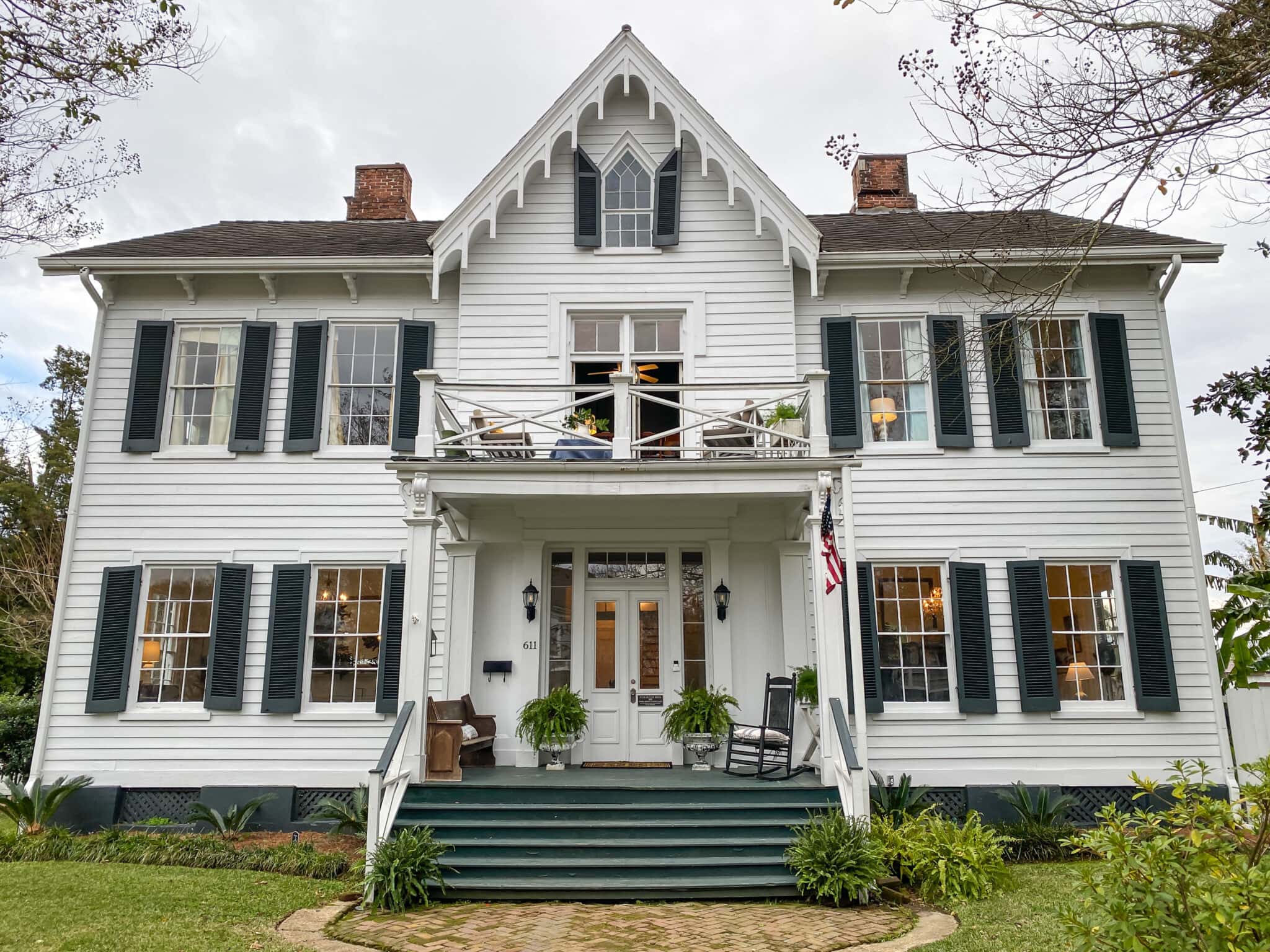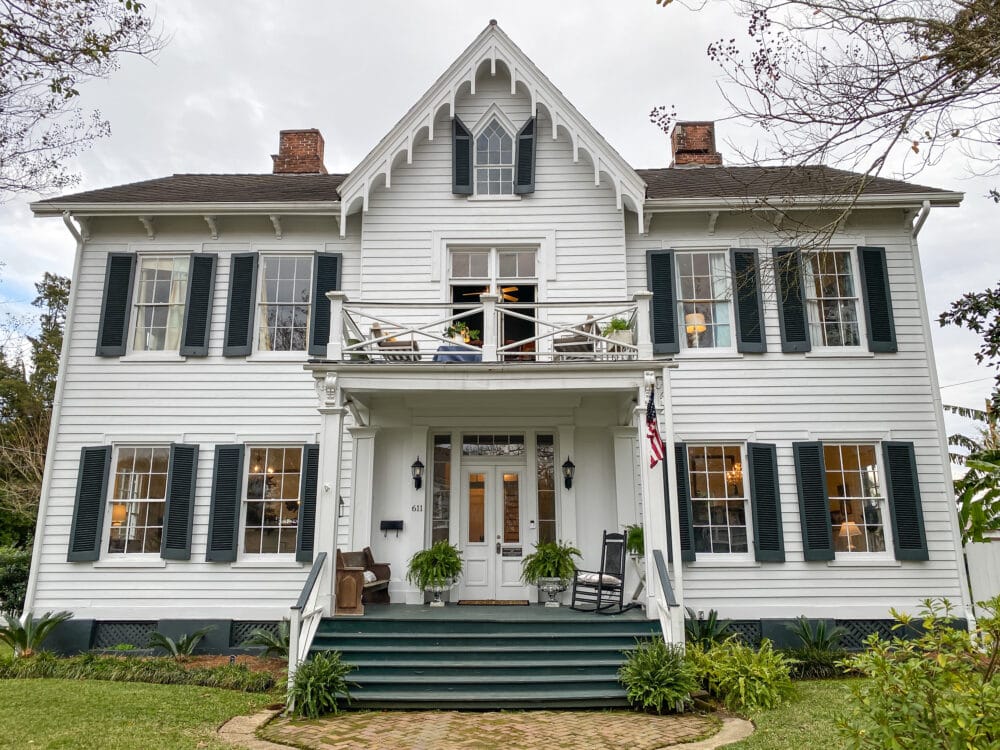 We stayed in 2020, so social distancing protocols in place, breakfast delvered outside our door each morning on a beautiful large charcuterie board prepped with everything from sausage and grits to french toast. I would gladly drive across three states again just for one of Hydie's breakfasts.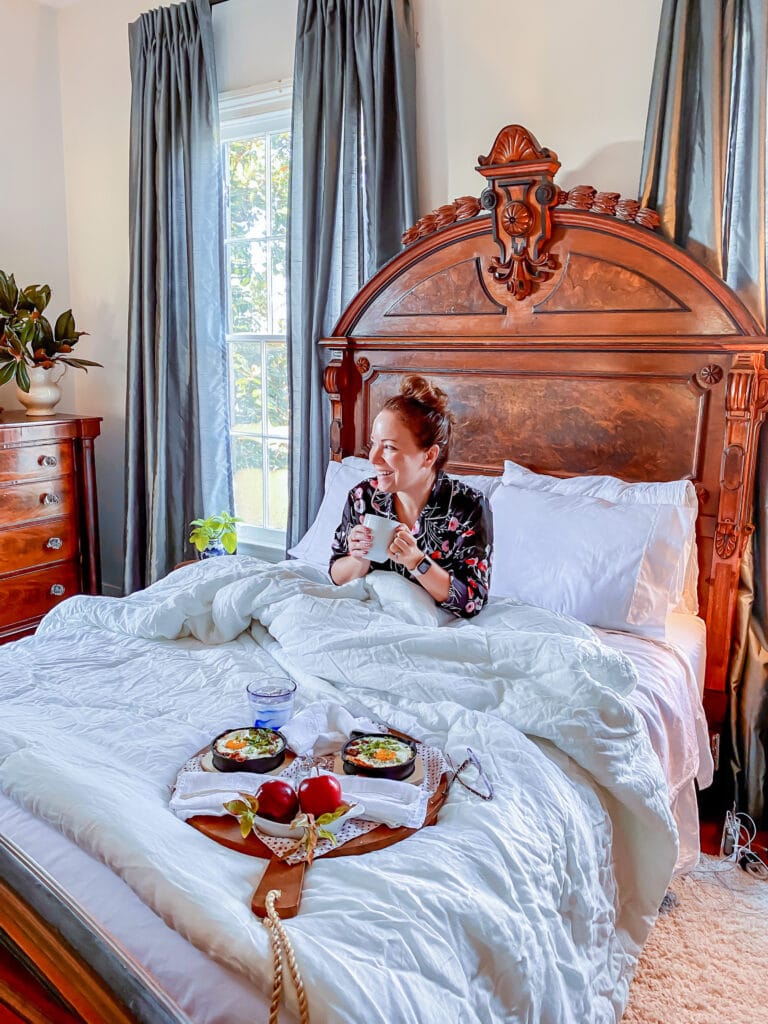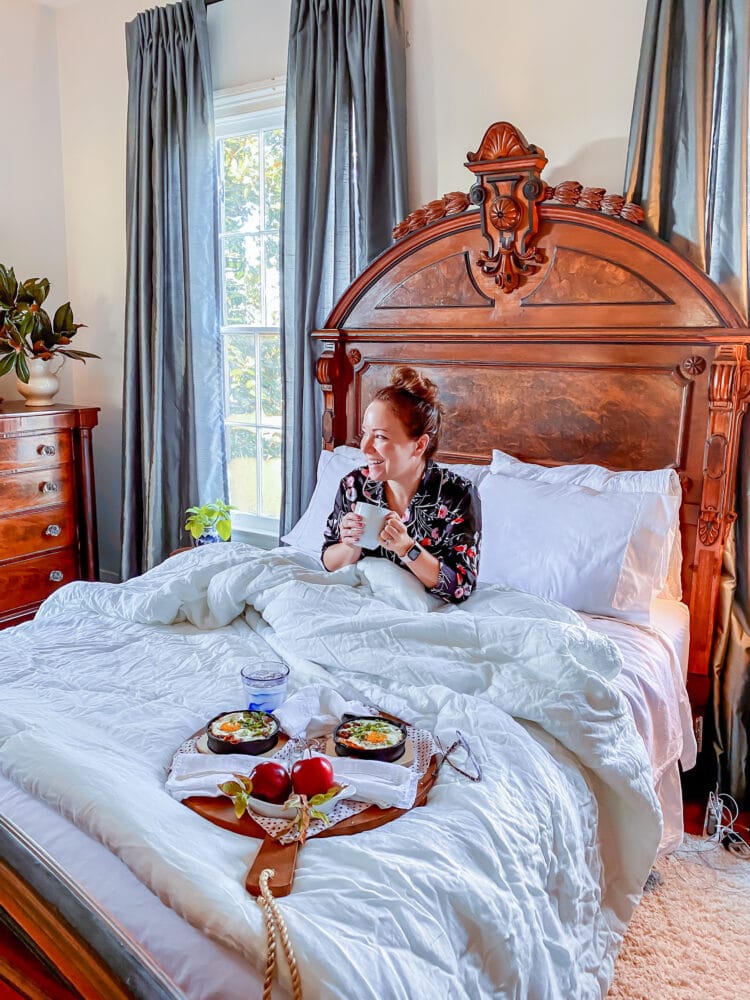 Two other places we visited for a delicious meal (but didn't stay overnight) were Monmouth Historic Inn and The Guest House. There truly are countless charming places to stay when visiting Natchez, and thankfully most are small boutique properties that make you feel like part of the community.
HOW TO GET TO NATCHEZ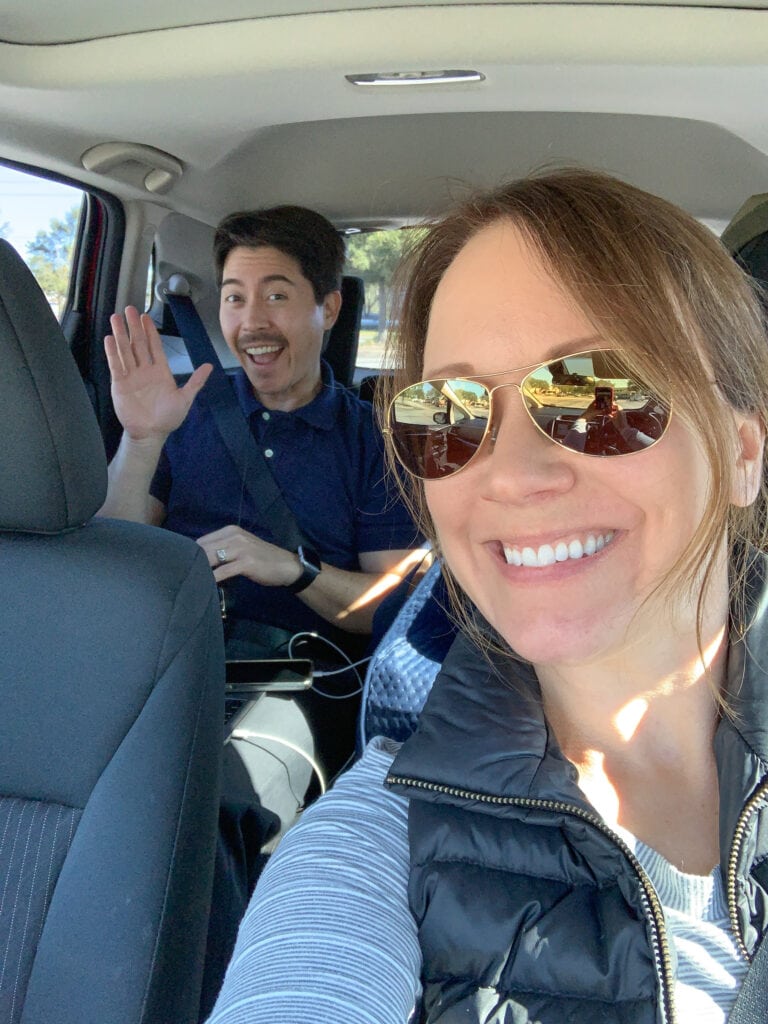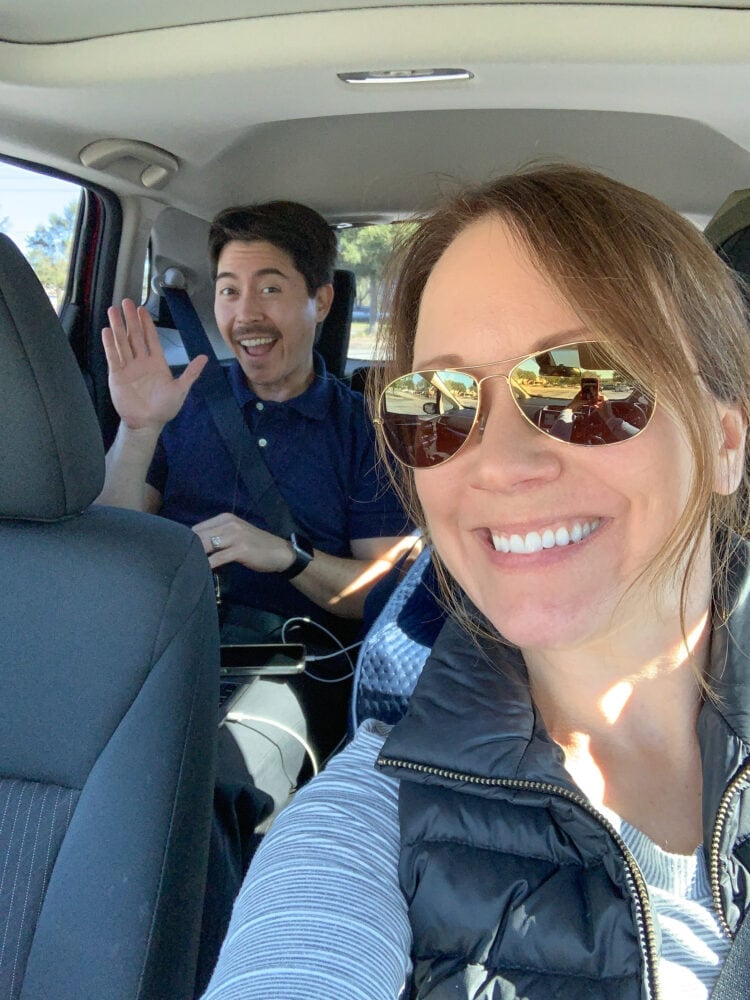 Road Trip – If you live in the southeastern part of the United States (or are visiting), Natchez is a wonderful road trip destination. From Nashville and surrounding areas, there's the scenic Natchez Trace Parkway that will take you all the way to Natchez. From Texas, Louisiana, and other states, the interstate highways are probably your best bet. We drove up from Florida with a stop in South Walton on the way for a relaxing road trip.
River Boat – Taking a cruise with one of the many river boats planning trips up the Mississippi River, such as Viking River Cruises. Natchez is definitely one of the must-see stops and our recommendations above can be used as a guide to help plan your day.
Flights – For flights, the closest airports to Natchez are New Orleans (MSY) or Baton Rouge (BTR).
Have you visited Natchez or driven the Natchez Trace? Tell us about it below! Driving the whole 444 miles of the Trace is now on our travel bucket list. And we'll definitely be back to visit Natchez again.