Here's a list of our favorite road trip quotes to inspire your next adventure. They're organized into different categories including Adventure, Inspiration, Humor, Family, Friends, Love, and even Song Lyrics. So grab some good snacks and sing-along-tunes and enjoy the open road this summer season.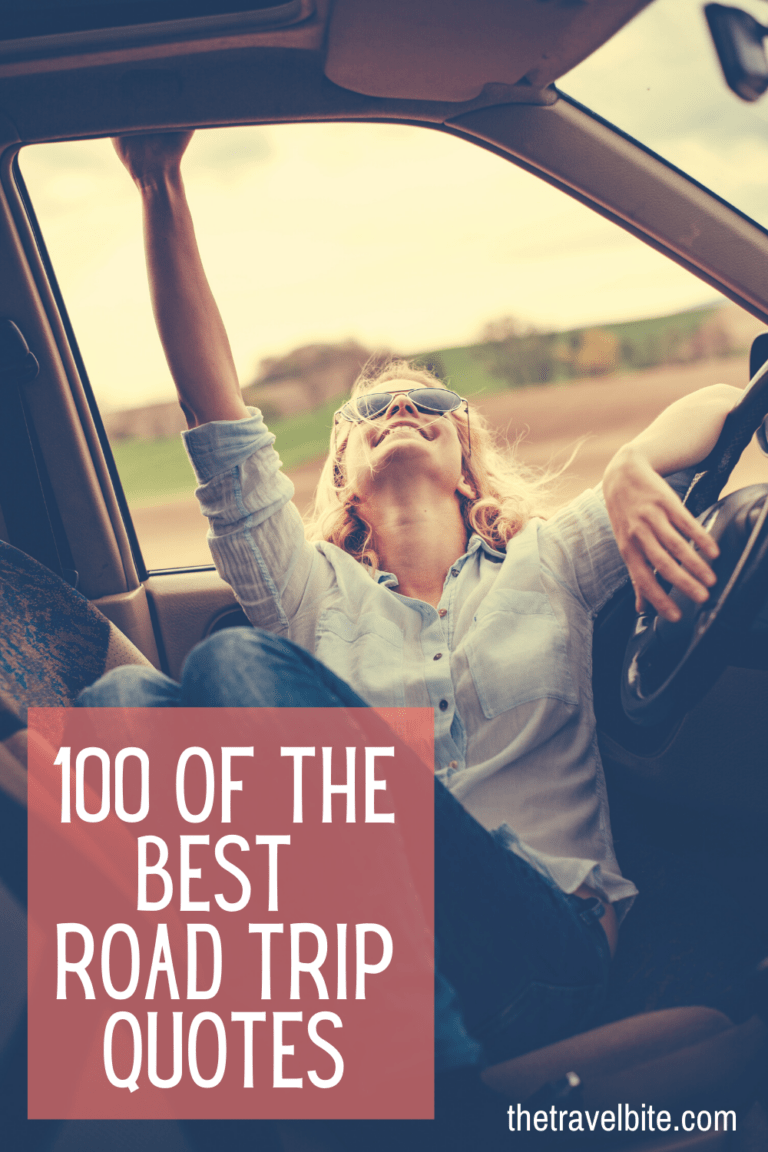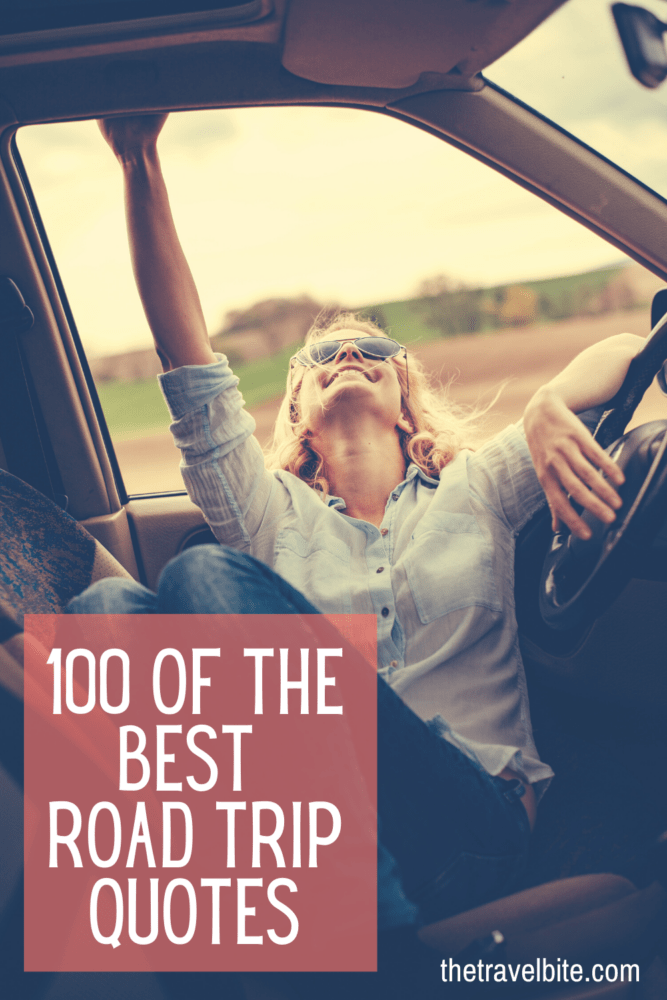 100 Of The Best Road Trip Quotes
Going on a road trip brings about the best feeling. A car packed, music on loud, and an open road ahead, it's the perfect choose-your-own-adventure kind of trip.
The longest road trip we've ever been on was 3,000 miles coast-to-coast across the United States. That's how we new we'd get married, we took a long road trip with me giving Pete directions and we didn't kill each other.
Since then, enjoyed smaller road trips including one around Nova Scotia, a drive through Alberta and Banff, and even a coast-to-coast drive across Florida to watch the sunrise and sunset on the beach in the same day. We also have our friend Abi's list of road trips in Spain we'd love to take!
I hope this list of our favorite road trip quotes help inspire your next adventure!
Quotes To Start Your Road Trip Adventure
1. "And just like that, we're on our way to everywhere" ― Emery Lord
2. "Because the greatest part of a road trip isn't arriving at your destination. It's all the wild stuff that happens along the way." – Emma Chase
3. "Discovery consists not in seeking new landscapes, but in having new eyes." – Marcel Proust
4. "Road trips are the equivalent of human wings. Ask me to go on one, anywhere. We'll stop in every small town and learn the history and stories, feel the ground and capture the spirit. Then, we'll turn it into our own story that will live inside our history to carry with us always. Because stories are more important than things." – Victoria Erickson
5. "It's a road trip! It's about adventure! . . . It's not like we have somewhere to go."― John Green
6. "We cleave our way through the mountains until the interstate dips into a wide basin brimming with blue sky, broken by dusty roads and rocky saddles strung out along the southern horizon."― Jonathan Evison
7. "Still, round the corner, there may wait, A new road or a secret gate." – J. R. R. Tolkien
8. "The inside of the old Camaro smelled like asphalt and desire, gasoline and dreams." ― Maggie Stiefvater
9. "Three o'clock in the morning. The highway is empty, under a malignant moon. The oil drippings make the roadway gleam like a blue-satin ribbon. The night is still but for a humming noise coming up somewhere behind a rise of ground. Two other, fiercer, whiter moons, set close together, suddenly top the rise, shoot a fan of blinding platinum far down ahead of them. Headlights. The humming burgeons into a roar. The touring car is going so fast it sways from side to side. The road is straight. The way is long. The night is short." ― Cornell Woolrich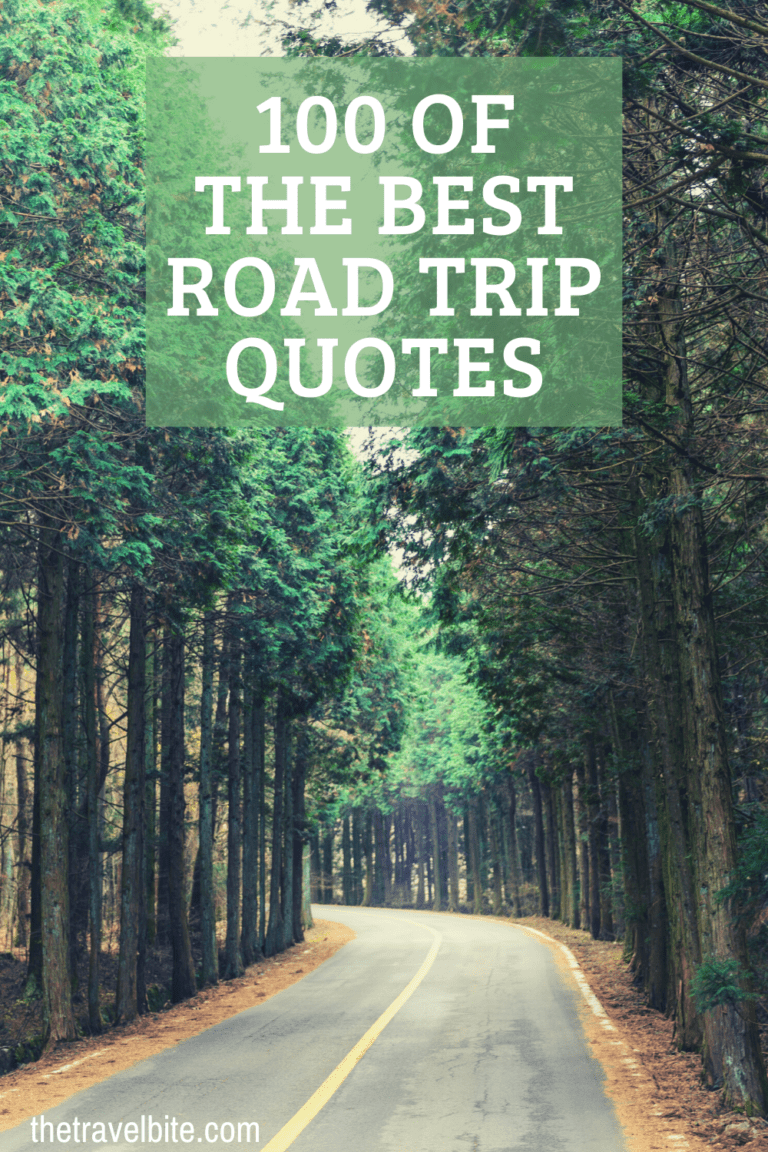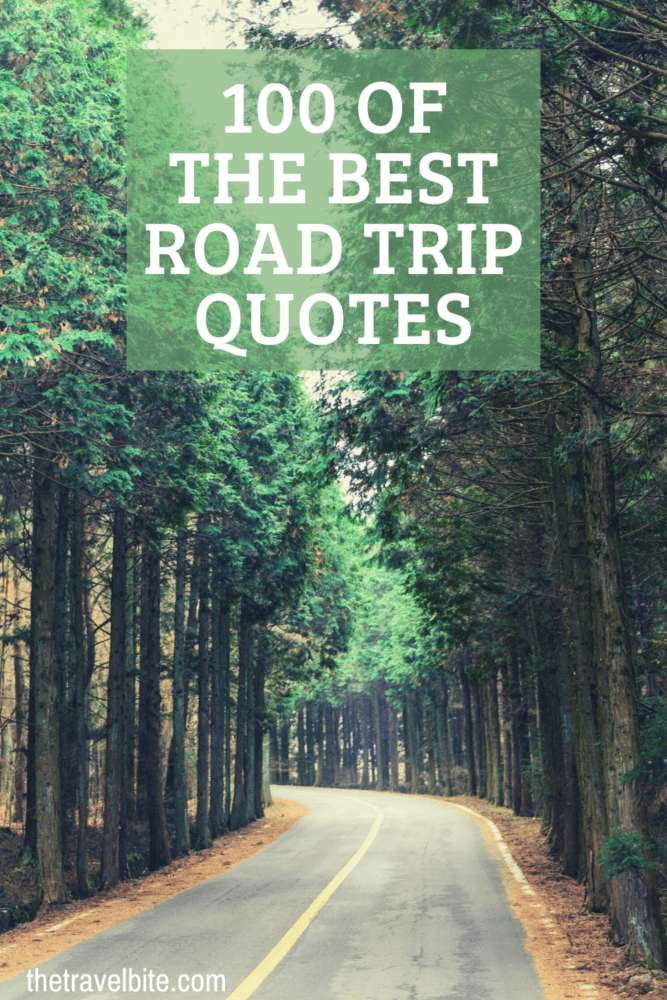 Inspirational Quotes About Driving
10. "There's a whole world out there, right outside your window. You'd be a fool to miss it." ― Charlotte Eriksson
11. "A road trip to the mountains where your soul dwells in the echoes of the winds that carry fragments of clouds with them.
12. "What it takes to realize world is going back to chaos and infinite hurry? End of the aforementioned road trip…"― Crestless Wave
13. "It's in those quiet little towns, at the edge of the world, that you will find the salt of the earth people who make you feel right at home."― Aaron Lauritsen
14. "I climb behind the steering wheel… I drive off immediately without once looking back; it's a long journey but it leads to freedom."― Corinne Hofmann
15. "I love road trips. You get into this Zen rhythm; throw the sense of time out the window." – Miriam Toews
16. "You steer down lightless highways, and you invent a destination because movement is key." ― Nic Pizzolatto
17. "The road makes a noise all its own. It's a single note that stretches in all directions, low and nearly inaudible, only I could hear it loud and persistent…" ― Gregory Galloway
18. "i took a night drive.
i needed to get away.
i needed to know
it's okay to go
and have no destination,
where time moves slow
or doesn't exist.
that life can be like this,
aimless wandering,
just breathing, living,
driving forever underneath the stars." ― AVA
19. "It wasn't until I slowed the car and rolled down the windows that I realized I spend most of my days driving 'through' life without driving 'in' life. So, I've decided to walk because the pace is slower and the windows are always down."
― Craig D. Lounsbrough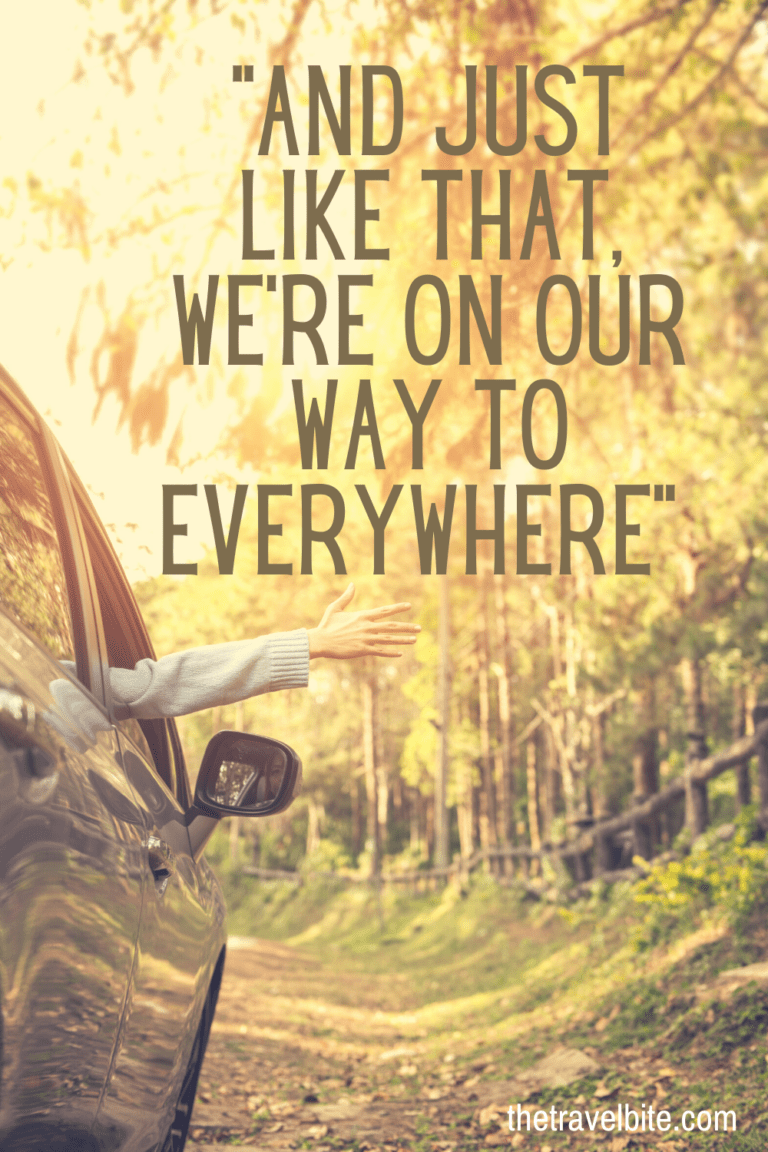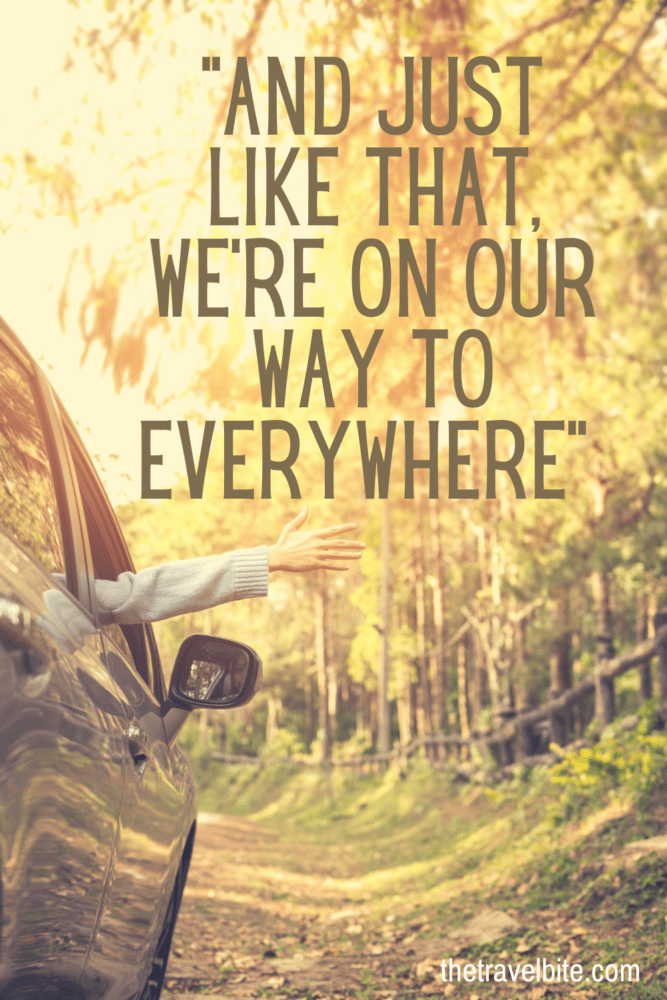 Quotes About The Open Road
20. "The open road is there, it will always be there. You just have to decide when to take it." – Chris Humphrey
21. "The freedom of the open road is seductive, serendipitous and absolutely liberating."― Aaron Lauritsen
22. "Take care of your car in the garage, and the car will take care of you on the road."― Amit Kalantri
23. "It was a practical trip, straight across the country. No pit stops at canned meat museums, no national parks. Just a whole lot of Wynebraskowa." ― Kari Martindale
24 ."God made the world round so we would never be able to see too far down the road." – Isak Dinesen
25. "That night, after the movie, driving my father's car along the country roads, I began to wonder how real the landscape truly was, and how much of a dream is a dream."
― Don DeLillo
26. "Everything in life is somewhere else, and you get there in a car." -E. B. White
27. "They drove, the city slowly dissolving around them and breaking up into fields and trees."― Brian Evenson
28. "The feeling of freedom, driving into scenery as green and lush as a postcard of Ireland was close to bliss."― Diane Meier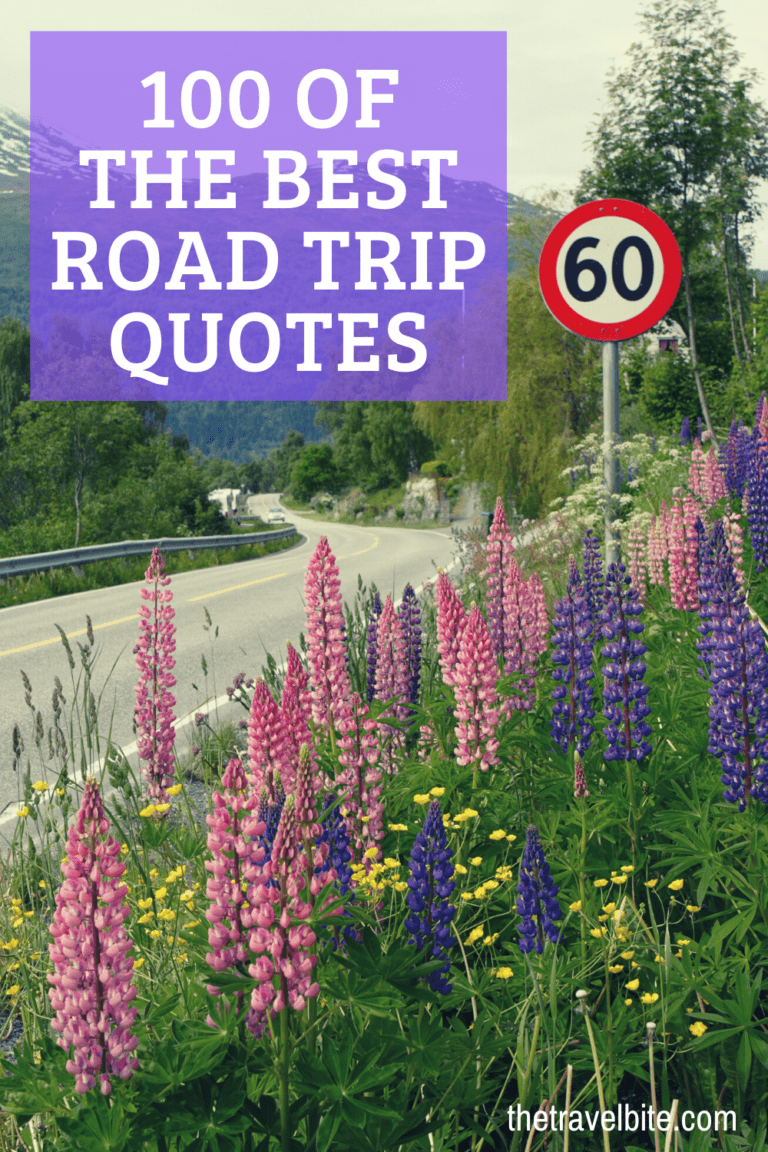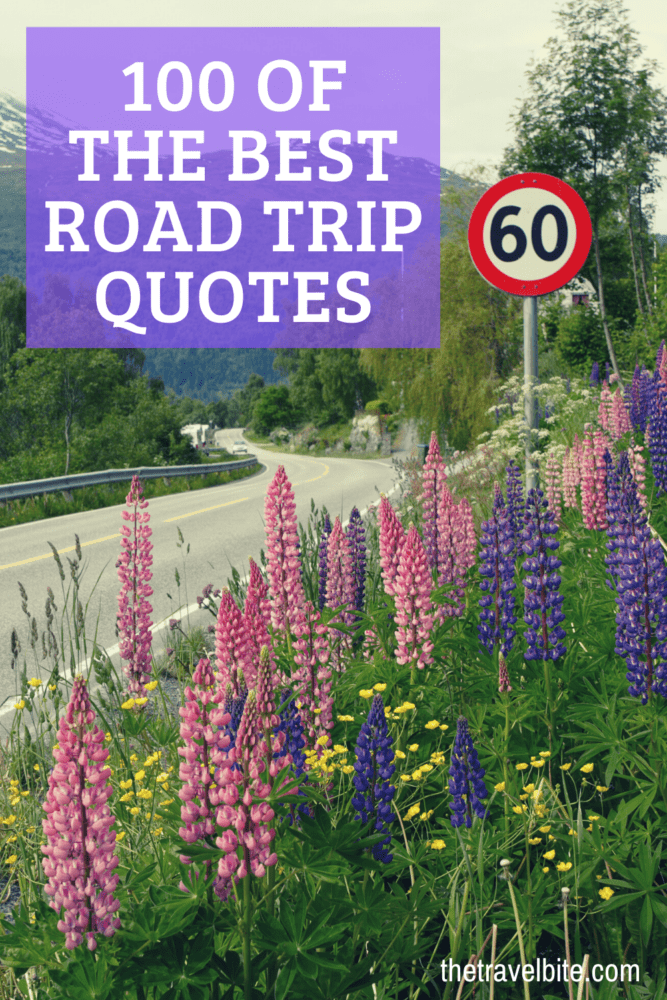 Funny Road Trip Quotes
29. "Road trips required a couple of things: a well-balanced diet of caffeine, salt and sugar and an excellent selection of tunes—oh, and directions." ― Jenn McKinlay
30. "That's why I love road trips, dude. It's like doing something without actually doing anything." ― John Green
31. "The entire road trip could be summed up as one giant attempt to keep from crashing the car during fits of rage and fits of hysteria." ― Kari Martindale
32. "You can't take highways during the apocalypse, because they'll be packed with panicky people." ― J. Cornell Michel
33. "You know, somebody actually complimented me on my driving today. They left a little note on the windscreen, it said 'Parking Fine." ― Tommy Cooper
34. "If you come to a fork in the road, take it." – Yogi Berra
35. "Kilometers are shorter than miles. Save gas and take your next trip in kilometers." -Unknown
36. "I don't drive fast, I drive YOUNG." ― Musawir Masood
37. "I was driving pretty much the way everyone drives in LA, like elephants dancing on each others' backs at a circus." ― Gary Reilly
38. "Technically speaking, you drive like a rabid chicken who has hijacked a tractor." ― Sarah Rees Brennan
39. "Driving at night is about communicating with lights."― Lukhman Pambra
40. "I'm so hungry I could eat a sandwich from a gas station." – Chevy Chase
41. "Patience is something you admire in the driver behind you and scorn in the one ahead." -Mac McCleary
42. "The one thing that unites all human beings, regardless of age, gender, religion, economic status, or ethnic background, is that, deep down inside, we all believe that we are above-average drivers."― Dave Barry
43. "Americans will put up with anything provided it doesn't block traffic." ― Dan Rather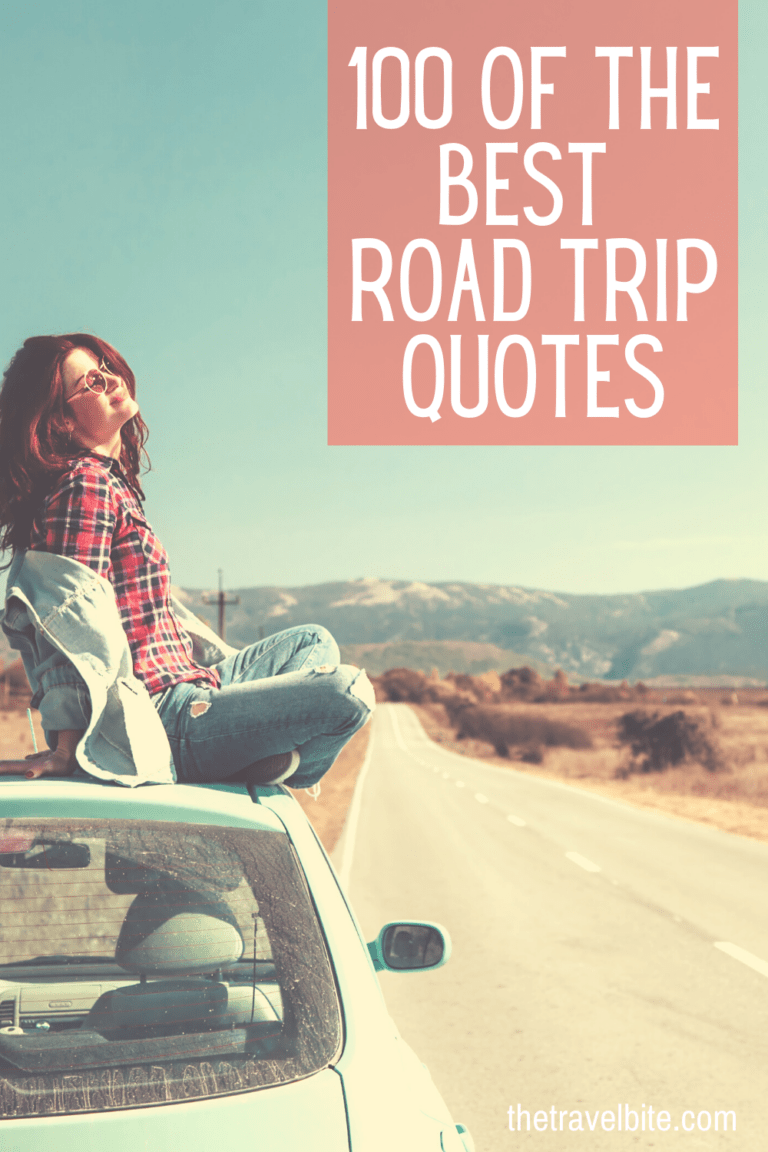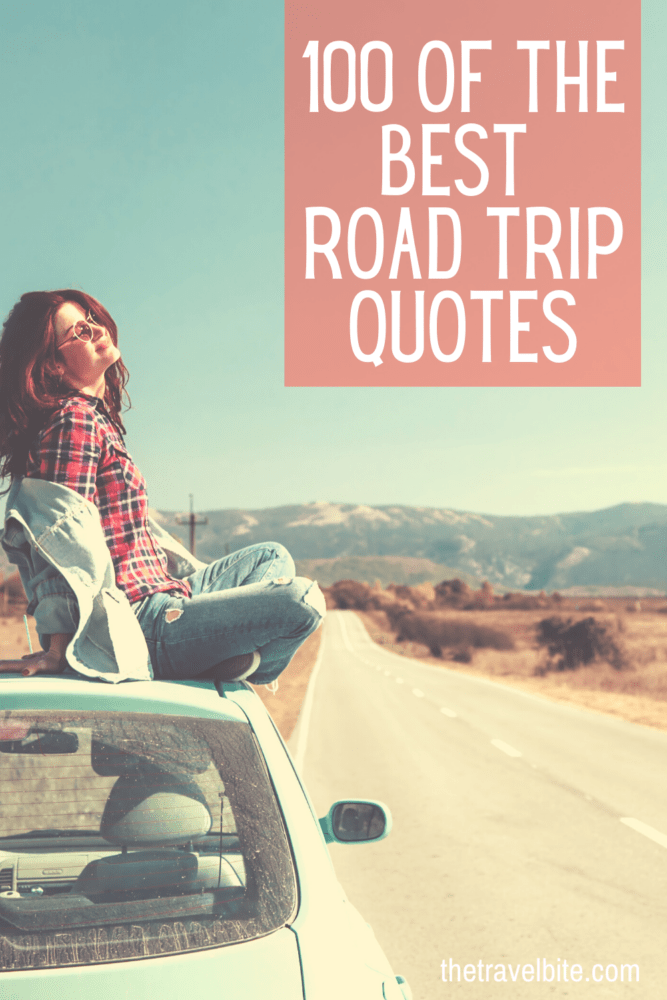 Family Road Trip Quotes
44." A road trip is a way for the whole family to spend time together and annoy each other in interesting new places." – Tom Lichtenheld
45. "I'd prefer silence and random jokes about the passing billboards and scenery, but I know how he likes music. I just hope he doesn't start singing." ― C.B. Cook
46. "A trip with Mom and Dad to Austin, Texas, through hill country: gently curving roads dissected by giant oaks, rolling rivers, and fields of bluebonnets so bountiful you'd think you'd stepped right into the heart of the ocean."
― Misty Hayes
47. "It's bad enough I have to be trapped in a car with you children. You'll do your best not to act like children."
― Rachel Caine
48. "Lured by smooth roads onto a new turnpike, he read with surprise the rules he was handed, don't stop, don't turn around, pay when you get there; he made his escape at the first exit he saw, for fiftyfive cents, and now he was on the old road buzzing the staid turnpike by turns over and under, teasing it crazy."― Douglas Woolf
49. "Learn to drive?" "Never," said Quentin. "My mission in life is to be a passenger." ― Diana Wynne Jones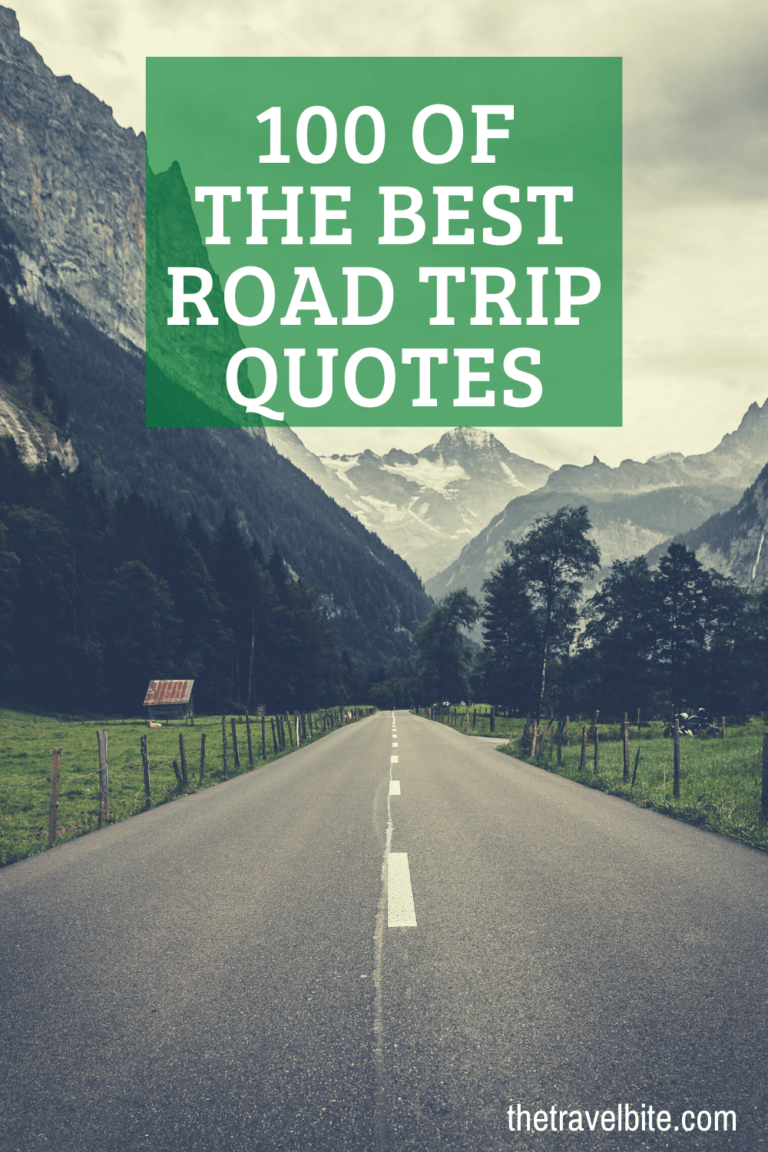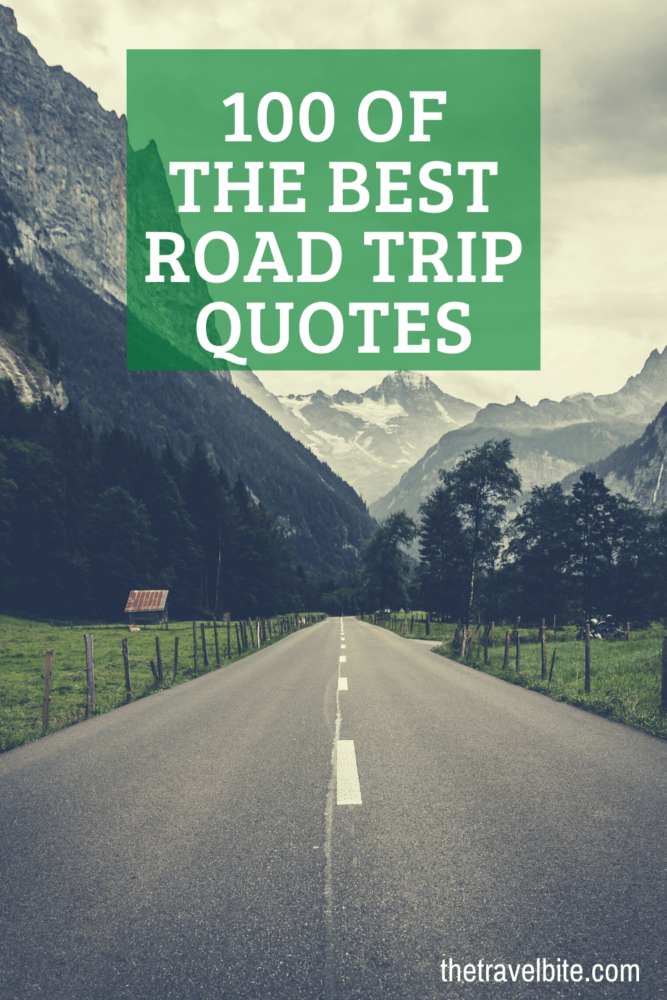 Road Trip Quotes With Friends
50. "We all have that one friend who is either on a road-trip or planning a road-trip or thinking about a road-trip or talking to people who are on road-trip or posting quotes about road-trip."
― Crestless Wave
51. "Road Trips aren't measured by mile markers, but by moments." – Unknown
52. "The road goes on forever and the party never ends." – Robert Earl Keen
53. "A journey is best measured in friends, rather than miles." – Tim Cahill
54. "I have found out that there ain't no surer way to find out whether you like people or hate them than to travel with them." – Mark Twain
55. "A good friend listens to your adventures. Your best friend makes them with you." – Unknown
56. Never drive faster than your guardian angel can fly. Author Unknown
57. "No matter what sort of car you are driving or how fast you drive, we all meet behind the same red light." ― Moe Cidaly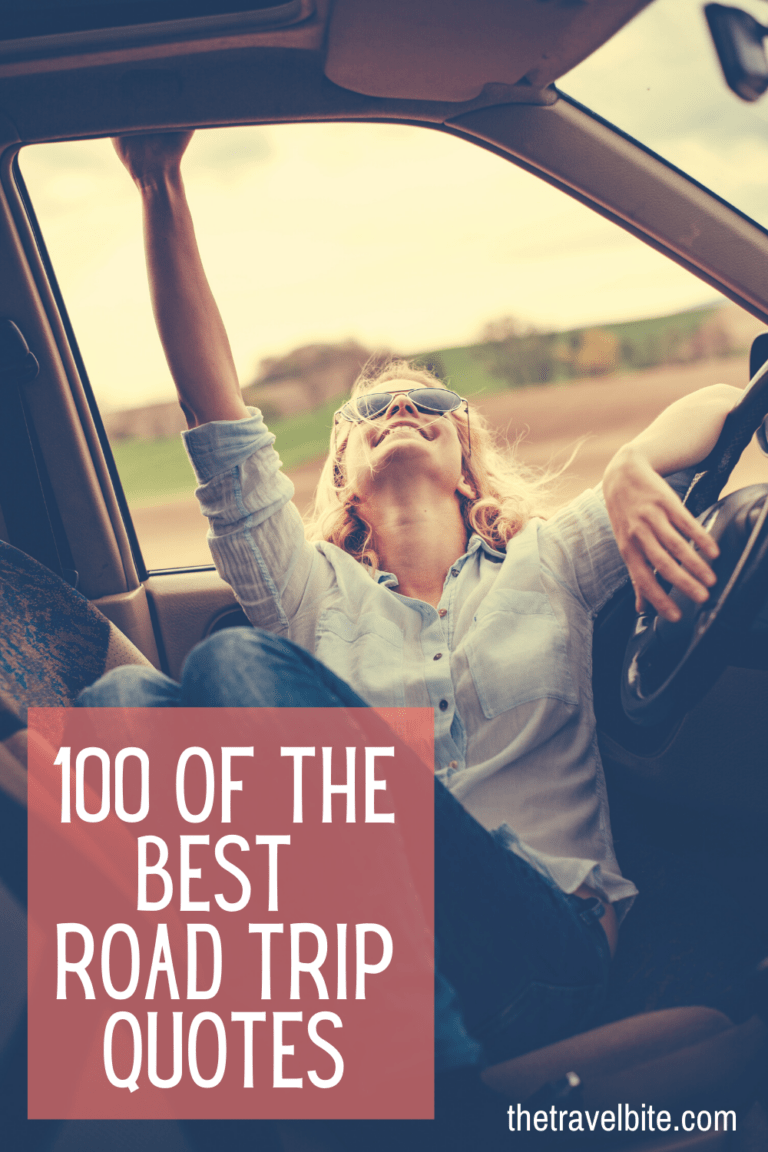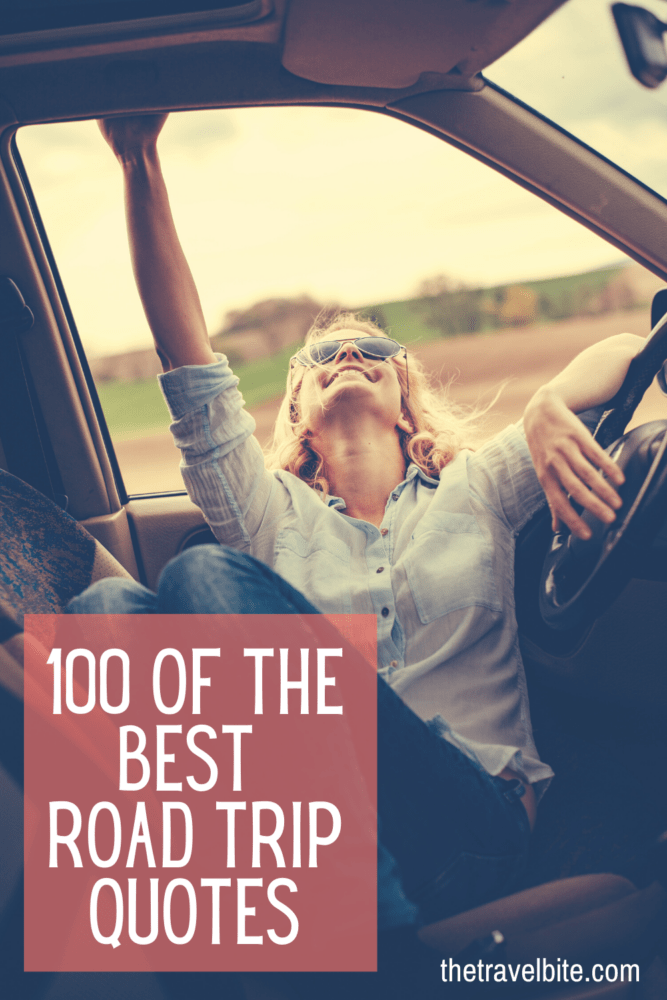 Road Trip Quotes By Famous People
58. "If you make the mistake of looking back too much, you aren't focused enough on the road in front of you." – Brad Paisley
59. "Map out your future – but do it in pencil. The road ahead is as long as you make it. Make it worth the trip." – Jon Bon Jovi
60. "I love being on the road. I love that lifestyle, traveling city to city, rocking out and moving on to the next place." – Caleb Johnson
61. "I just go with the flow, I follow the yellow brick road. I don't know where it's going to lead me, but I follow it." – Grace Jones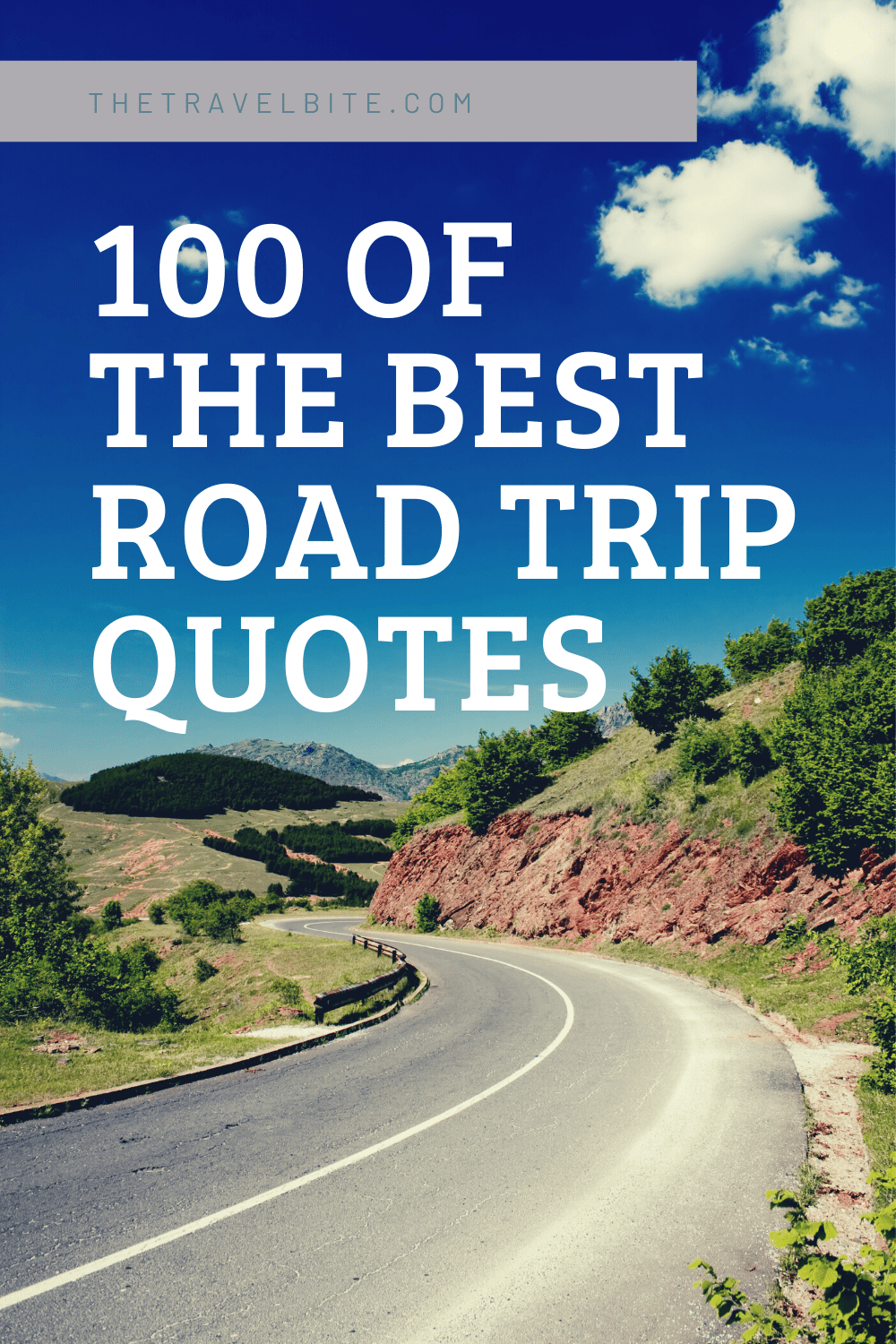 Quotes For A Long Drive
62. "It's quiet in the car, in a good way for once. No words, no music. Silence seems right. I roll down the windows and lean my head against the door frame, listening to the wind rush by and smelling the pine trees. I watch the stars materialize, like someone is dimming the switch on the night sky so each shining dot grows brighter and brighter." ― Jennifer Salvato Doktorski
63. "Here I was at the end of America – no more land – and now there was nowhere to go but back." ― Jack Kerouac
64. "We never fell ill, not once during one year in the U.S. national parks–perhaps proof of the therapeutic properties of our natural world." ― Stefanie Payne
65. "On day one of the drive, I saw my first dome sky. The world was so flat that I could see the level horizon all around me and the sky looked like a dome. Skies like that will give you perspective when nothing else will. The second day, a tumbleweed blew across the interstate. I'm in a western movie, I said to myself, laughing. I found it so much easier to laugh now that this weight had been lifted from my shoulders." ― Kimberly Novosel
66. "You can be writing every day. When you go on a road trip, the trip itself becomes part of the story." – Steve Rushin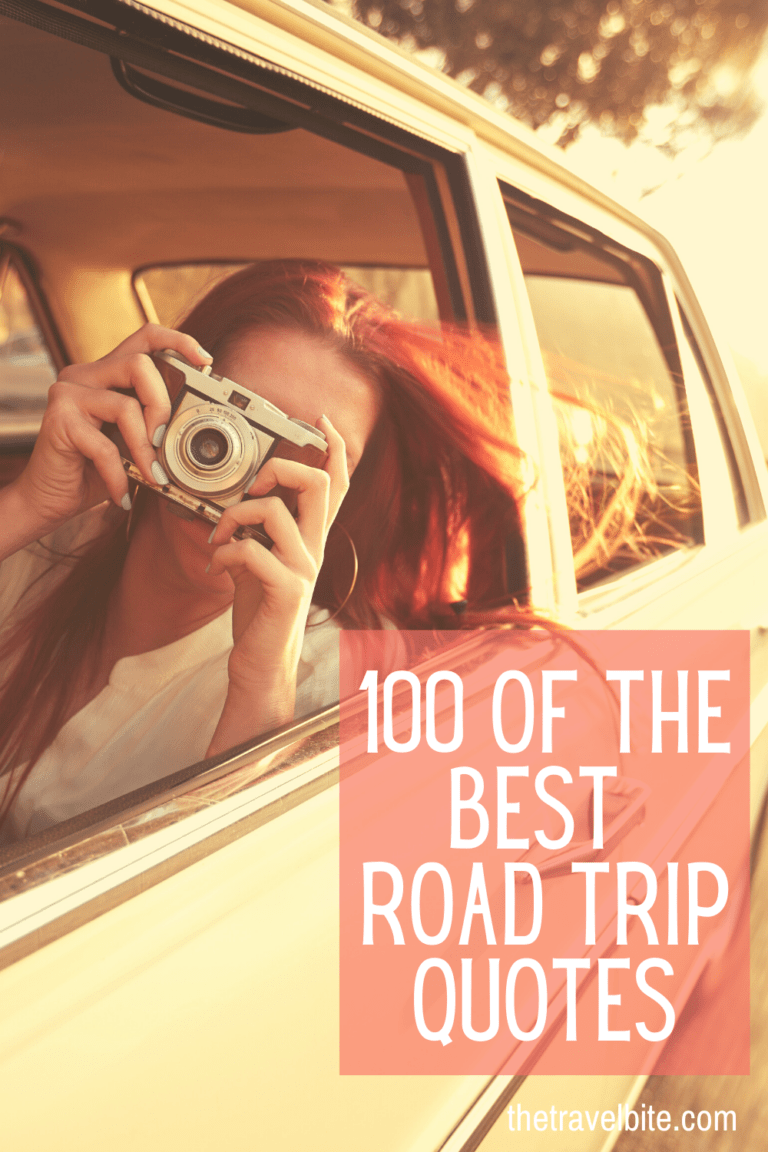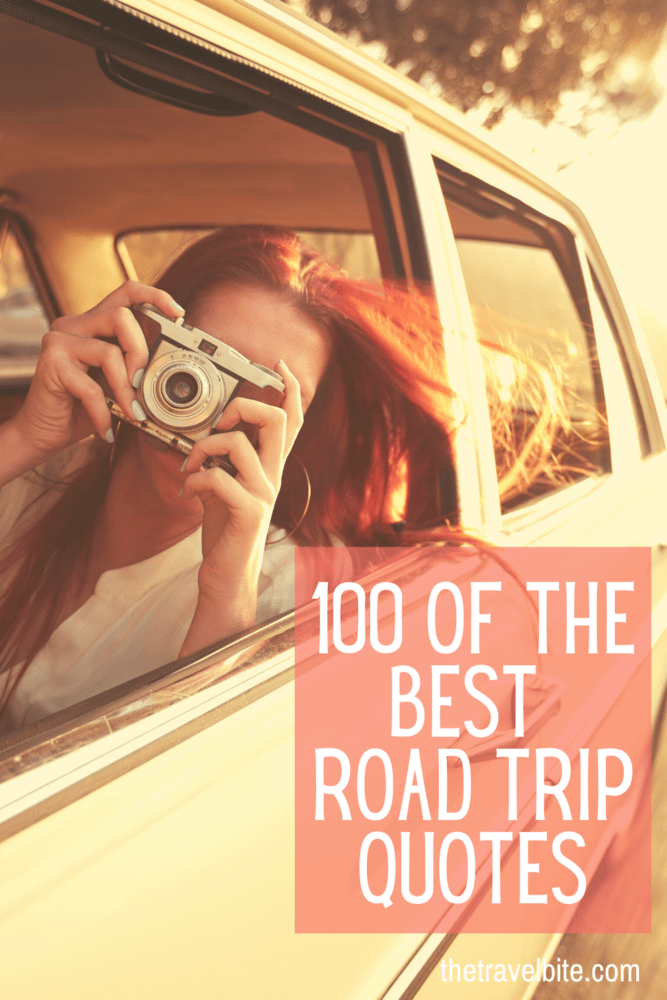 Words Of Wisdom Learned On The Road
67. "The highway of grace will get you somewhere a whole lot faster then the freeway of spite."
― Aaron Lauritsen
68. "The Americans have found the healing of God in a variety of things, the most pleasant of which is probably automobile drives."
― William Saroyan
69. "I may not have gone where I intended to go, but I think I have ended up where I intended to be." – Douglas Adams
70. "Every journey is simultaneously a beginning and an ending: I was leaving my old life behind and starting on a road trip to find a new me."― Debi Tolbert Duggar
71. "Living is like driving," my grandmother used to say. "You have to pick a lane." Have I chosen the right lane? It feels like this place, this moment in time, lies exactly halfway between my past and my future." ― Kathleen Flinn
72. "Sometimes the most scenic roads in life are the detours you didn't mean to take."― Angela N. Blount
73. "Look at life through the windshield, not the rearview mirror." – Byrd Baggett
74. "Stop worrying about the potholes in the road and enjoy the journey." – Babs Hoffman
75. "The pleasure we derive from journeys is perhaps dependent more on the mindset with which we travel than on the destination we travel to." – Alain de Botton
76. "If you don't know where you are going, any road will get you there." – Lewis Carroll
77. "Nothing is so rewarding than the patience that you take to go over the ramps of life. They may slow you down, but you are an unstoppable hero. Keep driving!" ― Israelmore Ayivor
Love And The Open Road
78. "When we pull away, he rests his hand on my thigh pressed next to his and we ride like that for a long time; the only time he moves his hand is to take better control of a sharp curve or to adjust the music, but he always puts it right back. And I always want him to." ― J.A. Redmerski
79. "For the first time since I met her, I understand her need to keep her name secret and respect that. Here, someplace other than at home, we can be who we want, be with who we want, as long as it makes us happy. There's no past today, only this moment together, right now. " ― Michelle Warren
80. "But tonight, this is what I can give you. I can offer you the vault of heaven, the firmament of the stars in the sky, and me"
― Deirdre Riordan Hall
81. "I can speak to my soul only when the two of us are off exploring deserts or cities or mountains or roads." – Paulo Coelho
82. "It doesn't matter where you're going, it's who you have beside you." – Unknown
Music and Lyrics About Road Trips, Cars, And Driving
Every good road trip needs an epic playlist. This list of lyrics are from some of our favorite songs to drive to. Do you have a favorite song we missed?
83. "If you're on a road trip, you need driving music." – Edgar Wright
84. "On the road again
Goin' places that I've never been
Seein' things that I may never see again
And I can't wait to get on the road again" -Willie Nelson
85. "I'm on my way
Driving at ninety down those country lanes
Singing to "Tiny Dancer"
And I miss the way you make me feel, and it's real
We watched the sunset over the castle on the hill." -Ed Sheeran
86. "Get your motor runnin'
Head out on the highway
Lookin' for adventure
And whatever comes our way" -Steppenwolf
87. Life's like a road that you travel on
When there's one day here and the next day gone
Sometimes you bend, sometimes you stand
Sometimes you turn your back to the wind
There's a world outside every darkened door
Where blues won't haunt you anymore
Where the brave are free and lovers soar
Come ride with me to the distant shore" -Tom Cochrane
88. "Homegrown alligator, see you later
Gotta hit the road, gotta hit the road
The sun it changed in the atmosphere
Architecture unfamiliar
I can get used to this
Time flies by in the yellow and green
Stick around and you'll see what I mean
There's a mountaintop that I'm dreaming of
If you need me you know where I'll be
I'll be riding shotgun underneath the hot sun
Feeling like a someone." -George Ezra
89. "Come on baby let's get out of this town
I got a full tank of gas with the top rolled down
There's a chill in my bones
I don't want to be left alone
So baby you can sleep while I drive
I'll pack my bag and load up my guitar
In my pocket I'll carry my harp
I got some money I saved
Enough to get underway
And baby you can sleep while I drive." -Melissa Etheridge
90. "Take it easy, take it easy
Don't let the sound of your own wheels drive you crazy
Lighten up while you still can
Don't even try to understand
Just find a place to make your stand
Take it easy." -The Eagles
91. "You got a fast car
I want a ticket to anywhere
Maybe we make a deal
Maybe together we can get somewhere." – Tracy Chapman
92. "All my friends know the low rider
The low rider is a little higher
Low rider drives a little slower
Low rider is a real goer
Low rider knows every street, yeah
Low rider is the one to meet, yeah
Low rider don't use no gas now
Low rider don't drive too fast
Take a little trip, take a little trip
Take a little trip and see
Take a little trip, take a little trip
Take a little trip with me." – War
93. "We're on a road to nowhere
Come on inside
Taking that ride to nowhere
We'll take that ride
I'm feeling okay this morning
And you know
We're on the road to paradise
Here we go, here we go." -Talking Heads
94. "I'm a racing car, passing by like Lady Godiva
I'm gonna go, go, go
There's no stopping me
I'm burnin' through the sky, yeah
Two hundred degrees
That's why they call me Mister Fahrenheit
I'm traveling at the speed of light
I wanna make a supersonic man out of you
Don't stop me now, I'm having such a good time." -Queen
95. "Ridin' along in my automobile
My baby beside me at the wheel
I stole a kiss at the turn of a mile
My curiosity runnin' wild
Crusin' and playin' the radio
With no particular place to go." -Chuck Berry
96. "Country roads, take me home
To the place I belong
West Virginia, mountain mama
Take me home, country roads." -John Denver
97. "One foot on the brake and one on the gas, hey
Well, there's too much traffic, I can't pass, no
So I tried my best illegal move
A big black and white come and crushed my groove again
Go on and write me up for 125
Post my face, wanted dead or alive
Take my license, all that jive
I can't drive 55″ – Sammy Hagar
98. "The sign in the window said for sale or trade
On the last remaining dinosaur Detroit made
Seven hundred dollars was a heck of a deal
For a four-hundred-horsepower jukebox on wheels
And that road rolls out like a welcome mat
I don't know where it goes, but it beats where we're at
We always said someday, somehow
We were gonna get away, gonna blow this town
What about now? How 'bout tonight?" – Lonestar
99. "I crack a window and feel the cool air cleanse my every pore
As I pour my poor heart out
To a radio song that's patient and willing to listen
My volume drowns it out
Yeah, but that's O.K. cause I sound better than him anyway, any day
Yeah, my voice is as sweet as salt
I search for comfort and I find it where I've found it many times before
Times before can be forgotten
My pile shakes as I hit eighty on the open road
This is an open road song" -Eve 6
100. "Everyday is a winding road
I get a little bit closer
Everyday is a faded sign
I get a little bit closer to feeling fine" -Sheryl Crow