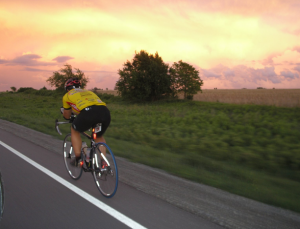 What makes a journey epic?  Is it the distance traveled?  The lessons learned?  Record setting feats?  Is it life changing?
This weekend I'll be embarking on an epic journey; a 3000 mile road trip from coast to coast across the United States.  But it pales in comparison to the individuals I'll be following, the cyclists competing in Race Across America.  I'll be driving along in a vehicle, while they'll be peddling the entire way on bike.  I'm looking forward to the inspirational stories of perseverance and triumph that I'll discover and share.  My job on the media team is to coordinate all the live streaming video for the 30th edition of this race.  We'll posting the live video updates on RaceAcrossAmerica.org.  Be sure to follow @TravelBlggr and @DrivenByPete to stay up-to-date on our location.  Also follow @RAAMraces for race information.
Want to root for a team?  There are over 250 racers from 15 different countries including Australia, Austria, Brazil, Bulgaria, Canada, Denmark, Germany, India, Ireland, Israel, Italy, Korea, Liechtenstein, New Zealand, Norway, Russia, Slovenia, Switzerland, United Kingdom, and the USA.  Find your country and choose a team to follow and cheer on.
Race Across America – Quick Facts!
Race Across America is 30% longer than Tour de France
This year is the 30th edition of the race.
It started 1982 when four cyclists raced from the Santa Monica Pier in LA to the Empire State Building in NYC.
Cyclists will race 250 to 300 miles a day … covering 3000 miles through 12 states across America.
I hope you follow along on Twitter to witness this epic journey!
-Rachelle