If you're looking for a place to enjoy the outdoors, escape the summer heat, and indulge in delicious foods, consider spending summer in Vail, Colorado. Typically thought of as a winter ski destination, Pete and I were pleasantly surprised with how many things there are to do in Vail in the summer.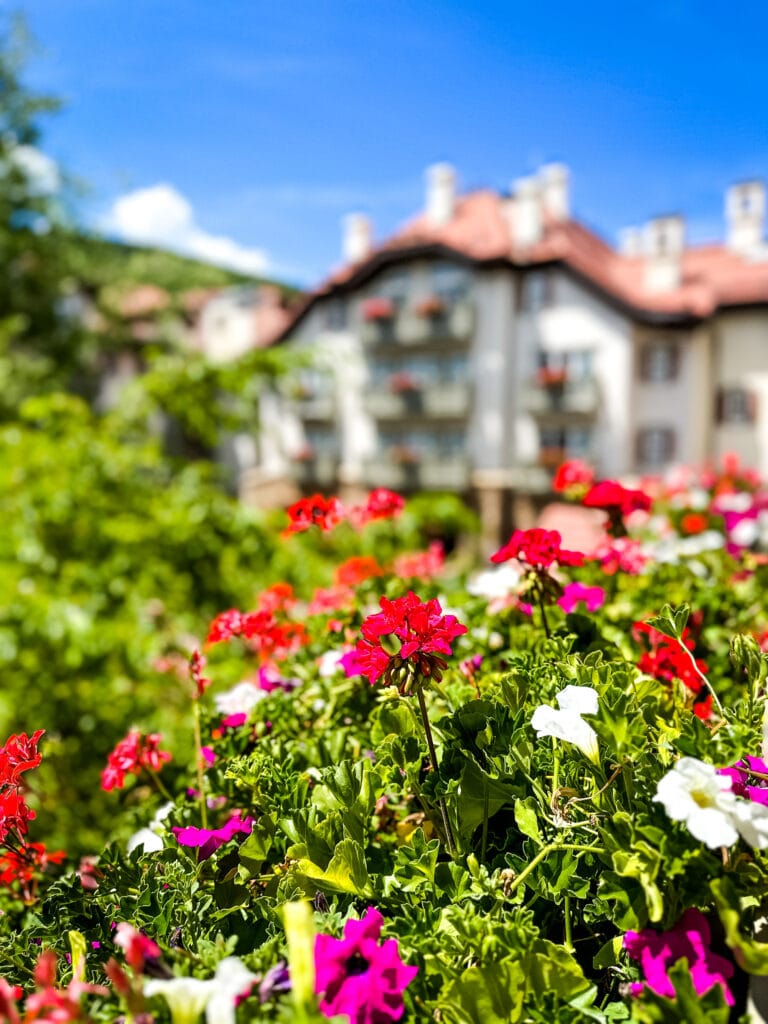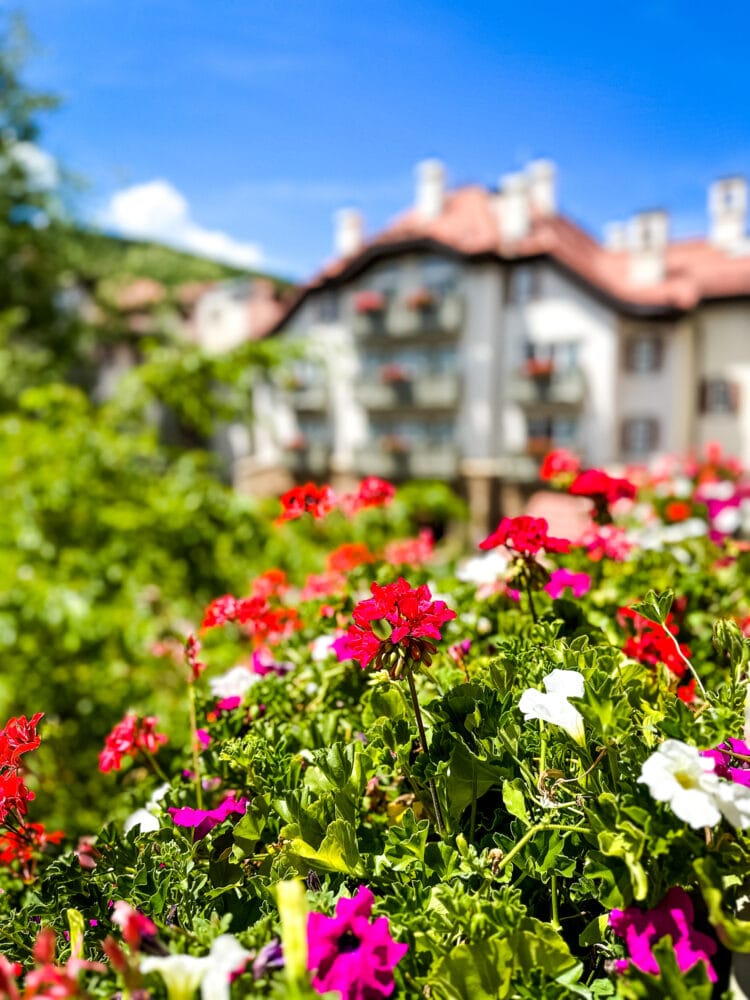 THINGS TO DO IN VAIL IN SUMMER
From hiking to waterfalls, having lunch with llamas, seeing free museums, and strolling through gorgeous alpine gardens, there are so many opportunities to enjoy the outdoors. Plus, the food scene is amazing. Have a scroll through our list of things to do and tips below to help you plan your next summer vacation in Vail.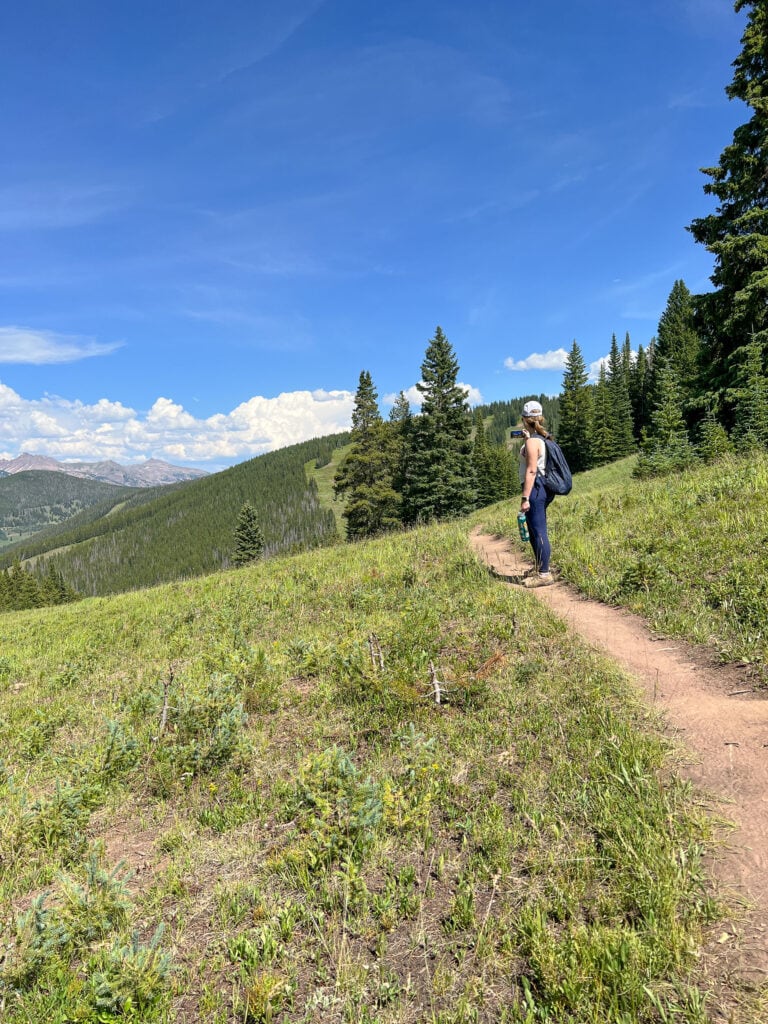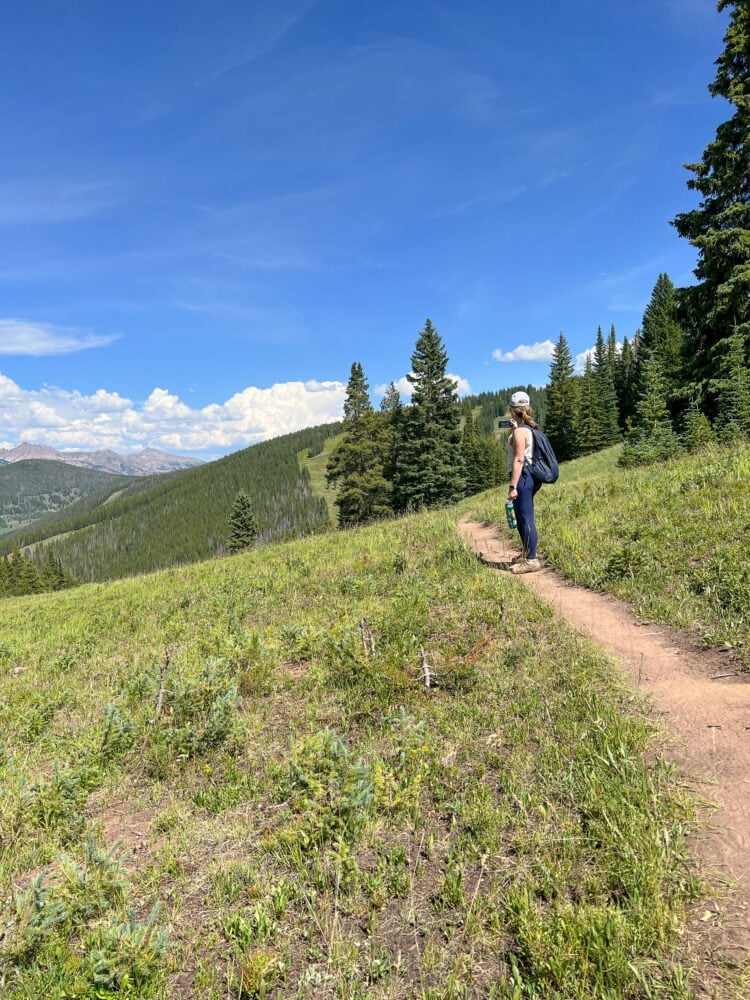 3 EASY SUMMER HIKES IN VAIL
When it comes to outdoor activities, you really can't beat the Rocky Mountains. Situated at 8,150 feet above sea level (11,000 feet at the top of the mountain), the gorgeous views seem endless. And thankfully there are hikes available for every skill level. Whether you want to spend a whole day trekking up a mountain on some advanced trails, or have an easy scenic walk in the woods, here are three easy summer hikes in Vail that we enjoyed.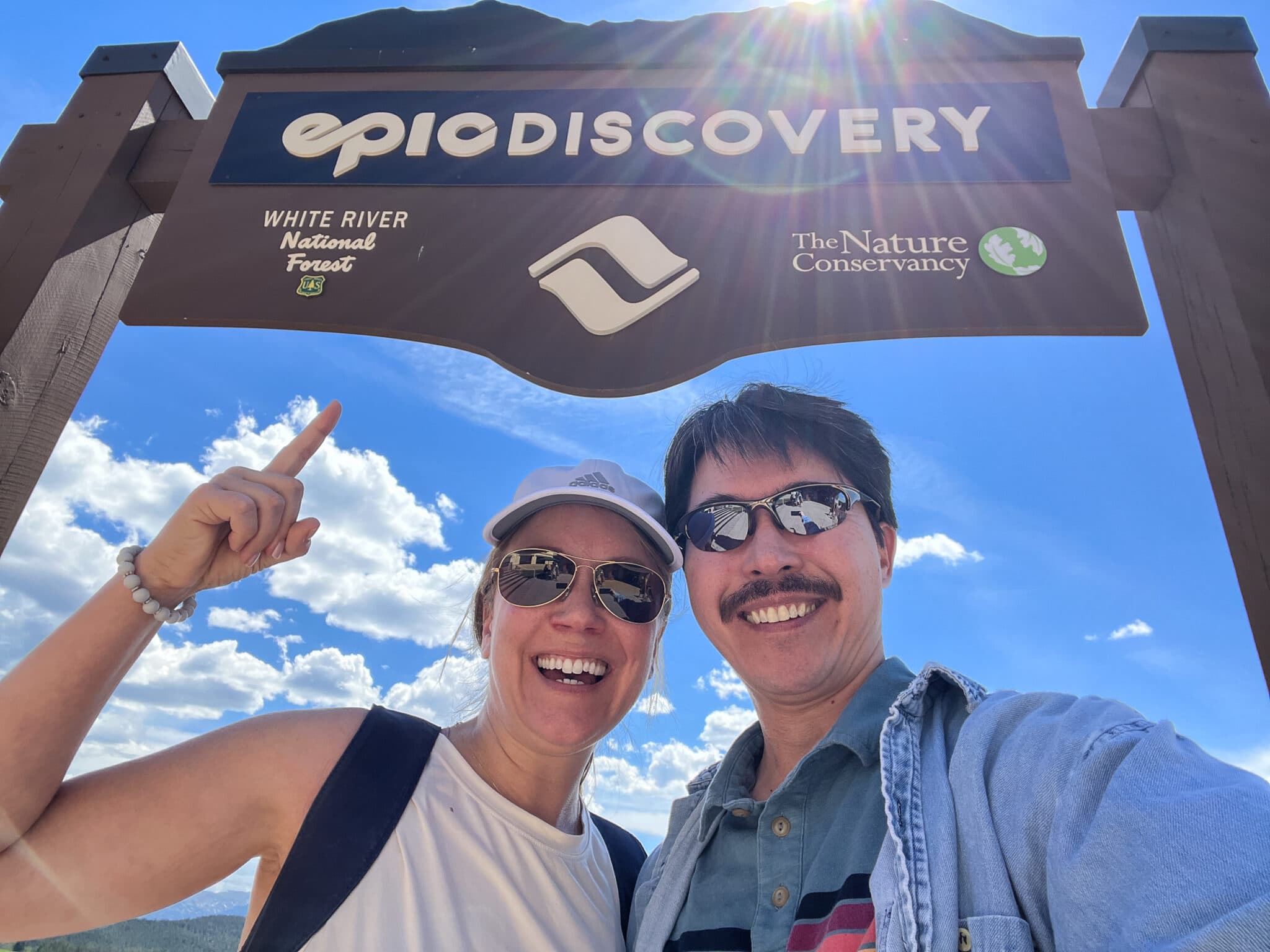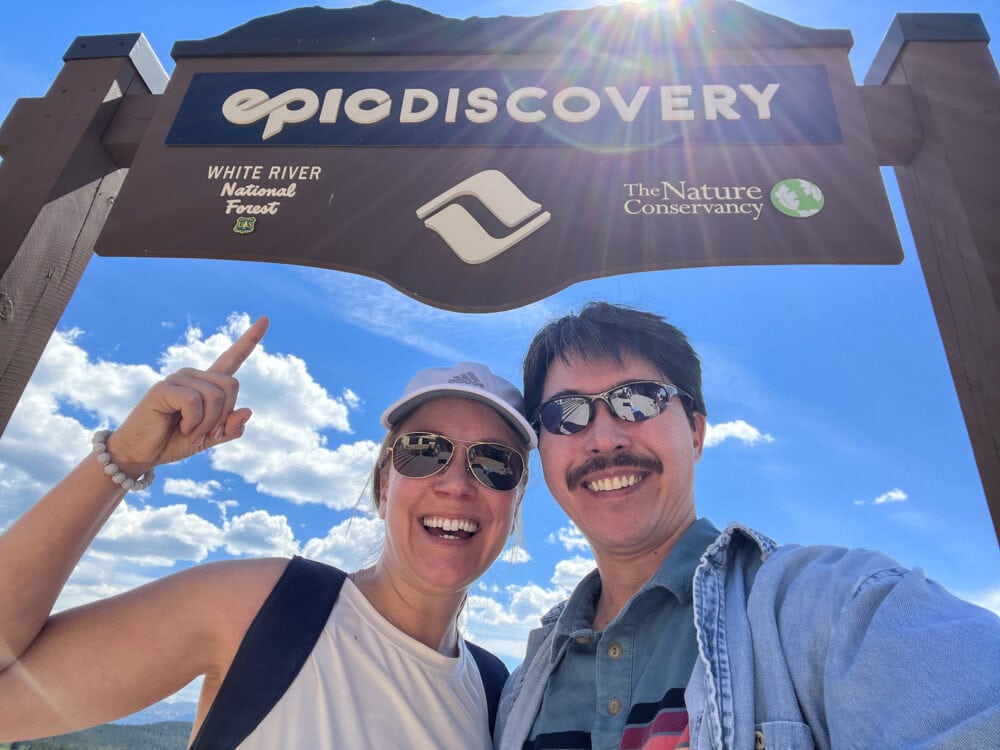 1 – Hike Gondola-to-Gondola On Vail Mountain
Flying into Vail from Florida, we felt the altitude a wee bit on our first day. Nothing a little hydration and fresh air couldn't fix. So we took it easy and rode the Eagle Bahn Gondola from Lion's Head up Vail Mountain. A the top, there are tons of adventurous activities including zip lining, tubing, and even a mountain coaster.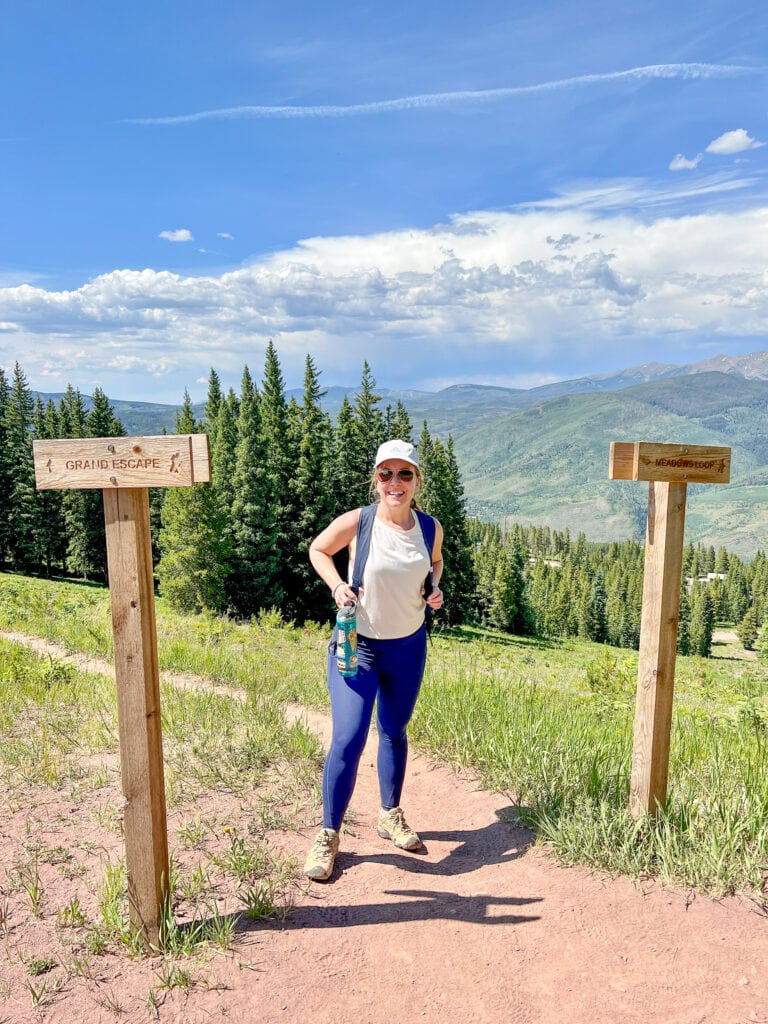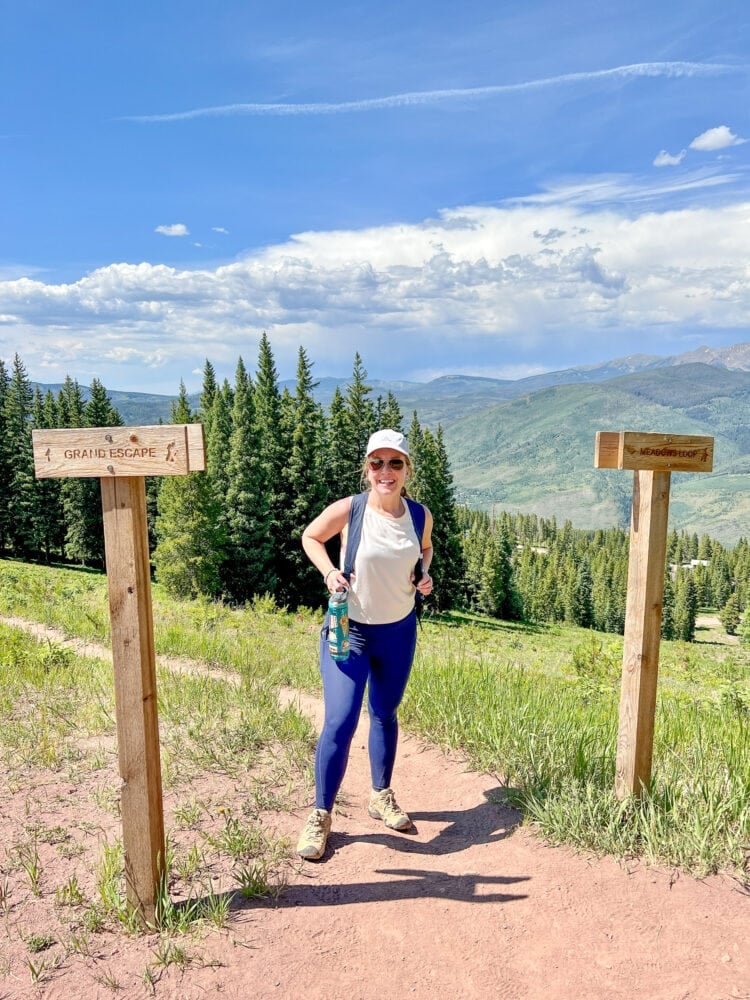 We grabbed lunch on top of the mountain at Talon's Deck Outdoor Grill, including a summer grilled peach and pancetta salad for me, and a hatch green chili cheeseburger with applewood smoked bacon for Pete. Just outside the restaurant, we wandered over to a great lookout point and observation deck with a map of the Sawatch Range that is pefect for grabbing a few photos.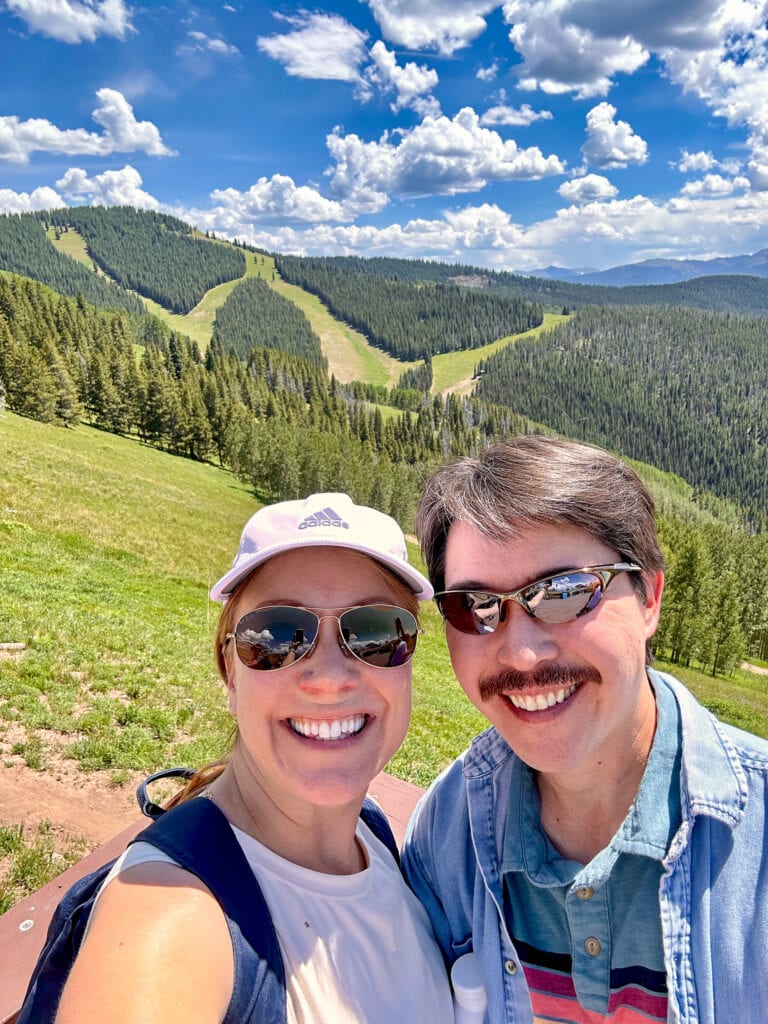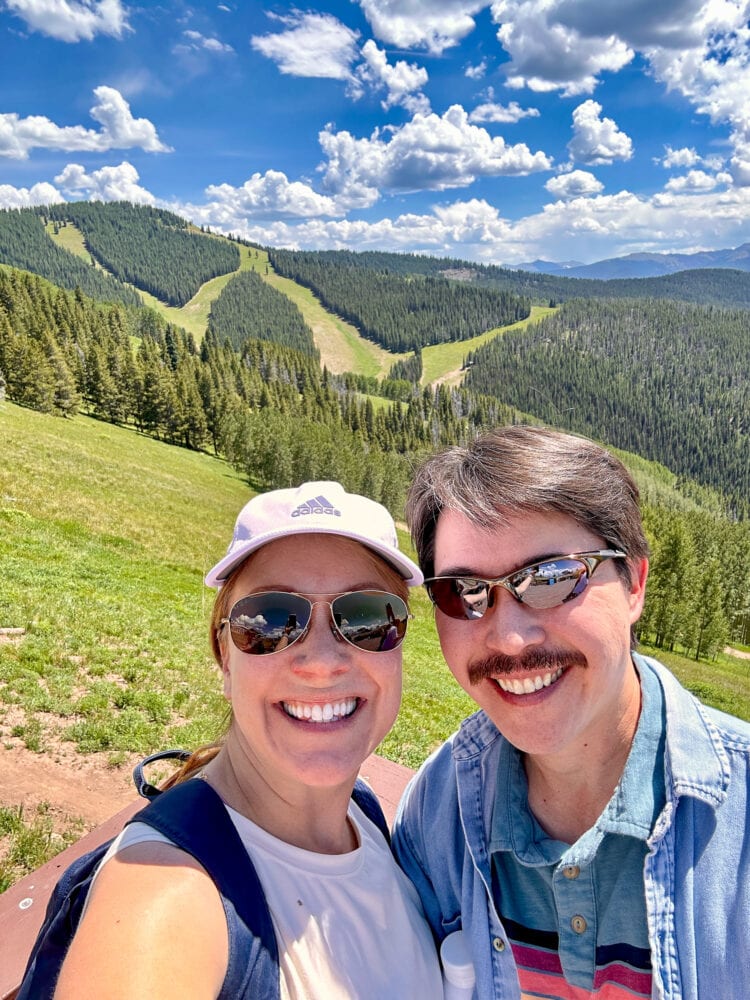 After speaking with a Vail Mountain guide, we took a map and ventured off on our first hike in Vail. We walked behind the restaurant and Discovery Center to a blue trail, Great Escape, and hiked that to a green trail called Meadow's Loop.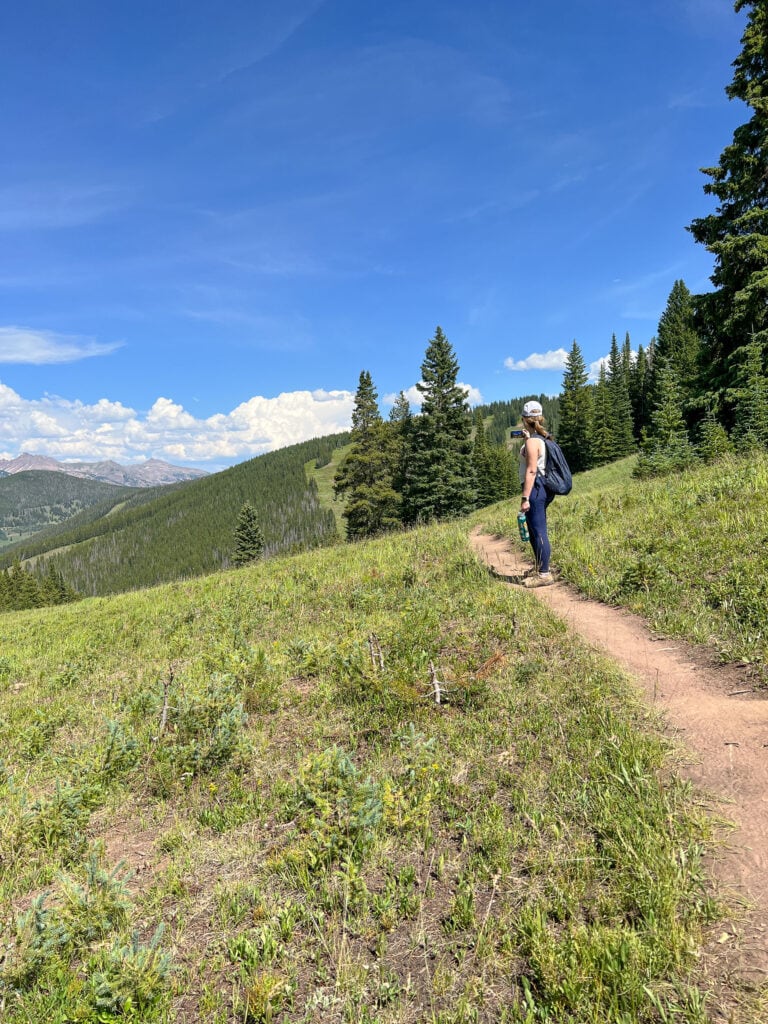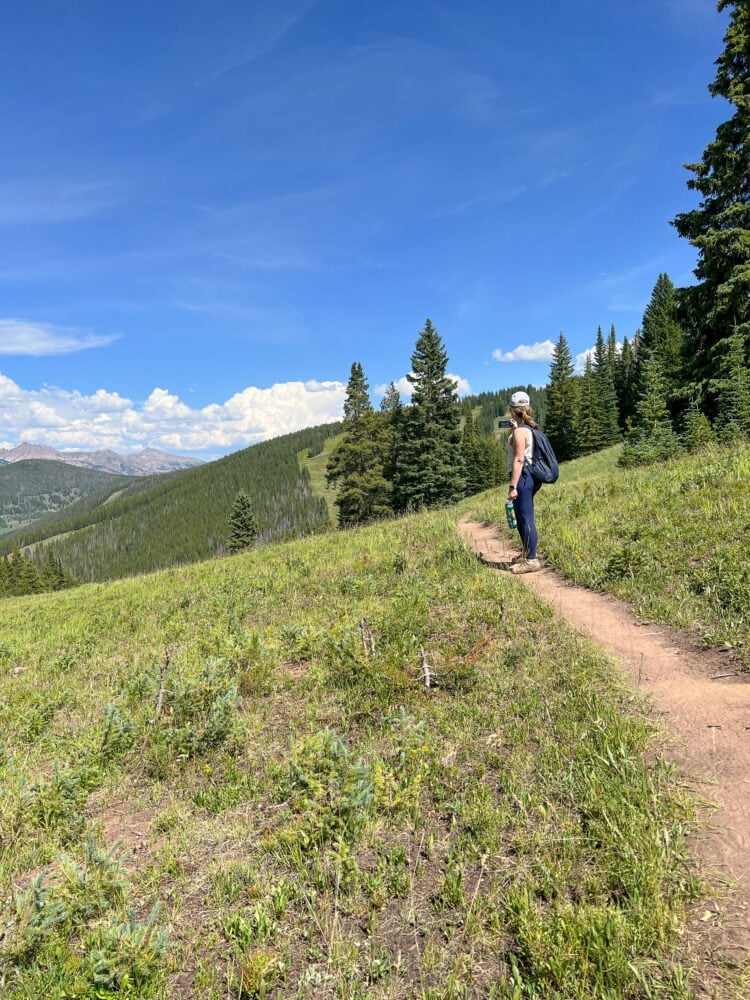 The hike was pretty easy flat terrain and wound through some shaded forests too. We even spotted a deer and gorgeous wildflowers on the way. The Meadow's Loop trail meanders down to Gondola 1, which we took back down to Vail Village. So essentially it is an easy hike from gondola to gondola. The views were gorgeous and overall the hike only took us about an hour (maybe a little longer since we stopped for photos).
In addition to the hiking and family activities, there are also plenty of mountain biking trails for all levels. Riding the gondola we saw a few families having a good time zig zagging down the mountain. I think next time we go to Vail Pete will definitely have to go mountain biking.
2 – Hike And Lunch At Piney River Ranch
Another hike we really enjoyed was at Piney River Ranch. Located just 12 miles outside Vail Village at the end of a bumpy forest service road, you'll find a private forty-acre nature retreat nestled in back country wilderness within the White River National Forest. You'll need a vehicle to get to this gorgeous spot, but the views are definitely worth the drive.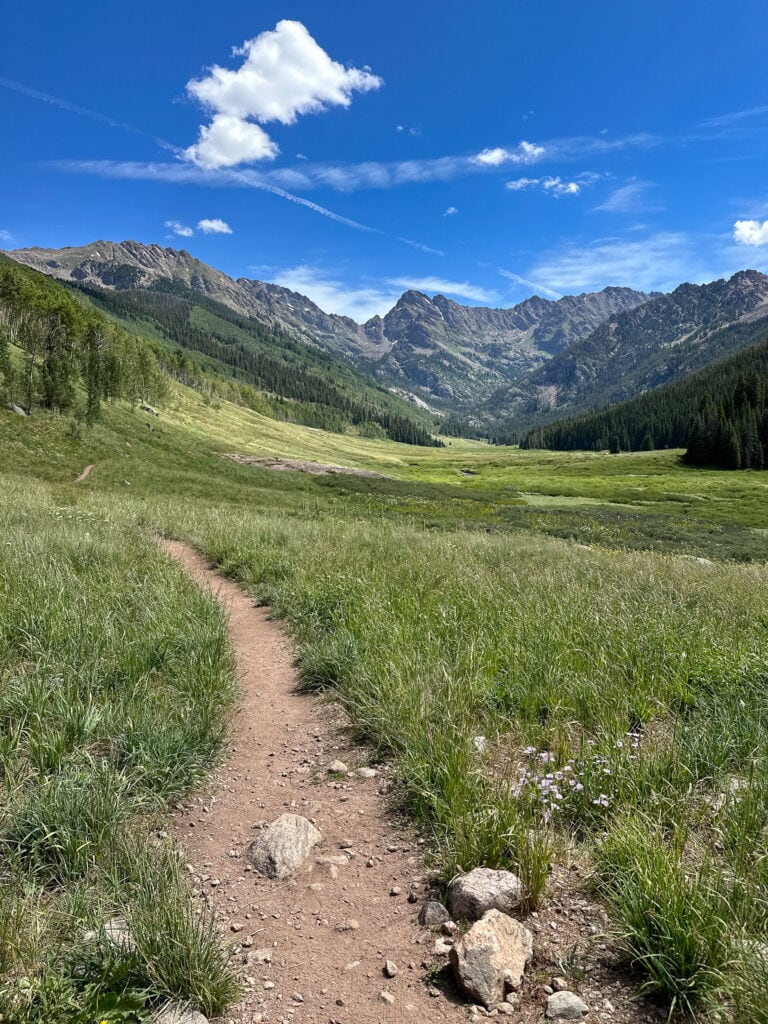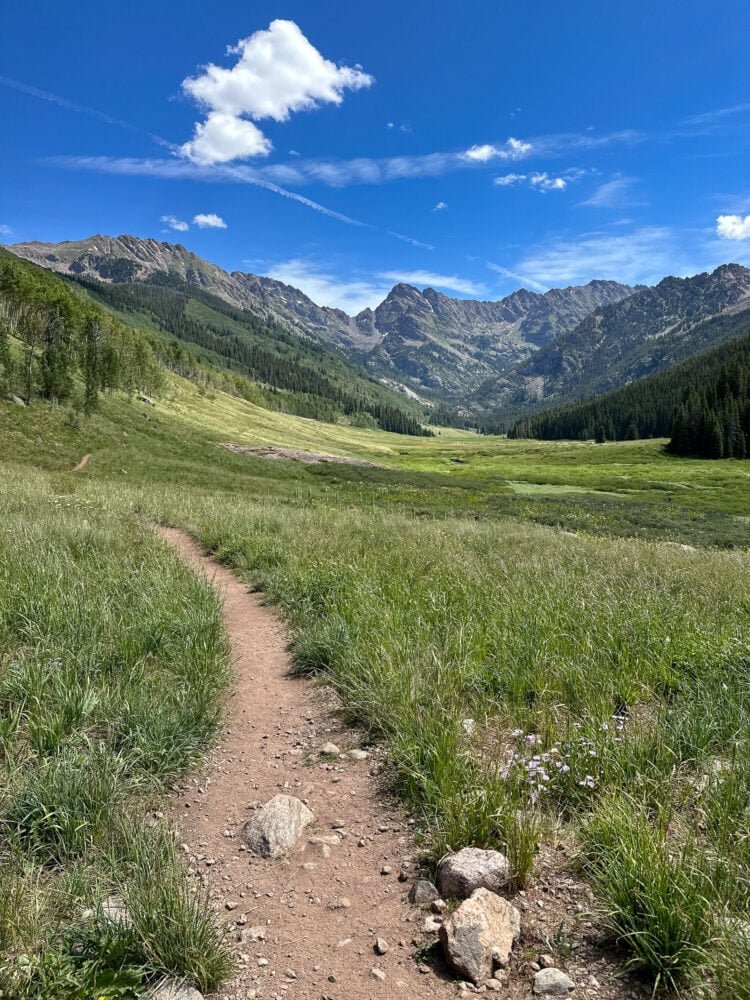 Around Piney Lake you'll find a restaurant, shop, and glamping tents. The trail winds around the left side of the lake and takes you along a wildflower meadow overlooking the Gore Mountain Range. There's a gradual incline up to an Aspen forest, and even a few small waterfalls too.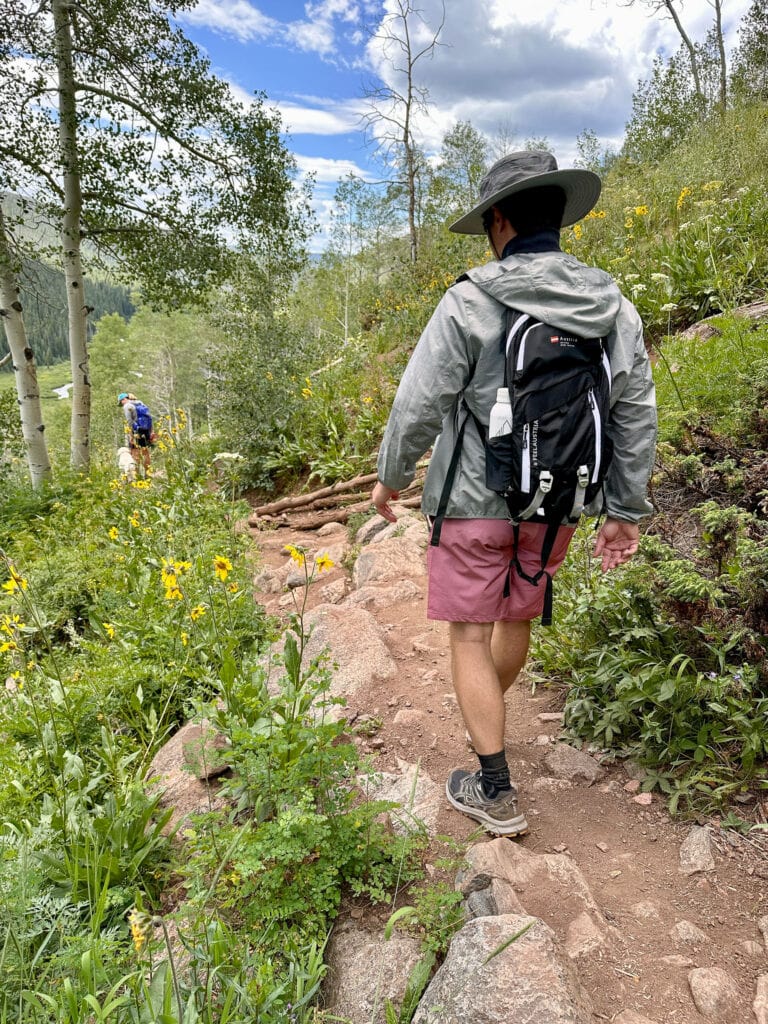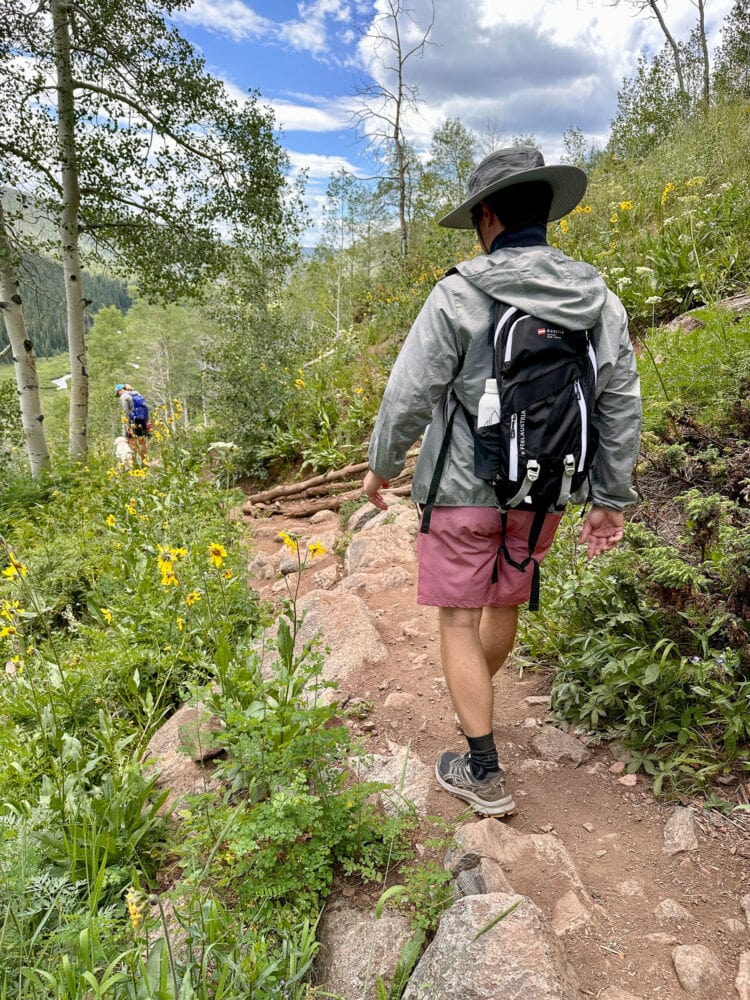 Back at the ranch there's a restaurant with amazing barbeque. Pete enjoyed the pulled pork sandwhich while I had one of my summer favorites, a BLT. Technically I think it was a club sandwich, but I was craving bacon and tomato after that hike! We also split a serving of fried pickles which were the perfect salty treat after a day of hiking.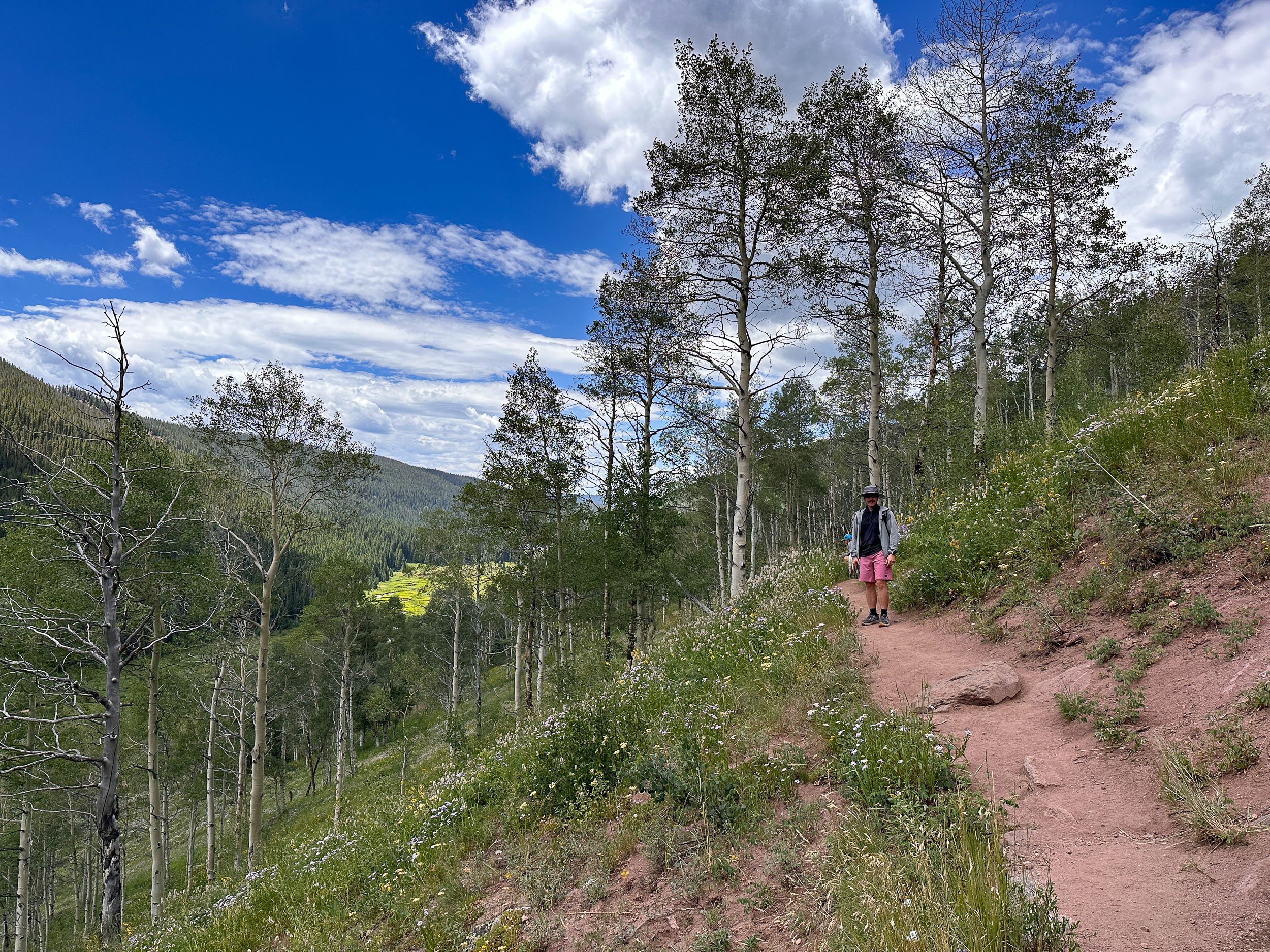 Piney Lake Ranch also offers canoeing and paddle boarding if you wanted to have a more relaxed day out on the water. Here's a tip, go on a weekday if you can as Piney River Ranch is popular (aka busy) on the weekends.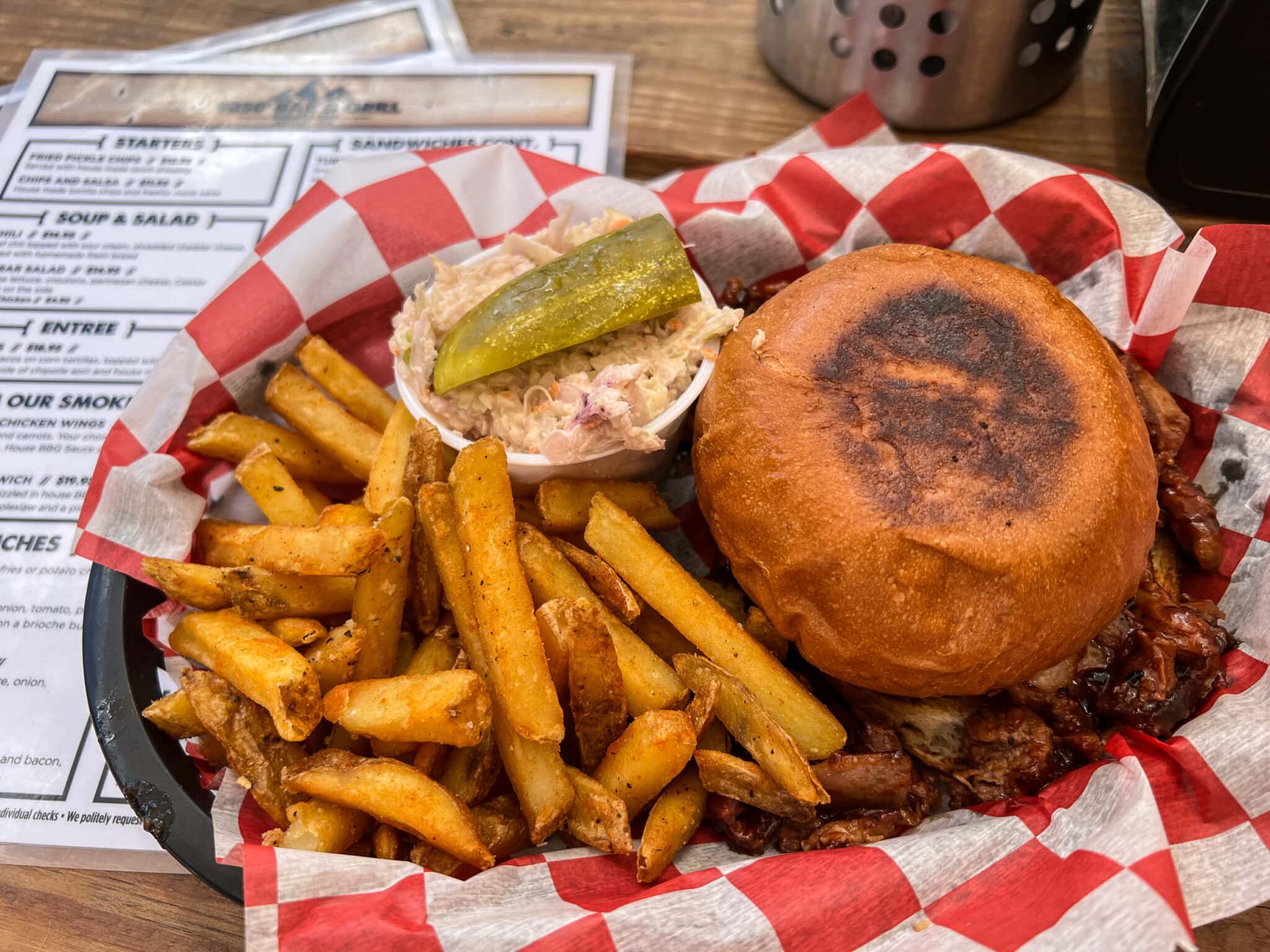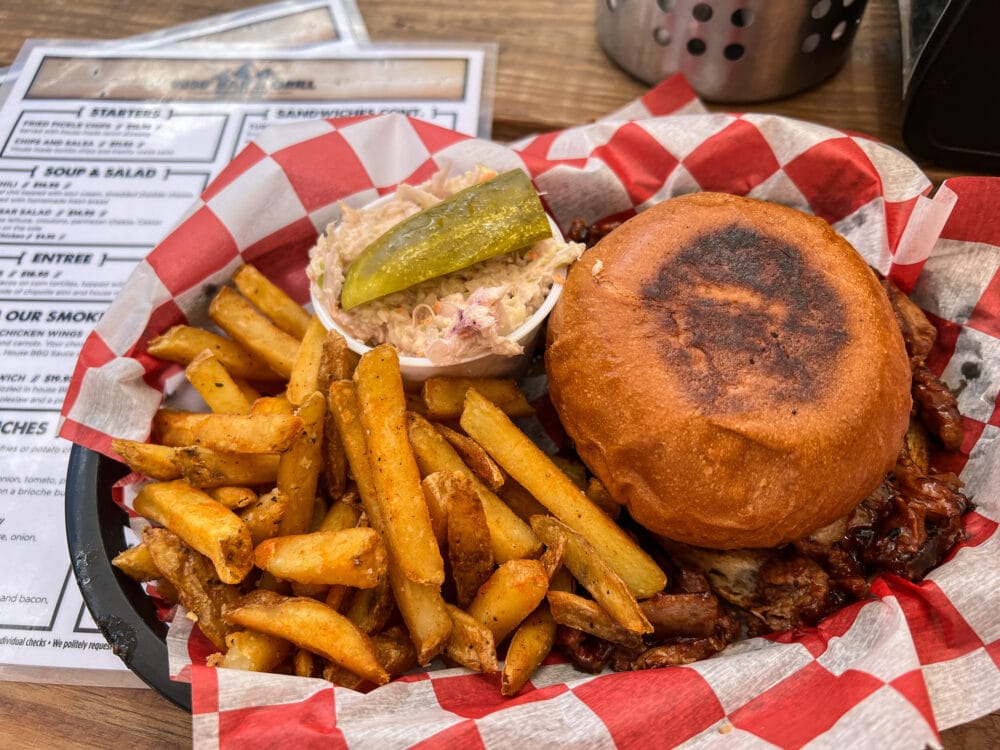 3 – Hike And Lunch With Llamas
One of our favorite experiences this summer in Vail was hiking and having lunch with llamas. Our host, Jim, with Paragon Guides picked us up at our hotel with the llamas in tow. They're so adorable it was like having a celebrity drive up to meet you, with anyone who happened to pass by stopping for a photo.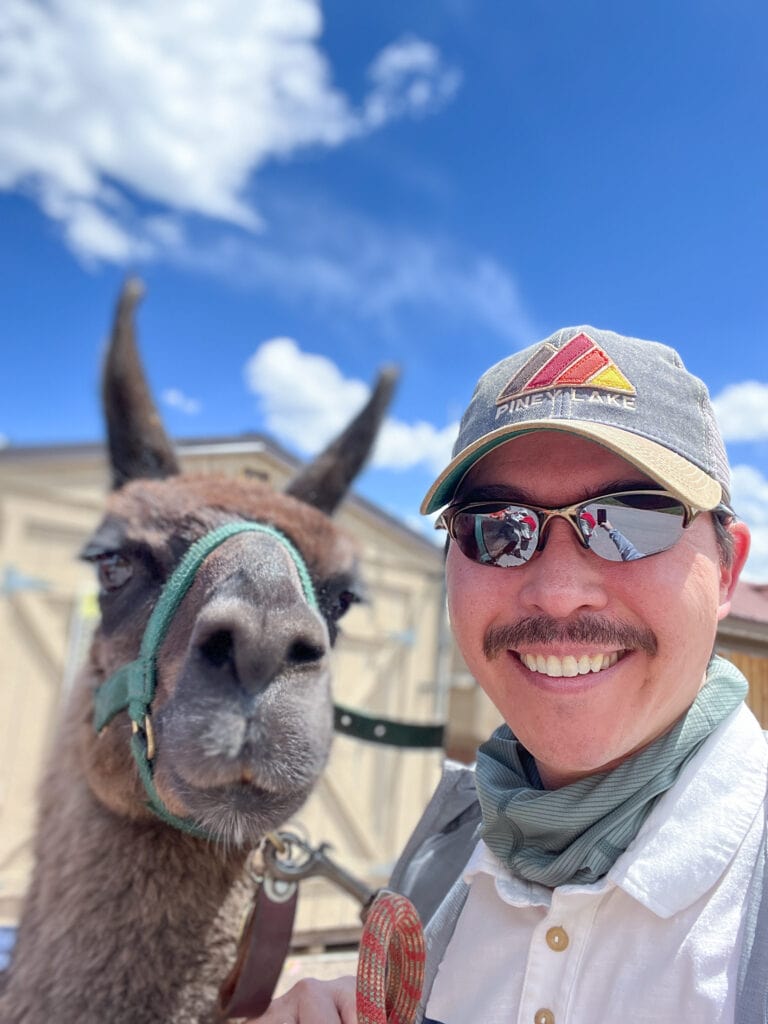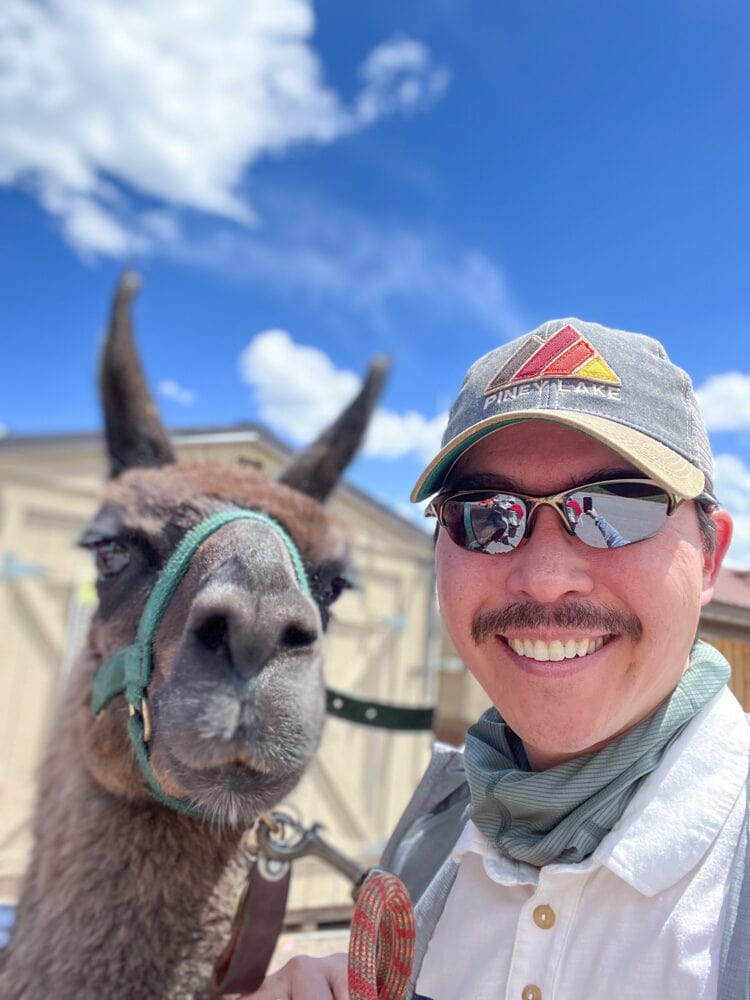 After meeting the llamas, Hombre and Doc Holiday, we took a short drive out to Vail Pass. And with a little llama care instruction, we were on our way up the mountain.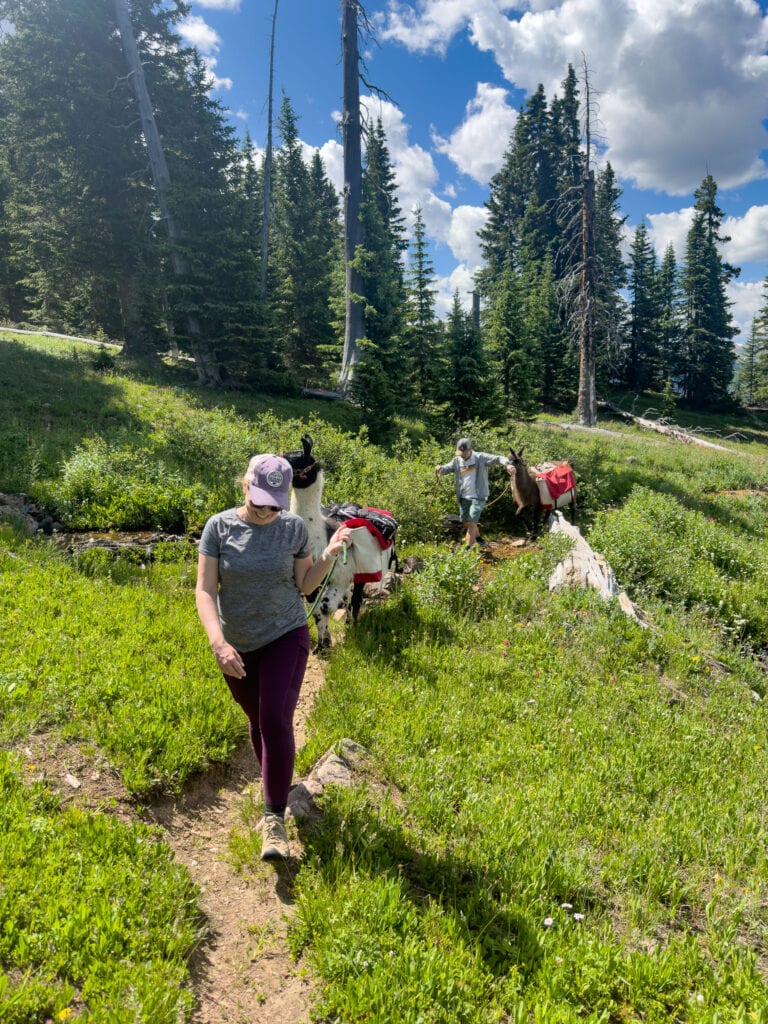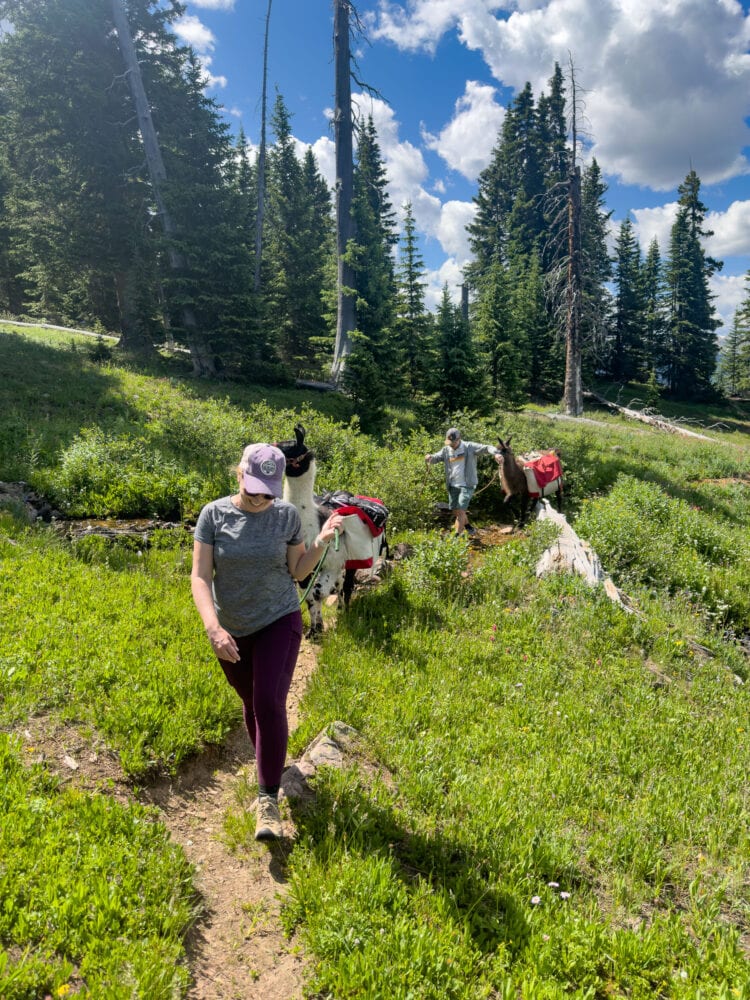 Llamas are really gentle natured and the hike was an easy pace. I have to confess, my phone is full of llama photos now. They're so photogenic and seem to smile and pose for the camera right over your shoulder.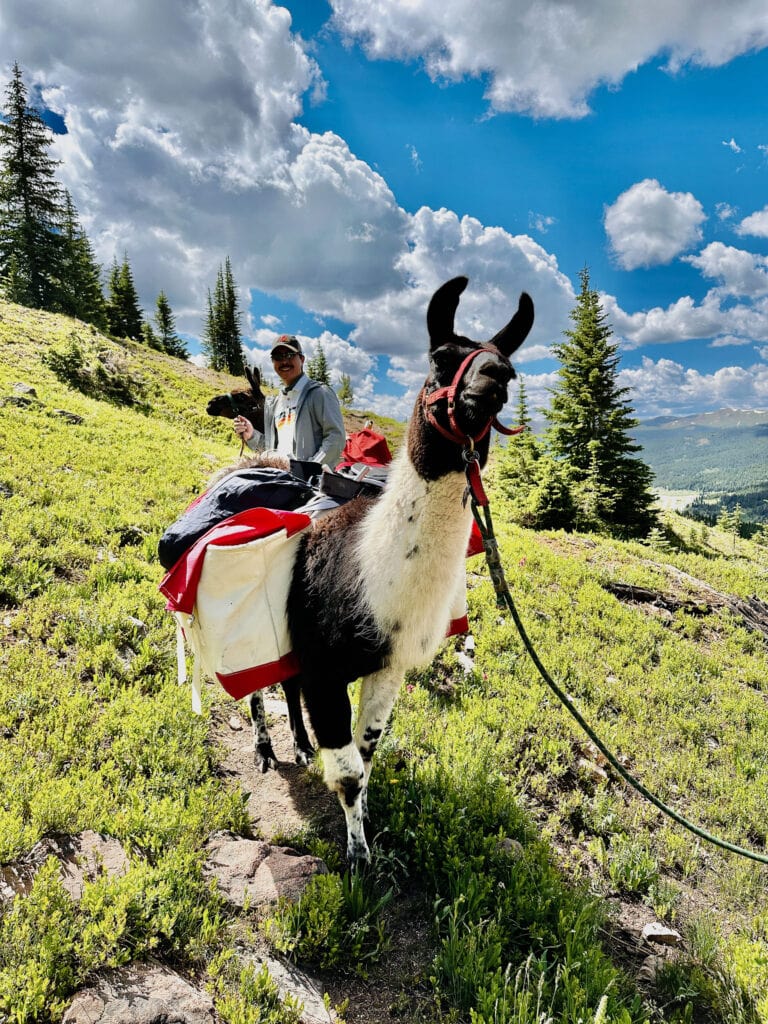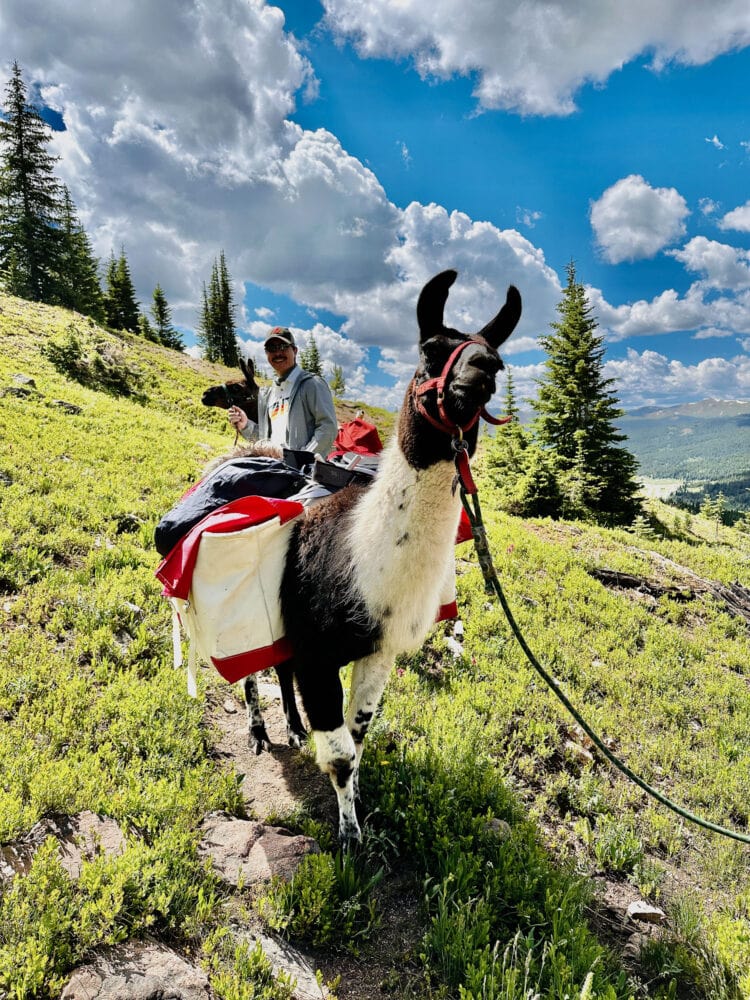 Paragon Guides owners Buck and Holly started hiking with llamas as a way to help carry their kids gear in the back country. And they soon learned llamas are great for packing a picnic too. The company grew and Holly even wrote a cookbook for hikers and outdoor lovers called "Red Checkered Picnics." So while the llamas are really fun and sweet to hike with, the picnic lunch at the top of the mountain was definitely worth the climb.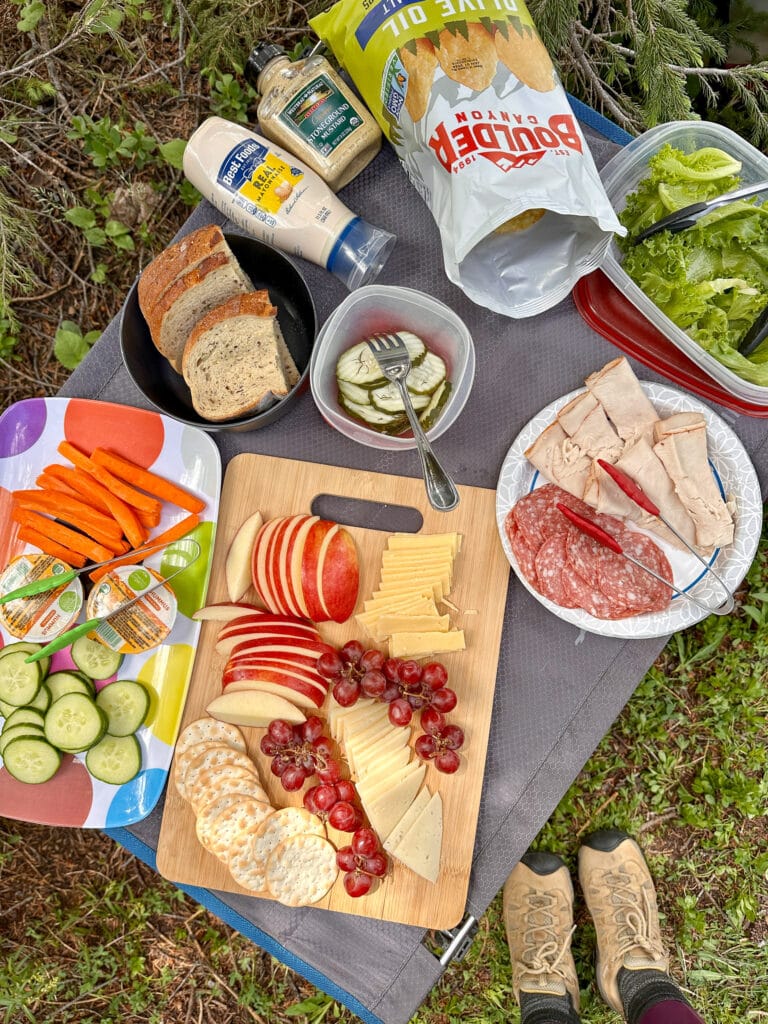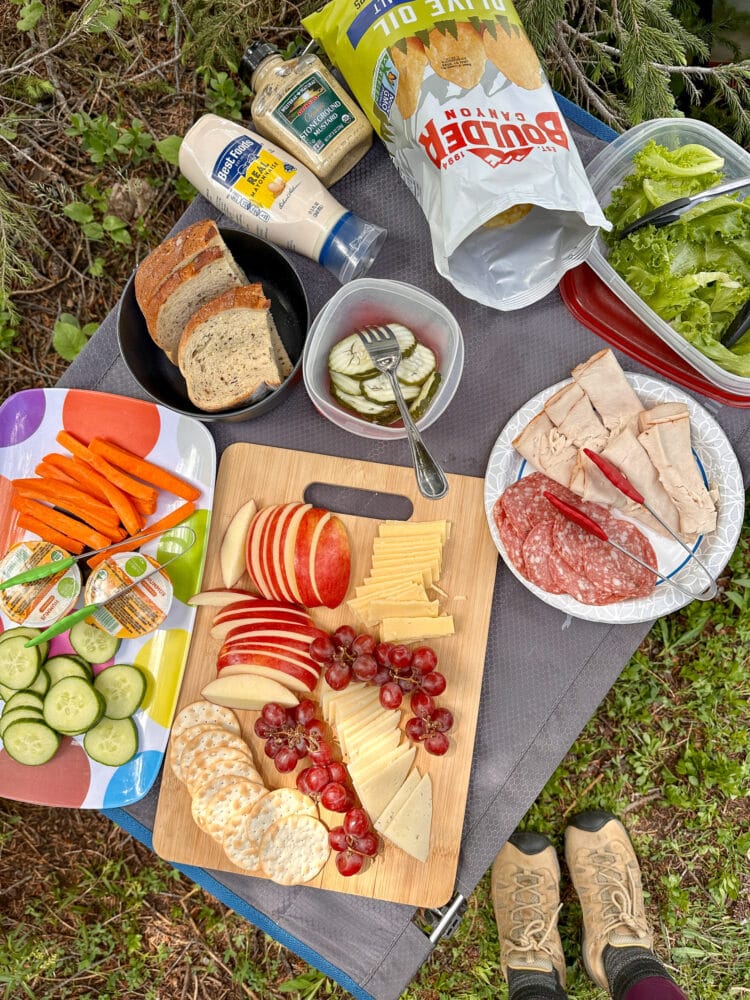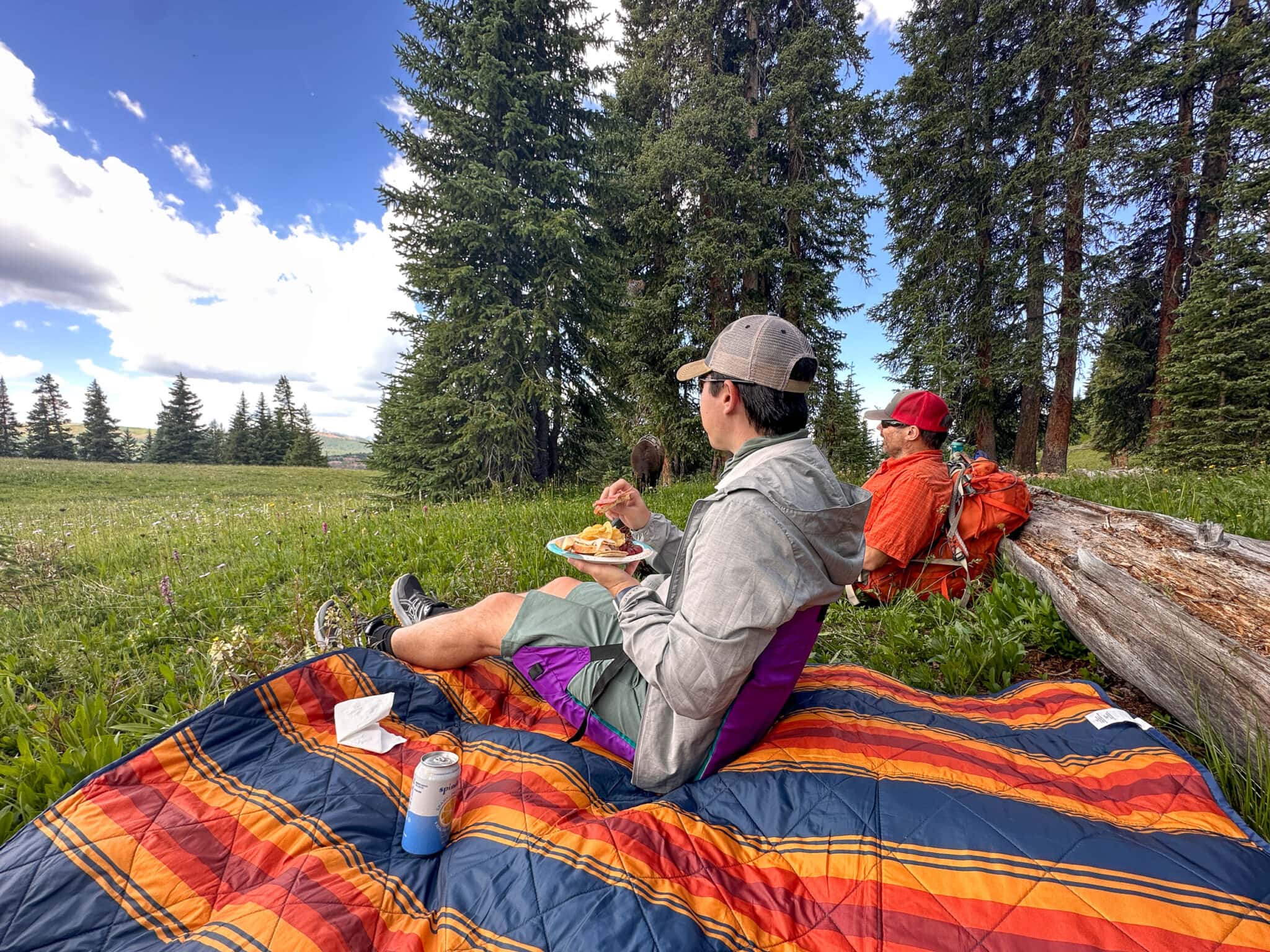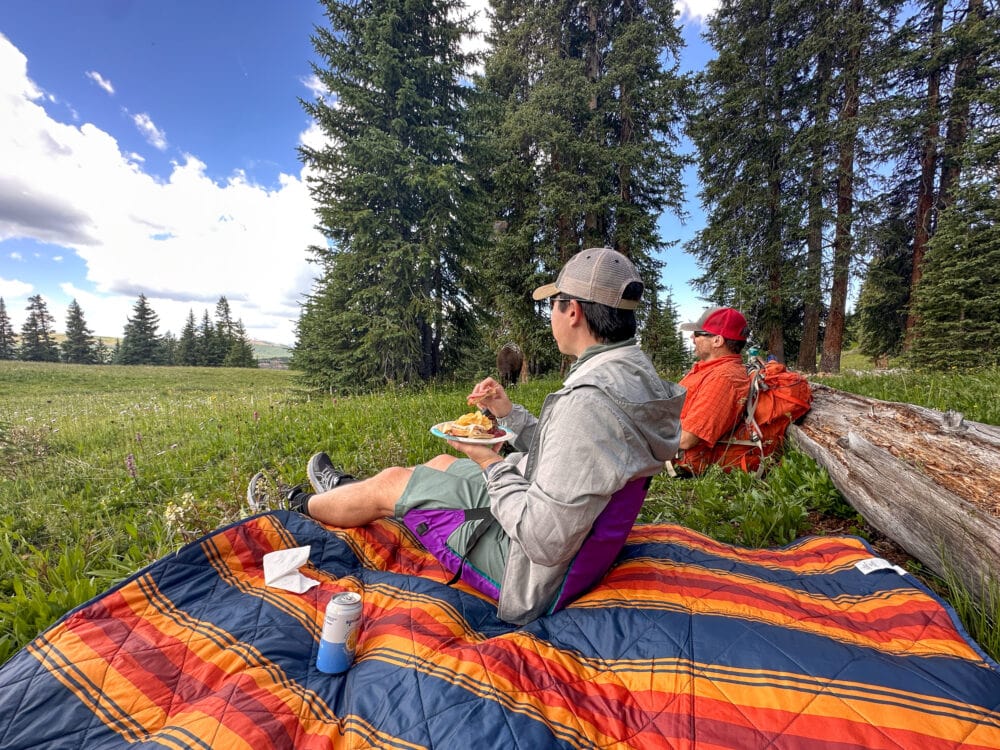 Lunch With A Llama hikes are available during summer in Vail, July 1st through September 30th.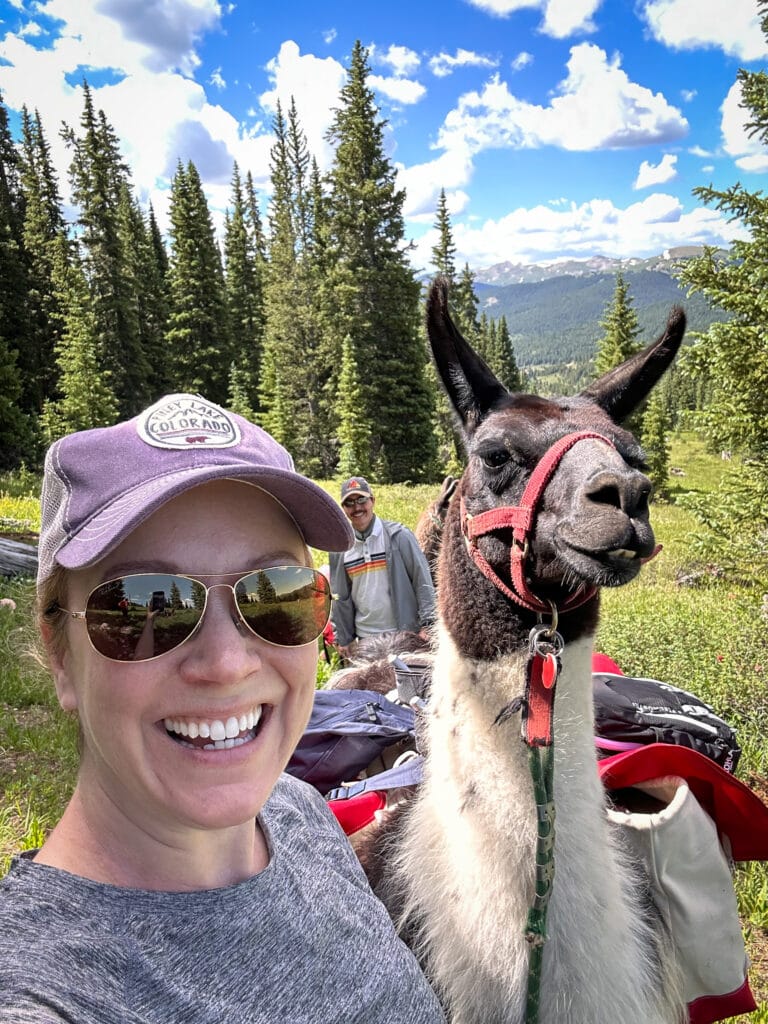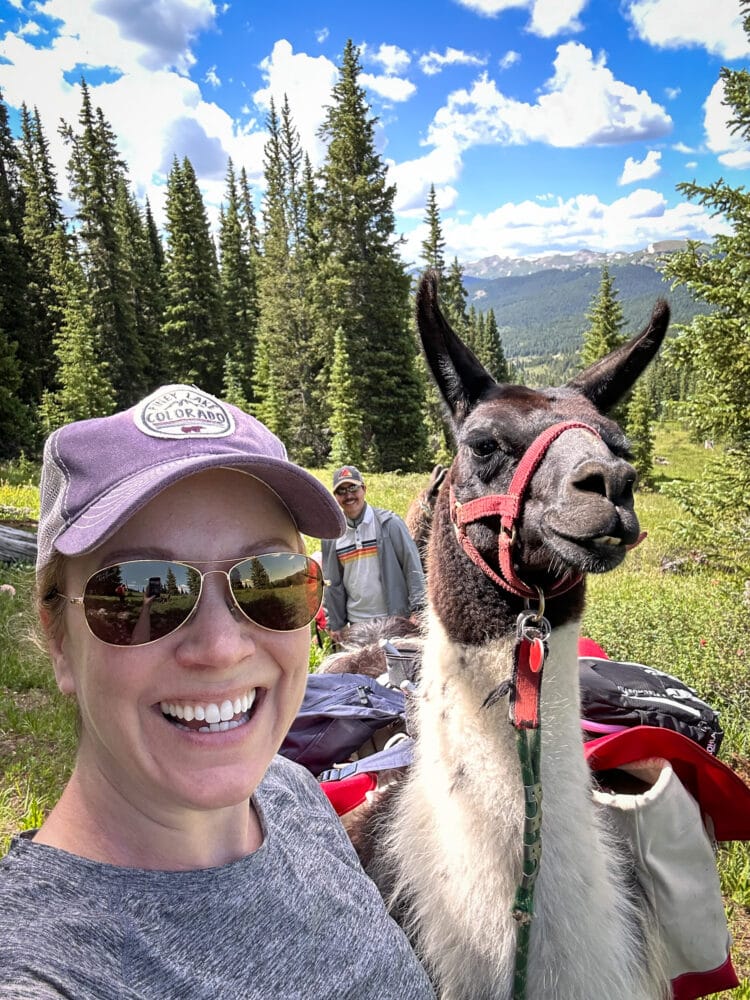 MORE FUN THINGS TO DO IN VAIL IN SUMMER
One thing I loved about visiting Vail in summer was it gave us an opportunity to slow down. Whether that was going for a stroll along the Vail Rec Path and listening to the sound of Gore Creek. Or admiring the flowers in the Betty Ford Alpine Gardens. We felt RELAXED. And that seems tough to achieve on vacation these days. Here's a list of some other fun activites we enjoyed in Vail.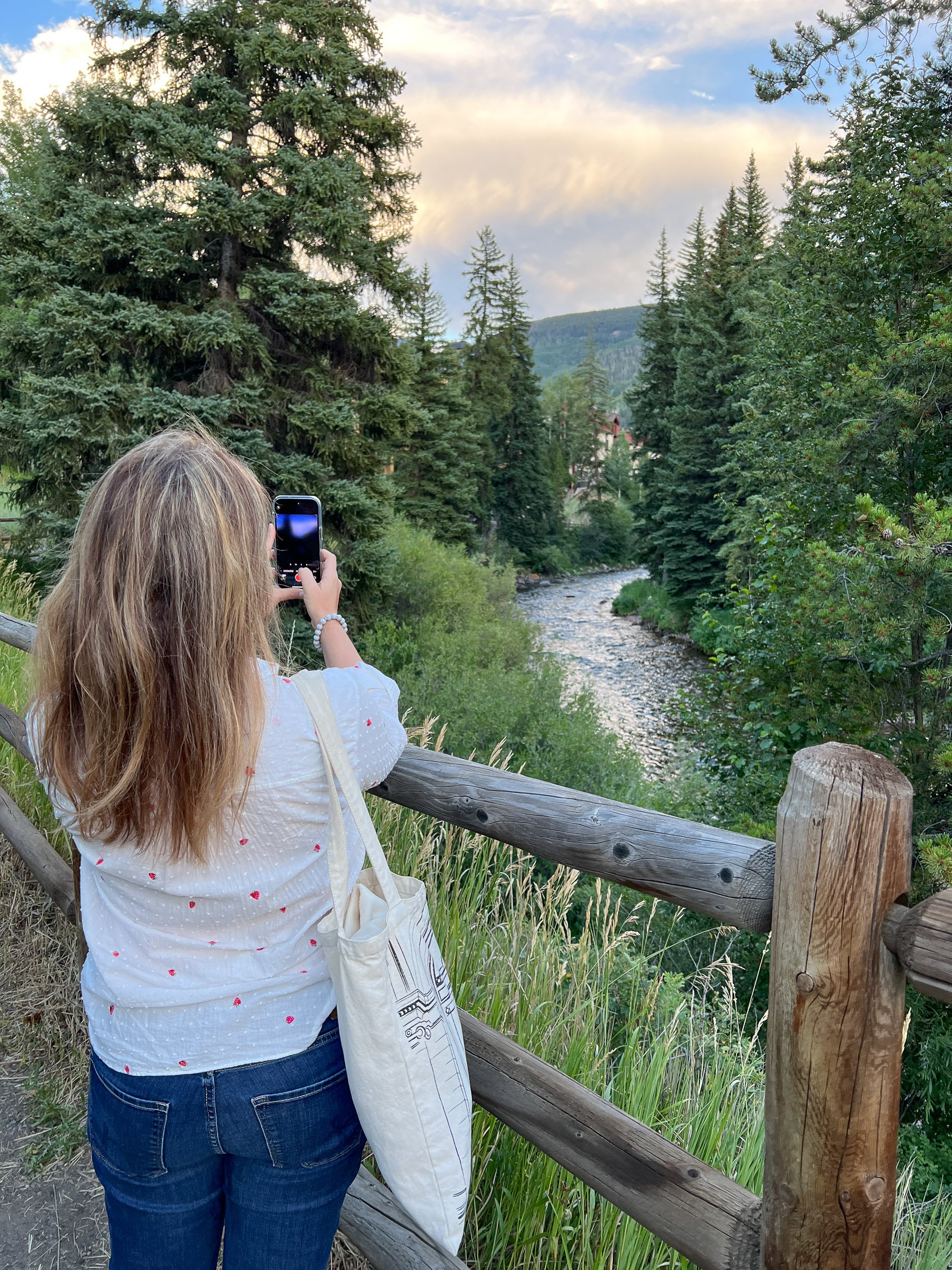 Vail Rec Path: Vail is really easy to get around as you can walk or bike along the Vail Rec Path. It includes about 1,100 acres of open space and stretches for 15 miles. It made it really fun to walk to dinner, shops, or even just a slow evening stroll. The sound of creek is really soothing and there's lots of things to do along the path, from grabbing an ice cream, shopping for souveniers, or just enjoying the scenery.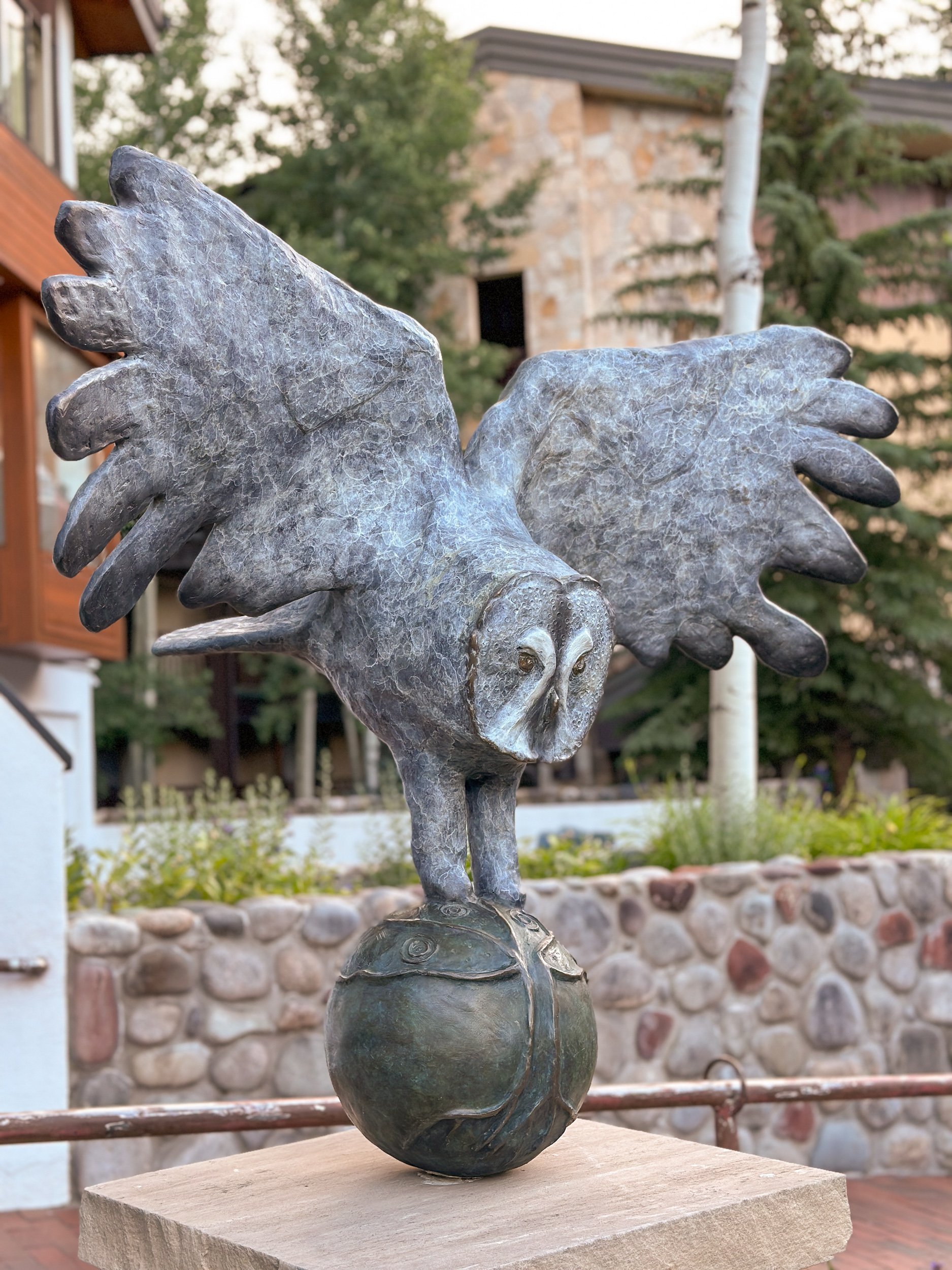 Betty Ford Alpine Gardens: Located along the Vail Rec Path you'll find one of the world's highest botanical gardens. We stumbled upon the gardens after dinner one evening. Being summer, it was still light enough outside to enjoy the colorful flowers and buzzing hummingbirds after hours. There is no required admission, but a donation is suggested.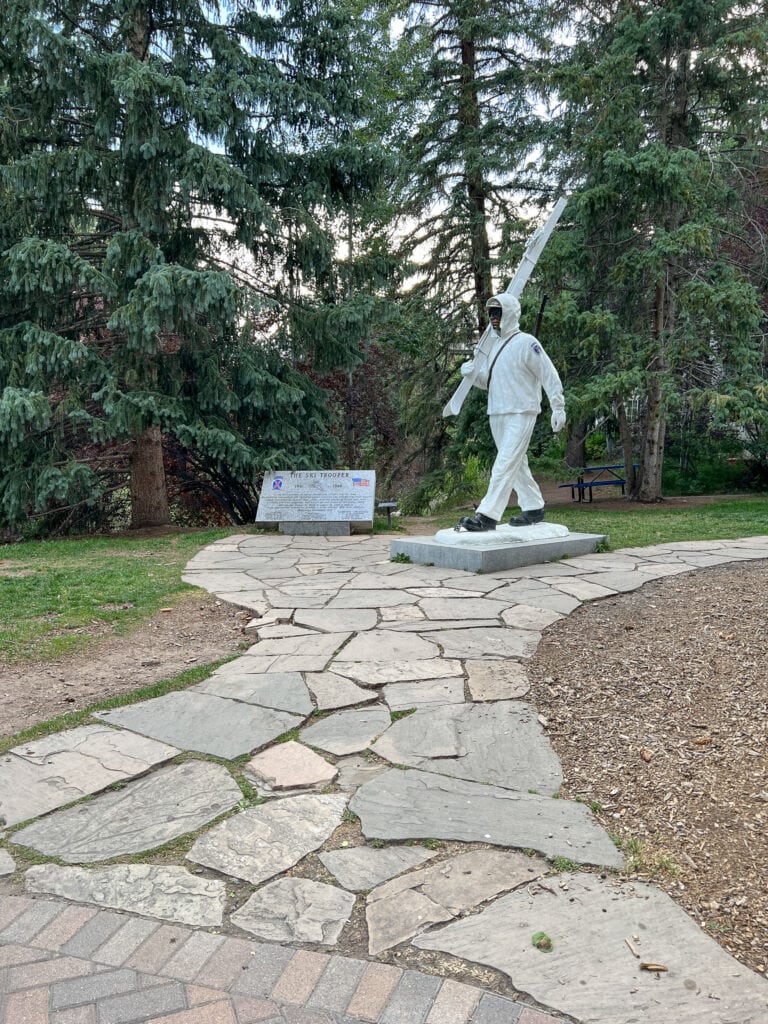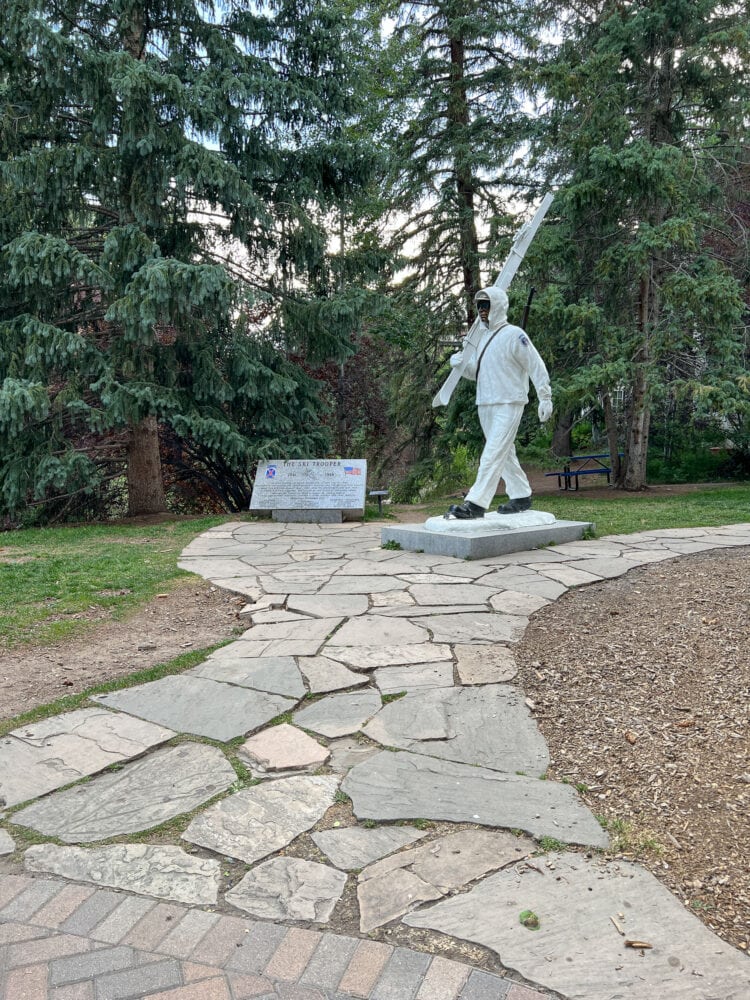 Colorado Snow Sports Museum: Did you know that during World War II, the U.S. Army's 10th Mountain Division trained for winter warfare in Vail? That is actually how the ski resort was established! You can learn about this and more at the museum and the best part is that it's FREE to enter. The museum also offers Vail history walking tours on Tuesdays and Thursdays for only $10 per person.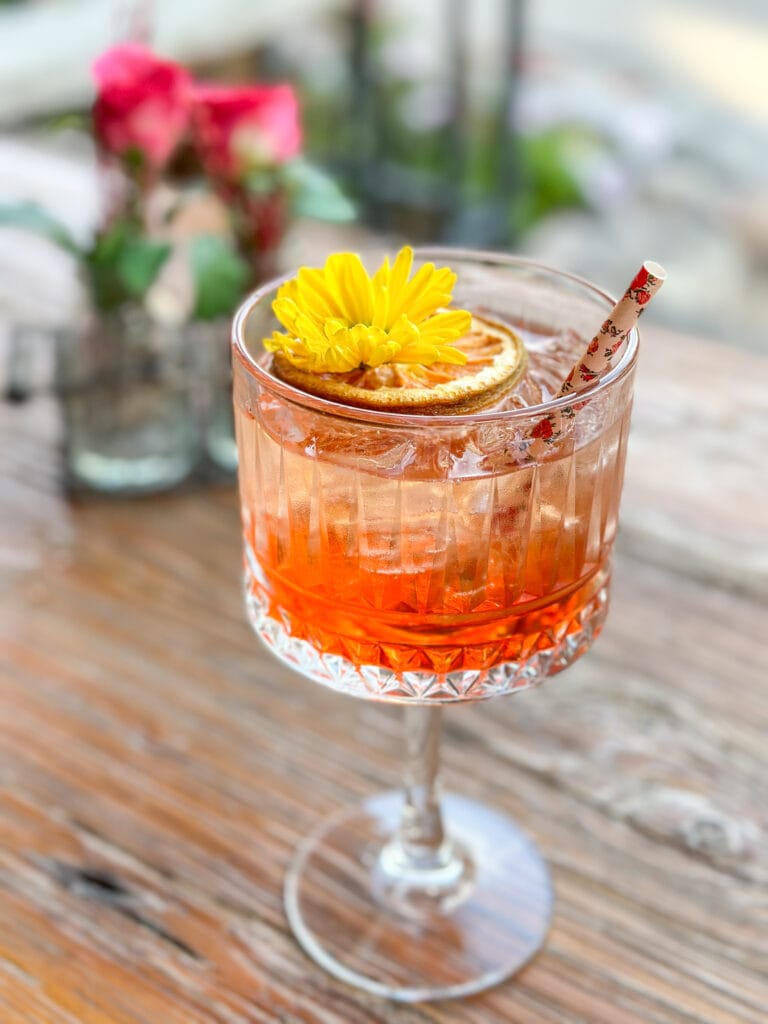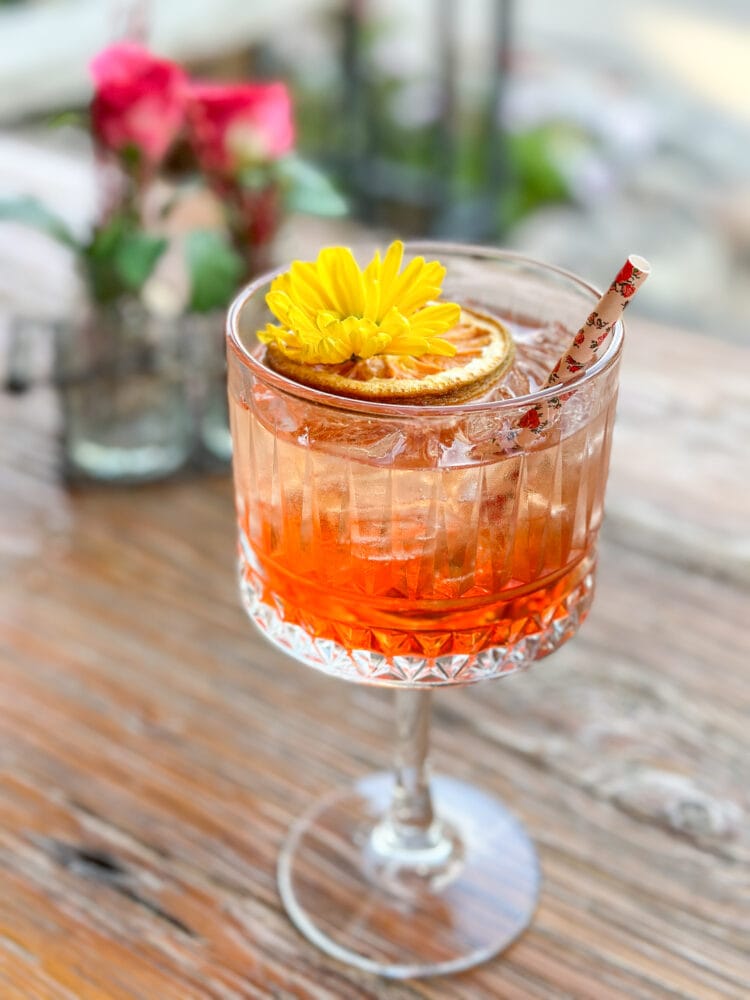 WHERE TO EAT IN VAIL
The options for places to eat in Vail seem endless. There are several ice cream shops to keep you cool, a general store to stock up on trail mix, and plenty of delicious options for dinner. Here's what we recommend!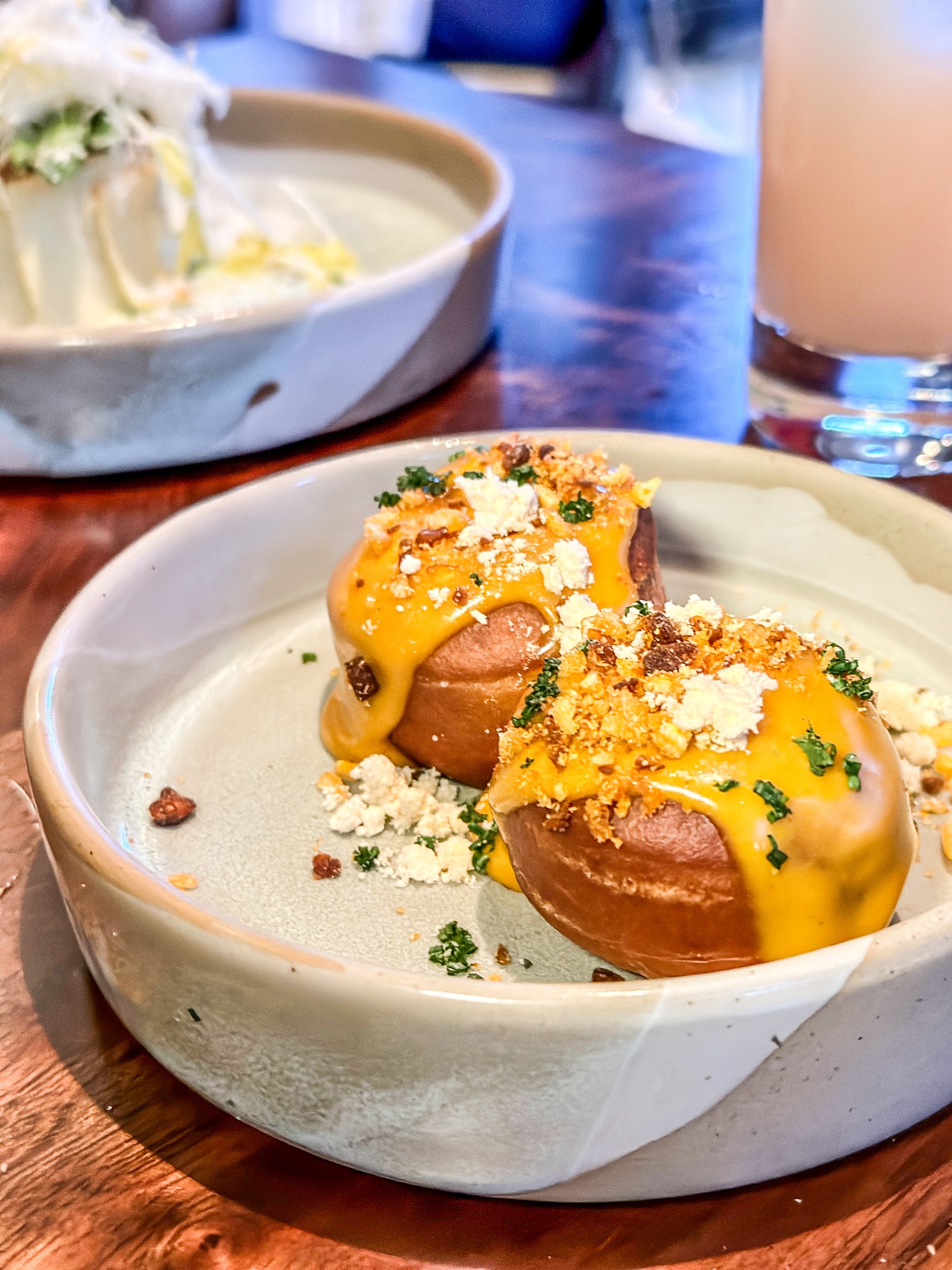 Sweet Basil: On our first night in Vail we enjoyed an elegant evening at Sweet Basil. We started with sharable plates of chorizo and corn donuts, English pea lasagna, and whipped feta dip. For dinner, I ordred the Colorado Lamb "Kafta" with
san marzano matbucha, marinated eggplant, and goat cheese. The lamb was some of the best I've ever tasted and was truly melt-in-your-mouth fork tender!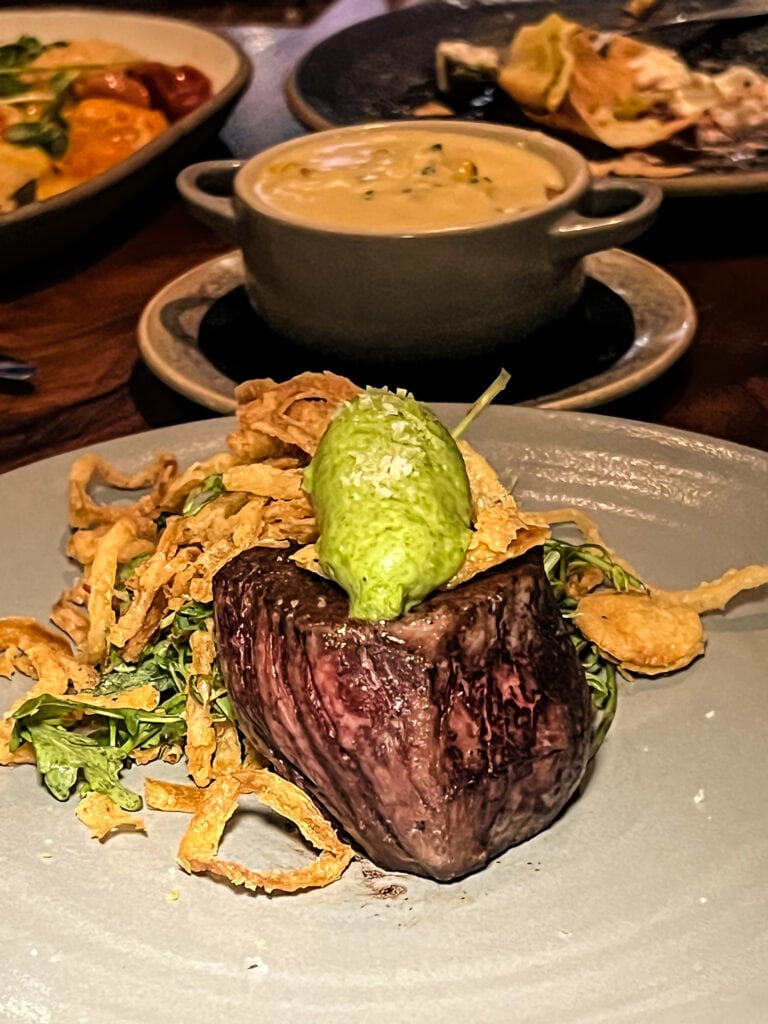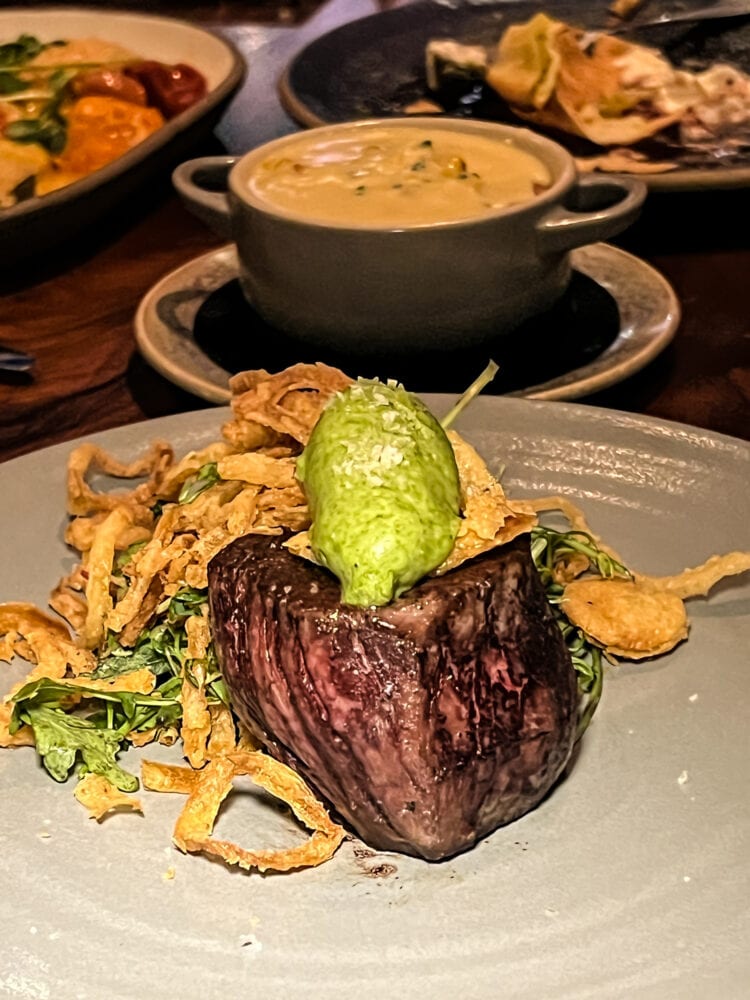 Pete ordred the Colorado Angus Tenderloin with cowboy onions, herb butter, and a corn souffle that is to die for. I'm thankful he shared it with me! The whole menu at Sweet Basil is superb. Definitely make reservations for dinner as it is a trendy spot.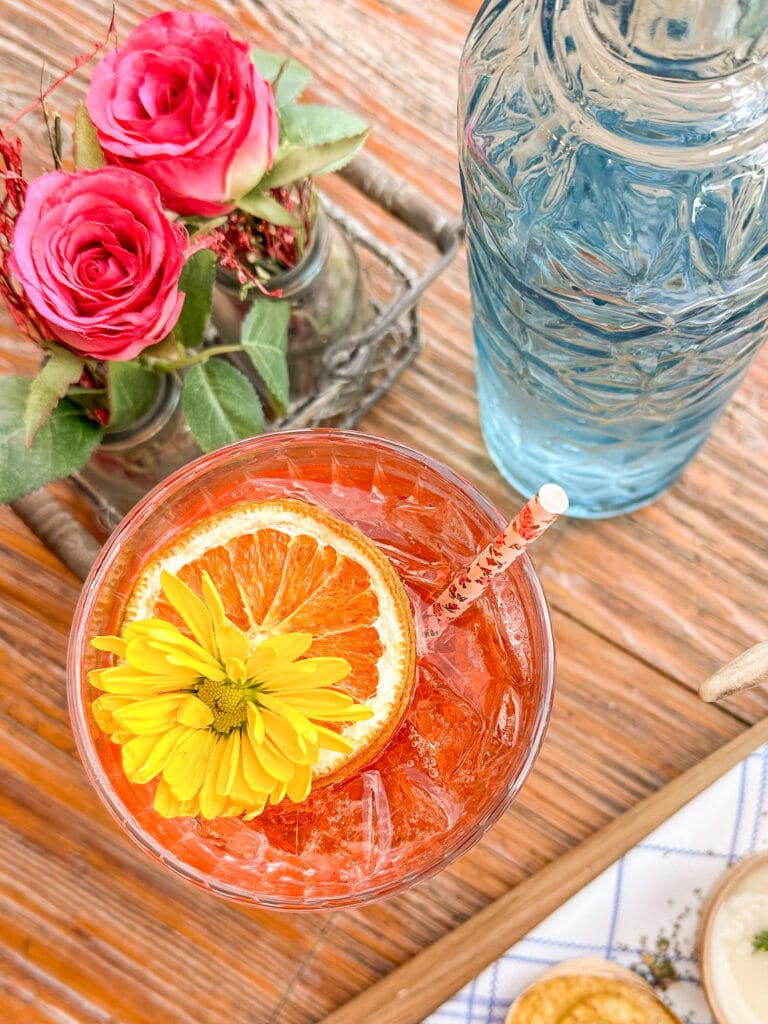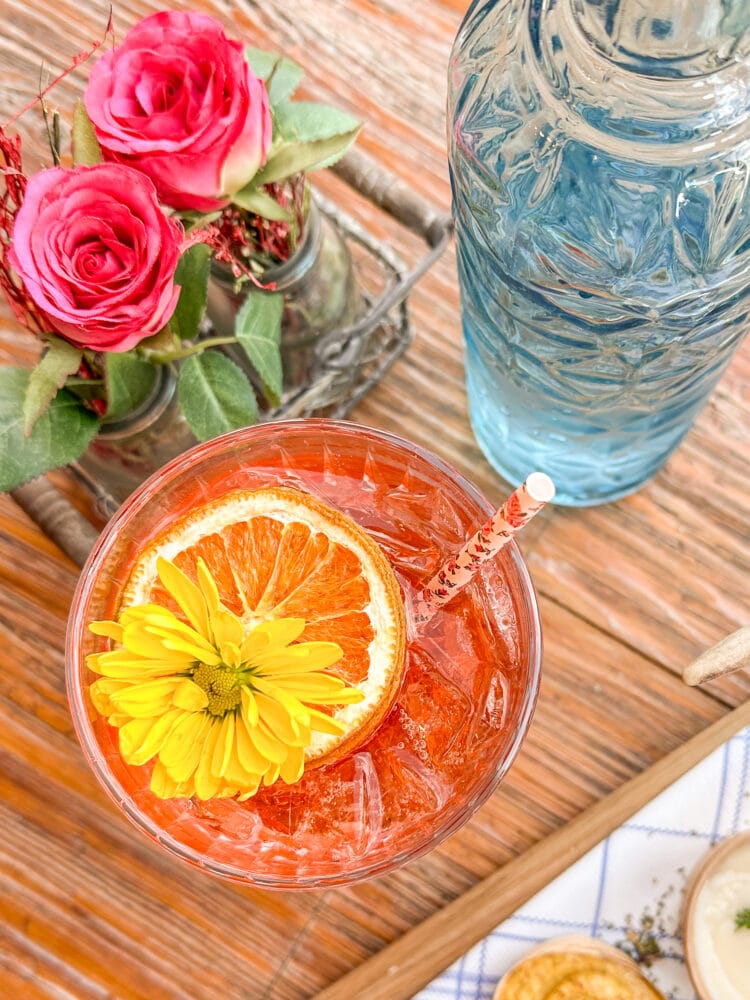 Alpenrose: Pete and I enjoyed a fun relaxed evening at Alpenrose, dining outside on their patio which was a great spot for watching the world go by as we enjoyed dinner. The menu here is Alpine European inspired, similar to what you'd find in Germany or Switzerland. The atmosphere is cozy and food the presentation is simply beautiful. You can't help but want to take a picture of everyting.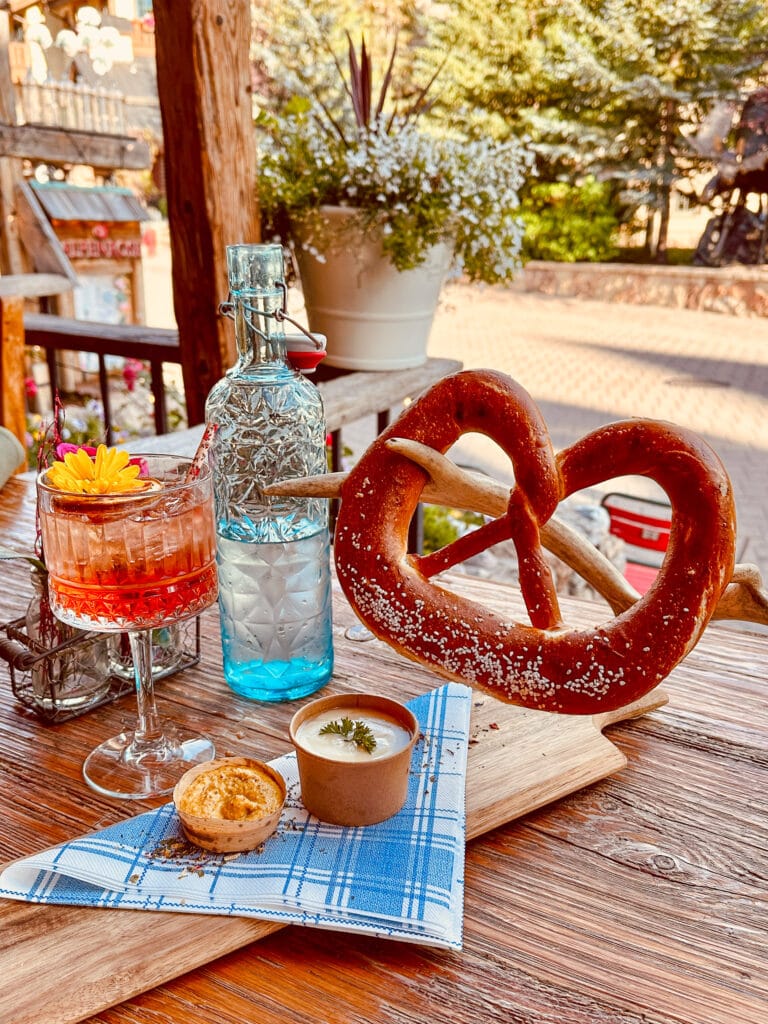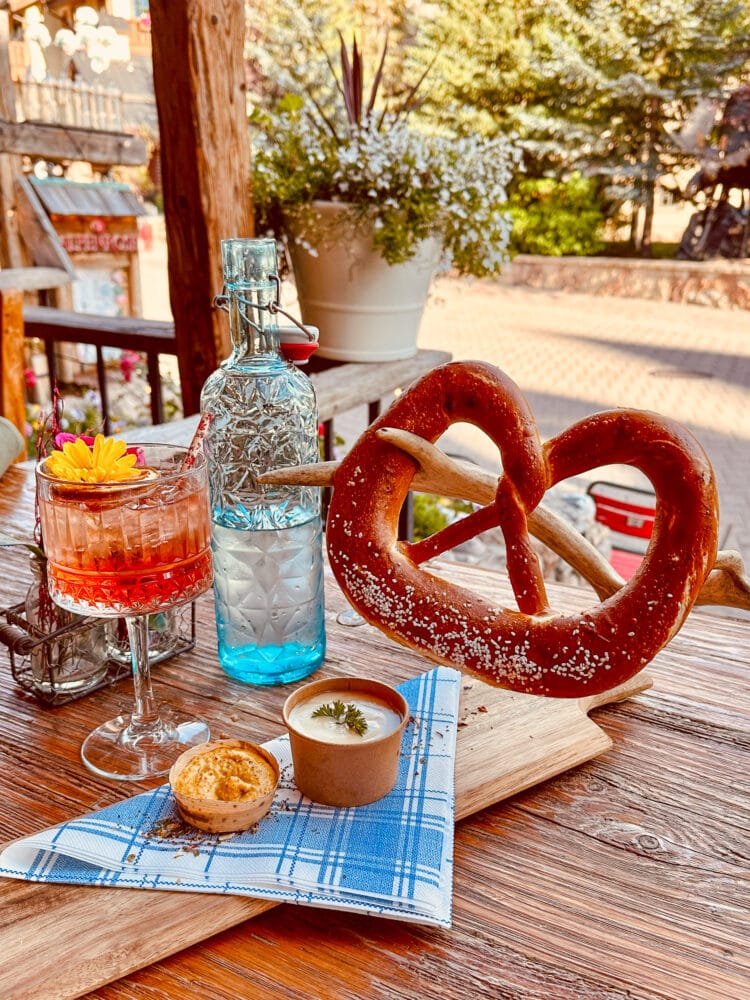 We ordered cocktails and shared a giant bavarian pretzel with a fondue cheese dip. My aperol spritz is, and I'm not exaggerating, the best aperol spritz I've ever sipped. Technically, it is an "Alpen Spritzer" made with Aperol, White Vermouth, and Prosecco, of course. But also with the added tastiness of Schlauerer Raspberry Brandy and garnished with a dehydrated orange and yellow daisy. I'm a sucker for pretty garnish, but this tasted as good as it looked.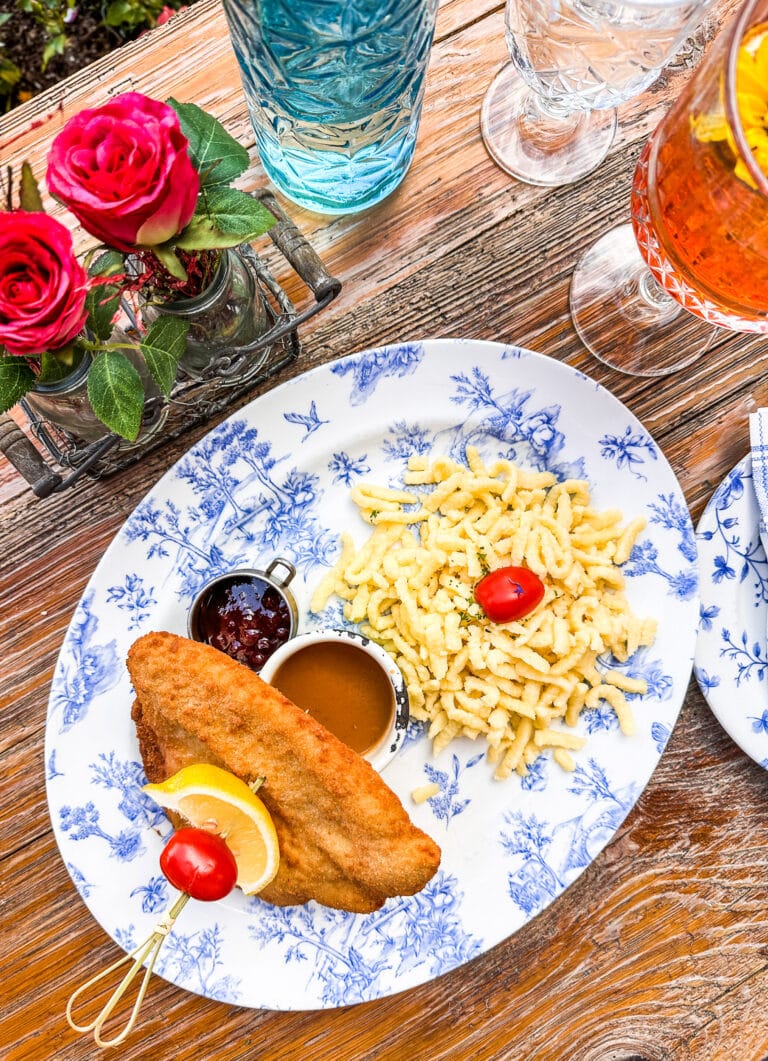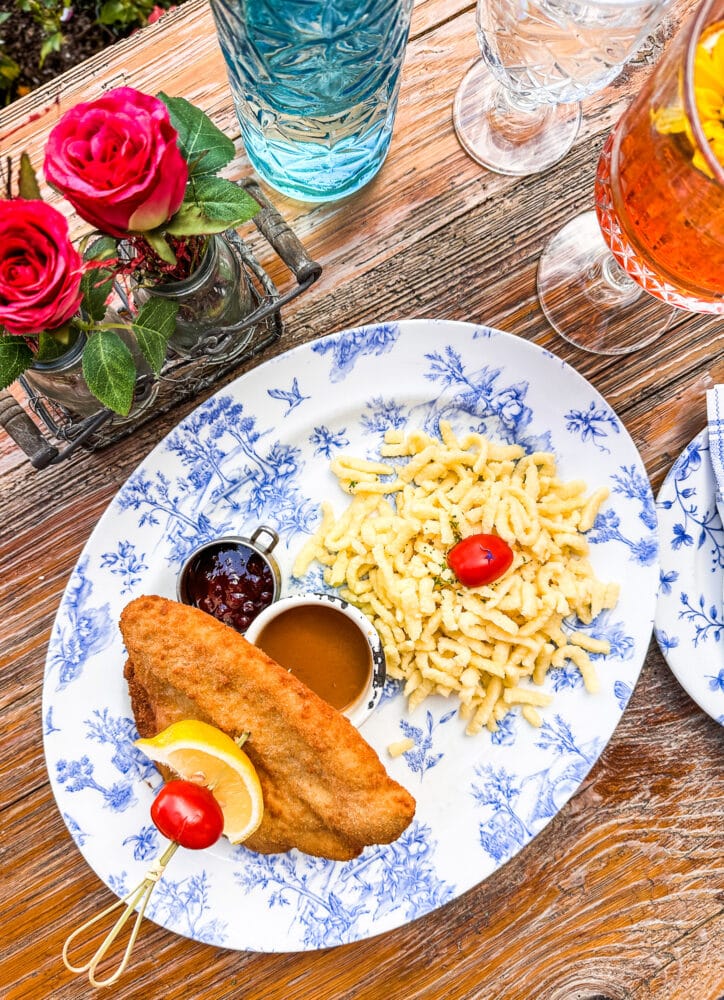 For dinner, I ordered the Schnitzel "Rockies and Roses" Bavarian pork schnitzel with spätzle, cream sauce and lingonberries. Pete ordered something a little lighter for summer weather, the Schweizer Rosti smoked salmon with Swiss potato pancakes, sour cream and horseradish cream.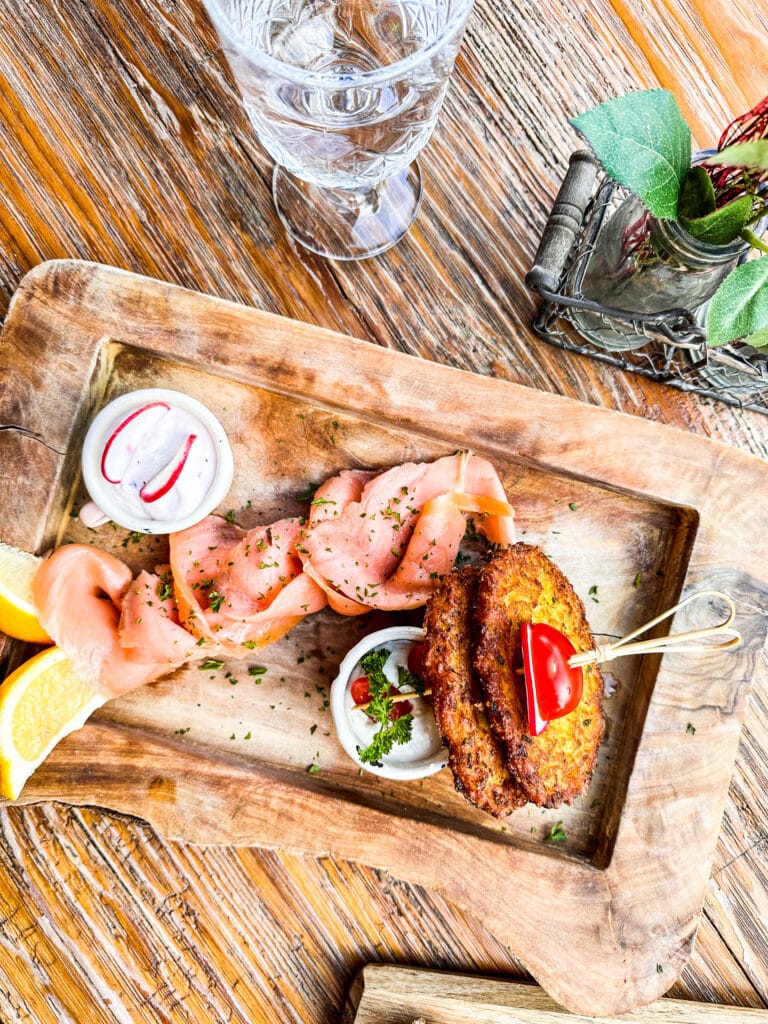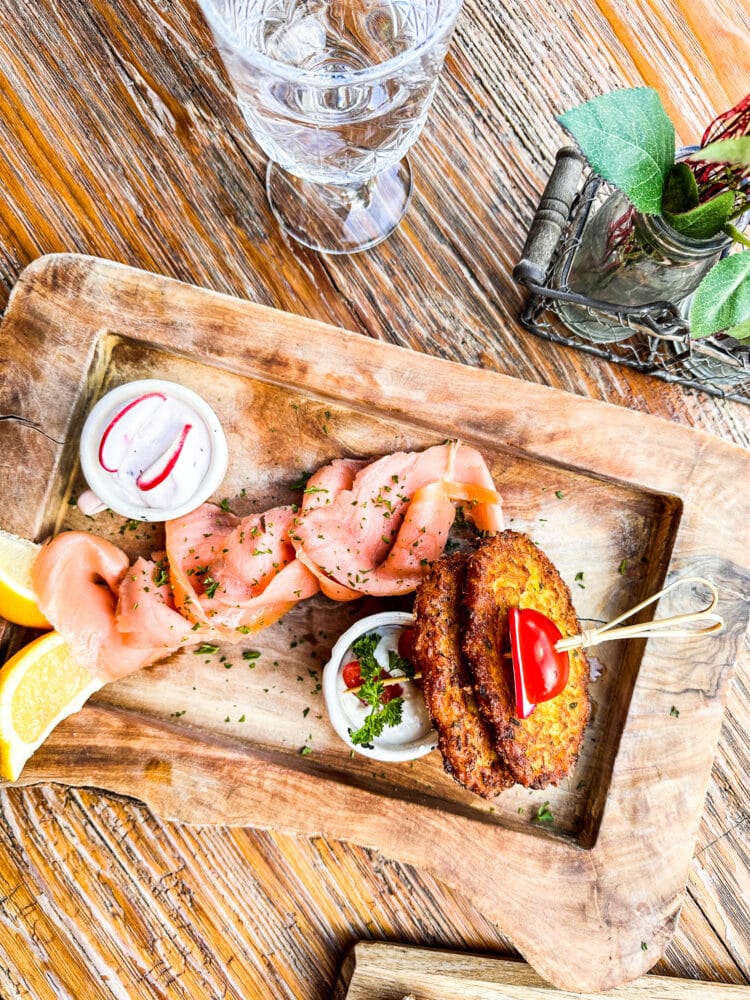 Chasing Rabbits: Chasing Rabbits isn't just dinner, it is an experience. There's an elegant restaurant with Mediterranean inspired cuisine. But THEN, there's also a more casual cinema/game room that also offers food and fun. And if you really want to go down the rabbit hole, there's also a library lounge and speakeasy too.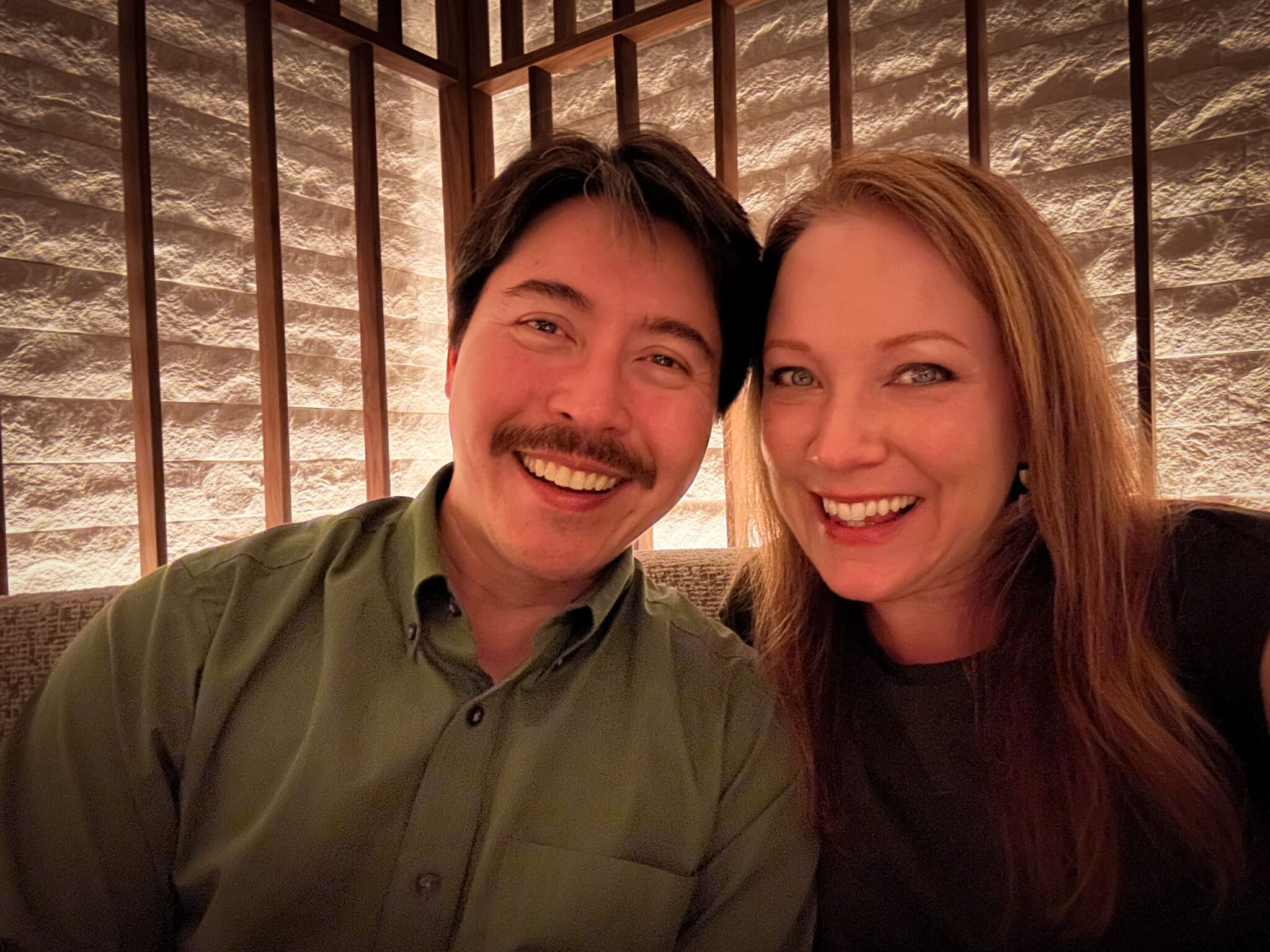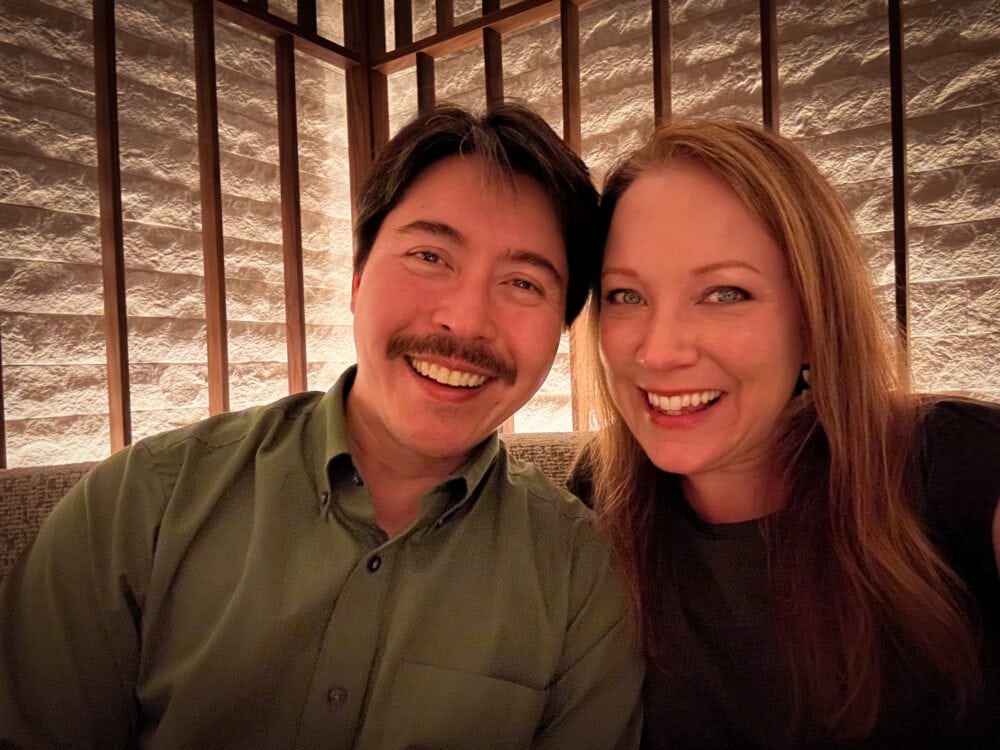 Pete and I ordered cocktails and shared the burrata and spring pea salad, which also paired perfectly with the charred eggplant dip. The combination of burrata with lemon, mint, olive oil, and tahini is absolutey delicious.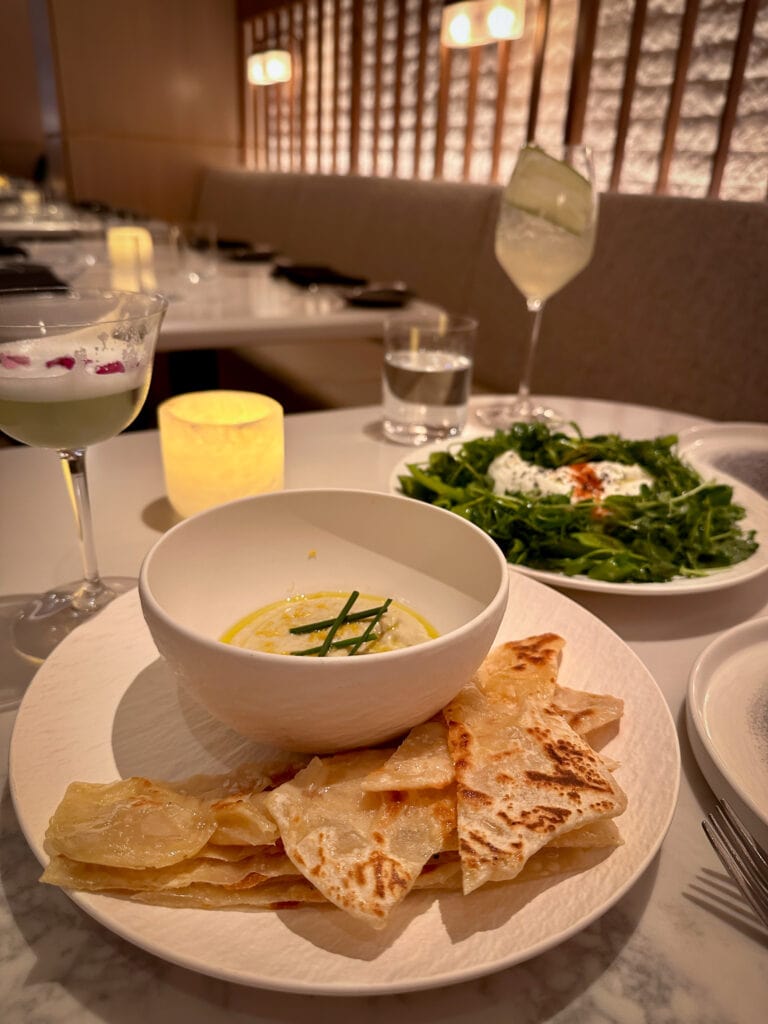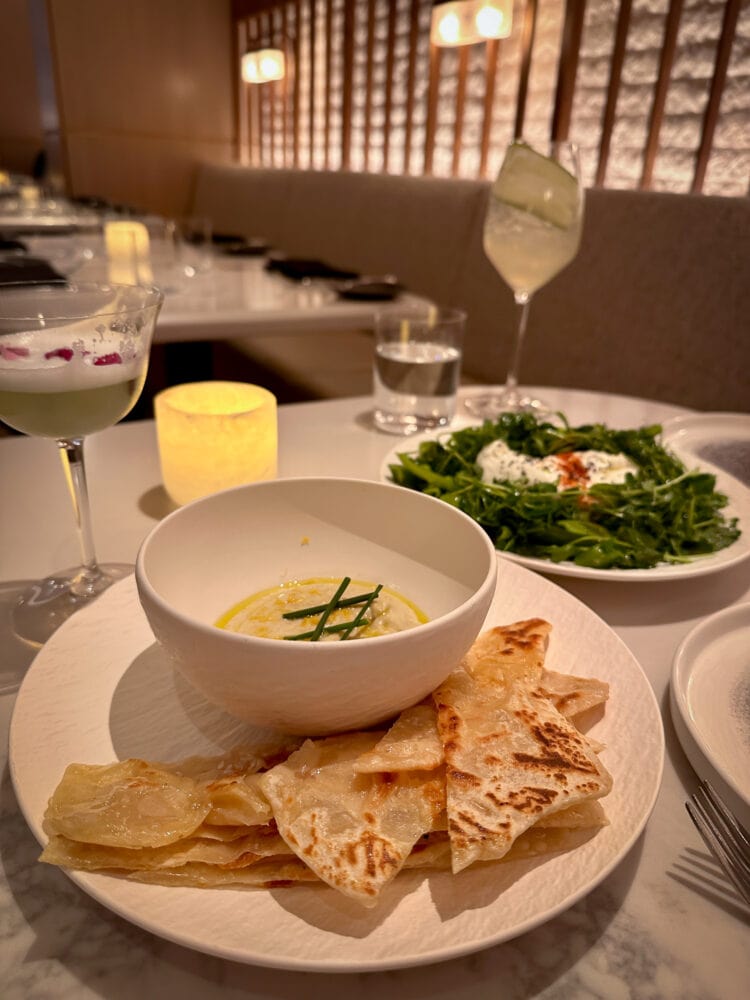 For dinner, we shared the Moroccan beef tagine which was easily enough to feed four people. The beef is braised with sticky figs and garnished with toasted almonds and perserved lemon cous couse. It was SO good.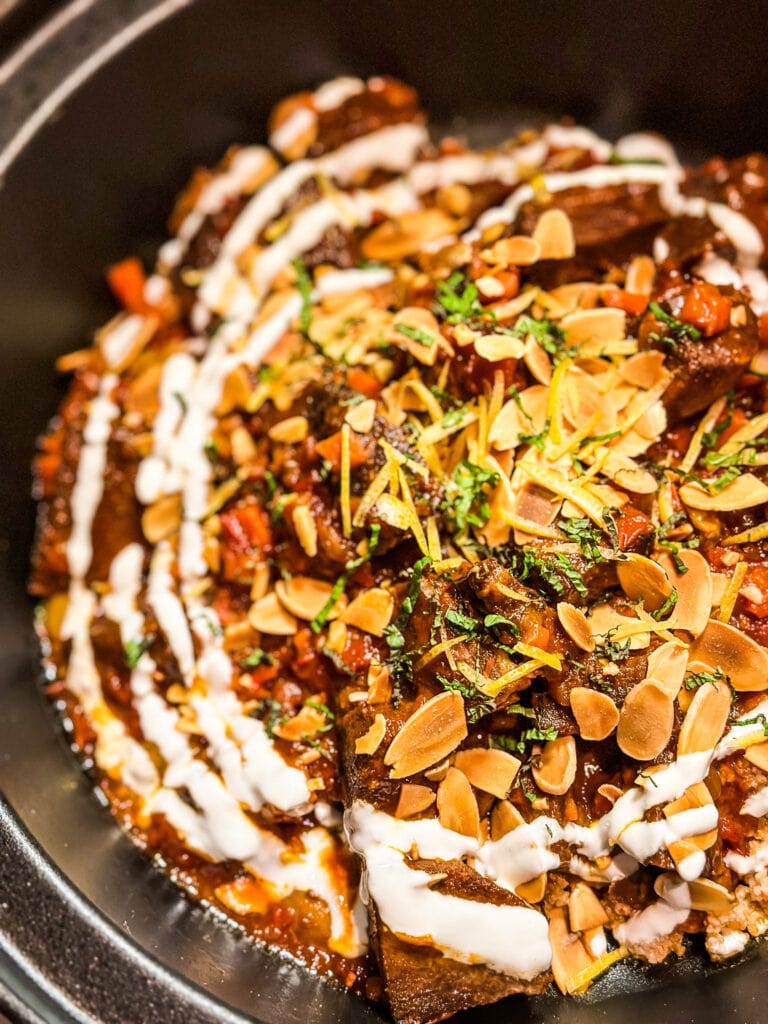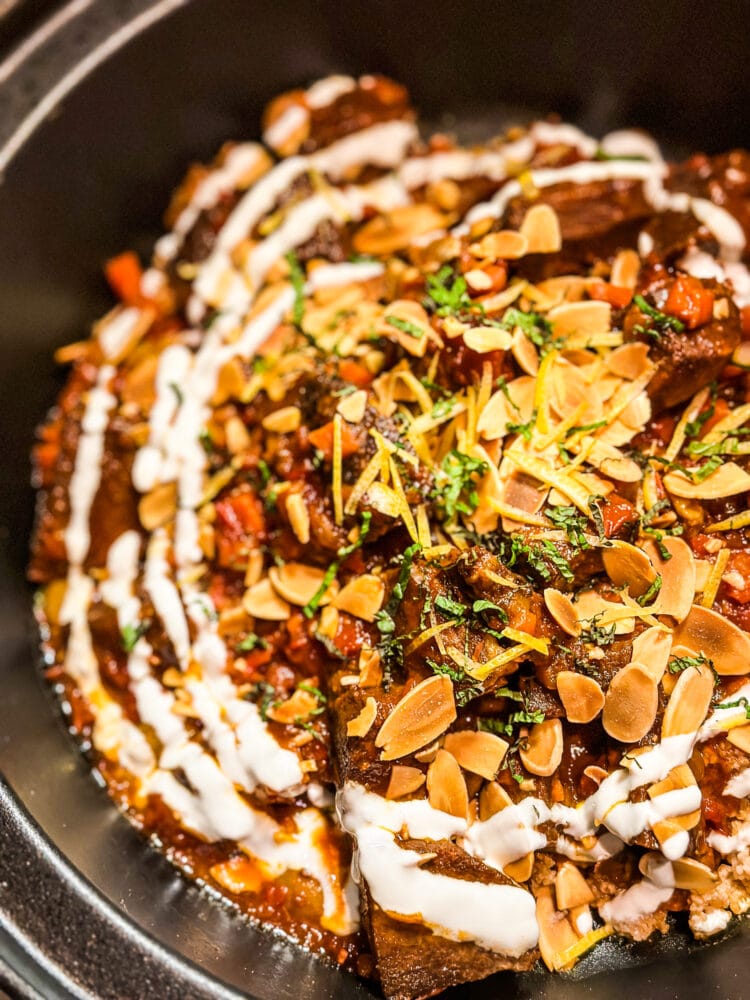 TIP: Summer in Vail can be warm during the day, but it does cool off at night. Be sure to bring a shawl, wrap, or light sweater to wear on your walk back to the hotel after dinner.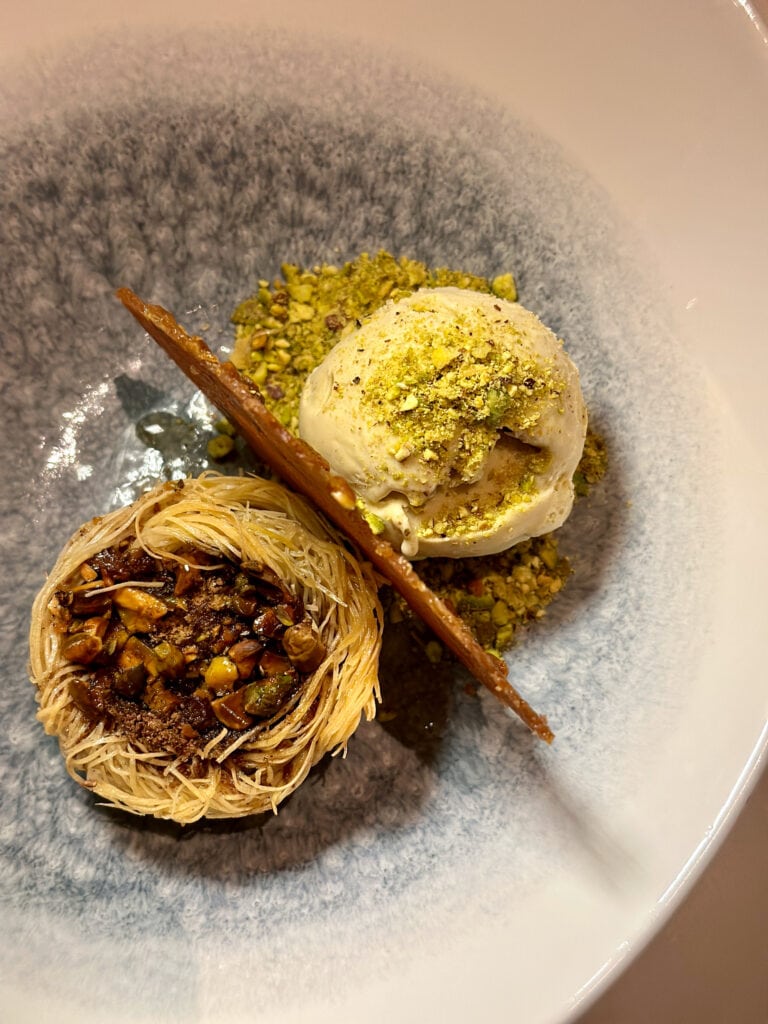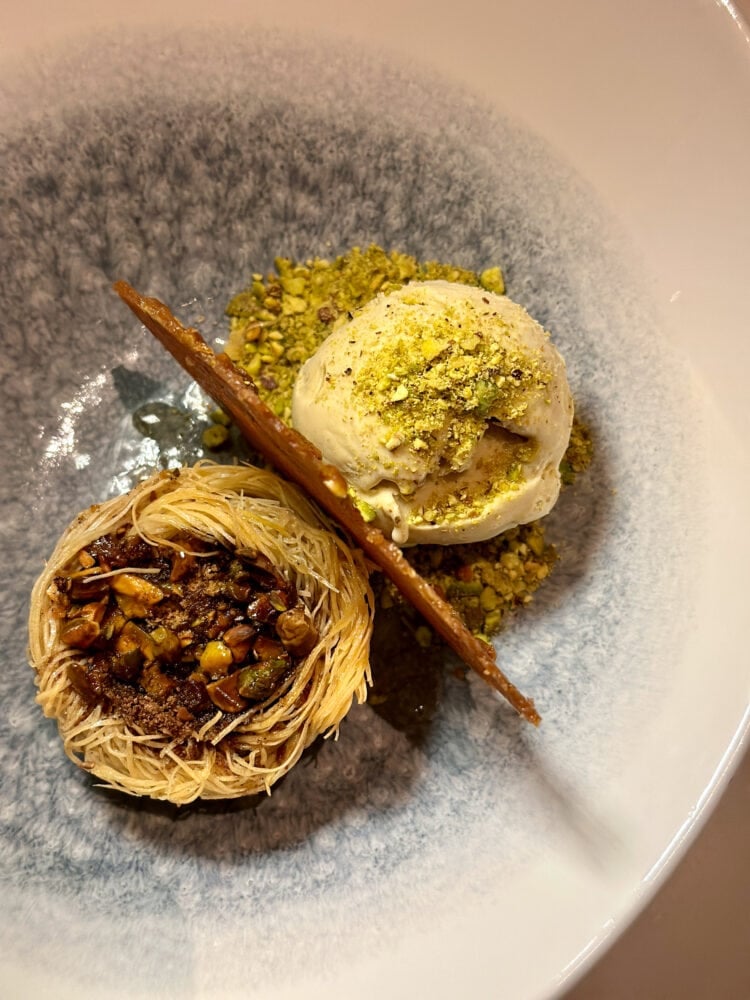 WHERE TO STAY IN VAIL IN SUMMER
For our visit to Vail this summer, we were hosted by Sonnenalp. And after walking around Vail village I couldn't imagine a more perfect place to stay. Sonnenalp is located right on Gore Creek in the center of town, so it is an easy walk to Vail Village or Lionshead. The architeture and decor reminded us of Austria and Germany, so we felt like we were enjoying a bit of a European getaway without actually leaving the United States.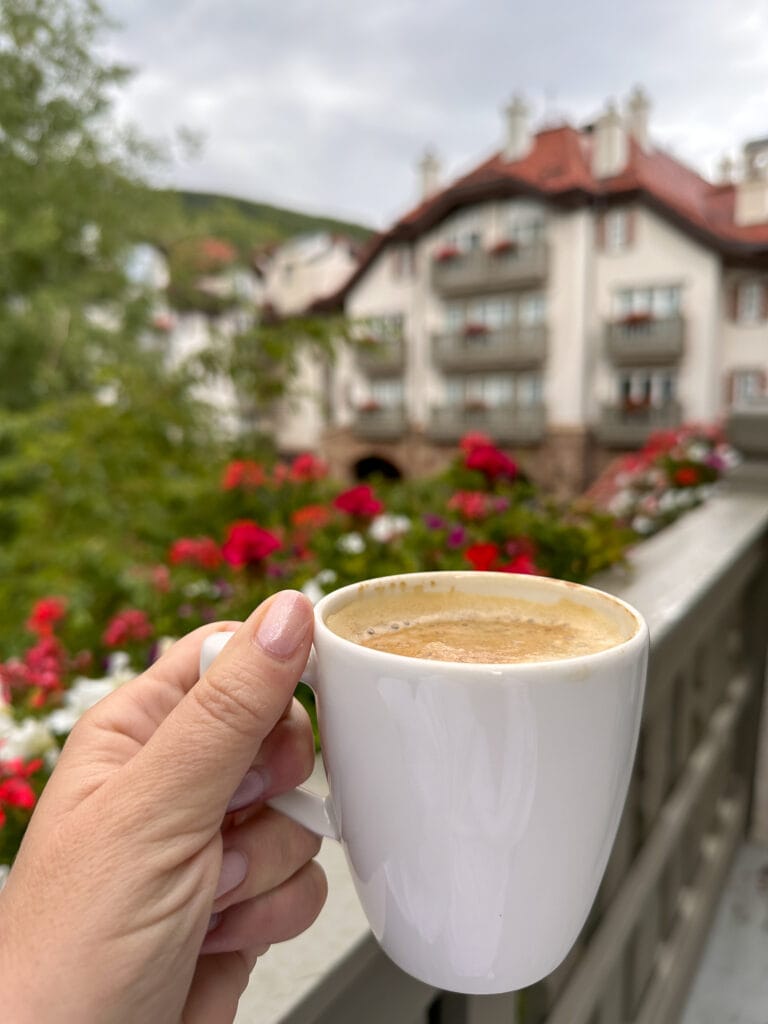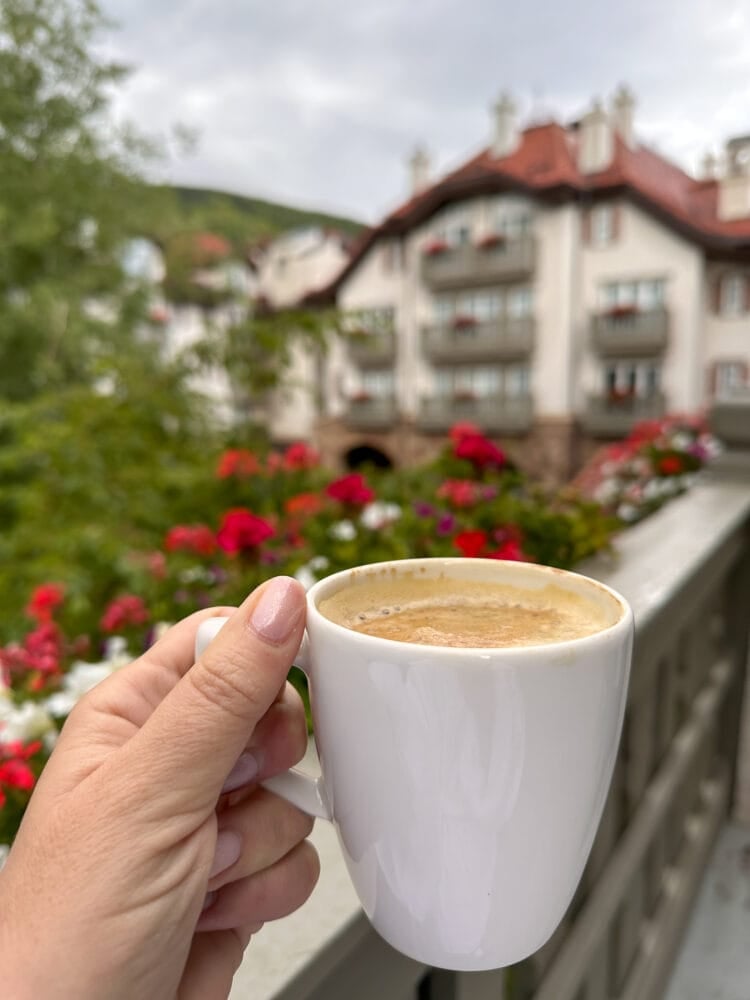 My favorite thing about Sonnenalp, though, is breakfast. First, there's Nespresso coffee makers in the room which was nice to enjoy outside on the balcony of our room and enjoy the cool summer mornings. And the buffet breakfast at Sonnenalp's restaurant, Ludwigs, is the kind of spread Sunday brunch dreams are made of!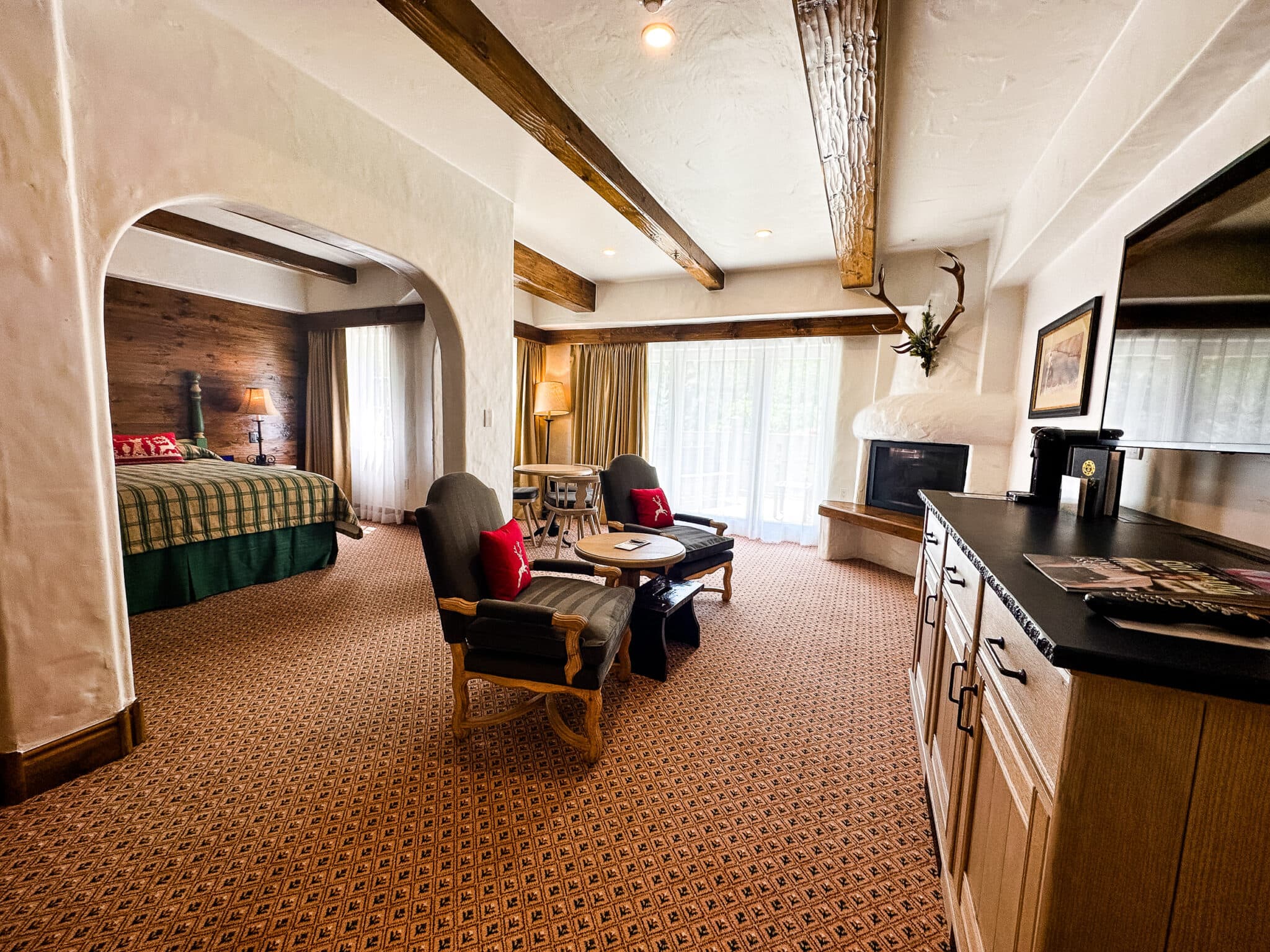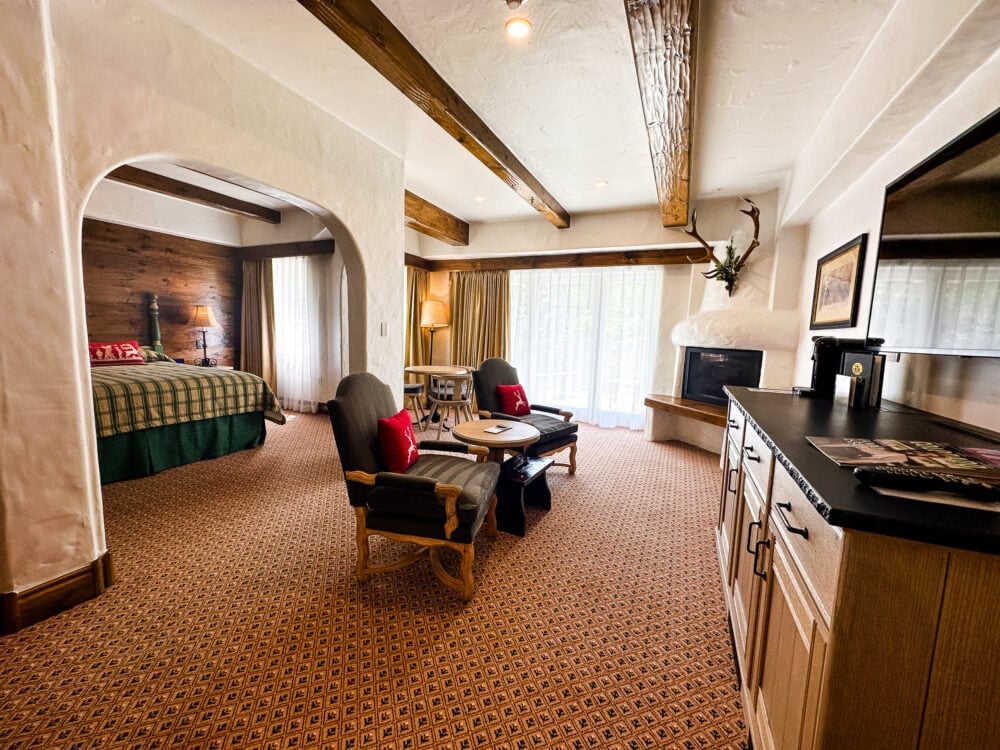 Ludwig's is inside a gorgeous glass terrace that overlooks Gore Creek. The weather during summer in Vail is cool enough for the terrace doors to be opened for al fresco dining. Breakfast includes made-to-order waffles, omeletes, huevos rancheros, eggs benedict, homebaked cakes and breads, musli, fruit smoothies, and more. The coffee cups, sauces, and plates are all beautifuly Bavarian themed. Sonnenalps concierge told us that they're all custom made for the hotel in Germany. Seriously, I'd fly back to Vail just for breakfast at Ludwigs alone.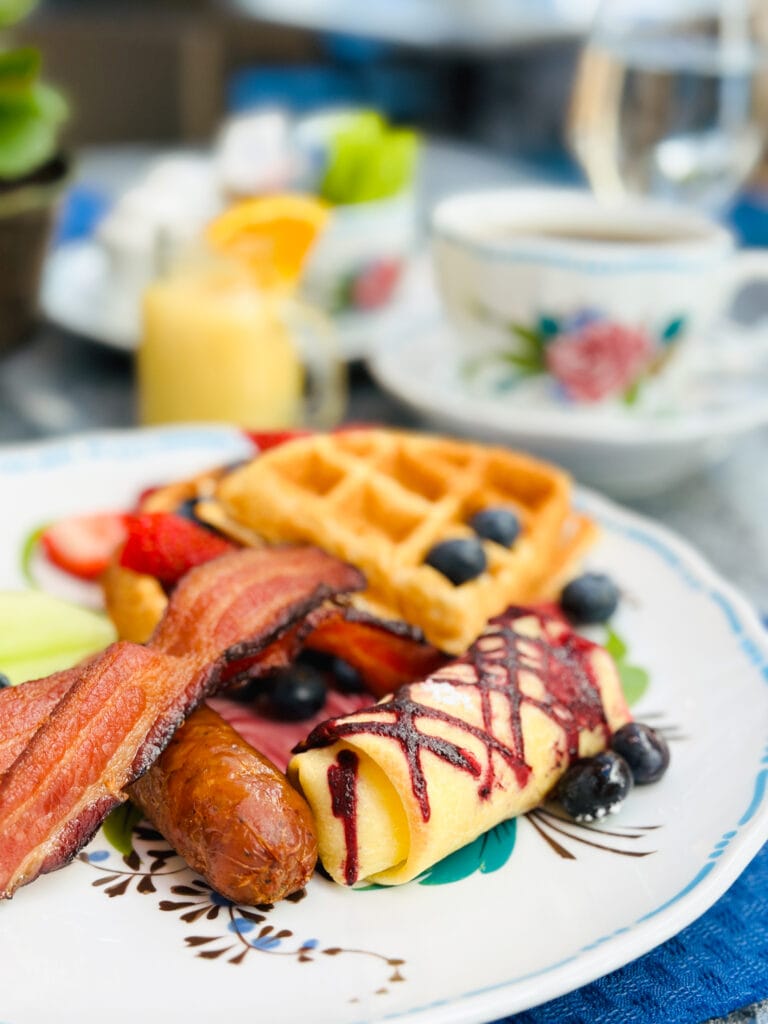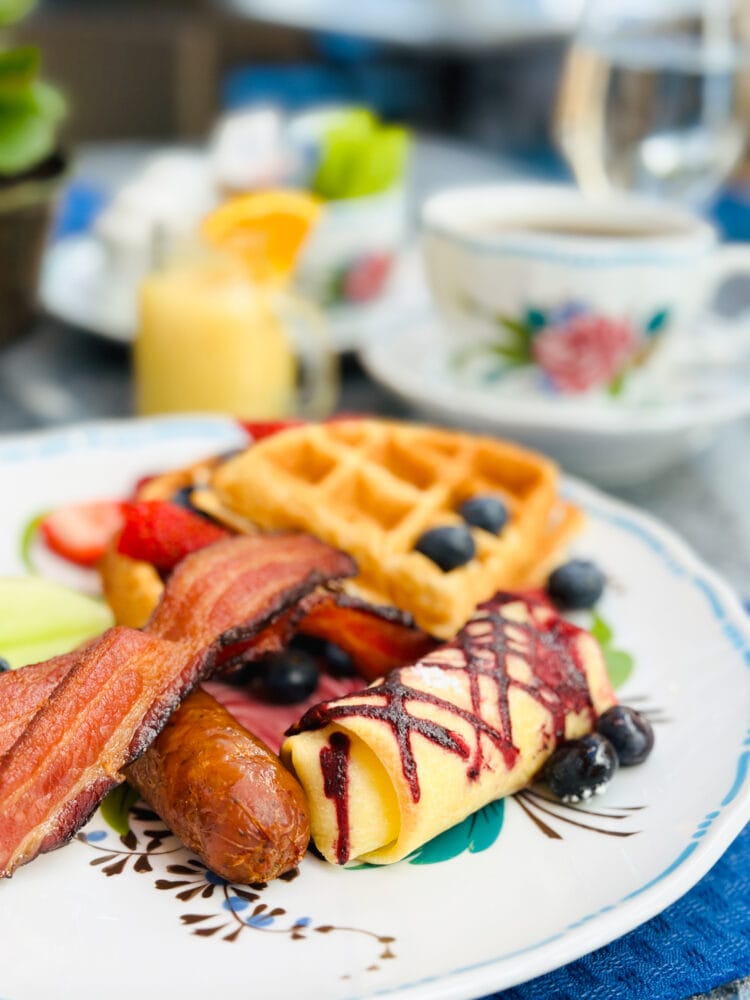 HOW TO GET TO VAIL
The closest airport to Vail is Eagle County Regional Airport. But you could also fly into Denver or Aspen and rent a car to drive into Vail.
For car service, we learned that Uber and Lyft are not reliable in the mountains. So it is best to book your airport transfers through Epic Mountain Express.