Are there a lot of things to do in Orlando for fall? You bet! My friend Christina (Go Epicurista) and I embarked on a mission to post videos on TikTok and Instagram of 50 things to do in Orlando this fall. But our list was much bigger than 50! Even though the weather still feels like summer this time of year, there are SO MANY Orlando fall activities to get you into the autumn spirt. From PSL, to fun foods, farms, beer gardens, and activities too! Some of these are even available year round, or change up seasonally for the holidays and springtime too.
50 Things To Do In Orlando For Fall
Here's our list of 50 things to do in Orlando for the fall season! With a few extra at the very end.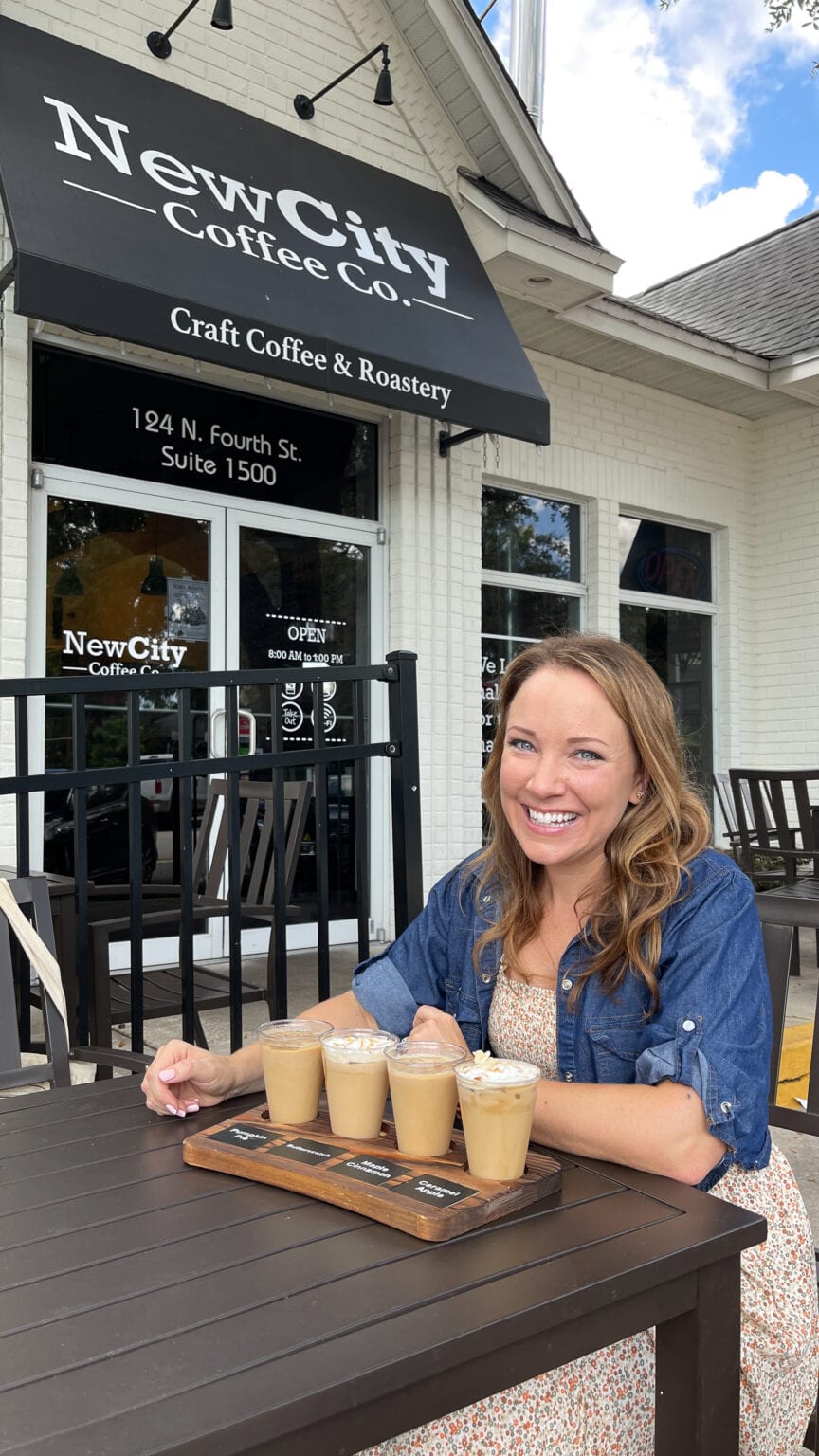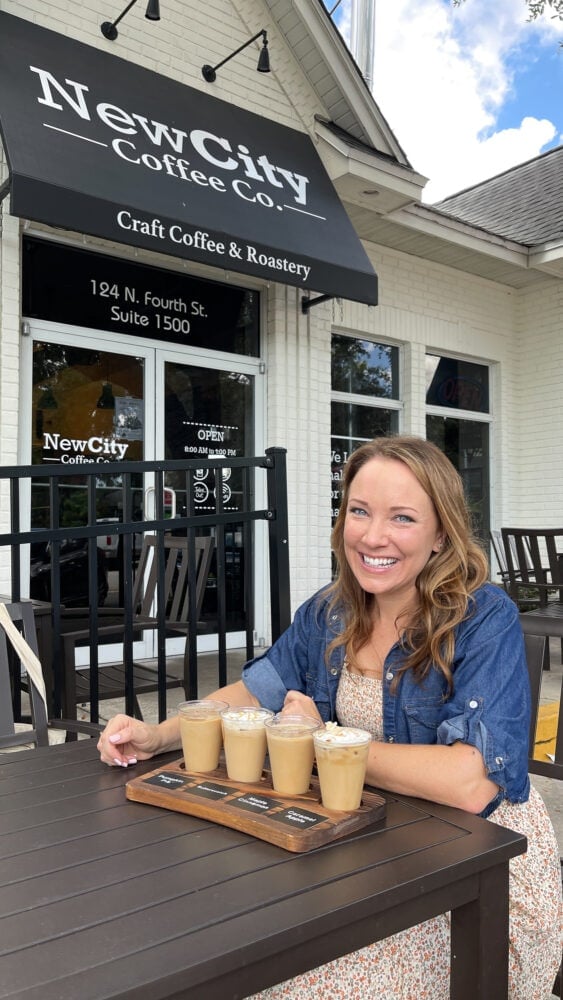 1 – Fall Coffee Flights
New City Coffee offers seasonal coffee flights! The flavors change each year and you get them either hot our iced. I chose iced, because even though it's autumn in my heart, it's summer temps outside.
2. Magical Dining
Over 90 restaurants participate in Orlando's Magical Dining Month by offering a 3 course prix fixe dinner for only $37! Plus, one dollar from each meal benefits Pathlight Home and IDignity.
We find each menu has such a great lineup it's almost hard to choose! So I recommend going with friends so that you can taste more than one thing.
Download the restaurant checklist from @visitorlando's MagicalDining.com and plan your taste adventure this month through Oct 3rd.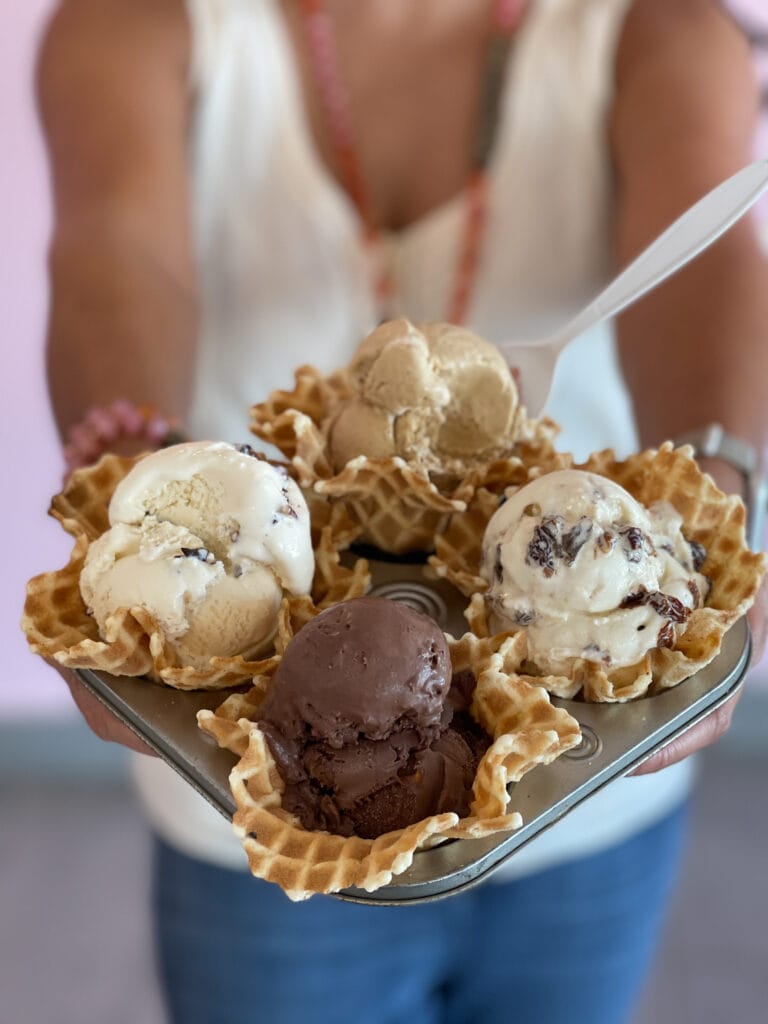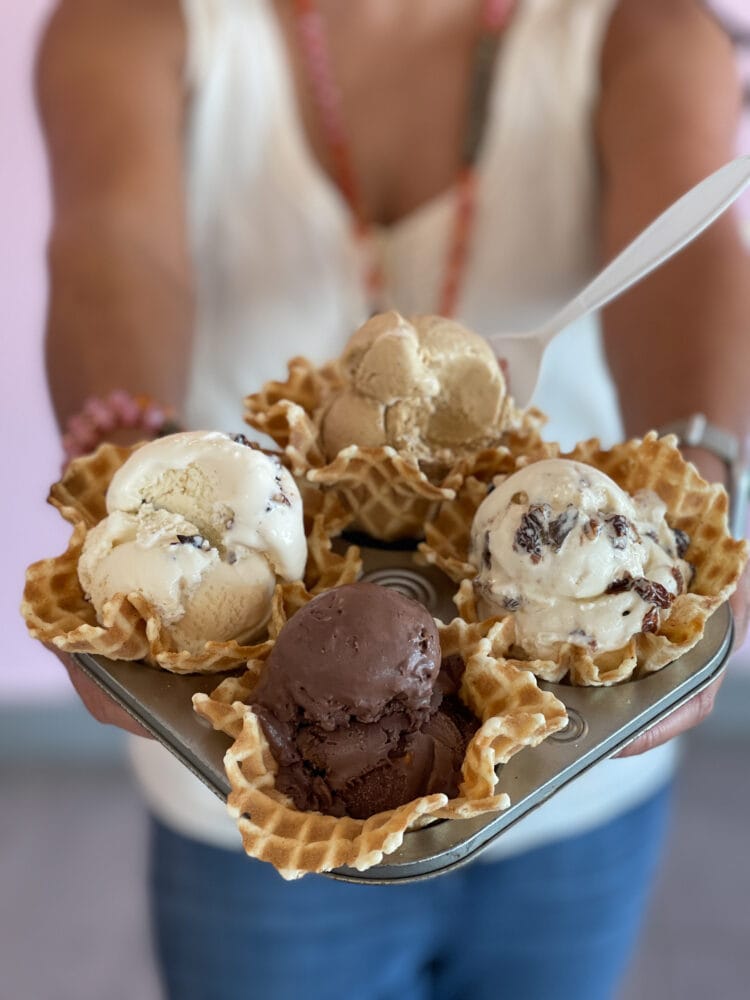 3. Kelly's Homemade Ice Cream Featured Flavors
So, even though it feels like autumn in my heart, it's still summer outside. Which is why # 3 in our videos of 50 Things To Do In Orlando This Fall was getting some cool fall flavored treats at Kelly's Homemade Ice Cream.
Each month, Kelly's creates 5 new seasonal flavors. But you've got to taste them while they're featured! Each month brings a new batch of flavors that you can check and see on Kelly's Menu. This year's fall flavors include German Chocolate Cake, Dirty Chai, Rocky Road, Salted Caramel, and Toasted S'mores.
4. Sugar Dough Bakehouse
Light On The Sugar's sister bakery in Audubon Park will have you wanting to try one of each of their treats. Just be sure to go early as the seasonal flavors tend to sell out!
Here's what we tried, Pumpkin Cheesecake Croissant's and the Tiger S'mores Cookie Pumpkin Cheesecake Croissant.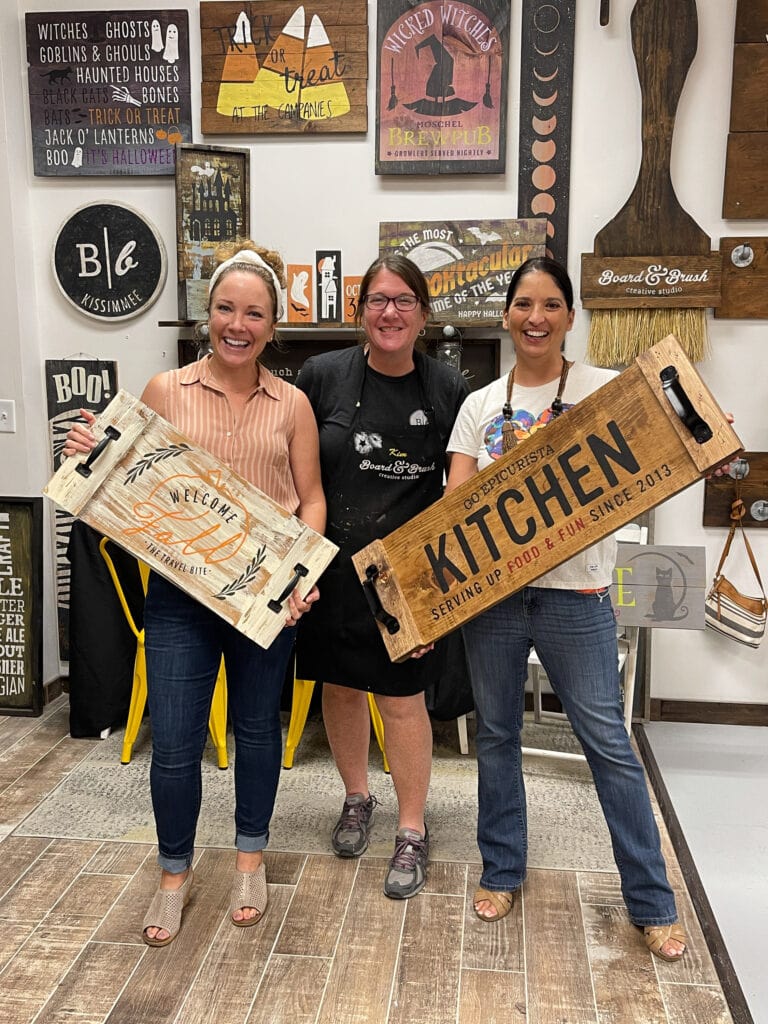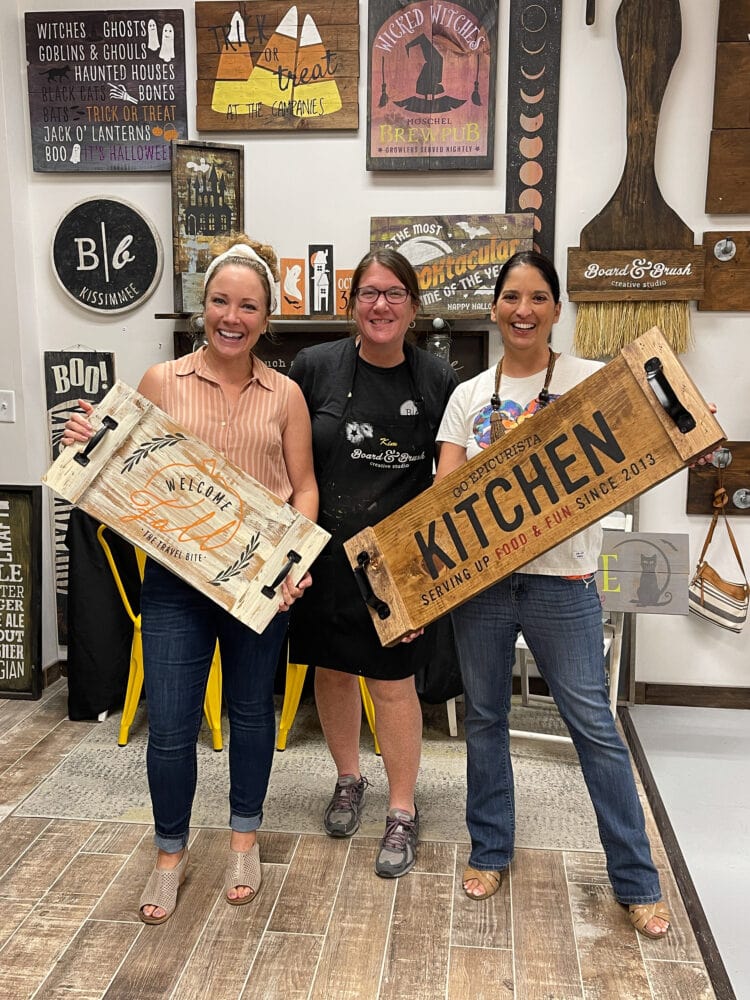 5. Board & Brush
Make your own Fall Door Decor or autumn cheeseboard (or butterboard!) at Board and Brush!
And just like the name suggests, you start with a board of wood, distress it, stain it, paint it, and stencil your design.
And I have to confess, I'm not very handy with tools. But we cracked open a cider, learned as we went, and had a whole lot of fun.
Kim, the owner, was very gracious in teaching us about drilling and stenciling. And I could tell from others taking the workshop that this kind of home decor craft can be very addictive as several girls were back for their second time and already building things like pros.
My friend Christina and I both picked a cheese board to create for fall. But there's so many projects there we can't wait to go back and try our hand at making herb boxes next.
TIP: Scroll through the designs on the website and take measurements for the space you'd like to display your design. I had a signed up to do a fall board to display as a sign on my kitchen backsplash, but the one I picked wouldn't have fit the space. But I LOVE the cheese board I ended up creating.
(Not sponsored, by the way, but Kim did give us a cider to celebrate our first craft!)
There are currently three locations near Orlando: Sanford Ocoee, and Kissimmee.
6. Florida PSL At Lobos Coffee Roasters
My local favorite is Lobos Coffee Roasters for their Florida PSL and Maple Bourbon Cortado.
Florida PSL (Pumpkin Spice Latte) has your classic pumpkin spice flavor with a hint of citrus. Hand crafted, so it tastes AMAZING.
Maple Bourbon Cortado is made with Bourbon Barrel Aged Maple Syrup and fall spices with a garnish of cinnamon. (This was my favorite!)
More reasons to move Lobos Coffee Roasters…
☕️ coffee roasted in-house
☕️ Italian espresso machine = rich flavor
☕️ supports fair trade coffee practices
Which one do you want to try? Or will you sip both like I did?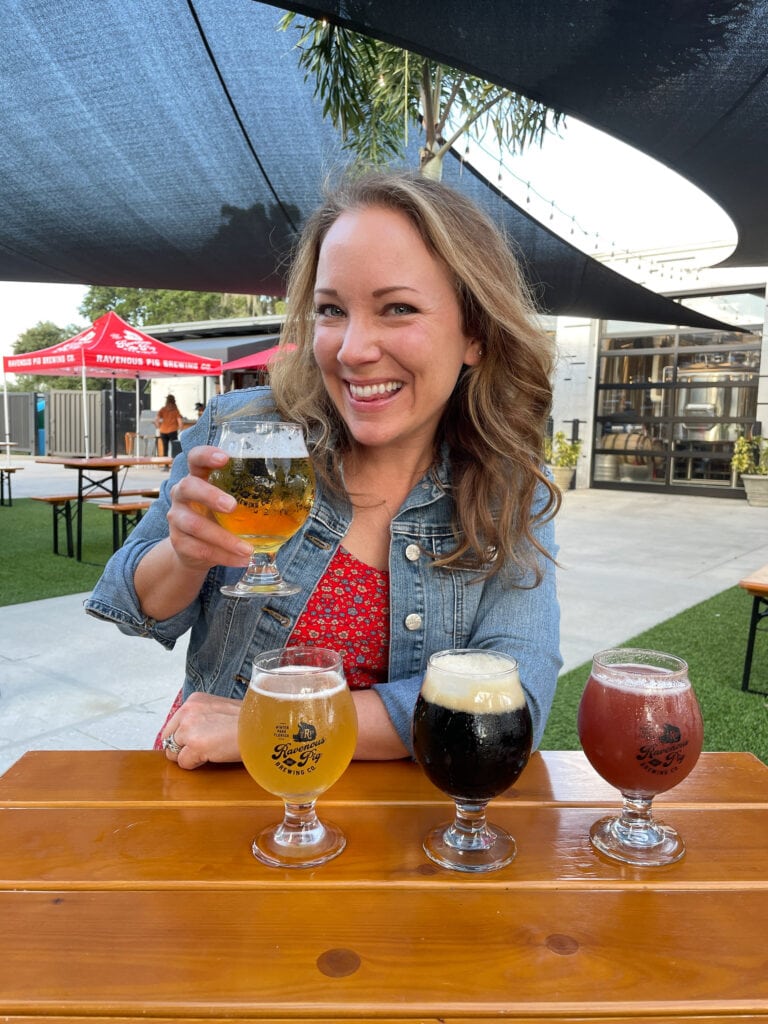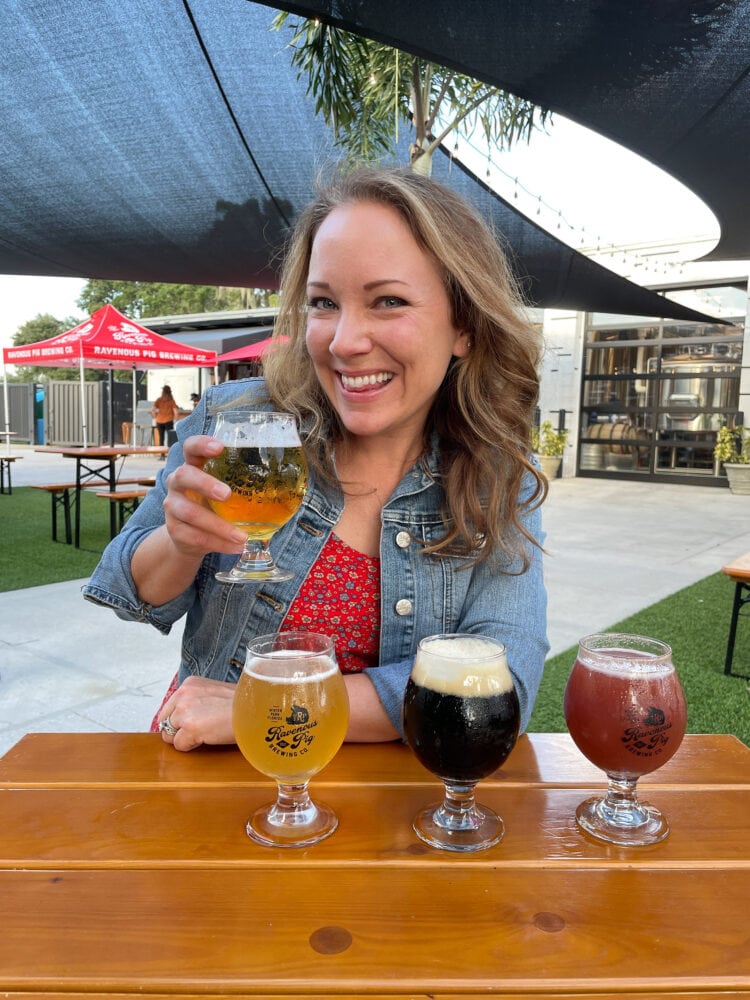 7. Beer Garden at Ravenous Pig Brewing
Sip seasonal brews in the Ravenous Pig Beer Garden Garden! The weather is GORGEOUS this time of year and perfect for dining outdoors. Here are the seasonal brews we tried …
Swinetoberfest- 5.9 % ABV- malty marzen style amber ale (This was my favorite along with Trucks and Trains)
Still Summer- 5.7% ABV – house smoke kaboocha squash ale with baking spices and vanilla (This one has a distinct smokey flavor!)
The beer garden is open on Tuesday through Sunday depending on the weather. And the best days to go are Tuesday or Sunday for smaller crowds and a relaxing vibe.
PROST! Cheers to October, friends!
8. Pancakes at The Old Spanish Sugar Mill in Deleon Springs ?
Pancakes at the Old Sugar Mill is something I've been doing since I was a kid! It's so fun, but definitely better to in fall/winter when it's not quite as hot out since the old mill isn't air conditioned. (When we went it was still warm, but fun!)
It's the perfect little road trip as it's just about an hour drive north of Orlando. The sugar mill restaurant is located inside a state park, so there is a small entrance fee. But worth it to see a "waterfall" in Florida, right?
The spring is named for Ponce De Leon (legend is that he thought this was the fountain of youth, but there are several springs with that same claim). And the sugar mill was built in the 1830's to crush sugar cane utilizing the power of water flowing from the spring. Today, it's a pancake house and restaurant!
Service is fast since you cook your own pancakes on a griddle in the center of the table. Pancakes are completely customizable with two different batters (unbleached white flour and stoneground made with their own unique mix of 5 fresh stoneground flours.)
You can get fresh fruit, nuts, and even chocolate chips as mix ins or toppings. But since it's fall we did seasonal flavors: Pumpkin Pancakes, and Apple Pancakes with Pecans.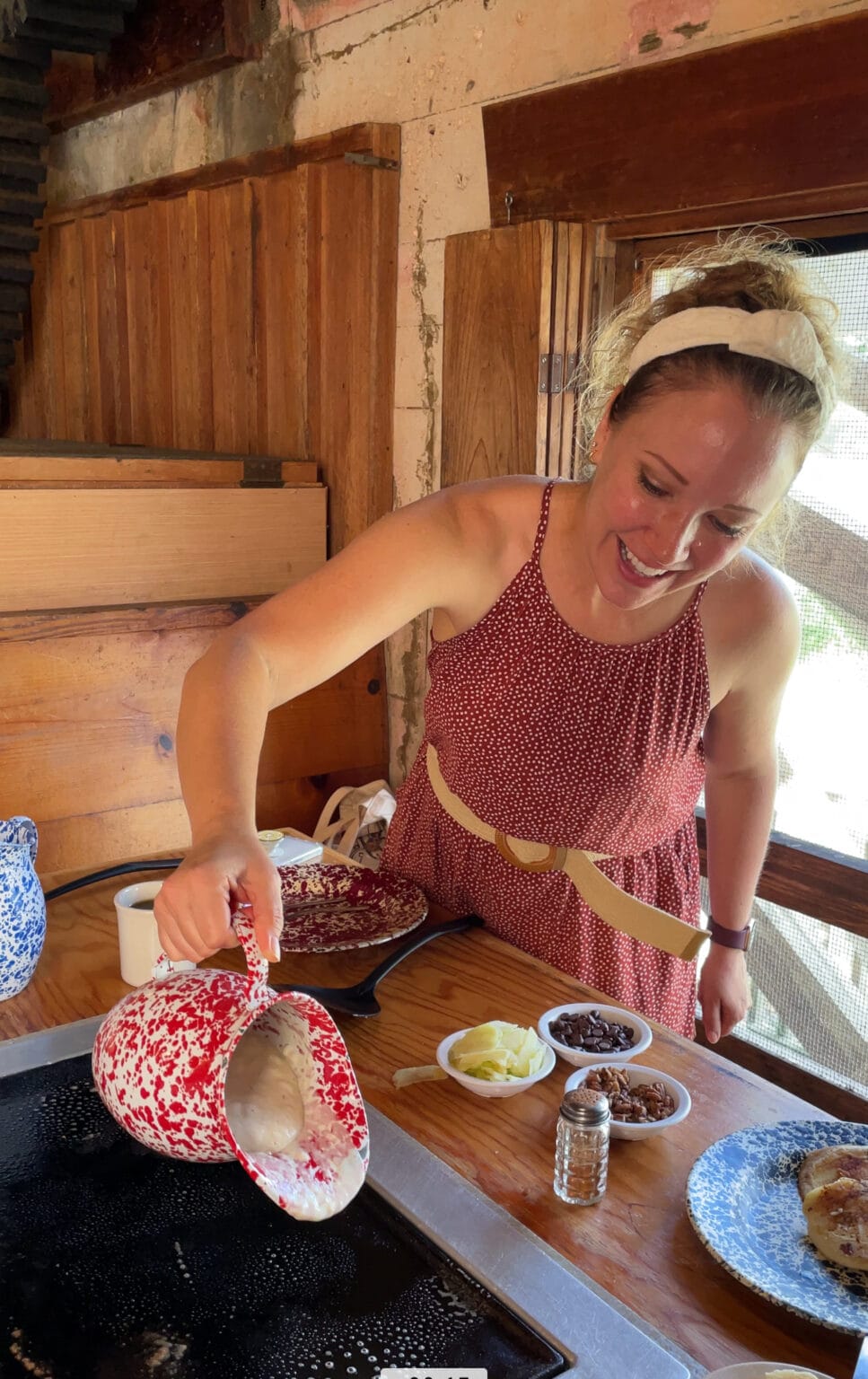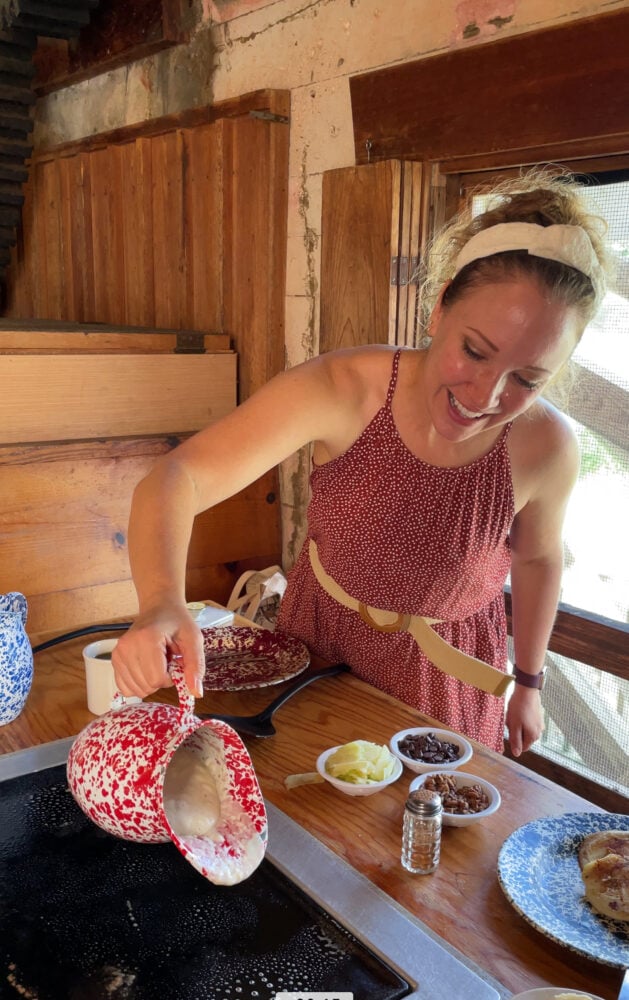 9. Visit Cassadega
Another fun thing to do in Orlando during the fall is to take a day trip and drive up to Cassadaga, a spiritualist camp known for tarot readings and mediums. They also have a Haunted History Museum full of spook. There's also a historic hotel, shops where you can get your crystals on, and a whimsical Fairy Trail (if you dare go for a walk in the woods).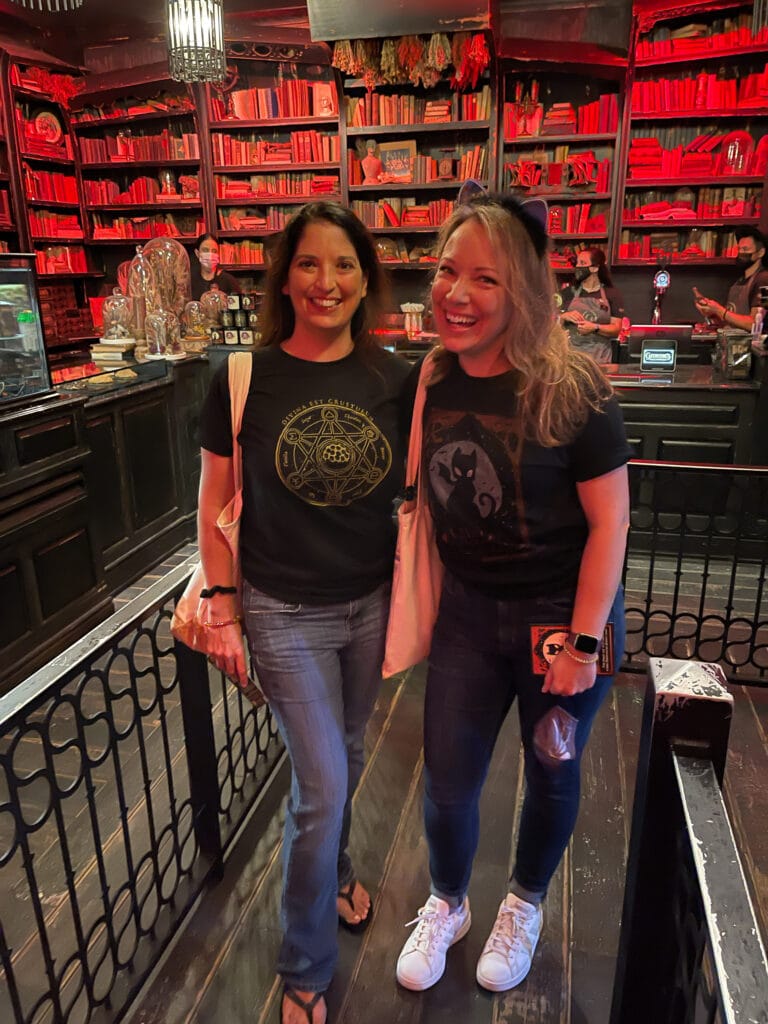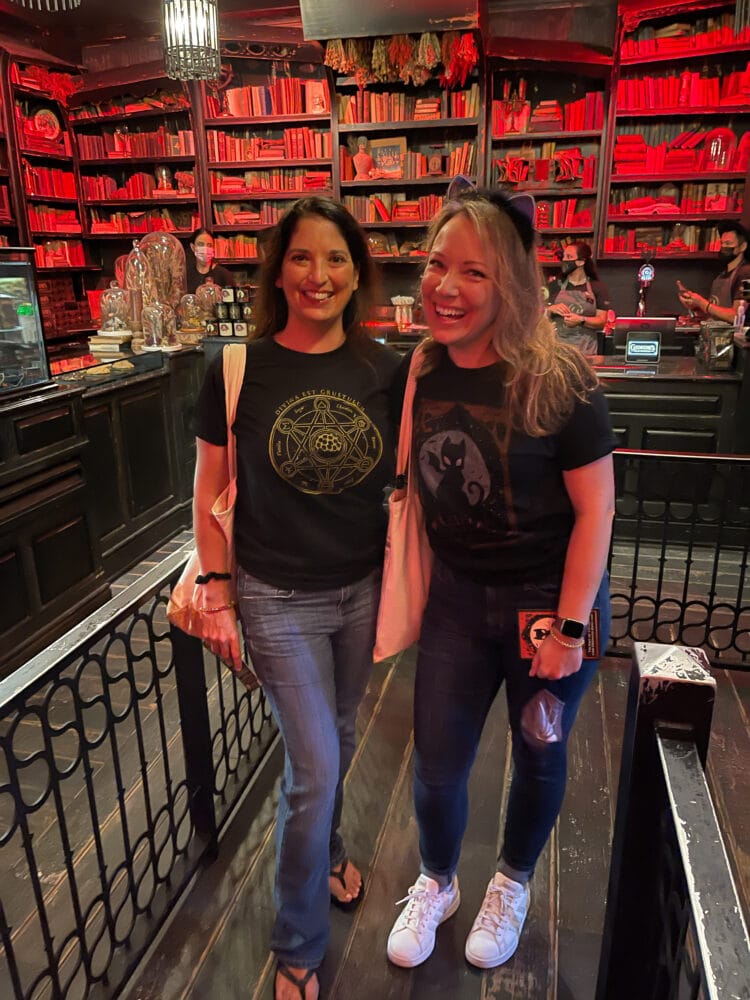 10. Gideon's Bakehouse
Gideon's Bakehouse is so special to Orlando. What started as a small little shop in East End Market with a single employee, $800, and a cookbook from 1898 with the name Gideon written in the back is now a VERY BIG DEAL. Visit the original location, or try Gideon's second location in Disney Springs for the full immersive cookbook legend experience.
TIP: These cookies are so legendary, there is usually a queue. But if you go on a weekday morning it's not a long wait. Plus, the Coffee Cake Cookie is perfectly acceptable for breakfast.
Each month features a new cookie and this month is FRANKENSTEIN and BRIDE OF FRANKENSTEIN.
Here's the rest of the selection available year round:
Original Chocolate Chip
Peanut Butter Crunch
Cookies + Cream
Pistachio Toffee Chocolate Chip
Triple Chocolate Chip
Coffee Cake (Disney Location Only)
Dark Coffee Cake (Available Only At Sunset in the Disney Springs location)
There's other treats too! To-die for cakes, locally made sweet scented candles, and Lineage coffee including:
☕️ Gideon's Ginger Snap Cold Brew
☕️ Peanut Butter Iced Coffee
☕️ Classic White Cold Bree
☕️ Seasonal Pumpkin Spice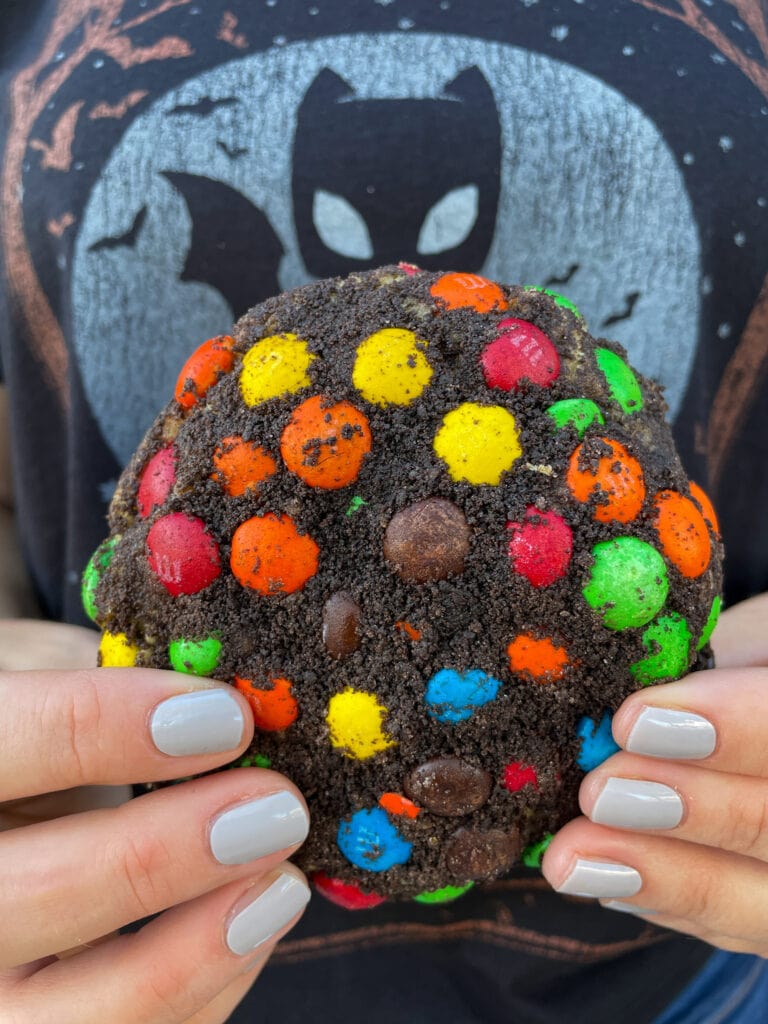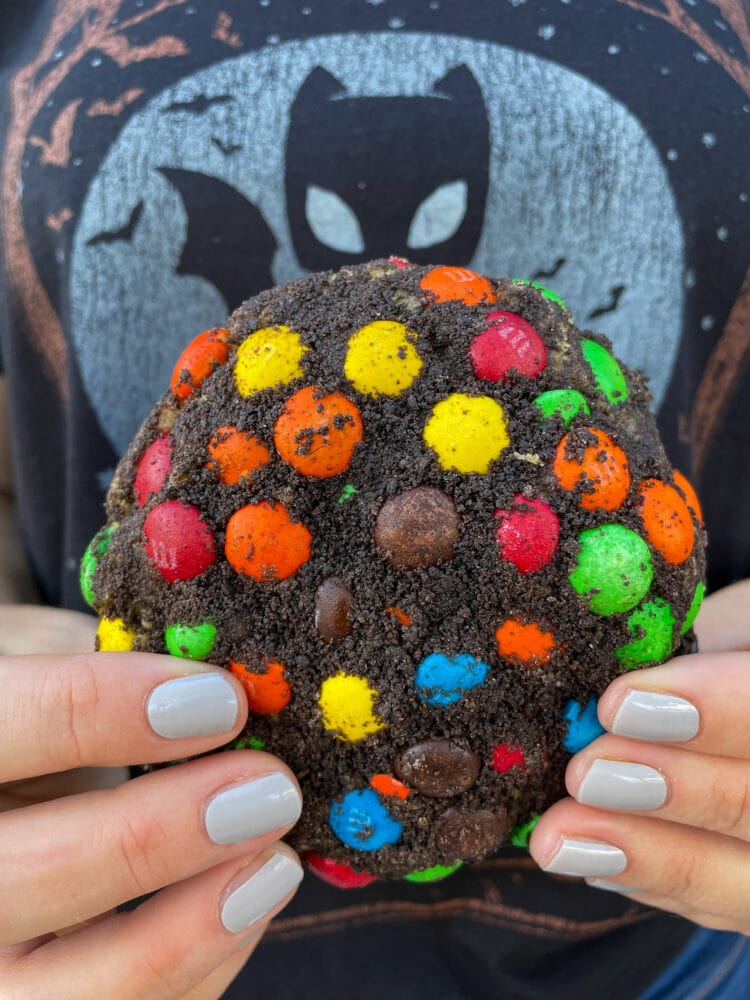 11 – Fall On The Farm At Orlando's Whisper Creek Farm
There's lots of nearby farms, but Grande Lakes Orlando's Whisper Creek Farm is in the city! The host a Weekend "Fall On The Farm" event each eary.
I had so much fun having a relaxing girl's day here with my friend Christina, listening to acoustic guitar, sipping cider, and enjoying being out on a farm!
Whisper Creek Farm is 18,000 acres and is normally only open for private events, so I was excited to spend the day there!
Here's what you'll find …
🍁Hayrides
🎃Pumpkin Carving + Painting
🍁Hay Maze
🎃Pumpkin Checkers + Games
🍁Farmer's Market
🎃BBQ + Food!
🍁Cider and Fall Drinks
🦉Falconry
TIP: The entrance to the farm is a little hidden. But it's the first right after the Marriott Grande Lakes entrance on John Young Parkway. Look for a little sign!
Tickets must be purchased in advance. Check out GrandeLakes.com and look for "Fall On The Farm" for more info!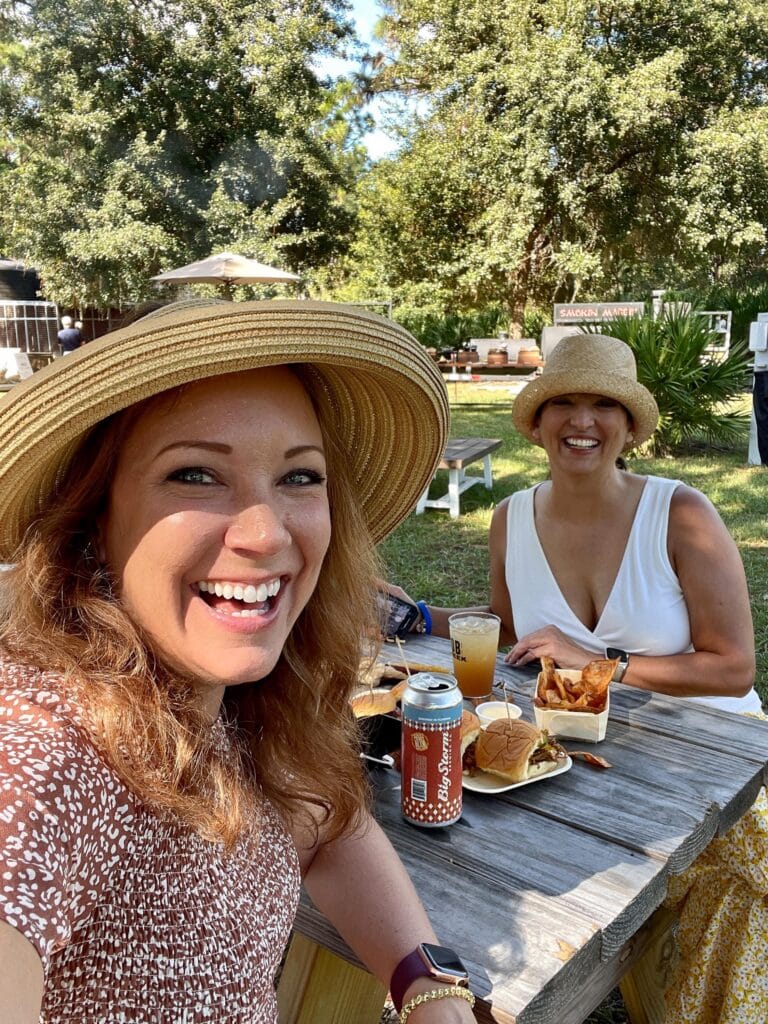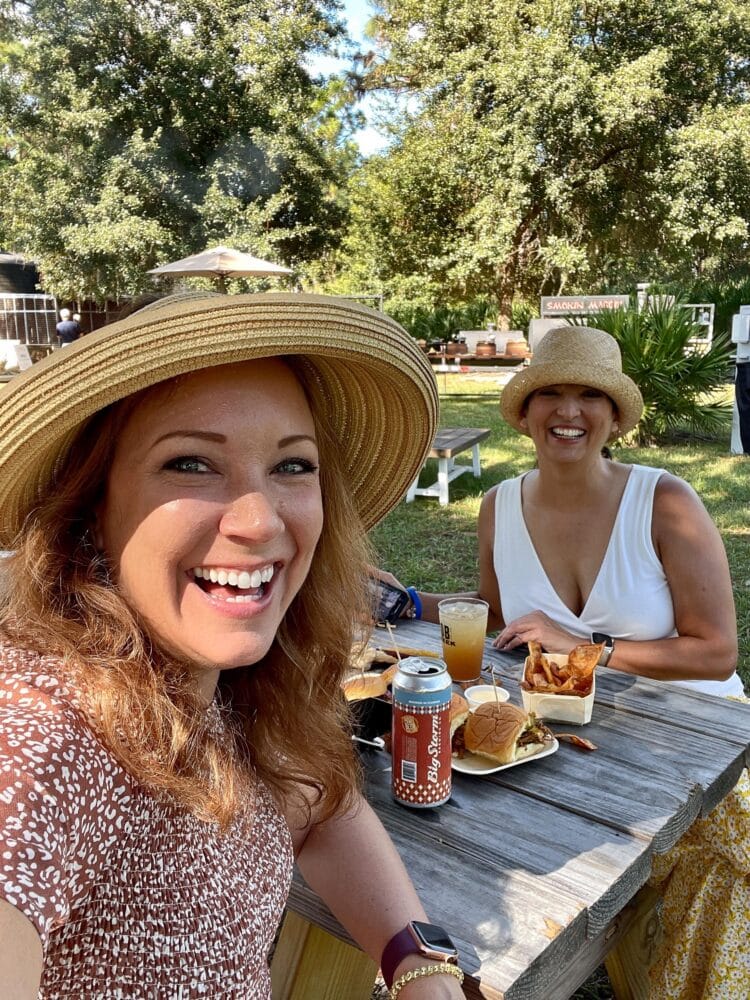 12 – Ghost Tour With American Ghost Adventures
Rather than your typical theatrical story-telling, this was a walking ghost investigation of paranormal activity! American Ghost Adventures is locally owned and offers tours year round! But this month seemed like the right season for spooks. Tours are offered throughout Central Florida and we went on one while visiting Mount Dora. But they have them in downtown Orlando too!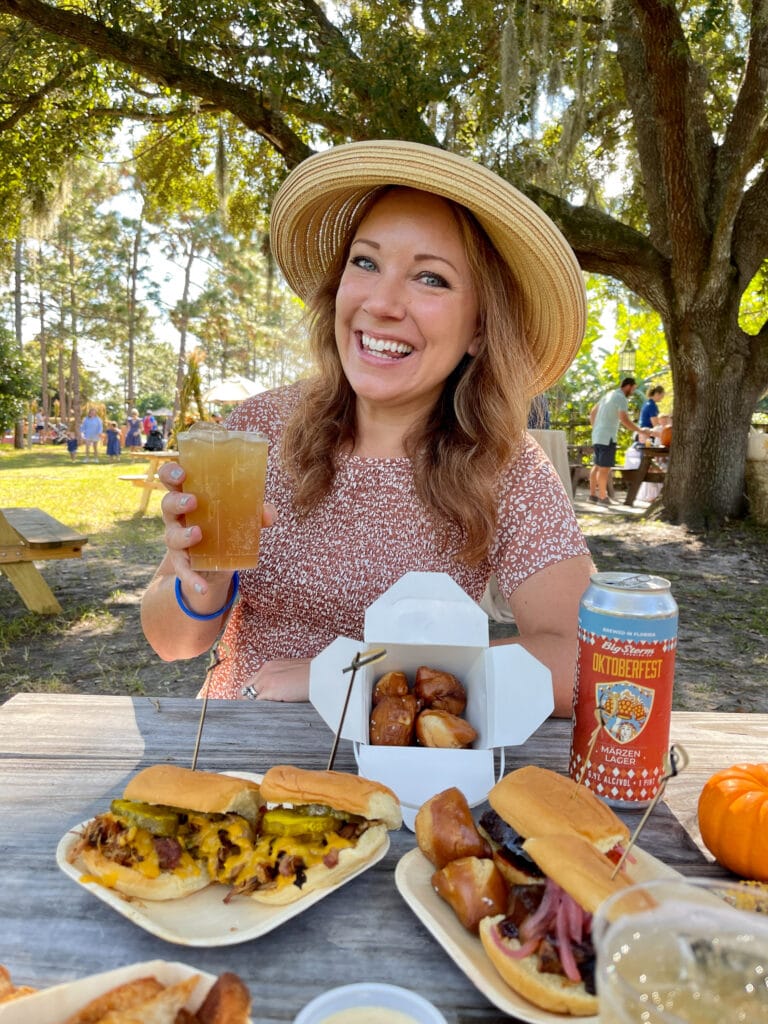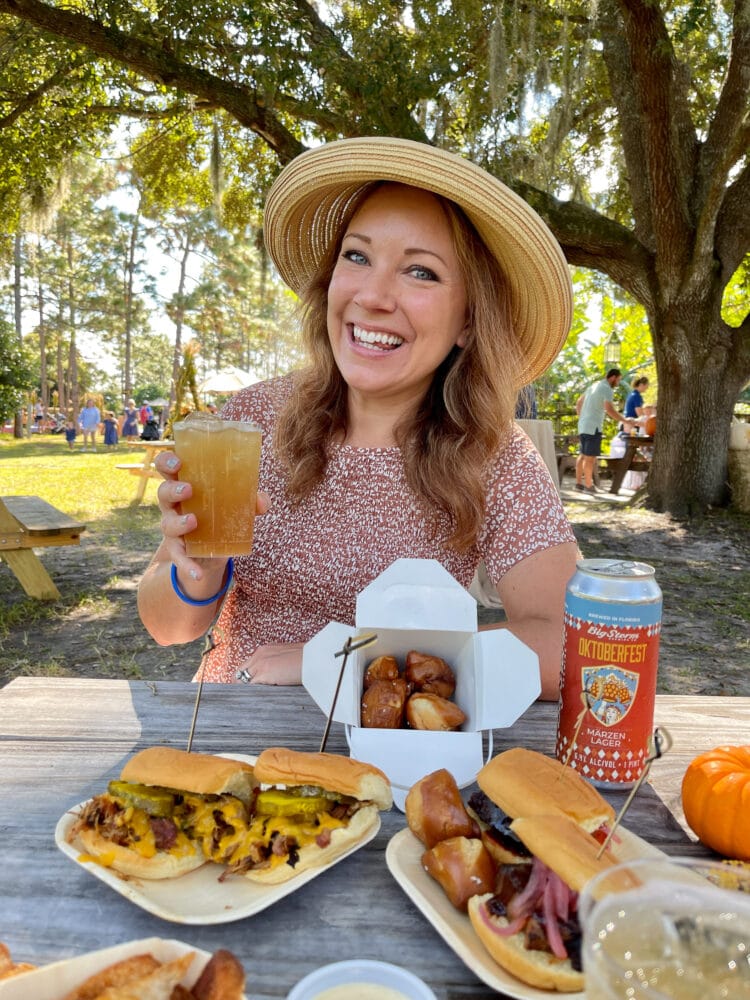 13 – Cocktails + Screams "The Craft" Speakeasy
Cocktails and Screams is a spooky themed bar in downtown Orlando that's actually open year round! But it is perfect for spooky season. The cocktails are all perfectly pumpkin themed, but you truly want to make a reservation for the speakeasy in the back of the bar called "The Craft."
The vibe in The Craft is a bit like walking onto a movie set where you're part of the story. It's a little Indiana Jones meets grown up Goonies and there are three choices on the menu.
🔮Magic Potion

🧪Tincture

🧚Absinthe
The absinthe is legit, complete with sugar cube and flame. But the magic potion was a craft cocktail at its finest. Fresh herbs and botanicals blended in a way you've never had before or will ever have again.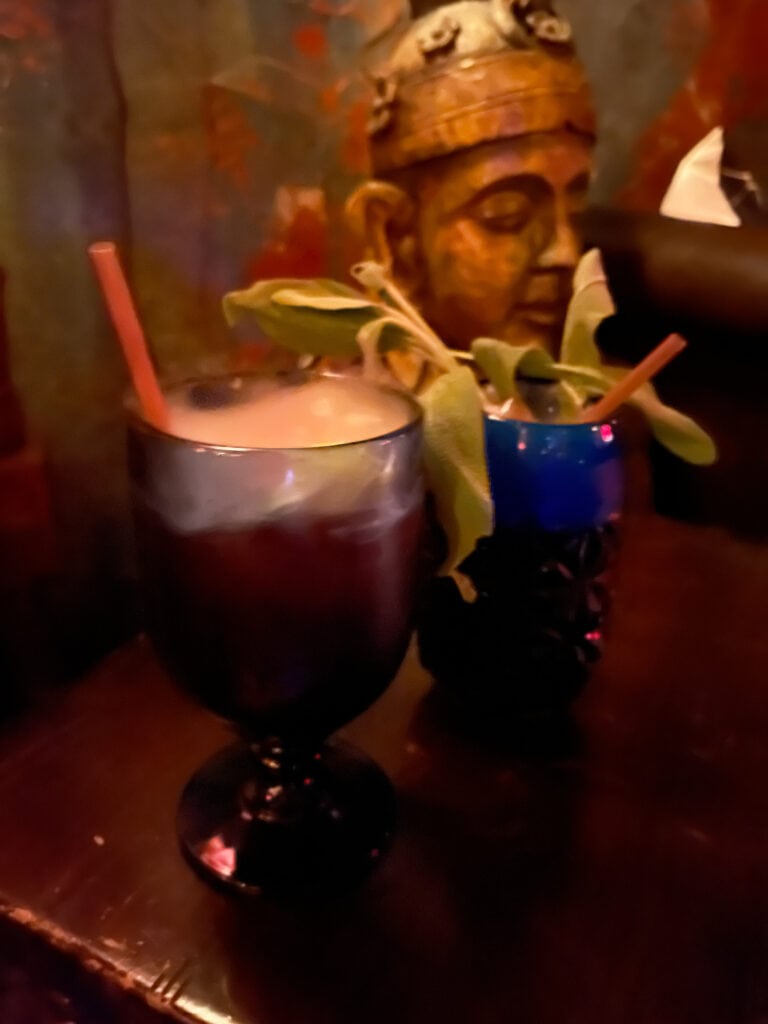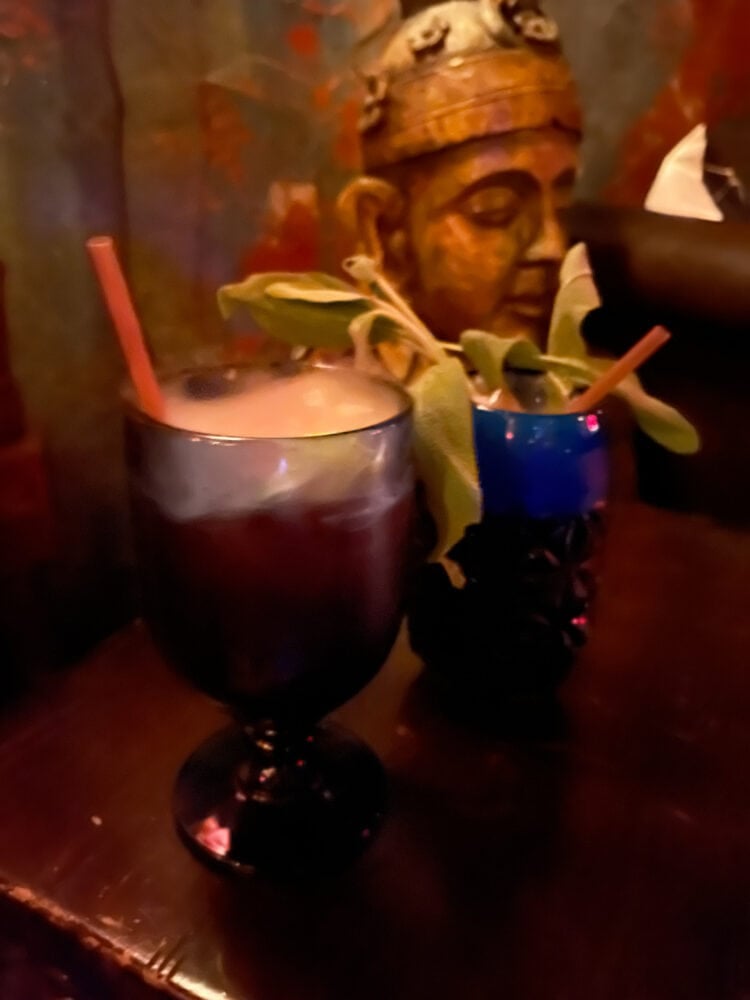 14 – Long + Scott's Corn Maze
Fall is the perfect time of year to get lost out on a farm! Try and find your way through a corn maze! And Long and Scott's Farm near Zellwood carves out the perfect fall fun in their annual corn maze. There's also food vendors, a country market, pumpkins, playgrounds, and plenty of fall photo ops. Open times and prices are subject to change, but here's a glance of what they were when we visited:
🌽6.5 acre corn maze
🌽Mini maze for kids
🌽Runs from Oct 1st until Dec 12th
🌽Saturdays 10am – 5pm
🌽Sundays 12pm – 5pm
🌽Cost is $15 pp
🌽Located at Long and Scott Farm near Apopka
The corn maze typically runs through December, so you have plenty of time to check out this great farm!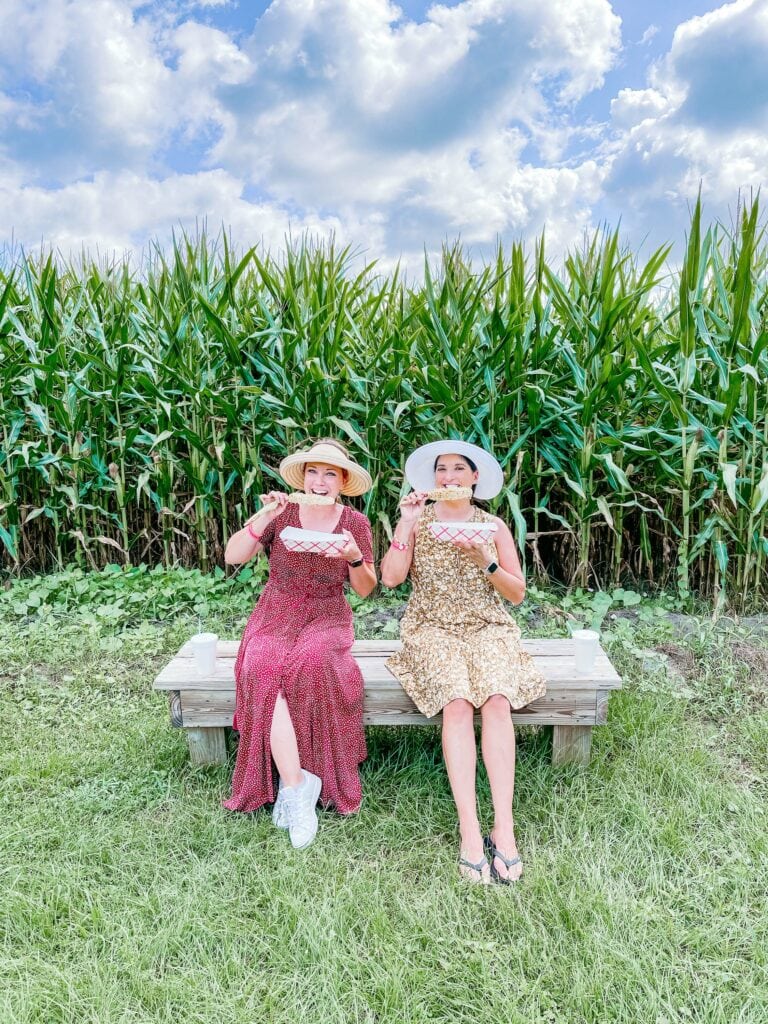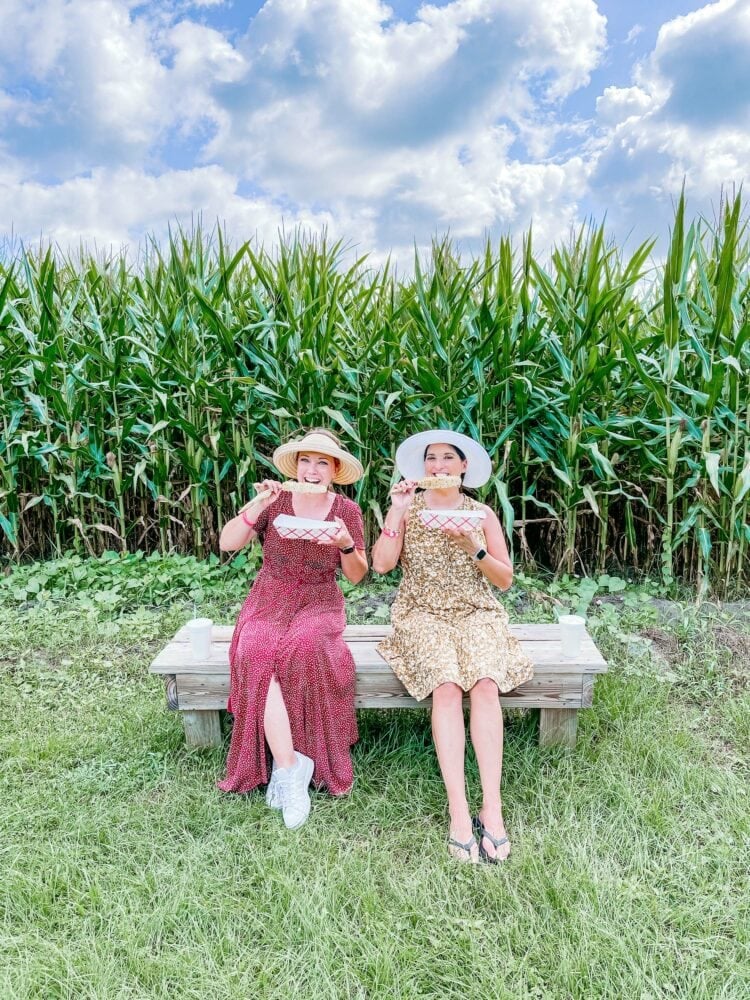 15 – Scott's Country Market
There are farmers markets in the city, and then there are real farmer's markets! And Scott's country market and cafe is one of them! Grab basket and fill it with all sorts of local goods, from fresh fruits and veggies, jams, apple butter, hot sauces, cookware, and crafts too.
There's a cafe too, so you can grab lunch if all that fresh food makes you hungry. And it's right next to the corn maze if you want to make a whole day of your visit.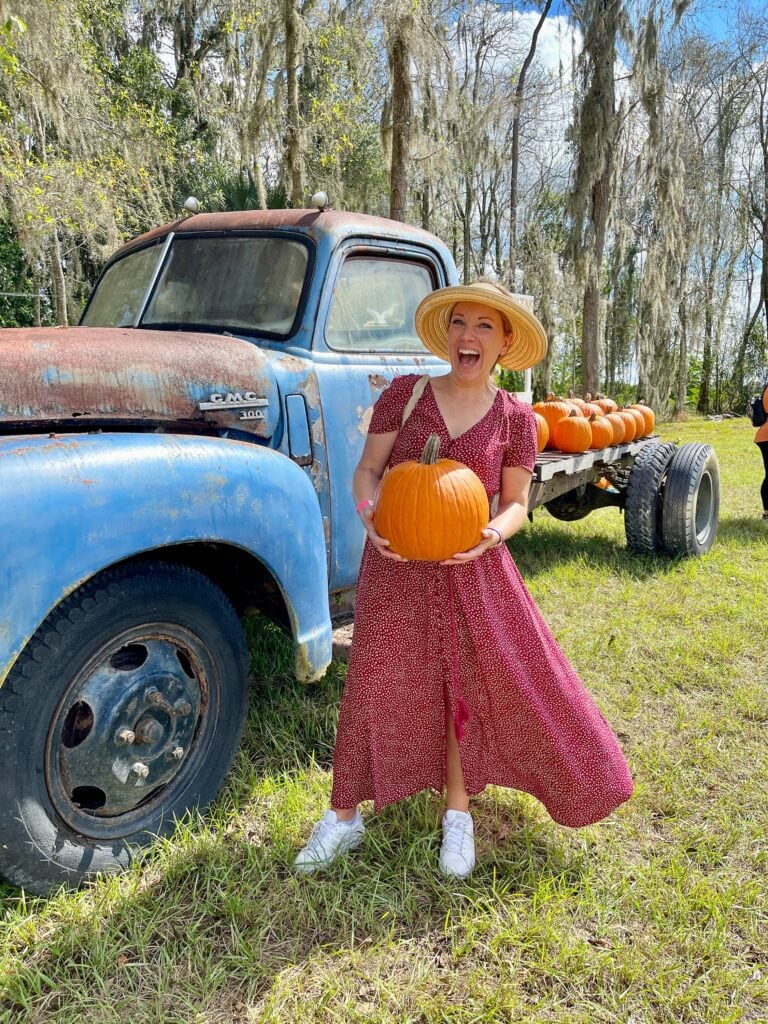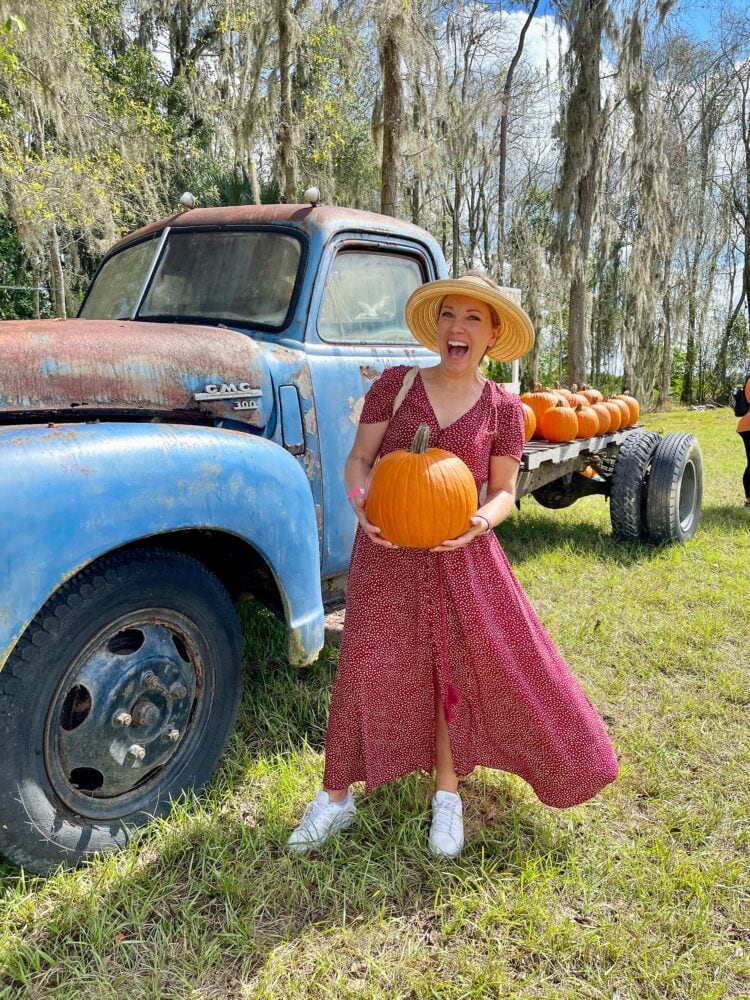 16 – Fall Themed Sushi
Wave Sushi in Mount Dora always makes a unique seasonal roll that goes go viral on social media. We had to drive out to try their pumpkin roll for Halloween! But we also ordered The Donut Roll and The Taco Roll . They also do a "whole" pumpkin and a black cat roll too!
Mount Dora is more of a weekend day trip from Orlando. But great sushi is SO worth the drive out to Mt Dora.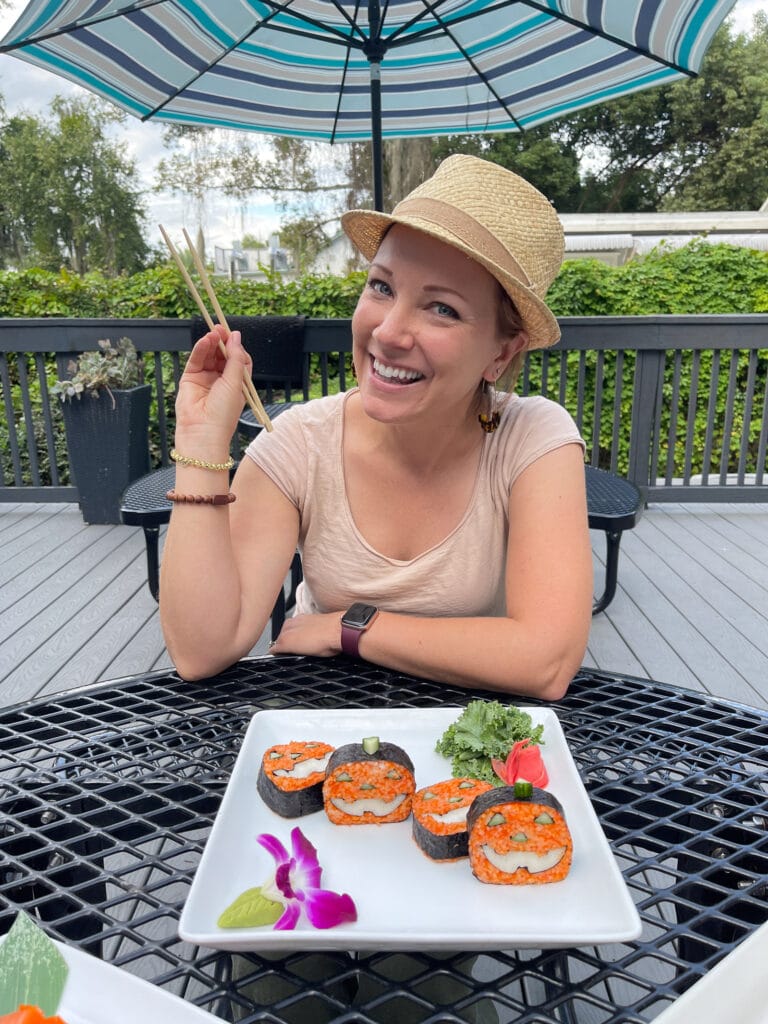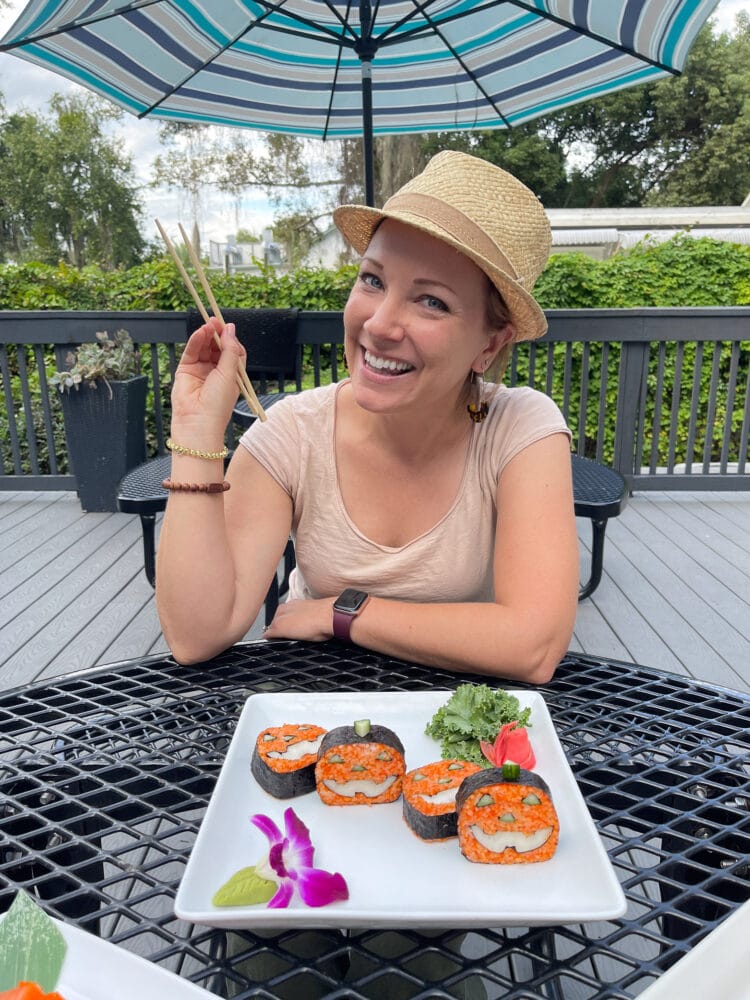 17 – Visit Mount Dora
Speaking of taking a weekend day trip, Mount Dora is about a 40 minute drive from Downtown Orlando and it's the perfect place to spend a Saturday or Sunday. We've given you a sneak peek of some things to do here including pumpkin sushi at Wave and ghost tours, but really it's worth a day trip because there's so much more! The historic downtown is picturesque and walkable, filled with shops, restaurants, and cafes. Here's what we did on one afternoon:
Apple Cider Mimosas To-Go (yes, they have a open container law here so you can walk and shop with your beverage.
Shopping at Mount Dora Marketplace (there are great eats here too)
Light bites and coffee upstairs on a balcony overlooking town at One Flight Up
Pumpkin Sushi at Wave Mount Dora
Historic Ghost Tour with American Ghost Adventures.
Other things I recommend in Mount Dora from previous visits …
Pizza at PizzAmore (the best!)
Dinner and/or drinks at 1921
Dinner or Lunch at Goblin Market
Stay overnight at Adora Inn or Mount Dora Cottages
There's also a beautiful lakefront park with a lighthouse and fun weekend festivals all fall and winter long.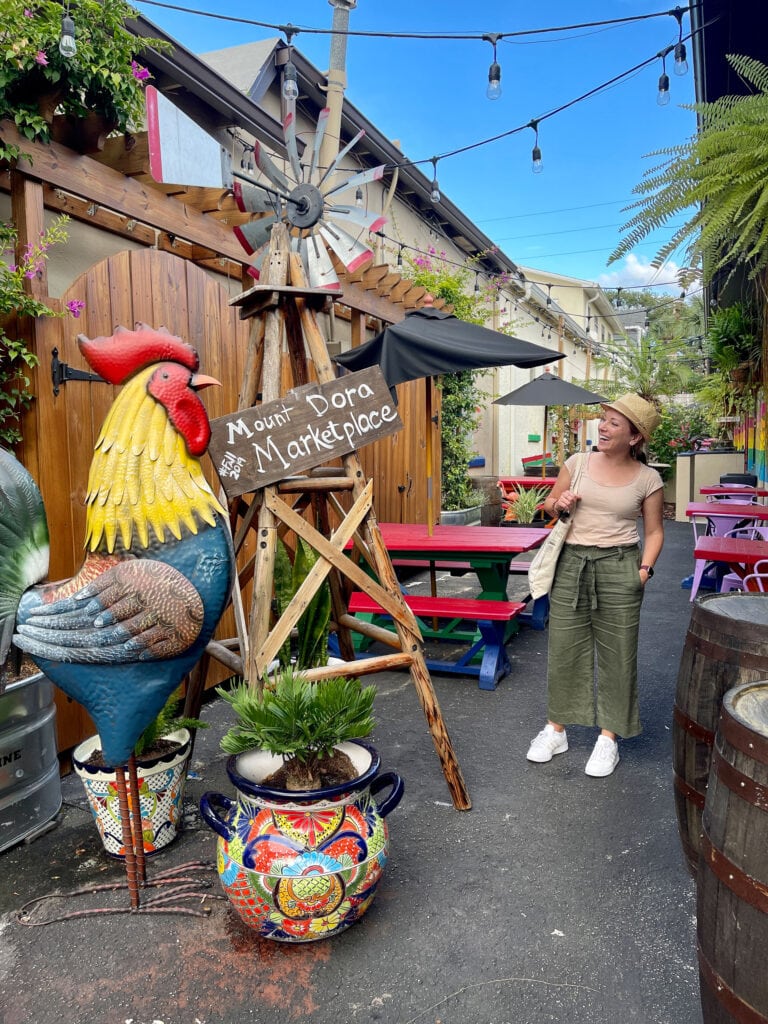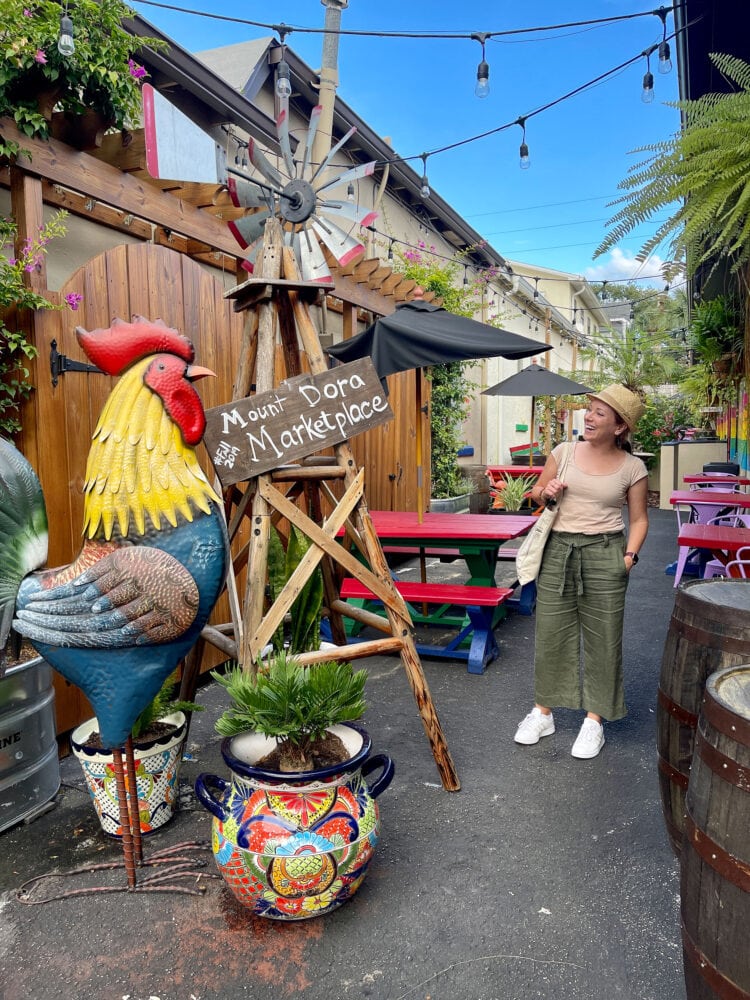 18. Rooftop Beer Garden at Hollerbach's
German food and beer at Hollerbach's rooftop beer garden! It might be nearing the end of October, but it feels like Oktoberfest all year long over Hollerbach's Willow Tree. And the roof top beer garden is perfect this time of year! They have a full menu of German comfort foods including:
🥨Pretzels

🍺German Beer (extensive list!)

🌭Sausages

🍗Schnitzel

🌭Curry wurst
And tons more. Plus live music and a fun atmosphere! Sanford is a fun town too. Worth a day trip to spend the day!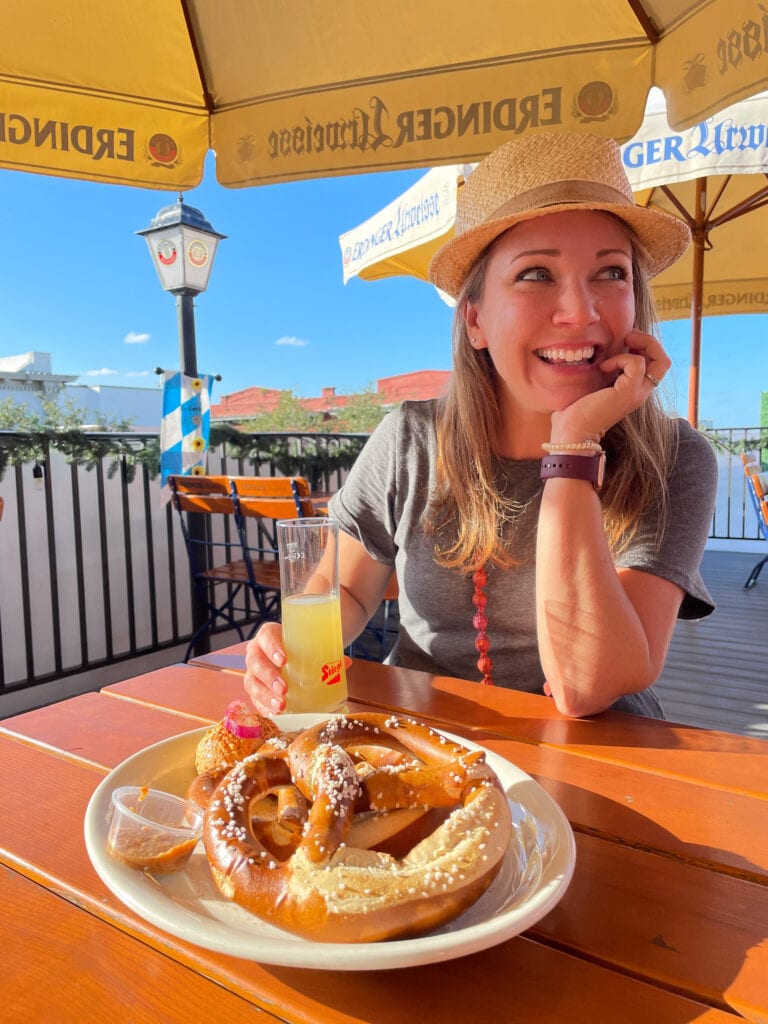 19. S'mores Bar
For another fun fall afternoon if you're looking for something to do in Orlando, visit the S'mores Bar at Wondermade in Sandford! You might recognize these adorable gourmet flavored s'mores from local Orlando gift shops, Disney Springs, and the airport. They're made locally in Sanford and you can visit their shop!
S'mores are my all time favorite fall campfire treat. But you know, a countertop kitchen blow torch is just as fun. Wondermade in Sandford handmakes craft marshmallows in all kinds of fun flavors (including boozy ones) And at their cafe in Sanford they'll fire up some s'mores with them too! Plus, they make a "smorescicle" which is half frozen pudding pop and half marshmallow that is toasted to order.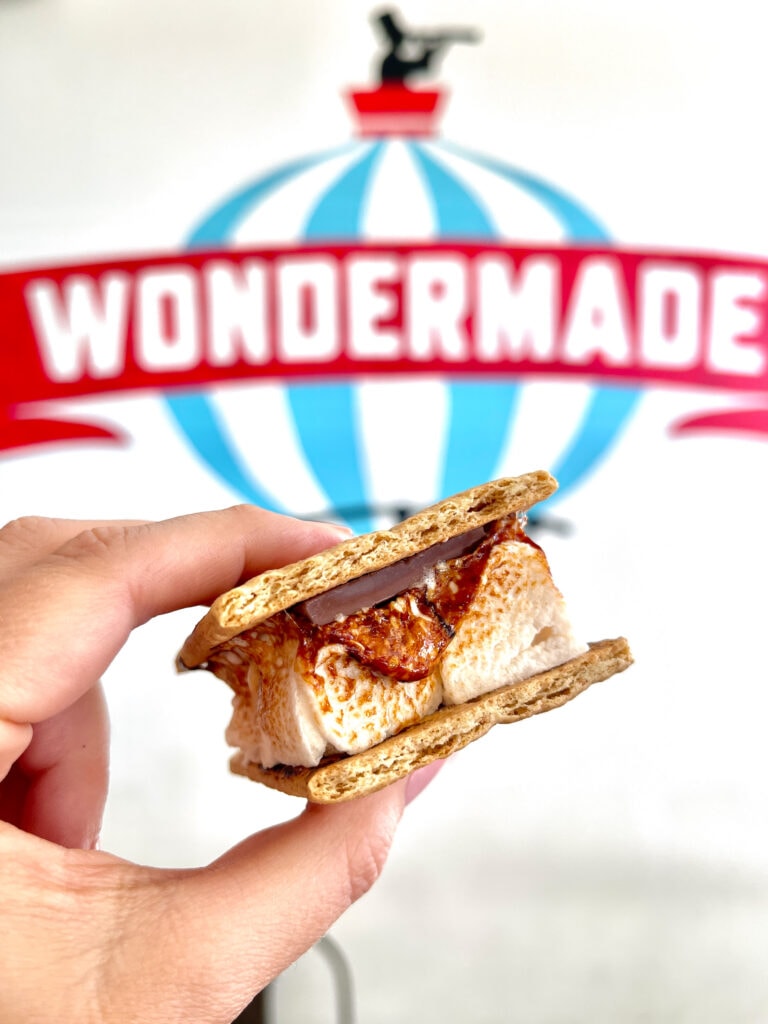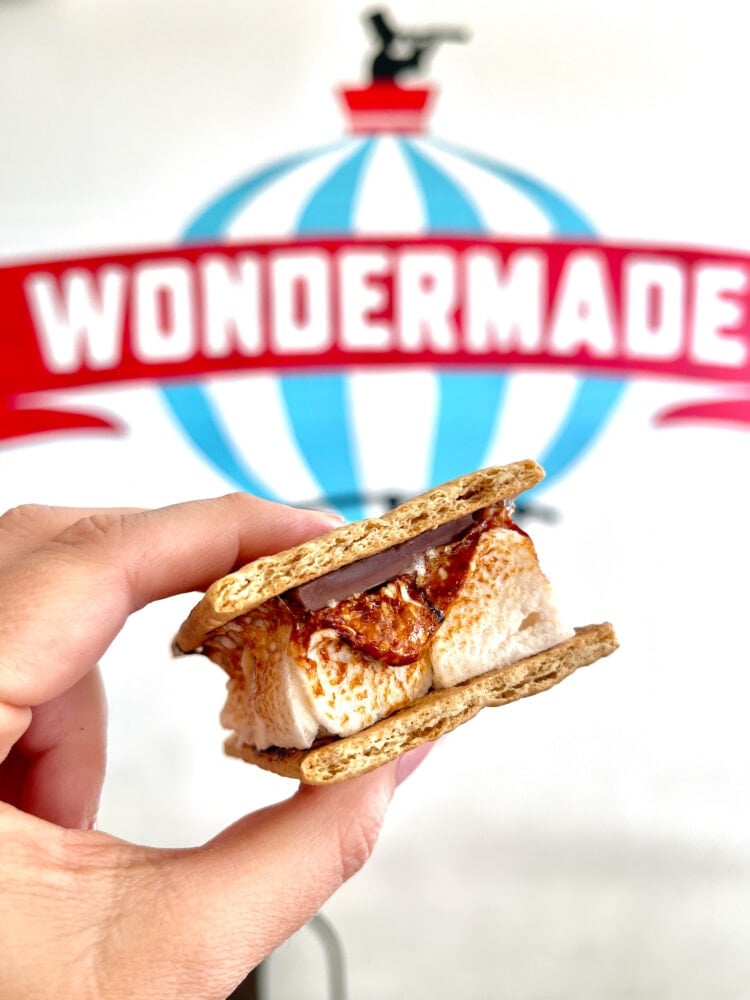 20. Diablos Rex at Voodoo Doughnuts
Voodoo Doughnuts are great anytime of year, but especially so around Halloween! Here are the fun donut flavors to order that are perfect for spooky season:
😈 Diablos Rex — Devil's food chocolate cake, dipped in chocolate frosting topped with red sprinkles, chocolate chips, and a piped on pentagram.
🌶 Ring Of Fire – (try this if you dare! I didn't dare 🙈 Devil's food cake with cinnamon sugar, cayenne pepper, and a dried red chili pepper.
🍩 Voodoo Doll – Voodoo Doll shaped doughnut with chocolate, a face, and a yellow spiral.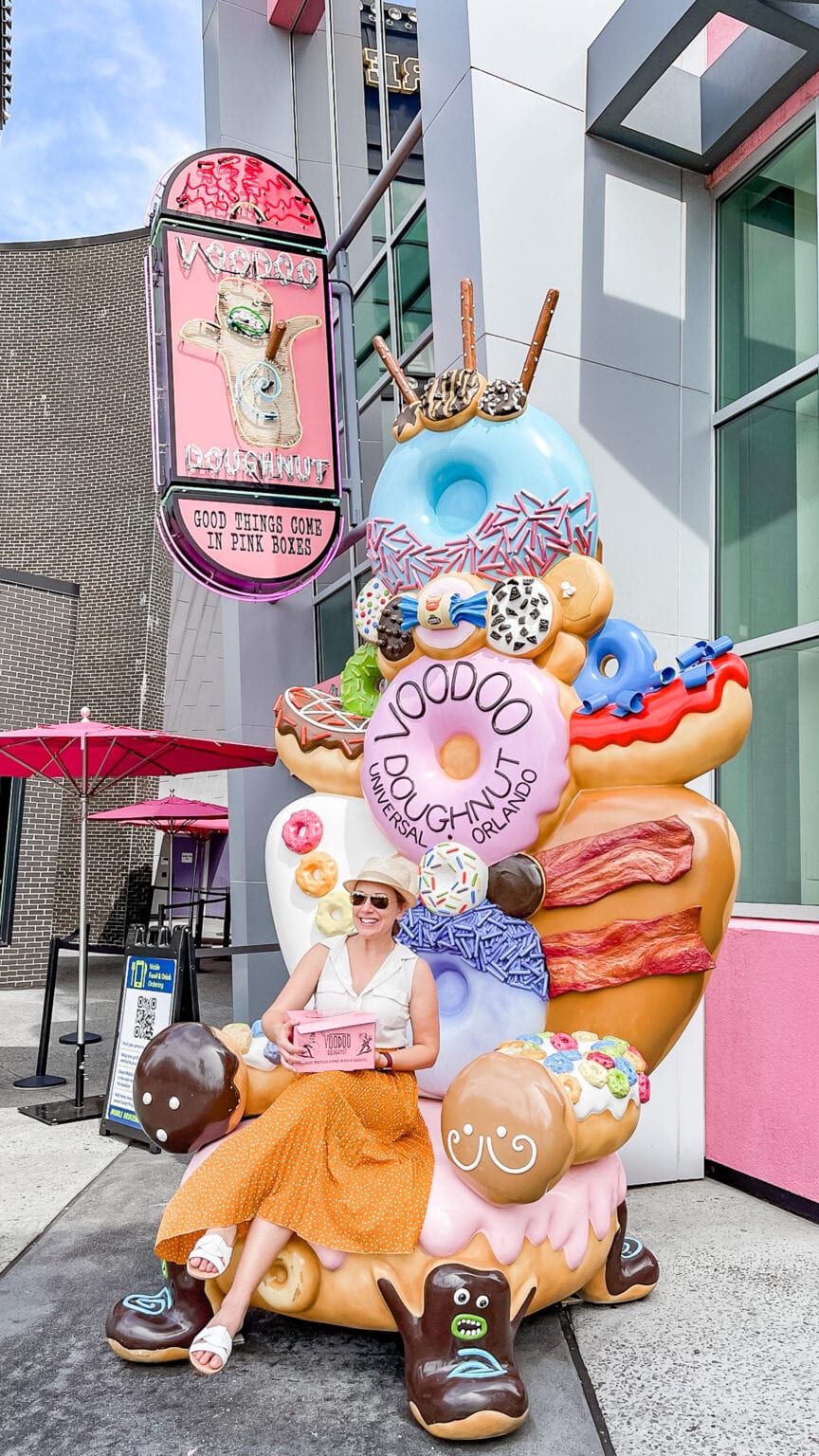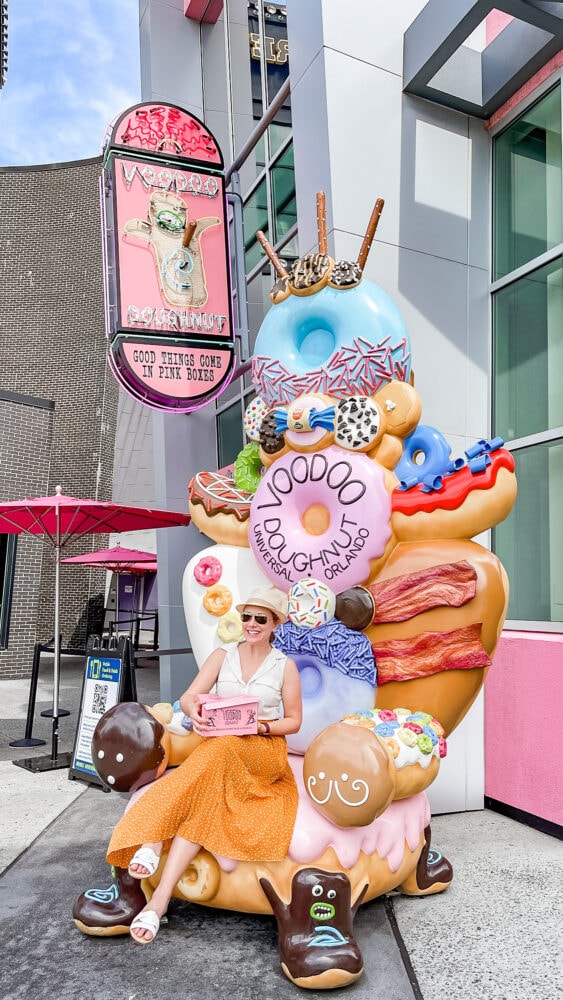 21. Toothsome Chocolate Emporium
The steam punk theme at Toothsome Chocolate Emporium is fun for fall. We like to go for Chocolate Craft Cocktails and desserts!
TIP: Skip the line at Toothsome Chocolate Emporium by heading upstairs to the bar.
The bar has some amazing chocolate infused craft cocktails. And not the sticky sweet kind, but layered with flavor kind you'd normally get at a speakeasy. Which is of fitting with Toothsome's whole steam punk theme. Here's what to try:
🍫Old Chocolate Fashioned – Bird Dog chocolate whisky, cherry Heering liquor, chocolate and orange bitters.
🍫Chocolate Cherry Mule – Double chocolate vodka, brandied cherry, ginger beer, chocolate bitters.
You can also order food from the bar from the main menu. We loved the selection of shareable bites recommended by our bartender…
"Tatchos" Tater Tot Nachos with crispy pork belly.
Roasted Brussels Sprouts with Cotija cheese.
Short Rib Flatbread with shallot jam.
22. Stay In A Treehouse
This has been on my bucket list of things to do in Orlando for awhile and fall seemed like the perfect season for it. And believe it or not, this treehouse is only about a 20 minute drive outside of Disney. Such a peaceful location and relaxing stay!
I guess you could call this glamping since there's a bed, A/C, a shower, and even a kitchenette! An owl even peeped inside our window. There are a couple of treehouses available in Orlando on AirBnB. But they book up fast, so you'll need to research and book them almost a year in advance.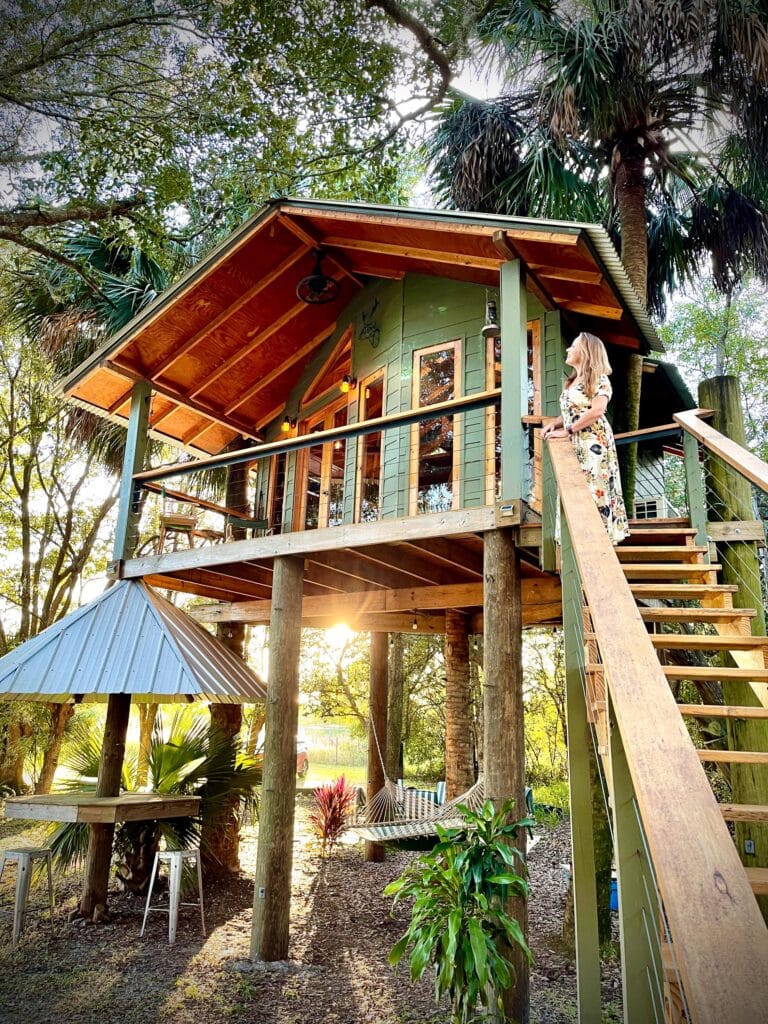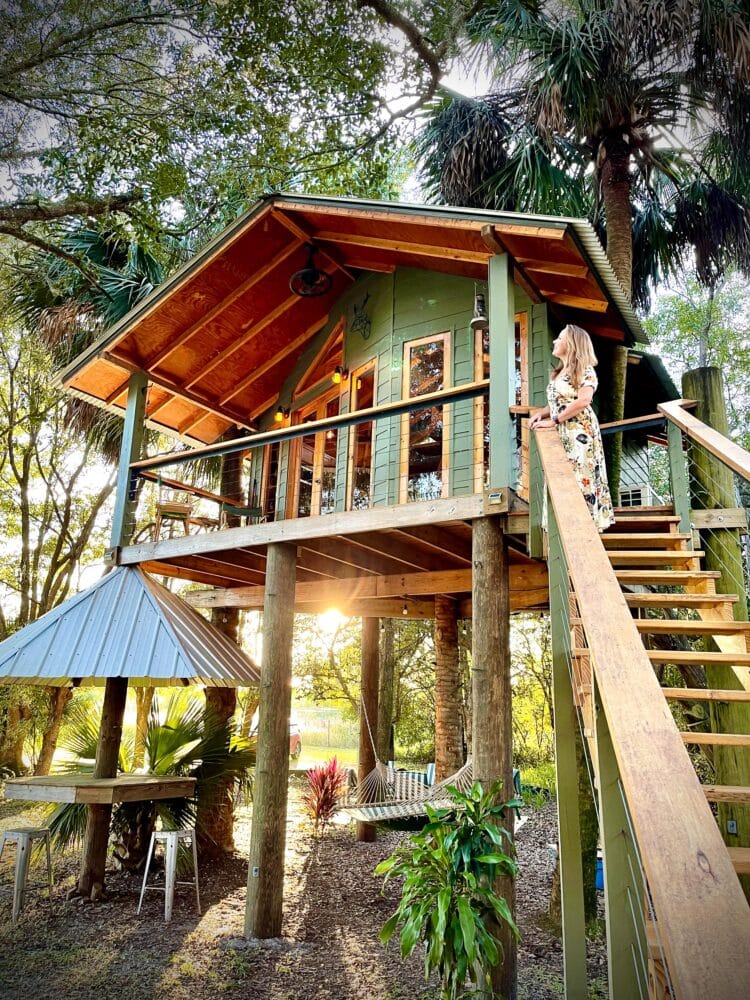 23. Candles and Crafts
Sipping coffee while hand making seasonal candles … yes, please! Any sort of fall or autumn themed craft, I'm there!
Be sure to keep an eye on the event calendars at Quigley Coffee (at Thrifton46) and House On Lange for monthly seasonal crafts. We attended a candle making pop up hosted by Many Mumbling Mice and made candles while tasting these signature coffees at Quigley:
☕️ "Florida Boi" Signature Coffee with Orange syrup and cardamom
☕️ "Bear Hug" Seasonal Coffee with chocolate, agave, cinnamon, and a warm hug feeling
☕️ "Harvest Matcha" Seasonal Coffee with roasted matcha, pumpkin purée, oat milk, and spices
This pop up event was hosted by Many Mumbling Mice Candles and Quigley Coffee
and I do hope they host it again! Keep an eye on their pages for events.You can support local makers this holiday season by gift getting locally from these small businesses.
24. DG Doughnuts
A must-do anytime of year, but especially during the fall and holiday season, is to go for donuts at DG Doughnuts. DG stands "Damn Good" and they certainly live up to the name! Named Best Doughnuts in the state of Florida for 2020!
Local baker and owner Amanda Eubanks dreams up some of the most creative doughnuts … including one you see here stuffed with a pop tart!
The selections change regularly and the seasonal selections are really great, so be sure to check out DGDoughnuts for what's available. Personally, I'm keeping an eye out for their Coquito Doughnut! Here's what we tried:
Raspberry Beret: (gotta love the Prince reference!) Doughnut filled with raspberry jam, glazed with dark chocolate and topped with icing rosettes and fresh raspberries.
Apple Fritter: This fritter was the size of a pie! And my husband Pete's favorite.
Witches Brew: This one had a Halloween inspired name for a coffee/peanut butter themed doughnut with coffee icing, crushed Heath Bar and Peanut Butter Cups and a mini pipe of peanut butter liquor.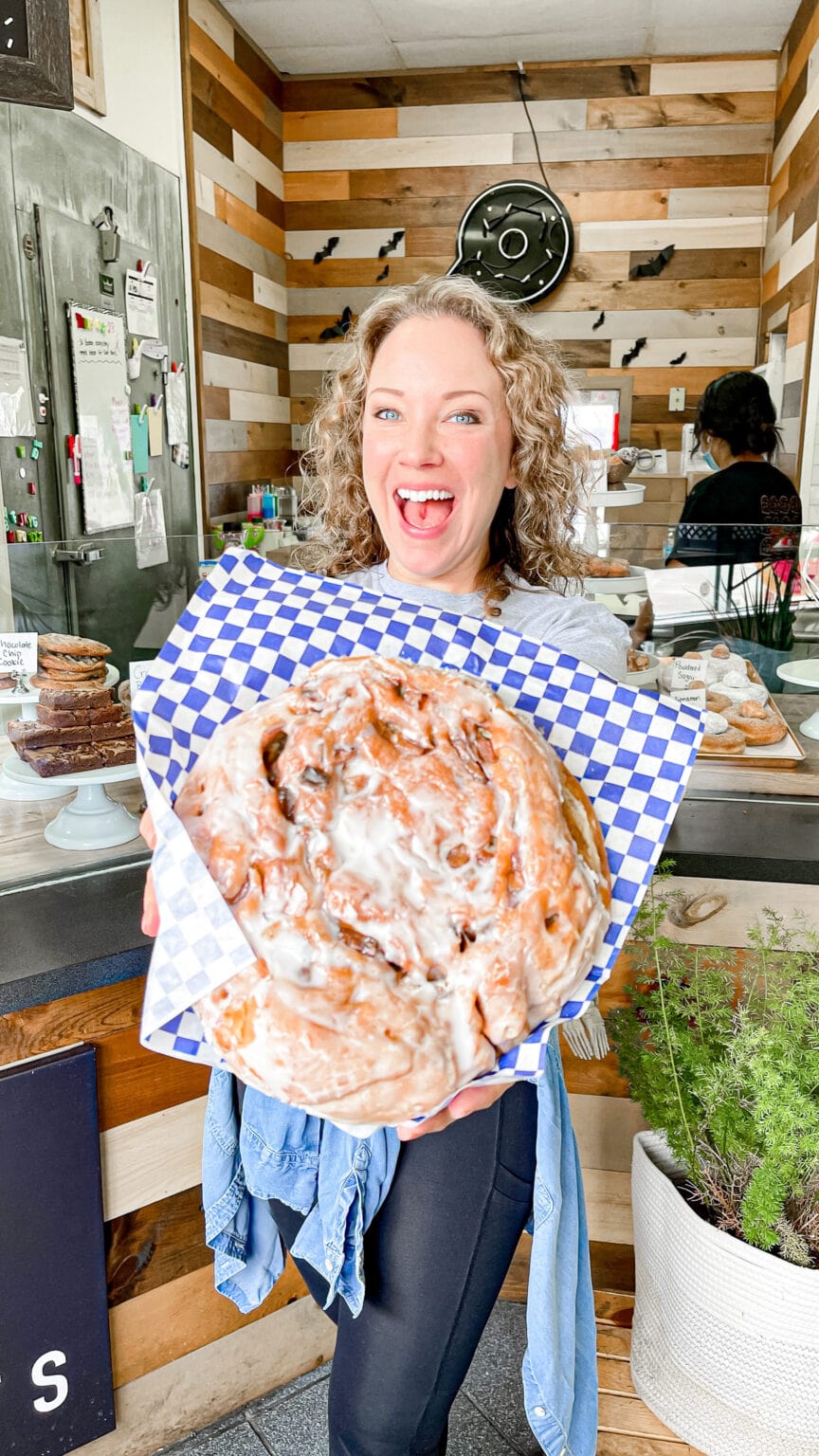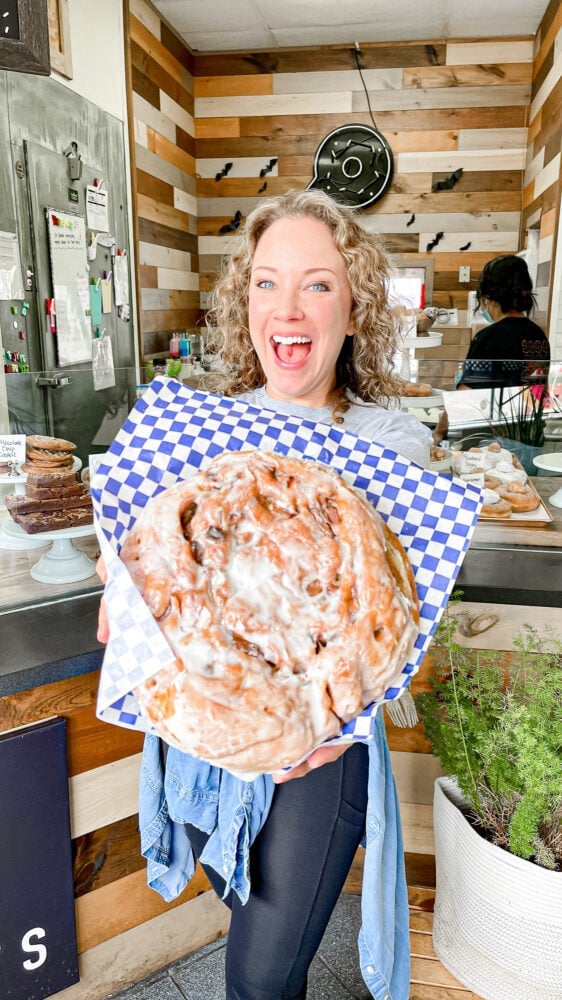 25. Packing District Farmers Market
Another fun thing to do in Orlando during the fall is shop local and visit a farmers market!There's no better time of year to shop for local produce, fresh baked bread, locally roasted coffee, and more. It's the season for eating!
We checked out the P D Farmers Market in the Packing District. It's a collaboration by 4 Roots Farm Campus, the farm initiative of 4Rivers founder John Rivers, and The Farmacy, an online co-op selling produce and meats from Central Florida farmers. For more information go to 4 Roots Farm Locations
TIP: Bring cash and go early for best pics!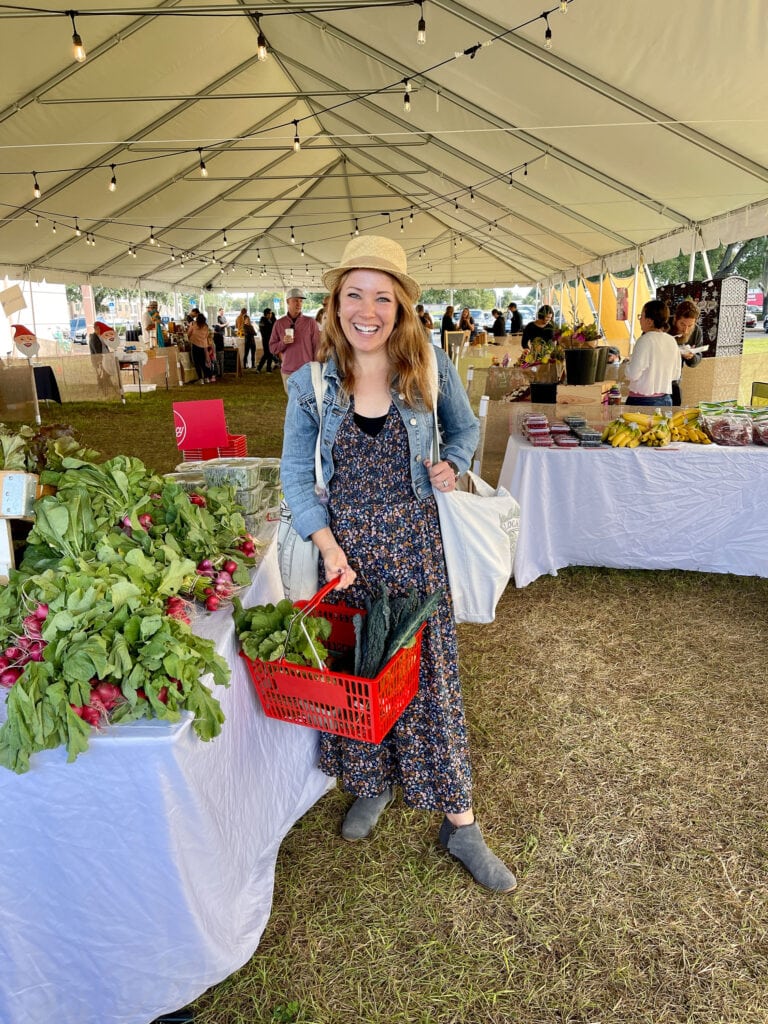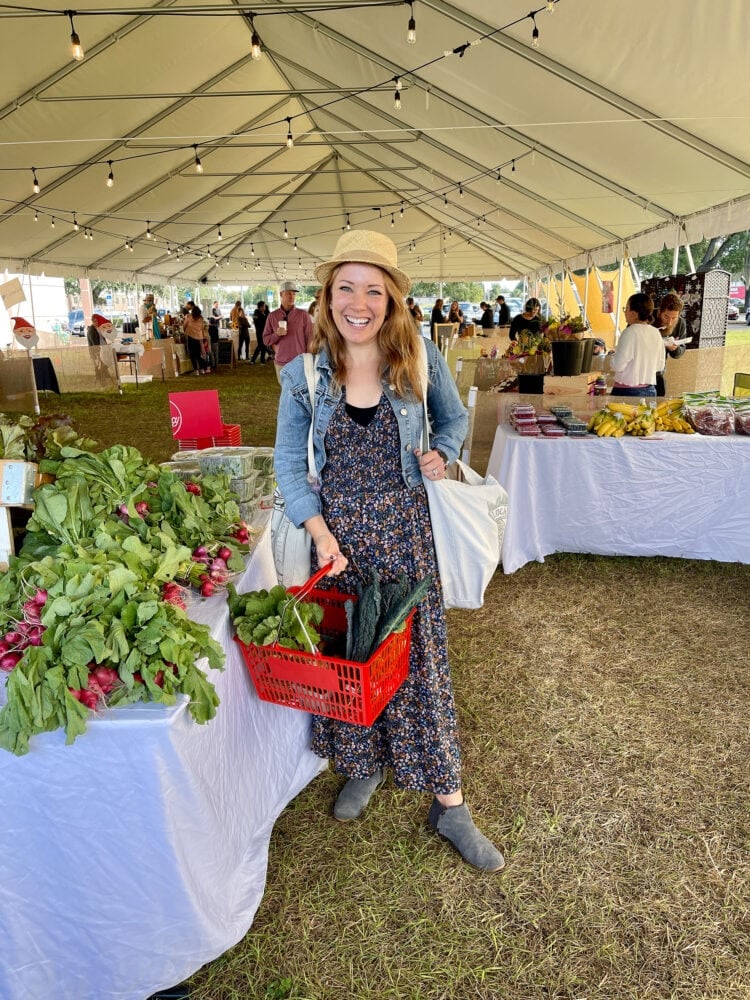 26. Phyre Candy Bacon at Phyre Pinup Speakeasy
Candy Bacon and cocktails at a pinup themed speakeasy? YES! Phyre Brewery is a nano brewery and tavern in a historic building in downtown St Cloud with a pin-up/speakeasy vibe. And I have to say, this is one of our more unexpectedly pleasant surprises when we visited during our video shoot.
My friend Christina and I visited here while staying in the treehouse (number 22 on our reels "Fall 50" list) and were completely charmed. The cocktails and food were delicious! But you must try the BACON! Here's what we tried:
🥃Smoked Old Fashioned — BSP 103 Brown Sugar Bourbon, Heering Cherry Liqueur and bitters.
🍸Lavish Lucy – Lavender Rosemary Vodka w/ Elderflower Liquer, thyme, and lemon
🥓Phyre Candy — thick smoked bacon with a perfect combination of sweet, smokey, and peppery.
🍟Nico' Dumpster Phyre — a southern take on poutine including house cut fries topped with pulled pork, bacon, jalapeños, bbq, and beer cheese
🍔Phyre Whiskey Burger — a burger blend of angus chuck, brisket, and short rib. Topped with avocado, egg, house made whiskey sauce, and Phyre candy
27. Golden Hills Espresso Bar
How about a Warm Apple Pie Latte or Bourbon Maple Cold Brew to start your week? I can't get enough fall flavored coffee. And anything local beats a normal PSL! Both of these delicious autumn coffee drinks can be found at Golden Hills Coffee Espresso Bar in Montrose Street Market. They're a family owned local micro roaster and the coffee is divine!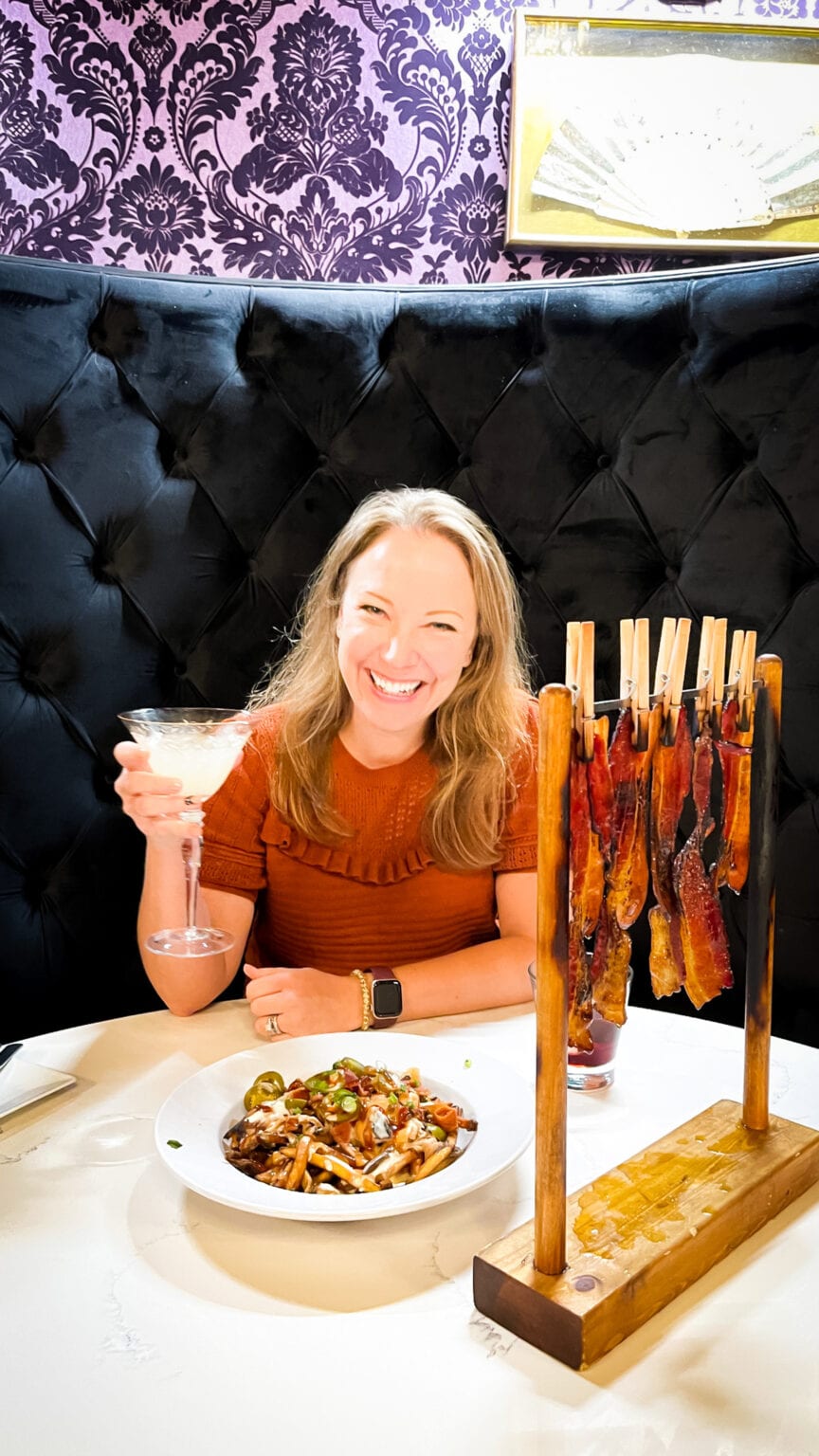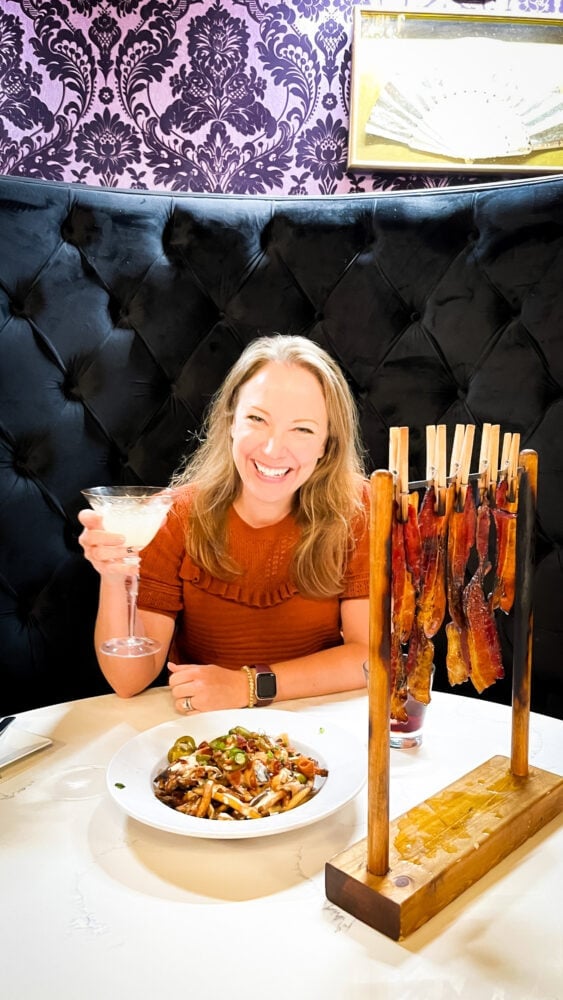 28. Montrose Street Market
Take a day trip out to Clermont and visit Montrose Street Market. It's a charming two story food hall with so many artisan vendors. IT's really fun to watch empanadas, crepes, and donuts all made to order right in front of you. There's also shopping and small boutique stores so you can get a head start on your holiday shopping while also supporting local creators and businesses.
29. Pumpkin French Toast + Fall Lattes at Vanessa's Coffee Shop
Visit Vanessas Coffee Shop for breakfast and order the Pumpkin French Toast with real pumpkin puree topped with pecans, walnuts, cinnamon, caramel, and whipped cream!
Her coffee drinks are also divine (and instagram photo worthy!), with the option to add chocolate or Nutella rimmed cups and different toppings. She has two locations, one in Lake Nona and one in St. Cloud.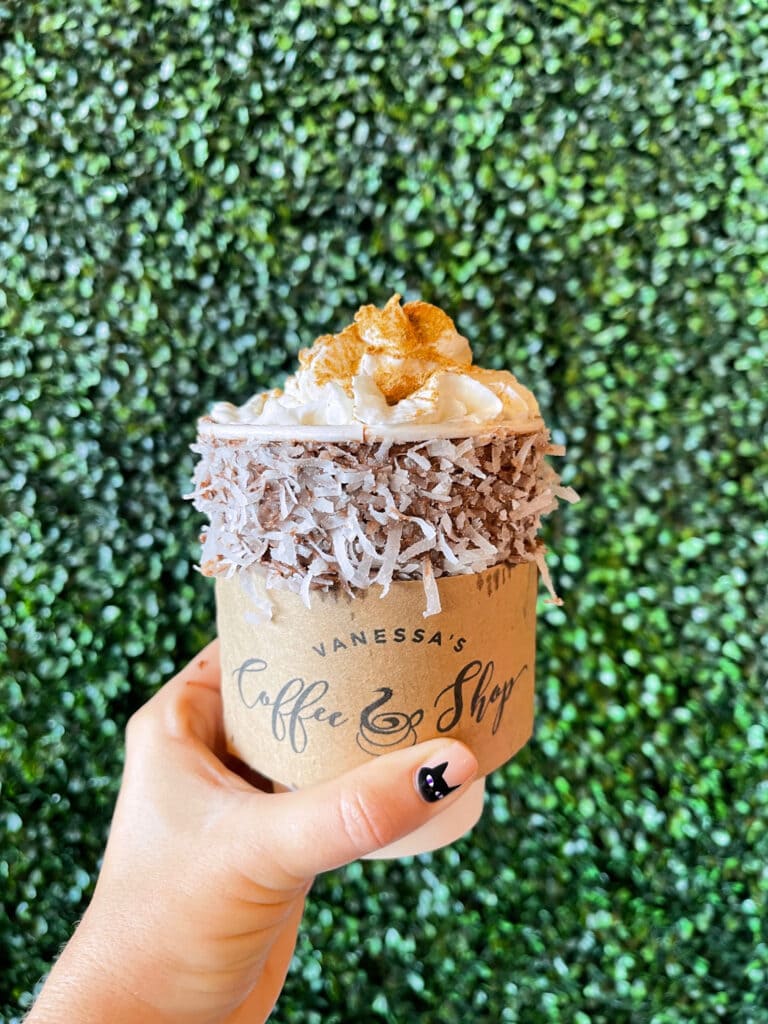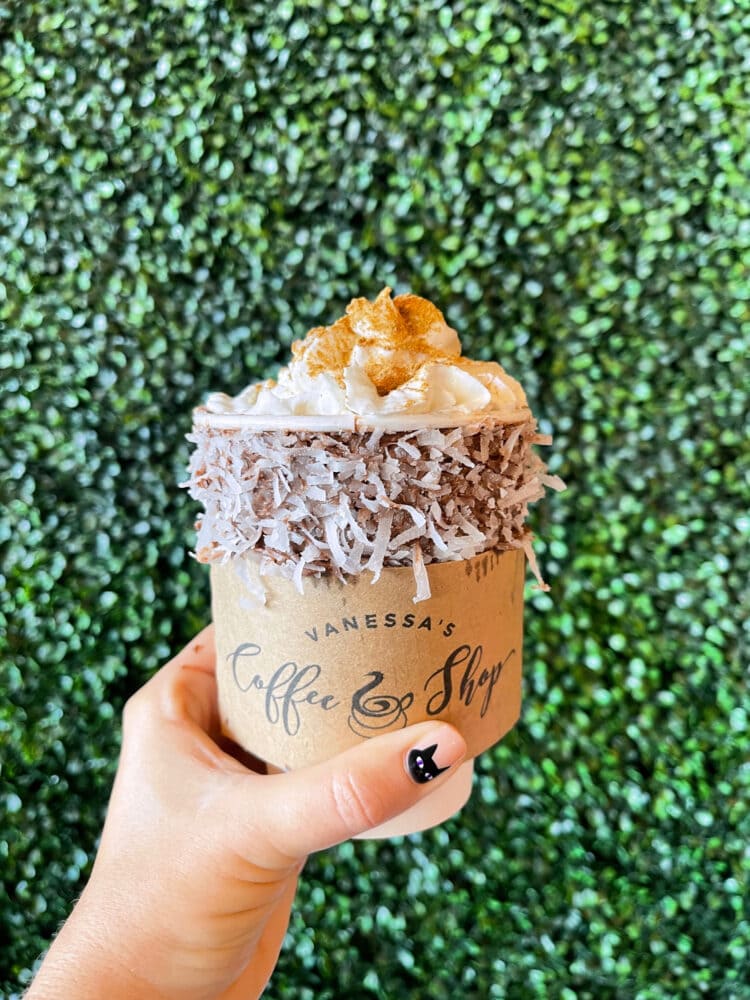 30. Spiced Sweet Potato Latte with Toasted Marshmallow Topping
It's almost Thanksgiving! And my favorite thing at the table is always dessert. Which is why we love the spiced sweet potato latte at The Monroe. And what a unique change from the normal PSL latte.
The flavor is perfectly balanced with autumn spices and a hint of sweetness that makes the toasted marshmallow fluff an absolute treat. It's like a pie in a mug. Sip it before it's gone as it will only be on the menu for a limited time.
The matcha latte is also tasty! Plus, the coffee bar is such a charming place to relax and catch up with friends.
31. Hike the Florida Trail to Boonie Falls
Number 31 in our list of 50 Things To Do In Orlando This Fall is to go for a hike!
This one in the video is part of the Florida Trail. We started at the Flagler Trailhead which is off of Lockwood in Oviedo. But you can see a whole map here of Boonie Falls. (You can also typically find it by typing it into Google Maps.
The trailhead is about a 10 minute drive from UCF and there are only a few parking spots on the street side next to the trailhead (so definitely go early) About a mile in from the main trailhead is Boonie Falls. Yes, there are waterfalls in Florida! They're small, but the sound is soothing just the same. Wear good hiking shoes or boots as the trail is muddy in quite a few places. Bring snacks and enjoy a day outdoors!
32. Pies + Sweet Treats at Se7en Bites
Number 32 in our list of 50 THINGS TO DO IN ORLANDO THIS FALL is to head down to Seven Bites in The Milk District for great southern food and irresistible baked treats! It's such a delicious brunch spot, but also the best bakery for ordering your seasonal party treats.
🥧Pick up some pies for Thanksgiving, like their signature Salted Caramel Dark Chocolate Pecan Pie.

☕️Grab a cup of seven bites custom blend coffee with the OG Barnies Coffee (flavor inspired by pie mentioned above.

🍰Or place a custom desert order for your special occasions this season! We ordered a Boston Cream Pie birthday cake for my mom that was divine decadence!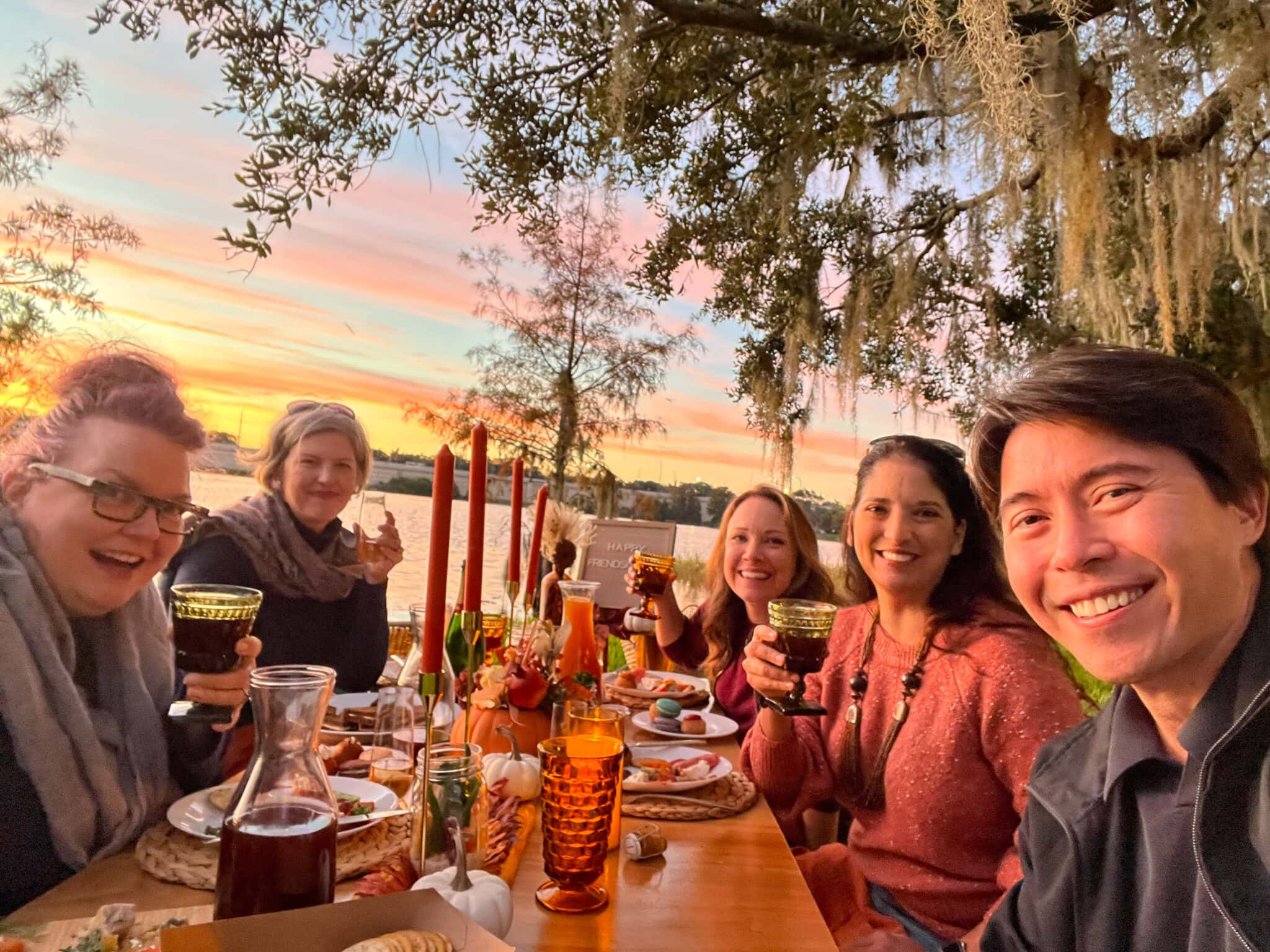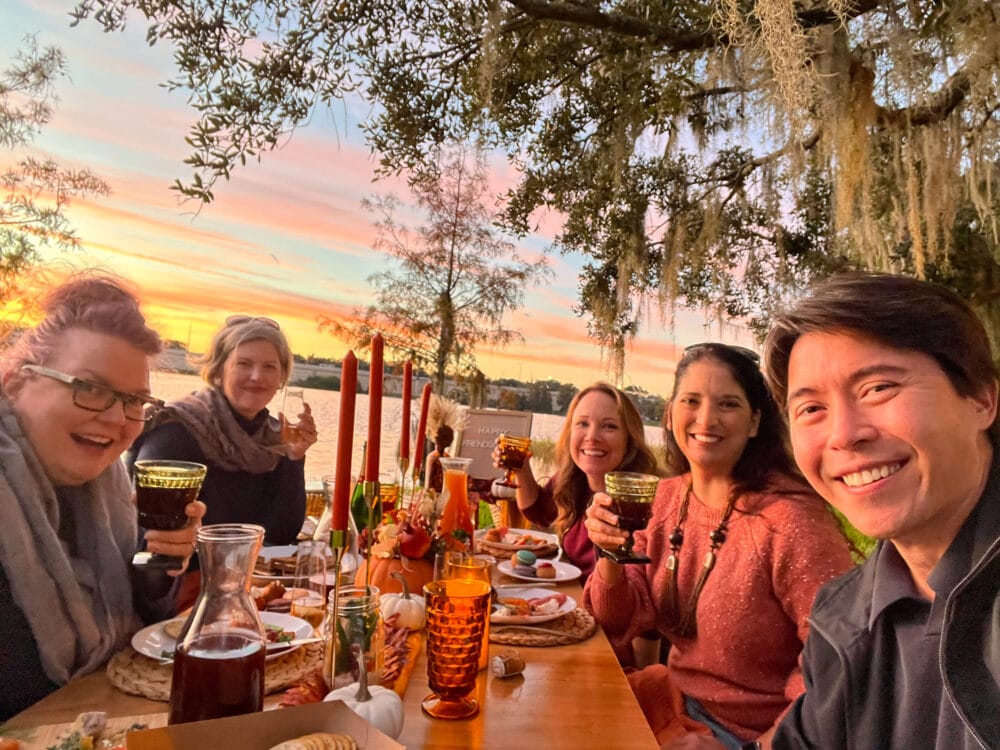 33. Friendsgiving Picnic
Number 33 in our 50 THINGS TO DO IN ORLANDO THIS FALL is to plan an Orlando Picnic Popup with friends! There is nothing better than dining outdoors in fine weather. We planned a Friendsgiving picnic where everyone brought a dish and Orlando Picnic Popup set the table for us at Gaston Edwards Park in Downtown Orlando. We were so delighted by this gorgeous table setting and how special it made the occasion feel! Pick up an epic cheese board by Femme du Fromage and desserts at Choulala to make your fall picnic delicious and picture perfect.
Florida weather shines this time of year until summer heat sets in again. So get out and enjoy it. Plan a picnic in one of Orlando's gorgeous parks.
34. Gobble Gobble Mofo
Number 34 in our list of 50 THINGS TO DO IN ORLANDO THIS FALL is the Gobble Gobble MoFo at Big As's Sandwich on Primrose. 🚨 Only available for a limited time during the year 🚨 This Thanksgiving inspired sandwich includes:
🦃 House Roasted Turkey

🦃 Gouda Cheese

🦃 Stuffing

🦃 Cranberry Aioli

🦃 Crispy Onions
And it is served with sweet potato tots and gravy for dipping! Catch it this week before it's gone! But if you happen to see this after November, ALL of their sandwiches are really great. Bad A's was a crowd favorite at this year's Cow's and Cabs event. Our other favorite on the menu is the Ninja … crispy fried Asian sauce glazed pork belly topped with slaw, cilantro, and spicy miso lime aioli.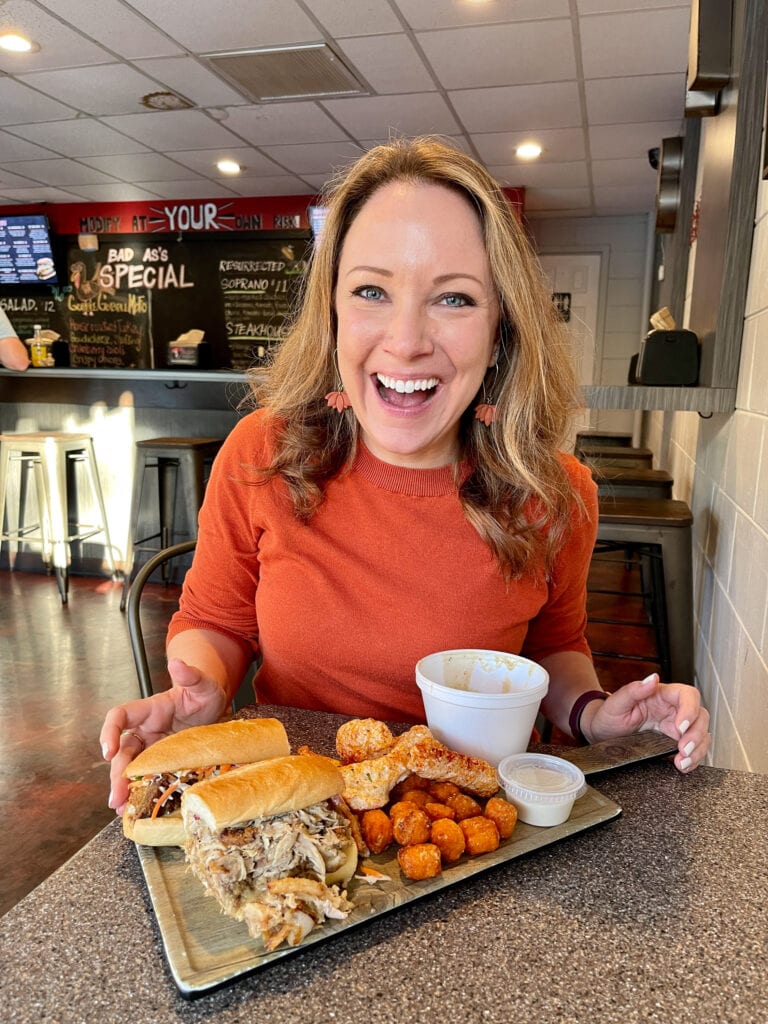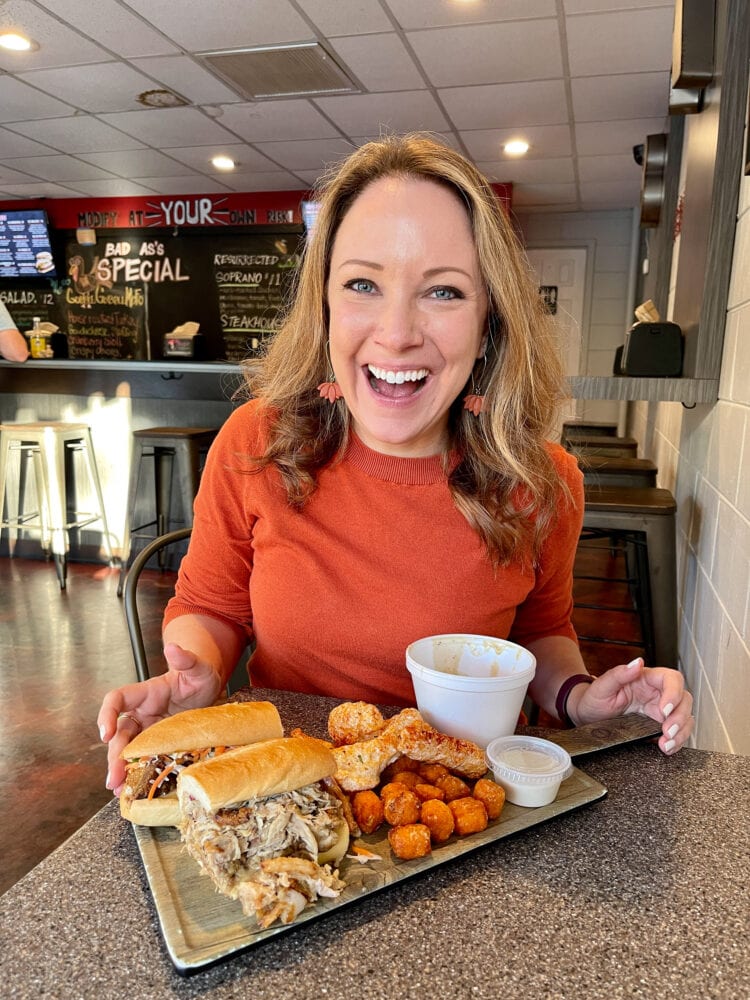 35. Thanksgiving Sandwich at Pom Poms
Number 35 in our list of 50 Things To Do In Orlando This Fall is Mama Ling Ling's Thanksgiving Sandwich at Pom Poms Teahouse! It's a hot pressed turkey sandwich with ginger cranberry chutney, smoked Gouda, mashed potatoes, stuffing, and a side of gravy for dipping.And it is available all year long! In case you get those comfort food Thanksgiving cravings in July, bookmark this reel for after Fall too.
The sandwich is named in honor of Pom's mom who, after moving to the United States from Thailand, learned how to make Thanksgiving dinner and cooked it regularly (even when it wasn't Thanksgiving!) to perfect an American tradition.
36. Meet Up With Friends At Milkhouse
Number 36 in our list of 50 Things To Do In Orlando This Fall is to meet up with friends for lite bites at Milkhouse. It's is a mini food hall in the Milk District and includes a great variety of Orlando food favorites. Here's what we tried!
🍺Local Craft Beer from RavenousPig
🥃Hand Crafted Old Fashioned at The Milk Bar
🍖Tapas Style Dishes from Cicchetti by Bruno (the ribs and fried mozzarella were our personal favorites!)
☕️Foxtail Farmhouse Blend Coffee from Foxtail (also picked up a bag of their seasonal Winter Solstice Blend to brew at home)
🍦Ice Cream from Kelly's (Bruno's Cannoli is a special local flavor only available at this location!)
There's a little something for everyone whether you're in the mood for sweet or savory! We love this local neighborhood hangout.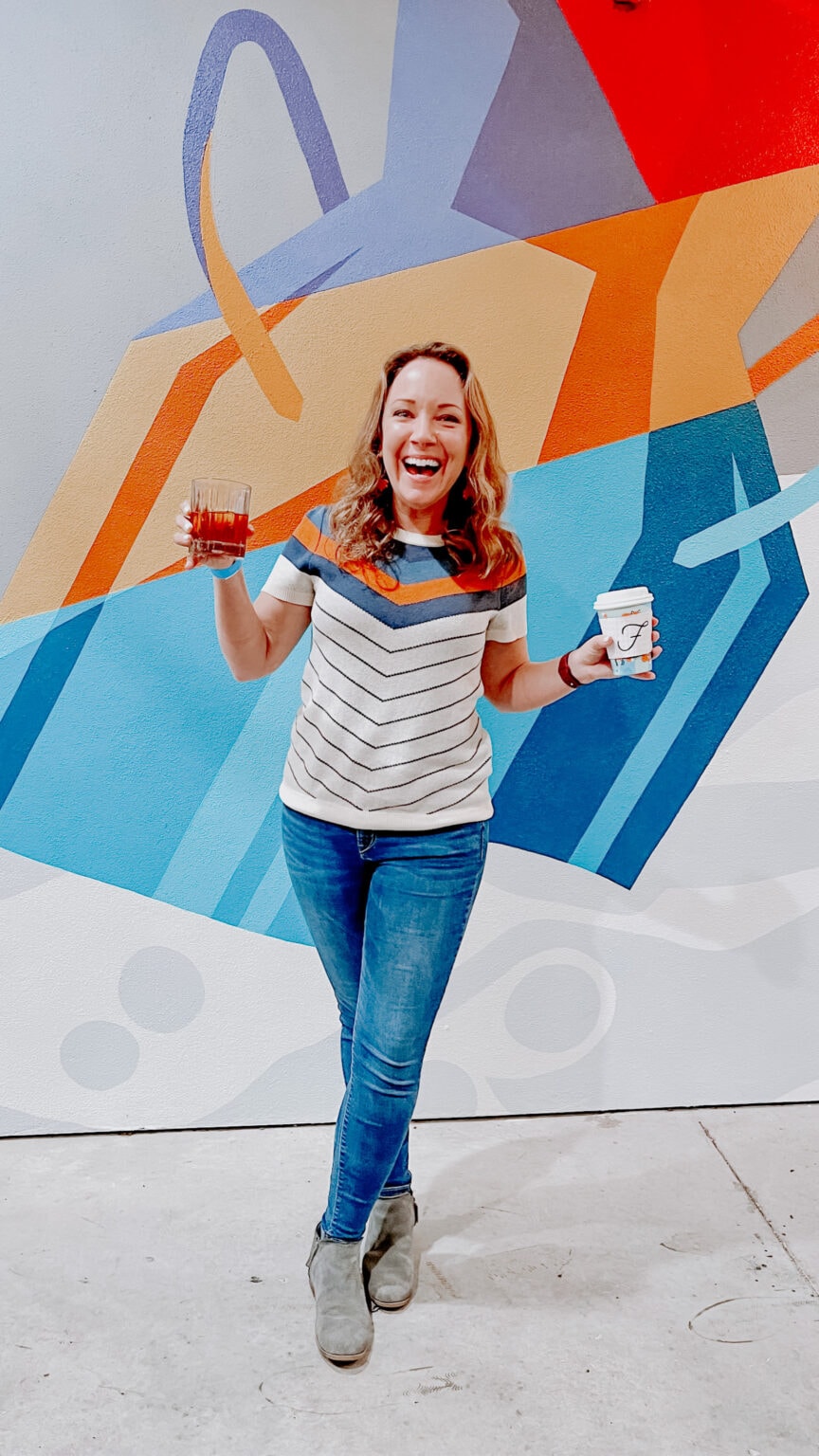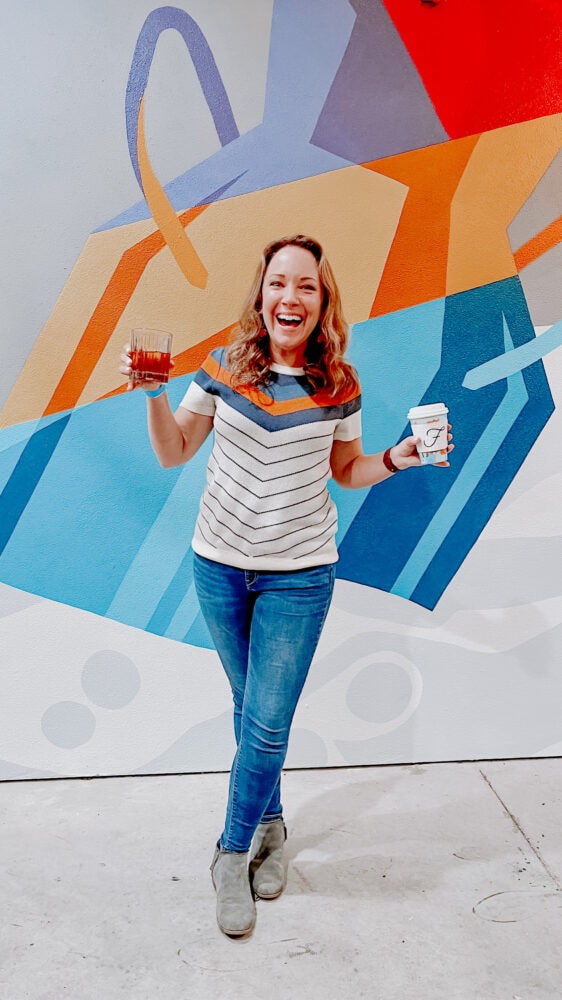 37. Shopping + Craft Workshops at House On Lang
Number 37 in our list of 50 Things To Do In Orlando This Fall is shop local or sign up to try your hand at making modern crafts at House On Lang. The day after Thanksgiving is the biggest shopping day of the year, so why no support local businesses and artists? House on Lang has become one our our favorite spots for locally sourced gift items:
🥂housewares
🕯candles
🧥clothes
🪴planters
🖼 art
Follow their Instagram to keep an eye out for special events, local creator market pop ups, and even fun workshops. We did one where we created watercolor gratitude affirmation cards for Thanksgiving and also a clay earring workshop. Both are fun to make for yourself or to give as a gift.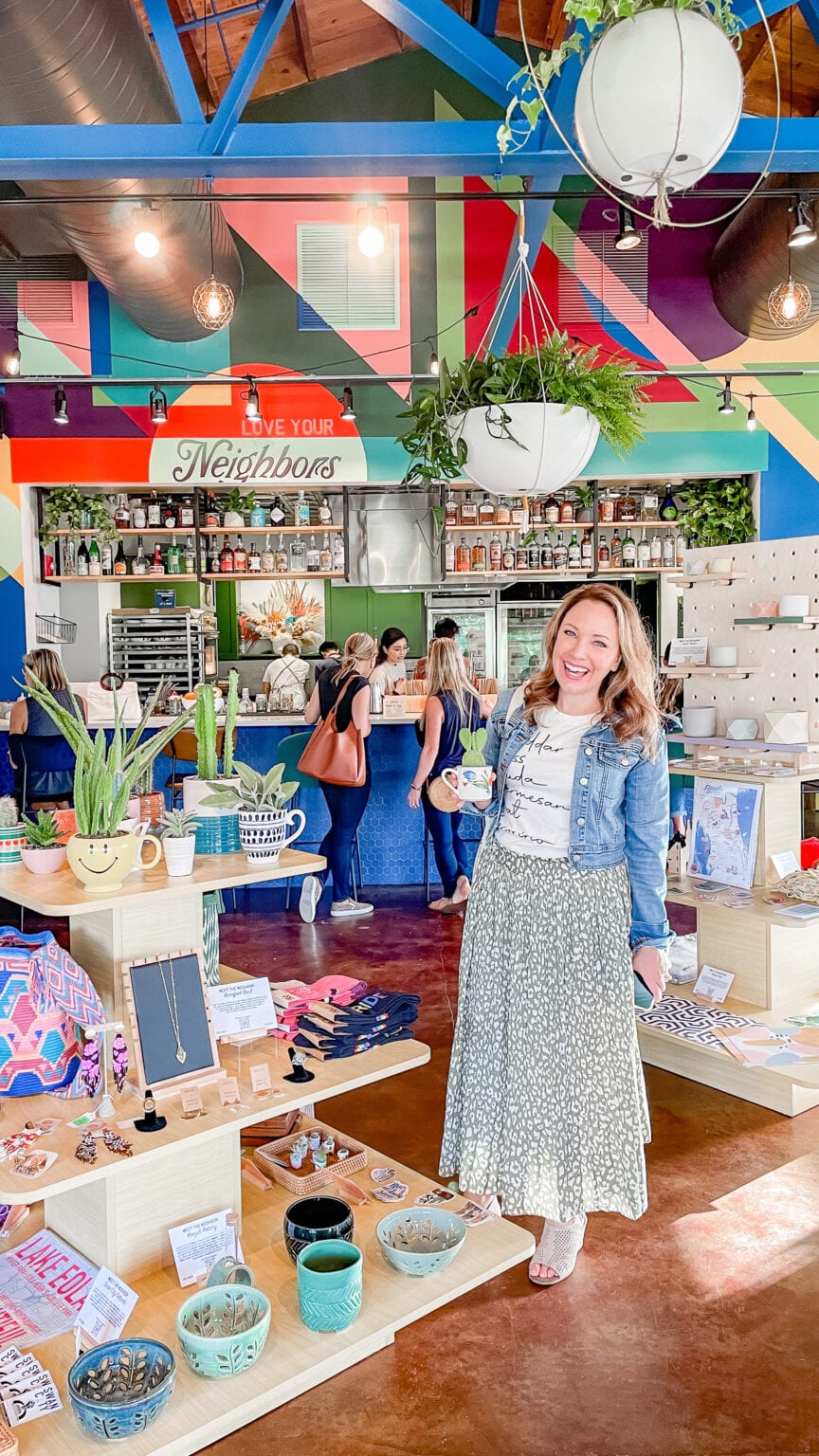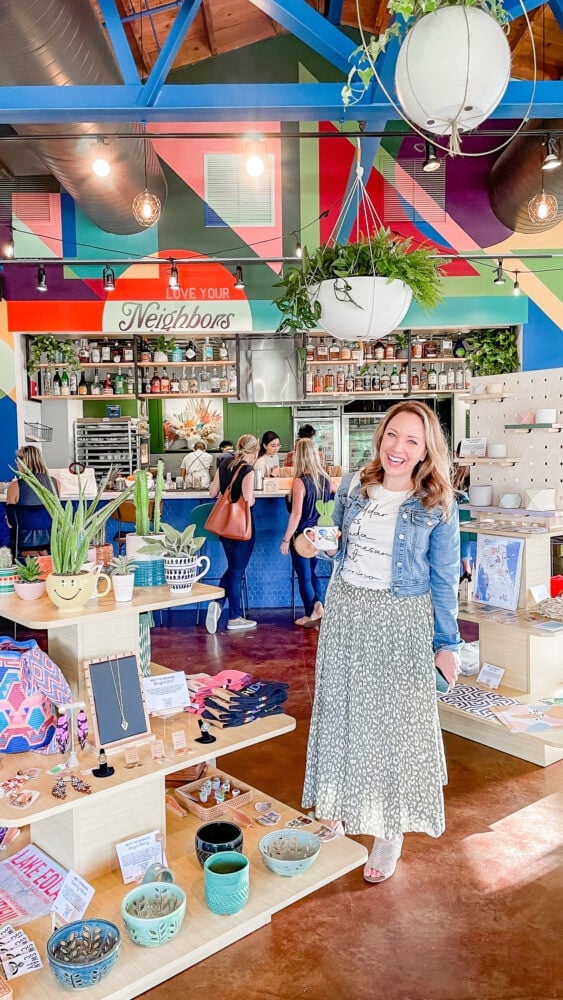 38. Shop Local
I love that there's so many small shops around town showcasing Orlando creators. From pins, to jewelry, custom T-shirts, ceramics, art, home goods, and even food items.
Here's a list of where you can shop local. Comment below and let us know if we missed any!
39. Weekend Eats at East End Market
The OG food hall for Orlando located in Audubon Park is the perfect place to gather with friends for a bite to eat or pick up treats for your next gathering or picnic.
☕️ Lineage Coffee for locally roasted coffee and artisan coffee drinks to-go
🍩 Dochi for fun Japanese mochi donuts
🍪 GideonsBakehouse for the most epic seasonal giant cookies
🥗 Winter Park Biscuit Co for a little vegan lunch or breakfast
🥩 Hinckley Meats for holiday sides, charcuterie and deli meats
🧀 La Femme du Fromage for gourmet grilled cheese sandwiches and show stopping cheese boards
🥑 Farm + Haus Orlando for local bites like their legendary avocado toast
🍊 Skybird Organic for a healthy dose of fresh squeezed juices and smoothies
🍲 Domu for comforting ramen on chilly days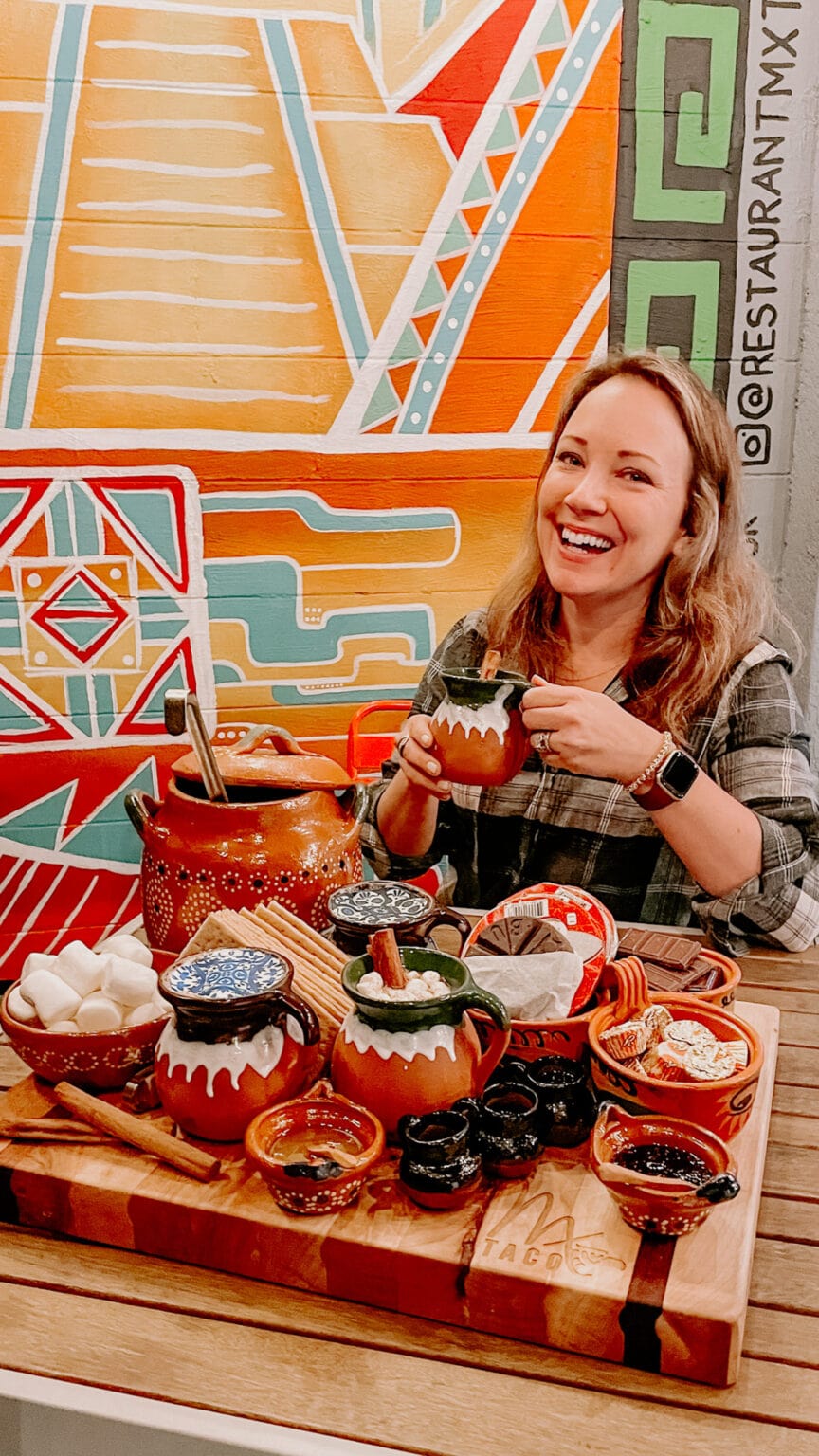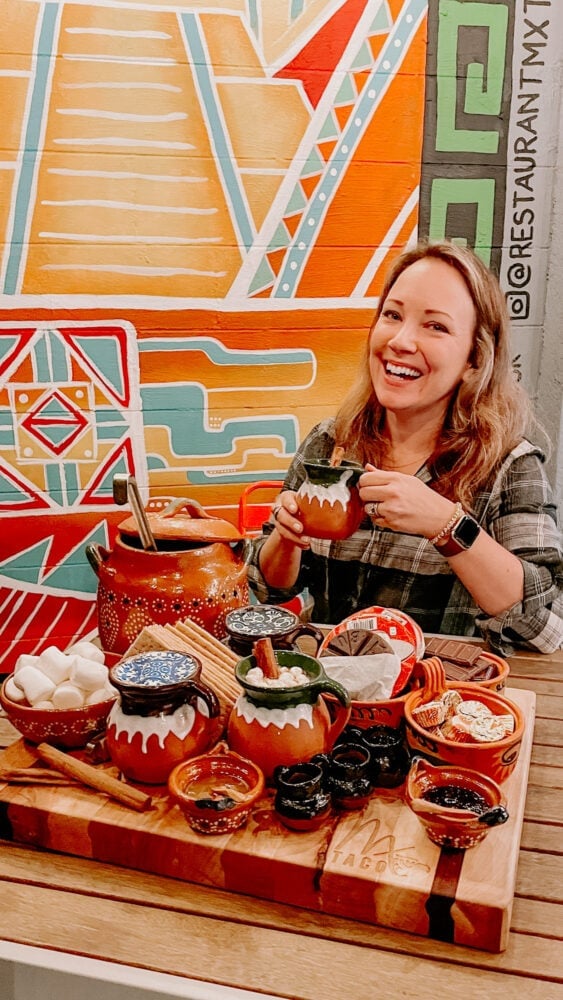 40. Mexican Hot Chocolate and S'mores Board at MX Taco
This most epic Mexican Hot Chocolate + S'mores Experience needs to be booked in advance, but it is worth it. Call ahead! From now until it gets hot outside again (March-ish?) you can reserve the fire pit at MX Taco for this truly fun experience.
Chef Ryan adds so many delightful details to this hot chocolate and s'mores board from his experience working at RC in Mexico.
Here's what you'll get …
🍫Edible Talavera and Whipped Cream Topped Mexican Hot Chocolate (and pitcher for refills)
🍫House made "kahlua"
🍫Marshmallows
🍫Graham Crackers
🍫Hershey's Chocolate
🍫Abuelitas
🍫Cajeta Candies
🍫Reese's Peanut Butter Cups
🍫Mexican Caramel
🍫Raspberry Jam
🍫S'mores Sticks
The cost is $60 and serves 2-4 people. Perfect for a date night or family night! You can also upgrade to a pitcher of mulled red wine for $18.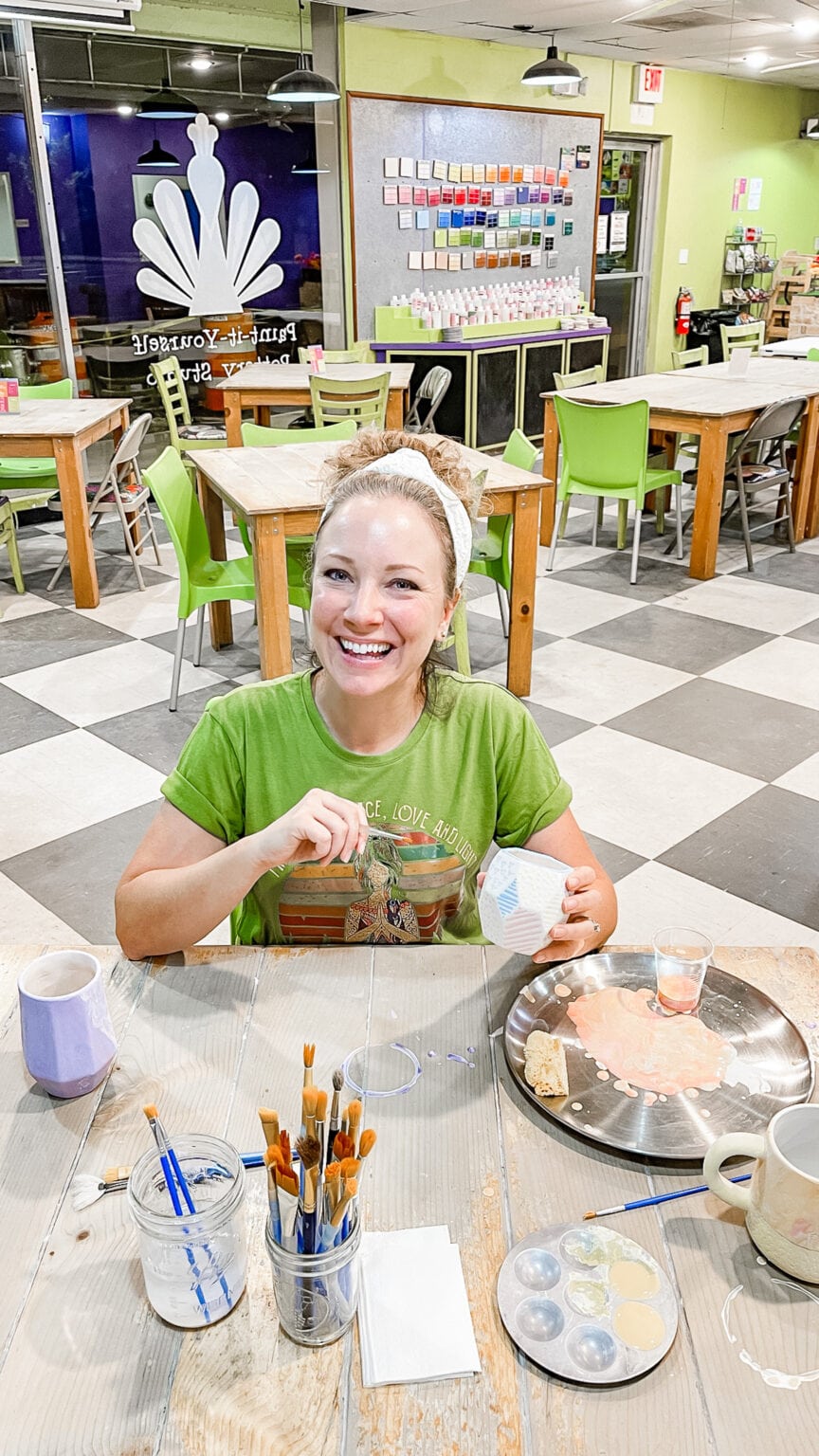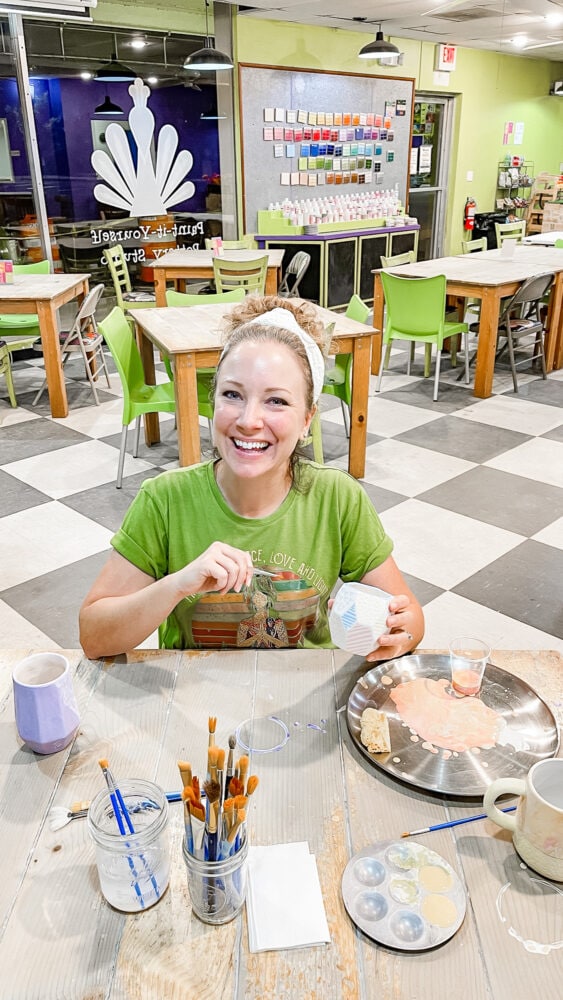 41 – Pottery Painting
Fall crafts for the win! Number 41 in our list of things to do in Orlando this fall is painting pottery at All Fired Up, a pottery studio in Winter Park. I remember painting pottery at a place similar to this in the 00's and was feeling a bit nostalgic on a rainy night. And we had so much fun!
There's a variety of different projects to choose from, including small ring dishes to bigger things like light-up Christmas trees (I actually want to go back and do more!) Grab a friend, pick your project and paint colors, and have some fun creating unique gifts this holiday season. I painted a little planter and a coffee cup (or wine cup, depending on the time of day 😉)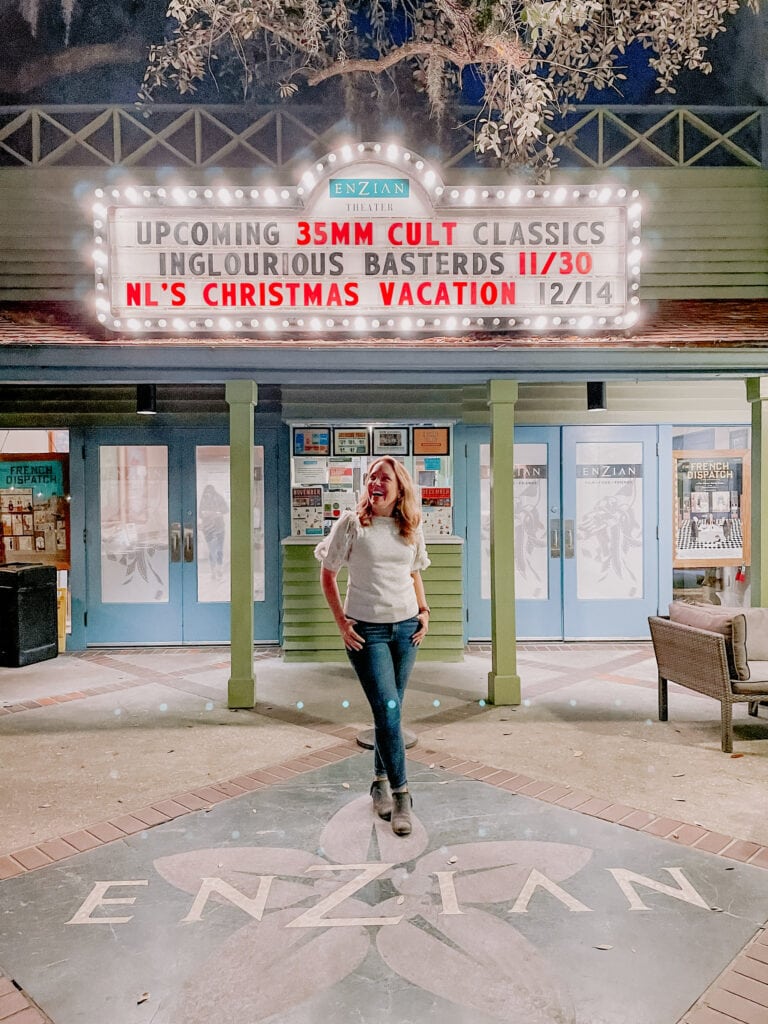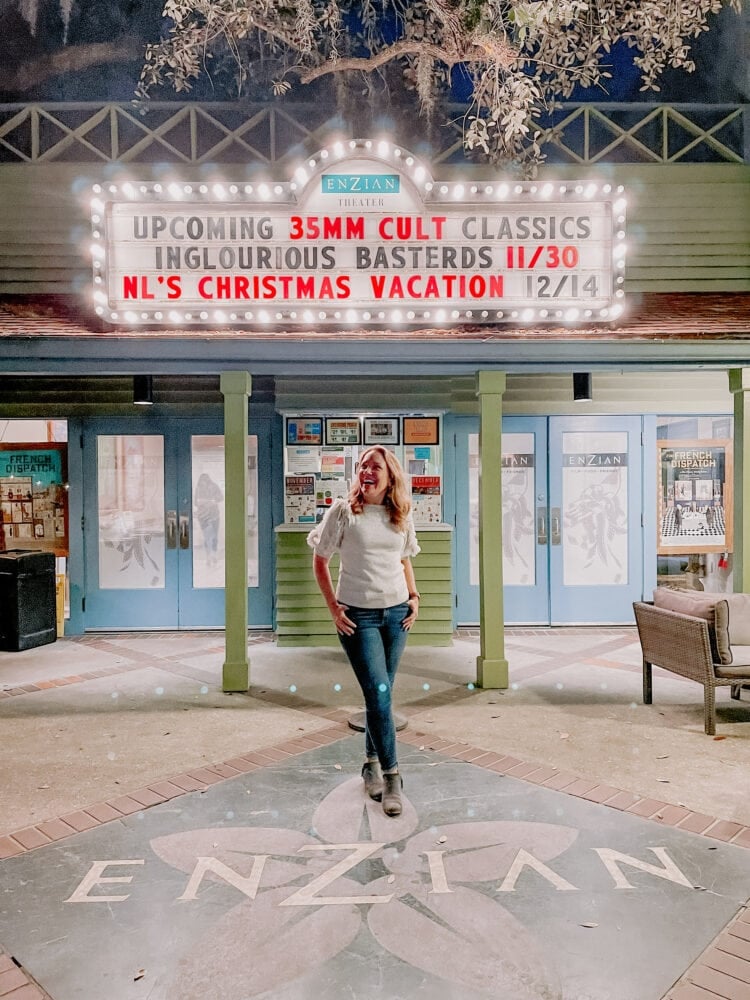 42. Fountain Features at The Enzian
Number 42 in our list of 50 Things To Do In Orlando This Fall is Fountain Features at The Enzian Theatre! Fall is a great time for outdoor movies, and The Enzian has you covered.
Reserve at table outside for one of their weekly Fountain Features on the patio next to Eden Bar.
Get tickets to one of their many Christmas movie features throughout December.
Mark your calendar for their monthly Popcorn Flicks In The Park (which is a free event year round! But the weather is particularly wonderful for outdoor movies this time of year).
43. Grilled Cheese Happy Hour
When it's cool outside, it's the perfect time for Grilled Cheese Happy Hour at Le Femme du Frommage.
🥪🍺On Fridays they pair gourmet grilled cheese with craft beer and each week is a different pairing based on the artisanal cheeses they currently have sourced.
🥪🍺Start your weekend with a comforting grilled cheese and beer!
🧀 And if you miss happy hour, there are plenty of other delicious cheeses and grazing plates on the menu.
44. Taste Locally Made Chocolate
Taste and shop locally made chocolate at Peterbrooke Chocolatier in Winter Park! You can get pretty much anything dipped in chocolate here! From potato chips, to bacon, and even a whole bottle of champagne! (Yes, a bottle of champagne dipped in chocolate!) Peterbrooke's chocolate covered popcorn is legendary. If you've never had it, this is a must-try. And the hot cocoa bombs are perfect little giftables or a treat for yourself on a chilly night.
45. Whiskey Flight or Build Your Own Old Fashioned
Number 45 in our list of 50 Things To Do In Orlando This Fall is to visit SOCO Thornton Park for a whiskey flight or to build your own Old Fashioned. You can choose your own whiskey, bitters, and sweetener for a customized seasonal cocktail. We had Elijah Craig with black walnut bitters and vanilla … SO good. Plus, the menu is full of delicious choices for modern southern cuisine.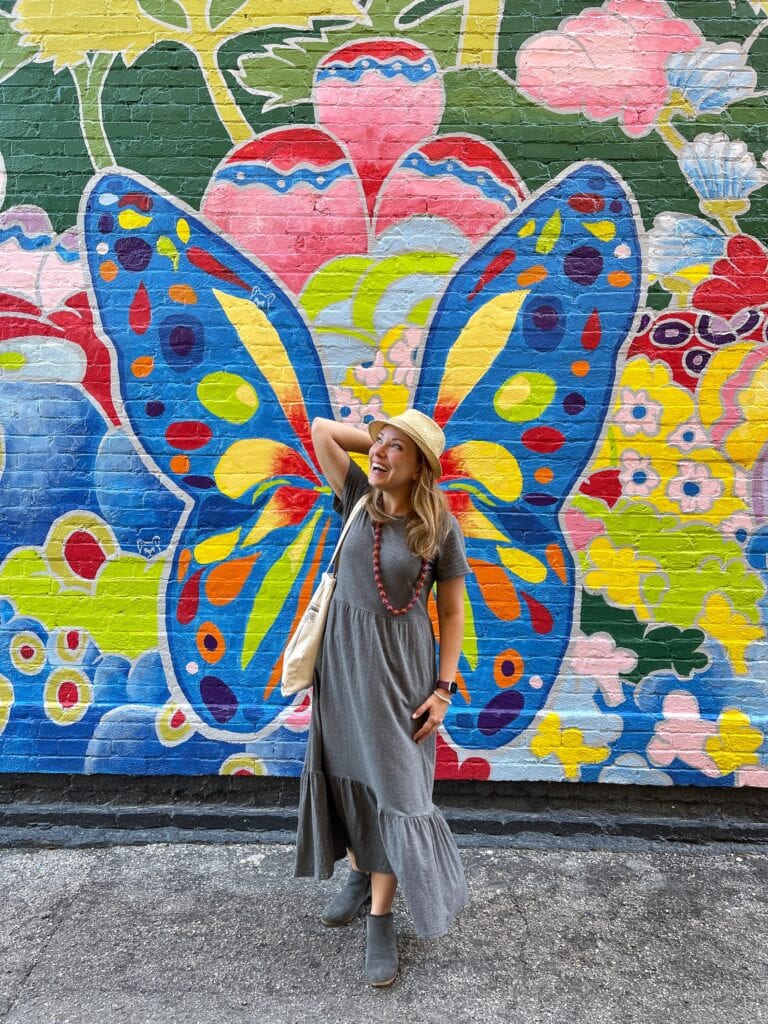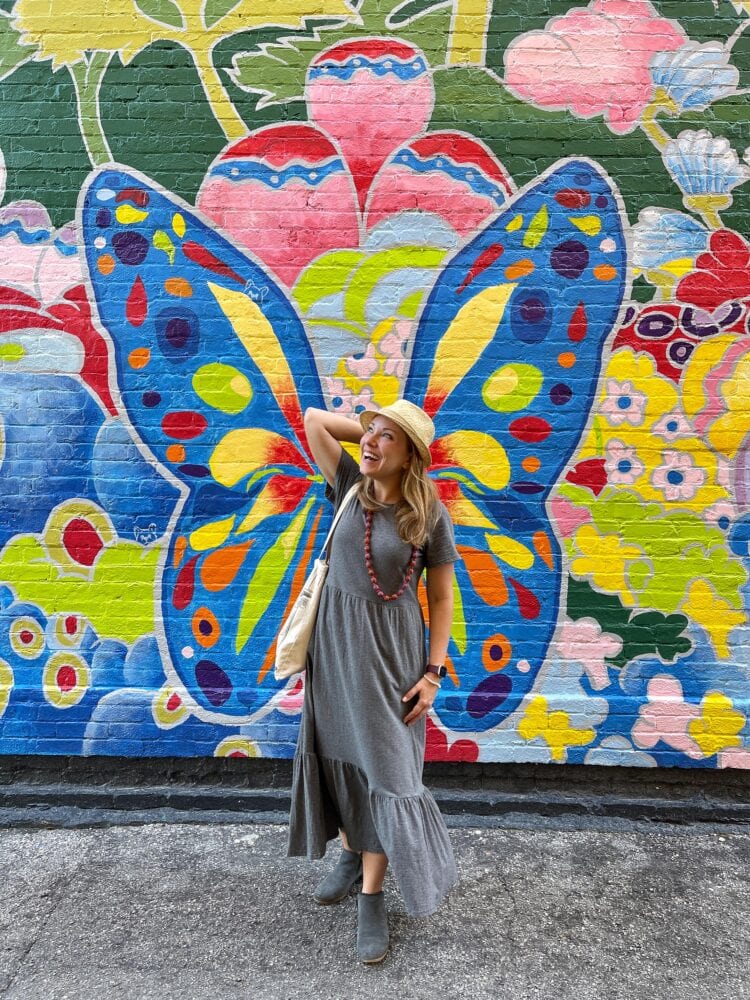 46. Day Trip To Sanford
Number 46 in our list of 50 THINGS TO DO IN ORLANDO THIS FALL is to take a day trip up to Sanford. Seriously, the downtown area is such a great place to spend the day (or weekend!) Here is a sampling of things to do:
🍺Sip beer and play a game in the beer garden at Celery City Craft
🥨Head up to the rooftop beer garden at Hollerbach's for beer and great German food
🛍Browse through the many shops along 1st Street
☕️Grab an artisan coffee or tea at The Collective
🐖BBQ pulled pork and all the sides at Fuel BBQ
🍺 Craft Beer and snacks at Wops Hops Brewing Company
🍫Hand crafted marshmallow S'mores at Wondermade
And there so much more we didn't get too! Honestly, you might have to spend a weekend here to see/taste it all. But it's only a 30 min drive from downtown Orlando and definitely worth a drive up.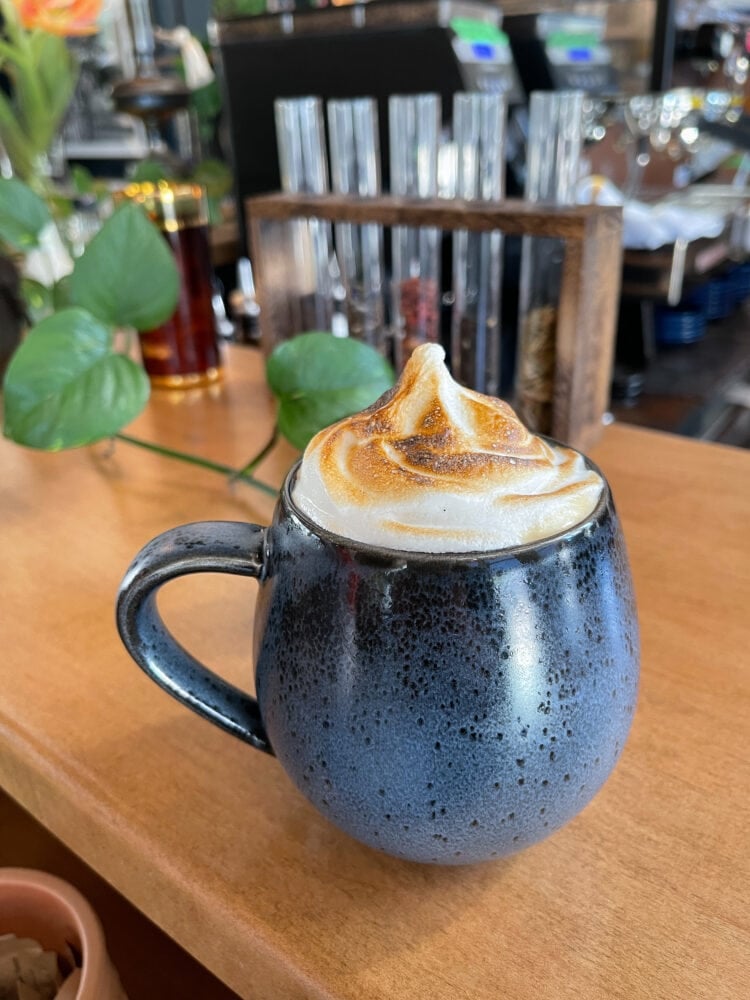 47. Local Orlando Coffee Shops
There are SO many wonderful local coffee shops and roasters in Orlando. We are definitely well caffeinated in The City Beautiful! Here's a list of some of our favorite places to get an espresso or fall flavored coffee drink. If we missed one, tag them in the comments below.
Lobos Coffee Roasters ☕️
New City Coffee ☕️
The Monroe Orlando ☕️
Lineage Coffee Roasting ☕️
Foxtail Coffee ☕️
The Collective ☕️
Sugardough Bakehouse ☕️
Light On The Sugar ☕️
Barnies Coffee and Tea ☕️
Se7en Bites ☕️
Vanessas Coffee Shop ☕️
Golden Hills Coffee ☕️
Gideons Bakehouse ☕️
Quigley Coffee ☕️
Craft and Common ☕️
CFS Coffee ☕️
Eola Coffee Company ☕️
Coterie Coffee ☕️
48. "Made from Scratch" Pasta & Pizza at Tornatore's
Number 48 in our list of50 THINGS TO DO IN ORLANDO THIS FALL! Handmade Pasta + Pizza at Tornatores Ristorante in College Park! Everything here is lovingly made from scratch. From Massimo hand cutting the pasta, to Chef Jason sautéing up a plate of lobster ravioli, and owner Chef Denny making Brooklyn style pizza. Be sure to walk next door to their Italian Market and pick up some fresh pasta and Italian goods for home too (great gift basket ideas!)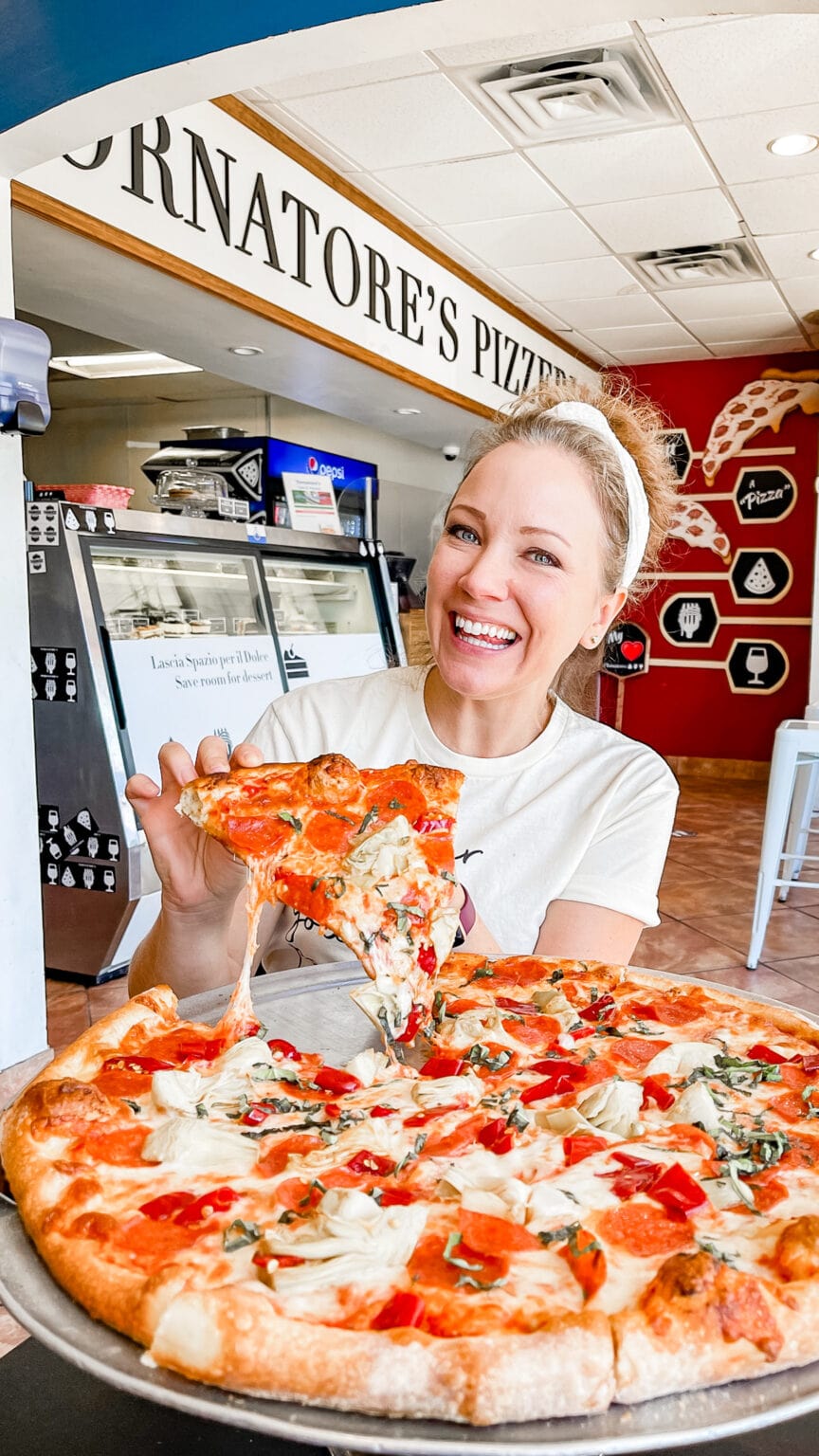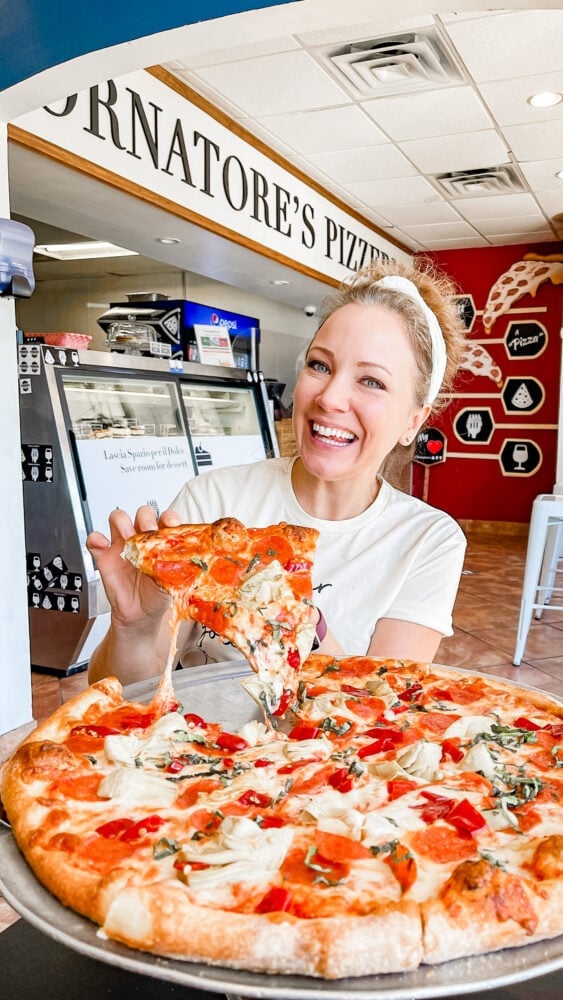 49. Wine Tasting at Wine Bar George
Getting close to the end of our list of 50 THINGS TO DO IN ORLANDO THIS FALL!And the next two are perfect for transitioning to special occasions as we head into the holidays.Number 49 in our list … Wine Tasting at Wine Bar George in Disney Springs. With over 135 wines by the bottle, glass, and ounce, Wine Bar George has the best micro wine list in the world! And it is the only Master Sommelier led wine bar in Florida. Sip some outstanding wines along with tapas style plates, cheeses, and charcuterie. And don't forget dessert!
50. Celebratory Cocktails at The Waldorf Astoria
And we have reached Number 50 in our list of 50 Things To Do In Orlando This Fall! Celebratory craft cocktails in the lounge at Bull and Bear in the @waldorforlando. Bull and Bear is listed as one of the Top 100 Restaurants in the United States by Open Table. TIP: But if you just want a quick bite, with the same elevated experience, head to the lounge!
We recommend ordering the Wagyu Carpaccio and the Fries … then wrap the fries with the carpaccio. It's SO good. Also order the fried chicken (fried chicken at the Waldorf? YES!) and trust me when I say it will be some of the best you've ever tasted.
Mixologists Matt and Michael are wizards behind the bar and always create a tasty seasonal cocktail menu. Tell them your favorite spirit and see what they recommend! While there, I tried the Spice Route with Woodinville Bourbon infused w bay leaf and tarragon.
MORE THINGS TO DO IN ORLANDO
Our list of things we wanted to do during the fall was long! More than we could accomplish in two months for the fall season. But living here for over 20 years now, here is a list of more fun things you can do during the fall or year round!