I fly Delta Comfort Plus quite a bit, and I gotta say, the upgrade is worth it for international flights. From the extra legroom, to the gourmet snacks, and the power outlet under the seat, it's a lot like having a cozy little office in the sky. Below I have photos of Delta Comfort Plus taken from my iPhone to give you a preview as well as some extra tips to make your flight as comfortable as possible.
DELTA COMFORT PLUS REVIEW 
First things first, when flying Delta, download the Delta App.  It has won awards for being one of the most helpful airline app available. The Delta App will show your itinerary, track where your luggage is to-the-minute, notify you of gate changes or cancellations, allow you to choose your seats, and more.  It will send you push notifications about boarding times and gate changes which are really helpful when catching a connecting flight.
My only complaint, they advertise a Delta Studio streaming feature where apparently if you're stuck at the airport for a layover, you can enter your flight information and stream their in-flight entertainment for free on your mobile or tablet device.  I've never been able to get this feature to work, but it sounds pretty cool if they can work out the bugs with it.
TIP: If you plan on using in-flight wifi, pre-purchase it when you're on the ground at the airport rather than in the air to save a few bucks. Wifi is provided by GoGo and is $16 on the ground versus $20 in the air.
Read This: 3 Tips For Surviving A Long Flight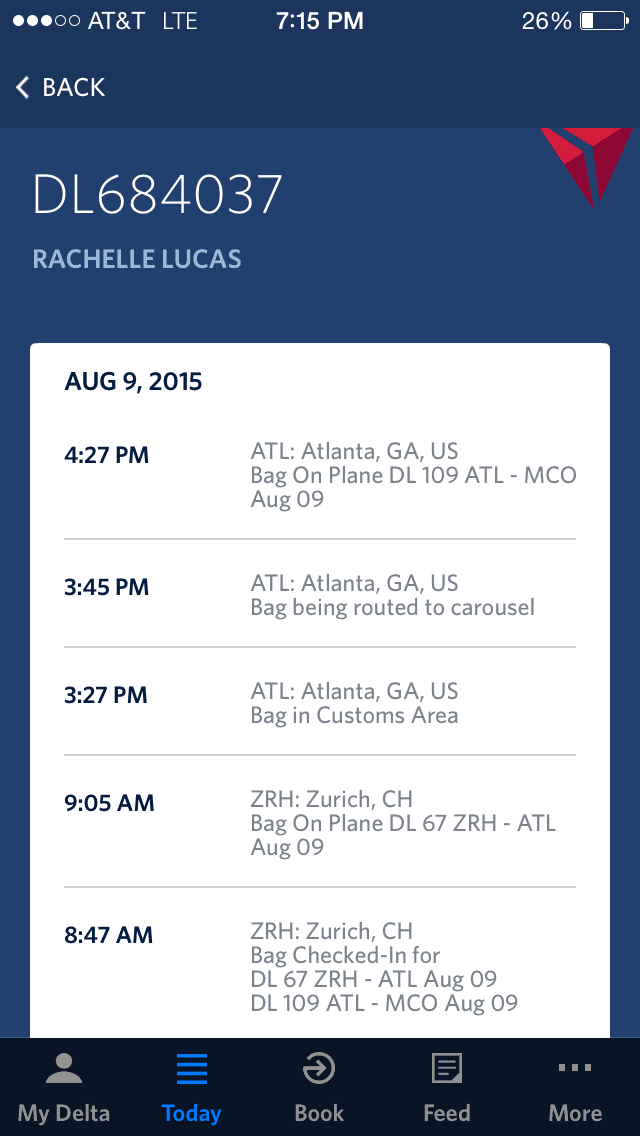 EXTRA LEGROOM
When it comes to extra legroom, they don't skimp.  I've been on international flights with other airlines where my knees touch the seat.  And since I'm only 5'3″, I can imagine how even more uncomfortable that can be for taller folks. Here are my iPhone photos to give you a preview. You can see that the Delta Comfort Plus seats are a bit wider and more cozy than economy.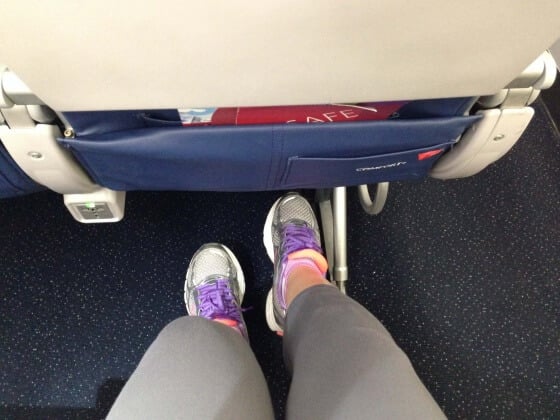 They're a bit tall too, which is good for legroom, but bad for us shorties when our feet don't touch the floor.  My only wish is that they had a little pull-down foot rest.
TIP:  Don't choose the exit row for Delta Comfort Plus. The extra leg room they give you is plenty, and the arm rests don't always move up in the exit row. This is actually a safety feature in most airline's exit rows, so if you're flying internationally and crossing your fingers that you get the row to yourself so you can laydown or stretch out a bit, you don't want the exit row.  I was just behind the exit row, and luckily no one showed up as me seatmate so I got to curl up in a cozy two-seater.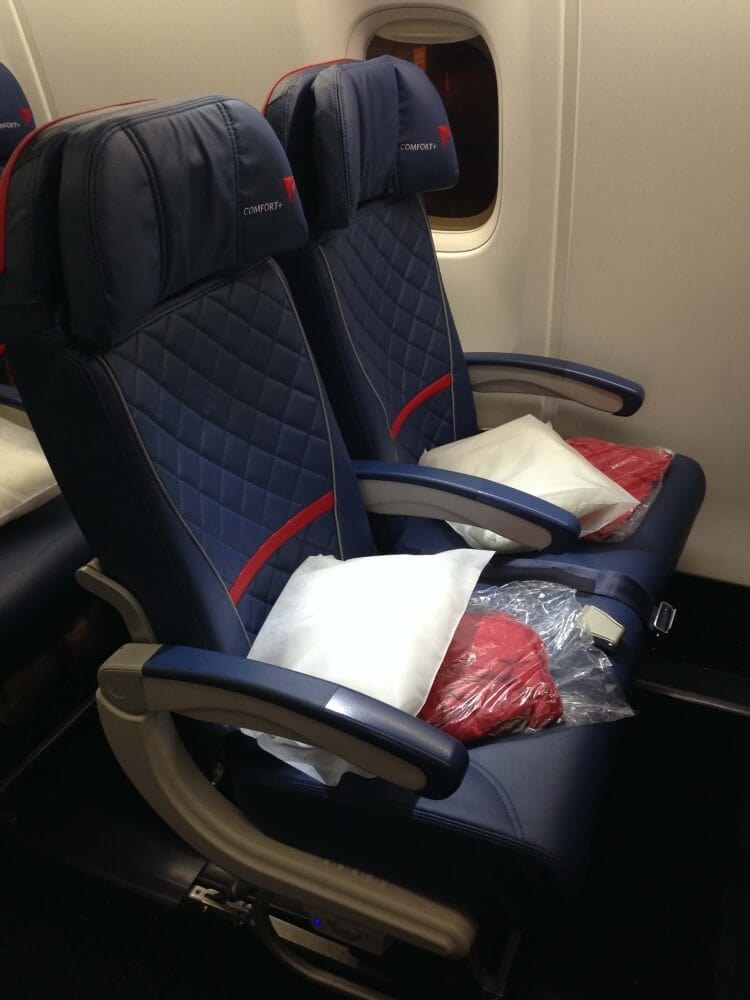 UPGRADED AMMENITIES
In Delta Comfort Plus, you'll get upgraded amenities like free billboard earbuds and a refresh kit with an eye mask, foam earplugs, travel toothbrush, and sample-sized toothpaste. They're not quite the same level of upgrade you'd get on Cathay Pacific's Premium Economy or Virgin Atlantic's Premium Economy as there's no cool souvenir pouch or hand lotion, but it is a thoughtful touch.
Read This: 8 Healthy Snacks You Can Bring On A Plane
TIP:  Personally, I always pack my own amenity kit filled with all my favorite things I need to be comfortable including a few individual bags of green tea, lip balm, hand lotion, and rose water misting spray.  You can check out my full in-flight check list in How To Survive A Long Flight.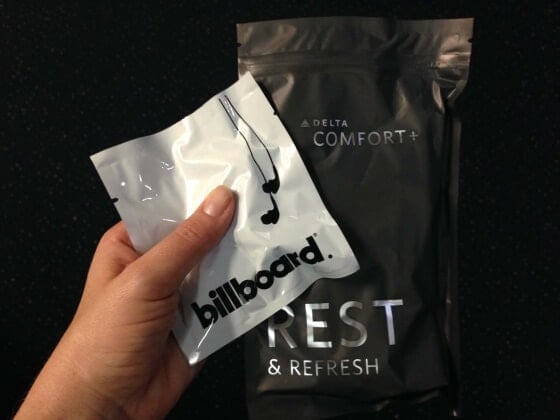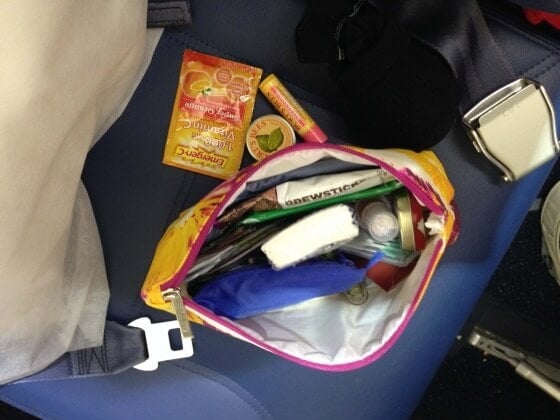 ENTERTAINMENT
Delta Comfort Plus included a great list of recently released movies, television shows, and even a few series from HBO.  The shows are typically limited to two or three episodes, so if you plan to use the time on a long flight to binge watch your favorite series, then I'd recommend downloading them to your tablet when you're home packing. The nice part about Delta Comfort Plus seats is that they have a USB jack in the screen and a power outlet in-between the seats, so you can keep your laptop or tablet charged up for catching up on Game of Thrones or House of Cards. (**These power outlets were included on the international flight, I'm not sure if they're a feature on domestic flights).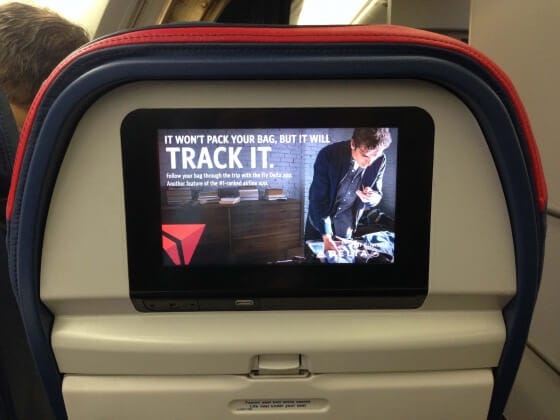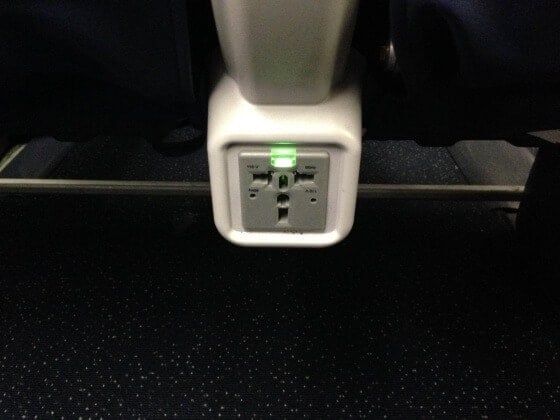 FOOD
Meh. This is where I feel Delta could improve the most.  The in-flight snacks are definitely an upgrade compared to most airlines. And the drink choices did have a bit more variety. But the vegetarian lasagna I had for dinner during my international flight was a bit like a frozen microwaved meal.  I guess that's normal for flights.
TIP:  I have noticed that passengers that make a special meal request will receive their meal first and it looks a bit more upgraded than the regular meals offered.  If you're on a special diet, such as dairy free/gluten-free/vegetarian, it's worth taking the time to make a phone call or put in an online to add a dietary request to your assigned seat. You could also pack some of your own healthy plane snacks.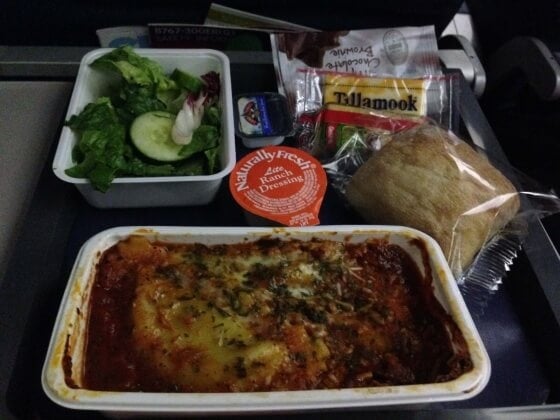 Have you flown Delta Comfort Plus?  What about premium economy on other airlines?  Was the upgrade worth it?  Tell us about your experience below.
Want to share this or save it for later?  Pin it! 🙂