I've been spoiled. I didn't realize how much so until my recent trip to Europe when I flew coach. I should have taken the hint when trying to find my place in line at the gate amid a mass of cranky travelers. Once we boarded and I found my seat, I thought of asking for a glass of champagne to help calm my nerves in the chaos, but thought better of it when I surveyed my surroundings. I noticed there wasn't even a simple amenity kit with an eye mask or ear plugs offered (good thing I bring my own kit to survive long flights). I scooted into my window seat and quickly felt like a sardine in a can. So, this is what coach feels like. How I'd so easily forgotten. And then, there were nine uncomfortable hours with my knees touching the seat in front of me, participating in arm rest wars with the stranger next to me, and no USB outlet to keep my electronics charged. Nine hours in coach will have you begging for premium economy. Yes, it's the little things that I missed, and it's the little things that make a big difference in comfort.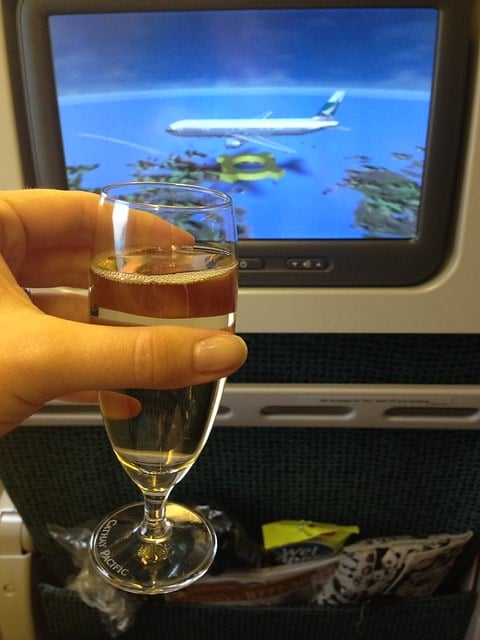 Cathay Pacific Premium Economy Review
Just two weeks prior, I'd flown to China to test out Cathay Pacific's new route from Newark Liberty International Airport (EWR) to Hong Kong International Airport (HKG) and to uncover some fun foodie itineraries in Asia. On the flight there I flew business class (Waaay posh. More on that later.) and the return flight home I got cozy in Cathay Pacific Premium Economy.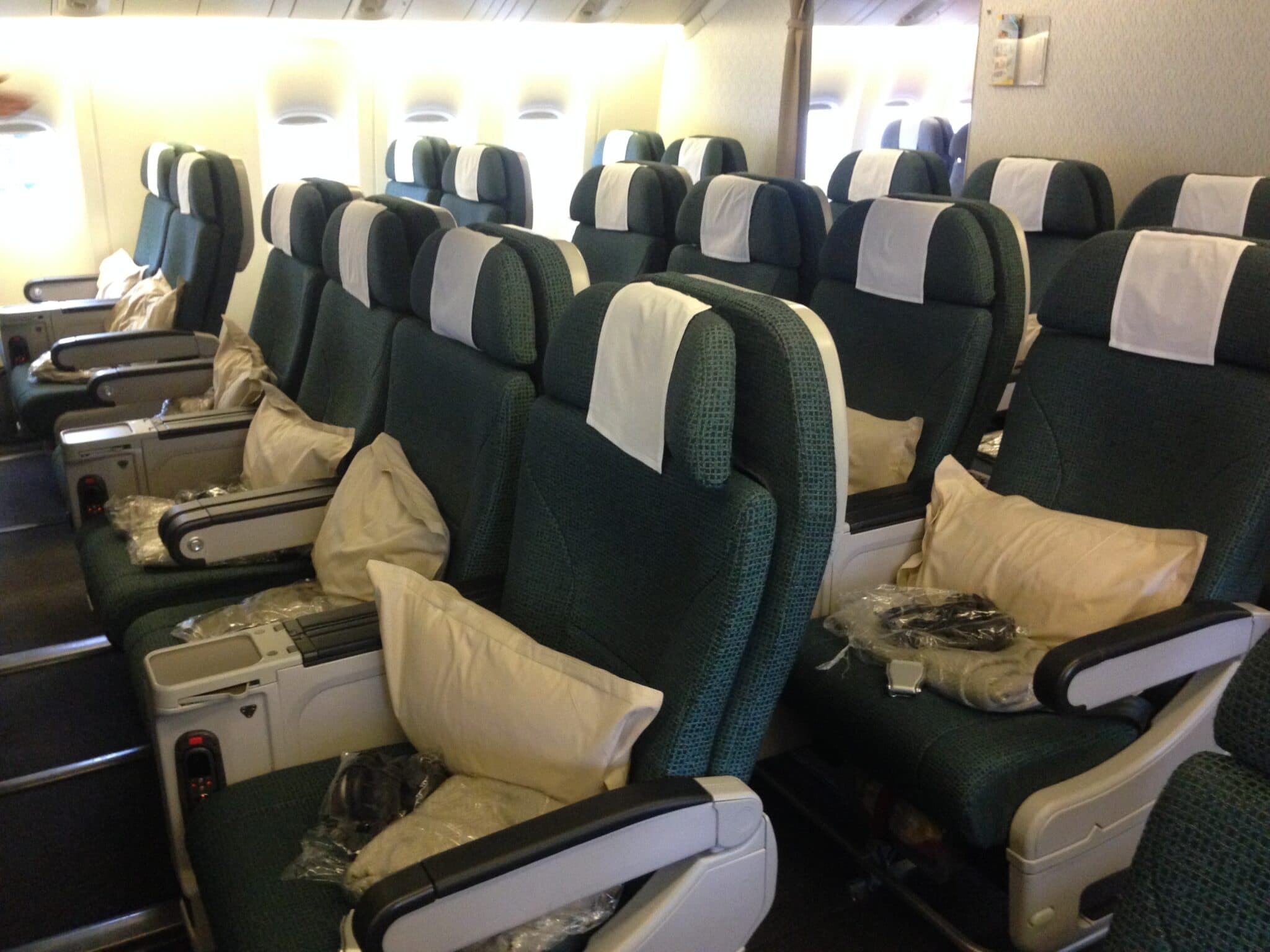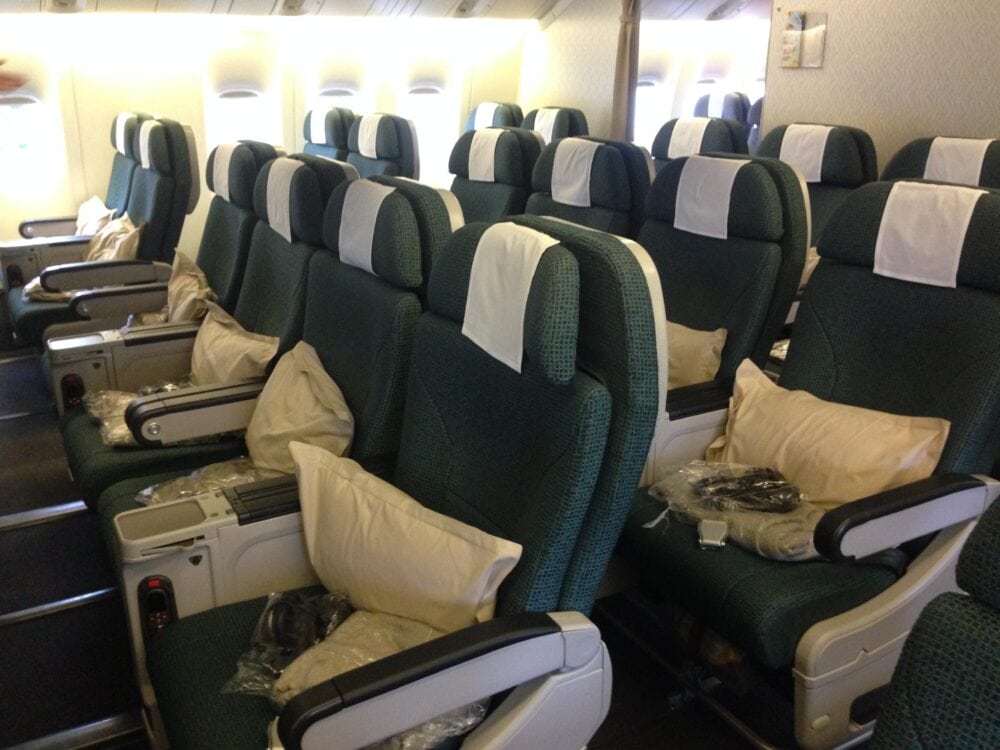 I've got photos of both here for comparison because I feel like it really demonstrates how much value there is in flying Premium Economy. Other than the personal space real estate you get in Business Class, the amenities and service are very comparable. (These are all as-real-as-it-gets photos from my phone, by the way.) Here's what I love about Cathay Pacific Premium Economy and what I so desperately missed when I flew coach:
Extra Room Leg Room + Foot Rest
The seats are wider and there's more space between you and your neighbors on all sides. It kind of feels like you're lounging on a favorite chair in your living room instead of a seat on a plane. There's plenty of space to get all cozy with your blanket and fluffy pillow and watch some movies or read a book without ever having to touch elbows with the stranger next to you.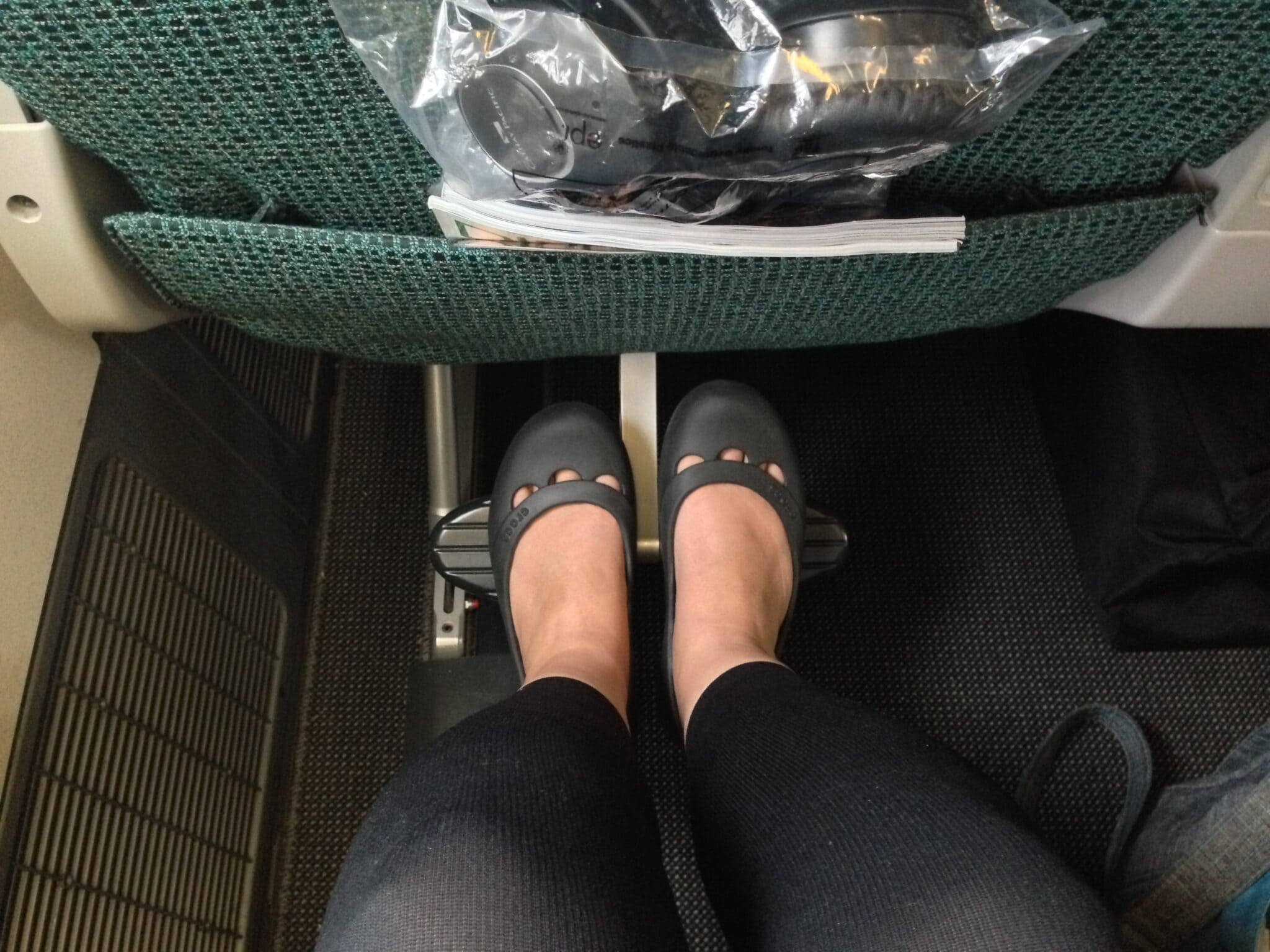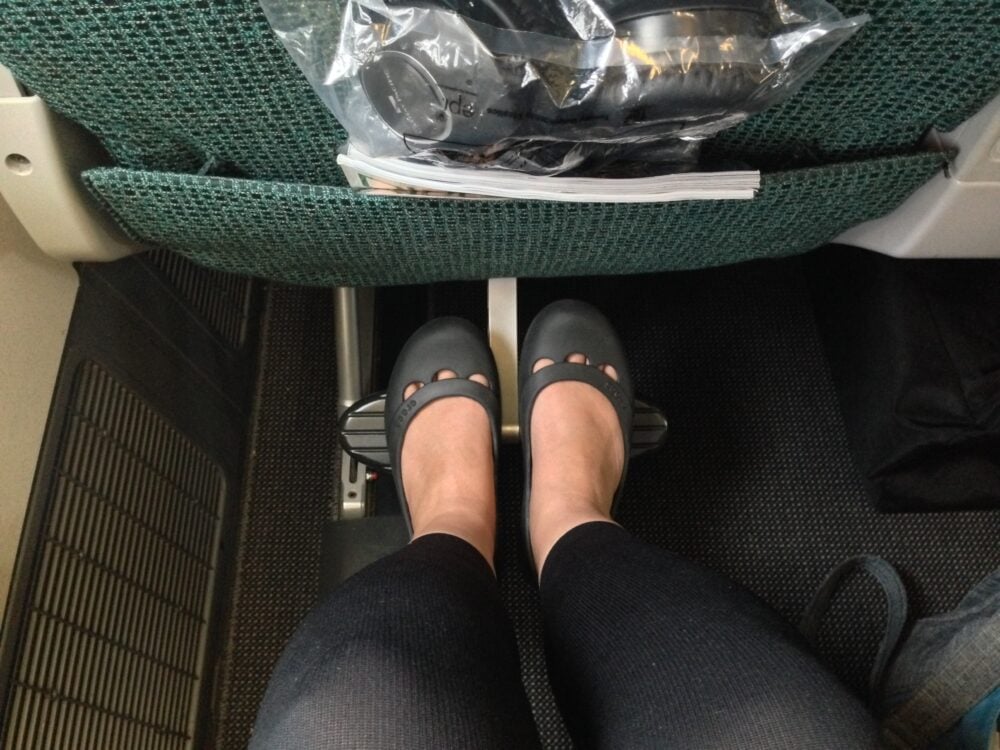 The foot rest is an added bonus that helps you elevate your feet and alleviate any leg pain or discomfort you'd get from sitting for an extended length of time. Since I'm a shorty, and sometimes my tippy toes barely touch the floor, this is definitely a perk. It also makes it more comfortable to lay back and get some sleep.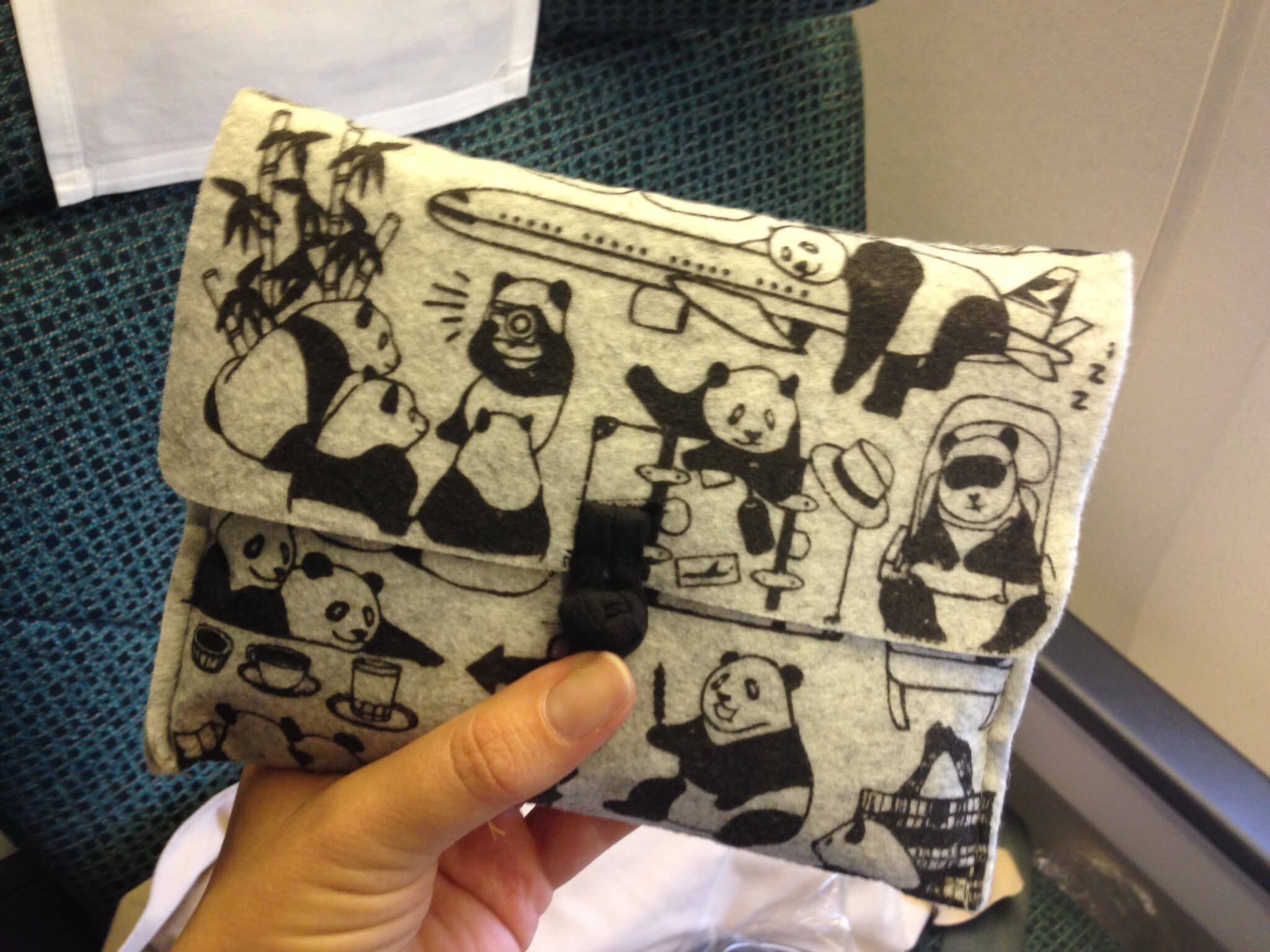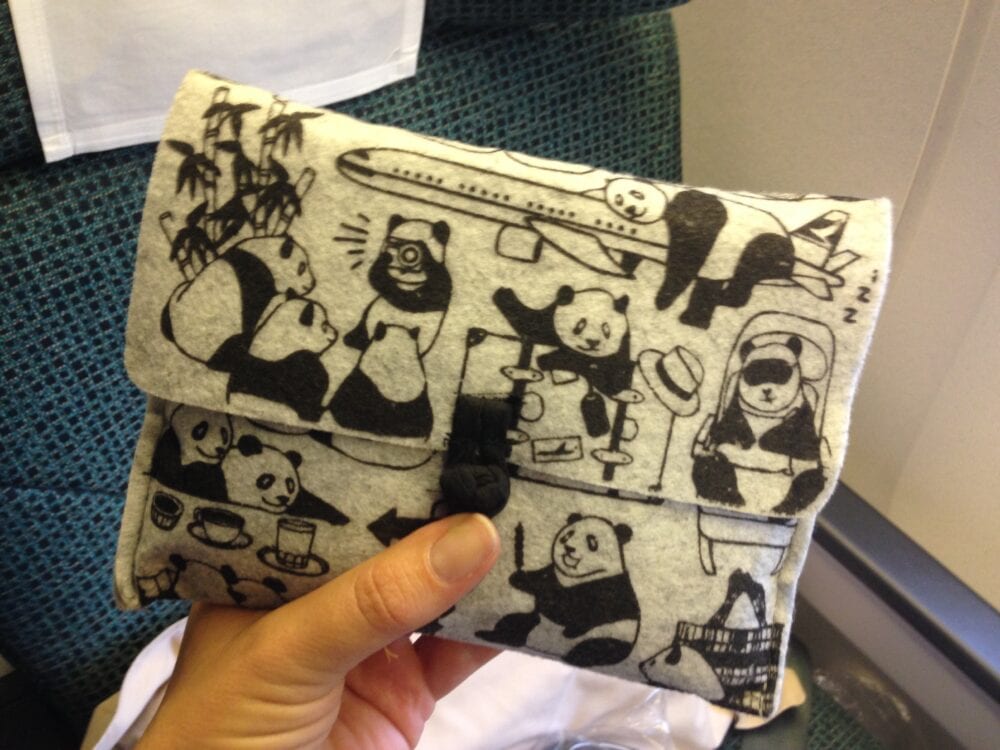 Amenity Kit
Not only is it functional, but it's adorable. I mean, who doesn't love pandas? It's not quite as big as the one in Business Class, but it has all essentials you need to help you get some rest and feel refreshed. There's an eye mask, ear plugs, a refreshing towelette, toothbrush, mini toothpaste, and a sample size of Jurlique hand cream.
Entertainment
In Premium Economy, you get a sanitized set of noise canceling headphones. Bonus. I usually use my own ear buds, but these were so good that I barely noticed any noise from the inside of the cabin.
When it came to movies, I found there were plenty of choices and I got caught up on all the girlie flicks that Pete doesn't watch with me at home. Plus, there's a USB outlet to charge your phone or iPad if you have your own set of books or movies stored.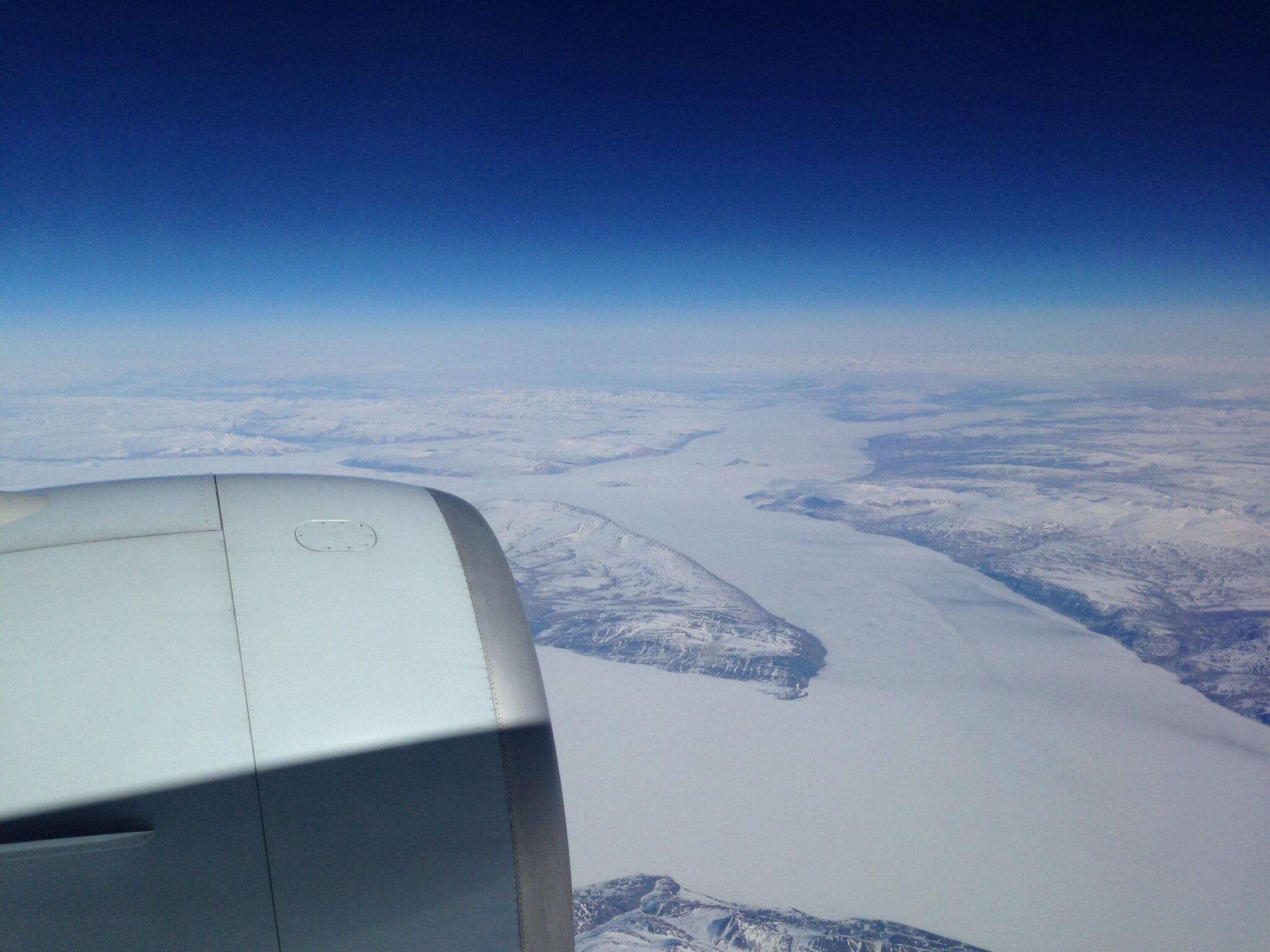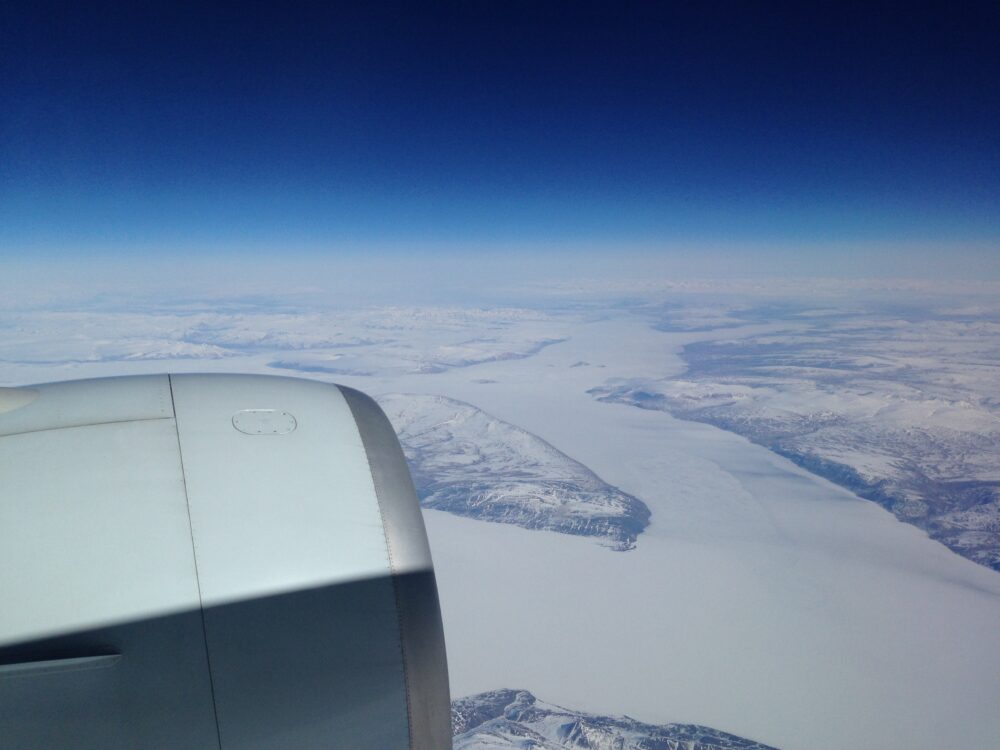 There's also a map feature that updates in real-time to let you know how far along your flight is on it's journey. Now, I realize most planes have this feature, but Cathay's is a bit more fun and unique with a sort of 3D "soar over." I kept checking it to see when we were over arctic so I could open the shade and take a peek. How cool is that?
Food
When we boarded the plane, we were offered a welcome beverage of champagne, water, or juice. When I asked if I could take two, I was told "of course!" with a friendly smile. So, with a little champagne and orange juice I mixed up a mimosa. Happy girl. And we hadn't even left the ground yet.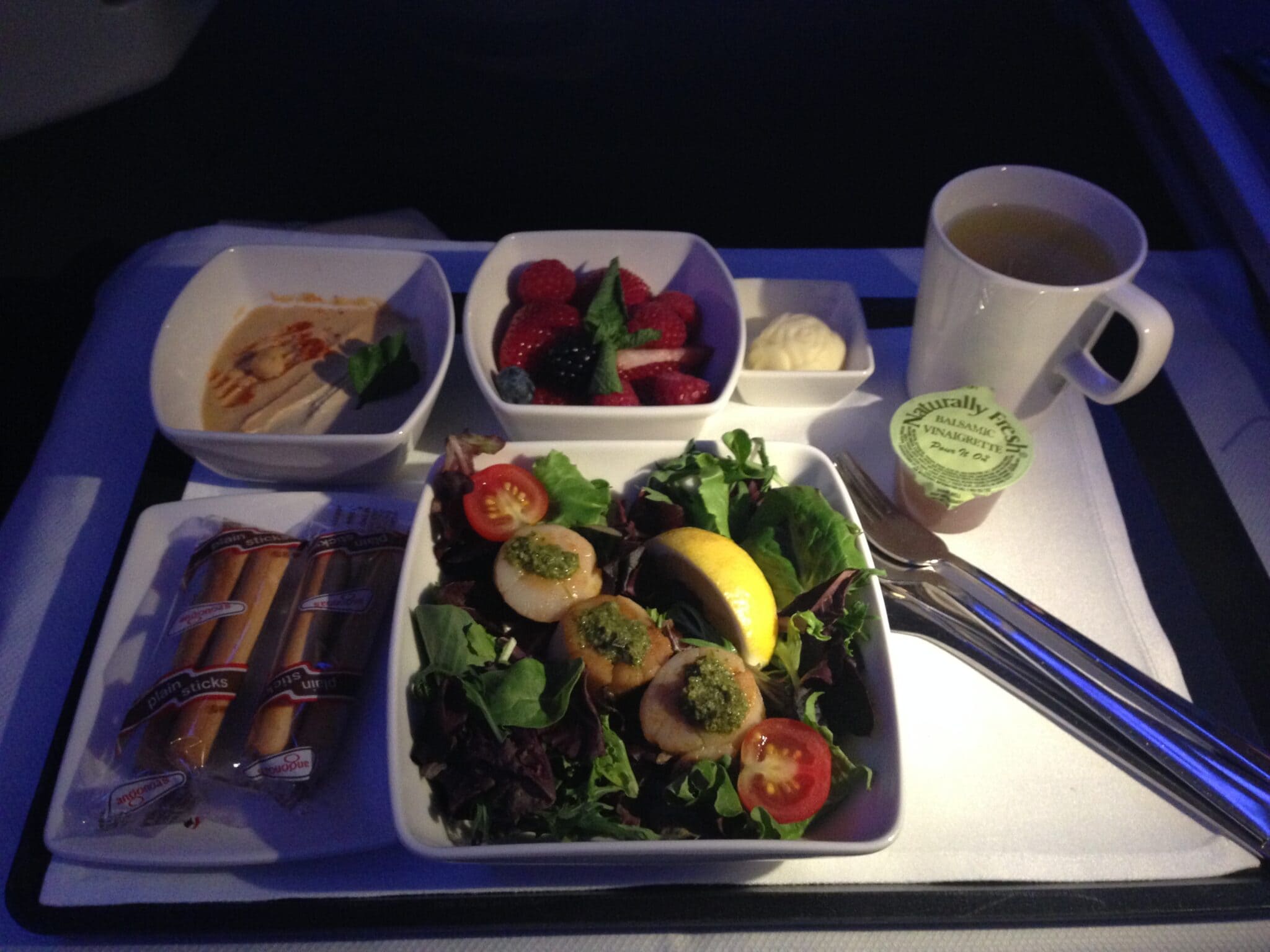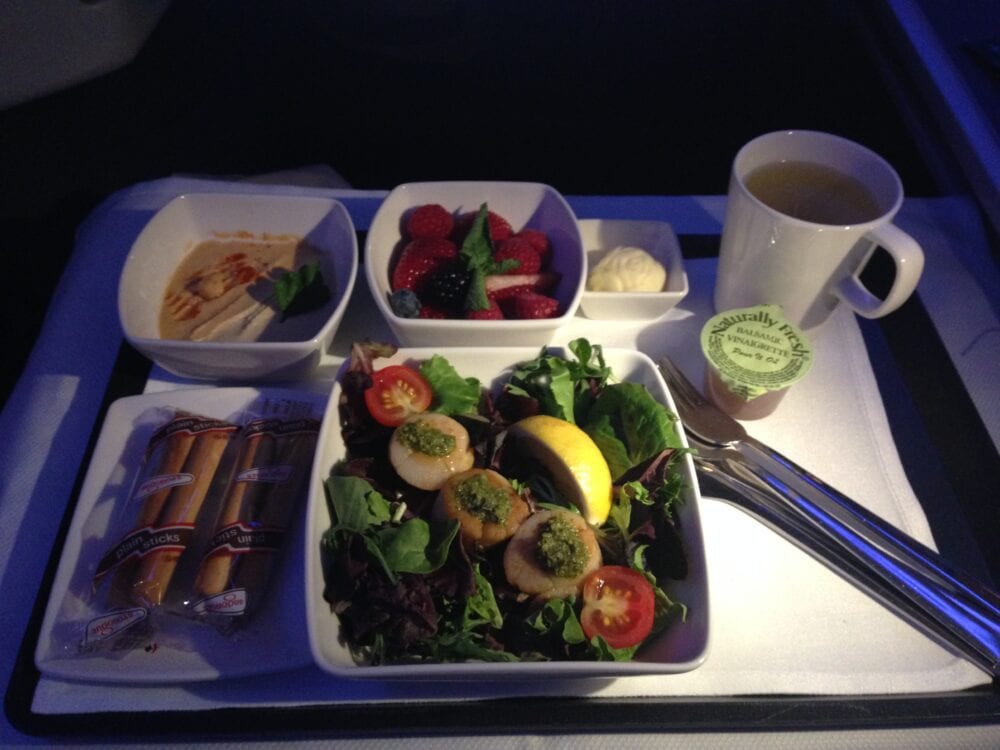 For dinner, we were offered a real menu with a choice between three selections including Hong Kong style curry prawns with steamed jasmine rice and broccoli; Grilled Australian prime beef tenderloin with new potatoes, spinach and pumpkin; or a vegetarian selection of Spinach with cottage cheese, cumin basmati rice, and bean potato masala. The meal was served on real dishes with silverware, so you feel like you're having a decent meal instead of a frozen dinner on-the-go.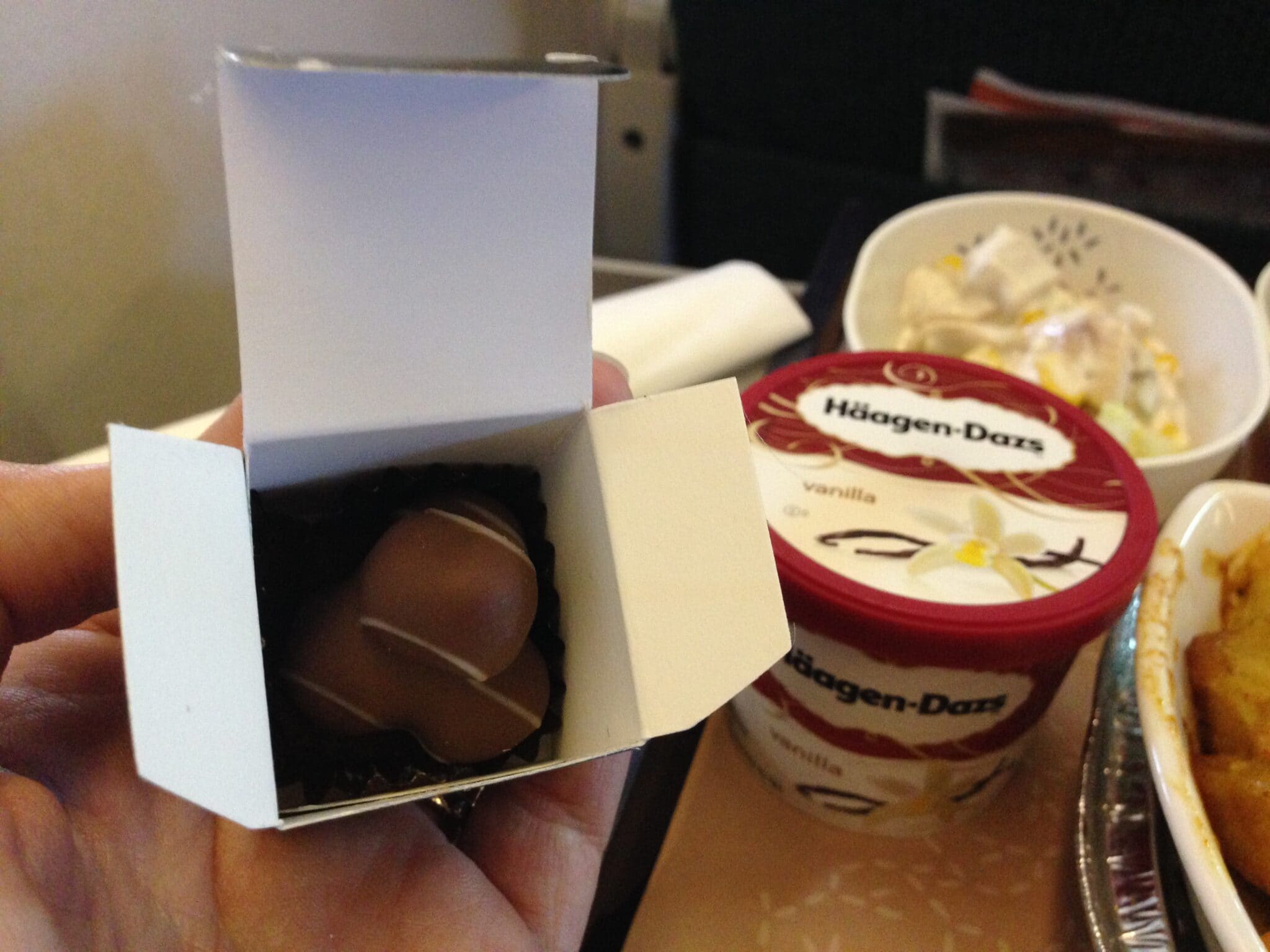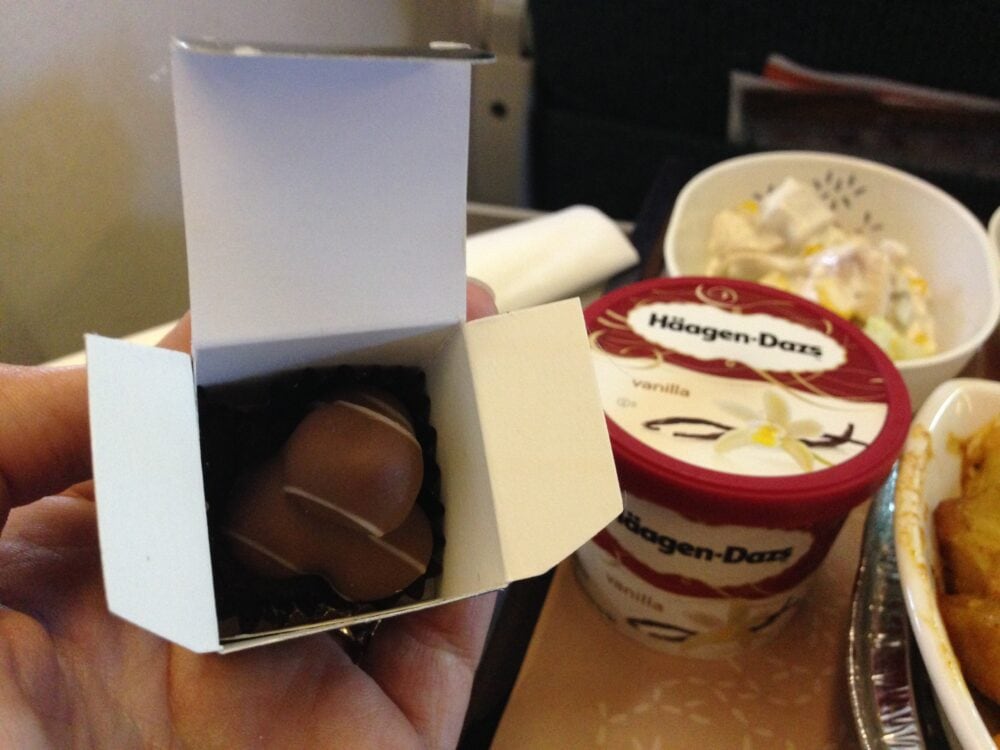 There's also Haagen-Dazs ice cream and chocolate! Let me tell ya, Cathay Pacific really knows how to woo a girl — champagne AND chocolate! I fell asleep during one of the movies, and when I woke up I had a bottle of Evian and another boxed chocolate truffle waiting for me. Magic!
What Could Improve In Cathay Pacific's Premium Economy:
When the seats in front of you are reclined back, it's a little tricky to get out to stretch your legs or use the loo. Not that you don't have any room — there's plenty of leg room — but the upgraded arm rest with the extra space for drinks/etc is so long that it gets in the way a bit when getting out of your own seat. Honestly, this isn't that big of a deal. Just something I noticed.
The food. I know, I know, I just raved about it above. But, I have both pros and cons about the food. PROS: Who doesn't love unlimited Haagen Dazs ice cream? Who doesn't love chocolate and champagne? There were healthy choices and snacks available too, so overall it was pretty great. CONS: The meal itself didn't blow me away. The prawns with rice and broccoli sounded better on the menu than it tasted. But, I'm a foodie. So really, you can take this tiny criticism with a grain of salt. It's airplane food, after all.
Entertainment. I found that most of the TV shows only offered one or two episodes. There's nothing more frustrating than getting hooked at the end of a show and not being able to advance on to the next episode. So, if you're planning to do some episodic binging during your long flight, I'd recommend downloading them to your iPad. Otherwise, their list of movies was sufficient to keep your attention for the whole flight.
Cathay Pacific Business Class (Compared to Premium Economy)
I wanted to also share photos of what Cathay Pacific Business Class is like so that you can compare it to Cathay Pacific Premium Economy. Truly, I think this shows how much value is offered in Premium Economy.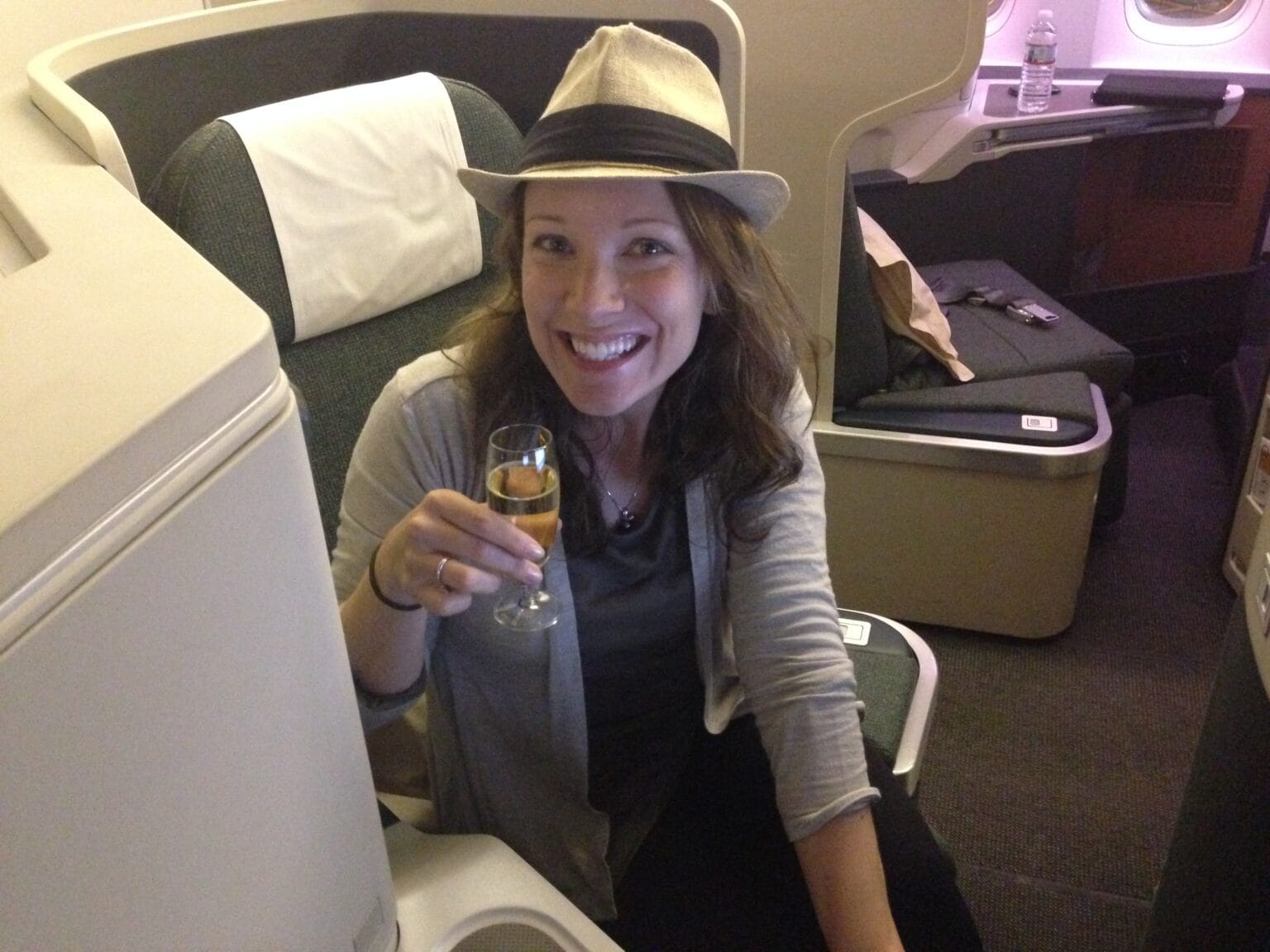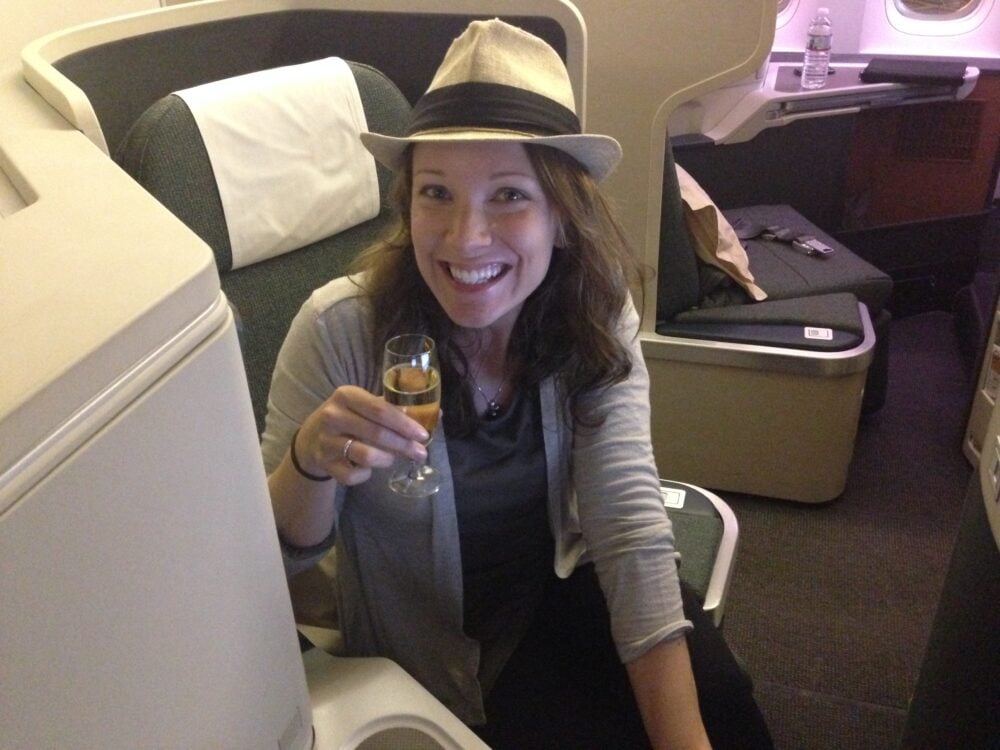 Extra Room & Foot Rest
Here, there really is no comparison. This is what you're paying so much more for. The ability to not even have to look at the person next to you. (Now, that's privacy!) The foot rest has many different levels of adjustment so that you can go from reclined, to kicking your feet up, to completely laying down flat like a bed. You also get Bose headphones, a standard sized pillow, and a down comforter. Talk about getting cozy!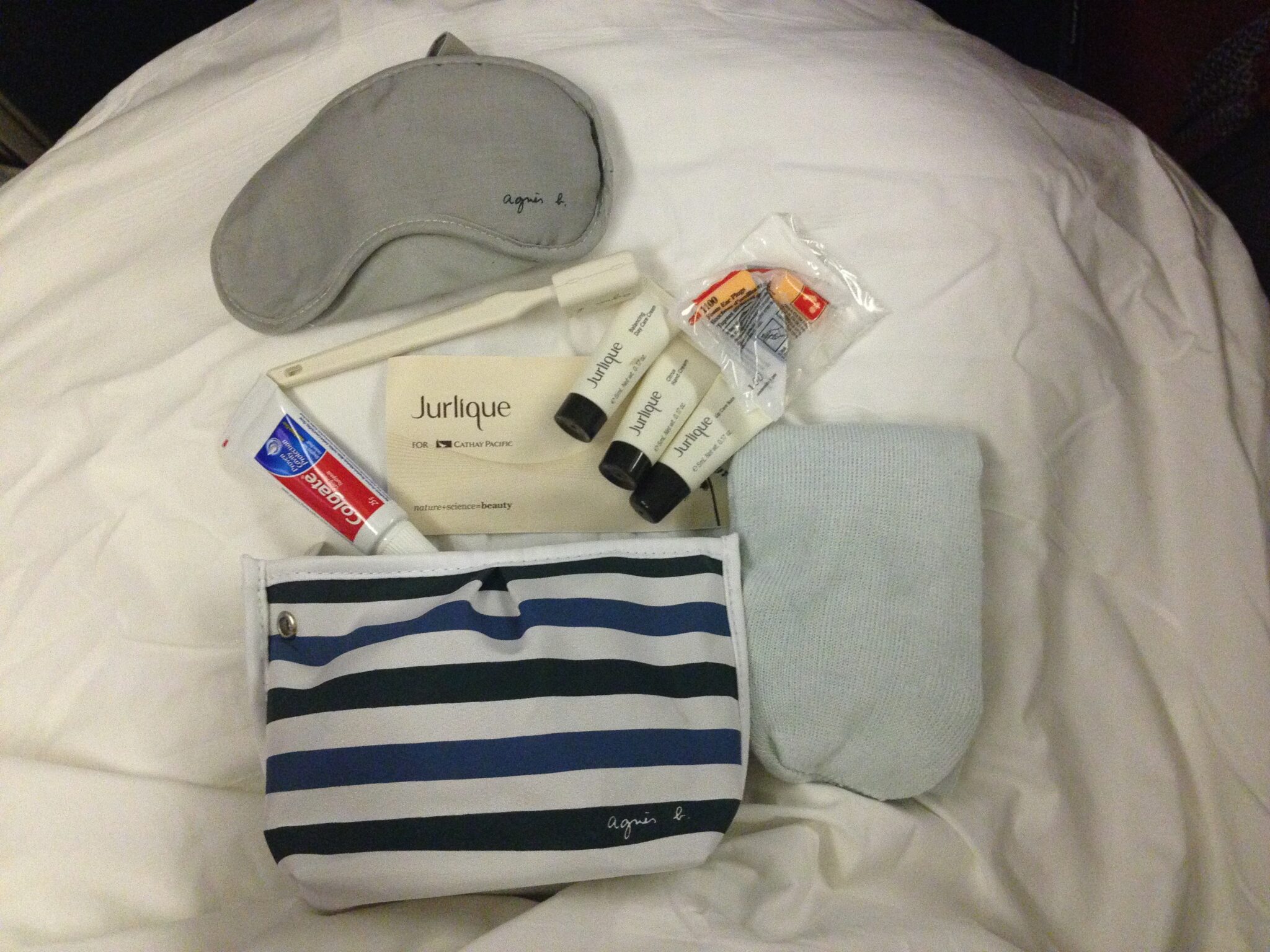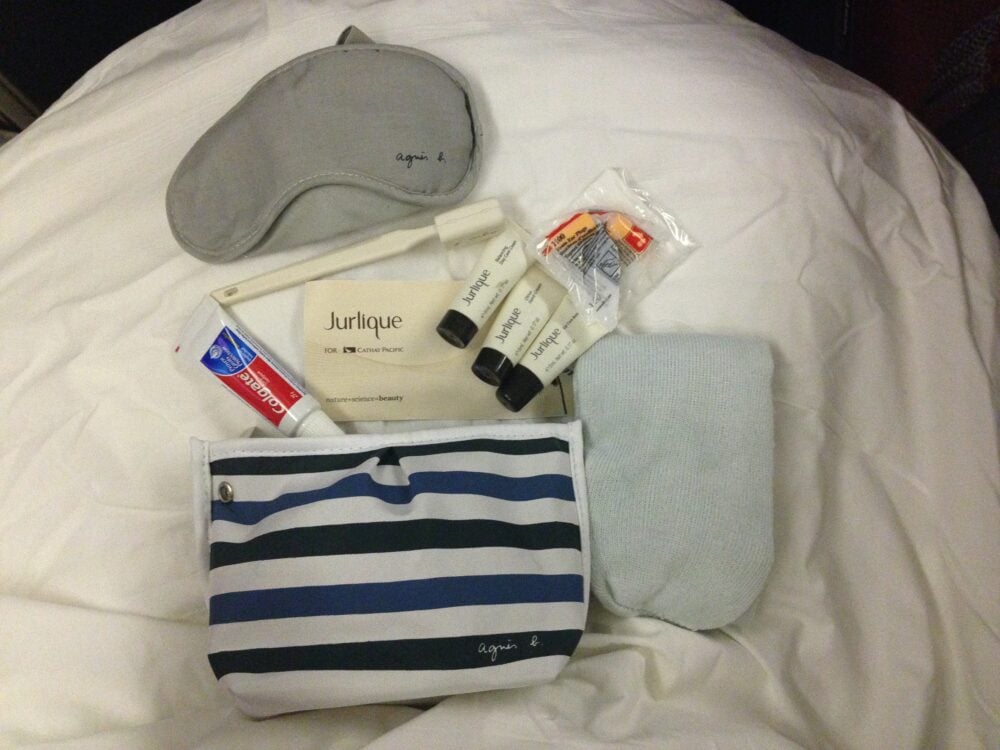 Amenity Kit
In Business Class, the amenity kit slightly bigger. And you get lip gloss and a few more Julique samples (which are awesome). But, for the most part, you get the same eye mask, ear plugs, and dental kit to help you rest and feel refreshed. In Business Class, you also get a full travel size tube of toothpaste instead of the mini one-use size. This is handy if you forgot yours at home.
Food
In Business Class, as in Premium Economy, you start the flight off in style with a glass of champagne. For dinner we were offered a multi-page menu with a nice wine selection from South Africa and meal selections including the following:
An appetizer of red pepper and hummus
Stir-fried prawns with XO sauce, egg fried rice, and mixed vegetables
Grilled USDA prime beef tenderloin with caramelized onion ragout, parsnip mashed potatoes, and Kenya beans with pepperonata
Salad with seared jumbo scallops and pesto olive oil and balsamic dressing
Seasonal berries and a cheese plate including brie, Manchego, and Taleggio
Chocolate pralines
The real difference I saw in the food was not necessarily in the quality, but in the service. In Business Class, you're set up with a table cloth, plates, and silverware. You also don't have to futz with the foil or plastic covers as it comes served ready-to-eat. It feels more like room service than airplane food.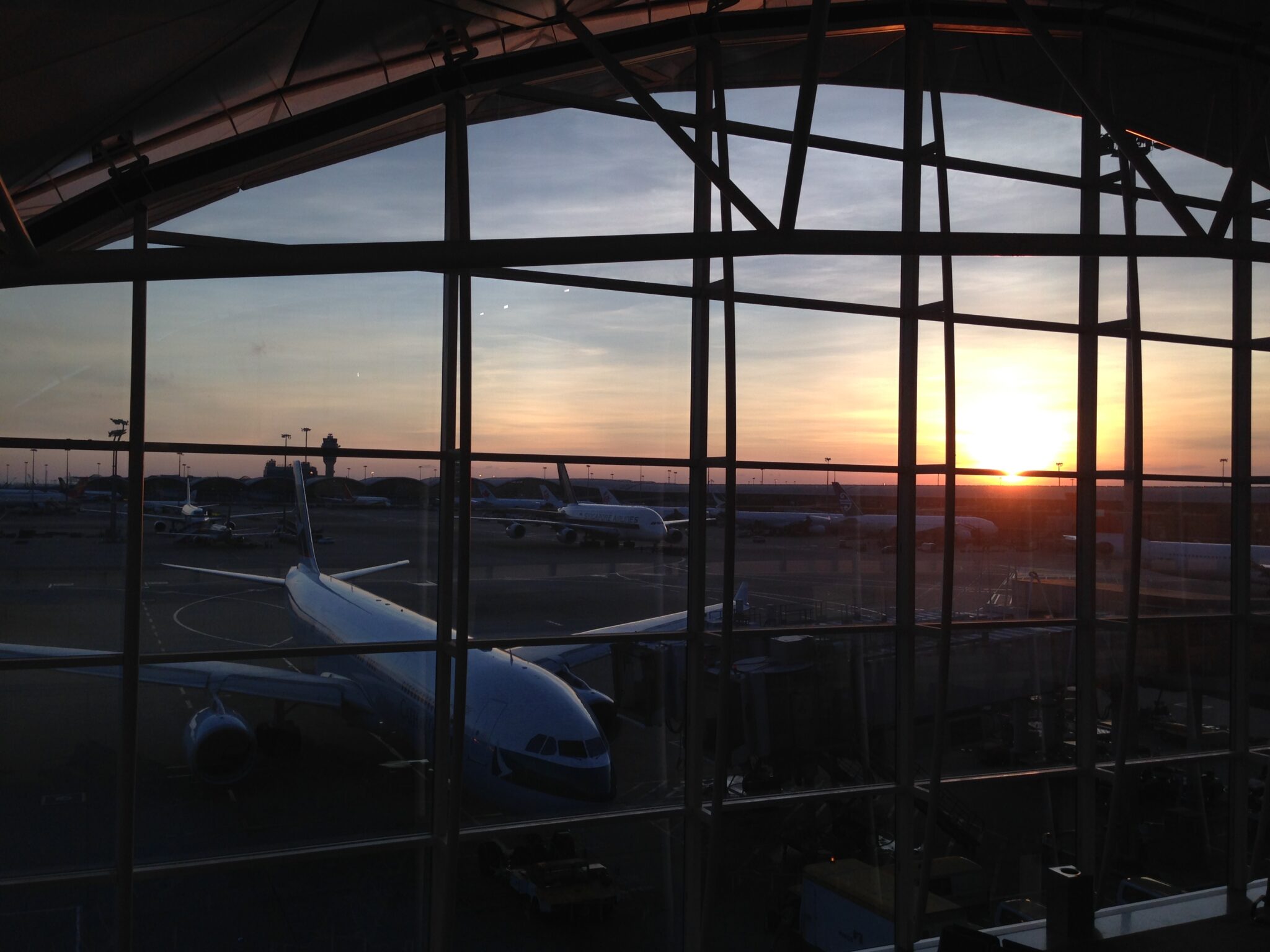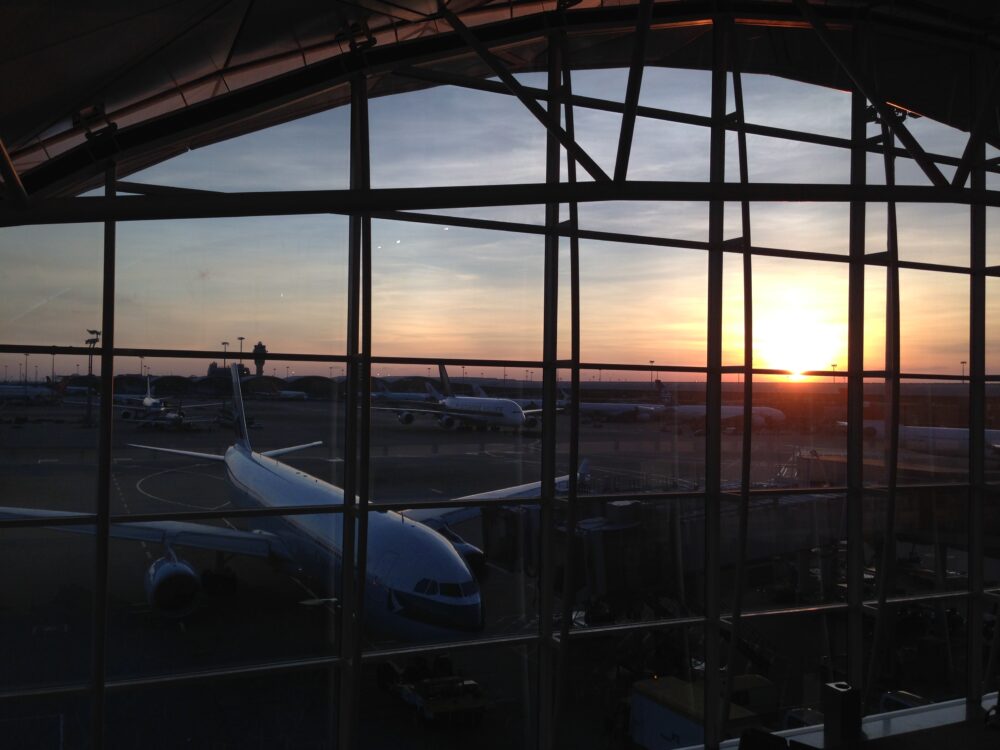 Cathay Pacific Premium Economy Final Thoughts
Overall, I think spending a little bit more on Premium Economy can give you all the value you're looking for without splurging for Business Class. When I flew to Europe on that coach flight I painfully described at the start, they didn't even have Premium Economy as an option. The only thing available was a $1000 upgrade to Business Class, which, by the way, when I took a peek through the curtain looked exactly the same size as Cathay Pacific's Premium Economy. So, when you see Premium Economy as an option — grab it! Especially for long flights. From now on, I'll be searching Cathay's flight routes with Premium Economy for all my travels, not only through Asia, but everywhere.
This campaign was created and sponsored by Cathay Pacific Airways in partnership with iAmbassador. As always, thoughts, opinions, and enthusiasm for travel is entirely my own.
MORE AIRLINE REVIEWS