The answer is a resounding, YES!  And here's why …
Virgin Atlantic Premium Economy Review
1 – You feel like a guest, not a passenger.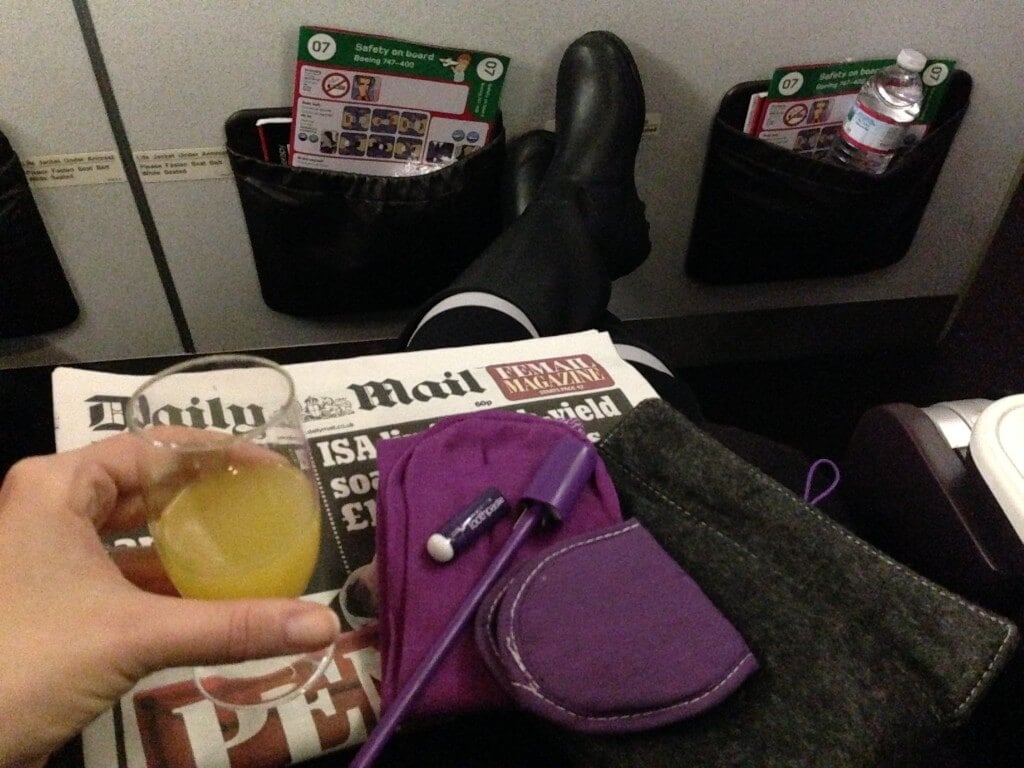 You know what it feels like schlepping into economy — like you're in grade school, being shuffled into a que one-by-one to board an overcrowded bus with zero personal space and extra germs.  But there hasn't really been any realistic options outside of this unless A) you've got your own plane or B) shelling out thousands for a first class international plane ticket is chump change to you.
When I boarded by Virgin Atlantic Premium Economy flight to London (as well as my return flight home), I was greeted with a smile, a selection of current reading material, and a glass of champagne.  Cheers to that!  There was also a full sized water bottle and amenity kit with socks, toothbrush, toothpaste, and an eye mask in a little felt pouch.
Read This: 10 Tricks For Beating Jet Lag
2 – There's plenty of space.
Honestly, this one feature alone as spoiled me from ever flying economy again.   There's plenty of room to stretch out and you don't feel like you're having to share personal space with fellow passengers.  You know that awkward "leg-touch" moment with your seatmate, or the silent fight over the armrest?  Yeah, that doesn't happen in Virgin Premium Economy.  There was even a foot stool and enough room for my wellies.  (It's not a big as first class, but really, if you've got that much money to spend on a trip I'd recommend you splurge on a  South African safari instead of sleeping through a 7 hour flight.) 
Read This: 3 Tips For Surviving A Long Flight
3 – You'll be too entertained to sleep.

This could be a good or bad thing.  If you need your rest, I have to warn you, you'll be tempted by the selection of recent Oscar winning movies, blockbusters, and entire TV series available.  Honestly, it's the best on-flight entertainment system I've seen offered — ever.  We could have circumnavigated the entire world and there wouldn't have been enough time to watch everything I wanted to see.
In addition, there's also two handy usb plugs for your personal devices such as an iPad or Kindle, or to get your phone charged up for your landing.  Did I mention the magazines and newspapers they handed out when we first boarded the plane?  Yeah, it's impossible to get bored on this flight.
Read This: 8 Healthy Snacks You Can Bring On A Plane
4 –  The Food.
Okay, so it's not a 5 star fine dining experience, but it does feel a little more like room service than the typical in-flight frozen dinner served in a cardboard carton.  There's an actual tablecloth and real linen napkin, plastic plates, and stainless steal silverware.
The menu's vary, but you'll typically get a nice little starter salad, choice of entree, a dessert, and wine.  There's also cutesy airplane-shaped salt and pepper shakers.  For airplane food, it's pretty damn good.  They also have a tea service with cheese and crackers later throughout the flight.  So, once you get all cozy with your movies and your food, you really do feel like you're in your own comfort-pod.
5 –  Attitude!  The good kind.

Customer service seems to be rare these days, so when the staff at an airport or airline is friendly, I'm floored.  But the cabin crew on Virgin went above just being friendly.  I felt welcome, as though they were hosting a sophisticated cocktail party in a tiny New York style apartment-in-the-sky.  The difference I felt is that they ENJOYED working for Virgin.  Believe me, that doesn't happen all to often with airlines.
Here's an example of going above and beyond.  I got up to walk around and stretch my legs and cut through the galley on my walking loop.  Noticing a set of adorable flight-themed ceramic coffee mugs, I asked if they were for sale.  (He said he'd check and let me know (I think they were for first class).  When I walked back around again, the steward handed me one followed up by a little "shh, don't tell" and a wink.  I swear I heard a little "ting" while a star sparkled in his eye.  The way to my heart is definitely through coffee, and this totally won me over.  It's my new favorite coffee mug.
Overall, I'm impressed.  I joined their flying club to start earning some miles to do these upgrades more often.
What I wish they'd add or change:
— The headphones.  With such a background in music and entertainment, I'd expect the headphones to be high quality.  The sound in mine was a little scratchy and full of static, but it didn't matter too much since I had brought my own.  The seats have a standard headphone jack, so I just used my own headphones and had a great 'surround sound' movie experience with those.
— I flew direct from Orlando to London, thankfully, because the lounge at Miami is below par.  But, then again, I'm not a big fan of MIA to begin with.  It's not a Virgin-branded clubhouse, but instead a lounge that's shared by multiple airlines.  I happened to notice their logo in the shared lounge during my last fly-through Miami, and I have to say, I'm a little surprised Virgin Atlantic uses it.  There's a small room with a serve-yourself buffet of cheap wine and a pour-from-a-machine-like-a-gas-station coffee.  That's about it.  The atmosphere where the rest of the passengers are hanging out below is much nicer.
The Virgin Clubhouses look like a waaaaay better experience with spa treatments, a real bar with a bar tender, and all kinds of things that seem way more Richard Branson's style.  So, if you're flying Virgin, pass up the lounge if you're in Miami.  Or at least plan to route through an airport that's on their list of Virgin Clubhouses so that you can get the full rock star benefit.  The one at JFK looks like the kind of place where I'd arrive extra early to the airport just to hang out there.
Want to see more reviews?  Check out what Katie wrote here on The Traveling Panties and see what Matt with Land Lopers had to say.
Disclosure:  My flight was sponsored courtesy of Visit Britain and Virgin Atlantic. However, all opinions and enthusiasm for travel are entirely my own.  All photos taken with my iPhone giving you a real sense of what to expect.

Want to save this post for later?  Pin it!