When I took my mom to France for the first time, which was also her first Transatlantic flight, I upgraded us to Air France Premium Economy so she'd have a comfortable experience.  Plus, it was her birthday so I didn't mind the splurge.
Overall, the slight increase in the fare (around $200) was well worth the comfort and extra legroom.  I've included highlights of the amenities below as well as un-retouched photos from my iPhone so that you can see for yourself exactly what the upgrade for Air France Premium Economy includes.
First of all, here's our seats.  They're kind of like cozy loungers.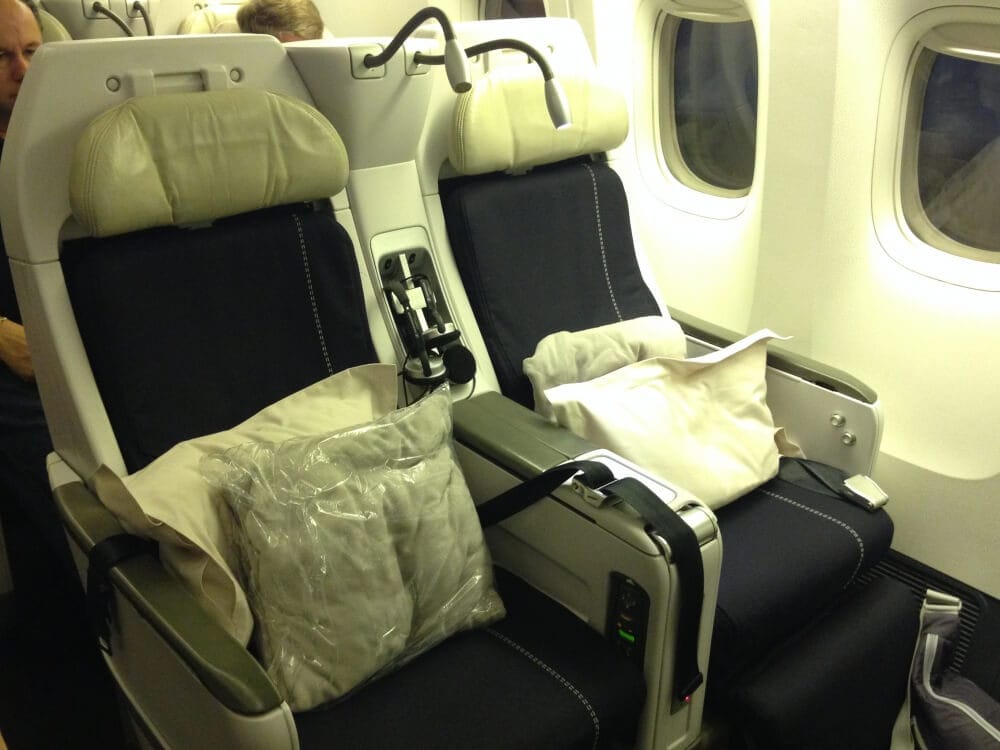 We were situated in the bulkhead of the plane which gave us even more extra leg room.  Right off the bat you can see that the pillows, blankets, and headphones were definitely bigger and nicer than what you'd get in economy.  The seats were cozy and reclined in such a way that they'd remind you of your favorite reading chair at home and there was also a leg rest for extra support.  While the extra legroom and leg rest is definitely an upgrade from economy, personally, I'd prefer a foot rest.  My feet just sort of dangled off the edge (and I'm pretty short) and it made me slide down the seat when I used it, so I folded it back and just took advantage of the extra leg room and propped my feet up on my bag.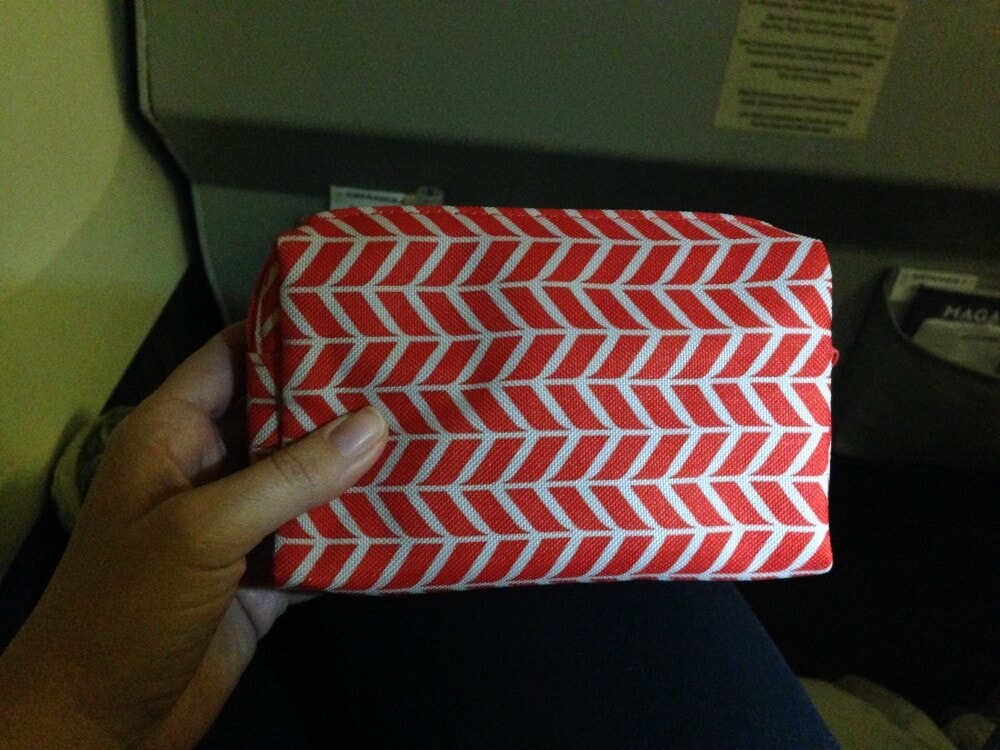 As everyone was getting settled into their seats, the flight crew handed out drinks and an amenity kit to each passenger.  There was also a full bottle of water in our stow-away pocket.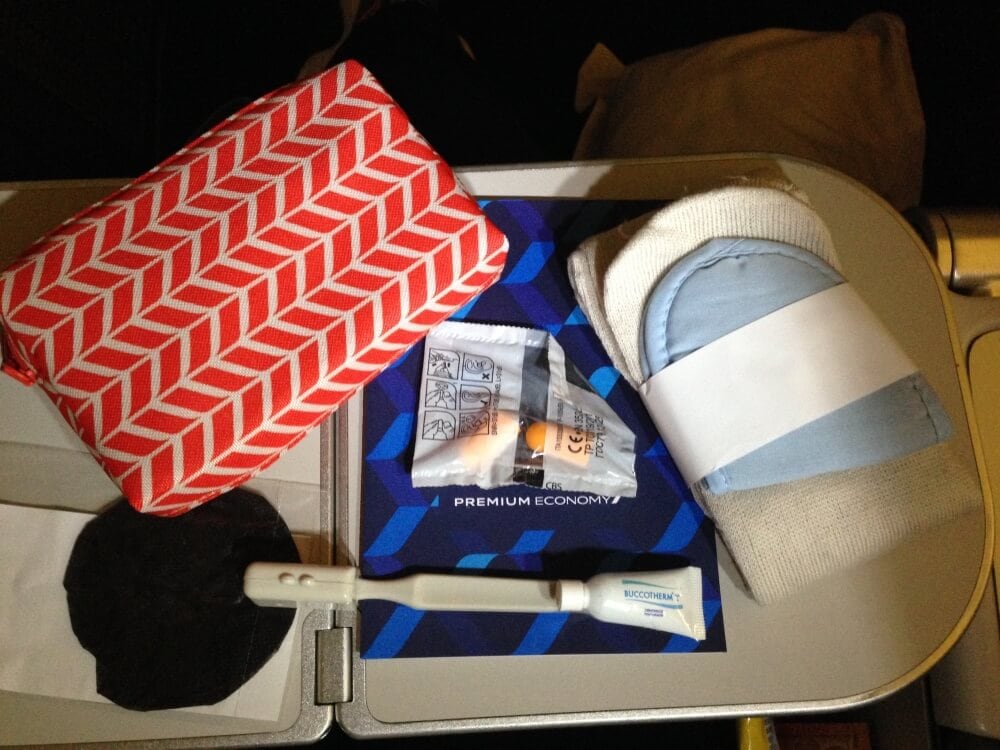 The amenity kit included a cute bag, socks, eye mask, earplugs, new foam ear pads for the headphones,  and toothbrush and tooth paste. I usually bring my own eye mask since I travel so frequently, but it was nice to have an extra one.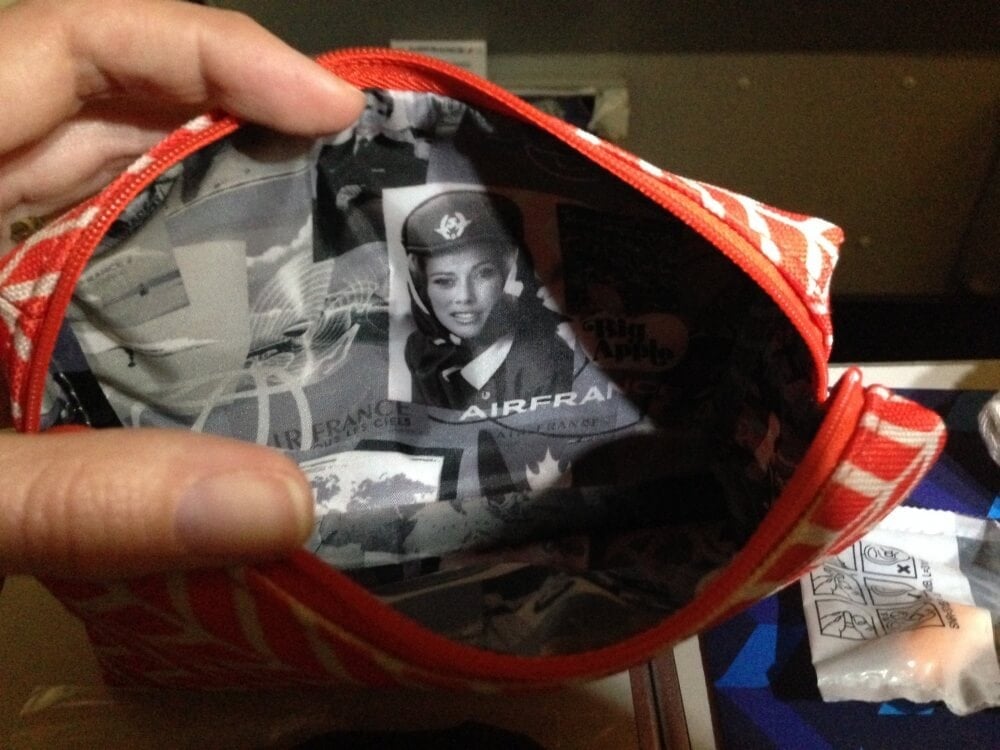 The inside of the bag was cute too, branded with vintage Air France photos.  I love collecting these amenity kit bags to use for organizing electronics, make-up, and other small items when I travel.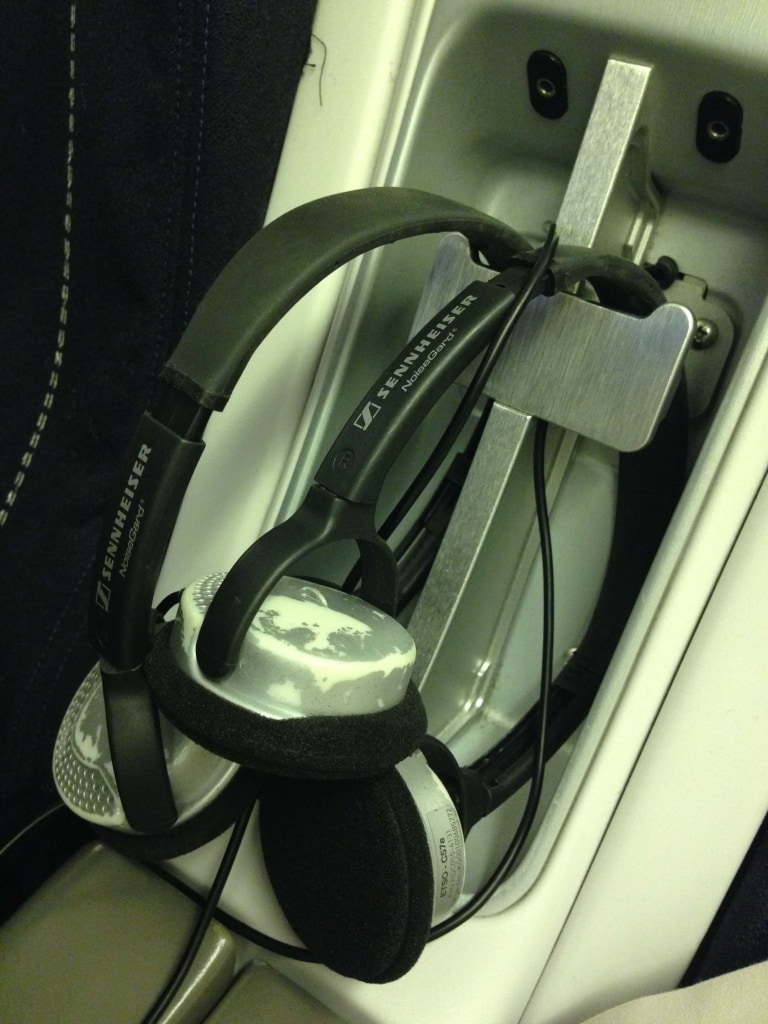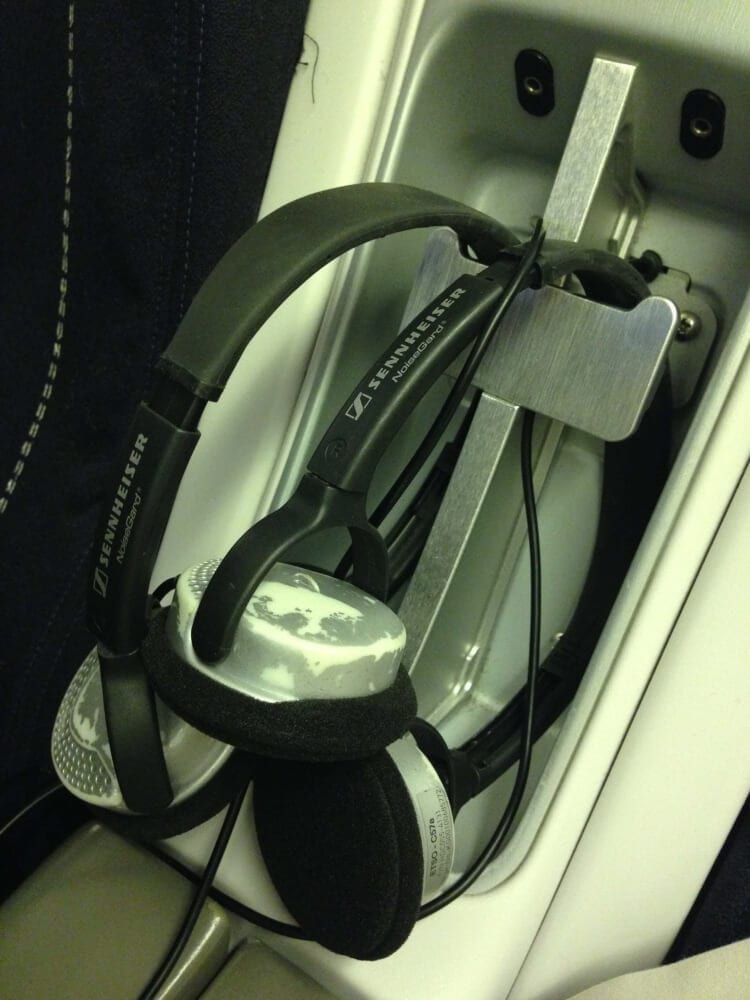 Now, when I put the foam ear pads on the headphones, I noticed they looked pretty worn.   I pointed it out to the crew and they said that the paint rubs off a bit when they're hand sanitized.  That's a fair assessment.  I still sanitized them myself anyway.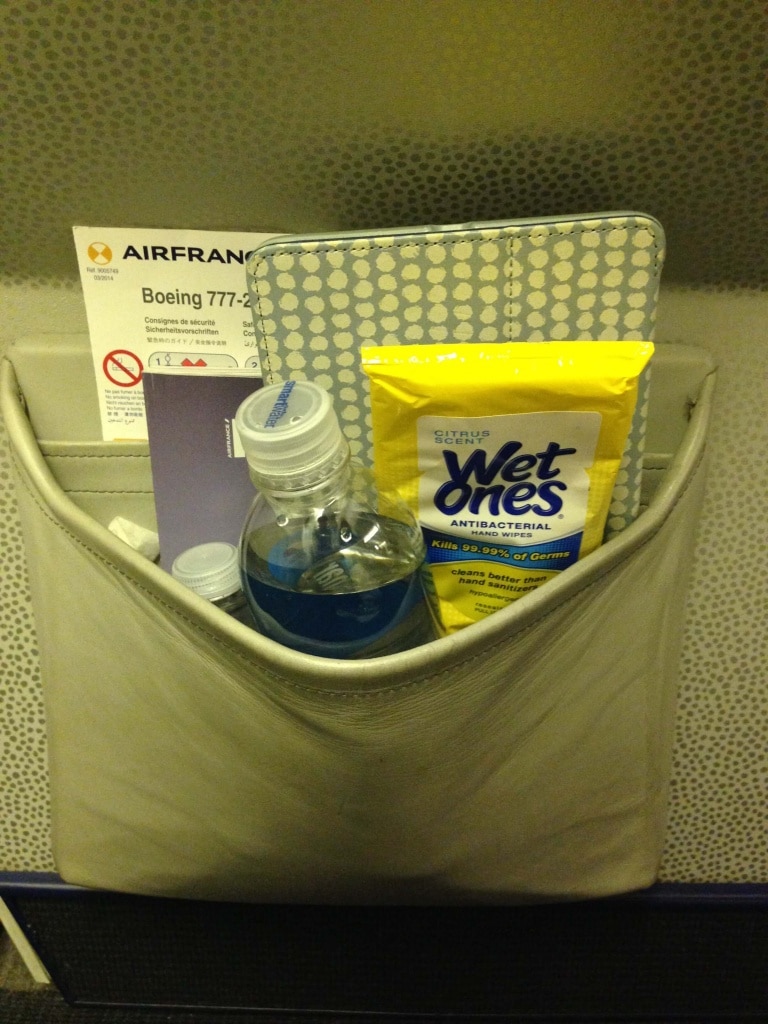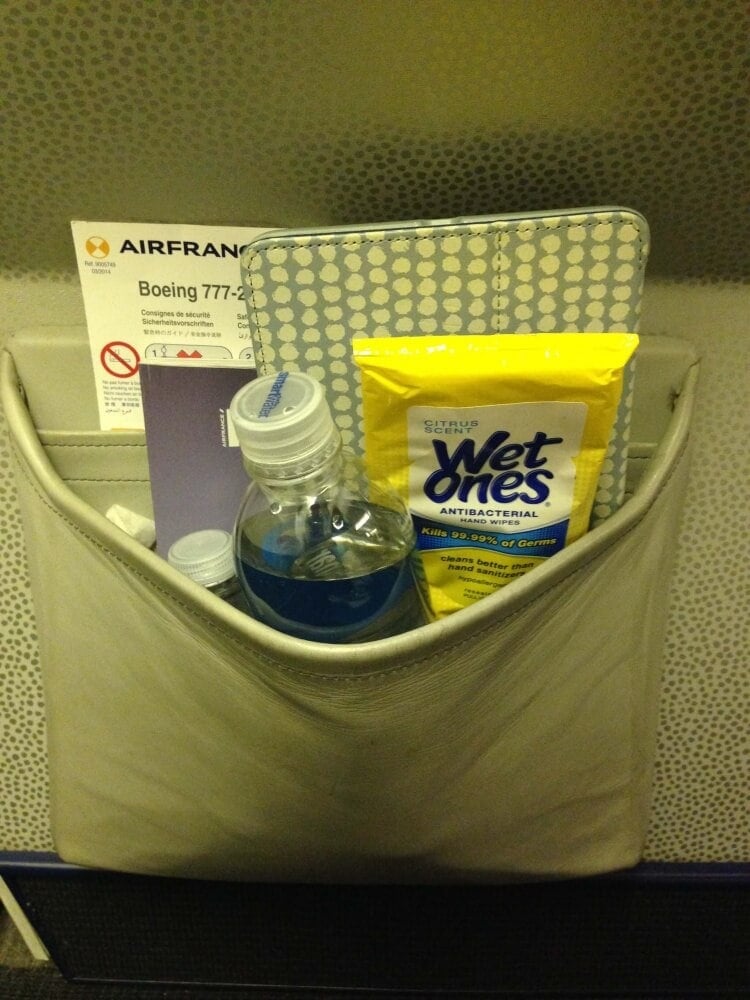 Since we were in the bulkhead, we had a small leather pouch to hold our things, and we placed our smaller carry on in the overhead bin for take-off and landing.  Air France Premium Economy includes Sky Priority boarding, so we had no problem finding room for our things in the overhead bin directly above our seat. (Note my hand sanitizer. 😉  I always travel with those and wipe down every surface around my plane seat.)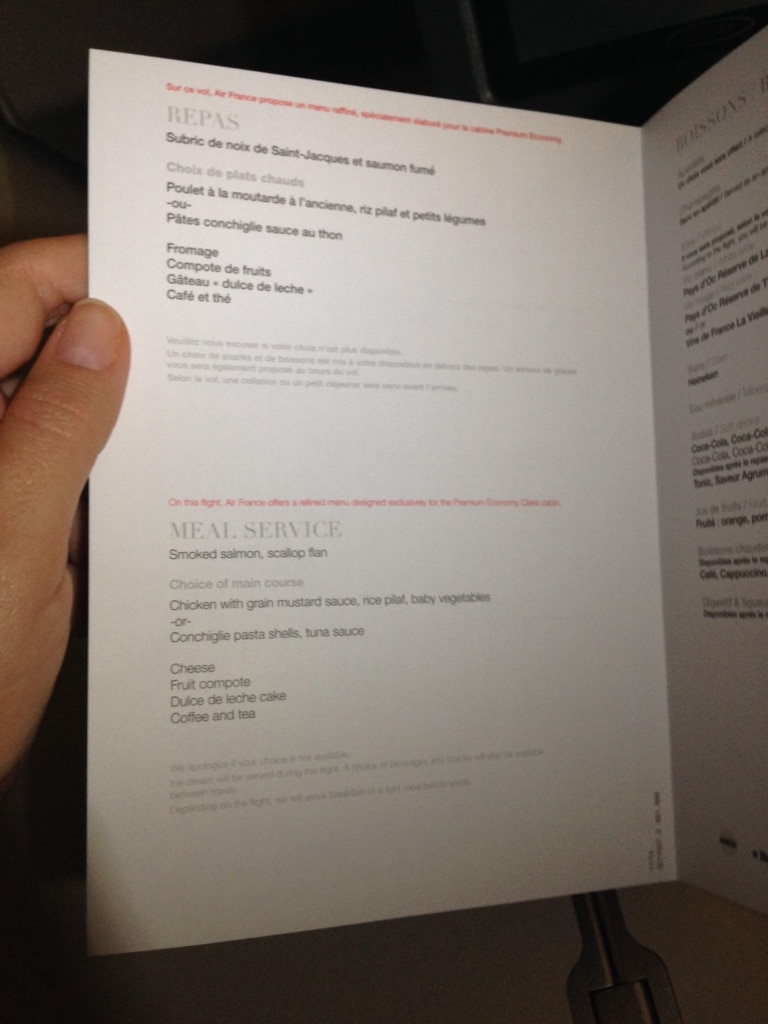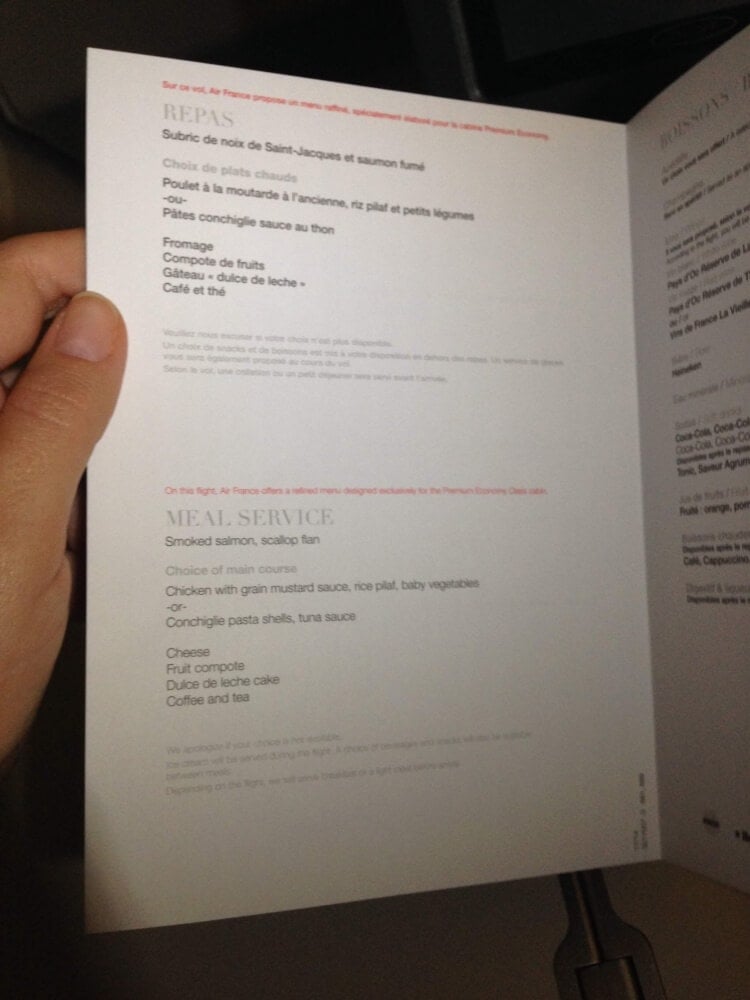 Another nice touch with Air France Premium Economy is the printed menu with upgraded meal choices.  Our dinner included smoked salmon, chicken with rice pilaf and vegetables, cheese, fruit, and cake.  We also had a pretty big selection for beverages including an aperitif, champagne, wine, beer, liqueurs, and soft drinks.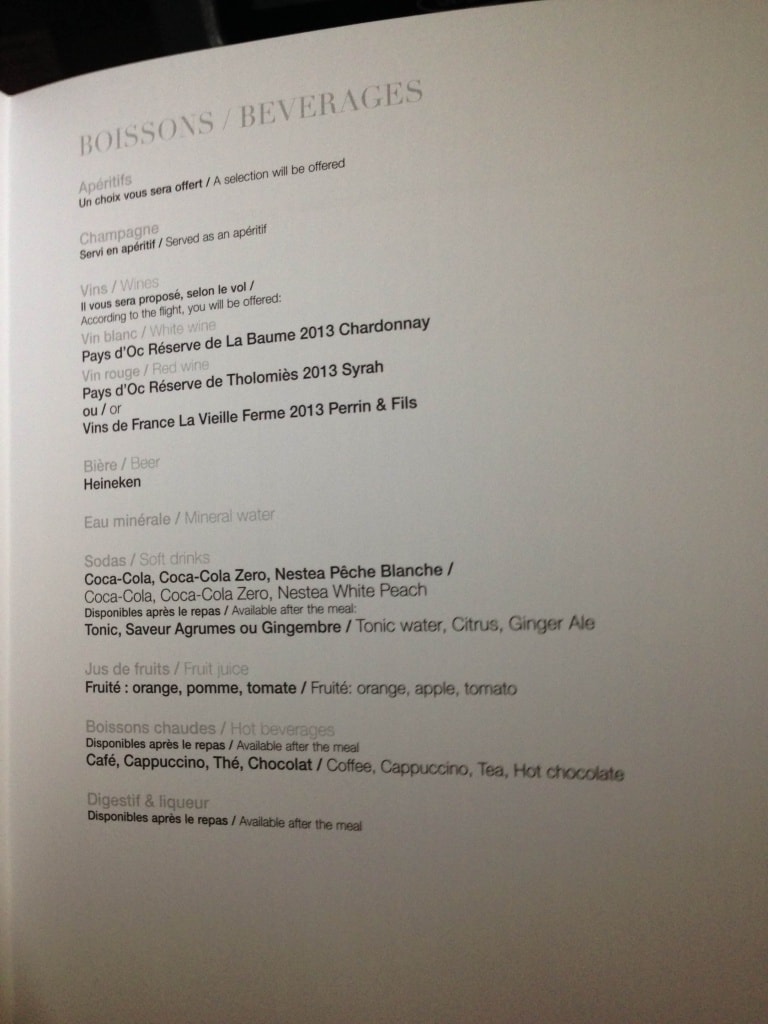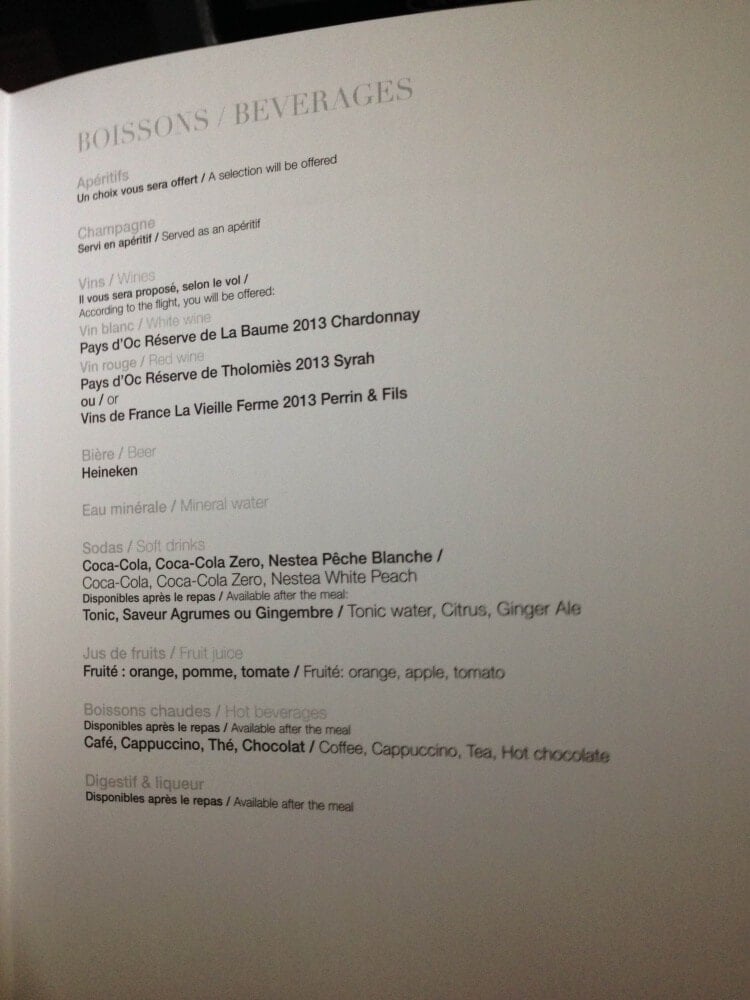 I guess flying out on vacation is a great time to celebrate with multiple drinks.  On land, I'm a one or two glass of wine kind of girl.  But since these were "plane-sized" I sipped them all. I also love that you can order a cappuccino in addition to a regular coffee.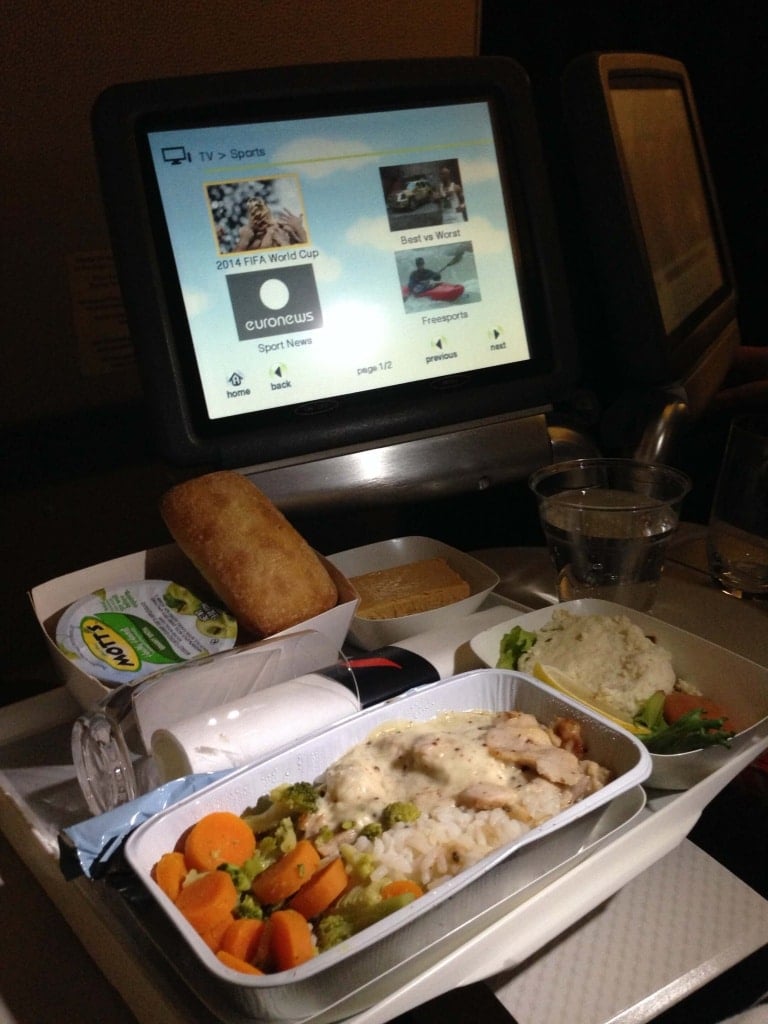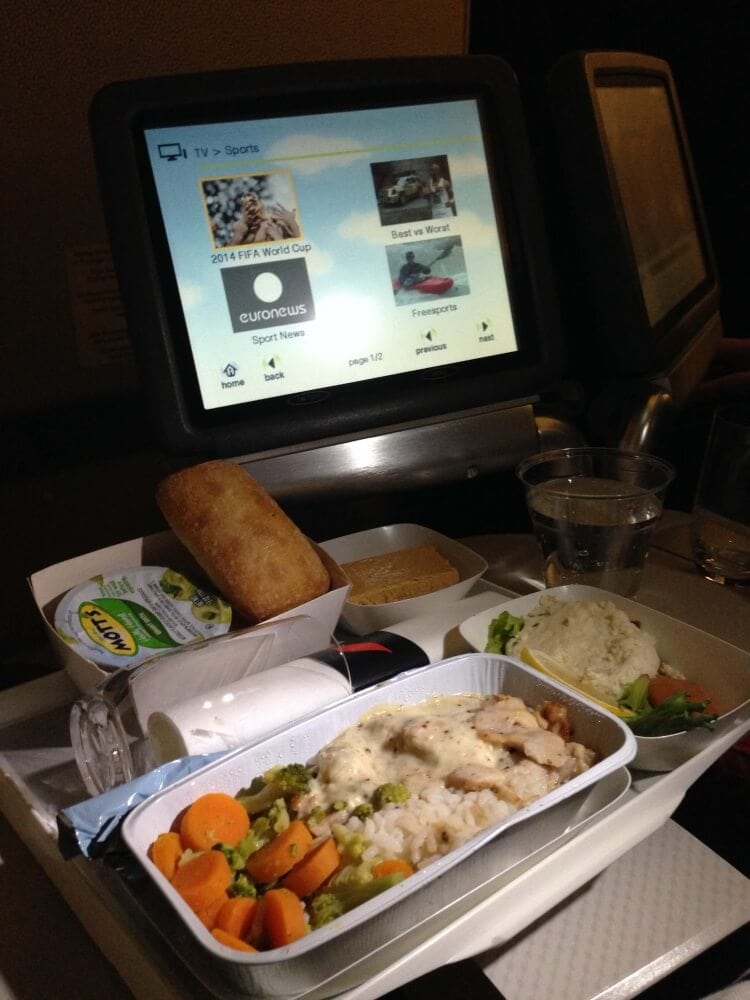 Dinner itself was … meeeeeeh.  Okay.  Well, as good as it could be considered it's reheated on a plane.  The sauce for the chicken had some good flavor and in premium economy you get real glassware and silverware, so that's a nice touch.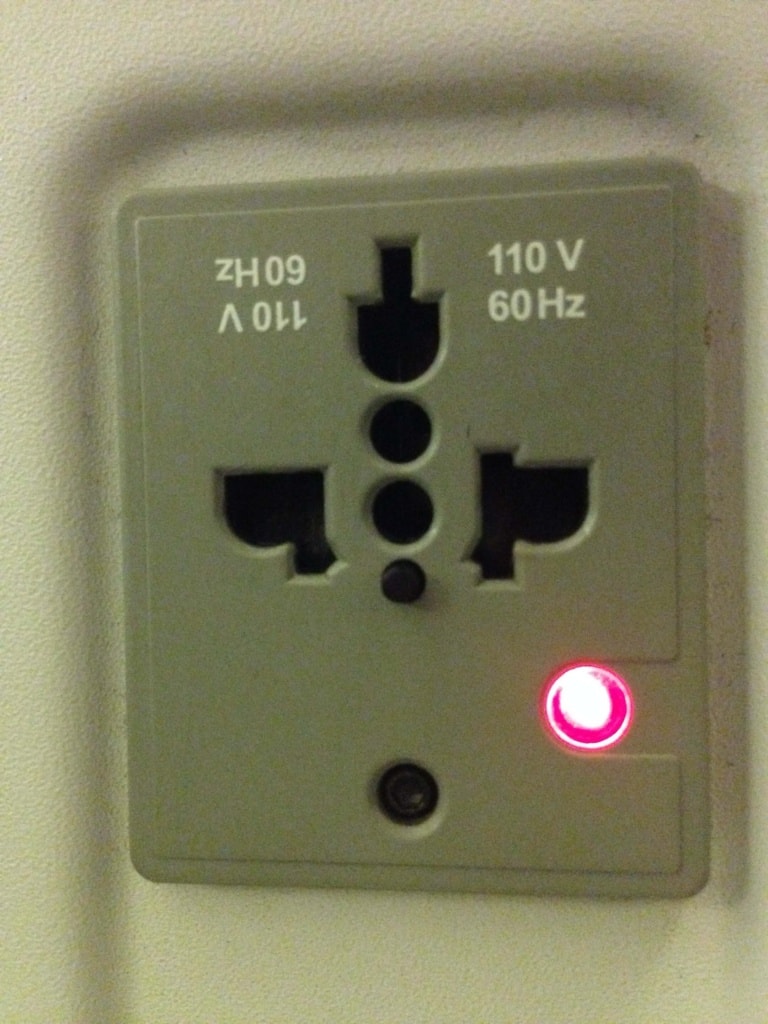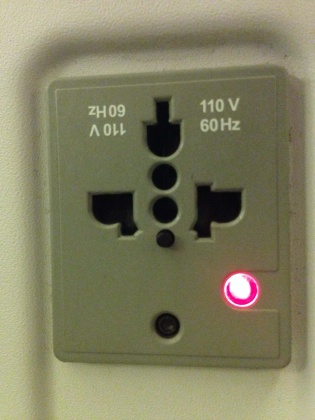 Another nice feature, a power outlet to make sure your phone or other electronics are fully charged when you land.  There was a lot of variety of entertainment to watch too, but I didn't take full advantage of it since it was an overnight flight and I wanted to get some sleep.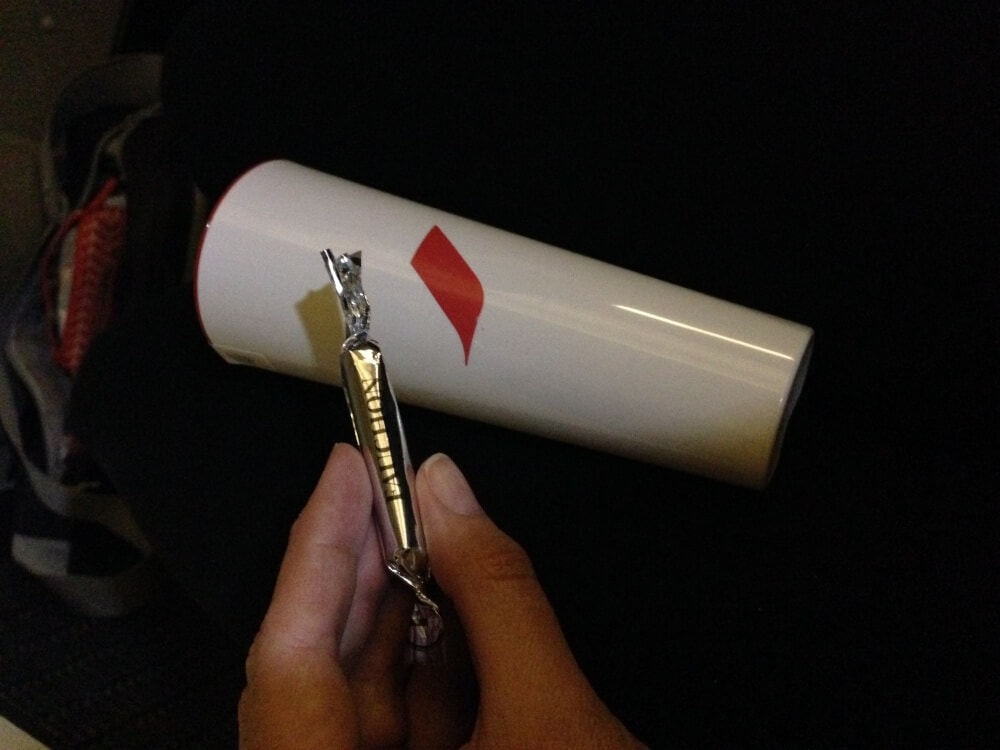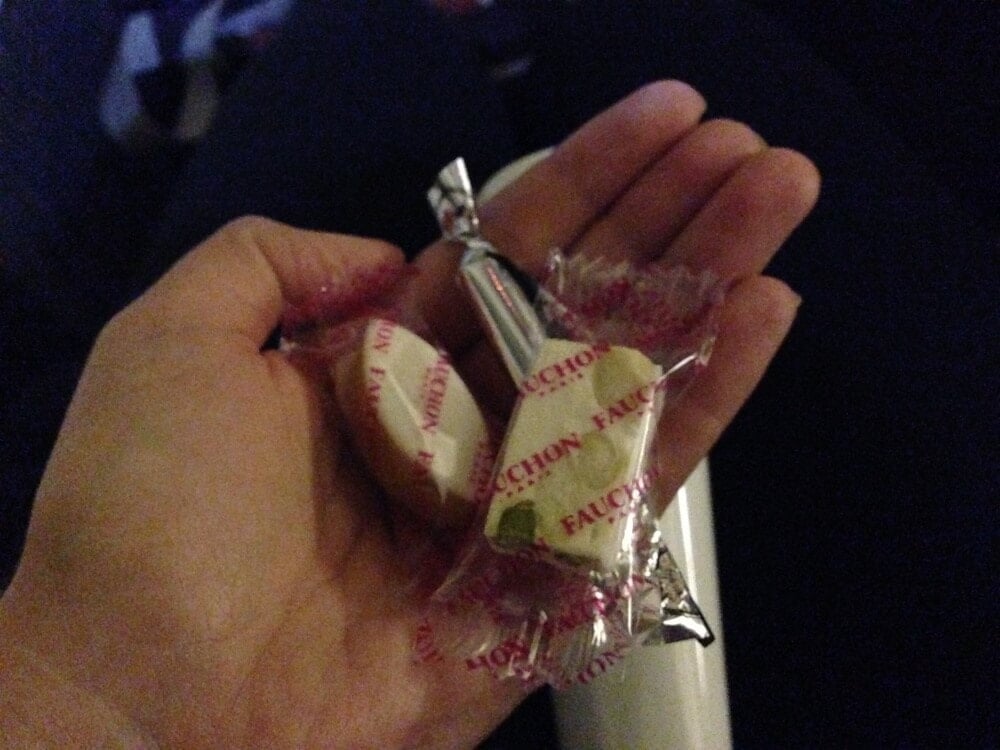 Shortly after dinner, the flight crew gave us a cone filled with Fauchon sweets including chocolate, caramels, nougat, and calissons.
Overall, on Transatlantic flights, I'd say the upgrade to premium economy on Air France is definitely worth it.
Want to save this post for travel planning? Pin it! 🙂