Airport food tends to be grossly overpriced and not very delicious, so I always make a pack of healthy snacks for us when we travel that's full of gourmet grab-and-go foods that happen to be TSA-friendly too. It's well balanced with some fresh fruit, protein, and a little chocolate treat (since chocolate is it's own food group). I tend to pick things that don't need refrigeration so they'll be easy to travel with and since I don't like cooking and making a mess of my kitchen as we're packing and prepping to head out on a trip, these are all ready-to-pack with no prep needed.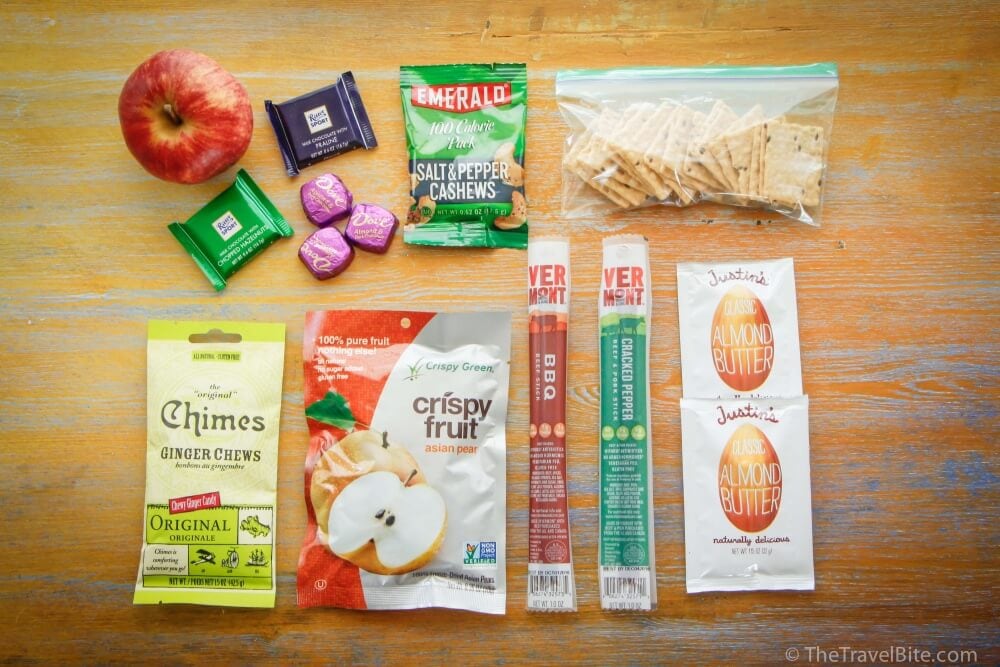 A Few Tips On What To Look For In Flight-Friendly Snacks
You want to think of things that will easily get through security, which means being wary of anything that would be considered a liquid or gel. For long flights, I have actually made fresh sandwiches before, wrapped them in parchment paper, and they went through security just fine. If you do bring something that would be considered a "gel", like peanut butter, just make sure it's in a small packet that is 3 ounces or less.
Some fresh fruits can be really messy to eat, so if you love oranges or tangerines, pre-peel them and wrap them up in plastic wrap or bag so they're ready to eat. Personally, we really love to bring apples since they are compact and the core is easy to dispose of.
The rules change depending on if you're flying domestic or international. I have meat and fruit items in our list below, but typically you can't bring those across international borders. So if you decide to pack it, it will be fine as long as you eat it before you land. Otherwise you might get held up in customs.
When it comes to nuts, I tend to shy away from peanuts and peanut butter since there seems to be so many food allergies these days and I don't want to affect any fellow passengers. Frankly, I'm still surprised they give out peanuts on flights. Rather than plain peanuts, I'll pick up snack sized gourmet flavored nuts and I'll stick to almond butter instead of peanut butter.
Don't forget drinks! While you can't bring liquids through security, you can bring an empty water bottle to refill at water fountains which is more earth-friendly and will save you money too. You can also pack your own tea bags or flavor packets like Emergen-C or tea concentrates if you want to sip something other than water.
Want to know what we regularly pack? I've got our full list with shopping links below.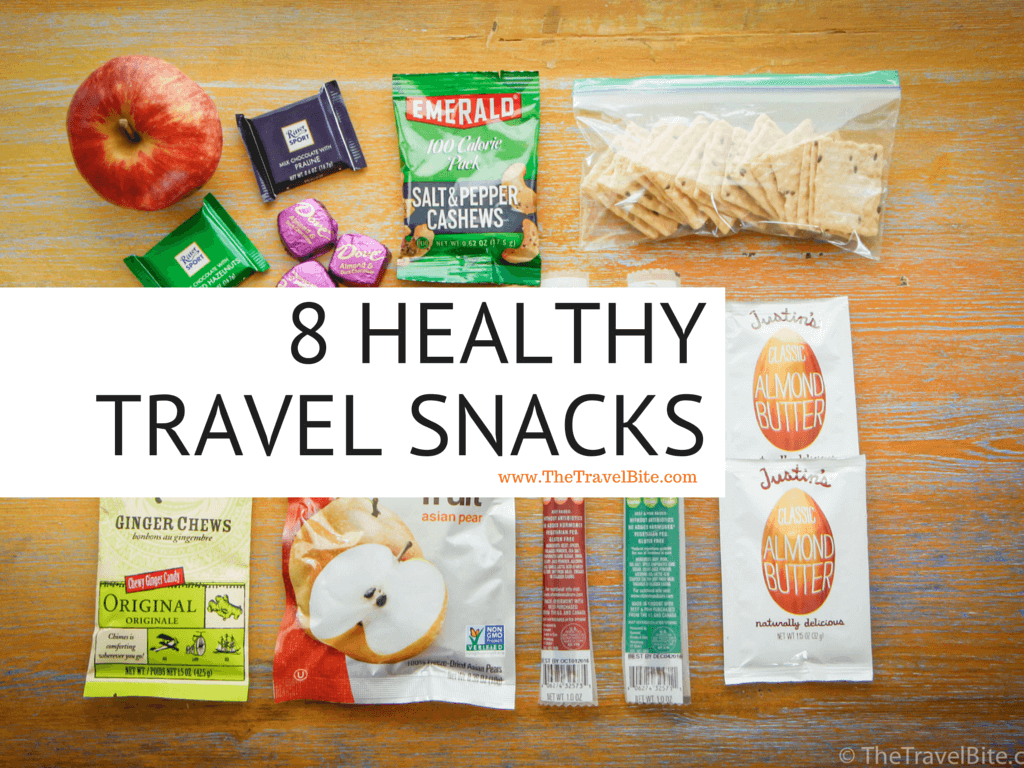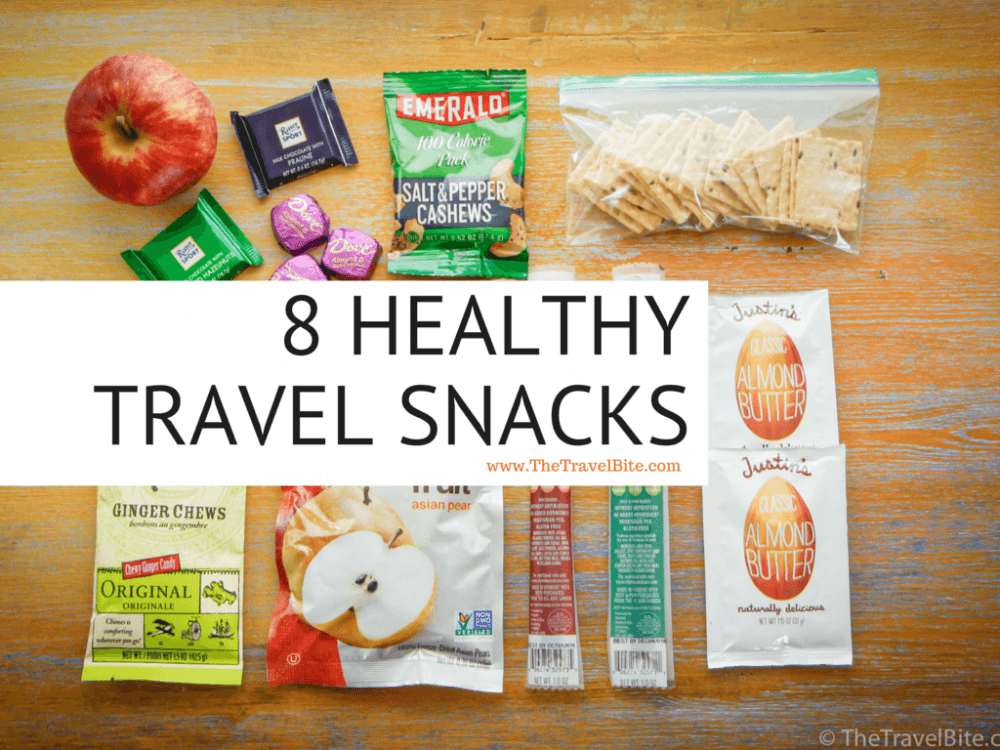 8 Healthy Snacks You Can Bring On A Plane
Fresh Fruit – Like I mentioned above, we like to bring an apple since they travel easy and make minimal mess. But you could also bring grapes, oranges, or pears too. As much as I love fresh berries, I tend to shy away from for travel as they can get crushed pretty easily in a ziplock bag.
Chocolate – I love to have a small sweet treat to look forward to, and individually wrapped chocolates like Dove Promises or Ritter Sport Minis are perfect for satisfying a sweet tooth without blowing your whole diet. Plus, they say dark chocolate is good for you! And the Dove Promises come with an inspirational message inside, like a fortune cookie.
Gourmet Nut Packs – Plain peanuts or almonds just don't excite me, so I look for gourmet nuts like Salt and Pepper Cashews (bonus that they come in 100 calorie packs!) or Pomegranate Vanilla Cashews that come in multiple Sahale Nut Blends and are ready-to-go.
Gluten-Free Crackers – Since I tend to try and eat light on travel days where I know I'll be sitting on a plane for a few hours, I'll stash some low carb snacks like sweet potato chips or multi-grain gluten-free crackers in snack sized zip-lock bags. Add some almond butter or snack-sized hummus and you've got a meal.
Ginger Chews – Because I write about food, ginger chews are a must whenever I travel. Whether you get a bit queesy from motion sickness or from tasting some foods you're not used to, I find that ginger is perfect for soothing a sour tummy.
Crispy Fruit – In addition to packing fresh fruit, I also love dehydrated fruits like pears and bananas. A little crunch, a little sweetness, and a little fiber. I love the Crispy Fruit brand that we discovered at our local Fresh Market, but there's all kinds of options for dried fruits. I tend to pick ones that are more airy and lower in sugar.
Beef Sticks – Every since I discovered Vermont Smoke & Cure at our local Fresh Market, I've got one stashed in nearly every purse and bag as an emergency "hangry" snack. They're Antibiotic Free, Gluten Free, Vegetarian Fed, and have no headache-inducing nitrates. These and Krave Jerky are my favorites when I need a little filling protein and have no time to stop for a sit down meal. Plus, the are SO overpriced at the airport that I buy them at home and pack them in my carry on.
Almond Butter – I got addicted to the peanut butter version of these in Starbucks protein packs, and then I found the almond butter ones! It's perfect for squeezing onto a cracker or just eating it on it's own. Plus, the small individual 1.15 ounce sized packs are perfect for travel and just the right size to be airport security friendly.
More Ideas You'll Love
Want to save these for later? Pin it!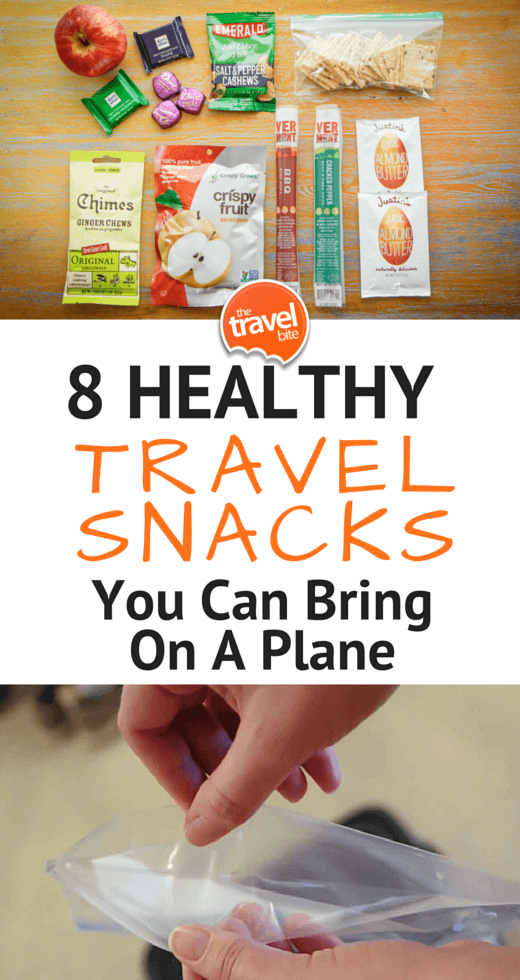 Disclosure: There are affiliate links above where, at no additional cost to you, we get a small commission if you make a purchase. This helps support our site so we can bring you even more helpful food and travel tips. Thank you for your support!