One of the questions I'm most often asked is how we manage to travel around the world with only carry on luggage. I do admit, it takes some planning. But being organized and packing light takes so much stress out of travel.
Some of the benefits of traveling with a carry on only include: saving time by not having to wait for your luggage to arrive at the carousel in baggage claim (this is especially helpful if going through international customs). Also, not having to worry about checked luggage getting lost! And it is helpful to be able to easily find what you need when you need it.
My motto is "carry on bags on the way there, checked bags full of dirty clothes and souvenirs on the way back." Here are our packing tips for traveling with carry-on luggage only.
Carry On Only — How To Pack Like A Pro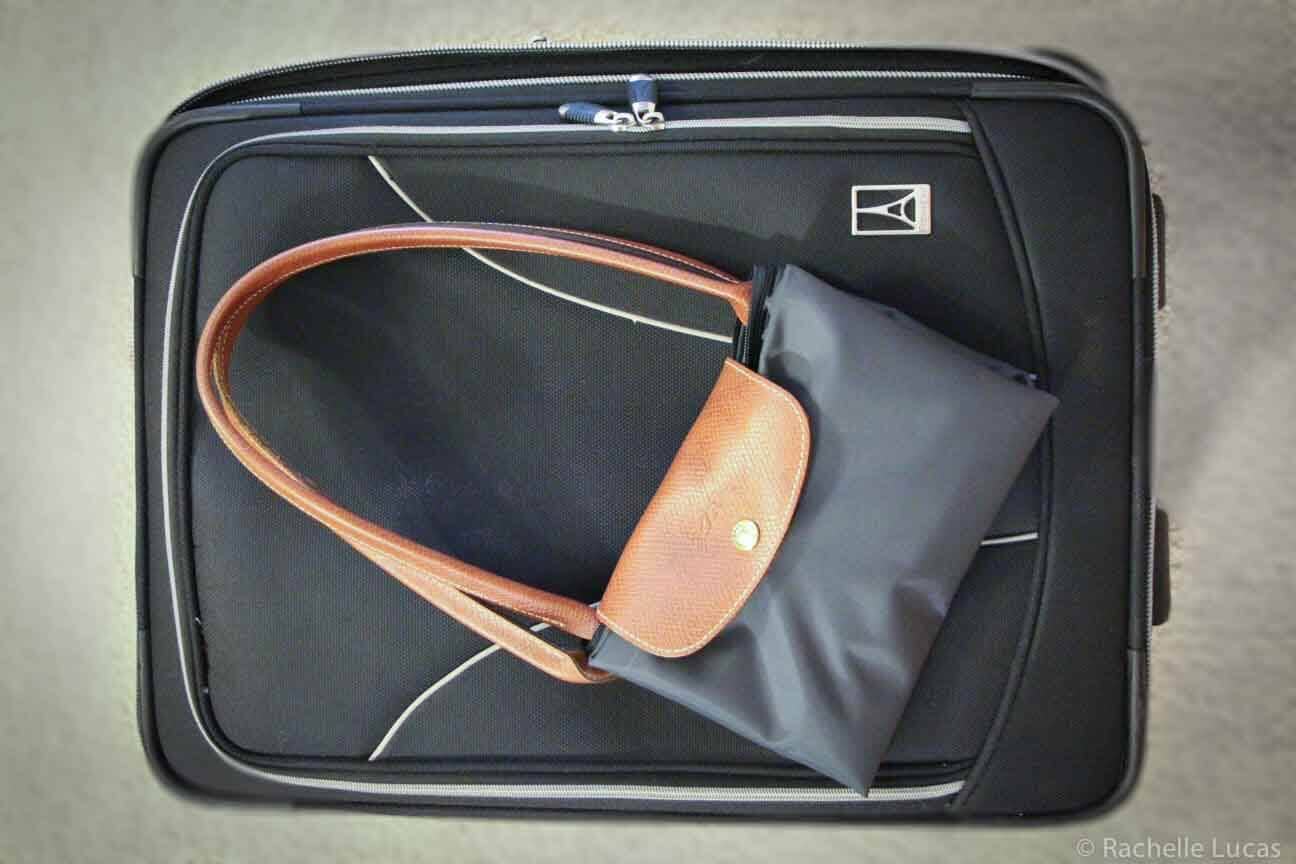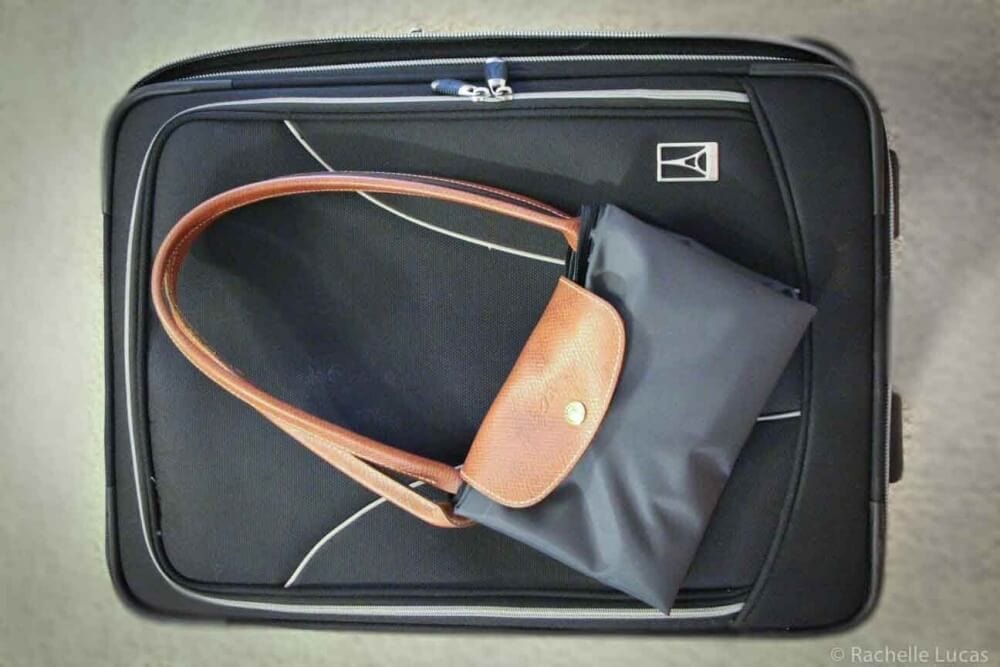 PICK THE RIGHT BAGS
Check the website of the airline you're planning to travel with and take the biggest bags they will allow you to carry on. Allowed luggage sizes can vary if you're traveling domestic versus international depending on the size of the plane.
Typically, you're allowed two carry-on bags — one 21 to 22 inch rollerboard, and one "personal item" that can be a purse, camera bag, diaper bag, or briefcase. For the personal item, I ditch the purse and will bring the biggest backpack or handbag allowed.
Also remember to bring an extra backpack or purse that packs flat in your rollerboard suitcase so that you have something to carry your daily essentials once you arrive in your destination. A clutch is perfect for a night out and it's small size makes it easy to pack.
My favorite pack-flat backpack that works for both men and women is the Fjallraven Classic. It takes up virtually no room at all in a suitcase, is super lightweight, and has two exterior side pockets that are perfect for easy access to your water bottle and phone. Plus it comes in a bunch of colors so you can pick your favorite!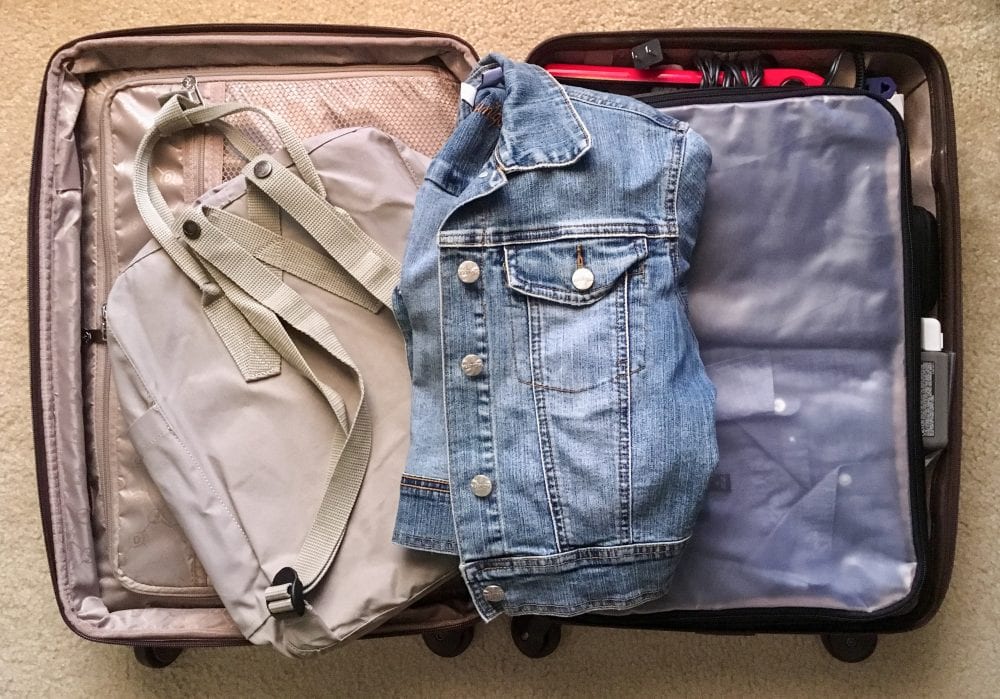 CLOTHES
Create A Mini Capsule Wardrobe
When it comes to packing clothes, think of creating a mini capsule wardrobe just for your trip. Pick out colors and items that can easily be mixed and matched to create different outfits.
Once you have in mind what you want to wear, lay out every outfit on your bed so you can visually see it. Try and line up the tops and bottoms as outfits and make sure each bottom can be matched with at least two tops. The more you can mix and match, the better! Also pick colors that can all go together (typically for me, that's earth tones like blacks, greys, and tans).
Plan to have one shirt for every day, but re-wear jeans, shorts, skirts, etc. If you forget something at home, don't sweat it. When it comes to clothes, you can always get laundry done or shop for something new that will make a great wearable souvenir with a good story.
EXTRA TIP: What ever I wear on the flight, I'll have laundered by the hotel when I arrive so I can wear it on the flight back home. Saves from packing an extra outfit.
Dress Clothes And Special Occasions
If you're traveling for a special occasion like a wedding or event, you'll probably only wear that dressy outfit just once. And that's okay. But when it comes to traveling for vacation, I recommend just bringing one nice outfit (typically a little black dress for women, a button down collared shirt for men). Then, just pack a few jewelry options to change it up a bit. Or for men, two or three tie options.
EXTRA TIP: Traveling light doesn't mean you have to leave accessories at home. Read these tips about travel jewelry organizers.
Packing Cubes Are Your Best Best Friend
Packing cubes, or even extra large Ziplock bags, are a life saver when it comes to organizing. Use each cube to sort different items such as shirts, pants, and undergarments. They're also really useful for separating clean laundry from dirty laundry.
Ziplock bags also allow you to squeeze out extra air to create more room in your suitcase. If I'm switching hotels and visiting different cities, I'll sometimes put one outfit per ziplock bag with a dryer sheet in each to keep the clothes smelling clean and fresh, especially in summer. The ziplock also lets you sqeeze out extra air and gives you more room in your suitcase.
EXTRA TIP: Add a lavender sachet or scented dryer sheet to keep your clothes smelling fresh!
Three Rules For How To Pack Clothes In A Carry On
1 – Pick a color scheme that coordinates.
2 – Lay out all the outfits you want to take on your bed, then take one or two away.
2 – Only pack 3 bottoms, 2 pairs of shoes, and one dressy item. Shirts for each day (7). If traveling for ten days, add one bottom, and tops for each day.
SHOES
Shoes are going to be your biggest item to pack, and they're such space hogs. Try and narrow it down to just two pairs of shoes. Yes, just TWO! One pair of walking shoes, one pair of nice dress shoes or sandals. You might pick a pair of comfortable boots and ballet flats. Or a pair of sneakers and heels.
The combo of shoes you bringwill change depending on the season and destination. If you've got a pair of shoes that packs flat, such as flip flops or sandals, you can easily sneak those into your bag and have a third pair of shoes. But seriously, don't pack more than that.
EXTRA TIP: Wear the biggest shoes you plan to bring on the flight so that you can save room in your rollerboard.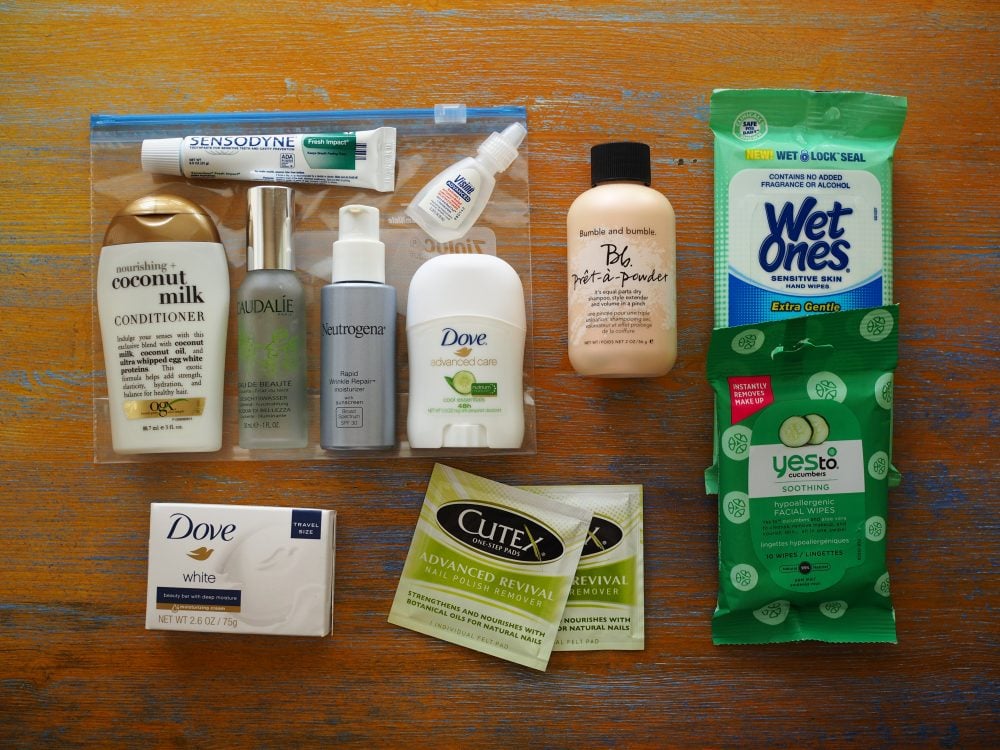 TOILETRIES/LIQUIDS
The carry on liquids 3-1-1 rule is a must-follow in order to get your bag through security. But when it comes to liquids, you really don't need more than 3 ounces of any product for a 10-14 day trip. Start by giving yourself some extra room with an expandable quart sized bag. Then prioritize what you need to bring and add them to squeezable silicone bottles that are a 3 ounce size or less. (The reason I recommend soft silicone bottles is that they can adjust to the changing air pressure in a flight cabin and therefor tend not to leak).
I also bring all of my favorite products in small containers. Trust me that you won't need 3 ounces of each for a 7-10 day vacation. Even if you're gone for two weeks, typically 1.5 to 2 ounces is enough. Also, look for mini sizes and samples of your favorite bath and body products. You can fit quite a bit in an expandable quart sized bag! (Check out all of the travel-sized beauty and bath products I pack.)
EXTRA TIP: Use hotel shampoo. I know, it's not typically the best product for your hair (unless you're staying in a luxury hotel), but shampoo is always available. Instead of shampoo, pack extra conditioner since not all hotels offer it.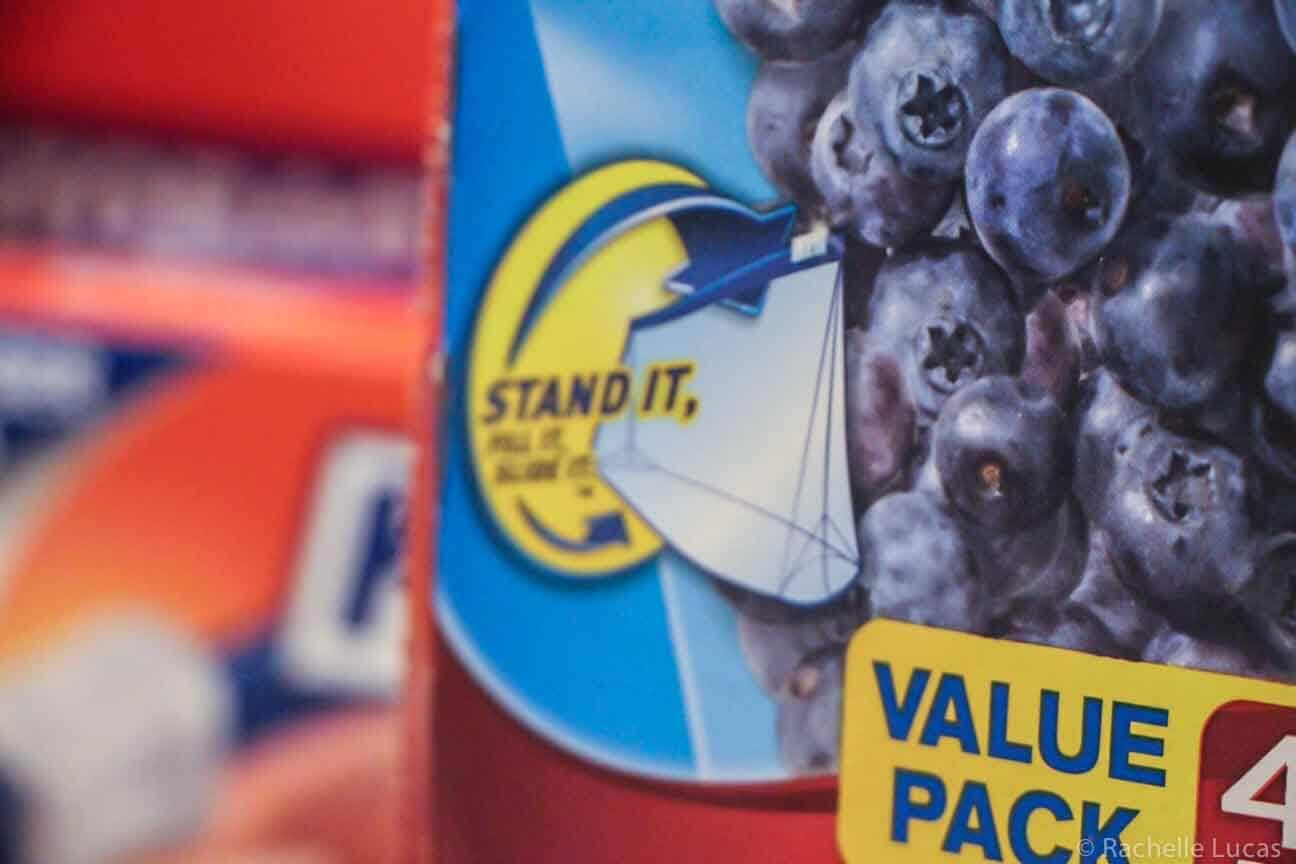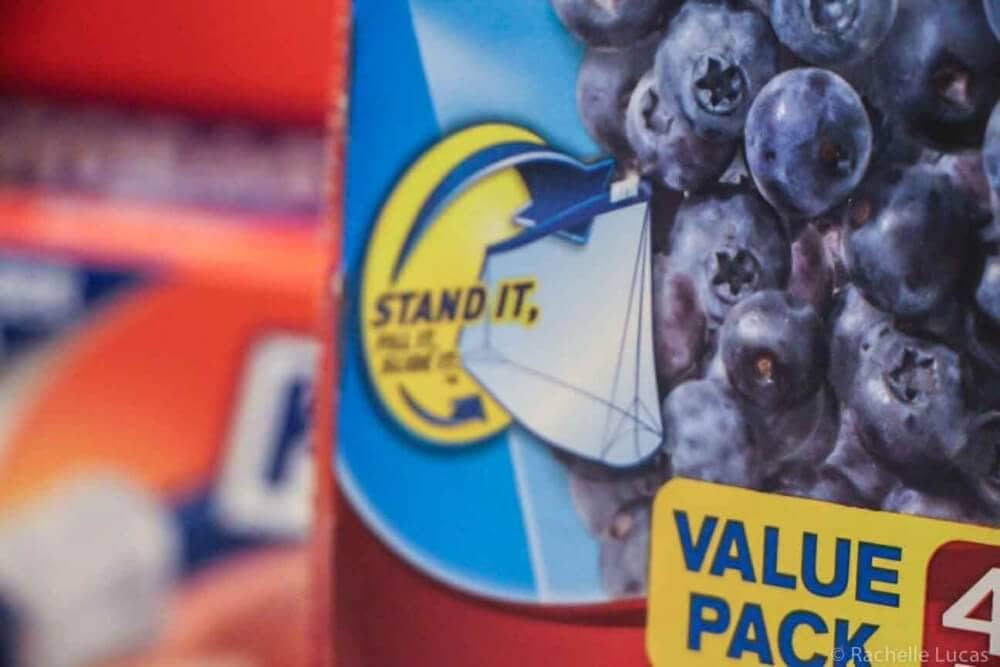 HAIR CARE
Men really have it easy in this department. A brush or comb, maybe a little bit of product, but that's it. We ladies need to pack a bit more so that we're having a good hair day for those vacation photos. Trust me, you can go without perfect hair for a week or two. Focus on the adventure instead. Since I covered hair products in liquids section above, so this is more about equipment.
First, never pack a hairdryer. They're bulky, take up a lot of room in a bag, and there's always one available at a hotel (even AirBnB!). Now, I know the ones in hotels are sometimes not as good. And trust me, I have even seen some hairdryers that look like a vacuum cleaner hose stuck to the wall. But remember you're traveling for the experience and the scenery, not necessarily the selfie. Instead of a hairdryer, pack a flat iron to curl/straighten your hair since they don't take up a lot of room. If you're planning to travel frequently, invest in a high-end travel sized flat iron.
EXTRA TIP: Don't forget to pack a power converter if you're traveling internationally. This will save you from accidentally frying your hair.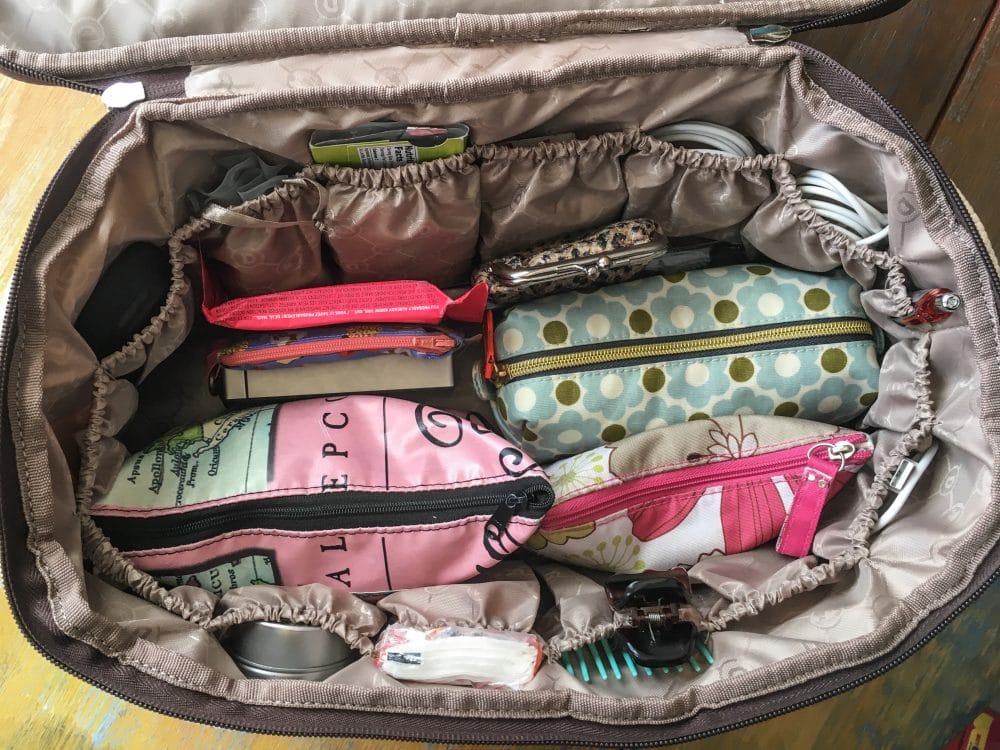 ELECTRONICS
Electronics seem to keep getting smaller and smaller, so they're actually quite easy to pack. You definitely want to take your phone and camera to record memories, perhaps even your favorite e-reader to catch up on a good book while lounging on the beach. Keep all of your cords, cables, and other electronics accessories stored together in a small bag so they're easy to find. If you're looking at purchasing a new camera for a trip, take a look at the mirrorless cameras out now as their compact lightweight design is great for travel.
As for laptops, only bring it if you're traveling for business. And if you travel often for work, invest in a smaller laptop just for that purpose, such as a MacBook Air. Whenever I'm traveling just for fun, I find my laptop never gets opened, so I don't bring it anymore and just check email from my phone. Instead of bringing a laptop bag (remember, you can only carry on two bags), get a padded laptop sleeve and pack the laptop into the larger bag that you are bringing as your personal item.
EXTRA TIP: Have you signed up for our newsletter? I send extra little packing and travel planning tips every week. Plus, you get a free downloadable packing checklist.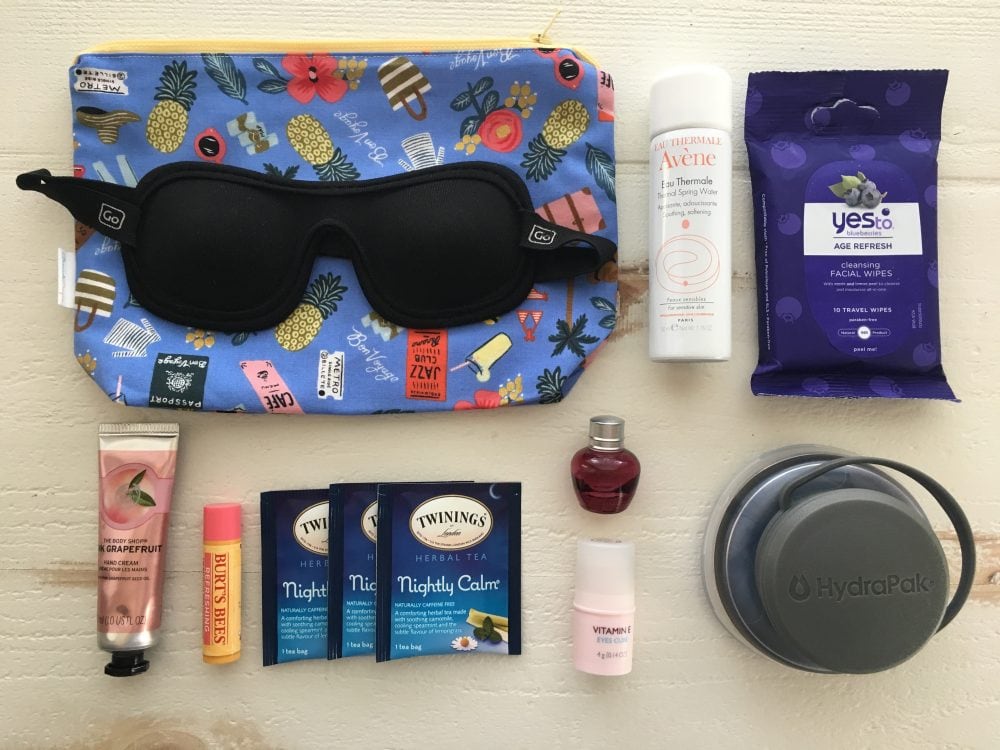 ACCESSORIES
Traveling light doesn't mean you can't be fashionable. Definitely pack a hat, sunglasses, scarf, and rain jacket or light coat. Heck, whenever I have room left over in my bag, I'll sometimes even throw in my fold-up travel yoga mat. Bring an empty water bottle to re-fill after you get through airport security as it will keep you hydrated and save you some money. And if you forget something, don't sweat it. You can always buy anything you need as a souvenir.
Make a "Comfort Kit" and add everything you'll want easy access to on a flight in one pouch or bag. Things like a bag of your favorite tea, a little tin of headache medicine, lip balm, antibacterial handiwipes, eye drops, ear buds, and USB phone cord. After getting through security, I'll transfer my hand lotion out of the 3-1-1- bag to this kit. Sometimes I'll even throw in a few airplane snacks too.
TIPS & TRICKS
As I said before, carry-on there, check on the way home. Stash an empty fold up bag, like a Longchamp or one of those bundled up canvas grocery bags to put laundry in on the way home. Even though I travel with just two bags on the plane, I typically have another two empty bags packed flat inside to use on the way home for souvenirs and such.
Clean clothes can smell stale after sitting in luggage, so I always throw in a few lavender sachets or dryer sheets to keep them smelling nice. I order the lavender sachets (and organizing bags too) from a crafter on Etsy named Barnacle Designs.
LEAVE THESE ITEMS AT HOME
If you're trying to pack light, here are a few things I'd recommend leaving at home.
Noise Canceling Headphones — They're really bulky and the space they take up in a bag isn't worth the single use on the plane. Bring earbuds instead.
Travel Pillow — Another bulky item that's not worth the extra room they take up for a single use. No one ever uses these. Plus, they end up on a lot of dirty public surfaces — ick! You really going to put your face on that? Travel pillows are better for road trips and car naps.
Hairdryer — Like I mentioned above, hotels and other vacation stays will typically have a hairdryer.
Laptop — Unless you're traveling for business, you won't open it. Trust me.
Iron — Seriously, even that mini travel iron or steamer won't get any use. Try and pack wrinkle resistant clothes. And if you need to get the wrinkles out of something, you can always hang it in the bathroom as you take a hot steamy shower or have the hotel press it for you. Need some ideas on what clothes to bring? You can take a look at everything I pack at-a-glance in our travel gear shop.
I'm pretty sure we've covered the majority of our packing secrets here, but if you'd like a few more, check out our packing tips as well as our list of 22 things every traveler should pack.
Save these ideas and Pin them to your Travel Board! 🙂