As a frequent traveler, I've got quite a few packing tips up my sleeve. From how to get through TSA in a breeze, to keeping your clothes organized and clean, and even packing for a whole week in just a carry-on, Whether you're a first-timer or a frequent flyer, here are a few helpful packing tips to get your bags packed like a pro.
9 Packing Tips To Help You Pack Like A Pro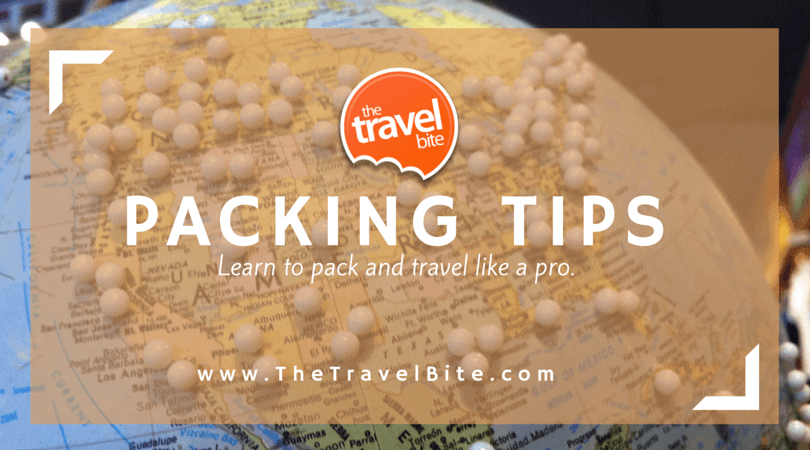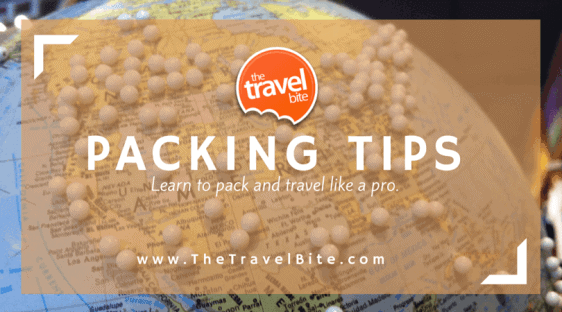 1 – Use An Expandable Quart Sized Bag For Liquids/Gels.
Follow the 3-1-1 rule (three ounces, one bag, per one person) AND take everything you need by beating the system with an expandable quart-sized bag for your liquids. Not all quart sized bags are created equal, you want to look for the ones that say "expandable bottom" on the box (see the photo below).
These expandable quart-sized bags are a godsend when it comes to travel as they give you a bit of extra room to fit everything you need. I usually also pack a few extra empty ones in my luggage since they're useful for organizing things when you're on-the-go. Also, if you're afraid something might leak, wrap it up in plastic wrap before adding it to your quart-sized bag.
Read This: 8 Healthy Snacks You Can Take On A Plane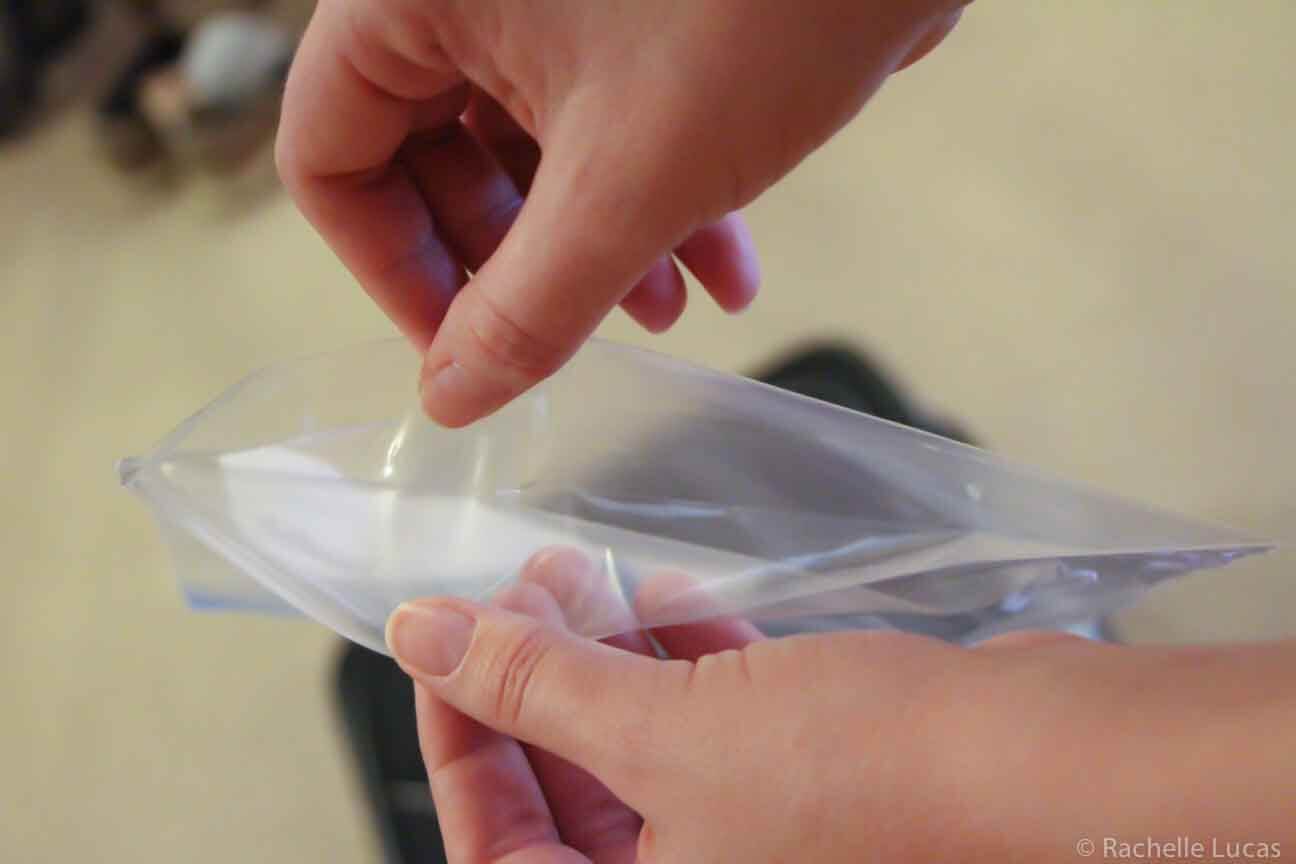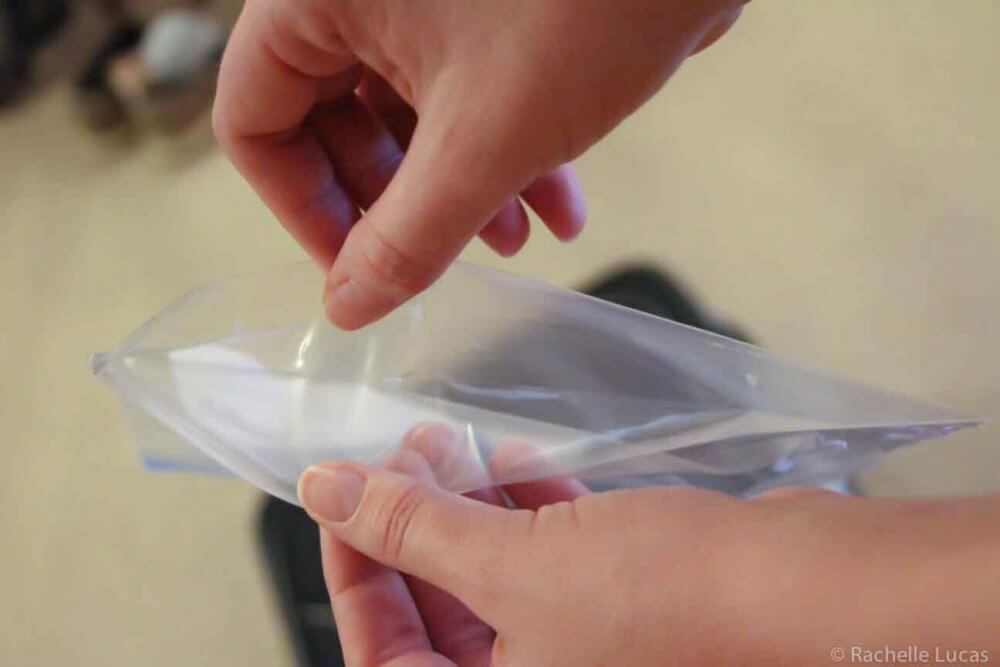 2 – Don't wear a belt or bulky metal jewelry when you fly.
Save yourself the hassle of having to take things off and remove precious accessories by not wearing them in the first place. This means not wearing belts or metal jewelry when you fly. Especially those ever popular metal bangle bracelets. If you feel like you absolutely need your jewelry, pack them in your carry-on and put them on once you are through security.
Read This: Best Make-Up For Travel
3 – Don't Get Caught In The Security Line Barefoot – Pack Footies!
Unless you have TSA Pre-Check, you're going to be asked to remove your shoes when going through security. Wear something that you can easily slip off and on again. Anything with laces (such as athletic shoes) become a bit of a hassle as there is typically no place to sit to remove them.
Another tip, if you wear sandals or another type of sock-free shoe, bring
footies
to slip on so you don't have to walk through security barefoot. You can wash them and reuse them, or just toss them in the garbage when you're done. They're so inexpensive, I typically throw them away as soon as I get through security and have an extra clean pair tucked in my bag for the return flight home.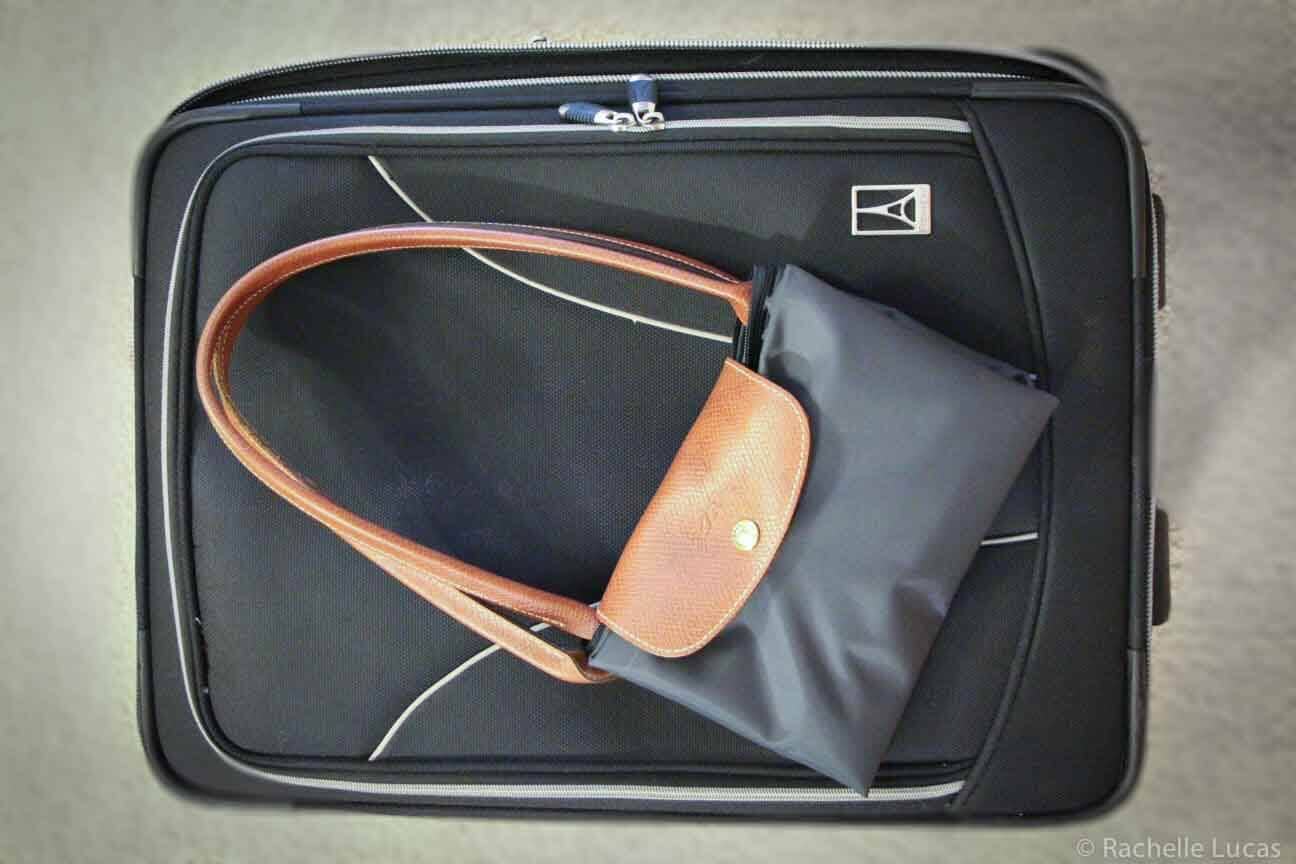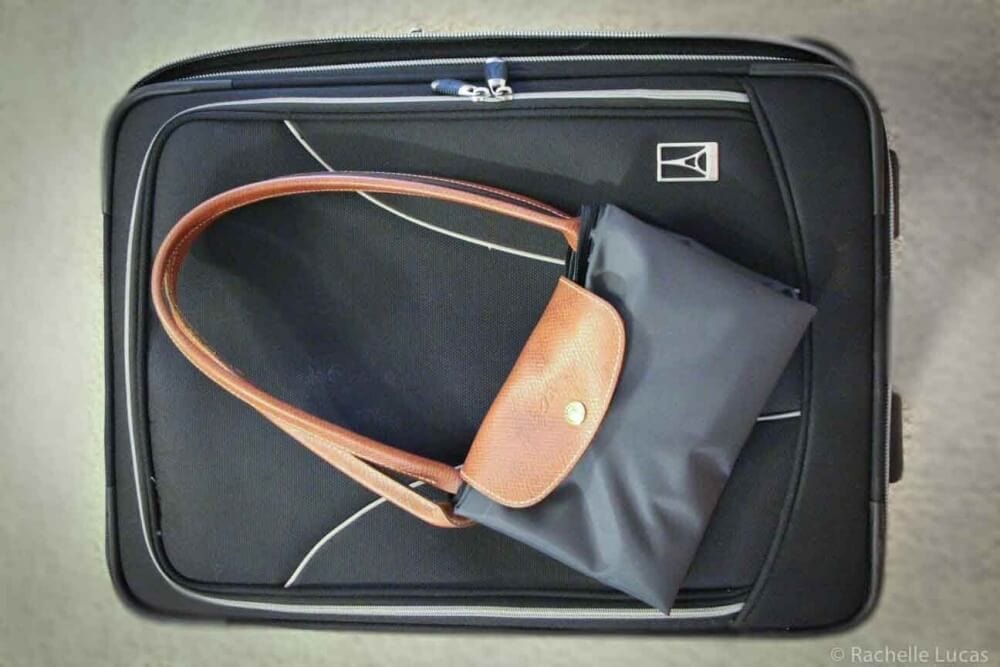 4 – Carry-on On The Way there, Check On The Way Home
Even when I travel for up to three weeks at a time, I typically get everything I need into two carry-on sized bags. I have an
expandable rollaboard
that I use for my clothes. I also pack bulky laptop cords and anything else heavy that I don't need instant access to (such as my podcast equipment) in the bag with wheels.
For my "personal item" I bring an
Osprey backpack
that has a laptop sleeve for my Macbook. Because this backpack has top flap with expandable straps, I really stuff a lot in there. This is where I'll stash my camera inside a pouch like the
Crumpler Haven Bag.
My quart-sized bag of liquids/gels rest on top for easy access in the security line, plus I make an
"essential comforts" kit
for long flights.
I also have a folded up Longchamp tote bag in the side sleeve of my rollaboard to use as a purse once I arrive (I prefer Longchamp because it's super durable and I can pack it heavy without the straps breaking). I also use this as my camera bag as the padded Crumpler keeps the camera protected. (Bonus that it looks like a purse and not a camera bag — easier to blend in and not look like a tourist). Read This: 3 Tips For Surviving A Long Flight
Airlines are starting to get more restrictive on sizes, so be sure to call or check out their website ahead of time to see the size restrictions. Personally, I've never had a problem with my rollaboard on long flights. I have had to gate check it, though, when making a connection on a smaller aircraft.
On the way home, I'll have expanded my rollaboard to make room for souvenirs (typically wine and clothes!) that I bought while traveling. So, I'll check the rollaboard and carry-on the backpack and Longchamp.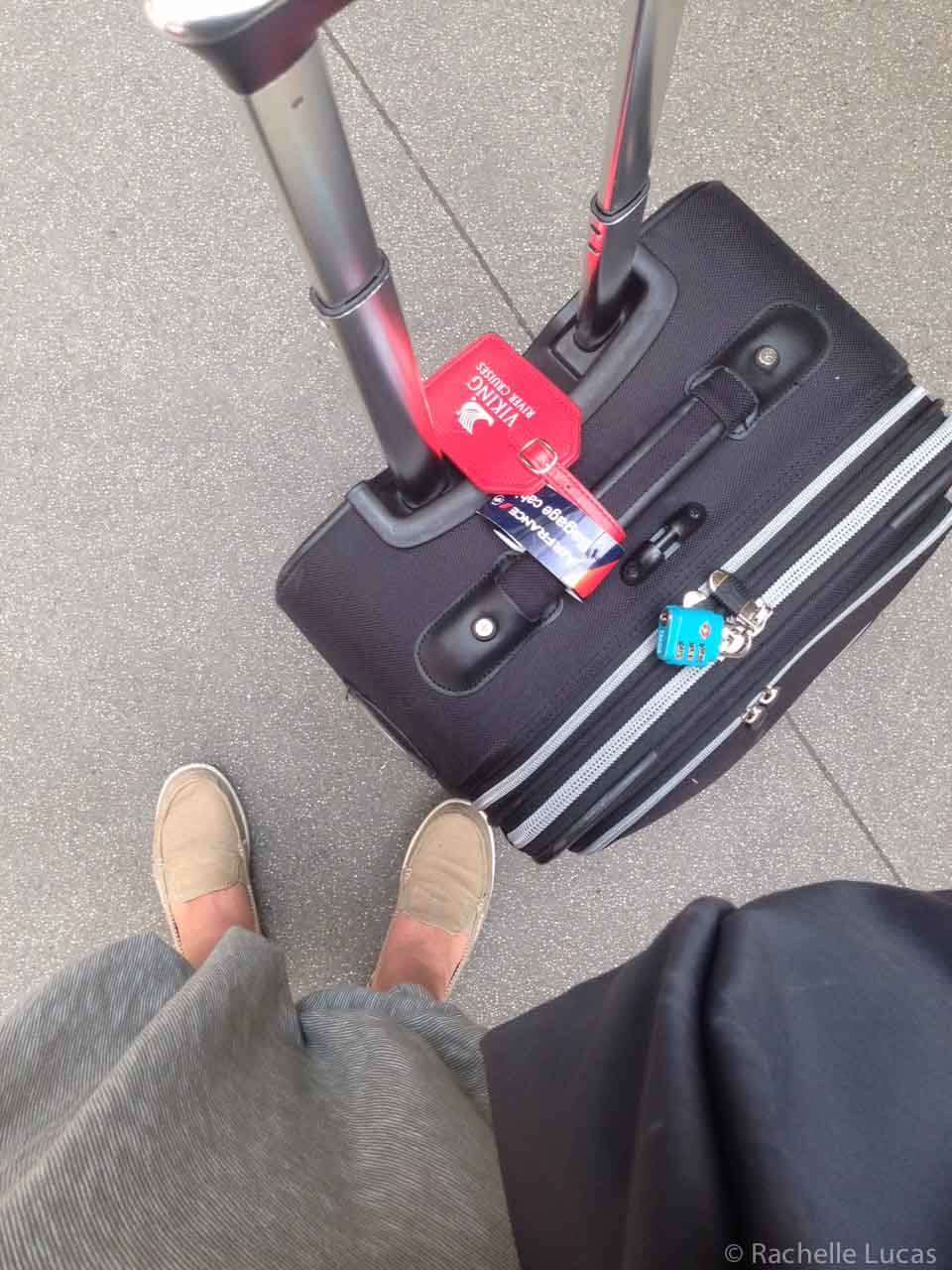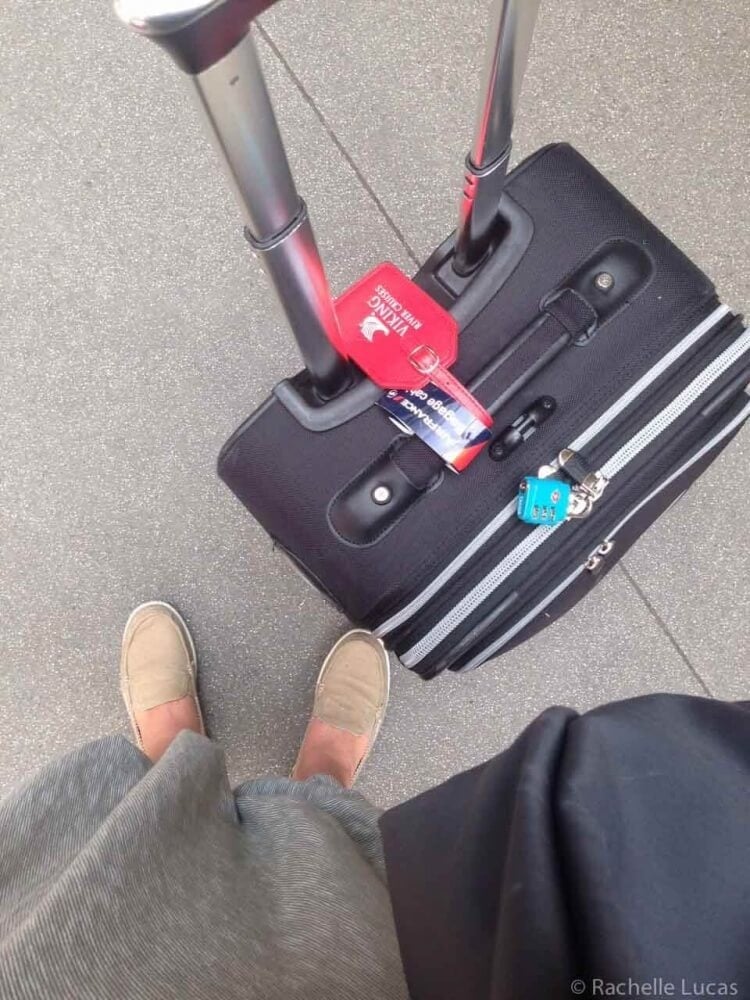 5 – A Few More Notes About Luggage
If you can't carry it, don't bring it. I can't tell you how many times I've come across stairs when traveling abroad, either to get onto a connecting flight or at train stations. If you're luggage is too big to carry, you're packing too much. That's why it's best to distribute the weight among two carry-on sized bags (three if you count the fold up bag you brought along).
Also, don't listen to articles that tell you to get colorful luggage. Black is a great choice for bags. Why? Because luggage gets DIRTY! It's only an issue when you're waiting for your bag to come around the carasel at baggage claim and everyone else's bag is black too. Just add something colorful and to the handles so you can easily pick your bag out of the crowd.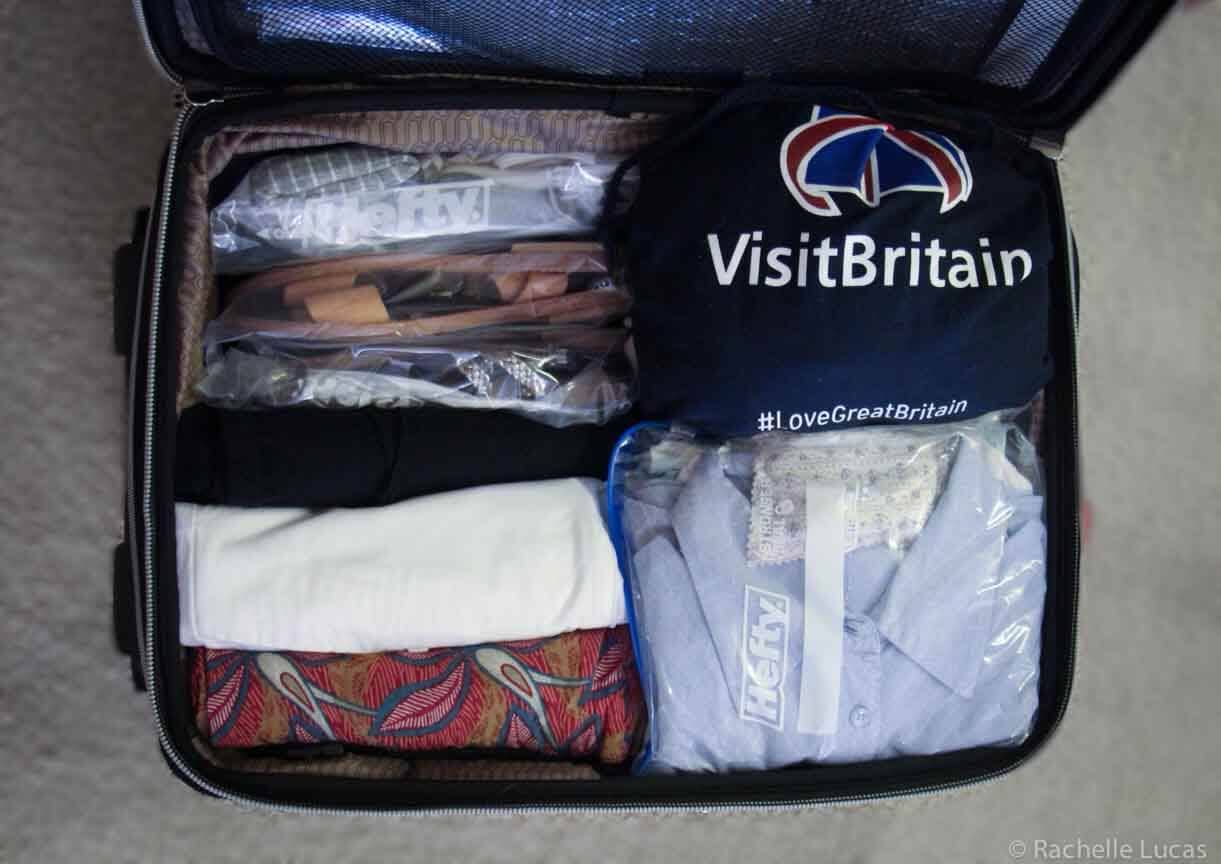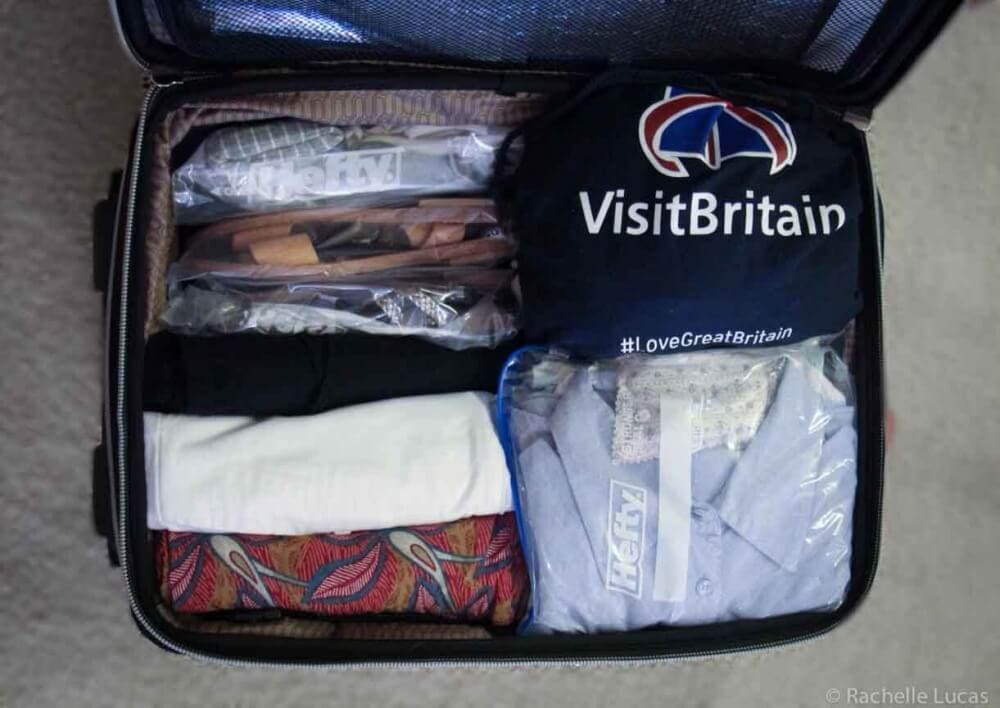 6 – What To Wear
The key to packing light is bringing clothes that coordinate to create different outfits. Pick one or two base earth tones that you can use to easily mix and match the same pieces to make different outfits. I typically go with black and tan, or black and grey.
Lay out all your planned outfits on your bed so you can visually see how much you are bringing and if you have at least one outfit for each type of occasion. Think warm weather, cool weather, rainy weather, casual, and dressy.
Once you have everything out, take two outfits away. I know, this might seem difficult. But trust me, you'll want some extra room for souvenirs and if you follow the mix and match rule, you'll have plenty to wear.
If I need more clothes when I arrive, I'll do laundry. Typically hotels have next-day service. For smaller items, such as underwear and socks, I recommend just washing them in the sink using a little shampoo and then hanging them to dry overnight in the shower. I also go shopping for new clothes when I'm abroad since the styles are so different than what I find home.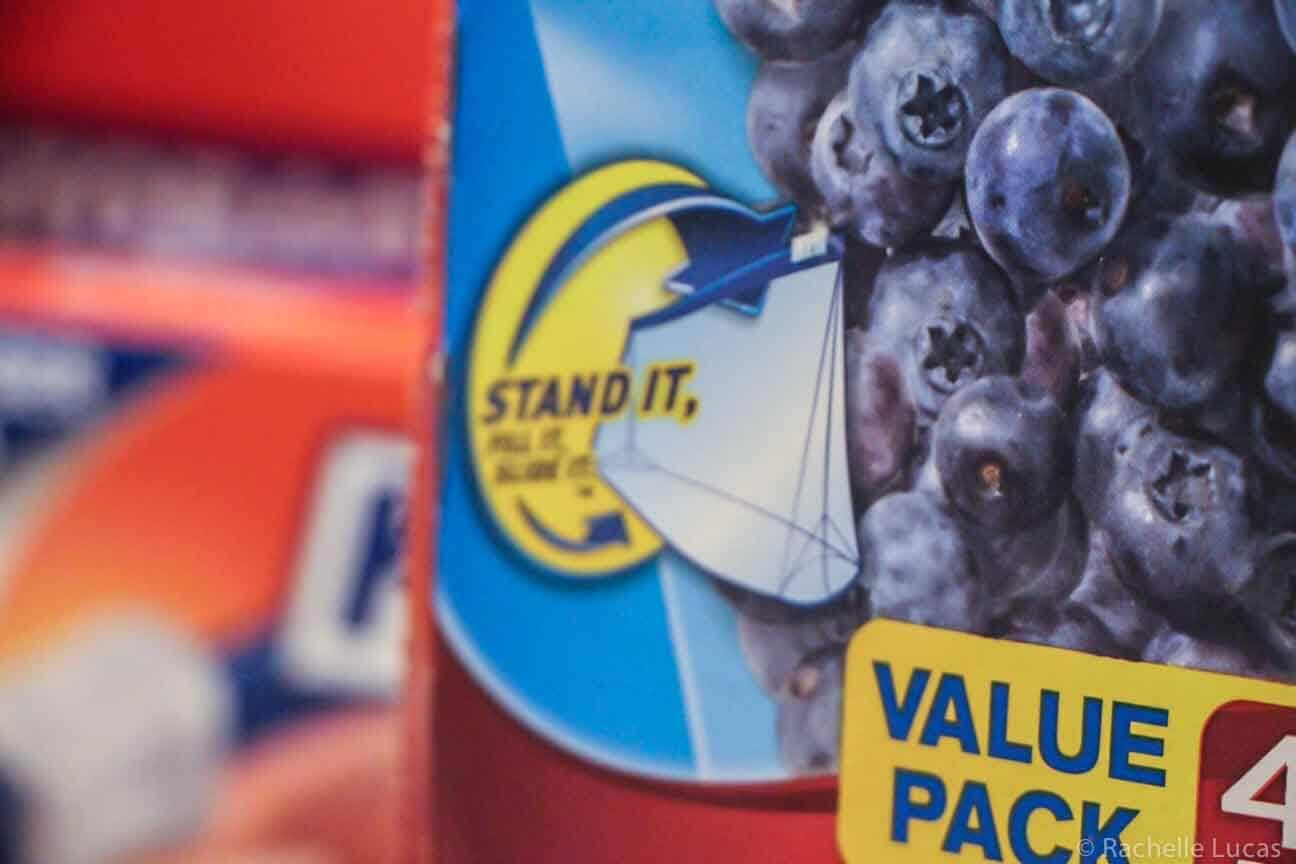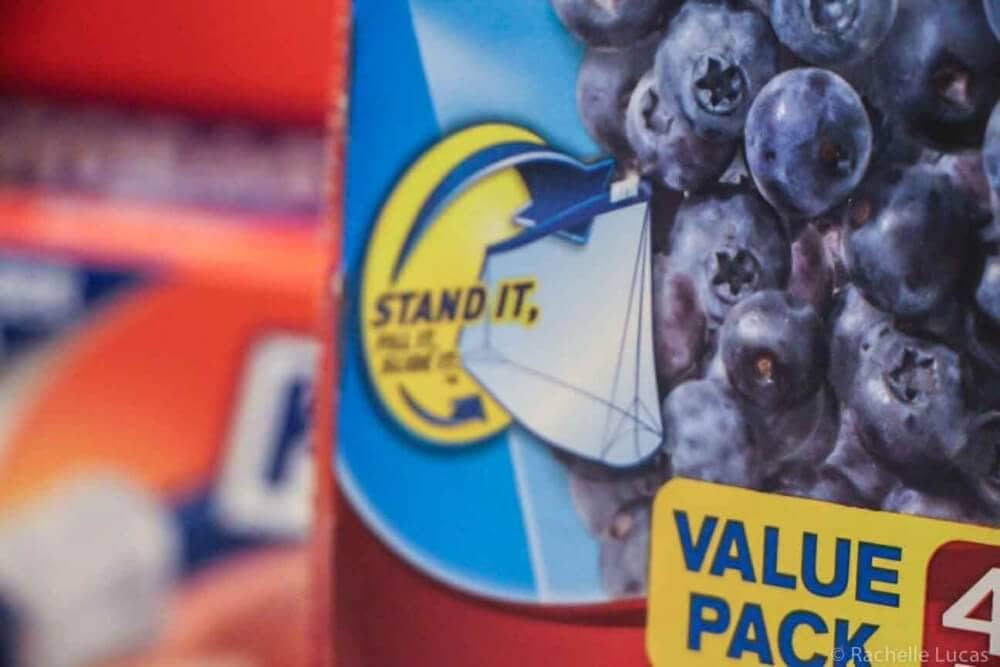 7 – Packing Shoes
When it comes to shoes, you really don't need more than three pair –one sandal, one dress shoe, and one casual. It also helps to pick something that is lightweight such as Toms Ballet Flats. or a nice
leather ballet flat
.
If you're traveling during the winter months, plan to wear your boots on the plane to save space and weight in your luggage. And, if you're flying back home to a warm climate
(like I do when I go to England in the fall and then come back home to hot weather in Florida)
, tuck some flip flops into the side pocket of your carry on so that you can slip into them as soon as you arrive back to your home airport.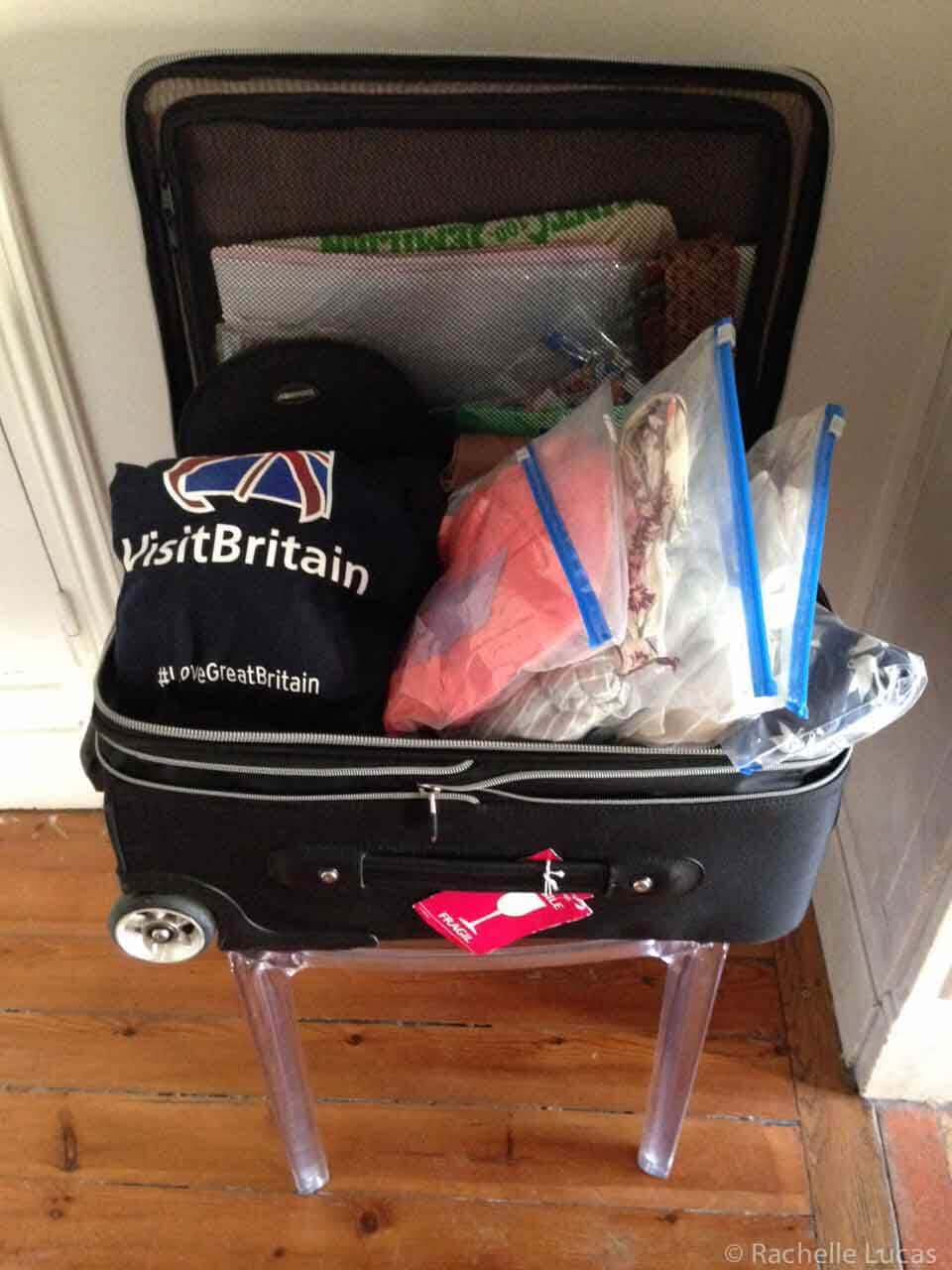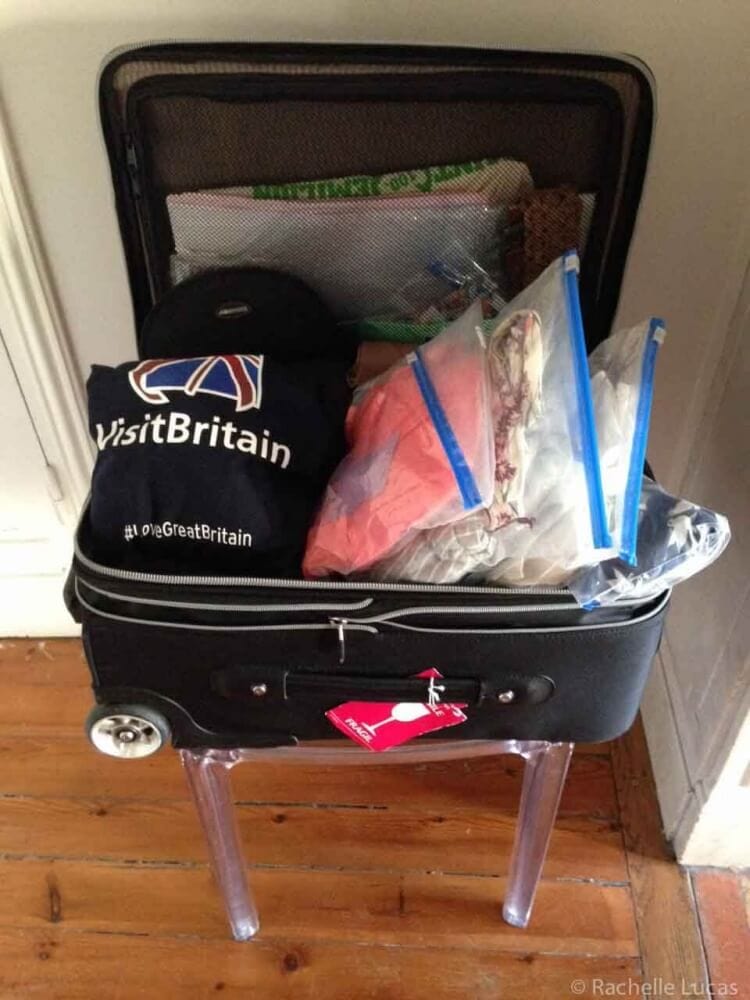 8 – Packing Wine
If you follow me on social media, you know I've left behind my running shoes before in order to make room for wine and cheese in my luggage. Ha! I do travel for food after all. The secret to safely packing wine in your checked luggage is to slip it into a
wine skin bag
(that way, in case it does break, it will be contained). Then, I'll roll it up in a pair of jeans or other thick article of clothing.
You could also use something like
Bottle
Gu
ard
. The great thing about these wine protectors is they pack flat, so you can bring them along with you without sacrificing luggage space.
When it comes to packing the bottles in your luggage, place a layer of clothes at the bottom of your bag, then put the wine the middle and stuff the rest of your clothes and other soft things around it so that no part of the bottle is touching the edge.
Keeping it well padded is key just in case your luggage gets thrown around or something heavy gets thrown on top (you know this will happen). I also typically leave a hand-written note on top for TSA in case they search my luggage, pleading with them to please pack it back nicely so that it doesn't break. So far, this has worked.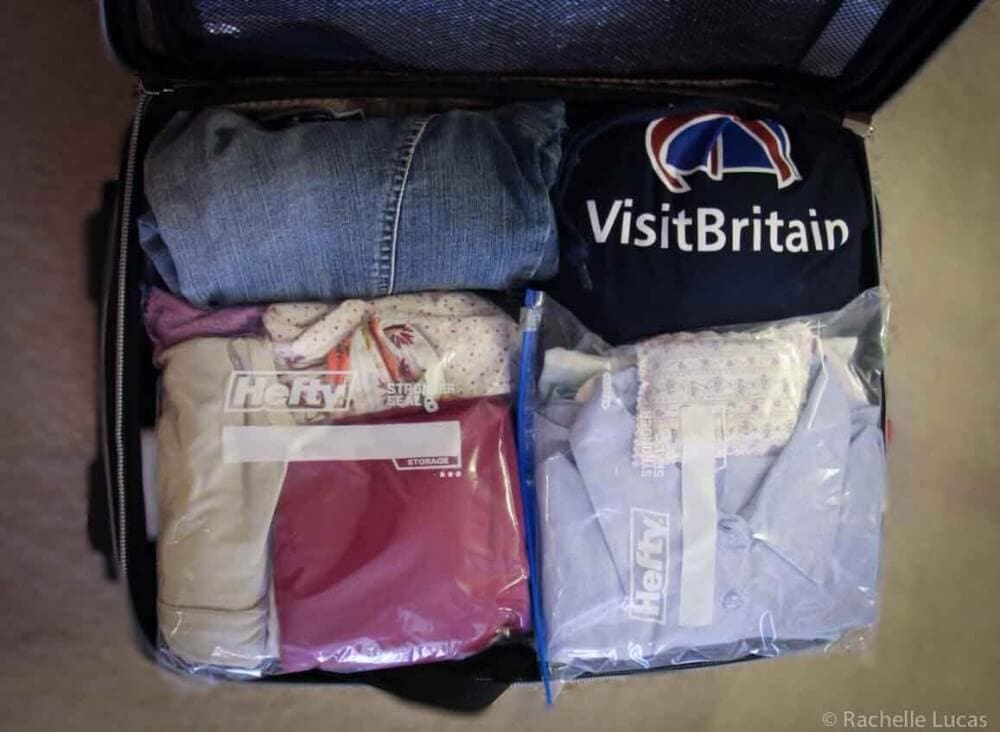 9 – Four Packing Tips To Remember To Pack Like A Pro
ROLL IT UP — The best way to ensure your clothes are wrinkle free when you arrive is to roll them instead of folding them.
BAG IT UP — Compartmentalize your clothes, either by outfit or type, by slipping them into clear gallon-sized storage bags. This will help you stay organized, will save you a bit of packing space since you can press the air out of the bag, and it will also keep your clothes clean if you're packing/unpacking in multiple destinations. I also bring an empty bag to stuff dirty laundry in. No need to buy expensive packing cubes, brands such as Ziplock work just fine.
SCENT IT — Stick a dryer sheet or lavender sash in with the clear storage bags to keep your clothes smelling fresh. Make sure to add one to your empty dirty laundry bag too.
LEAVE IT — There are a few items you don't need to pack. This includes hair dryers, shampoo, sewing kits, and soap. Most hotels will have these, so only pack them if you must. For instance, I bring unscented soap since I'm allergic to most fragranced soaps. All the other stuff I leave at home.
10 – Pack Like A Pro Shopping List
Disclosure: The brands mentioned in this post are all items I purchased on my own and have used for years. It's my preferred packing system. However, there are affiliate links included that, if you make a purchase through them, The Travel Bite will receive a small commission at no additional cost to you. This helps support our site so we can continue bring you travel tips and stories. Thank you!
Want to save this list for later? Pin it! 🙂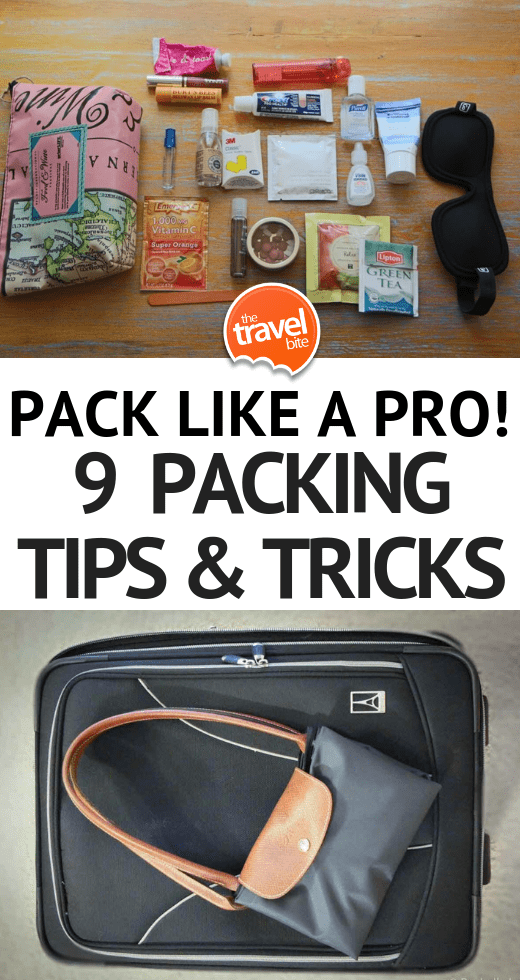 Originally Published Jul 10, 2015. Updated 2018.