Creating your own travel makeup kit is an essential part of travel planning as every single ounce of weight and space counts when it comes down to packing, especially for your carry-on.  I prefer to bring my makeup kit on the plane with me so that I can do touch-ups and feel refreshed once I land in a new destination so, through years of traveling, I've narrowed it down to a few key items I can't live without.  Plus, I confess, I often board a late night flight makeup-free so I can sleep with a clean face and then put my makeup on in the morning once we land.
WHAT TO LOOK FOR IN TRAVEL MAKEUP
For liquids, make sure it's 3 ounces or less
Replace liquids with powders when available
Find makeup and cosmetics that can serve a dual purpose
Have a separate travel makeup kit ready-to-go
A few tips about putting together your own travel makeup kit —  minimize the amount of liquids you bring, and look for items that can serve a dual purpose such as a powder that as an SPF or an eyeliner with a built-in sharpener.
When it comes to makeup brands, there are only a few I'm loyal too.  I have allergies, and they tend to especially act up when I'm in a new environment, so I always go for unscented cosmetics that have been allergy tested.  It's why I've stayed loyal to brands such as Clinique or Maybelline as other products have caused irritation in my eyes or given me a bad case of sneezes with their scented powders.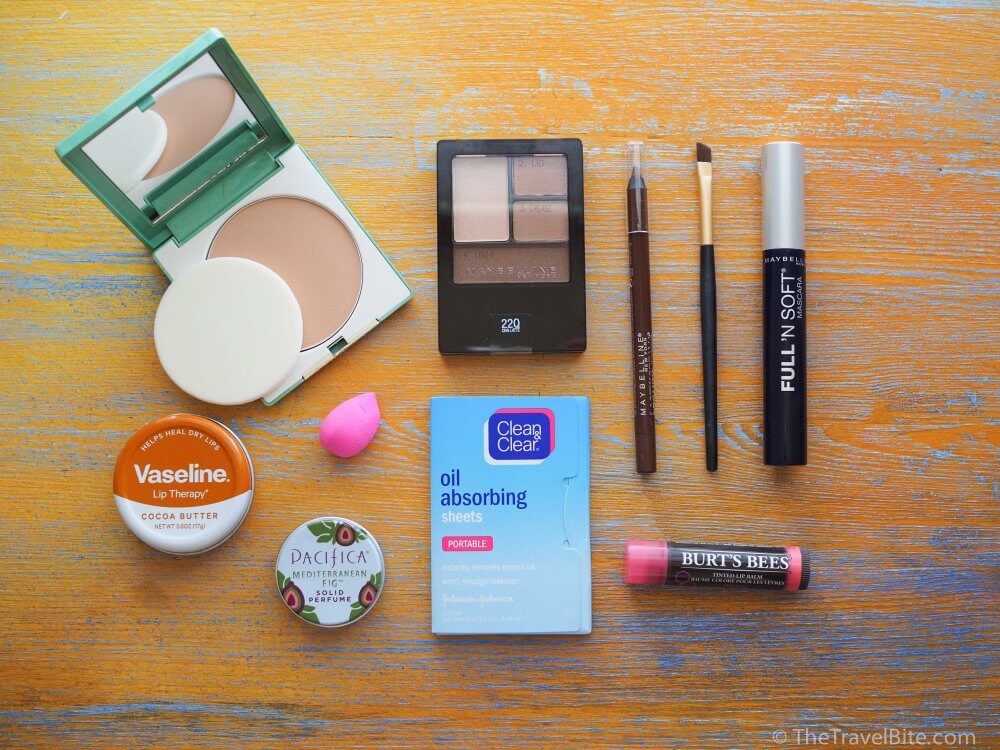 WHAT'S IN MY TRAVEL MAKEUP KIT
Since I travel often, I have a separate makeup kit that I use at home, and one that's always packed and ready to go for travel.
Foundation – This is one item where I swap my liquid favorites for a pressed powder.  I've tested quite a few, and nothing comes close to providing the same clean coverage as Clinique's Almost Powder Makeup (not to be confused with their pressed powder).  This powder-based foundation evens out my skin tone and freckles, provides a matte finish, and has SPF included (just one more thing I don't have to pack).  But the best part is, since it's a pressed powder, I can easily apply it on-the-go and have my makeup done in about five seconds flat.  And if I can do my makeup in just 5 minutes or less, I'm a happy girl.  More time for exploring.
Oil Absorbing Sheets – These are great for times when you have to "wash" your face on a plane with a facial wipe and need to blot away the excess sticky moisture, or when you've got a long travel day with no time to freshen up before dinner.  These little Clean & Clear Sheets absorb oil like no one's business, help your foundation and makeup last longer, and give you a clean fresh-faced matte look.
Self-Sharpening Eyeliner – I learned this lesson the hard way awhile back — you do not want to bring an eyeliner that you have to sharpen because you will most definitely forget to pack a sharpener.  Save space in your makeup bag by purchasing an eyeliner that has a mechanical twist-up auto sharpener.  Personally, I prefer the Maybelline New York Unstoppable Eyeliner or the Maybelline Lasting Drama Waterproof Gel Eye Pencil.  Both are great for my sensitive eyes and don't trigger my eye allergies, glide on smoothly, stays put, and most importantly are self-sharpening.
Eye Shadow Quad – Rather than bringing a whole set like the Maybelline Nudes (it's a bit too big to pack), or the gels that just add another liquid to worry about, I tend to go for a quad powder pack in neutral colors like Mocha Motion that I can dress up or down for day or night.  Less is always more.  Plus, I make sure there's a shade in the kit that I can use to fill in eyebrows and use as eyeliner in a pinch too.  Always thinking of that dual purpose.
Mascara – This is up to your personal preference, but again, I look for ones that don't irritate my eyes.  My favorite is Maybelline's Full 'N Soft Mascara as it works just like it's name says.  There's zero clumps, and it leaves your lashes thick-looking and soft to the touch.
Lips – I confess, I'm not a lipstick person.  I always feel like it looks weird on me, like I'm trying to play dress up.  Instead, I really like Burt's Bees Tinted Gloss as gives me just enough color and a bit of moisturizer too.  For long flights or dryer climates, I can't live without the long-term moisturizing benefits of Vaseline Cocoa Butter.  I don't usually like lip gloss tins, but this is one I make an exception for.
Solid Perfume – This product has a dual purpose.  First, it's a solid in a small tin, so it saves space and won't wreck your bag by spilling like a liquid perfume might.  Second, with it's organic cocoa wax and essential oils, Pacifica's Solid Perfumes are also a pretty great cuticle moisturizer.  If there is one tip I loved with my interview with a professoinal makeup artist is that keeping your cuticles and your hands moisturized will keep you hands looking great without a manicure.
So, those are my essentials.  I also might add a lip liner, a few brushes, and a mini blending sponge for help concealing blemishes or blending eyeshadow.  What are your travel makeup must-haves? Be sure to check out our full article with all our best packing tips.
Want to save this idea for later?  Pin it! 🙂