Maybe it's summer nostalgia, but I've been craving antipasto salad. You know, the kind that you can typically find at your neighborhood pizzeria that's covered in olives and pepperocini and loaded with dressing that you can sop up with fresh baked garlic knots. If you've been craving antipasto salad too, we have the whole scoop for you below including an antipasto salad recipe, several different types of homemade dressings, and a bit of cultural background too.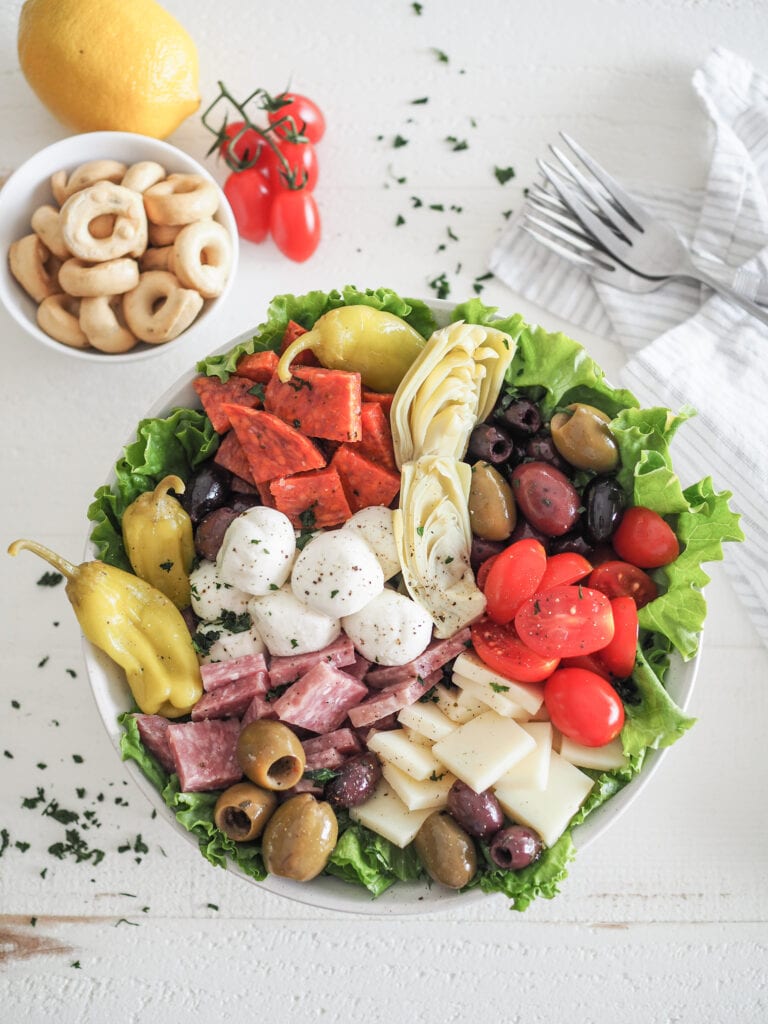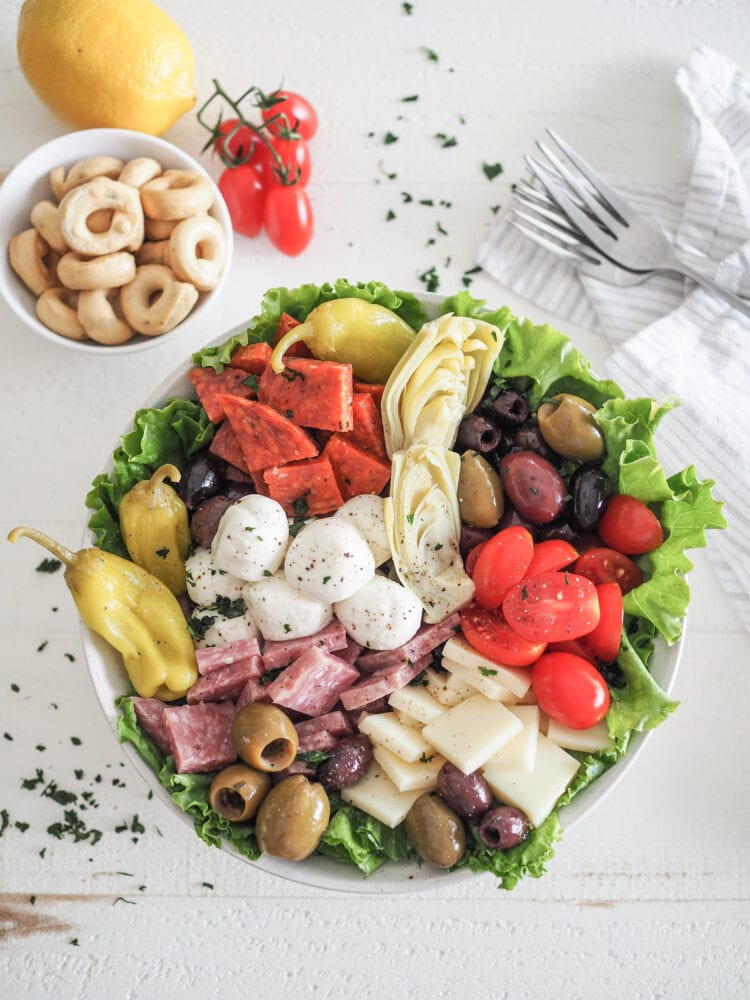 What is Antipasto?
Here's a quick Italian lesson for you. Antipasto basically means 'first course' or 'starter' in Italy. It is what is served before the main course before pasta or meat dishes. Think of it like an appetizer. Now, the difference between Antipasto and Antipasti is simply grammar. Antipasto is singular and means one plate or portion, while antipasti is plural and means multiple plates, like tapas-style.
Italian antipasto can be served in small individual plates, or on a big board or platter. It can include cold sharing plates like marinated olives, artichokes, roasted red peppers, cheeses, meats, and seafood. And there's also bruschetta, calamari, and more.
Antipasto Salad is inspired by these colorful antipasti plates full of olives and cheeses and meats in Italy. Though, the salad is Italian-American in origin.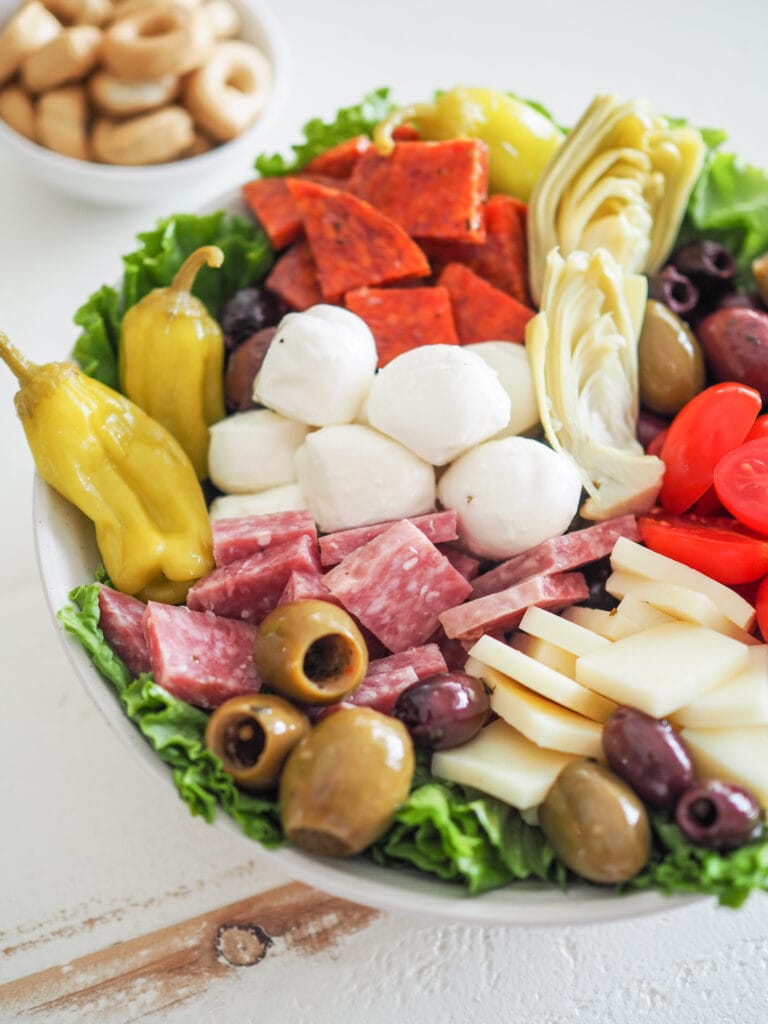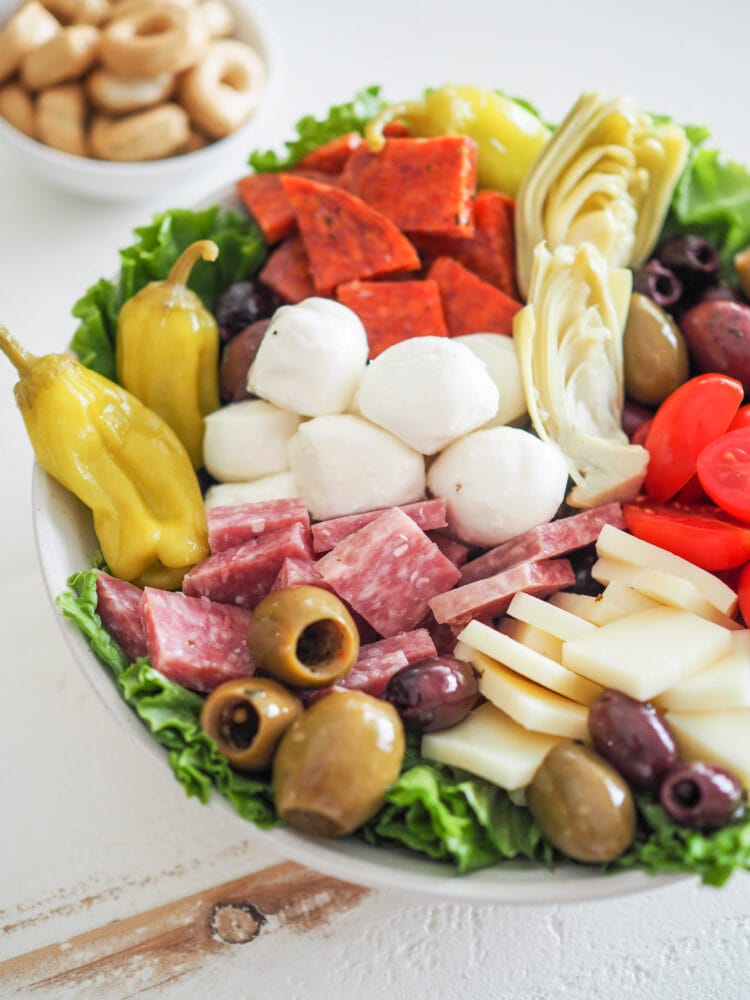 What's In An Antipasto Salad
An Antipasto salad typically has a lot of the same ingredients you'd find on the antipasti menu in Italy – meats, cheese, and olives mixed with crisp green lettuce and drizzled with a little vinegar, olive oil, and a little squeeze of lemon. Here's a list of ingredients that are common for an antipasto salad to make your shopping list easy:
Romaine Lettuce Green, crisp, and refreshing. It's perfect for antipasto salad.
Parmesan Cheese Sprinkle parmesan (grated or shaved) on top of the salad or mix it with the dressing.
Salami Cured pork sausage with a bit of fermented flavor.
Sopressata An Italian dried salami that has a bit more aged flavor.
Provolone Cheese A mellow Italian cheese perfect for balancing the salty cured meats and marinated vegetables.
Black Olives I like to use the small black olives, Gaetas, for their flavor. Kalmata also work nicely. Large Mission black olives are what you'll typically find in the pizzeria style antipasto salad.
Green Olives
Pickled Peperoncini A mild pickled pepper for an extra kick of flavor
Tomatoes A bright addition of color an
Ingredient Additions and Substitutions
The ingredients listed above are what you'd typically find in an Italian-American style antipasto salad. But you can definitely mix things up and make it your own! Here's a list of other meats, cheeses, and vegetables that would enhance any antipasto salad and make it reflective of a typical Italian antipasto platter.
Mozzarella Cheese The small snack-sized pearl shaped mozarella balls are perfect for arranging a quick salad and add a creamy flavor.
Mortadella, Prosciutto, or Other Cured Meats. Mix up your salad with a variety of cured meats! Everyone has their own favorites.
Roasted Red Peppers These are a nice bright addition to any salad, and the olive oil marinade you typically find them in will help balance out some of the saltiness of the meats and olives.
Marinated Artichoke Hearts Another refreshing vegetable to add some texture to the salad.
Marinated Mushrooms Mushrooms are great for some meaty texture and flavor without having to add more meat.
Grilled Eggplant Eggplant is popular in many Italian dishes and is a wonderful addition to an antipasto salad.
Red Onion Chopped or sliced red onion adds another layer of color, flavor, and crunch.

Vegetarian Antipasto Salad
Italians and Italian-Americans are known for loving cured meats, but it is easy to make a vegetarian version of this popular salad too. Simply substitute the cured meats for more of the vegetables in the list above, such as grilled eggplant, roasted red peppers, mushrooms, pickled cauliflower, tomatoes, olives, and artichoke hearts.
What Do You Serve With Antipasto?
Antipasto salad can easily be made into a meal. In fact, it's one of my favorite dinners during the summer when the weather is hot and I don't feel like cooking. But you could also make it as a side salad for any main course. It's usually a big winner for barbecues and potlucks too!
I like to serve antipasto salad with toasted garlic bread or taralli crackers since they remind me of our trips to Italy. You can find these little round crackers in most grocery stores and in multiple flavors like sea salt, rosemary, or parmesan.
Different Types Of Salad Dressing Recipes
Nothing beats a simple drizzle of Balsamic vinegar and olive oil on an antipasto salad. But I have a few other dressings I like when I'm making the salad to bring to a party or serve to guests. The easiest way to make these is to add the ingredients to a mason jar (or something similar), add the lid, and shake vigorously until all the ingredients emulsify, or blend together. You can also just whisk them together in a small bowl.
Parmesan Salad Dressing: Mix together 1/2 cup of olive oil, 2 Tbsp Balsamic vinegar, 2 Tbsp grated parmesan cheese, 1/4 tsp salt, 1/4 tsp pepper.
Dijon Mustard Salad Dressing: Mix together 1/2 cup olive oil, 2 Tbsp red wine vinegar, 1 heaping Tbsp Dijon Mustard, Juice from one lemon, 1/4 tsp salt, 1/4 tsp pepper.
Olive Oil and Lemon Vinaigrette: Mix together 1/2 cup olive oil, 2 Tbsp red wine vinegar, zest from one lemon, juice from one lemon, 1/4 tsp salt, 1/4 tsp pepper.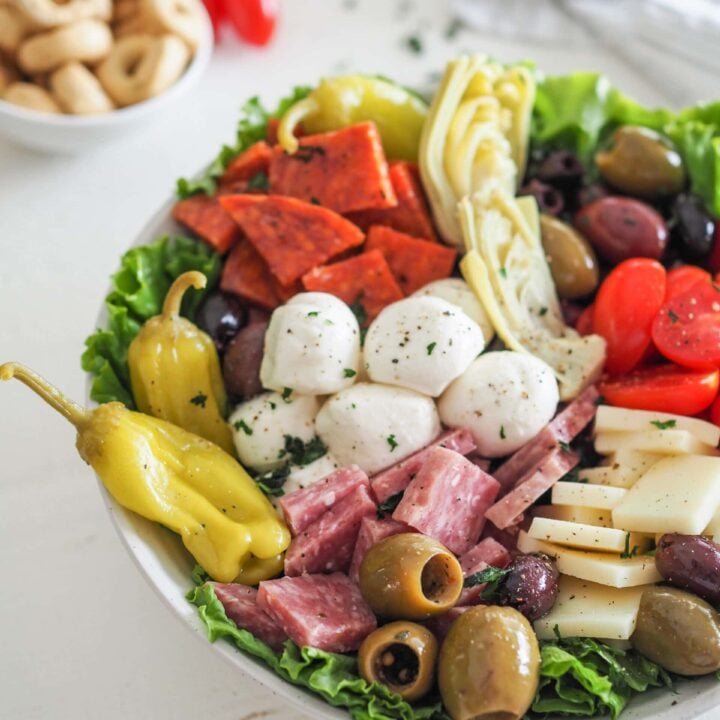 Antipasto Salad
EASY dinner or side dish. This classic Italian-American antipasto salad includes crisp chopped romaine, cured meats, cheese, olives, tomatoes, artichokes, and a quick homemade vinaigrette.
Ingredients
2 hearts romain lettuce, chopped
4 ounces (1/4 pound) salami
4 ounces (1/4 pound) soppressata
4 ounces (1/4 pound) provolone cheese
4 ounces mozzarella pearls
1/2 pint grape tomatoes, halved
1/2 cup marinated artichoke hearts
Instructions
Assemble the salad ingredients in a large bowl, starting with the lettuce, then adding the cured meats, cheeses, artichokes, tomatoes, pepproncini, and olives.
For the dressing, whisk together the olive oil, vinegar, lemon juice, parmesan cheese, salt, and pepper in a small bowl or mason jar.
Drizzle dressing on salad right before serving.
Notes
Make a vegetarian version by swapping the meat with roasted red peppers, roasted eggplant, sautéed mushrooms, and marinated artichoke hearts.
Nutrition Information:
Yield:

6
Serving Size:

1
Amount Per Serving:
Calories:

153
Total Fat:

12g
Saturated Fat:

6g
Trans Fat:

0g
Unsaturated Fat:

4g
Cholesterol:

33mg
Sodium:

354mg
Carbohydrates:

4g
Fiber:

1g
Sugar:

1g
Protein:

9g
Nutrition information provided is only an estimate.
More Recipes You'll Enjoy!