There are a ton of quinoa salad recipes out there, but this one, by far, is the best one I've tried. It's inspired by a Peruvian chopped salad called solterito and is a hearty mix of potatoes, fresh corn, lima beans, and quinoa.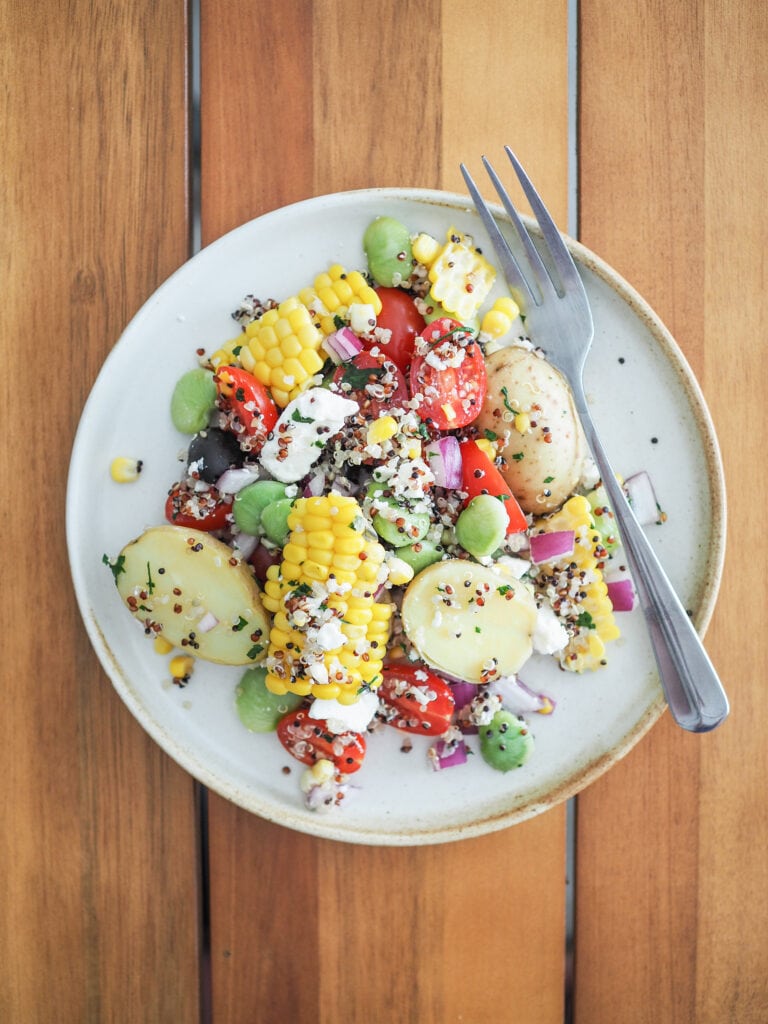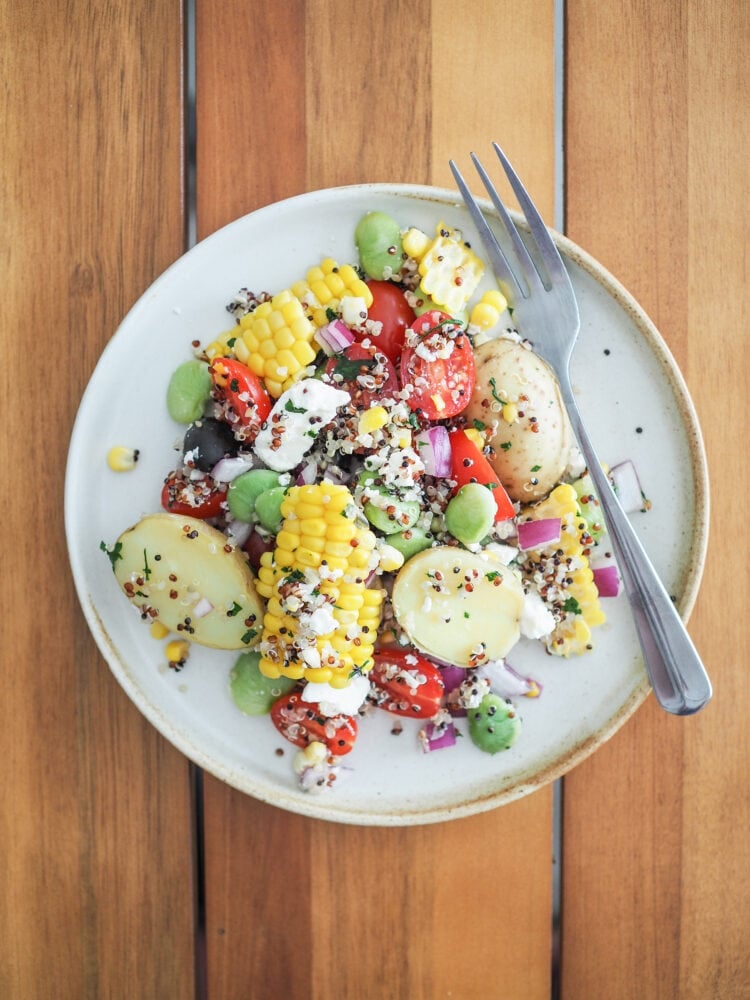 Peru has been on my list of places to see for years and we had started to research a few trips for this year when the pandemic hit and put a halt to our travel plans for 2020. I'm so thankful the Peruvian tourism board sent us this quinoa salad recipe to try so we could at least get a little taste of Peru while at home.
Is Quinoa A Grain?
So, first things first, what the heck is quinoa? Quinoa been around for thousands of years in the Andes region of Peru, but has gained popularity around the world in the last decade. My bet is the first time you saw it, you might have said, "keen-what?" In case you're still wondering, quinoa is pronounced "keen-wha" and it isn't a grain, but the seed of a type of goosefoot plant. It's gluten free and can come in all different colors including white, blue, purple, pink, red, yellow, and black.
As for flavor, it's very light and sometimes described as a bit nutty. And it's used in a variety of recipes, from just a plain side dish to this quinoa salad below.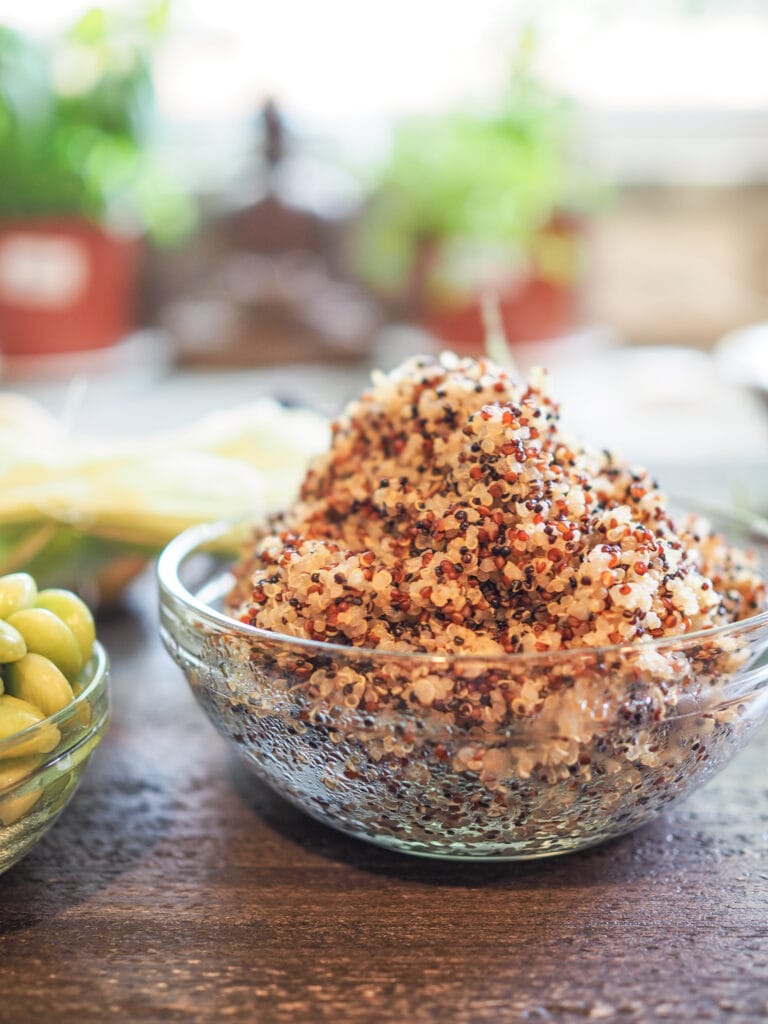 Why Quinoa?
Quinoa packs quite a nutritional punch. It's great source of protein, vitamins, and minerals. And it contains all nine essential amino acids and double the fiber of most grains. One cup of cooked quinoa contains 8 grams of protein AND … did I mention it's gluten free?
The United Nations recognizes quinoa as the only vegetable source to be a complete protein. Even NASA studied quinoa's nutritional benefits for astronauts aboard long-term space missions. So, if you're having a tough time convincing your family to try it, let them know it's officially Astronaut Food.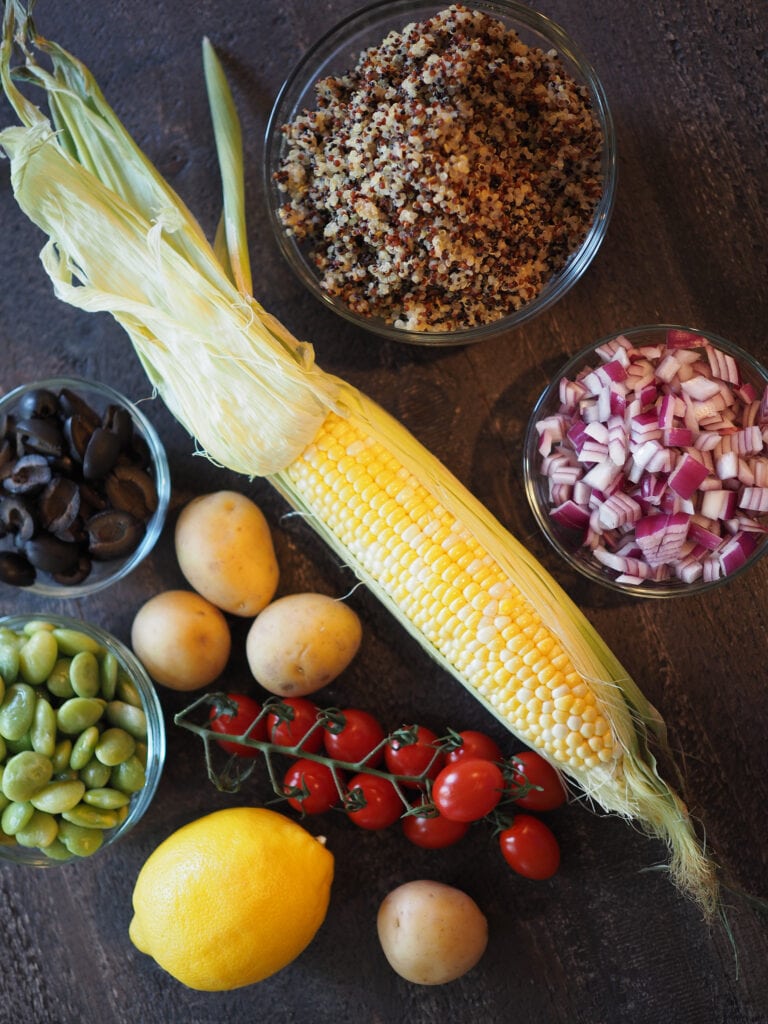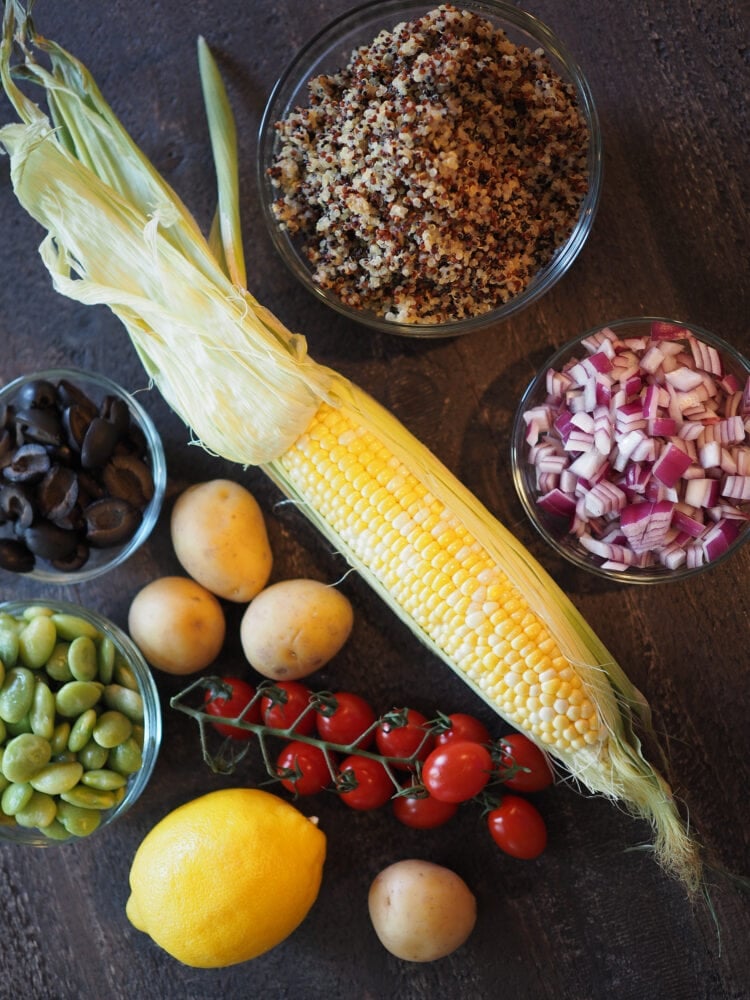 Quinoa to Water Ratio
When making any quinoa salad or other dish, the key is to get the water to quinoa ratio correct. You'll want to use 2 cups of water per 1 cup of quinoa. Personally, I like to use vegetable or chicken broth instead of water to give it a bit more flavor.
Bring your water or broth to a boil, add the quinoa, cover and turn the heat to low. Then set a timer for 20 minutes and let the quinoa absorb all the liquid, similar to cooking rice.
PRO TIP: Although most recipes and instructions say to rinse the quinoa first before cooking, I never do this. For one, quinoa can sometimes be like the glitter of the kitchen. When it's wet, it sticks to everything.
I have, however, dry toasted it before cooking it. And that tends to bring out a bit more nutty flavor. To dry toast quinoa, simply put it in a saute pan and cook on low to medium heat for about 5 minutes until it makes some popping sounds and you can smell the sent of it being toasted.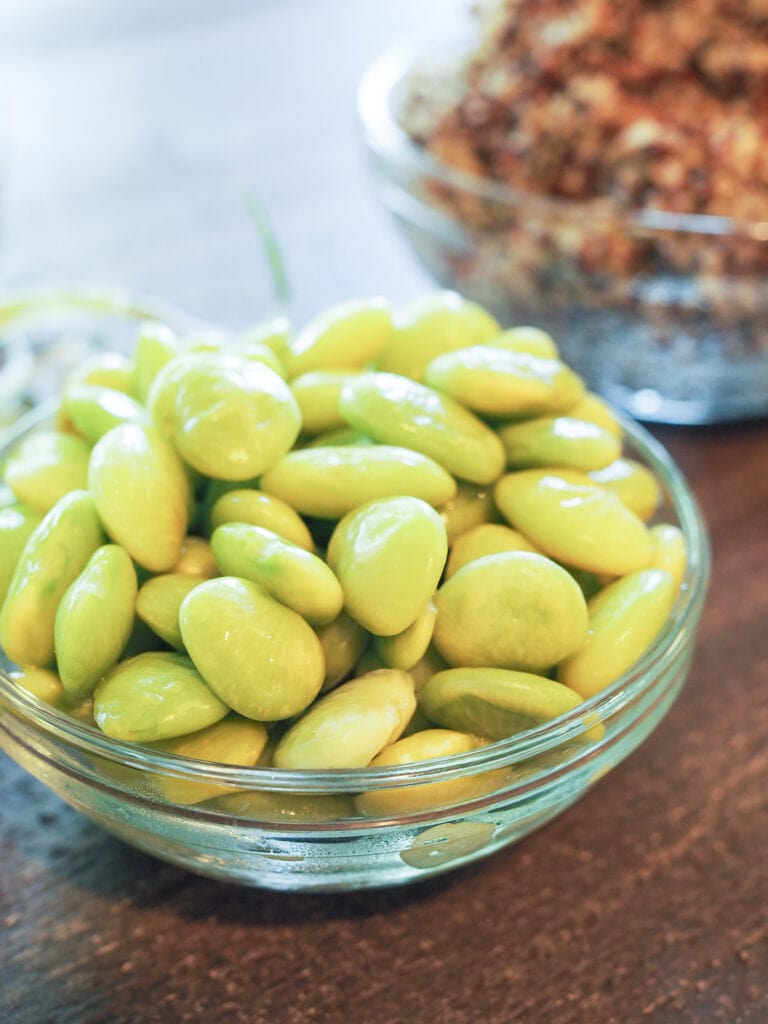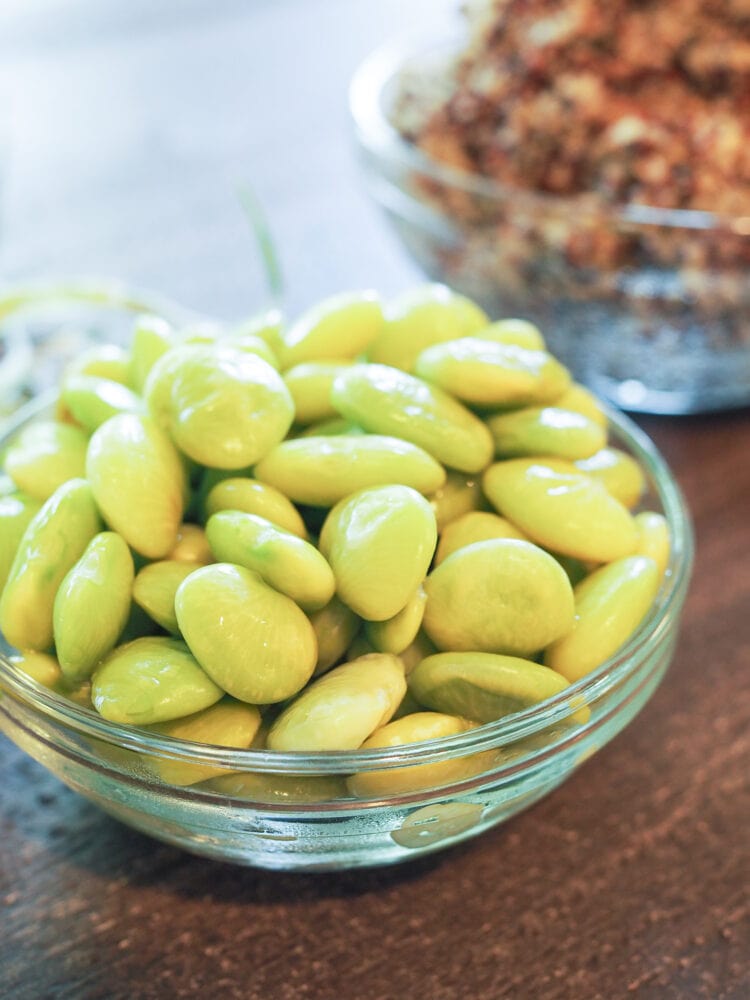 Cultural Context And The History Of Quinoa
In the 16th century, quinoa was somewhat forgotten after the Spanish conquistadores burned the Inca quinoa fields and forbid its cultivation. "For us, there was a long period of not being free," says Gastón Acurio, Peru's most famous chef and culinary ambassador.
"Spaniards disliked our architecture, food, history, style of dress, and outlawed our traditions. Quinoa farming declined but never completely disappeared — it was grown secretly in remote parts of the Andes. After Peru's independence from Spain in 1821, quinoa became just as important for small Andean farmers as it had been for the Incas, and they kept growing it for local consumption, waiting for times to change. Now is that time."
These days production barely keeps up with the growing demand in Peru and abroad. As in Inca times, quinoa seeds are often planted on August 1, the first day of the Andean calendar — the month of Pachamama, the Mother Earth. Before planting, farmers light an offering of coca leaves, candies, chocolate, and other sweets, believing that the mountains receive their prayers to Pachamama through the smoke."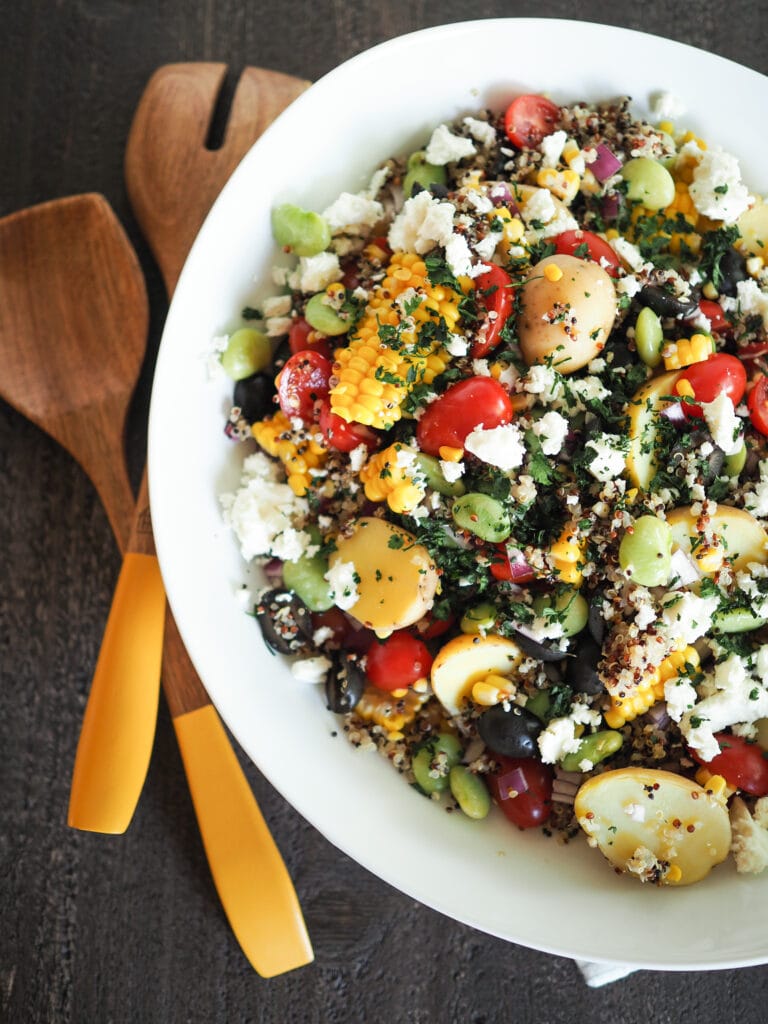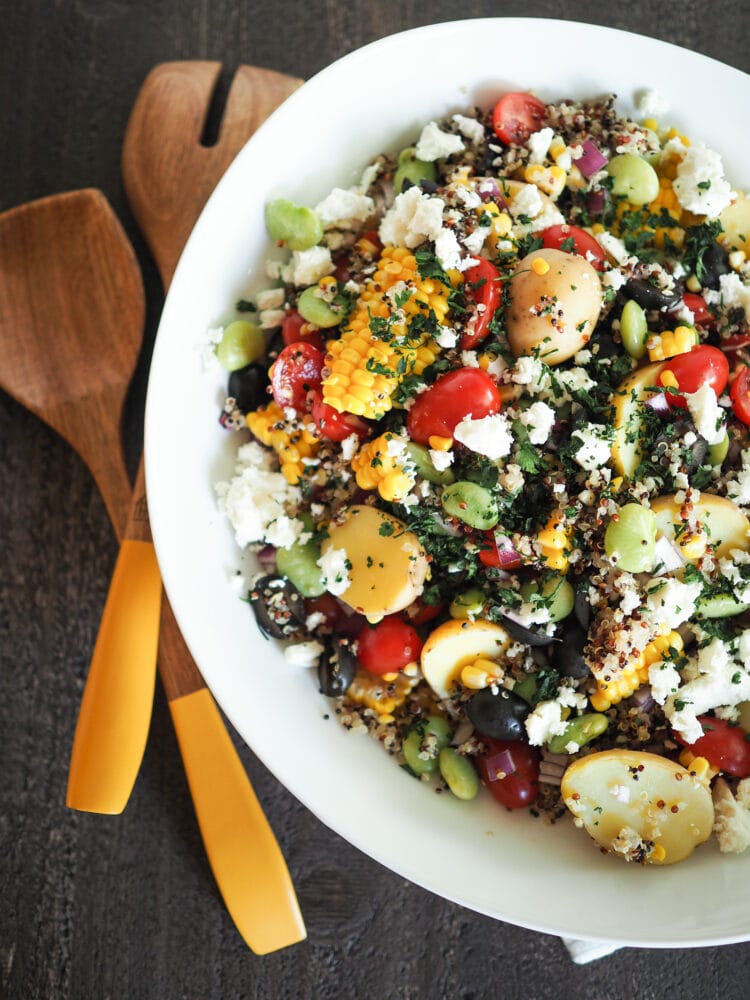 Solterito – A Peruvian Dish
Over the past decade, Peruvian cuisine has rightly earned its place on the global culinary stage. And I can't wait to travel there in person to try it! Year after year, Peru's capital, Lima, has been named the world's leading food destination. As part of that gastronomic resurgence, Peruvian chefs are rediscovering and embracing the traditional dishes they grew up with by using native ingredients such as quinoa. For centuries, this super food nourished the country's pre-Columbian civilizations, such as the Incas, who called it chisaya mama, meaning the mother grain.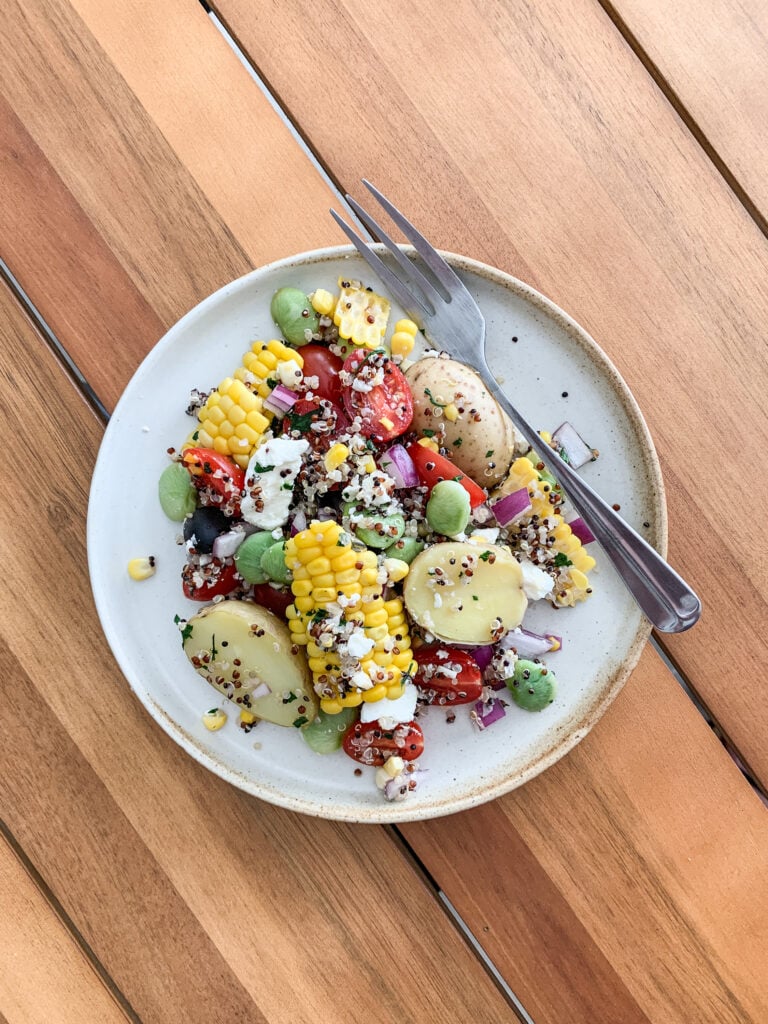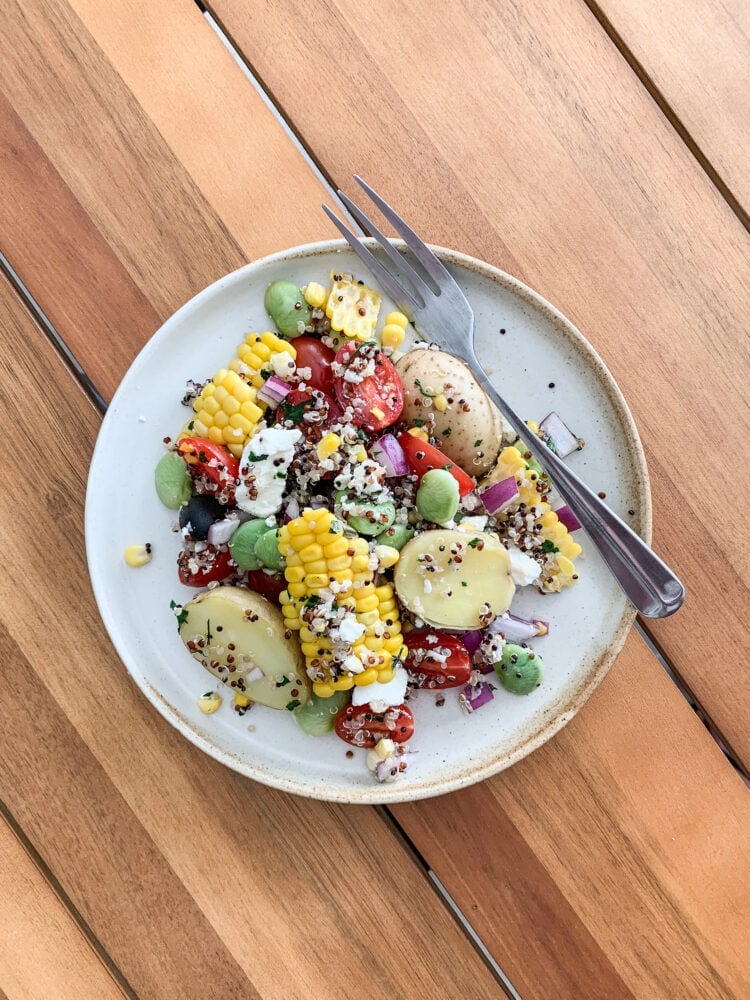 The Best Quinoa Salad
All over Peru, chefs and locals alike incorporate this sacred power protein into many traditional and contemporary dishes. Quinoa is so versatile it's used as an ingredient in salads, soups, and stews.
Solterito is a typical dish from the Peruvian city of Arequipa. Typical ingredients for this dish include cheese, beans, olives, onion and tomato, and it is usually served with white potato slices. In Arequipa, rocoto pepper is added but it can work without rocoto as well.
The recipe I was sent said to include a cup of shelled beans, so I chose lima beans as another culinary nod to Peru. I hope you enjoy it!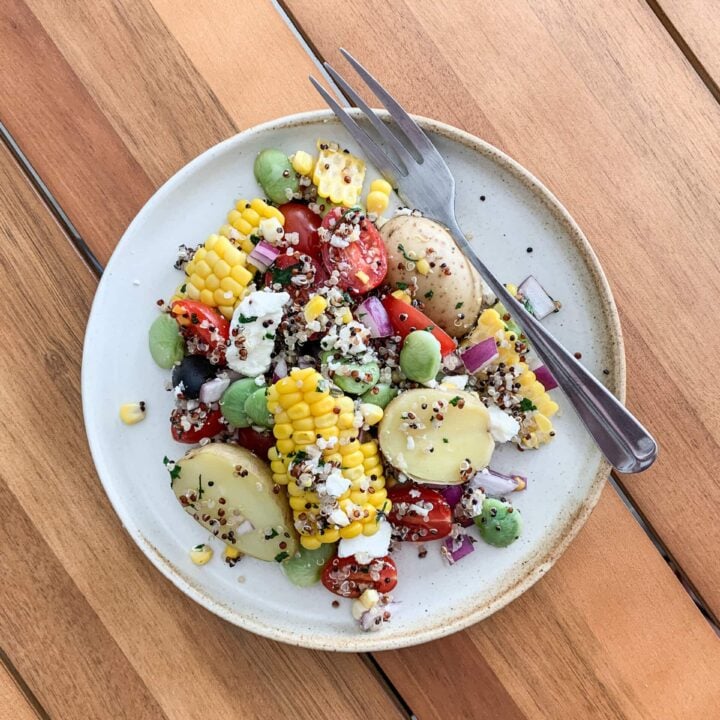 The Best Quinoa Salad - Solterito
Ingredients
1 cup quinoa
2 cups vegetable broth
4 cups baby white potatoes, cut in half
1 cup frozen lima beans
2-3 ears of corn
1 1/2 cup grape tomatoes, sliced in halves
1 red onion, diced
1/2 cup of queso fresco cheese, crumbled
8 black olives, diced
2 lemons, juiced
4 Tbsp olive oil
1 Tbsp red wine vinegar
1 spoon of sugar (can be omitted)
2 Tbsp Chopped Parsley
1 tsp Salt
1 tsp Pepper
Water as needed for boiling potatoes and corn
Instructions
First, start by cooking the quinoa. Bring vegetable broth to a boil, add the quinoa, and then lower the heat to low and cook covered for 20 minutes.
While the quinoa is cooking, bring a large pot of water to a boil and add the sliced potatoes. Cook for 12-15 minutes. Use a fork to test to see if they are tender enough. If they can be cut in half with a fork, the potatoes are ready. Drain and set aside.
As the quinoa and potatoes are cooking, bring one more big pot of water to a boil. I know, that's three pots on your stove, but this quinoa salad is worth it. Add the shucked ears of corn to the pot and cook for 5-7 minutes. Drain and set aside to let it cool. Once cool enough to touch, carefully slice the corn off the cob.
For the lima beans, I use a bag of frozen beans to save some time. Simply cook these according to the package directions (most steam in the microwave) and measure out a cup of beans to add to your quinoa salad.
To make the dressing, add the lemon juice, olive oil, red wine vinegar, salt, pepper, and sugar to a small bowl and whisk together.
Once everything is done cooking and cooled, it's time to toss all your ingredients together in a big bowl along with the dressing.
Sprinkle with parsley and serve.
Notes
TIP:  If raw onions taste a bit strong to you, soak them in 1/4 cup of white vinegar while the quinoa, corn, and potatoes are cooking. Drain the vinegar and add the onions last.
In addition to boiling the potatoes and corn, you can also try them grilled or pan roasted for a different flavor. I find this recipe works great (and is so easy to put together!) with leftover corn and potatoes from nights that we grill out on the patio.
If you can't find queso fresco, Feta also tastes great with this recipe.
And if you're not an olive-lover (speaking directly to a few of my friends here), they can be omitted.
Nutrition Information:
Yield:

8
Serving Size:

1
Amount Per Serving:
Calories:

317
Total Fat:

12g
Saturated Fat:

3g
Trans Fat:

0g
Unsaturated Fat:

8g
Cholesterol:

9mg
Sodium:

583mg
Carbohydrates:

47g
Fiber:

7g
Sugar:

7g
Protein:

10g
Nutrition information provided is only an estimate.
More Recipes You'll Love