If there were ever a food tour that sounded like heaven, it would gelato tour through Bologna. The food in Bologna is legendary, and the gelato is the best in the world! We've put together a guide and map for you below so you can take a walk under the city's historic porticoes to three artisanal gelato shops for an epic afternoon of gelato tasting. You'll get to taste multiple flavors and learn about the history of gelato too.
Each gelataria is hand-selected for a truly delicious gelato experience. And the walking distance in-between each shop is just long enough to increase your appetite for more gelato while also giving you a great overview of the city.
The Difference Between Gelato And Ice Cream
Ice cream and gelato are both creamy frozen desserts, but there is a difference. Ice cream has a higher fat content because it is make with cream. Gelato is softer and it also melts faster! That's because gelato has a lower fat content since it is made with milk. Gelato is also slightly less frozen, or warmer, than ice cream. So, the flavors tend to be more intense too.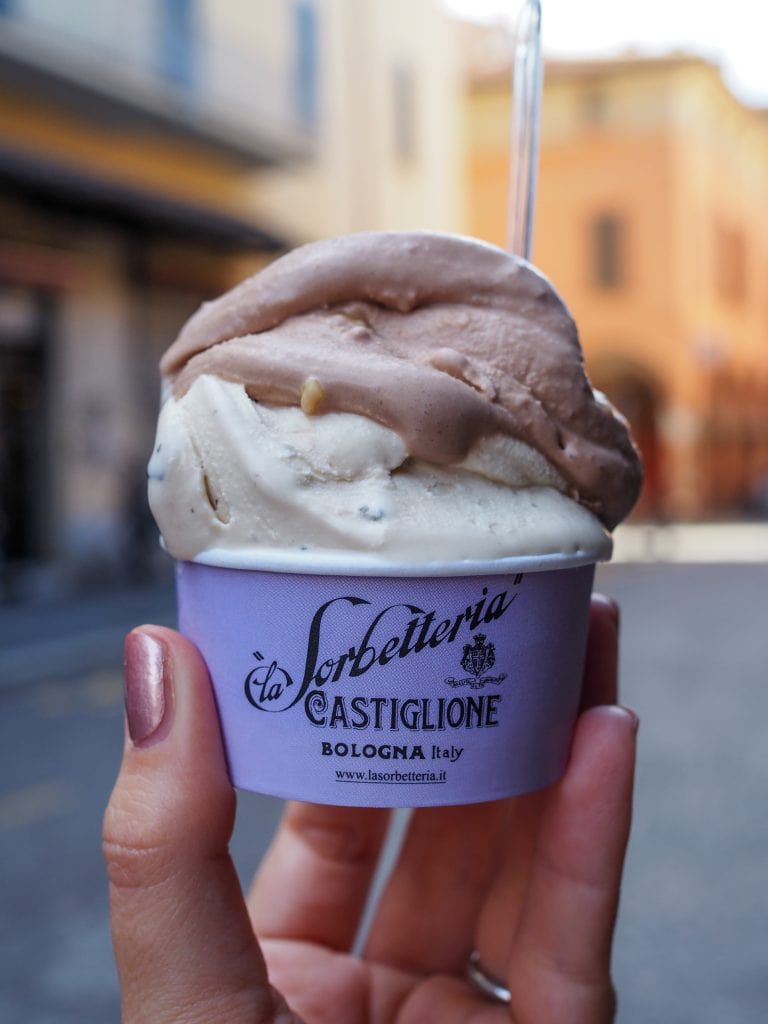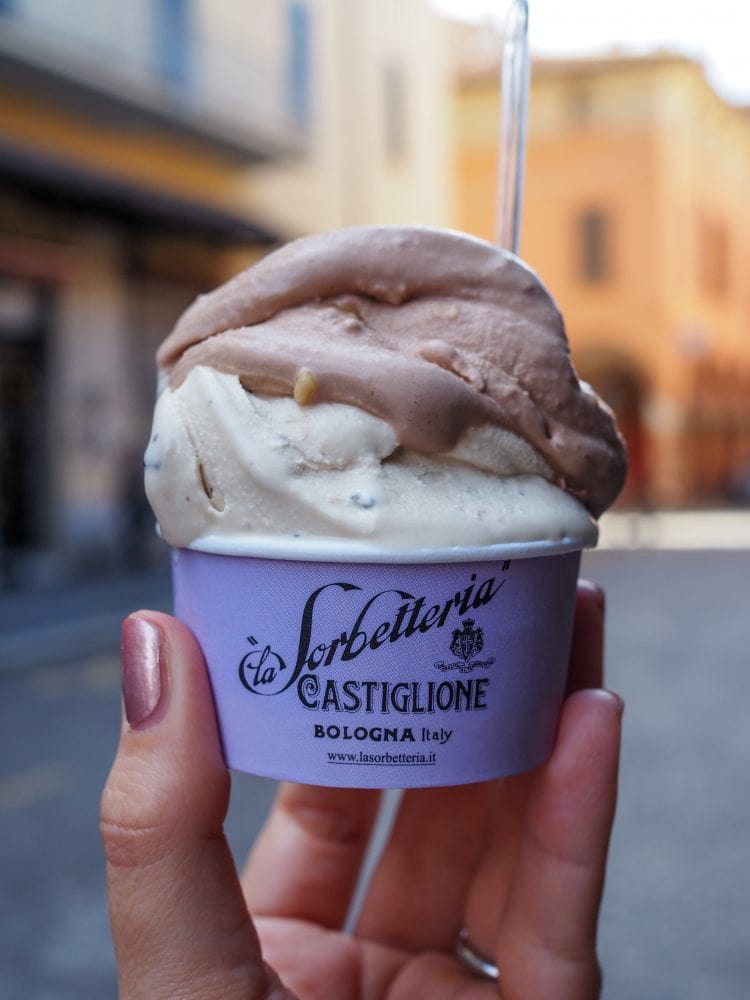 How To Spot True Artisanal Gelato
I've been on a few food tours in Italy, and one of the first tips our guides always share is how to spot "the good gelato." The first thing to look for is color. For example, pistachio flavored gelato should be cream, not unnaturally green. Second, look at the texture. Artisanal gelato isn't whipped up and mounded high. Instead, it should be just at the same hight as the container. That's because artisanal gelato is more dense.
Gelato In Bologna
Why is Bologna known for gelato? Well, the city's nickname is "la grassa," meaning "fat," since it's the heart of Italy's most famous food region — Emilia Romagna. Plus, Bologna also has three of the top seven gelaterias in Italy (awarded by Gambero Rosso). And it is home to gelato machine maker, Carpigiani! Bologna really is the best place for a gelato tour in Italy. Here's the full scoop!
BOLOGNA GELATO TOUR – WHAT TO EXPECT
This is a self-guided walking tour, so wear comfortable shoes! And arrive with an appetite because you'll be tasting a lot of gelato. The tour begins in the city center at Piazza Maggiore across from the Bologna Welcome center. From there, you'll walk to one of the oldest gelatarias in the heart of the city of Bologna. Then you'll be guided to two more award-winning gelaterias that are local favorites and a bit more off the beaten path away from the touristy areas.
At each stop, you can sample a few flavors before deciding on a full cone. Each gelataria offered classics like lemon, pistachio, and hazelnut. But since they're artisanal, you'll discover more unique gourmet flavors including creamy bufffalo milk, honey rosemary, and ricotta and fig.
Bologna Gelato Tour Stop 1 – La Torinese
Located right in the heart of historic downtown Bologna near Piazza Maggiore, this is the oldest continually running gelataria in Bologna. They take pride in offering handmade artisanal gelato with unique flavors like honey and rosemary, or lactose-free buffalo milk. The honey and rosemary gelato was definitely one of my favorites, and I confess, I may have had more than one. Address: Piazza Re Enzo, 1/C, Bologna BO, Italy | latorinese1888.com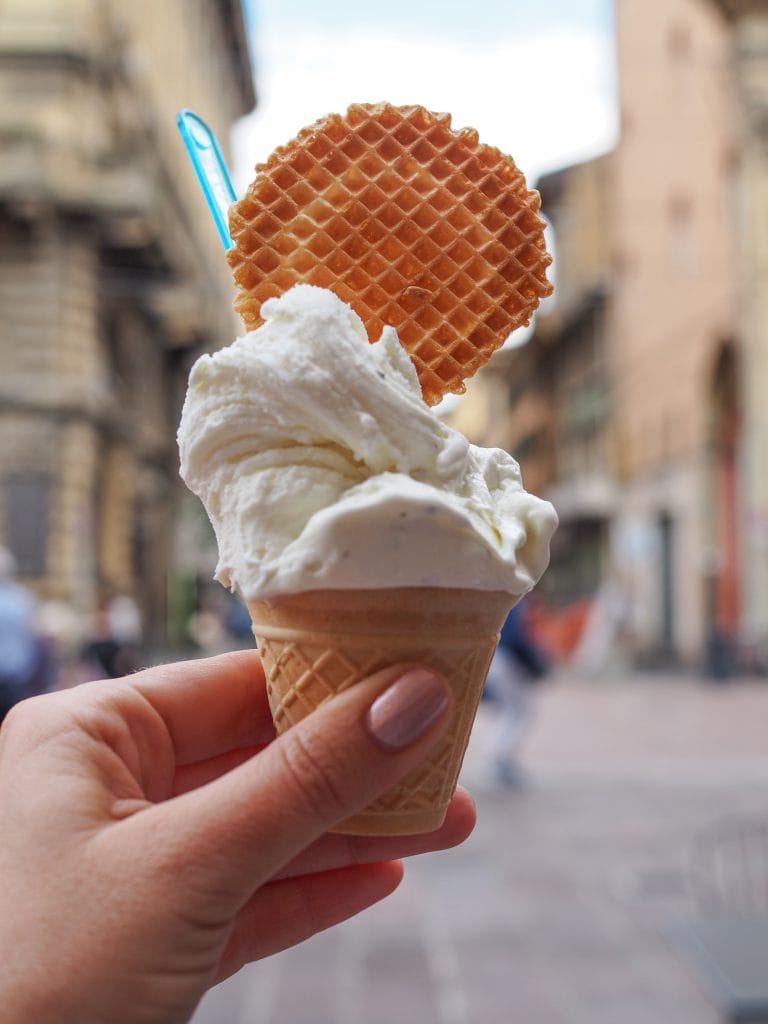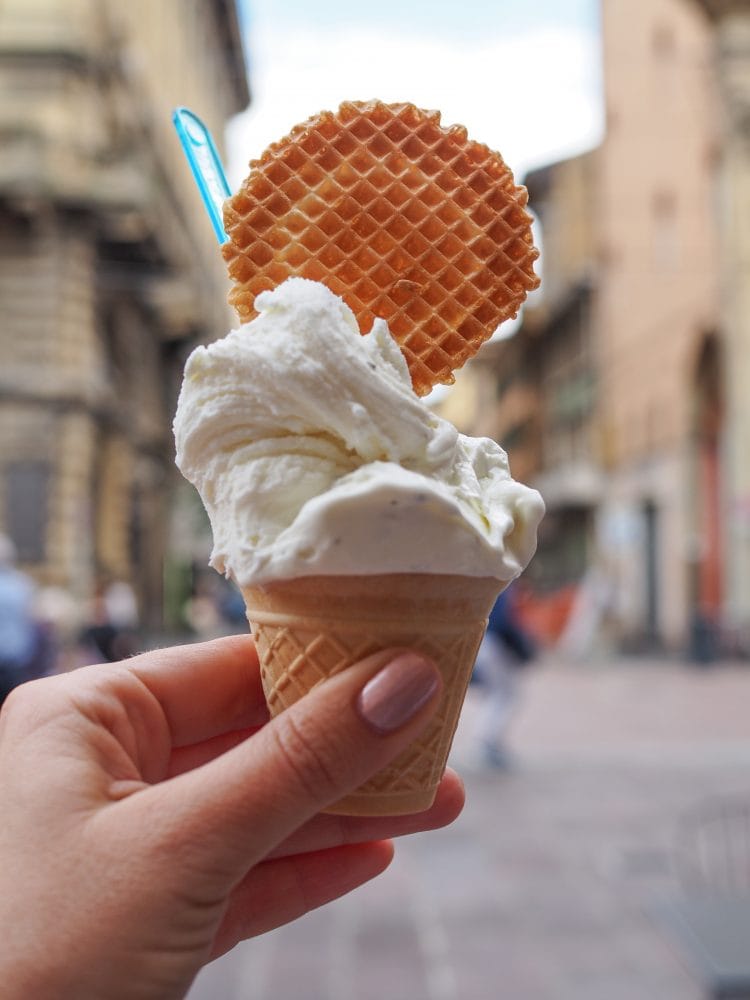 Bologna Gelato Tour Stop 2 – La Sorbetteria Castiglione
A short walk just outside the city center (and underneath one of Bologna's original city gates) is a local favorite – La Sorbetteria Castiglione. If you go on a weekend, expect there to be a wait. This award-winning gelataria is known for their trademarked flavors. For example, my favorite was Dolce EMMA, a fresh ricotta and egg gelato with caramelized fig. And another popular flavor is Cremino GUGIELMO, a gelato made with mascarpone, espresso, and cocoa.
La Sorbetteria Castiglione won 3rd place in a world competition with their dark chocolate gelato recipe. The gelateria also has a few diet-friendly flavors like gelato made with organic rice milk and low sugar fruit sorbetto. Address: Via Castiglione, 44 d/e, 40124 Bologna BO, Italy | lasorbetteria.it
Bologna Gelato Tour Stop 3 – Cremeria Santo Stefano
Saving the best for last! Cremeria Santo Stefano was awarded the coveted "Tre Coni" or "Three Cones" award from the Italian culinary guide, Gambero Rosso. Owner and master gelato maker, Mattia Cavalleri, considers Cremeria Santo Stefano a sort of laboratory of flavor, using high quality seasonal ingredients to create unique flavor combinations. My favorite was the Crema Libanese, a floral flavor with bitter orange and pistachio.
Cremeria Santo Stefano is just a quick walk down Via Santo Stefano (a street with the same name) just past the 7 churches. Address: Via Santo Stefano, 70/c, 40125 Bologna, Italy | CremeriaSantoStefano.com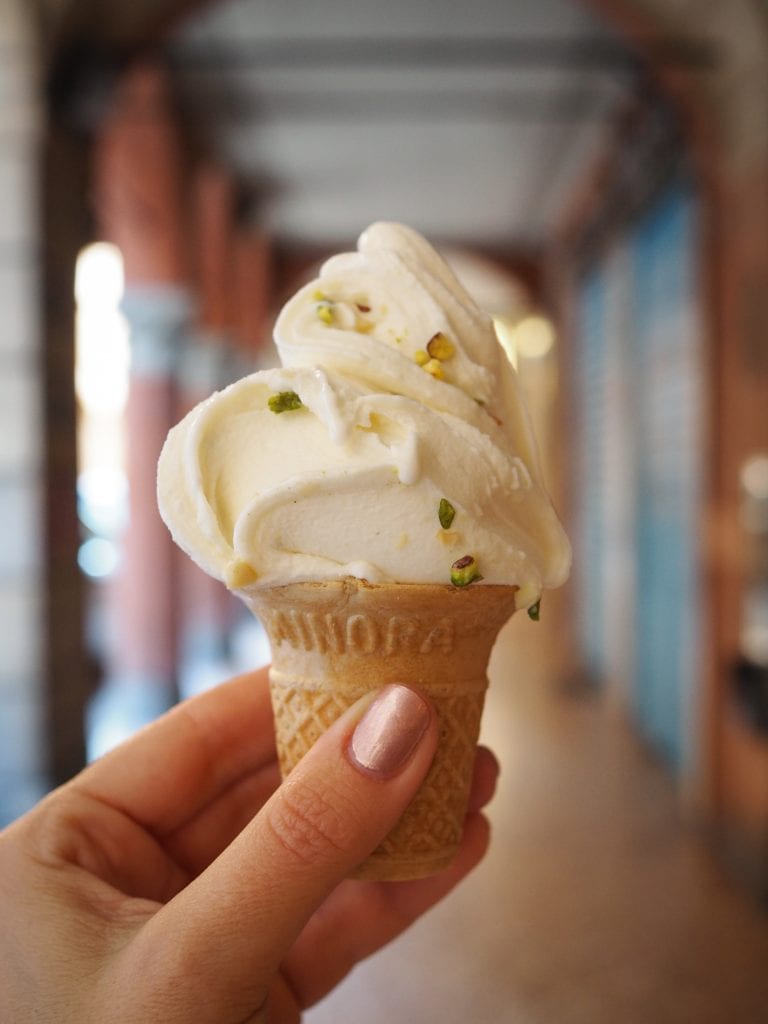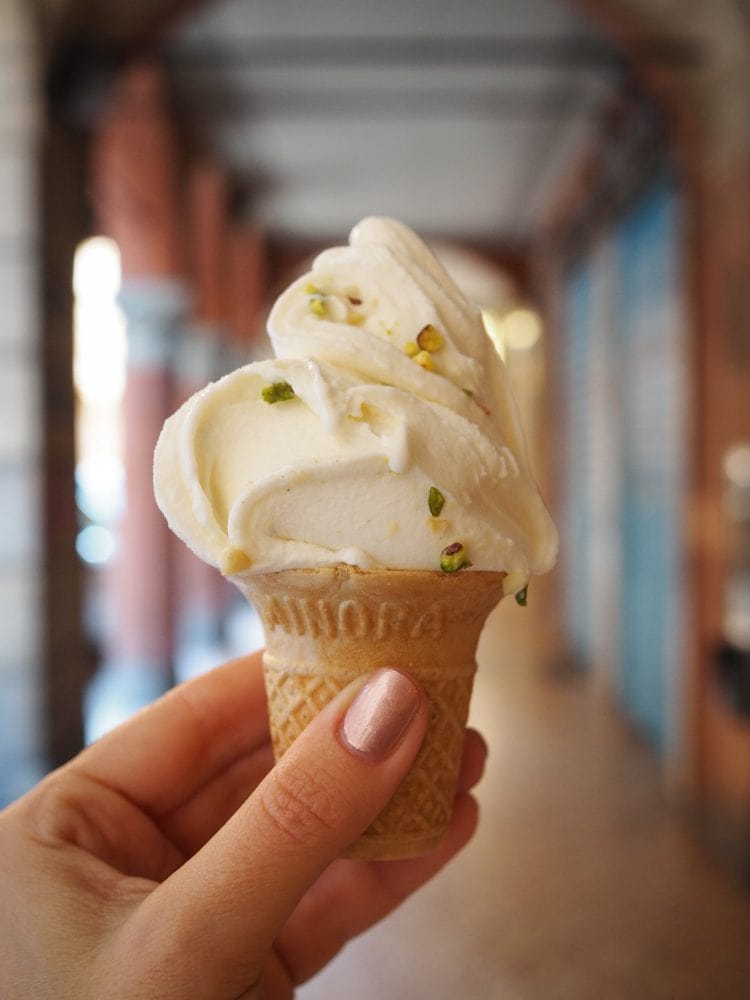 VISIT THE CARPIGIANI FACTORY
If you have more time in Bologna, complete your gelato experience with a visit to the Carpigiani Factory and Museum. Here you'll dive deeper into the history of ice cream, all the way back to Roman times and see some of the first gelato machines ever created. Afterwards, take a class lead by a Gelato University instructor and learn to make sorbetto by hand.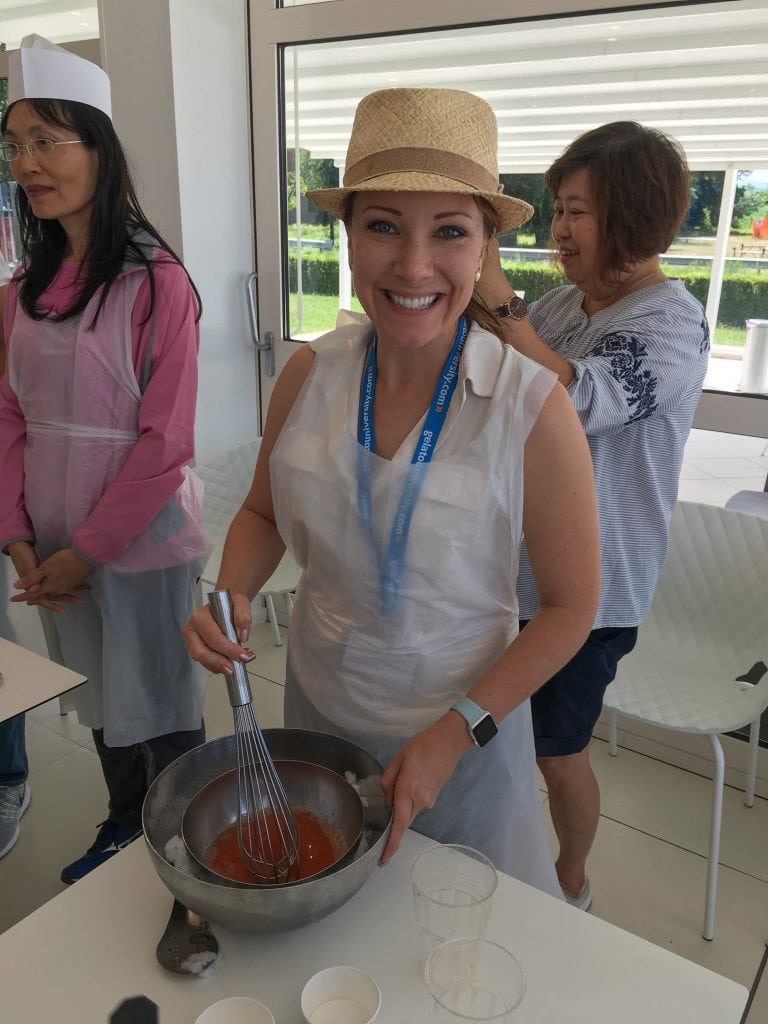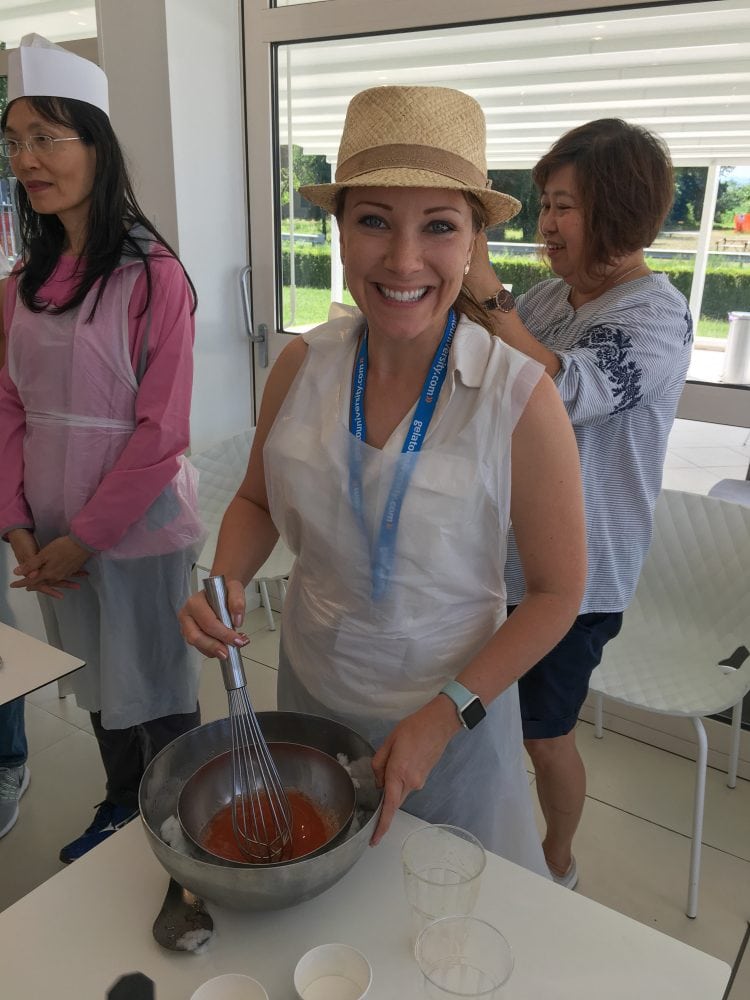 The Carpigiani Gelato Museum is just outside the main city center and easily accessible by taxi or by bus. For the bus, purchase a bus ticket at a Tabacchi shop for approximately €2. Then take bus 87 from Via Indipendenza from stop XX Settembre/Autostazione located at the end of Via Indipendenza near the train station. Be sure to let the bus driver know you plan to go to the factory as there is a stop right in front of the building.
More Bologna Gelato
If you have more time and are staying longer in the city of Bologna, here are a few more of our favorite places for gelato.
Cremeria Cavour
Tucked away behind Basilica di San Petronio near the luxury mall, Galleria Cavour, is another local favorite — Cremeria Cavour. There always seems to be a line here, but the wait is worth it. Grab a piccolo cone of your favorite flavor and sit in the small park across the street and talk to the locals there. Address: Piazza Camillo Benso Conte di Cavour, 40124 Bologna BO, Italy | cremeriacavour.it
Gelateria Islanda
If you plan on making the pilgrimage up the 3.8 kilometers climb to the Sanctuary of San Luca, plan to make a stop at this gelataria which is located right near the start of the famous hill-ascending Portico di San Luca. Known for their vegan line of handmade gelato flavors, my favorite here was their seasonal bright and floral lavender gelato and the Crema Bolognese. Address: Via Saragozza, 65, 40123 Bologna BO, Italy | gelateriaislanda.it
You Might Also Like
Want to save this Bologna Gelato Tour idea? Pin it!