Located along the northeastern coast of Italy, Rimini is the perfect destination for travelers seeking a relaxing getaway without the crowds. Rimini is famous for colorful beach umbrellas and cabanas dotting the shore along the pristine Adriatic Sea. But there's so much more to it than just a beach vacation.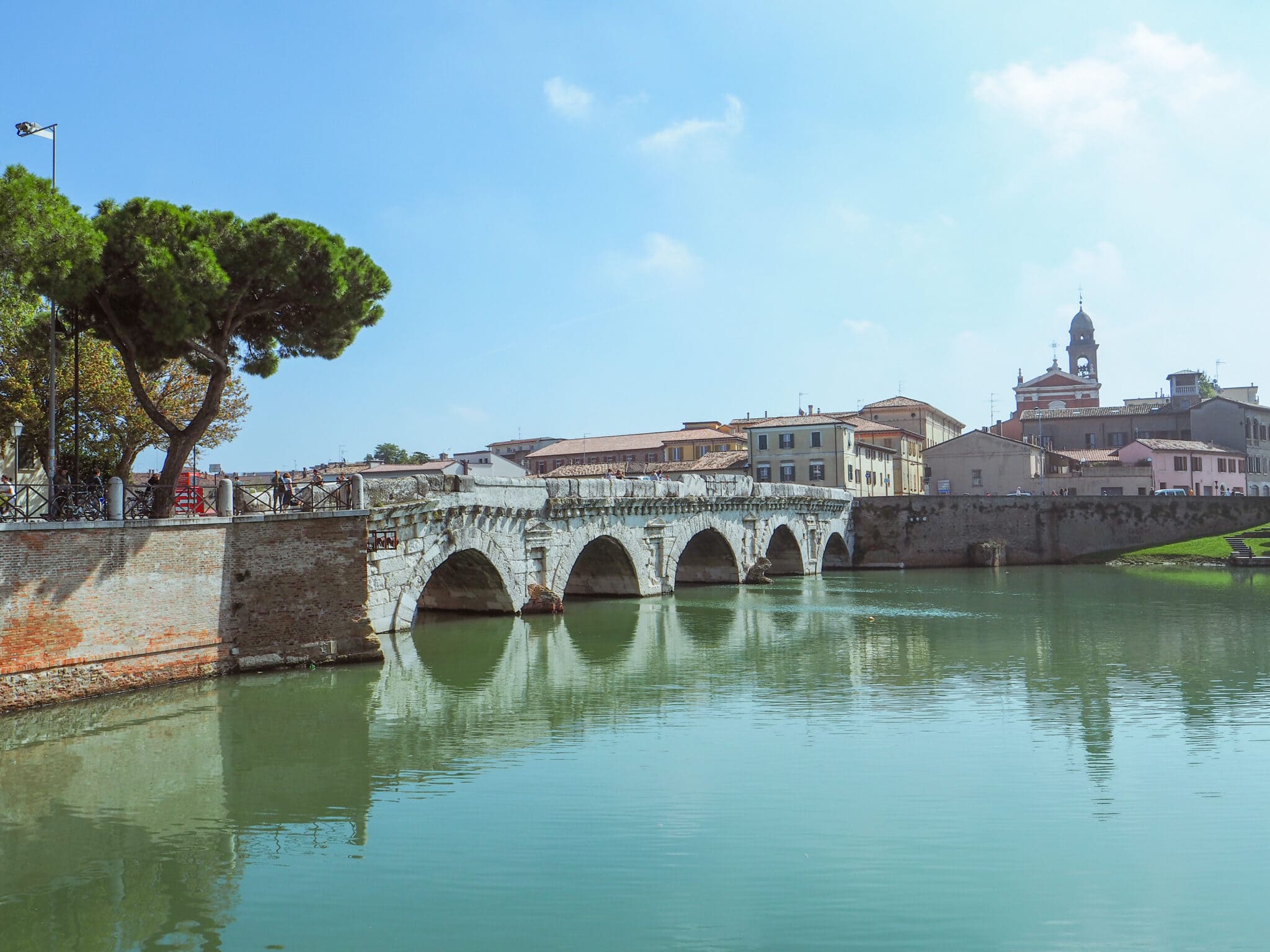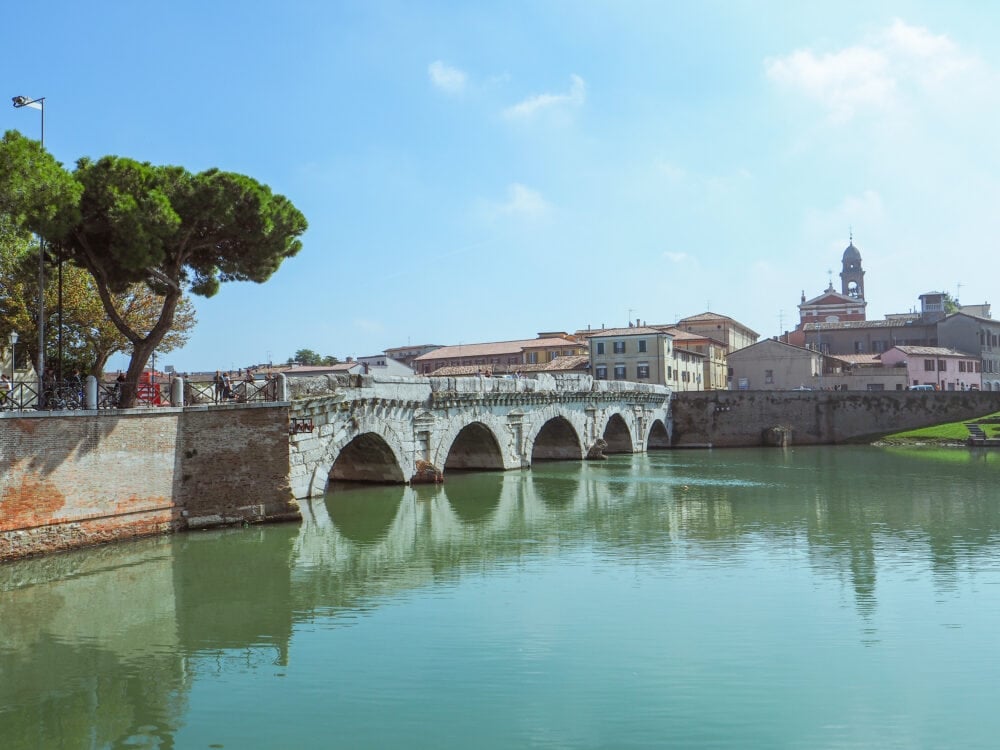 In addition to the beach, there's also luxury sailing, important historic sites and architecture, and amazing food too! Rimini is where you want to go if you seek an authentic Italian experience since it's where Italians go to vacation. Plus Rimini is really close to other must-see places like Bologna and San Marino.
Here's the scoop on the Italian seaside town of Rimini including what to see, where to stay, and how to get there.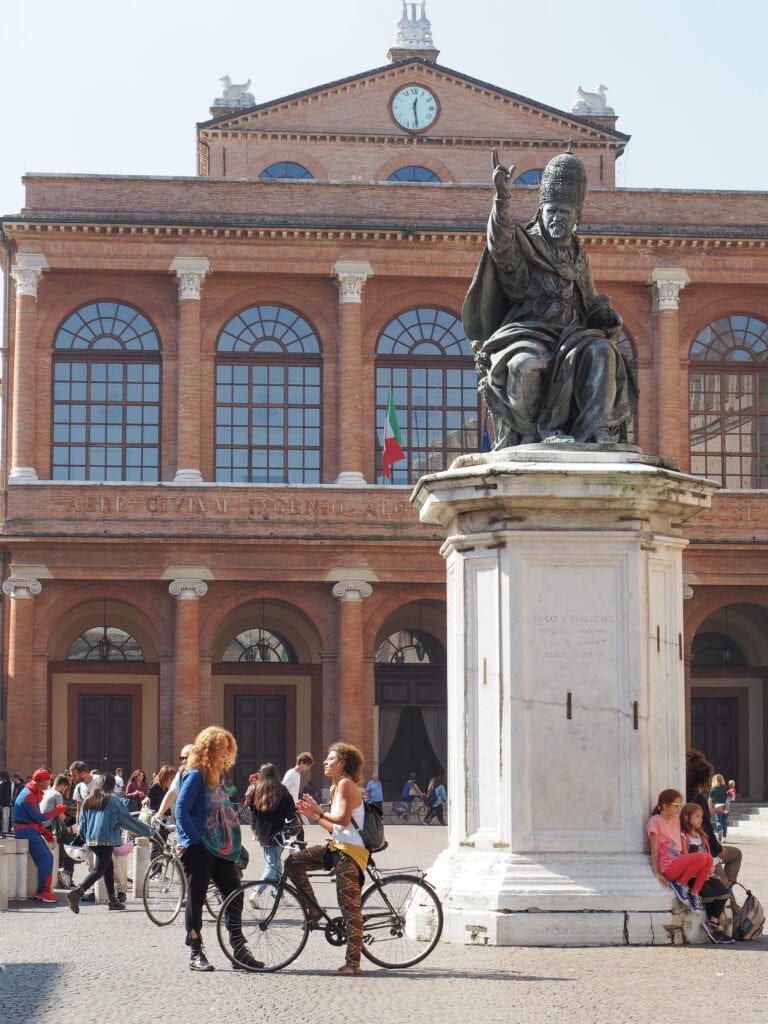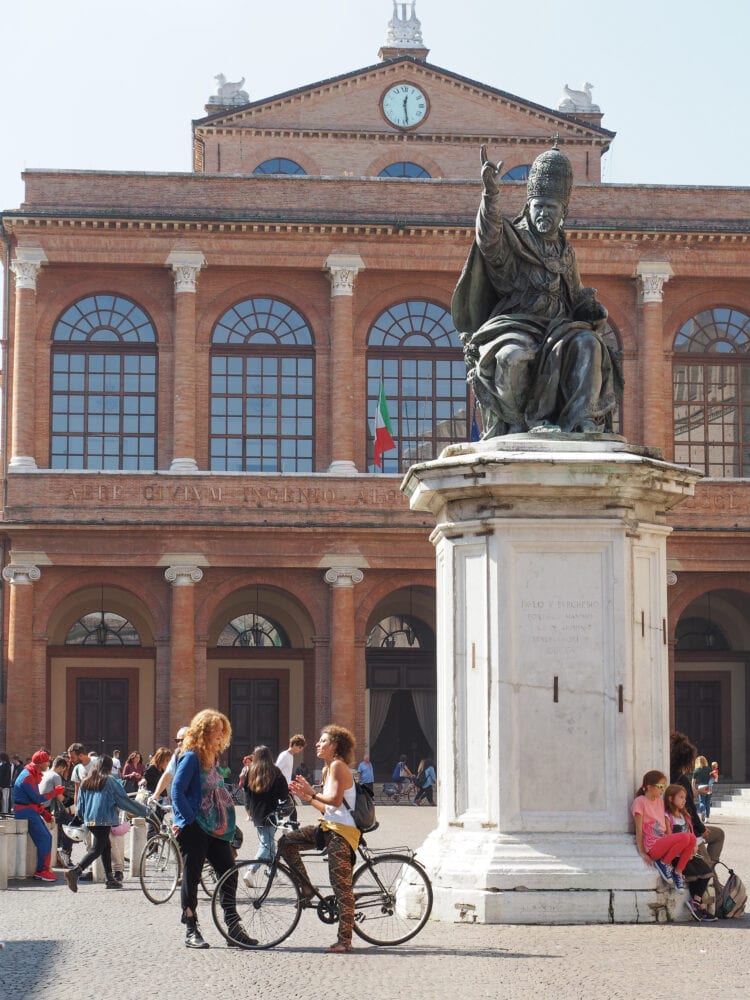 Where is Rimini?
Rimini is located on the northeastern coast of Italy, within driving distance to other major cities like Bologna, Florence, and San Marino. There is an airport if you want to fly in direct to Federico Fellini International Airport. And Rimini is also easily accessible by train if you're planning to visit other Italian cities during your vacation.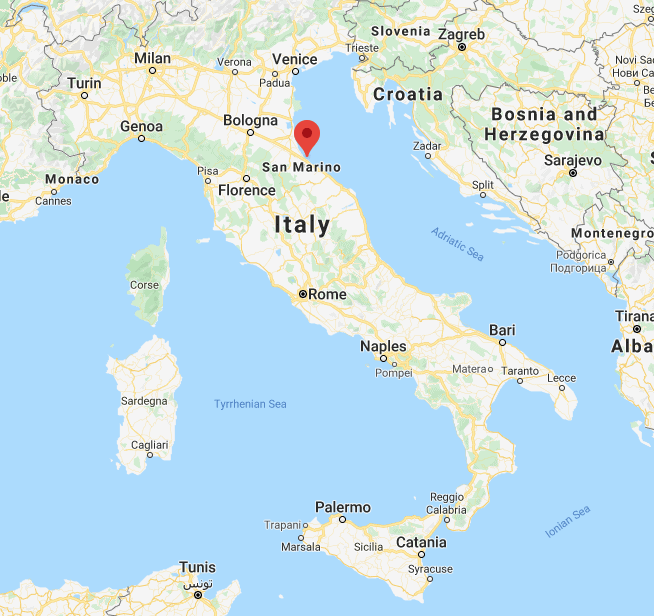 What To See In Rimini
So you might be wondering, "what is there to see in Rimini and why should I visit?" There are so many important historical sites in Rimini, including the oldest Roman archway, oldest surviving Roman bridge, and the theatre that inspired filmmaker Federico Fellini! Here's a brief list of sites to add to your Italian bucket list.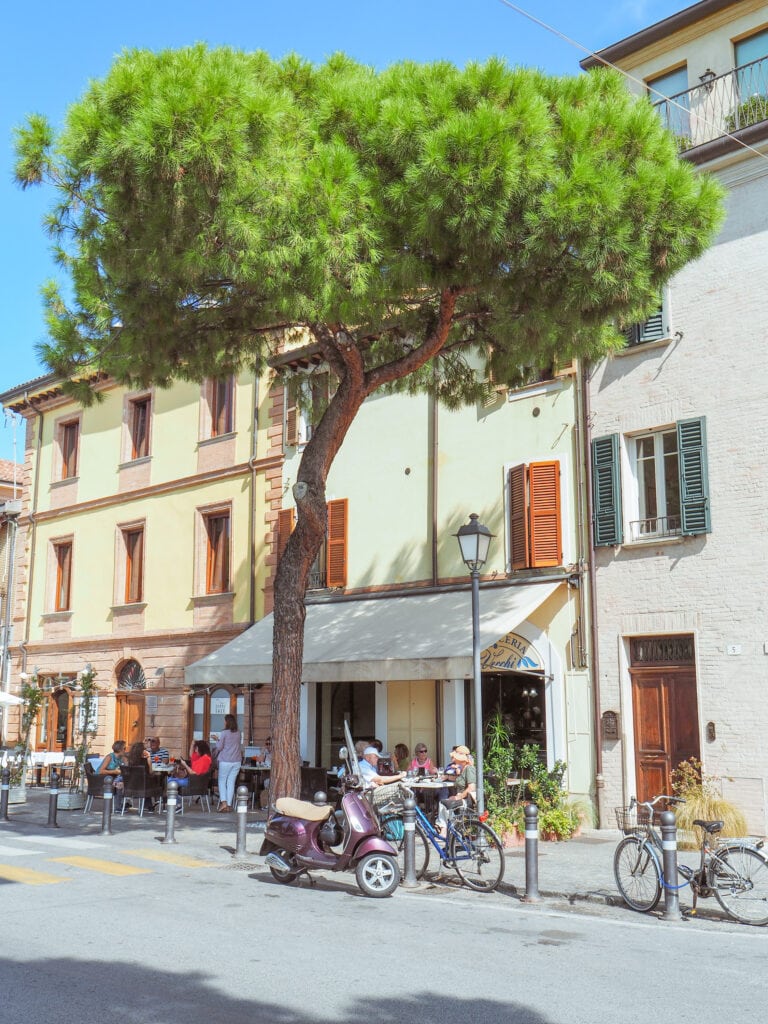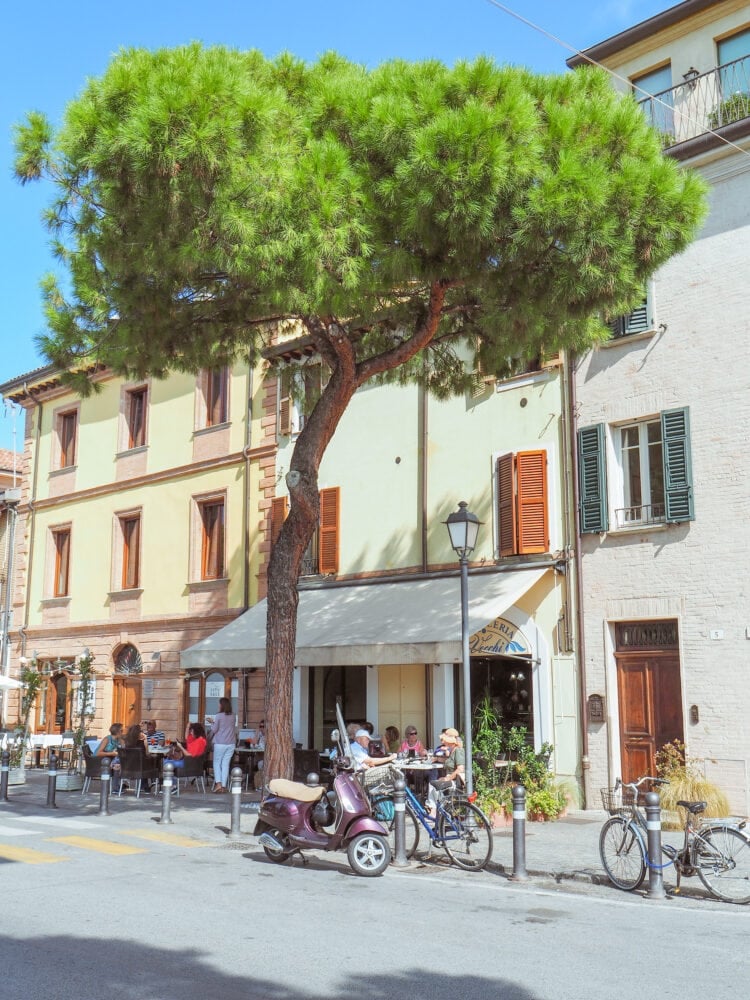 HISTORIC SITES
Augustus Arch – This is the oldest surviving Roman arch and it stands at the entrance of historic Rimini. The Arch of Augustus was completed in 27 BC and dedicated to Augustus by the Roman Senate. Walk the same path as ancient Romans, strolling underneath Augustus Arch and down Corso d'Augusto to Tiberius Bridge.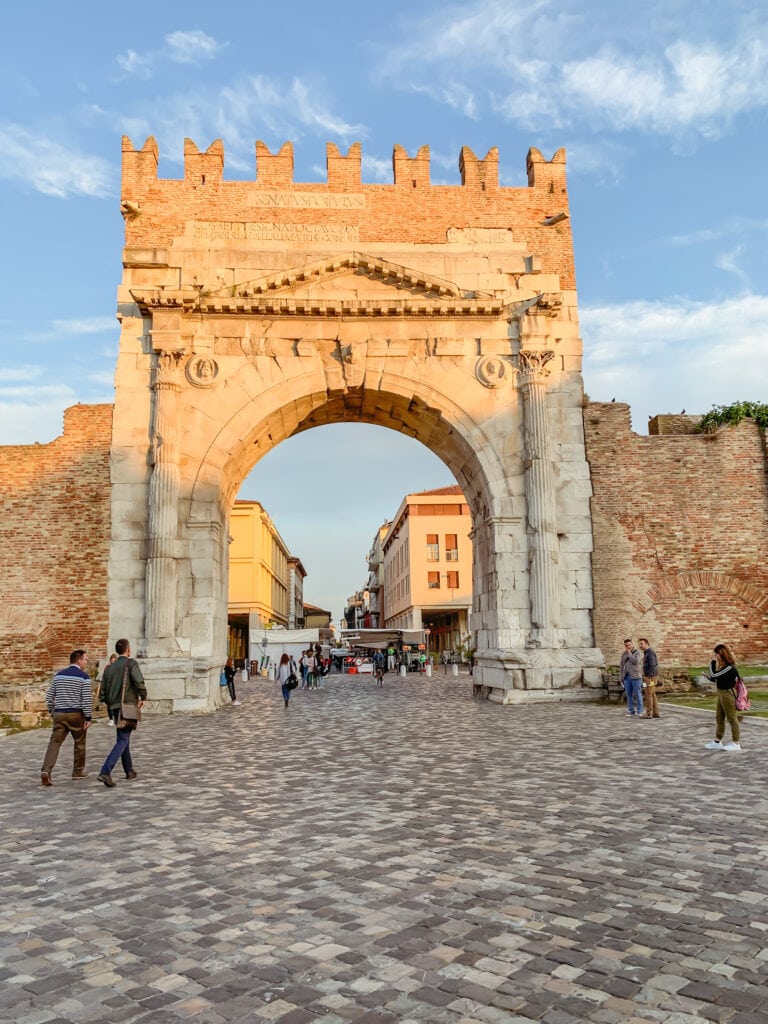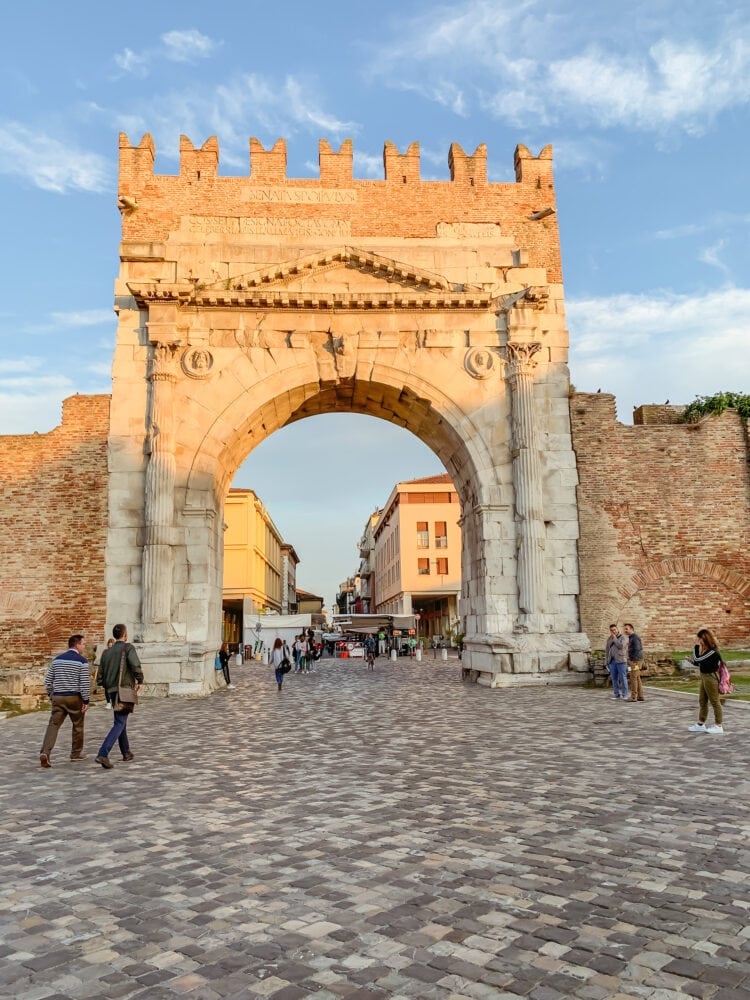 Tiberius Bridge – Ponte di Tiberio, or Tiberius Bridge, is over 2000 years old. And not only has it survived the centuries, but also explosions and attempts to destroy it during World War II. It's formidable, that's for sure! There's an inscription on the bridge that states "given by both emperors" since construction was overseen by two emperors. Building began under Roman Emperor Augustus and was completed in 20AD by emperor Tiberius.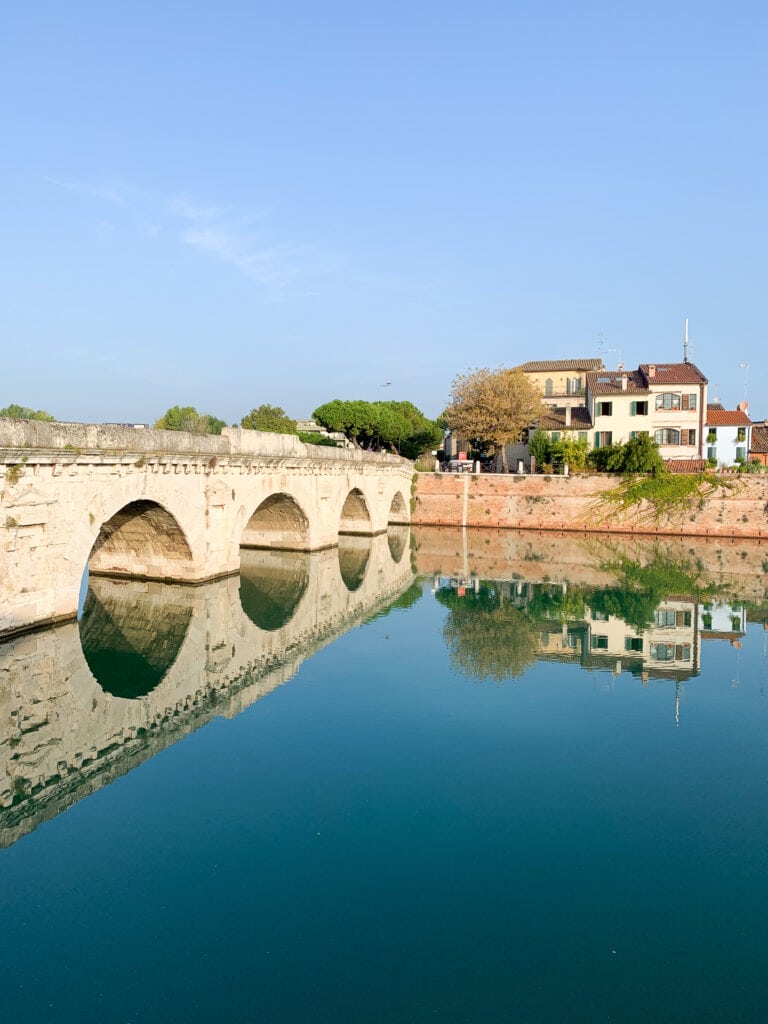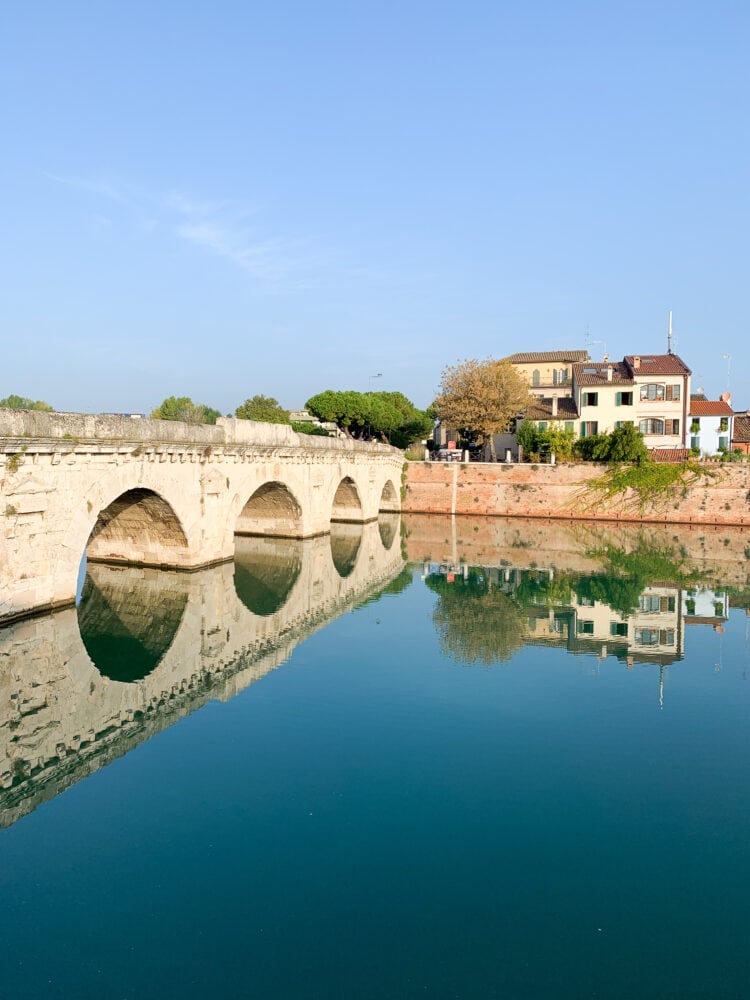 Borgo San Giuliano – This old fishing village is a photographer's dream. Located next to Ponte di Tiberio, Borgo San Giuliano is a labyrinth of fun streets to get lost in while looking at all the colorful murals and doors. Take a walk or ride a bike through this section of town from Tiberius Bridge down to the marina.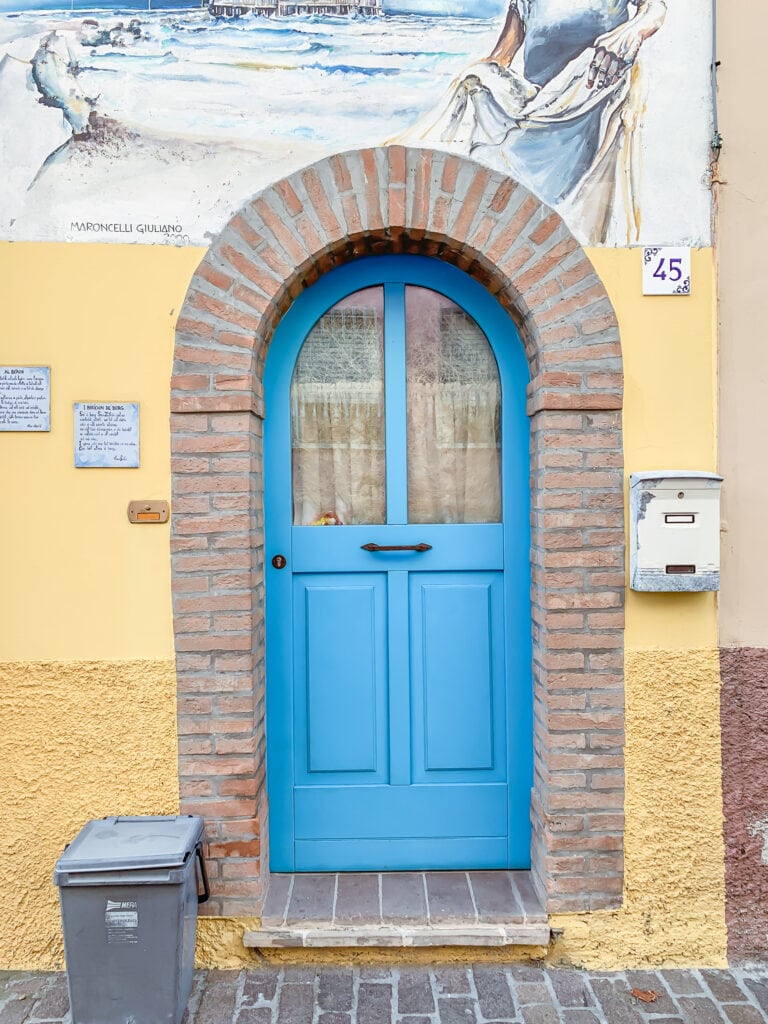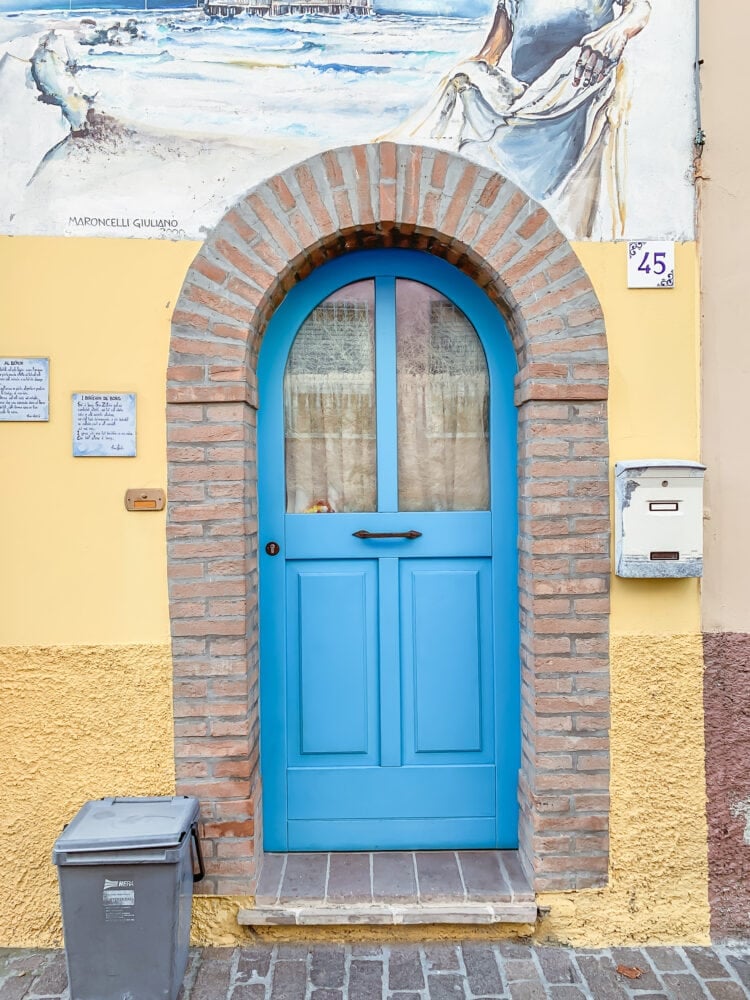 CULTURAL ACTIVITES
Teatro Amintore Galli – A truly authentic Italian experience has to include a visit to the opera. After all, Opera began in Italy in the 16th century and the opera houses are as magnificent and soul-moving as the performances. Teatro Amintore Galli opened in 1857 and was lovingly resorted to its original opulence in 2018 as an initiative to focus on the arts in the city.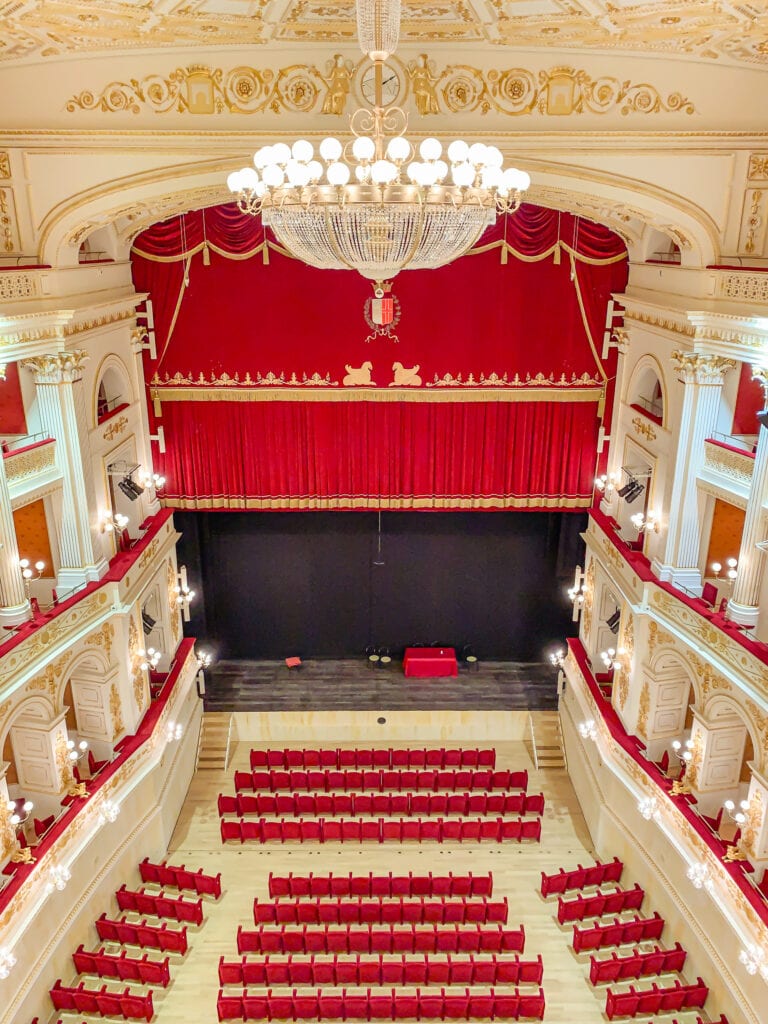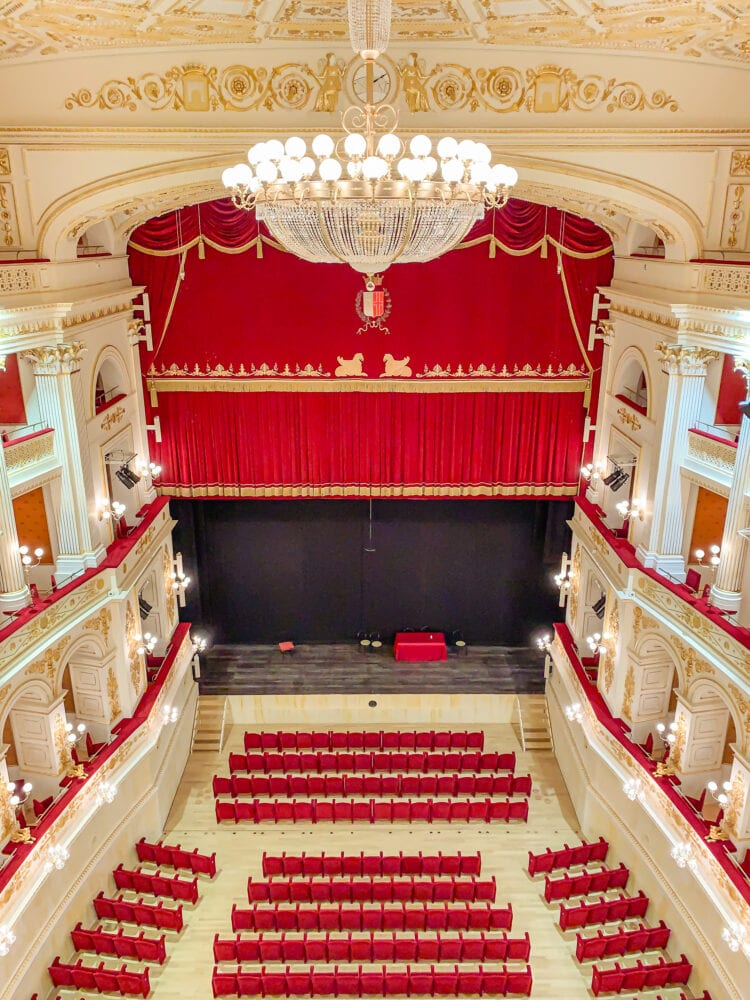 Cinema Fulgor – Another theatre in Rimini worth visiting is the Art Nouveau 1930s-style Cinema Fulgor. This gorgeous theater is dedicated to famous Italian film director, Federico Fellini. Born in Rimini, this is the theatre that inspired Fellini's career. Throughout the year, Cinema Fulgor hosts various films and events for you to experience this enchanting cinema.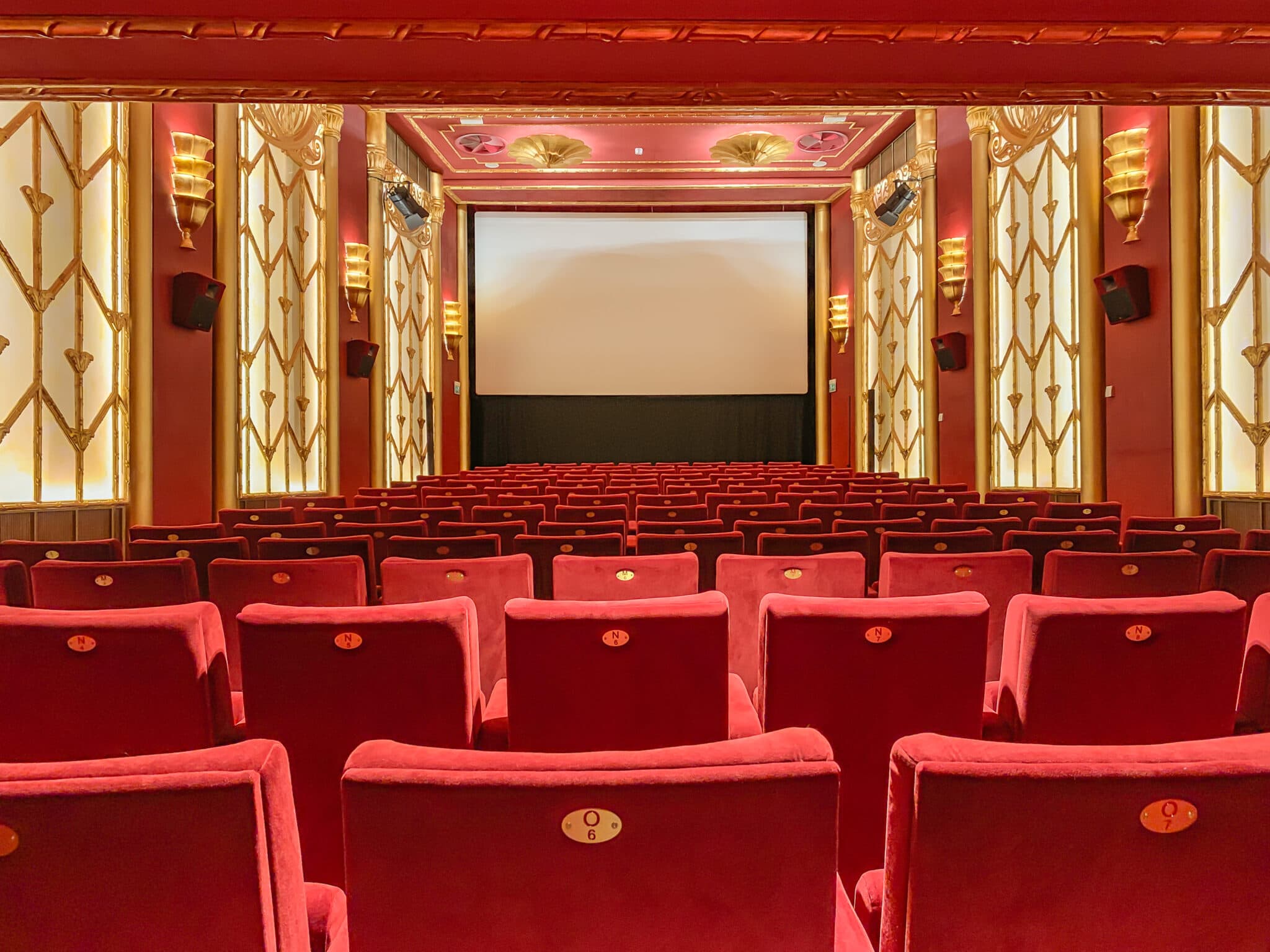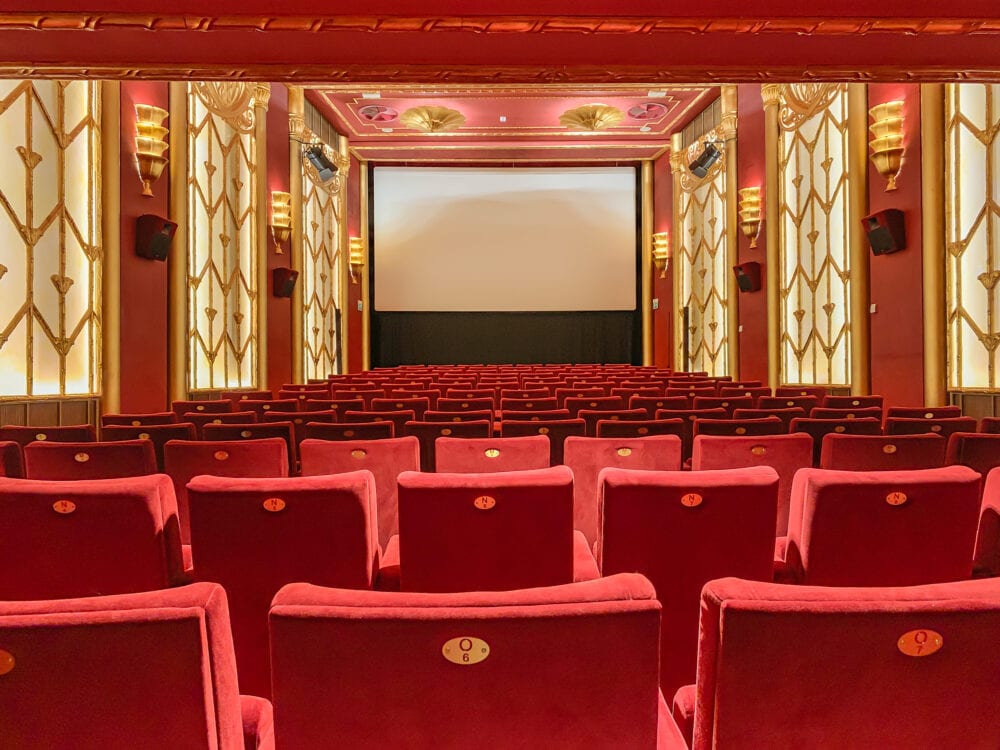 OUTDOOR ADVENTURES
Of course, there's always time to relax in a beach cabana in Rimini. But if you're looking for something more active, here's what we recommend.
Sailing – One of our most memorable meals in Rimini was on a boat! The Adriatic Sea is known for big sailing excursions that go up the Italian coast, over to Croatia, and even down to Greece. So if you ever have the opportunity to go sailing in Rimini, take it! Thankfully, you don't need to go on a regatta, just book a private sunset dinner cruise for a delicious luxury experience that surprisingly won't break the bank.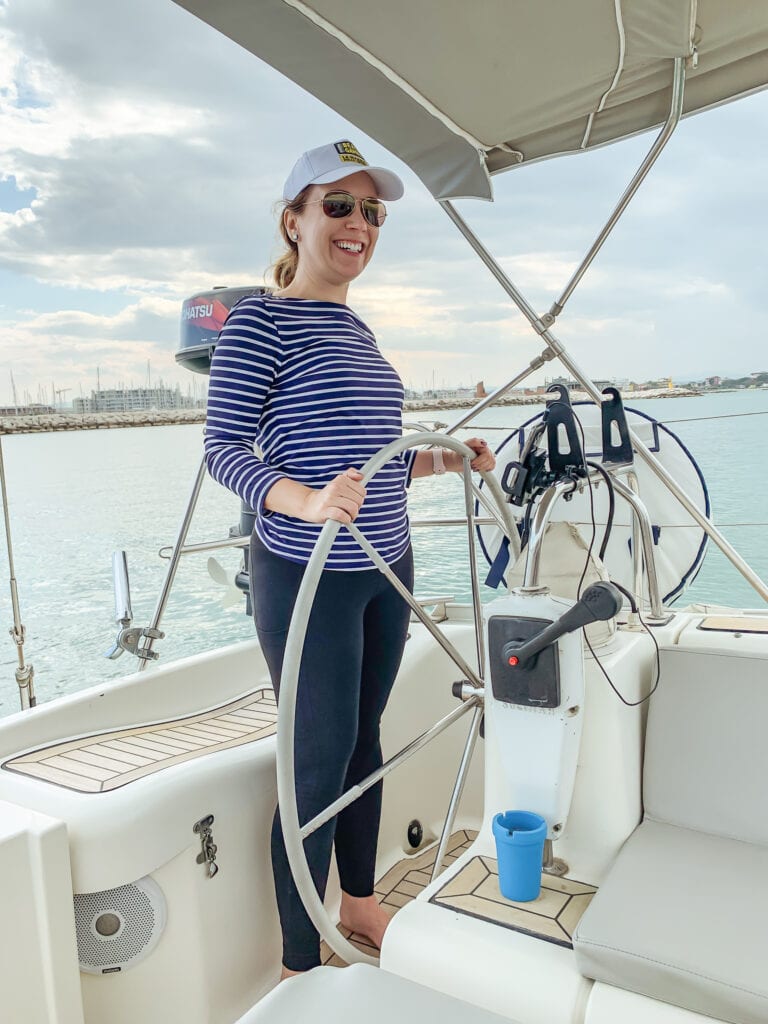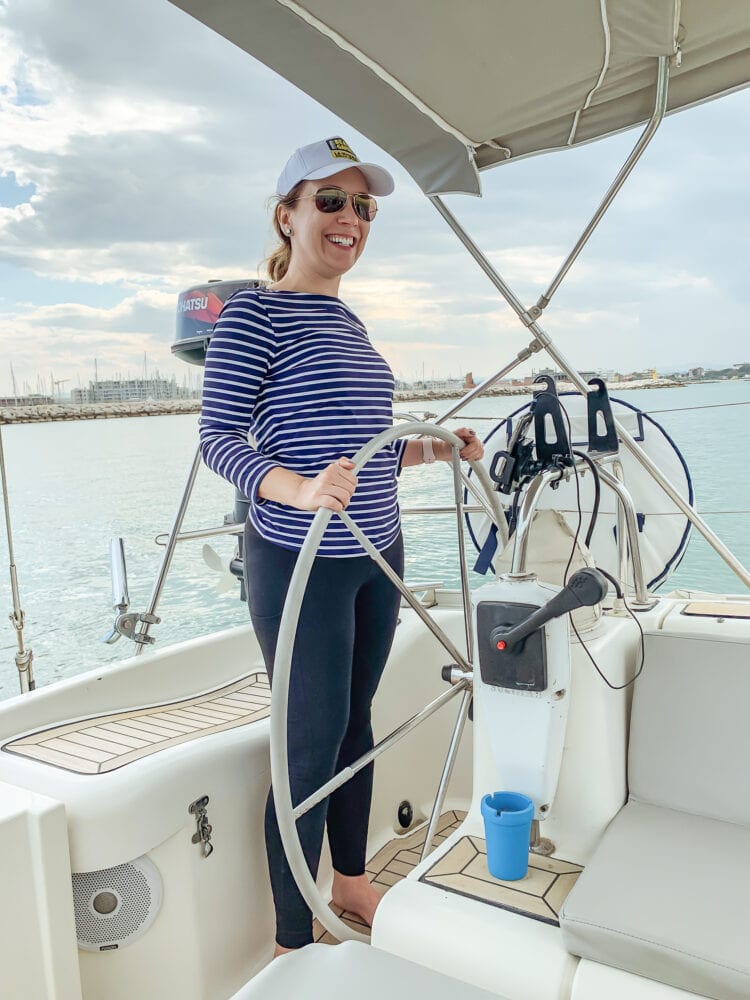 Cycling – Depending on your comfort level, Rimini has everything from cute beach cruisers to slim road bike and even hard core mountain biking. Zip easily around the city on two wheels along their numerous bike paths, or spend a day out in the foothills on a mountain bike to visit nearby villages. A quick ride through Borgo San Giuliano was definitely more my speed. But there's definitely rides for the more adventurous too! Check out biketourrimini.it for different types of rentals and guided tours.
"Life is a combination of magic and pasta." – Federico Fellini
What's The Food Like?
Of course you know I have great recommendations for restaurants. So this little section is for all my traveling foodies that can't wait to dive into some delicious Italian cuisine.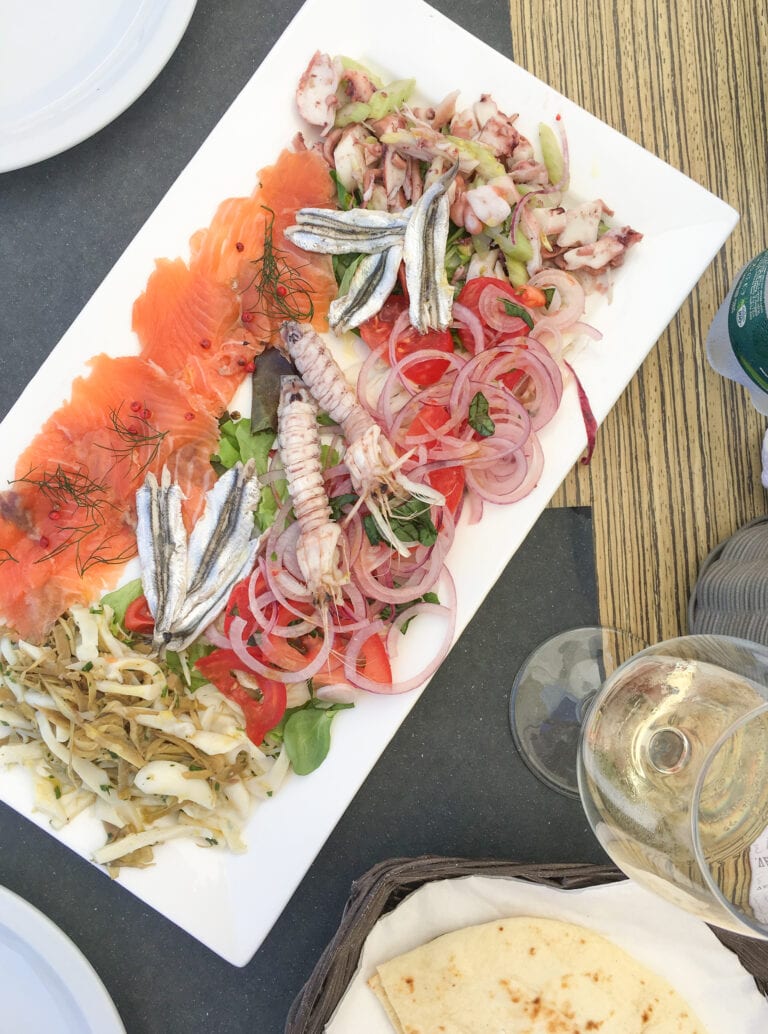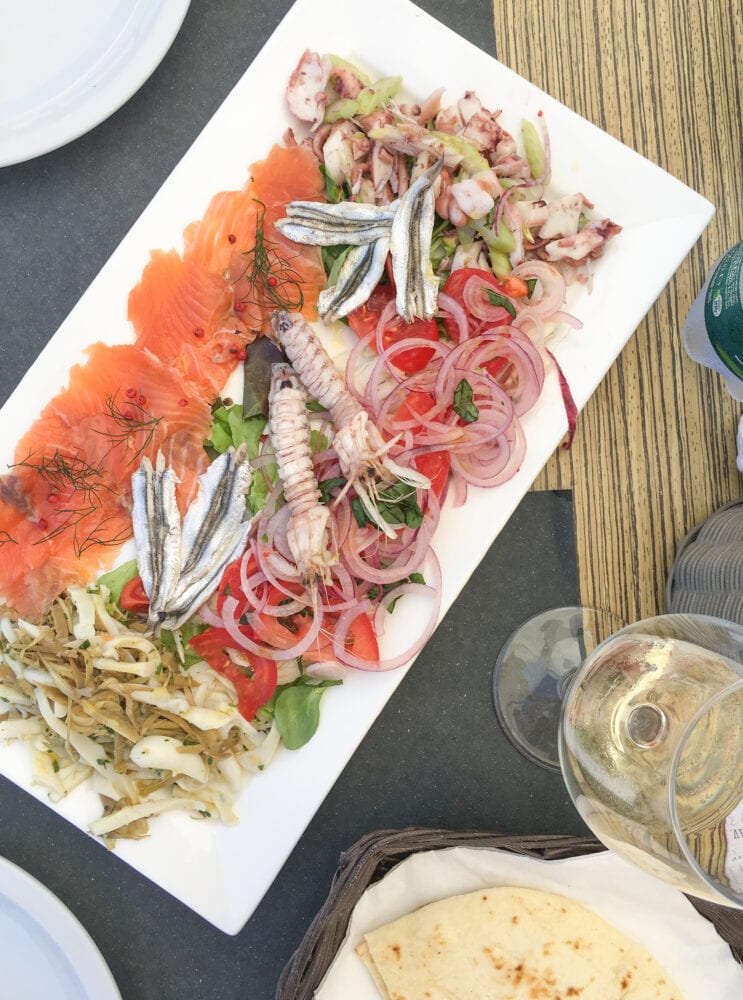 Rimini is known for great seafood, so you'll find menus with fresh cuttlefish, grilled octopus, clams and sardines. The typical bread for the area is a flatbread called piadina and can be found served as a sandwich or with a soft squacquerone cheese.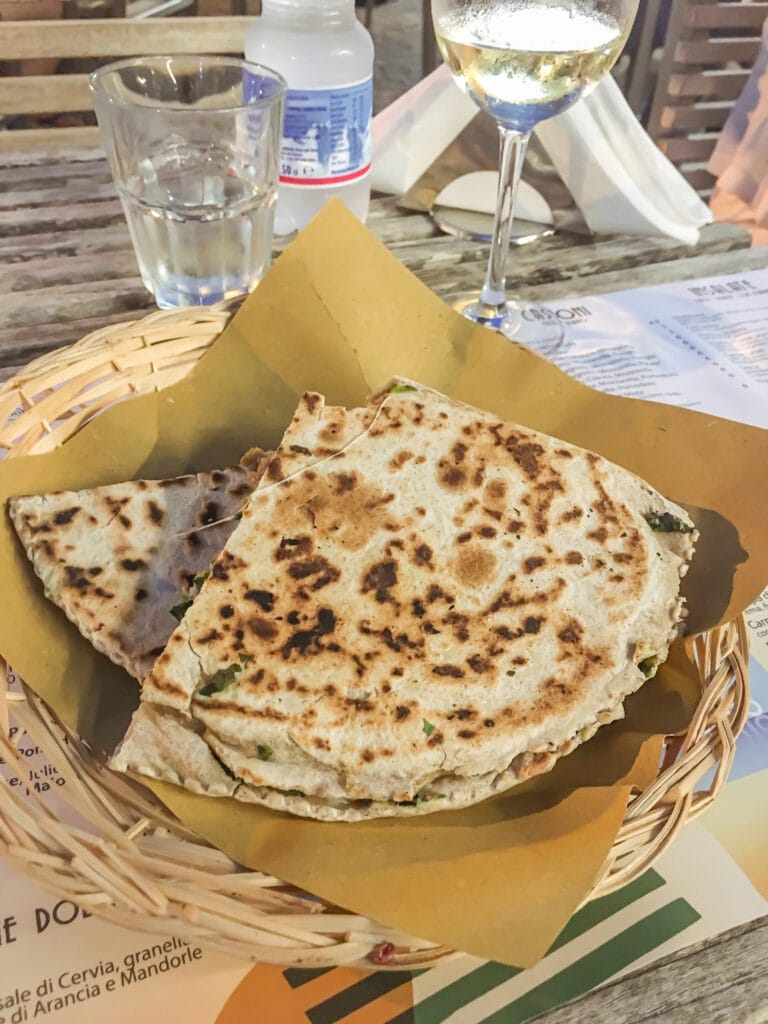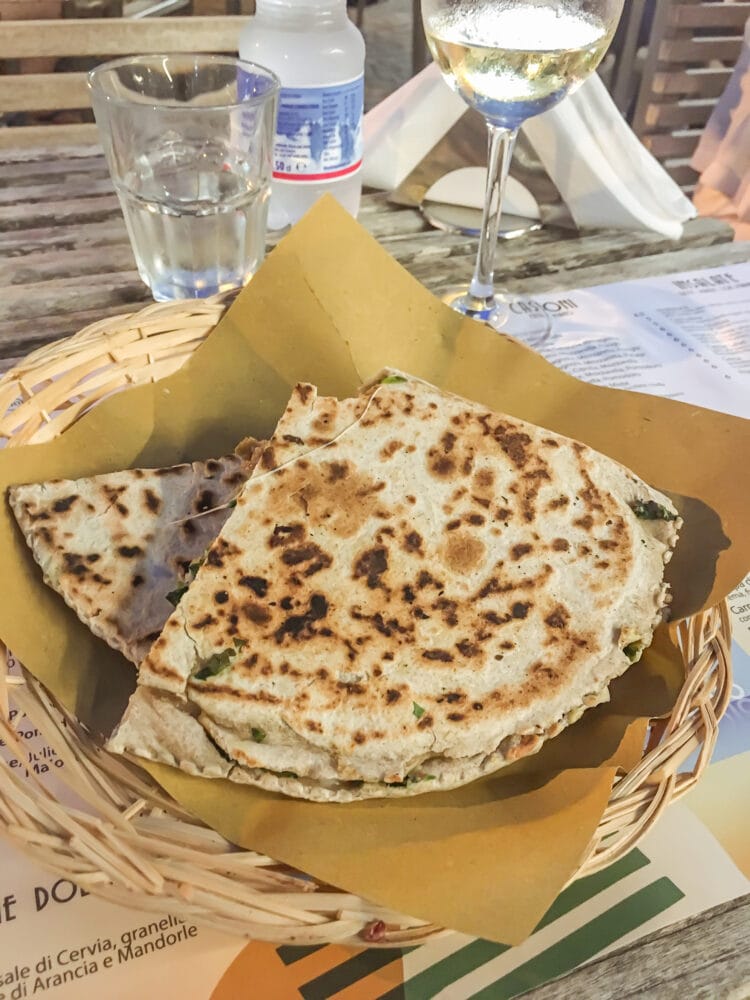 Where To Eat In Rimini
La Piadina del Porto – You'll find Piadina all throughout Rimini since it is a regional staple. And Italians in Rimini will tell you they make the best piadina! Choose one of the traditional styles such as piadina con prosciutto, which is simply piadina with ham. Or try a piadina con rucola e stracchino which is a vegetarian style with arugula and soft cheese. Piadina is typically made with lard, but you can also order it made with olive oil. Website: piadinadelportomcm.it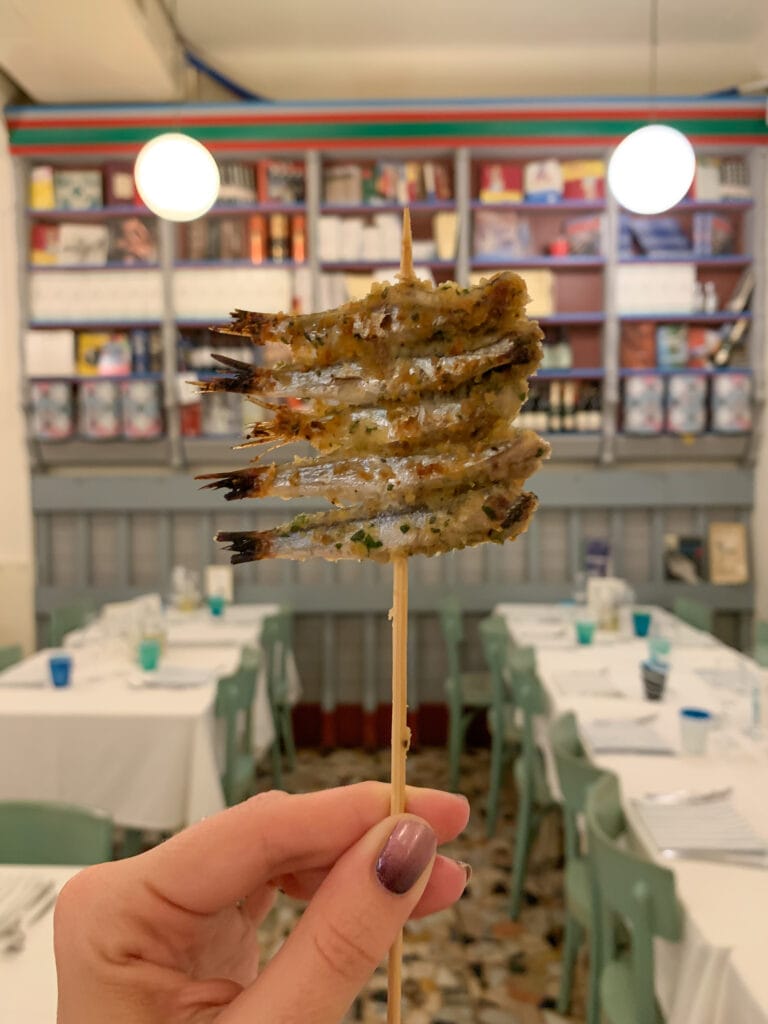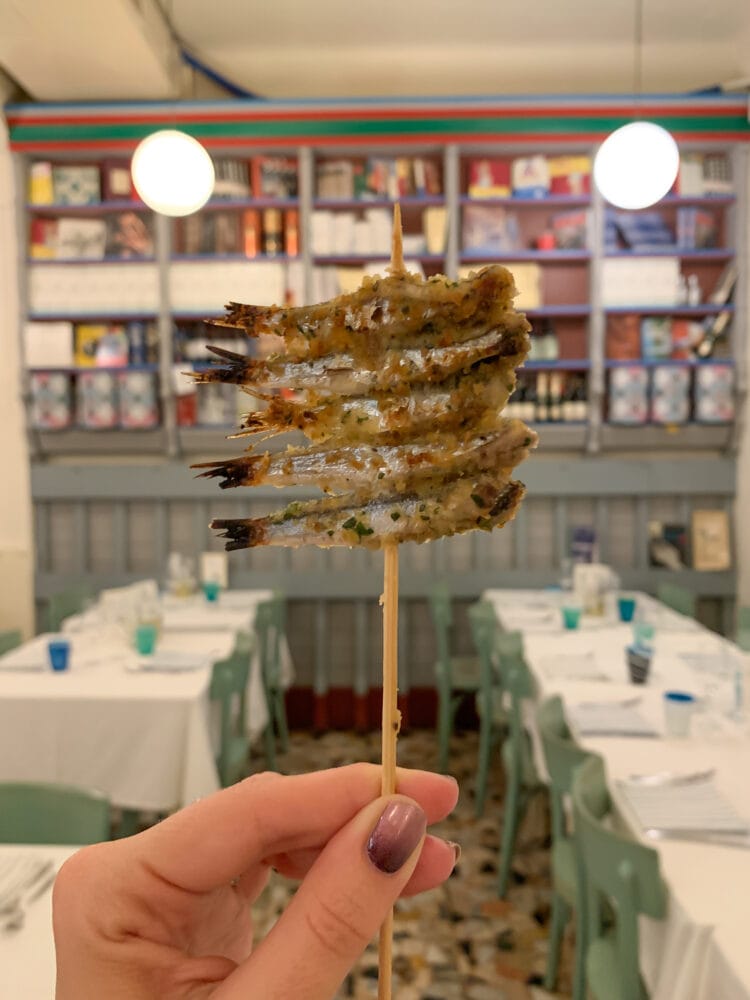 Trattoria La Marianna – For fresh delicious seafood right next to the historic fishing village of Borgo San Giuliano, make reservations at La Marianna for dinner, or pop in for lunch. Website: trattorialamarianna.it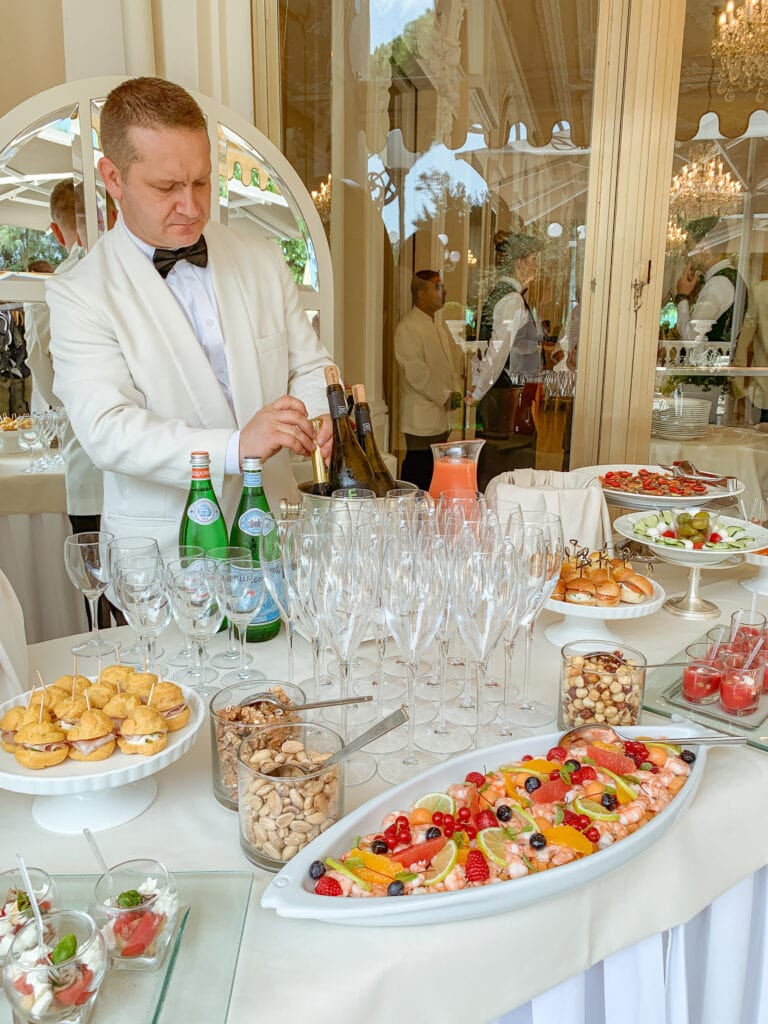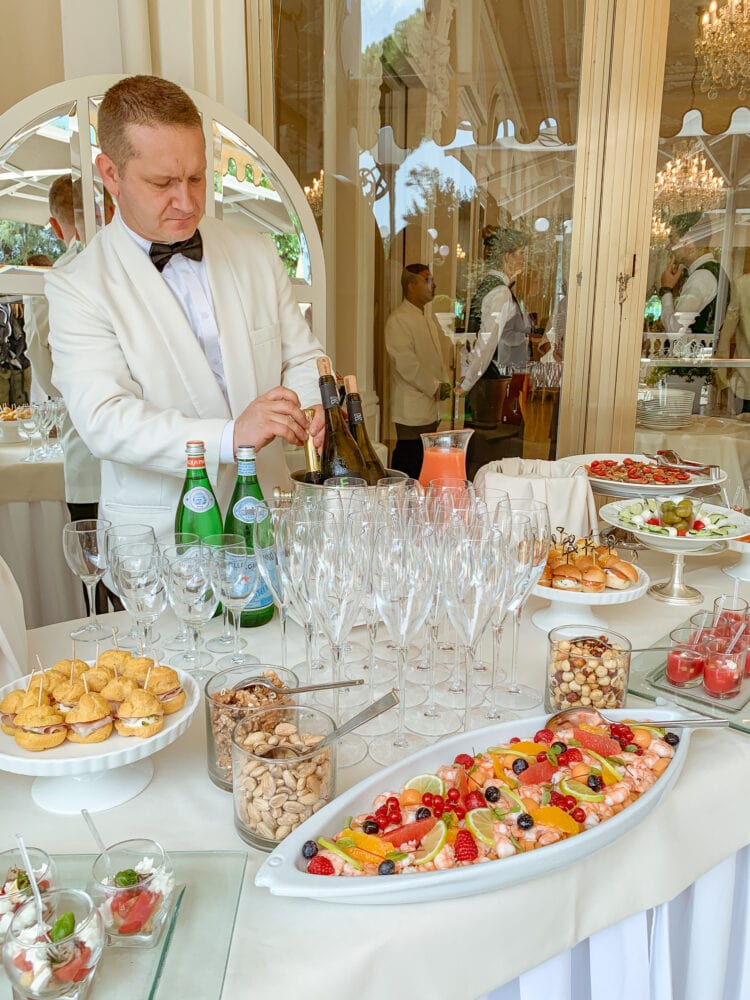 La Dolce Vita Restaurant – Fine Italian cuisine out on the terrace by the beach? The sweet life, indeed! Located at the Grand Hotel Rimini, La Dolce Vita's menu is exquisite, but not too fussy. Organic ingredients are sourced from the Batani Farm and every single bite is delicious. Plus, the atmosphere will have you feeling like you're a celebrity in a Fellini movie.
Where To Stay In Rimini
Grand Hotel Rimini – For an elegant 5-star luxury hotel right on the beach, take a look at the Grand Hotel Rimini. This historic hotel is full of grandeur and charm with wood parquet floors and glittering chandeliers. The Grand Hotel Rimini has even appeared in one of Fellini's films.
Web: grandhotelrimini.com
Address: Parco Federico Fellini 47921, 47921 Rimini RN, Italy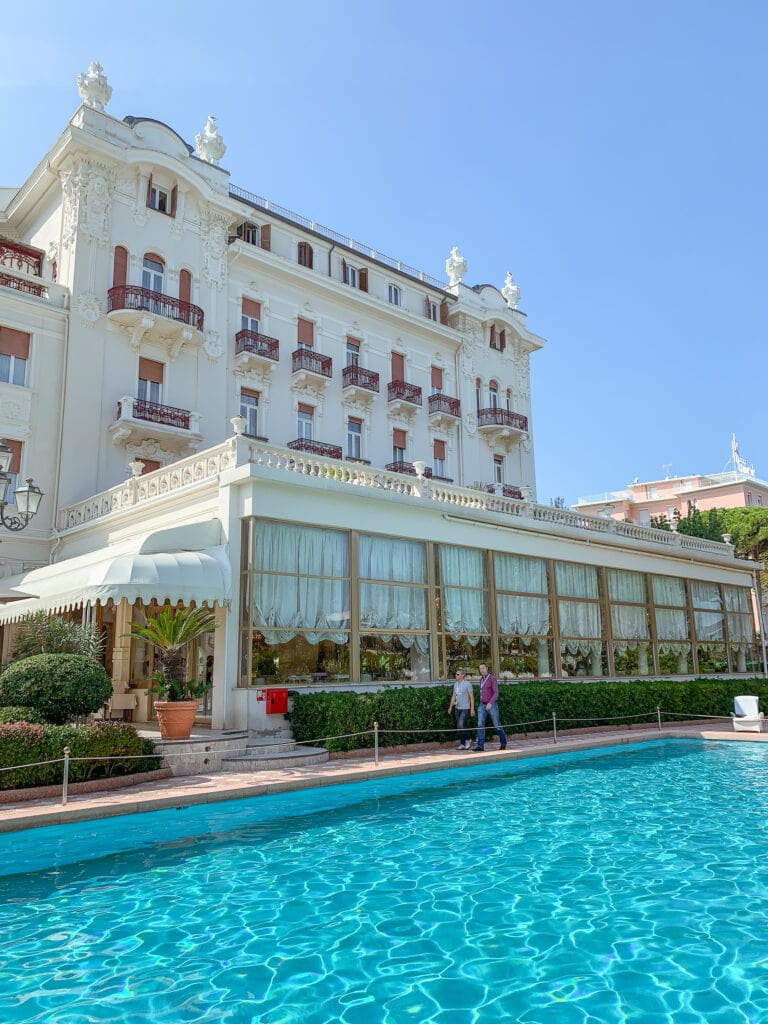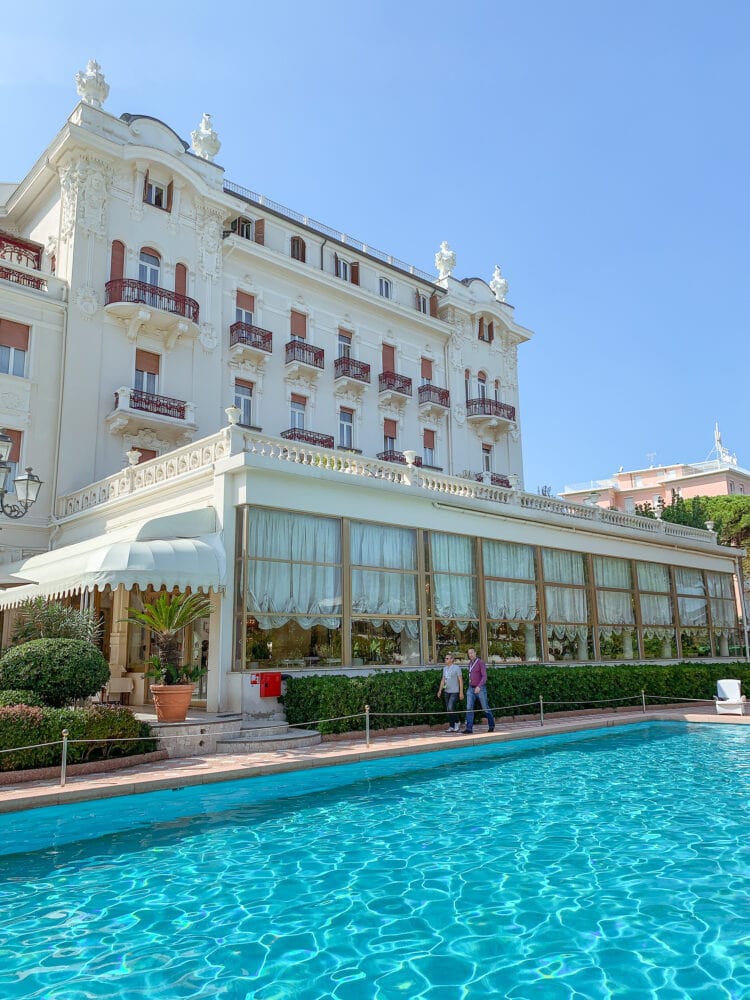 Hotel Villa Adriatica – For a beautiful stay that's close to the beach, but a little lighter on the budget, check out Hotel Villa Adriatica. The entrance …. Italian Riviera, while the pool and restaurant are deliciously modern. It's a great location for walking up and down _____ street for shopping and dining too.
Web: villaadriatica.it
Address: Viale Amerigo Vespucci, 3, 47921 Rimini RN, Italy
Rimini Hotel Duomo – This hotel is quirky, modern, and budget friendly. The breakfast is amazing and the location is perfect for waking up right in the center of historic Rimini.
Web: duomohotel.com
Address: Via Giordano Bruno, 28, 47921 Rimini RN, Italy
What's Nearby
Like I mentioned above, there's a lot of other great places to visit near Rimini. So you could stay here at the beach and then take little day trips to other places nearby. Here's what we recommend:
San Marino – The Republic of San Marino, one of the smallest countries in the world, sits high upon Monte Titano and is visible from Rimini. You can take a tourist bus from the train station in Rimini for a day trip up to visit San Marino. Bus ticket's are available at Rimini's tourism office right outside the train station. Your passport isn't required to visit this little country, definitely bring it so you can get commemorative passport stamp at San Marino's tourism office.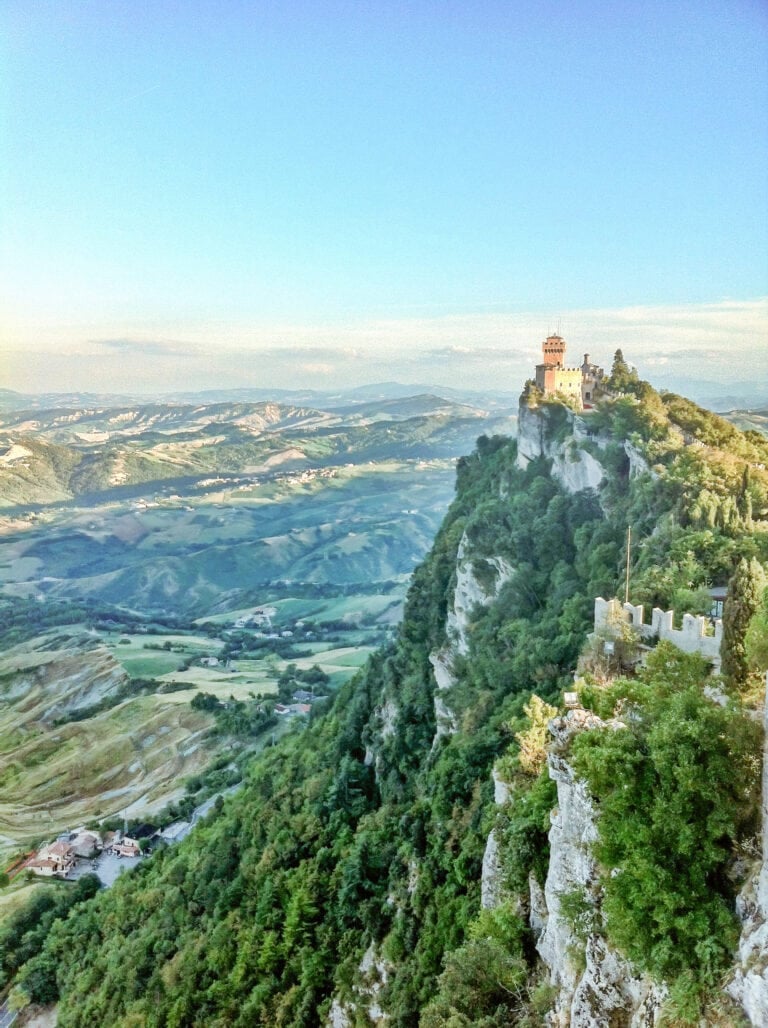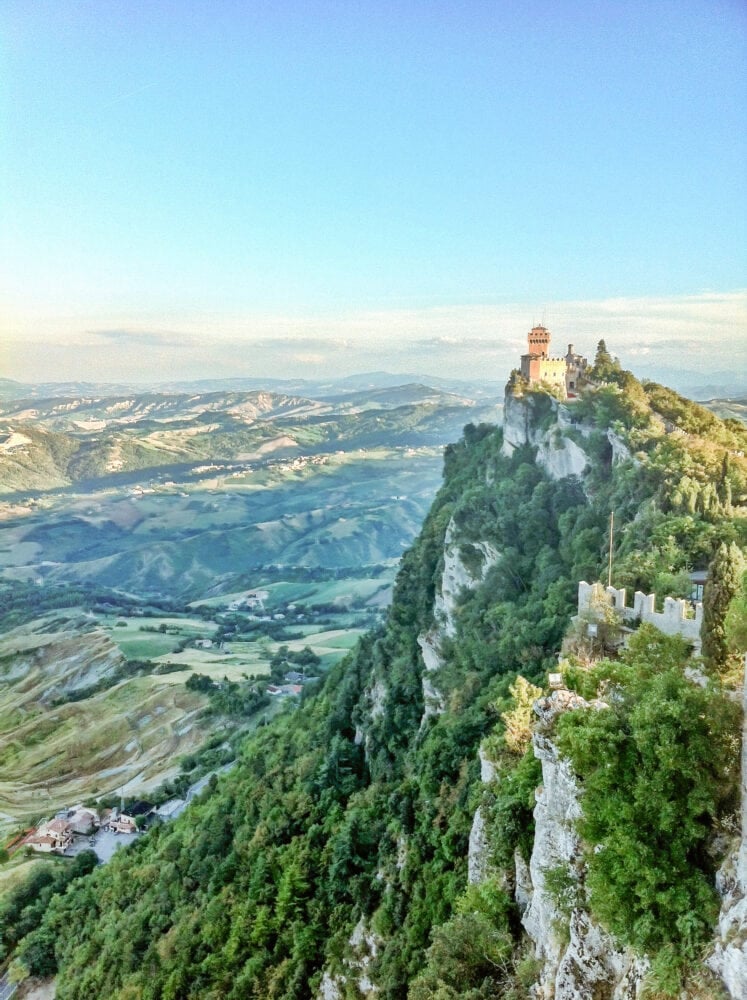 Forlimpoli and Casa Artusi – If food is your thing (I mean, who doesn't love Italian food), then definitely plan a visit to nearby Forlimpoli to go to the cooking school and museum of Casa Artusi. Named after Pellegrino Artusi, the first man to put together a unified Italian cookbook, Casa Artusi offers one of the most fun pasta-making classes you'll ever take.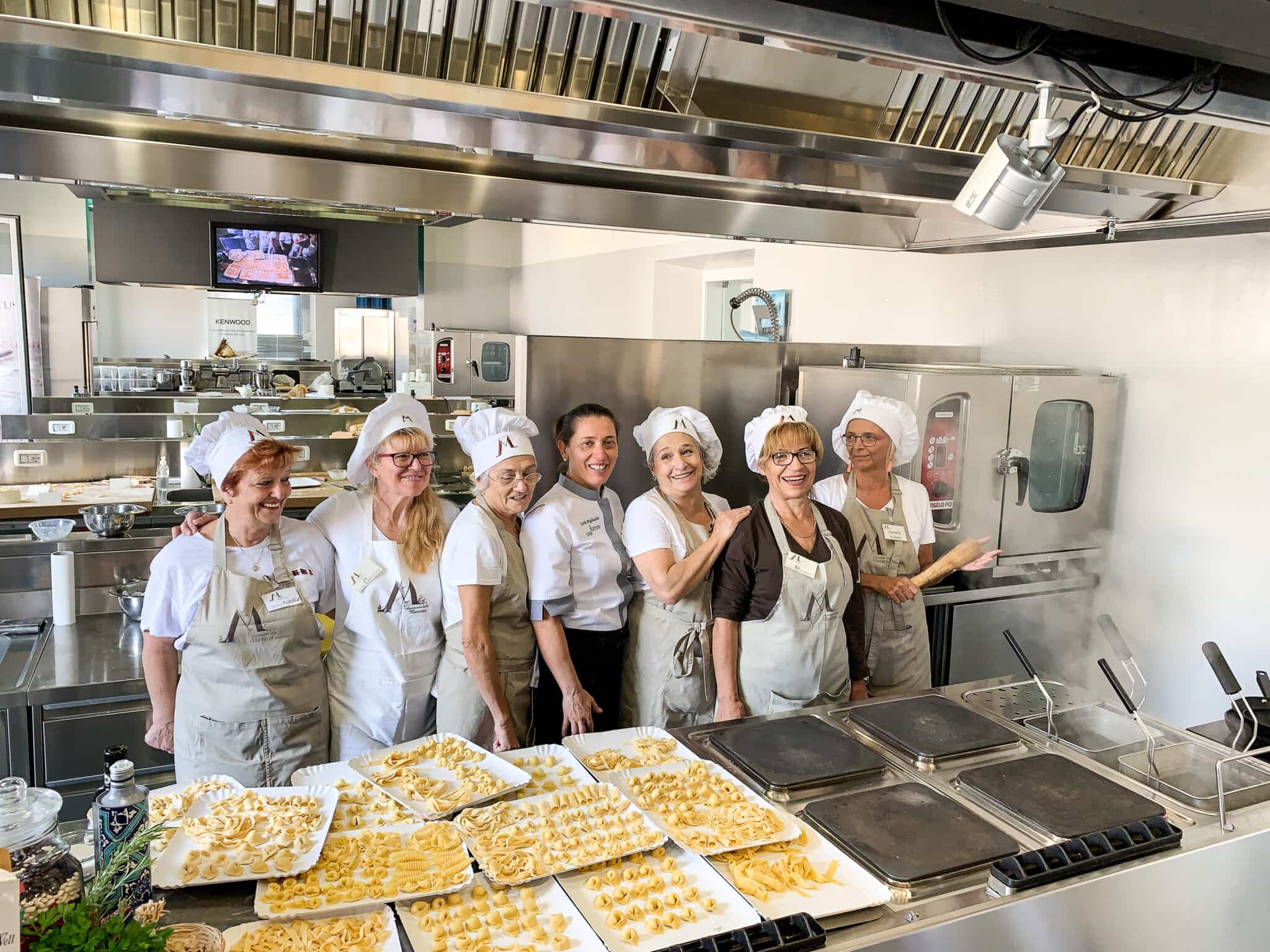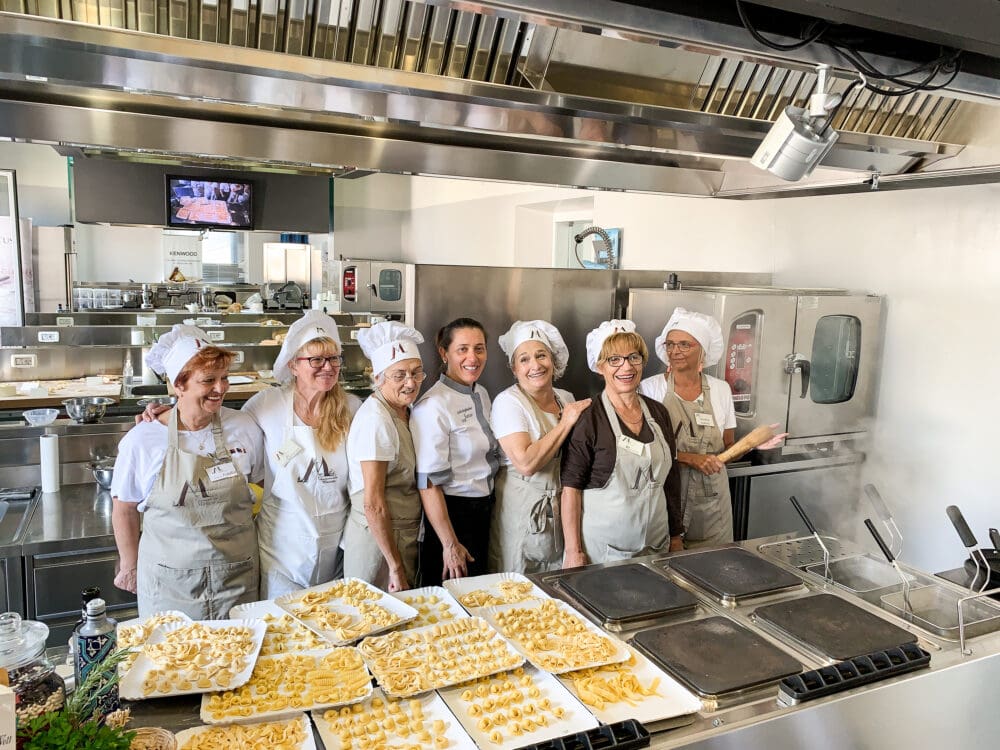 Tenuta Mara Winery – Located just outside of Rimini along the rolling green foothills of San Clemente is Tenuta Winery. Not only is the landscape here breathtakingly beautiful, but you'll be wowed by the wine and artwork as well. It's a multi-sensory experience where Mozart and Gregorian Chants are played throughout the vineyard to encourage the best growth from the vines. And the barrel aging room is a modern work of art.