As a food and travel writer, I'm often asked for tips on how I discover local markets or find the best restaurant recommendations when we travel.  It's actually quite fun to hunt for these hidden gems in new cities and I have seven tips for you to get the most delicious experience during your next trip.  They're what I do to find the "local" food scene wherever I am in the world.
Food And Travel:  7 Travel Tips For The Epicurious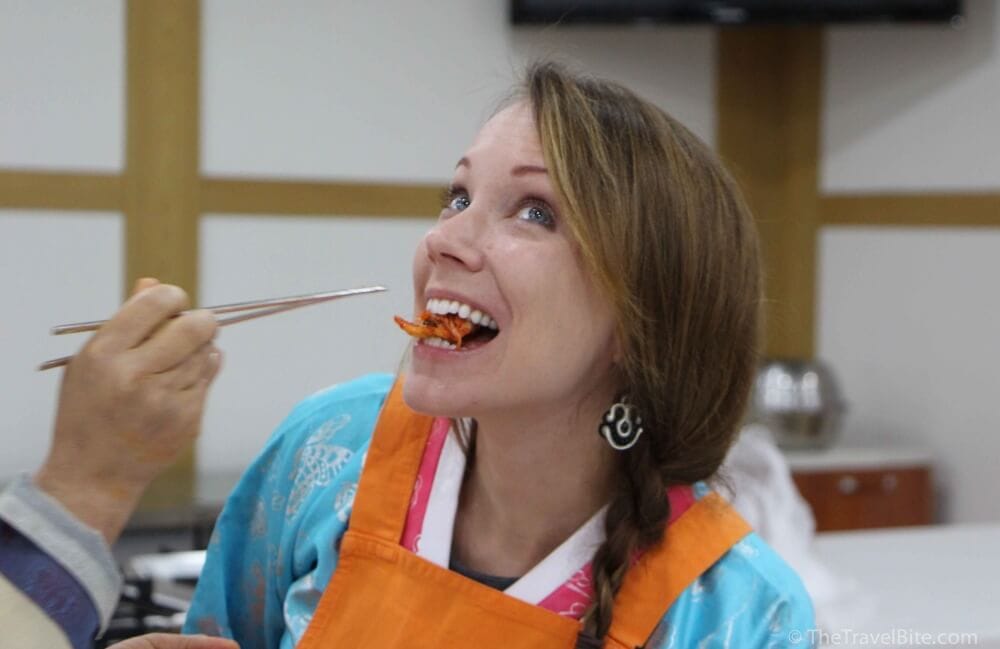 1 – Ask For Recommendations On Social Media
Whenever I'm planning a trip for a food and travel story, the first thing I do is search on Google for food bloggers in the city or area we're visiting to see what what hot new places they recommend on their blog or Instagram.  It's a great way to find out about new restaurants that may have not yet been reviewed. I'll also throw out a few questions on social media to ask for specific recommendations. If you do this, just add the city name as a hashtag, such as #Orlando or #Miami, so that your query can be discovered by residents or visitors in that city. Two other great hashtags to use when asking travel or food related questions on Twitter is #FoodieChats and #TTOT (Travel Talk On Twitter).
Instagram is another great place to discover what's trending. Again, you'd just search for the city name and scroll through to see the locals who are influential in that city and what catches your eye.  An example would be Zak The Baker's Instagram in Miami.  His Instagram showed a line of people waiting outside in the rain for his fresh baked breads and treats. When people are lined up out the door, you know it's going to be good!
Google Maps has also been a helpful tool in finding great restaurants. Using the app on your phone, narrow your search by selecting 4.5 stars and above. Then, scroll through the reviews to see if the majority are from local residents.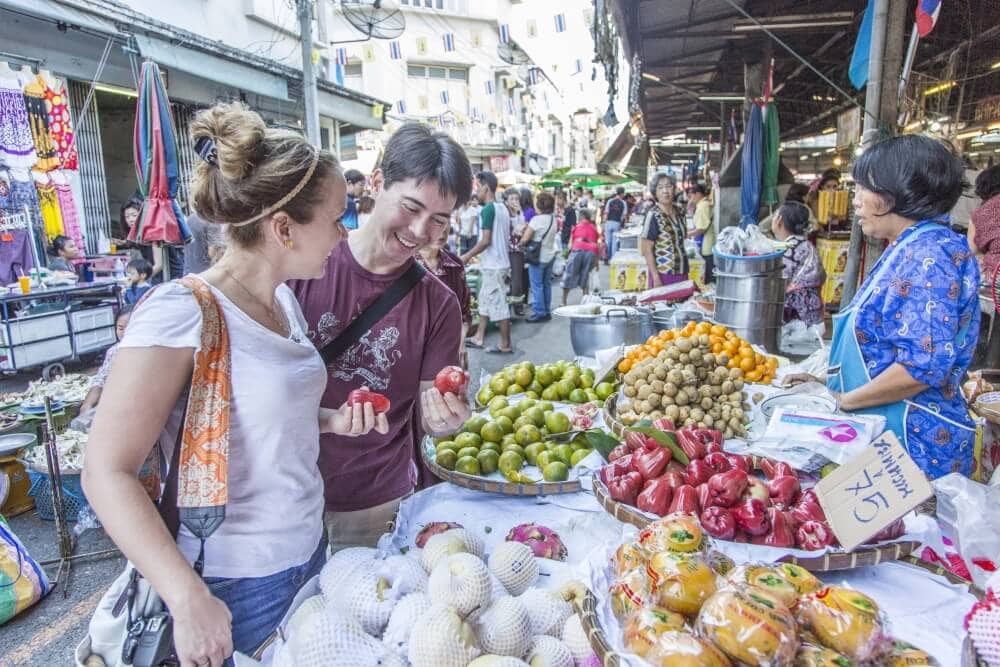 2 – Explore Food Markets
Find the area's farmers market or local artisan market. Not only will you get a chance to taste some amazing foods, but you'll also be putting yourself right smack dab in the middle where that city's foodies hang out. Talk to the vendors and other patrons to discover their recommendations for restaurants and hidden gems.  You'll likely get tips about places that haven't even been open long enough to hit print magazines yet.
Don't know where to start?  Just google the city's name and "food market" to see what pops up. Every city, no matter how small, typically has a farmers market.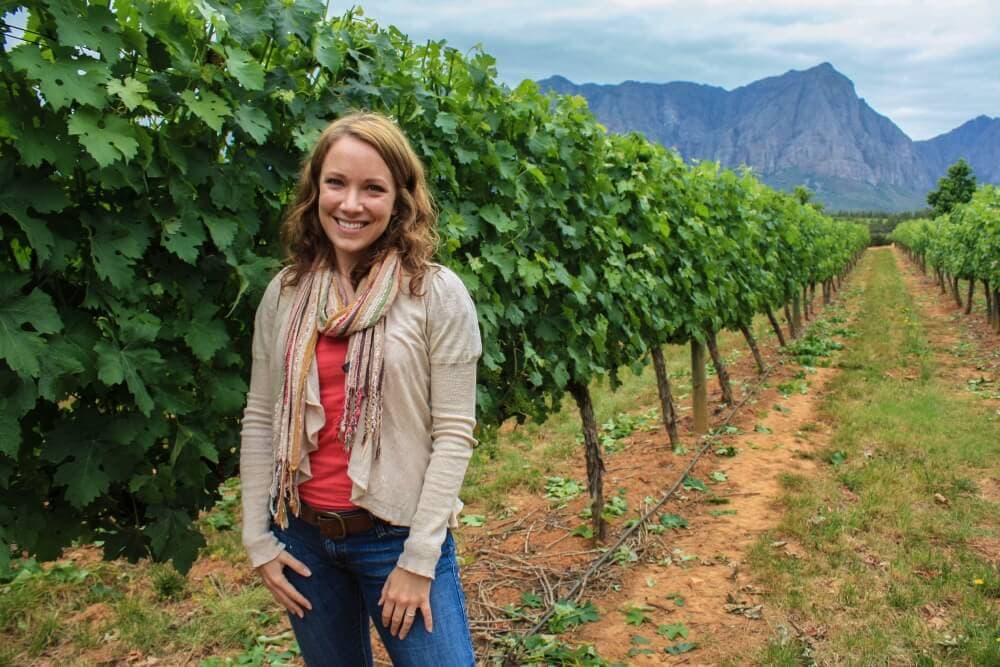 3 – Visit A Farm
If you really want to get a feel for the land and see where food comes from, look and see if there are any farms open to visitors where you are traveling. I think you'd be surprised that even in metropolitan places and big cities like Miami, there's always a farm nearby to visit.  Take a look at Worldwide Opportunities on Organic Farms (WWOOF-USA), whose primary mission is to connect visitors with organic farmers.  You can also skip staying at a hotel and look for a farm vacation or farm stay where you can wake up to the sound of roosters and get a bed and breakfast sort of experience while staying out on a farm. (The photo above was taken during a visit to Delaire Graff Wine Estate in South Africa)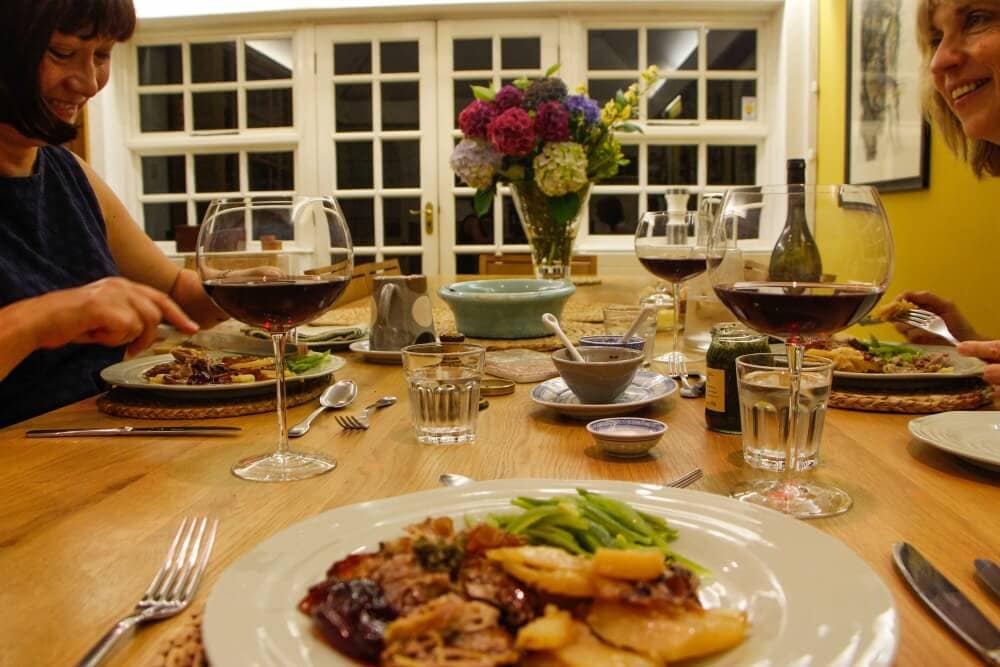 4 – Dine With A Local
Eating with locals is a growing trend and there's now even several websites dedicated to pairing travelers with locals for the sake of eating dinner in their home.  Sites like EatWith.com are great places to check and see if there is a pop-up dinner or home meal available in the city you're visiting.  (The photo above is an "eat with a local" experience I did in Cardiff with the tour group Loving Welsh Food.)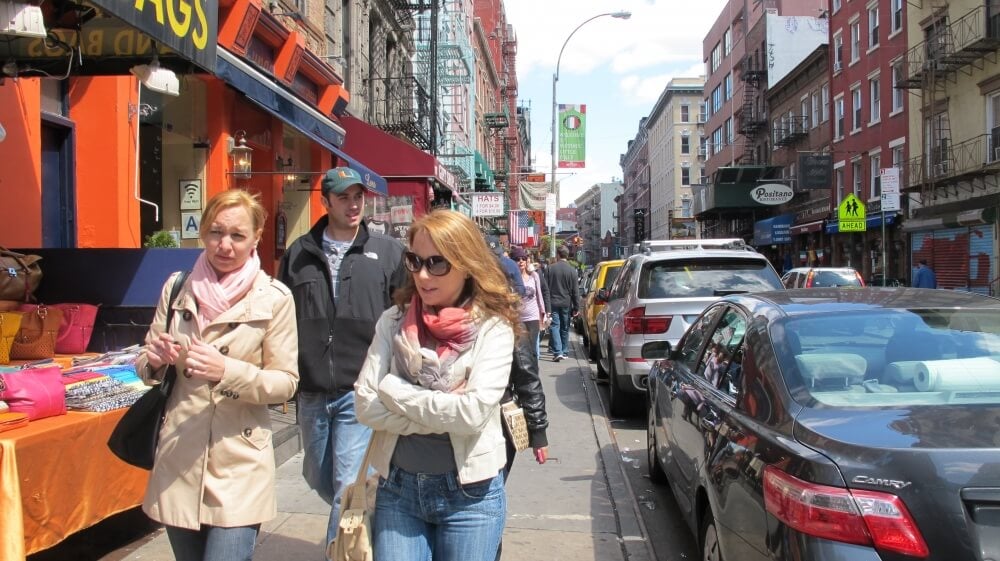 5 – Sign Up For An Organized Food Tour
It seems there is a food tour available in every major city these days and it's a great way to get a taste of all of the best places around the city while also taking a walking tour and learning a bit of history and trivia too. For this, I'd just google "food tour + city name" to find one that has great reviews in your area.  I've taken tons of food tours in cities like NYC, Charlotte, Rome, and even my hometown of Orlando.  I'm always amazed at what I learn about the history of the area too.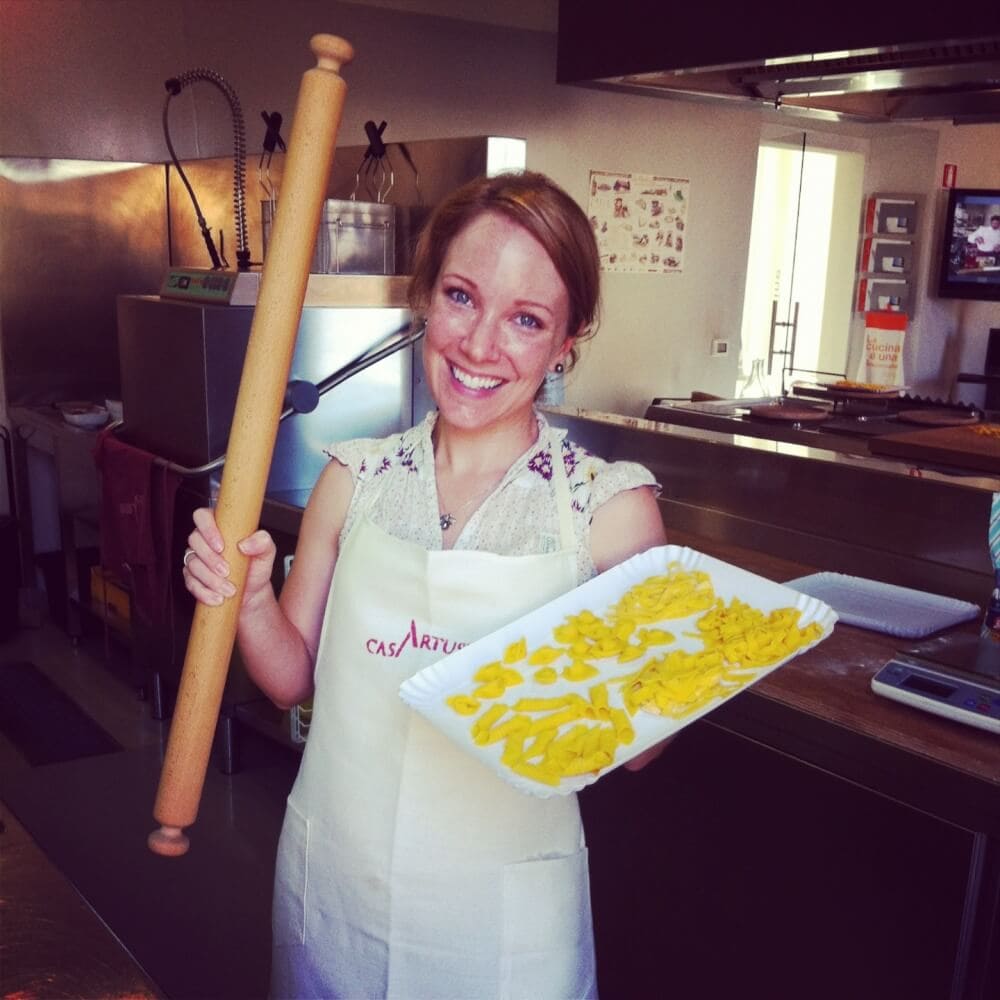 6 – Take A Cooking Class
If you really want to enhance your trip with a unique food and travel experience, one really fun way to learn about new foods is to sign up for a cooking class. From learning to make pasta in Italy, to something as basic as honing knife skills, and even stepping out of your comfort zone and learning vegetarian or vegan recipes. It seems you can find cooking classes offered in every major city.  This is definitely a trend that has evolved from the popularity of television cooking shows and it's something that I hope is here to stay. (Photo above taken at Casa Artusi in Italy.)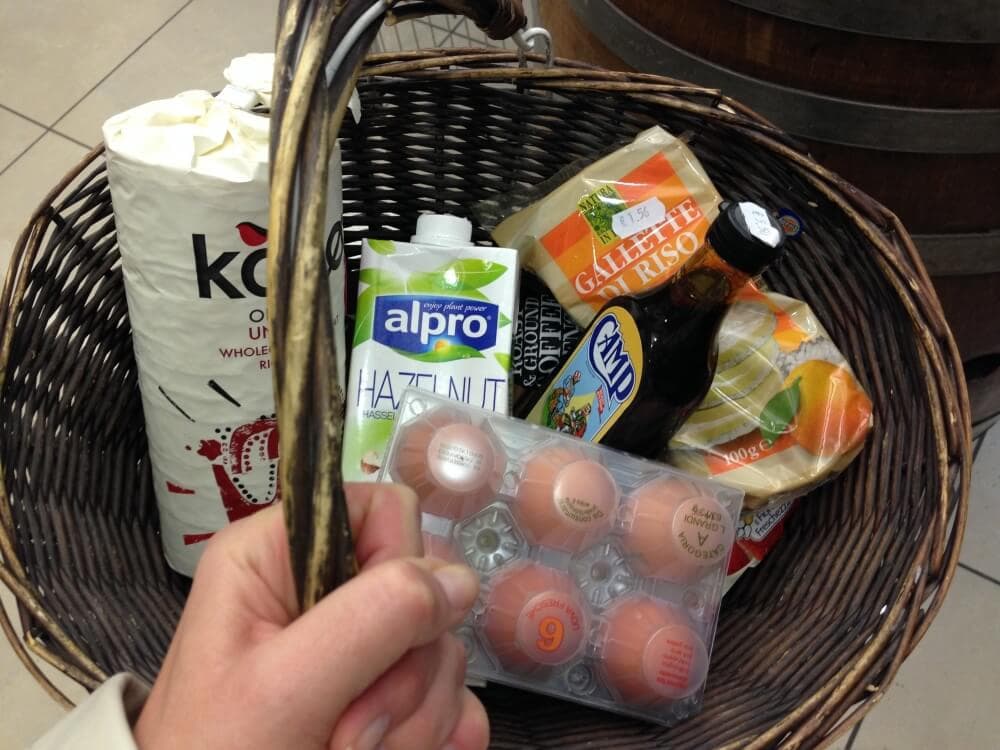 7 – Go Grocery Shopping
One of the most fun things to do in any new city, especially internationally, is  grocery shopping. And not just at the farmers markets or street vendors, but also the big-box stores (and sometimes little box stores) where the local residents go. If you're staying in a place with a kitchen, pick up some provisions to cook one night for dinner. Grocery stores and farmer's markets are also a great place to scout out souvenirs (like chocolates, coffee, and jams!) to bring back for your food-loving friends at home.
Do you love food and travel?  What's your favorite food related travel experience?
Save these travel tips for later – Pin it! 🙂