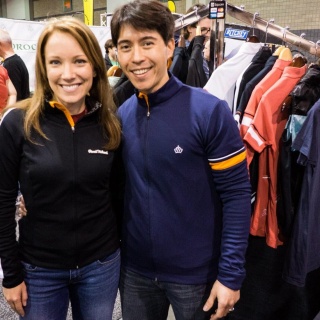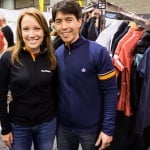 It is entirely possible for a husband and wife to find balance and spend equal time doing things they both love during a trip. Pete and I just got back from a weekend road trip to Charlotte to indulge two of our interests … bikes and food.
The drive quickly started out fun, with Pete cracking jokes about the funny things you'll find at a rest stop, such as giant pink elephants.
Or posing with giant cups of soda. I posted this one on our Facebook page and the best caption was by Mark Hersch, "Damn straight, this is 'Murica!" Ha!
Anyway, we finally made it up to Charlotte and checked in with our AirBnB host, Sarah, just north of the city. This was our first time using AirBnB and I was really impressed! The house was beautiful, the room was cozy, and Sarah made us the best damn blueberry pancakes we've ever had. Ever. Like, I'm not exaggerating. And you know I used to be in the B&B business. Plus, we had so much in common that it felt like we were staying at a friend's house for the weekend. 5 stars in my book.
Our entire reason for going was Pete's obsession with all things cycling, and the North American Handmade Bike Show was held on the east coast this year so we had to go. We got to the show early on Saturday and Pete covered every inch of that show room looking at bikes and meeting some of his favorite bike makers. While I'm not nearly into bikes as much as he is, I definitely have an appreciation for the craftsmanship at this show. This ain't no room full of Huffy's, that's for sure!
Out of all the bikes there, I think the take-apart tandem was my favorite. You see, it was a tandem that could be taken apart and reconfigured to ride as a single bike or broken down easily to pack for travel. Perfect for us! And it was orange (my favorite color). Another bike that caught our eye is the Brompton. Pete's had his eye on it for quite some time now as it's supposed to fold up small enough to fit in an overhead compartment on a plane. (We'll just have to see about that.) But they do come in orange, which I'm excited about! Now you know where my priorities lie when it comes to choosing a bicycle. Pete will have to elaborate on more of the details in another post or in the comments below.
The next day was all about food, food, FOOD! Of course we had to have some famous North Carolina BBQ and southern fixin's, but I was curious about what else Charlotte had to offer so we squeezed in a food tour before heading home. Turns out, it's really true that #CharlottesGotALot.
Our food tour unintentionally kept the weekend theme of cycling with it's name: Tour de Food. Our instructions were to meet at the 7th Street Market in downtown Charlotte, so we got there a little early to check things out, and man were we ever glad that we did! In the middle of this local artisan food market is a little coffee bar called More Than Coffee. I heard about this little place from our AirBnB host, Sarah, and it lived up to it's rave reviews.
Pete said it was the best caramel latte he's ever had, and I concur. Curious about how they made it so rich and fabulous without being too sweet, I asked where they sourced their caramel. To which the barista replied, "we make it from scratch every morning." Well, there you go.
The Tour de Food started inside 7th Street Market with a wine and cheese pairing by The Sorting Table and Orrmon's Cheese Shop. We tasted some awesome local goat cheese and Tupelo honey paired with a so-so sparkling wine that I think would have tasted better had we not just downed two caramel lattes. Funny how much coffee can change your taste buds.
Next we walked over to Amelie's French Bakery which not only had some to-die-for salted caramel brownies, but some impressive clientele. These very brownies that we were eating happened to be President Obama's favorite when he was in Charlotte for the Democratic National Convention. He enjoyed them so much that he even has some sent to the White House now for special occasions. This brownie has also been voted "Best Dessert In Charlotte" and the pastries are delicacies you might recognize from the train and the Capitol scene from the movie Th Hunger Games. Funny thing is, the pastry chef thought they were just doing craft services for the crew. They didn't know they'd be the fancy pastries in the scene!
After sampling something sweet, we headed over to Valhalla Pub for some savory sliders served with a lingonberry relish. Loved the atmosphere here! Felt all cozy inside sheltered from the rain.
Next we headed over to Mimosa Grill for the tour's "Main Course." The chef brought out Pecan crusted North Carolina trout with peach chutney and honey lemon butter potatoes. Ommagawd was it good.
And as if we weren't so full that we were starting a jelly roll down the street, our 5th stop was for pizza at Libretto's. With two generous sized NYC-style pies for our small party of seven, I could tell we'd be taking some doggie bags for the ride home.
And saving the best for last, we stopped for some "Soul Rolls" and cornbread at Mert's Heart & Soul. The cornbread is made from scratch with stone ground flour. They even have an old fashioned butter churn. The Soul Rolls are meal-sized egg rolls filled with soul food including black-eyed peas, rice, and collard greens drizzled with a mustard sauce.
At this point … poke us with a fork, we're done. My must-go-back to favorites are Amelie's, Mimosa Grill, and Merts.
So, in just a little over two days we squeeze in over a 1,000 miles, 6 rest stops, 8 restaurants, god-knows-how-many-bikes, and some fun times deposited into our memory bank.
What a fun weekend!
-Rachelle
Disclosure: Our food tour with Tour de Food was sponsored, but all thoughts, opinions, and enthusiasm for food are our own.
Want to save these travel ideas? Pin it! 🙂