Most of my recipes have a fun travel story to go with them, but this one for crispy baked chicken wings from home and begins with a confession: I might be the only American that doesn't totally love football. If I have to pick a team to root for, I usually choose them based on if I like the color of their uniform (and that could change from week-to-week). But one time a year I'll actually sit down to watch a game and it's the Super Bowl. I don't know if it's because I find the ads hilariously entertaining, or if it's just because I enjoy gathering with friends and catching up over snacky foods. But the "big game" (at least of food) is somewhat of an annual tradition despite my lack of interest in football.
This recipe was inspired by two things. First – my resolution to make healthier choices in the new year, thus making baked wings instead of fried. And second – my resolution to save moolah. I had a big stack of SunChips coupons given to me in a goodie bag at CFLBlog Con. While my husband could devour a bag of Sunchips and hummus in no time, I thought I might try using them instead of bland breadcrumbs to make some wings. After some tinkering and a few trials, I've got a delicious recipe for crispy Parmesan baked wings with just a hint of spicy tang.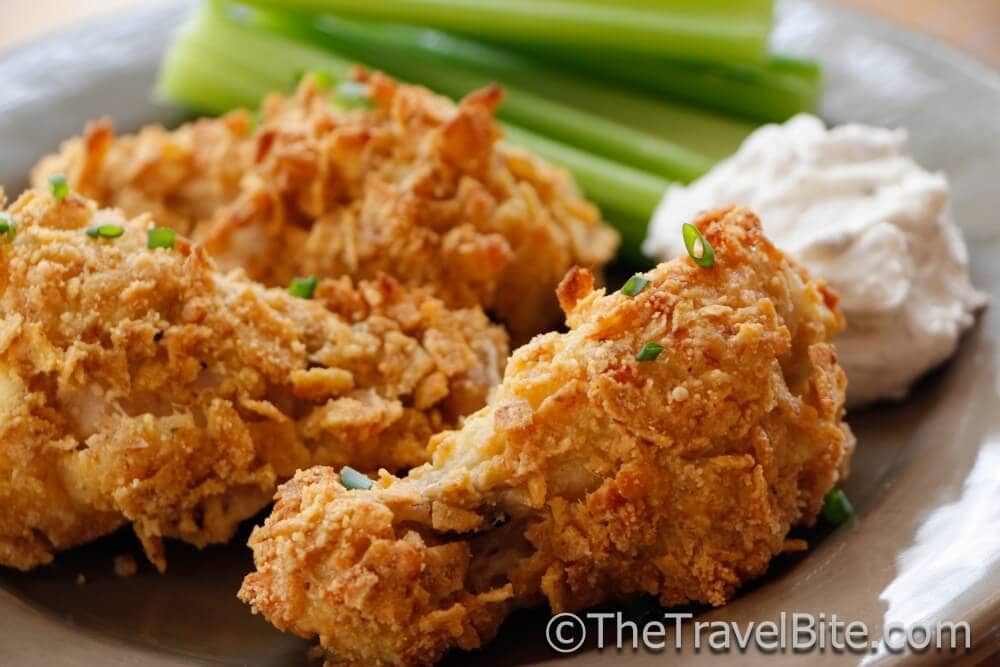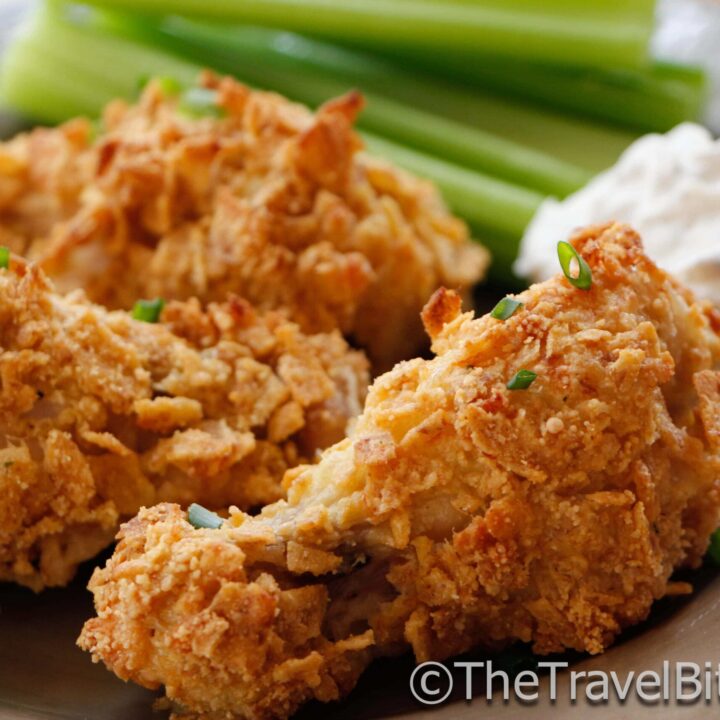 Crispy Parmesan Baked Wings
Ingredients
2 lbs chicken drumlettes
1 cup all purpose flour
3 cups French Onion Sunchips
1/2 cup shredded Parmesan cheese
3 tbsp Mild Green Tabasco
2 eggs
1 tbsp water
Salt & Pepper to taste
Instructions
Pre-heat oven to 400 degrees. Rinse the chicken and pat dry with a paper towel.
Add the Sunchips to a gallon-sized freezer bag and press out any excess air while sealing it. Crush the chips using a spatula until they're small and crumb-like. Next, add the Parmesan cheese to the bag, reseal and shake until well blended. Set aside.
Prepare three medium sized bowls to coat the chicken. In one bowl, add you flour, salt, and pepper.
In the second bowl, add eggs, green Tabasco, and water. Wisk together until well blended, as if you were making an omelet.
Pour the Sunchips/Parmesan mixture into the third bowl.
Dredge the chicken drumlettes in each bowl, first coating it with flour, then in the egg mixture, and finally the crushed Sunchips, and arrange the chicken on a broiler pan.
Reduce oven heat to 350 degrees and cook chicken for 40 minutes until brown and crispy. Serve with your favorite dipping sauce, veggies, and a side of Sunchips.
Want to save it for later? Pin it! 🙂