Charcuterie, snack boards, cheese boards, and even the hilarious "shark coochie" board; there are so many names for a plate filled with meats, cheeses, and other snacks for grazing. And now there's one more moniker to add: jarcuterie. It's like charcuterie, but in a jar. What started as a trend of individually sized portions by professional caterer, Noble Graze, on Instagram has taken social media by storm. We even created some for our very small Thanksgiving celebration in 2020 and had our photo picked up by Today.com, Pop Sugar, and Yahoo.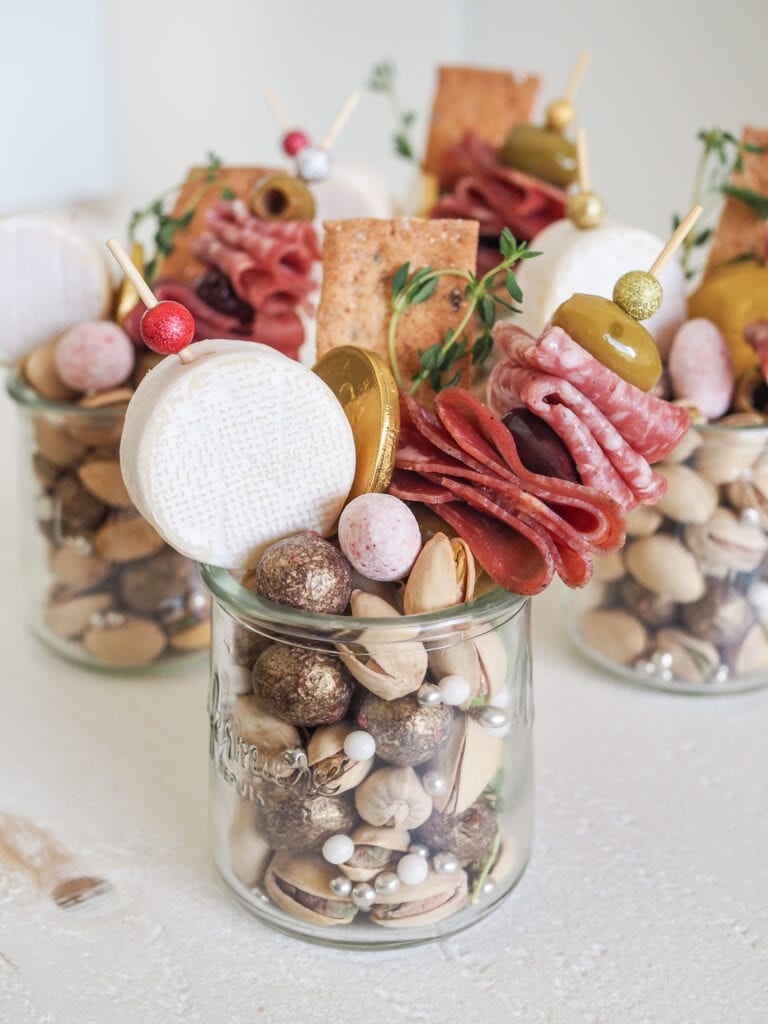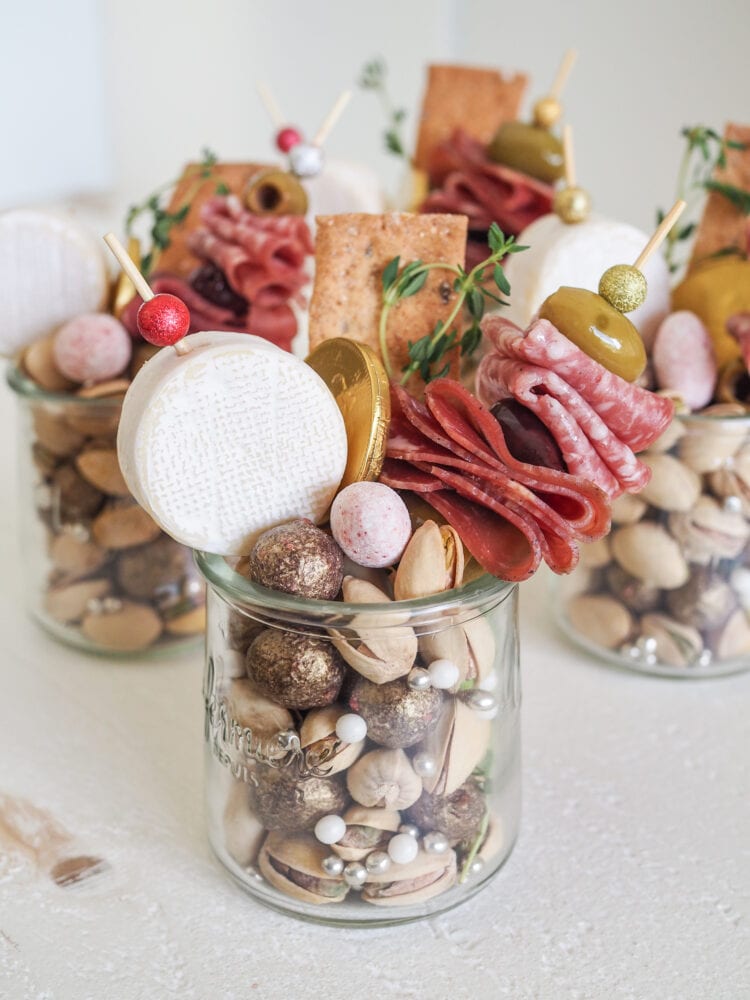 Love Cheese Boards? Wait Until You Try "Jarcuterie"
Think of jarcuterie like perfectly portioned, socially distanced snack food. And even when we're back to socializing in big groups again, I kinda like this trend of small individual servings. Especially with the general ickyness of shared, buffet style food. Ever seen someone lick their fingers and go back to the community cheese board? Ew, right?
In this post, we have a little bit of the history of charcuterie for you, as well as detailed step-by-step tips on how to make the best jarcuterie at home for your next gathering or movie night snacks.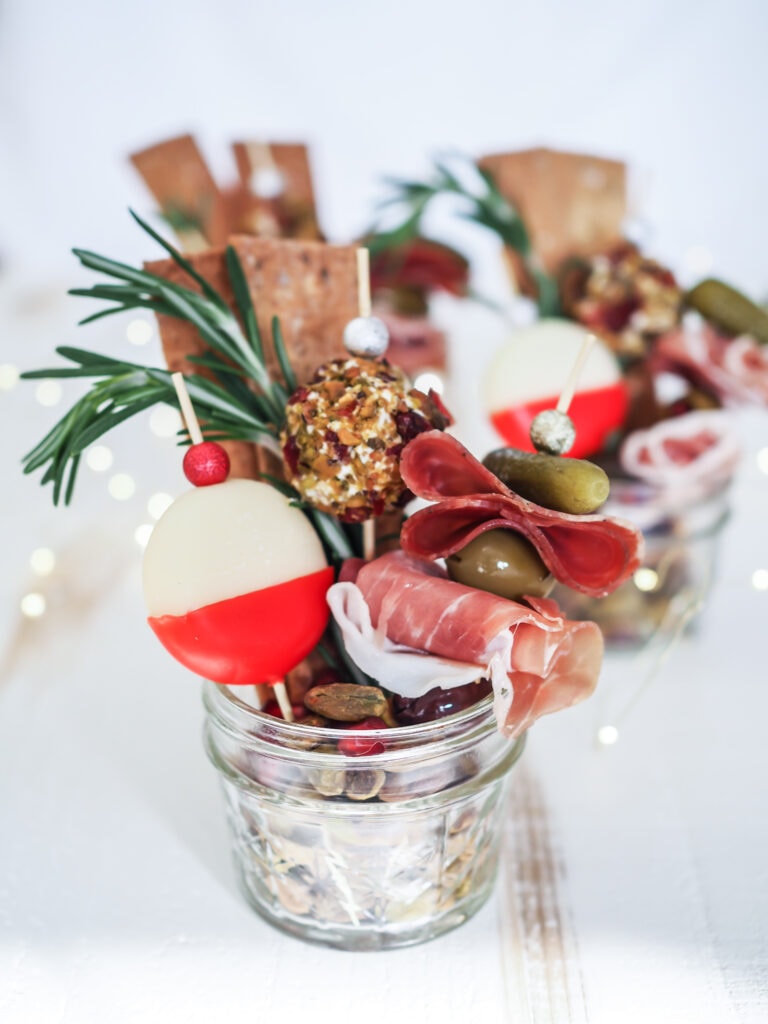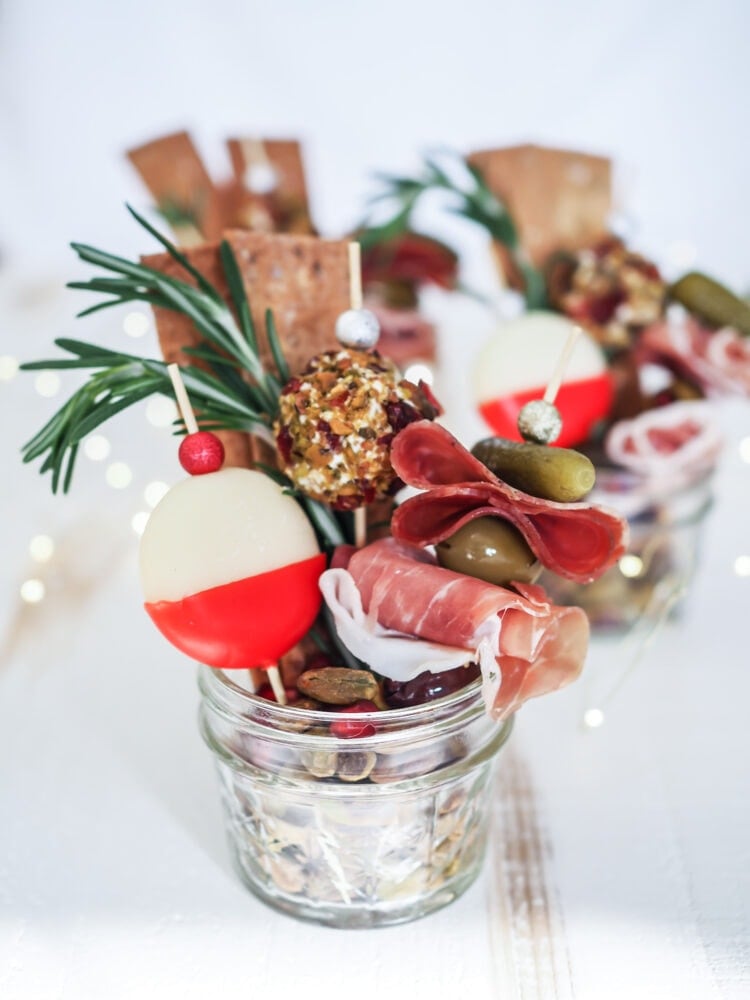 A Little History On Charcuterie
Charcuterie has been my favorite kind "meal" for as long as I can remember. I love having a little taste of everything, and have always preferred grazing over tapas or cheese boards to having a big dinner plate. Perhaps it's from being a GenX-er that grew up with Lunchables as a treat and loving those summer sausage baskets around the holidays. It felt fancy and special.
As for the history of charcuterie, the Food Lover's Companion says, "Taken from the term cuiseur de chair, meaning "cooker of meat," charcuterie has been considered a French culinary art at least since the 15th century. It refers to pork specialties … which are made and sold in a delicatessen-style shop, also called a charcuterie."
So what started as a meat deli in France has turned into an international smorgasbord. And organizing snacks into jars make this "jarcuterie" the perfect little travel bites for nibbling at your desk or roaming around schmoozing at an event.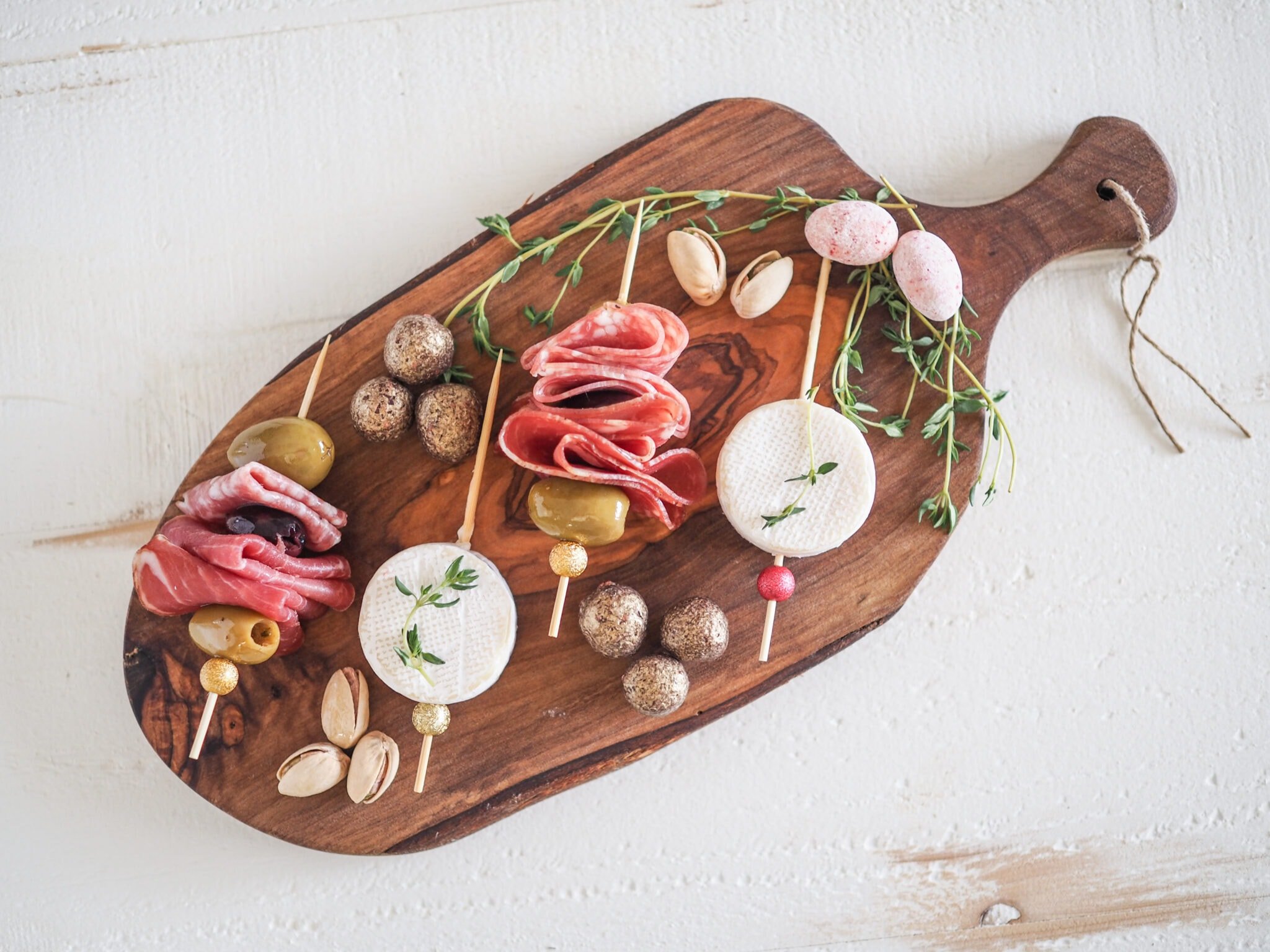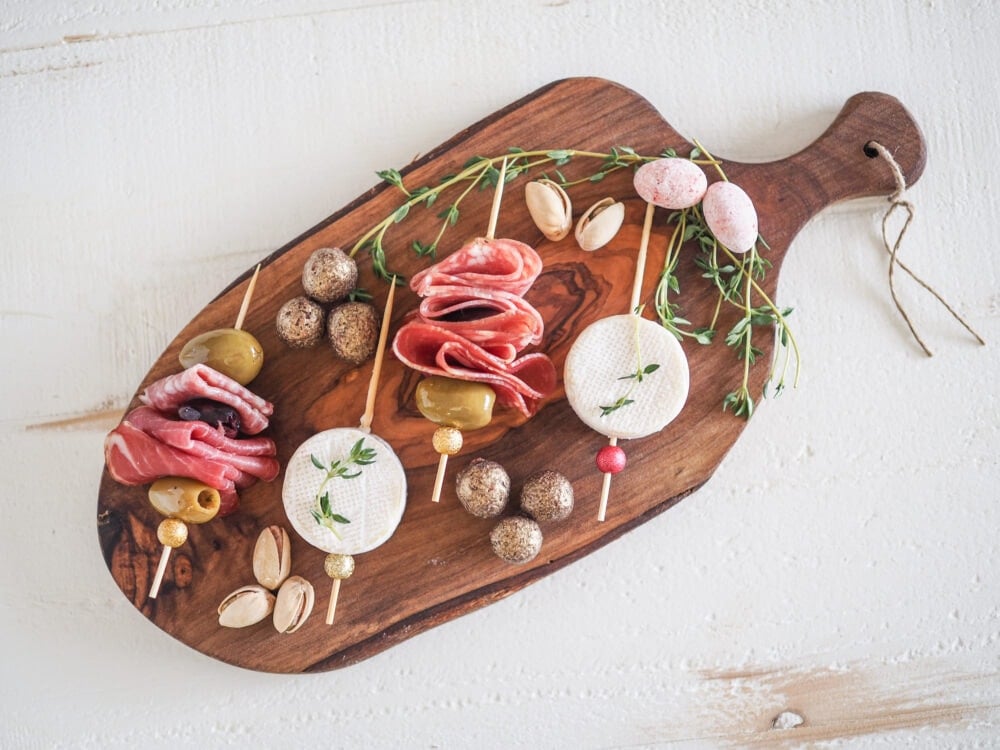 What Kind Of Jars To Use For Jarcuterie
First things first, let's talk jars. Size matters depending on what kind of foods you want to add to your jarcuterie. But generally, smaller sizes are better for handheld eats. Mason jars, both the 4 ounce and 8 ounce size work great.
My mom looked at this trend and said she used to do something similar for work potlucks and bring red solo cups with a little bit of ranch dip at the bottom and filled with perfectly individual sized portions of veggies for dipping. So you don't necessarily need glass jars to make this trend at home.
If you didn't want to buy a big set of jars, and wanted to go a little nicer than a red solo cup, I've found that glass yogurt jars also work great. The first time I saw yogurt in glass jars was in Europe. In loved the little glass jars of yogurt at the hotel's buffet so much that I ended up taking a few home as a souvenir. Each morning at breakfast, I'd wrap up my little jar in a napkin and bring it back to our room to stash in our suitcase. Thankfully, I'm glad to see more European style yogurt available in the United States. Brands to look for include Oui, Le Fermiere, and Nounos.
In addition to glass jars, decorative paper muffin cups, cocktail glasses, and even wide-mouth plastic champagne flutes work great.
red solo cups
tulip paper baking cups
clear plastic cocktail cups or champagne flutes
mason jars
wek jars
glass yogurt jars
recycled jam jars
Cocktail Sticks For Decoration And Stacking
The key to jarcuterie is preparing food that's easy to eat with your hands. And the best way to do that is to make mini charcuterie kebabs. So take your olives and cheeses, fold up your cured meats, and stack them on a cocktail stick. Cocktail sticks work great because they're just the right length. Toothpicks tend to be too short, though, you could use them in a pinch.
Cocktail sticks even come with fancy themed toppers for holidays and celebrations. There's also basic, small bamboo cocktail skewers, and the ever classic cocktail umbrella too. You can find these at any party store, or the party sections of retail chains like Target or Publix. I also found a big variety of cocktail sticks on Amazon, including international flags, metallic tassels, and even small mini monstera leaves. Just be sure your guests know that the decoration on the cocktail stick is not edible.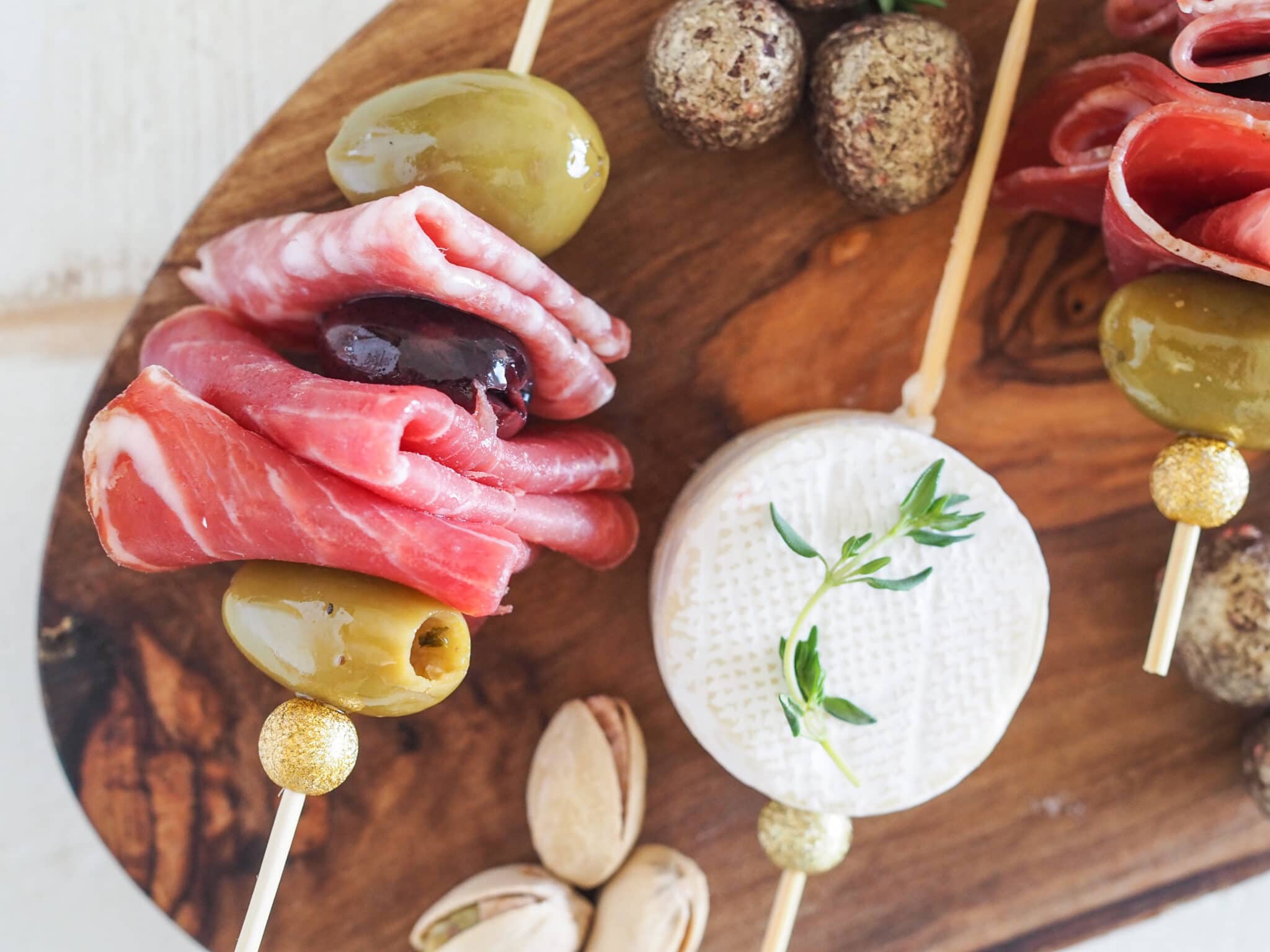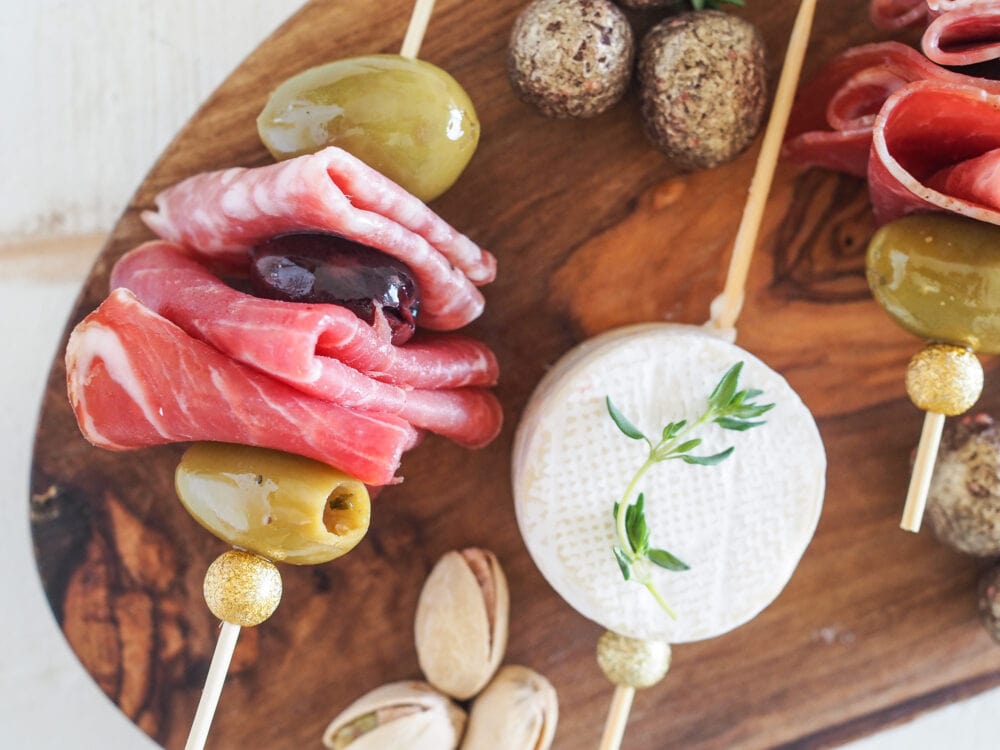 What To Put Into Your Jarcuterie Jar
When it comes to what to put in your jarcuterie jars, think mini everything. Mini cheeses, mini skewers of meat, cornichons (small pickles), mini muffins or cupcakes. Anything that is small, handheld finger food. It's also fun to pick a theme for your jars, such as a specific holiday, or even making them sweet or savory.
Generally, I like to include at least one item from each of the categories below and top it with one little sweet as a dessert. (Except for the dips, those are for building a veggie or fruit jarcuterie for grazing.) In the next section, I'll go over the best way to put all the ingredients together in a jar so they stand up and look pretty too. But here is a general list to use as a shopping guide for inspiration.
Olives: Kalamata olives, black olives, Sicilian olives, Spanish olives, Manzanilla olives
Nuts & Seeds: almonds, peanuts, cashews, pecans, shelled pistachios, walnuts, marcona almonds, candied nuts, chocolate covered nuts, pumpkin seeds, pastel candy coated Jordan almonds, pomegranate seeds (which have a great jewel tone for holiday jarcuterie!)
Cheese: mini cheese ball bites, mini goat cheese balls, mozarella string cheese, cheddar cheese sticks, Babybel cheese wheels, mini brie bites, any hard cheese wedge that can be cut into tall thin wedges (Gouda, Parmigiano-Reggiano, Pecorino, Manchego, cheddar)
Meat: salami, speck, soppressata, prosciutto, mortadella, serrano ham, jamon iberico, chorizo, pepperoni, pastrami, coppa, saucisson (French salami)
Dried Fruit: apricots, banana chips, dried mango, dried kiwi, dried cherries, Craisins, dried blueberries, raisins, dates, dried pineapple
Veggies & Legumes: celery sticks, peeled carrots, cucumber (logs), cherry tomatoes, sliced bell pepper, snow peas, snap peas, snap pea crisps, green bean chips, dried chickpeas, dried corn
Dips: hummus, baba ganoush, ranch, yogurt dip, tzatziki, white bean dip, cheese dip, guacamole, artichoke dip, olive tapenade, roasted beet hummus
Crackers: pretzel sticks, flat bread crackers, bread sticks, homemade cheddar cheese sticks
Sweets: yogurt covered pretzels, chocolate covered pretzels, jelly beans, gummy bears, chocolate covered almonds, chocolate covered espresso beans, chocolate covered peanuts, yogurt covered raisins, mini meringues, Pocky sticks, Pirouline creme filled wafers, shortbread cookies, biscotti, seasonal holiday chocolate cordials (such as sparkling Prosecco bonbons, or peppermint coated almonds), Dragées (round sugar sprinkles)
Marshmallows: mini marshmallows, Lucky Charms fun shaped marshmallows, seasonally inspired Peeps color sugar coated marshmallows, gourmet marshmallows such as Smash Mallow chocolate dipped cold brew, homemade marshmallows such as mocha, peppermint, or key lime pie.
How To Build A Jarcuterie Jar
Add Tall Items First: Think breadsticks, pretzels, anything that can stand on it's own. Also, any hard cheeses that you can cut into a tall, thin wedge.
Fill The Jar Halfway With Something Small And Round: After building a few, I found it best to fill the jar with something that would hold the cocktail sticks in place. A sort of edible foundation. Once all the meats and cheese are eaten, you want to add something that could easily be eaten with your hands, or edibles that could be "sipped" like when you kick back a cup or bag of your favorite candy.
Next Add Meat or Cheese Skewers: Making mini charcuterie kebabs is fun. And this is where finding mini cheeses really makes it cute. I love Ile De France Brie Bites, but even the little Babybel snack cheese would do. For meat, tiny sausages like chorizo do well. Any sliced meat can be folded up to help it stay in place. Simply fold the round sliced meat in half to create a half moon, and in half again to make a triangle fold for putting on a cocktail stick. Add something to the bottom of the skewer that helps keep it together, such as an olive or cornichon or gherkin.
Fill In The Top Of The Jar: To finish your jarcuterie, fill the top with more olives or grapes, and add a little something sweet like a piece of chocolate or fruit
Finish With Garnish: Add a little herbal garnish like rosemary or thyme. Or for holiday themed jarcuterie, top with a piece of seasonal candy to make it fun.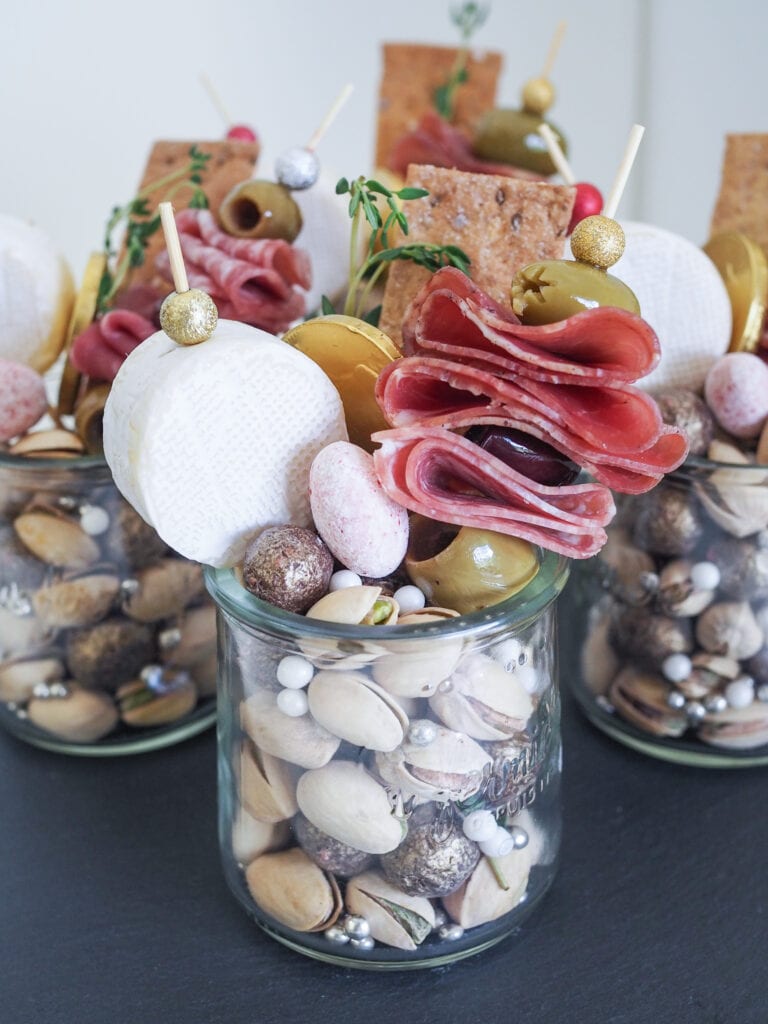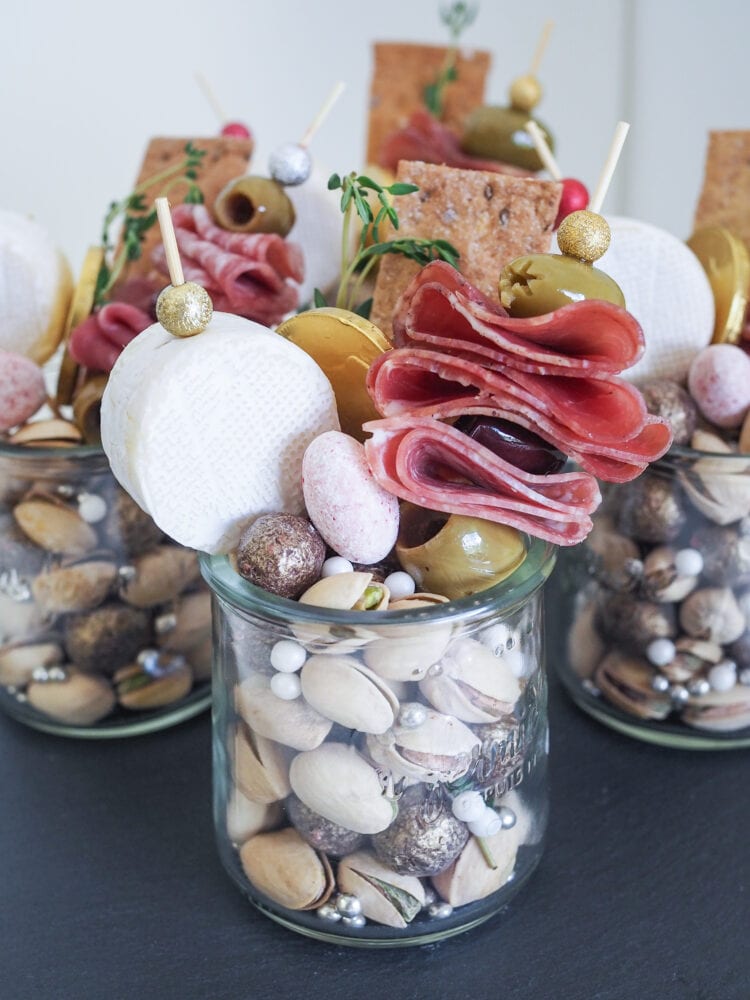 Idea Lists For Jarcuterie Fillers
Best Cheese For Jarcuteries
When it comes to the best cheese to stack in jars, you want think in terms of minis, wedges, or cubes. Mini cheeses, such as mini brie or even Babybel. Long wedges, something that when sliced will stick out above the edge of the jar. Or cubes that you can stack on a cocktail stick.
You might have to special order mini cheeses from your local grocer since it might only be in stock seasonally for holidays. If you are lucky enough to live near a gourmet cheese store, your local cheese monger should be able to help you pick out some gourmet mini cheeses for your soiree.
Cheddar cheese cubes or snack sticks
Mozzarella string cheese sticks
Ile De France Brie Bites
Babybel mini snack cheese
Gouda
Manchego
Mimolette
Parmigiano-Reggiano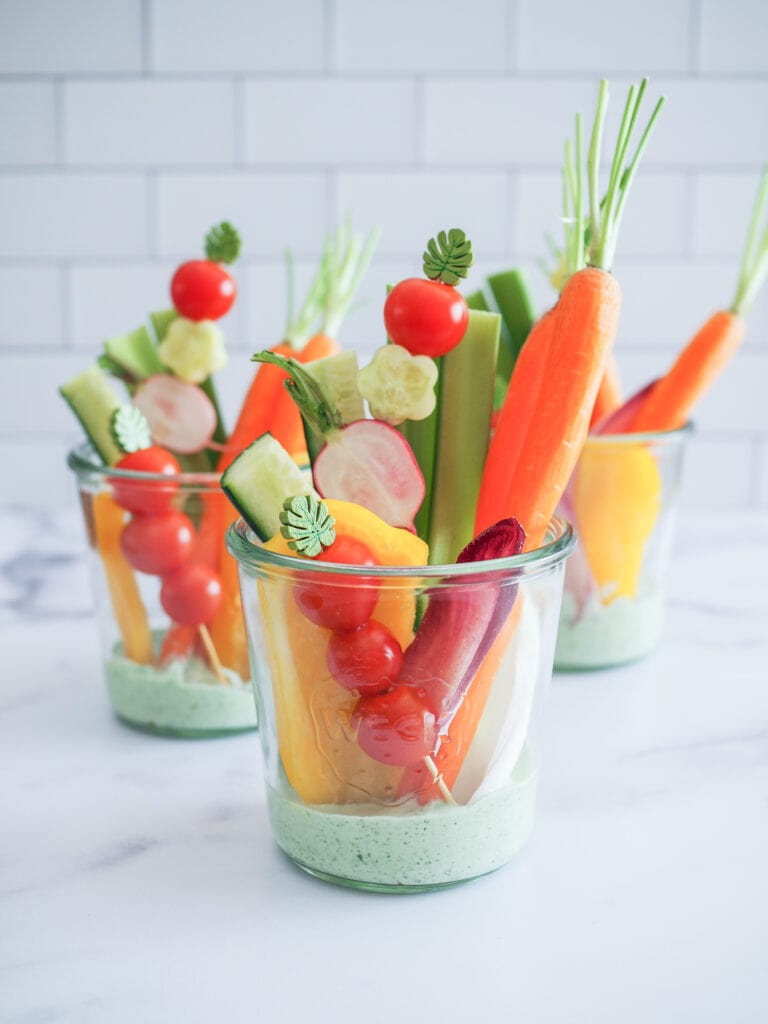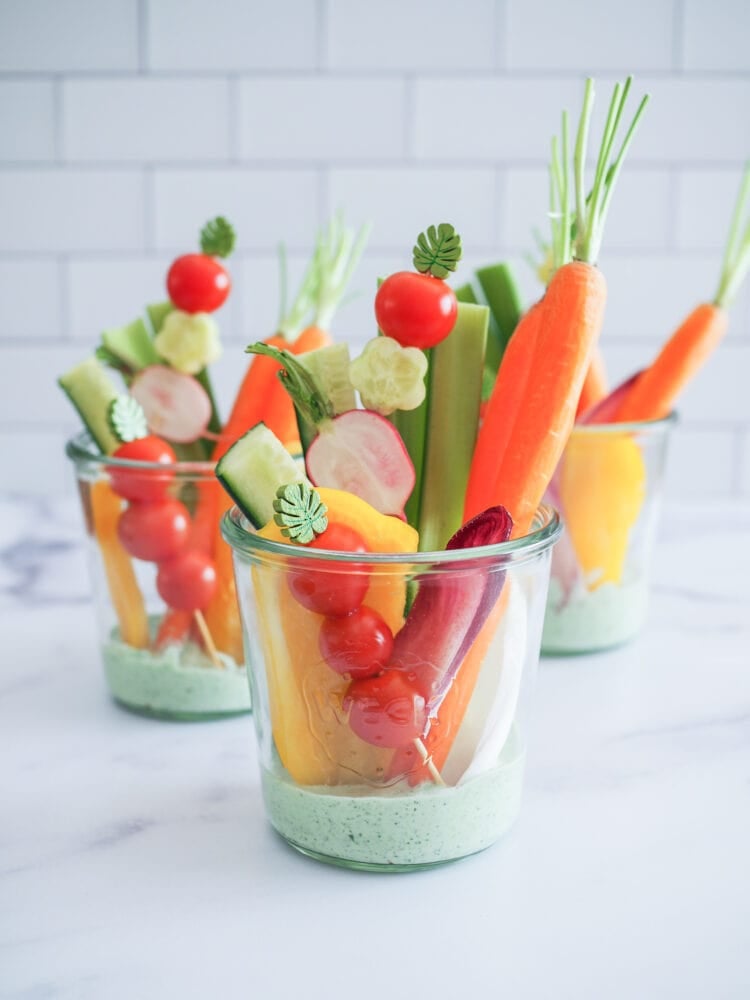 Veggies Great For Dipping
When it comes to veggies, pick tall vegetables that are great for dipping. Things like carrots, celery, and cucumber. My mom said she used to do something similar to jarcuterie for her office potlucks. She'd add ranch dressing to the bottom of plastic cups, then stack the veggies inside so that her coworkers could easily pick it up to-go from the potluck table.
We've done something similar with a homemade lemon basil dip, and stacked vegetables inside the jar. But could also make miniature vegetable skewers with cocktail sticks and stack shorter veggies like cherry tomatoes. Here's an idea list to help you with shopping:
whole carrots
celery
cucumber spears
cherry tomatoes
yellow bell pepper
endive lettuce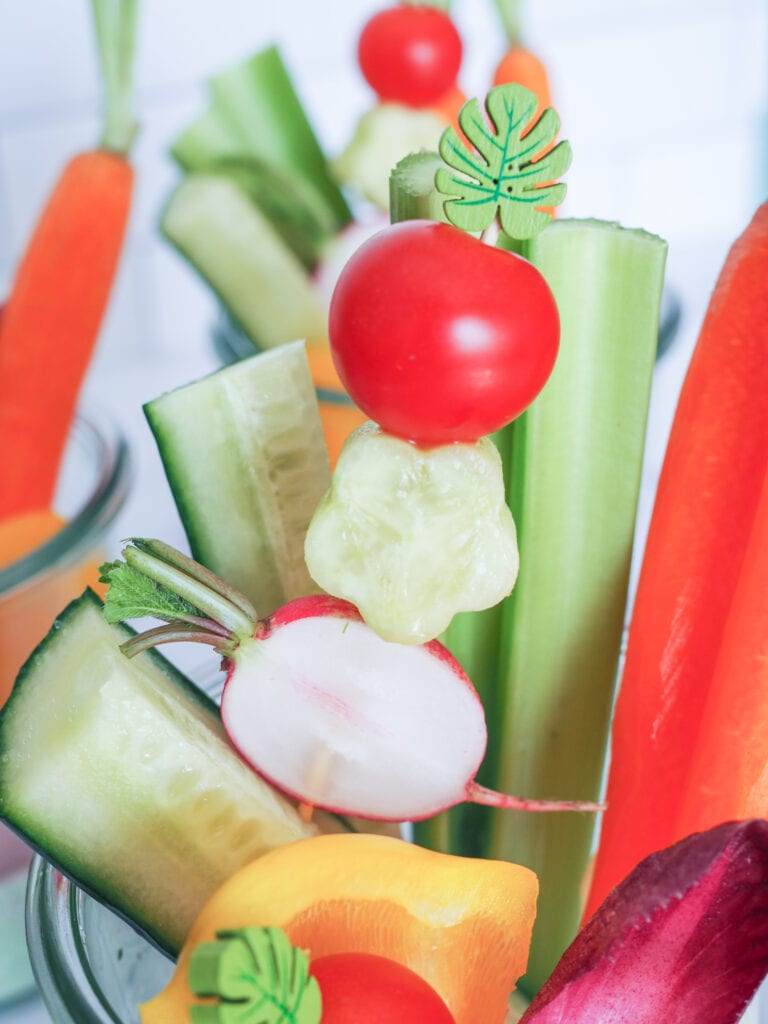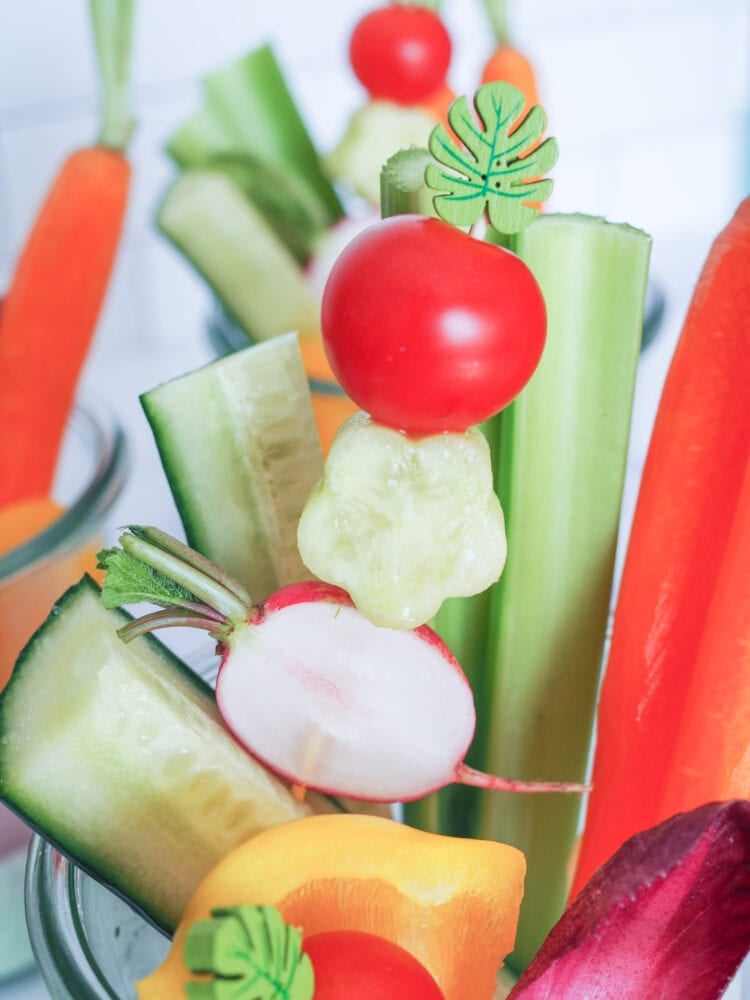 What Kind Of Olives To Buy
Ever get stuck looking at an olive bar at your local fancy grocer and don't know which ones to buy? Here's a quick list to give you the scoop on color, variety, and flavor.
Kalamata olives: dark purple, almond-shaped, and have a rich, fruity taste.
Black olives: dark, round, have a mild salty taste.
Cerignola olives: More of a yellow green, Cerignola. These gigantic green olives are harvested in Cerignola, in Italy's Puglia region, the heel of the boot. They are crisp and fantastically buttery
Castelvetrano olives: Bright green and sweet, these are also sometimes called Sicilian olives.
Manzanilla olives: A type of spanish olive typically stuffed with pimento.
Nyon: French olive that's small, black, wrinkly, and very flavorful.
Niçoise olives: Also from France, the Nicoise olive can be dark or light brown with a very herbal flavor.
Mission olive: U.S.
Meats That Are Best For Charcuterie
Salami
Speck
Soppressata
Prosciutto
Mortadella
Serrano ham
Jamon iberico
Chorizo
Pepperoni
Pastrami
Coppa
Saucisson (French Salami)
Cookies, Candy, and Sweets For Dessert Jars
There are plenty of ideas out there for dessert boards, and you can take the same concept to make individualized dessert jars! These are perfect for holidays where there are plenty of themed-treats and fun shapes to add to your dessert jars. Remember to use the same tips from above to fill them by starting with something small and then building up to larger pieces.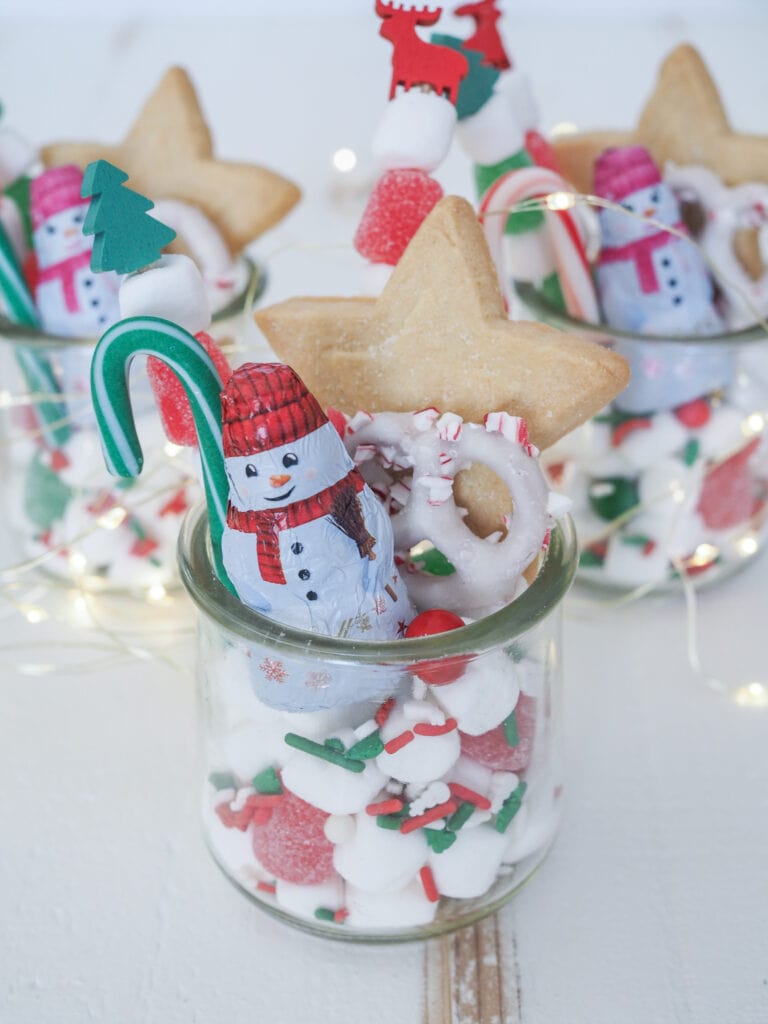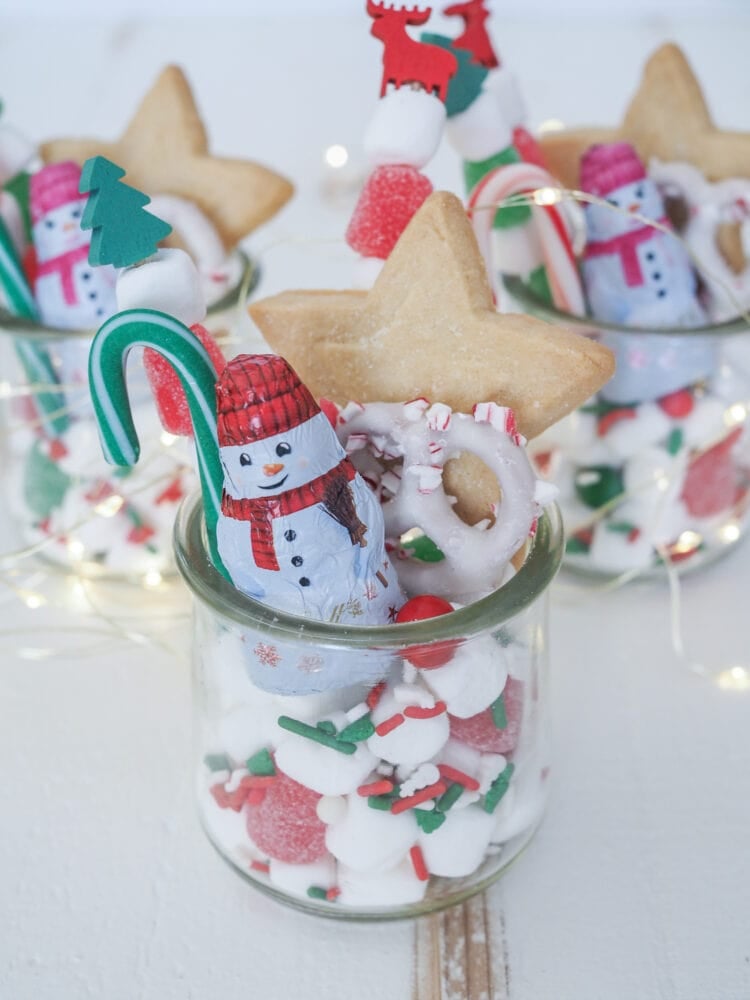 And when it's not the holidays, a fun coffee break themed jar is great for afternoon gatherings where you might need a caffeine boost. We made these with biscotti and Pirouline cookies. But I also added chocolate covered almonds and chocolate covered espresso beans, and a gourmet cold brew espresso marshmallow dipped in chocolate.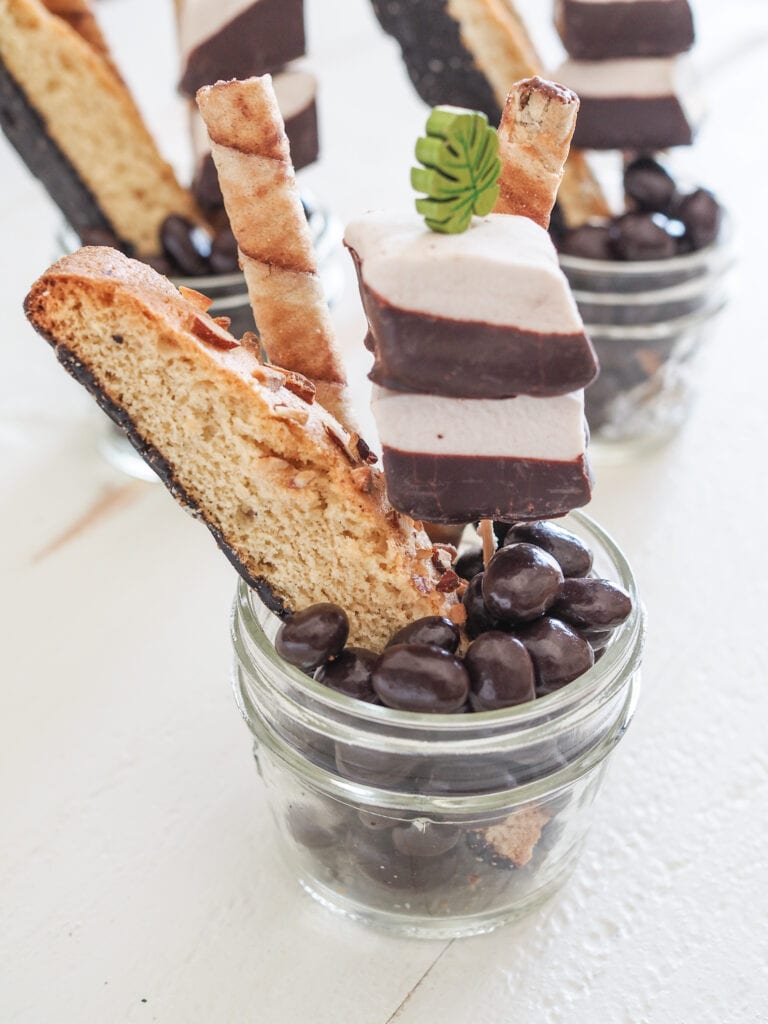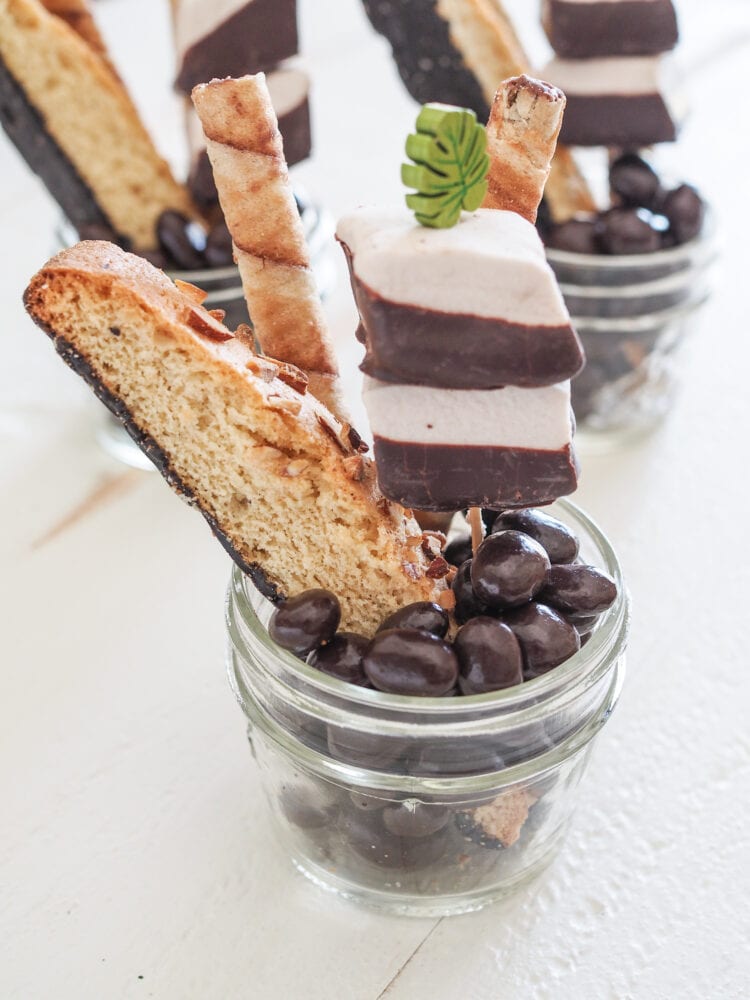 Here's a list of fun ideas to add to a dessert jar or holiday-themed jarcuterie.
chocolate covered almonds
chocolate covered espresso beans
chocolate cordials with a liquor (cherry, Guinness, Prosecco, etc.)
meringues
marshmallows
jordan almonds
biscotti
Pirouline or Pirouette cookies
star-shaped cookies
mini gingerbread men
holiday-themed sprinkles
gummie bears
jelly beans
mini candy canes
gum drops
yogurt coated mini pretzels
yogurt coated pretzel sticks
chocolate covered pretzel sticks
Kit-Kat bars
foil-wrapped holiday themed chocolates (Easter eggs, snowmen, etc)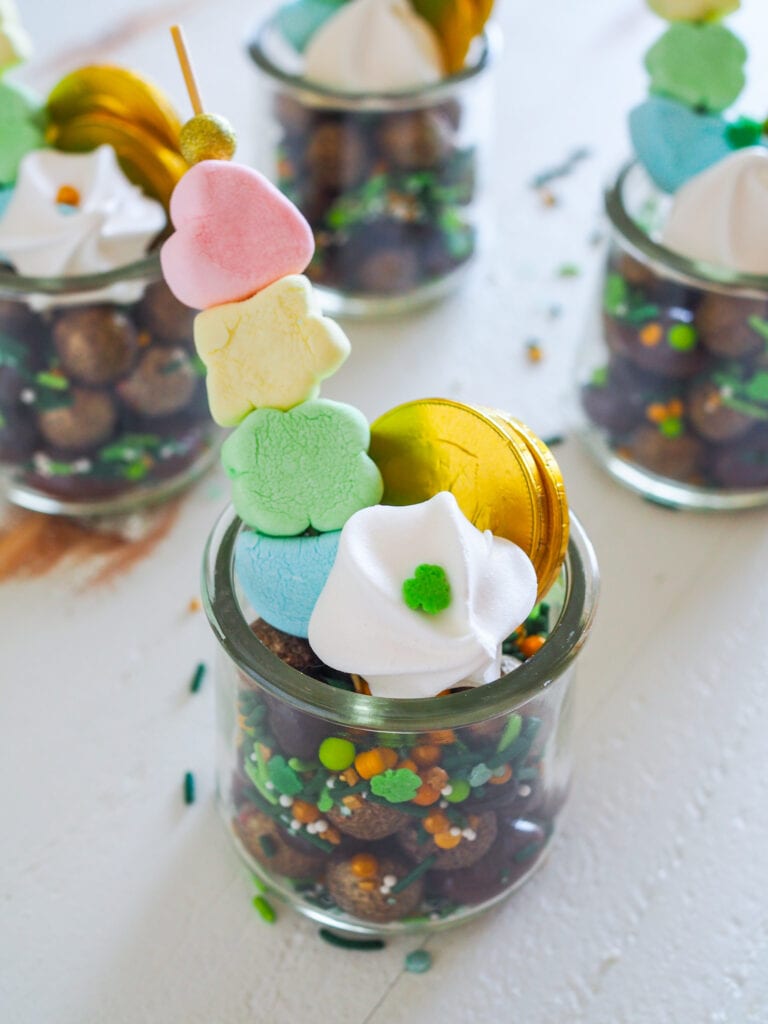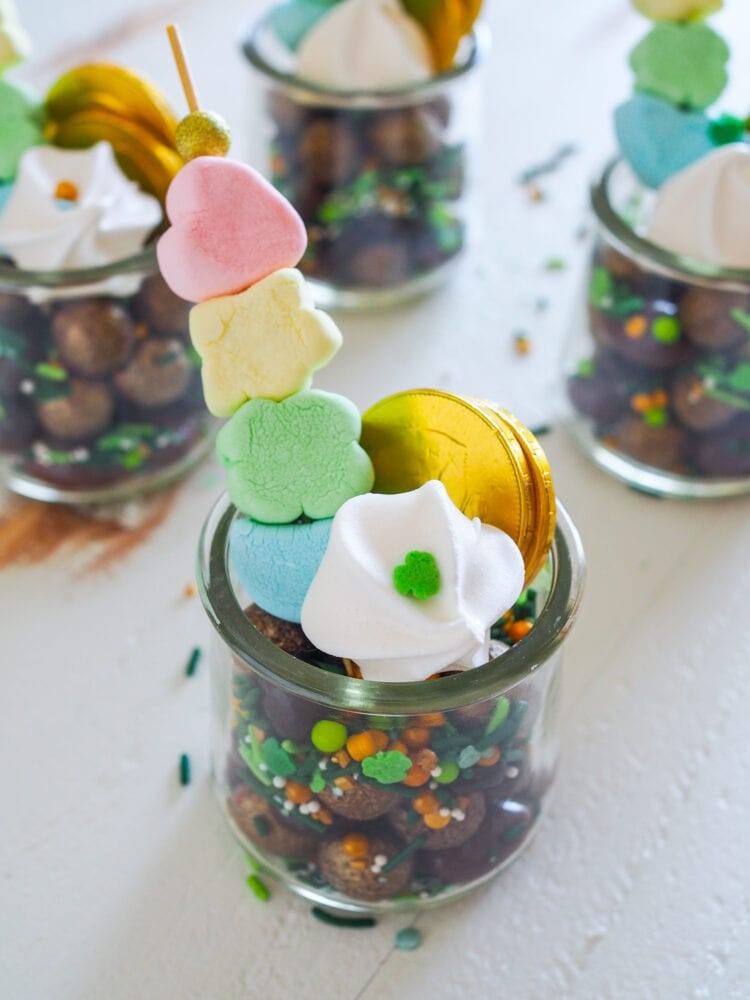 Jarcuterie Ideas For Your Next Gathering
While jarcuterie can be a fun snack any time of year, holidays and celebrations are especially fun. Look for seasonally themed candy at your local grocer and online. You can use this as the base for your jarcuterie (especially if you make them dessert-themed), or simply use seasonal ingredients (Easter peeps, mini gingerbread man cookie, etc) as garnish.
We even make breakfast jarcuterie one weekend, with easy to "sip" granola and blueberries inside the jar. And on top we layered handheld eats like a mini blueberry muffin, hardboiled egg, and bacon.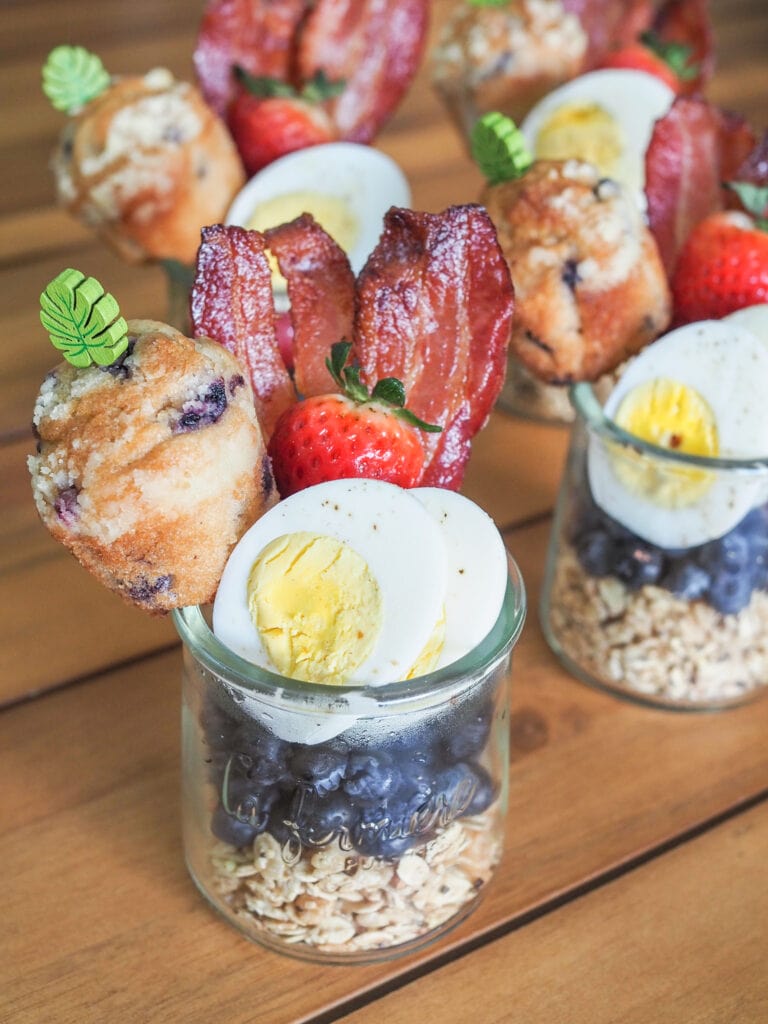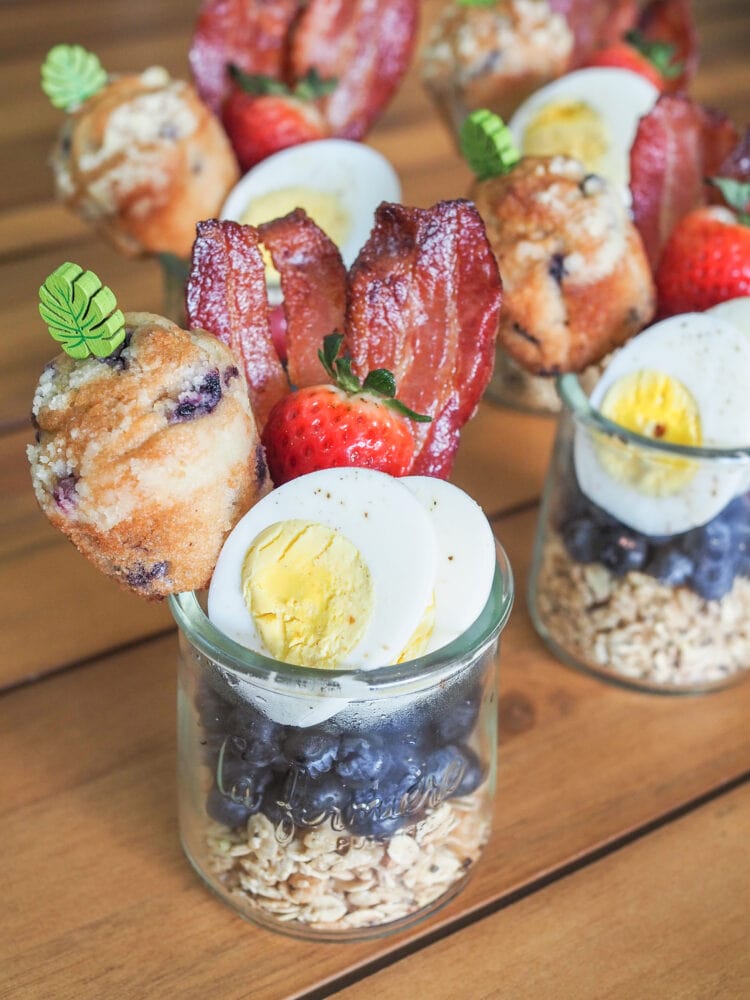 Here's list of fun holiday's and themes that you can use to inspire your own jarcuterie!
New Year's Eve
Valentine's Day (And Galentine's Day)
Coffee Break Sweet's Cup
St. Patrick's Day
Springtime/Easter
International Themed
Breakfast Jarcuterie
Halloween
Thanksgiving
Christmas
Garden Graze
Movie Night Cups
Dessert Jarcuterie
Chocolate Themed
Fruit Themed
Tropical Themed