Mealtime in Jordan is a festive experience and there's one thing you can always count on having at the table — homemade hummus. No matter if it's lunch, dinner, or even an afternoon snack, I found that every time we sat down for a meal in Jordan that it became an endless parade of food to share, a celebration of the country's flavors as well as the people it brought around a table to share in it's deliciousness. It seemed like every meal was a joyous occasion, and when you take a look at Jordan's traditional foods and dishes — it's no wonder.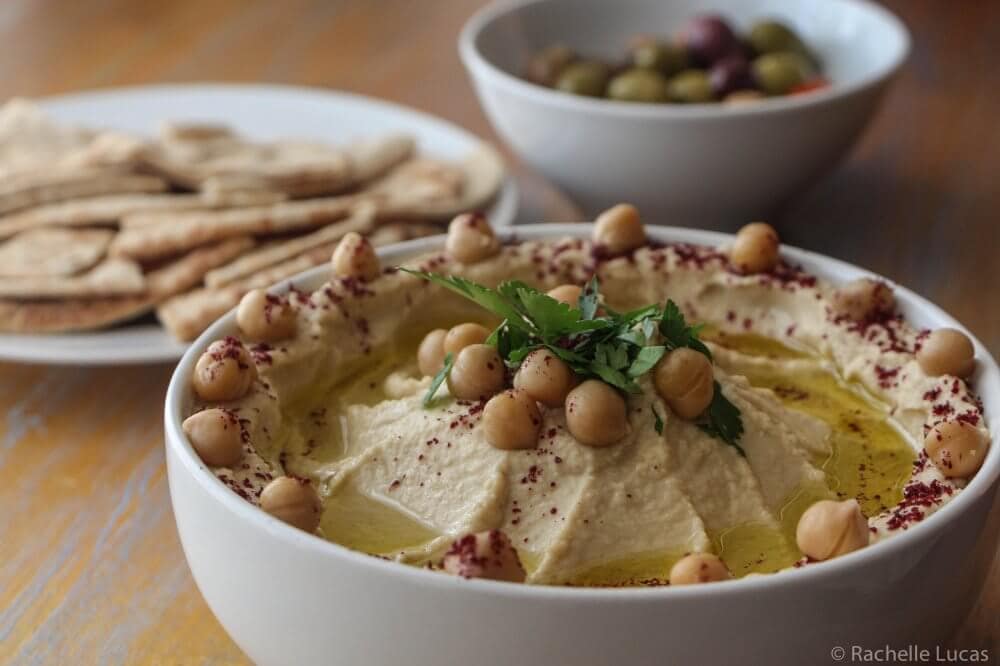 Meals typically start with a variety appetizers, or mezze, served family-style. Jordanians don't serve a bland boring hummus, because to them, presentation is everything — especially when hosting guests. As you can see from my Instagram post below during my travels there, it's the fanciest hummus you've ever seen. This one is drizzled in olive oil, garnished with chickpeas and herbs, framed with bell pepper and olives, then sprinkled with sumac – a finely ground dried berry that enhances the creaminess of the hummus with it's tangy flavor.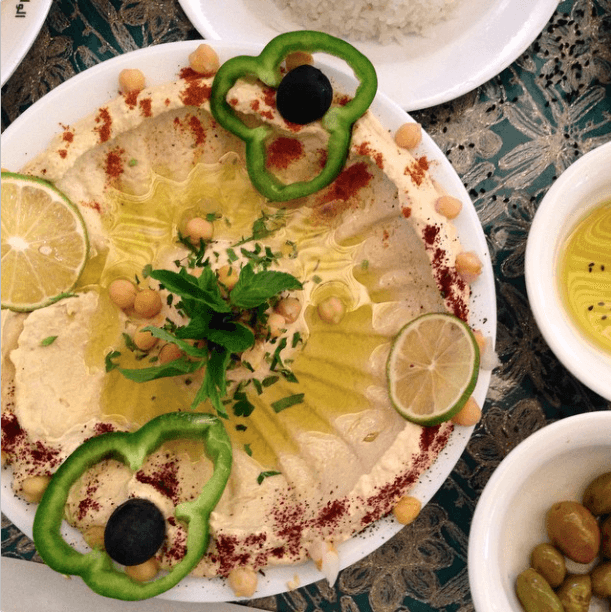 If you visit Amman, I highly recommend taking a family-style cooking class at Beit Sitti where you will get to experience what it's like cooking and dining with a Jordanian family. You'll roll up your sleeves and get to chopping and mixing and cooking on a gorgeous outdoor patio where you'll also eat and enjoy what you make. The name Beit Sitti actually means "my grandmother's home" and it is indeed the home where the hostess learned to cook. It's one of the most authentic and fun cooking classes I've ever experienced while traveling.
Since coming home, I've been practicing the techniques I learned and the recipes I collected — especially the homemade hummus. Hummus is my husband, Pete's, favorite snack. Also, I recently got a Vitamix as a birthday gift, so I've been keen to blend and mix as much as possible in that machine.
Check out the full recipe below. It's all about fresh ingredients and making it look appetizing with fun garnish! You might also want to read 3 Jordanian Spices To Add To Your Pantry, Zaatar Spice Blend, and Baba Ganoush Recipe. Enjoy!
Homemade Hummus Recipe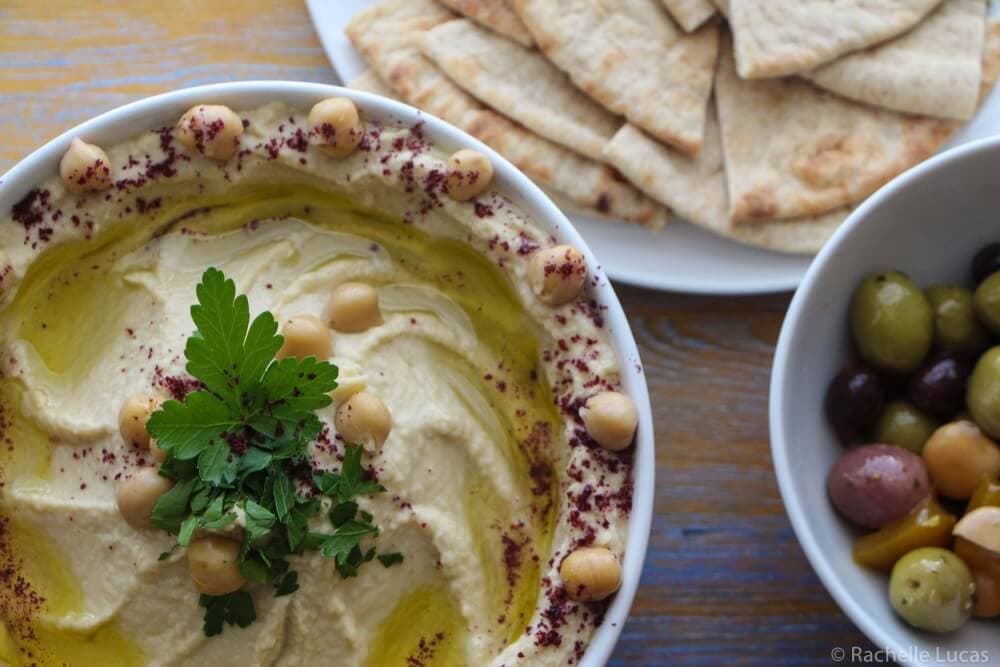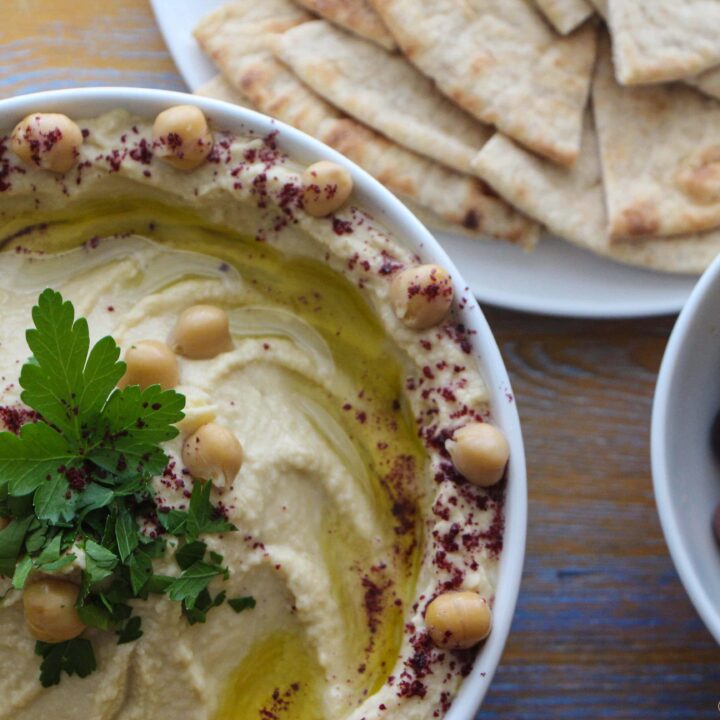 Recipe: Homemade Hummus
Ingredients
1 15-ounce can of chickpeas, drained
1 15-ounce can of chickpeas, with liquid
2 ripe lemons
1/4 cup of sesame seeds or Tahini
1 Tablespoon olive oil
1 teaspoon cumin
1/2 teaspoon salt
1 peeled garlic clove
Instructions
Add all ingredients to blender and blend on a low to medium speed for 30 seconds.
Tamper down the ingredients from the sides, then blend on high speed for 30 seconds to a minute.
Transfer hummus from blender into a serving bowl, and with a spoon, create a valley to drizzle a little olive oil into. Sprinkle with sumac or paprika, and garnish with chickpeas and parsley.
Serve with warm pita bread.
Want to save it for later? Pin it! 🙂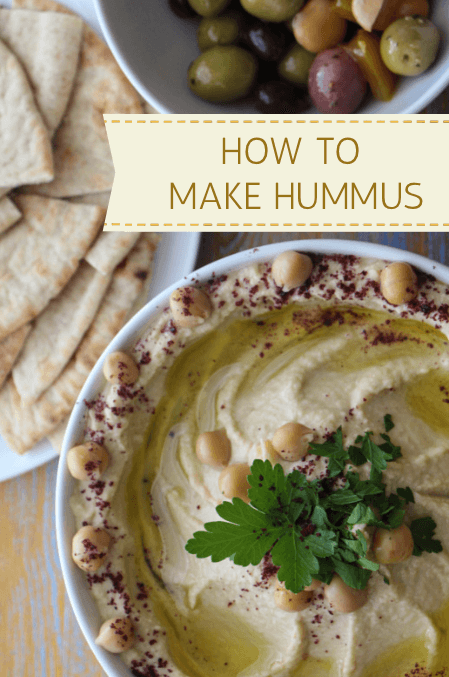 This post was brought to you as a result of the #GoJordan blog trip, created and managed by iAmbassador in partnership with Visit Jordan. The Travel Bite maintains full editorial control of the content published on this site.