Baba Ganoush (also spelled baba ghanoush) is a Middle Eastern appetizer made with puréed roasted eggplant, tahini, olive oil, lemon juice, and spices. It's very similar to hummus, only it is made with eggplant instead of chickpeas. Baba ganoush has a light, earthy, roasted flavor that makes it a delicious dip served with pita bread or chopped vegetables. It makes a great shareable appetizer!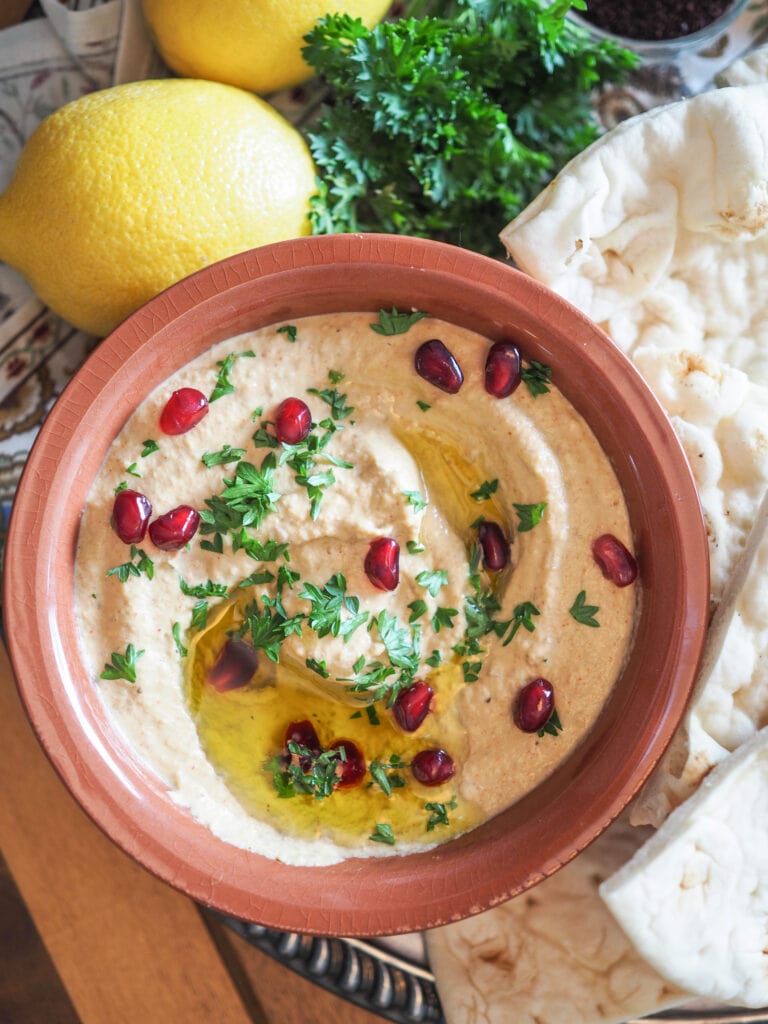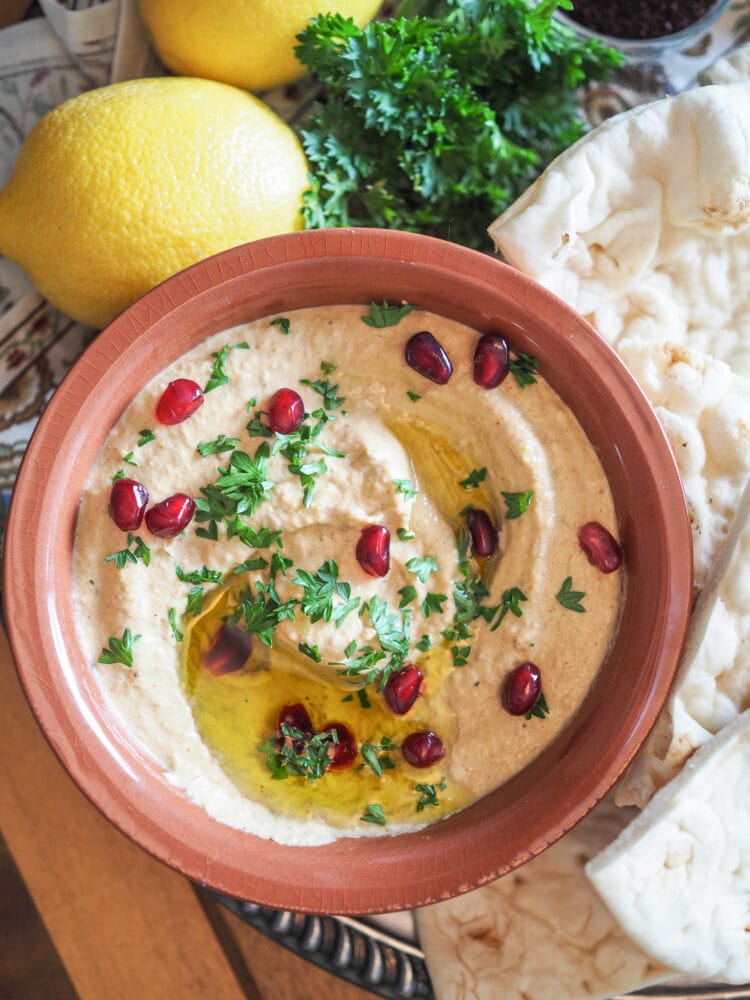 You'll typically find baba ganoush served along with mezze, which are a variety of small dishes and appetizers that include other dips and spreads such as hummus and yogurt. On a recent trip to Dubai, baba ganoush was our favorite of all the mezze we enjoyed during a birthday dinner at the Arabian Tea House. Served with warm, fresh-baked tandoor bread, it had a slight smokey flavor from the roasted eggplant that made it irresistible.
Below, we'll tell you more about baba ganoush and share an easy recipe for it too. If you're ready to make it, just hit the jump-to-recipe button or scroll to the bottom of the post. And I think you'll love how easy it is to make!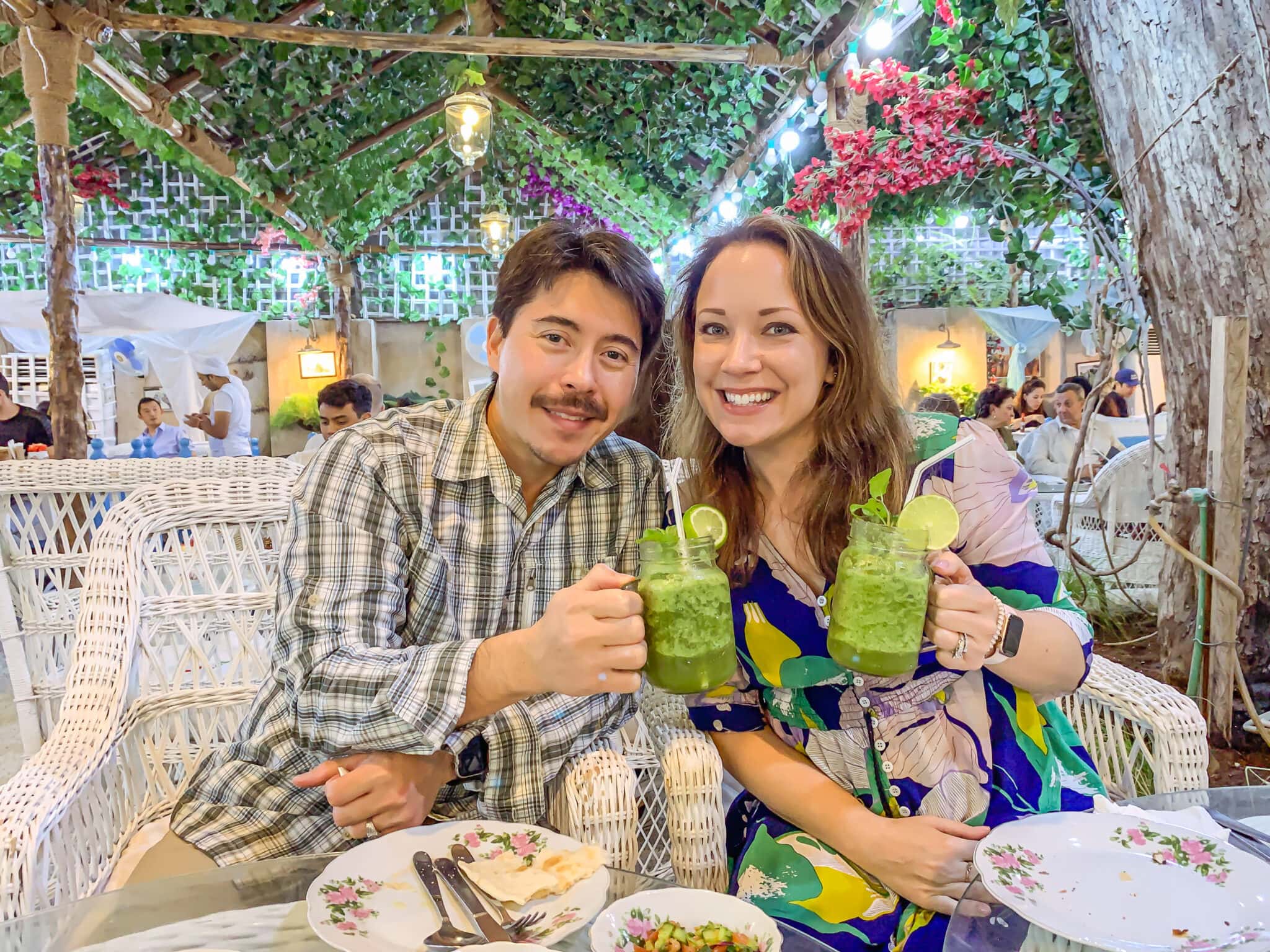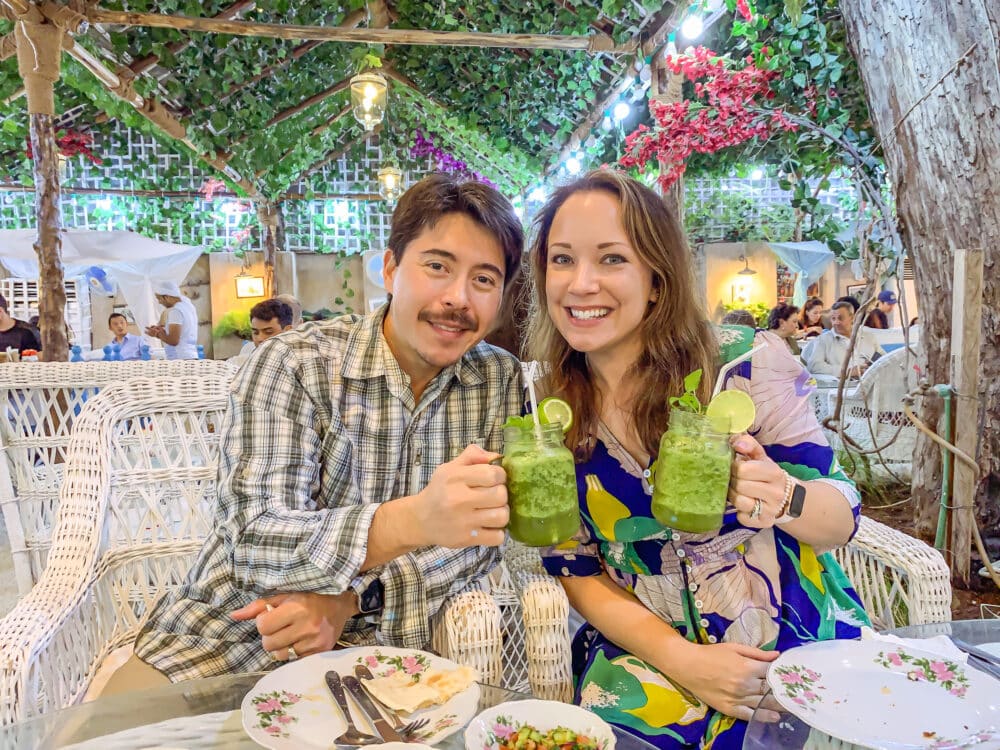 WHAT'S IN BABA GANOUSH?
Baba ganoush is essentially a roasted eggplant dip. In its simplest form, roasted eggplant is scraped away from the purple skin into a bowl, mashed, and then mixed together with tahini, olive oil, and spices. Some baba ganoush blended in a food processor for a more smooth texture. And some recipes mix all the ingredients by hand for more texture. And the flavors can vary as well. Each country in the Middle East has their own variation of baba ganoush, some with yogurt or mayonnaise, some more sweet and some more smokey. Feel free to experiment with the ingredients to bring out the flavors and textures you enjoy!
Ready to make baba ganoush at home? Here's what you'll need:
Eggplant
Tahini
Olive Oil
Lemon
Garlic
Cumin
Paprika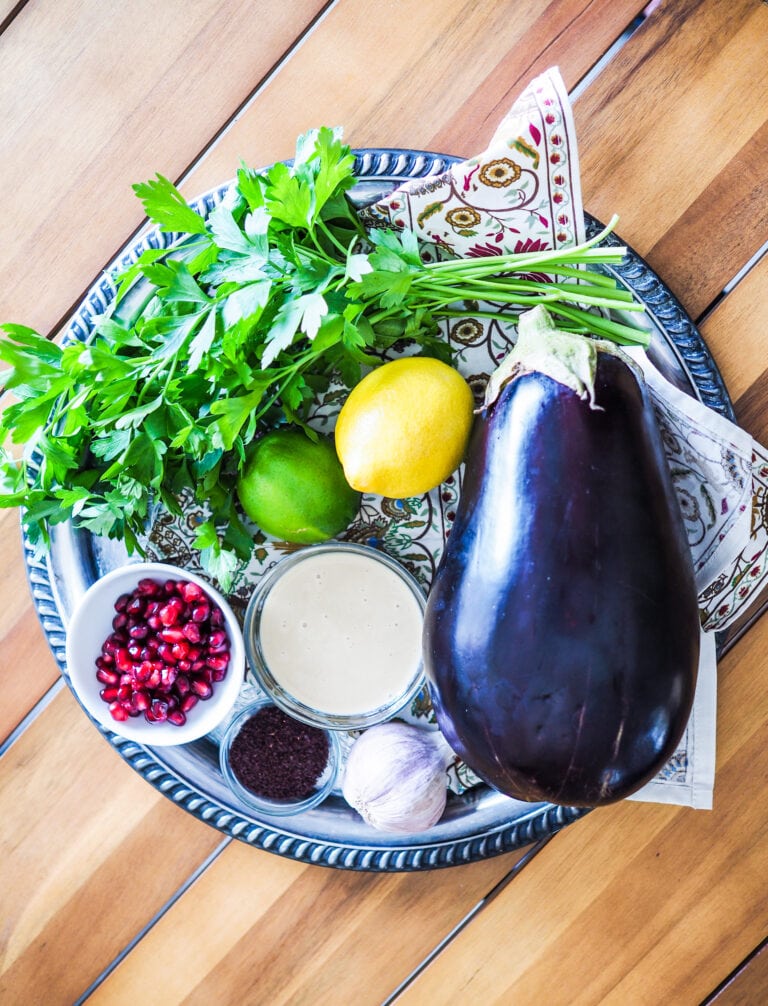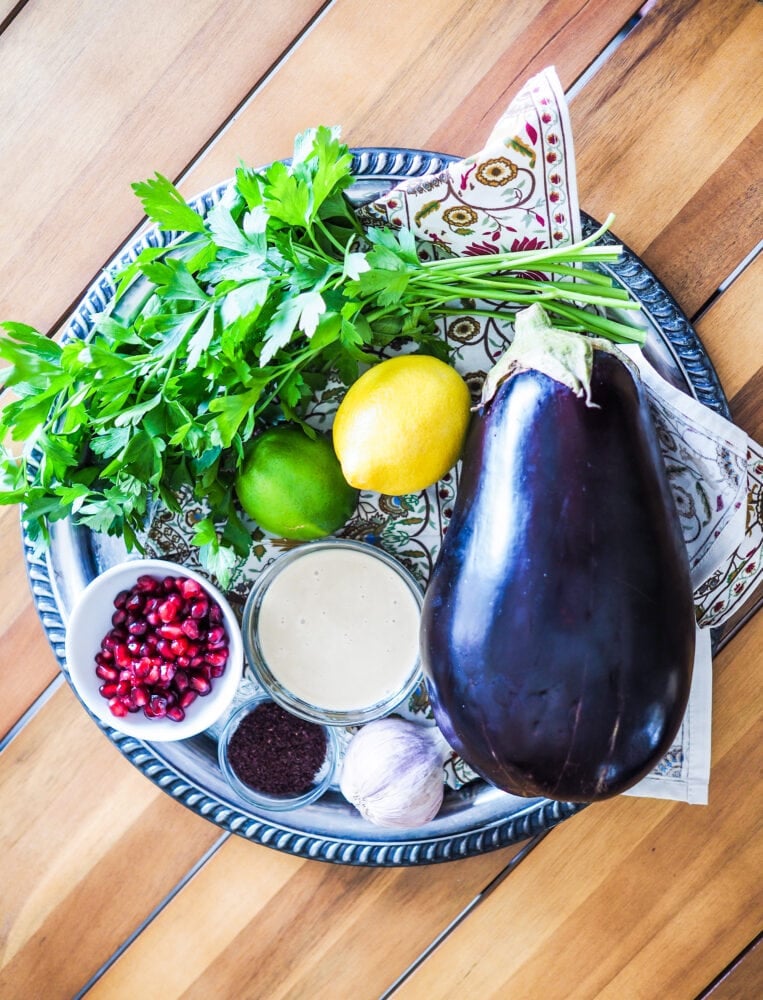 IDEAS FOR SERVING
What we loved about baba ganoush in Dubai was the presentation. The top of the dip was impressed with a spoon, leaving a perfect cup for drizzling with olive oil, bright green fresh parsley, ruby red pomegranate seeds, and a sprinkling of sumac. Sumac is dark red spice made from a dried sumac berry that imparts a tart, almost lemon-like flavor.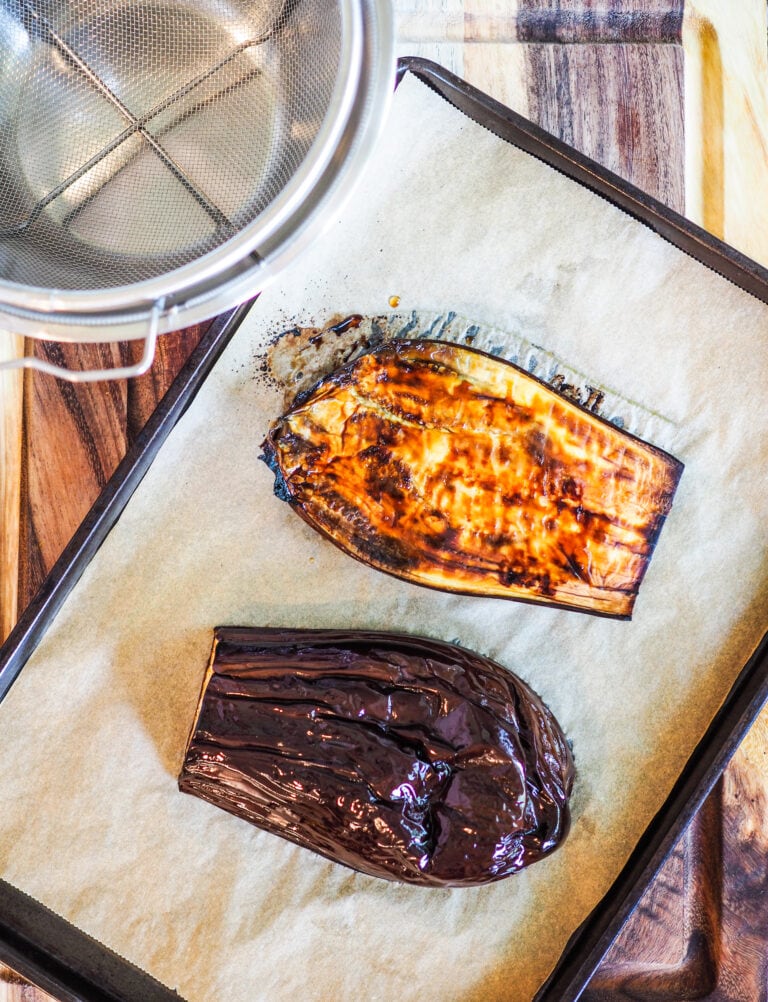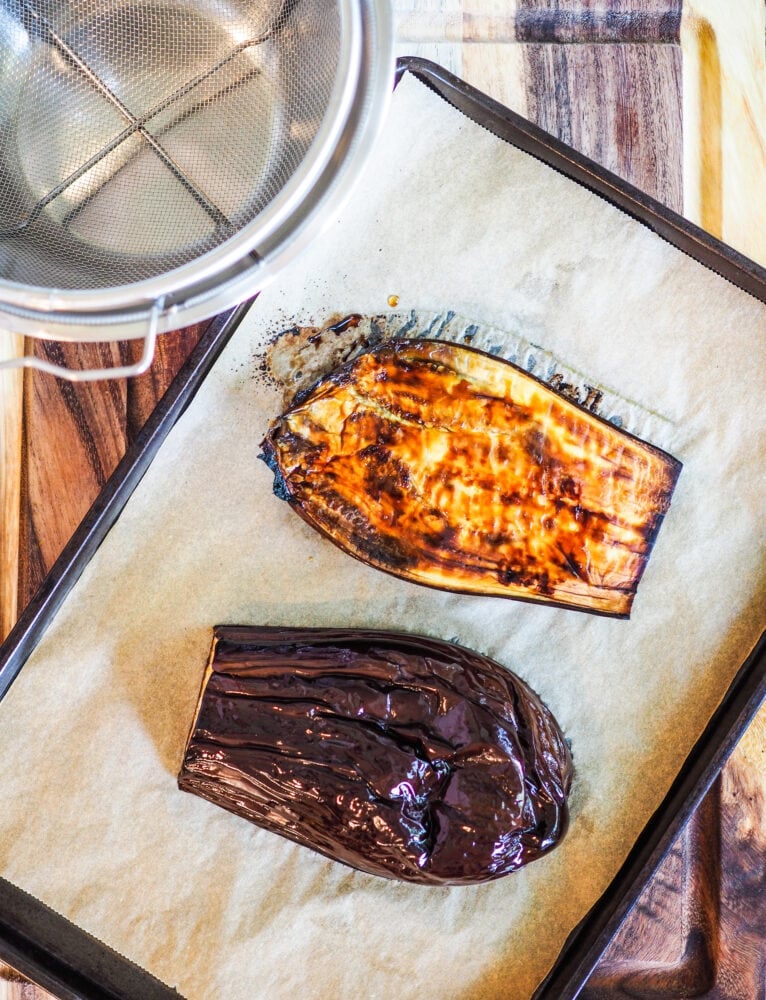 While you can serve baba ganoush fresh on its own, adding a little garnish enhances the flavor and makes it look pretty on a plate or in a bow. Here's a list of garnish ideas you can add, though they're totally optional.
drizzle of olive oil
chopped fresh parsley
sprig of mint
pomegranate seeds
toasted sesame seeds
sumac
paprika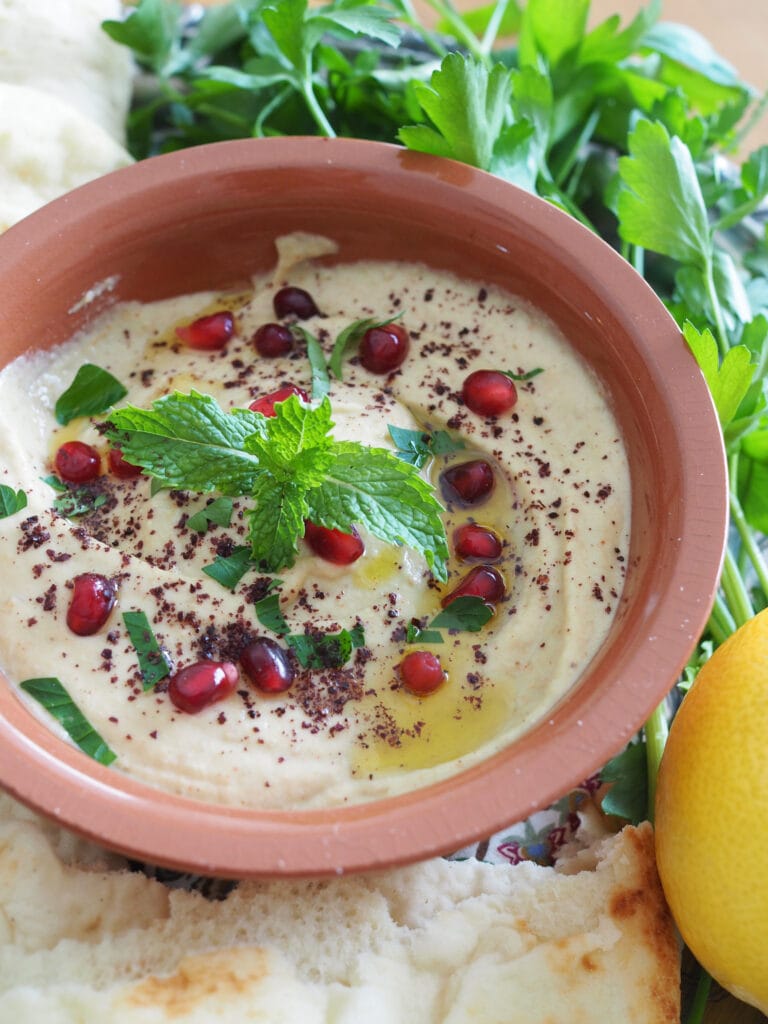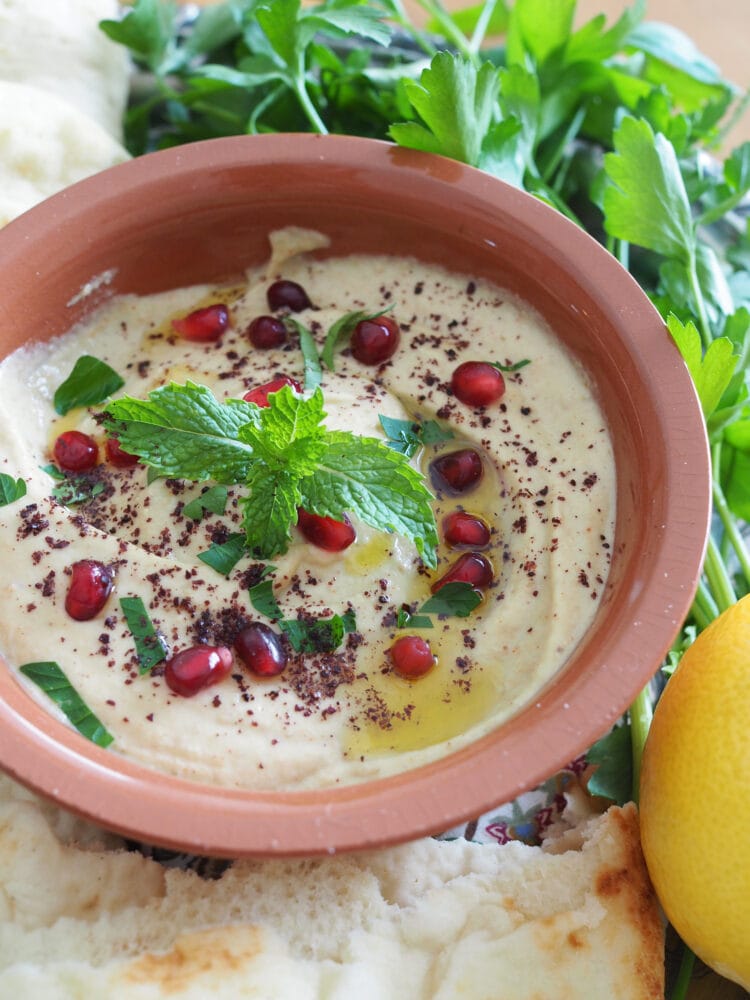 WHAT DOES BABA GANOUSH TASTE LIKE?
I have to say, my husband is not typically a fan of eggplant, but he loves baba ganoush. It really takes on the flavor of the spices blended with the eggplant. To me, baba ganoush tastes more earthy and smokey than hummus. That smokey flavor sometimes comes from roasting the eggplant on a grill or open flame. But since I roast my eggplant in the oven on a baking sheet, I've added a bit of smoked paprika to the recipe to get that wonderful smokey layered flavor we remember from trips to Jordan and Dubai.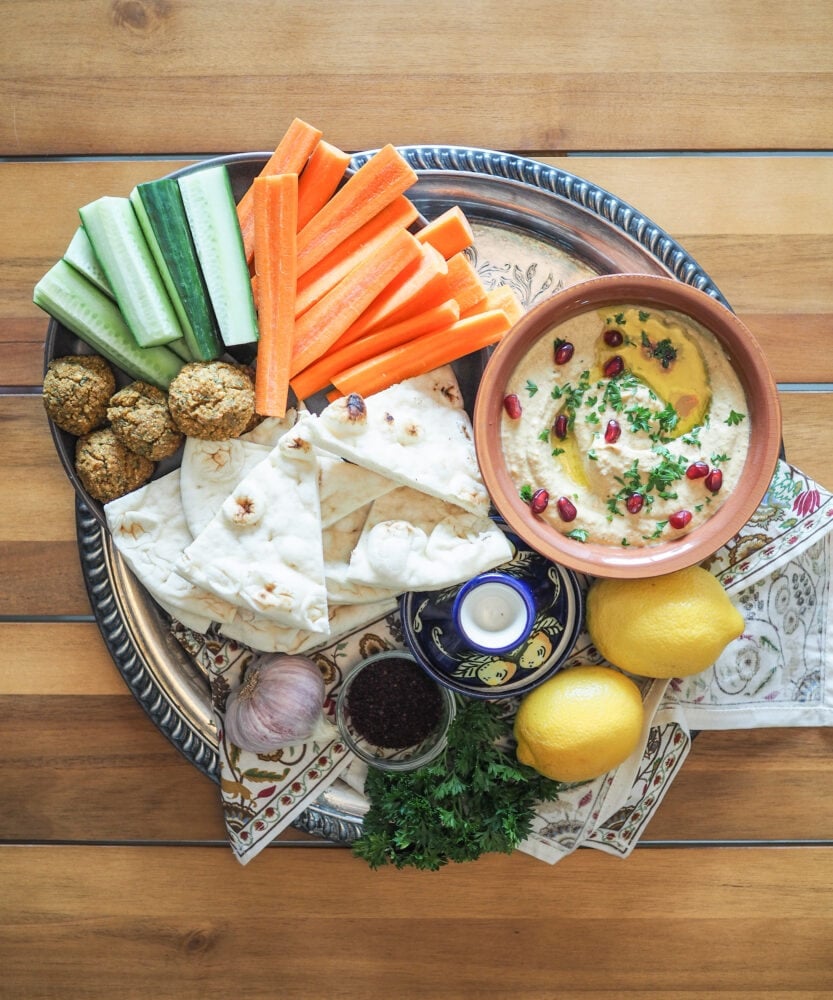 WHAT DO YOU SERVE WITH BABA GANOUSH?
Baba ganoush is essentially a dip, so you can eat it with any bread, chips or vegetables that you'd normally have with a dip. In Dubai, we ate it with hot fresh-baked tandoor bread. When creating a grocery list of things to serve with your homemade baba ganoush, think of finger foods that make it easy to scoop up soft dips and spreads. For instance, toasted pita bread, naan, or even a variety of crackers. When it comes to vegetables, I like to use sliced carrots, cucumbers, and bell peppers that are colorful and great for dipping. Look for endive or chicory lettuce too since each leaf makes a nice scoop.
pita bread
naan
tandoor bread
crackers
carrots
celery
cucumbers
bell peppers
endive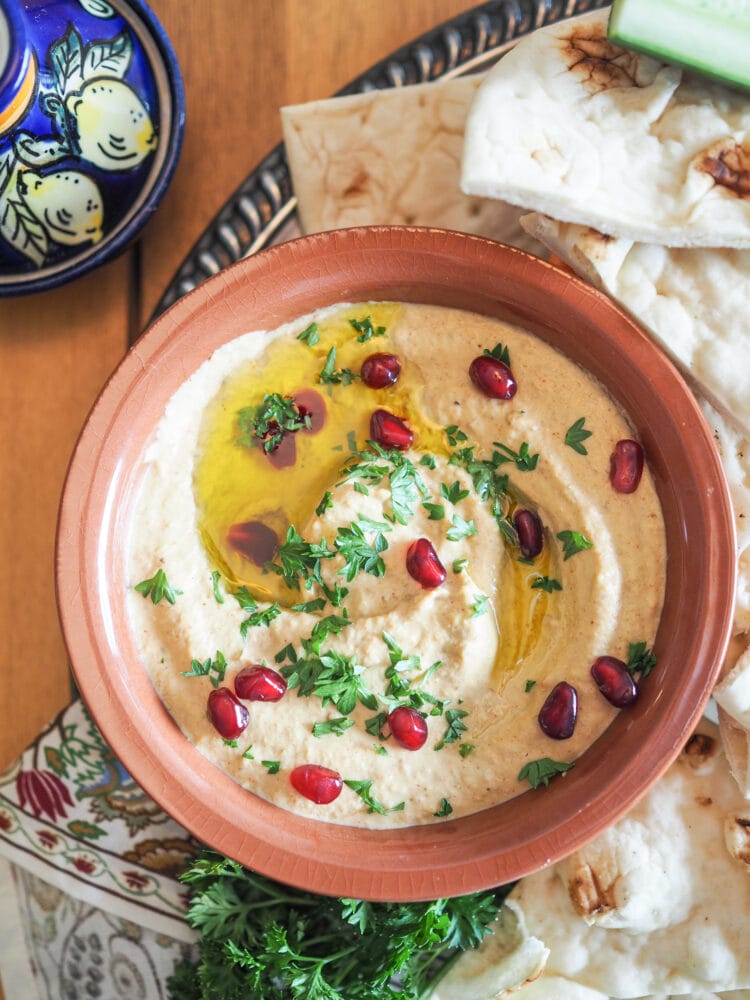 I hope all of these ideas and suggestions for serving were helpful! We think this is a great recipe below, but feel free to have fun and experiment with the spices and toppings, and whether you like your eggplant roasted or grilled, smoothed out in a food processor or blender, or hand mixed and chunky.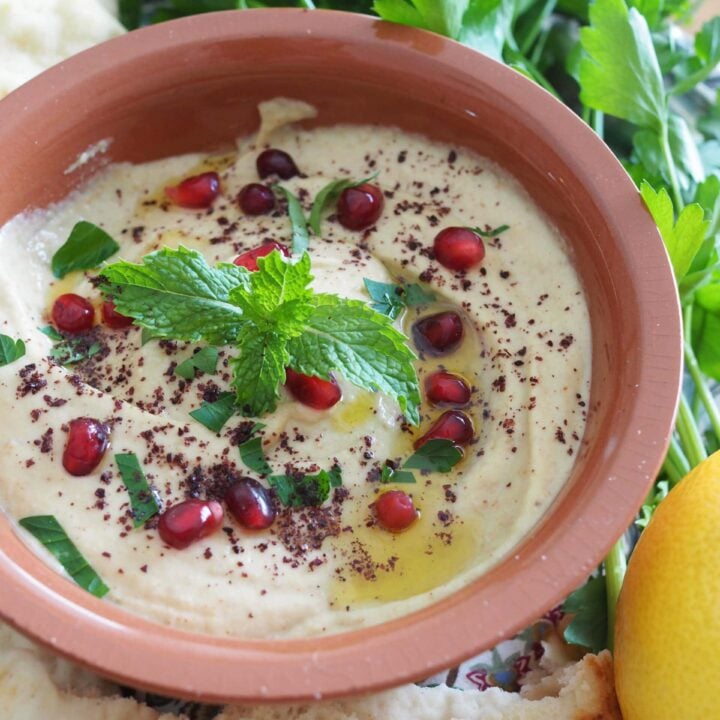 Baba Ganoush
Additional Time:
30 minutes
Total Time:
1 hour
7 minutes
Ingredients
1 Large Eggplant (approx. 1 cup once roasted)
1 Lemon
1 Lime
2 Garlic Cloves
1/4 Cup Tahini
1/3 Cup Olive Oil (plus a little more for roasting eggplant and garnish)
1/4 tsp cumin
1/4 tsp smoked paprika
parsley and pomegranate seeds (for garnish)
Instructions
Preheat oven to 400. Prepare cookie sheet or roasting pan with sheet of parchment paper cut to size.
Wash eggplant. Using a chef's knife, slice off the green top. Then, slice the eggplant in half, lengthwise. Place eggplant, sliced part down on cookie sheet. Roast at 400 for 35 minutes.
Once the eggplant is done roasting, allow to cool for 20-30 minutes until it is cool enough to touch.
Scrape roasted eggplant away from the skin and add it to stainer to remove any excess liquid. Add the strained eggplant to a medium sized bowl.
Add the tahini, olive oil, cumin, and paprika to the bowl of eggplant.
Wash and dry the lemon, then zest the lemon rind over the bowl of eggplant and spices. Then, cut the lemon in half and juice the lemon, adding the juice to the other ingredients.
Use a garlic press and mince the two garlic cloves and add them to the bowl of eggplant.
For a chunky baba ganoush, mix all the ingredients in the bowl by hand using a fork until blended. And for a more smooth baba ganoush, add all the ingredients to a food processor or blender and pulse until it achieves your preferred consistency.
Garnish with olive oil, chopped parsley, a spinkling of sumac or paprika, and pomegranate seeds.
WE THINK YOU'LL LOVE THESE RECIPES TOO!