I'm on a salad kick again, and tabouli is one of my favorites. A refreshing blend of fresh herbs, lemon, cucumber, and bulgur wheat, this middle eastern salad is so easy to make. And once you make it fresh, you'll never buy store-bought tabouli again.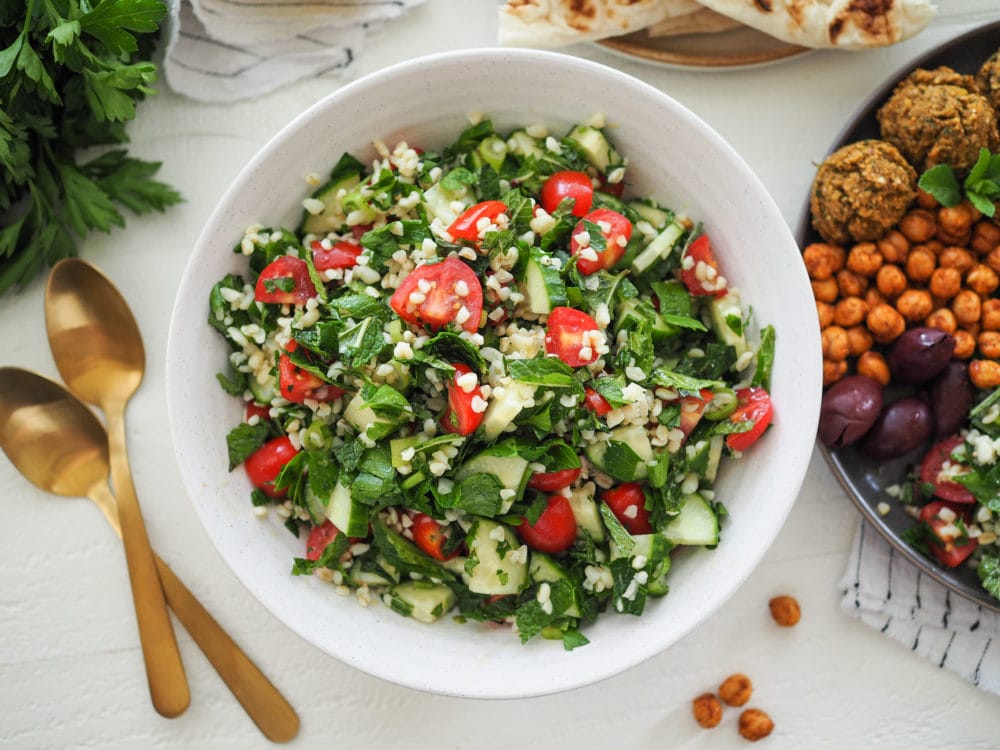 Tabouli is one of those dishes that I love to have right when I come home from a trip because the fresh parsley and mint seem to settle my stomach. Plus the cucumber is really hydrating, especially in summer. I usually make a big batch as a side dish with oven roasted chicken, then use the left overs throughout the week to make a Mediterranean snack plate (a mini mezze) with naan or pita, olives, hummus, falafel, and yogurt sprinkled with za'atar for lunch.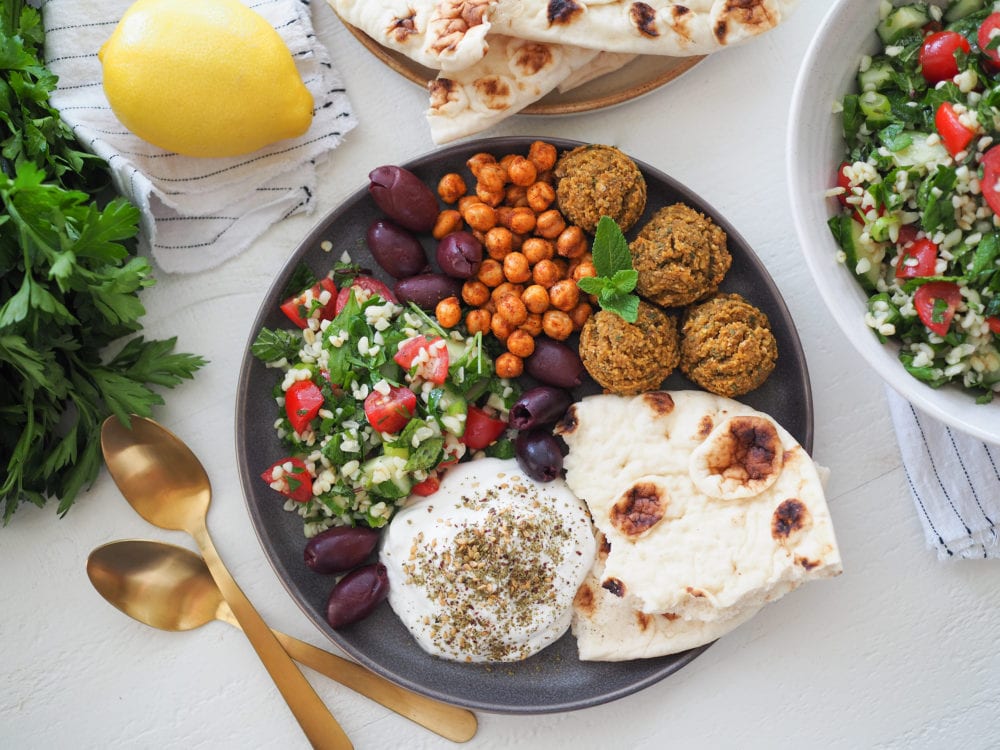 Tabouli, Tabouleh, or Tabbouleh?
So, is it tabouli, tabouleh, or tabbouleh? Turns out, all three spellings of tabouli are correct. Tabbouleh is actually the most common spelling and it usually depends on the country of origin. Tabbouleh is originally from Lebanon, though the recipe I have below is inspired by my trip to Jordan.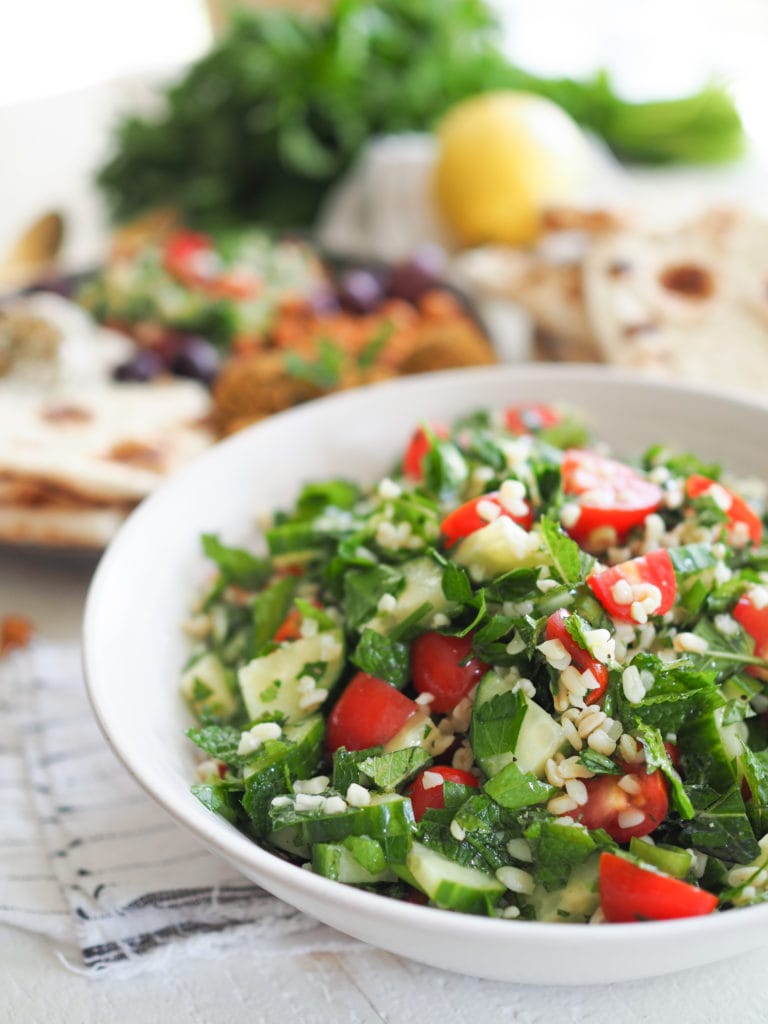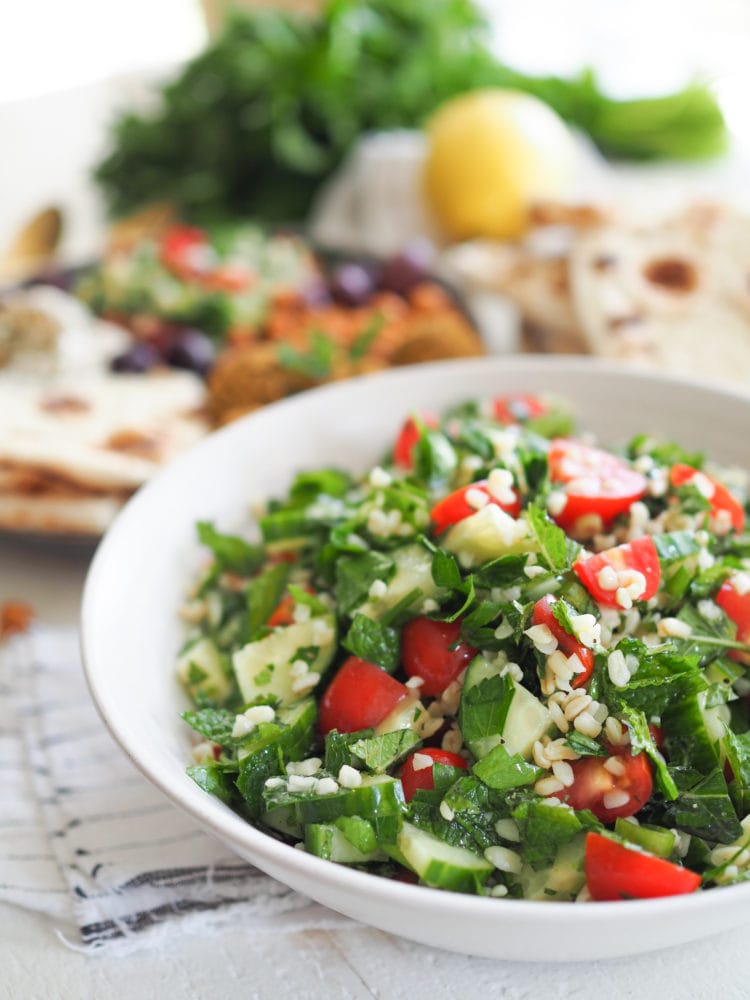 Types of Bulgur
The one pantry ingredient you'll need to pick up is bulgur wheat. It has less calories per cup than quinoa and can be a bit more filling. I like to use a larger grain bulgar in my tabouli, but I've also seen a fine grain bulgur wheat used to make the salad more starchy and less green.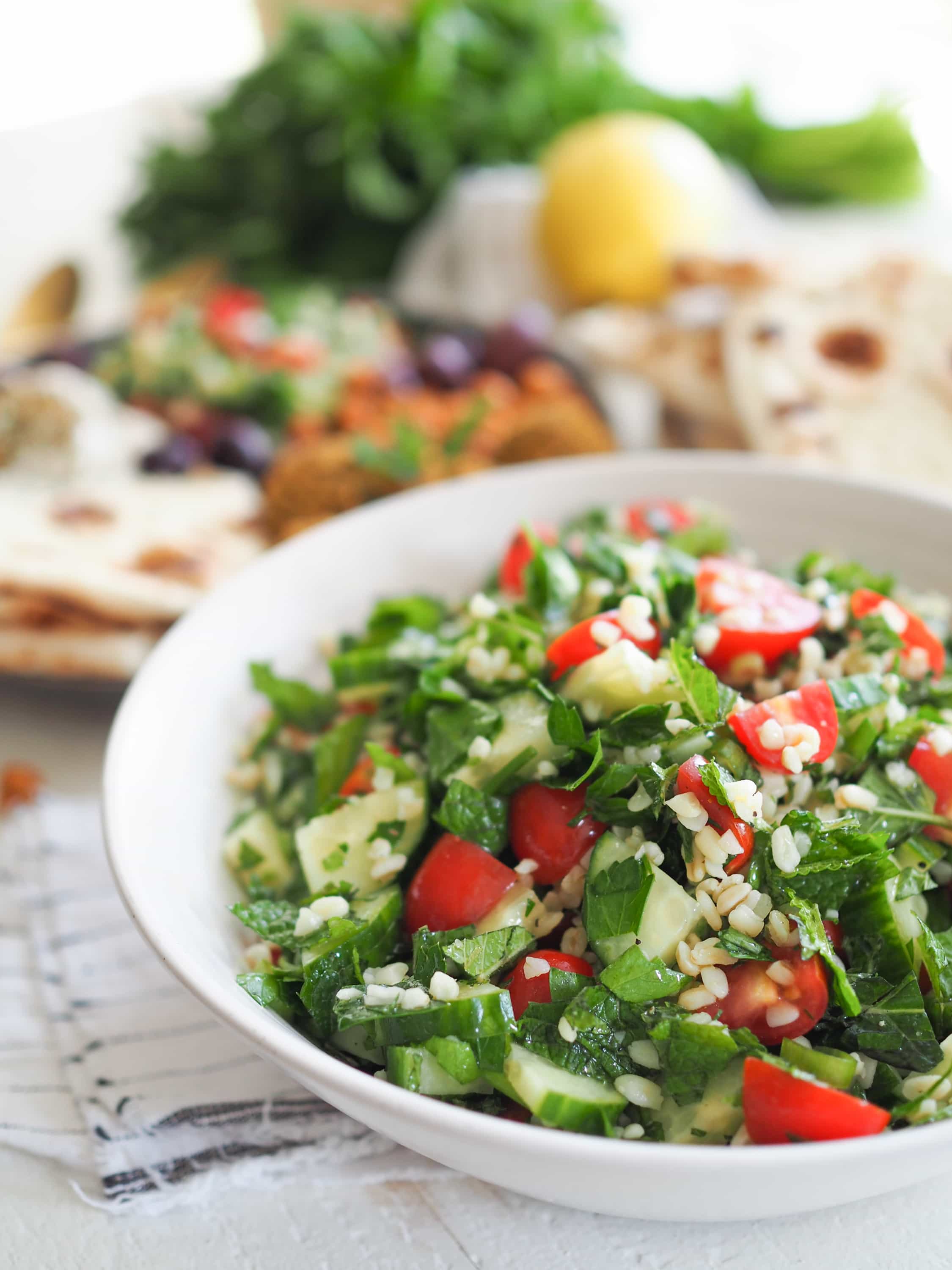 Tabouli Salad Recipe
Ingredients
1/2 cup bulgur wheat
1 cup cherry tomatoes
1 cucumber
1/2 cup chopped green onion
1-2 bunches of fresh parsley
1 bunch fresh mint
1 lemon
1/2 cup olive oil
salt and pepper to taste
Instructions
Rinse bulgur wheat in a strainer, then add to a glass bowl. Boil water in a tea kettle or microwave safe pitcher and slowly pour over bulgur, making sure to cover it by at least a 1/2 inch. Cover the bowl with a towel or plate and let sit for 30 minutes.
While the bulgur is absorbing the water, prep your vegetables and herbs. Rinse and pat dry the mint and parsley, tear the leaves from the stems, then finely chop.
Cut the cucumber in half, then quarters, then chop into quarter inch pieces. Rinse the cherry tomatoes, then cut them into quarters. Add all the herbs and vegetables to a large bowl.
Once 30 minutes has passed, strain the bulgur and squeeze out any excess water. Combine the bulgur, vegetables, herbs, chopped green onion, olive oil, salt and pepper.
Zest the lemon over the tabouli salad, then slice in half and juice the lemon over the salad bowl.
Toss all ingredients together to mix in the oil and lemon. Let chill for one hour, then serve.