Onion rings happen to be my husband Pete's favorite, so we always have a bag of frozen onion rings in the freezer ready to air fry. Air fryers are truly the best for frozen appetizers! It's so quick and easy to get any type of frozen fried food, including onion rings, golden brown crispy and delicious. That's why I'm baffled most frozen food brands only include oven instructions on the back of the package. But that's alright. We'll talk you through the simple steps to make frozen onion rings in an air fryer and get them golden brown crispy and delicious.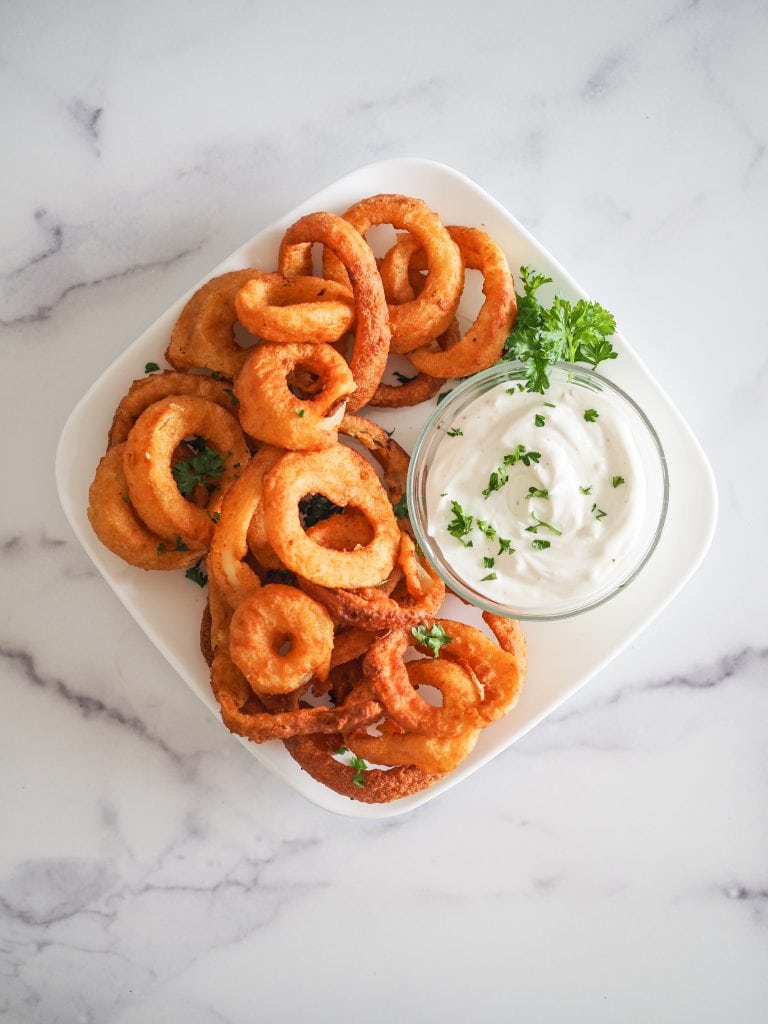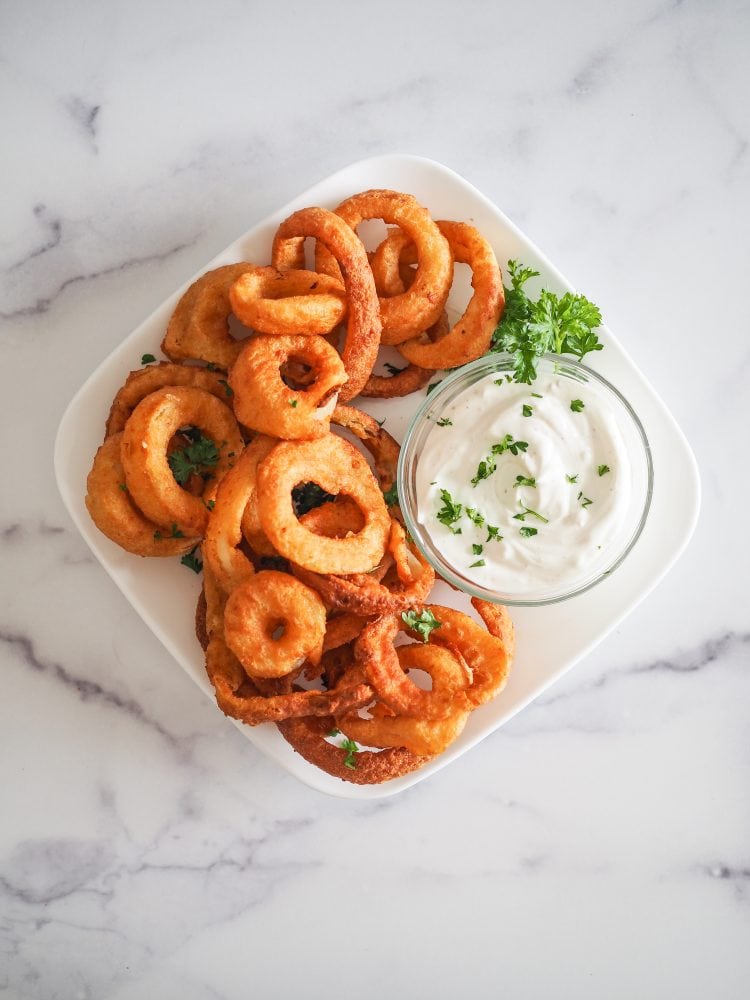 Pre-Heat Your Air Fryer
The first tip I'll give you is to pre-heat your air fryer. It doesn't take long, maybe 2-3 minutes, max. Set your air fryer to it's highest temperature setting (400-450 degrees) and set the time for 3 minutes. Let it run with the basket EMPTY to pre-heat and get ready for your onion rings.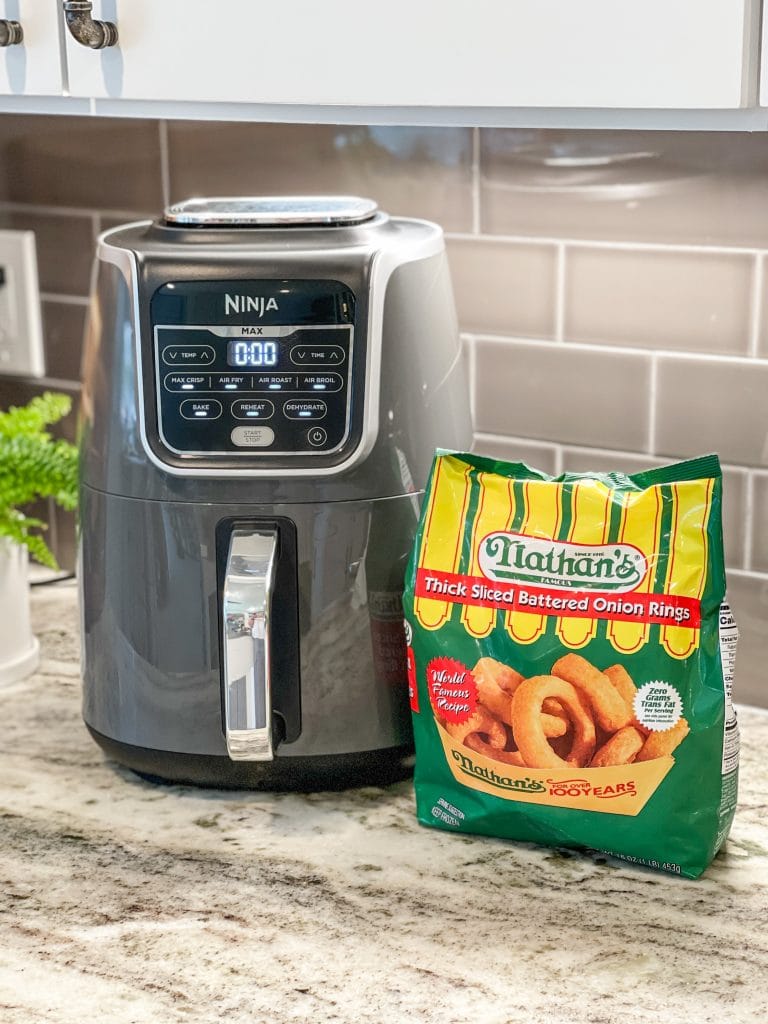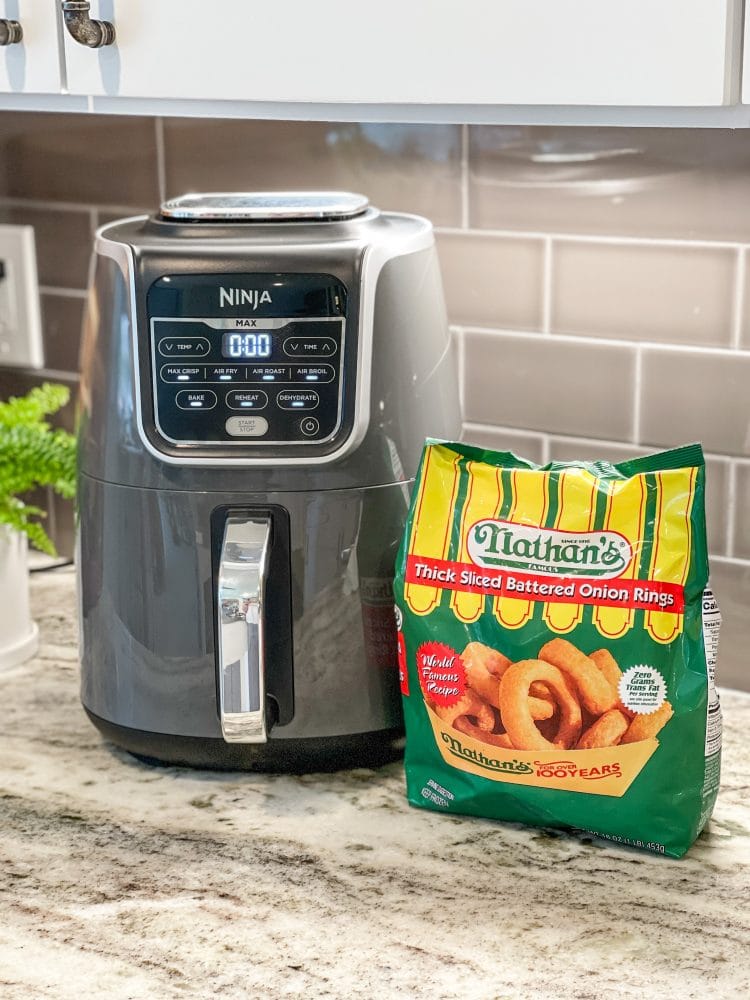 What Temperature Do You Air Fry Frozen Onion Rings
Now, let's look at temperature settings. The cooking temperature ranges between 375 and 400 depending on your brand of air fryer as well as the brand of frozen onion rings you use. I find that panko crusted onion rings typically crisp up quicker (and can burn faster) than regular battered onion rings. Generally, 400 degrees is recommended for air frying frozen onion rings. But this can be too hot and can burn some. Personally, I air fry my onion rings at 375.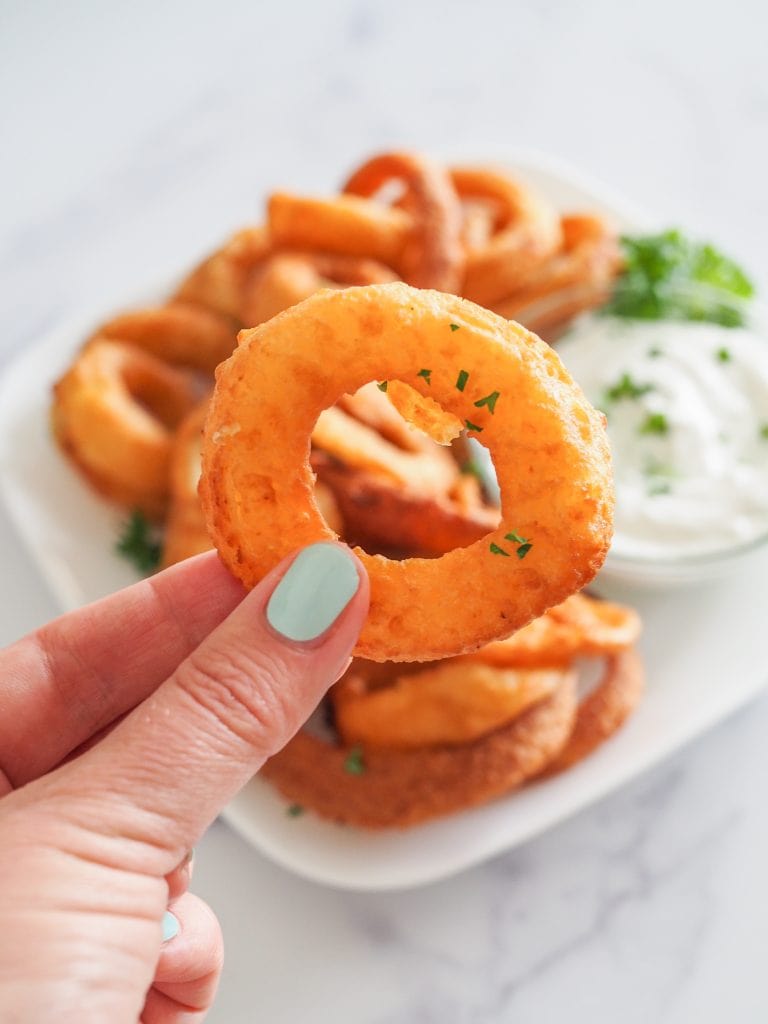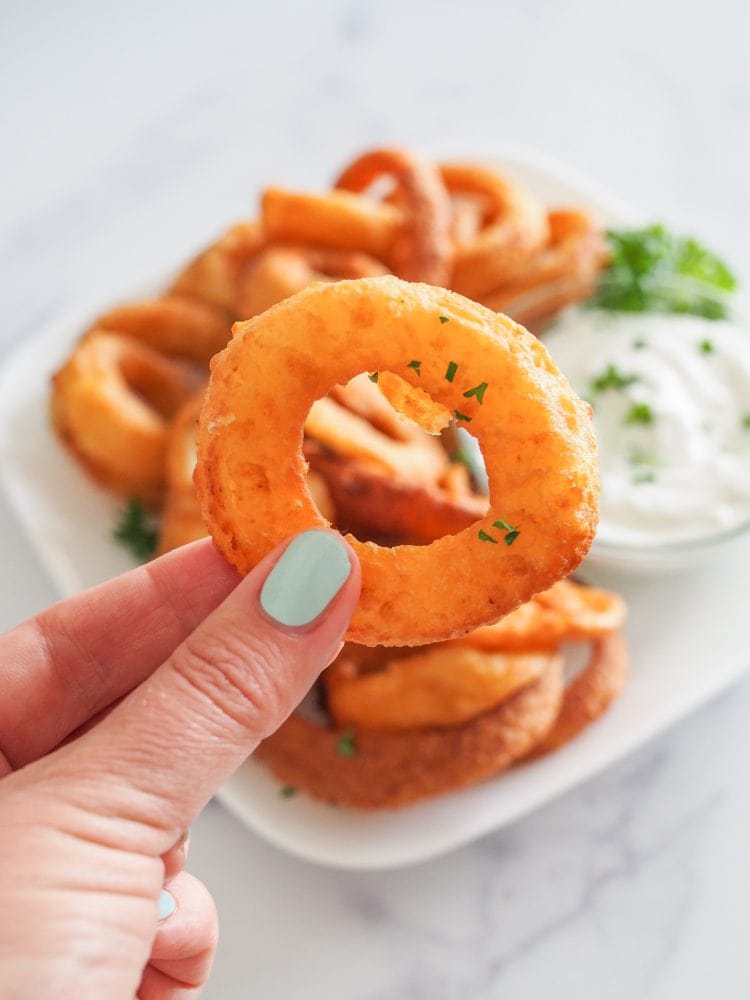 Think of your air fryer as a mini counter top convection oven, cooking with hot air moving all around your food. Typically, for convection cooking, you'd want to reduce the package recommended oven temperature setting by 25 degrees. So, for example, if your frozen onion rings package says to bake in the oven at 425 degrees, you'd want to lower it to 400 degrees for an air fryer. Or, as another example, the package recommends baking at 400 on a sheet pan, you'd lower the temperature to 375 for your air fryer.
How Long Do You Cook Frozen Onion Rings In The Air Fryer
Time and temperature for airy frying frozen onion rings can vary between air fryer brands, but typically you want to air fry a bag of frozen onion rings for 10-12 minutes. If you have a smaller air fryer and need to air fry the onion rings in batches, or only a half bag at a time, then air fry them for 8 minutes and add more time if needed.
Shake 'em Up!
Another tip I'll give you for getting the crispiest air fried onion rings is to shake the basket often. Most air fryers will pause and hold the time remaining when the basket is removed. But if it doesn't, simply hit pause before removing the basket to shake. Since onion rings are typically different sizes, shaking the air fryer basket often will help ensure that they're all evenly cooked.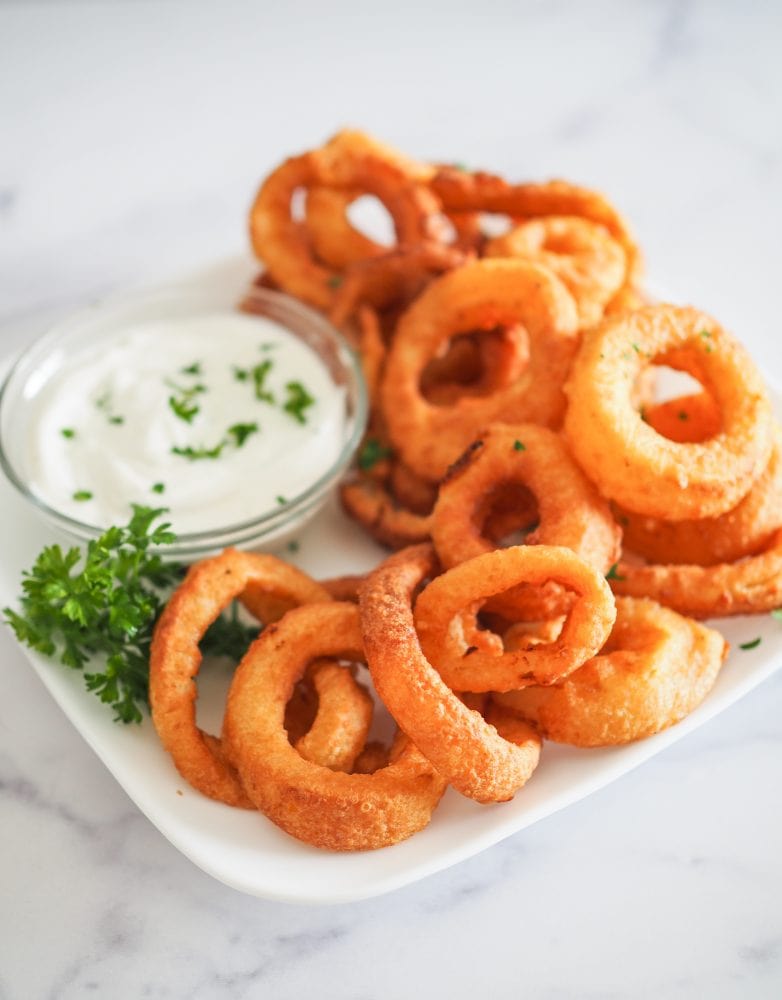 New to air frying and don't know how to shake the basket? Simply remove the basket from the air fryer and, while holding firmly on the handle, give the onion rings inside a little toss. You can also use a set of tongs to stir them up and turn them over. I recommend shaking or turning over the onion rings every 3 minutes while they cook.
What Are The Best Frozen Onion Rings?
We've tried every brand available at our local supermarket including Alexia, Publix, Nathan's, Ore-Ida, and Market Pantry. But I'm sure there are others for us to try! Alexia *feels* like the healthiest brand (as healthy as you can get, anyway, with crispy air fried onion rings). Alexia has great flavor and has a crumbly outer texture that tastes like what you'd get as a hand crafted appetizer at a trendy restaurant. One note of caution about air frying Alexia frozen onion rings, they can burn easily. So definitely air fry these at 375 and not 400.
Our second favorite was Nathan's Frozen Onion Rings. These are golden brown crispy and delicious, but without the grease of a deep fried onion ring. These air fried frozen onion rings have a more pub-like flavor. Like what you'd get with a hot dog (which makes sense since it's Nathan's) or a pint and a burger at a pub.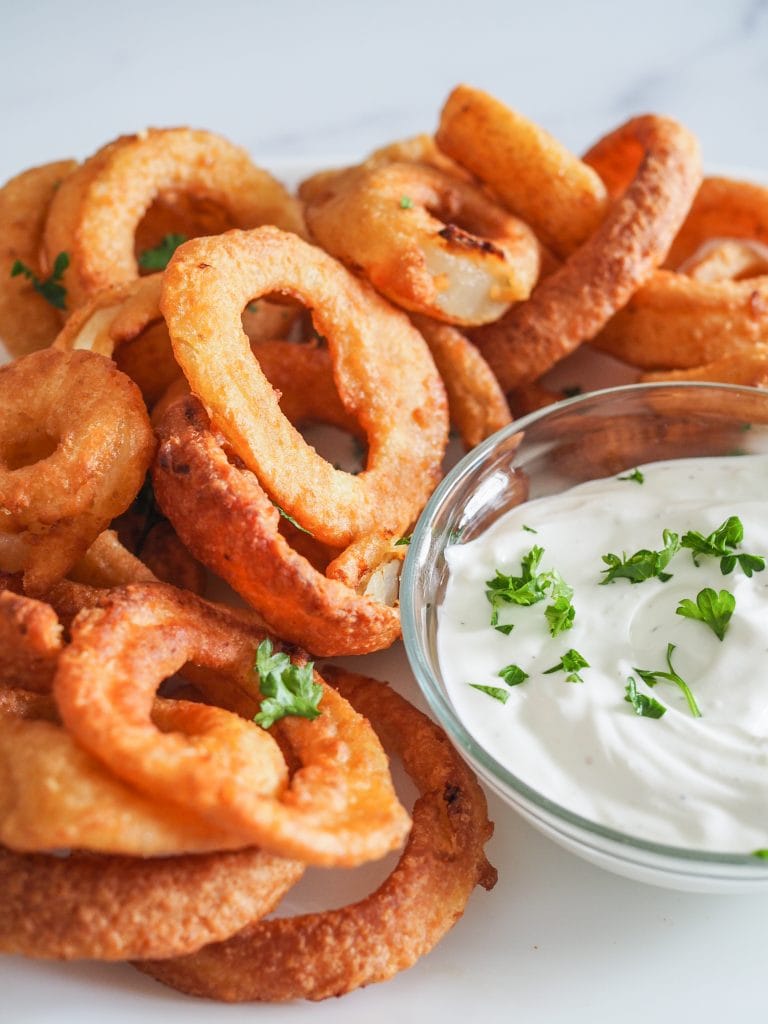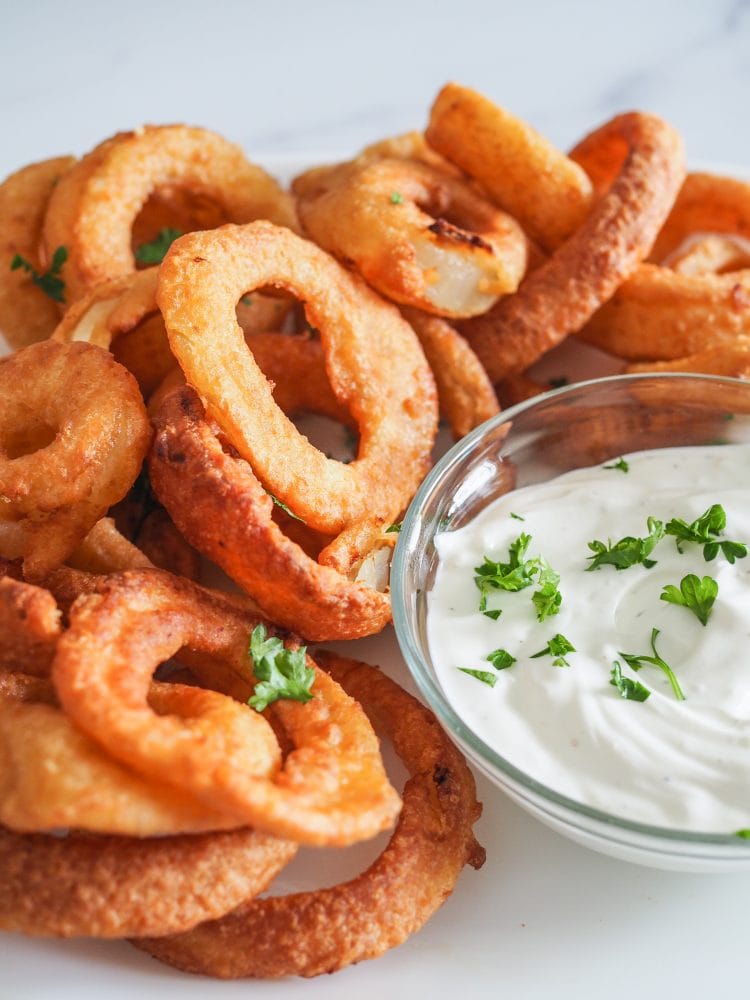 What To Serve With Air Fried Onion Rings
We like to have air fried onion rings instead of popcorn on a movie night. Or, along side steaks or burgers! They're great on their own or as a side. Just pick your favorite dipping sauce and you're ready for onion ring snacking. Here's a list of our favorite sauces:
ketchup
barbecue sauce
honey mustard
ranch
garlic aioli
For a really easy fake garlic aioli dipping sauce, mix once minced garlic clove with 1/3 cup of sour cream and a pinch of salt and pepper. It's SO good and is great for air fried onion rings.
More Snack + Appetizer Recipes You'll Love!