Air fryer salmon is one of my favorite quick and easy weeknight meals. It's perfectly cooked and tender every time. Air frying is seriously about the only way I'll cook salmon these days. We have a recipe for you below along with tips for selecting the right cuts of salmon, choosing an air fryer, and suggestions for what to serve with air fried salmon. Enjoy!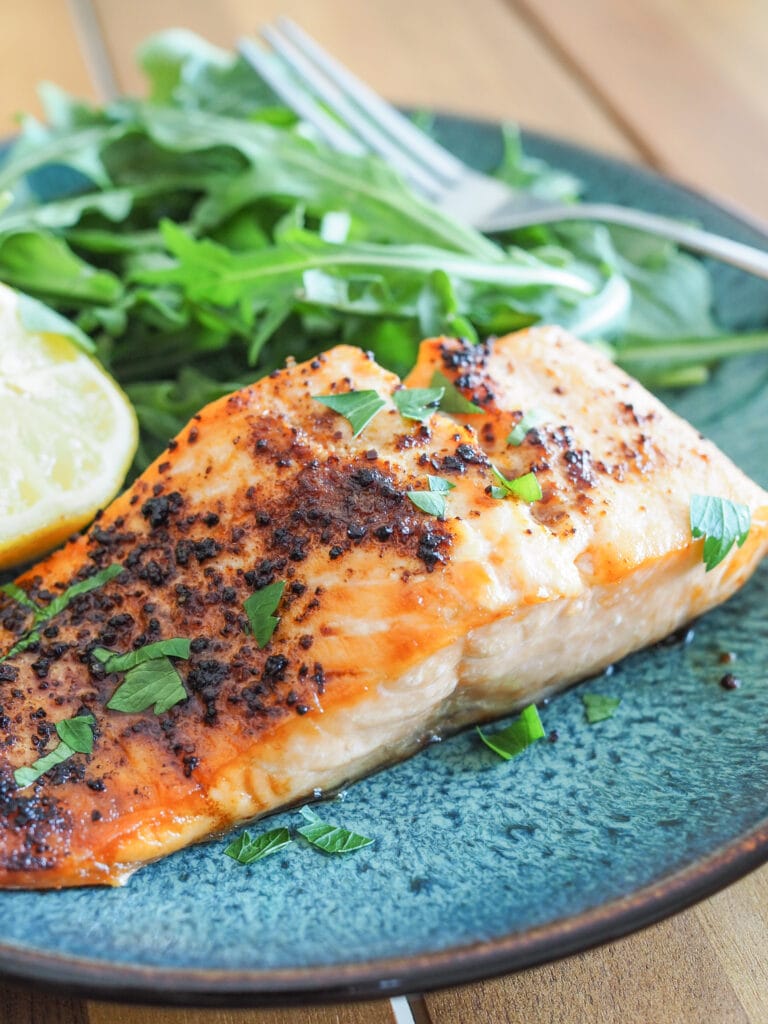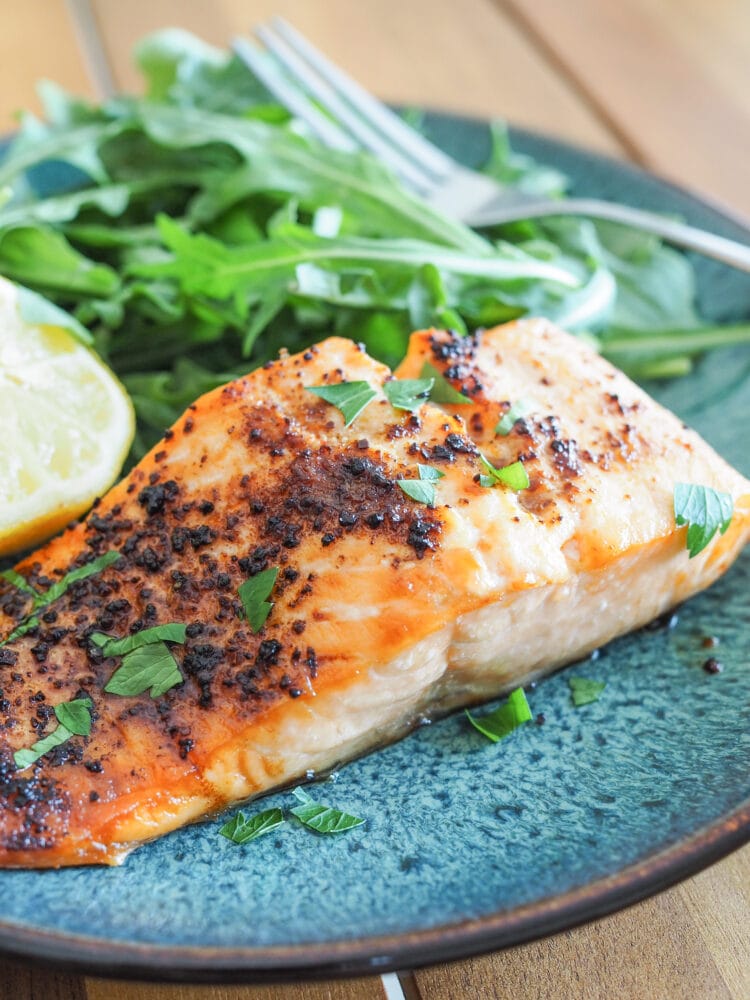 How Long Does It Take To Cook Salmon In The Air Fryer
Cooking salmon in an air fryer doesn't take long at all. Depending on the cut and thickness of the salmon, your cook time will be between 10 to 14 minutes. Total cook time, from package to air fryer to plate, it will take just 15-18 minutes, tops. It's one of the reasons why air fried salmon is one of my regular weeknight dinners. It's quick and healthy!
Selecting The Right Cuts Of Salmon
Selecting the right cuts of salmon is pretty simple. I recommend fresh, not frozen, salmon for better texture and flavor. But if only frozen salmon is available to you, be sure to put it in your refrigerator to thaw the day before you want to make it for lunch or dinner. The air fryer will still give it a great finish, it just might not be as firm.
Typically, I pick up pre-cut salmon fillets at our local grocer when I want to save time. Ask for the fillets that look firm (as opposed to flaky or falling apart). Also make sure the fillets are similar in thickness and size for even cooking. You can cook salmon with either the skin on or the skin off, so that just depends on your preference.
You can also buy a whole salmon side, which is a single fillet that runs the length of the fish. Most grocers and fish mongers sell a salmon side by the pound and it can save you a little money. Once you get it home, you'll need to cut the fillets to your preferred serving size in order for it to fit in your air fryer. Typically, a side will give you 3 to 4 fillets.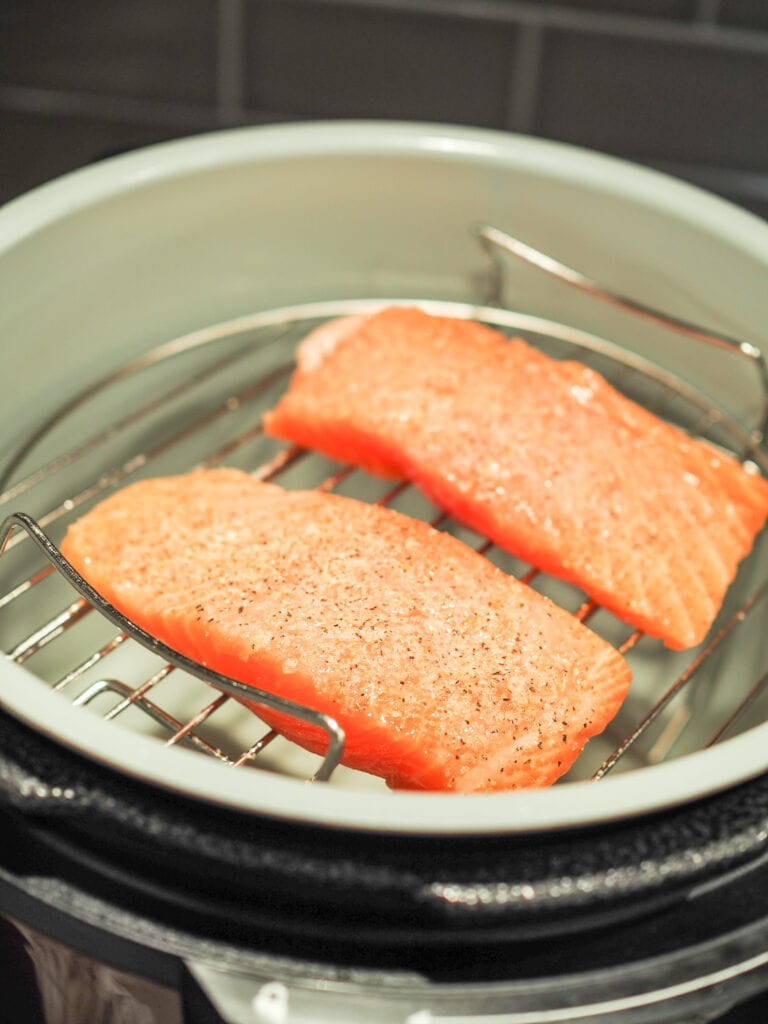 How To Season Salmon For Air Frying
When it comes to seasoning salmon for your air fryer, there are a lot of choices! I have a small section in my spice cabinet that I specifically use for seasoning salmon and other fish.
Salt & Pepper
Salt, Pepper, and Lemon Zest (I also really like Penzy's lemon pepper seasoning)
Teriyaki Glaze
Tajin or Trader Joes's Chili Lime Seasoning
Old Bay
Paprika (Smoked Paprika adds a really great "off the grill" flavor)
Honey & Garlic Powder
Lemon Zest & Garlic Powder
Dill & Lemon Zest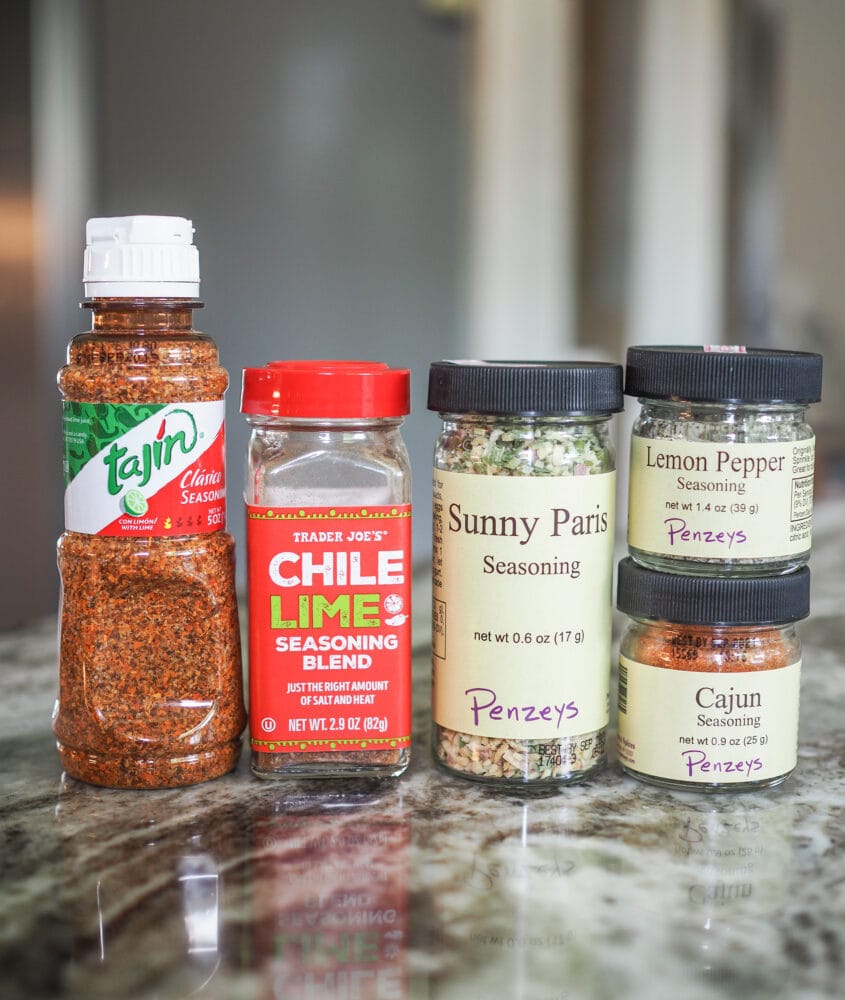 Choosing An Airfryer
I have to confess, I didn't jump on the air frying bandwagon right away. At first I thought they were just for "fried foods" like french fries and chicken fingers. But then I learned more about them, and they're essentially like having a mini convection oven right on your countertop. Now I cook all sorts of meals in mine, including this air fryer salmon!
In full disclosure, I represent Ninja on HSN, so those are the only air fryers I've used the most. I get asked quite a bit on social media (especially after a show) about which one is my favorite. I always give the same advice, it depends on your favorite cooking methods. The pressure cooker, grill, and oven, are all amazing because they do more than just air frying. But the Ninja Air Fryer XL is pretty terrific too and it's great for quick air fried meals.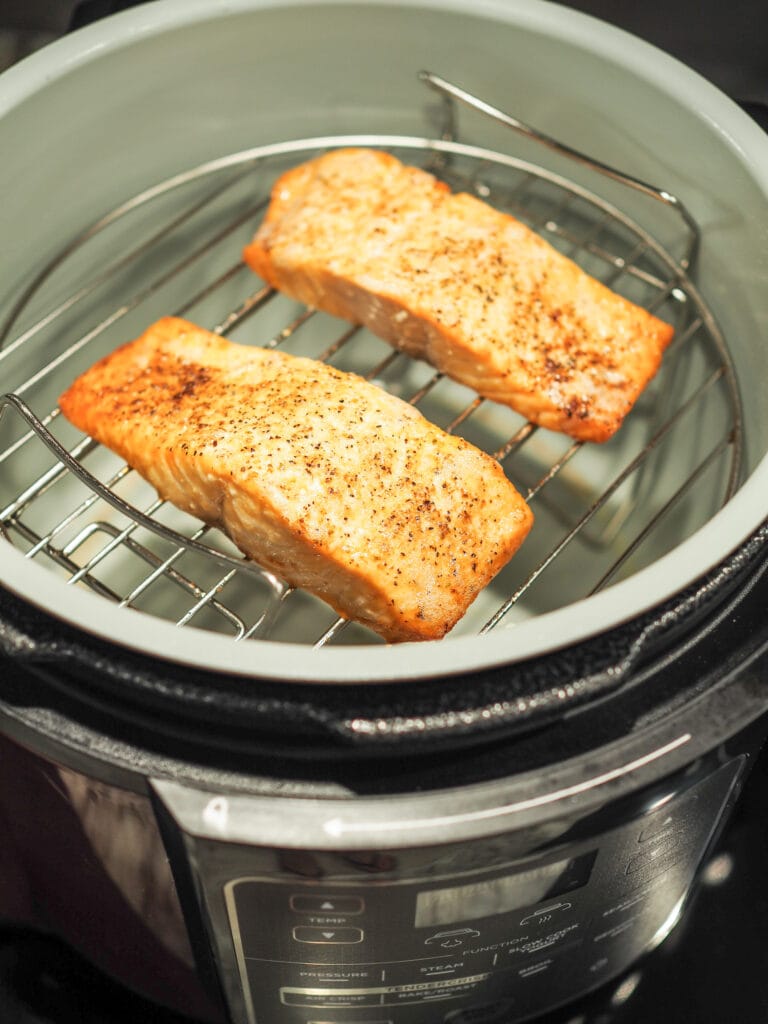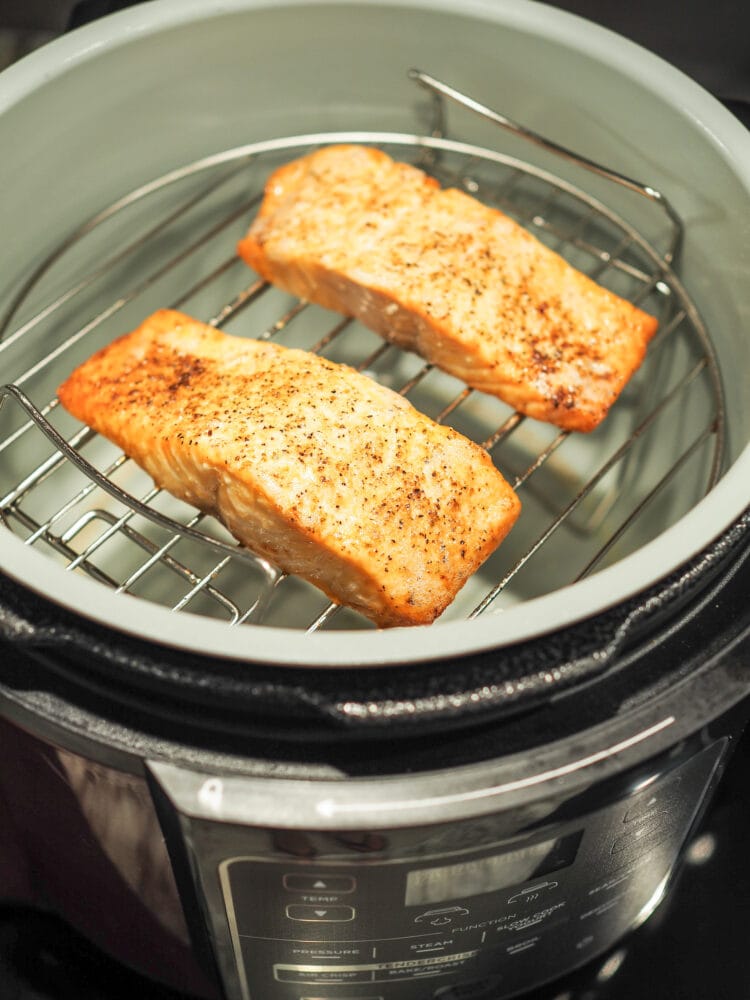 Prep Your Airfyer
A lot of people ask if you can use aluminum foil in an air fryer. Personally, I wouldn't. Not that you would damage the appliance, but because the whole purpose of the air fyer is to cook the food by surrounding it with hot air, and the aluminum foil would prevent that.
If you're worried about food sticking to your air fryer, that depends on which model or brand you're using. If it has a ceramic non-stick coating, it should be easy to clean.
When I use my Ninja Foodi pressure cooker to air fry salmon, I typically use the roasting rack which is not ceramic coated. To prevent salmon from sticking, I simply spray the rack with non-stick spray (such as Pam) before adding the salmon.
Once I'm done and the salmon is ready to serve, I put the roasting rack and pot into the dishwasher. Easy clean up.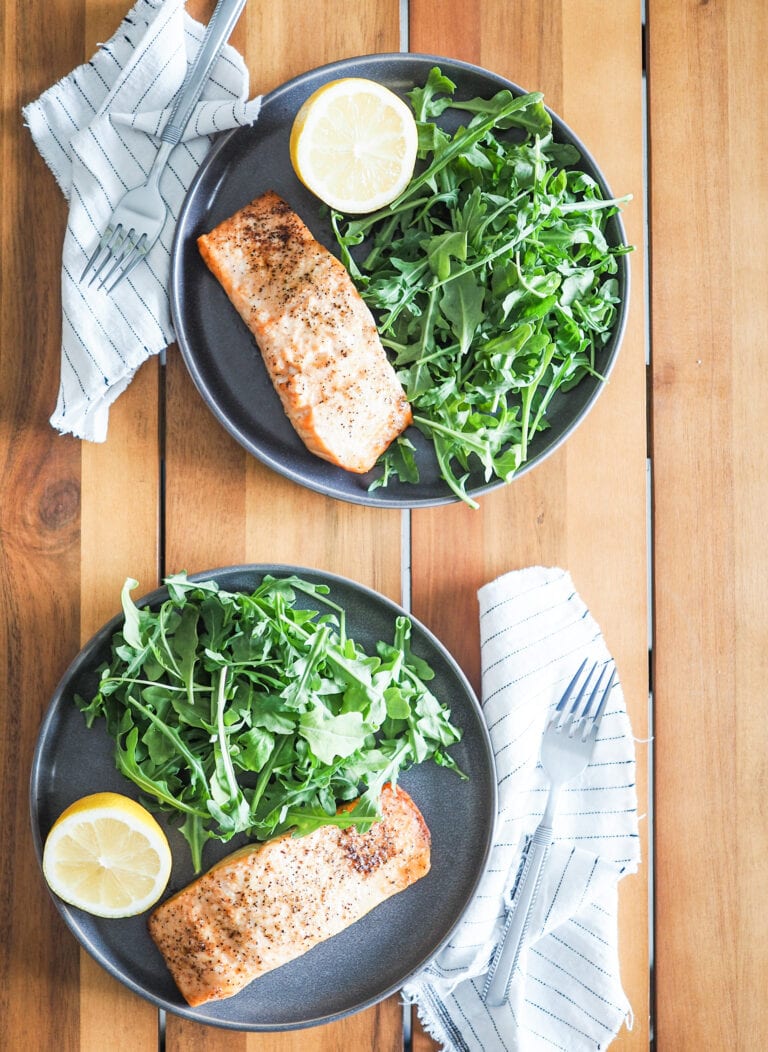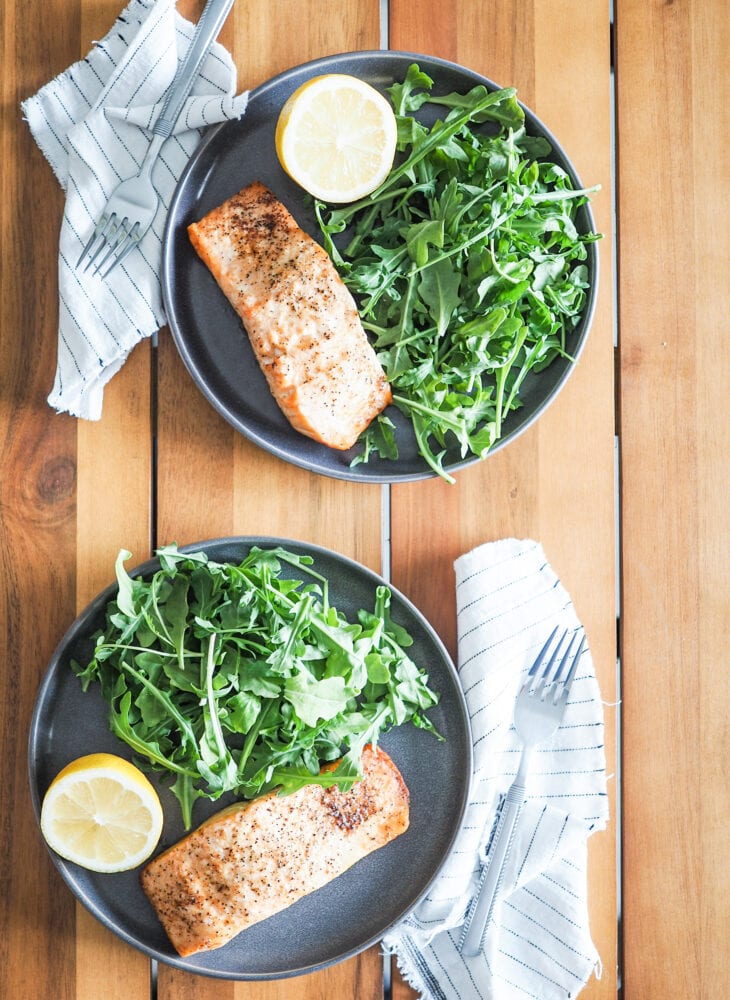 What To Serve With Air Fried Salmon
Personally, my two favorite quick and easy sides I like to make with air fryed salmon are roasted baby red potatoes and a simple arugula salad. The arugula salad is easy to make while the salmon is cooking. Simply add a handful of arugula (or other greens) to each plate. Then top with whatever salad toppings you have on hand. I typically add pickled red onions, cherry tomatoes, and radishes. But sometimes I just add the arugula and that's it! It has such as nice spicy flavor that it only needs a squeeze of lemon or a simply oil and vinegar.
For the baby red potatoes, cut them in half and coat them with oil. They typically cook in about the same amount of time as the salmon, so I'll usually air fry them together.
There are plenty of options for sides, though. Check the air fry cooking charts that come with your air fryer and pick a vegetable that has about the same cook time as the salmon. Keep in mind that time and temperature depends on the thickness of your fillets.
More Salmon Recipes
Interested in more salmon recipes? Here are a few of our favorites: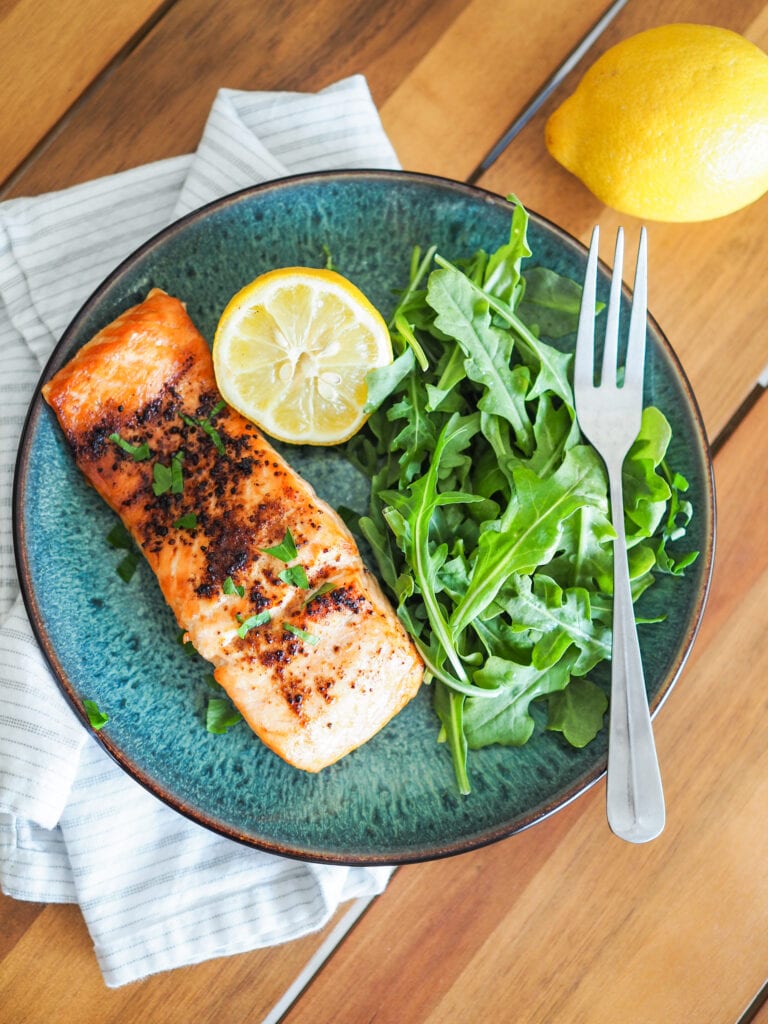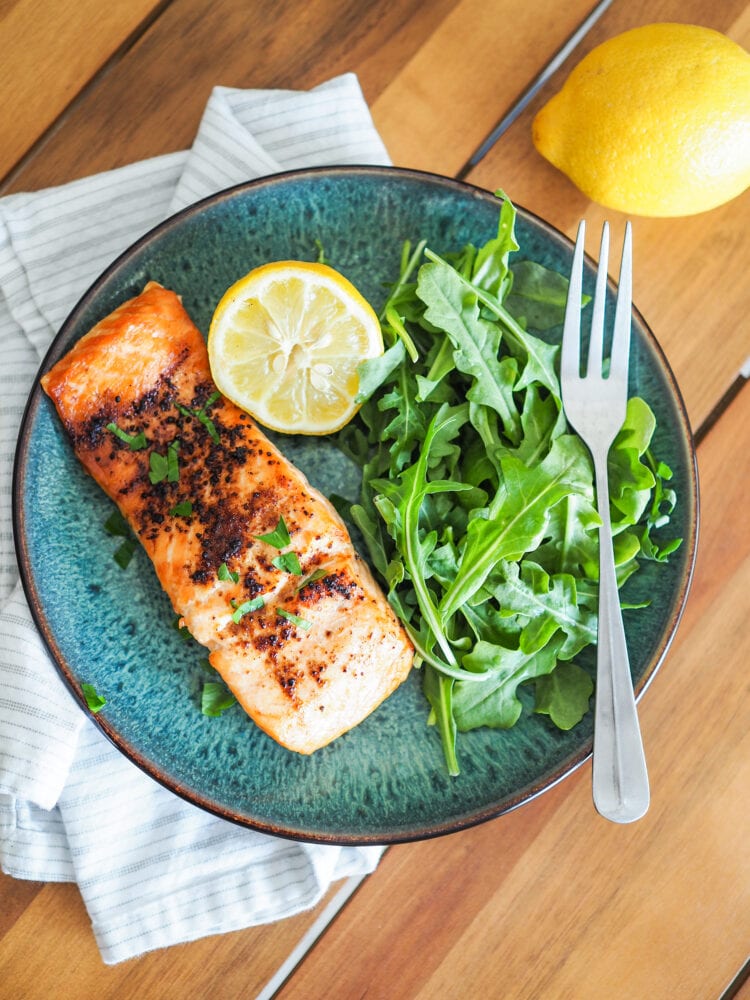 What To Serve With Salmon
The BEST Air Fryer Salmon
A quick and easy weeknight dinner, air fried salmon.
Ingredients
2-4 salmon fillets
cooking oil spray
1 tsp seasoning (see notes for options)
Instructions
Set your air fryer temperature to 375.
Spray the air fryer roasting tray or rack with cooking oil.
Place the salmon fillets on the roasting tray/rack. Season with your choice of spices.
Cook for 10-14 minutes.
Check salmon after 10 minutes of air frying. Cooking time will vary depending on the thickness of your fillets. When the salmon is done cooking, it should be a nice golden pink color. Gently press down on the top of the fillet with a fork or your finger. If the salmon flakes (separates easily along the white lines that run across the fillet), it's done!
Notes
There are so many seasonings that go well with salmon. Here are some of our favorites!
Salt & Pepper
Salt, Pepper, and Lemon Zest (I also really like Penzy's lemon pepper seasoning)
Teriyaki Glaze
Tajin or Trader Joes's Chili Lime Seasoning
Old Bay
Paprika (Smoked Paprika adds a really great "off the grill" flavor)
Honey & Garlic Powder
Lemon Zest & Garlic Powder
Dill & Lemon Zest
Nutrition Information:
Yield:

4
Serving Size:

1
Amount Per Serving:
Calories:

499
Total Fat:

32g
Saturated Fat:

6g
Trans Fat:

0g
Unsaturated Fat:

23g
Cholesterol:

143mg
Sodium:

518mg
Carbohydrates:

0g
Fiber:

0g
Sugar:

0g
Protein:

50g
Nutrition information provided is only an estimate. Based on cooking 4 salmon fillets.