I just love a challenge.  And this month, Marx Foods is daring foodies to a Blogger Mushroom Recipe Contest.  Each blogger that signed up received samples of a couple of different types of mushrooms to experiment with and create an original recipe.  Upon receiving my package, I called up my good friend, Chef Jim with the Mount Dora Historic Inn, for some ideas.  Since it is Fall and I am at the peak of my marathon training, I wanted to create something that was creamy and comforting for the weather and hearty enough for my long distance run in the morning.  The result of our phone conversation … Champagne Risotto with Wild Mushrooms.
First, a little history on risotto.  It's not a pasta.  Nor it is a type of rice.  It's an Italian method of cooking rice.  The Italians pretty much perfected the art of slow food, and this recipe takes some time.
Next, a little clarification on wild mushrooms.  It is one of Justin Marx's pet peeves when restaurants label a dish as containing "wild mushrooms" when they really are only using cultivated varieties such as portabellas, shitakes, etc.  The mushrooms used in this recipe are indeed wild.  They're hand-foraged from the forests of the Pacific Northwest.  What exactly does that mean? Well, it means that they were growing naturally in the environment and then were found in the forest and hand picked … like a treasure hunt.  This quote from the Marx Food blog captures the essence of wild foods, "experience nature and the seasons through fine food, while bringing the exotic to your table."
I did a practice run of this recipe with some porcini mushrooms.  Unfortunately there are no photos of that one for your drooling pleasure.  My second time making this recipe (and the one photographed below) I used black trumpet mushrooms.  A lot of recipes I looked at for inspiration had black trumpet mushrooms in stir fry and French cooking.  It's a little unusual to use in an Italian dish such as risotto, but their earthy flavor and meaty texture made a tasty Fall recipe.
Typically, risotto is made using a dry white wine.  We decided to fancy it up a bit by using champagne.  Perusing through the champagne labels at my local grocer and oogling my favorite Prosecco, I paused a moment and thought, "Do I really want to heat up and ruin a perfectly good Prosecco?"  Heavens no!" So, since I was planning on cooking with it, I grabbed a bottle of the cheap stuff.  This provided some funny surprises.  Such as a screw top plastic cork with a "don't poke you're eye out" warning.  Hilarious!
On to the recipe!
The main stars of this even are wild mushrooms, short grain rice, garlic and truffle salt.
And of course, the cheap champagne.  Start by adding the champagne to a small sauce pot and setting the heat to low/medium.  Pour slowly so it doesn't erupt like Mount Vesuvius.  If you don't mind the cheap stuff, take a swig.  I uncorked some red vino instead.
The champagne will look like it's boiling … don't freak out … it is champagne.  It's supposed to bubble.  As it heats you'll notice less bubbles.  I just didn't want you to be afraid of dipping your ladle into somthing bubbly.
Next, fill a deep skillet with about 2 cups of chicken stock and 8 oz of brie (without the rind). Set the heat to medium and stir the brie to help it melt into the broth (about 10 to 15 minutes). You want it to be warm, not boiling.
On their blog, Marx Foods shows an example of how to reconstitute mushrooms in a bowl with boiling water.  For this recipe, reconstitute the dried mushrooms in the broth to add flavor to the stock.  Let them soak for about 20 minutes or until tender.
Meanwhile, start a savory saute in a separate skillet.  Starting with the onions …
next add the garlic …
and then a sprinkle of truffle salt to bring out the flavors …
and a dash or two (or three) of Italian seasoning.
While the onions are sauteing, check the consistency of your mushrooms.
Remove them from the broth using a slotted spoon or a skimmer.
Allow me to introduce you to the Black Trumpet.  Wild looking, eh?
I couldn't resist.  I like to play with my food, such as trying to play it like a miniature trumpet.
Chop the mushrooms in 1/4 inch pieces and set aside in a bowl.
When the onions have turned clear and started to brown, add them to a bowl with the mushrooms and set aside.
Using the same skillet as you did for the onions, add a dribble more of olive oil and then toast the rice.
Stir the rice for about a minute or two until it is coated in olive oil and is clear or opaque.
Now your ready to start adding the liquids, starting with the champagne.  It should be warm, but not boiling.  Use a ladle or measuring cup and add one cup of champagne to the rice.
Stir until the rice has completely absorbed all the champagne.
Next add one cup of the chicken broth with melted brie and mushroom stock.
Stir until the broth is completely absorbed.  Then add another cup of champagne.  Keep repeating this process until you have used all of the broth and most of the champagne.
Yes, you do in fact have not one, not two, but three pans working all at the same time.  You might think to yourself that there is an easier or quicker way to make rice.  Not the Italian way. They like it slow and savory.
After the rice has absorbed all the liquid (about a 20 minute process), add the onions and mushrooms and stir together.
And there you have it.  Champagne risotto with wild mushrooms.  Enjoy!
Champagne Risotto with Wild Mushrooms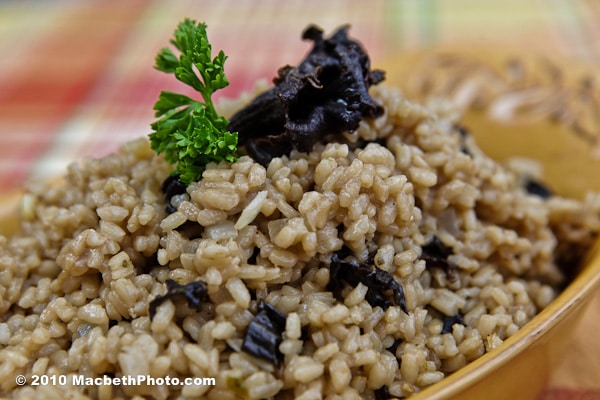 Champagne Risotto with Wild Mushrooms
Total Time:
1 hour
20 minutes
Ingredients
2 cups chicken stock
3 cups champagne
8 oz brie (without the rind)
2 oz dried wild mushrooms (black trumpet pictured above)
3 tablespoons olive oil
1 medium white onion, diced
2 cloves garlic
2 tablespoons Italian seasoning
1 tablespoon truffle salt
2 tablespoons butter
2 cups short grain rice (Arborio is best)
Instructions
) Add champagne to a medium saucepan. In a deep skillet, add chicken stock, brie and dried mushrooms. Let simmer at medium heat until the brie is completely melted. Allow the mushrooms to reconstitute (about 15 to 20 minutes) then remove mushrooms and set aside.
) Heat 1 tablespoon of olive oil in a non-stick skillet and add garlic, onions, spices, and a pinch of truffle salt. Saute until onions are clear and starting to brown. Remove from pan and set aside in a separate bowl. Add remaining 2 tablespoons of olive oil to skillet and then add the rice. Toast the rice until it is well coated in oil appears almost clear in color.
) With a ladle or measuring cup, add one cup of warm chicken stock mixture, pour into rice and stir until absorbed. Then, using a cup or ladle add one cup warm champagne to rice and stir until absorbed. Make sure the rice has absorbed all liquid before adding more. Repeat this process of adding liquid and stirring until all of chicken stock is gone. This slow cooking process keeps the grains from splitting so the rice is creamy, not mushy.
) Transfer the mushrooms and onions to the rice mixture and stir together. Sprinkle on remaining truffle salt. Serve fresh grated Parmesan or Pecorino Romano cheese on the side. For a meal, I suggest serving with panko encrusted chicken breast or halibut and broccoli.
Want to save it for later?  Pin it! 🙂