We kicked off the autumn season in our house this week with this pumpkin risotto. It may still feel warm here in Florida during the first week of October, but we're enjoying the flavors of fall.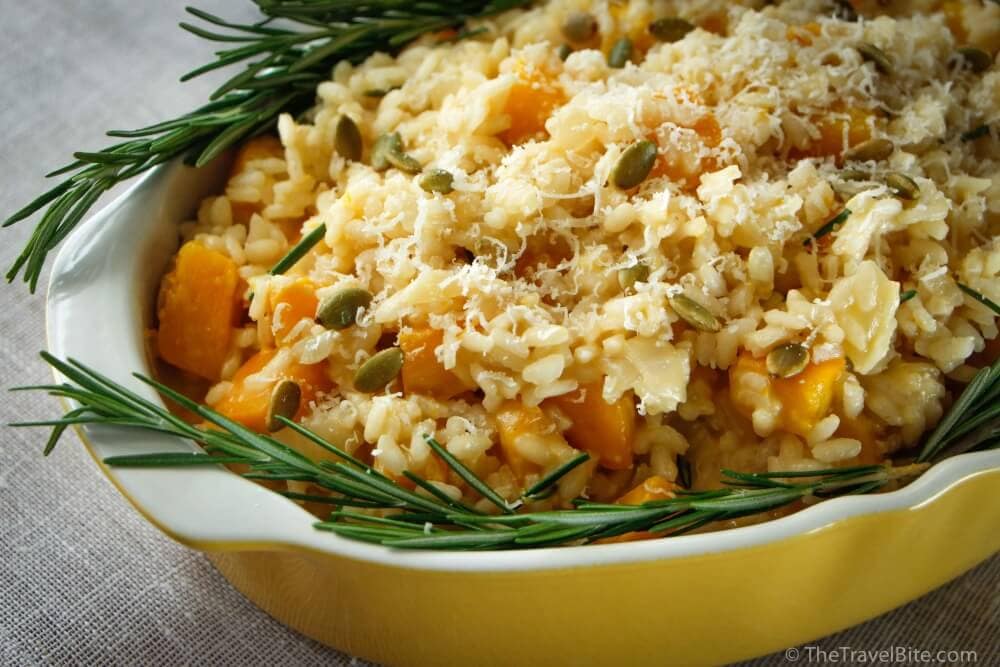 This recipe was inspired by my trip to Zurich this summer where I visited the first vegetarian restaurant in the world — Hiltl. Founded in 1898 as the Vegetarian Home and Abstinence Café, the people of Zurich used to joke that it was a "root cellar" until successful entrepreneur, Ambrosius Hiltl turned things around for them in 1904.
Adding a mix of spices from his world travels and a few family recipes, the restaurant has flourished through four generations of Hiltl's and now offers over 500 vegetarian dishes, an epic buffet, and even a vegetarian butcher. Yes, I said vegetarian butcher. It looks like any other juice bar or trendy deli that you'd visit, except what looks like meat, isn't.
I have to confess, their legendary tar tar, that looks just like steak tartar, really fooled my palate. Even though I'm a carnivore at heart, I really appreciated this slice of history in the city and their flavorful vegetarian dishes.
I picked up a cookbook to take home as a souvenir, and this recipe is adapted from Hiltl's Pumpkin Honey Risotto. I tweaked it just a bit, adding in more wine and mascarpone for a richer flavor (who doesn't love more wine and cheese?).
Enjoy! And cheers to autumn! In the mood for all things pumpkin? You might also want to try our one bowl pumpkin bread, pumpkin flan, and pumpkin cream cheese stuffed muffins. If you're making these from scratch, check out how to peel and dice fresh pumpkin.
Pumpkin Risotto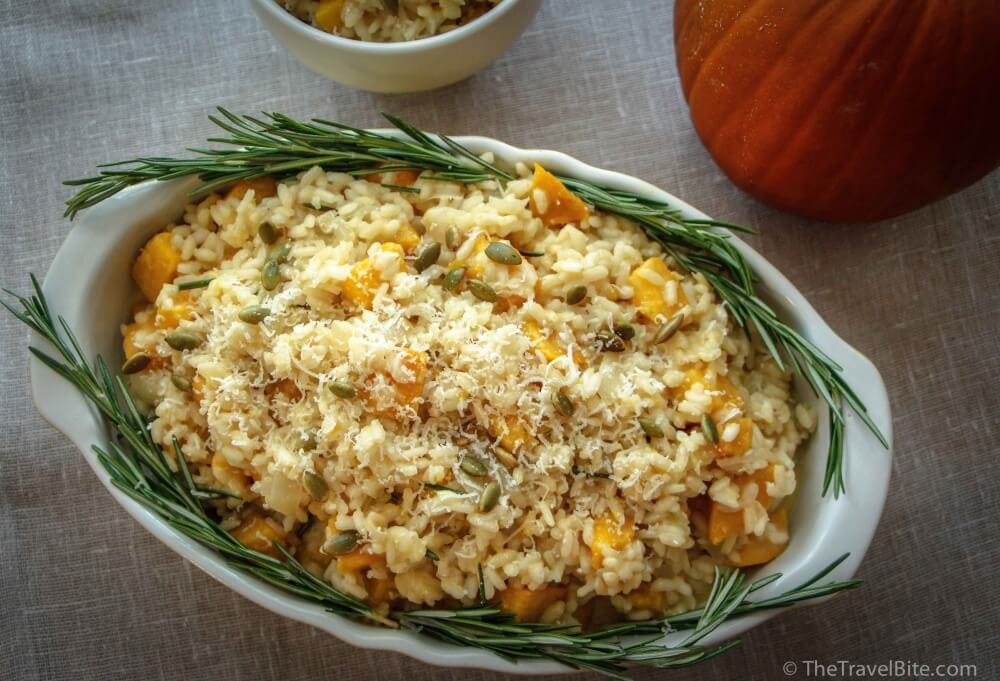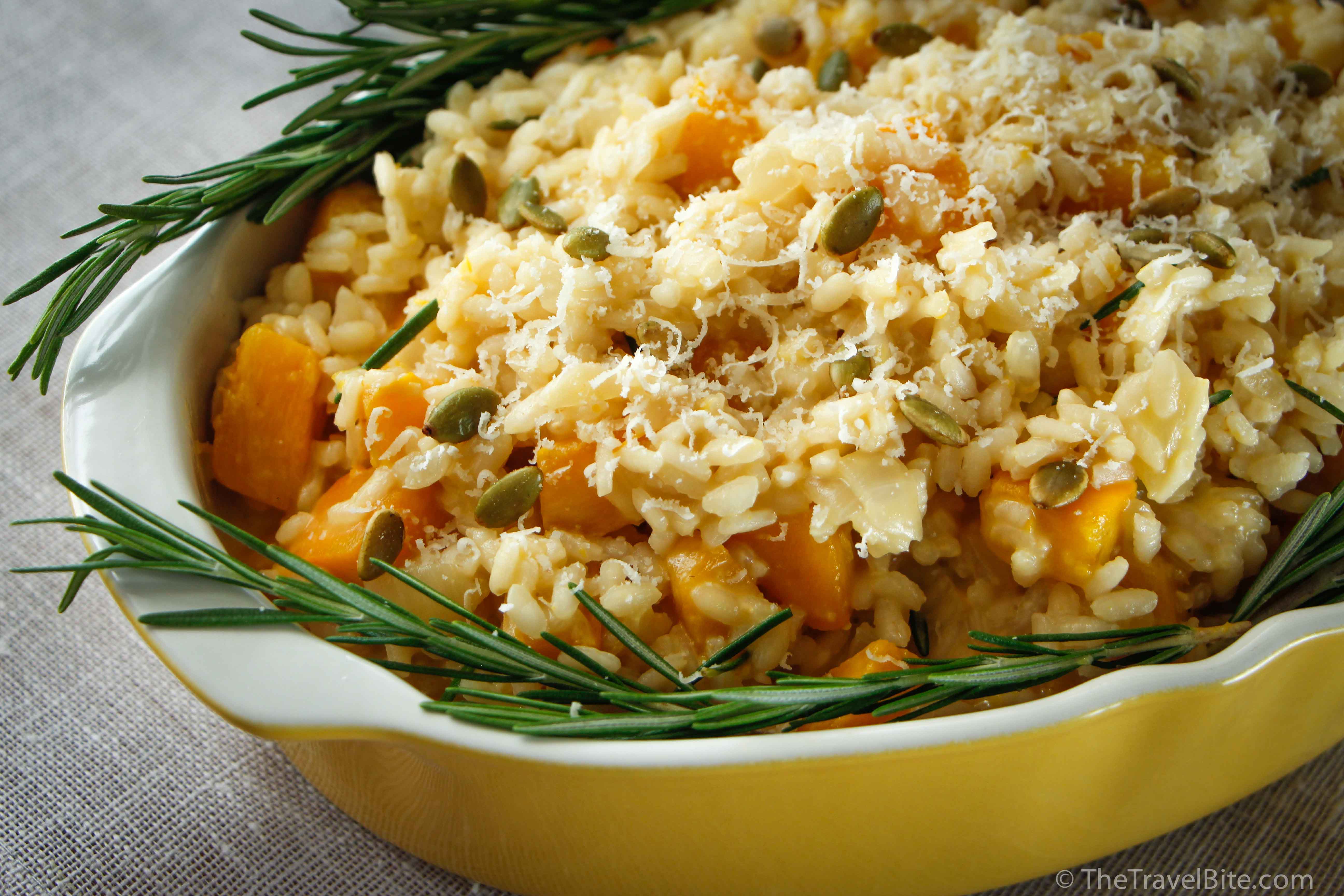 Pumpkin Risotto
Total Time:
1 hour
10 minutes
Ingredients
1 small pumpkin
3 tbsp olive oil
2 springs fresh rosemary
2 tbsp olive oil
1 onion
1 clove garlic
2 1/2 cups risotto rice (arborio works well)
1 bay leaf
500 ml white wine
800 ml cold vegetable stock
1-2 tbsp honey
2-3 ounces roasted pumpkin seeds
8 ounces mascarpone
1-2 ounce fresh grated parmesan
2 cups water
sea salt and black pepper to taste
Instructions
Peel and dice the pumpkin into half inch cubes, then finely chop the rosemary. Heat a little olive oil in a non-stick 3 or 4 quart sauté pan and brown the pumpkin. If they're in smaller cubes, they'll cook through more easily. Season to taste with salt and pepper, add the rosemary and set aside in a separate bowl or plate.
Finely chop the onion and garlic, then sauté in the same pan that you cooked the pumpkin. Add the rice (dry) and sauté another 2-3 minutes until the rice is translucent.
Pour in about a quarter of the white wine and half the stock. The liquid should come to about 2 cm above the rice, if necessary add a little water.
Bring to a simmer and stir continuously, adding more stock and wine from time to time as the rice absorbs the liquid and becomes dry. Overall, it takes about 30 to 45 minutes to simmer and you should use all the wine and stock by the end.
Transfer the risotto to a large pot set on low heat and add the mascarpone and honey. Mix in the mascarpone until it's well blended throughout the rice, like a creamy sauce.
Fold in the pumpkin seeds and browned pumpkin into the cheesy risotto mix.
Transfer to a serving dish, garnish with rosemary sprigs and freshly grated Parmiggiano Reggiano.
Love it? Pin it! 🙂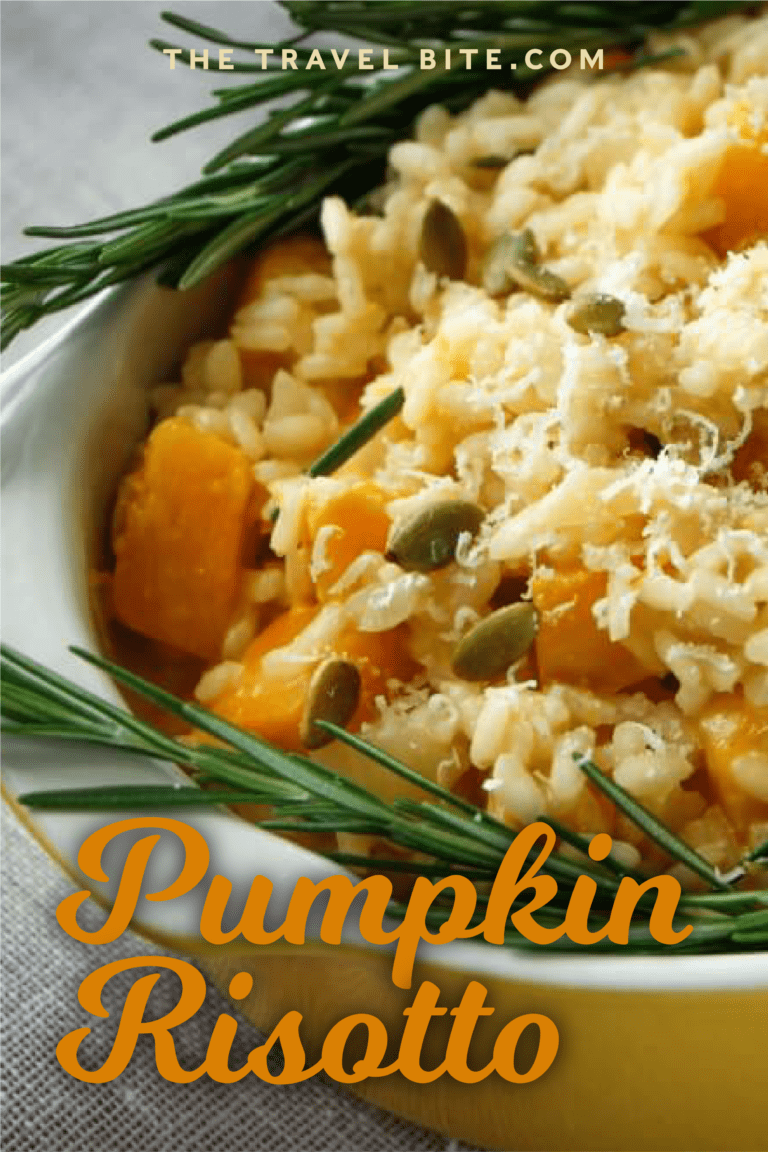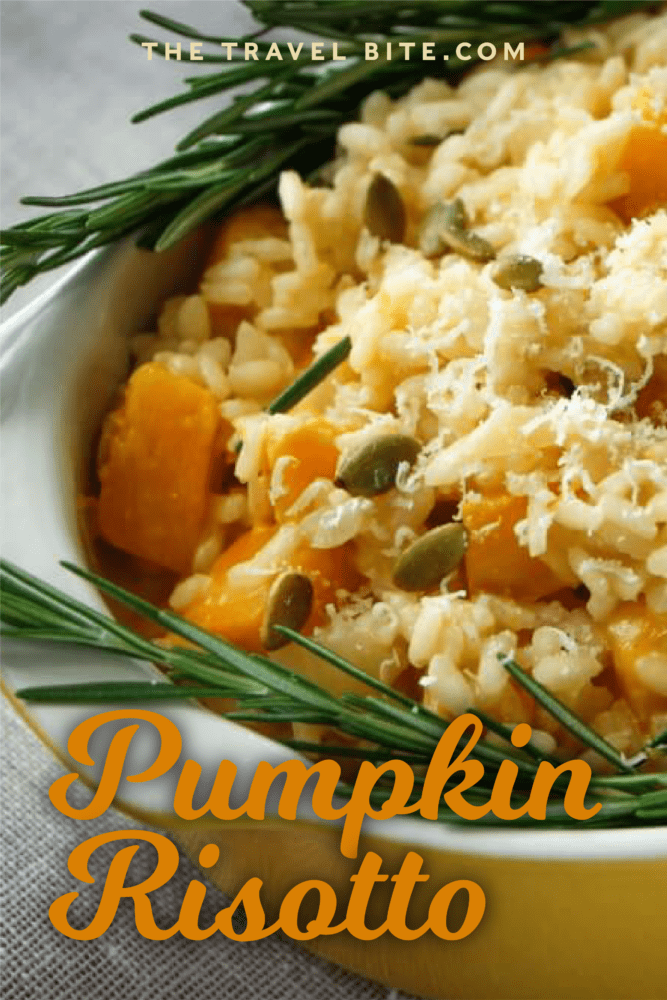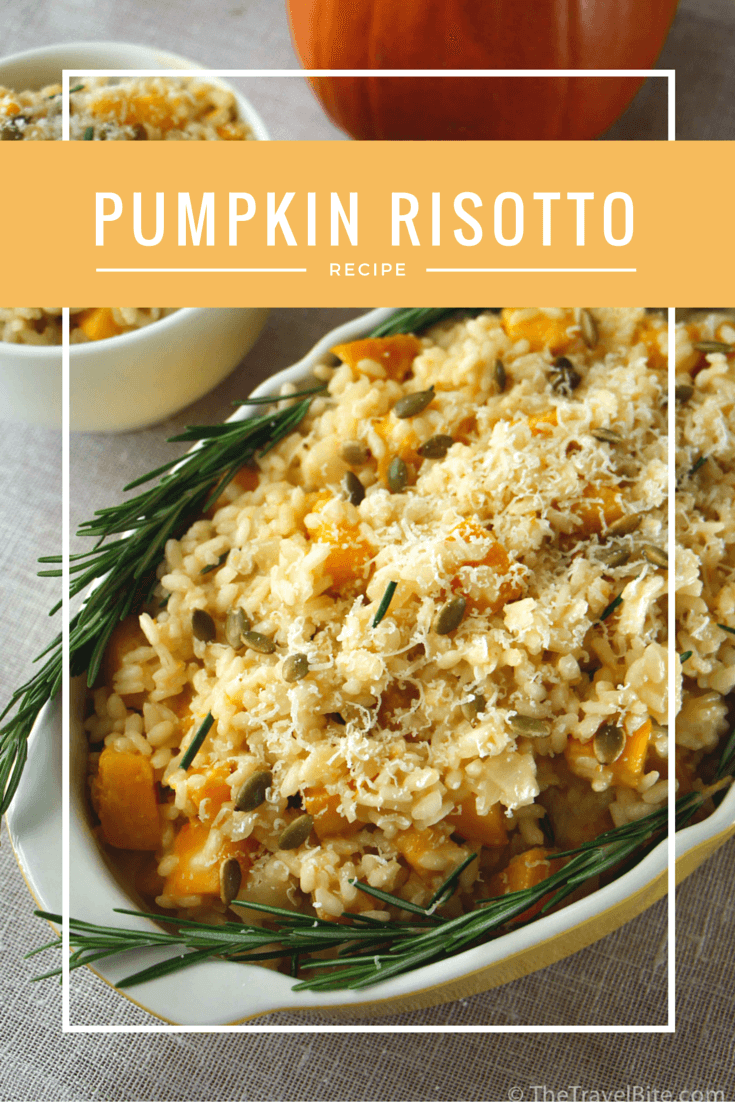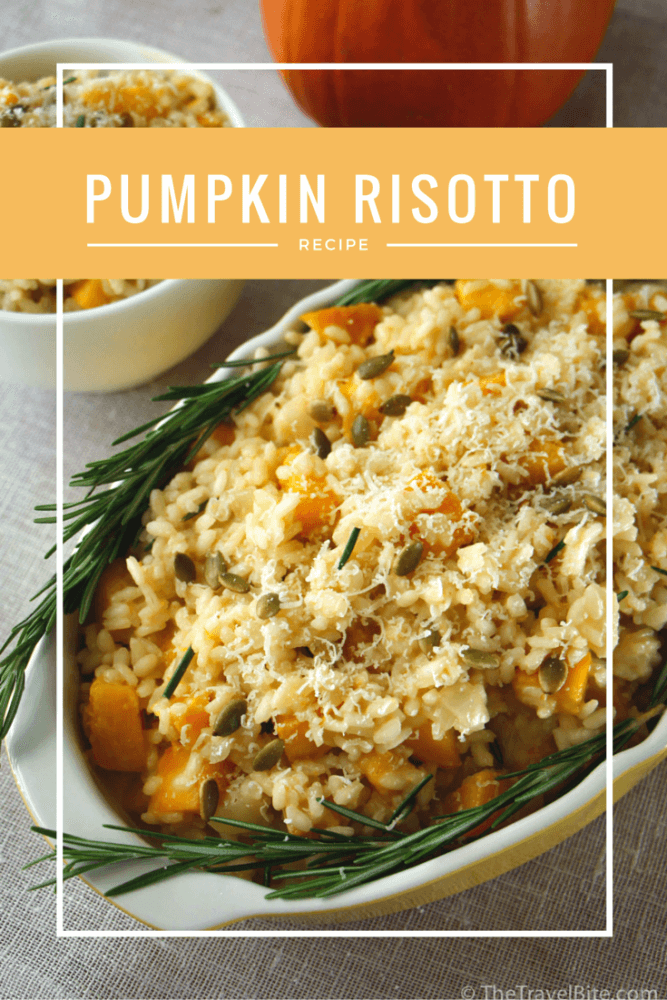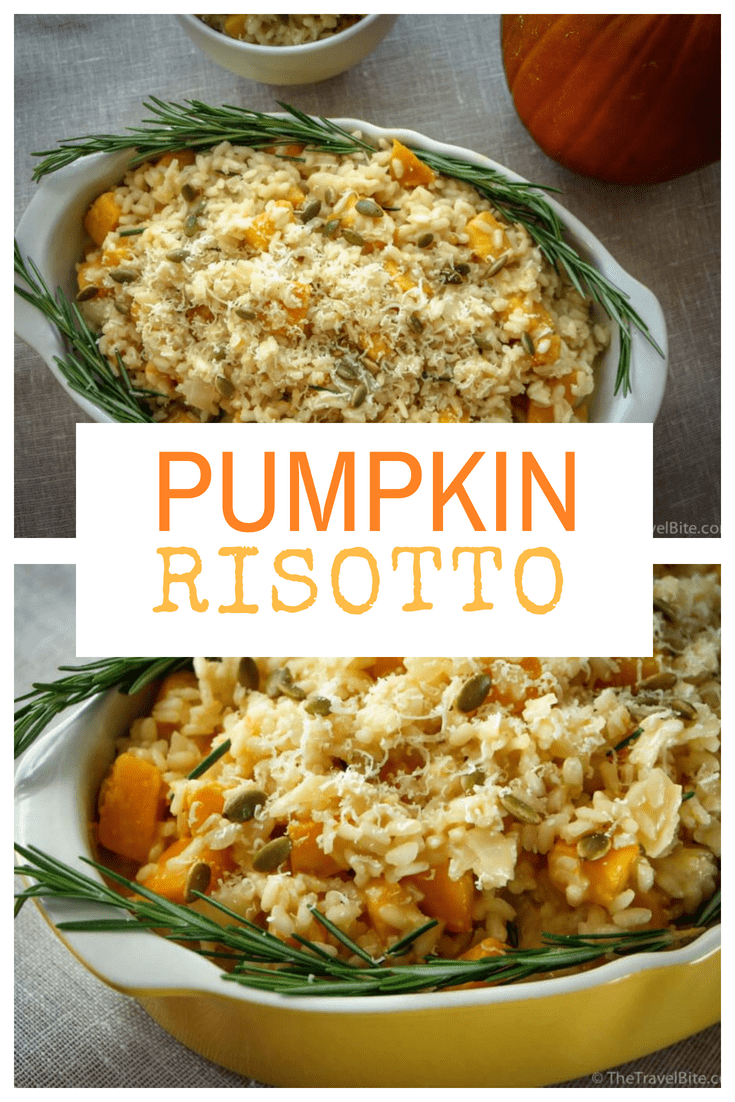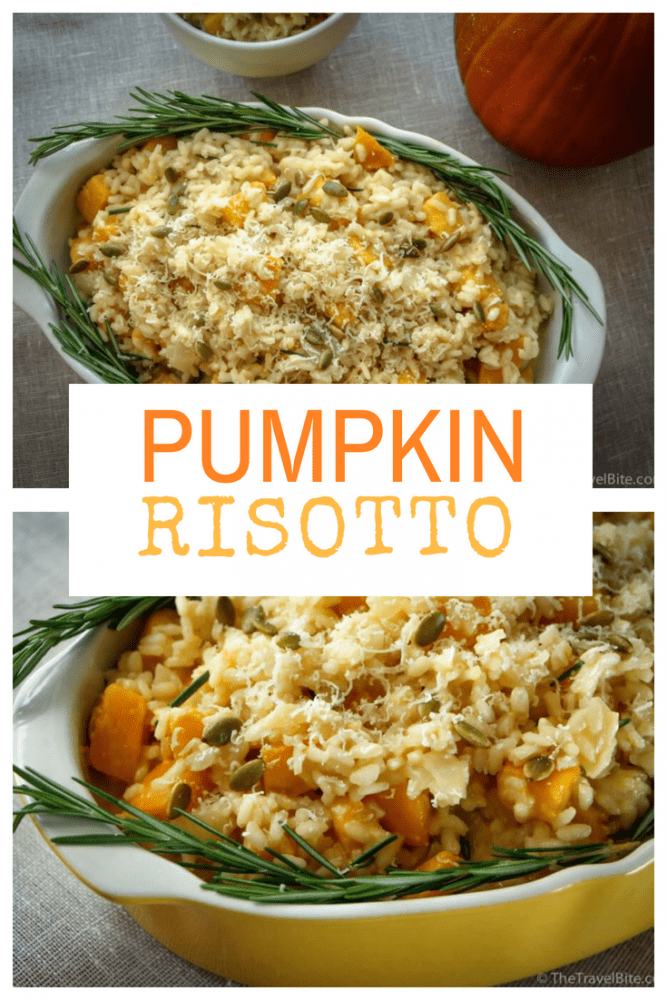 My trip to Zurich was sponsored by Zurich Tourism. The Travel Bite maintains full editorial control of the content published on this site, and as always, enthusiasm for travel and food are entirely my own. Originally published Oct 6, 2015, and updated in 2018.