With three different cultural backgrounds in our family (Puerto Rican, French Canadian, and Thai), our holiday dinner table is a global fusion of flavors. For the last few years, I've re-created my coconut flan recipe and turned it into a pumpkin flan to add a bit of autumnal spices for the fall and winter season. Pumpkin flan is so easy to make and because of the flan mold lid, it is easy to transport to holiday parties too! We hope you enjoy it as much as we do.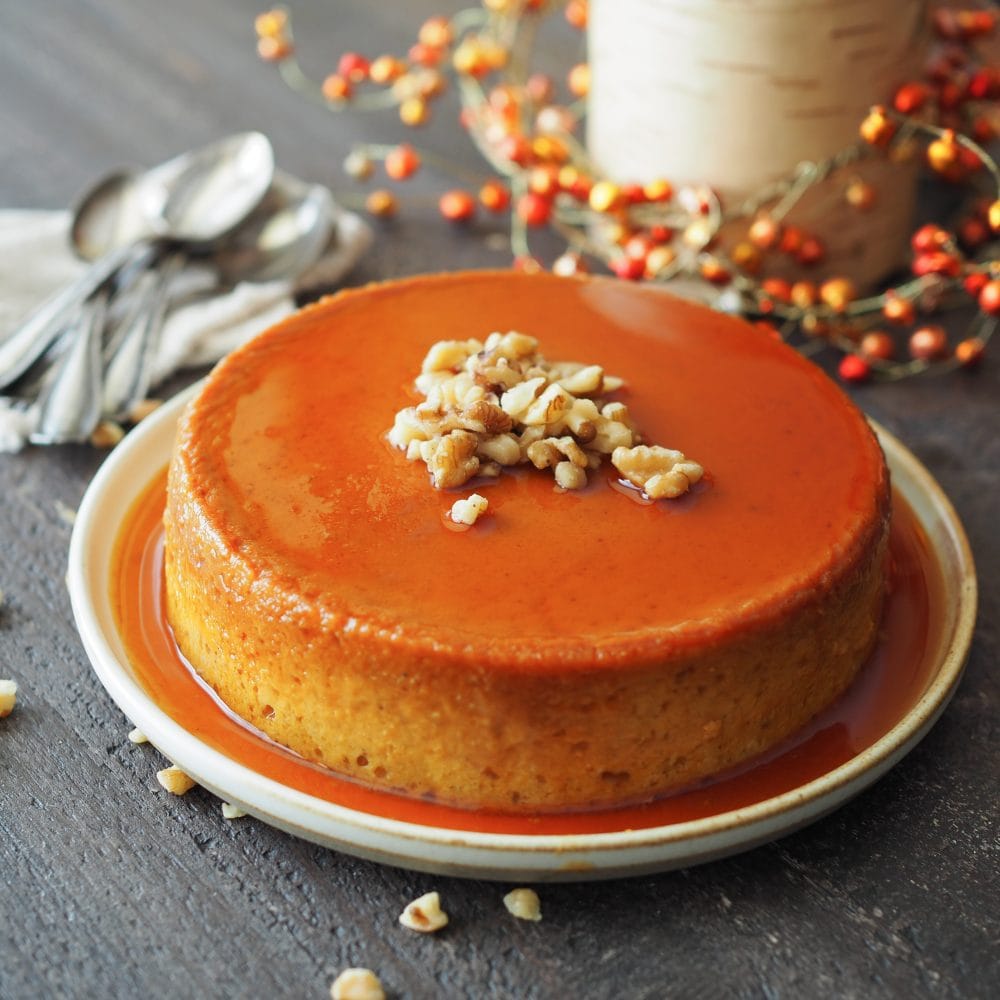 Easy-To-Make Pumpkin Flan
This pumpkin flan is an easy last-minute dessert to whip up for parties or guests (or even just a weeknight treat … no judgement here!) with just a few items in your seasonal pantry. You'll need a can of pumpkin, eggs, sweetened condensed milk, sugar, a pinch of salt, and pumpkin pie spice. I like to decorate it with a handful of toasted walnuts to add a bit of texture and extra flavor to every bite. The instructions for toasting the walnuts are included in the recipe below.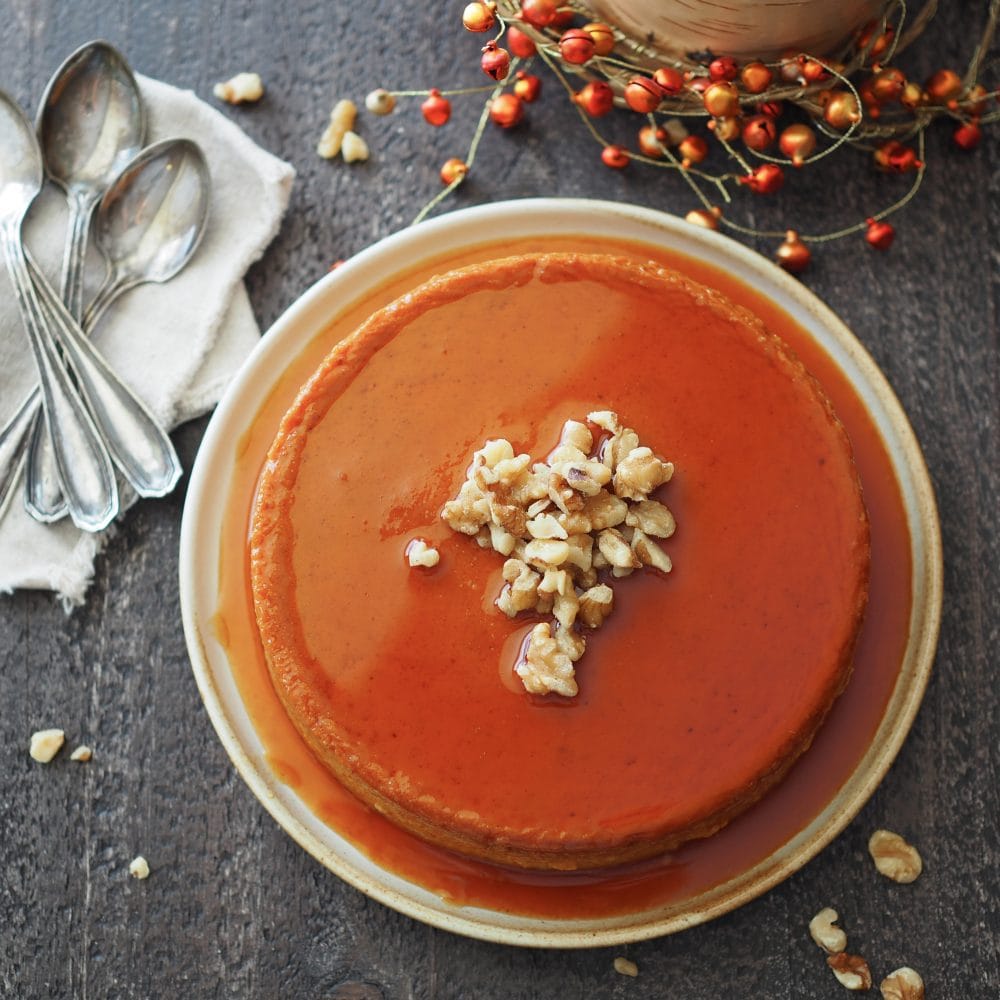 Why Use A Flan Mold?
So what is this magical flan pan I keep mentioning? You could technically make flan in a ramekin or pie plate, but a stainless steel flan pan mold with a lid makes it so easy to refrigerate and transport. It also gives it a nice shape, and it takes the guess work out of cooking size and time since it's the perfect capacity for a traditional flan. While it might look like it will be difficult to release the flan once it is baked, the caramel sauce actually makes it pretty easy and non-stick since the custard is essentially sitting in a sweet liquid. And if you're bringing pumpkin flan to a holiday get-together or party, the mold with latching lid makes it so easy to transport. Seriously, it's like my favorite holiday dessert for this very reason. Well, that, and it's delicious.
One Final Tip
One last tip I would give you is don't skip the caramel sauce! It only takes a little extra time and the added flavor is so worth it. If there's no sauce, it's not flan. It's just custard. And a sad custard at that. LOL! Plus, it makes it easy for the pumpkin flan to fall out of the pan once it's done. Enjoy!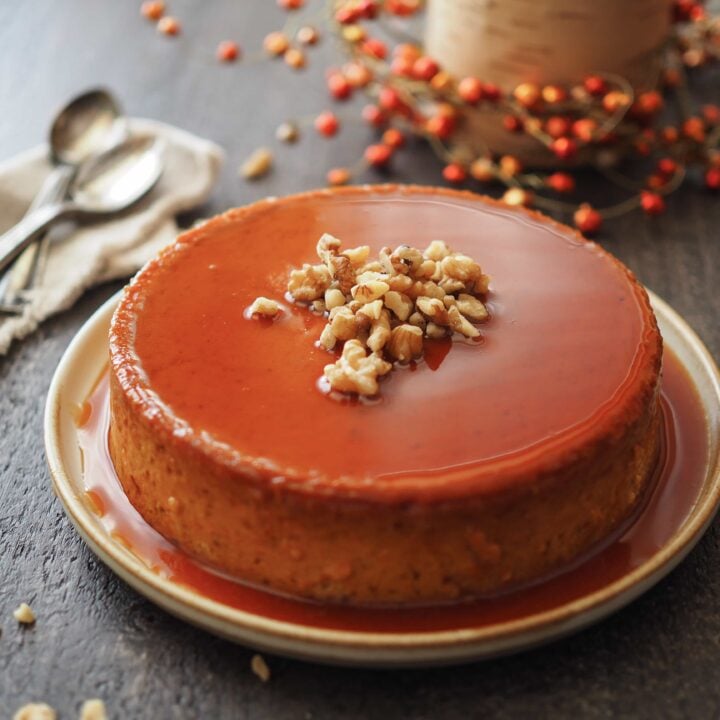 Pumpkin Flan
Cook Time:
1 hour
10 minutes
Total Time:
1 hour
20 minutes
Ingredients
3/4 cup sugar
4 eggs
1 (14 oz) can sweetened condensed milk
1 (13.5 oz) canned pumpkin
1 tsp pumpkin pie spice
1/2 cup chopped walnuts
pinch of salt
Instructions
Heat oven to 350 degrees
Add sugar to a medium sauce pan and cook over low-medium heat, stirring continuously to keep it from burning and sticking to the pan. When it's done (approx. 7-10 minutes), it will be melted and caramel colored.
Carefully pour melted sugar into flan pan.
In a medium mixing bowl using a hand mixer (or stand mixer like KitchenAid), beat eggs until well blended, then pour in sweetened condensed milk, pumpkin, salt, and pumpkin pie spice and mix on medium speed until all ingredients are well blended.
Pour pumpkin flan mixture into flan pan on top of the melted sugar, then set flan pan into a larger baking pan. Fill larger pan with 1 inch of hot tap water.
Bake uncovered for 55-70 minutes until sharp knife inserted in center comes out clean.
While flan is baking, add chopped walnuts to a dry pan and toast on medium heat for 5-7 minutes until the edges start to brown a bit. (Tip: You could also add a tsp of cinnamon and a tsp of sugar to make candied walnuts). Set walnuts aside to use as garnish when serving.
Once flan is done baking, carefully remove it from the oven and let it cool.
Secure flan mold lid on top and chill in the refrigerator for 4 hours or overnight.
When ready to serve, run a knife around the edge of the flan to loosen it from the side. Invert the pan onto a serving plate and garnish with walnuts.
Notes
You could also use pecans instead of walnuts.
Want to save this recipe? Pin it!