This recipe for Welsh Gingerbread is an old one. I picked it up during my culinary tour of Wales, and as you can see from the picture, it comes from an old book. You know, the kind your grandmother has stashed on the shelf. There's no reference to what year this book was made, but there is a little note at the top of the recipe that says it was the original gingerbread sold at old Welsh Fairs. In the spirit of the holiday season, I couldn't wait to try it out!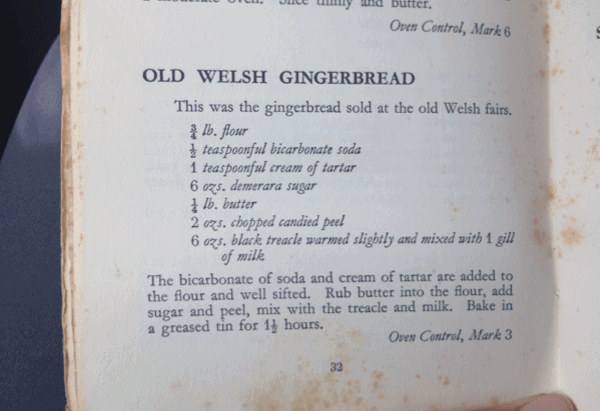 Translating Measurements
Now, I confess, it took me a couple of tries. Here in the United States, we don't measure things by the "gill," and I had to do a bit of googling to discover our equivalent of demerara sugar (it's brown sugar) and black treacle (it's molasses). We also don't have an Oven Control, Mark 3. So this was a fun experiment. But the results were worth it.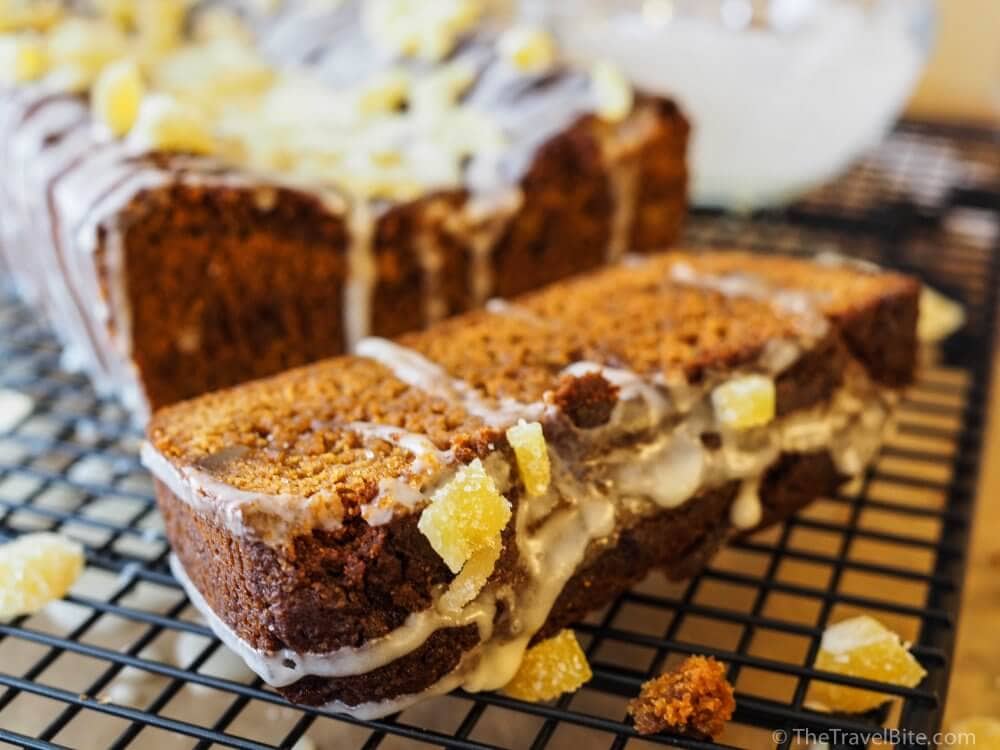 Testing An Old Gingerbread Recipe
Thankfully, most of the measurements were by weight/ounces, so I only had one that was a bit tricky — a gill. According to Wikipedia, "A gill or teacup is a unit of measurement for volume equal to a quarter of a pint. It is no longer in common use, except in regard to the volume of alcoholic spirits measures." I also found a few references that said it was equivalent to a half cup, or five fluid ounces. So, I started with that measurement, but it ended up being a bit too moist. Then I cut it down to a third, and it was still a bit moist. Finally, I cut both the milk AND the molasses down to 1/3 cup and that ended up being about right.
No eggs, no ginger!
Now, something you'll notice about the original Welsh gingerbread recipe pictured — there are no eggs. And no ginger, either! The recipe did mention candied peel, and I assumed that was ginger. I added a bit of ground ginger to the recipe to give it more a ginger flavor and made a glaze sprinkled some candied ginger on top to make it more like a festive dessert. Enjoy!
Welsh Gingerbread With Orange Glaze & Candied Ginger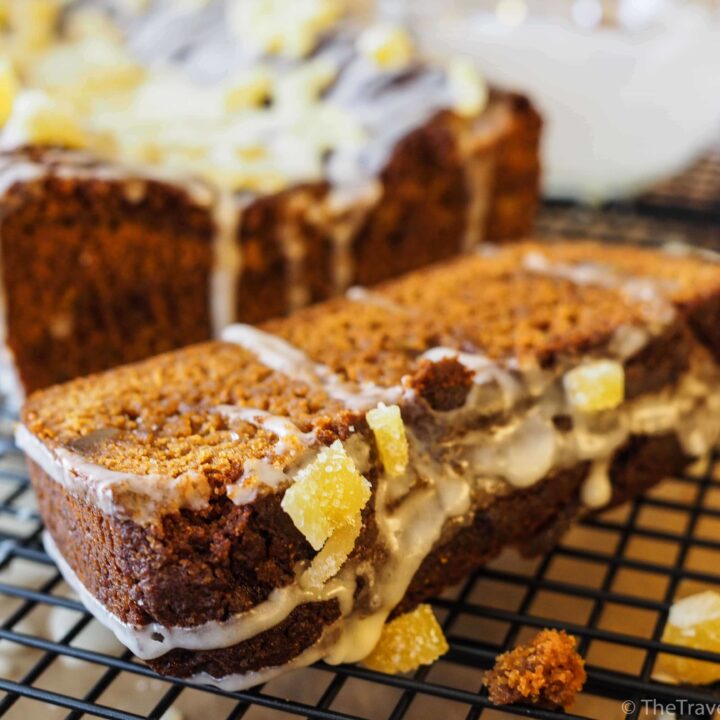 Welsh Gingerbread Recipe
Total Time:
1 hour
15 minutes
Ingredients
2 Cups All Purpose Flour
1 Tsp Baking Soda
1 Tsp Cream of Tarter
1 Tsp Ground Ginger
1 Stick (1/2 Cup) Cold Butter, cubed
1 Cup Brown Sugar
1/2 Cup Candied Ginger, cubed
1/3 Cup Molasses
1/3 Cup Whole Milk
1 cup Confectioners Sugar
2 tsp orange juice
Instructions
Heat oven to 350.
Add the flour, baking soda, cream of tarter, and ground ginger to a large bowl and whisk together.
Next, add the butter and press into the flour mixture with a pastry cutter or fork until the butter is blended into the flour and it looks a little lumpy.
Add the brown sugar and to the flour mixture and stir together. Once it is well blended, add 1/4 cup of candied ginger and mix.
Heat the milk on the stove or in the microwave until it's warm, but not boiling. Pour the molasses into the milk and stir until the molasses is dissolved. Then pour the molasses milk into the flour and gently stir together until it's the consistency of a soft cookie dough.
Transfer dough into greased bread pan and bake for one hour or until a toothpick inserted in the center comes out clean. (You may need a little longer depending on your oven)
While the gingerbread is baking, you can prepare the glaze.
Whisk the confectioners sugar with the orange juice until the sugar is completely dissolved and it is the consistency of a syrup.
Once the bread is done baking, let it cool for 1 hour. Drizzle with glaze and the rest of the candied ginger.
More Recipes We Think You'll Love
Want to save this recipe? Pin it! 🙂