'Tis the Season for toasting! I love a holiday recipe that gets the whole house smelling wonderful, and this holiday sangria is definitely one of those. It's a little like mulled wine, but a little sweeter and more refreshing. You can serve it iced or hot, and it also makes a thoughtful gift.
I've been making it for 10 years now (as evidenced by my old photos here … LOL) and it is always a party favorite. I'll have to snap a few new photos when I make my next batch.
Holiday Sangria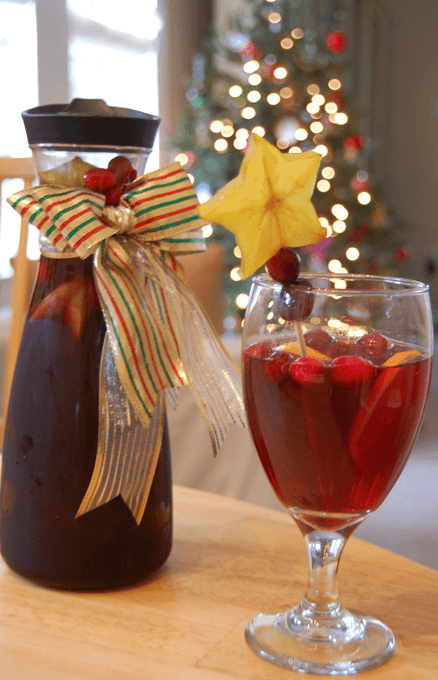 Sangria in its basic form is sweetened red wine with fruit. I have an awesome Autumn Sangria recipe, and this one is very similar and just uses seasonally inspired fruit that's a bit more festive.
Festive Fruit Garnish For Sangria
One of the more festive fruits I love to use for my holiday sangria is carambola, otherwise known as starfruit. It looks sort of like a little melon and when sliced creates five point star shaped pieces. Carambola tastes like a cross between citrus and melon and makes an excellent garnish for the holidays.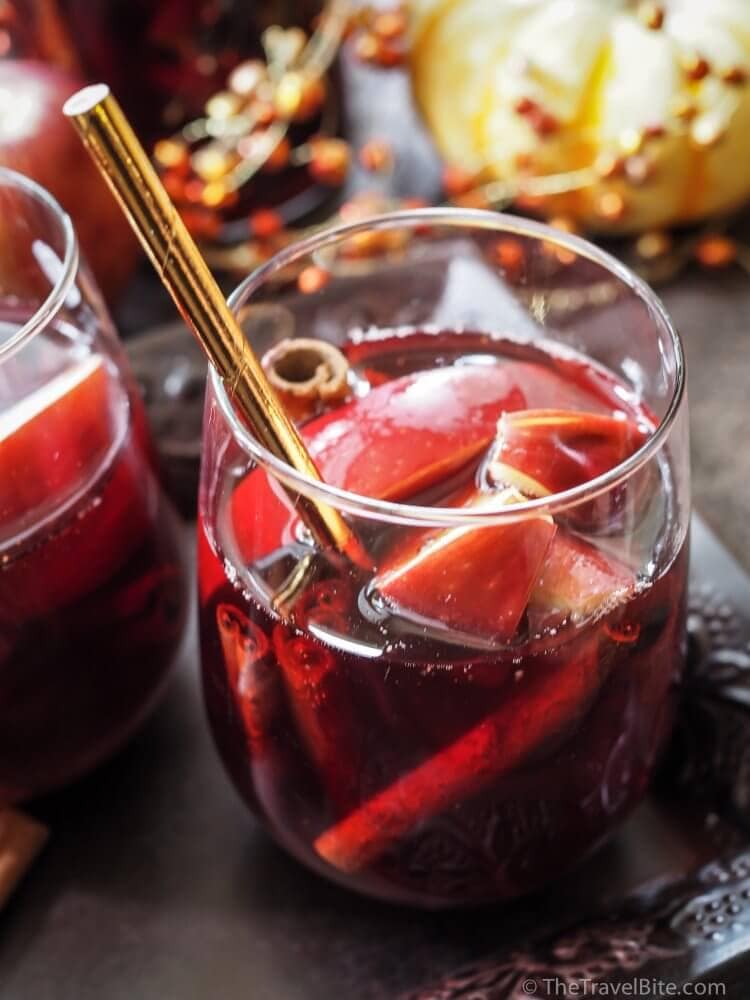 Other Garnish Options
The other two fruits I use are raw cranberries and tangelos. Tangelos are a little smaller than oranges and easier to add to a glass or pitcher, especially if you're bottling it for gifting! You can also use cinnamon sticks and apples as garnish for your holiday sangria.
In addition to spicing up your holiday party, this sangria also makes an unique gift too! Whether for friends, neighbors or a party host gift. All you need is a sealable jar, such as a juice pitcher or mason jar, and a pretty bow.
Enjoy and happy holidays!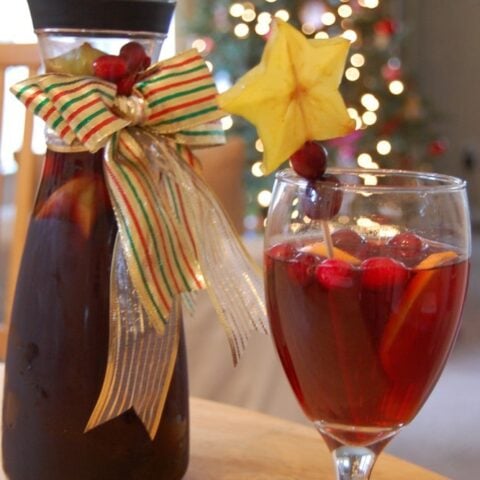 Holiday Sangria
A very easy recipe to make and share during holiday parties or to bottle and give as a gift.
Ingredients
2 bottles Merlot
1 bottle ginger ale
1 cup sugar
1 tsp ground cinnamon
½ tsp ground nutmeg
½ tsp ground clove
4 to 6 oranges or tangelos
6 to 10 cinnamon sticks
1/2 bag of cranberries
Instructions
In a medium pot, combine Merlot, sugar, cinnamon, nutmeg, and cloves. Let simmer for ten minutes, stirring occasionally until sugar is dissolved.
Pour immediately into a sealed pitcher or other container. Stir in ginger ale. Chop apples and add them along with the orange slices, cranberries, and cinnamon sticks to the mixture. Cover and refrigerate to cool.
For a more carbonated punch, add the ginger ale to the wine after it's cooled … then it will keep the fizz.
You Might Also Like