Did you happen to follow along on Twitter during my trip to Wales? I went on a delicious road trip from Anglesey to Cardiff with Sian Roberts of LovingWelshFood.com and Cambria Tours as my guide. We slept in castles, ate glitter and gem filled ice cream, spotted dragons, went on a highland safari, visited a village of ancient books, and ate like queens.
I know what you must be thinking. This all sounds exciting and wonderful, but "where is Wales?" Good question. So, Wales is a country in the United Kingdom and is one the southwestern side of the island of Great Britain. It's to the west of England and directly across the channel from Dublin and County Wexford, Ireland. Wales is known for having more castles per square mile than anywhere else in the world, and is also the place where the legends of the mythical King Arthur were born. In addition, it's one of my favorite culinary trips to date. Allow me to introduce you to one of my favorite places in the world – Wales!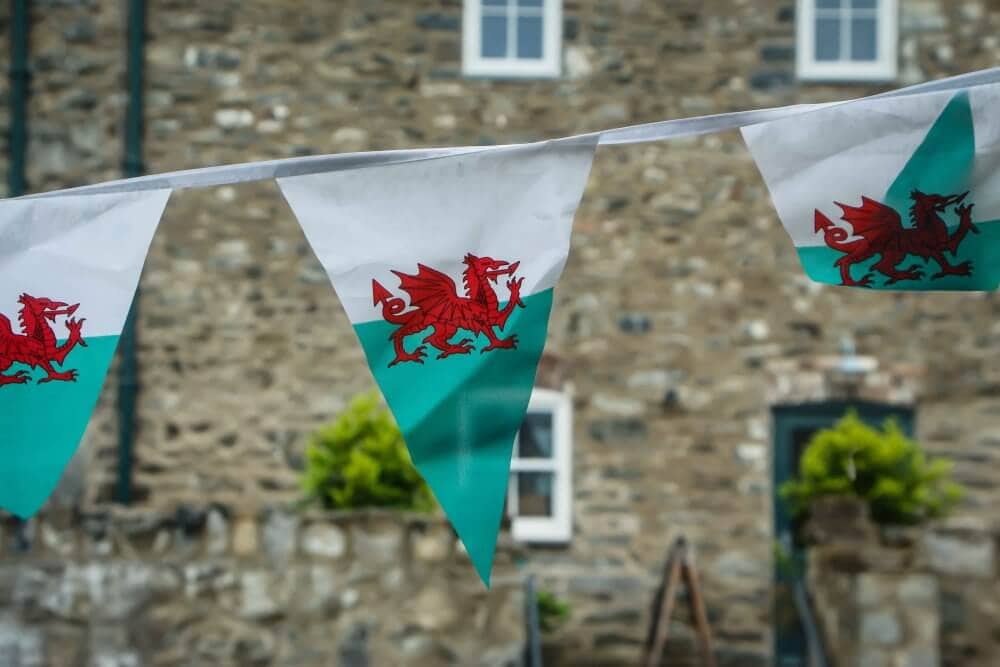 Wales – How To Get There
The best way to get to Wales is to fly into Manchester Airport in the north of England, or look for flights to Cardiff, a port city in the south of Wales. Once you're there, rent a car, hire a guide or go on a tour.
** I have my itinerary outlined below, but it is quite fast-paced as it was a press trip and familiarization tour. I recommend slowing it down a bit and planning for at least two days in each town I have outlined below.**
Follow Me In Wales: A Culinary Itinerary
Day 1 – Conwy Valley and Isle of Anglesey
On my first day in Wales, I flew into Manchester and then headed to Anglesey where I met my friend Sian, with Eating Welsh Food. Since it was my first time there, I asked the driver if we'd be crossing a border. He just smiled and said, "There's no official border, but you'll notice that the grass is greener, the sky is bluer, and the air is fresher." Yes, the Welsh have a great sense of price and an even better sense of humor.
Our first stop on my journey to discover Welsh food was breakfast at Bodnant Food Center. A "bacon bap" sandwhich of hearty, thick slices of bacon on a fresh baked roll plus a cup of strong coffee. After a long flight, it is the perfect breakfast to get you going.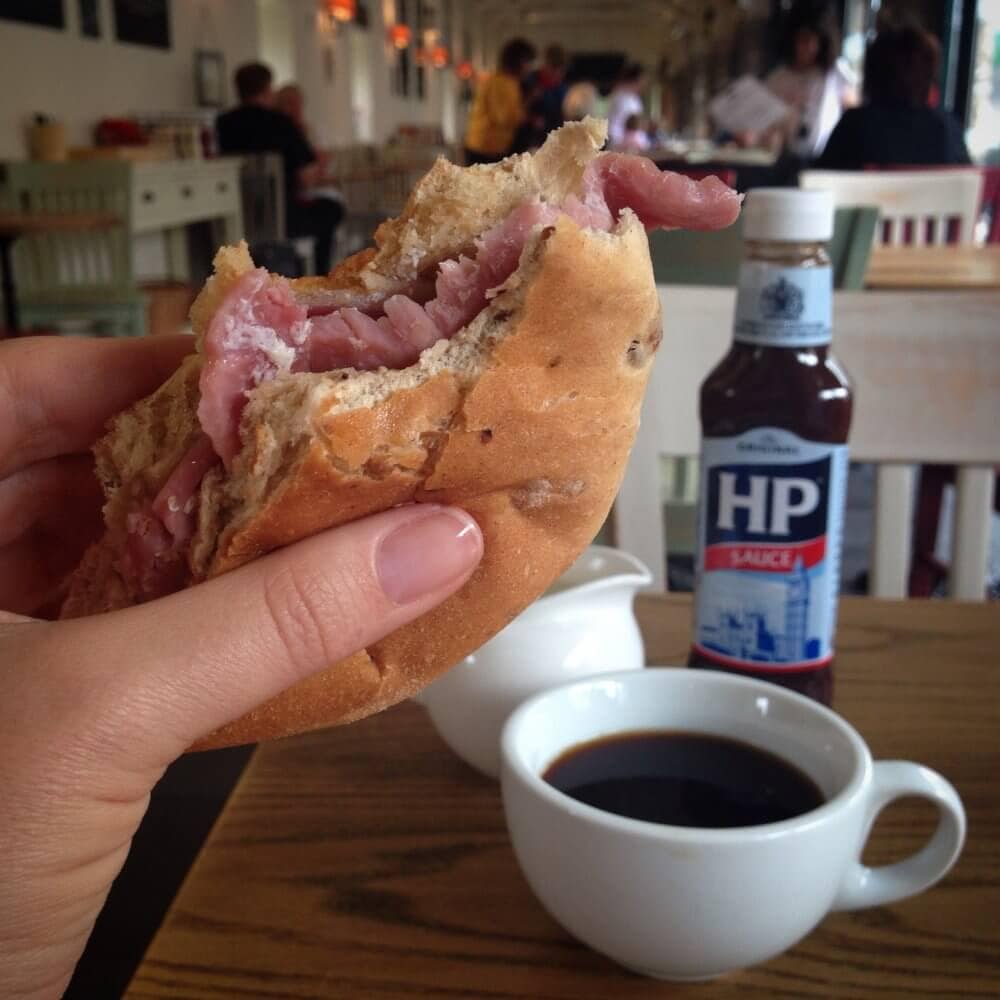 After breakfast, we explored the food center which includes the cafe where we had breakfast as well as a wine shop, fresh local foods market, and cooking school. They have rooms available to stay overnight too and it is definitely a place I'd love to come back and spend a leisurely afternoon.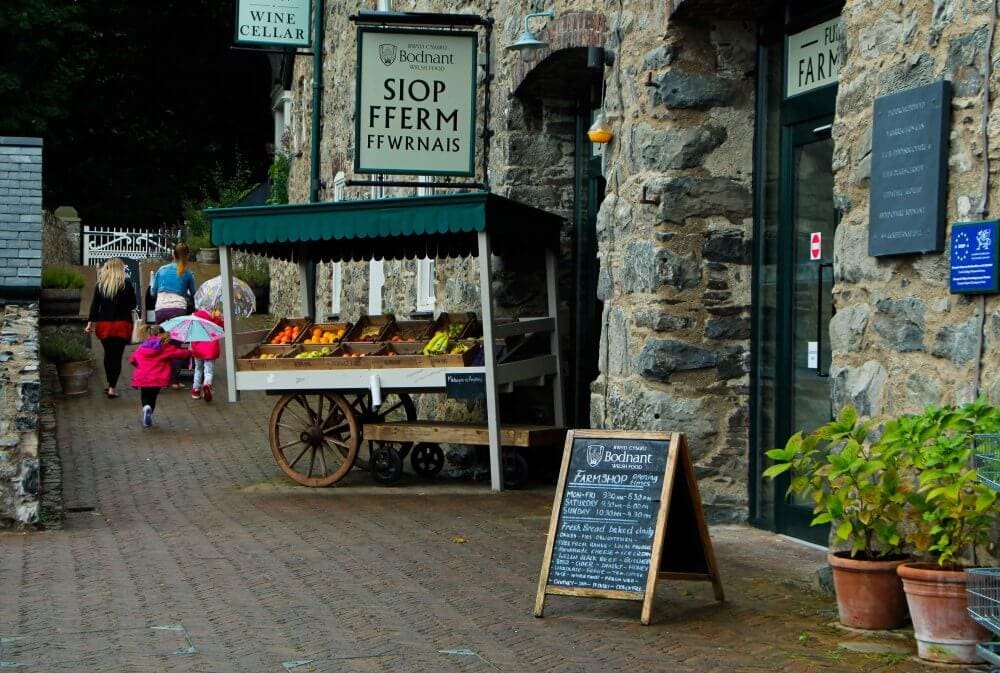 On our way to Anglesey, we stopped in Caernafon to see their legendary castle. The town is also an adorable place to go for a stroll, with plenty of shops and pubs. I even saw one really narrow shop that even claimed to be the "smallest" pub in all of Wales. If you go on a tour, you might even be able to walk along the ancient walls of the town Caernafon as seen below. After exploring a bit, we tucked into Wales' oldest inn and pub for a quick and comforting lunch of cheesy rarebit and a leek quiche.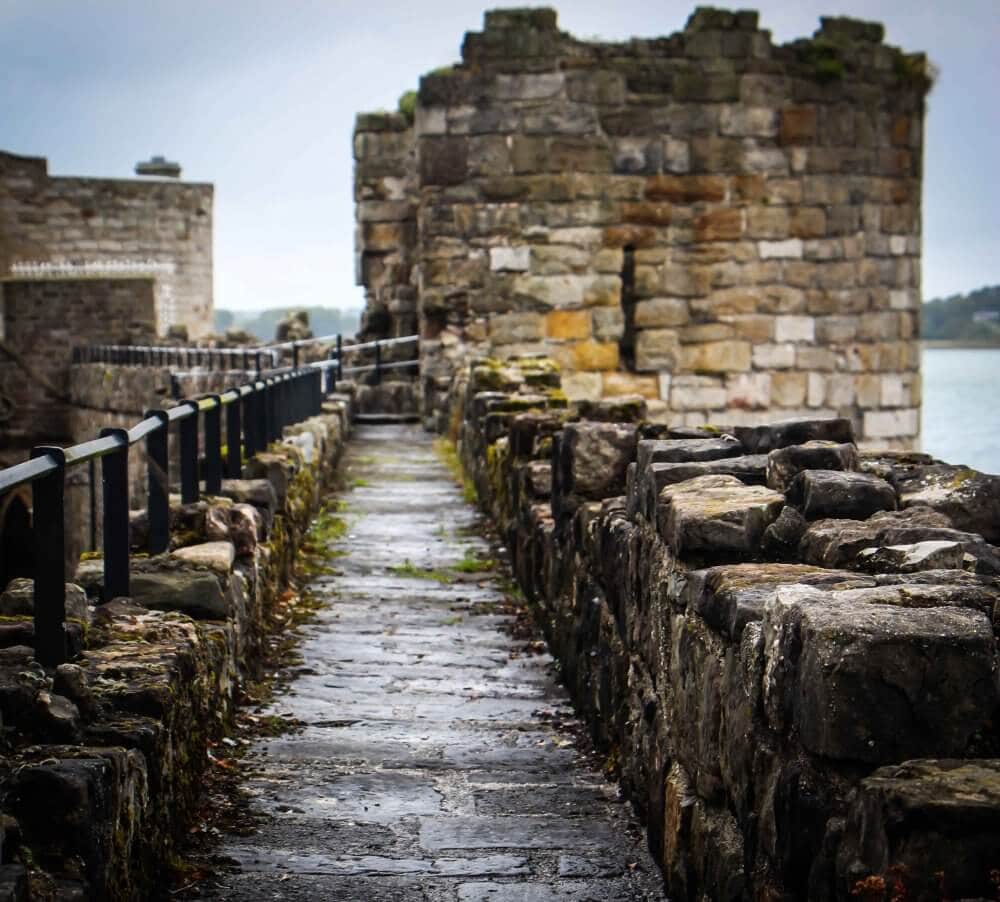 Of course, we had to get dessert too. We stopped for a scoop of award winning ice cream at Scoops Caernarfon (despite the cooler weather, I found the Welsh really love their ice cream). Since we were walking in the shadows of ancient castles, I had to indulge my inner-kid and order the very princess-looking "Gems" flavored ice cream made with Gem cookies and glitter.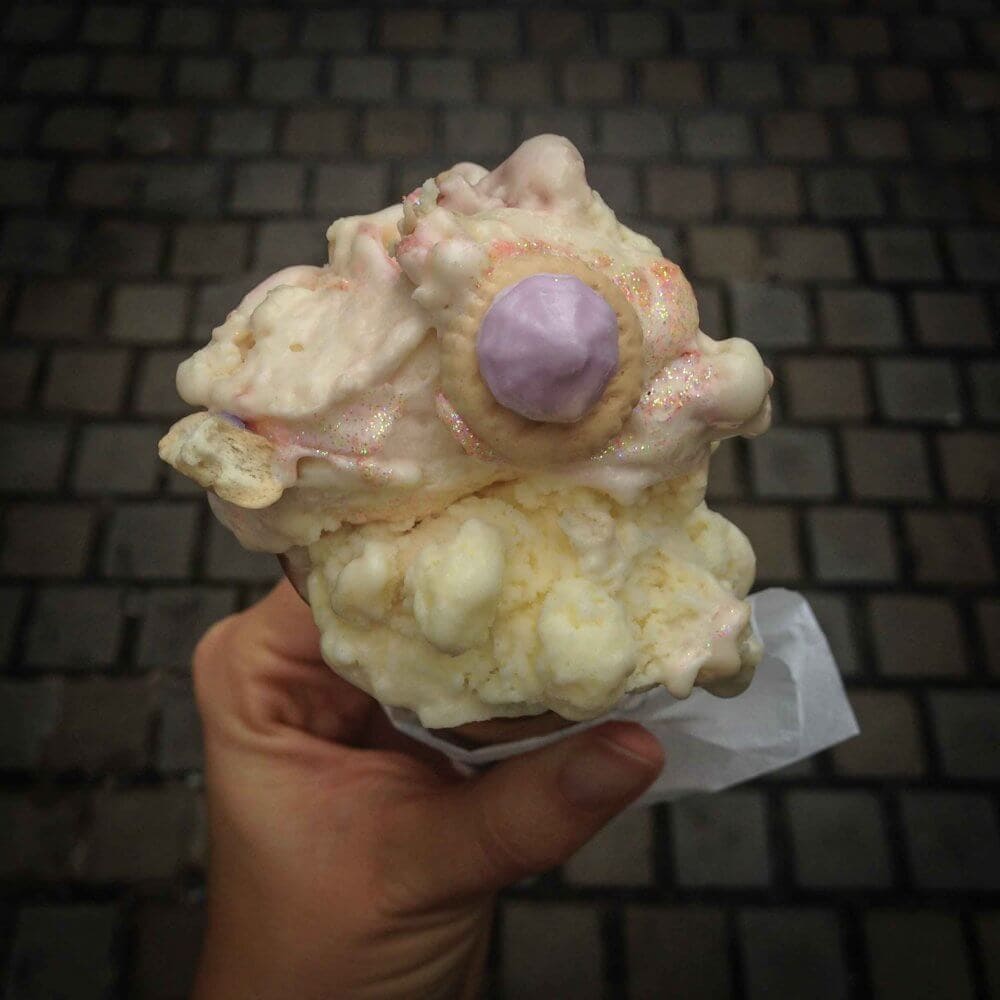 After lunch, we drove over to Pant Du Vineyard (also in Caenarfon) for a wine tasting! Unfortunately, we had a bit of liquid sunshine that afternoon, so I didn't get a chance to take in their spectacular view. But we did taste some new-to-me wines such as one made with the Rondo grape. Have you ever tried that varietal? For me, it was a bit similar in taste to a merlot.
And since this is a food tour, after the wine we made one last stop on our way to Anglesey to visit Halen Mon Salt Company. If you're interested in seeing how they harvest sea salt, it is definitely worth adding to your itinerary. Their tour walks you through the whole process, shows you the inside of their facility, and even includes a salt tasting experience.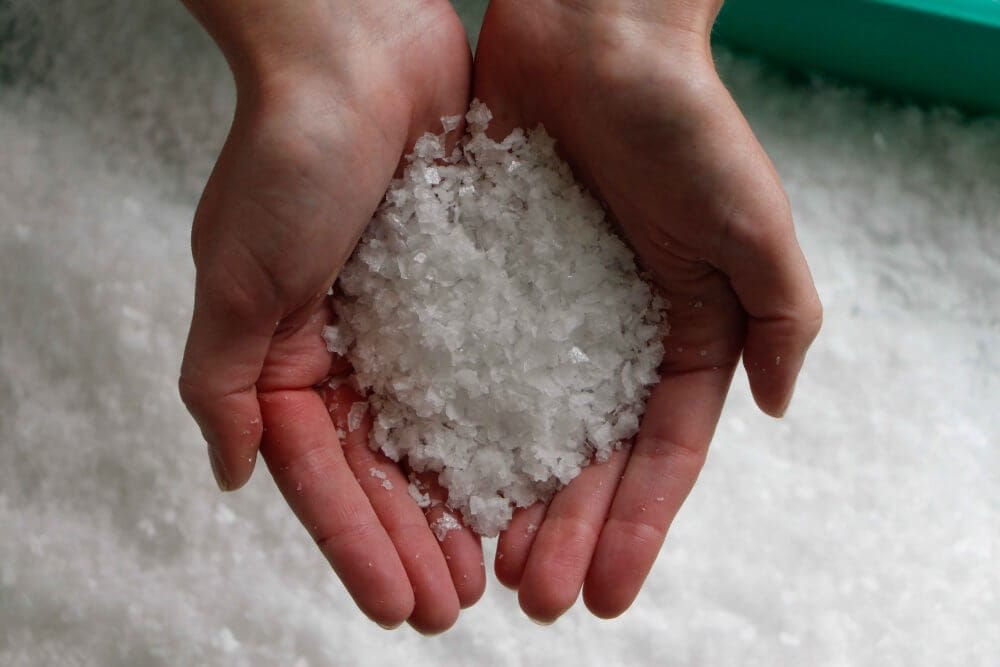 During our drive, we paused for a quick photo op at a village that has the longest place name in Europe: Llanfairpwllgwyngyllgogerychwyrndrobwllllantysiliogogogoch. Can you pronounce it? There's more letters in this word than there are in the alphabet! The name actually means Parish of St. Mary in hollow of the white hazel near the rapid whirlpool and the church of St. Tysilio with a red cave. Perhaps it was a description of the area during a certain place and time? Today, it's a popular place for visitors to pose by the sign at the train station with the extraordinarily long name.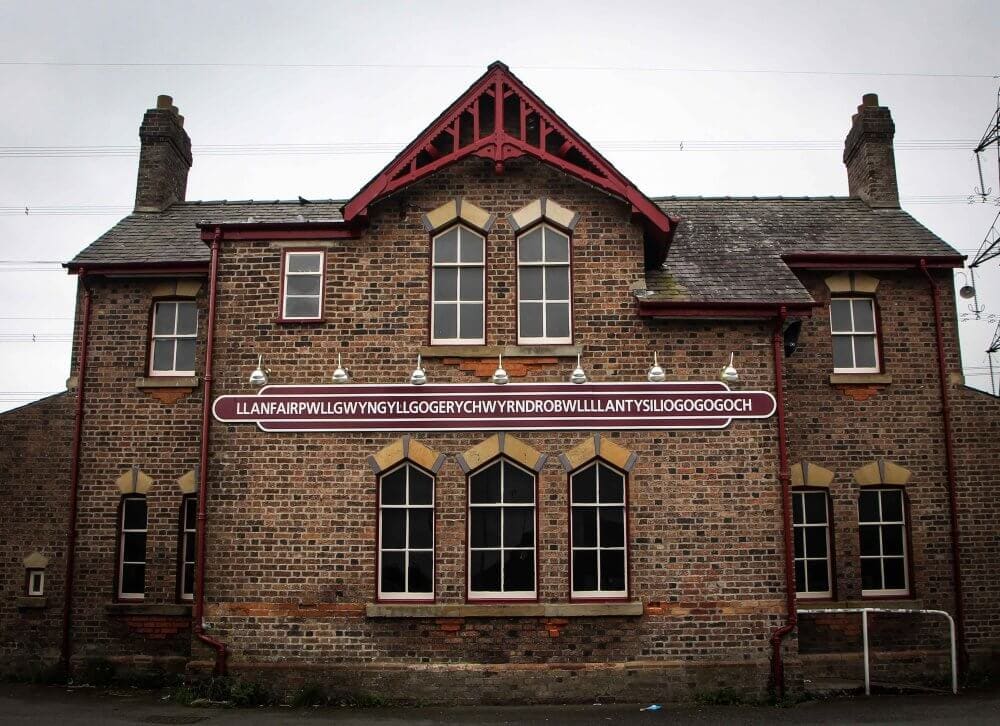 After a day of exploring castles and food and glitter ice cream, I checked into Chateau Rhianfa for a restful night. Built like a French chateau, with lavender filled gardens, magic mirrors, and notes from their friendly dragon that heats the water, I'd say this hotel is straight out of a fairytale. To top it off, their dinner is superb and comes with a splendid view.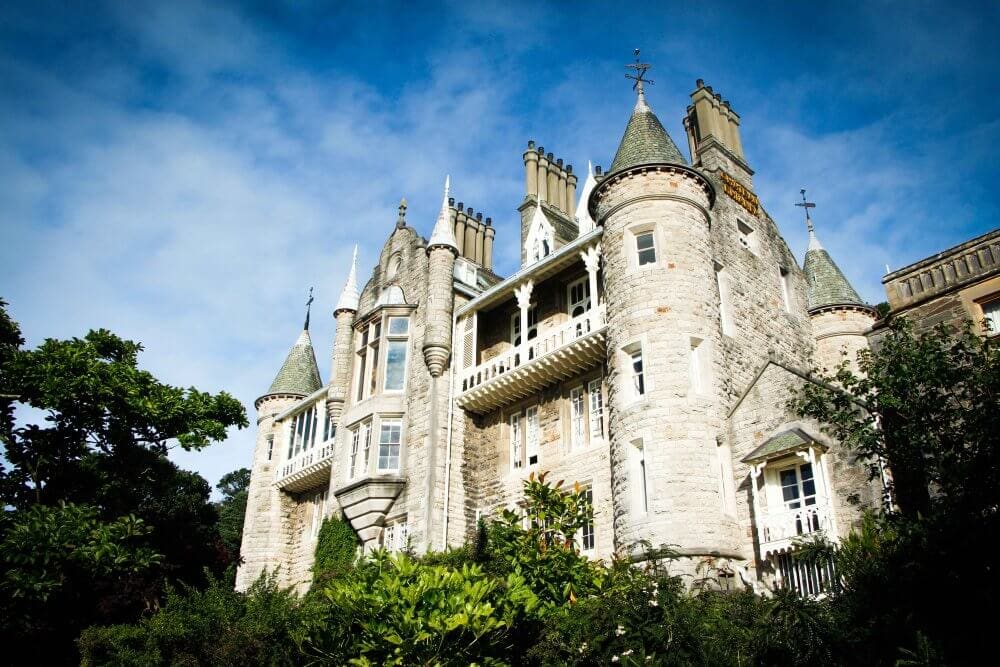 Day 2 – Machynlleth & A Highland Safari
After a hearty breakfast at Chateau Rhianfa, we left the island of Anglesey to the little coastal village of Portmeiron. Designed by a quirky collector that felt inspired by the Mediterranean, the village is an orchestrated eclectic mix of styles including Italian, Greek, and Asia. One thing is for sure, the colorful photogenic buildings are a photographer's dream. It's a great place to stop for a stroll to get a view of the coast and take some photos. You can also stay the night here or grab a bite to eat at one of their cafes or restaurants.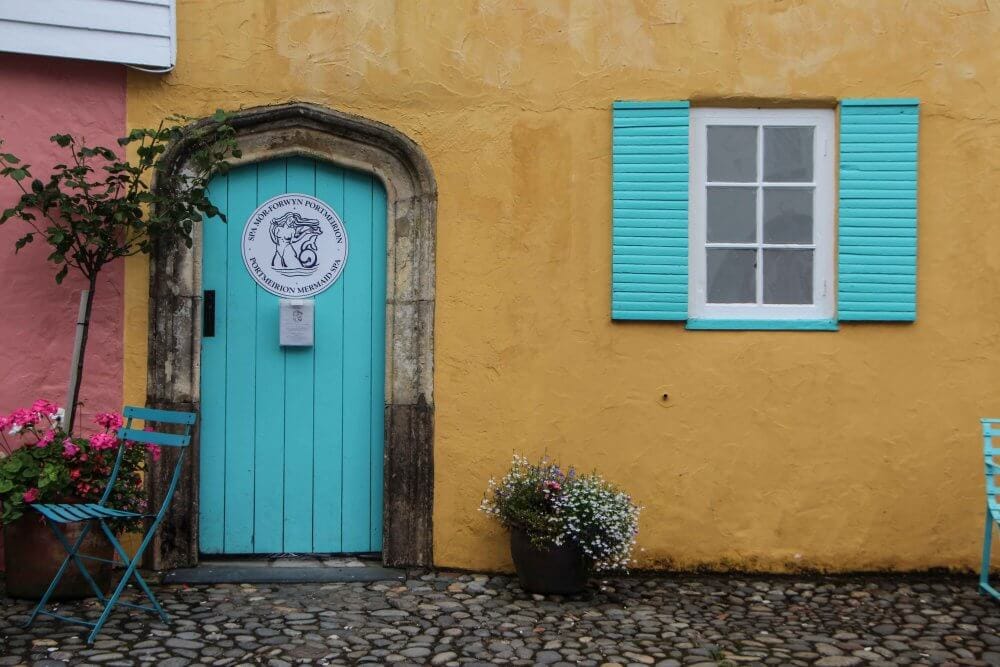 Instead of stopping, we hit the road to get a little further inland and meet a Welsh farmer for lunch at Briggins Inn. It was a cozy place with half timbered wood, a fire place, and a great pub menu. When visiting Wales, one can never have enough rarebit (a sort of open-faced grilled cheese on toast).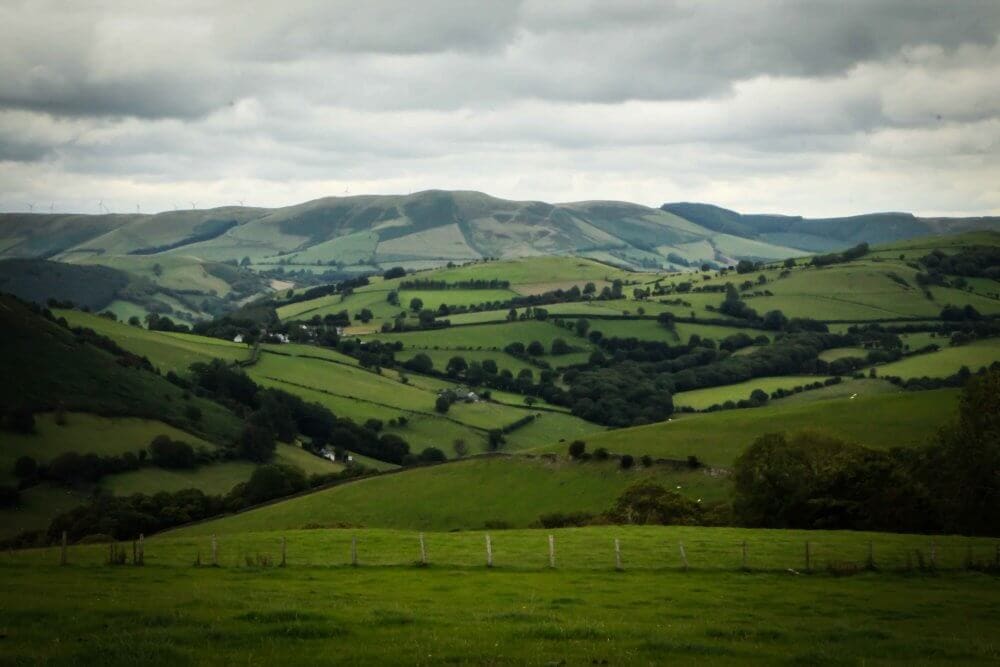 We spent the afternoon on what I'd like to call a "highlands safari," driving off road along the steep grassy hills and mountains while learning more about sheep from a local Welsh farmer. The view is exactly what you imagine when you think of Great Britain, rolling green hills dotted with adorable sheep. Toward the end of our adventure, we were invited for afternoon tea at the family-owned Siop Alys (pronounced "Shop Alice"), a vintage tearoom and contemporary gift shop in town. A cup of tea is the most comforting thing after a day outdoors in Wales. They call it "cwtch," which essentially translates to "cozy" in Welsh. Like the way you'd snuggle up to a hot mug to warm your chilled hands, or like hugging a friend you haven't seen in awhile. That's cwtch.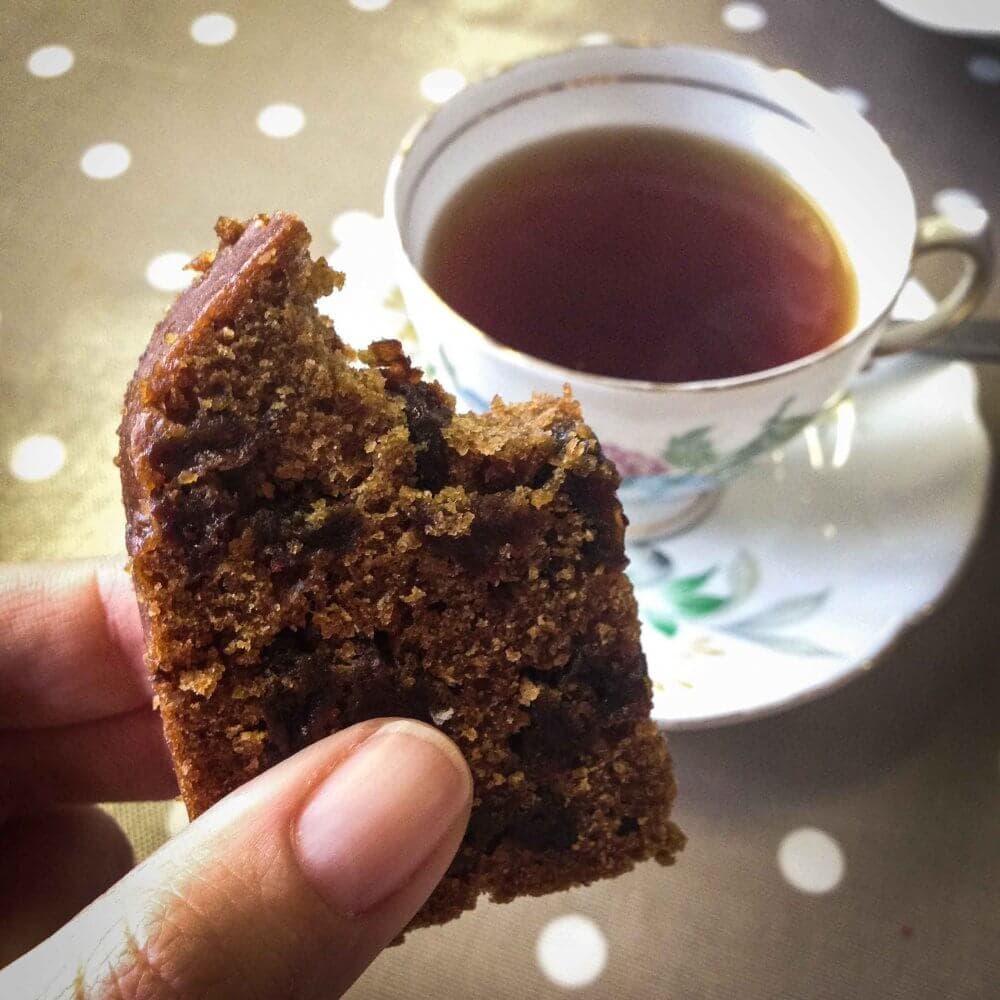 That night, we made it down to Ynys Hir All Hotel (pronounced "Ennis Here") for a lovely night's rest. Though out in the countryside, the classic luxury furnishings and modern art made it feel a world away from our day getting out boots dirty on a farm. And the multi-course dinner at their in-house Michelin Star restaurant was a special treat. The local walks and hikes described in the hotel guest book definitely have me craving to return and stay again at this lovely little gem in the country.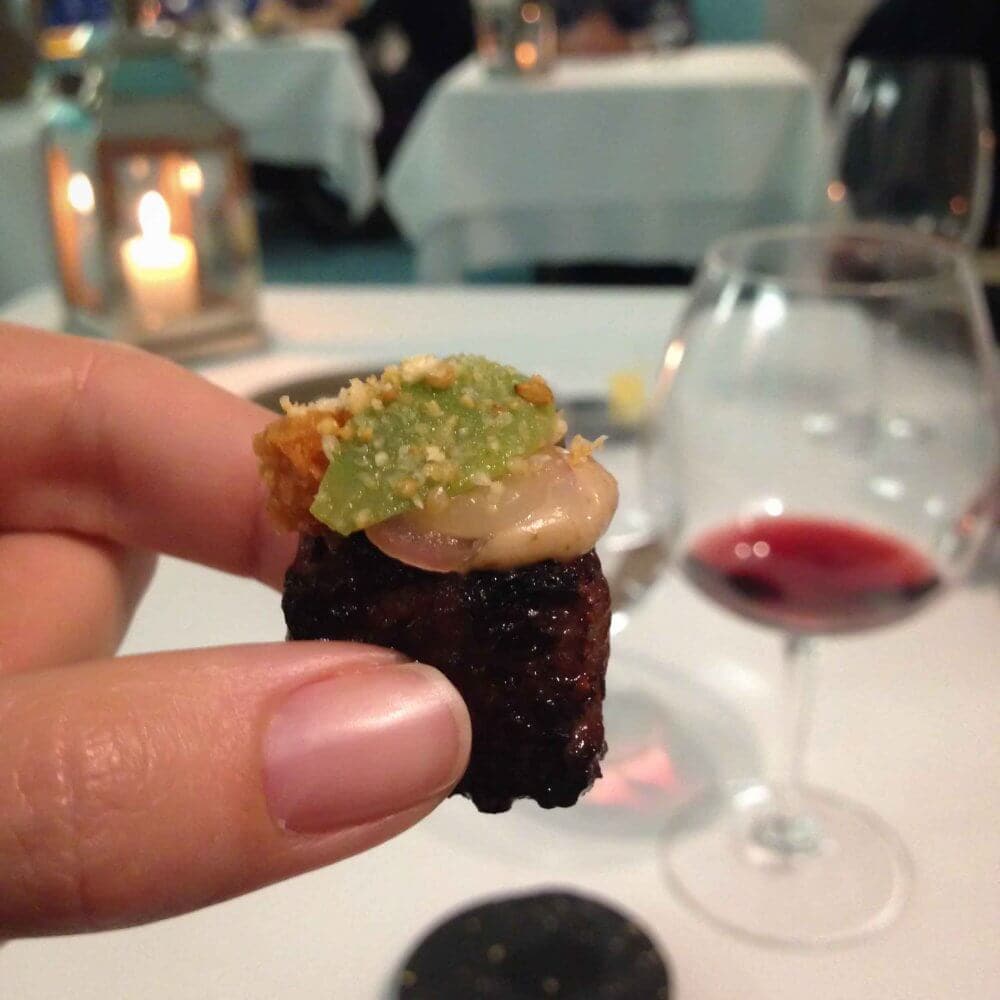 Day 3 – Aberystwyth and Tregaron
The next morning, we made our way further south to Aberystwyth and spent the morning walking along the boardwalk and castle ruins. The beach is breathtakingly beautiful and I left the town with much left to be explored as we had tickets to hop on a steam train ride to Devil's Bridge.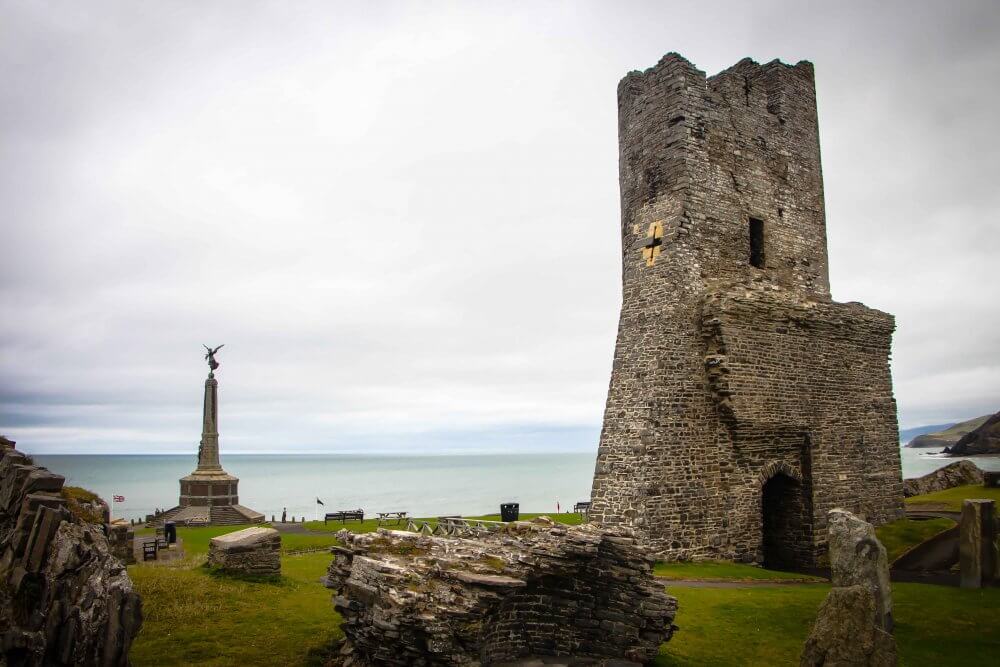 The train was fun, with it's vintage wood cars and friendly train conductors. At the end of the ride was a local chocolate shop, Sarah Bunton Luxury Chocolates, with delicious British flavors like Earl Gray Tea truffles and Welsh Dragon shaped chocolate bars. It was the perfect sugary snack to grab for a scenic road trip through the Cambrian Mountains from Devil's Bridge down to Tregaron.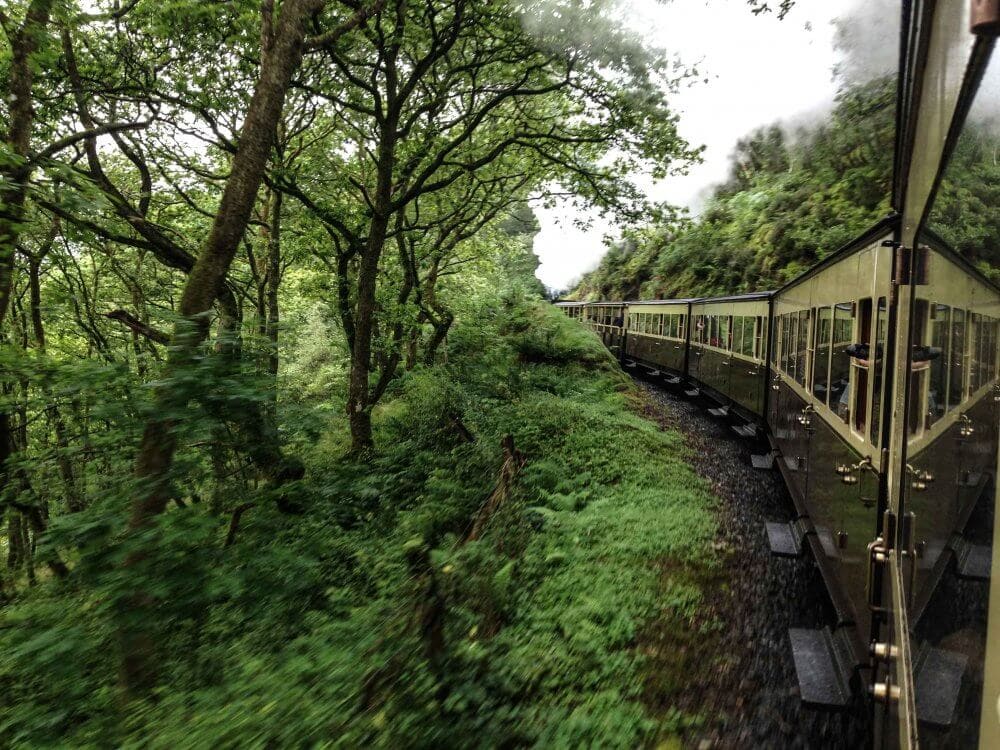 We stopped at Y Talbot Inn for some lunch around a cozy fire and went for a tour around town with the legendary Welsh folklore character, Twm The Thief! He's sort of the Welsh version of Robin Hood, but based on a real life person.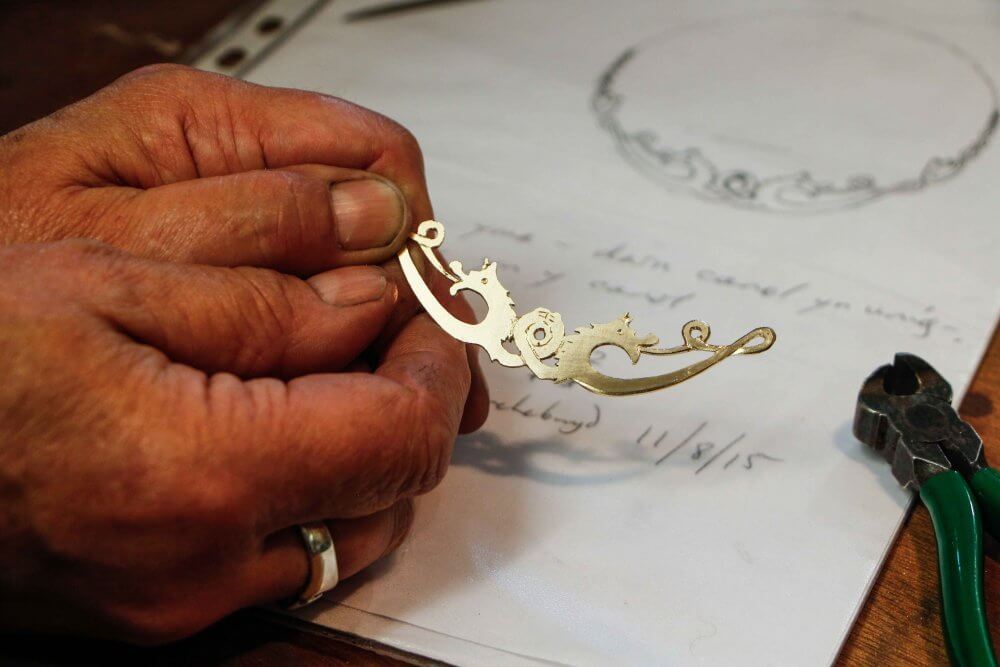 While in Tregaron, I couldn't help but be lured into jewelry making demonstration by the town's Welsh jewelery crafter, Rhiannon. She has a PhD in Biology and Animal Nutrition, but moved out into the country and started her jewelry workshop so she could raise her kids in a Welsh speaking community. Her beautiful pieces are inspired by antique Welsh and celtic jewelry, of which, she has a small museum display of on the second floor of her shop. Her work is now world renowned and she's even created custom pieces for NATO. In addition to jewelry, the shop also has other local handmade crafts, everything from fine art to wood carved Welsh love spoons. There's even a cafe that's the perfect place to sit and rest with a cup of tea or coffee. I would definitely recommend setting aside a bit of your budget to take home one of her unique pieces of jewelry as a souvenir.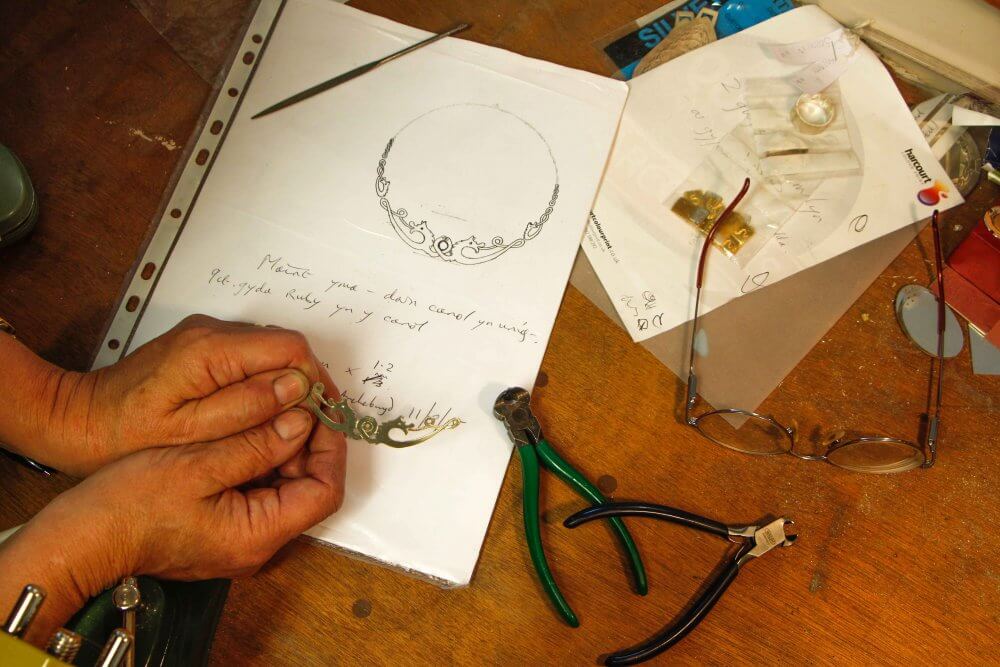 That evening, we traveled to Llangoed Hall for an elegant dinner and restful night sleep. Llangoed Hall is the type of boutique luxury stay that immerses you in Welsh country culture. Between the full tea set they brought up to my room while I was unpacking, to the view of their gardens, and the stunning 15th century architecture, I couldn't help but feel like royalty. The next morning, I donned on a pair of the boots they had available to go for a walk through their gardens and to the nearby river.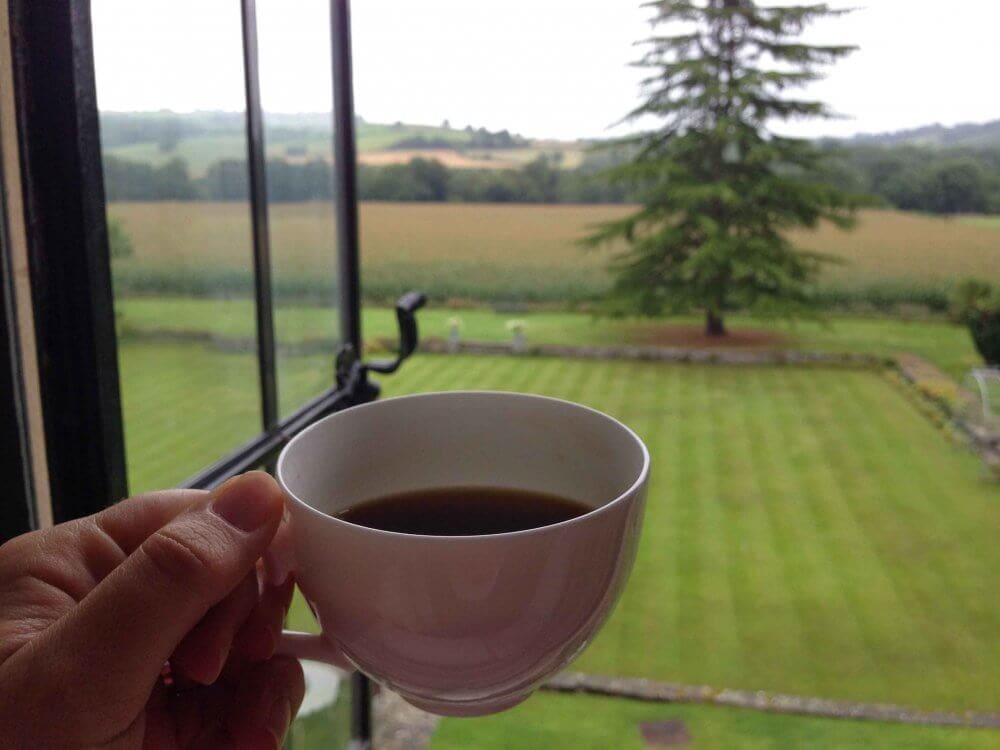 Day 4- Hay on Wye – The Book Village
Our stay at Llangoed Hall put us only 9 miles away from the quaint little town of books, Hay on Wye. It's a book-lovers dream! They're world renowned for their bookshops, and there are so many books here that the town is basically one big giant library. From specialty themed bookstores, to ones that carry rare vintage pieces, you can pretty much find anything. We had morning tea and scones at the Richard Booth Book Shop before exploring the town. I picked up a Welsh Cookbook and a vintage travel log about South Africa.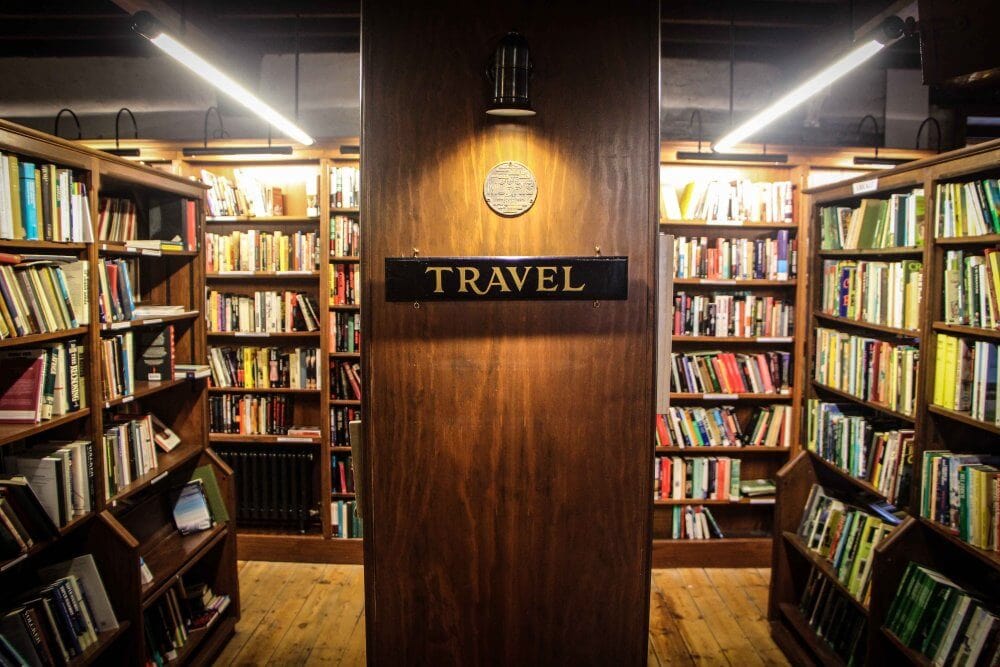 That afternoon, we stopped at Penderyn Whisky Distillery for a whisky tasting and then headed over to lunch at Llanerch Vineyard. I was quite delighted and surprised to try more Welsh wine. It was a perfect relaxing afternoon of great weather and lunch in the vineyard.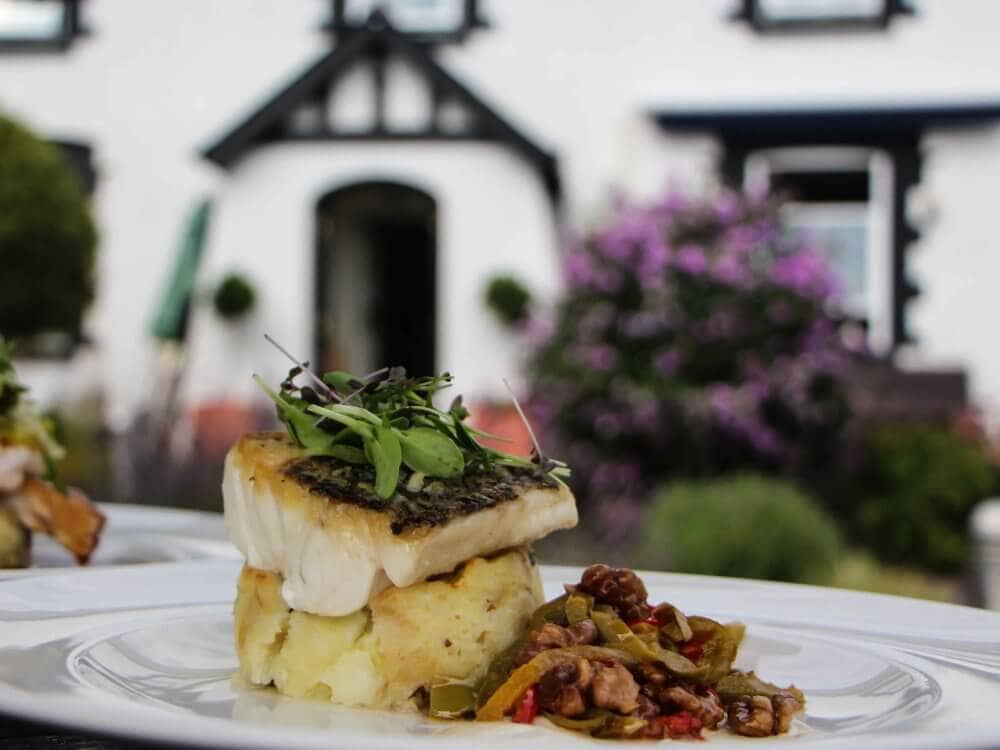 One our way into Cardiff, we stopped for a visit to the St. Fargans National History Museum, which is essentially an open-air historic village where you can walk through a castle and historic buildings to get a feel for what Welsh life has been like over the years. Once I checked-in to the boutique Cathedral 73, I did one of my favorite things to do while traveling, had a tasty Welsh welcome dinner with a local family, organized by my guide, Sian with LovingWelshFood.com.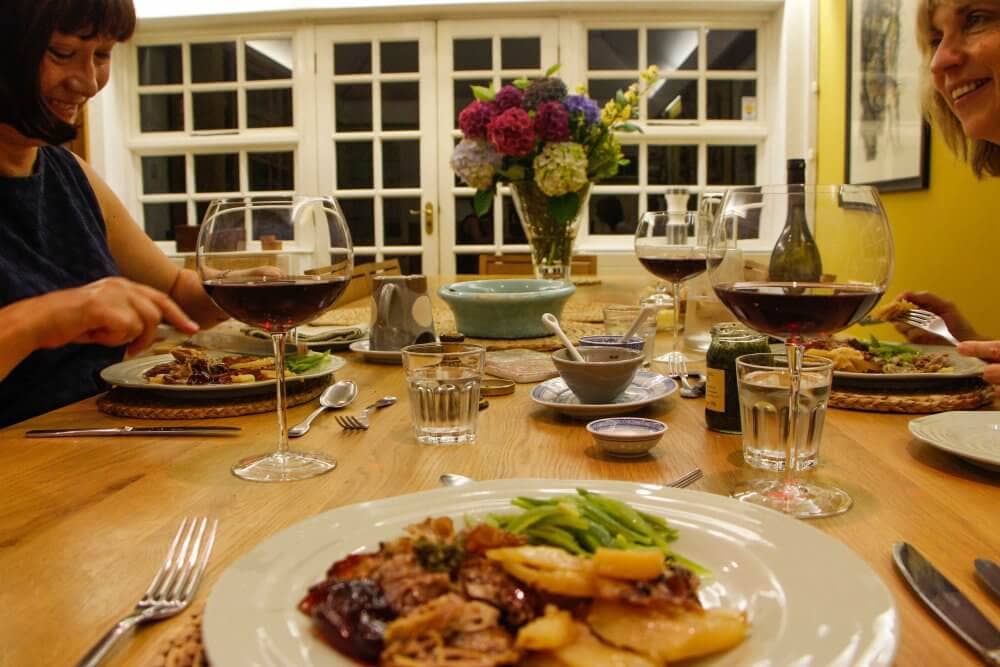 Day 5 – Cardiff
I spent my final day in Wales eating my way through Cardiff on Gourmet Safari with Loving Welsh Food. We tasted Welsh cakes, cockles, a fabulous gin bar, a Spanish tapas place, and even drank Brains. You'll have to check out my post, What To Eat In Wales, to learn more of the delicious food as there is just too much to list it all here.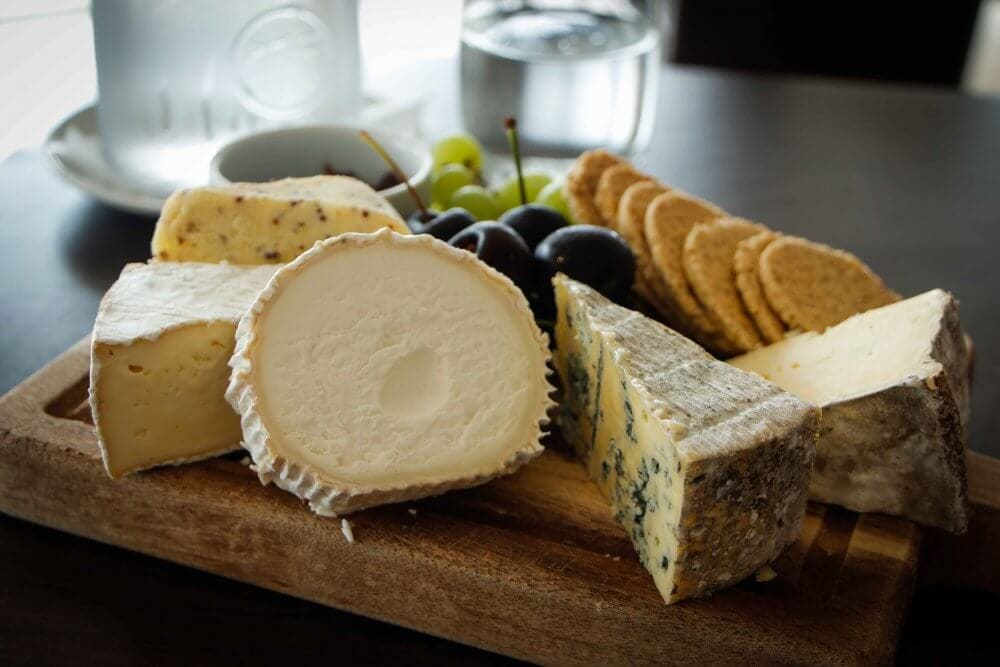 After eating a bit too much, we went for a walk around city of Cardiff and the waterfront, then making our way to Holm House nearby on the coast in Penarth. Since we had a farewell dinner planned and a meeting with their fabulous chefs (he gave me a copy of his sticky toffee pudding recipe that I still need to try!), I took advantage of the Cliff Hill nearby and went for a long walk.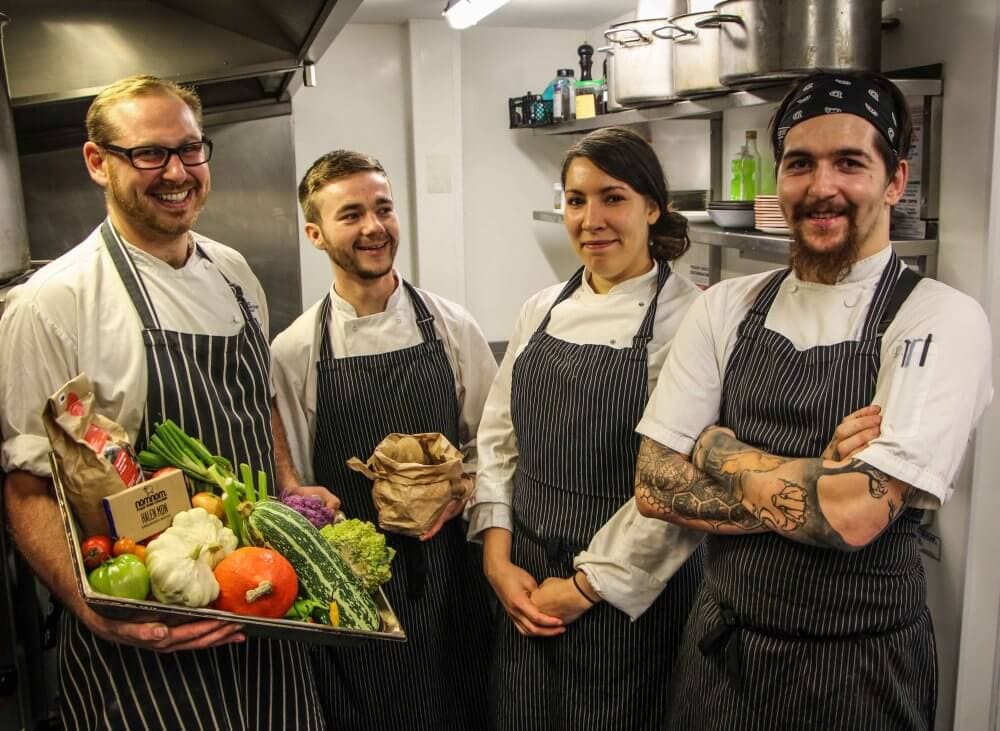 Between the food, the friendly welcoming faces, and the boutique hotel stays that felt like home, I'm convinced I would love to live in Wales! You should definitely add it to one of your top places to visit.
This trip was part of a campaign created and managed by iAmbassador in association with Visit Britain. All thoughts, opinions, and enthusiasm for food and travel are entirely my own. A special thanks to Cambria Tours for arranging this itinerary. Images on this page are copyrighted and may not be used without written permission.
WALES PHOTO GALLERY