The most memorable part of our trip to Paris was a day we spent on a self guided food tour, walking to historic places like the oldest cafe and oldest bakery in Paris. Nibbling our way though historic neighborhoods and markets was our idea of heaven.
Paris is certainly famous for food; the macarons, the baguettes and pastries, the cafe culture. To sit and sip coffee, enjoying conversation and watching the world walk by is very Parisian. But have you ever wondered where food and history intertwine? If so, this little food tour is for you.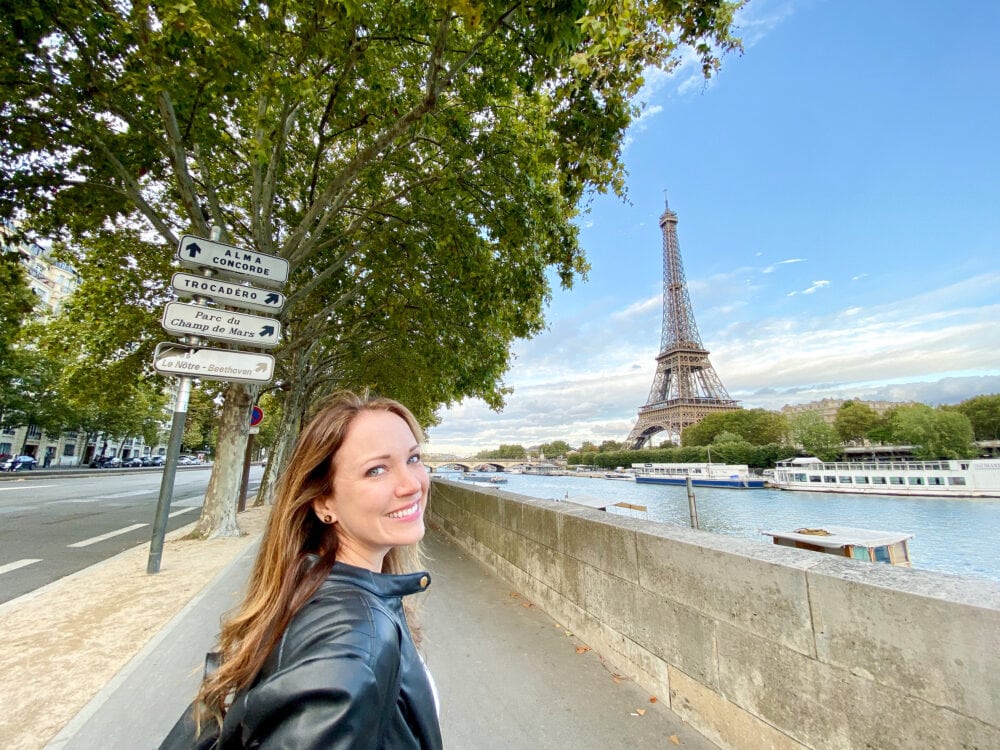 How We Discovered This Self-Guided Walking Tour
While traveling with Monograms in Paris, our local host, Kenia, asked if we had any specific plans during our stay. Now, let me back up just a bit and explain. Monograms is a hybrid tour company that offers all the benefits of group travel, while giving you the independence to explore on your own. And one of those benefits is having a local host that acts as a sort of concierge to help you get the most out of your trip. Our host in Paris helped us create the most memorable day in Paris by putting together this self guided food tour for us below.
It was Pete's first time in the city, so of course we wanted to visit all the must-see icons. But I told Kenia we were interested in food and history too. "I know just the thing," she said. Kenia sent me an email that very day with her personal recommendations for a lovely self-guided food tour walking to some historical eateries in Paris. With it being in email, it was very easy to copy to Google maps on our phones for a little guidance. It was the perfect day in Paris!
PARIS FOOD TOUR – A Walk To The Oldest Bakery, Market, and Cafe
We've outlined the Paris food tour below along with a map to show you the best route to see the oldest bakery, oldest market, and oldest cafe in Paris. There's also a few other little fun stops along the way including Shakespeare & Co. and the oldest tree in Paris! This walk will also take you by Notre Dame and the Spanish Quarter. Wear cozy shoes and walk up an appetite!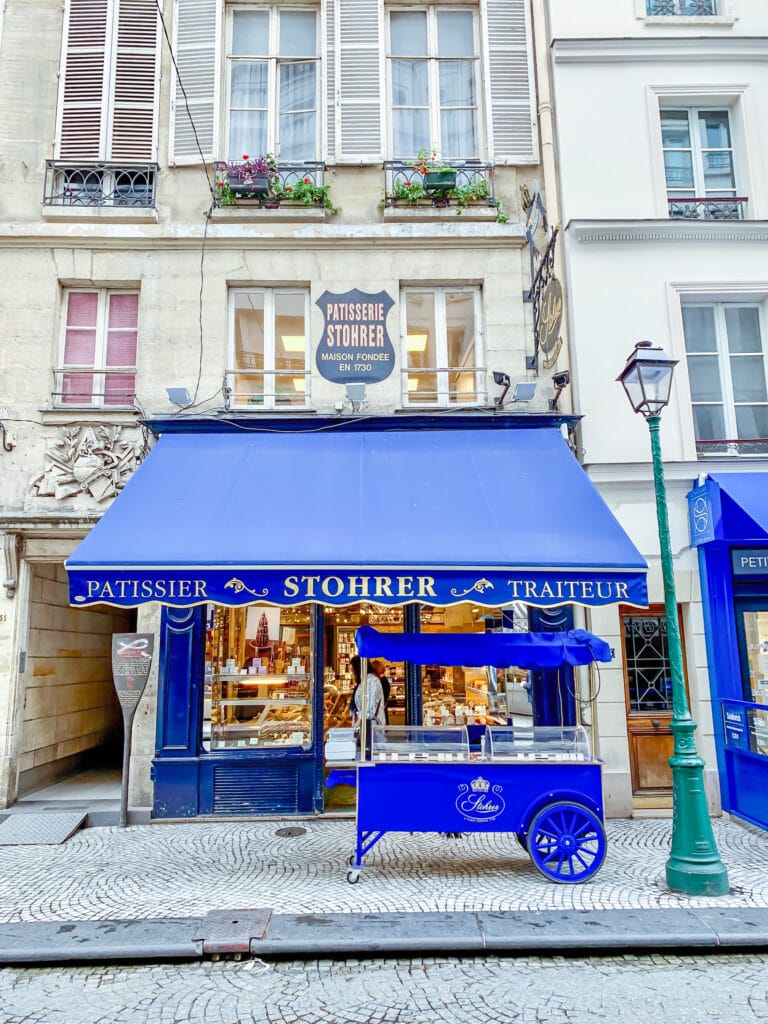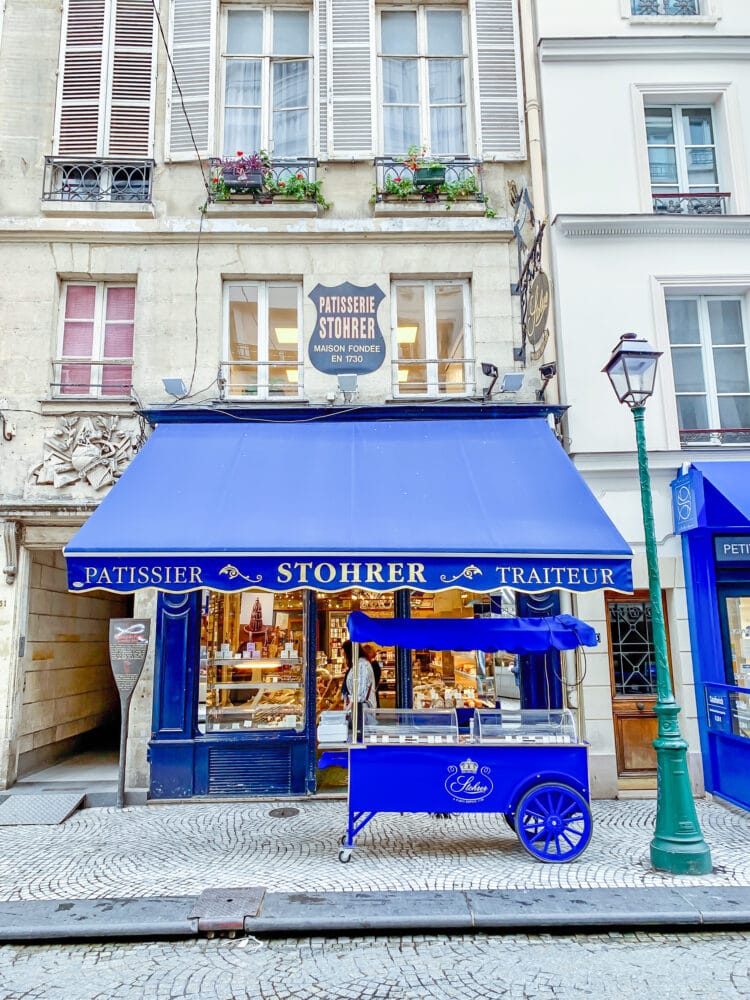 THE OLDEST PÂTISSERIE (BAKERY) IN PARIS
Our first stop was to Stohrer, the oldest bakery in Paris. Stohrer was opened in 1730 by King Louis XV's pastry chef, Nicolas Stohrer. It is famous for Baba au Rhum, a small cake soaked in rum. But definitely try some more traditional things too like fresh baked croissants and baguettes, especially if you don't want something too sweet in the morning.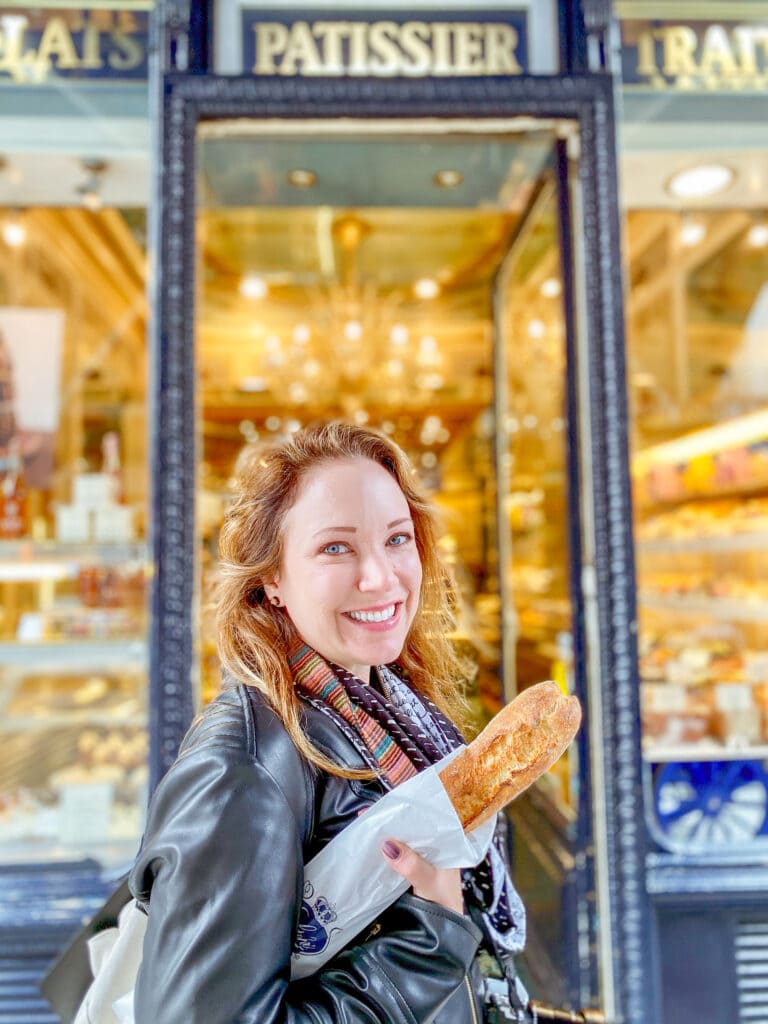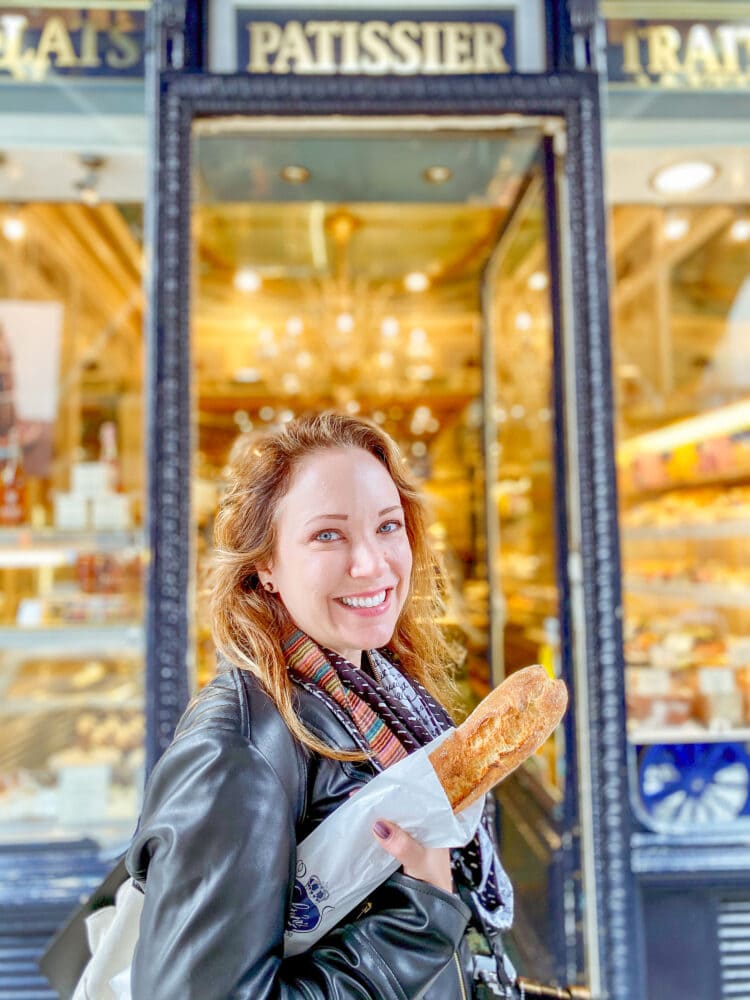 Stoher was pretty close to our hotel at Hôtel L'Echiquier Opéra Paris, but if you're staying in other parts of the city it is easy to get there by metro. We definitely recommend starting here for a little breakfast, and then walking along Rue Montorgueil to see the other little food stands open up for the day. There's poissonneries, fruit stands, and even a chocolate shop. I also really enjoyed the clothing boutiques here too.
STOHRER
51 Rue Montorgueil
75002 Paris, France
stohrer.fr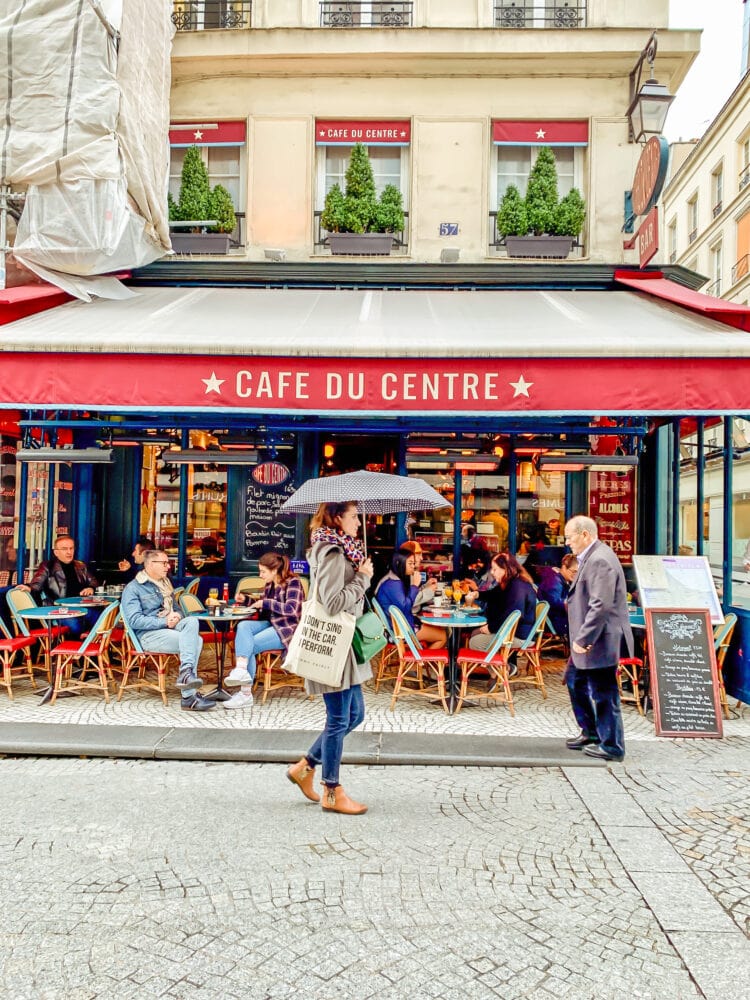 THE OLDEST COVERED MARKET IN PARIS
After going to Stohrer and exploring Rue Montorguiel, meander on over to Marche Enfants Rouges, the oldest covered market in Paris. Founded in 1628, today you'll still find market stands selling fresh fruits and vegetables, breads, and other local food items. The name translates to "the market of the red children," in memory of a local orphanage where the children were clothed in red.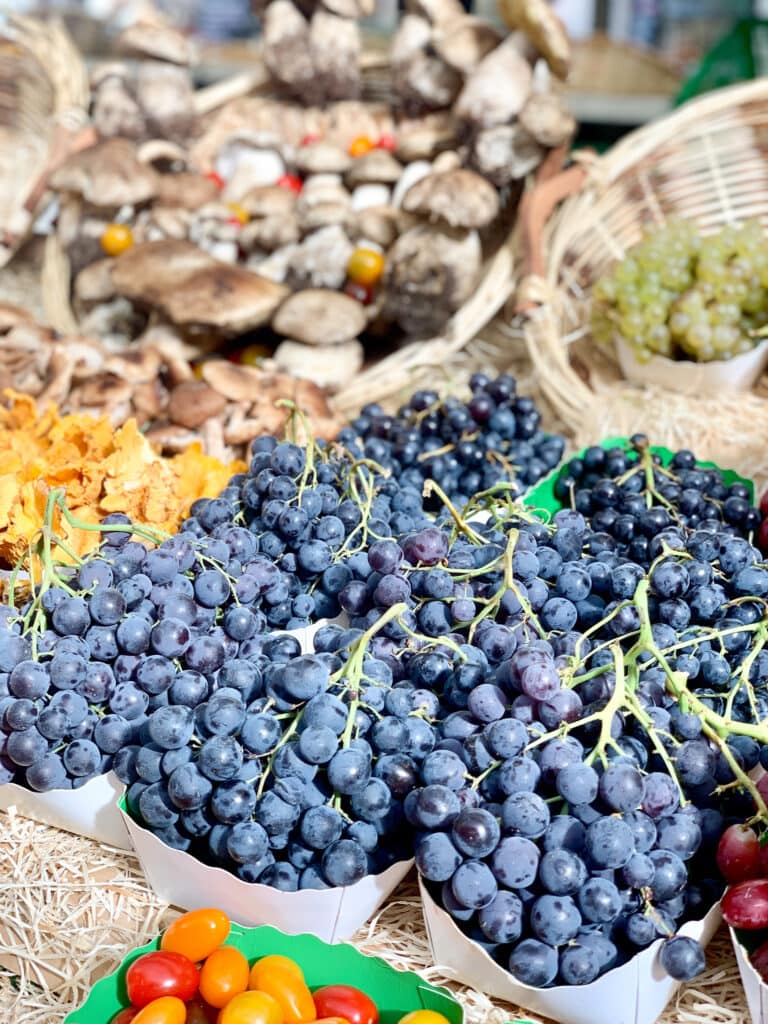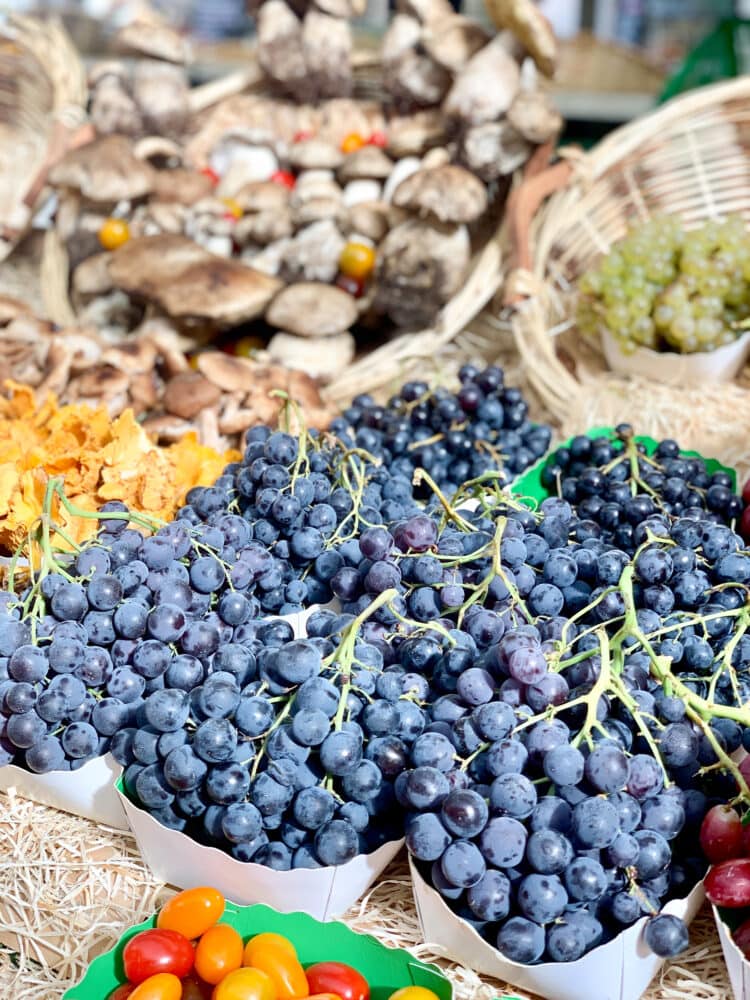 In addition to fruit and flower stalls, there's also vendors cooking up various international cuisines. It's a nice place for a cozy "décontracté" (relaxed) lunch from different parts of the world. The entrance of the market is marked by a small opening between two tall buildings and it sits inside a courtyard behind the main street.
MARCHE DES ENFANTS ROUGES
39 Rue de Bretagne
75003 Paris, France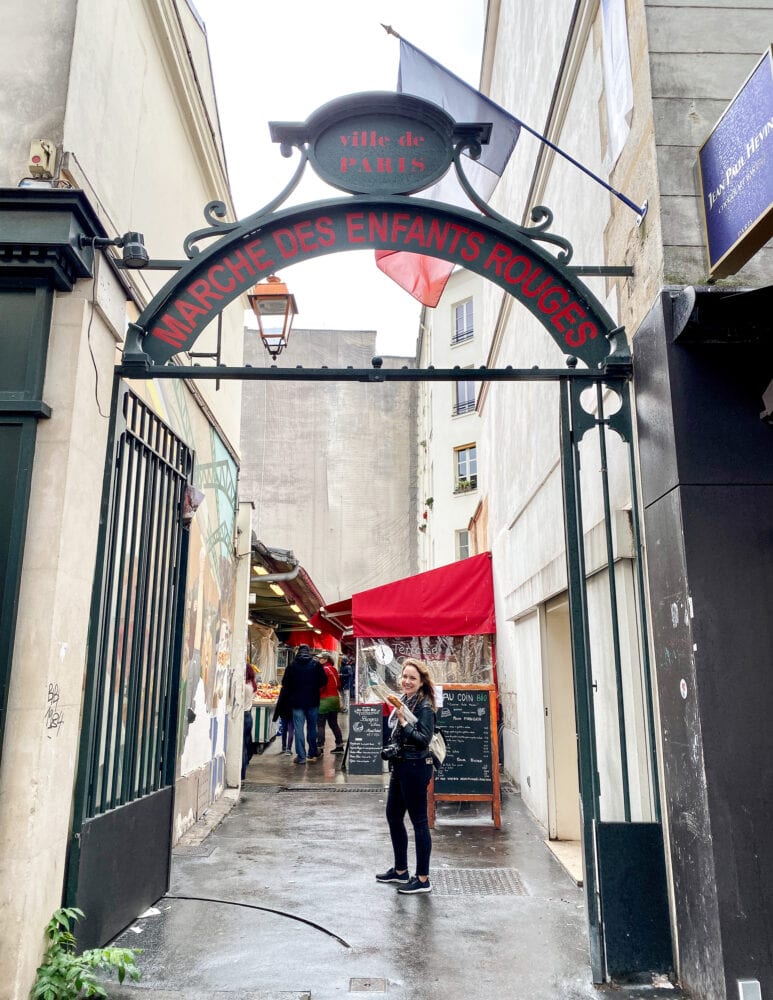 THE OLDEST CAFE IN PARIS
After lunch at Marche des Enfants Rouges, this little self-guided food tour of Paris takes you through historic streets and past Notre Dame. While you may still be full from the covered market, take your time exploring this part of the city called the Latin Quarter. Just over the bridge from Notre Dame is the famous bookstore, Shakespeare & Co. And you'll also find the oldest living tree in Paris in the garden next to Saint-Julien-le-Pauvre church. (We've included more about that below!)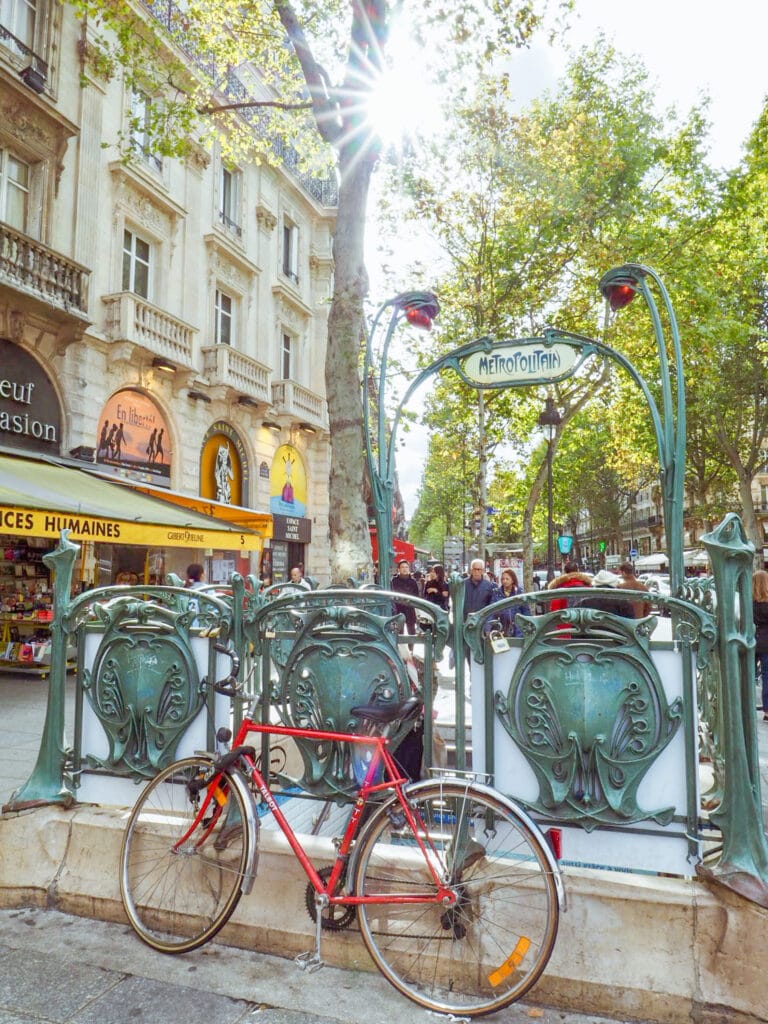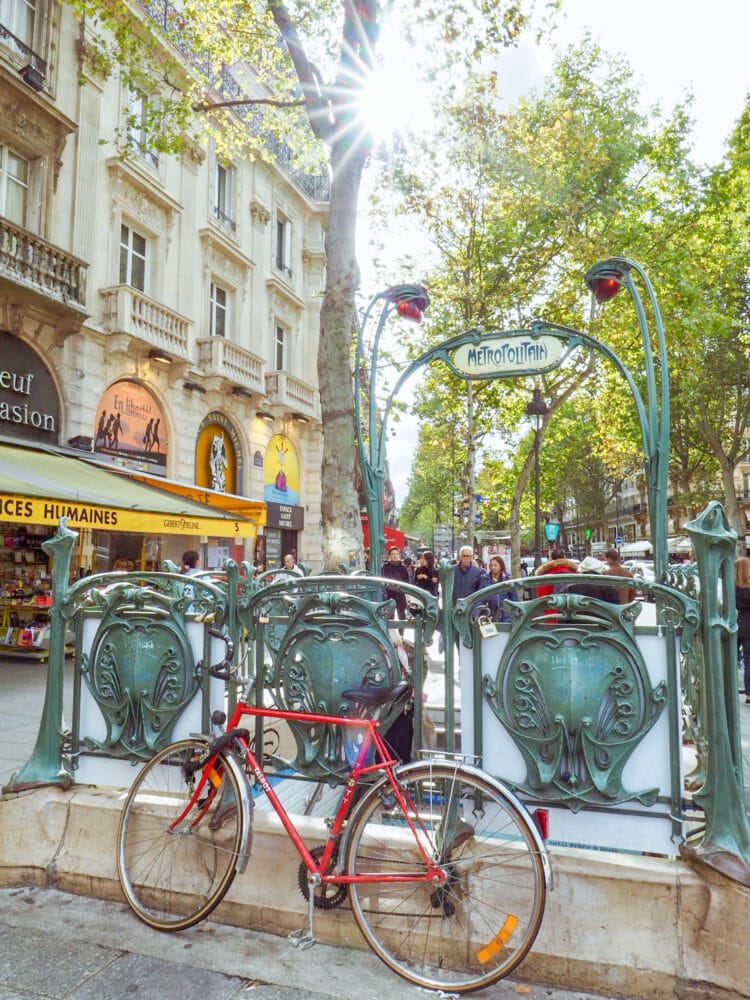 Now about the oldest cafe in Paris, Le Procope. It is actually the oldest café of Paris in "continuous operation." It's a bit more touristy than the first two stops on this tour, but still very fun and worth going to see. According to Wikipedia, Le Procope was opened in 1686 by the Sicilian chef Procopio Cutò, and "was a hub of the artistic and literary community in 18th and 19th century Paris."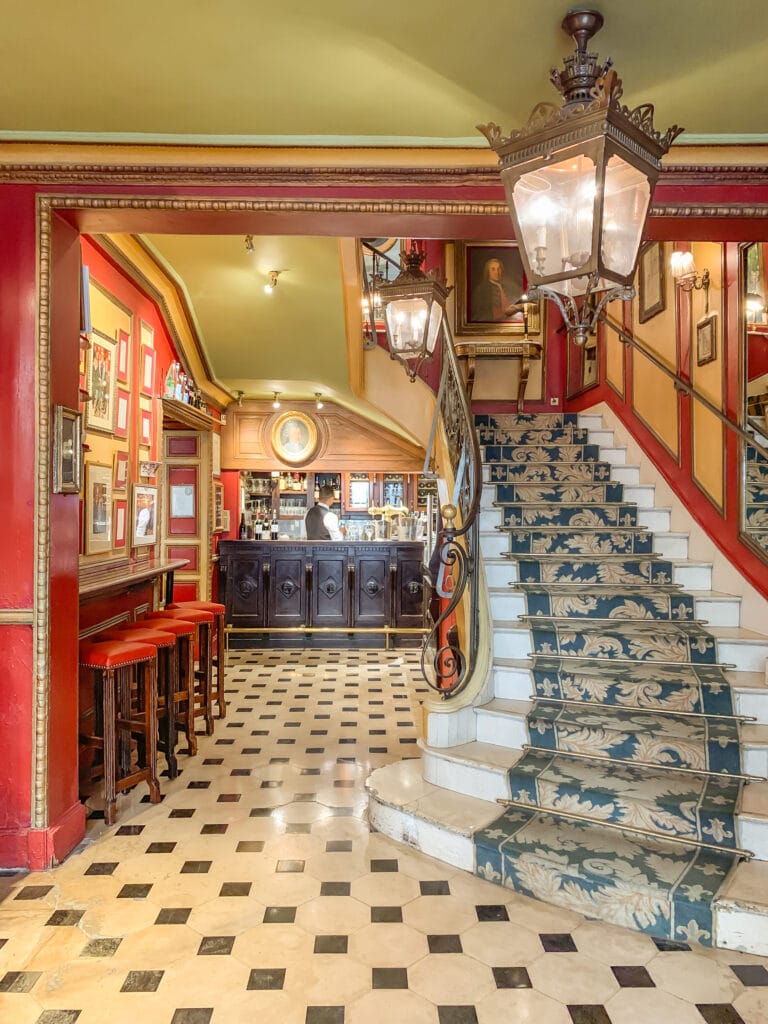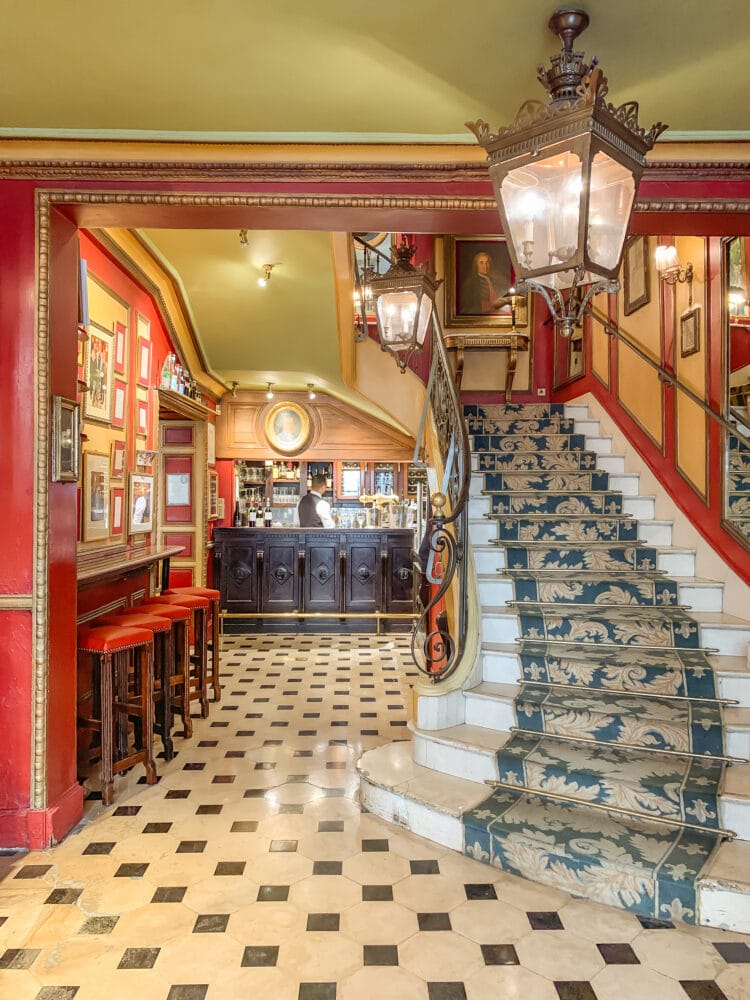 Some of the more notable diners here include Voltaire, Benjamin Franklin, and Thomas Jefferson. It is also the birthplace of the Encyclopedia! Inside the cafe, there is a hat that is said to have belonged to Napoleon as he left it one night when he couldn't pay his bill. While that's fun folklore, I'm not entirely sure if it is true.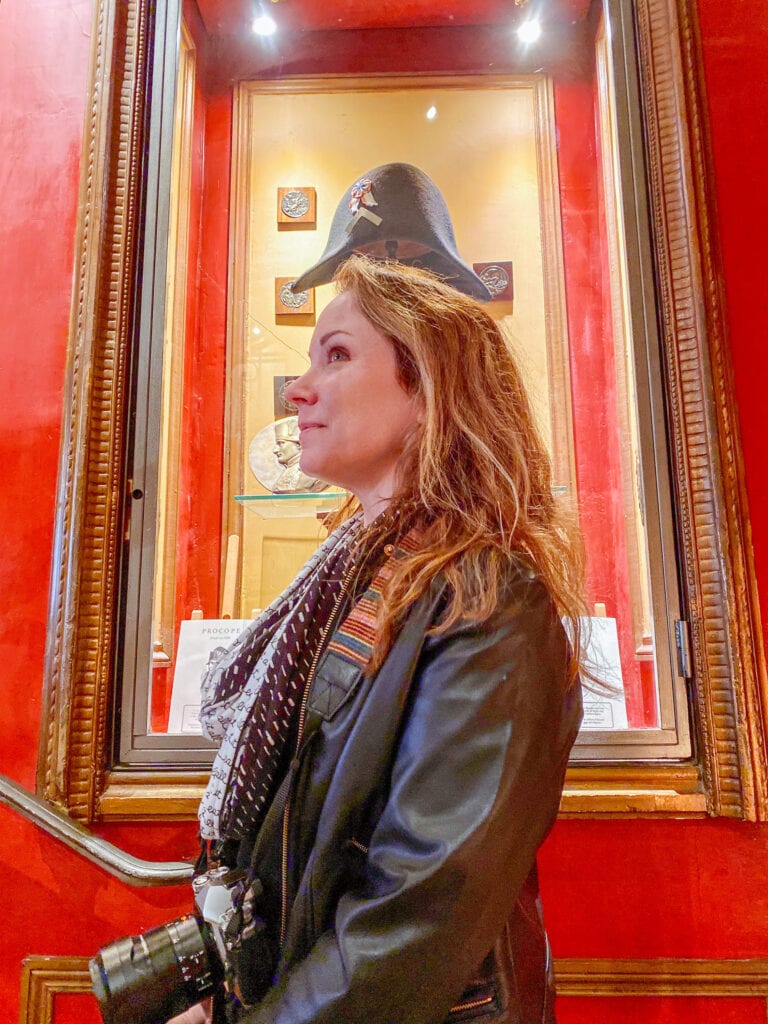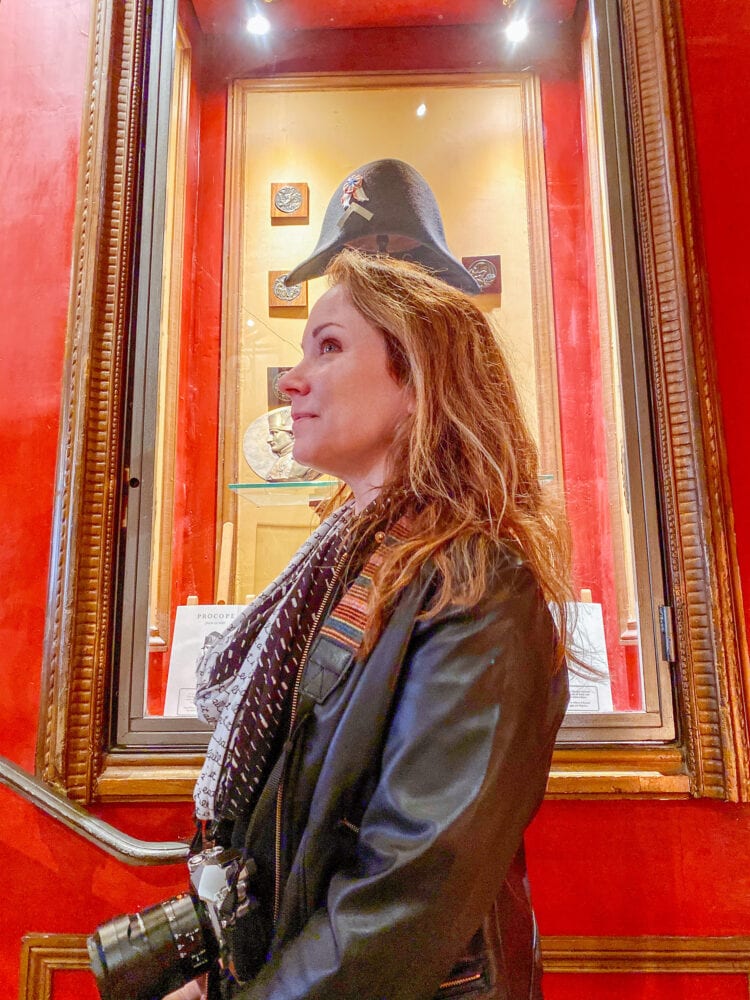 The menu consists of traditional French dishes, so Le Procope is definitely a fun place for dinner. But if you're stuffed from the first two places, having a coffee and a little bite in Paris' oldest cafe is memorable too.
LE PROCOPE
13 rue de L'ancienne Comédie
75006 Paris, France
procope.com/en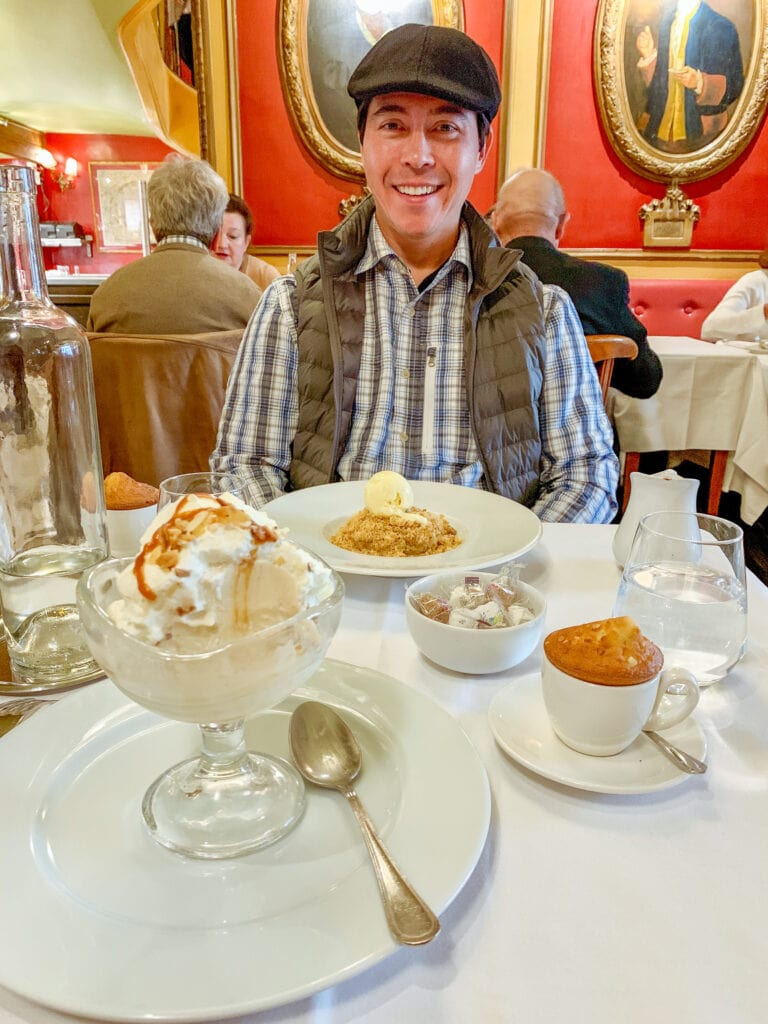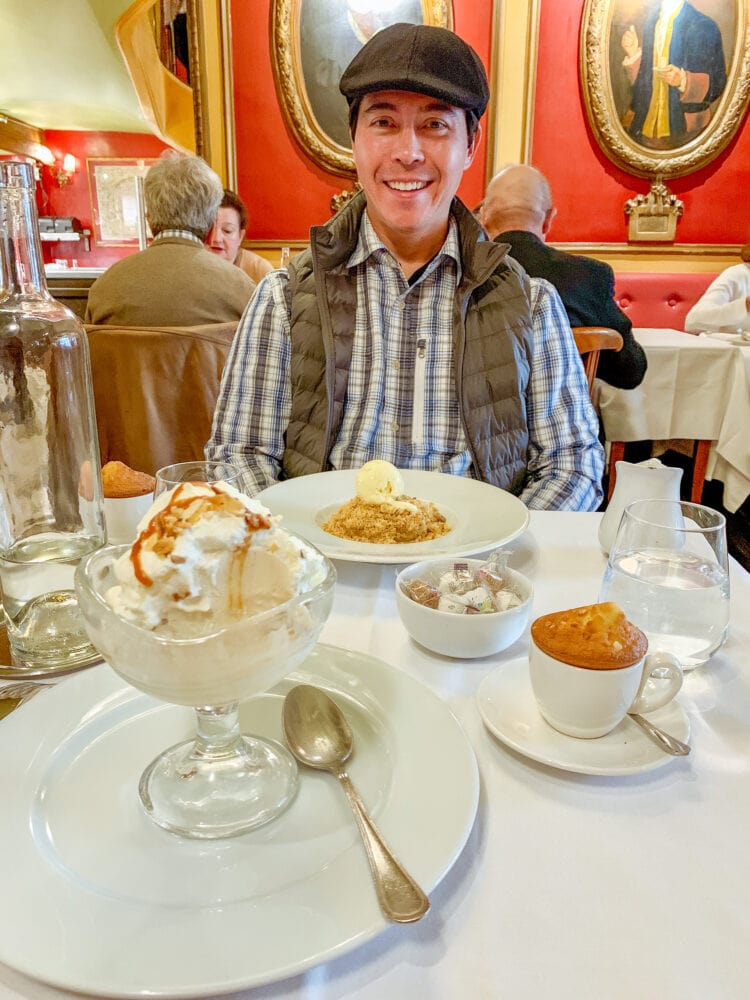 THE OLDEST TREE IN PARIS
I know, not food related, but worth going to see. As I mentioned above, the oldest tree in Paris is on the way to Le Procope and is close to Notra Dame. It's located near Shakespeare & Co. in a small park called Square René Viviani next to the church Saint-Julien-le-Pauvre. The tree sprouted in 1601, so it has lived through quite a bit of Parisian history. While it's not as beautiful as the trees lining Tuileries Garden, it's even propped up a little to help it keep steady, I still think it is worthy to see.
Saint-Julien-le-Pauvre
79 Rue Galande
75005 Paris, France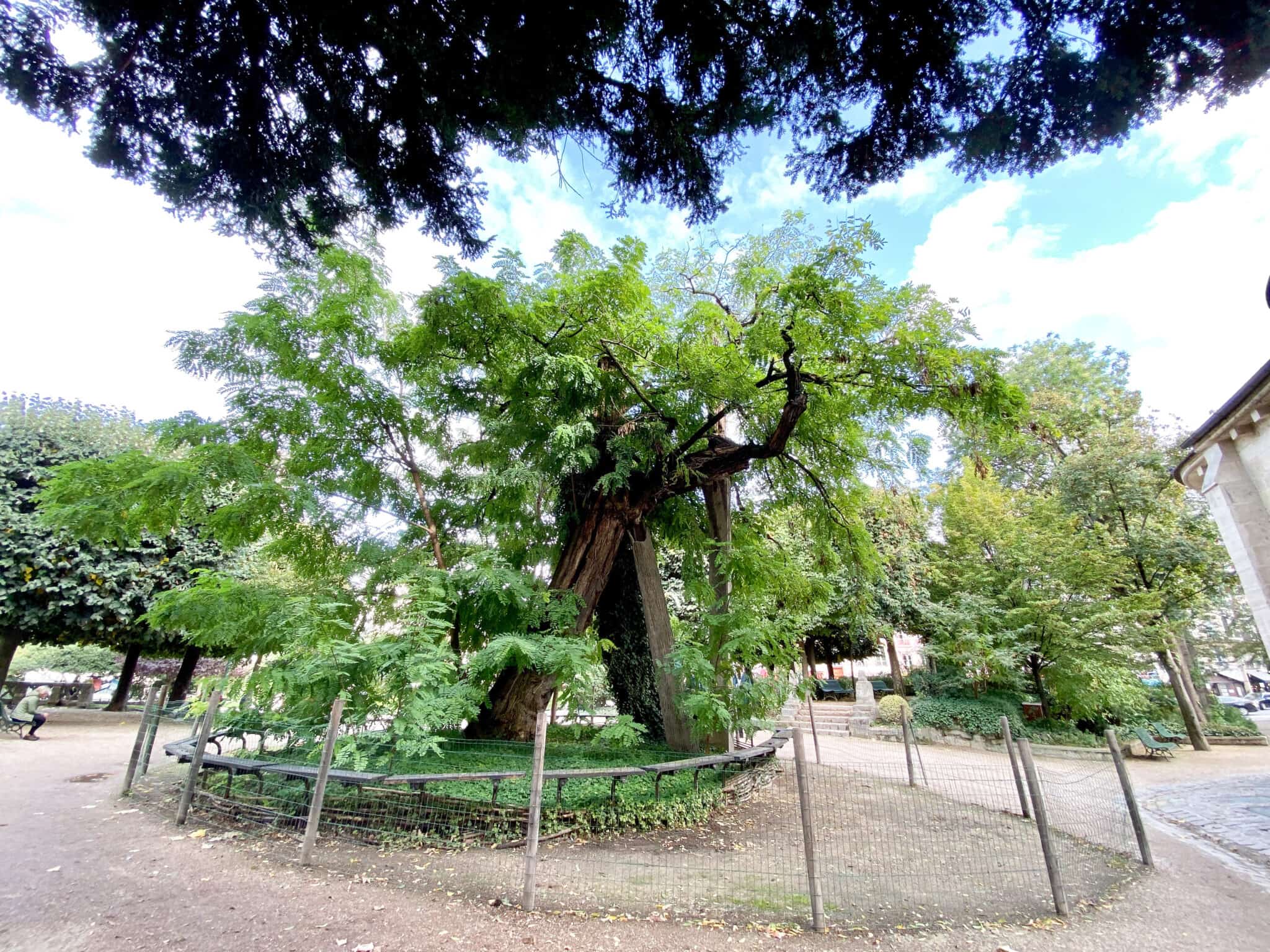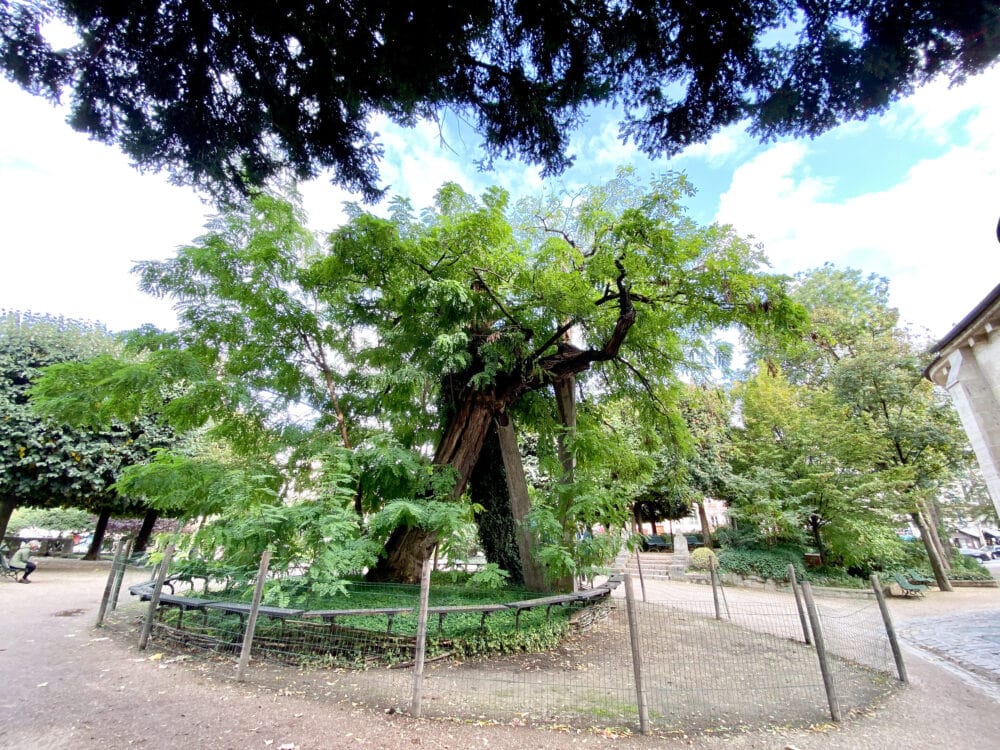 You Might Also Like
More Photos Of Our Food Tour
We hope you enjoyed this self guided walking tour of Paris. Be sure to print or save the map above and try it! Here are more photo highlights of the walking tour below.
This trip was done in collaboration with Monograms Travel and iAmbassador. As always, though, all thoughts and opinions expressed are our own.
Photo credits above to Pete Wallace and Rachelle Lucas.