Before there were the bright colored Ladurée macarons (pronounced "ma-ka-roh"), or the coconut macaroon (pronounced "ma-ka-roon"), there was the original French macaron -a thin sweet almond wafers made my nuns in 17th century France.
You can still find the original French macarons being made in a quaint medieval village of Saint Emilion, best known for its luscious wines produced within the Bordeaux region of France.
The Original French Macaron
While visiting Saint Emilion, I spent a morning in a small bakery that's been making the same macaron recipe from 1620. It's called Véritables Macarons de Saint Emilion, which literally translates to "the real macarons of Saint Emilion." Here's a translation from their website about the history:
"Known for wine, the macaron is the another speciality of Saint Emilion. It is manufactured as early as 1620 by a religious community, the Ursulines. The recipe was passed down through local families, and generation after generation is still a secret held. Today, Nadia Fermigier, who succeeded Mrs Blanchez, is the only depositary of the real recipe dating back to 1620."
Visiting The Real Macarons Of Saint Emilion
Upon arriving with my guide, I was welcomed with a warm smile, freshly brewed espresso, and a sheet of paper with three little macarons. Each cookie is on it's own little square that can be torn from a sheet and shared, similar to button candy. They have a crunchy outside, soft center, and an intense almond flavor similar to marzipan. I sat on a stool in the corner of the bakery with my espresso and macarons to watch and learn how the original French macaron is made.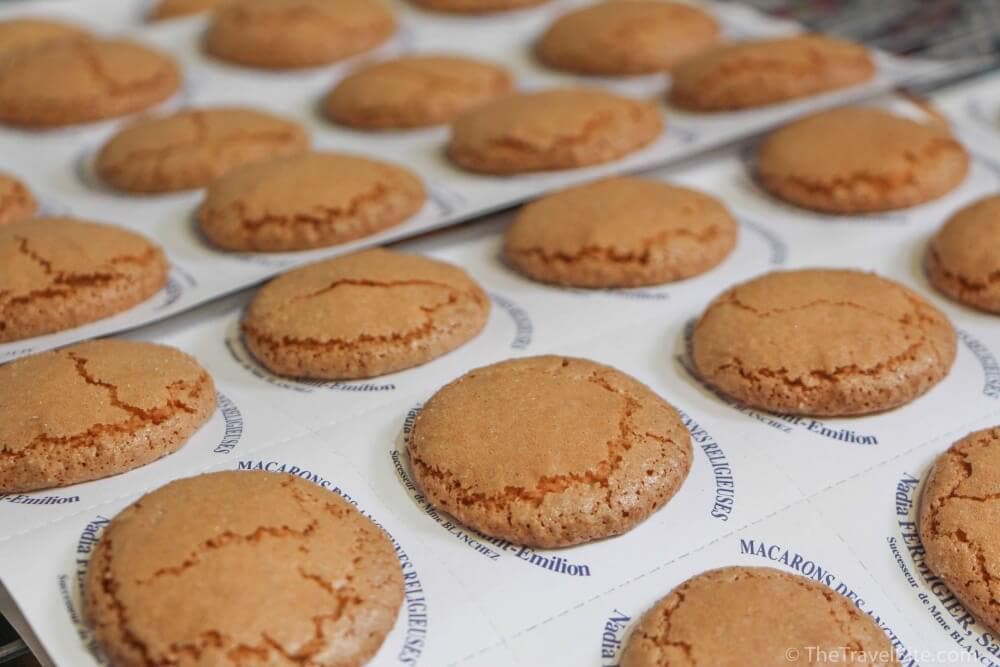 Selecting The Right Almonds
The bakers at Véritables Macarons de Saint Emilion begin with a special variety of almonds inported from Spain, one sweet almond and one bitter almond, that are blanched and then left to soak overnight.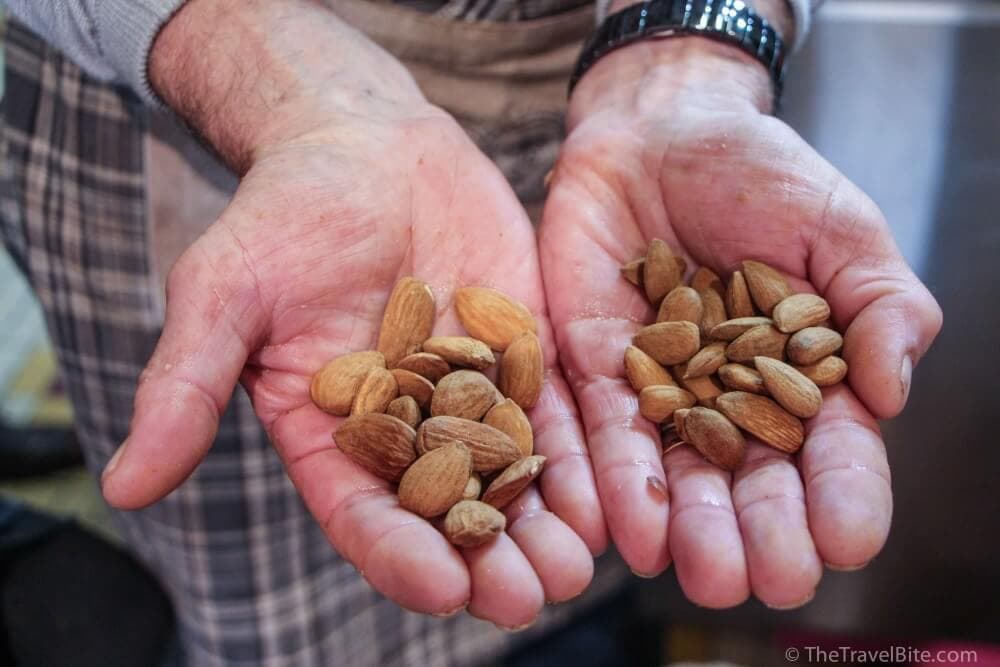 In the morning, the almonds are spread out on a table and swiftly hand peeled with the efficiency of a machine. It's done so masterfully that it looks easy, but I can tell that it takes some practice and skill. I would probably have almond shells stuck all over myself.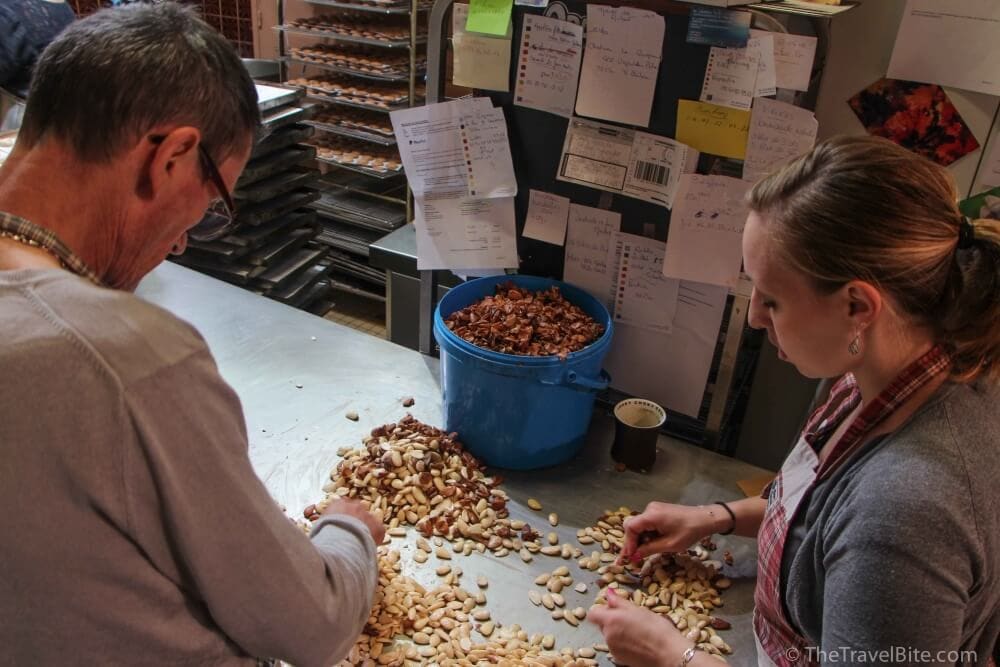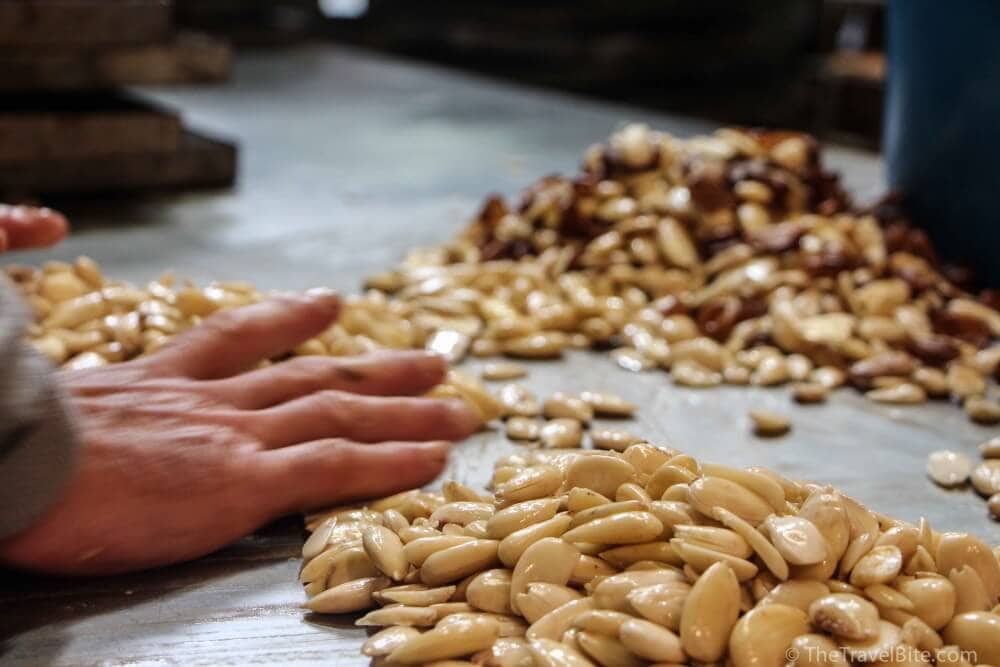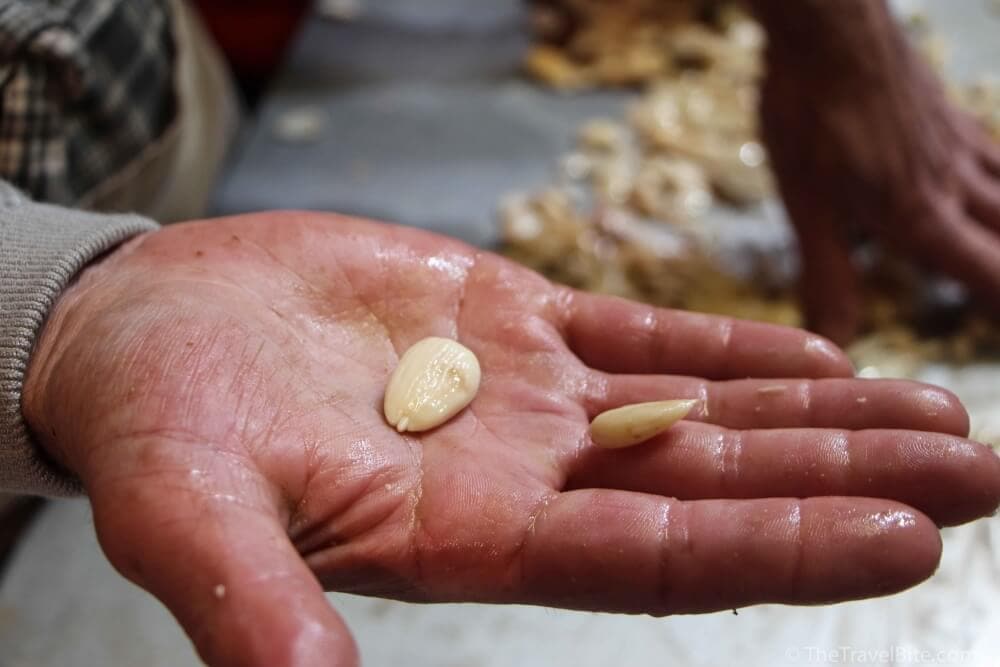 Ingredients For The Original French Macaron
The original recipe for macarons includes the same three main ingredients that modern Parisian macarons are known for – almond flour, egg whites, and sugar. The difference is, the fresh ground almonds produce more of a wet paste than a dry powdery flour.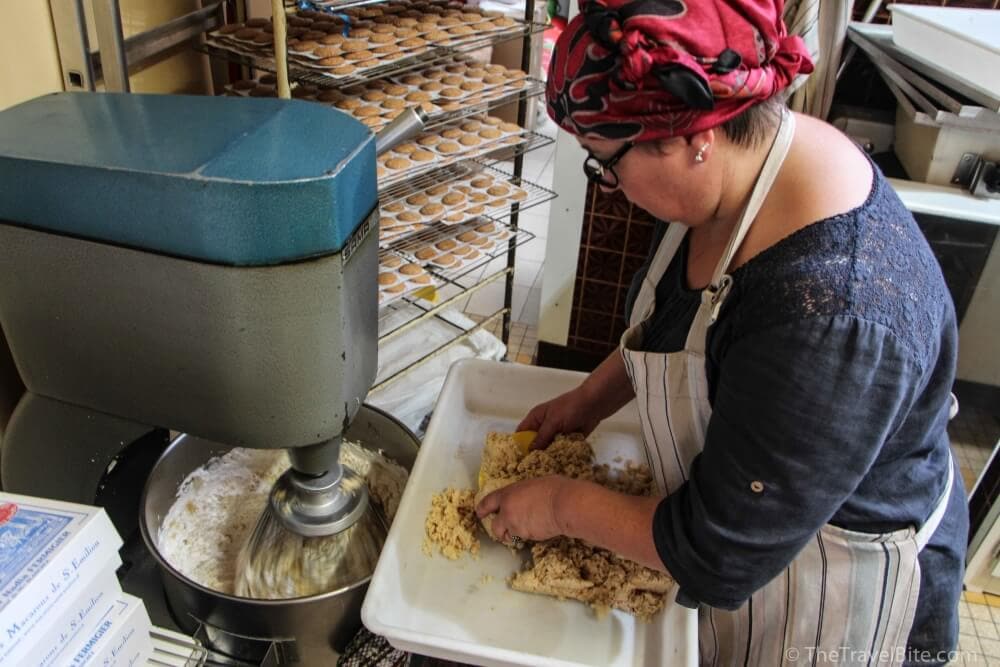 The freshly ground almond paste is blended with egg whites and sugar in a large mixer. I asked for a recipe, but after a few giggles from the bakers my translator told me it was a highly prized secret.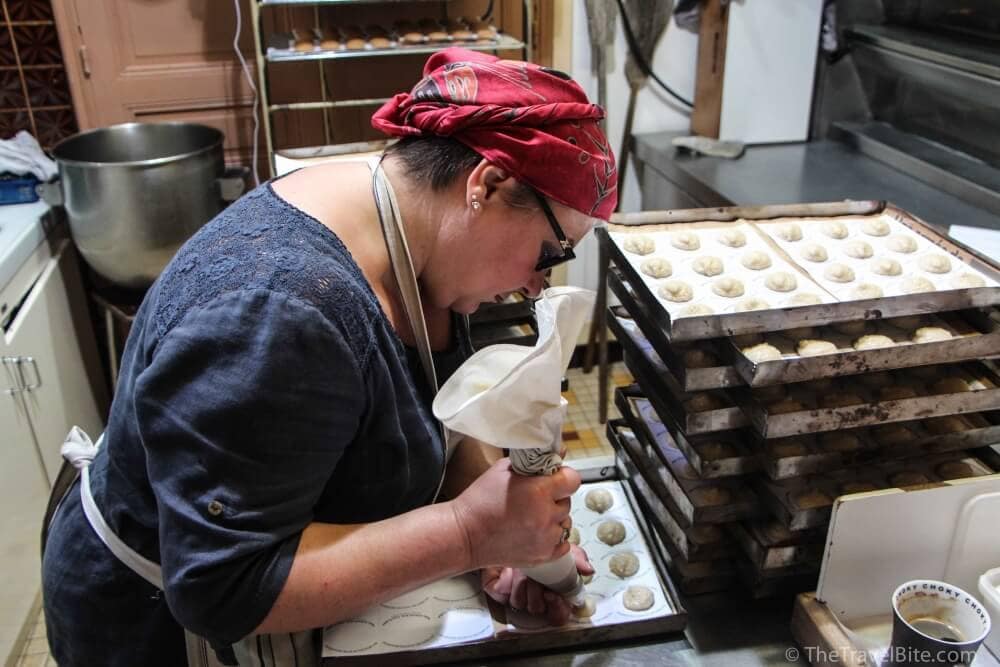 The dough is piped onto a sheet of white squares, proudly stamped with the name of the bakery framing each cookie. The raw macarons are then stamped with a sugar coated cookie mold that gives each one a uniform shape. I asked if similar molds were sold nearby (you know me, always trying to figure out a way to recreate recipes at home). But, was told it was handmade my the shop's owner and is the only one of it's kind. That's it. Just one cookie mold for the entire shop.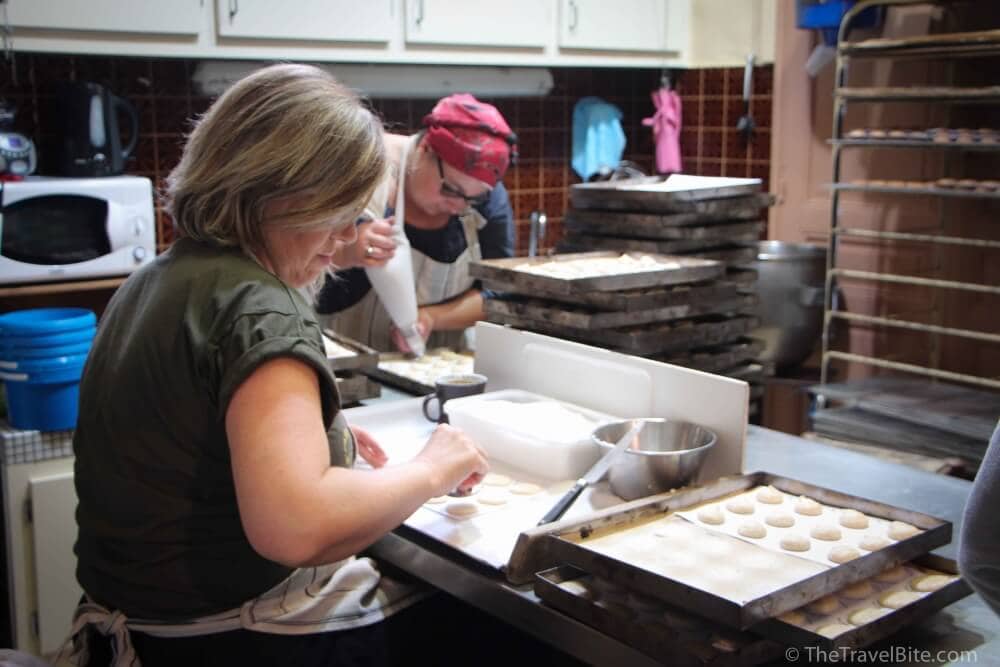 Throughout the morning, it was fascinating to watch everyone in sync and the rhythmic timing of piping almond paste and the sound of the oven chime every 10 minutes or so as cookies are stamped, baked, and removed to cool.
After they cool, the sheets of cookies are divided up and layered into boxes. They make a great gift or souvenir to take home, that's if you're not tempted to eat them all during your visit to Saint Emilion.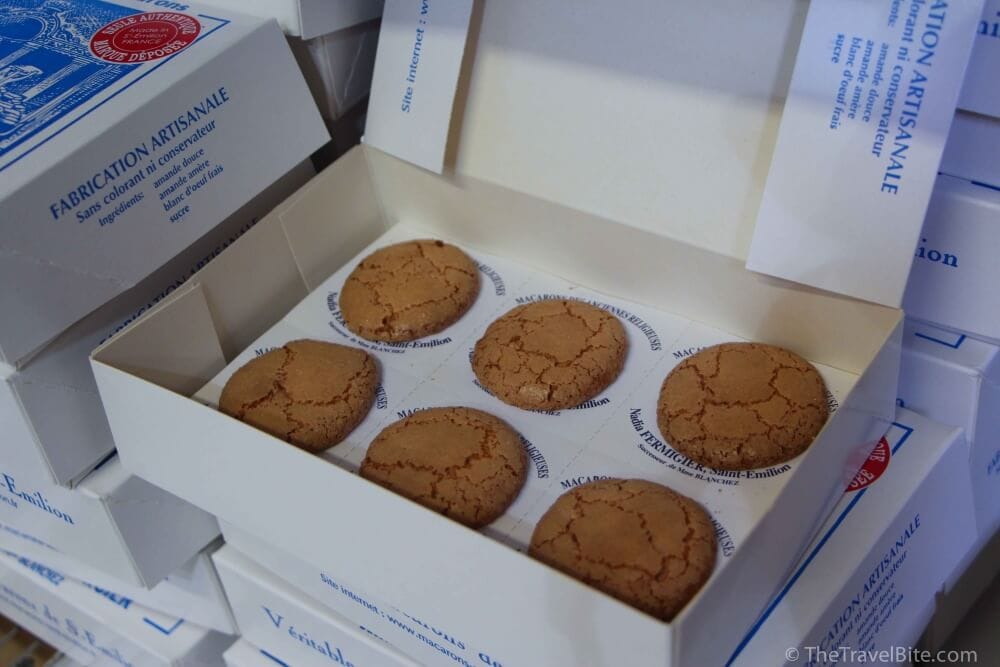 If you're a fan of food or history, this little bakery is definitely a must-see when visiting Saint Emilion or the Bordeaux region. Here's all their shop details to help you plan your trip. And if you're planning to travel throughout Bordeaux, check out my friend's Bordeaux Travel Guide.
Véritables Macarons de Saint Emilion
9 rue Guadet
33330 Saint-Emilion
France
Tel: 05 57 24 72 33
Web: www.macarons-saint-emilion.fr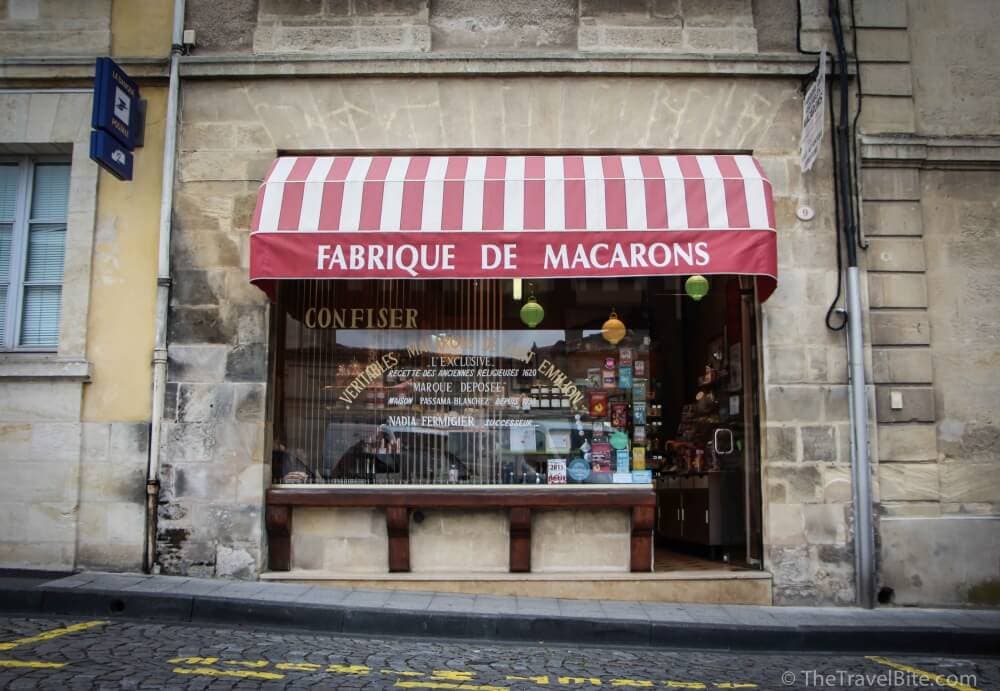 Want to save this post for later? Pin it! 🙂
You Might Also Be Interested In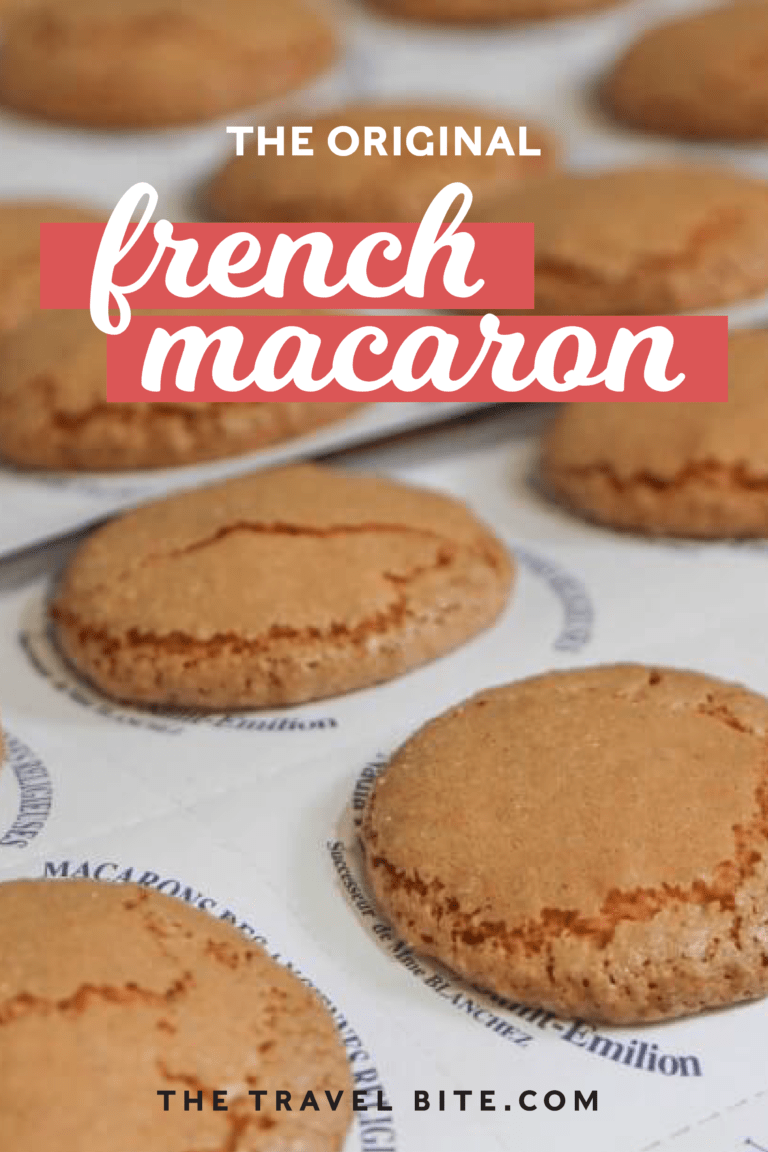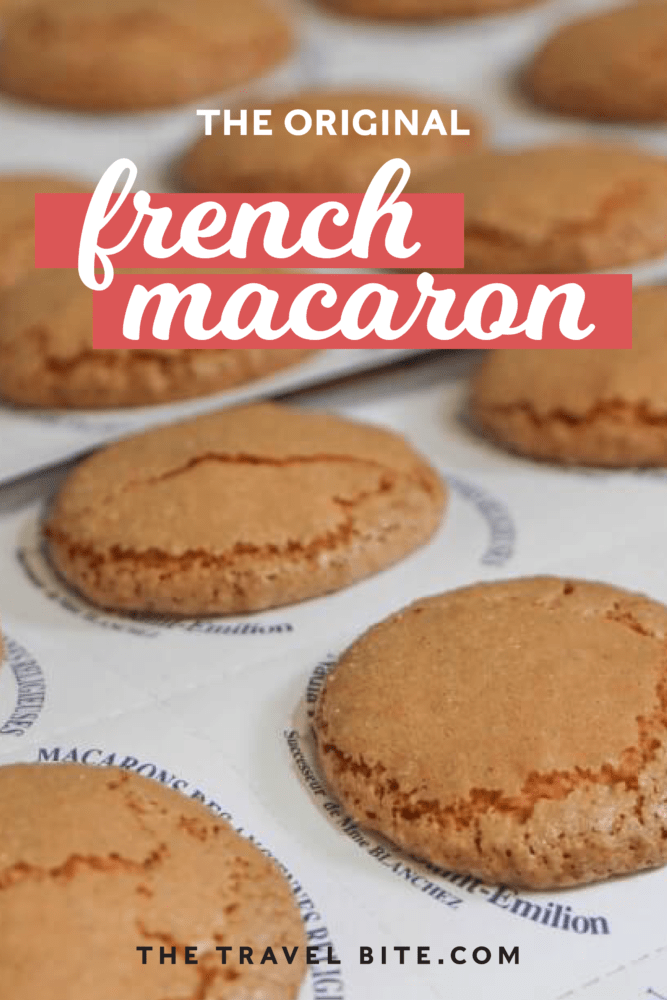 Originally Posted 2015, Updated 2019.