Watermelon juice coolers are so refreshing. Cool, sweet, and perfect for a hot summer day. Plus, they're really easy to make. I have a few tips for you below on how to remove the seeds and pulp, and a few suggestions on what to add to create a little variety to your watermelon juice coolers or turn them into a cocktail.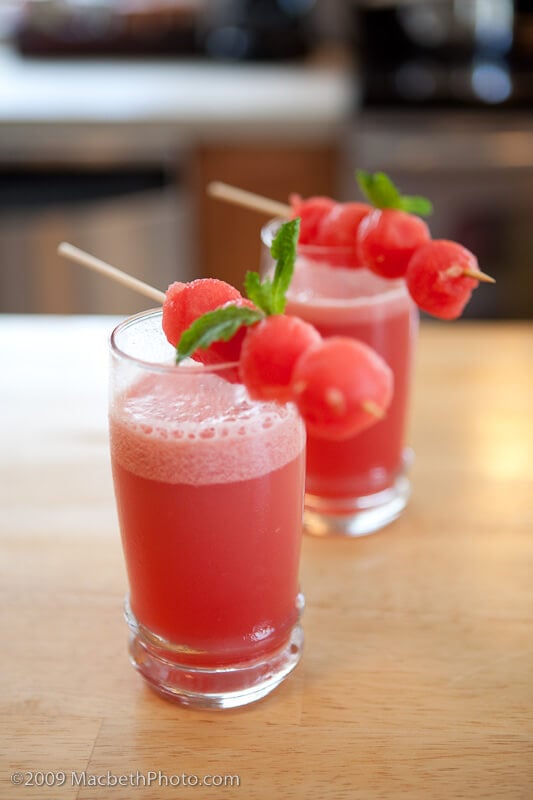 Once upon a time there was a very hot day in Florida. And, on that very hot day my air conditioner decided to stick it's tongue out at me and quit. And it's 90. And the A/C guy can't make it out until tomorrow. Are you playing a violin for me yet?
But my friends would call me optimistic in the midst of adversity and sweltering heat. I'm a glass is half-full kind of girl. Literally! I googled fresh frozen drinks and about 5 recipes for watermelon drinks came up. I took my favorite bits out of each recipe (based on what I had in the refrigerator) and created my own.
Champagne is optional. Here it goes … really simple ingredients.
INGREDIENTS FOR WATERMELON JUICE
a quarter of a watermelon (approx. 2 cups cubed)
a cup of coconut water or fruit juice
2 cups of water (to make a simple syrup)
a cup of sugar
a cup of ice.
HOW TO PREP THE WATERMELON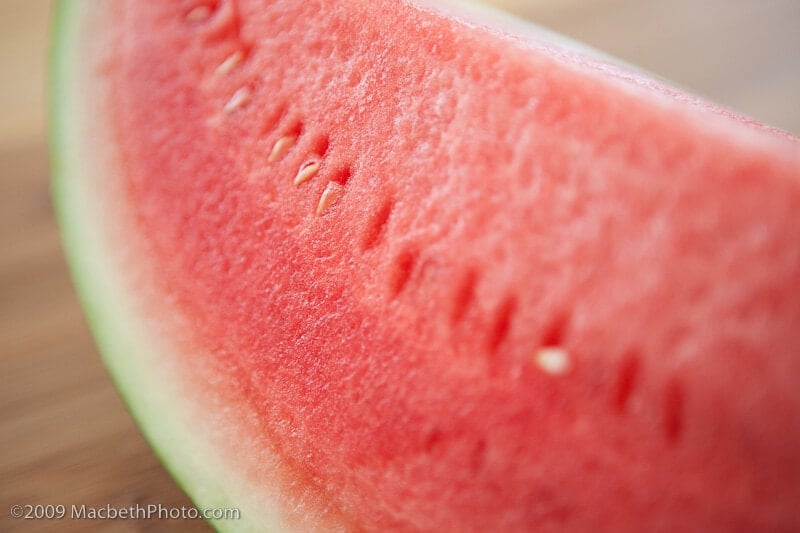 The easiest way to prep your watermelon is to cut the fruit into cubes. I used a melon baller in the photos below. Cutting it into cubes is quicker, but the melon baller will give you a few nice round pieces to use as garnish. You can pick up a melon baller at most local supermarkets or on Amazon.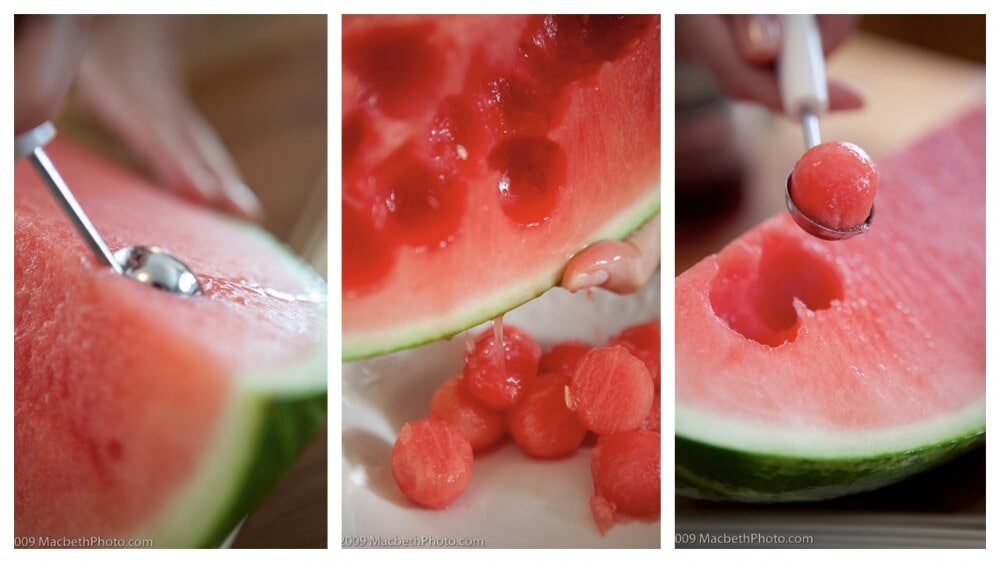 Be sure to not waste a single drop of watermelon juice. As your cutting the cubes (or using the baller) just tilt over the rind so you can pour any extra juice into a bowl.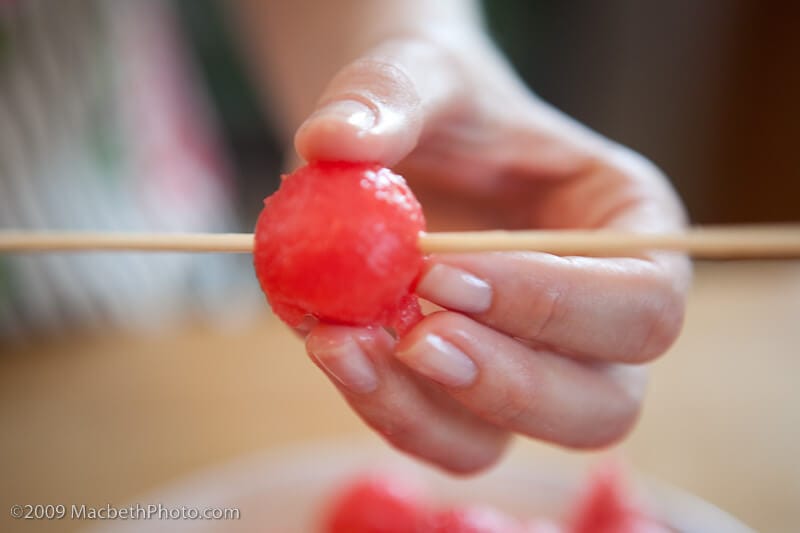 Making Watermelon Garnish or Ice Cubes
Add a few melon balls to a bamboo skewer for garnish. Pop them into the freezer to make them ice cold. If you have time, you can freeze them over night and create a nice little swizzle stick to keep your drink cold. I'm sweating — or rather — my forehead is getting all sparkly, so I'm just going to use these as garnish.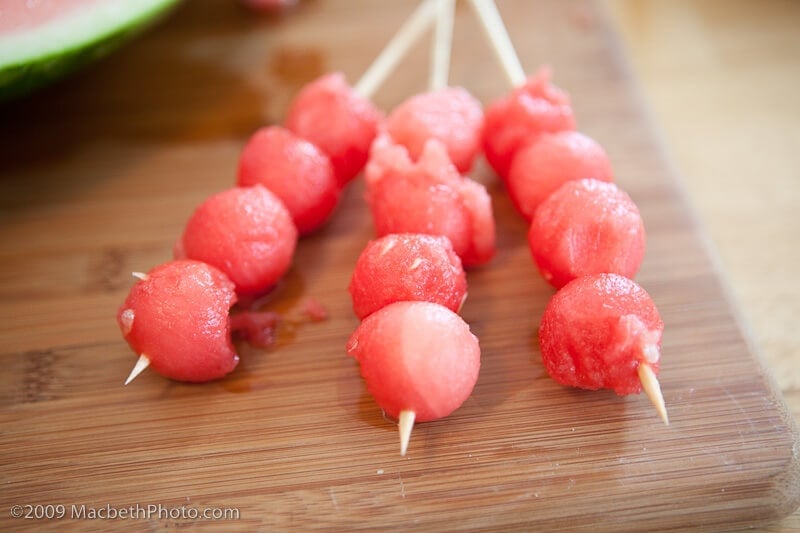 This next step is what makes the Watermelon Juice Coolers irresistibly delicious. We're going to make a simple syrup to sweeten it up. Add 2 cups of water to a pot and bring to a boil. Once it starts to boil, add 1 cup of sugar, stir, and remove from heat.
Sweeten With A Homemade Simple Syrup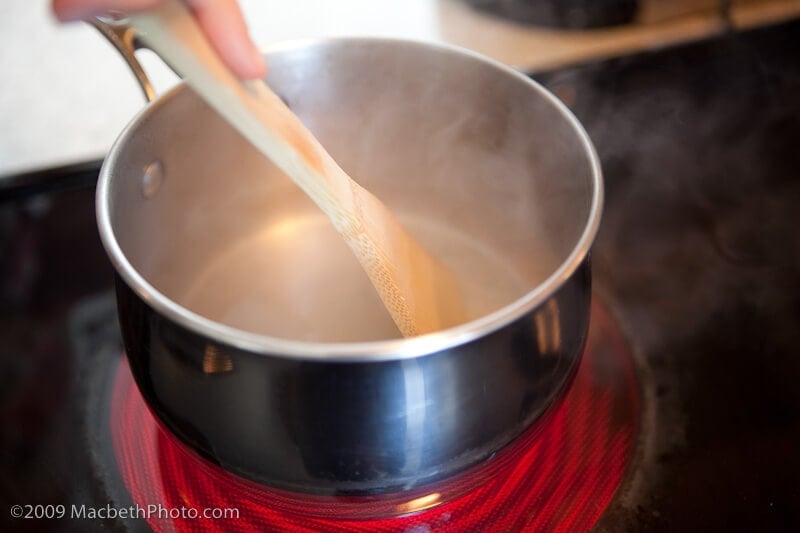 Add 2 cups of watermelon to a blender. (We're gonna get rid of the pulp and stray seeds in a later step).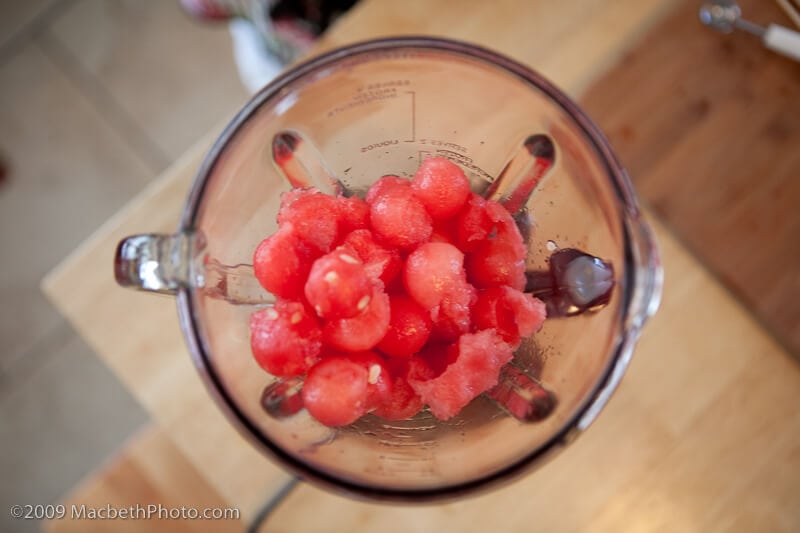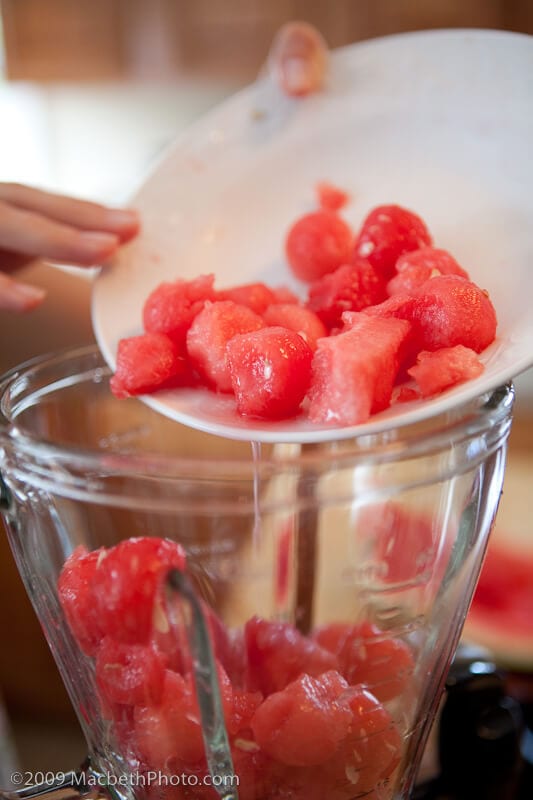 Blend until smooth. Watermelon is a pretty soft fruit. It shouldn't take too long to pulverize it.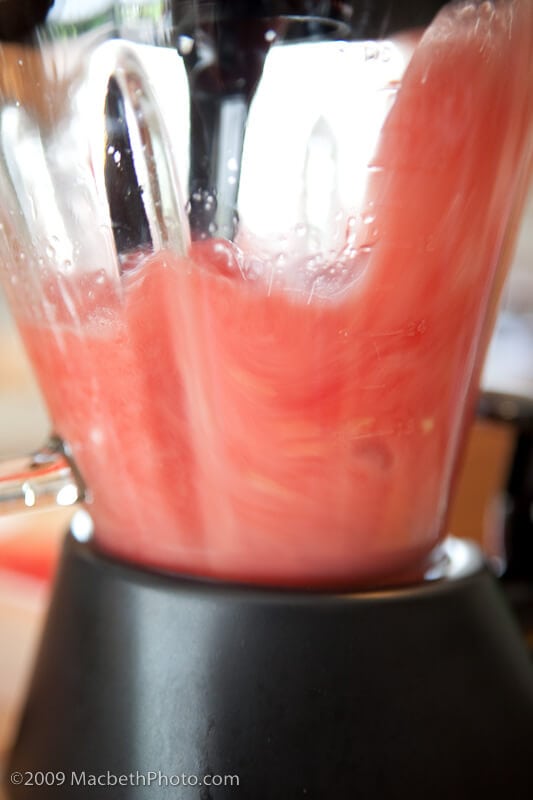 Strain The Watermelon Juice To Remove Pulp And Seeds
After blending the watermelon cubes, strain the juice through a sieve to remove the pulp and seeds. You can skip this step if you like juice with pulp. But personally, I like it more smooth once it is strained.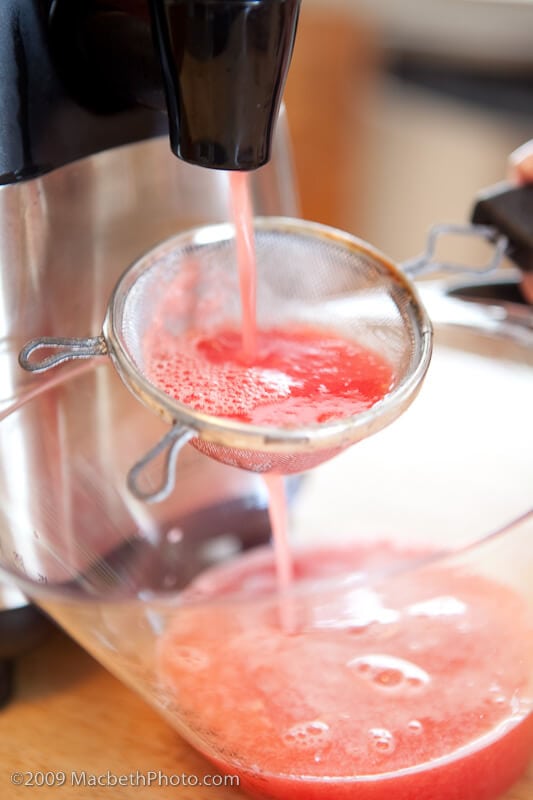 Once you've strained the watermelon juice, add it back into the blender and pour in the cooled simple syrup along with a cup of ice. Blend together, then serve!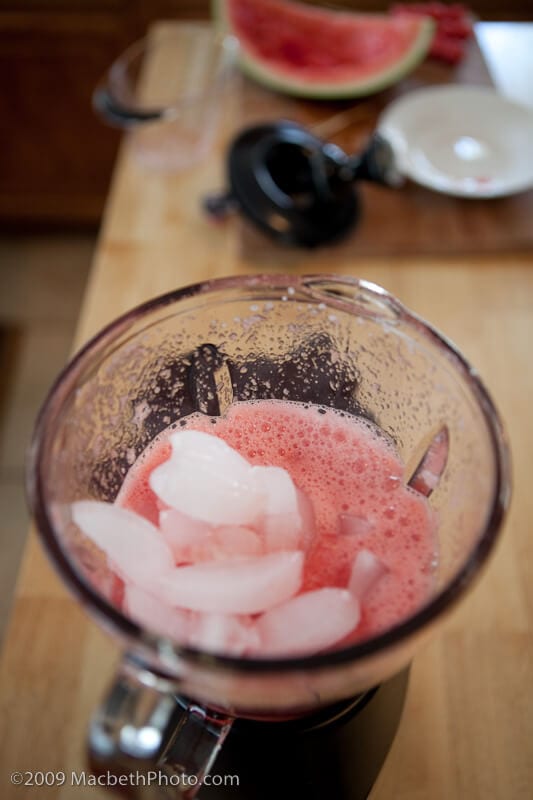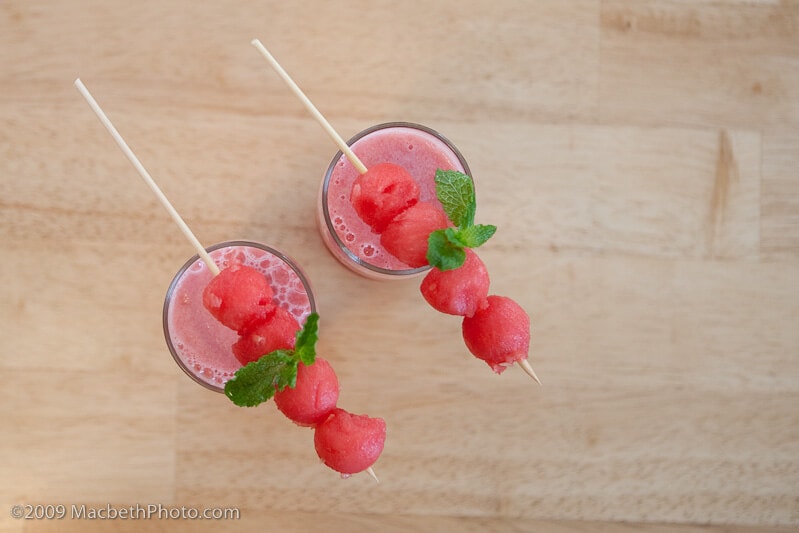 ADDITIONAL WAYS TO SERVE WATERMELON JUICE
Fill each glass half with juice, and half with sparkling wine to make Watermelon Mimosas.
Fill each serving glass half with juice and half with sparkling water to create a Sparkling Watermelon Juice Mocktail.
Add a cup of coconut water and squeeze of lime for a thirst-quenching after-sports drink.
Add a cup of your favorite fruit juice (cranberry, lemonade, etc) to create your own blend.
Freeze the watermelon juice in popsicle molds for a fruity frozen treat.
Add a shot of vodka to each serving glass along with watermelon juice and crushed ice for a refreshing summer cocktail.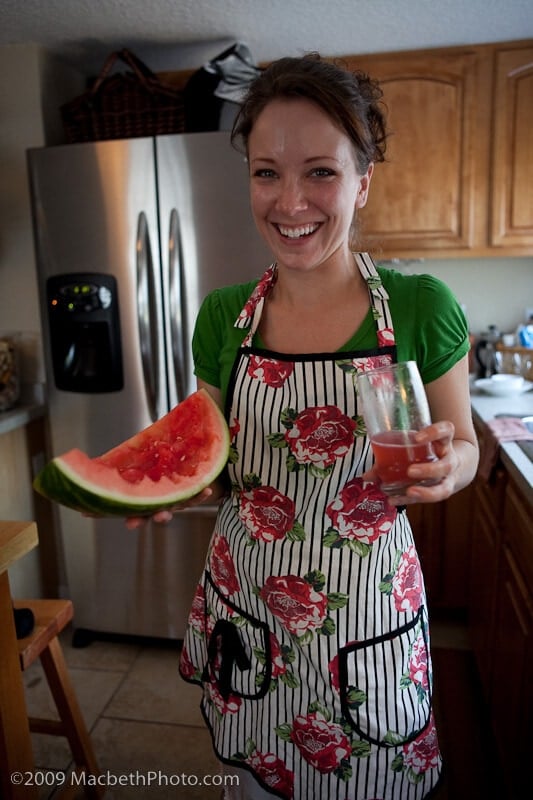 Oooooh yeaaaah! AC guy can take his time now. I'm chillin.
Watermelon Coolers Recipe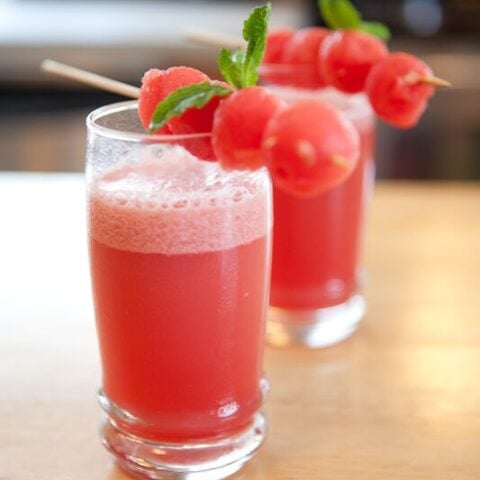 Watermelon Coolers
A refreshing watermelon juice cooler drink that's perfect for summertime entertaining.
Ingredients
2 cups chopped watermelon
1 cup sugar
2 cups water
1 cup coconut water
1 cup ice (optional if melon is not frozen)
extra watermelon pieces for garnish
Instructions
Chop or scoop watermelon and blend in a blender or food processor.
Strain the watermelon juice to remove pulp and stray seeds. Pour strained juice back into blender.
Bring 2 cups of water to a boil and add 1 cup of sugar to create a simple syrup. Remove from heat, stir until sugar is dissolved, and set aside to let cool.
Add one cup of ice, coconut water, and simple syrup to watermelon juice in blender. Blend together.
Serve with extra watermelon as garnish.
Nutrition Information:
Yield:

4
Serving Size:

1
Amount Per Serving:
Calories:

249
Total Fat:

0g
Saturated Fat:

0g
Trans Fat:

0g
Unsaturated Fat:

0g
Cholesterol:

0mg
Sodium:

70mg
Carbohydrates:

63g
Fiber:

1g
Sugar:

61g
Protein:

1g
Nutritional information is only an estimate.
MORE RECIPES YOU'LL LOVE!
Originally Published Aug 2, 2009. Updated 2020