This melon salad recipe is perfect for summertime picnics and barbecues. Ant the refreshingly sweet and tangy dressing blended honey, mint, and lime is the perfect compliment to the honeydew melon and cantaloupe. I first shared this recipe over a decade ago back in my innkeeping days and it is still a favorite!
I've kept the story below just for nostalgia. But if you're ready to make this melon salad, just hit the "jump to recipe" button above. Or slowly scroll through for some extra tips and tricks we've included in our update.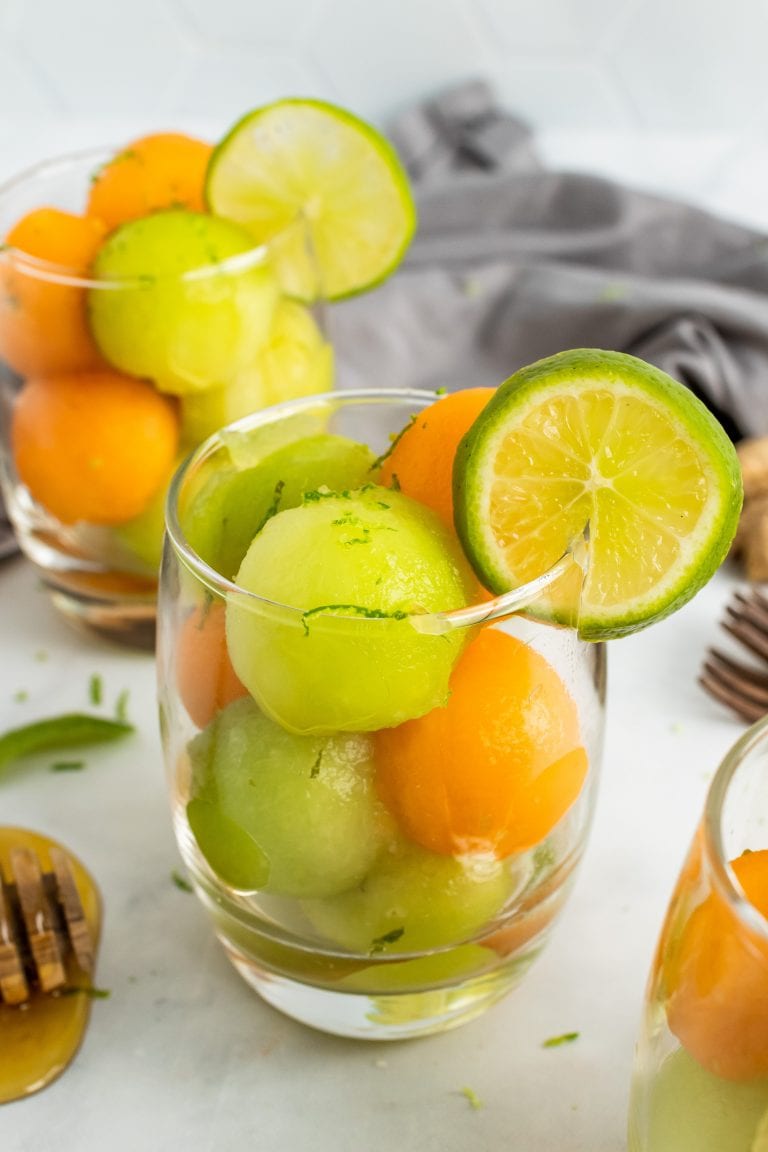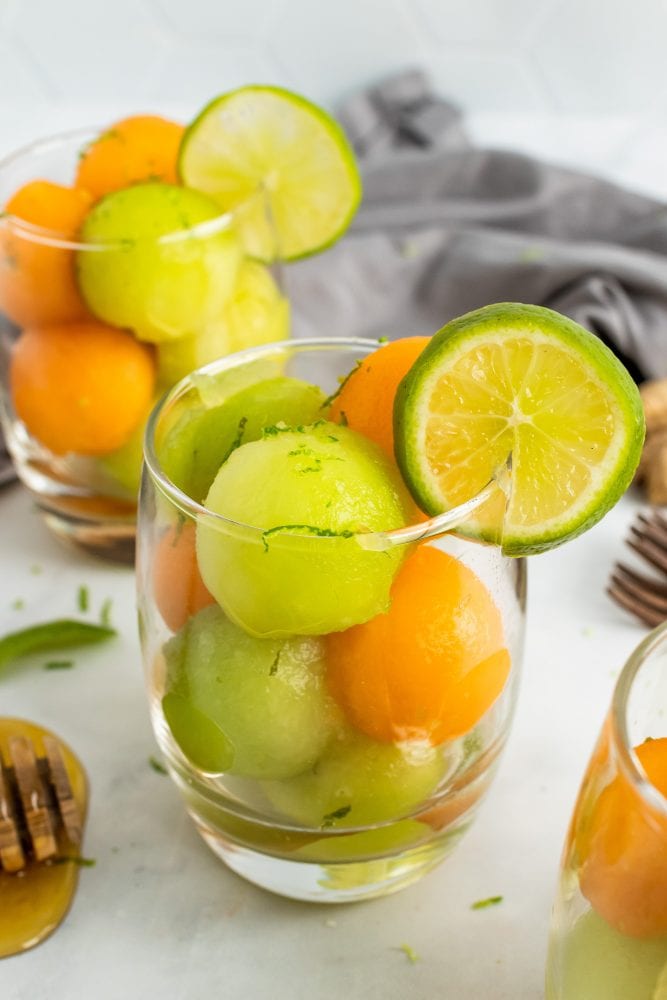 Melon Salad "Coolers" Story
I found this recipe from our stay at Stonehurst Place in Atlanta this past January while writing an anonymous review for Mr. and Mrs. Smith, a luxury travel website. Ah, bitter cold January. How I miss thee in these dog days of summer. Ironically, it was the coldest winter I remember experiencing. Snow shut down the Atlanta airport just hours after we few home to Orlando. Yes, it snowed in Georgia.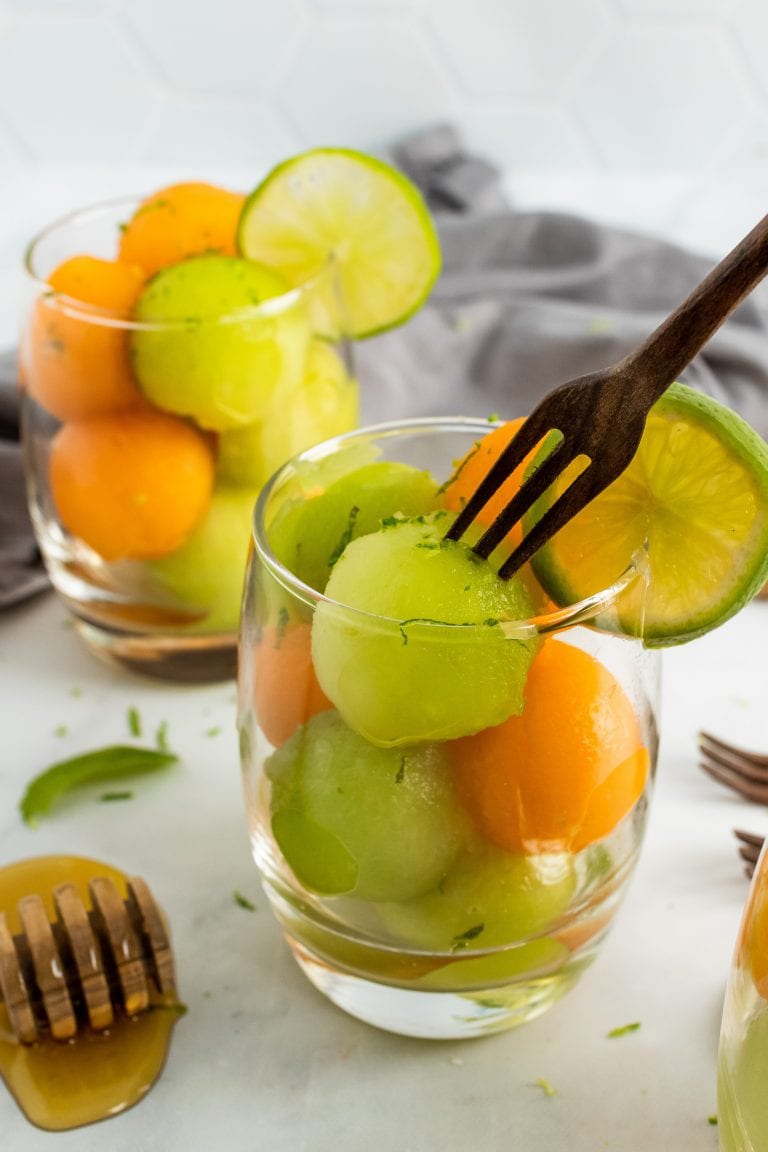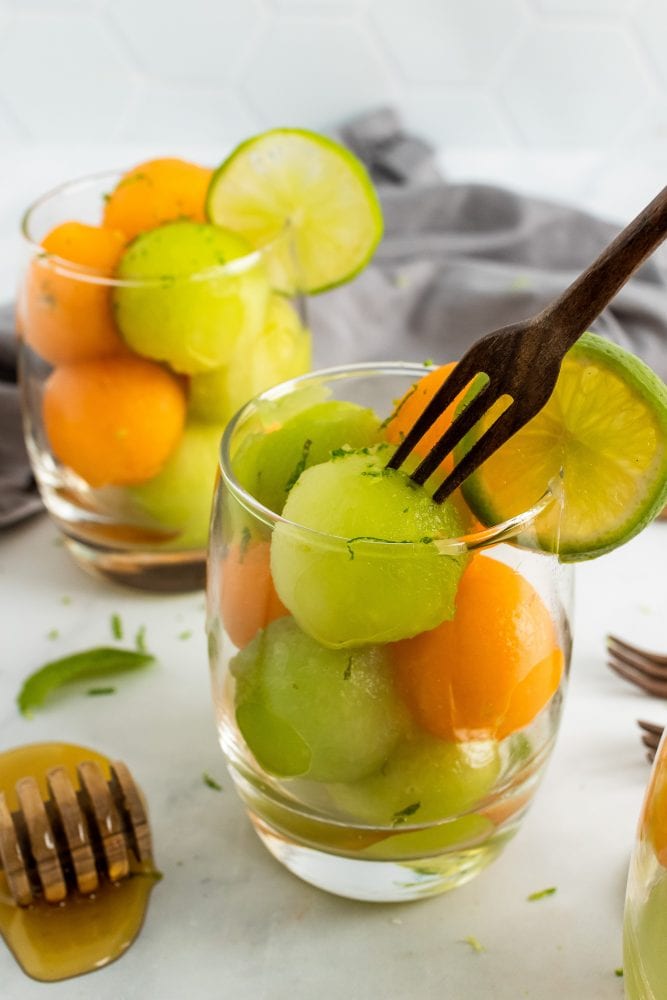 And now here we are, the pendulum has swung to give us a summer so hot the devil himself is sweating. In an attempt to cool off, I've made several batches of homemade gelato, but was craving something a bit more healthy and refreshing. Cantaloupe dripping in thirst-quenching juice, sweet honeydew melon and fresh cooling mint.
Making The Melon Salad Dressing
For this melon salad, the dressing is pretty simple. Simply whisk together honey, a bit of lime zest, and mint (exact measurements are in the recipe card below). One tip: I like to roll the limes on the countertops with the heel of my hand before zesting them as it makes them easier to juice. Then all you have to do is zest the outer peel, then cut the limes in half to juice.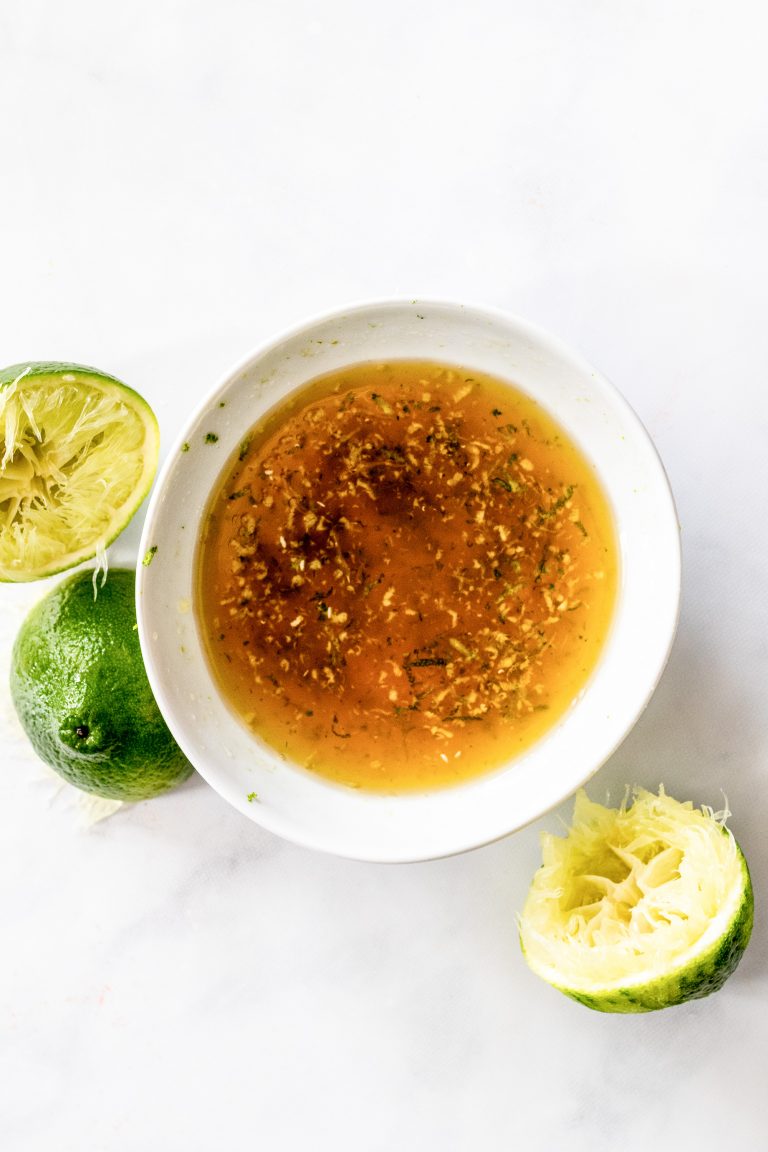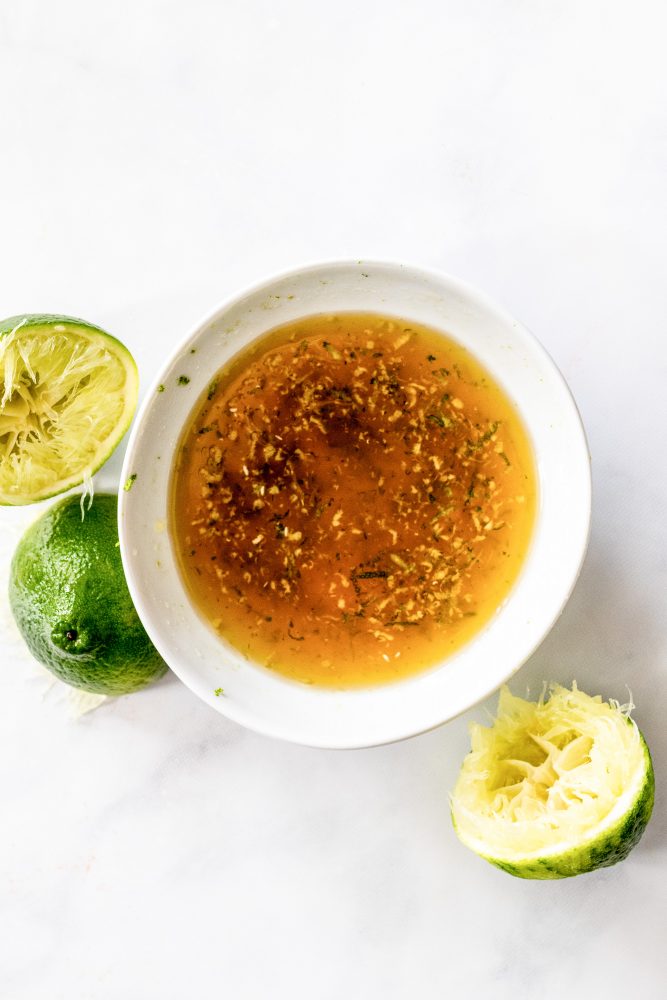 Once you mix the lime juice and zest with the sweetness of the honey and the the zing of the ginger, I think you'll find this melon salad super refreshing on a hot day.
Prepping The Honeydew and Cantaloupe
When purchasing honeydew and cantalouple, I always look for them pre-cut in half our local produce market. This helps with knowing they are ripe and ready to eat. Plus, it saves the hassle of cutting these really tough melons in half. If you do need to pick out a whole ripe honeydew or cantaloupe melon, the best way to tell if they're ripe is to pick them up and smell them. If you can smell the scent and sweetness of the fruit, they should be ready to eat.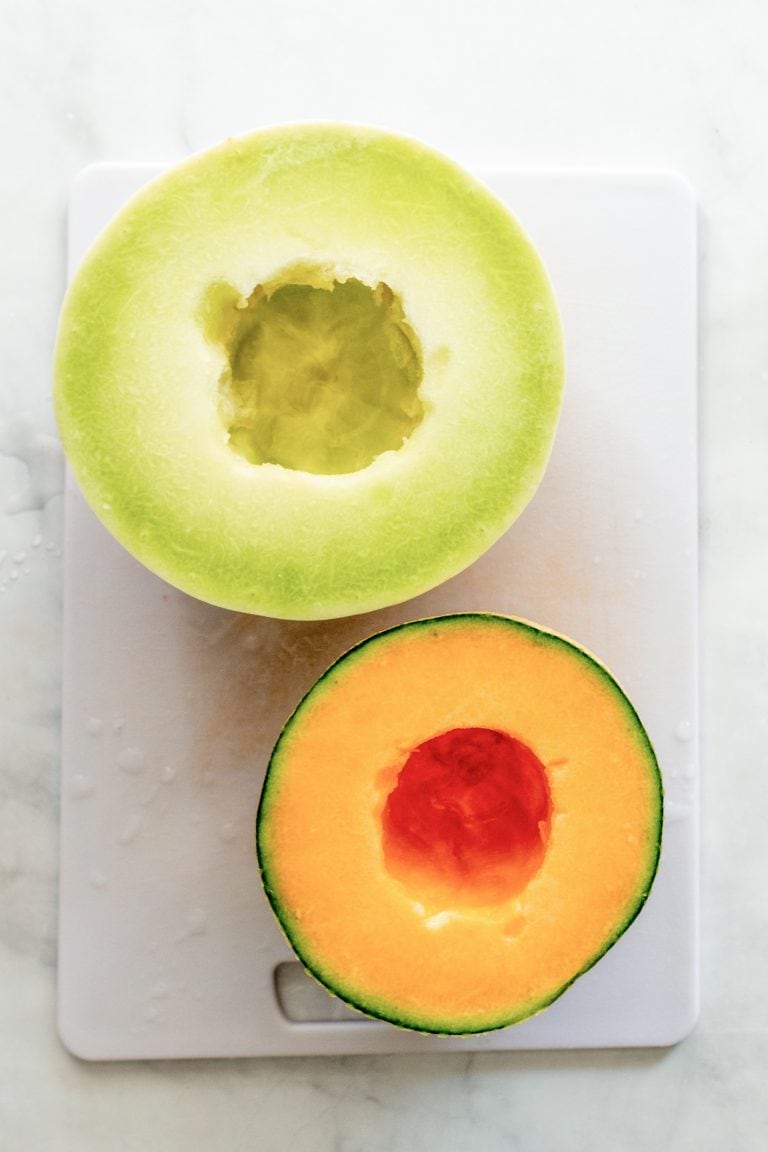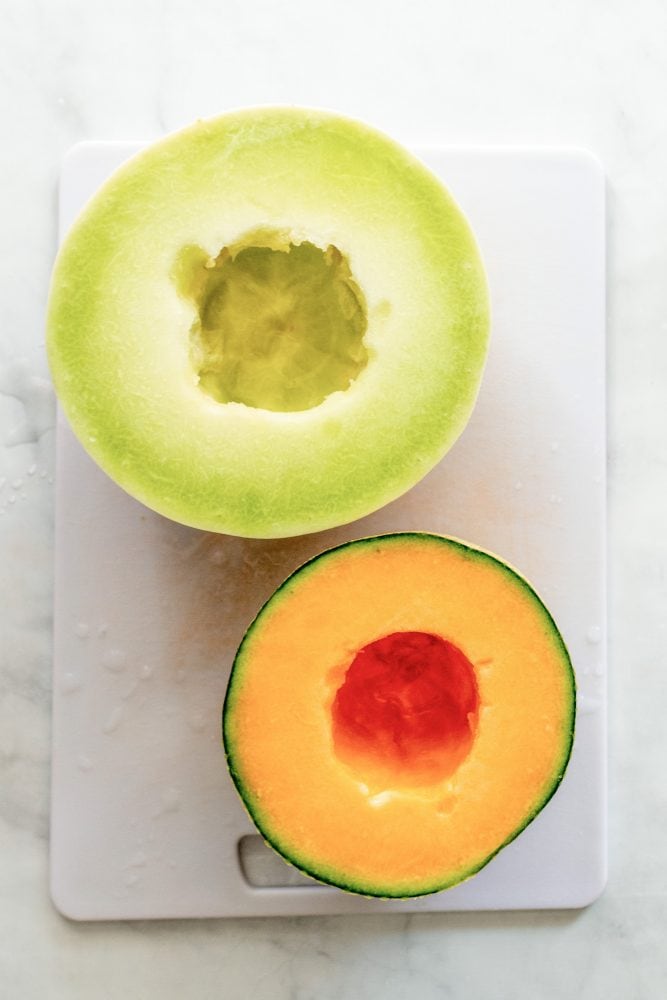 Once the melons are cut in half, all you need is a melon baller to scoop out the fruit. If you don't already have a melon baller, I highly recommend getting one as it makes it so easy to cut and prepare melons. Plus the perfect spheres of fruit look fun too.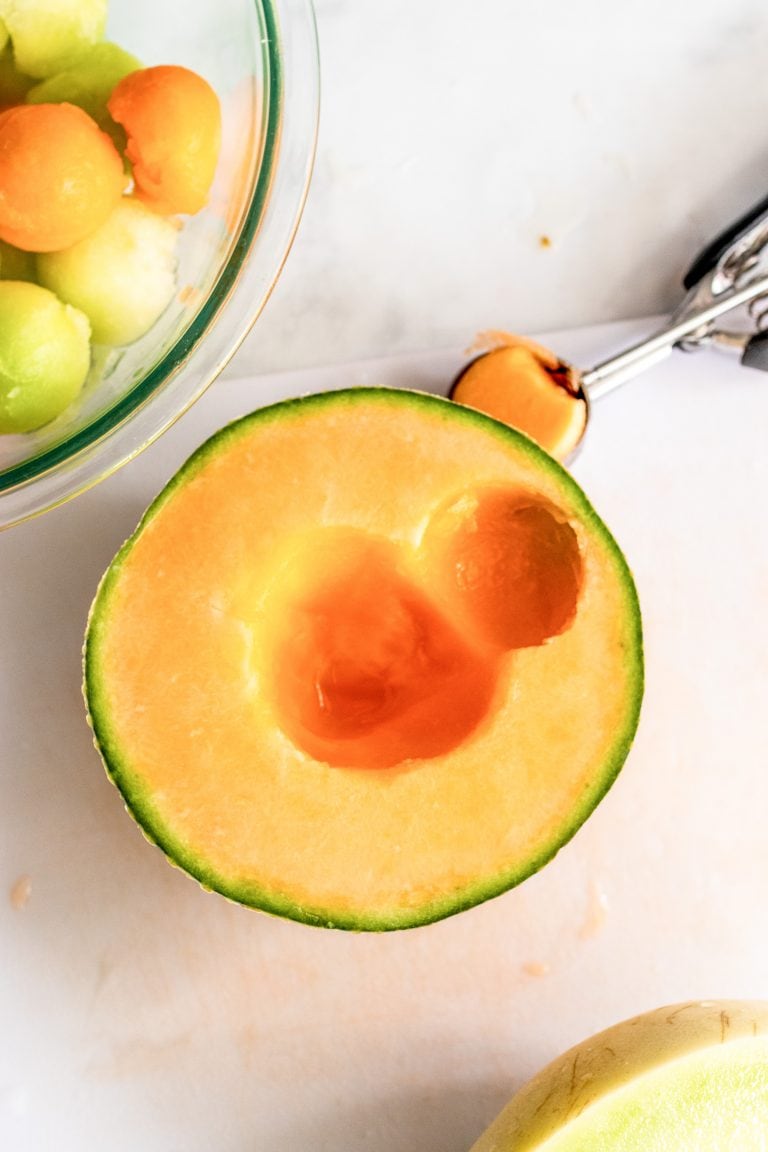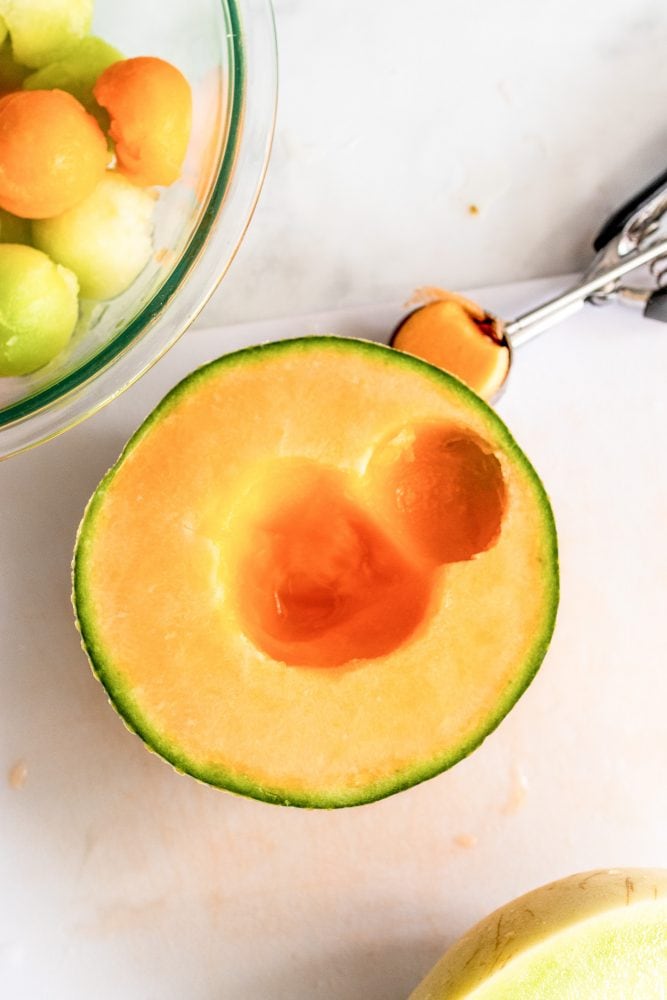 How To Serve
You can serve this melon salad family style in one big bowl. It's a great side dish for picnics and barbecues. And if you make it the night before, the melon will be refreshingly cold and the dressing will have a chance to infuse in the fruit. Save a few mint sprigs and a bit of lime zest for garnish to give it a little extra plate appeal.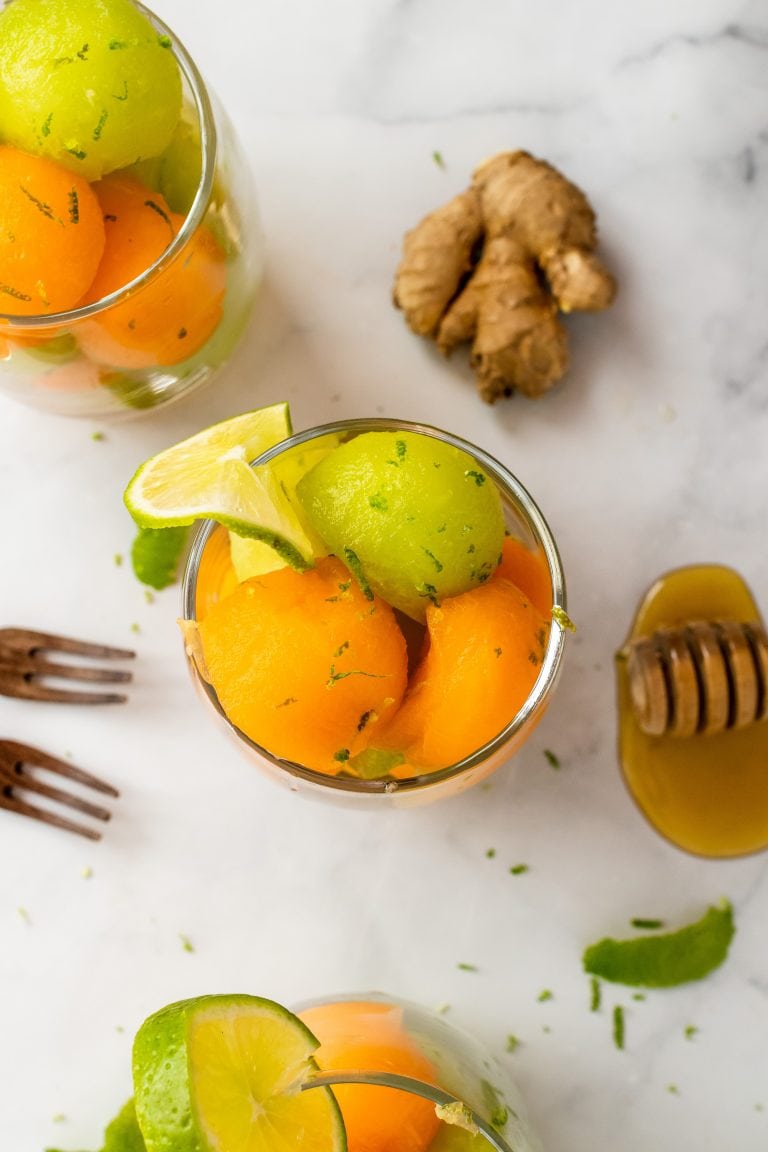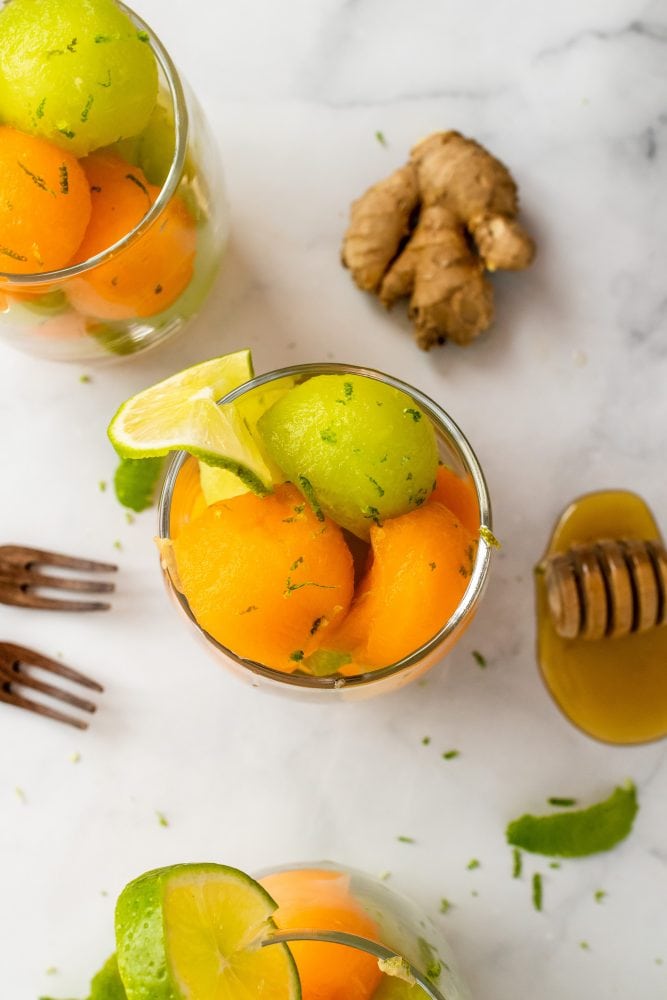 Another way to serve this melon salad is simply spooning out individual servings in glass cups as we have pictured here. This is how we first tried it, as a breakfast starter course. The individual melon salad cups are also perfect for spring and summer family gatherings, such as Mother's Day Brunch.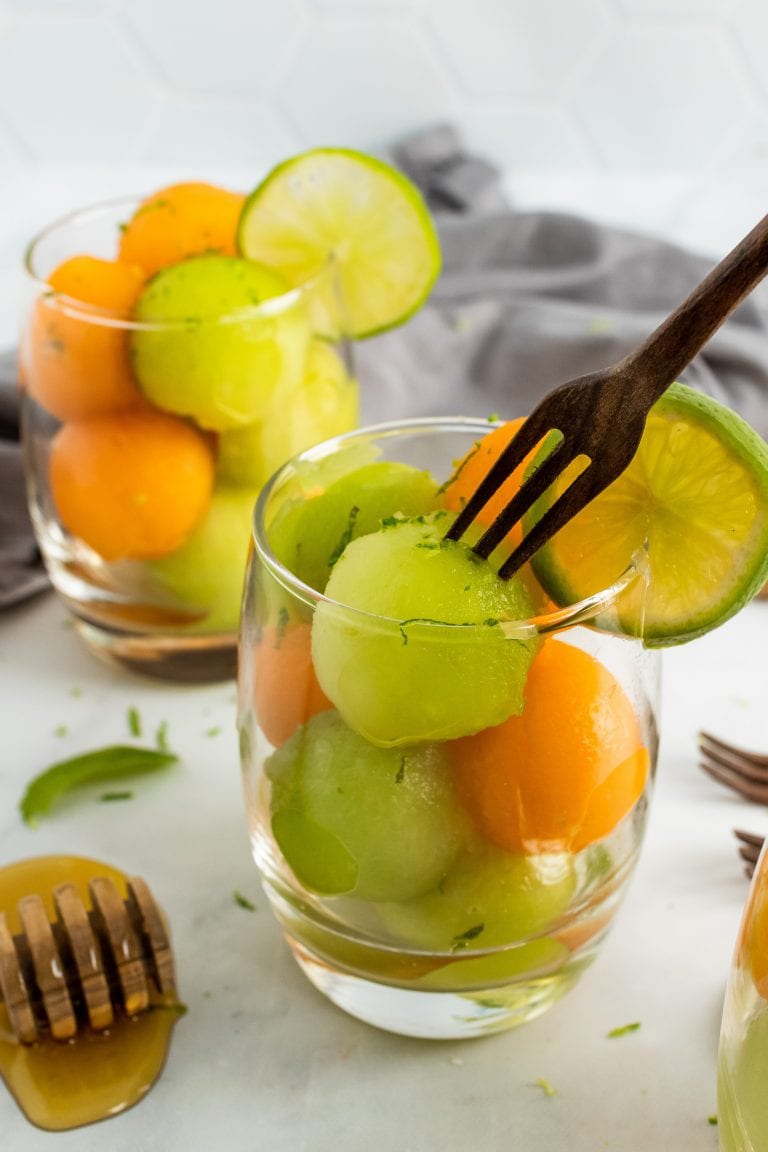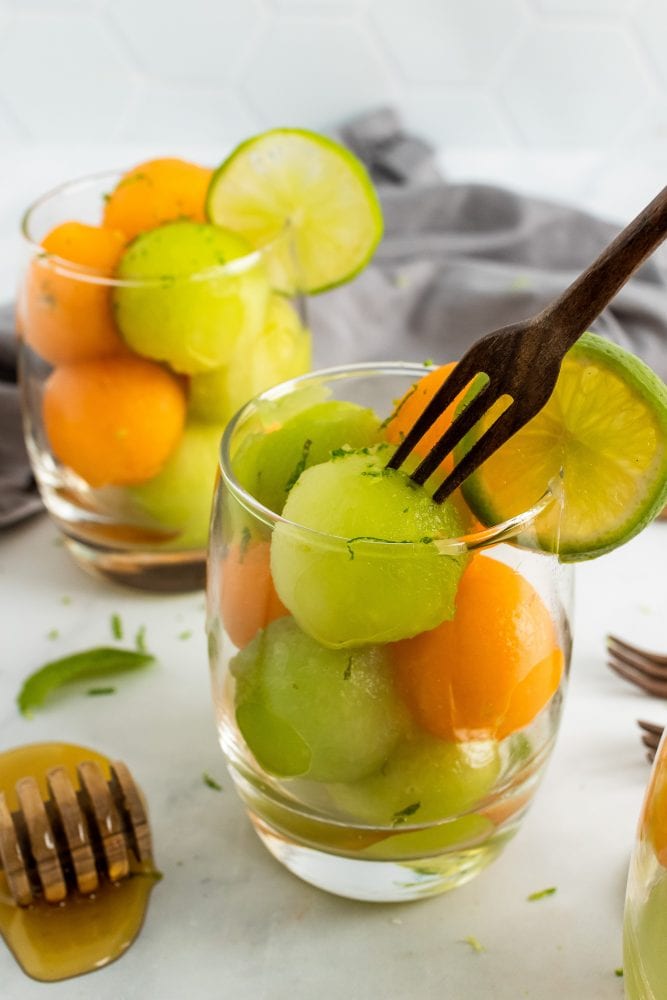 A Few Variations
If you have any melon salad left over, pour all the contents of the salad into a blender for a delicious smoothie. An ounce or two of vodka can also turn this salad into a refreshing summer cocktail too! And if you'd like some variation on the salad, scoop some fresh watermelon with your melon baller to add some variety with color and texture.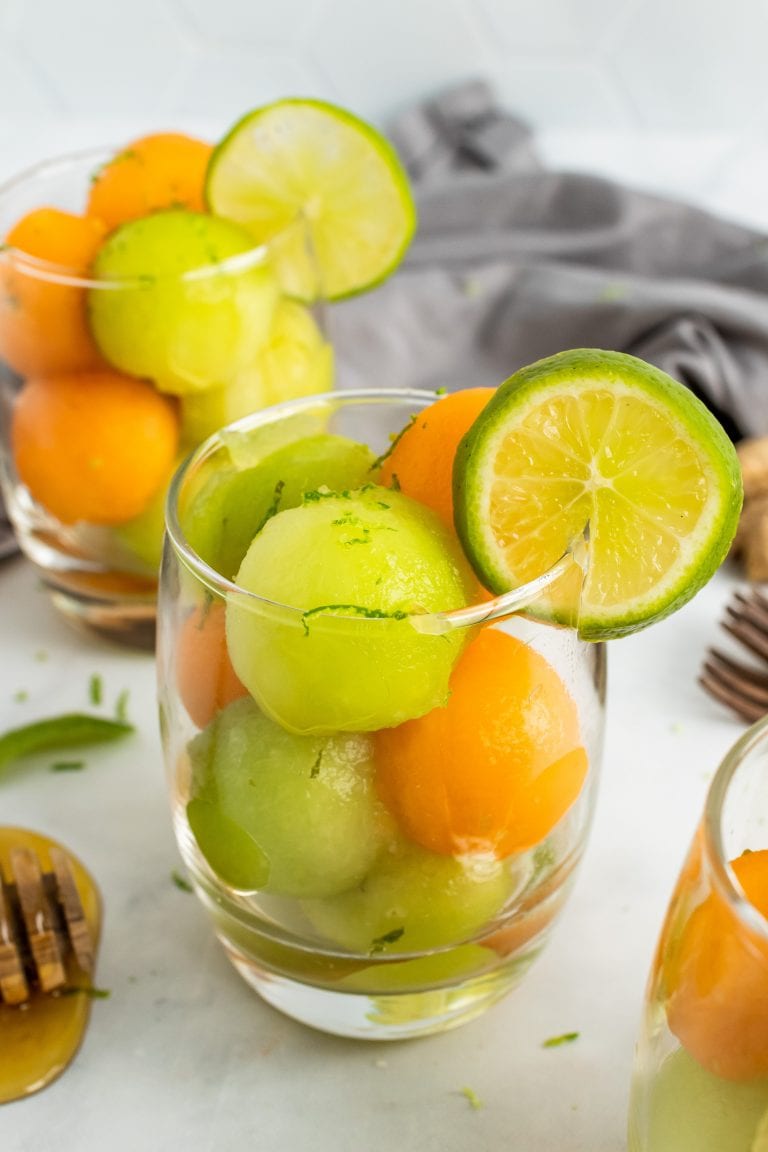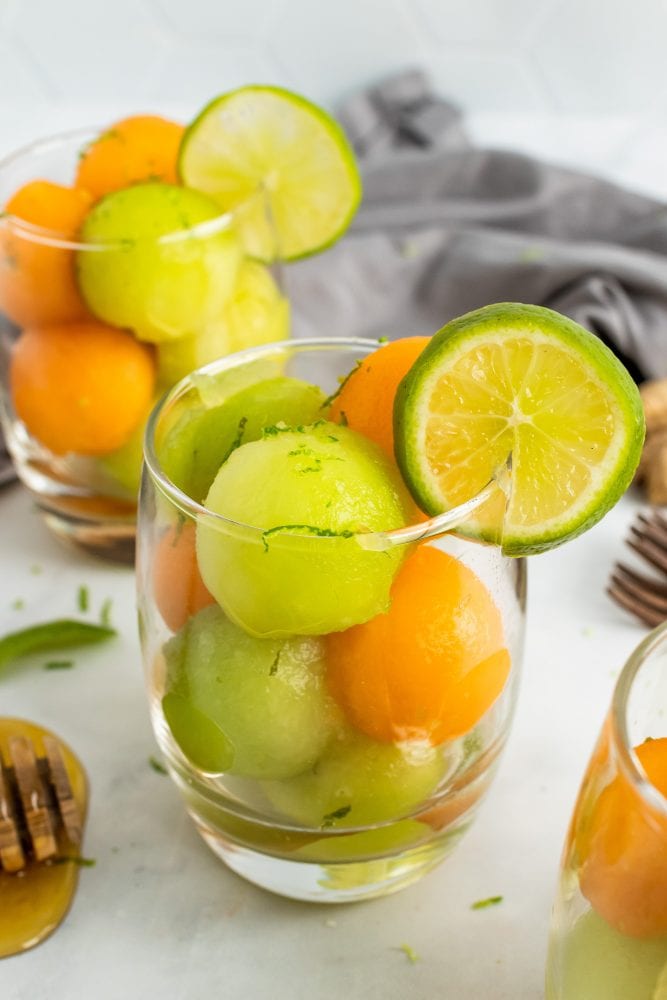 Melon Coolers in Honey Ginger Lime Marinade

From Stonehurst Place in Atlanta, Georgia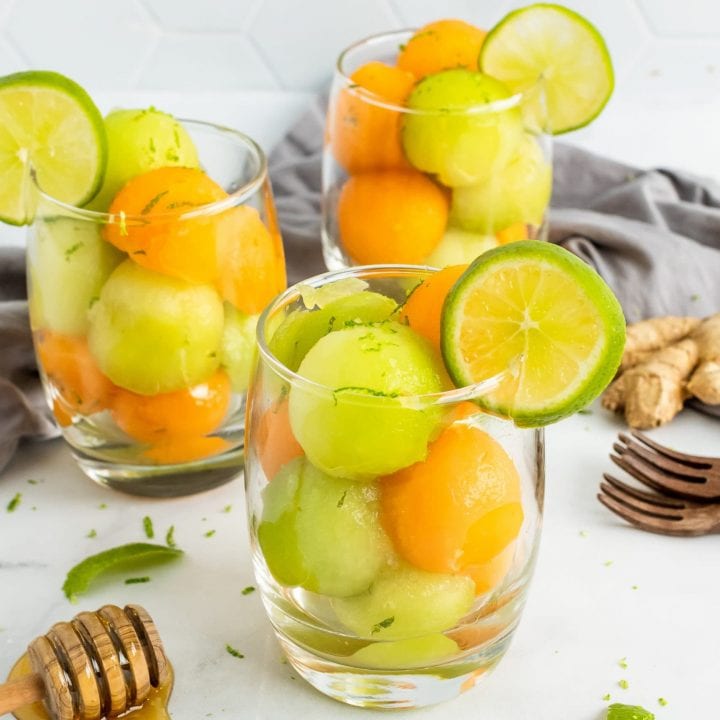 Melon Salad with Honey Ginger Lime Marinade
Ingredients
1 cantaloupe melon
1 honeydew melon
Juice of two fresh limes
1 Tablespoon finely grated lime zest
1-2 Tablespoons freshly grated ginger
1/4 Cup honey
Instructions
Cut the melons in half; remove the seeds and using a melon ball scooper cut into various bite size balls and mix in a large mixing bowl.
Whisk together the lime juice, lime zest, grated ginger and honey. You can add adjust the ginger to the strength that you prefer, 1 Tbsp for a little, 2 Tbsps for a more sharp flavor.
Pour lime juice mixture over melon balls and gently toss to coat.
Cover and refrigerate for at least 4 hours, stirring occasionally.
To serve, spoon into glass cups or dessert bowls and top with some fresh mint leaves or any garnish you choose.
Notes
Variation: Add 1/2 watermelon, using a melon ball scooper cut into bite size pieces.
Melon Cooler Cocktails: Drain (reserve the marinade) and place the excess melons into a food processor and puree. Add some of the reserved marinade to taste. Pour into chilled martini glasses and stir in 1 oz of vodka or gin per serving. Enjoy!
MORE RECIPES YOU'LL LOVE
First published in 2011. Updated 2021.