This watermelon feta salad is inspired by a visit to the EPCOT Flower & Garden Festival. The springtime event is really a smaller version of the autumn food and wine fest, with more of a focus on farm fresh seasonal foods. This vibrant bowl of color, with bright pink pickled onions, green arugula, and crumbled feta cheese was irresistible. Pair it with a sparkling blueberry lemonade and I think it makes a refreshing meal during warm weather days.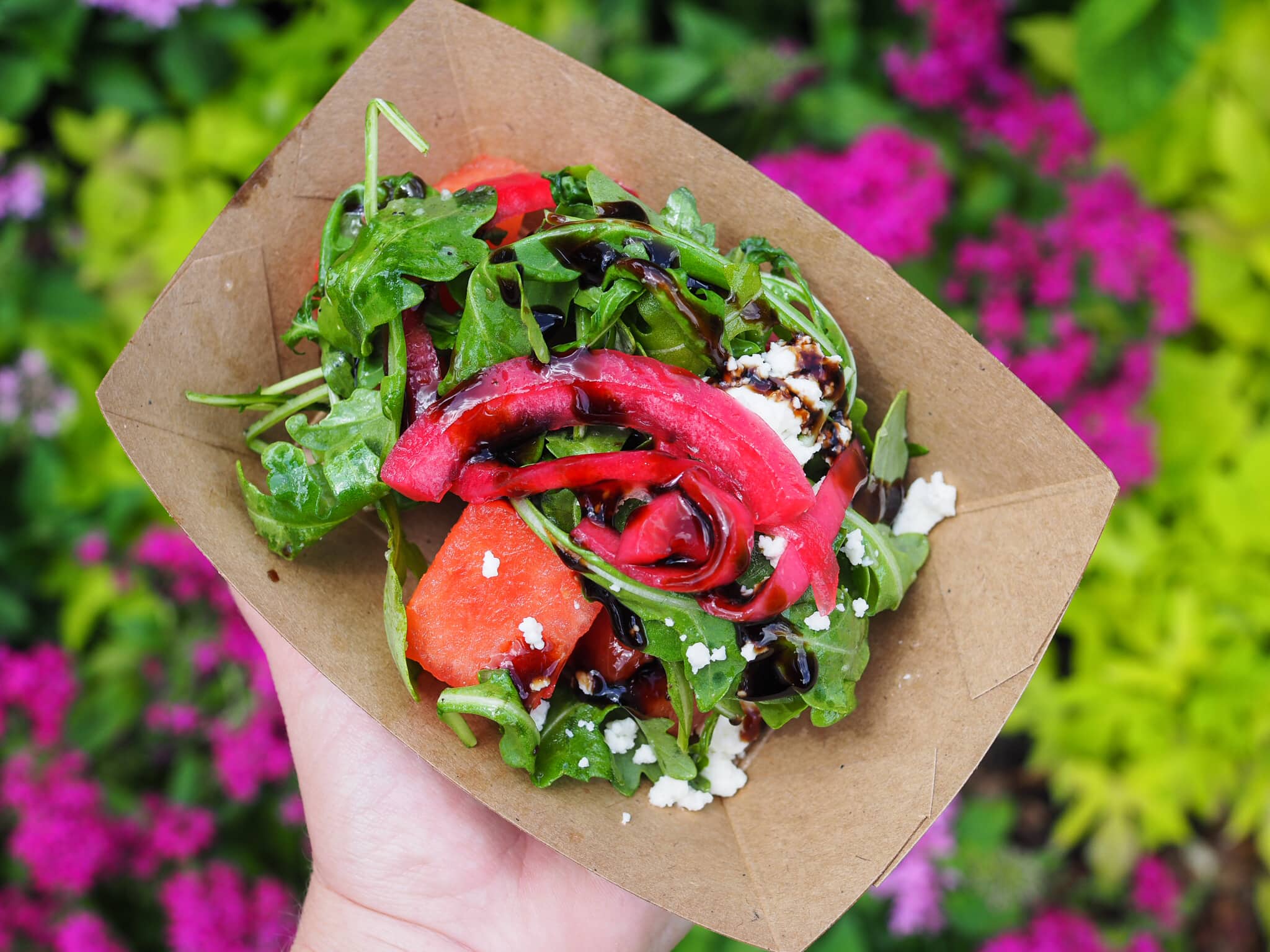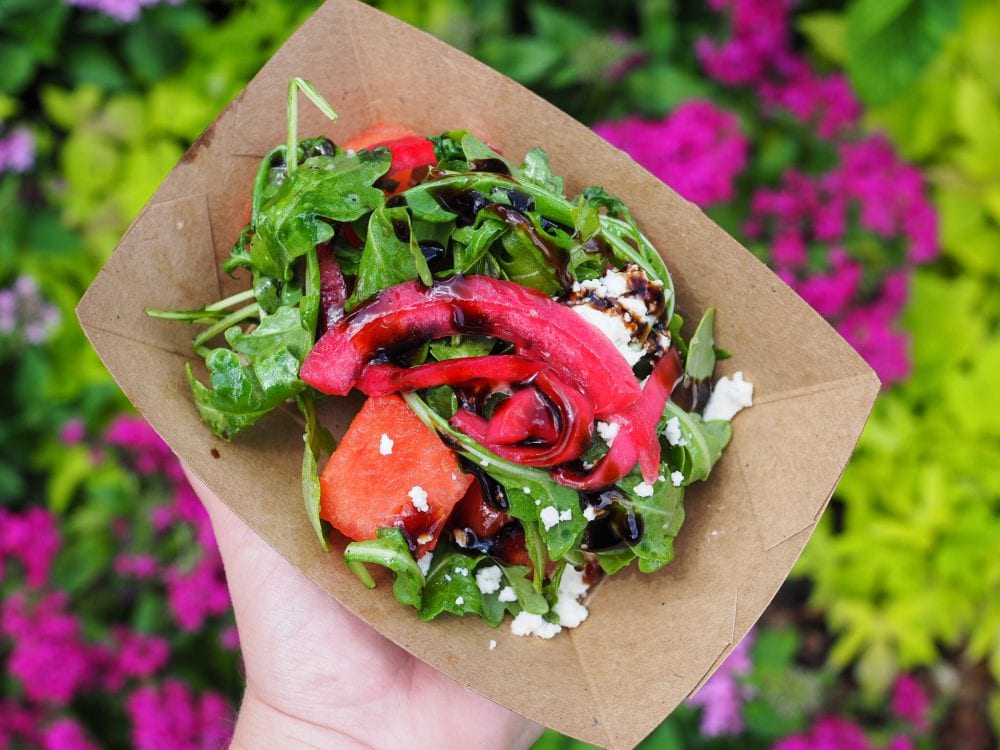 About the only thing I added were the blueberries. After having picked six pounds of berries at our local farm, I needed to come up with a few creative ways to incorporate them into different meals. I love the pop of color they add, plus it seems even more like a summer salad.
HOW TO PICKLE RED ONIONS
The watermelon feta salad recipe below calls for pickled onions. If you've never pickled onions before, you're going to be pleasantly surprised at how easy it is. I usually pickle a red onion once a week and keep it in the refrigerator as a tasty topping. In addition to this salad, they're great on tacos and sandwiches too!
To pickle the onions, use a mandolin or sharp knife to form thin slices. Then add 3/4 cup white vinegar to a glass jar and stir in a tablespoon of sugar until it dissolves. Add the sliced onion to the vinegar and allow it to marinate for a minimum of 15 minutes (but the longer the better!). Pickled red onions will keep in the refrigerator for up to two weeks, turning a hot shade of bright pink from the skins.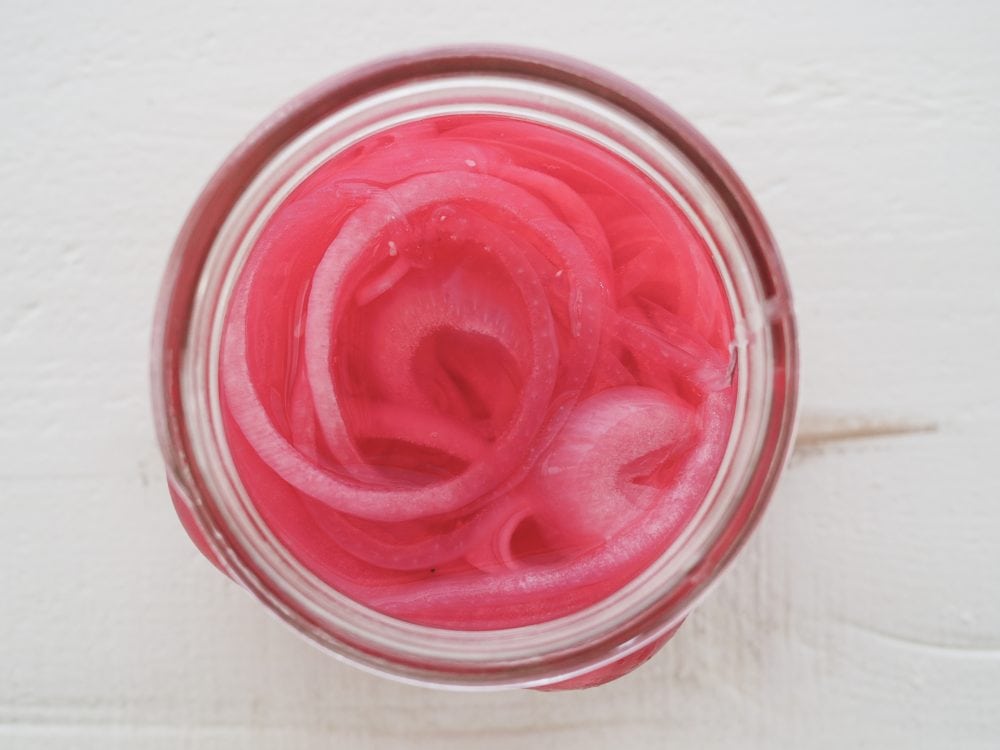 ASSEMBLING THE WATERMELON FETA SALAD
With only five main ingredients, this watermelon feta salad is really quick to make for barbecues or summer get-togethers. The sweetness of the fruit, along with the tartness of the arugula and creamy feta cheese, plus the fun pink color of the pickled red onions makes it festive too! It goes great with burgers with melted brie and balsamic blueberry sauce too.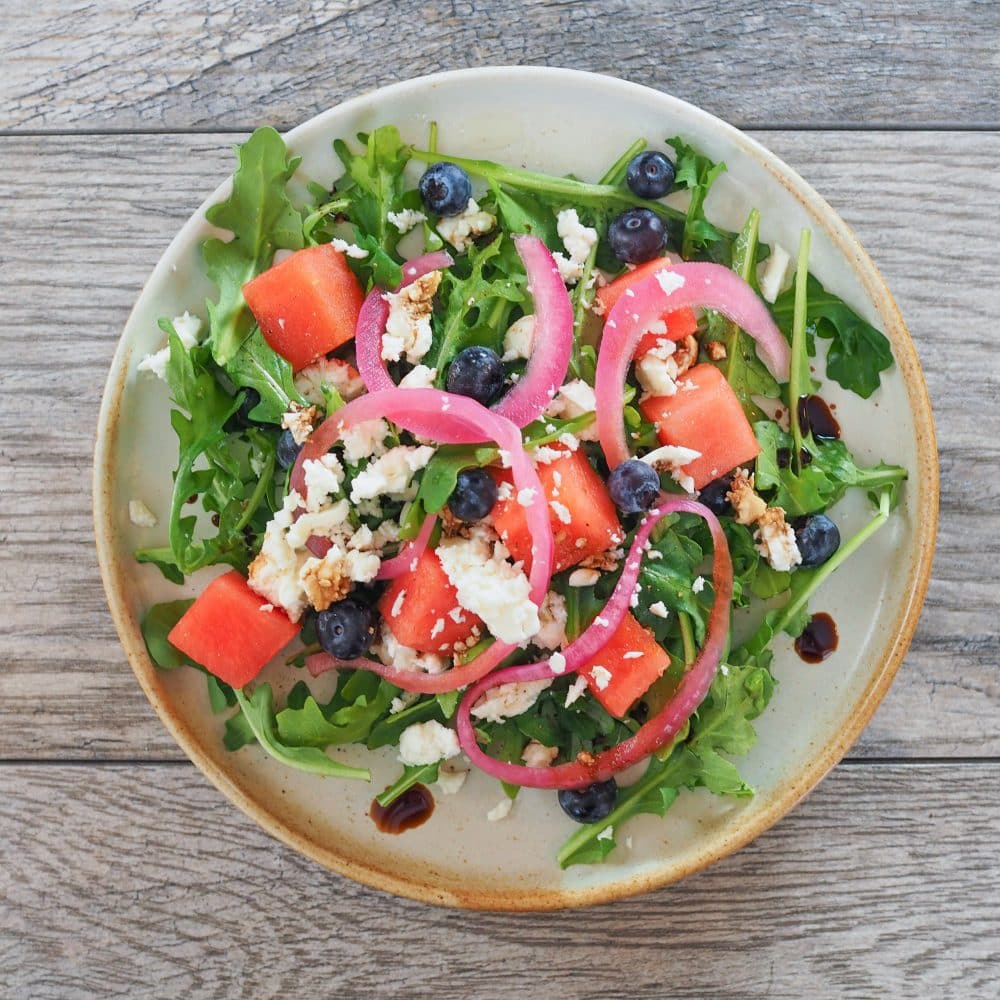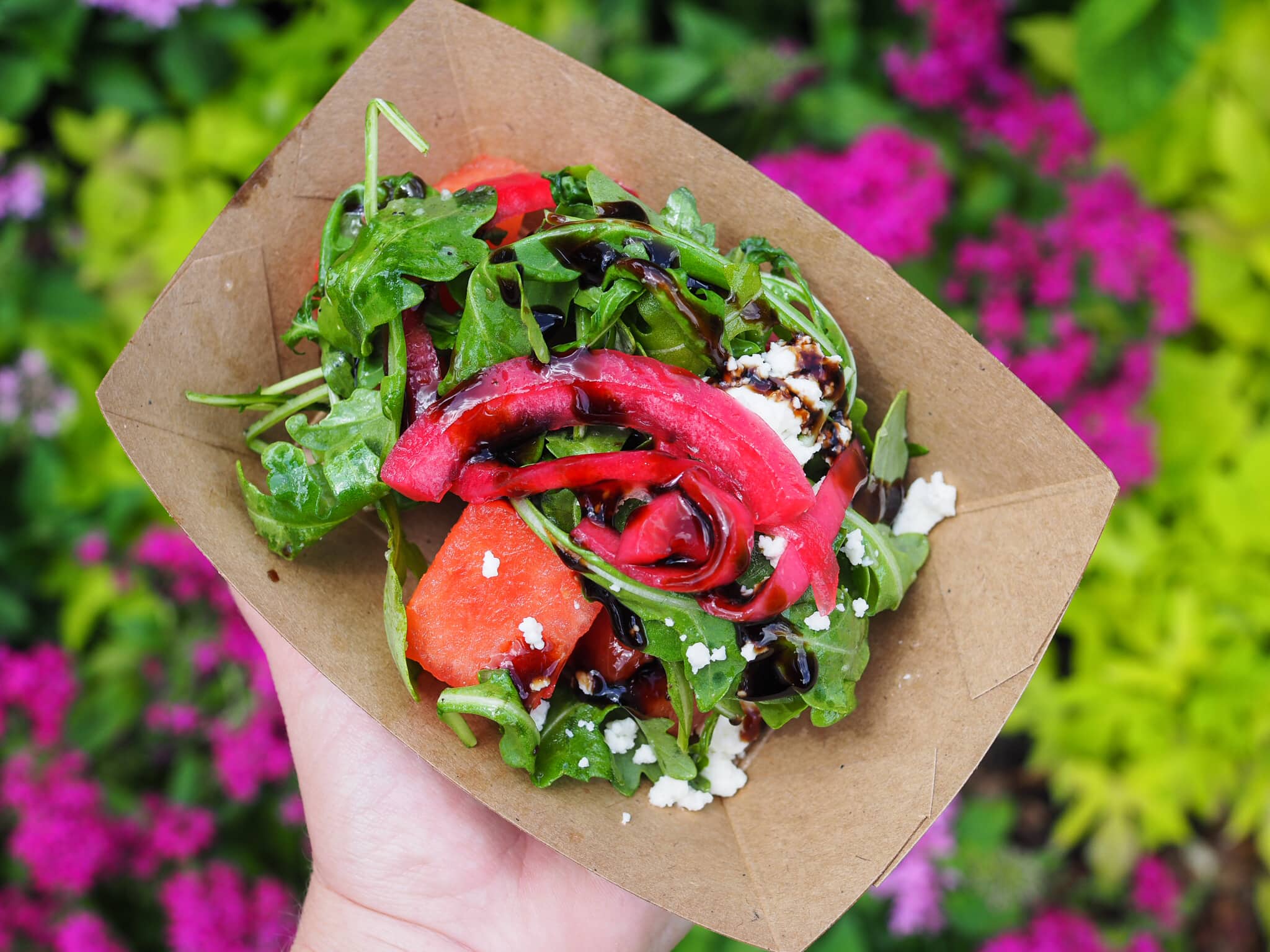 Watermelon Feta Salad
Ingredients
1 quarter watermelon, cubed (about 1 cup)
1 red onion
8 ounce pack whole feta cheese
5 ounce baby arugula
1/2 cup blueberries
3/4 cup white vinegar
1 Tbsp sugar
2 Tbsp olive oil
2 Tbsp balsamic vinegar
Instructions
Prep the pickled onion by using a sharp knife or mandolin to thinly slice the onion.
Pour 3/4 cup white vinegar into a glass jar and stir in 1 Tbsp of sugar until it is dissolved. Add the sliced onion to the vinegar mixture and allow it to marinate for at least 15 minutes.
While the onion is pickling, prep your watermelon by cutting it into 1 inch cubes and remove the seeds.
Add the baby arugula to a large bowl and toss with olive oil. Crumble feta cheese onto the arugula and add the blueberries, watermelon, and onion.
Drizzle with balsamic vinegar and add salt and pepper to taste.