I've been a little obsessed with blueberries lately, visiting local u-pick farms in Orlando and filling our fridge by the bucketful. So, when my friend Kita with Girl Carnivore invited me to participate in a recipe challenge for National Burger Month, I had to figure out a way to do something savory with my favorite fruit.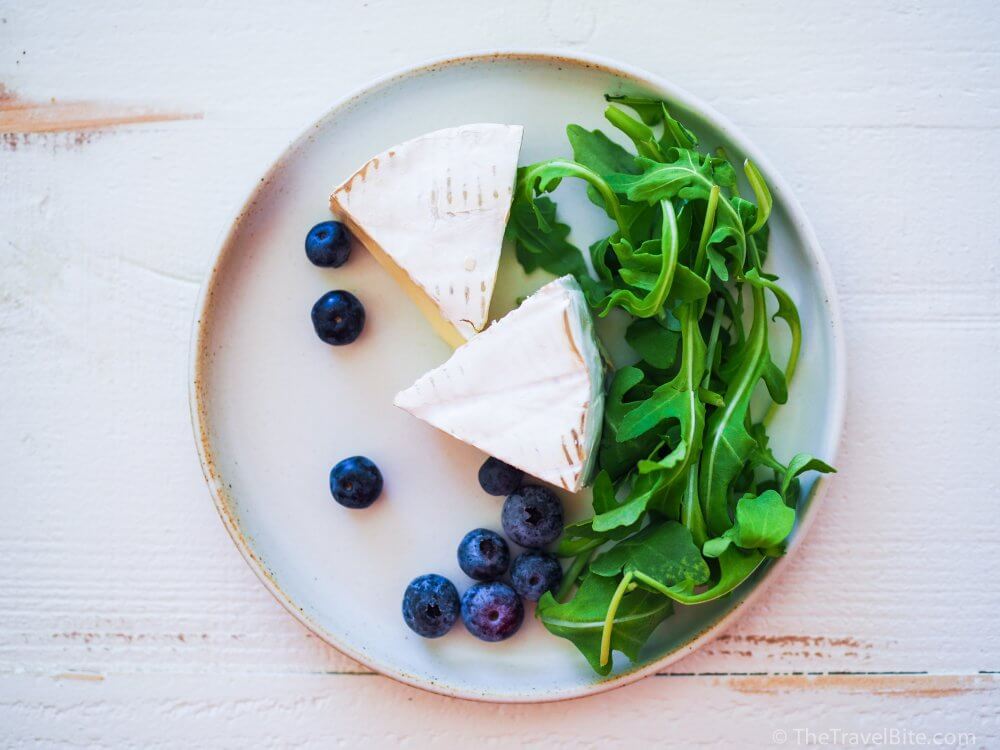 While sitting in the shade and sipping frozen blueberry lemonade at Southern Hill Farms with my friend Christina (who also happens to be foodie blogger at Go Epicurista), we talked through a few ideas. "I think I want to do blueberries and brie, and make a sort of jam or sauce that reminds me of well balanced charcuterie board," I say. Christina adds in that I should include a bit of balsamic for good measure, and an idea was born!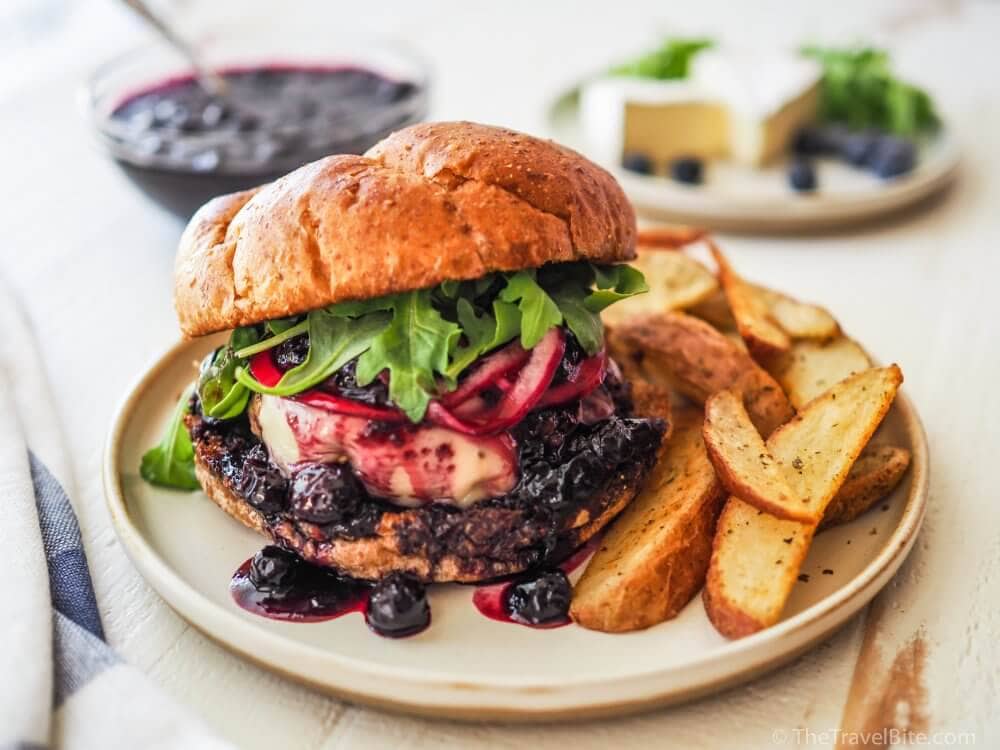 I used my recipe for blueberry sauce that I usually pour on French toast or pancakes, reduced it a little, and added a bit of balsamic vinegar for tang. The pickled red onions and arugula add a bit of crunch and pepperiness that pairs well with the sweet blueberries and creamy Brie cheese. I call it the Triple-B, and you bet this is going on our picnic table this summer for Independence Day with all that red, white, and blue. It also pairs great with sparkling blueberry lemonade. Ready to give it a try? Check out the recipe below.
National Burger Month
National Burger Month is an annual online party dedicated to all-things-burger. From perfecting the basic, the building the most epic, if you're looking for some grilling inspiration, or some fun topper ideas to create the best build-a-burger-buffet for your next backyard shindig, check out all the burger recipes (submitted by over 100 bloggers, influencers, and chefs!) at GirlCarnivore.com.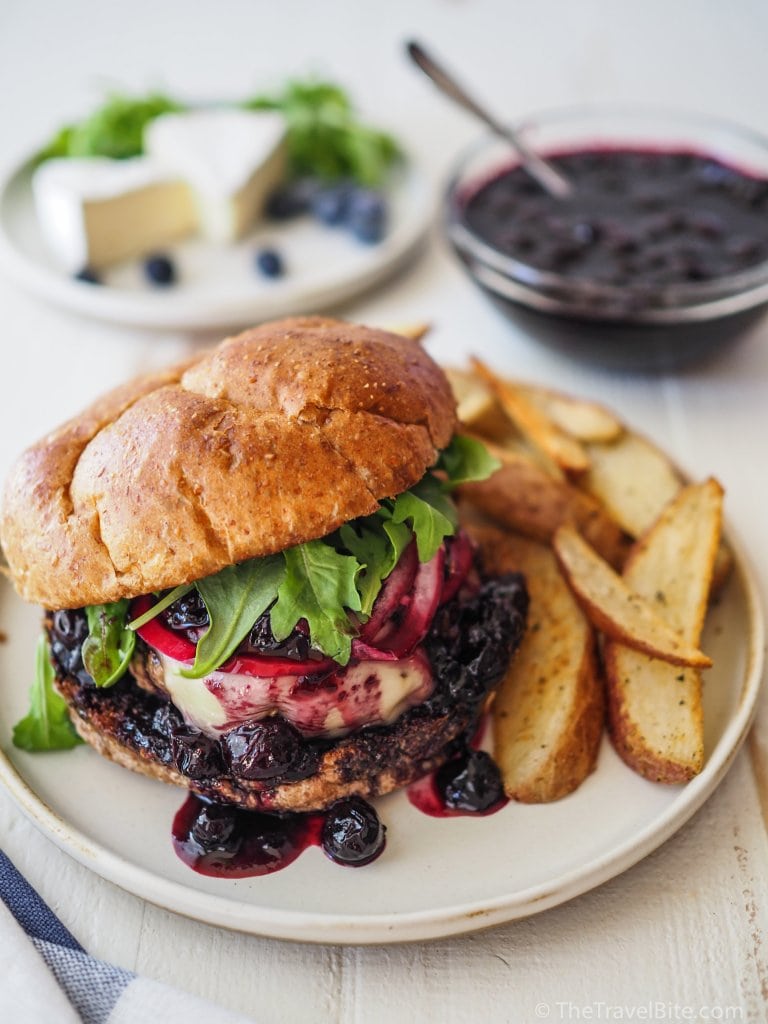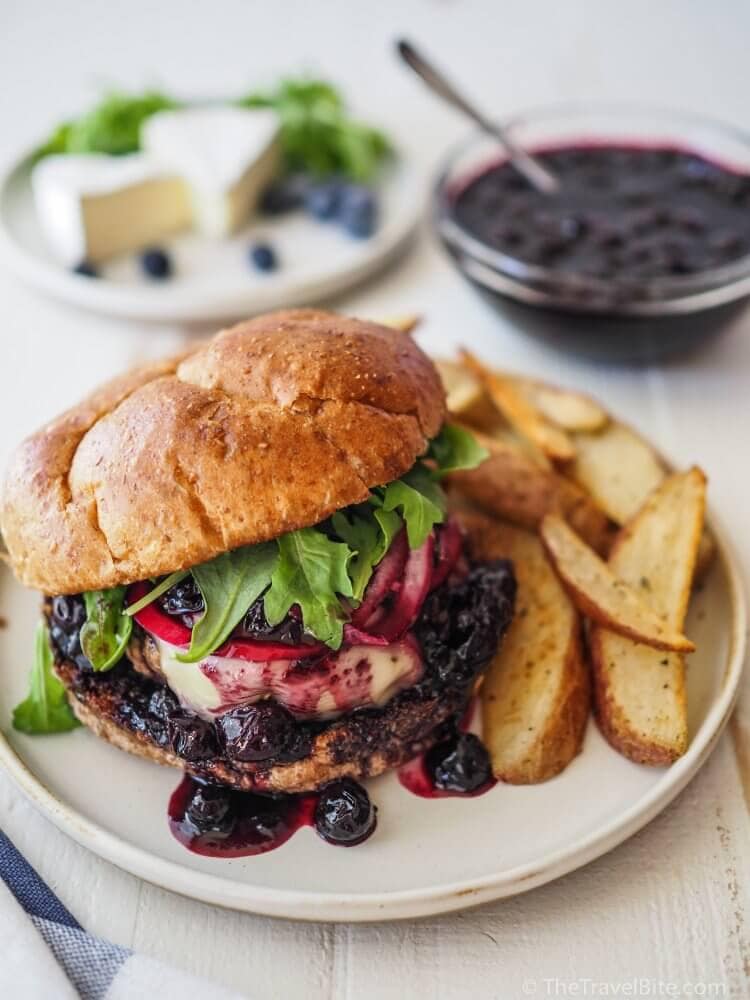 Balsamic Blueberry & Brie Burger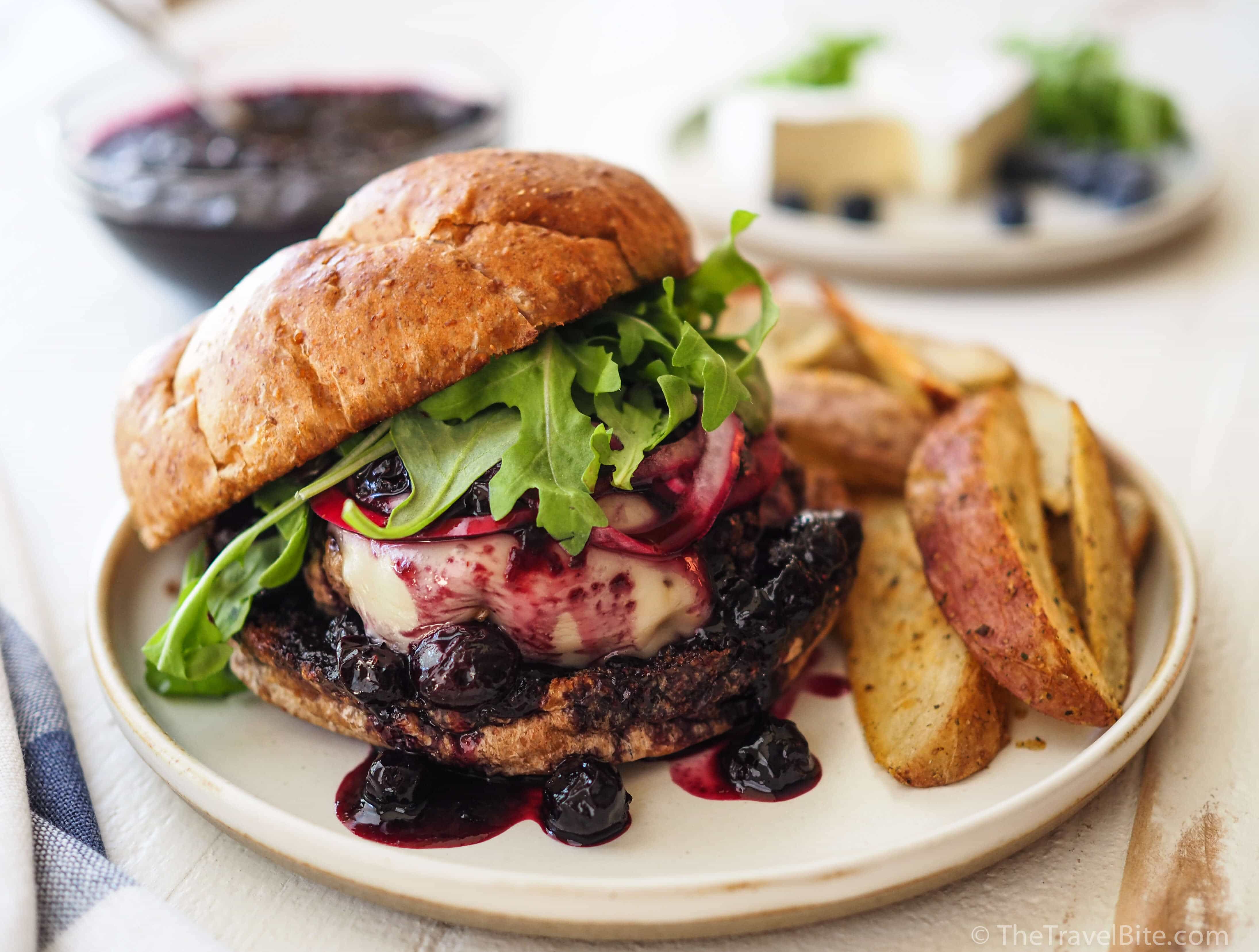 Balsamic Blueberry & Brie Burgers
Ingredients
2 cups blueberries
1/2 cup sugar (+3 Tbsp for pickling onions)
1 lemon
1/4 cup balsamic vinegar
1 red onion
1 cup white vinegar
Brie cheese
1/5 pounds ground beef
4-6 whole wheat Kaiser rolls
7 oz Brie cheese
1 cup arugula
Instructions
Add 1 cup of white vinegar and 3 Tbsp of sugar to a medium bowl and stir until the sugar dissolves.
Chop ends off red onion and peel off the outer skin, then slice thin using a mandolin. Add the onion ring slices to the vinegar, cover and set aside to allow it to pickle while you prep the other ingredients and cook the burgers.
For the balsamic blueberry sauce: rinse the blueberries, then add them to a quart sized pan and bring the heat to medium low. Pour 1/2 cup of sugar over the blueberries, then slice the lemon in half and squeeze the lemon juice into the pan. Pour in 1/4 cup of balsamic vinegar, then let cook for 5 to 6 minutes, stirring occasionally.
Prep the Brie cheese by cutting off the rind and cutting into 1/4 inch slices to place on the burgers.
Take a handful of beef and shape into palm-sized burger patties, creating a slight indentation in the middle. Season with salt and pepper.
Grill or pan fry your burgers for 4-6 minutes. Then flip, add the Brie, cover and cook for an additional 2-3 minutes until the cheese has melted.
Assemble the burgers onto sliced Kaiser rolls, topping with Balsamic Blueberry Sauce, pickled red onions, and arugula.
GLOBAL BURGER INSPIRATION
Want a few more burger ideas? Here are a few of my favorites. I am so excited about all the global flavors here. Gonna have the grill out all summer for these:
Want to save this recipe? Pin it! 🙂