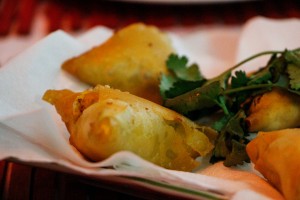 Have you ever tried a samosa?  These triangular shaped pastries have a savory filling typically seasoned with turmeric and curry.  Some are spicy and some are slightly sweet.  Some are vegetarian-based with potatoes and peas and some are filled with meat.  But I think you'll find that no matter what they're stuffed with, they're pretty tasty pockets of goodness.
While they originate from India and Southeast Asia, this recipe below is actually from Cape Town.  During my last trip to South Africa, I went on a "cooking safari" to learn more about the region's Cape Malay cuisine, known for it's Indonesian influences and distinctive spicy flavors.
If you're looking for a fun snack or appetizer, they're actually pretty easy to make.  The trick is in folding them.  Do you remember making triangular paper footballs as a kid?  If so, this is kinda like that.  To refresh your memory, check out Step 5 in this tutorial on how to make a paper football... it's exactly the way you'd fold a samosa.
Vary it up and try a vegetarian version of this too by swapping the meat for potatoes.  There's also the option of baking instead of frying, just set your oven at 350 and pop them in for 25-30 minutes.
Enjoy!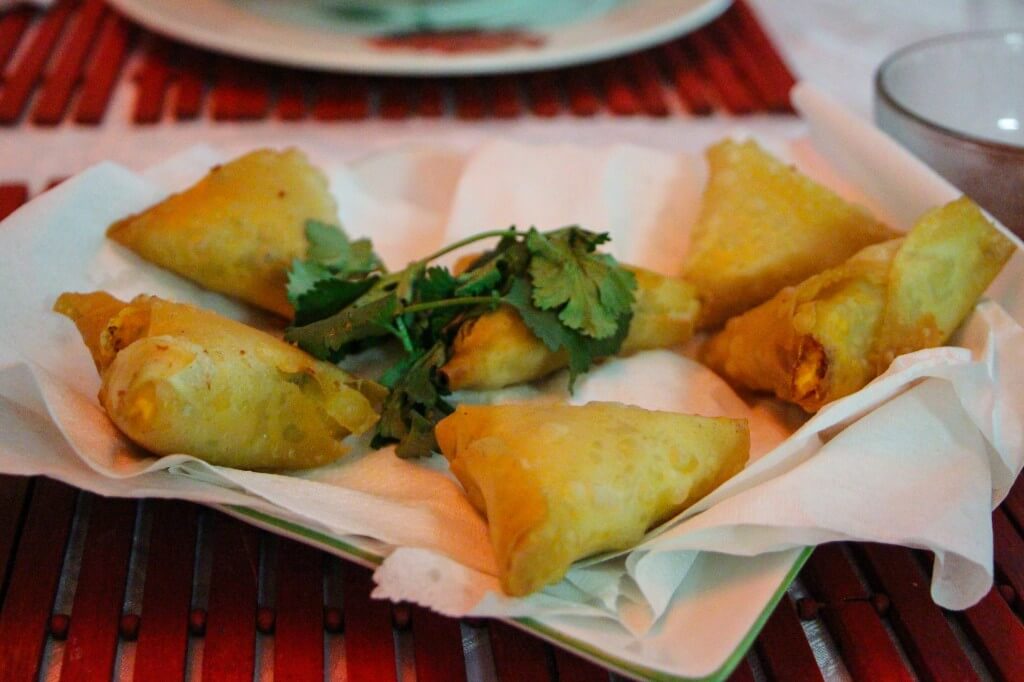 Cuisine:
Cape Malay, Indian
Prep time:
Cook time:
Total time:
Ingredients
fresh samosa dough leaves (can be substituted with phyllo)
2 lbs ground beef
2 medium onions
Fresh coriander leaves
3 tsp salt
3 tsp masala
2 tsp curry powder
2 tsp turmeric
2 tsp chilly powder or crushed chillies
1 tsp fresh crushed ginger
1 tsp fresh crushed garlic (optional)
green or red pepper (optional)
1 tbsp flour
¼ cup water
Instructions
Chop onions and fresh coriander finely using a very sharp knife so as not to mash or create watery onion bits. Set aside.
Mix together the flour and water in a small bowl to make a paste for sealing the samoosas. Set aside.
In a large pan, dry toast the spices (curry powder, turmeric, and masala) for about one to two minutes until fragrant.
Next, mix in the onions and cook until they start to turn clear. Add in the meat, ginger, and garlic and cook for about 30-45 minutes. Continue stirring and separating the meat while it's cooking until it's crumbly and has a soft texture. Let it cool.
Mix cilantro and chile peppers into cooled beef mixture.
Place a spoonful of the mixture onto each samosa/phyllo dough sheet.
Tri-fold the dough sheets into a triangle, creating a pocket. Add a spoonful of the meat mixture into the pocket, then fold the rest of the edges around the triangle (similar to how you would make a paper football).
Dip your fingers into the flour paste and tuck the remaining edge into the folded triangle, pressing it together to seal.
In small batches, fry the samosas until golden brown, about 3 minutes. Drain on paper towels and serve warm.
You can also bake them as an alternative to frying. Just set your oven to 350 degrees and bake for 20-25 minutes.