Yes.  You read that title correctly.  It does say "bunny" and "recipe" in the same sentence.  But this isn't a recipe for rabbit food. Bunny chow is actually a simple curry traditionally served in a scooped out loaf of bread and is a popular quick meal in South Africa.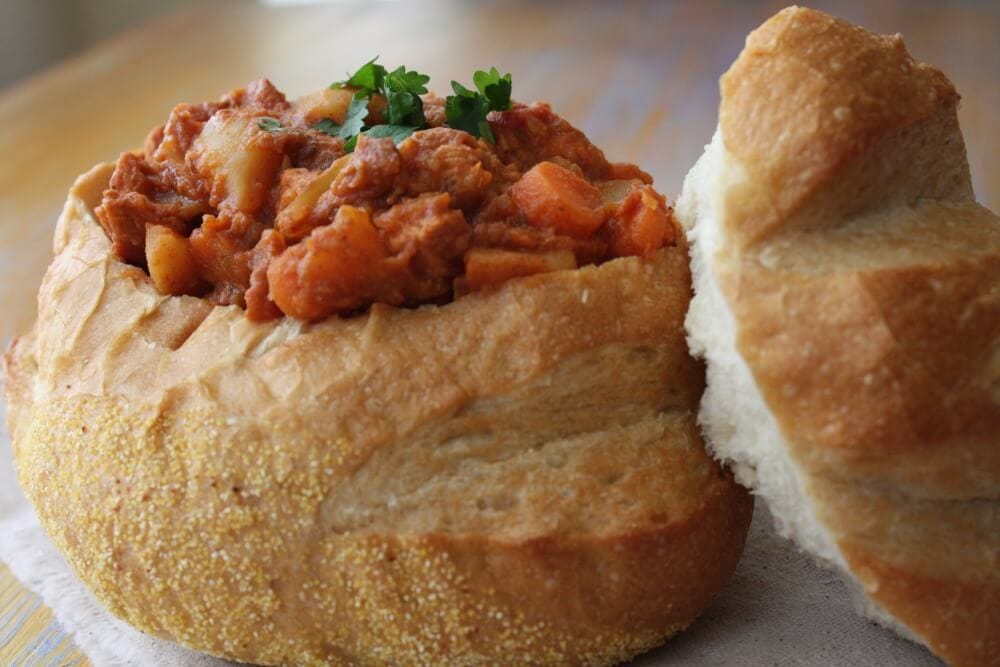 HOW DID BUNNY CHOW COME TO BE?
The stories of the origin of how it became known as "bunny chow" are varied, however, one I heard more than once was that of Indian merchants that used to sell this meal under a banyan, or 'bania' tree.  It became known as "bania" chow, then eventually shortened to bunny chow.  Just know that if you go to South Africa and a group invites you to grab some bunnies for lunch, never fear, they're actually inviting you to taste this popular delicious Indian curry dish.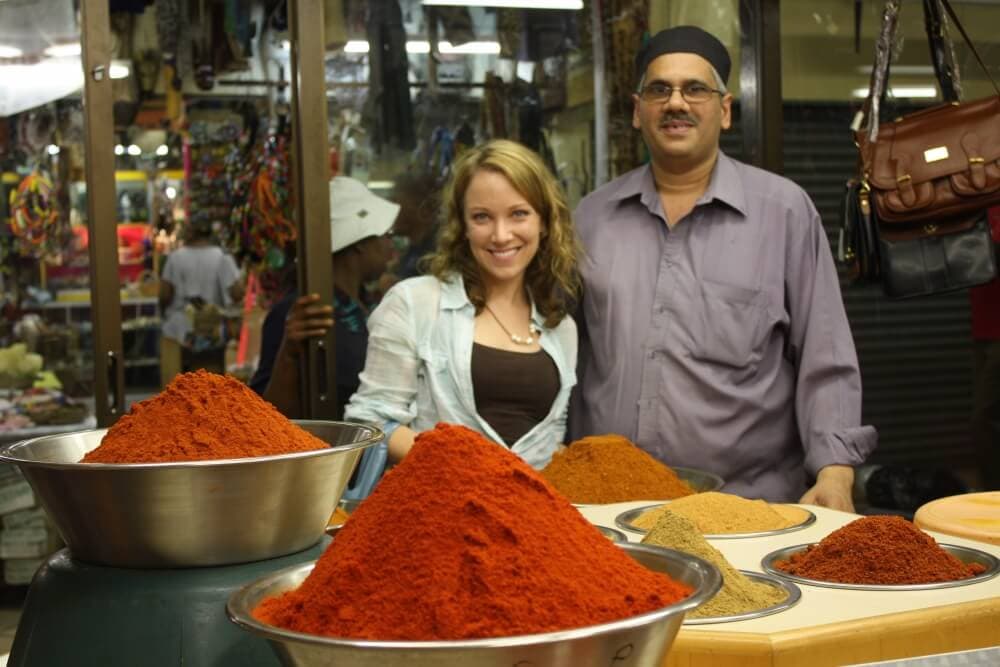 Indian curries are popular in South Africa, especially in the city of Durban where the Indian population is the largest outside of Asia and their cultural influence is definitely evident in the foods and spices.  The Indian spice markets have been around in Durban since the late 1800's and you can still experience the exotic scents at Victoria Street market where merchants have an array of seasonings piled in high pyramids and fragrant curry perfumes the air.  As a foodie, it was one of my favorite shopping stops in South Africa. I was in HEAVEN smelling all the options.  I picked up an ounce of saffron for the equivalent of $7 US dollars and one of the merchants at Madari & Sons helped me pick out my own "masala" spice mix that I used in this recipe below.
The market is located in the middle of Durban on the corner of Victoria Street and Queen Street.  If you go, I definitely recommend hiring a guide, such as Julnic Tours,  to show you around.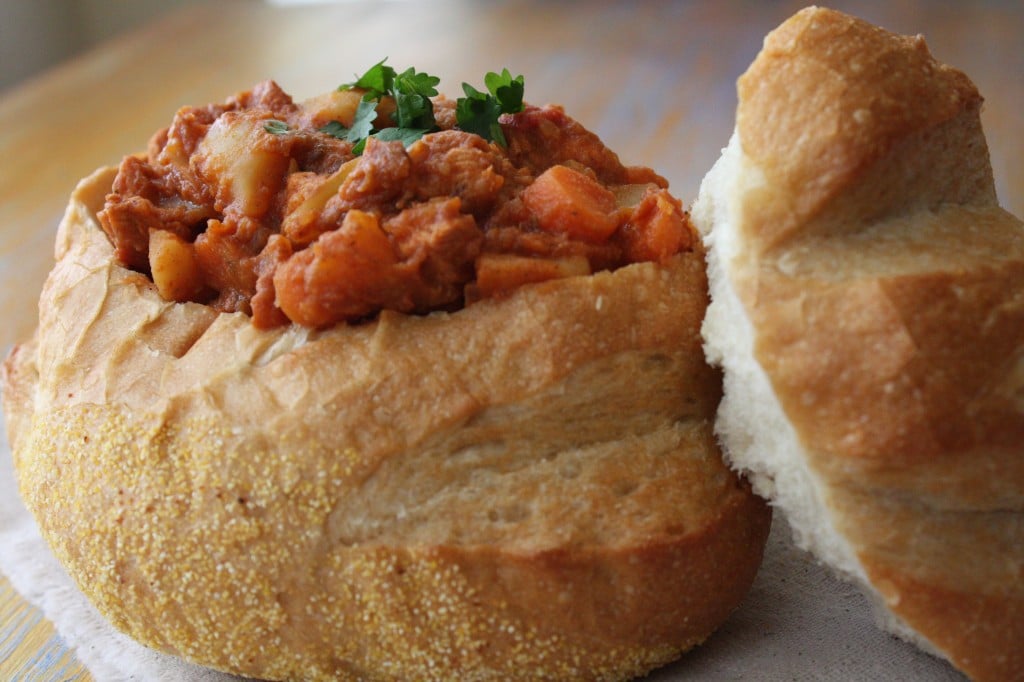 South African Bunny Chow
I've adapted this recipe from The Collection Cookbook, by Liz McGrath, given to me as a gift when I stayed at The Marine in Hermanus.  Their version of this recipe features more Cape Malay seafood including mussels, calamari, prawns and line fish.  I've swapped the seafood for chicken below to make this more suitable for the home cook.
Take a peak at this video where I teach the host of Daytime TV how to make bunny chow!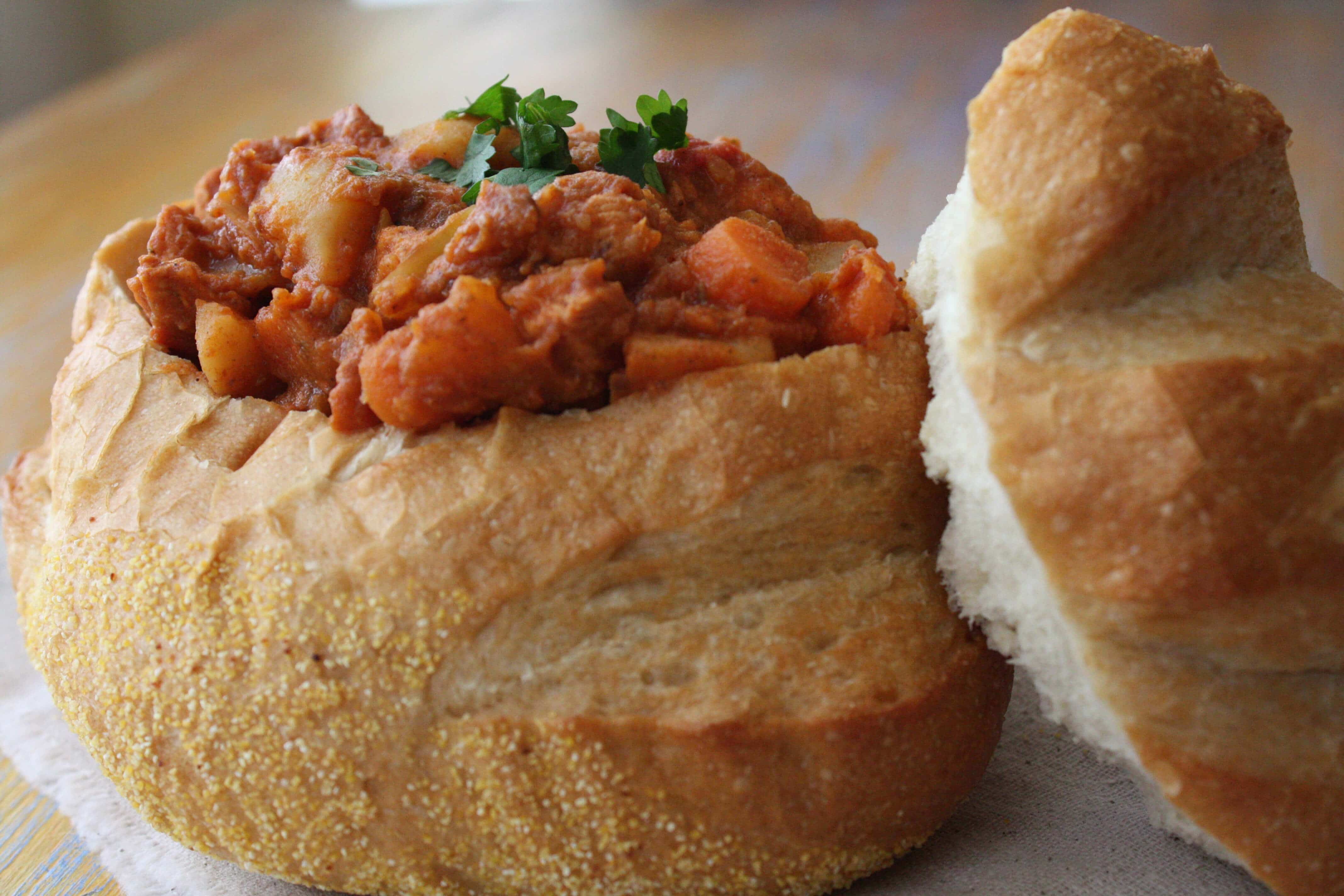 South African Bunny Chow
Ingredients
2 large white onions, diced
2 tomatoes, diced
2 cups diced carrots
2 garlic cloves, crushed
1 tsp coriander
1/2 tsp cumin
3 tablespoons garam masala*
1 tsp cayenne pepper
2 tsp tumeric
2 ground cardamom pods
2 bay leaves
1 stick cinnamon
1 to 2 cups water
2 cups potatoes, cubed
2 boneless, skinless chicken breasts, cut into strips
Instructions
Directions:
In a large saucepan, fry the onions until their almost translucent or clear. Then add all your spices and fry for another 1 to 2 minutes.
Next add the tomatoes and mix in with the spices and onions. Cook until it forms a paste.
Add chicken, potatoes, carrots, and water to the saucepan. Stir together with the tomato paste and bring to a low simmer. Cover and cook for about 30 minutes until the chicken is tender. Stir occasionally. Remove the bay leaves and cinnamon stick.
Hollow out a loaf of bread and spoon the cooked curry inside the bread to serve. If desired, serve with a side of rice. Traditionally, it's eaten with your hands and the bread is used to soak up the gravy. Enjoy!
*If you can't find garam masala at your local grocer or specialty spice market, it is just a mixture of curry spices you can mix at home to your own liking.  The ingredients listed in my masala include:  curry powder, ginger and garlic paste, cinnamon, cloves, cardamon, aniseed, cumin, corriander, tumeric, pepper, fennel, dill, basil, origanum, biryani mix, rosemary, thyme, mustart, pappadums, pickles, vanilla, bay leaves, poppy seeds, braaivleis spice.